Homemade Pumpkin Ice Cream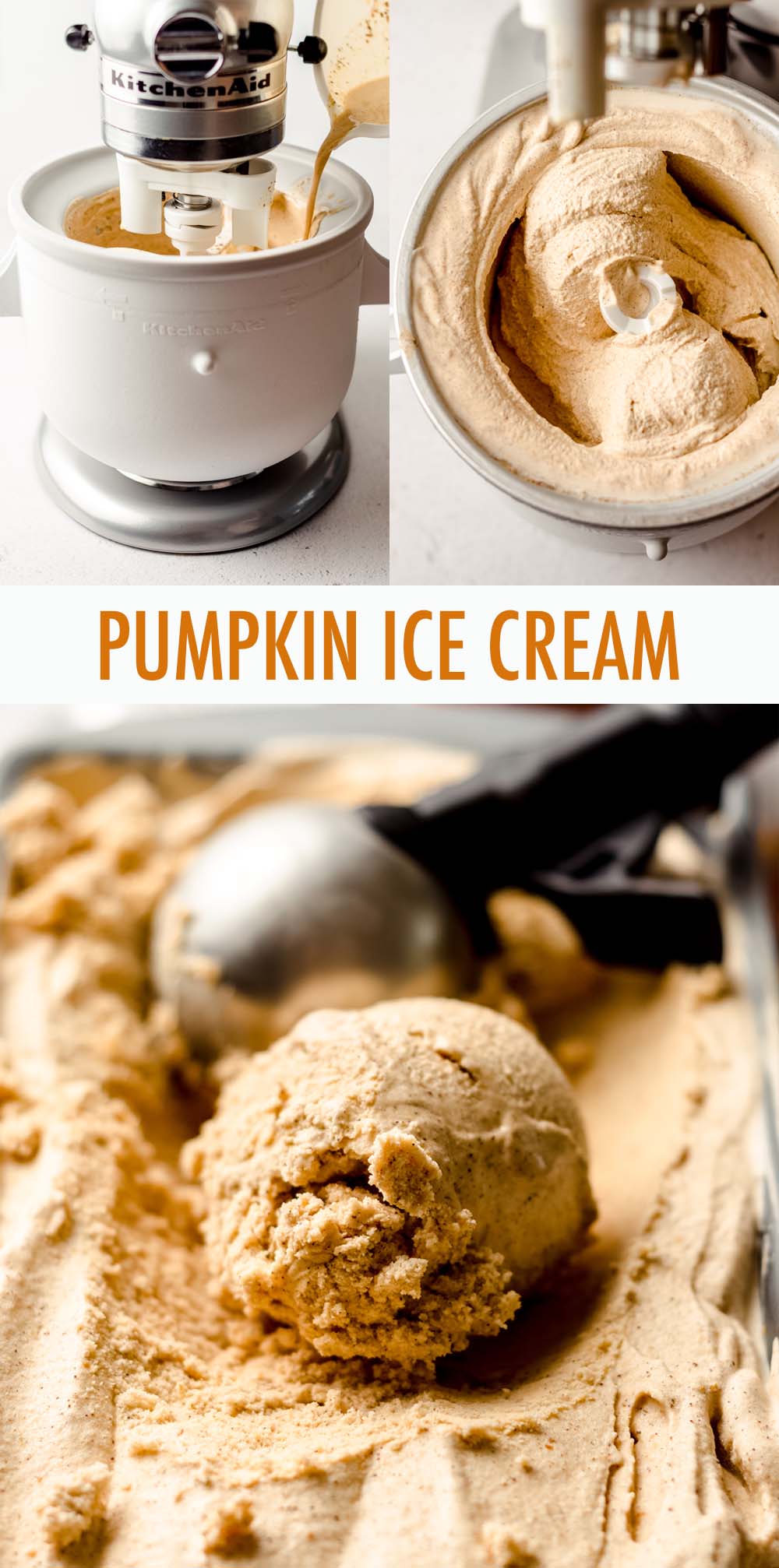 As an Amazon Associate, I earn from qualifying purchases. Read the full disclosure here.
Smooth and creamy homemade ice cream made with real pumpkin, sweetened with brown sugar, and spiced with cinnamon and pumpkin pie spice. Get your pumpkin ice cream fix any time of the year with this simple recipe!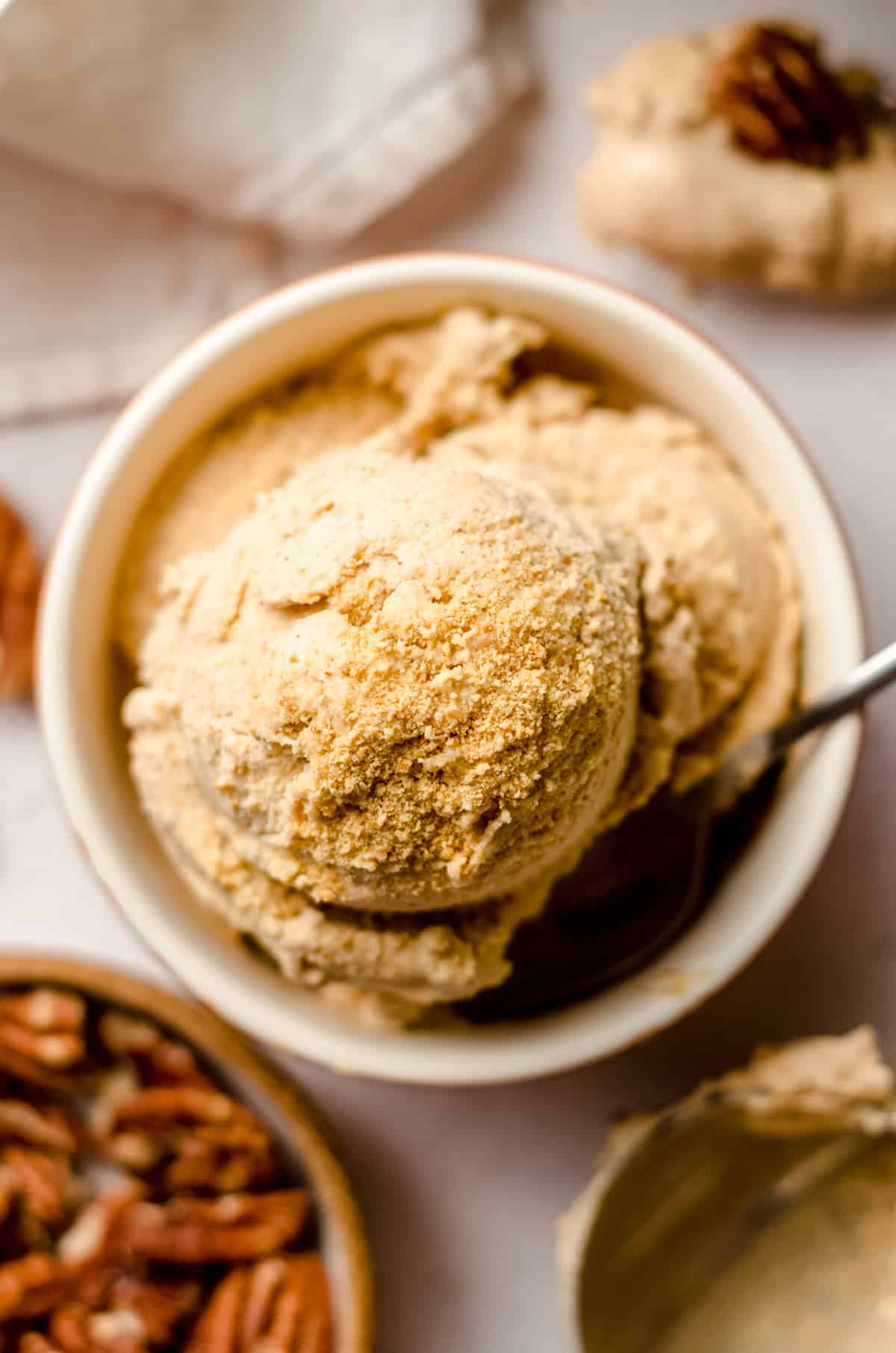 YOU WILL LOVE THIS HOMEMADE PUMPKIN PIE ICE CREAM
While it can seem a bit silly to create a fall ice cream flavor since we've typically moved on to baking with warm spices and flavors by the time the fall season rolls around, I am totally an "ice cream all year" kind of person, and maybe you are, too.
If you're not into ice cream all year like I am, perhaps you're wondering who the heck might want a pumpkin ice cream recipe.
But I know there are some (or maybe many) of you nodding your head right now and are dying to get some homemade pumpkin ice cream into your ice cream maker ASAP. You folks… You are my people.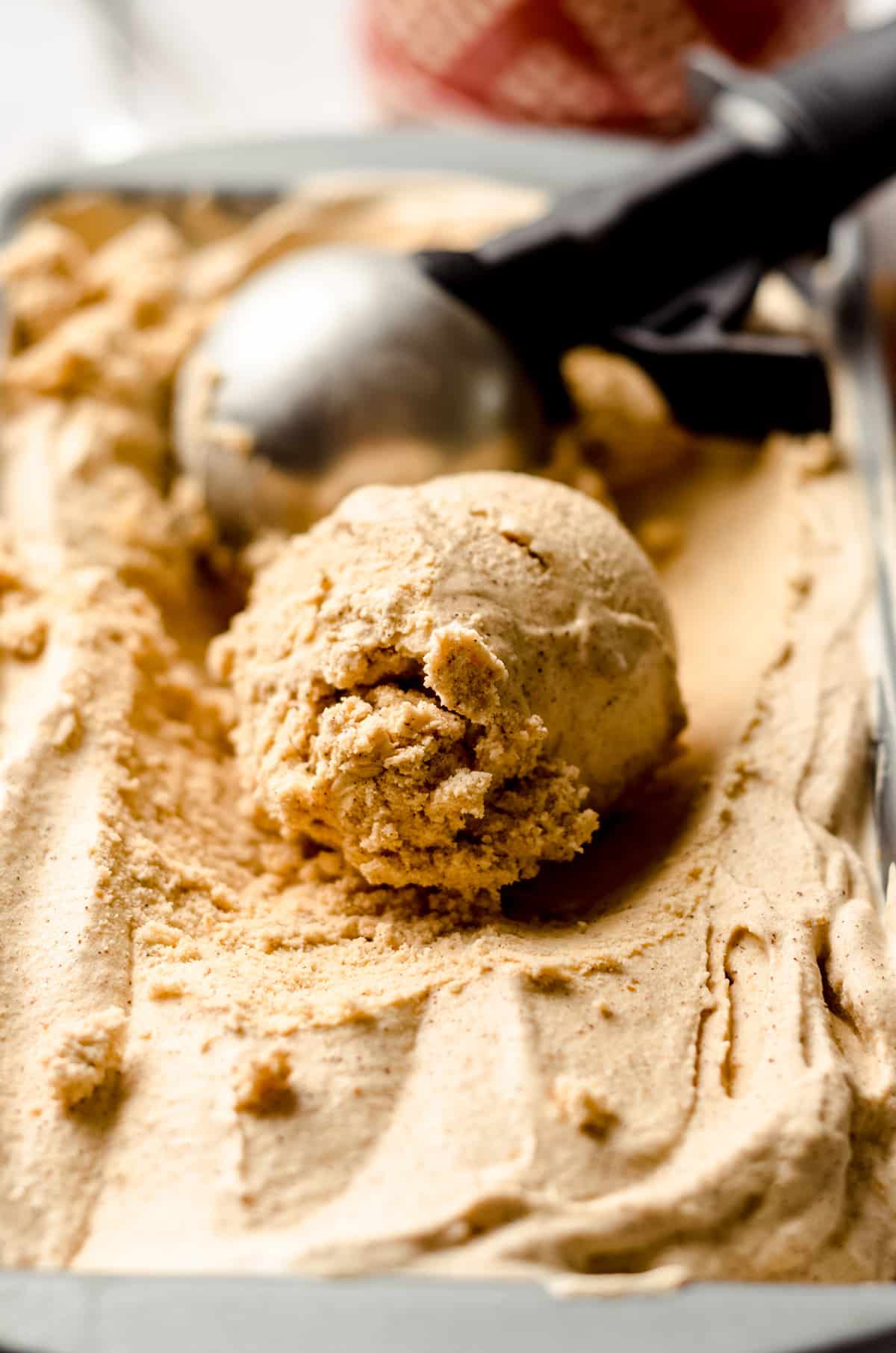 Not only that, but something I love about pumpkin is that it's available all year long, which means if I'm feeling some pumpkin cravings in the dog days of summer, I can whip up this homemade pumpkin ice cream recipe, kick my heels up on a lawn chair, and enjoy the best of both seasons at one time.
It's the perfect fall dessert and summer dessert all wrapped up into one gloriously orange treat.
---
INGREDIENTS FOR PUMPKIN ICE CREAM
Homemade ice cream begins with a heavy cream and whole milk base. This is where we get all of the fat and the entire creamy ice cream base.
We have to tread lightly with pumpkin purée, because as we know from creating with pumpkin in the past (like, a million times), adding fresh pumpkin to a recipe brings extra moisture which can lead to extra soggy/cakey baked goods.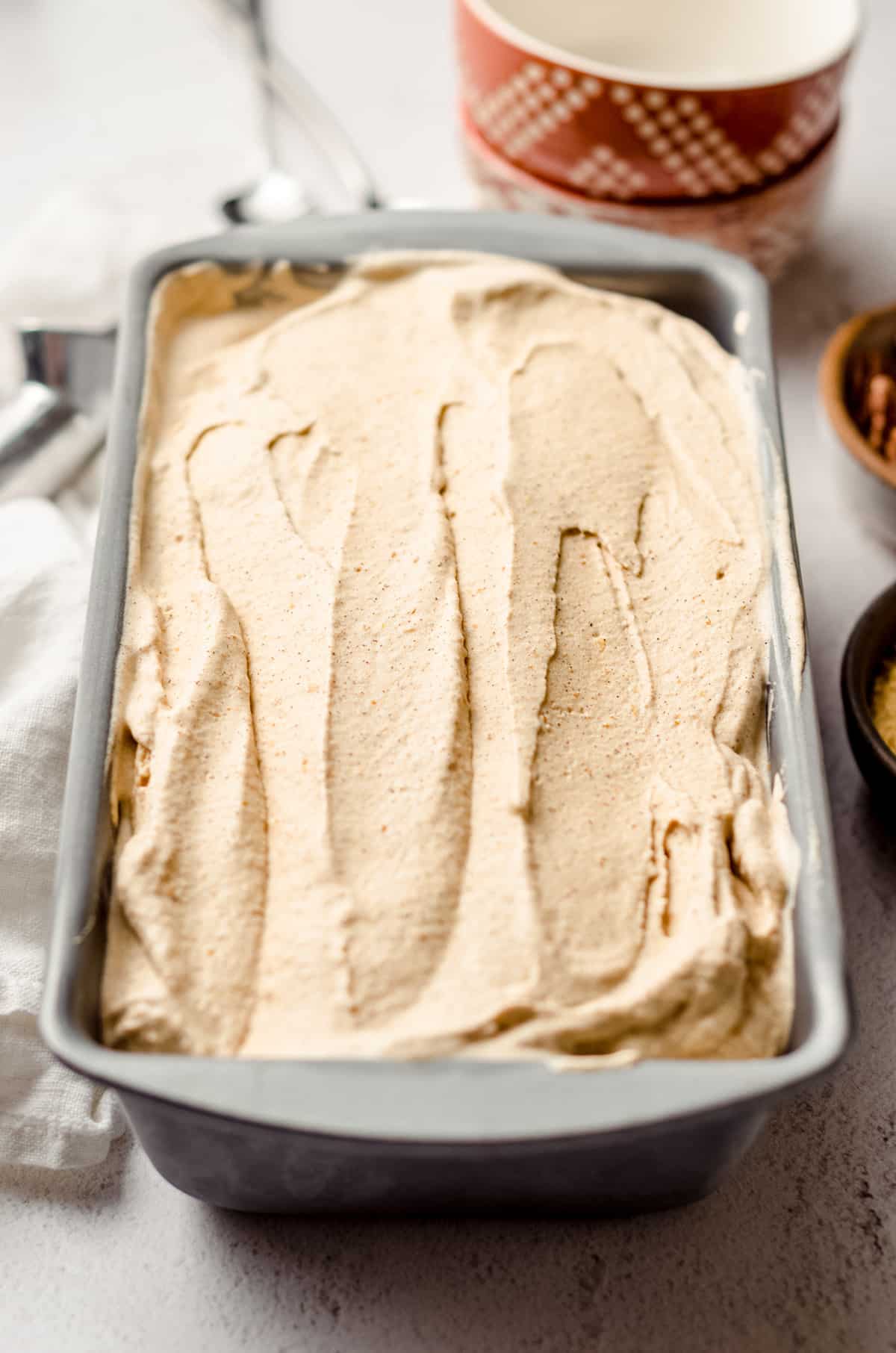 Though we obviously aren't baking this ice cream, we'll only need 1 cup of pumpkin purée to bring just the right amount of pumpkin flavor without so we can prevent overloading the ice cream base with too much liquid.
I typically go for white sugar when I make my homemade ice creams, but since pumpkin calls for a deeper molasses pairing, we're using brown sugar in its place for this pumpkin spice ice cream recipe.
You need a few more simple ingredients for this pumpkin ice cream. Here's the full list of ingredients you'll need:
• heavy cream
• whole milk
• pumpkin purée
• light brown sugar
• ground cinnamon
• pumpkin pie spice
• vanilla extract
• salt
SUBSTITUTIONS AND VARIATIONS
CAN I USE MAPLE SYRUP INSTEAD OF BROWN SUGAR? Unfortunately, maple syrup will add too much moisture to this homemade ice cream.
CAN I USE NON-DAIRY MILK? If you're hoping to make vegan pumpkin ice cream, you may consider using coconut milk, oat milk, almond milk, or other milk alternative. I have not tested this recipe to accommodate these adjustments and am not at all familiar making or adjusting dairy-free ice cream recipes.
CAN I USE PUMPKIN PIE FILLING OR MIX? You'll want to use real pumpkin puree for this pumpkin ice cream recipe as opposed to pumpkin pie filling or pumpkin pie mix. The latter are usually made with extra ingredients like spices, preservatives, and sweeteners, and you'll want to make sure this pumpkin ice cream tastes exactly as intended.
HOW TO MAKE PUMPKIN ICE CREAM
Since this pumpkin ice cream recipe has no eggs or egg yolks, there is no cooking involved. It's as straight-forward as combining the ingredients into a large bowl or container with a spout and dumping it into your ice cream maker.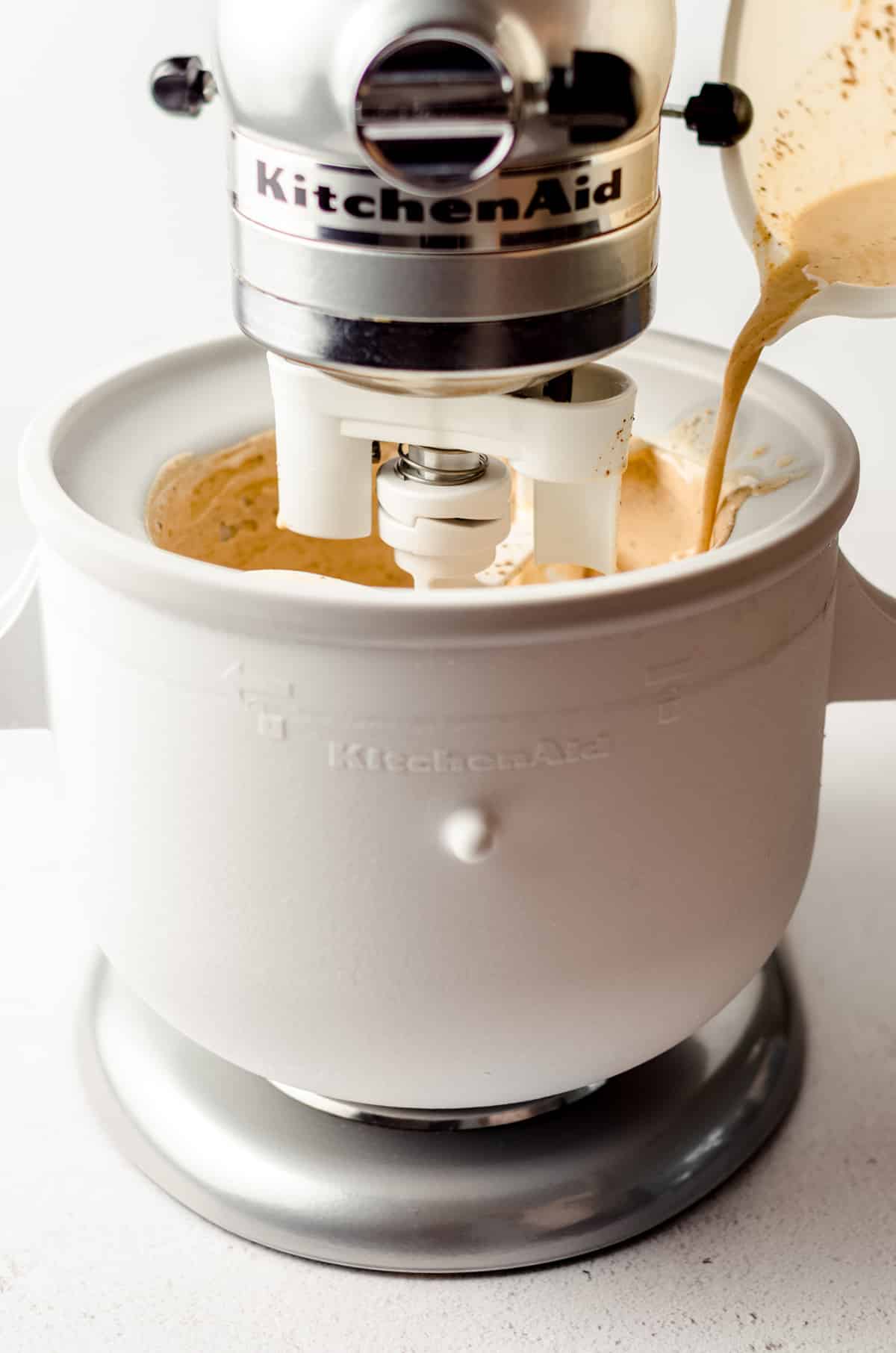 The ice cream maker takes care of the rest. All you have to do is stand there and watch it do its thing. Talk about a truly easy pumpkin ice cream recipe, am I right?
HOW TO TELL HOMEMADE ICE CREAM IS DONE
The churning process for homemade ice cream is pretty much the same across the board of ice cream maker brands, however, the time it takes to be called "done" can change drastically based on the brand, the weather, the ingredients you use, the moon, the number of times your kids ask if it's done or not…
No but really, the best way to tell when homemade ice cream made in an ice cream maker is finished is to look for the consistency of soft serve ice cream.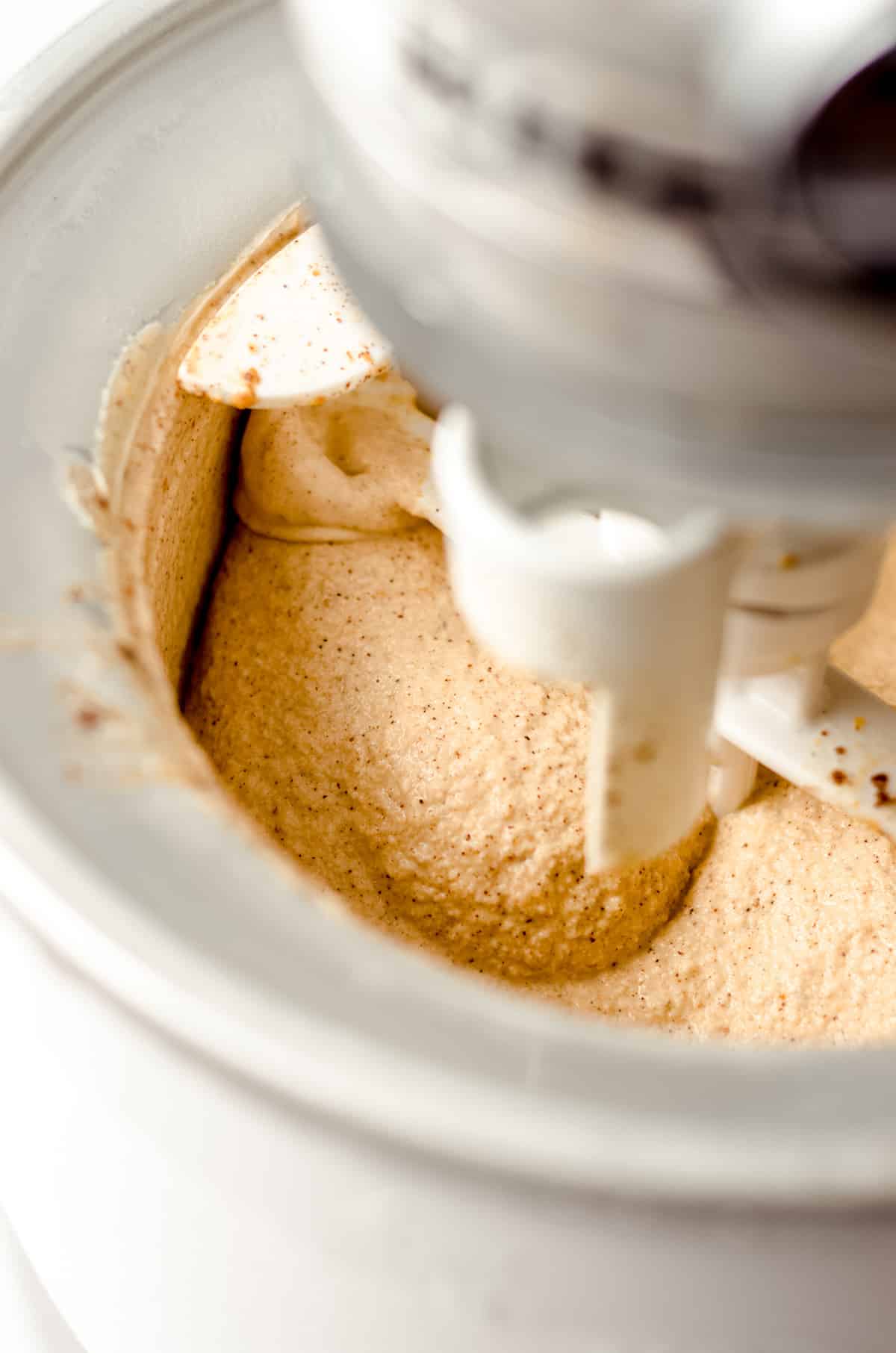 I often see soft serve consistency show up when my ice cream maker starts spilling out of the top, since there's so much air incorporated into the mixture and it's much larger than it was when it was just liquid.
The rest of the magic happens in the freezer, and you'll want to freeze your homemade pumpkin ice cream for at least 2 hours, but I encourage you do leave it for more like 8 hours or overnight.
WHAT TO SERVE WITH PUMPKIN ICE CREAM
While it is absolutely, totally, 100% ok to eat this ice cream straight up, I have some suggestions for what to put on it and for what to put it on.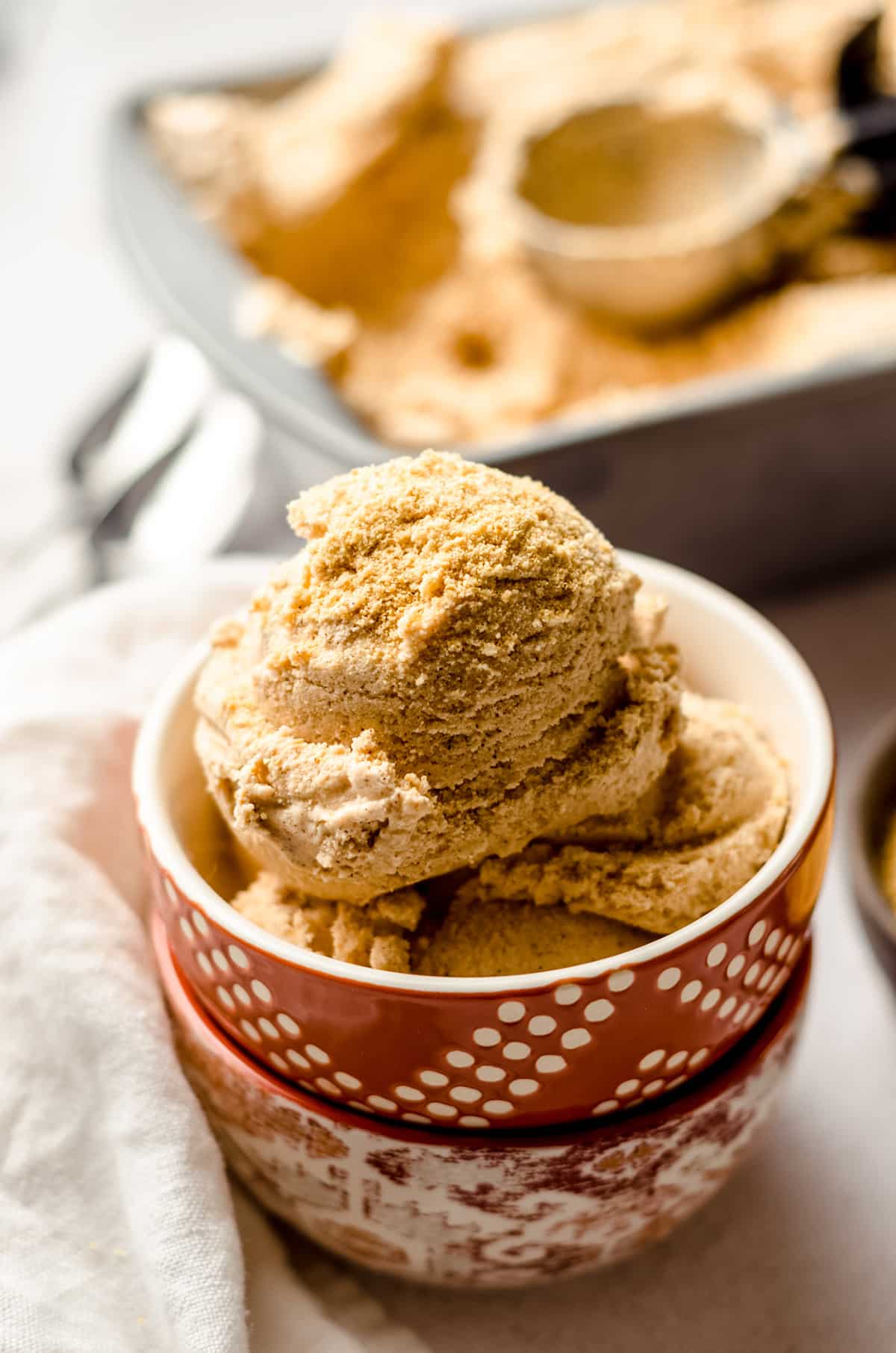 You can really taste the true pumpkin complemented only by cinnamon and pumpkin pie spice, and it is perfectly sweetened by the brown sugar with a hint of that deep molasses flavor profile you can only find in brown sugar.
And I am telling you, once you start rolling with the toppings that go with fall, you're going to want to keep making batches and batches of this stuff.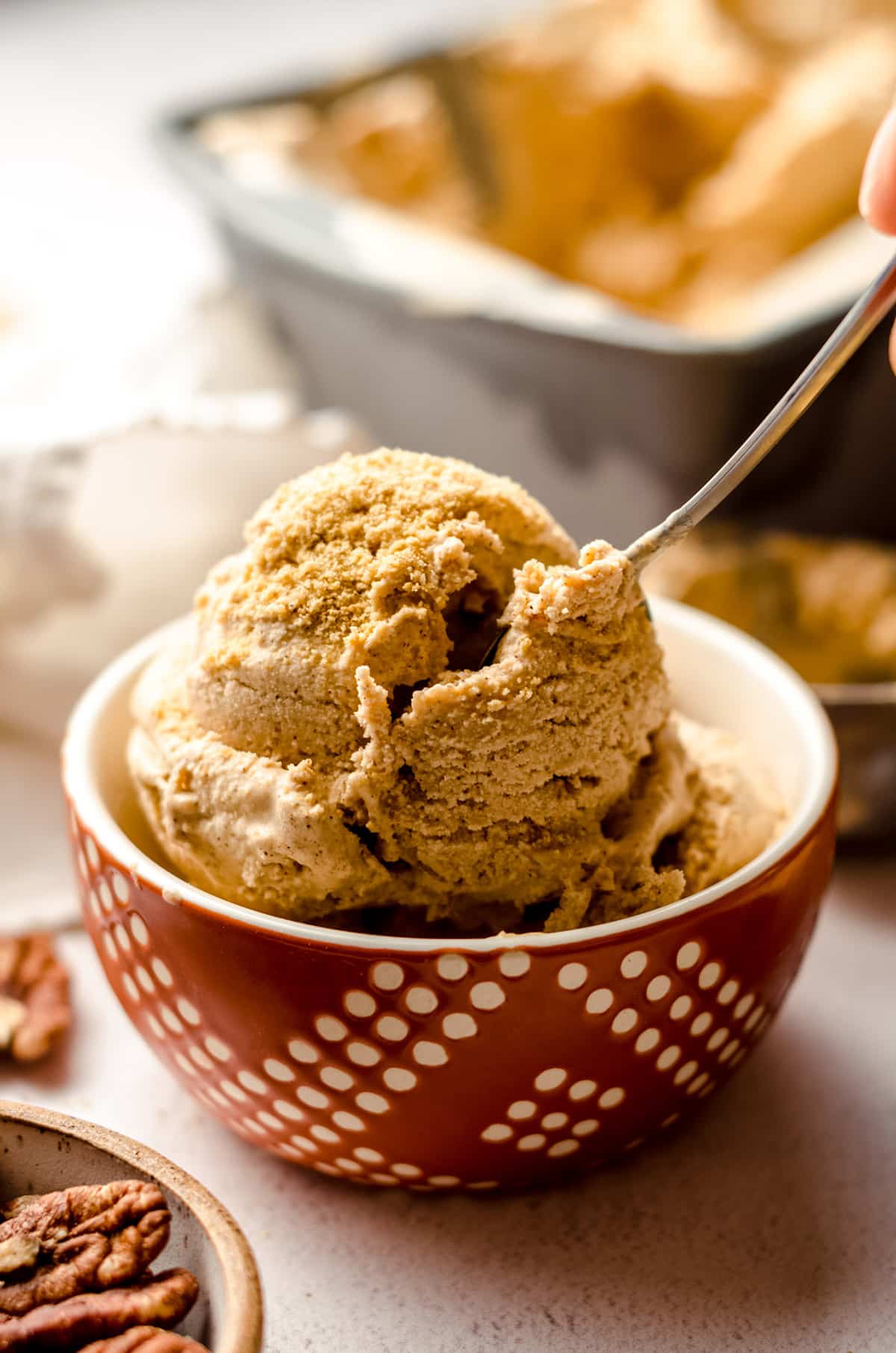 And when you do… Invite me over for a bowl, would ya?
MORE PUMPKIN DESSERTS FROM FRESH APRIL FLOURS
Pumpkin Ice Cream Recipe (For Ice Cream Machine)
Smooth and creamy homemade ice cream made with real pumpkin, sweetened with brown sugar, and spiced with cinnamon and pumpkin pie spice. Get your pumpkin ice cream fix any time of the year with this simple recipe!
Ingredients
2

cups

(480mL) heavy cream

1

cup

(240mL) whole milk

1

cup

pumpkin purée1

¾

cup

(150g) firmly packed light brown sugar

2

teaspoons

ground cinnamon

1 and ½

teaspoons

pumpkin pie spice

1 and ½

teaspoons

vanilla extract

⅛

teaspoon

salt
Instructions
Before beginning anything, make sure your ice cream maker is frozen and prepped!

Place prepared ice cream maker attachment onto stand mixer fitted with the dasher.

In a large bowl, combine the heavy cream, milk, pumpkin purée, brown sugar, cinnamon, pumpkin pie spice, vanilla extract, and salt and whisk until everything is combined and the sugar starts to dissolve.

Turn on the mixer so dasher is rotating and slowly pour ice cream mixture into the canister. Process according to manufacturer's directions (it should take about 20-30 minutes).

When ice cream is finished churning, remove the ice cream maker from the mixer, and transfer the ice cream to a freezer-safe container and freeze for at least 2 hours.
Notes
Pumpkin: I always measure pumpkin purée with measuring cups as the moisture content can wildly change the weight measurements, depending on the brand.
Nutrition Disclosure
All nutritional values are approximate and provided to the reader as a courtesy. Changing ingredients and/or quantities will alter the estimated nutritional calculations.
Serving:
1
serving
|
Calories:
314
kcal
|
Carbohydrates:
27
g
|
Protein:
3
g
|
Fat:
23
g
|
Saturated Fat:
14
g
|
Polyunsaturated Fat:
1
g
|
Monounsaturated Fat:
6
g
|
Cholesterol:
71
mg
|
Sodium:
72
mg
|
Potassium:
199
mg
|
Fiber:
1
g
|
Sugar:
24
g
|
Vitamin A:
5693
IU
|
Vitamin C:
2
mg
|
Calcium:
110
mg
|
Iron:
1
mg