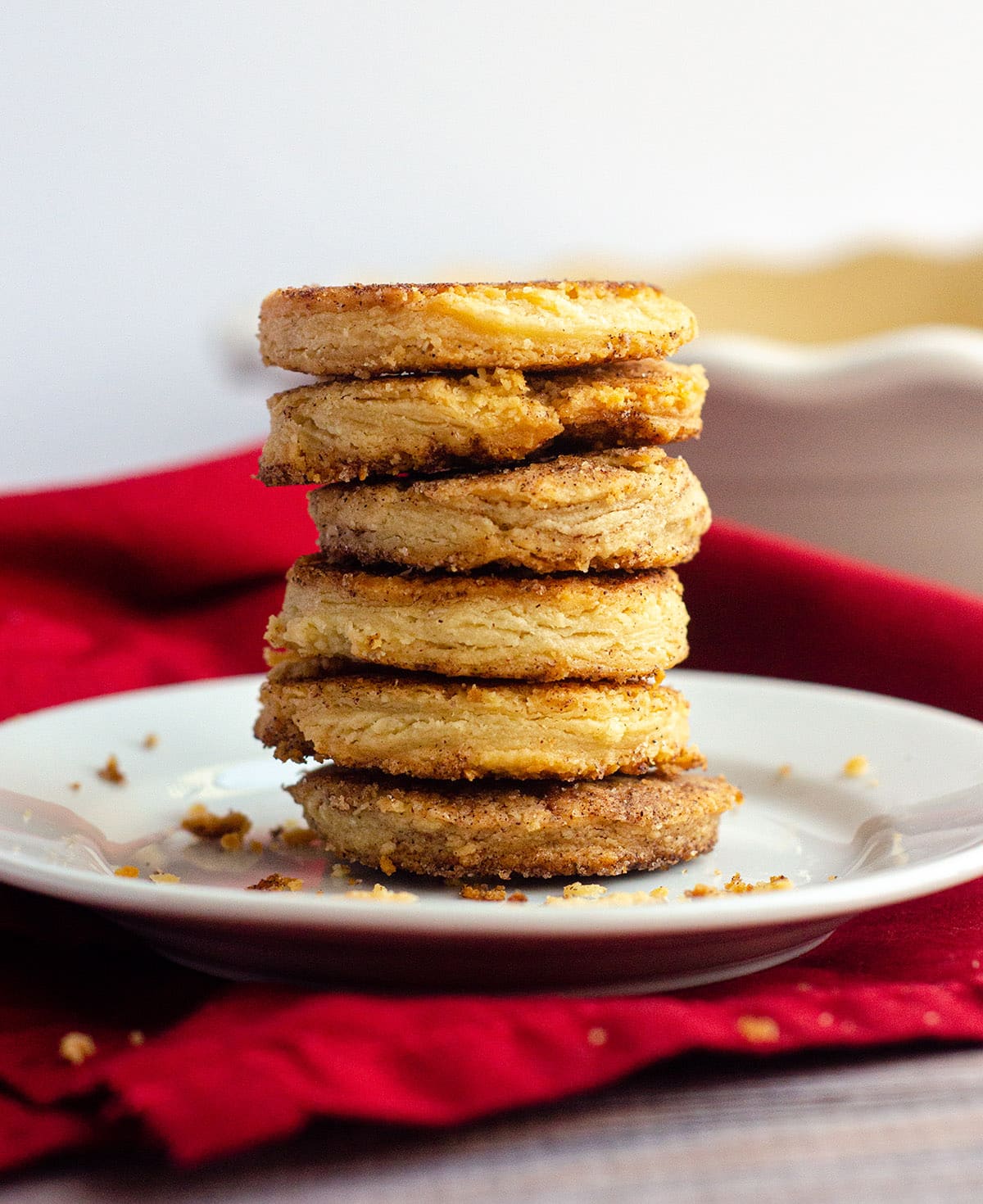 As an Amazon Associate, I earn from qualifying purchases. Read the full disclosure here.
Turn leftover pie crust into something worthwhile– perfect for dipping!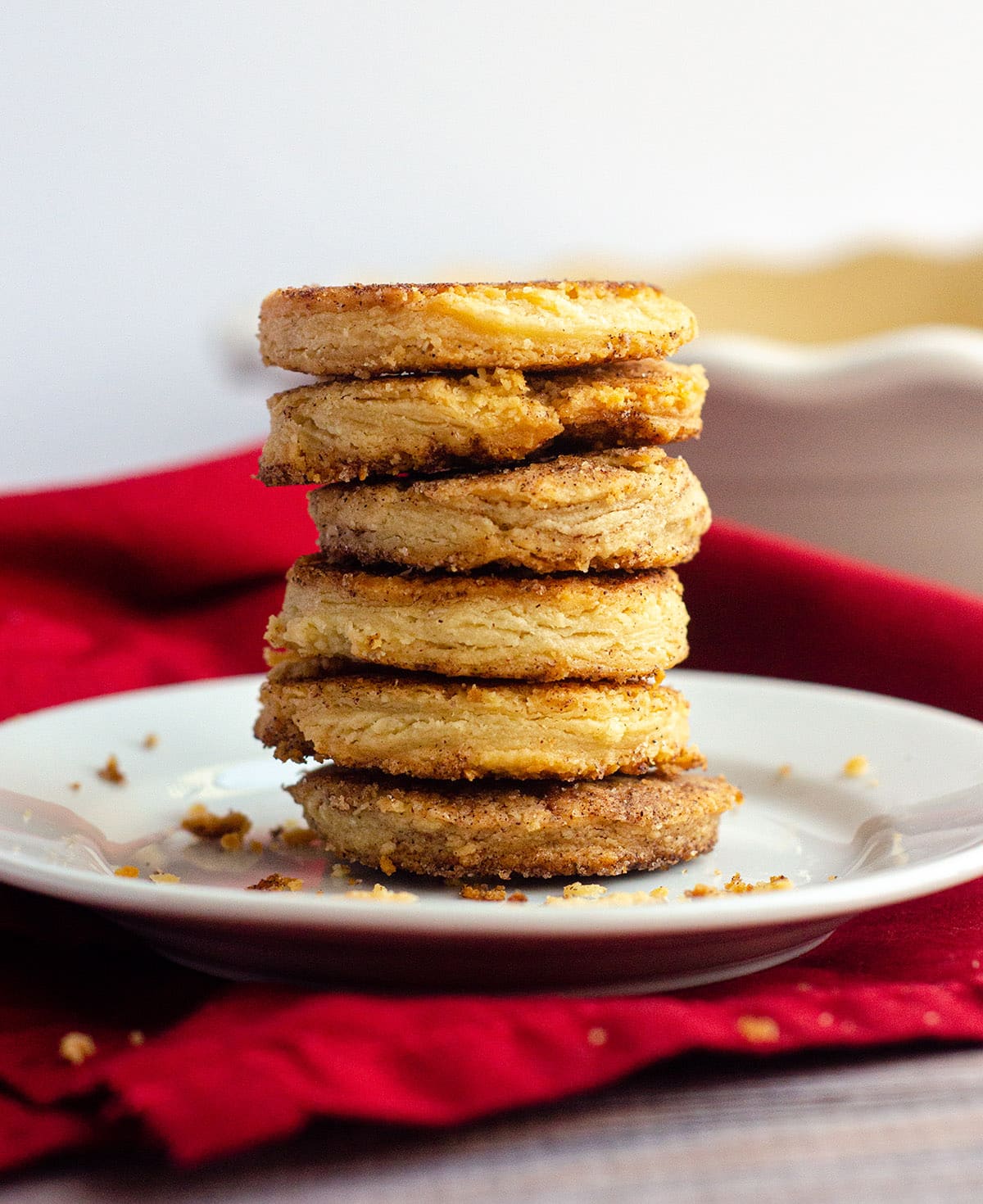 Today's recipe is easy as pie. As in, it's kind of like actual pie, but way easier because it's just about the crust. And there's no filling.
We're diving shallow today when it comes to the next recipe in our sequence of basic/simple recipes because we're slowlyyyy coming up from diving deep in to how to make a rainbow cake from yesterday.
Tell me… Did you read about the rainbow cake? Are you ready to take one on?
It's ok if your answers are no. For most of you they probably are!
The point of my 10 days of basic/simple recipes is to show you that everything in the baking world that appears "scary" is actually quite simple.
That rainbow cake is really just my white cake all colored up and baked a few more times. And if I challenged you to make my white cake, but just color it (we've done that with red, white, and blue swirl bundt cake!), you'd be fine with that, right?
Of course you would! Because it's simple. It's just jazzy.
So today, we're dropping down to the very bottom of basic and we're making "cookies" from pie crust. And when I say making cookies from pie crust, I mean we're literally turning pie scraps into cookies by buttering them up and sprinkling them with some flavor.
Yes, it's that simple.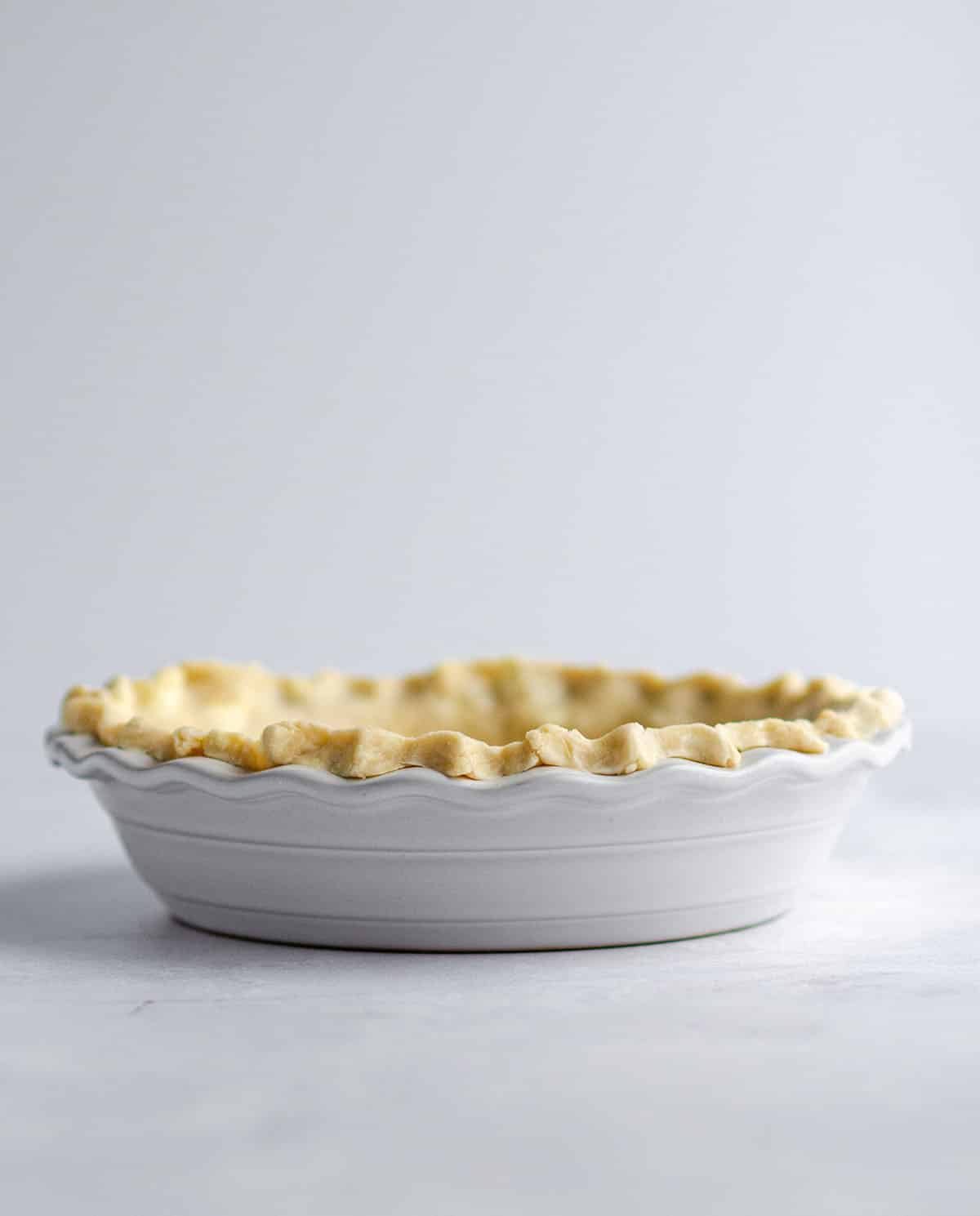 WHAT ARE PIE CRUST COOKIES?
I thought of this idea when I was oogling the homemade pie crust I discovered in the back of my freezer from the pumpkin pie I made last year. And by last year, I mean Thanksgiving. So… A year ago.
Year old pie crust. Mmmm….
Oops.
We host Thanksgiving at our house, and my mom offered to make the pumpkin pie, so my pie crust was now off the hook. Thank goodness, because I wasn't sure it was still going to taste all that great, and this also meant one less thing I had to do to prepare to host!
I started brainstorming about what I could do with this pie crust that I didn't want to waste, and I decided to turn it into a cookie type dipping vehicle. Pie crust crackers? Pie crust rounds? I wasn't positive, so I deemed them "pie crust cookies."
And now here we are.
HOW TO MAKE PIE CRUST COOKIES
These cookies are seriously simple, guys. Like so simple, you can make them as soon as you're done reading this if you've got some pie crust scraps to deal with.
Or, you know, a pie crust you discover in your freezer. Whatever!
You'll roll out the pie crust to about ¼" thickness. Next, brush it with some melted butter, and then sprinkle it with a cinnamon sugar coating.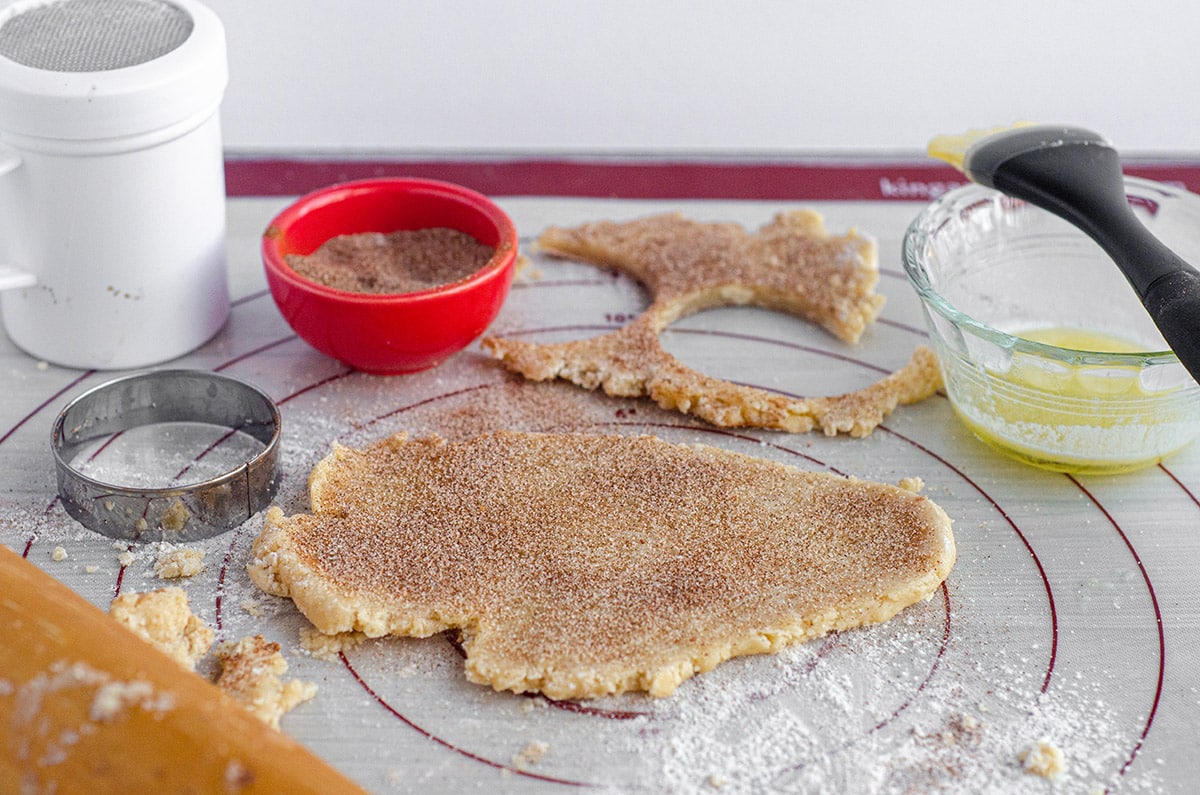 Flip that bad boy over, do the same thing on the other side, and then use a cookie cutter to cut into rounds.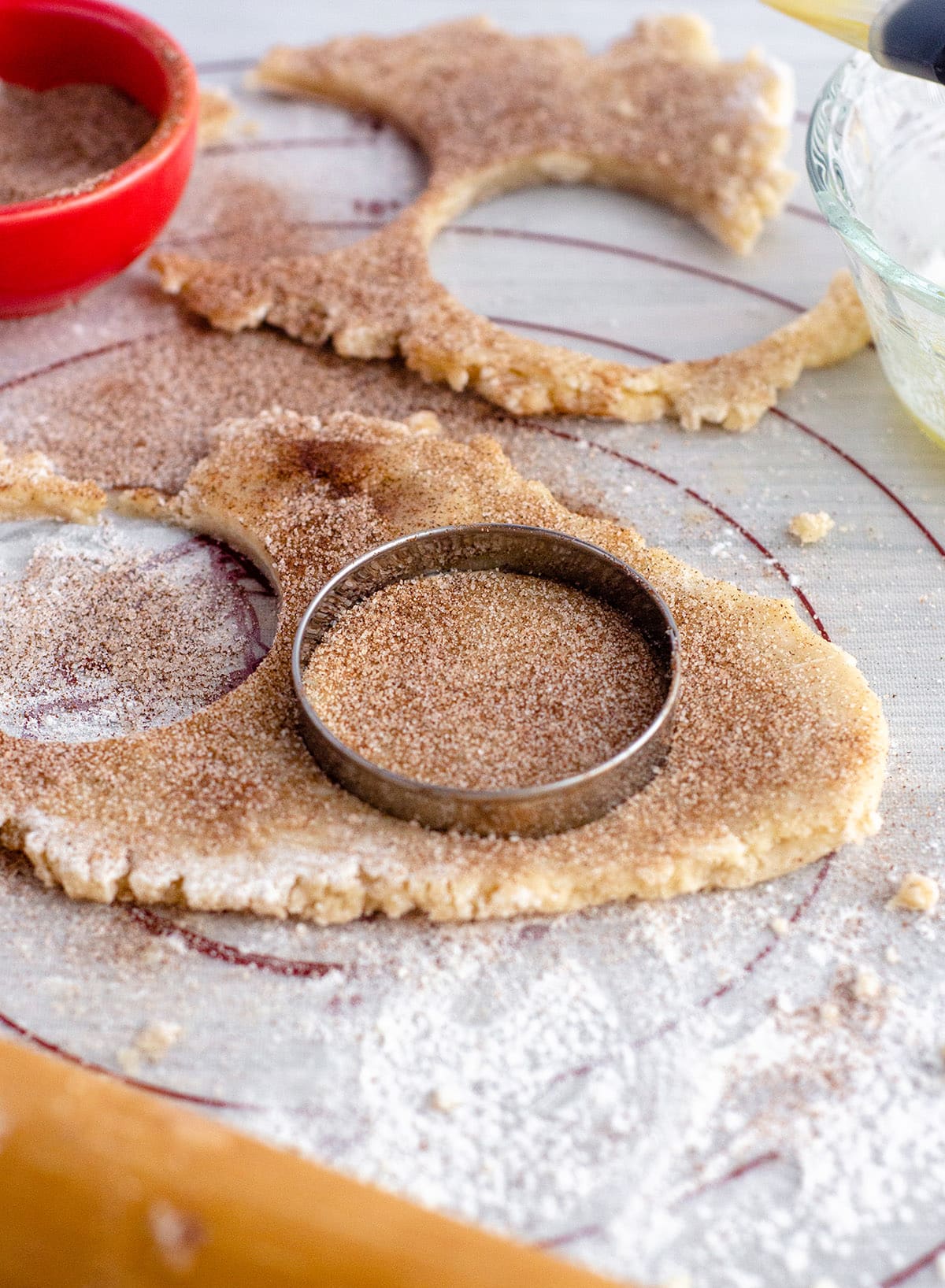 Bake 8 minutes on one side, flip, bake 8 minutes on the other side, and then you, my friend, have done what it takes to produce pie crust cookies.
How magical.
I'm totally never wasting pie crust again! Or really, since I don't actually love making pies, I may just make pie crust cookies + a dip for the rest of time. I think that sounds like a good plan.
Now, what to do with these pie crust cookies?
I have a whole slew of dip recipes they would pair nicely with, but you're welcome to just eat them straight up. Which is exactly what we did!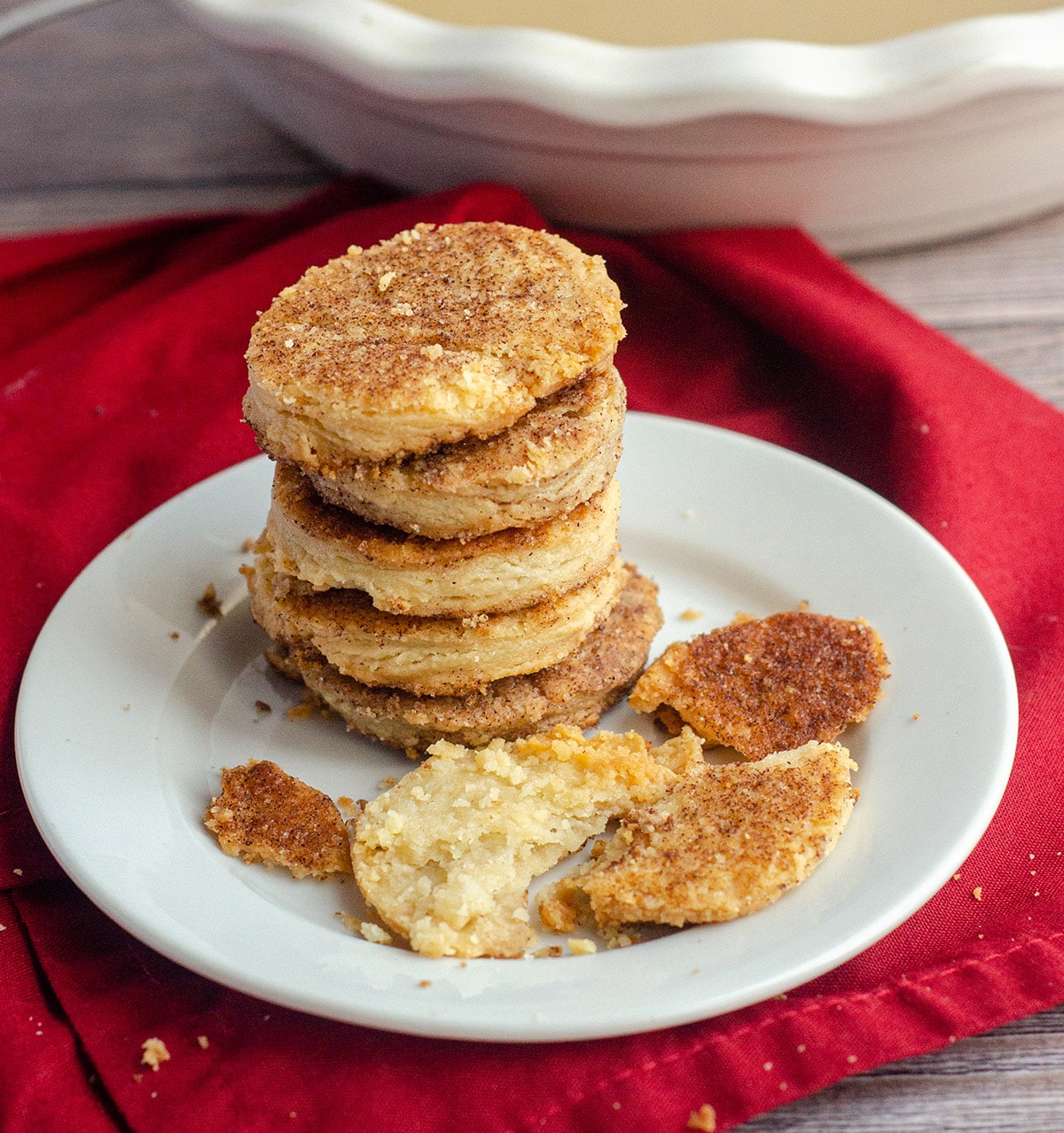 They're flaky like pie crust should be, and they're mega buttery since we did slather them in butter. The cinnamon sugar coating gives a little bit of flavor to complement the slightly salty nature of pie crust, and takes pie crust to a new level of snacking.
Did you ever think you'd snack on pie crust? I mean, I certainly didn't, but then again, that's what the back of the freezer is for– happy accidental discoveries!
So about those dips! Consider any of the following:
•pumpkin dip
•eggnog dip
•gingerbread dip
•cannoli dip
•brownie batter dip
•s'mores dip
•cake batter dip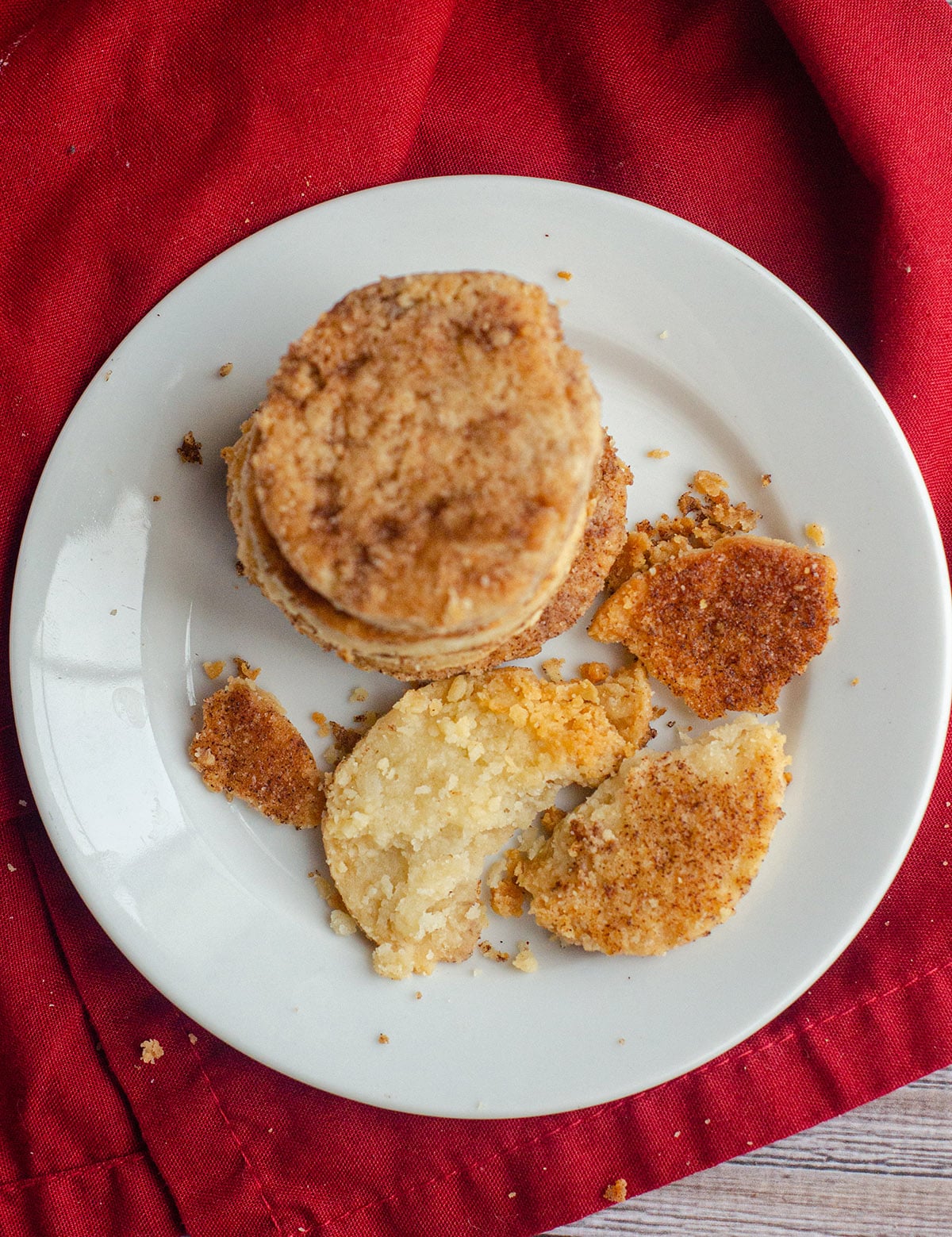 Fresh off of pie season, just another reason to make a quality, homemade pie crust. Because you never know what kind of scraps you can turn into your new favorite snack!
Pie Crust Cookies
Turn leftover pie crust into something worthwhile– perfect for dipping!
Servings:
1
batch (varied depending on amount of pie crust)
Ingredients
¼

cup

(50g) granulated sugar

1

teaspoon

ground cinnamon
chilled1 homemade pie crust scraps2

store bought is fine

2

Tablespoons

(28g) unsalted butter

melted
Instructions
Preheat the oven to 350ºF (177ºC). Line a large baking sheet with parchment paper or a silicone baking mat. Set aside.

In a small bowl, combine the sugar and cinnamon. Stir together until thoroughly combined. Set aside.

Gather leftover pie crust scraps into a disc. Working on a floured surface, roll out dough to about ¼" thickness.

Using a pastry brush, brush the dough with butter. Sprinkle cinnamon sugar evenly over pie crust, then flip the crust over and repeat butter and cinnamon sugar on the other side.

Use a 2-3" circle cookie cutter (or any desired shape) to cut into rounds. Place cut circles on baking sheet. Gather and re-roll dough as needed. You may need less butter and cinnamon sugar coating as you rework the dough, so use as desired.

Bake the rounds for 8 minutes, flip them over, then bake for another 8 minutes. Remove from the oven and allow to cool completely on the baking sheet. Store cookies covered at room temperature up to 1 week.
Notes
Chilled dough: it is imperative you use chilled dough. Chill pie crust scraps in the refrigerator at least 30 minutes before use.
Pie crust: you may also use fresh pie crust that hasn't been cut at all yet. You are not limited to only leftover scraps for these cookies!
Nutrition Disclosure
All nutritional values are approximate and provided to the reader as a courtesy. Changing ingredients and/or quantities will alter the estimated nutritional calculations.
Serving:
1
batch
|
Calories:
398
kcal
|
Carbohydrates:
51
g
|
Protein:
0.3
g
|
Fat:
23
g
|
Saturated Fat:
14
g
|
Polyunsaturated Fat:
1
g
|
Monounsaturated Fat:
6
g
|
Trans Fat:
1
g
|
Cholesterol:
60
mg
|
Sodium:
4
mg
|
Potassium:
16
mg
|
Fiber:
1
g
|
Sugar:
50
g
|
Vitamin A:
706
IU
|
Vitamin C:
0.1
mg
|
Calcium:
27
mg
|
Iron:
0.2
mg