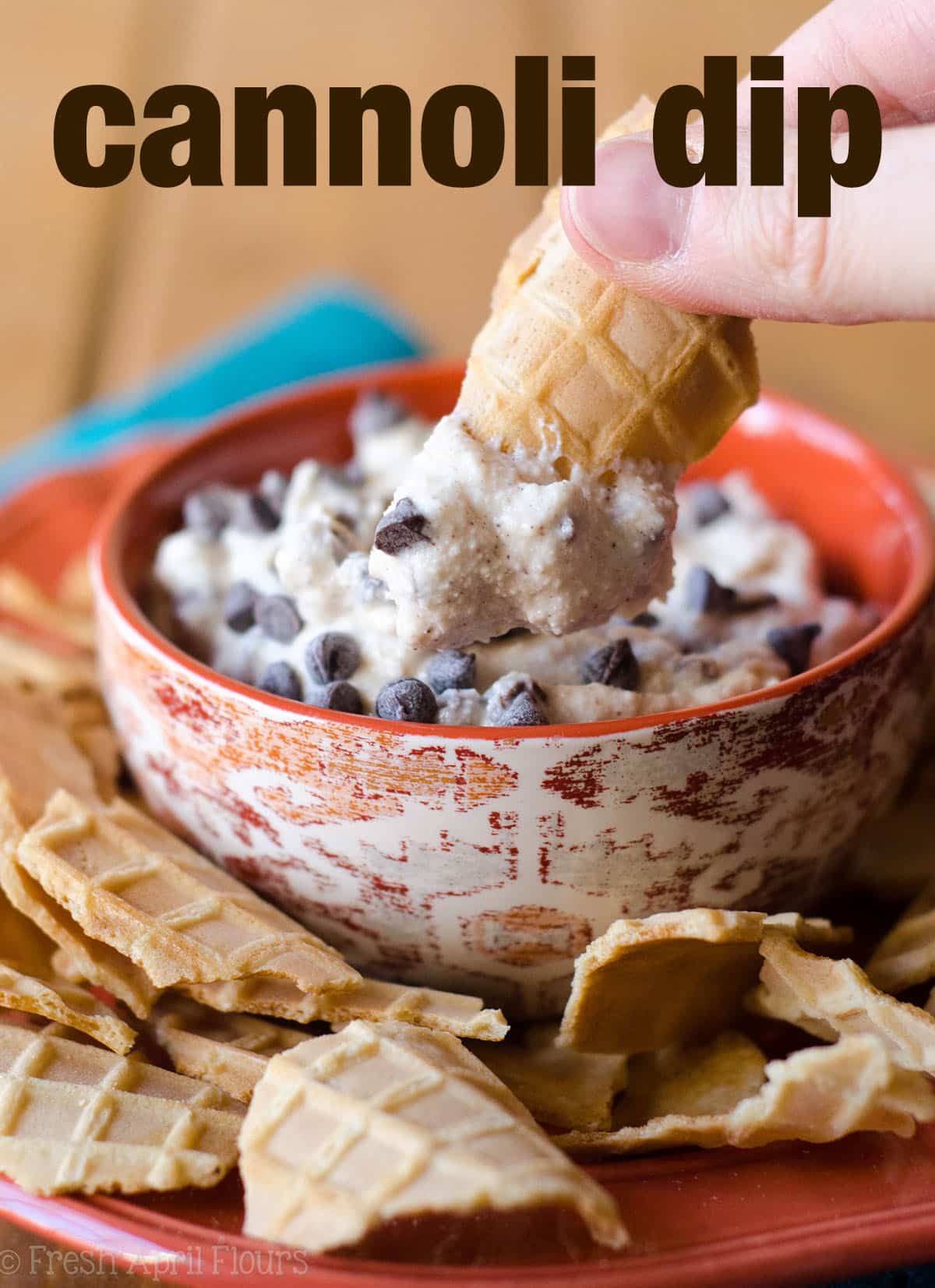 As an Amazon Associate, I earn from qualifying purchases. Read the full disclosure here.
All the taste you love from a cannoli without all the hard work of filling shells. Serve with broken waffle cone pieces for a deconstructed treat.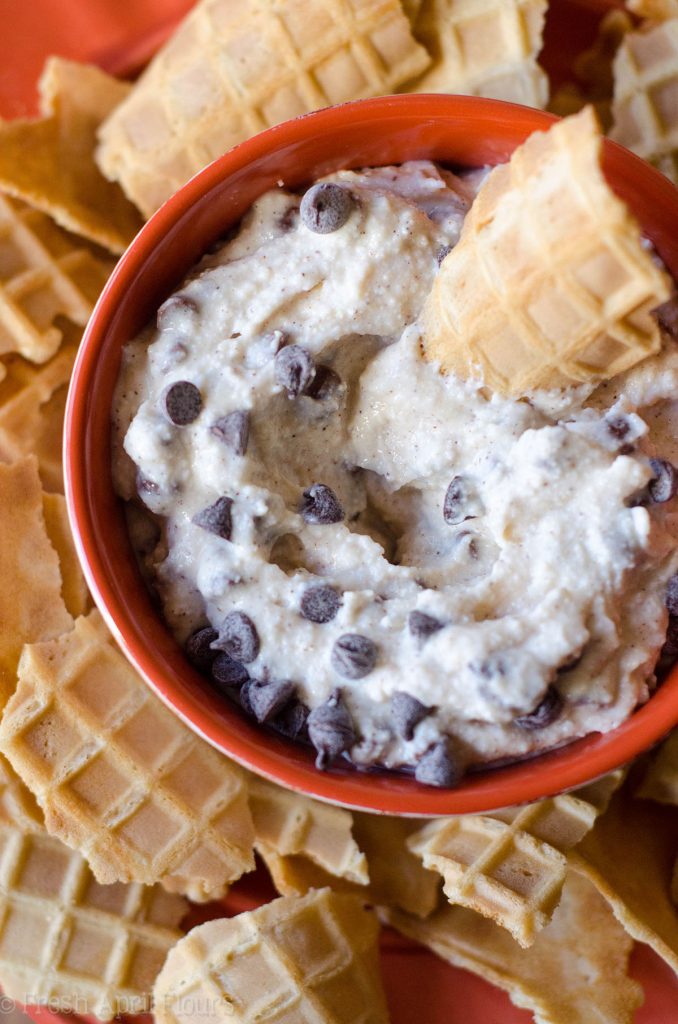 And just like that, we're already halfway through our dip party!
Have you been following along? In case you're just getting to the party, so far we've had spinach dip, brownie batter dip, homemade guacamole, classic fruit dip, and buffalo chicken dip.
Recipe #6 brings us to a deconstructed version of the classic Italian treat that I have some mixed feelings about.
Are you a huge cannoli fan? I feel like you either are or you're not a fan at all. There's no in between. Up until about 8 years ago, I would have told you I'm not a big fan at all. And then, I stepped into Carlo's Bakery (you know, Cake Boss), when they opened a shop in Hoboken, New Jersey and my life was changed forever.
That was hands down the best cannoli I have ever had. I've since had a cannoli that was pretty close to the same level of awesome, also from a bakery in Hoboken (what's with those Jersey bakeries?!), but aside from those two… I'm "meh" on them.
But this cannoli dip? Sign. Me. Up. A hundred times.
I think what I don't love about cannoli is that if they aren't eaten right away, the shell isn't as hard and then filling sort of makes the inside soggyish. That's… Less than desirable when it comes to dessert.
But with dip? We can use broken waffle cones (or broken cannoli shells if you're feeling authentic!) to scoop up what we want when we want it and we don't have to worry about any sort of sog factor. Winning!
The dip itself is pretty much exactly what you'd find in a filled cannoli. And while there is much debate about what kind of cheese to use (ricotta vs mascarpone), it turns out that ricotta is the winner when it comes to authentic cannoli filling, but there's something you have to know about it before you dive head first into a bowl of cannoli dip with your waffle pieces.
You've had ricotta cheese before– yes? It's typically what you'd use in lasagna. It's got dense, heavy flavor and it adds a wonderful creaminess to complement pasta and red sauce and meat. But it is definitely gritty. And if that's ok in your book, then this dip won't be a problem for you.
However, there are definitely people out there who are weirded out by the grittiness of ricotta, which is why a lot of people prefer to use mascarpone cheese.
Mascarpone cheese is an ok substitute, but it's not the same as ricotta. It won't taste exactly the same, since it's more of a custard type cheese, much higher in fat, and similar to butter.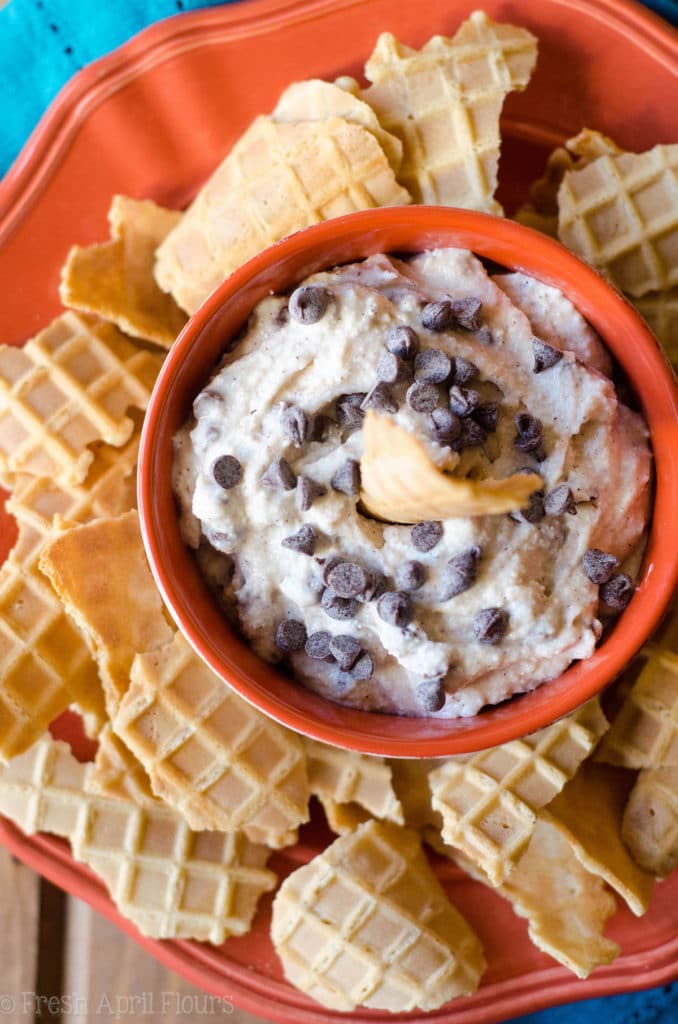 As this dip sits, the grittiness definitely diminishes a bit, but if you're looking to remove it completely, you can check out this tutorial on how to strain your ricotta. It's time consuming, but if you're into it, go for it.
Personally, I think that's a bit more work than I'd like to put into a dip, but hey… Your dip, your life. Strain it up if you want to!
Aside from the ricotta, we'll sweeten with powdered sugar and add a little extra pizzaz with vanilla extract and ground cinnamon. And then, of course, mini chocolate chips!
Dipping foods are your choice, but the broken waffle cones mimic that crunchy shell while also lending brown sugar sweetness. Such a great combo in my book, but if you have another suggestion, I'm all ears!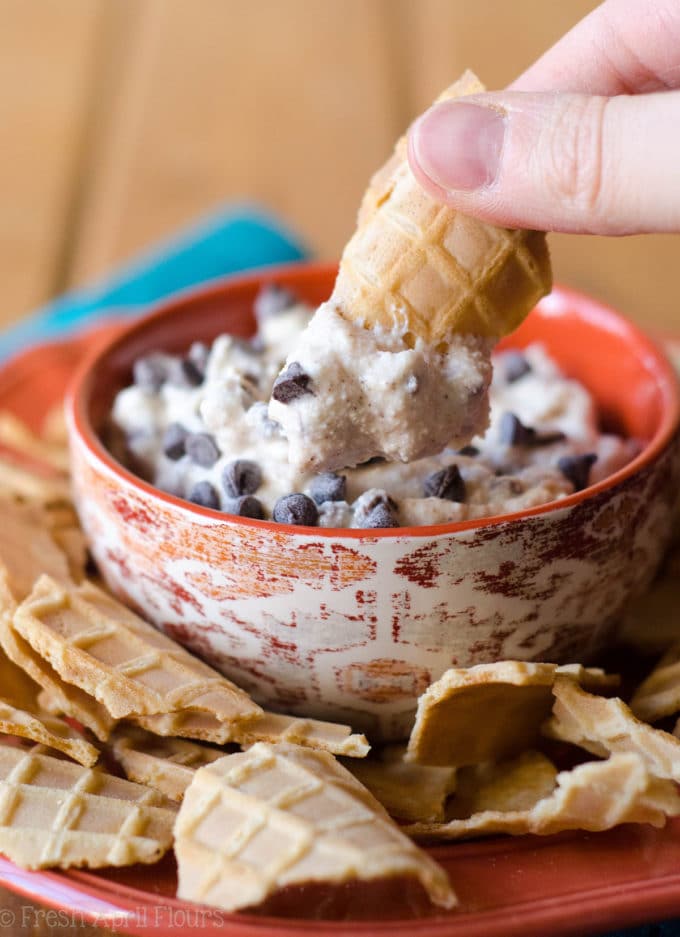 Consider cannoli dip for your next party as an option for a little fancy without being over the top. A deconstructed cannoli is definitely one way to maximize flavor while also minimizing workload. And that is ALWAYS a winner recipe.
Cannoli Dip
All the taste you love from a cannoli without all the hard work of filling shells. Serve with broken waffle cone pieces for a deconstructed treat.
Ingredients
2

cups

whole milk ricotta*

3/4

cup

powdered sugar

1

teaspoon

vanilla extract

1/2

teaspoon

salt

1/2

teaspoon

ground cinnamon

2/3

cup

mini semi-sweet chocolate chips

broken waffle cones
Instructions
In a large bowl, stir together the ricotta and the powdered sugar until everything is combined. Add the vanilla extract, cinnamon, and salt and stir again. Add the chocolate chips and stir one more time until chips are evenly dispersed. Sprinkle more chocolate chips on top for presentation, if desired.

Allow the dip to chill in the refrigerator at least 2 hours. Serve cold with broken waffle cone pieces. Dip can be stored in the refrigerator covered tightly up to 5 days. Moisture will separate from dip as it sits, so stir before serving again.
Notes
*The nature of ricotta means this dip will have a slightly grainy mouthfeel. If you are put off by the texture of ricotta, you can strain it-- an overnight process, but easy. Instructions for that here.
Nutrition Disclosure
All nutritional values are approximate and provided to the reader as a courtesy. Changing ingredients and/or quantities will alter the estimated nutritional calculations.