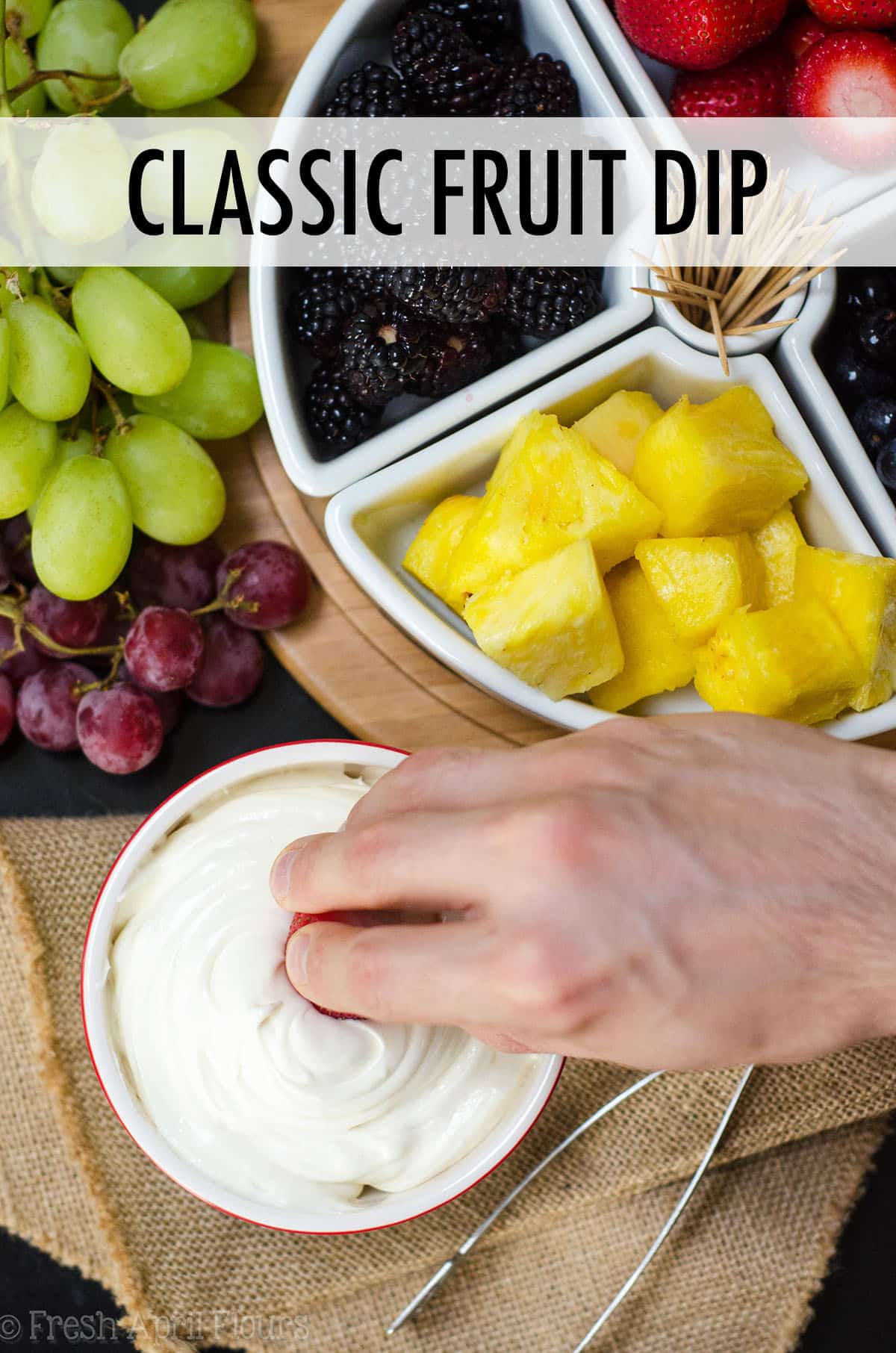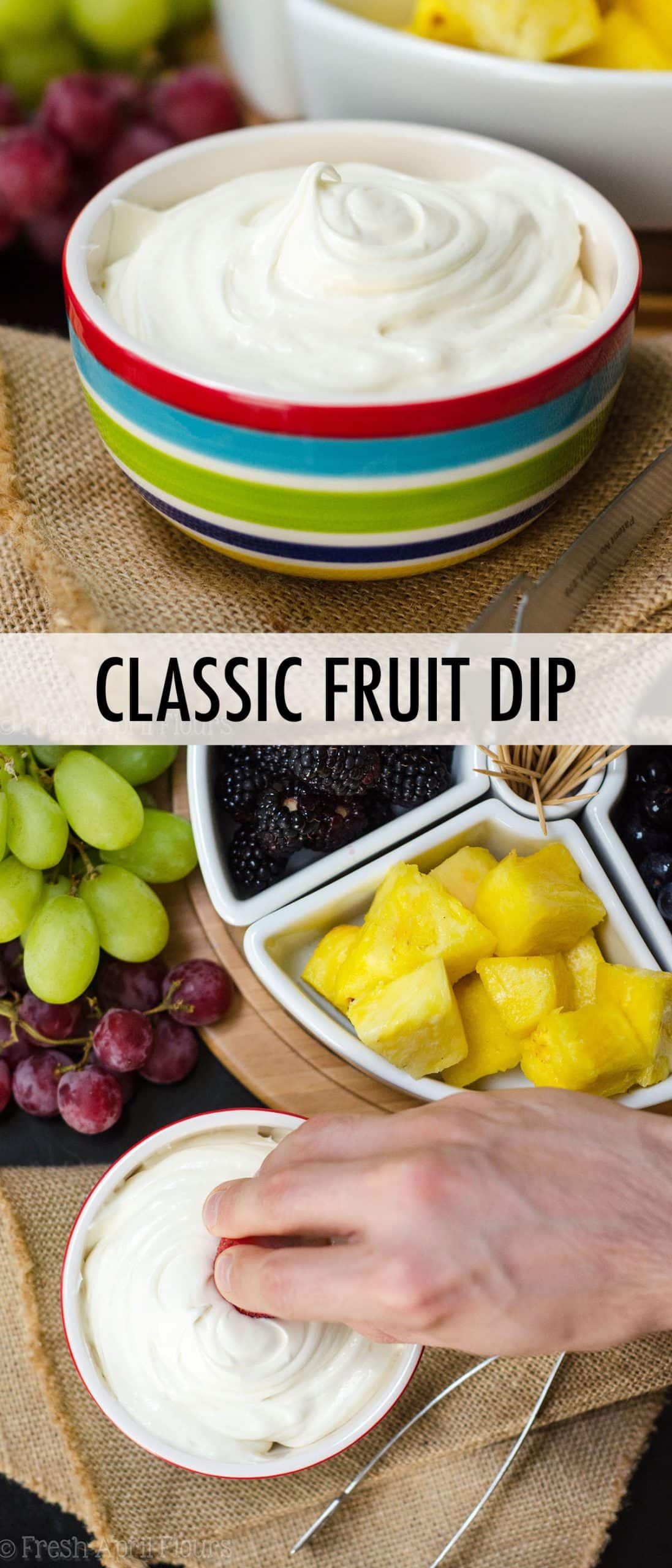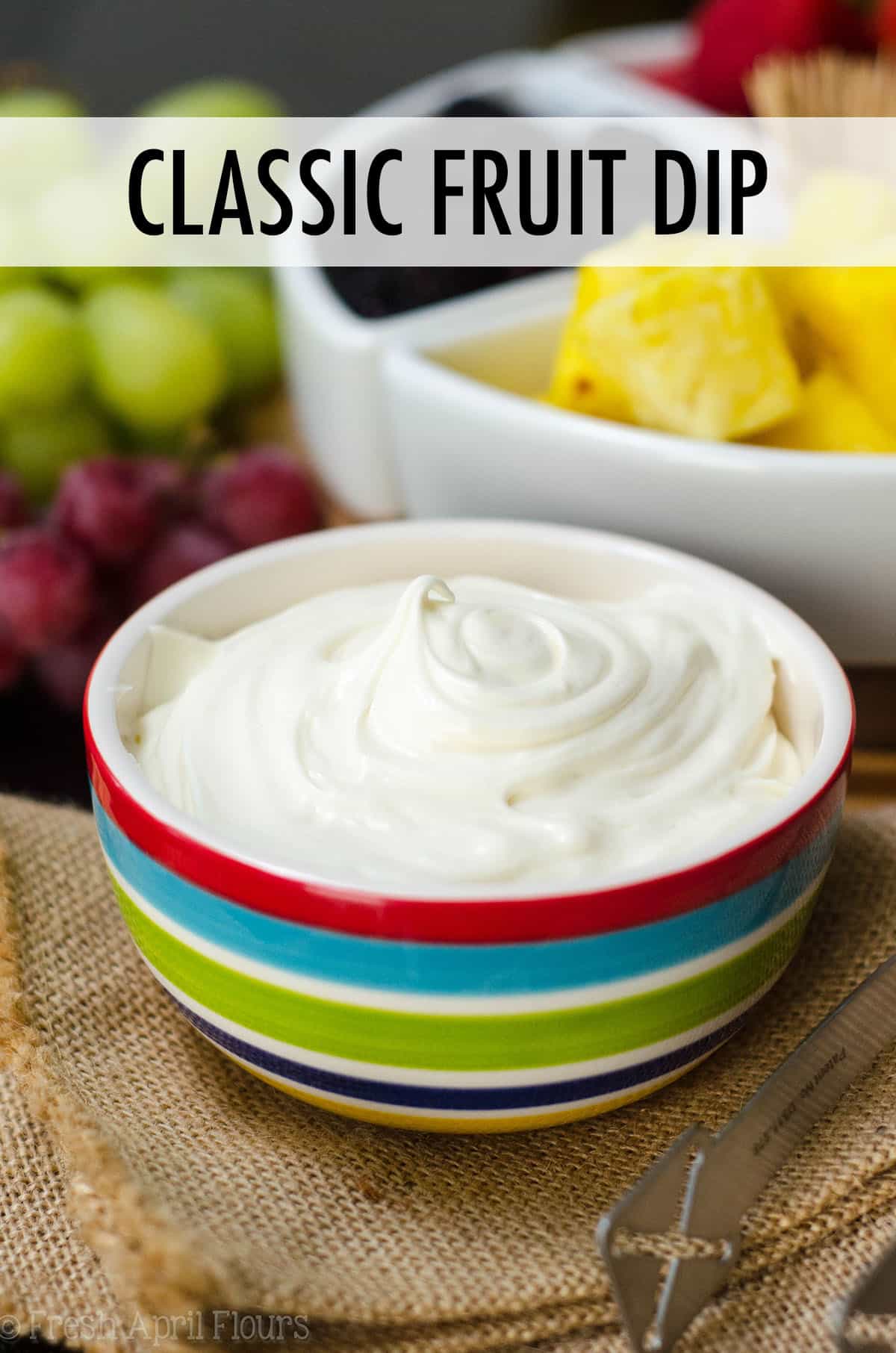 As an Amazon Associate, I earn from qualifying purchases. Read the full disclosure here.
You only need two ingredients to make my favorite fruit dip. Make this easy fruit dip recipe even tastier by adding your favorite extract! Serve with your favorite fresh fruit or suggested list of other dippable snacks.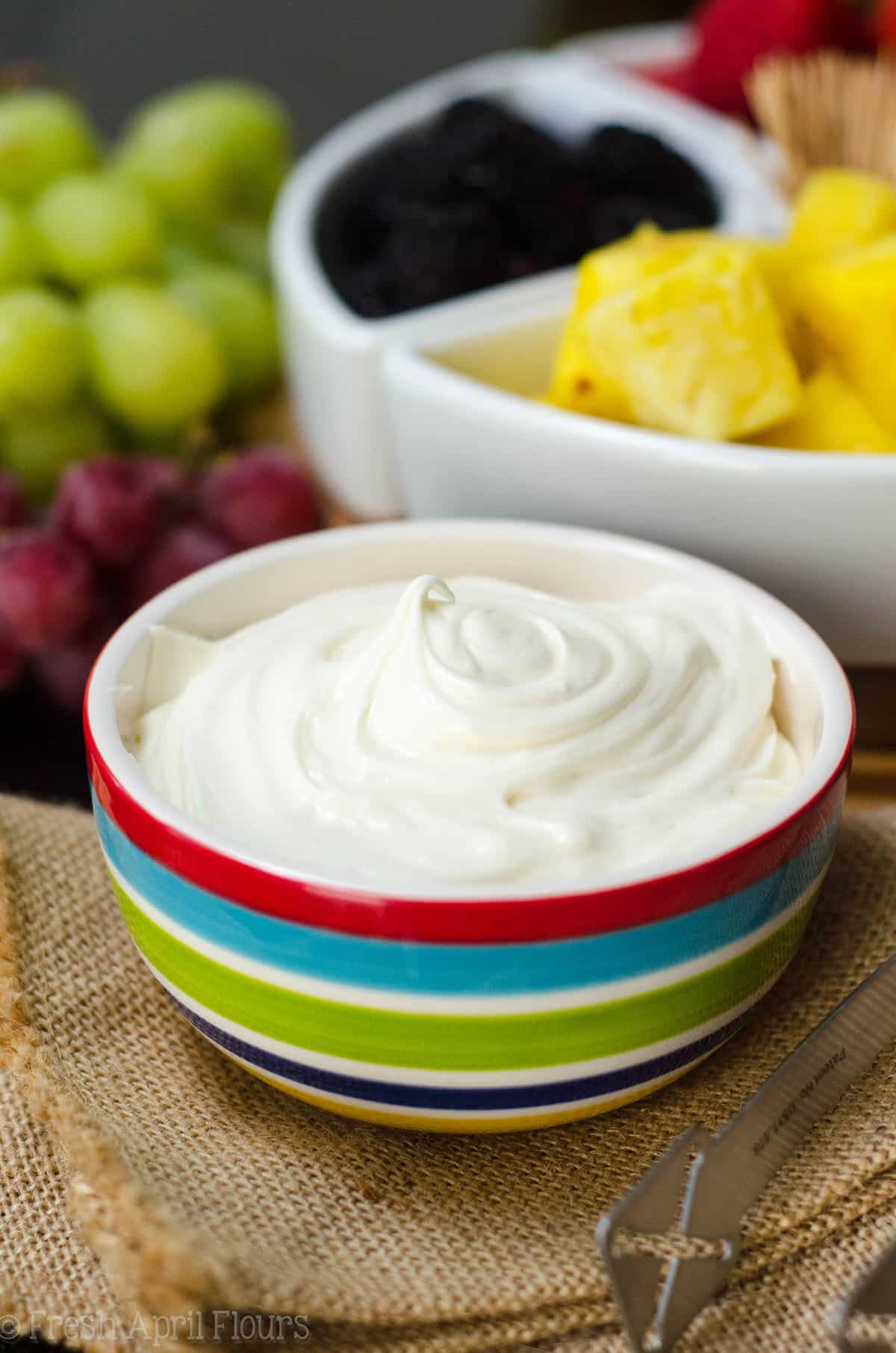 When it comes to fruit in our house, we don't typically need anything extra to convince us to eat it right up.
In the summer, our kids basically turn into fruitatarians, fighting over every last grape rolling around in the fridge or dripping watermelon juice all over the floor on their way out to the porch where they can make as much of a mess as they wish.
When winter rolls around, you can find us shoving all the citrus and apples into our mouths, and on snowy days, we love to turn fruit into a treat by dipping it in chocolate or whipping up this (my favorite) marshmallow fluff fruit dip to make the day a little more cozy.
While I don't normally need to dip my fruit into any kind of creamy dip, it sure does bring a little something extra to the table (literally) and makes a great easy recipe to prepare when you're having a party and want to keep a variety of options available.
In fact, I love making this classic marshmallow fruit dip when we're hosting birthday parties, because it seems like dessert, but really, we can just consider it a little special treat alongside the fruit portion of the spread.
INGREDIENTS
This fluffy fruit dip is truly simple in that it literally uses two ingredients. Yep. Just two.
If you want to add a little something extra (I always do!!), then your total ingredients moves up to a possible THREE, but really, the bulk of the marshmallow dip is largely just two.
You'll need some room temperature cream cheese and marshmallow cream (or marshmallow creme, however it is you prefer to classify it).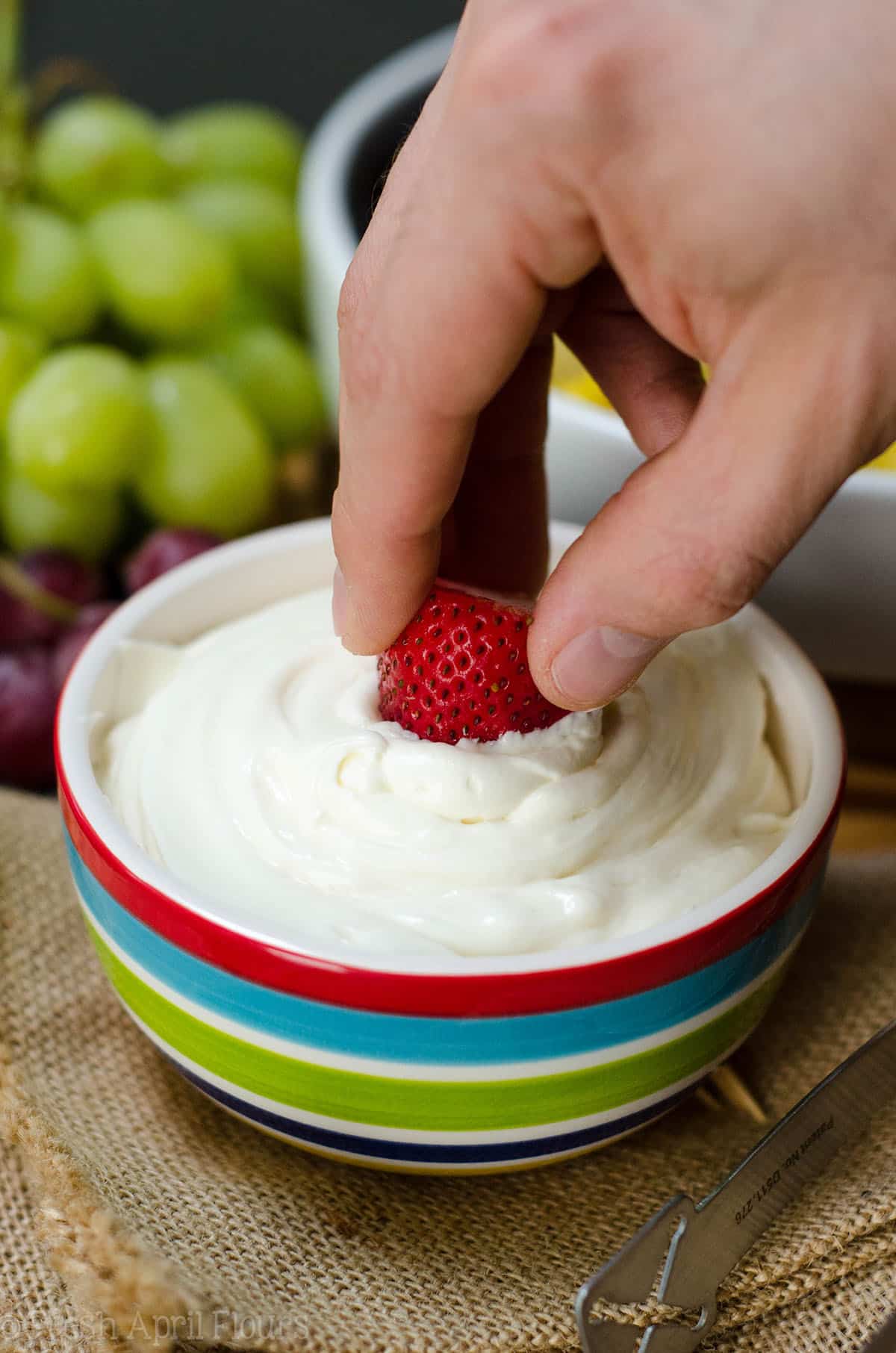 I always add a bit of almond extract to mine, which I think takes the flavor from awesome to amazing, but you can absolutely leave it out. Additional flavor options include orange zest, a splash of vanilla, or any other extract or spice you see fit for your platter of fresh fruit.
Whatever you decide to add (if anything at all), I believe in you to create the perfect combination of flavors.
Just leave the Cool Whip out of it. PLEASE. If you feel like your creamy fruit dip needs something extra, turn to homemade whipped cream.
You'll thank me for that one later, I promise.
HOW TO MAKE FLUFFY MARSHMALLOW FRUIT DIP
A fruit dip recipe is seriously as simple as taking that softened cream cheese and whipping it with the sweet marshmallow creme.
This will take… A couple minutes? If that. It's truly that easy and the total time from start to finish is so fast, you might even have "taste tested" it all before you realize it's done and ready to serve.
And the best part? You can use an electric mixer for this, so no need to bring out your stand mixer. Unless that's all you have! But you don't need all that power. This dip is really easy to bring together.
ADD JUICE OR EXTRACT TO COMPLEMENT YOUR FAVORITE FRESH FRUITS
As I mentioned, I love using almond extract, but you can always make your fluffy marshmallow cream cheese fruit dip season-specific for whatever fruit you're serving it with.
Vanilla extract, orange or lemon juice/zest/extract, orange juice concentrate, fresh strawberry juice (hello, strawberry fluff!), some chocolate sauce (to turn it into chocolate fruit dip)…
Whatever you choose, I want to hear about it! Or… Just invite me over. I'm a really good taste tester.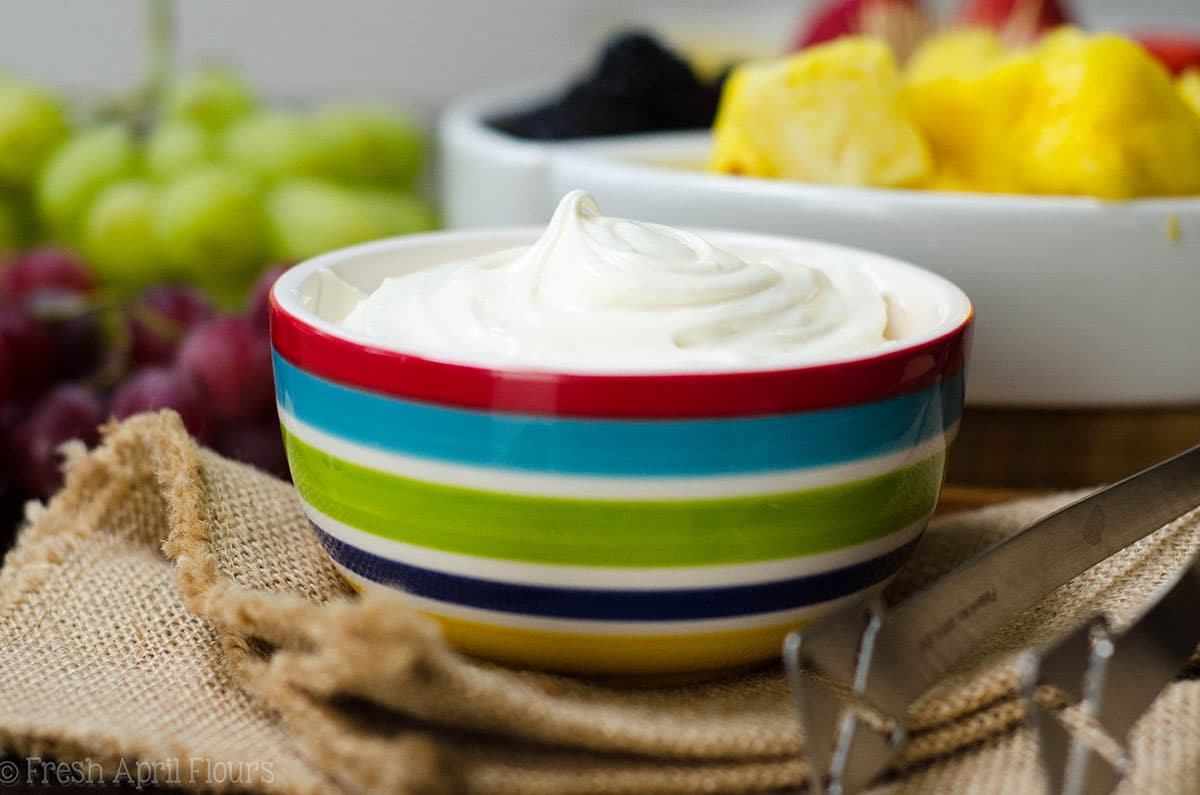 Personally, I think my cream cheese fruit dip is the best fruit dip because of that almond extract, but you try it and be the judge!
MAKE AHEAD
This delicious fruit dip can absolutely be made up to 1 day in advance of your serving it. It will sit nicely in the refrigerator until you're ready for it, and…
Bonus points: you can even freeze this fruit dip so you have one less thing to prepare the day of whatever sort of party or gathering you're hosting or going to. Thaw in the fridge overnight and you're golden!
IS FRUIT DIP GLUTEN FREE?
It sure is! Double check your fluff container, though, just to be safe. There should not be any gluten in there because fluff is generally reliably gluten free, but it never hurts to check.
WHAT ELSE CAN I SERVE WITH TWO-INGREDIENT FRUIT DIP?
You'll be pleased to know that this cream cheese dip can be used with anything from fresh strawberries to fresh pineapple and all the way to vanilla wafers, Teddy Grahams, graham crackers, pretzels, and/or a side of chocolate chips. The limit does not exist to what you can serve.
In conclusion for the shortest post I have on my website…
We love cream cheese.
We love fluff.
Put them together and we have something magical.
Like… I don't know if I can even call this a "recipe" for fruit dip. Because it's more like a sticky note for fruit dip.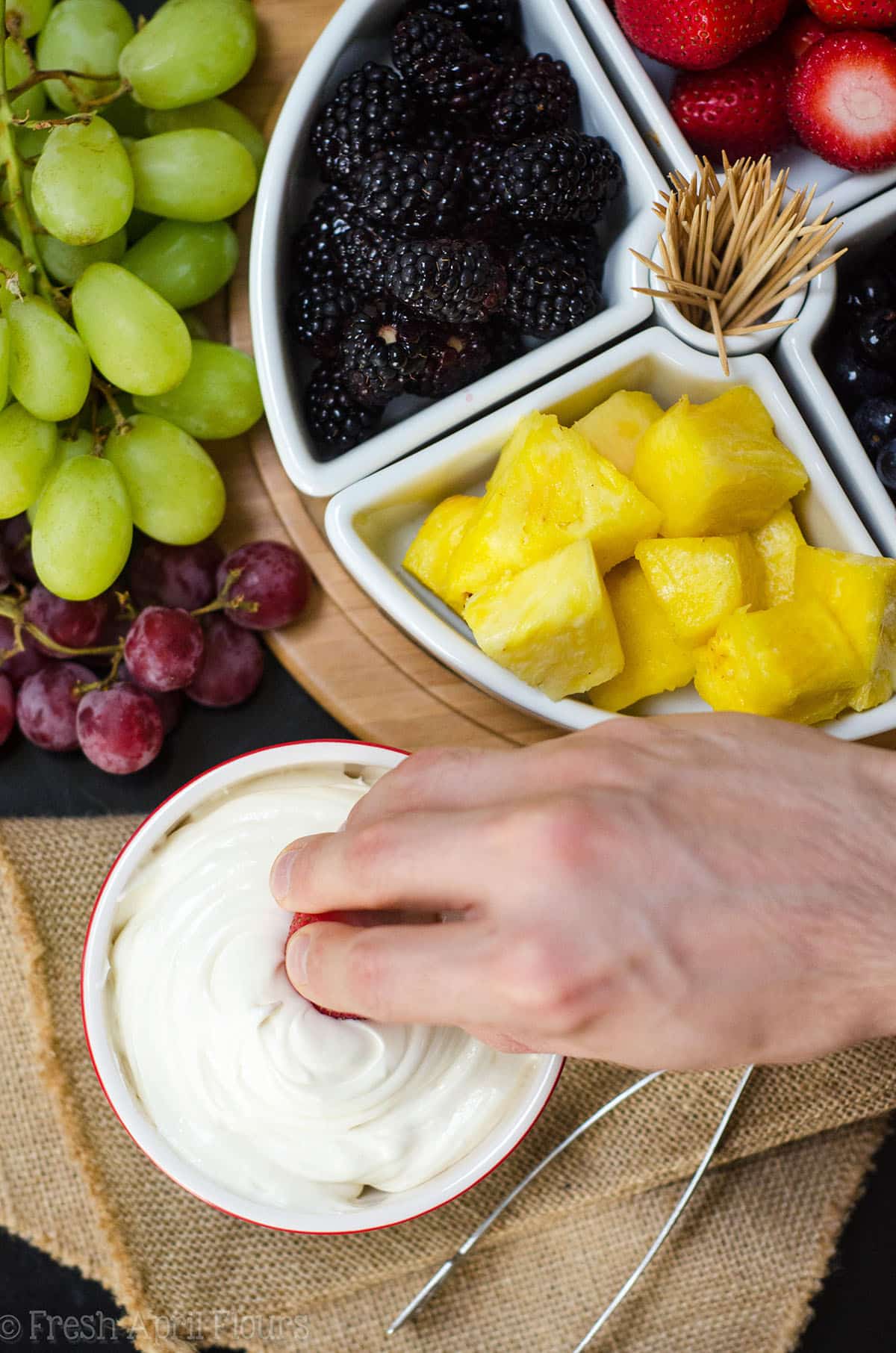 And definitely no judgment if you want to eat this stuff straight up. I'm pretty sure most of the fruit I dipped into mine during the photo shoot were loaded with about 3 servings' worth.
Check out some of the best dips around my site if you're looking for a great snack for your next party or fun school snacks for the lunch box: cookie dough dip, funfetti cake batter dip, eggnog dip, and brownie batter dip.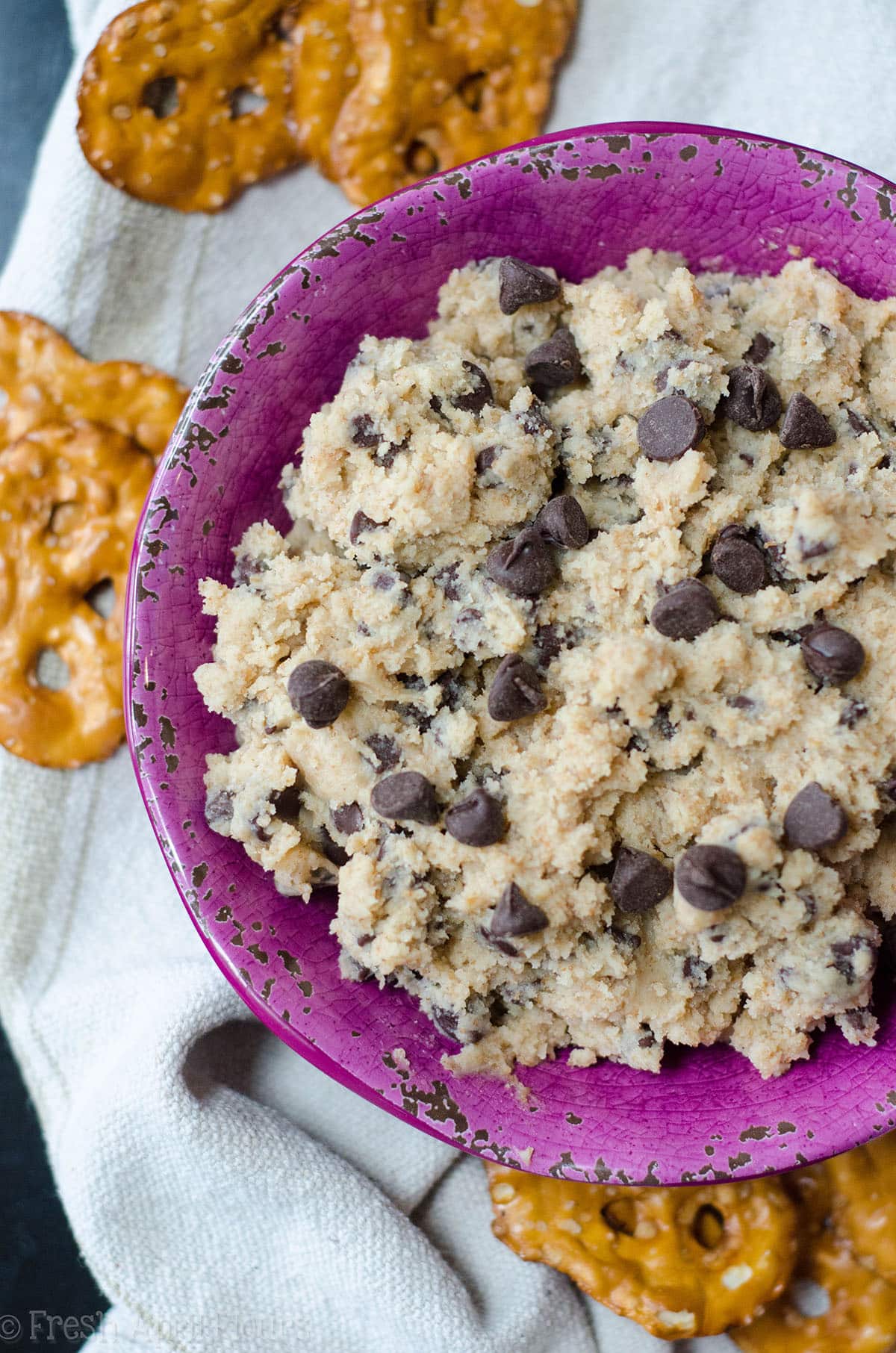 Marshmallow Fruit Dip
You only need two ingredients to make my favorite fruit dip. Make this easy fruit dip recipe even tastier by adding your favorite extract! Serve with your favorite fresh fruit or suggested list of other dippable snacks.
Ingredients
8

ounces

(225g) cream cheese

softened to room temperature

7

ounces

(198g) marshmallow creme
OPTIONAL: ¼ teaspoon desired extract I use almond1
Instructions
Add the cream cheese and the marshmallow creme to a medium size bowl or the bowl of a stand mixer. Using a handheld mixer or the paddle attachment, beat the cream cheese and marshmallow together on medium-high speed until smooth.

Turn off the mixer, add extract, if using, and beat again on low speed. Allow dip to chill in the refrigerator for at least 1 hour before serving with fruit. Store leftovers in the refrigerator up to 1 week. Dip may be frozen2 up to 1 month. Thaw in the refrigerator overnight.
Notes
Extract: you can omit flavored extract completely, though I recommend a but just for a little something extra. Consider vanilla or even a citrus like orange or lemon. My favorite is almond extract because its flavor lends well to most fruits.
Freezing: you may have to re-whip this fruit dip after being frozen in order to keep it nice and fluffy.
Nutrition Disclosure
All nutritional values are approximate and provided to the reader as a courtesy. Changing ingredients and/or quantities will alter the estimated nutritional calculations.