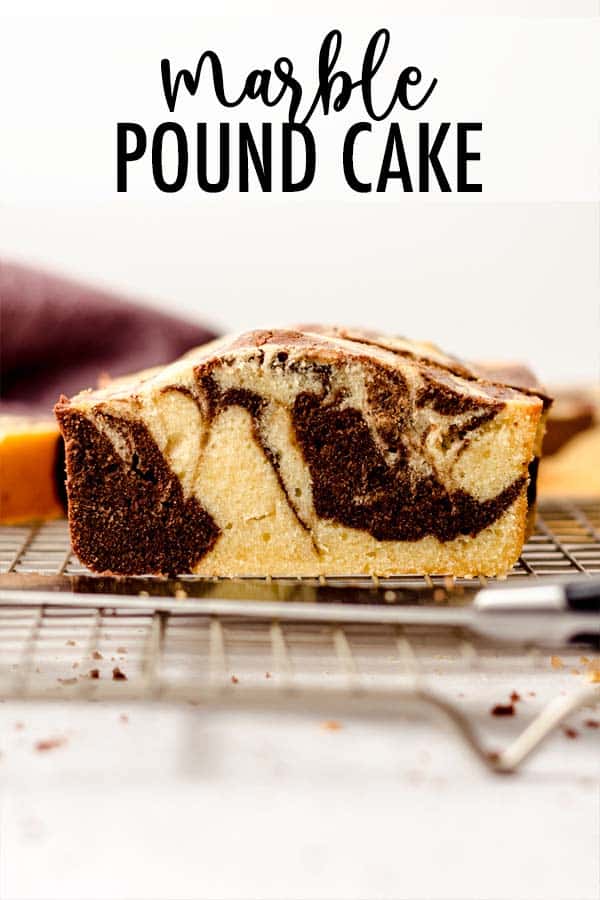 As an Amazon Associate, I earn from qualifying purchases. Read the full disclosure here.
This marble pound cake is buttery and rich with a very tight crumb. The simple base flavor of butter and vanilla is an excellent complementary taste to the slightly bitter chocolate swirled into every bite.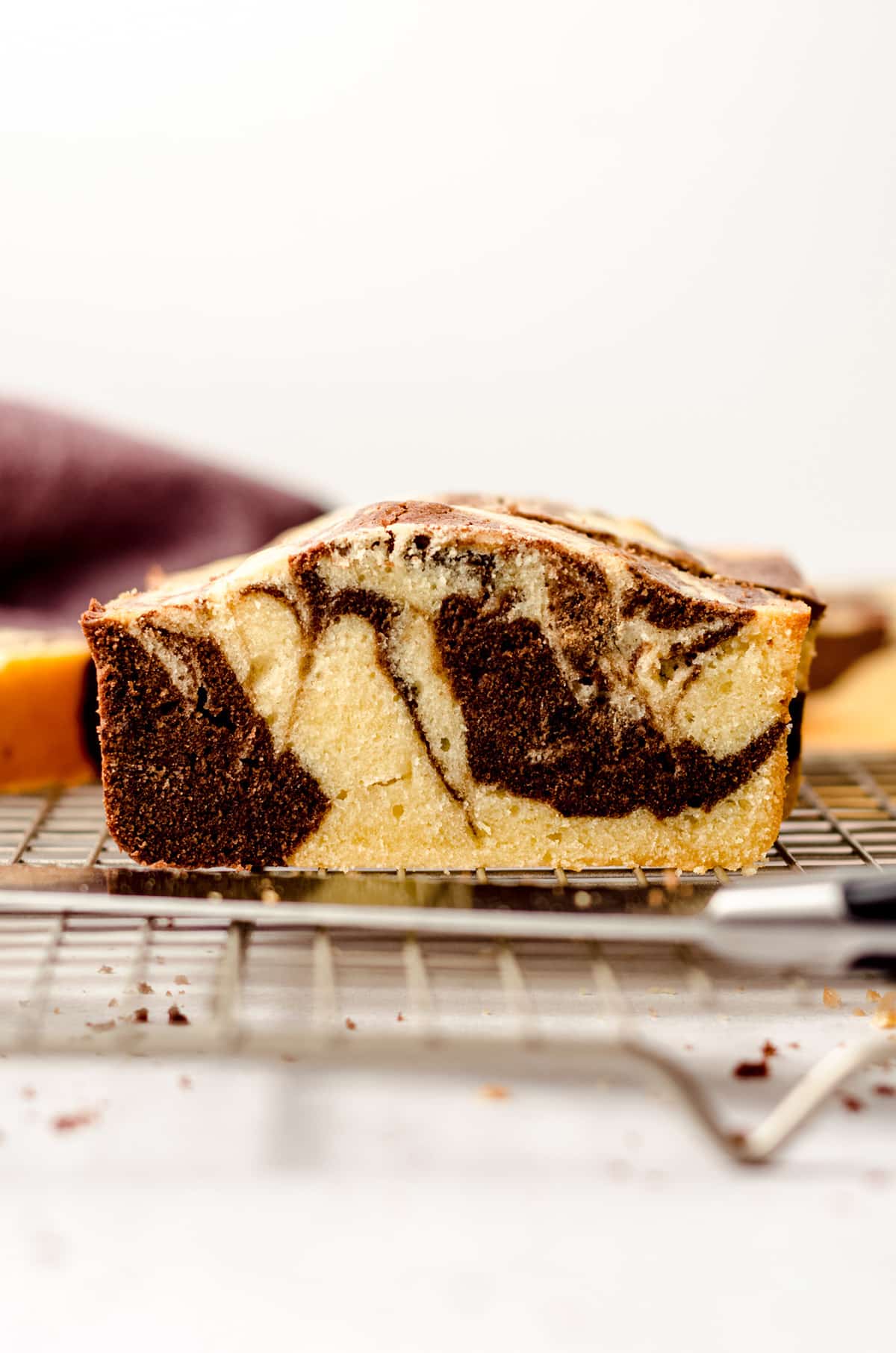 It's a very exciting day here at Fresh April Flours, and I'm honored to be sharing this brand new recipe with you here!
This incredible marble pound cake recipe comes to you from my friend Kristin's new cookbook, Baker Bettie's Better Baking Book. In this cookbook, Kristin shows several ways to flavor and customize her master recipes, and I chose her classic pound cake master recipe to make marble style.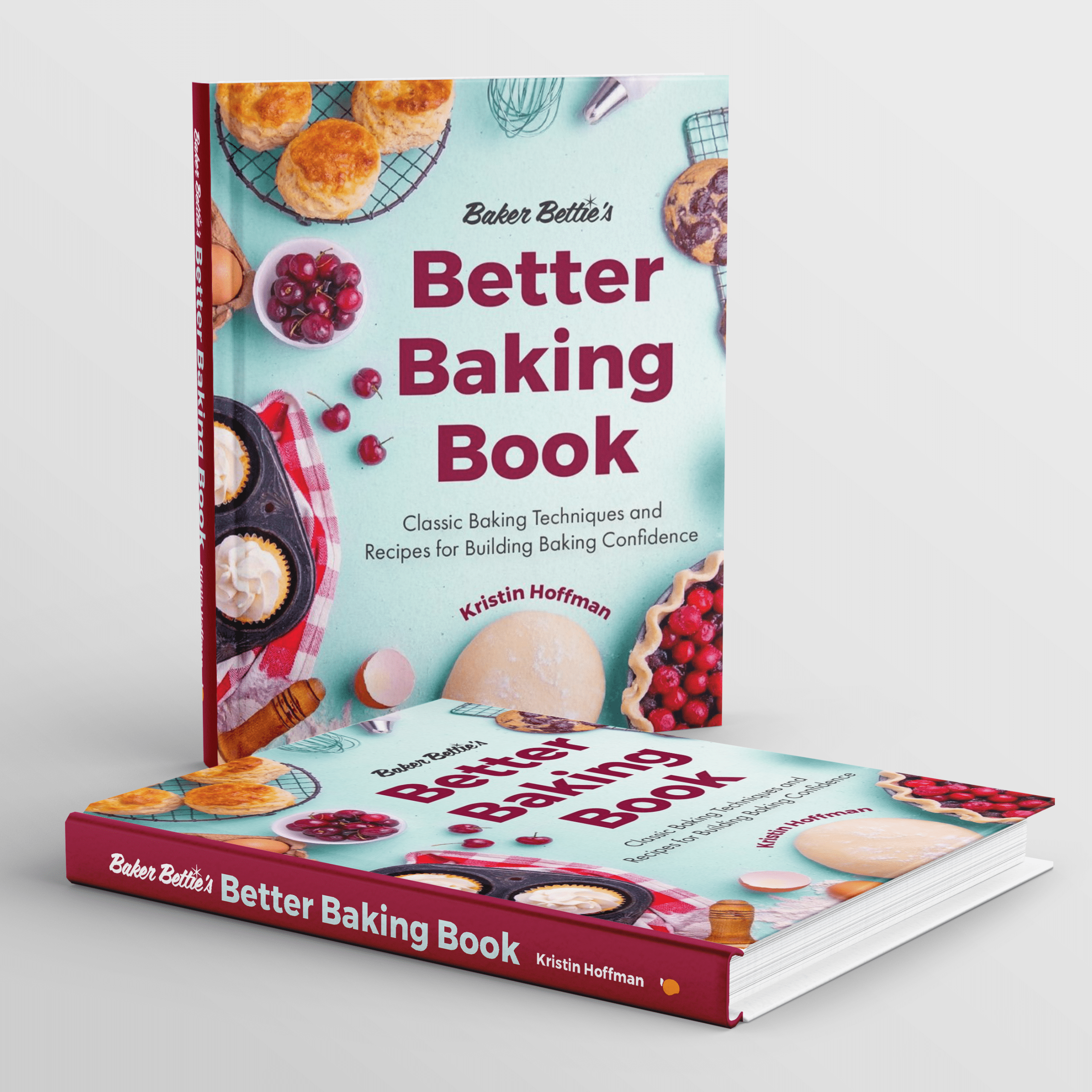 Baker Bettie's Better Baking Book
Do you know Kristin "Baker Bettie" Hoffman? This is not the first time I've mentioned her. Kristin and met at a blogging conference in 2019, and she quickly became not only my dear friend but my #1 go-to for learning about sourdough. I mentioned her sourdough expertise in my sourdough English muffins post and again when I used her base recipe to develop my ever-popular easy yeast rolls.
Kristin is a trained chef and baking educator, which gives her a leg up on many of we self-taught bakers. She knows so much about so many things, and she has answered countless questions for me about baking over the years. On her website, Baker Bettie, you will find a wide range of baking tutorials and recipes. She is the sourdough queen, so if you're looking to start or maintain a sourdough starter or bake your first loaf of sourdough bread, Kristin is your girl.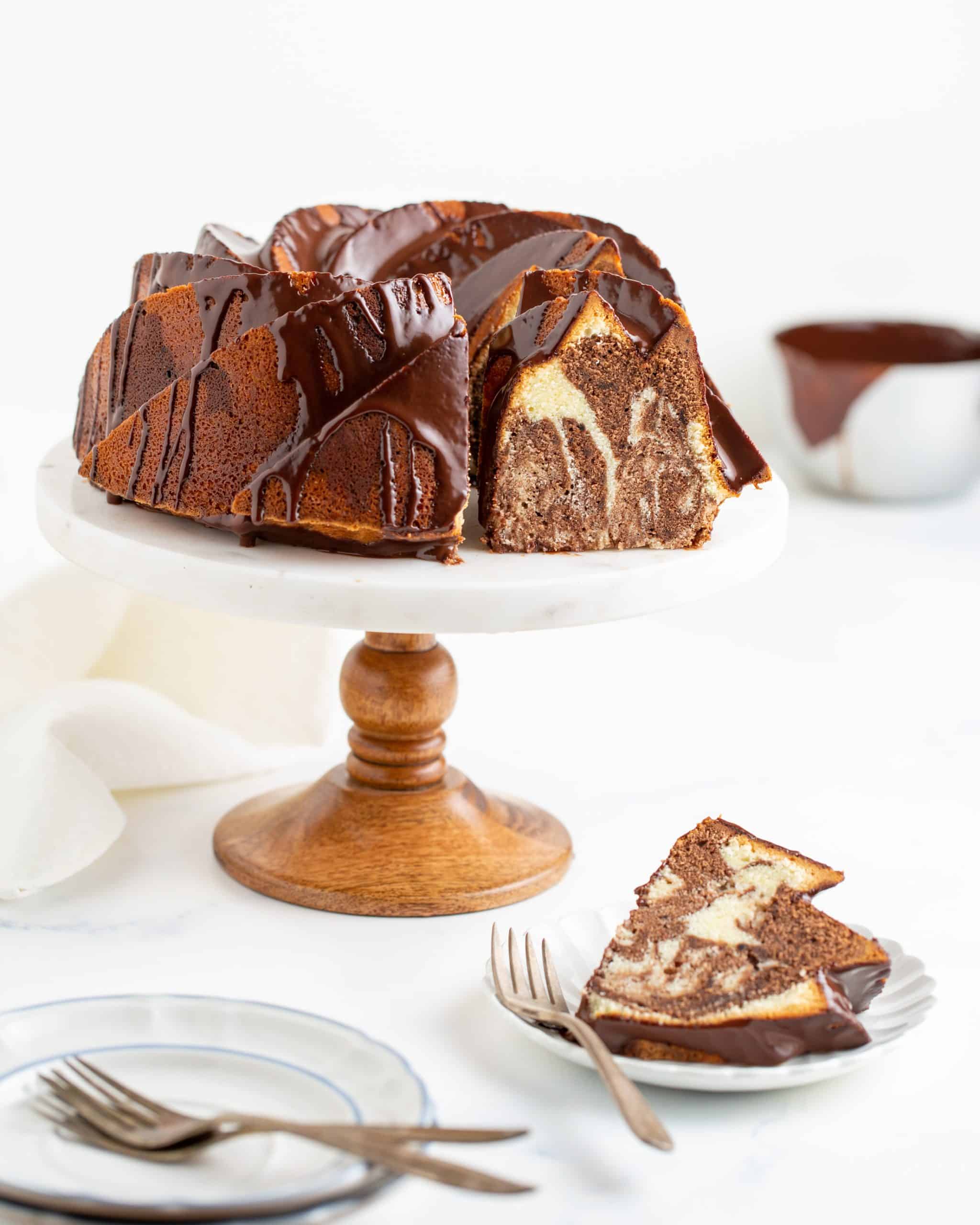 Photo by Kristin herself. And yes, this can be made into a bundt cake. See notes in the recipe.
Kristin's cookbook is broken into two major parts. The first part is full of baking lessons to set you up for success. There are step-by-step methods, thorough tutorials, and explanations of the purpose of common ingredients.
The second part of the book holds all of Kristin's master recipes– breads, pies, quick breads (both sweet and savory!), scones, biscuits, muffins, cakes, cookies, brownies, and more. All of these master recipes are customizable with spices, add-ins, and glazes/icings.
It's unreal how many recipes are actually in this book when you break it down into all of the variations. Kristin is truly an endless knowledge base for baking. I watched the testing of these recipes happen right before my eyes, and it was insanity.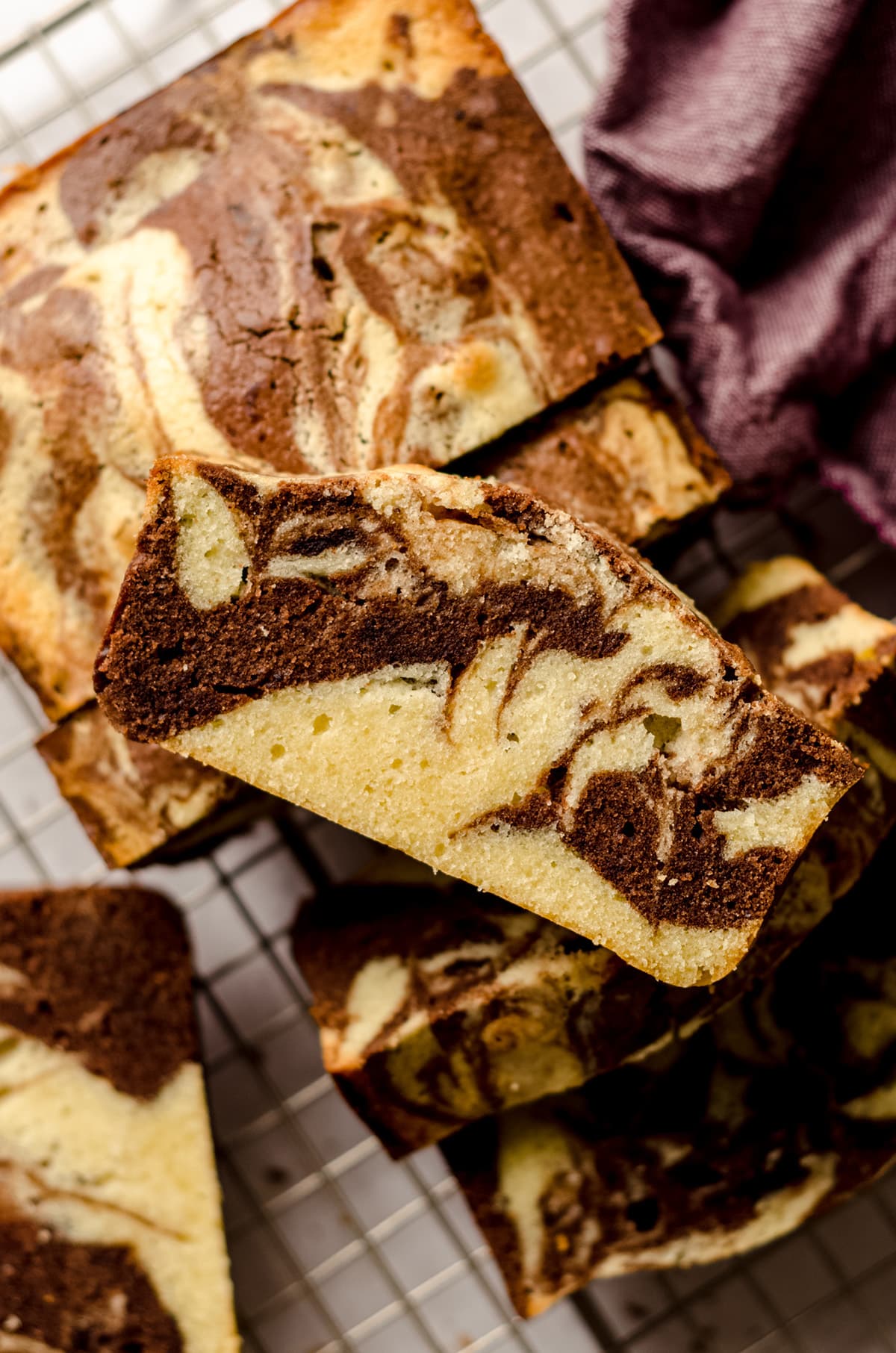 So many people went into testing these recipes, so you can be sure everything you try will come out perfectly. Her cookbook is great for both beginners and advanced bakers alike and includes extensive step-by-step photos, so many process shots so you know what to look for, and weight + volume measurements for each recipe.
It is truly a masterpiece!
This book is the one that I wished I had when I was first learning. I wrote it so that other bakers have a practical resource that connects all the dots and shows how baking science, mixing methods, and master recipes all work together to create endless beautiful baked goods.

KRISTIN HOFFMAN | BAKER BETTIE'S BETTER BAKING BOOK
You can read more about Kristin's book over on her website.
Now that I've tooted Kristin's horn a bit (I could go on and on– she's so wonderful), let's talk about this incredible chocolate marble pound cake.
INGREDIENTS
While we will get to the cake flour portion of the ingredient list, which I think is the most important ingredient to touch on in major detail, I will mention that this recipe is actually quite simple.
The fat base for this marble loaf cake is butter, and we're also using 4 whole eggs and sour cream. It is imperative that all three of these ingredients are at room temperature to insure that first of all, we can cream the butter properly, and second, that the remainder of the batter comes together properly.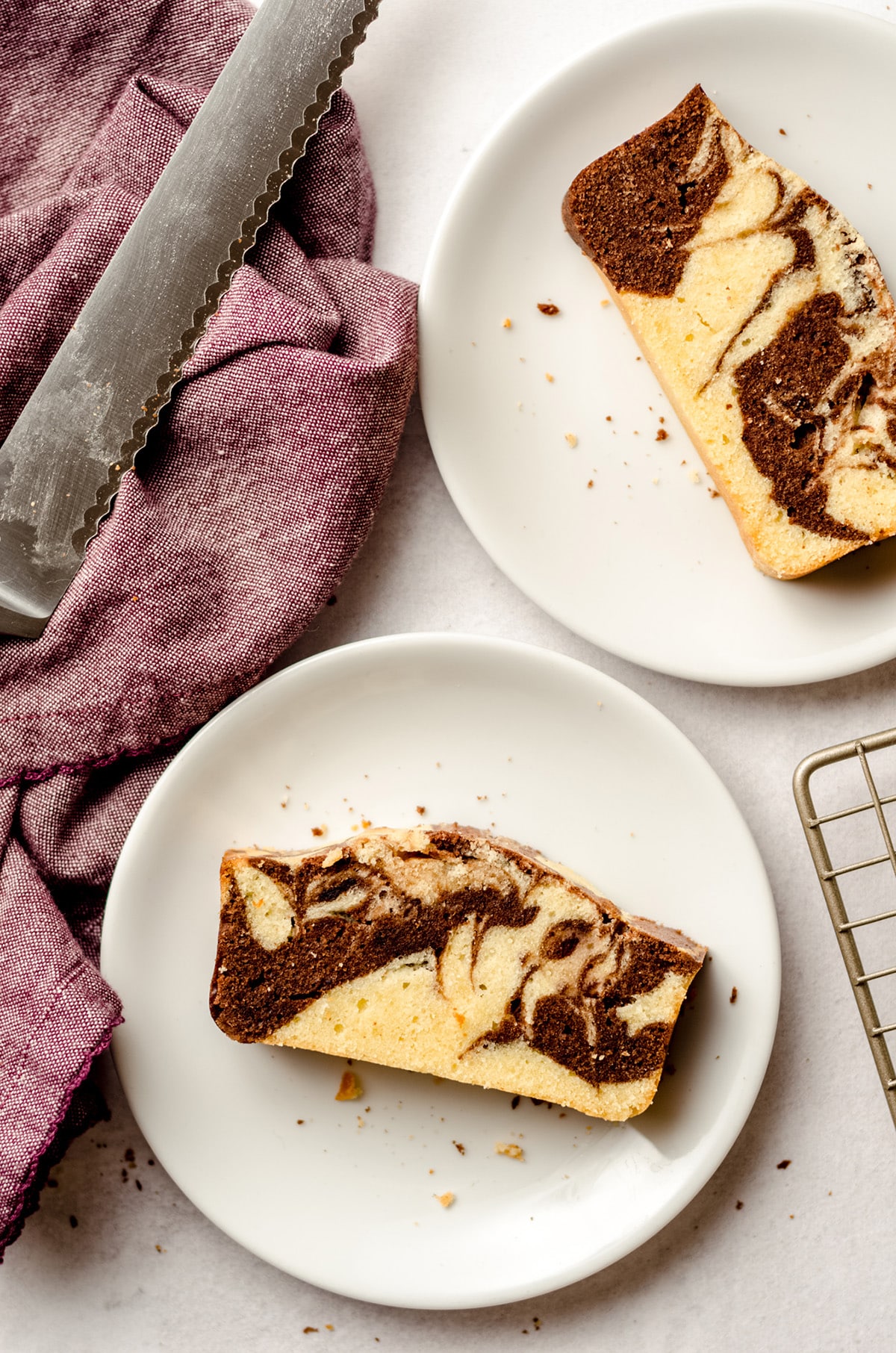 ROOM TEMPERATURE INGREDIENTS ARE A MUST
Cold or cooler temperature ingredients do not blend together as smoothly as room temperature ingredients do, so do take care and time to prepare your ingredients before diving right into this marbled pound cake.
CAKE FLOUR
This particular marble loaf cake recipe calls for cake flour. Cake flour is much lighter than all-purpose flour, and it actually has weakened proteins which prevent it from creating a strong gluten structure. While we do want a strong gluten structure in something like yeast bread, we don't want as much of that structure in cakes.
There is a time and place for cake flour, and this chocolate and vanilla marble loaf is it. But don't fret if you don't have cake flour! There are notes in the recipe if all you have is all-purpose flour.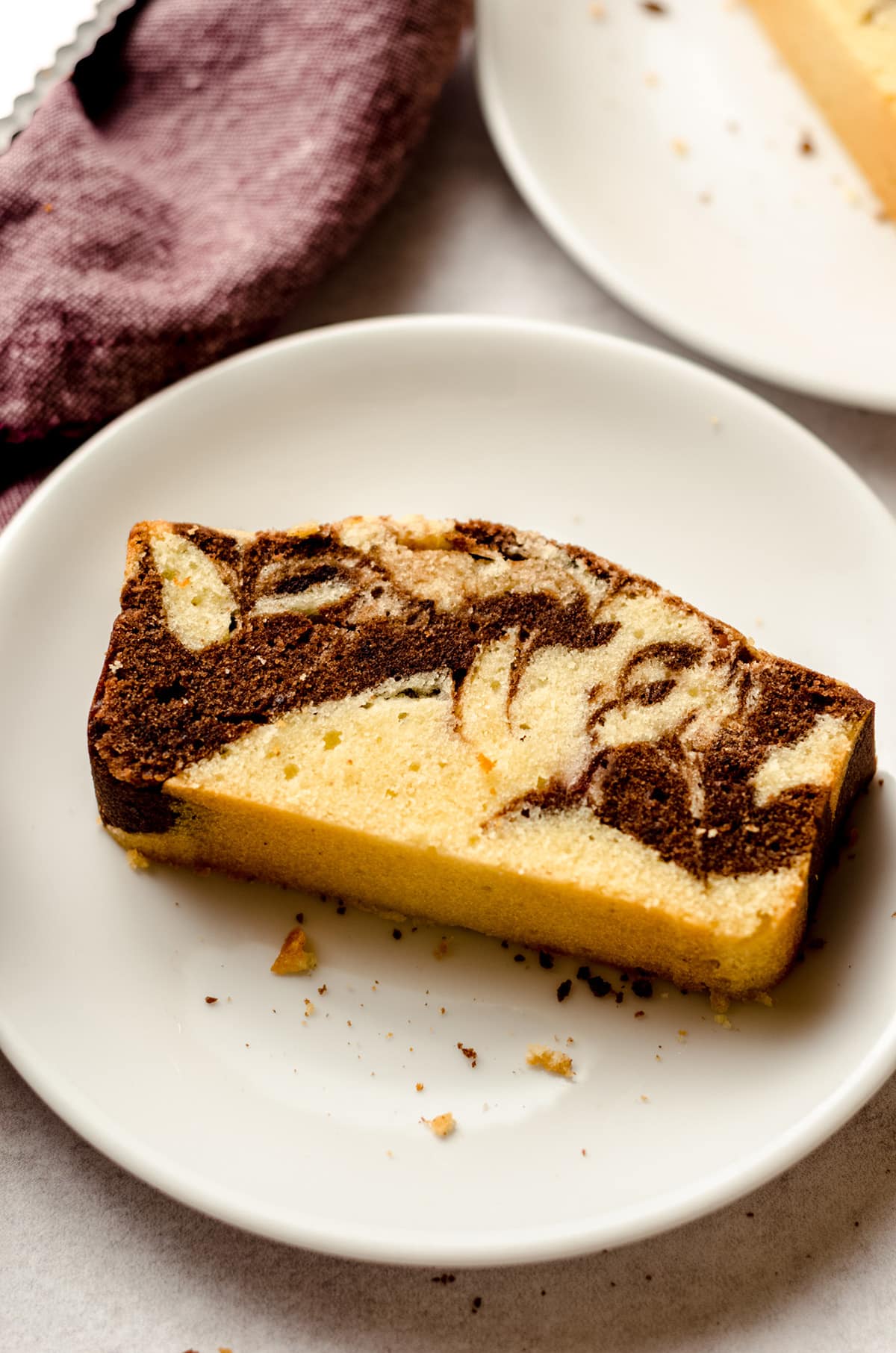 You'll also need cornstarch to create your own cake flour, so if you have cake flour or a combo of all-purpose and cornstarch, you're good to go!
THE CREAMING METHOD FOR CAKES
Remember when I said Kristin's book is broken into two major parts? In that first part, she discusses different methods for combining ingredients and creating batters.
The two methods she discusses when it comes to cakes are the blending method (which is what we typically refer to as the one-bowl method where we just stir together the ingredients) and the creaming method.
I'm also a fan of the reverse creaming method, and if you're interested in learning about that one, visit my white layer cake recipe to read all about it.
The creaming method is the one we'll use for this chocolate marble pound cake recipe, and you can see in this page spread what I mean about all those process shots Kristin provides.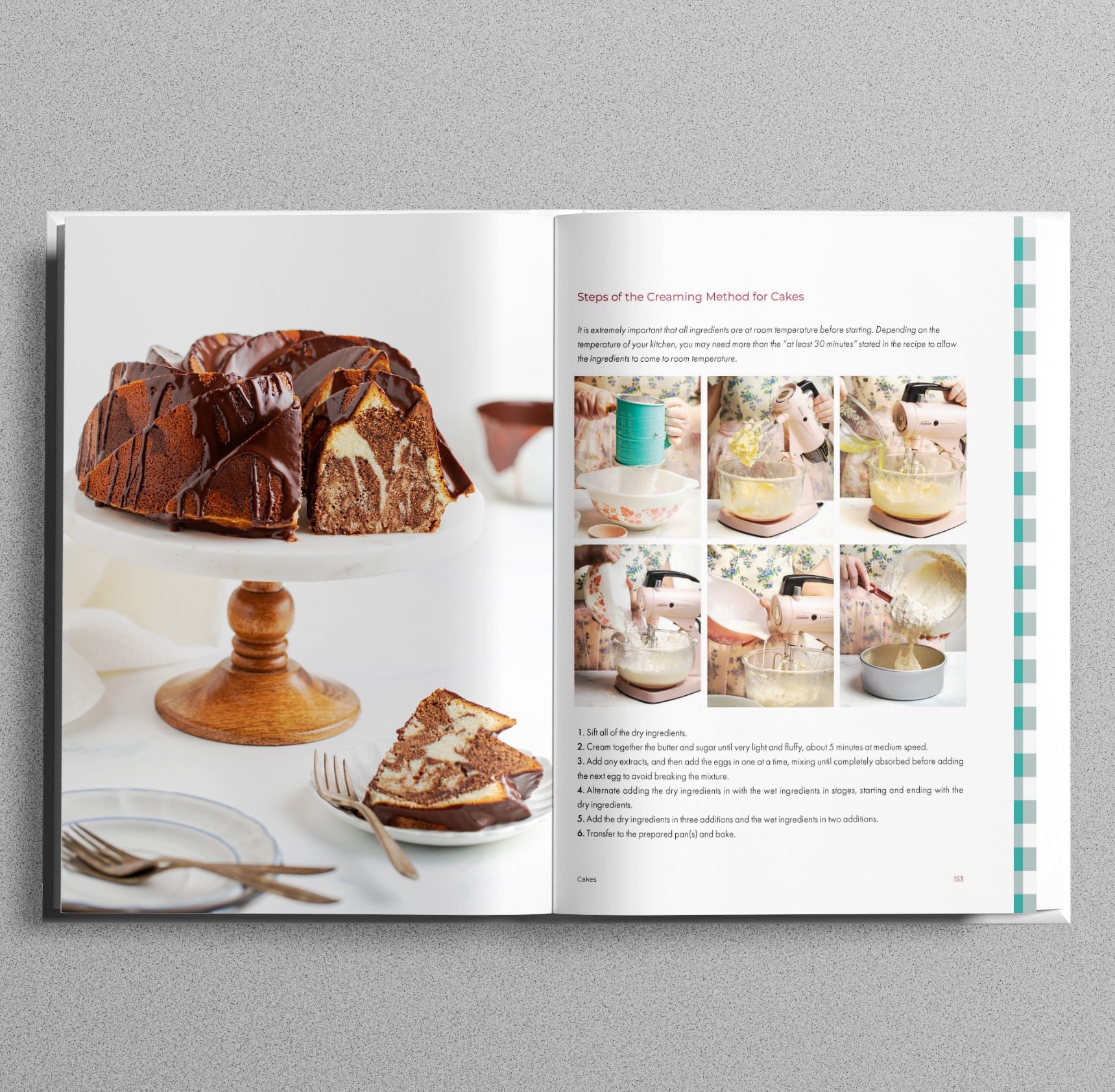 You'll start this marble pound cake batter by creaming together the butter and sugar. We're creaming for quite some time, and we're looking for a very light and fluffy mixture that has paled in color to indicate its readiness.
The creaming method helps keep this marble pound cake moist and light, but the downside is that these types of cakes don't stay moist for as long as oil-based cakes (like my chocolate cake) do.
Don't worry– this chocolate marble loaf won't last long enough for you to find that out. I guarantee it (says the woman whose loaf lasted just a few hours longer than 2 days).
ALTERNATING WET AND DRY INGREDIENTS
In order to maintain the integrity of this beautiful creamed base, it is imperative to incorporate the flour mixture and the sour cream properly so we don't break the base. This would result in a denser cake, which we definitely don't want in this marble pound cake loaf.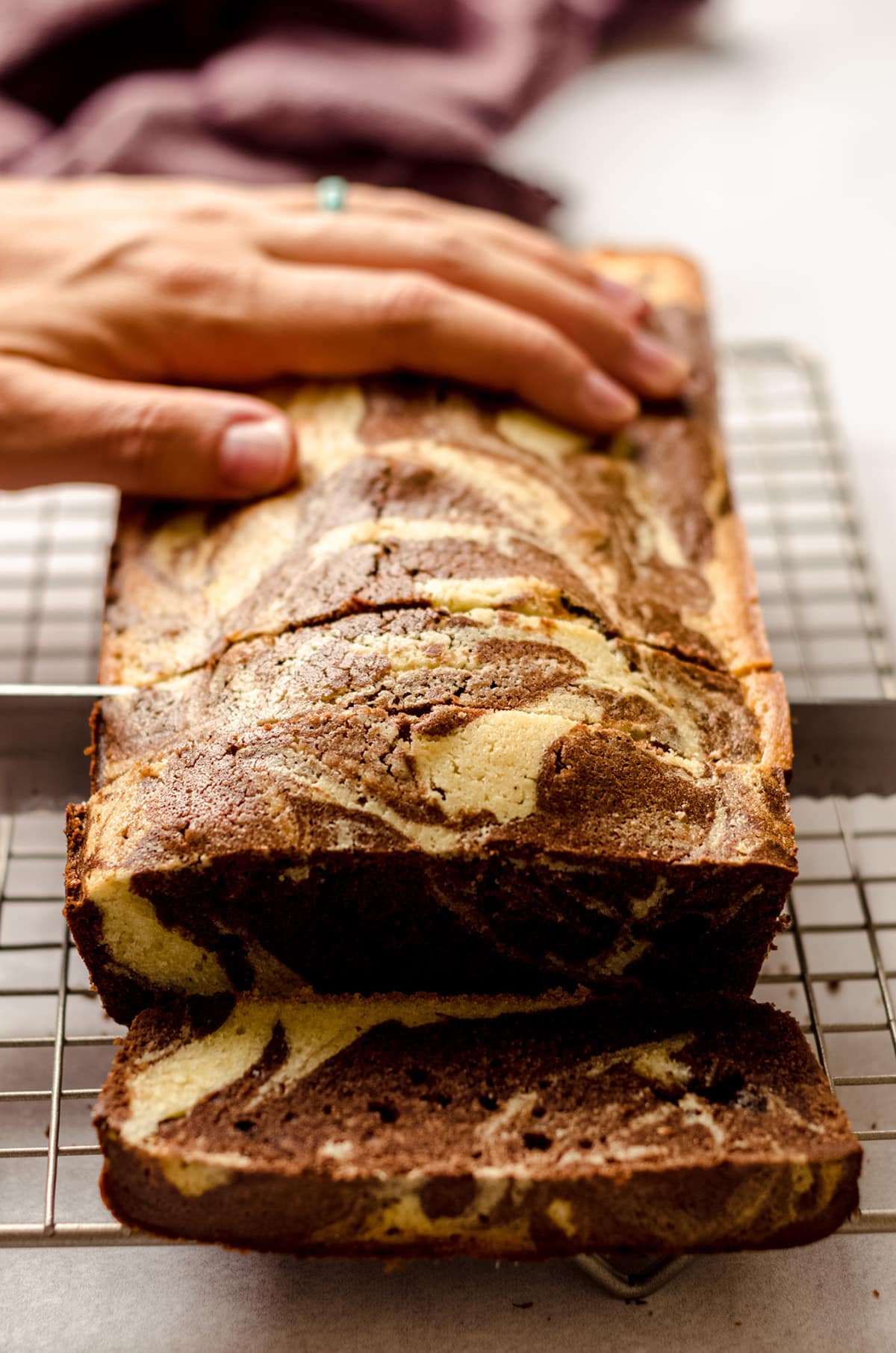 The dry ingredients will go into the creamed mixture in 3 additions, and the sour cream will go in 2 additions, starting and ending with the flour. Congrats! You've successfully conquered the creaming method.
SEPARATE THE BATTER
To create that marbled effect, you'll then split the batter in half and turn one half chocolate.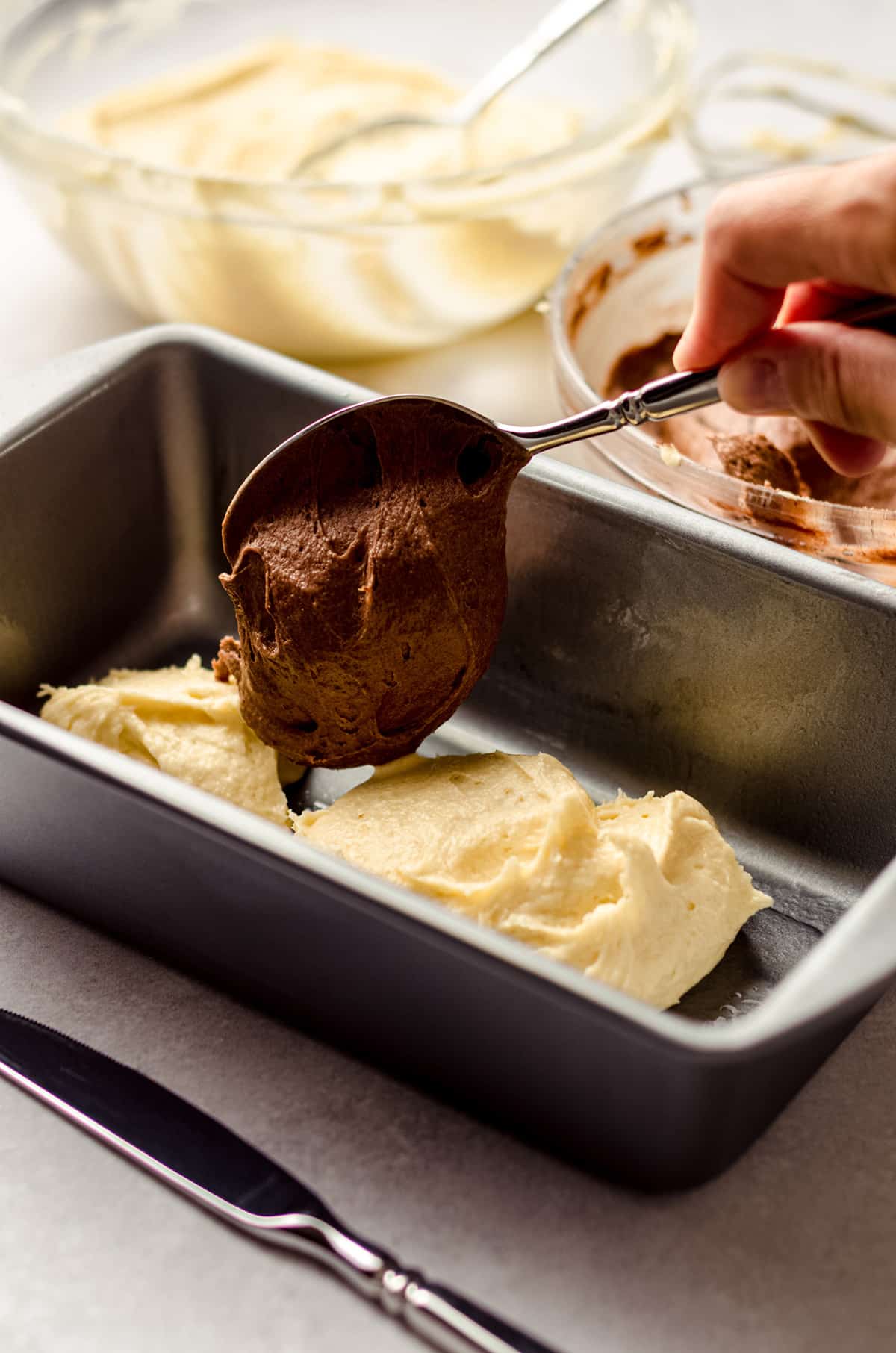 No sweat here– you're just adding 2 Tablespoons of cocoa powder to the already mixed batter. Gently stir it in, and you've got your chocolate swirl batter.
SPOON THE BATTER INTO THE PAN
The last step for this marbled pound cake recipe is to get the batter into the pan. Simple drop spoonfuls of the vanilla and chocolate batter into the pan, alternating as best as you can. There is no right or wrong way to do this, just try to spoon equal sized dollops in as you go.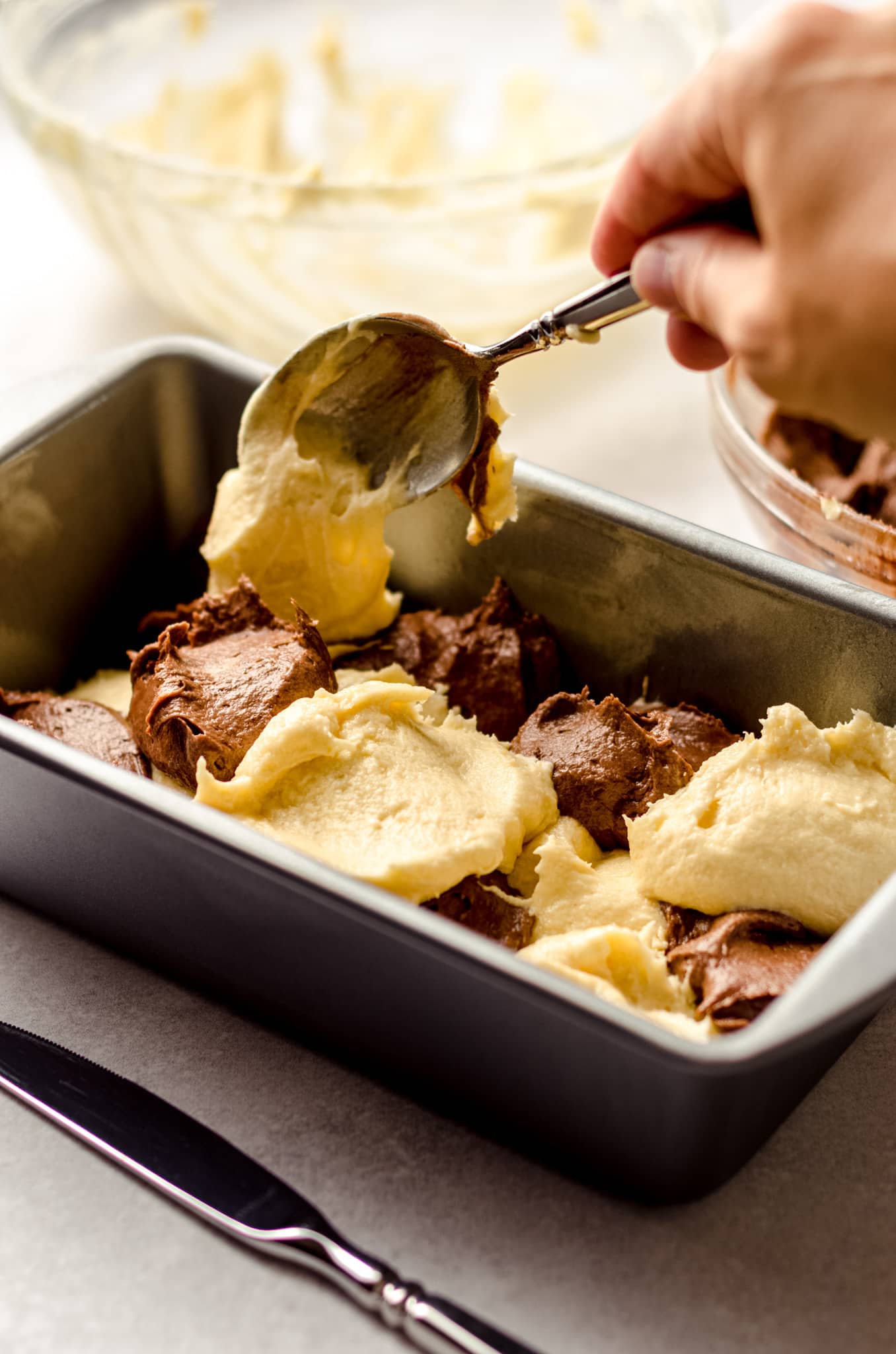 Lastly, swirl with a butter knife, then bake! This step creates all those gorgeous swirls.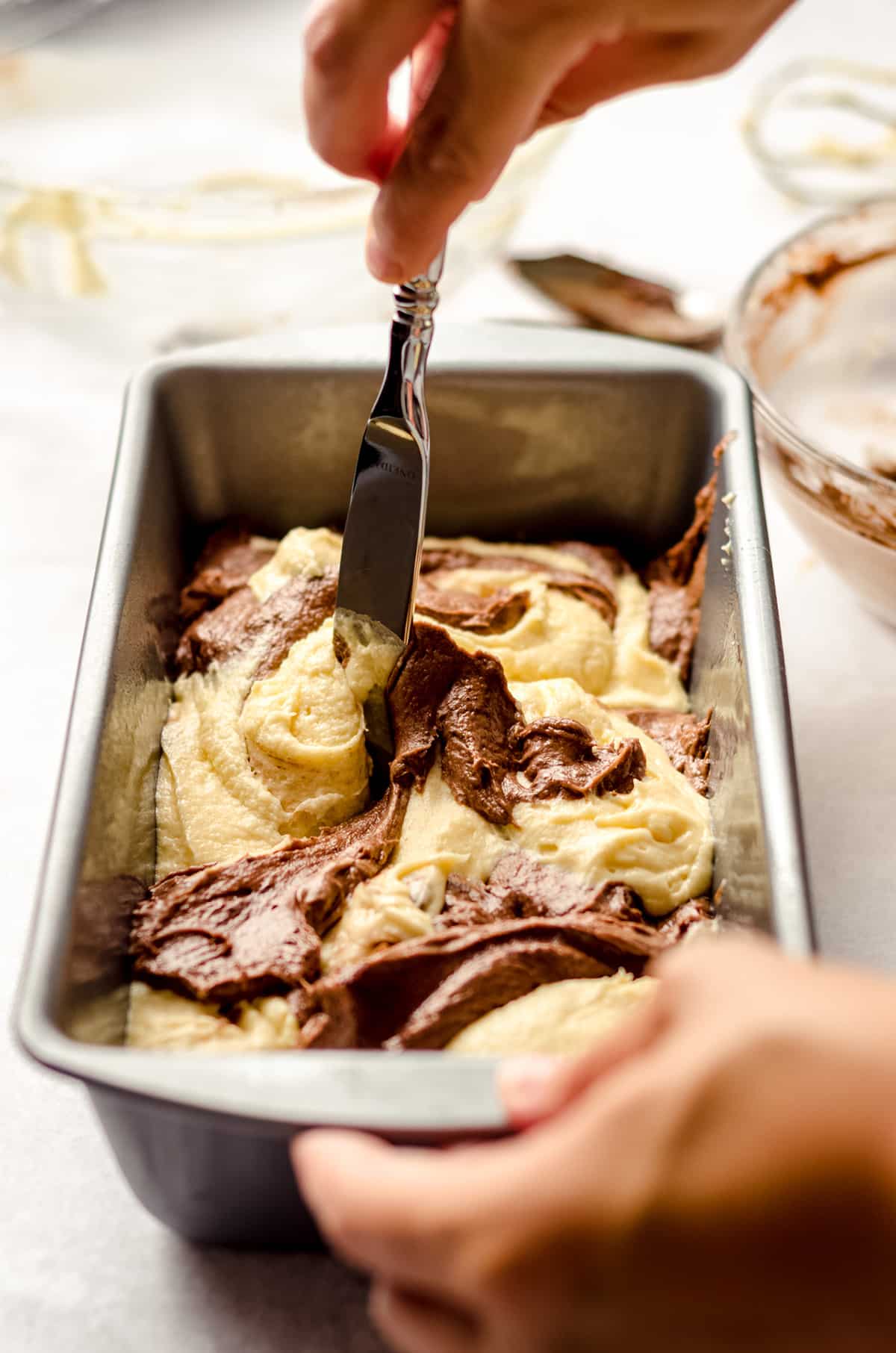 Once your loaf is completely cool, you can slice into it and dive right in.
You will be met with an incredibly light and moist marble cake loaf that you are seriously going to love. I could not stop eating it and I barely shared any with my kids (I gave them each a slice and then hid the rest for myself!).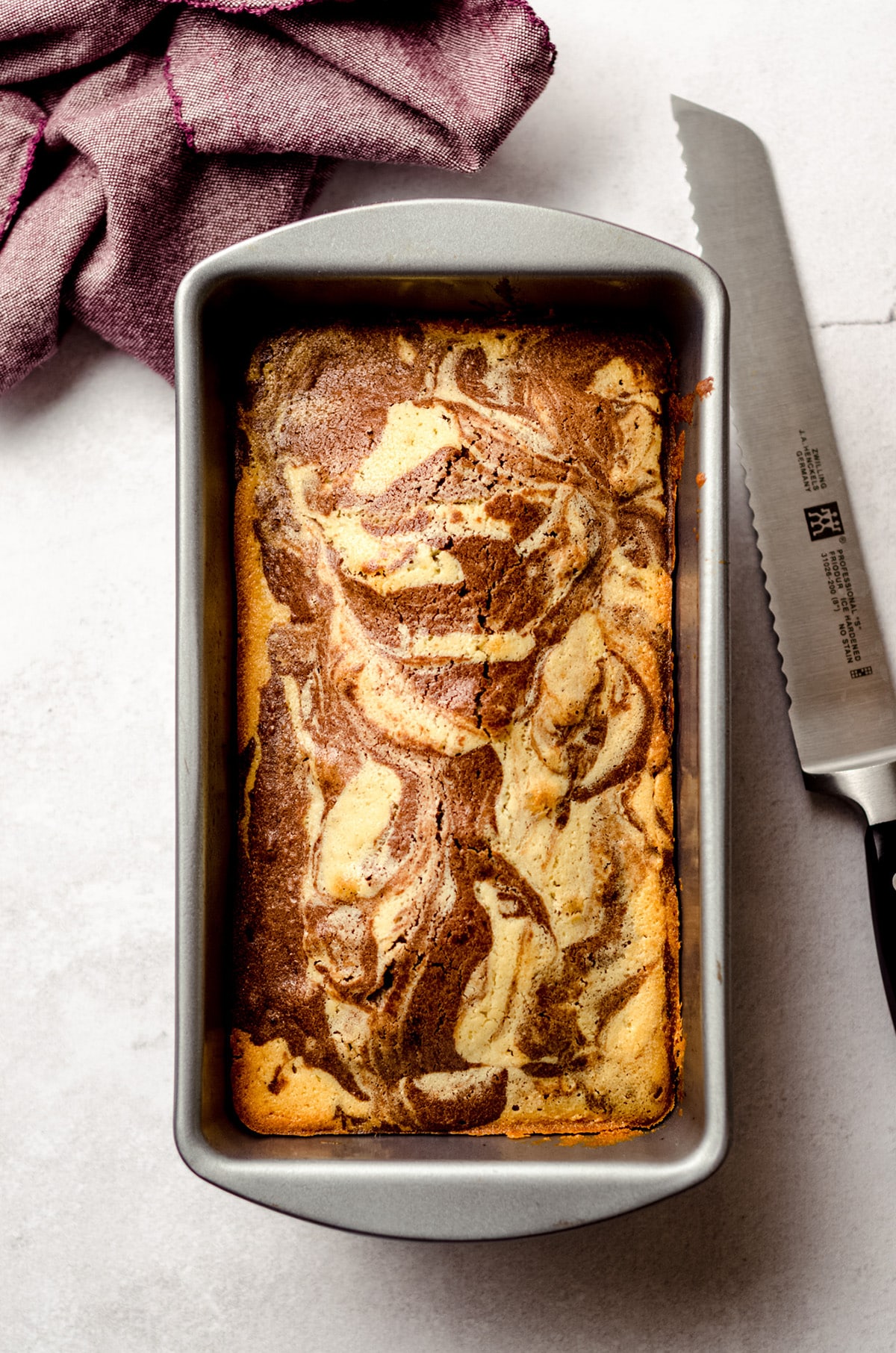 I was such a fan of this sour cream marble pound cake and it has made its way to my oven twice since photographing it for my site. I can't wait to make even more recipes from Kristin's book, and I am so grateful to her for letting me share this one with you.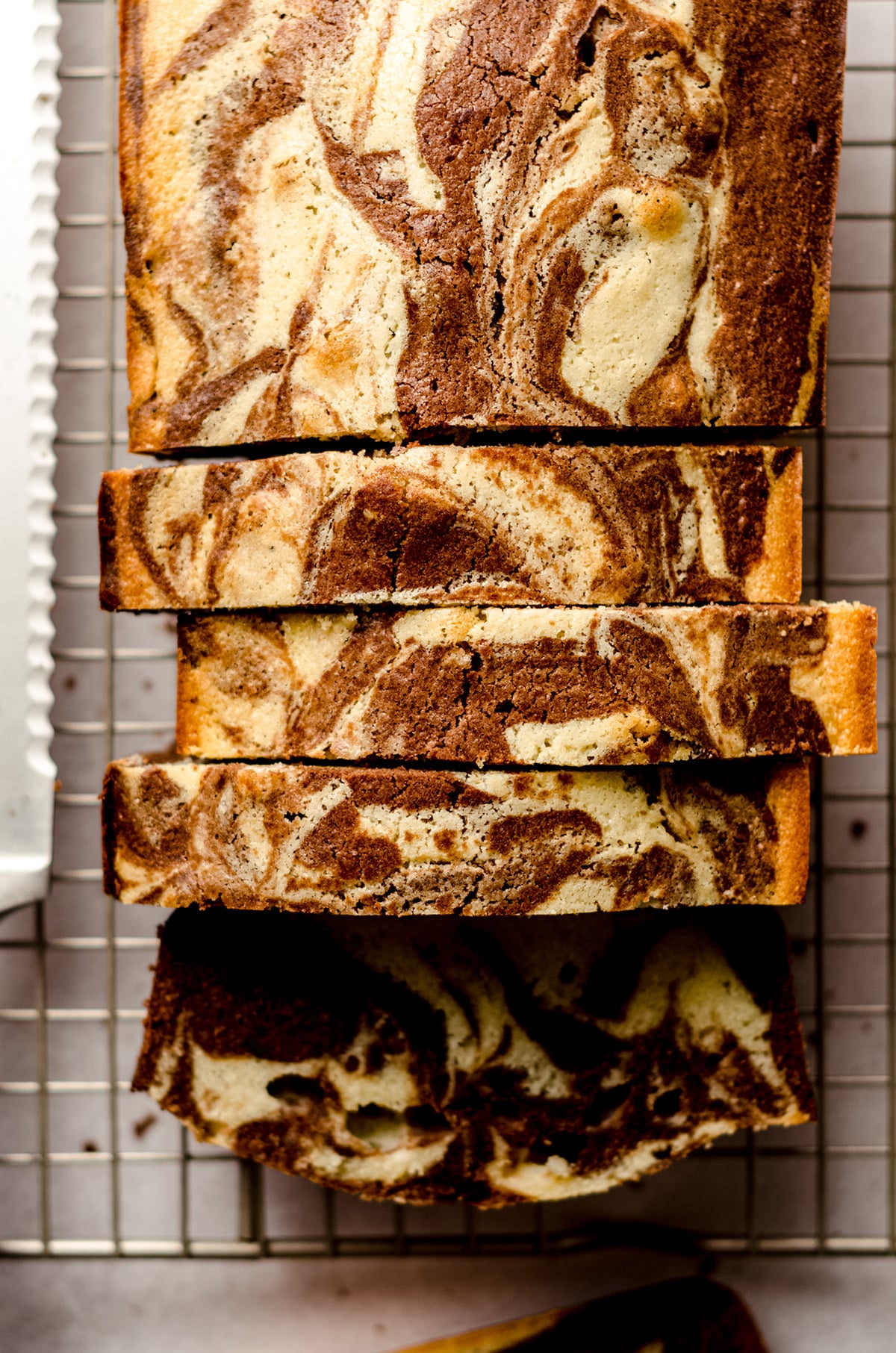 I know you'll enjoy it as much as I did!
Marble Pound Cake
This marble pound cake is buttery and rich with a very tight crumb. The simple base flavor of butter and vanilla is an excellent complementary taste to the slightly bitter chocolate swirled into every bite.
Ingredients
2

cups minus 2 Tablespoons

(215g) cake flour1 be sure to measure properly

¼

teaspoon

salt

1

cup

(227g) unsalted butter softened to room temperature2

1 and ½

cups

(300g) granulated sugar

1

teaspoon

vanilla extract

4

large eggs at room temperature2

¼

cup

(60g) sour cream at room temperature2

2

Tablespoons

(10g) unsweetened cocoa powder
Instructions
Preheat the oven to 350°F (177°C). Spray a loaf pan with non-stick spray. Set aside.

Sift the cake flour, add the salt, whisk everything together, and set aside.

In the bowl of a stand mixer fitted with the paddle attachment, or in a large bowl with an electric hand mixer, cream together the butter and sugar on medium speed until very light and fluffy, about 5 minutes. Stop the mixer and scrape down the sides of the bowl several times during mixing. The mixture should be very pale yellow after mixing.

With the mixer running, add the vanilla. Next, add in one egg at a time, mixing on medium speed and allowing each egg to fully incorporate before adding the next. Scrape down the sides of the bowl frequently. Do not rush this process.

Again with the mixer running, add the dry ingredients to the bowl in three additions, alternating with the sour cream in two additions, starting and stopping with the dry ingredients. Continue to mix on medium speed in between each addition until fully incorporated.

Divide the batter in half and gently stir the cocoa powder into one half of the batter. Spoon each batter into the prepared pan, alternating between plain and chocolate. Use a butter knife to swirl the batter to make a marble pattern.

Bake the pound cake for 50-65 minutes until a cake tester inserted into the center of the cake comes out with moist crumbs.

Remove from oven and place on a cooling rack. Allow the cake to cool for 20 minutes before turning out of the pan to cool completely before slicing. Store leftovers at room temperature up to 3 days. Loaf freezes well, up to 3 months. Thaw at room temperature.
Notes
Cake flour: if you don't have cake flour, you can use a mixture of all-purpose flour and cornstarch. To do this: measure 2 cups (240g) of all-purpose flour into a bowl. Remove

¼ cup (30g)

of the flour and put back into your flour container. To the bowl, add in

¼ cup (32g) of cornstarch

and whisk everything together. You now have 2 cups of cake flour, so lastly, you'll want to remove some as per the recipe instructions. To do this: remove 2 Tablespoons of your makeshift cake flour, and you're ready to use it in your recipe.
Room temperature ingredients: it is imperative your ingredients are at room temperature in order for them to incorporate properly into the batter.
To make into a bundt cake: prepare a 12 cup bundt pan or a 10 inch (25cm) tube pan with non-stick spray. Add a few tablespoons of flour to the pan and tap it all around, dumping out any excess. Make a double batch of the batter (note, this will be a very large quantity and will require a mixing bowl at least 5 quarts in size). Bake at 350°F (177°C) for 1 hour 10 minutes to 1 hour 20 minutes, until a cake tester inserted into the middle of the cake comes out with moist crumbs.
Reprinted with permission from Baker Bettie's Better Baking Book
Nutrition Disclosure
All nutritional values are approximate and provided to the reader as a courtesy. Changing ingredients and/or quantities will alter the estimated nutritional calculations.
Serving:
1
slice
|
Calories:
489
kcal
|
Carbohydrates:
65
g
|
Protein:
8
g
|
Fat:
22
g
|
Saturated Fat:
13
g
|
Polyunsaturated Fat:
1
g
|
Monounsaturated Fat:
6
g
|
Trans Fat:
1
g
|
Cholesterol:
118
mg
|
Sodium:
89
mg
|
Potassium:
101
mg
|
Fiber:
2
g
|
Sugar:
30
g
|
Vitamin A:
699
IU
|
Vitamin C:
0.1
mg
|
Calcium:
30
mg
|
Iron:
1
mg