Sourdough English Muffins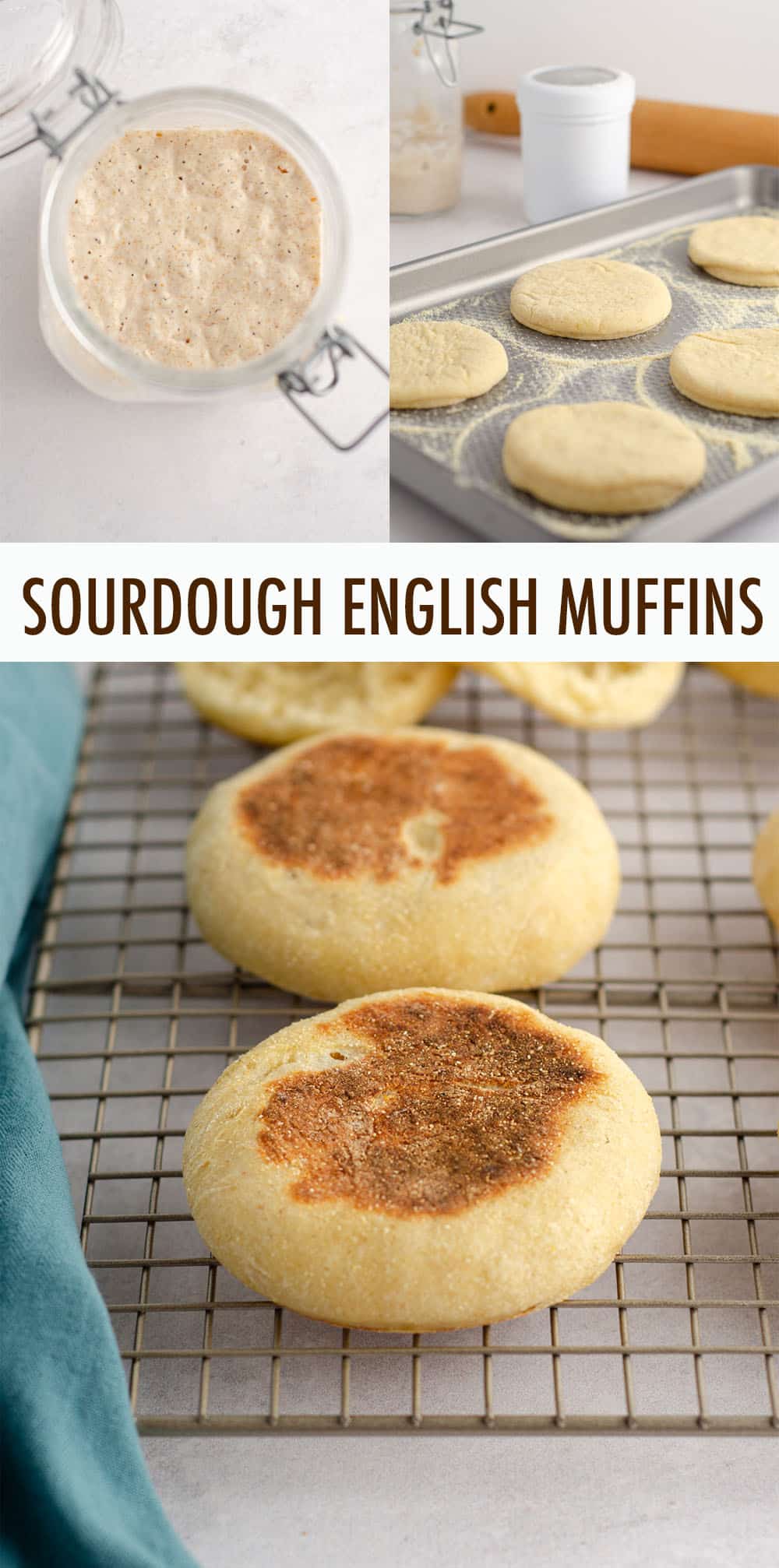 As an Amazon Associate, I earn from qualifying purchases. Read the full disclosure here.
Put that sourdough starter to good use and make your own sourdough English muffins from scratch, with all the nooks and crannies you love about the store-bought ones!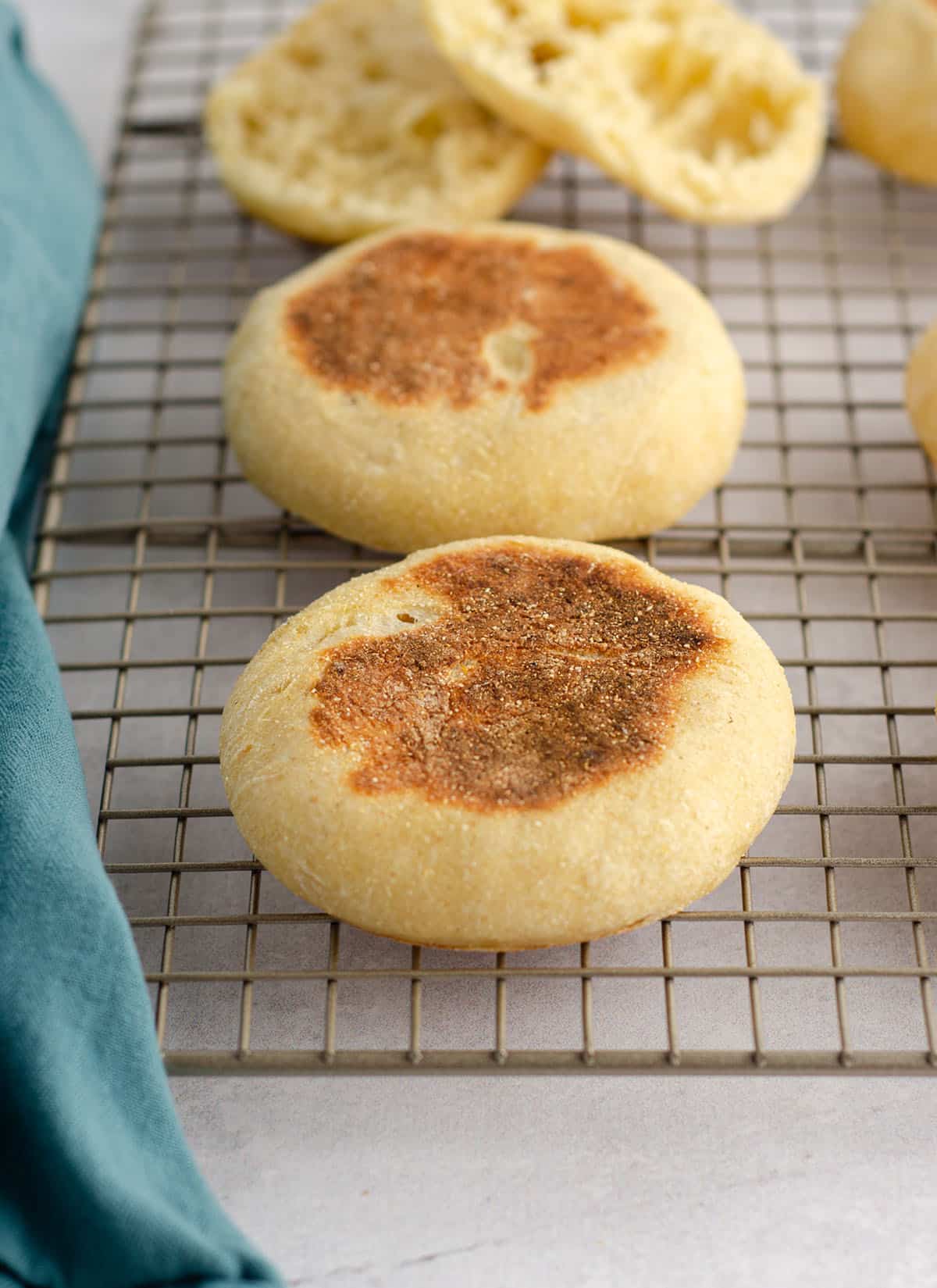 Raise your hand if you started a sourdough starter during stay-at-home orders.
Ok, now raise your other hand if you haven't made anything with it other than a loaf of sourdough bread, if that.
Mmmkay, so there may be some of you with one hand up, probably very likely two, and you two-handers is who I'm here for today.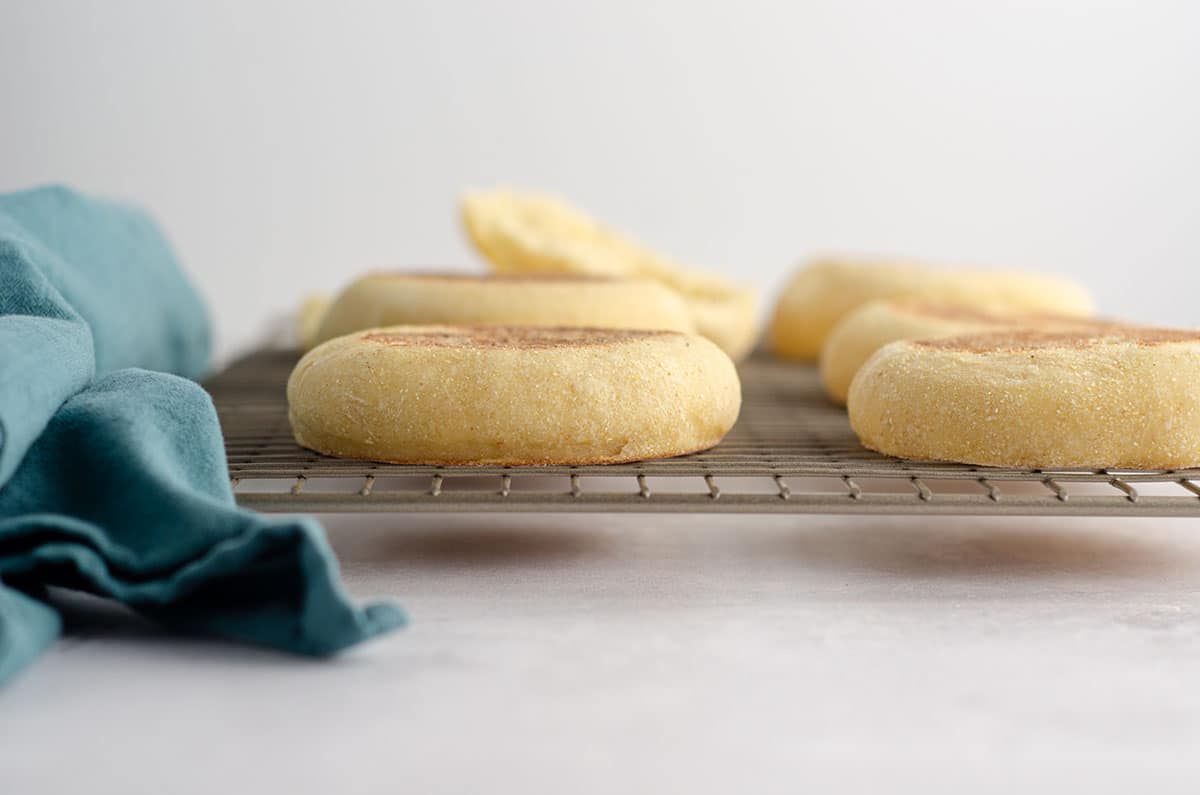 Everyone else, I'm here for you, too… But if you've yet to actually use the sourdough starter you so enthusiastically brought to fruition, today is your day, one thousand percent.
But before I get to the goods, we've got to establish a couple of things, and the first thing on that list is addressing exactly what a sourdough starter is, for those of you who may not actually know or those of you who got here and are like "uhh… A what?"
WHAT IS A SOURDOUGH STARTER?
A sourdough starter is a living culture of naturally occurring yeast and bacteria that you can use to leaven, or give rise to, bread.
You can purchase a starter or start one yourself from scratch, which is what manyyyy folks decided to do in the last few months because HELLO, stuck inside and HELLO, fun.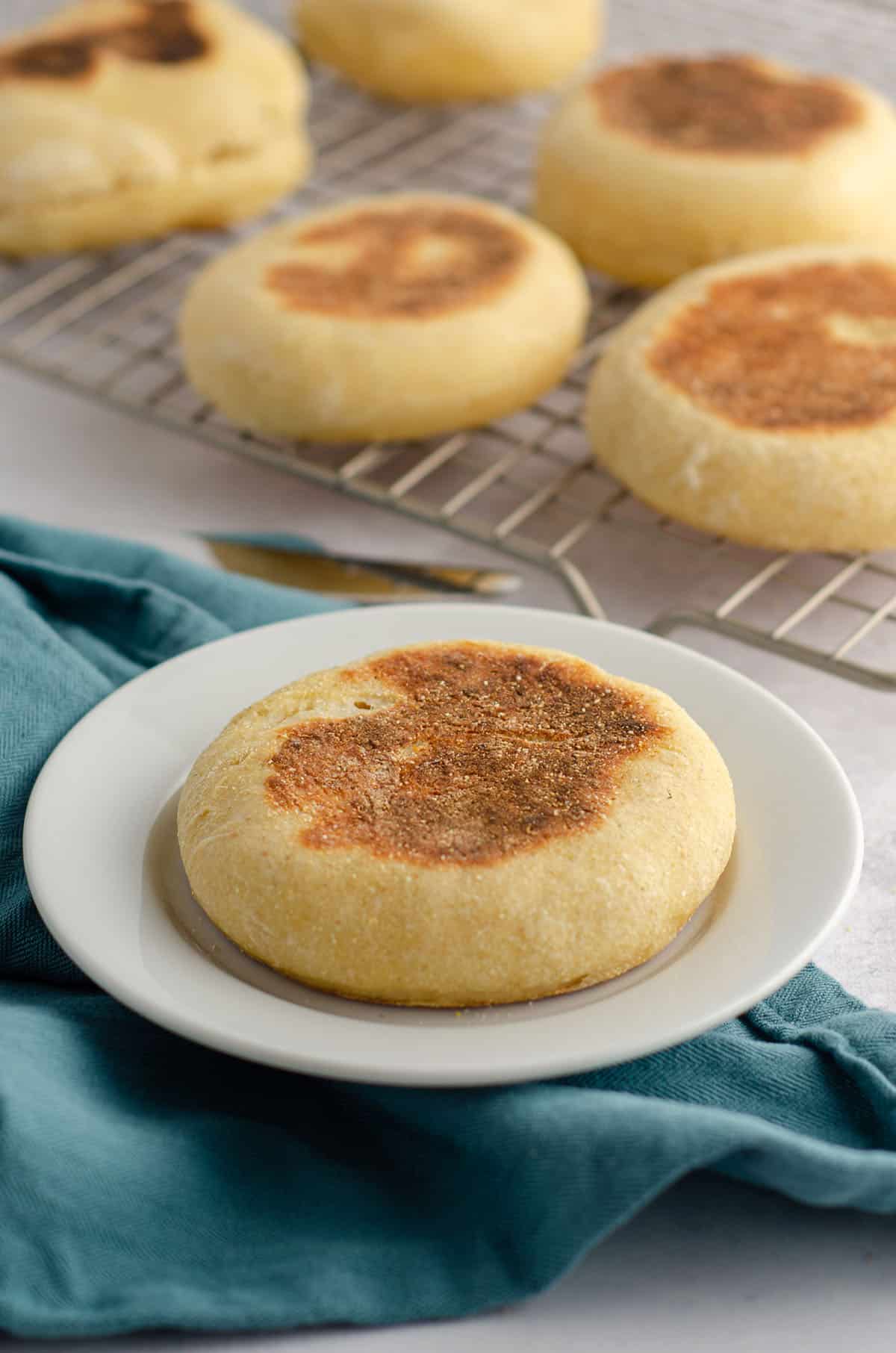 Cultivating a starter from scratch is fairly simple and straightforward, and the basic principle involves combining flour and water.
Because there are naturally occurring yeast and bacteria already present in flour and in the air, adding water to the flour + bacteria allows the bacteria to begin feeding on the starches in the flour.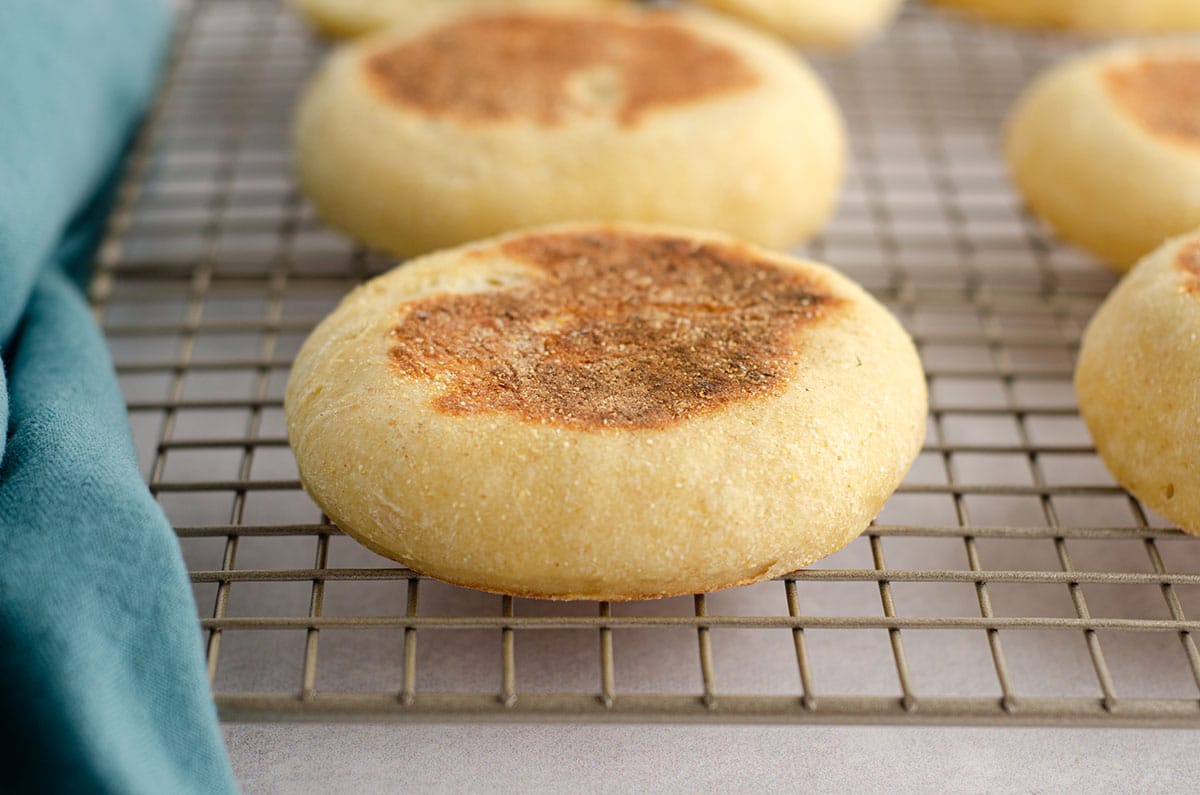 This is called fermentation, and by feeding fresh flour + water to this combination, we can create a strong culture of wild yeast that can then be used in place of traditional dry yeast to leaven our bread.
If you are looking for a good tutorial on how to make a sourdough starter, my friend Kristin has a wonderful one.
She also has an awesome video that covers all the ins and outs of what's happening in a starter and why we do certain things throughout the process of cultivating and maintaining a starter, which I've included below.
My sourdough starter, Carly, was born on January 6, 2020! And you can follow along in my Insta highlight to watch her go from nothing to everything.
So Carly is who I'm working with in these photos. Say hiiiiiiii!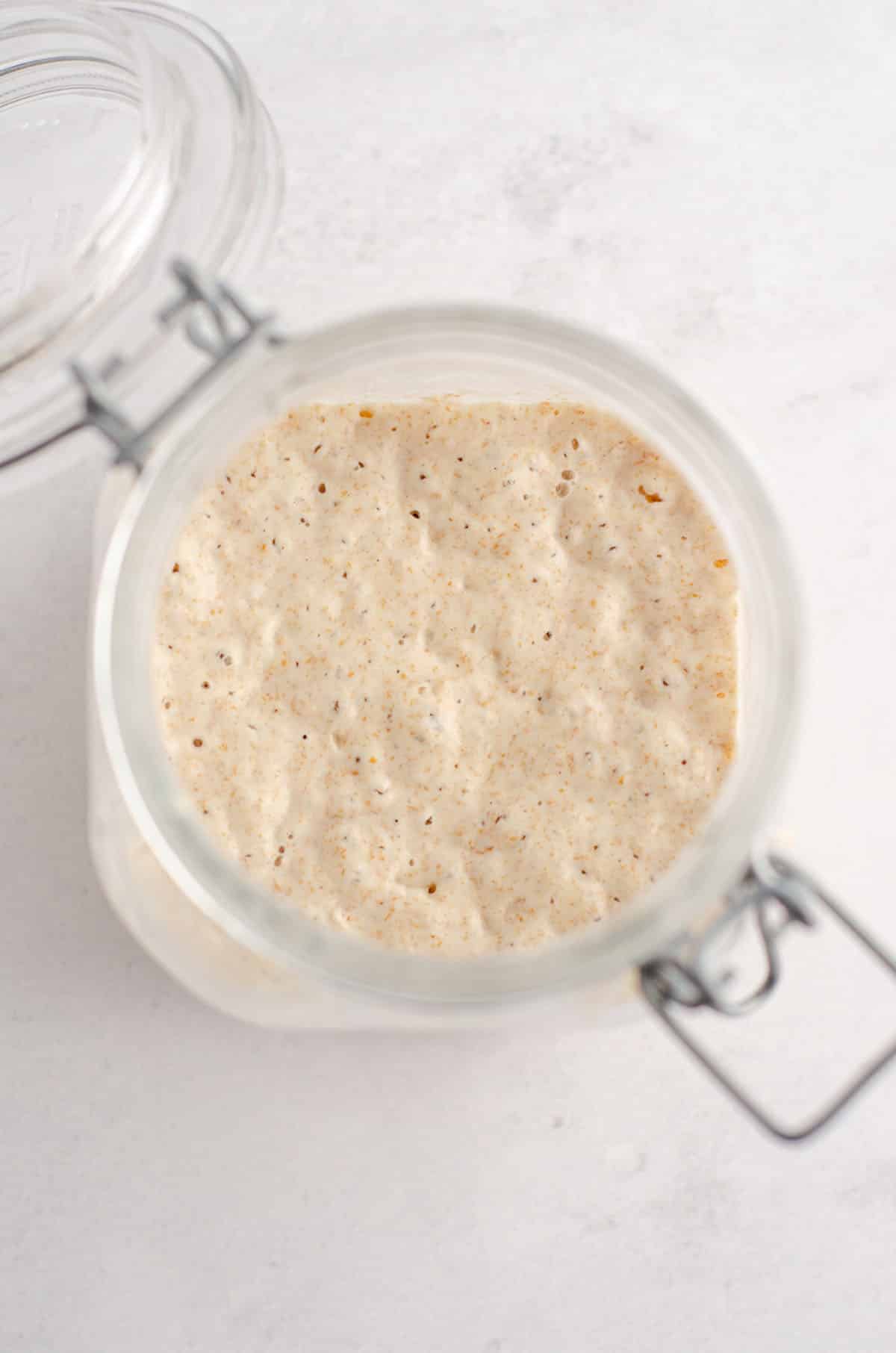 Though I did make many sourdough loaves with my starter, I really wanted to do something different, and I also wanted to present other recipes for those of you out there looking to use your sourdough starters in something else, too.
Because as much as we loveeeee sourdough loaves in this house, we don't need one every week.
Enter: my sourdough English muffin recipe.
As far as bread making goes, this recipe is pretty straightforward. While we aren't using any traditional yeast, we'll still be using a portion of our starter as the leavening component, and nothing in the rest of the recipe is out of the ordinary.
For these sourdough English muffins, you'll need 80 grams of a fed starter, which is a little more than 1/3 of a cup.
Remember, you don't want to use up all of your starter, so make sure you feed your starter enough food so that you are left with enough for a feed the next day.
HOW MUCH TIME DO I NEED FOR THESE ENGLISH MUFFINS?
You'll want to feed your starter about 8 to 10 hours before you want to start your dough. We're looking to use a portion of the starter when it's nice and bubbly and active.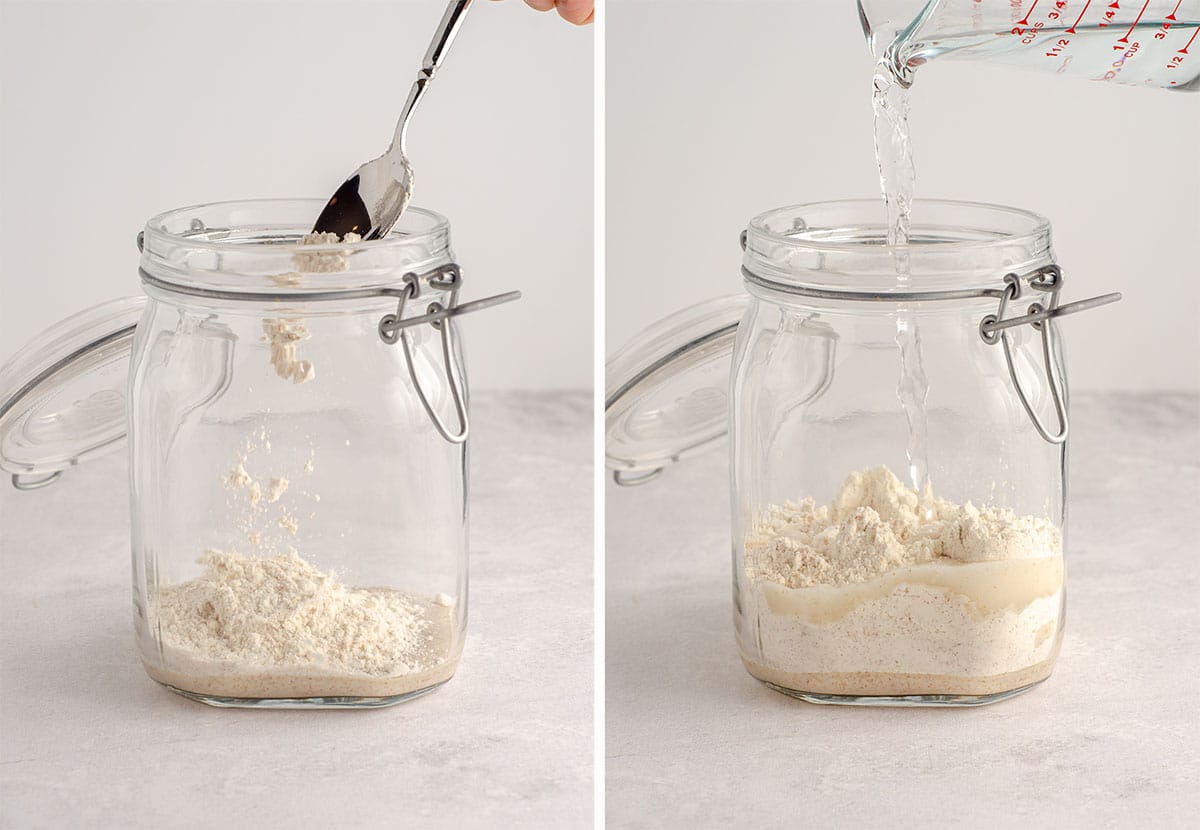 Once the dough is together, you'll need to let it rise for about 4 hours.
There is no punching down of the dough, but rather simply turning the dough out onto a floured surface before gently rolling and cutting into circles.
You'll get 8-10 muffins, and it's ok to gently re-roll the dough once. Any more than that and you'll find yourself with incredibly elastic dough that will shrivel upon re-shaping.
Once you have your muffins cut, they'll rest for another 1 hour where they will puff up a bit more.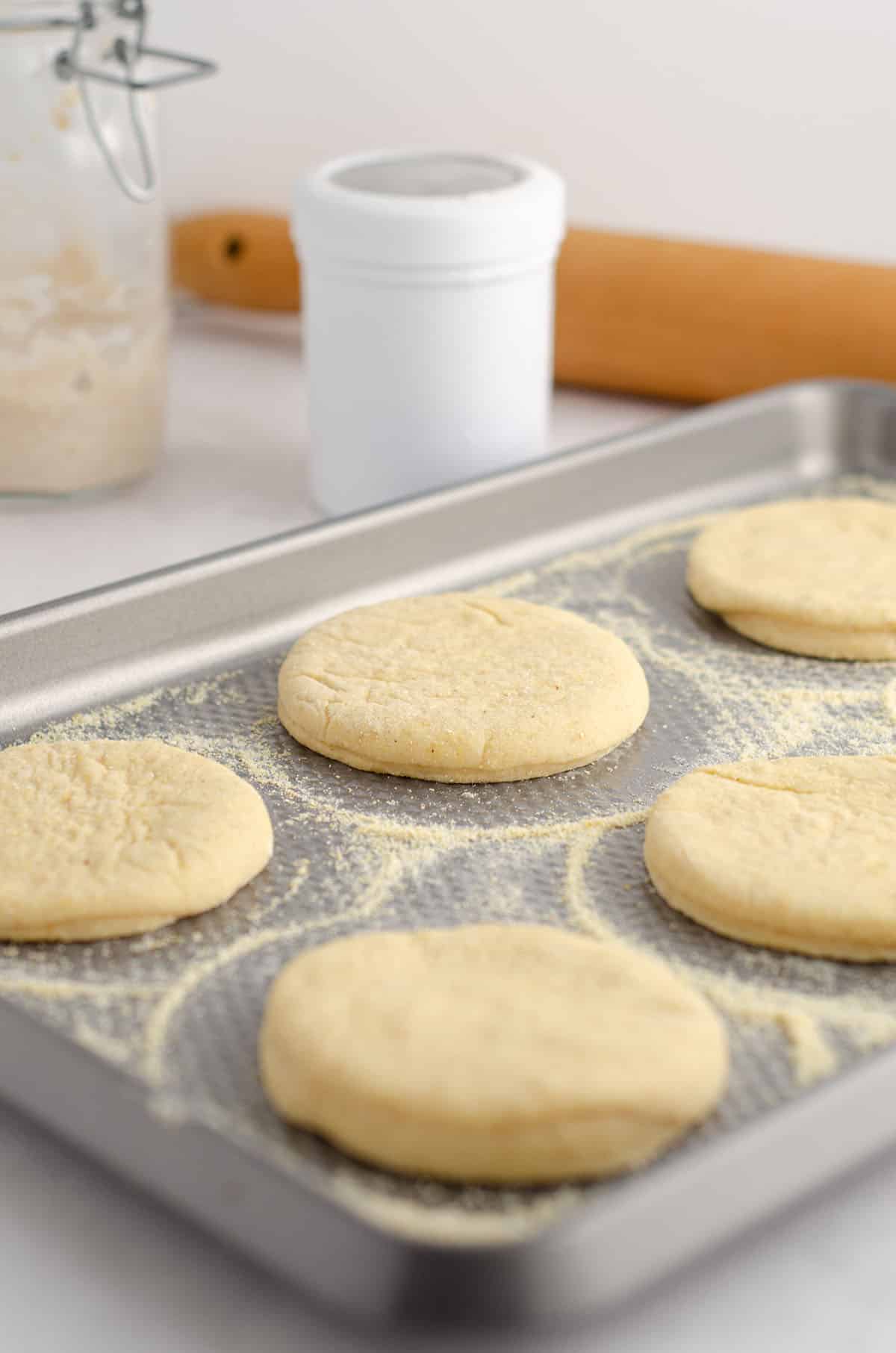 Then, it's onto the baking, which you'll do in a pan on the stove (no oven!).
Cook each side of the muffin for about 3-4 minutes, checking that the internal temperature of the muffin reaches 190ºF (88ºC) before calling it done.
Crack 'em open with a fork, just like you would a classic English muffin, and you're on your way to a delightful little piece of heaven straight from the sourdough gods.
Aren't they so cute, too?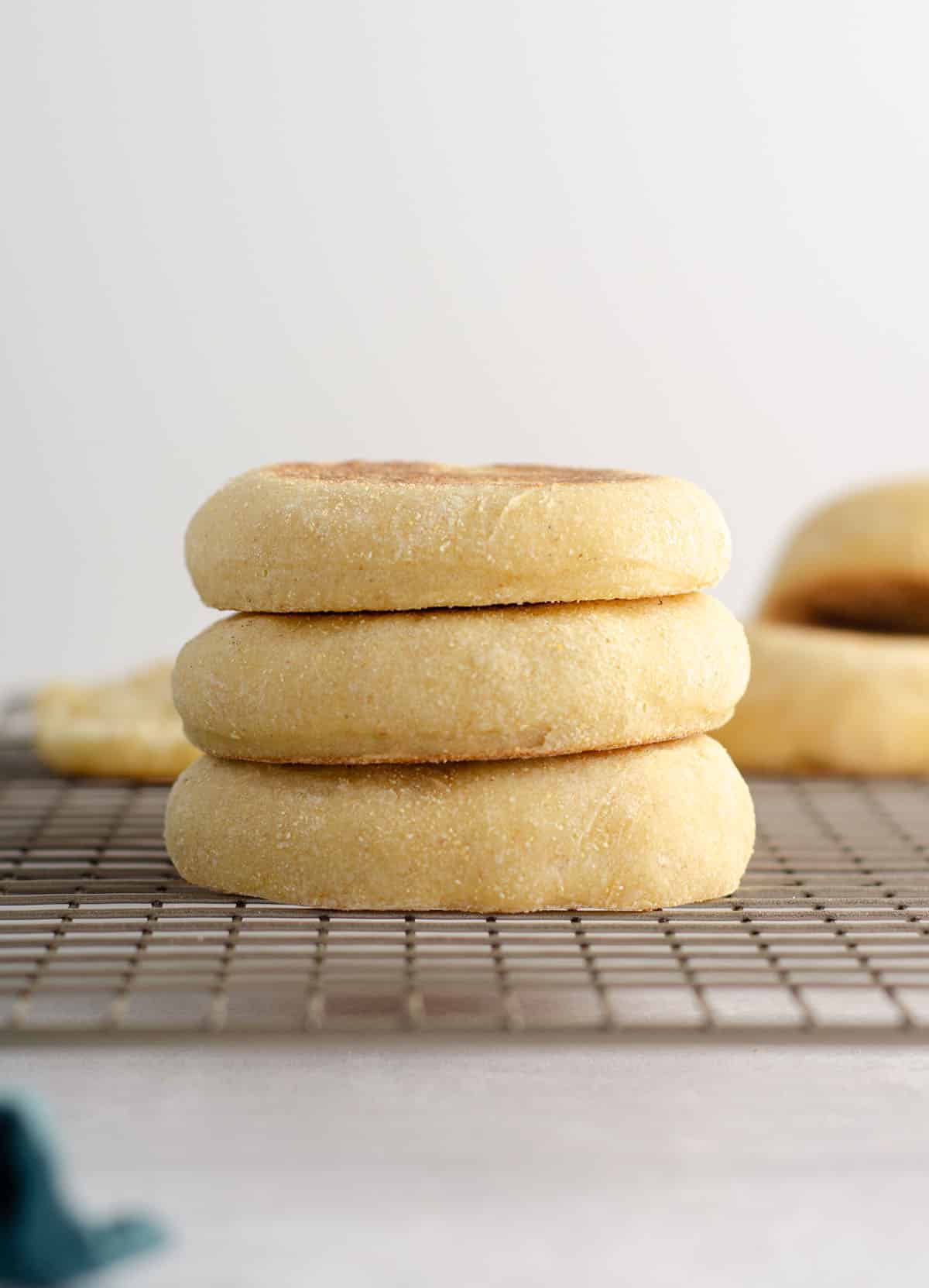 We were in love with these sourdough English muffins. The slight tang was perfect for slathering with butter, jam, or almond butter, and we had a few sandwiches on them, too.
It was so fun to use my starter for something other than a traditional sourdough loaf, and I think this recipe has put a lightbulb in my head to experiment with more recipes that use starter in place of traditional yeast.
So tell me– will you be making your own sourdough English muffins? Sticking to your basic sourdough loaves? Have you been inspired to start a starter if you don't already have one?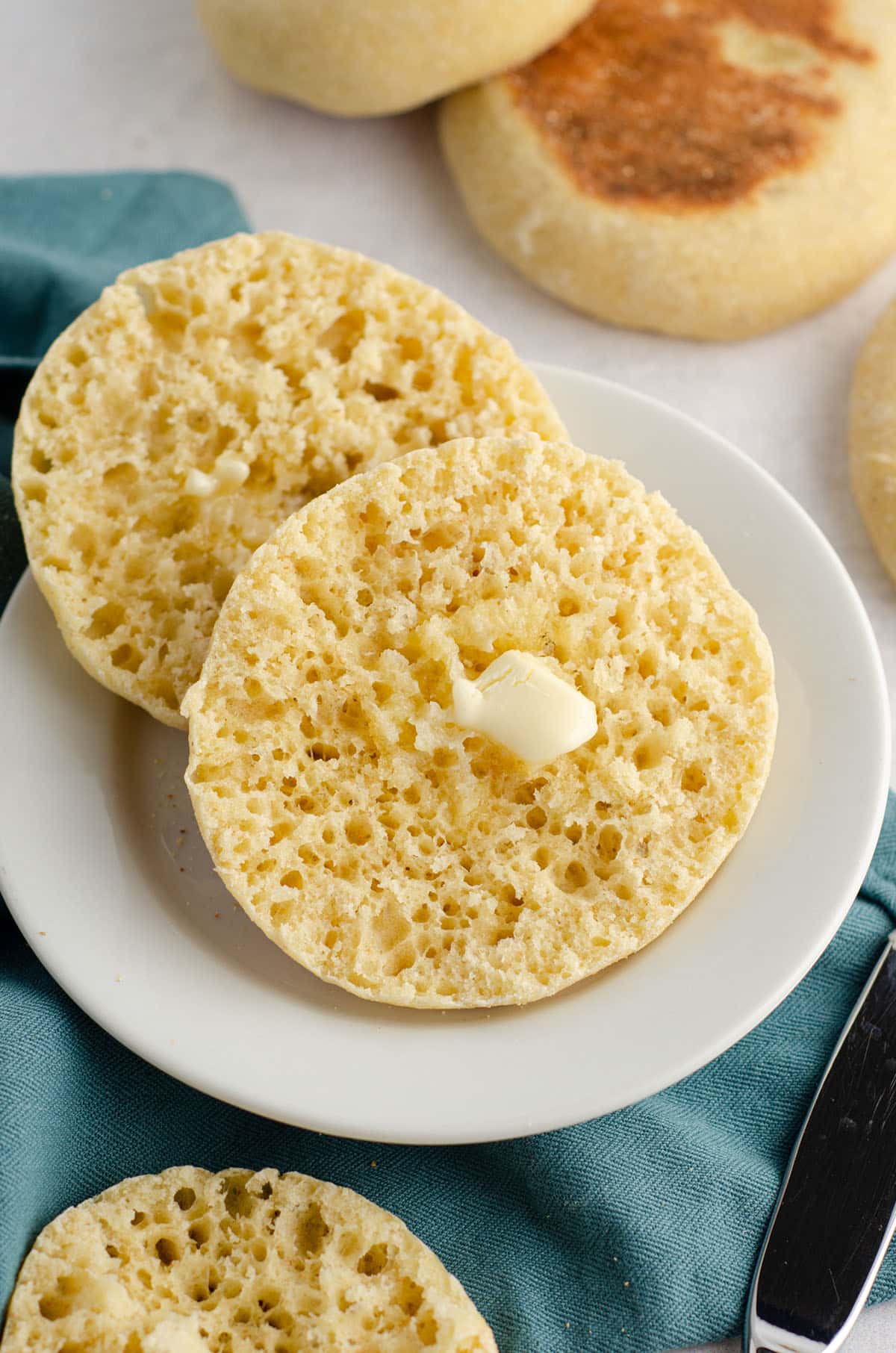 Don't forget to tag me on Insta (@freshaprilflours / #freshaprilflours) so I can see your starters in use!
Sourdough English Muffins
Put that sourdough starter to good use and make your own sourdough English muffins from scratch, with all the nooks and crannies you love about the store-bought ones!
Ingredients
80

grams

fed sourdough starter (100% hydration)

a little more than ⅓ cup

½

cup

(120g) warm water

2 and ½

cups

(300g) all-purpose flour be sure to measure properly

1

Tablespoon

(15g) granulated sugar

1

Tablespoon

(15g) unsalted butter

softened to room temperature

1

large egg

lightly beaten

1 and ¼

teaspoon

salt
corn meal

for rolling/dusting pan
Instructions
In a large bowl, whisk together the starter and the water until starter is dissipated. Add the flour, sugar, butter, egg, and salt and stir to combine. Once the dough becomes less sticky, use your hands to bring everything together to form a shaggy dough.

Turn the dough out onto a lightly floured surface and knead until dough becomes smooth (about 5-8 minutes).

Coat the bowl with oil or nonstick spray, then place the dough back into the bowl, turning and flipping it to coat it. Cover bowl with a kitchen cloth and set in a warm spot until doubled in volume, approximately 3-4 hours.

When you are ready to work with the dough again, dust a baking sheet generously with corn meal. Set aside.

Dust your surface with more flour and a little corn meal. Gently roll the dough out to about ½ inch (1.5cm) thickness. Using a 3 inch (8cm) cookie cutter or rim of a glass, cut out rounds of dough. You can gently re-roll the dough one time to cut more circles, but refrain from working the dough too much or it will become too tough. You should get about 8-10 rounds of dough.

Place the cut rounds on the dusted pan and cover with plastic film. Let rounds sit in a warm spot until they have puffed up slightly, about 1 hour.

When you are ready to cook the muffins, pre-heat a heavy-bottom skillet over medium heat for about 5 minutes. Place 2-3 muffins in the pan and cook for about 3-4 minutes. Flip the muffins to cook the other side, about 3-4 additional minutes, or until an instant-read digital thermometer reads 190ºF (88ºC) inside each muffin. Transfer to a wire rack to cool, and continue with remaining muffins.

When you are able to handle the muffins, they are ready to eat. Score around the perimeter with a fork to separate, or cut carefully with a serrated knife. Store muffins covered at room temperature up to 5 days. Muffins freeze well, up to 3 months. Thaw in refrigerator or at room temperature.
Nutrition Disclosure
All nutritional values are approximate and provided to the reader as a courtesy. Changing ingredients and/or quantities will alter the estimated nutritional calculations.
Serving:
1
muffin
|
Calories:
177
kcal
|
Carbohydrates:
33
g
|
Protein:
5
g
|
Fat:
2
g
|
Saturated Fat:
1
g
|
Polyunsaturated Fat:
0.3
g
|
Monounsaturated Fat:
1
g
|
Trans Fat:
0.1
g
|
Cholesterol:
24
mg
|
Sodium:
373
mg
|
Potassium:
50
mg
|
Fiber:
1
g
|
Sugar:
2
g
|
Vitamin A:
74
IU
|
Calcium:
10
mg
|
Iron:
2
mg
Try my sourdough cinnamon rolls next!