Almond Flour Banana Bread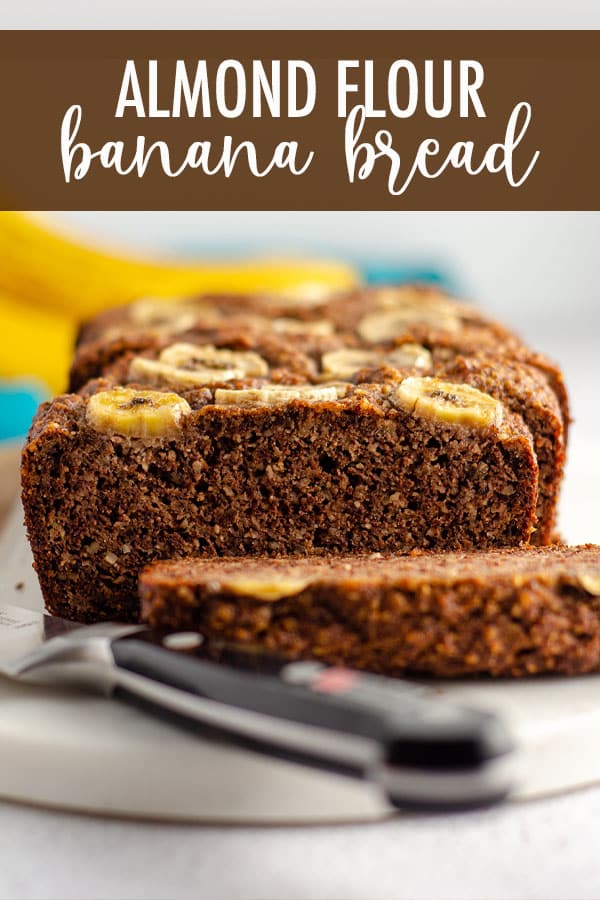 As an Amazon Associate, I earn from qualifying purchases. Read the full disclosure here.
Moist and flavorful banana bread made entirely with almond flour for a naturally gluten free quick bread.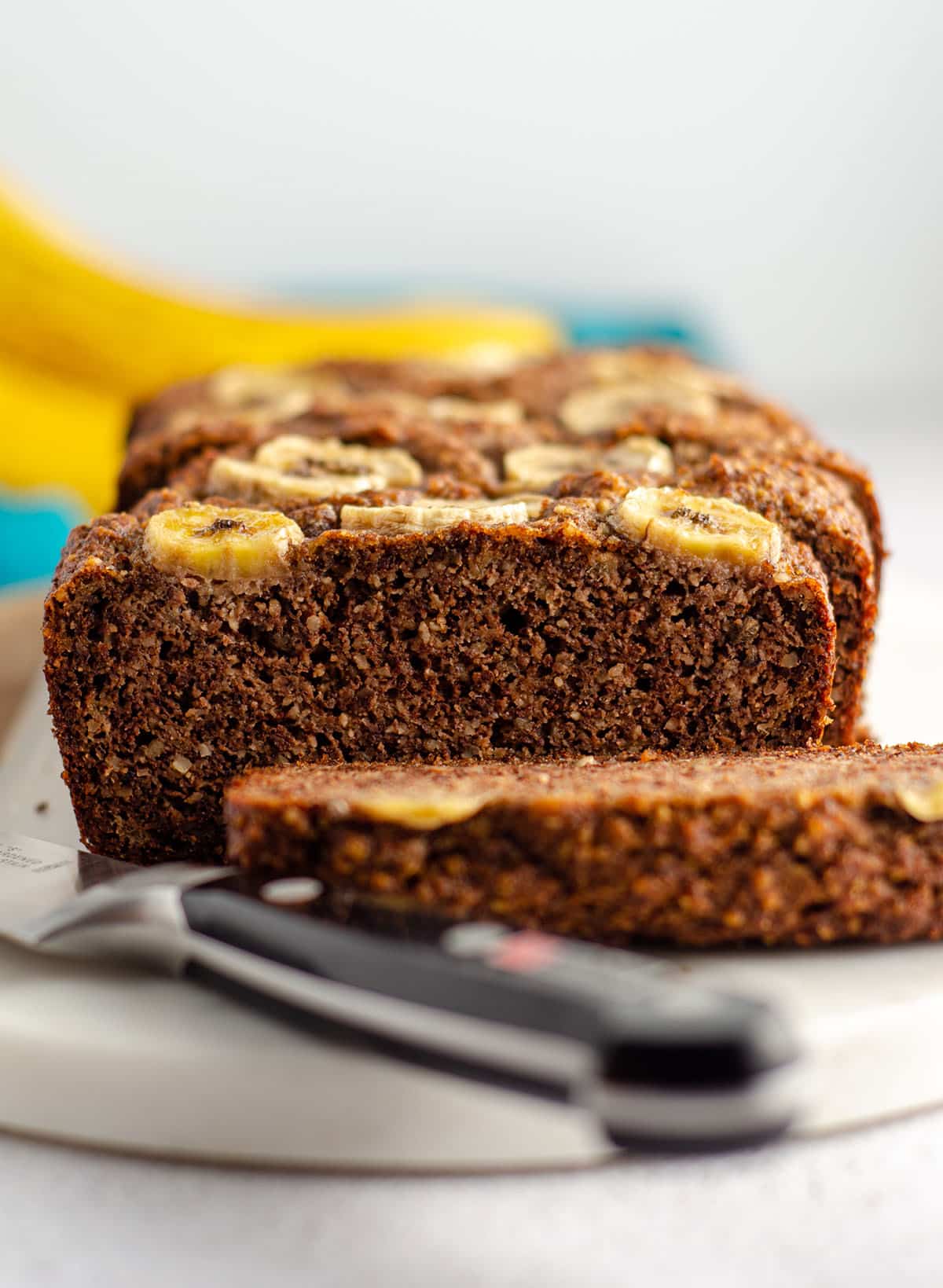 What does your freezer look like? Ours is full of frozen veggies, Dino nuggets, popsicles, meatballs, and a ton of random over-ripe bananas.
Because that's what you do, right? You buy bananas, most of them get eaten, but after several days, you have one or two that are on the verge of death but you can't bring yourself to toss them because "I can make banana bread!"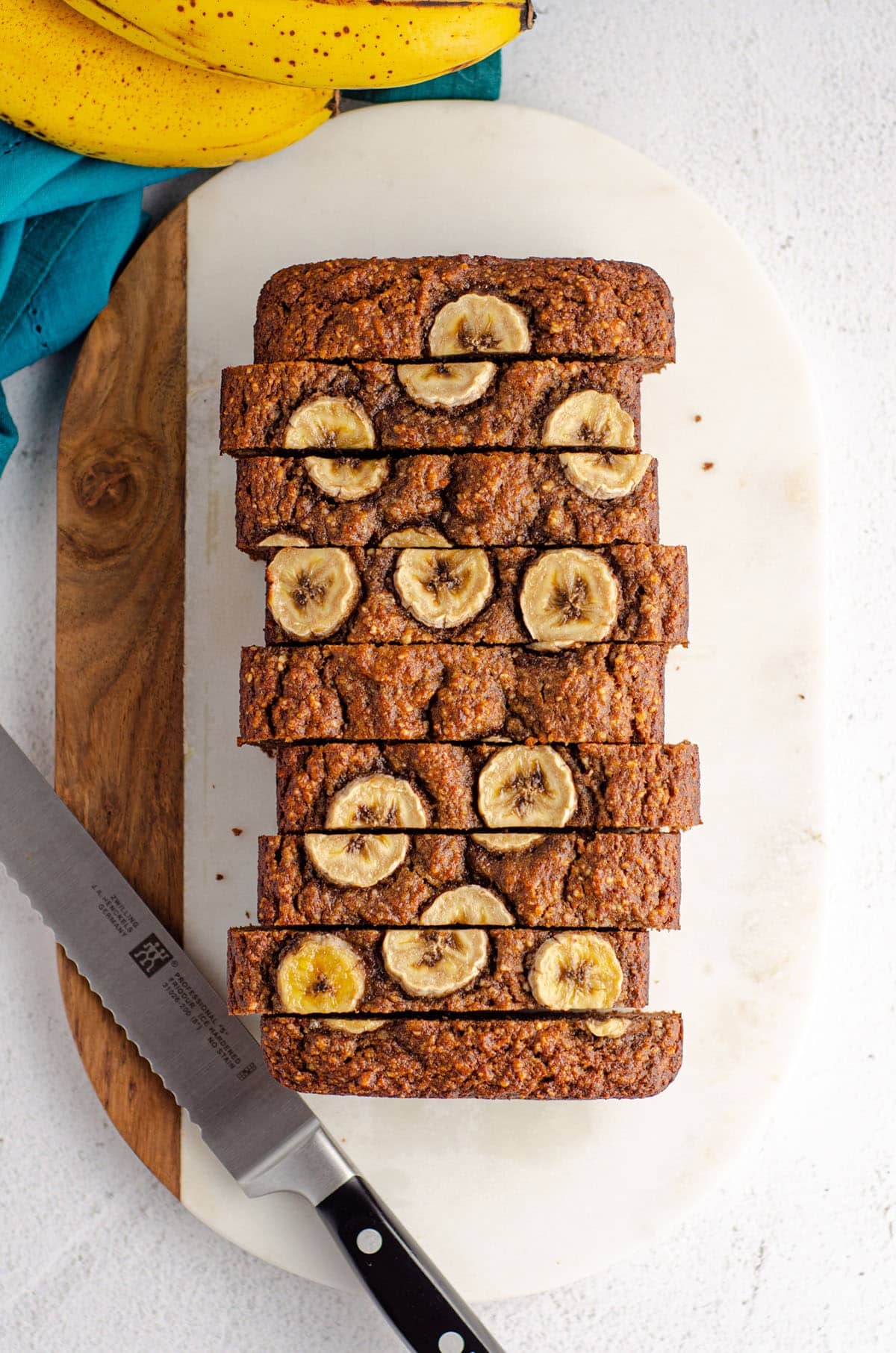 And then it happens again the next week, and the next week, and before you know it… Your freezer could make a dozen loaves of banana bread at any given time.
Ya feel me?
That's how this almond flour banana bread came about. A freezer full of frozen bananas, a ¼ of the bag of the almond meal I used for my lemon macarons continuing to get in my way in my pantry, and a bag of pecan meal I received in a shipment from the pecans made in this praline ice cream.
Oh, and my dear gluten free neighbor who can never try any of my treats because I am, like, 90% of the time using regular flour in my baked goods (she did cut off the graham cracker crust of my Key lime pie bars a few weeks ago).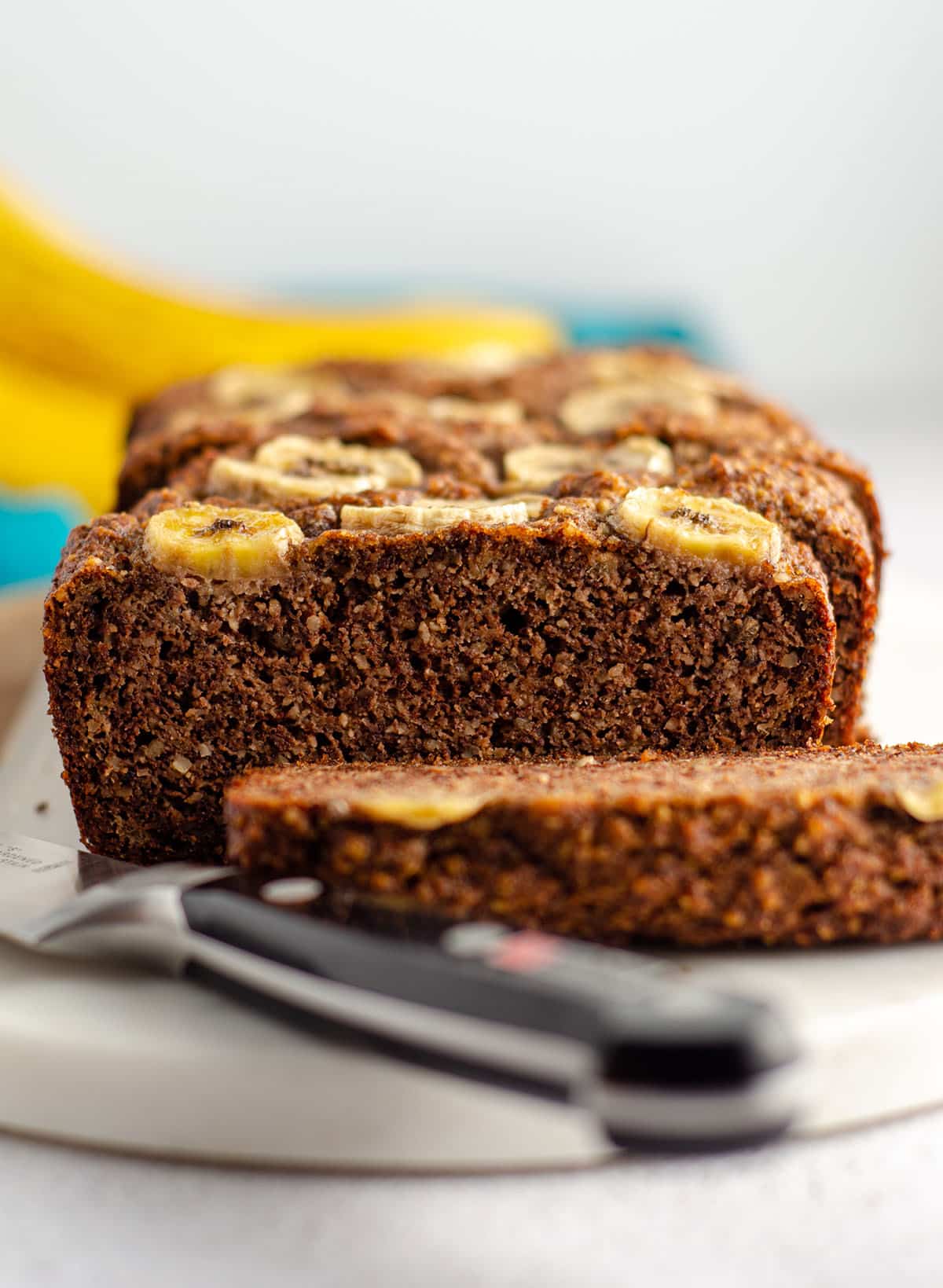 But let me tell you what, friends– this bread is going to rock your socks. And I speak from experience when I say this bread disappeared almost too quickly to hand off to my neighbor (no worries– she got about ⅓ of the loaf!).
Because we are no strangers to banana bread in this house, I used my regular banana bread as a guide, but changed several things to accommodate using almond flour and the lack of gluten as a binder as a result.
I also had a very specific texture I wanted at the end of my baking (I didn't want dense). So I had to play around with leaveners a bit.
So first, let's talk about almond meal vs almond flour in order to understand what we're looking to use in this particular almond flour banana bread.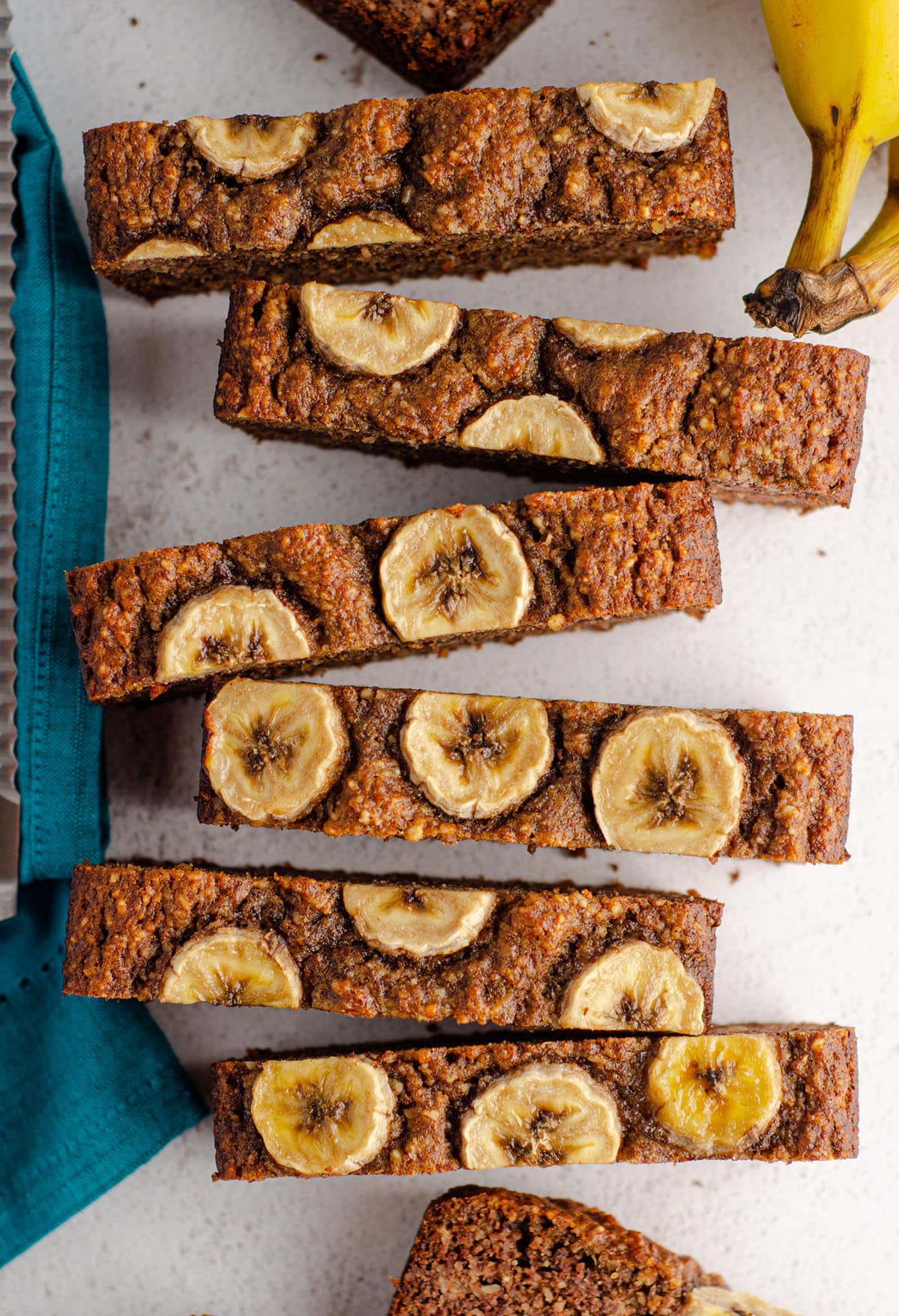 ALMOND MEAL VS ALMOND FLOUR: WHAT IS THE DIFFERENCE?
Almond meal and almond flour are two ways of classifying a gluten free flour made entirely from ground almonds. Though there is no "official" difference, there are some things to keep in mind about the two:
1) Something labeled "almond flour" is typically more finely ground than one labeled "almond meal."
2) If your ingredient is labeled as made with "blanched almonds," you can assume this is the most finely ground type of almond flour or meal because blanching removes the skins of the almonds.
3) If your ingredient has brown specks in it, the almond skins were still intact during grinding. These flours/meals can taste nuttier than those without skins, and will add more texture to your baked goods.
As you can tell, because almond flour and almond meal are both made from simply ground almonds, regardless of whether or not the skin was intact during grinding, these two ingredients are fairly interchangeable.
That said, it's best to think of what exactly you need your almond meal/flour to do in the recipe.
For example, in the case of my lemon macarons, we want to use a super fine almond flour. I actually made those macarons entirely with almond meal, which, if you recall, is typically less fine than almond flour. But I sifted it a few times and removed the larger chunks of almond/almond skins before combining it with the rest of my ingredients.
For this almond flour banana bread, insuring you have super fine almond flour is not entirely necessary. In fact, I used a combination of pre-made almond meal, pre-made pecan meal, and about ⅓ of my own almonds that I pulsed in a food processor for the loaf I photographed.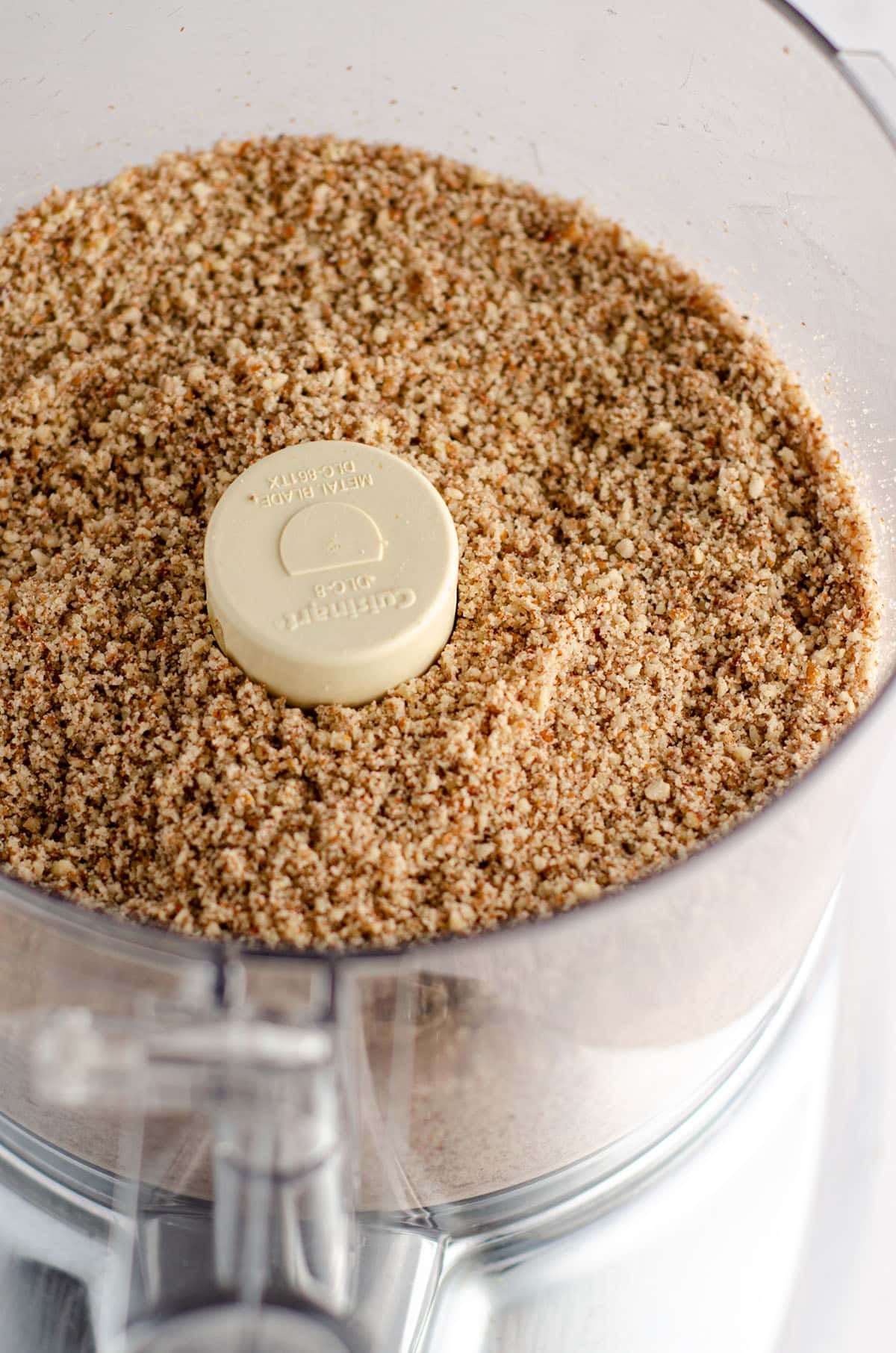 You can see in my food processor that I had some larger chunks of almonds and pecans in the flour even after processing.
So, this is a long-winded way to say almond flour or almond meal are fine for this recipe.
If using almond meal or making your own almond meal/almond flour from your own raw almonds, just be sure to pulse several times in the food processor to create the finest almond flour that you can and know your bread may taste a bit nuttier and have some noticeable chunks of nuts in it.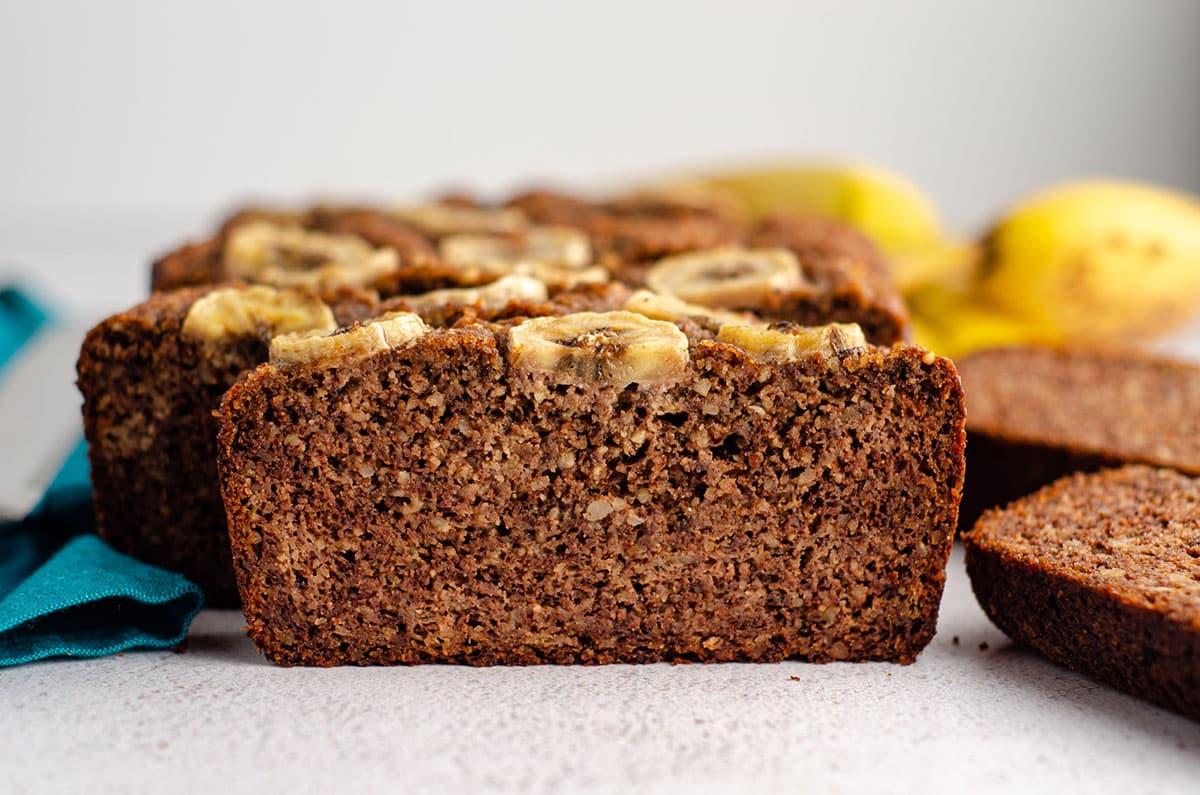 The texture of this bread really surprised me. It was a bit denser than banana bread made with traditional all-purpose flour, but it was not as dense as some gluten free baked goods can occasionally be.
Each bite is bursting with banana flavor, and the nuttiness is great for those who already like nuts in their banana bread (hello, banana nut muffins).
While it's not completely necessary, I love adding sliced bananas to the top of my banana almond flour bread, just for a little extra something.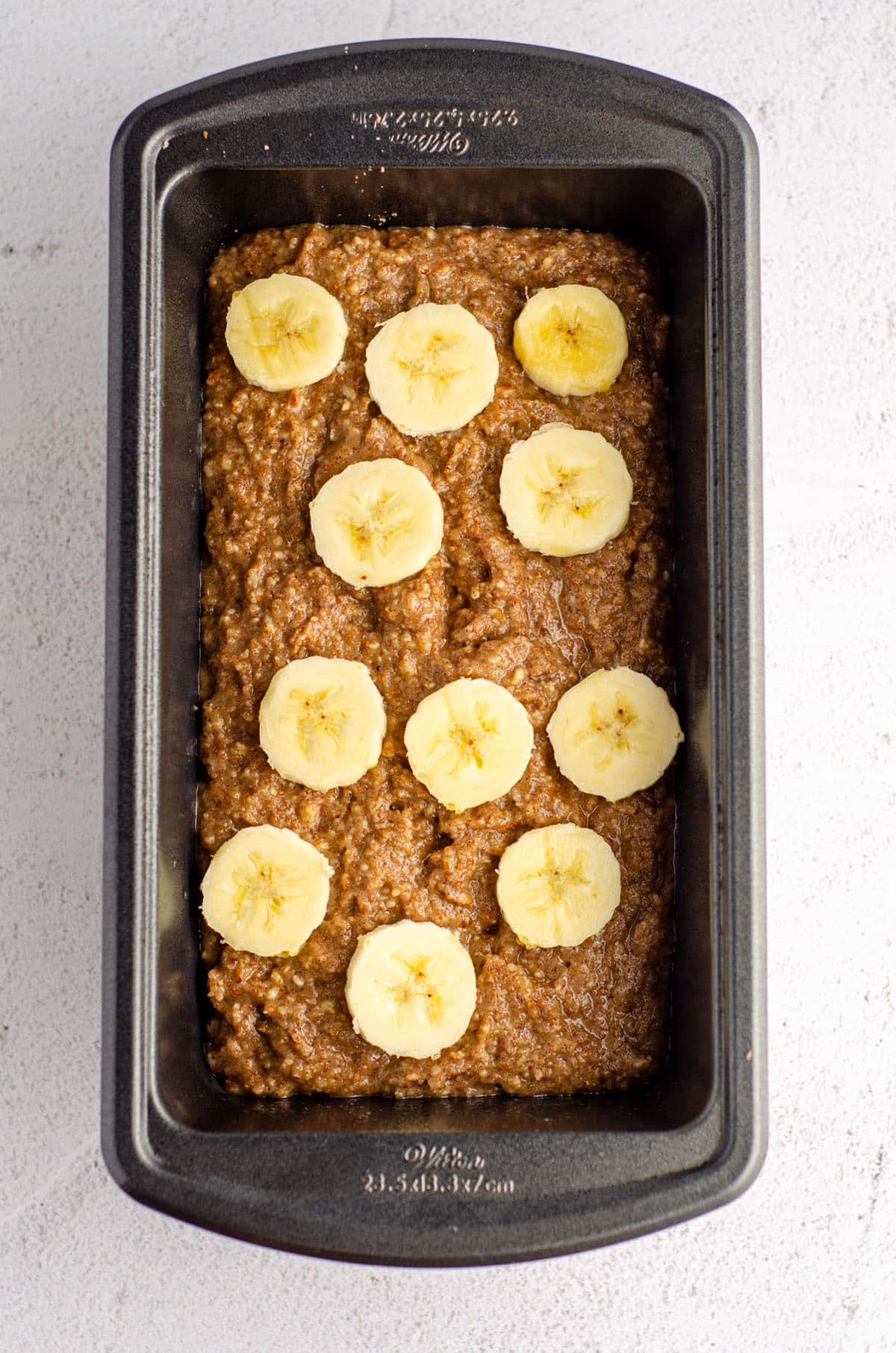 When baked, the bananas take on a little caramelization and add some delightful pizzaz to each bite.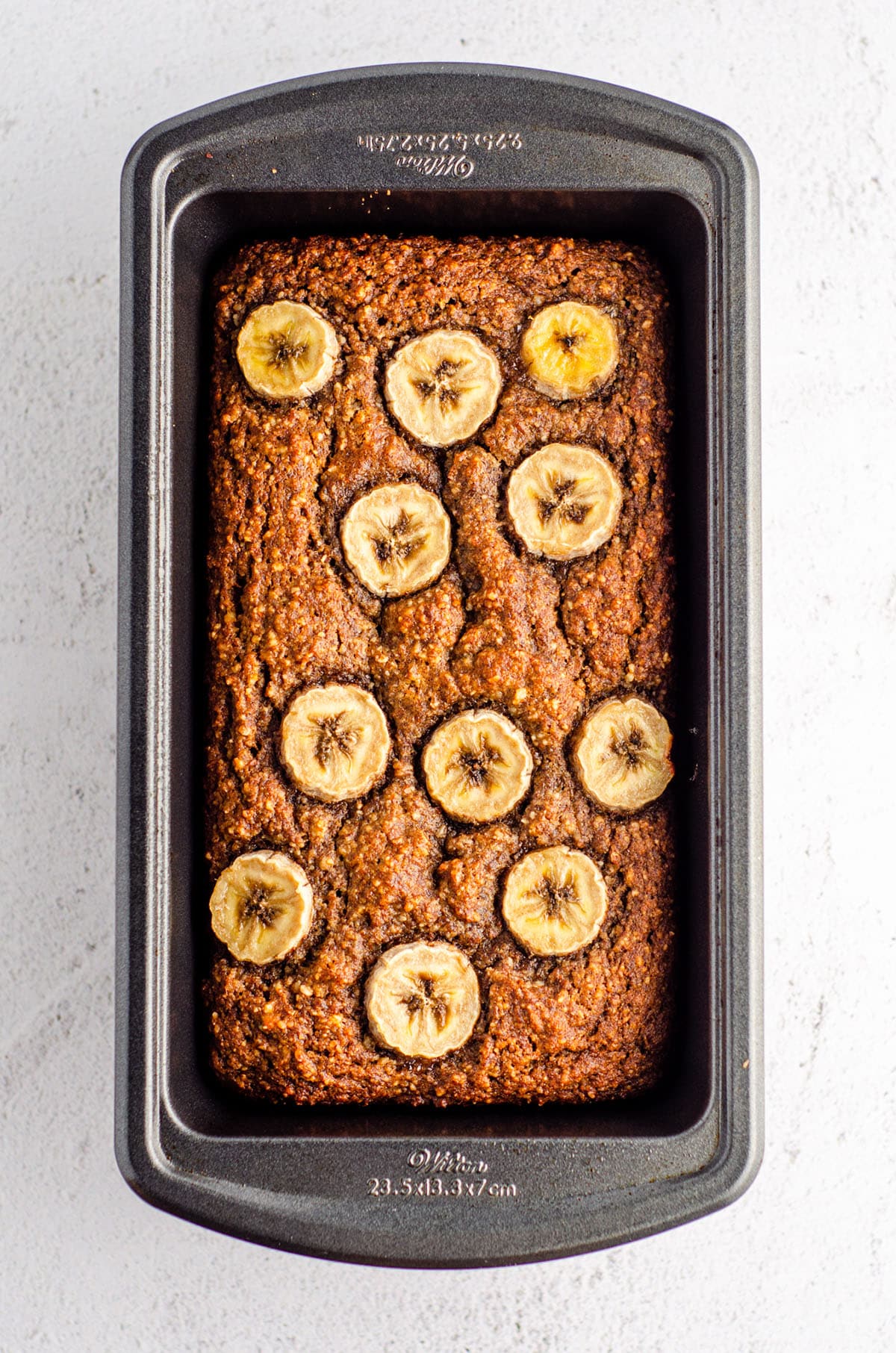 I've also made a note in the recipe that while it calls for melted butter, another neutral oil like vegetable or canola is totally fine, rendering the whole loaf gluten and dairy free. Which is the best of two worlds in the baked good area.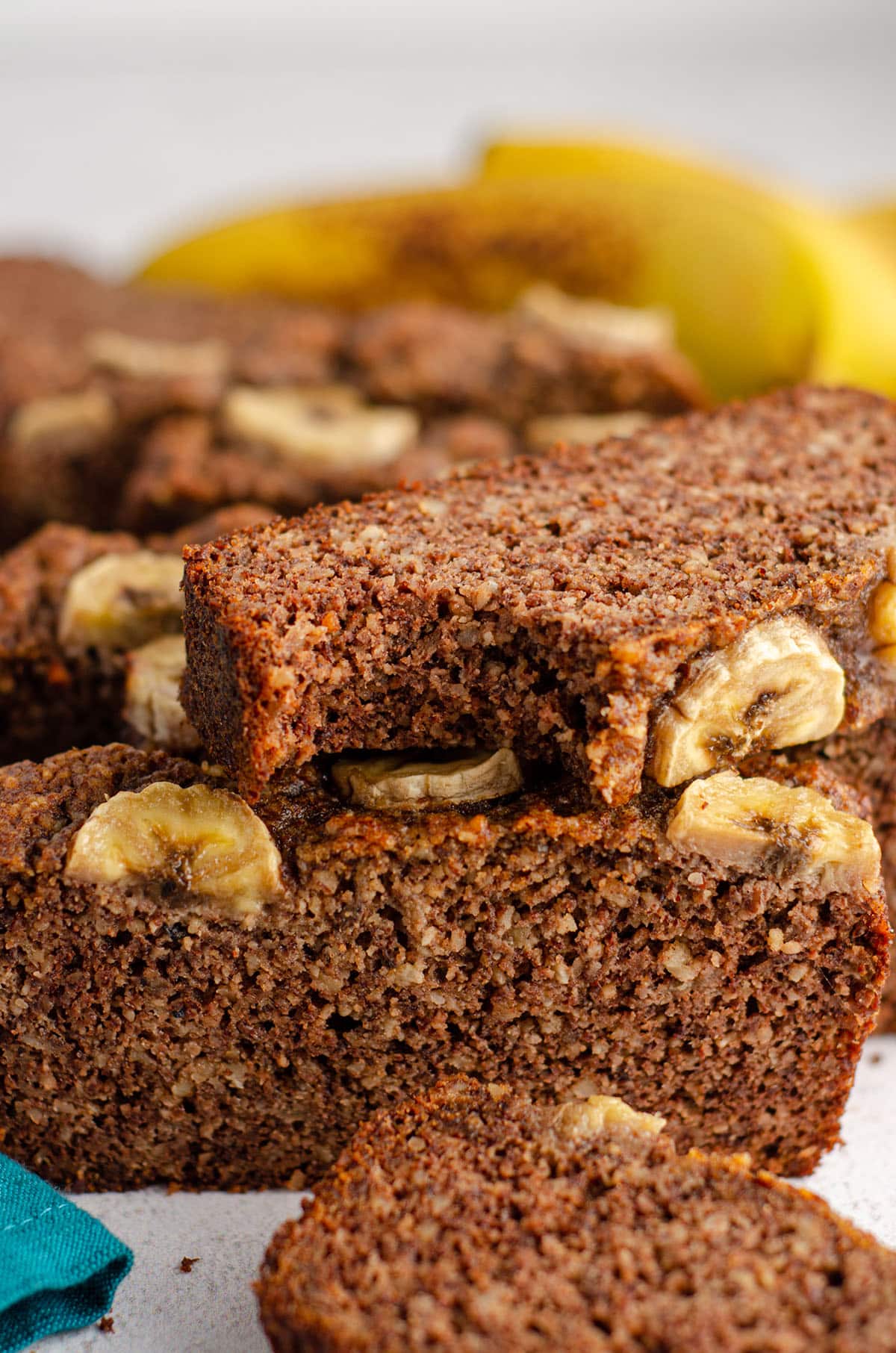 So get to thawing some of those bananas, y'all. We've got some gluten free banana bread baking to do!
Almond Flour Banana Bread
Moist and flavorful banana bread made entirely with almond flour for a naturally gluten free quick bread.
Ingredients
3

cups

(336g) almond flour1

1 and ½

teaspoons

ground cinnamon

1

teaspoon

baking soda

1

teaspoon

baking powder

½

teaspoon

salt

3

medium very ripe bananas

mashed (about 1 and ½ cups)

3

large eggs

¼

cup

(50g) granulated sugar

¼

cup

(57g) unsalted butter or (60g) neutral oil

1

teaspoon

vanilla extract
Instructions
Preheat the oven to 350ºF (177ºC). Spray a 9" x 5" loaf pan with nonstick spray. Set aside.

In a large bowl, whisk together the almond flour, cinnamon, baking soda, baking powder, and salt. Set aside.

In a medium size bowl, whisk together the bananas, eggs, sugar, butter/oil, and vanilla extract until smooth.

Gently fold the dry ingredients into the wet ingredients until everything is combined, then pour the batter into the prepared pan. Top with banana slices, if desired.

Bake the loaf for 50-60 minutes or until a toothpick inserted into the center comes out clean. Remove from the oven and allow to cool completely in the pan. Store leftovers in the refrigerator up to 5 days. Loaf freezes well, up to 3 months. Thaw in refrigerator overnight.
Notes
Almond flour: you may use almond flour or almond meal. You may also use pecan flour or pecan meal. Pulse in a food processor several times to make the smallest granules possible and sift if necessary.
Nutrition Disclosure
All nutritional values are approximate and provided to the reader as a courtesy. Changing ingredients and/or quantities will alter the estimated nutritional calculations.
Serving:
1
slice
|
Calories:
252
kcal
|
Carbohydrates:
17
g
|
Protein:
8
g
|
Fat:
19
g
|
Saturated Fat:
4
g
|
Polyunsaturated Fat:
0.4
g
|
Monounsaturated Fat:
1
g
|
Trans Fat:
0.2
g
|
Cholesterol:
51
mg
|
Sodium:
240
mg
|
Potassium:
124
mg
|
Fiber:
4
g
|
Sugar:
9
g
|
Vitamin A:
197
IU
|
Vitamin C:
3
mg
|
Calcium:
90
mg
|
Iron:
1
mg
Love almonds? My candied almonds are so simple and snackable!