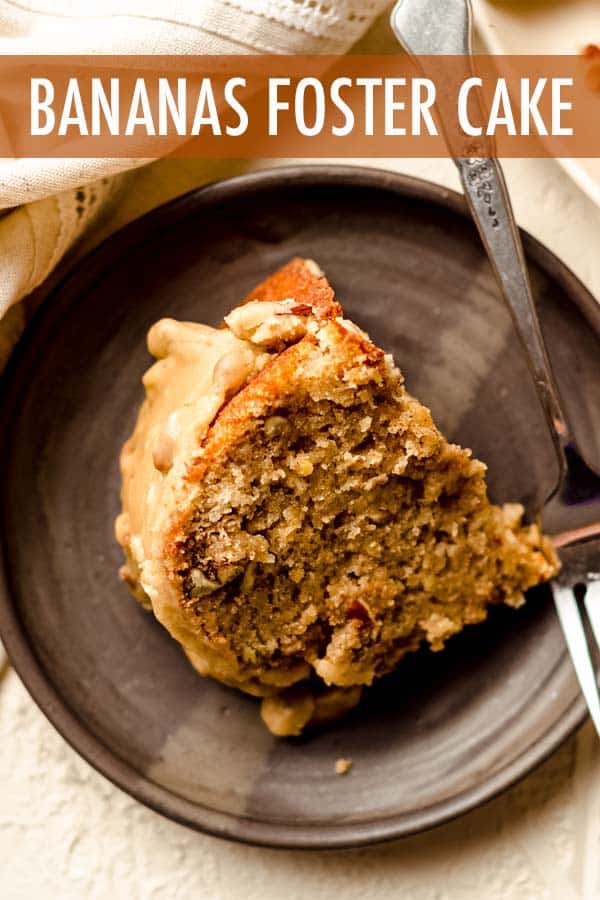 As an Amazon Associate, I earn from qualifying purchases. Read the full disclosure here.
An incredibly moist and flavorful banana bundt cake flavored with rum and topped with a pecan praline icing.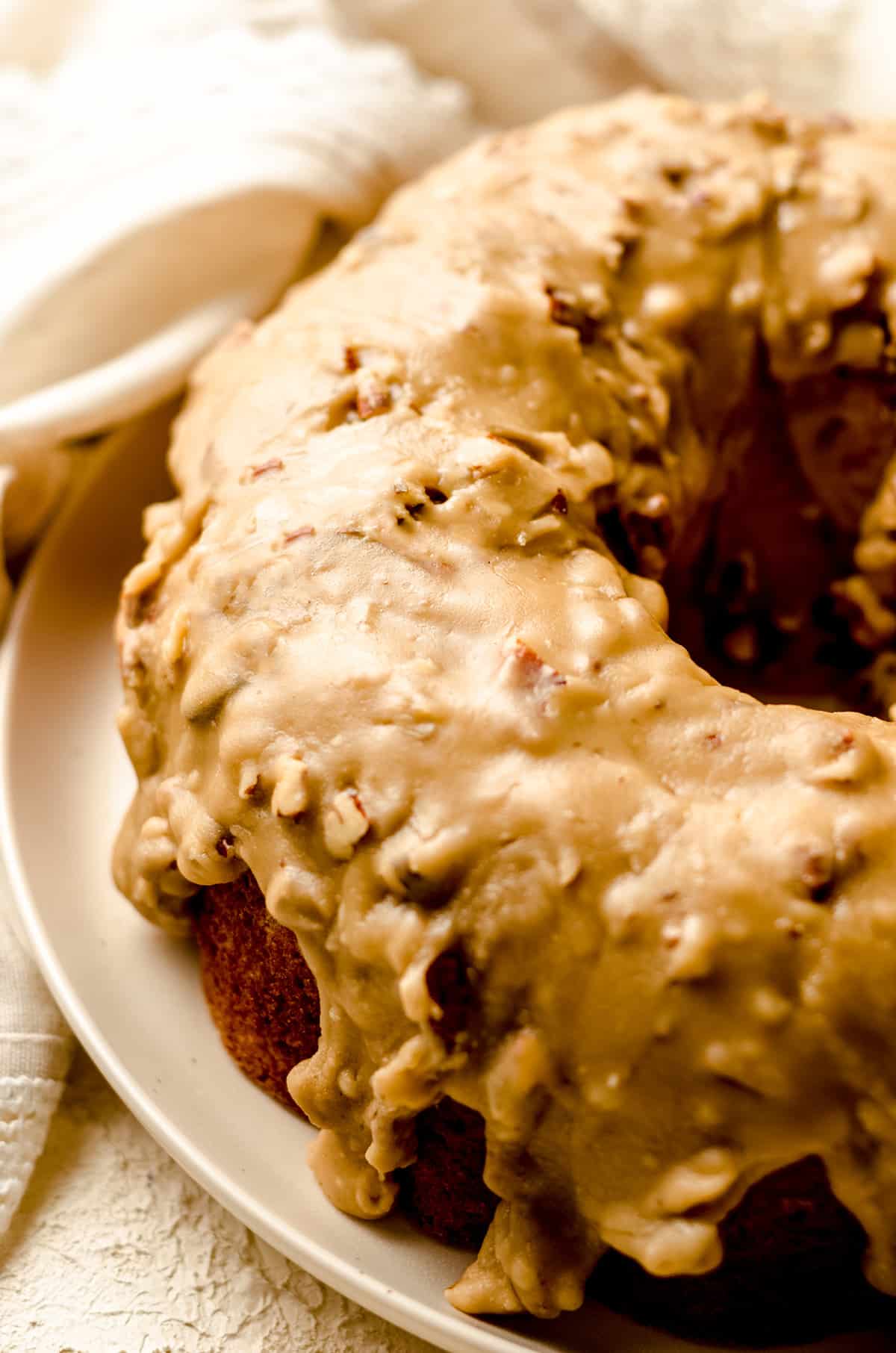 Today is a SUPER FUN day on the blog, as I'm participating in a little blog hop called Freaky Friday! Michaela from An Affair From The Heart put together this event where one blogger makes a recipe from another assigned blogger's blog.


I was assigned to pick a recipe from Julie's blog, Hostess At Heart. We were totally meant to be matched– she met her husband in college, they have two kids, and they live an active and busy life. All of these things are true for us, too, and I hope that Matt and I are still trudging along like a team after 30 more years of marriage, too!
When I went looking for a cake (my favorite!), I knew nearly instantly exactly which cake I was going to use. I chose Julie's Bananas Foster cake because, well, I'm a sucker for anything Bananas Foster, I nearly always have ripe bananas waiting to be used, and DO YOU SEE THIS PECAN PRALINE ICING?
Yeah. No brainer.
I'm also a big fan of quick batters, and this one fit that bill and then some. Aside from making sure the ingredients are at room temperature, putting them all together was super simple.
Even that gorgeous pecan praline icing was super easy to make.
HOW TO MAKE BANANAS FOSTER CAKE
The list of ingredients is a little on the longer side, but what's really nice is that both the Bananas Foster cake and the pecan praline icing use some of the same ingredients.
The cake batter comes together easily, and you can definitely get by without even using an electric mixer or stand mixer, though those appliances do streamline the process a bit.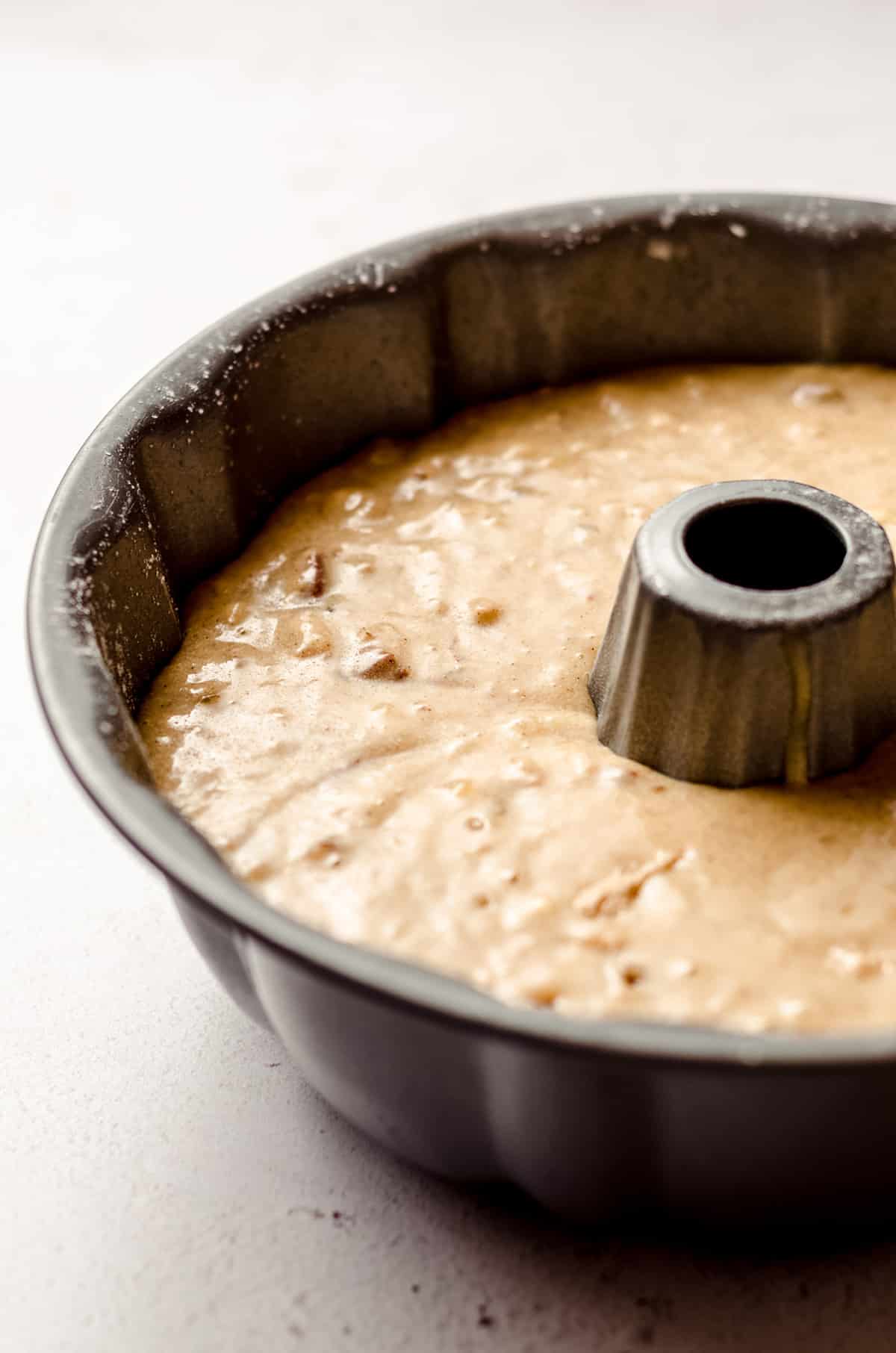 Both the cake batter and the icing contain rum, which is a common ingredient in traditional Bananas Foster.
WHAT IF I DON'T WANT TO USE RUM?
You have a couple options here: you can just stick to water, or you can use something with a bit more flavor like apple juice or apple cider. The spices are similar to that of spiced rum, so you will get similar spices happening.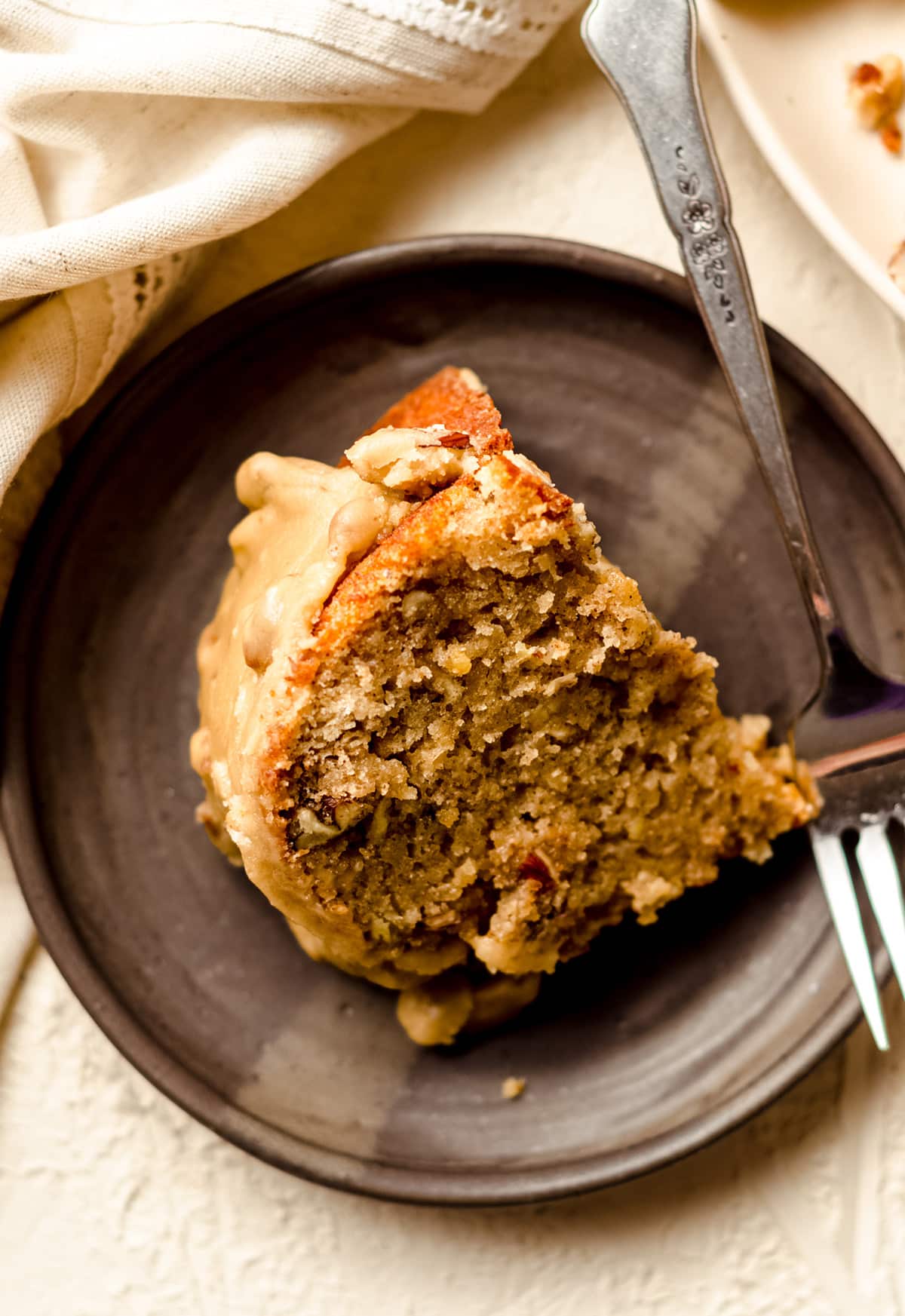 My best suggestion, though, is to use a Tablespoon of rum extract, which will mimic the taste of rum without adding any alcohol. Simply add 1 Tablespoon of rum extract to a measuring cup and fill the remaining amount with whatever liquid you're using in place of the rum.
Once the Bananas Foster bundt cake is done, you'll let it cool for about 20 minutes before flipping it out onto a serving platter.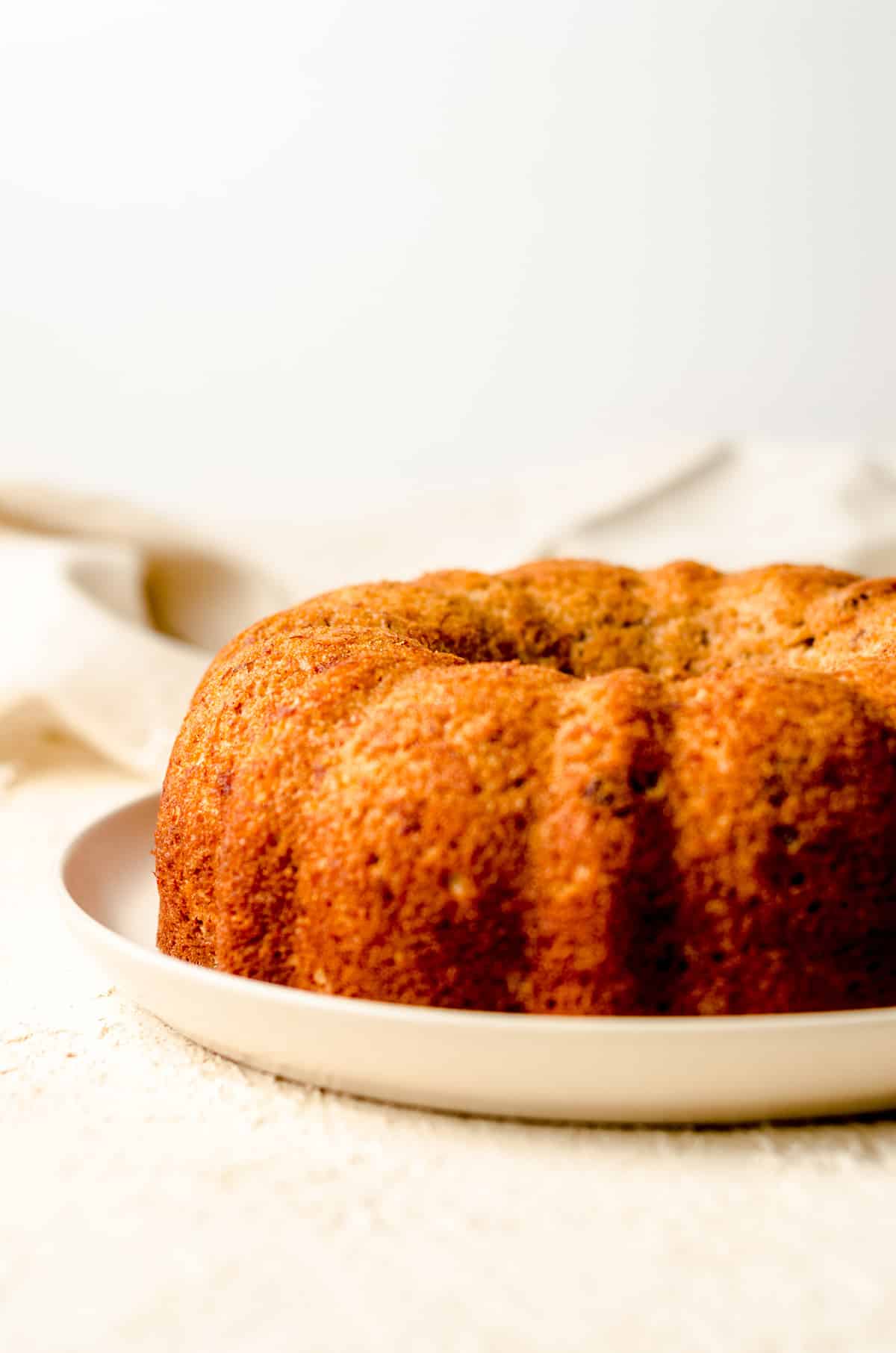 Then you have two choices: you can either add the icing to the slightly warm cake or you can wait until it cools completely to add it.
I let my cake cool for about 30 additional minutes outside of the pan before I went for the icing, and the cake was just cool enough that the icing didn't slip off, and warm enough that it was a deeeeelightfully slightly warm slice of cake and absolute dessert perfection.
This Bananas Foster cake recipe knocked it out of the park for me. Julie's careful choice of ingredients yields a perfectly moist cake that is not at all soggy with banana, and the chunks of pecan floating around in each bite were such a nice addition to the texture.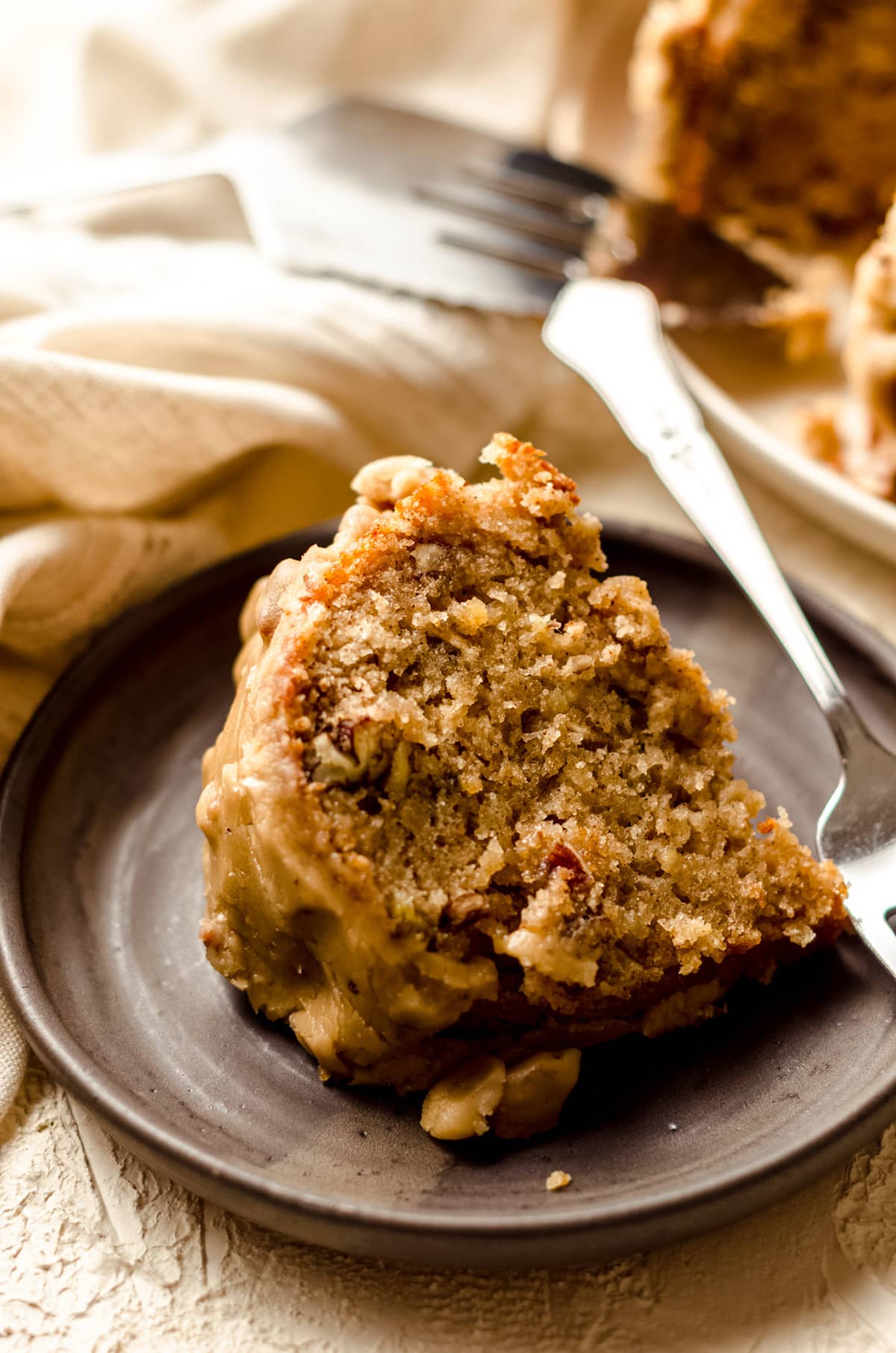 The icing is sweet, but it's a really lovely complement to the not-too-sweet Bananas Foster cake underneath it and the only thing that made these slices of cake better was a scoop of vanilla ice cream (highly recommend!).
I am so glad that this Freaky Friday event brought me to "meet" some new bloggers and opened up the opportunity to bake someone else's recipe. I'm usually head down in the sand of my own kitchen, and it was nice to have someone else write the recipe for me this time!
While perusing Julie's blog, I found a few other recipes that I either considered using or just tucked into my recipe collection for later use.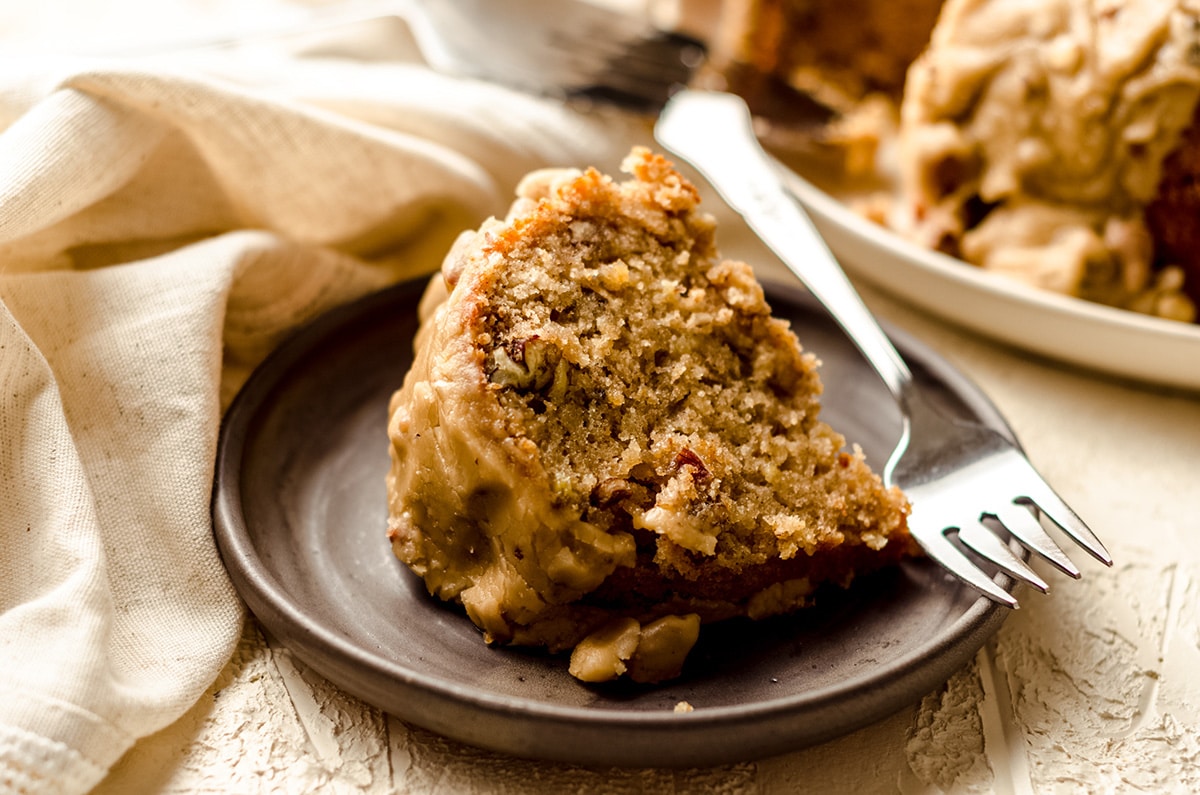 I will definitely be adding her spaghetti pie to my list of recipes to make for folks who need a meal (to go alongside my typical baked ziti).
These spiced coffee cookies with caramel glaze are speaking to my coffee-loving heart, and this streusel peach bread is calling my peach-and-quick-bread-loving name (reminds me of my peach almond streusel muffins!).
Last but not least of Julie's recipes are these sourdough chocolate chip cookies, which I will 10000% be adding to my ever-growing list of recipes that use sourdough starter or discard (also see my sourdough English muffins and sourdough cinnamon rolls).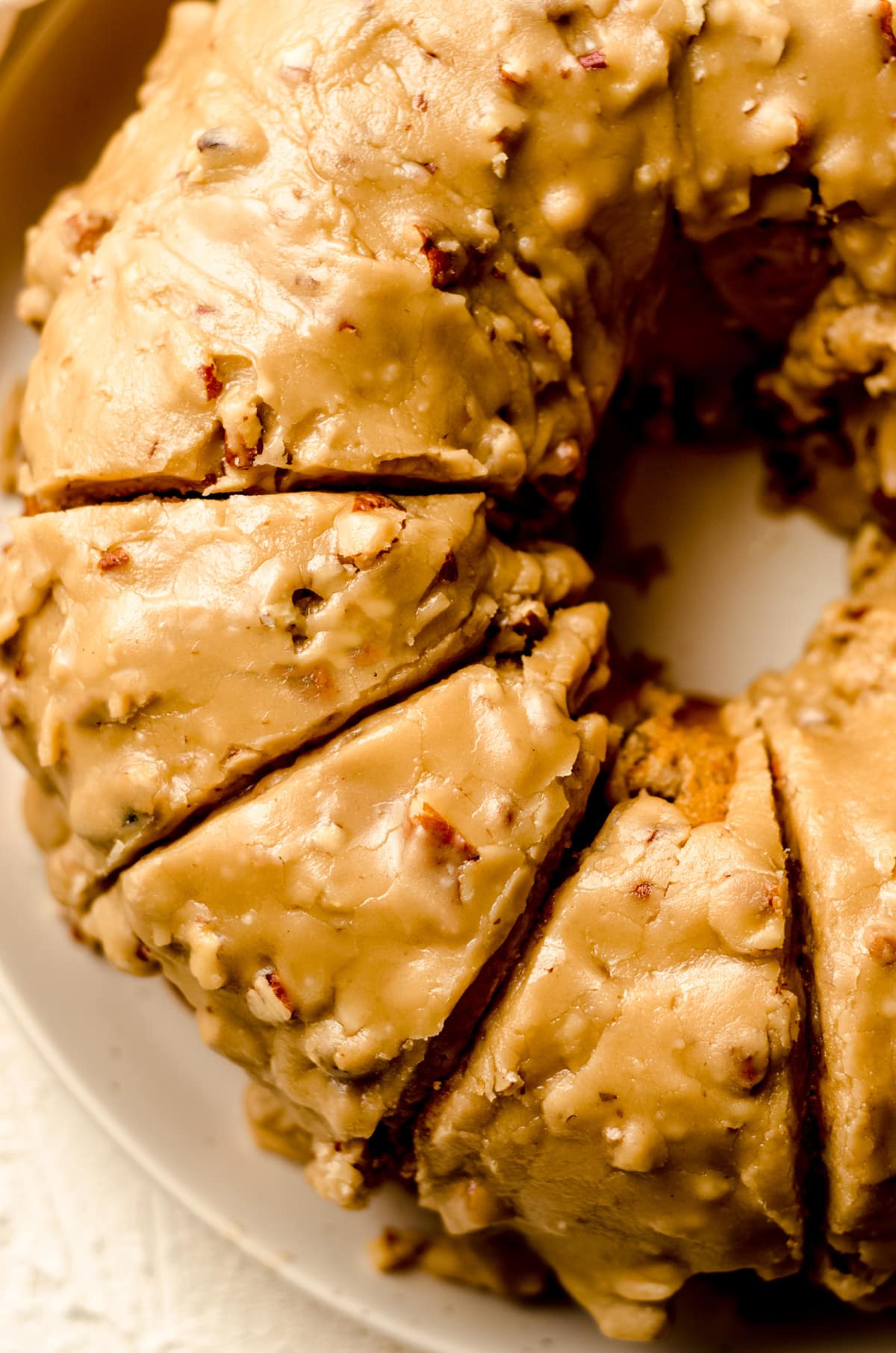 I hope you'll consider adding Julie's fabulous Bananas Foster cake recipe to your baking list, because it's surely a keeper, and I'm so glad I found it for myself!
Take a look at all of our 2021 Freaky Friday Summer Edition Recipes: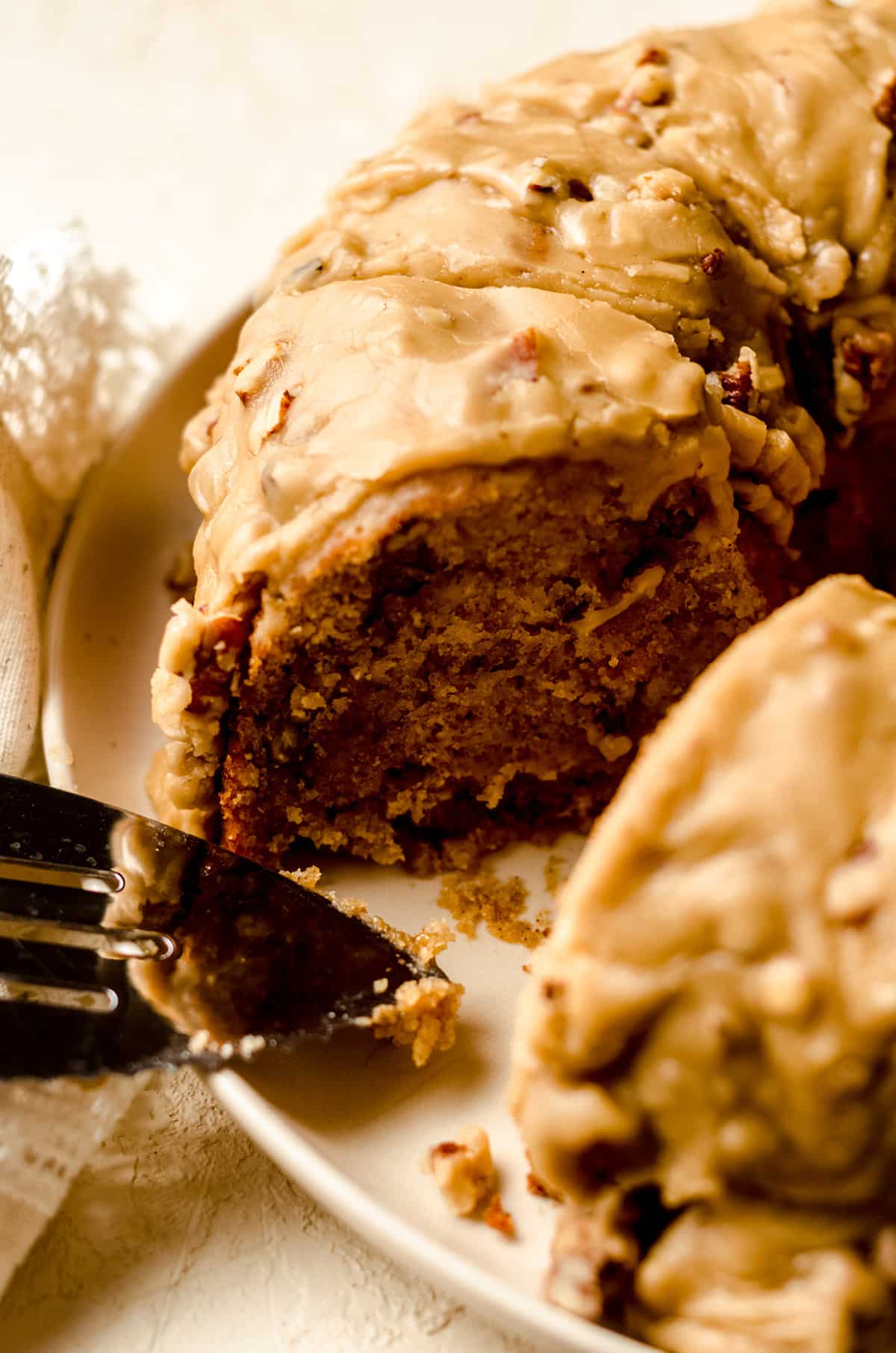 Bananas Foster Cake
An incredibly moist and flavorful banana bundt cake flavored with rum and topped with a pecan praline icing.
Ingredients
BANANA CAKE
3

cups

(345g) cake flour1 sifted and then measured2

3

teaspoons

baking powder

2

teaspoons

ground cinnamon

½

teaspoon

salt

1

cup

(200g) firmly packed light or dark brown sugar

1

cup

(227g) unsalted butter

melted

1

cup

(200g) granulated sugar

1

cup (240mL)

buttermilk

at room temperature

1

teaspoon

vanilla extract

3

large eggs

at room temperature

¼

cup

(60mL) rum3

1

cup

mashed bananas

about 3 medium size bananas

½

cup

(55g) chopped pecans

optional
PECAN PRALINE ICING
½

cup

(113g) unsalted butter

1

cup

(200g) firmly packed light or dark brown sugar

¼

cup

(60mL) rum3

1

cup

(120g) powdered sugar

sifted

½

cup

(55g) chopped pecans
Instructions
BANANA CAKE
Preheat the oven to 350° F (177ºC). Grease and flour (or use homemade cake release) a bundt pan4. Set aside.

Measure the sifted cake flour into a medium size mixing bowl, then add the baking powder, cinnamon, and salt and whisk to combine. Set aside.

In a large bowl with a handheld mixer or the bowl of a stand mixer fitted with the paddle attachment, combine the butter, brown sugar, granulated sugar, buttermilk, eggs, vanilla, and rum, and beat on medium speed until everything is combined.

Reduce the mixer speed to low, then gradually add the dry ingredients in two additions, alternating with the bananas, to the wet ingredients. Continue mixing until the batter is smooth. Add the pecans, if using, and beat on low again until just dispersed.

Pour the cake batter into the prepared pan. Bake the cake for 45-50 minutes or until a toothpick inserted in the center of the cake comes out mostly clean. If using a bundt pan, allow the cake to cool for about 20 minutes before turning it out onto a serving plate.
PECAN PRALINE ICING
In a medium-sized saucepan, melt the butter over medium heat. Add the brown sugar, stir it together, and bring the mixture to a boil.

Boil the mixture for exactly 2 minutes, stirring continuously. Carefully add the rum5 and bring back to boiling.

As soon as the mixture is boiling again, remove it from the heat and add the powdered sugar. Stir until smooth, then add the pecans and stir until combined.

Working quickly as the icing will start to thicken6 as it cools, pour the icing evenly over the cake. If it becomes too stiff, warm it again. Allow the icing to set, then slice and serve. This cake can be served slightly warm or at room temperature. Store leftovers covered at room temperature up to 3 days or in the refrigerator up to 5 days. Cake freezes well, up to 3 months. Thaw in the refrigerator overnight.
Notes
Cake flour: if you don't have or don't want to use cake flour, use 3 cups of all-purpose flour less 6 Tablespoons (360g – 45g = 315g) and replace the 6 Tablespoons of flour with 6 Tablespoons of cornstarch (49g).
Sifting flour: sifting flour aerates it and increases the volume. Do not measure and then sift. If you are using all-purpose flour + cornstarch, you will still want to sift that mixture and then measure.
Rum: I used a dark spiced rum. If you don't want to use rum, consider water, apple juice, apple cider, or 1 Tablespoon of rum extract + liquid substitution to desired measurement.
Cake pan: you can also use a 9×13″ baking pan for this cake.
Adding the rum: the mixture will bubble up. Add with caution.
Making the icing: I recommend waiting until you are ready to put the icing on the cake to start making it, as it thickens very quickly as it cools. If you choose to make it ahead of time, you will need to reheat it to get it to a viscous state again.
Recipe from Hostess At Heart
Nutrition Disclosure
All nutritional values are approximate and provided to the reader as a courtesy. Changing ingredients and/or quantities will alter the estimated nutritional calculations.
Serving:
1
serving
|
Calories:
593
kcal
|
Carbohydrates:
79
g
|
Protein:
6
g
|
Fat:
27
g
|
Saturated Fat:
14
g
|
Polyunsaturated Fat:
3
g
|
Monounsaturated Fat:
9
g
|
Trans Fat:
1
g
|
Cholesterol:
89
mg
|
Sodium:
218
mg
|
Potassium:
202
mg
|
Fiber:
2
g
|
Sugar:
56
g
|
Vitamin A:
703
IU
|
Vitamin C:
1
mg
|
Calcium:
120
mg
|
Iron:
1
mg