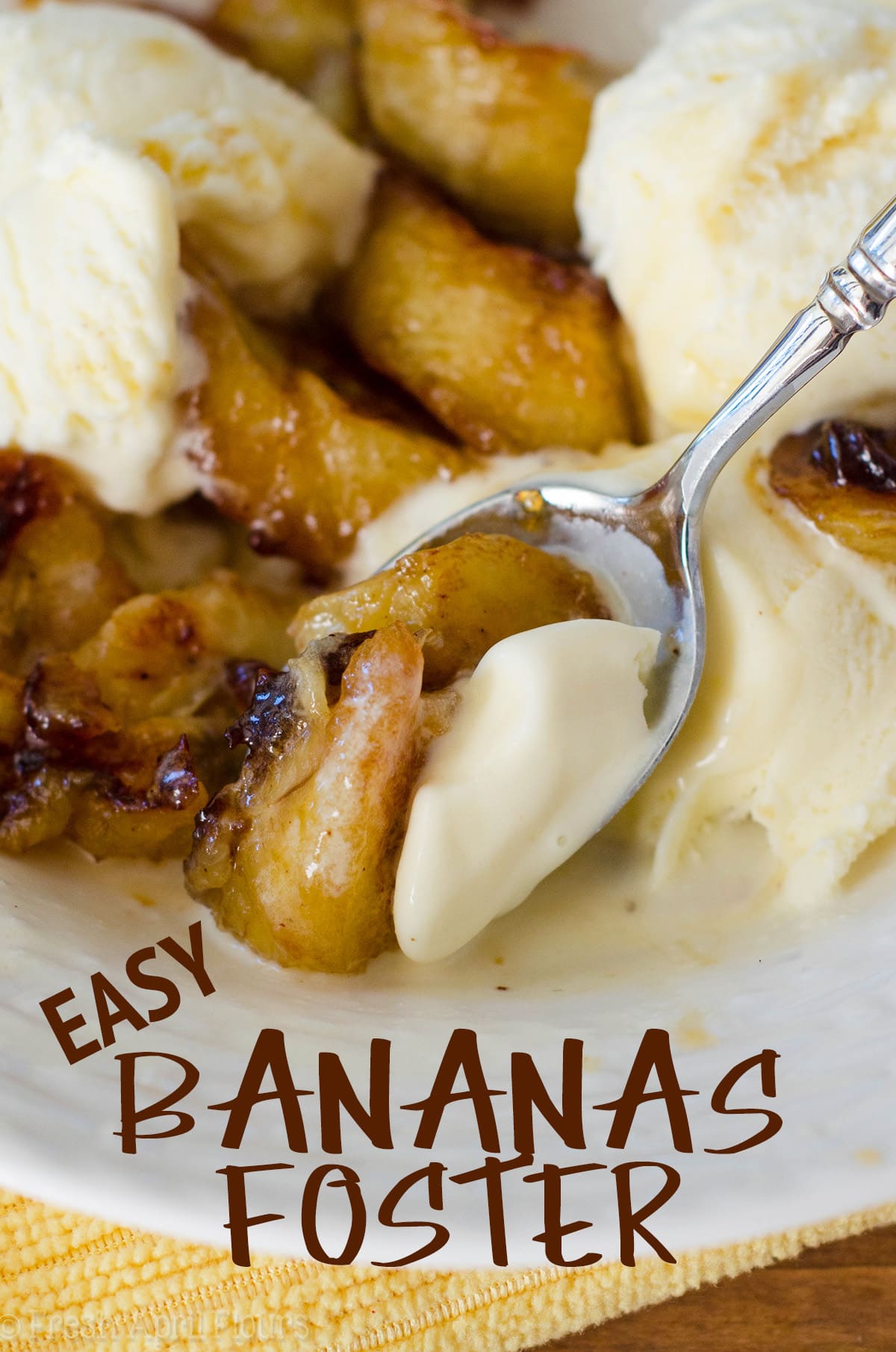 As an Amazon Associate, I earn from qualifying purchases. Read the full disclosure here.
A quick and easy recipe for Bananas Foster using Amaretto liqueur.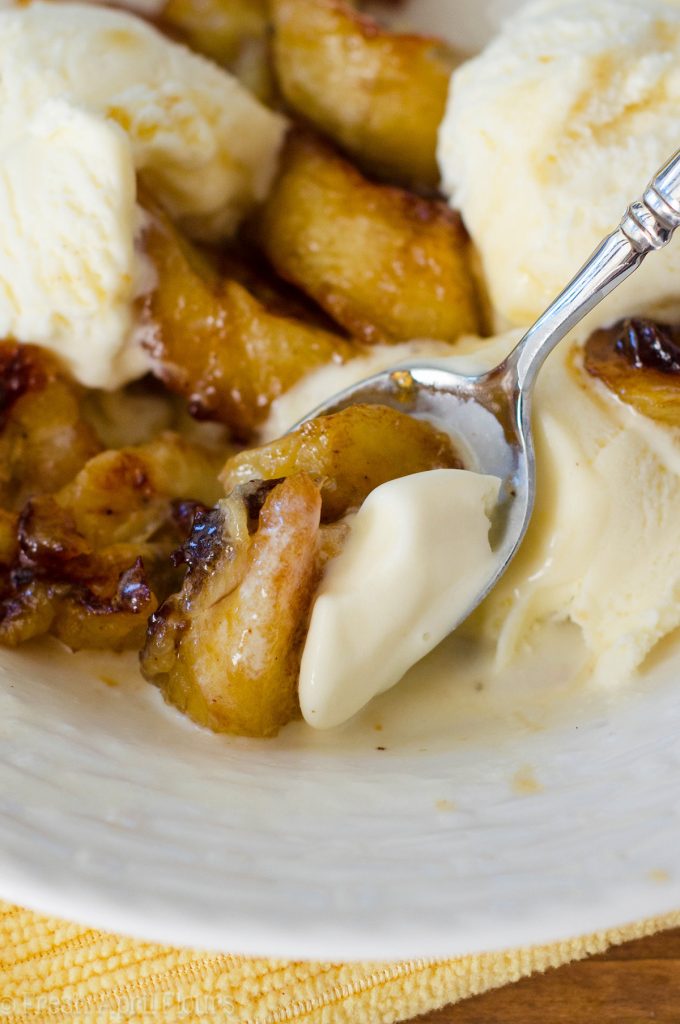 One last recipe for this year, friends. Let's make it a good one. And before I get torn apart by the Bananas Foster enthusiasts, please let it be known I realize this is not an authentic recipe and there are certainly no flames involved because WOAH, so just take my "easy" to heart and know that this is the kind of recipe that will make you glad you have some shortcuts up your sleeve. Deal?
Have you ever had Bananas Foster? Like real Bananas Foster, perhaps even in Louisiana where it originated? I was fortunate enough to attend a work trip in 2009 in New Orleans and my coworker and I had the crazy cool experience of Bananas Foster prepared for us table side at Emeril's NOLA restaurant. Not only was it uhhhhhmazing taste-wise, but watching the chef flip bananas all over the place and set the pan on fire was a sight to be seen.
Like I said, no flames involved here. That's too scary for me, so you'll have to settle for my easy shortcut.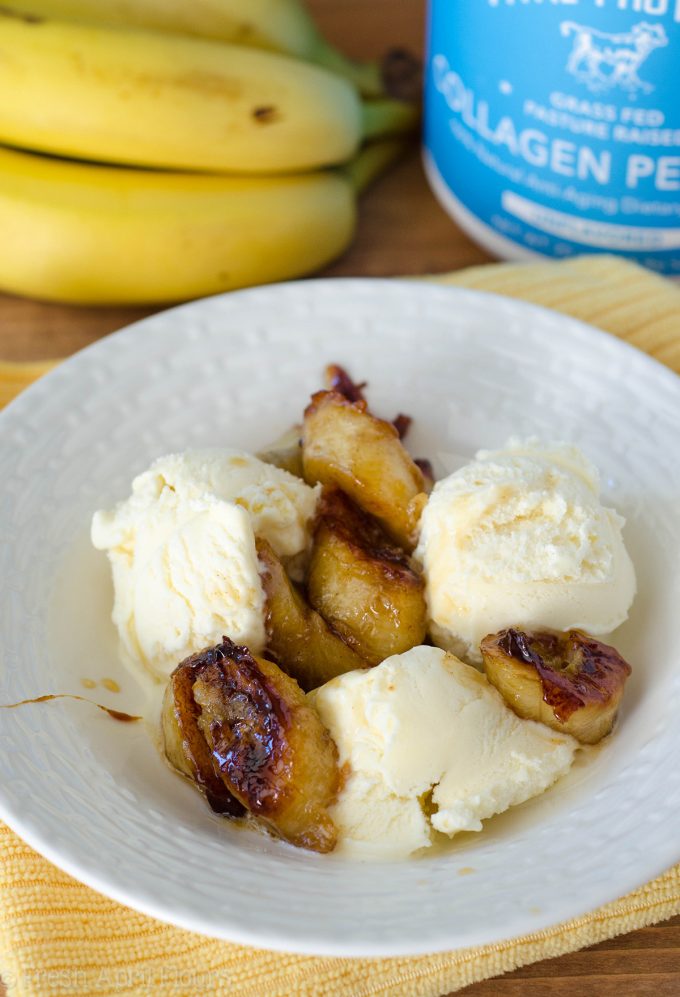 You won't need many ingredients at all. Some butter, a couple yellow bananas, and the completely necessary vanilla ice cream. You just cannot have Bananas Foster without it! The other important ingredient player is a little Amaretto liqueur.
So why Amaretto? Great question!
So we're using Amaretto for a couple reasons. First of all, it's sweet, and secondly, it's alcohol. Classic Bananas Foster is typically made with sugar, dark rum, and banana liqueur, but since that's a lot of extra ingredients, Matt found that Amaretto not only brought lots of sweetness and flavor to the dessert, but it also added a whole new flavor profile to the whole dish. Hence why I asked for forgiveness in the beginning of this post, because we're going against the grain!
And I wasn't kidding when I said this recipe is easy. Matt helped me take some photos to show you the steps, but I'm almost positive you won't need them.
You'll start by buttering the pan. This will coat the pan and also help brown the bananas.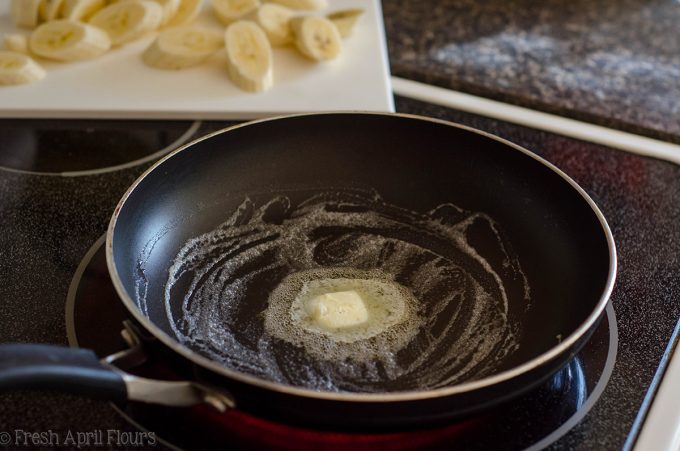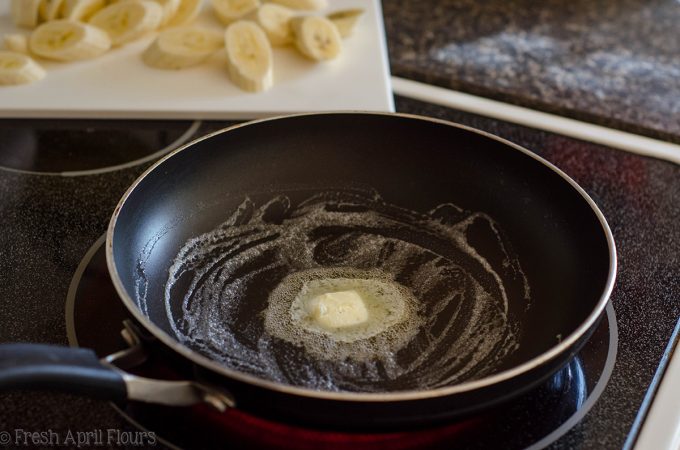 Next up, sliced bananas cut side down. You don't want them thrown in there all willy nilly. You need surfaces down in order to brown them evenly.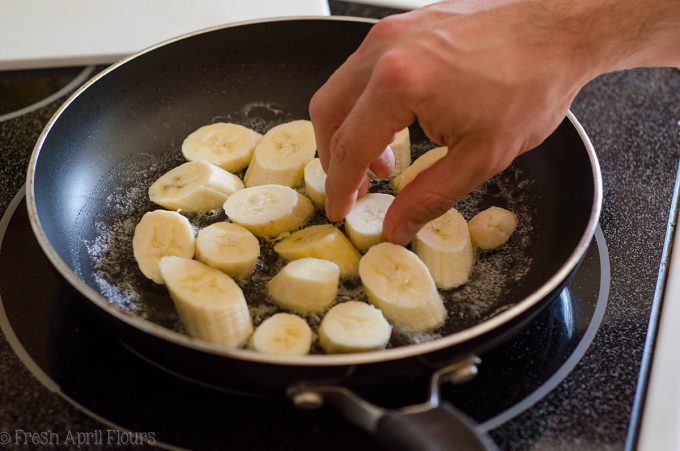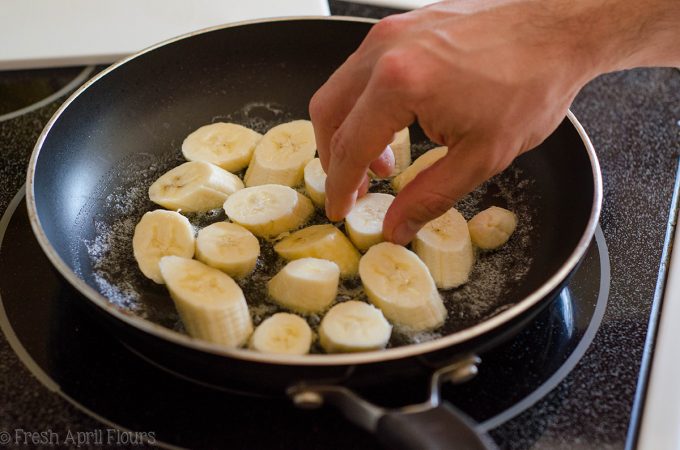 Once that side is done, flip them over and brown the other side.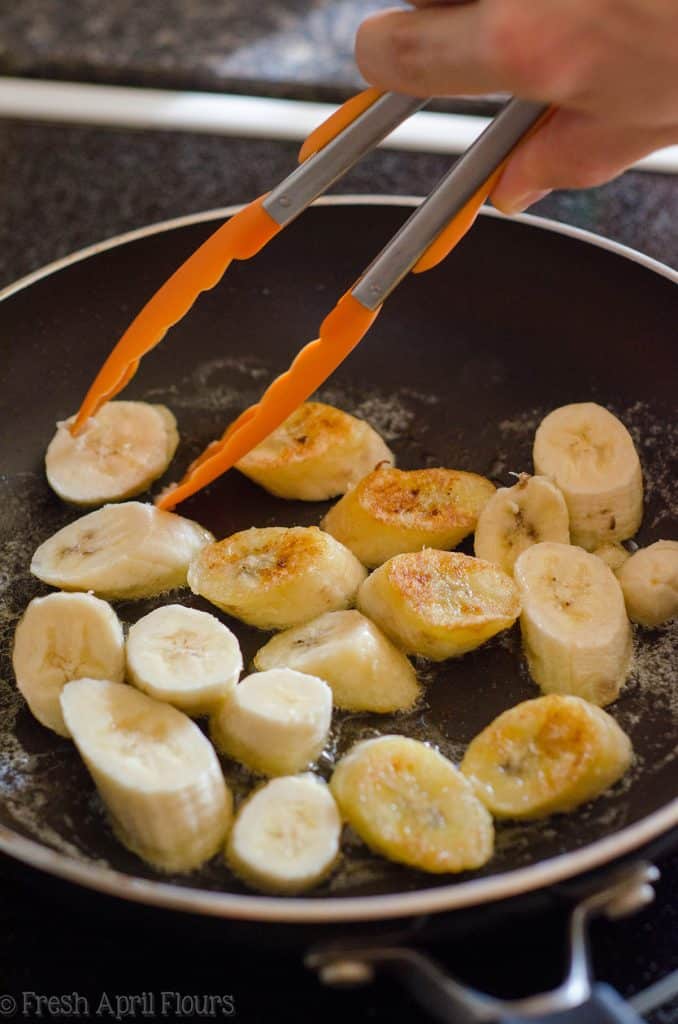 Next, the fun part. You'll pour in your liquid which is the Amaretto.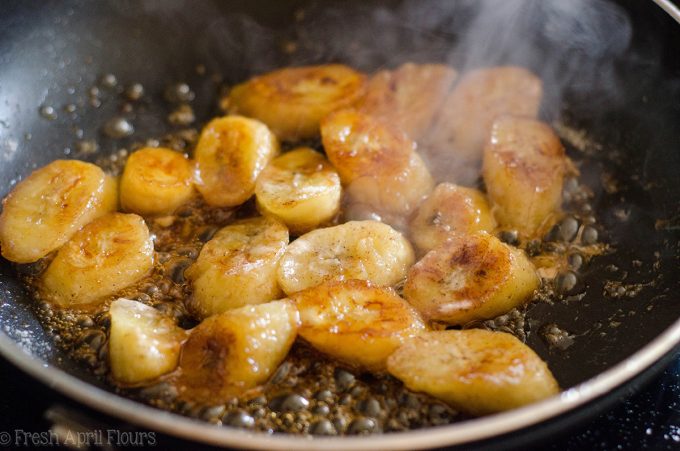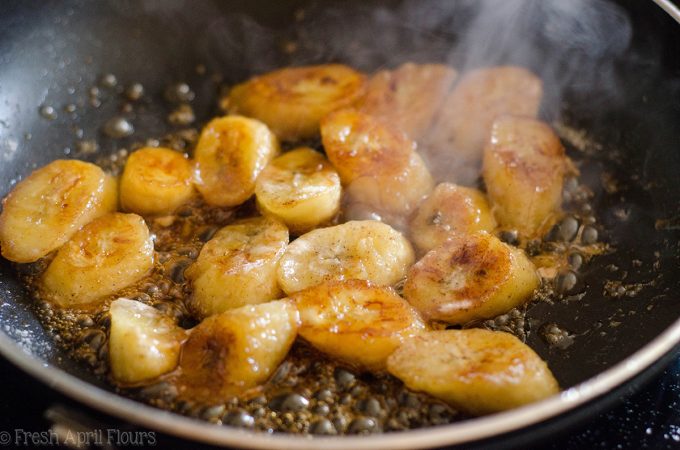 The liquid will start to bubble and thicken, and you'll only need a couple minutes for the bananas to caramelize. Once they're caramelized, pour the bananas and liquid all over some ice cream.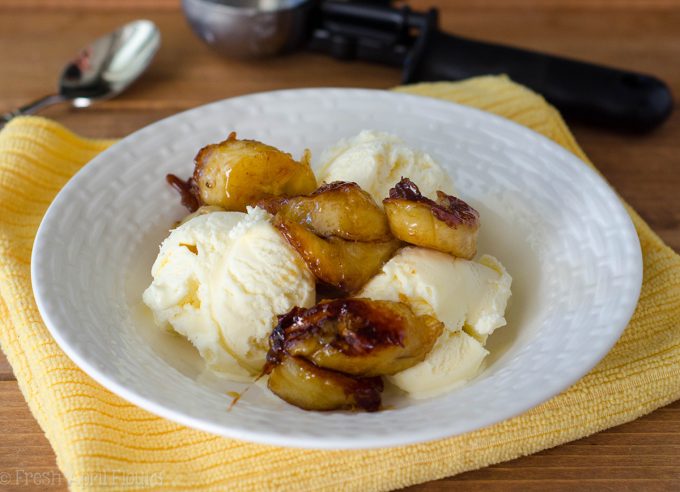 That's it. Easy peasy. No flames, no more than 4 ingredients, 5 if we count the ice cream.
As stated in the recipe, this can make one big serving or two small. But it's best served immediately, so you're either going to need a big appetite or someone you really like to share it with. I vote for the former, but that's just my personal opinion…
Warm and gooey bananas, cold and creamy ice cream, and no crazy ingredients or scary fire to get the job done. This is certainly not exactly like an authentic Bananas Foster, but it will sure satisfy your sweet tooth and make you feel a bit fancy creating such an elaborate dessert with just a few ingredients in your own kitchen.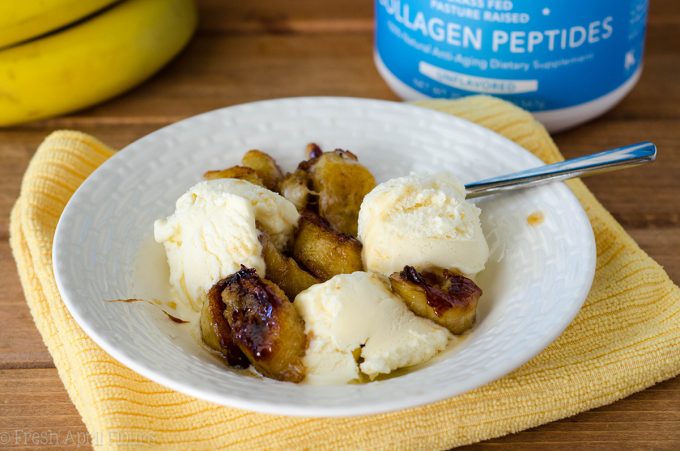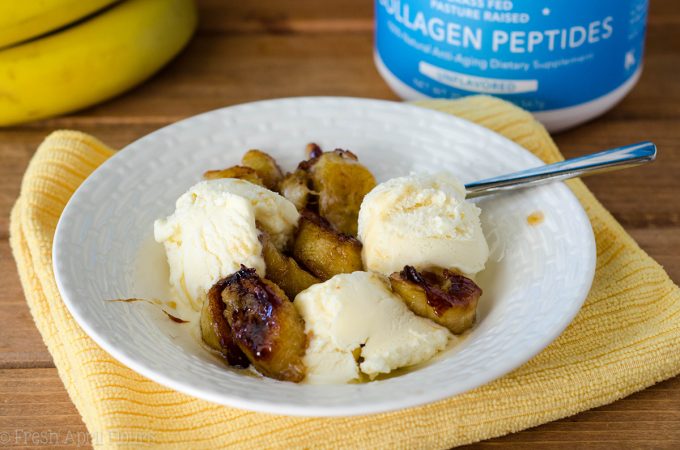 Let's send 2016 out with one last dessert so we can prepare for a healthier start to 2017. Plus there are bananas, so fruit so not terrible for you. Yes? Yep!
Easy Bananas Foster
A quick and easy recipe for Bananas Foster using collagen peptides and Amaretto liqueur.
Servings:
1
large serving (or 2 small servings)
Ingredients
2

yellow bananas*

1/4

cup

Amaretto liqueur

vanilla ice cream

1/2

Tablespoon

unsalted butter
Instructions
Slice the bananas into thick slices, about 3/4" thick. Set aside.

Scoop desired amount of ice cream into a bowl. Set aside.

Melt the butter in a large skillet over medium heat. Once completely melted, add the banana slices, making sure that a cut side is down. Allow to cook in the butter until the bottoms start to brown. Use tongs or a spatula to quickly flip the banana slices and cook the other side until brown. Once all banana slices are brown, slowly add the Amaretto and allow to cook until mixture starts to thicken and bananas start to caramelize. As soon as bananas are caramelized, pour them over the vanilla ice cream and serve immediately.
Notes
*Use bananas that have just turned yellow. Overripe bananas, like the ones you would use for banana bread, are too ripe and too sweet and will fall apart quickly in the pan.
Nutrition Disclosure
All nutritional values are approximate and provided to the reader as a courtesy. Changing ingredients and/or quantities will alter the estimated nutritional calculations.