Molasses Iced Oatmeal Cookies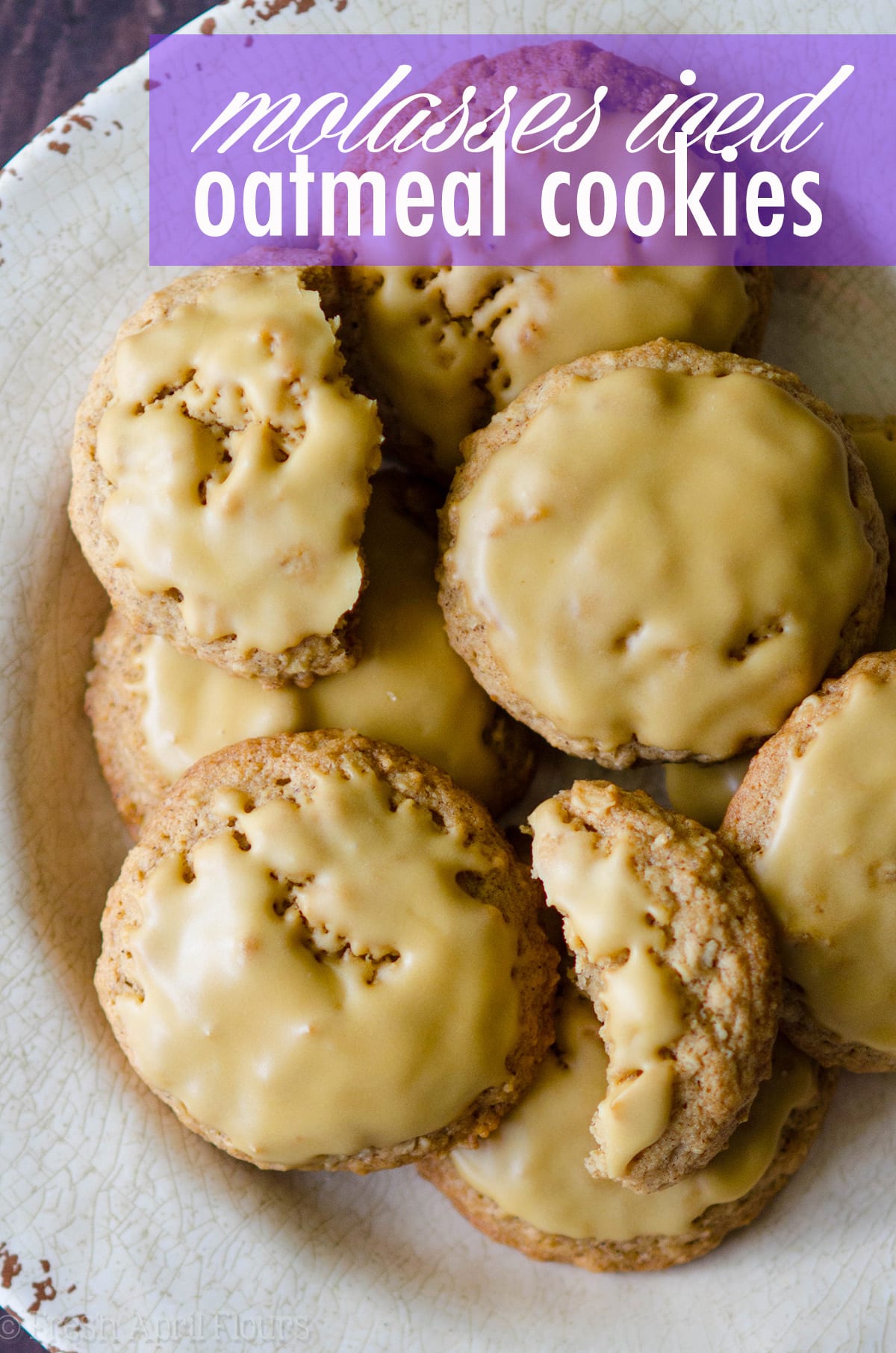 As an Amazon Associate, I earn from qualifying purchases. Read the full disclosure here.
Quick and easy oatmeal cookies covered in a sweet and bold-flavored molasses icing.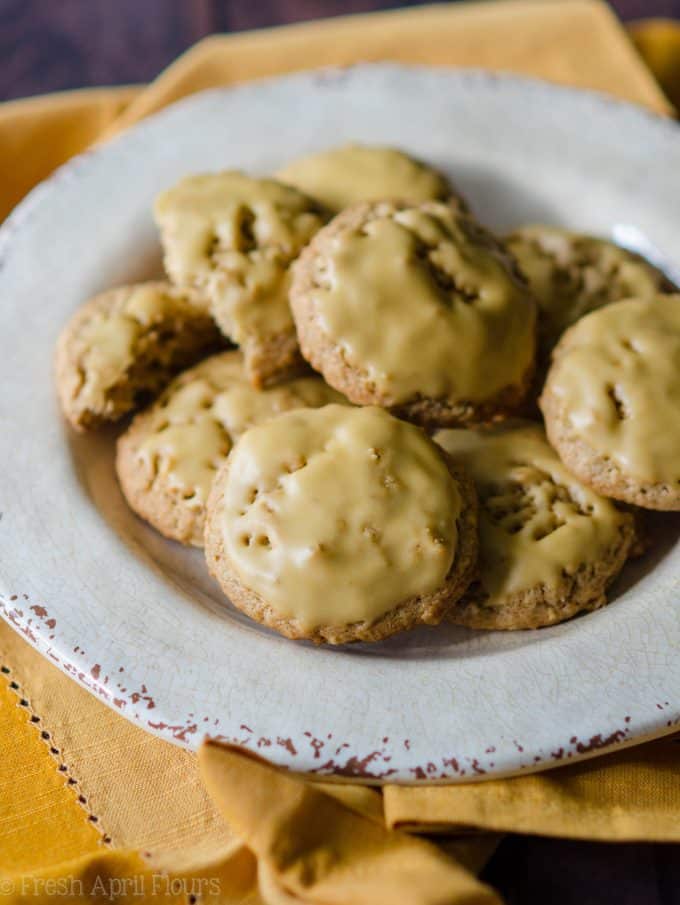 Another holiday season, another oatmeal cookie recipe. Isn't that how it goes in your kitchen? I know that's how it is in mine. And this isn't the first oatmeal cookie I've brought to my 12 Days of Christmas Cookies.
Remember my monster cookie from week 2? That chocolate chip, m&m, peanut butter filled bite of heaven? Yeah, this cookie is nothing like that one. Except for the oats. Those are here. But you can leave all the fillers aside, because this cookie is ALLLLL about that molasses icing.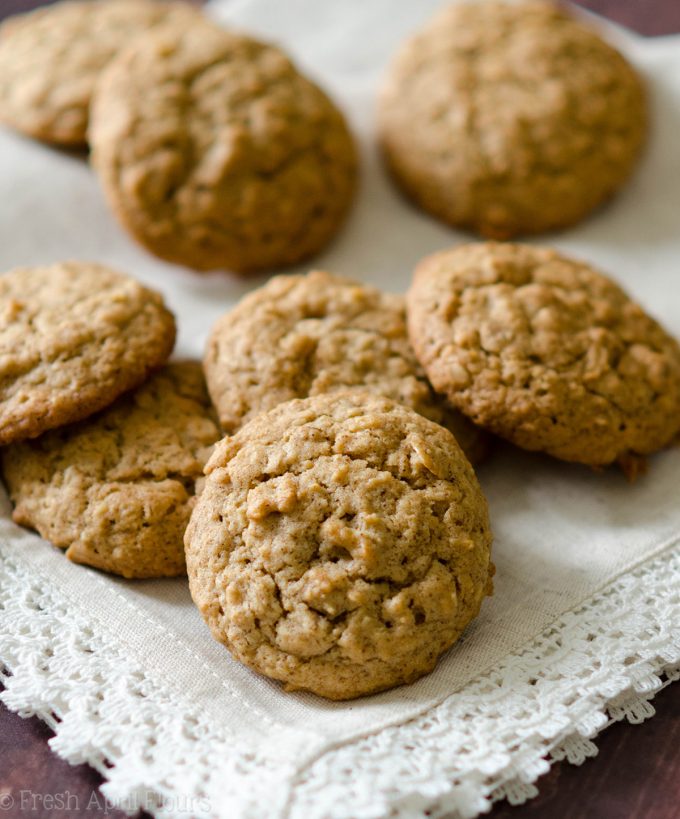 I'm getting ahead of myself. Let's start with the delightful little cookie that's under that gorgeous golden brown icing…
This is another cookie brought to you by my friends at Bob's Red Mill. I used their super fine almond flour to make almond flour pecan sandies for you on Sunday, but these oatmeal cookies are all about the unbleached all-purpose flour.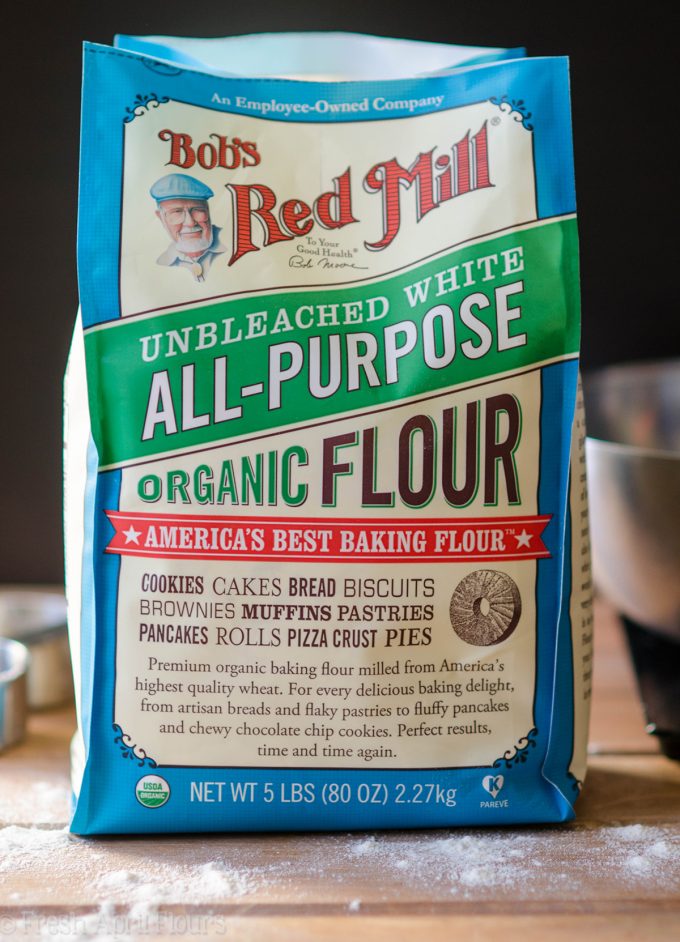 So what exactly is unbleached flour and why are we using it for these oatmeal cookies? I'm so glad you asked!
Unbleached flour is just that: flour that has not been bleached, therefore has its nutrients and natural color intact, and no additives. It is the purest form of flour, and it also has a higher protein content than bleached flour, meaning a slightly denser baked good.
This can be undesirable in something like cake or bread, but when it comes to an oatmeal cookie, we like dense and hearty.
The base of these cookies is the unbleached flour and old fashioned oats. The oats, however, get a quick whirr in a food processor to grind them up a bit. Only about 15 pulses.
You want different sizes of oats, not all large and not all small either. Too many big ones and there won't be enough spaces for the moisture to go, too many small and you'll wind up with a delicate cookie. You want your mixture to look something like this: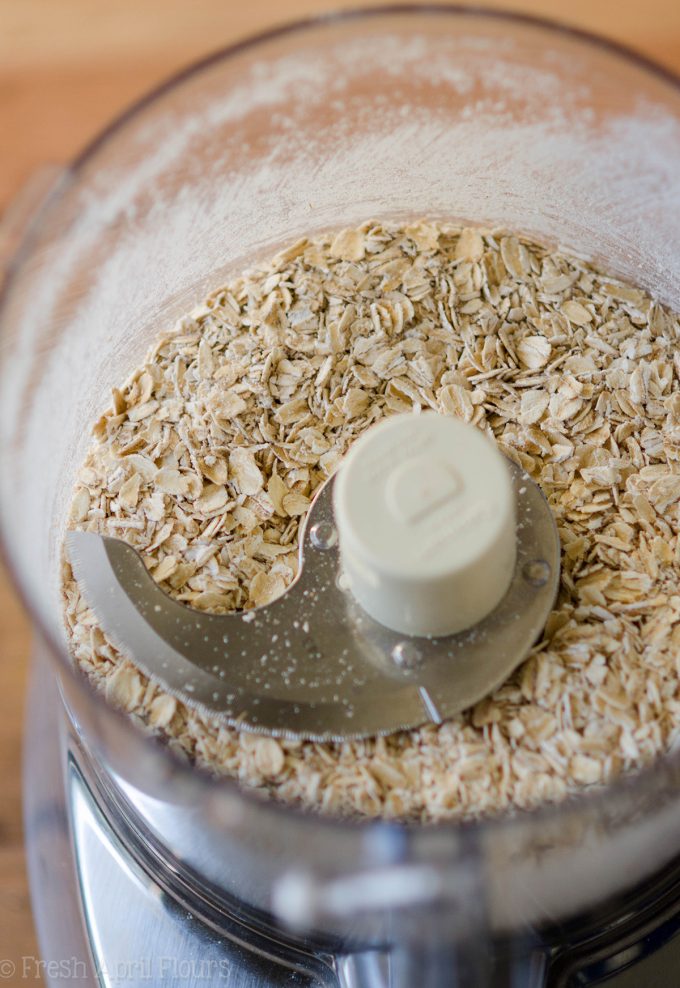 You'll spice these cookies up with cinnamon and nutmeg, and add lots of moisture and chewiness with brown sugar as the sweetener. I normally add molasses to my classic oatmeal raisin cookies, but I left it out this time in order to make more room for molasses in this beautiful icing that I had so much fun making.
This icing is very simple– a quick blend of heavy cream or milk, warm water, and a generous helping of molasses create this gorgeous, spiced glaze. But it doesn't stop there!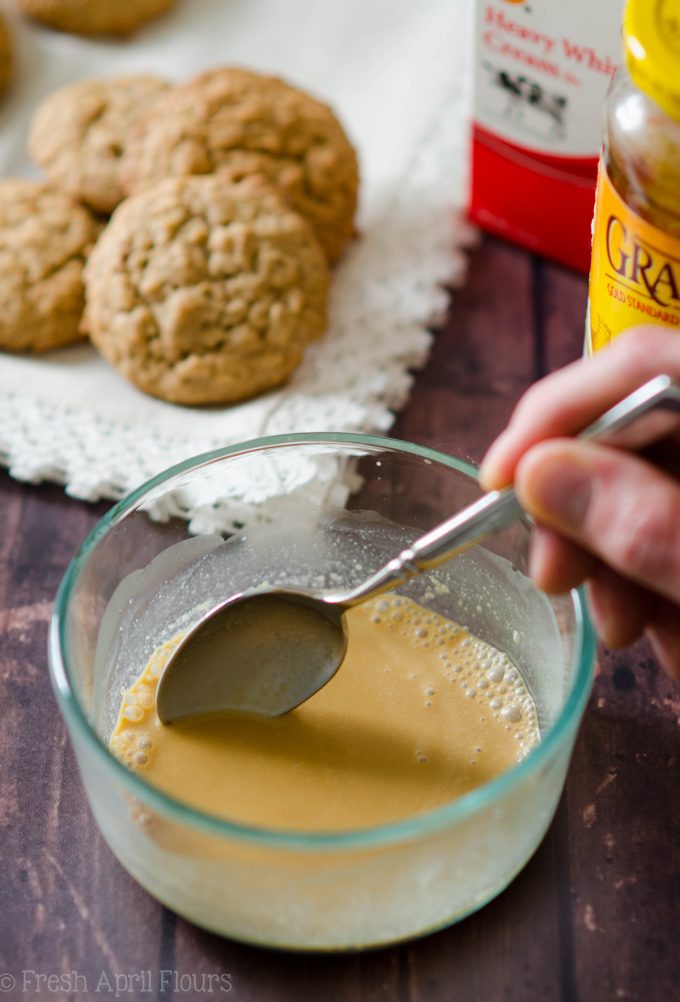 To that you'll add a cup of powdered sugar to make the most impossibly delicious icing for a cookie that you've ever had. I was originally going to leave the molasses out and just put it in the cookie, but ohhhh my goodness am I SO glad I saved it for the icing.
No judgment if you double the icing batch and just eat it with a spoon…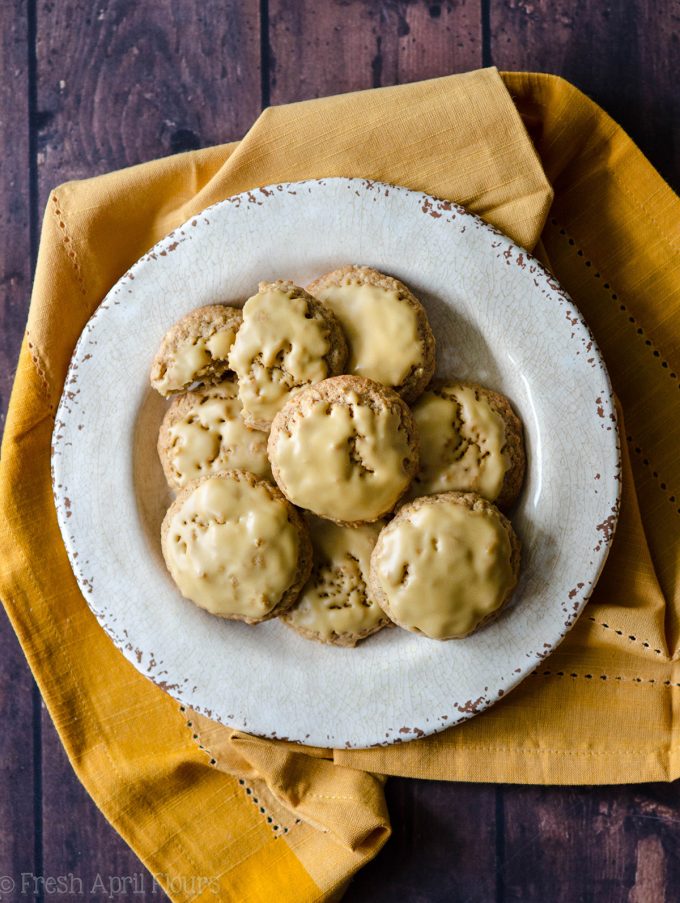 Once the oatmeal cookies are finished baking, you'll let them cool completely. Dip them whenever you'd like to, but keep in mind the icing will take about an hour to firm up.
The longer it sits, the harder it gets, and we found the perfect mash up of crunchy and chewy cookie to flaky icing on the second day.
And I'll tell you what, they didn't last much longer than that second day… Oops.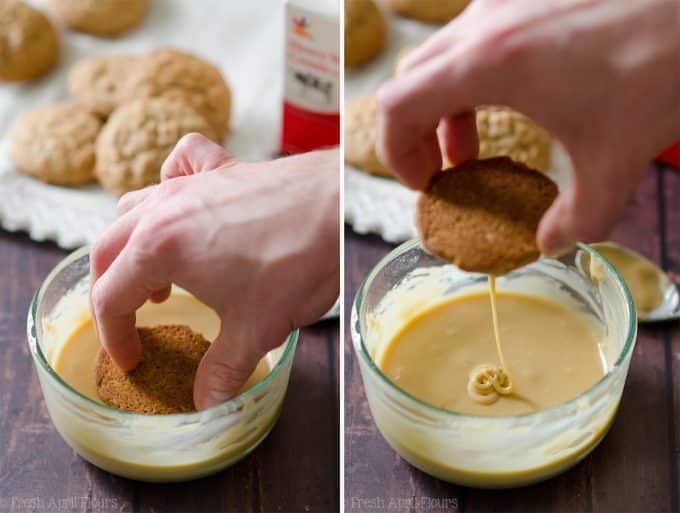 As an oatmeal cookie lover, I had high hopes for these cookies, and I am happy to say that they exceeded my expectations. The cookie itself is simple yet flavorful enough to stand alone, but the added molasses icing on top is, quite literally, the icing on the cake cookie.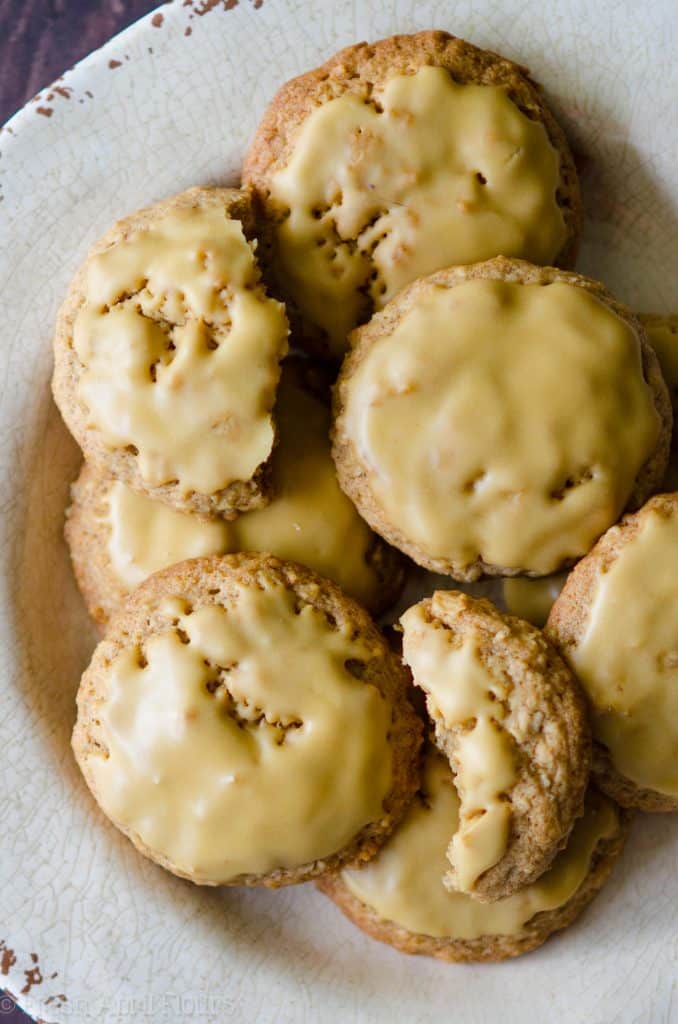 A simple oatmeal cookie dough that requires no chilling, a quick and easy molasses icing that really can go on any holiday cookie that could use a little extra pizzaz, and a flavor combination that practically creates a winter holiday party in your mouth is something that is sure to impress Santa this year.
Go ahead, try him!
Molasses Iced Oatmeal Cookies
Quick and easy oatmeal cookies covered in a sweet and bold-flavored molasses icing.
Servings:
2
dozen cookies
Ingredients
COOKIES
1

cup

old fashioned rolled oats

1

cup

Bob's Red Mill Organic Unbleached All-Purpose Flour

be sure to measure properly

1 and 1/2

teaspoons

baking powder

1/4

teaspoon

baking soda

1 and 1/2

teaspoons

ground cinnamon

½

teaspoon

ground nutmeg

½

teaspoon

salt

1/2

cup

(1 stick) unsalted butter

softened room temperature

3/4

cup

packed brown sugar

1

large egg

room temperature

1

teaspoon

vanilla extract
MOLASSES ICING
1 and 1/2

Tablespoons

heavy cream or milk

1

Tablespoon

warm water

1/2

Tablespoon

molasses

1

cup

powdered sugar
Instructions
COOKIES
Preheat the oven to 350ºF. Line a large baking sheet with parchment paper or a silicone baking mat. Set aside.

Add the rolled oats to a food processor and pulse about 15 times. Do not over process. You don't want the texture of quick oats for these cookies. Pour the oats into a large bowl and add the flour, baking powder, baking soda, cinnamon, nutmeg, and salt. Whisk until ingredients are combined. Set aside.

In a large bowl with a handheld mixer or the bowl of a stand mixer fitted with the paddle attachment, beat the butter and sugar on medium-high until light and fluffy, about 2-3 minutes. Add the egg and vanilla and beat again until combined, scraping down the sides as necessary.

Decrease the mixer speed to medium-low and slowly add the dry ingredients to the wet ingredients. Mix until batter just comes together.

Using a cookie scoop (I use this #50 cookie scoop for all of my standard size cookies), drop leveled scoops of dough onto the baking sheet, no more than 6 balls of dough at a time. Bake cookies for 10-11 minutes or until the edges just begin to brown. Centers may look underdone. Remove from the oven and allow cookies to rest on the baking sheet at least 5 minutes before transferring to a wire rack to cool completely.
MOLASSES ICING
When cookies are completely cool, combine the cream or milk, water, and molasses in a small bowl. Stir or whisk until the molasses is incorporated. Add the powdered sugar and stir until a thick icing forms.

Working with one cookie at a time, dip the tops of the cookies into the icing and let the excess drip off. The longer the icing sits, the thicker it gets, and the more cracks and spots will peek through the tops of the cookies. If you prefer smoother icing, heat the icing in the microwave for a few seconds to keep the desired consistency. Set the dipped cookie on a cooling rack until the icing has set, about 1 hour. Cookies stay fresh in an airtight container up to 5 days. Baked cookies freeze well, up to 3 months. Do not ice before freezing. Rolled cookie dough can be frozen, up to 3 months. Freeze on a baking sheet before placing in a bag or container to freeze long-term.
Nutrition Disclosure
All nutritional values are approximate and provided to the reader as a courtesy. Changing ingredients and/or quantities will alter the estimated nutritional calculations.