Pumpkin Oatmeal Cookies with Cinnamon Chips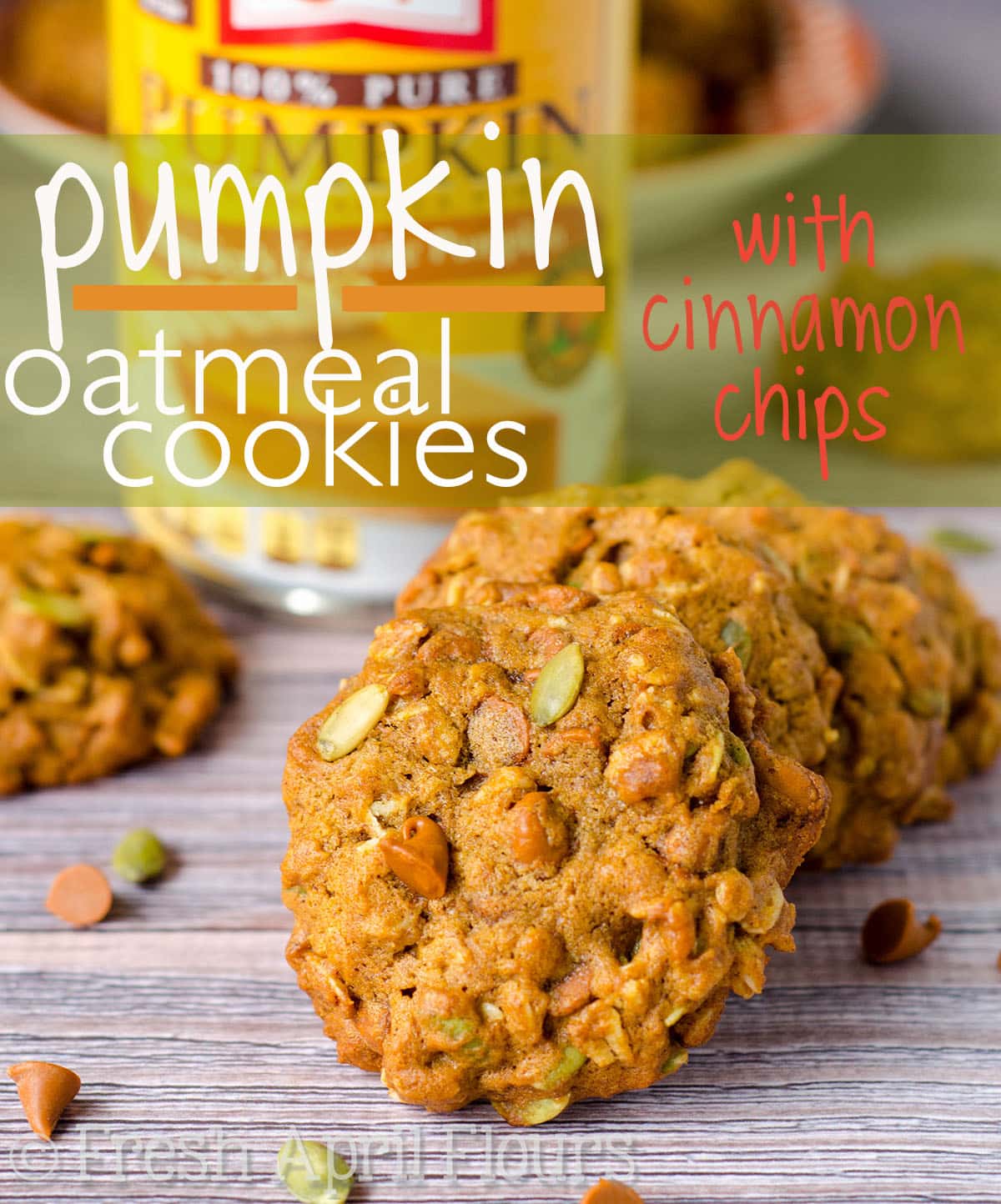 As an Amazon Associate, I earn from qualifying purchases. Read the full disclosure here.
Oatmeal cookies get a fall makeover! These cookies are packed with real pumpkin, warm spices, crunchy pepitas (pumpkin seeds), and sweet cinnamon chips.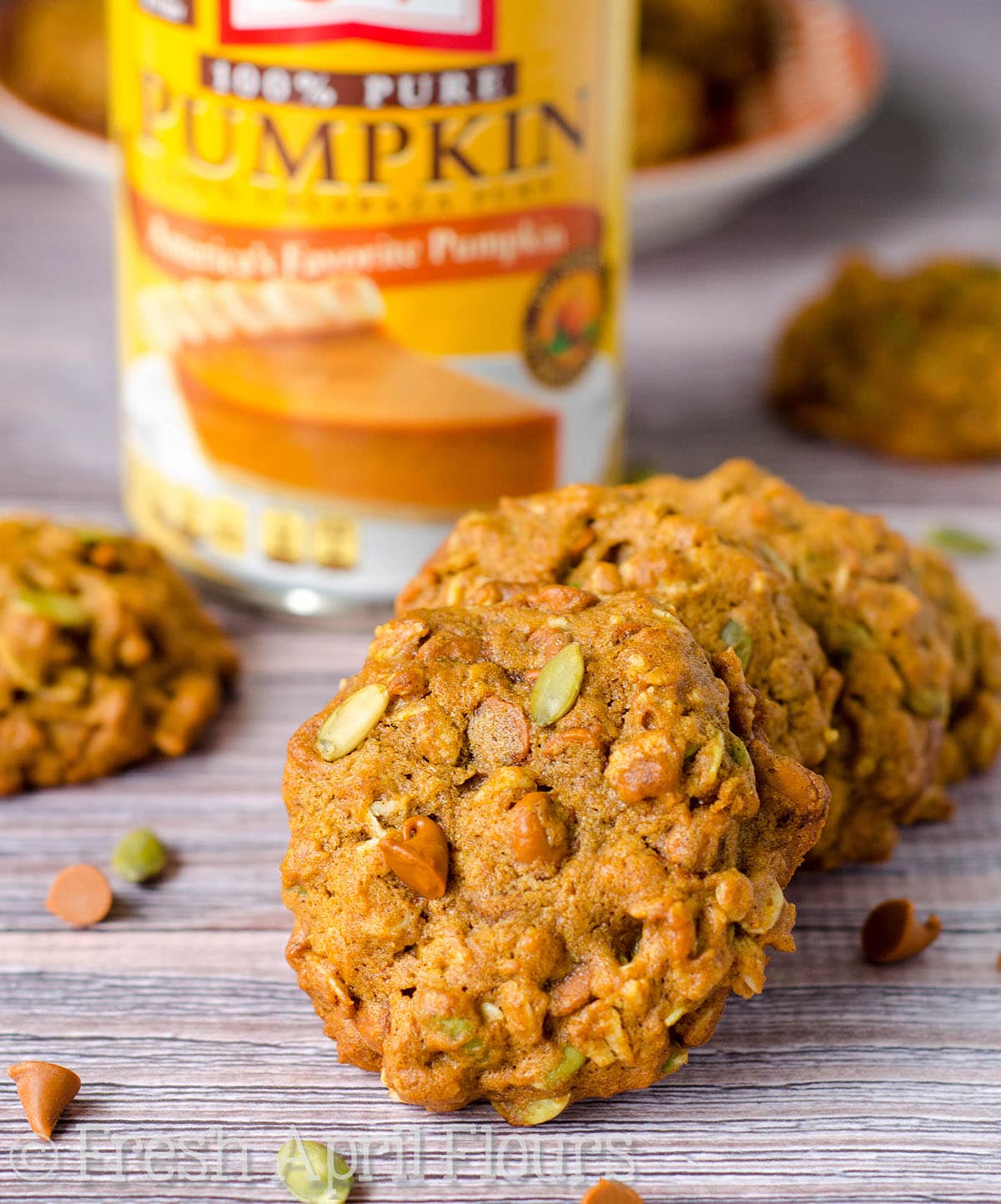 Happy first day of fall, my friends! I have been absolutely itching to share a pumpkin recipe on my blog, but I had to convince myself to wait.
When you're a food blogger, you must be ahead of the baking game: pumpkin in August, spooky treats in September, cranberries in October, and Christmas cookies in November (although, to tell you the truth, my first 2015 Christmas cookie is making an appearance in my oven next week– yikes!).
That being said, this recipe was a long time comin'!
I am pretty open about my love affair with oatmeal cookies. Oatmeal raisin cookies remain my #1 choice when it comes to dessert selections, but I never ever turn my nose up at an oatmeal cookie of any sort.
I shared my beloved chewy oatmeal raisin cookies on my birthday last year, and since then, I've taken that base recipe and added several things to it (Raisinets! Chocolate chips! Walnuts!). It was only a matter of time before I went all pumpkin-y on the classic!
Plus, it is September/#lynnsfavs, and duh, pumpkin is up there with favorite things! Oatmeal cookies + pumpkin = obviously.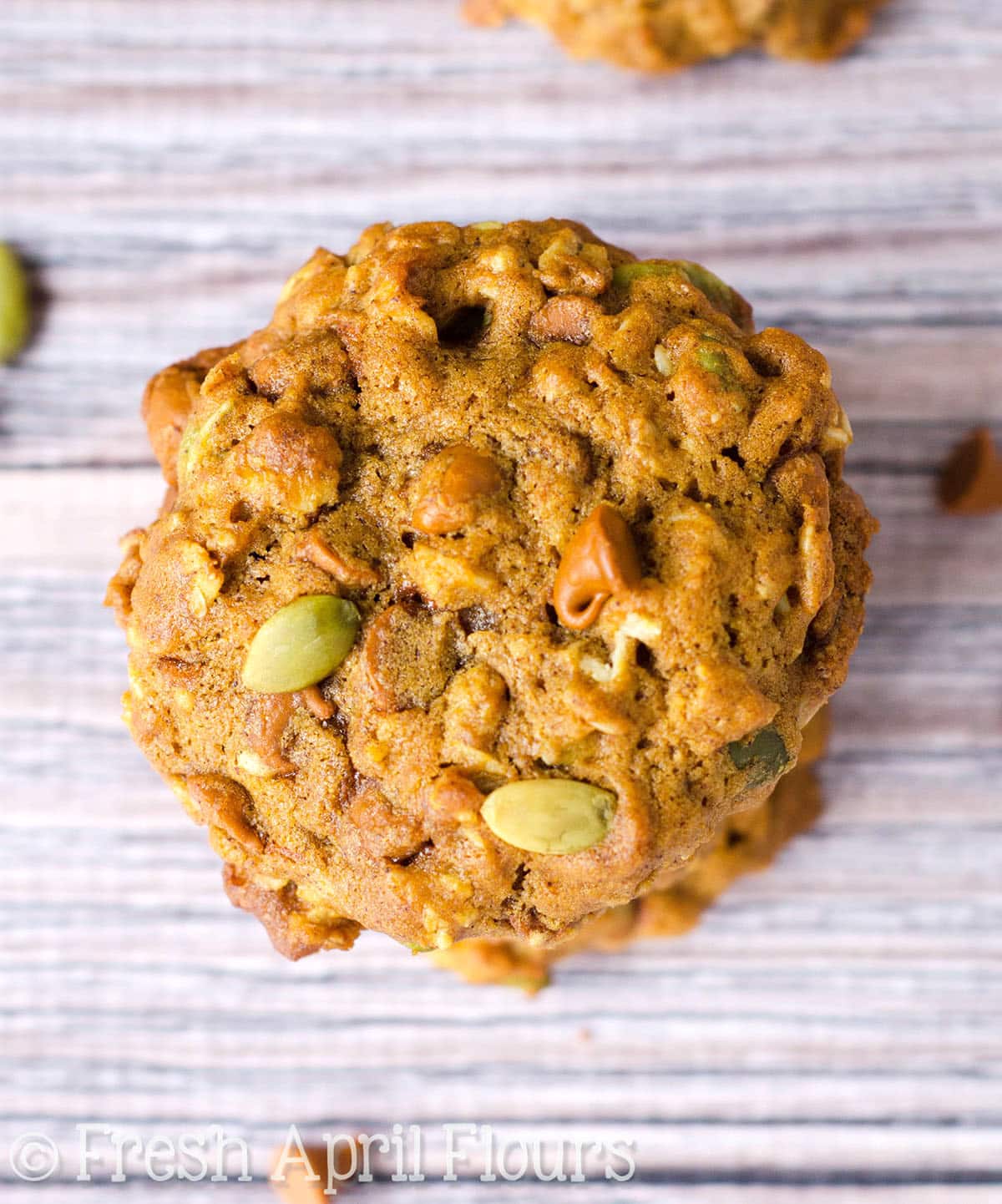 Nerdy cookie science alert!
For both my oatmeal Raisinet and oatmeal chocolate chip walnut cookies, I did not alter my base recipe at all. Why not? Since all that I changed were the add-ins, I didn't have to worry about the consistency of batter, more specifically, how changing the ingredients would affect the consistency of not just the batter, but also the final product.
Pumpkin is a veryyyy tricky ingredient. While it can do wonders for the texture and moisture of baked goods, it can wreak havoc on them as well.
Pumpkin is really wet, and there's no real way around that. Sure, you can blot out as much water as you can before using it, but you're likely to still have a lot of moisture left.
This is definitely something to keep in mind when baking with pumpkin, and I had to do a little experimenting with my oatmeal cookie batter to incorporate pumpkin properly!
First of all, I decreased the amount of flour in the recipe to help combat the "cakey" texture that I knew would be pretty difficult to get around when using pumpkin.
I then chose to reduce the egg to just one egg, and even further, to just one yolk. The role that eggs play in cookies is pretty important. They provide strength and sturdiness (thanks to the egg white) and richness and tenderness (via the yolk) to baked goods.
Despite all the moisture going on in these cookies, I knew it would be pretty sturdy, and I definitely needed some "glue" to keep it all together, since pumpkin is super wet but not the least bit sticky.
And the best news? You don't have to chill this cookie dough– hooray! Cookies into mouth faster. Yes.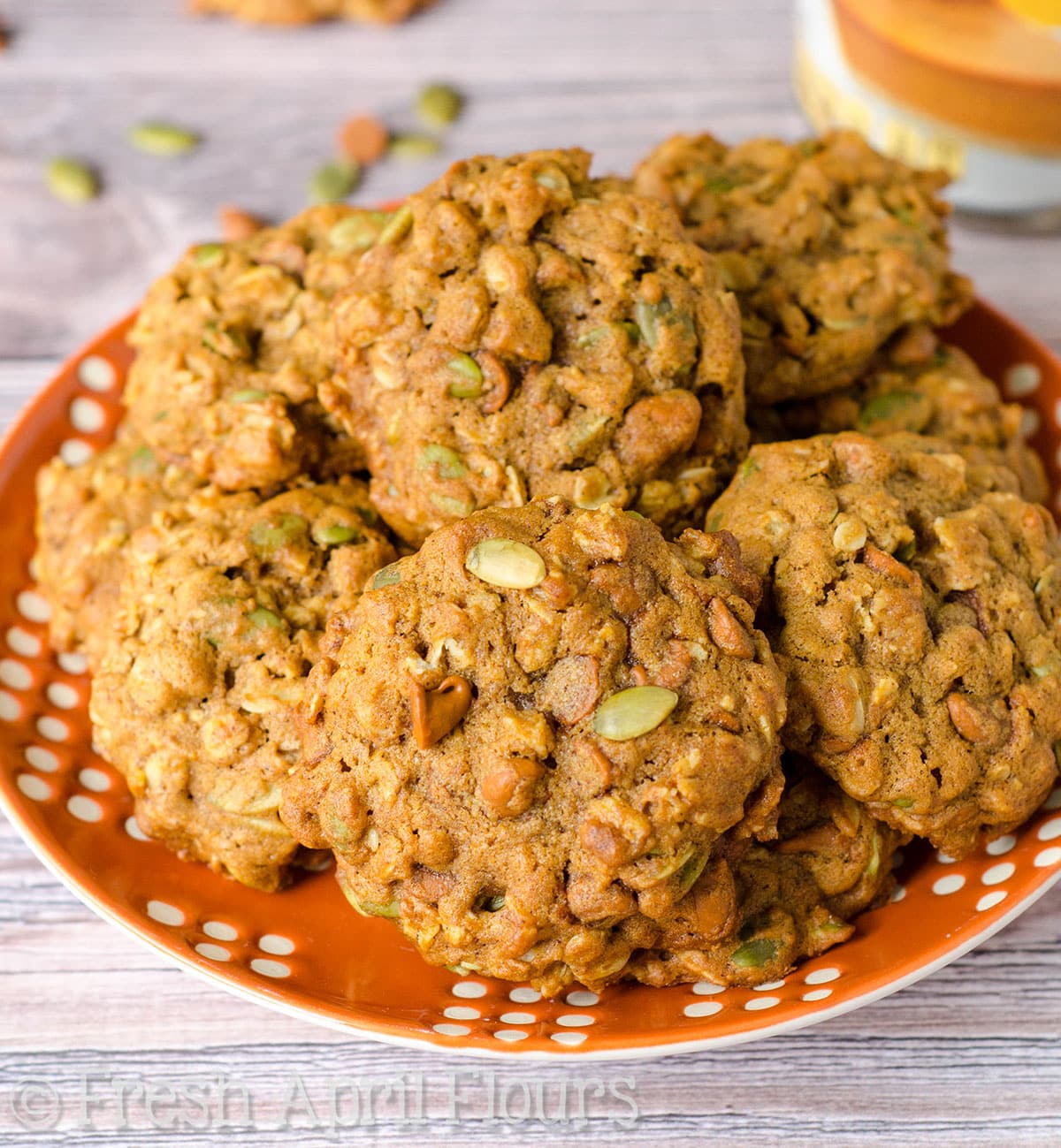 Now, ALLLL of that being said, this recipe comes with a disclaimer: my chewy oatmeal cookies (and both of the remix cookies) are a little crunchy on the outside and completely dense and chewy on the inside, especially toward the middle.
Since I added pumpkin (mega moisture) to these particular oatmeal cookies, they are a very different texture. While still solid enough to be called a cookie, they are a bit cakey and remind me of an oaty muffin top!
There is definitely some chew factor, but the crunch factor isn't quite up there.
Resolution? Add in some crunch! I chose pepitas (pumpkin seeds without the shell). They are the perfect addition of texture, plus, they give these cookies a super fall look– because that totally matters, right?
I decided to throw in some cinnamon chips, too, for color and also for that amazingggg sweet cinnamon taste that just pairs so nicely with pumpkin!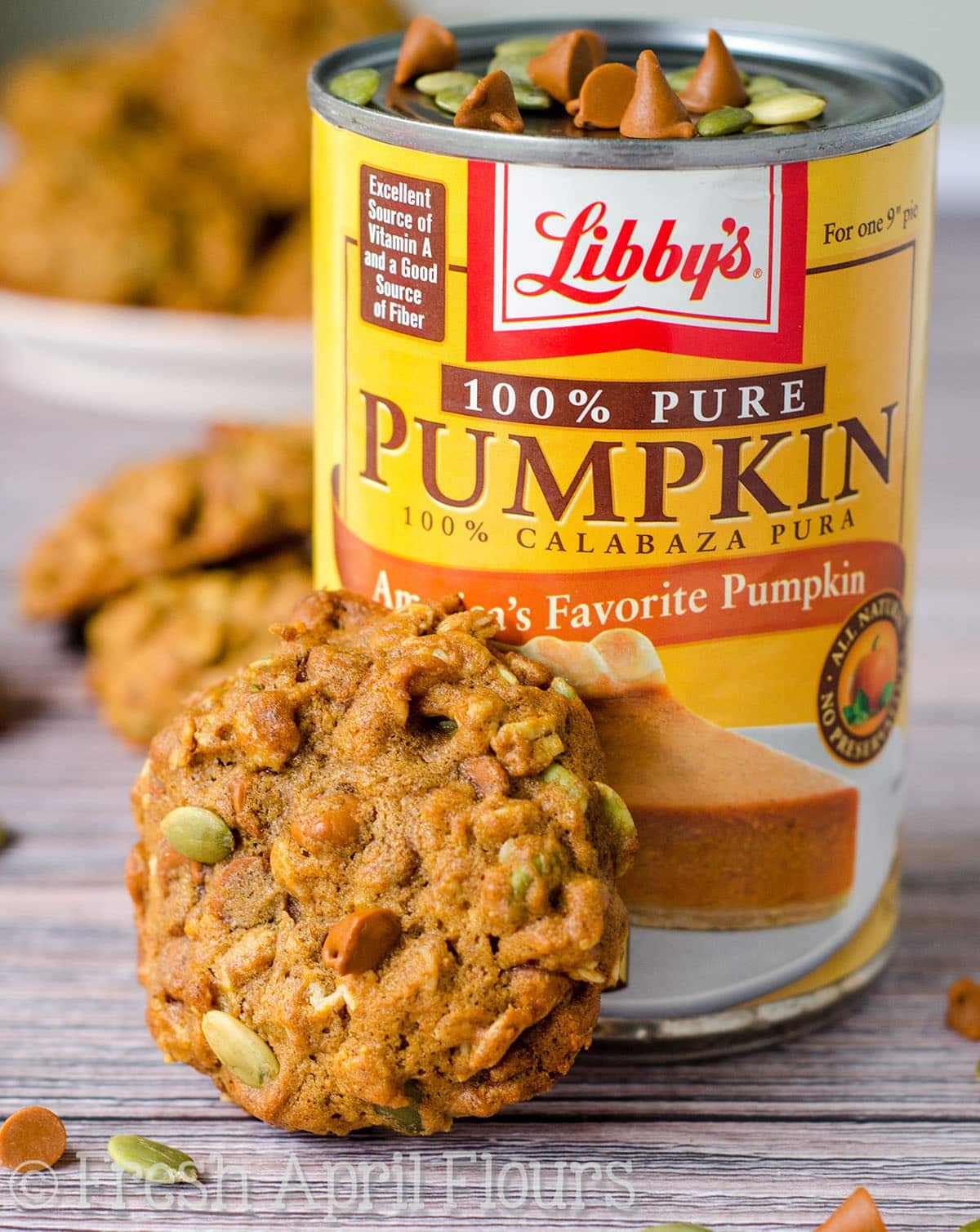 Go ahead and whip up a batch of these absolutely-stuffed-with-fall oatmeal cookies, and I'm sure you'll have no problem putting summer behind you (ok, that's a little extreme– are we ever really 100% ok with it, despite how amazing fall is??).
Throw on your boots, break out your pumpkin coffee, and embrace the changing leaves. These cookies are definitely going to be a fall favorite in the FAF house!
Looking for more fun pumpkin recipes? Check out any of these pumpkin dessert recipes next: pumpkin Rice Krispies Treats, pumpkin fudge, pumpkin spice cut-out sugar cookies, pumpkin swirl cheesecake, pumpkin cream cold brew (Starbucks copycat), and pumpkin ice cream.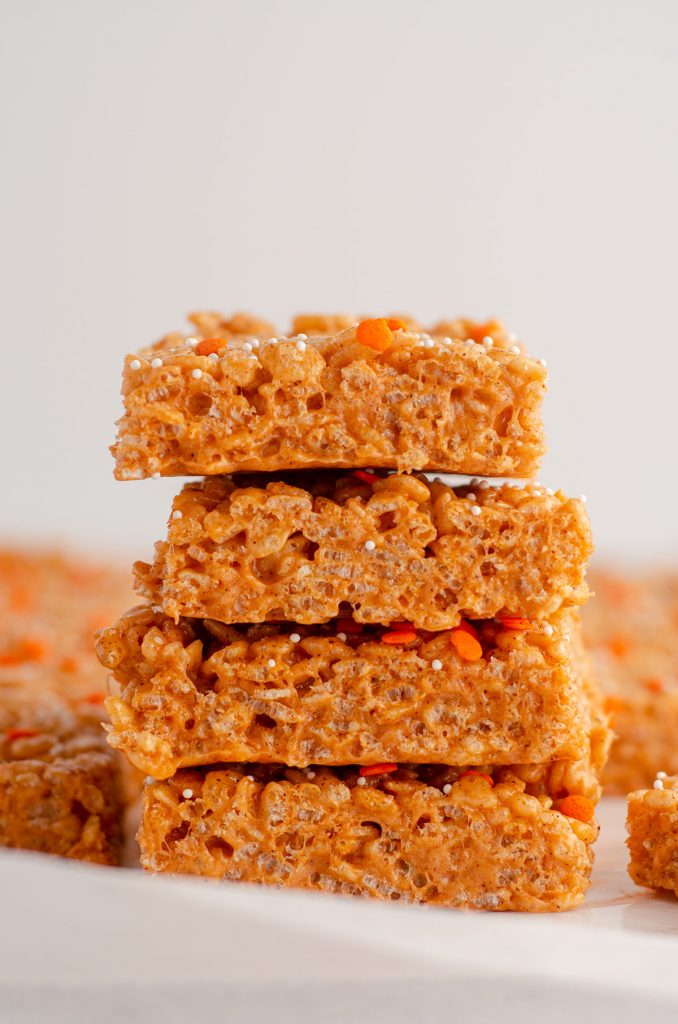 Pumpkin Oatmeal Cookies with Cinnamon Chips
Oatmeal cookies get a fall makeover! These cookies are packed with real pumpkin, warm spices, crunchy pepitas (pumpkin seeds), and sweet cinnamon chips.
Servings:
2
dozen cookies
Ingredients
1

cup

all-purpose flour

be sure to measure properly

1

teaspoon

ground cinnamon

3/4

teaspoon

pumpkin pie spice

1/2

teaspoon

baking soda

1/4

teaspoon

salt

1 and 1/2

cups

old-fashioned oats

do not use quick oats

1/2

cup

(1 stick) unsalted butter

melted

2

Tablespoons

molasses

1/2

cup

packed light brown sugar

1

large egg yolk

1/4

cup

+ 2 Tablespoons pumpkin puree

1/2

teaspoon

vanilla extract

1/2

cup

pepitas

1/2

cup

mini cinnamon chips
Instructions
Preheat oven to 350ºF. Line 2 baking sheets with parchment or silicone baking mats and set aside.

In a large bowl, toss together the flour, cinnamon, pumpkin pie spice, baking soda, salt, and oats. Set aside.

In a medium size bowl, whisk together the butter, molasses, brown sugar, egg yolk, pumpkin, and vanilla extract until smooth. Pour the wet ingredients into the dry ingredients and stir with a spatula until completely combined. Stir in the pepitas and cinnamon chips.

Using a cookie scoop (I use this #50 cookie scoop for all of my standard size cookies), drop dough into prepared baking sheets. Press down slightly

on the tops of the cookies to help start the spreading process.

Bake for 12-13 minutes or until edges just begin to brown. Remove from oven and allow to sit on baking sheet for at least 2 minutes. Cookies will look and feel underdone, and will "set" as they cool on baking sheets. Cookies will last covered at room temperature up to 5 days. Baked cookies freeze well, as does unbaked rolled dough (up to 2 months). Do not thaw and add an extra minute to baking time.
Nutrition Disclosure
All nutritional values are approximate and provided to the reader as a courtesy. Changing ingredients and/or quantities will alter the estimated nutritional calculations.