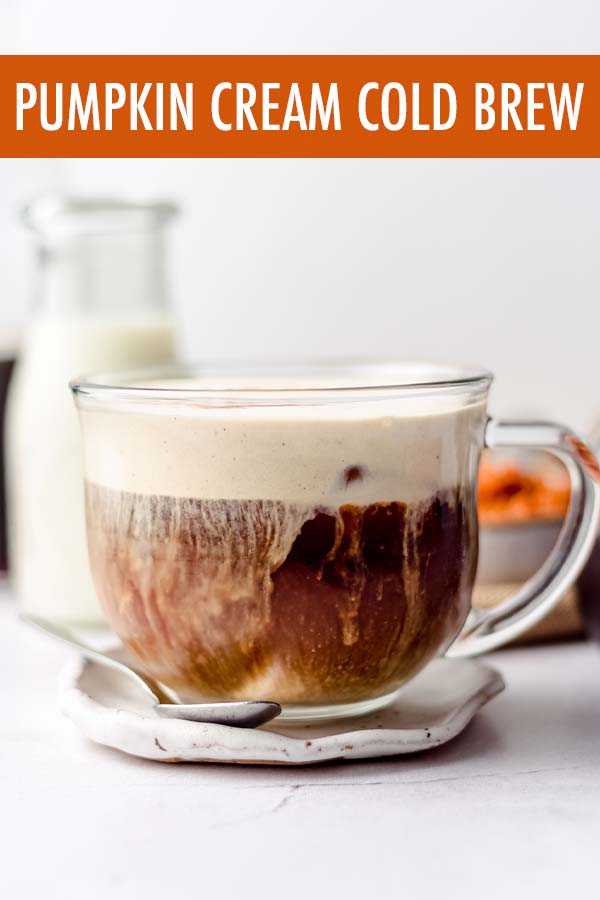 As an Amazon Associate, I earn from qualifying purchases. Read the full disclosure here.
Learn how to make pumpkin cold foam in the comfort of your own home! Use your own cold brew concentrate (tutorial included) or start with pre-made cold brew and skip the drive thru or make yourself a pumpkin cream cold brew any time of year!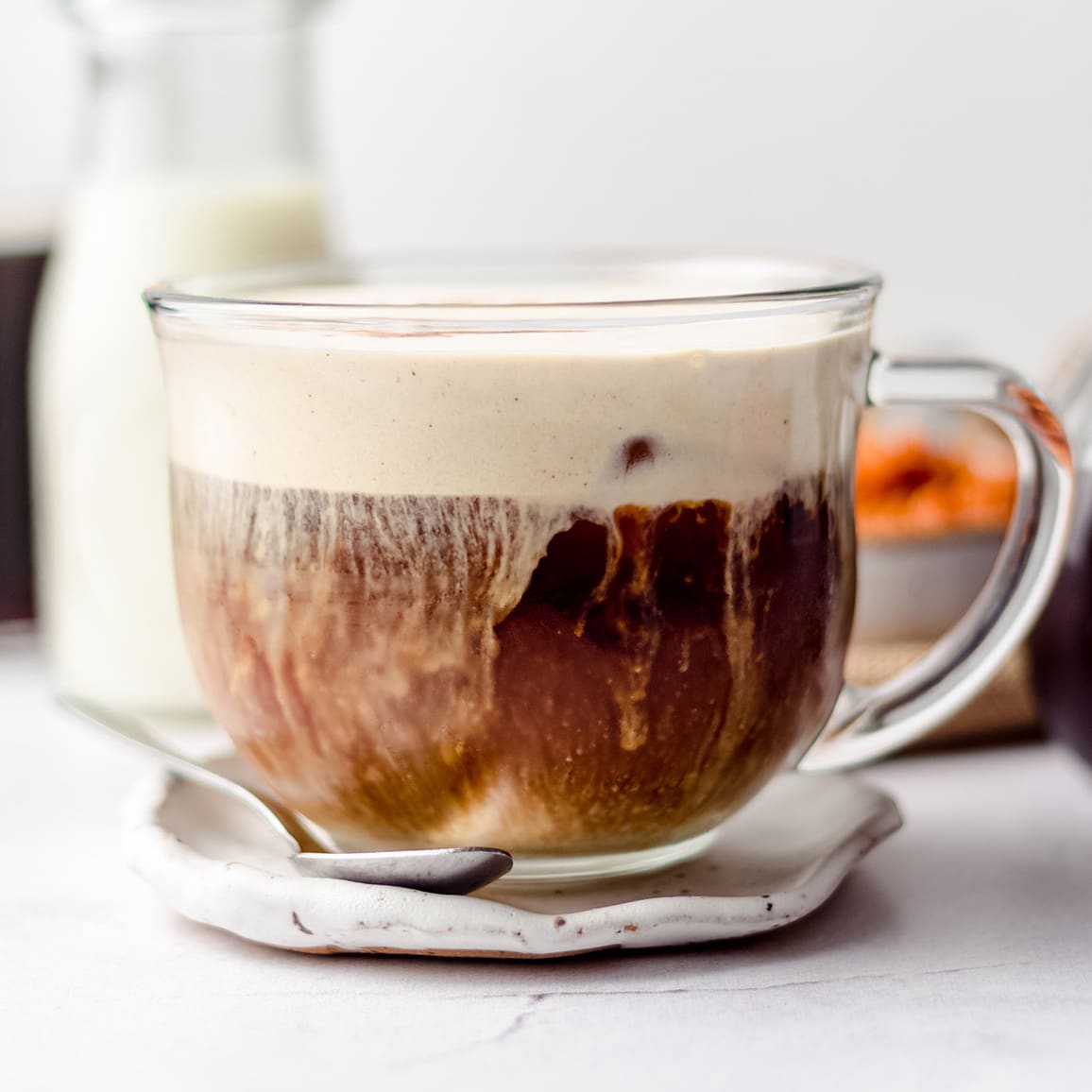 WHY YOU'LL LOVE THIS STARBUCKS COPYCAT DRINK
As soon as September hits, there is no shame in my pumpkin game. As soon as that calendar turns, even if Labor Day hasn't happened yet, give me ALL. THE. PUMPKIN.
I want it in my ice cream, in my muffins, in my biscuits, and ESPECIALLY in my coffee.
It should surprise no one who has been here for any fall baking season that a pumpkin creamer recipe exists on my site and has since the first fall I was a food blogger. And though it sometimes surprises me that folks are searching for that recipe year round, it probably shouldn't.
Just because I personally have a start and end date for pumpkin in my food (Black Friday we switch gears to all things peppermint mocha!) doesn't mean the rest of the world doesn't.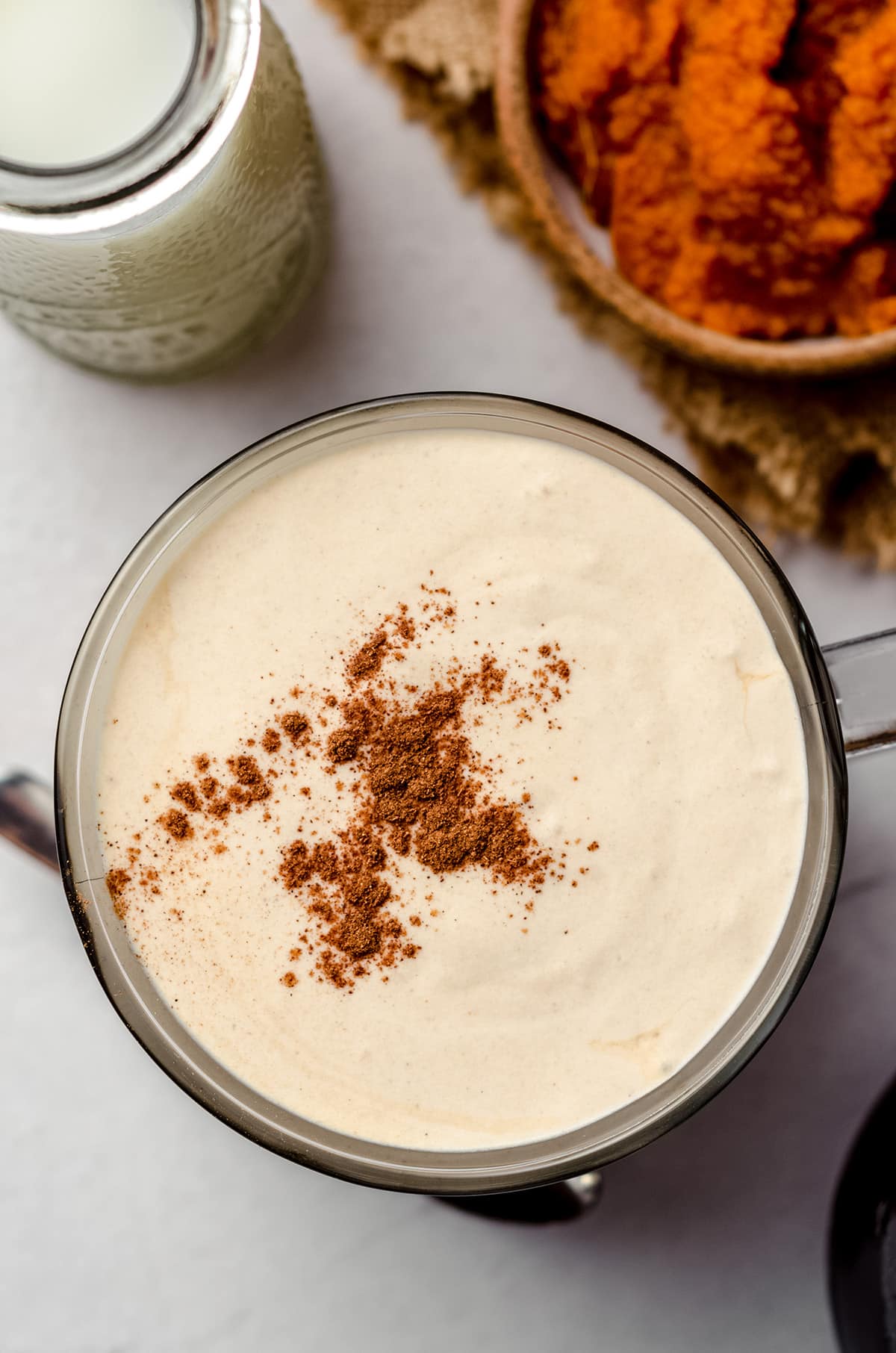 There's probably no shame in those people's game either, am I right? #pumpkineverything
SKIP THE DRIVE THRU AND SAVE MONEY
When I "retired" and put my recipe website as my sole job, my dear husband bought me this amazing electric milk frother so that I could have lattes whenever I wanted (and I started this job in October, so you better believe I was making my own pumpkin spice latte every single morning).
That frother does some really incredible things, like make hot foam and cold foam (as in it chills it, not just keeps it at the temperature you make it at), and when Starbucks came out with their pumpkin cream cold foam, I was ON IT like you wouldn't believe.
It was quite eye-opening to me when I combined my favorite cold brew recipe + added a few seasonally specific things to the foamy sweet cream I was already making regularly and found that I didn't have to make that trip or spend the money on a Starbucks pumpkin cream drink.
I could stay in my jammies, never put on shoes, and save $5.
---
INGREDIENTS FOR PUMPKIN CREAM COLD BREW COFFEE
There are two components to this copycat Starbucks pumpkin cream cold brew: the cold brew and the pumpkin foam.
COLD BREW COFFEE
If you're like me, you always have homemade cold brew in the fridge. Thanks to my little tutorial, you can make your own delicious cold brew coffee, too.
SUCCESS TIP
Just know you will need 24 hours to steep it, so if you're too impatient this time around, you can use pre-made coffee or cold brew concentrate.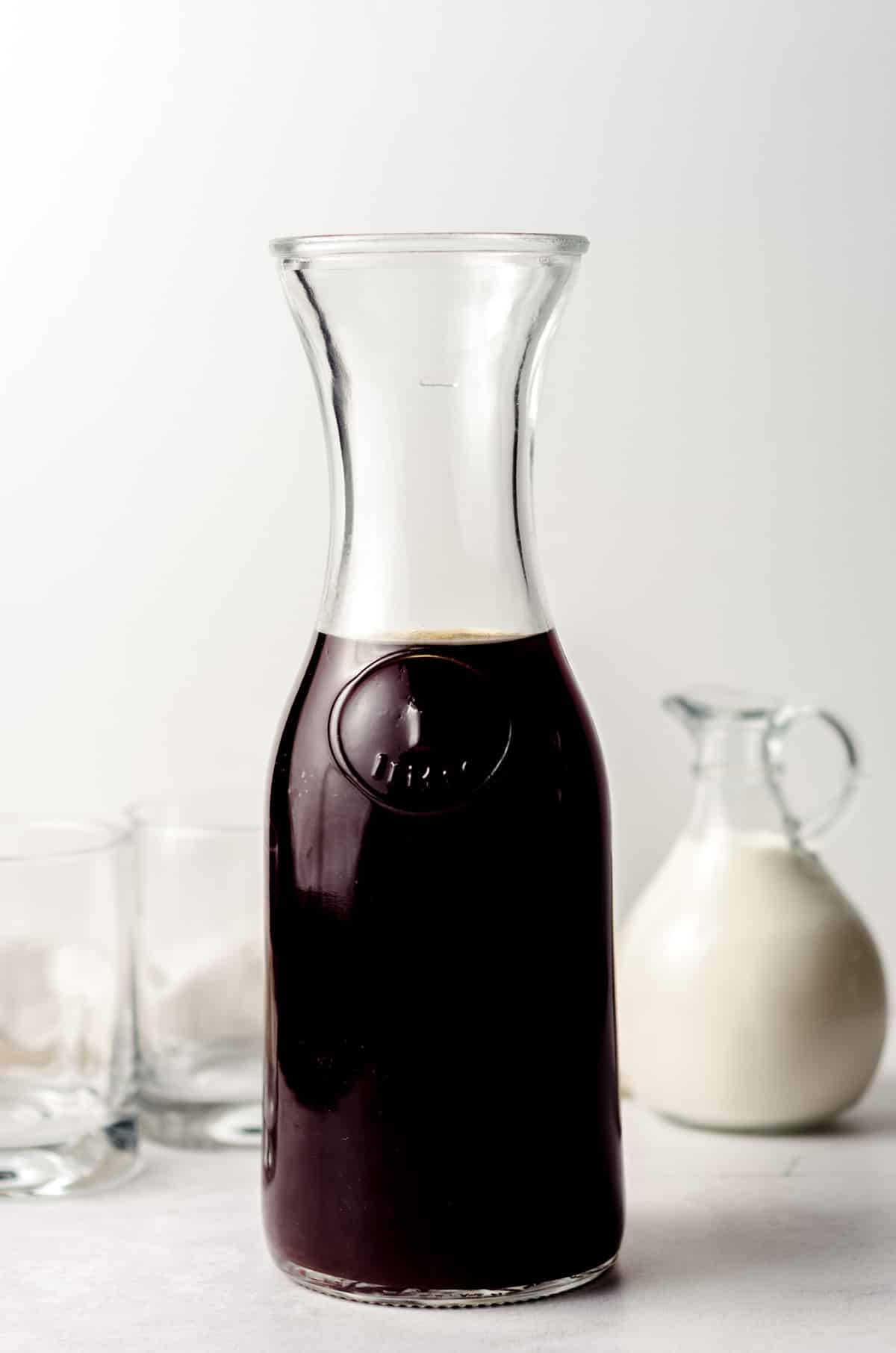 Pre-made cold brew concentrate: you'll want to dilute this to your preference. There is typically some guidance on the packaging that tells you what the best suggestion is, but it's usually a 1:1 ratio. You will need 8 ounces of cold brew coffee for this homemade Starbucks version.
Ready-to-drink cold brew: this pre-made cold brew will be ready to drink right out of the container. It's already been diluted to a consumable ratio, so unless you typically adjust this kind of cold brew, you should be ok to just pour and go.
Choose your coffee and have it ready to go. It doesn't need to go in a cup or glass just yet, but make sure you know your plan of attack before tackling the pumpkin cold foam.
PUMPKIN COLD FOAM TOPPING
In order to make the best cold foam, we have to tiptoe the perfect line between real pumpkin flavor and trying not to weigh down the foam with a bunch of heavy ingredients that would prevent the delicious pumpkin cream from foaming and fluffing up.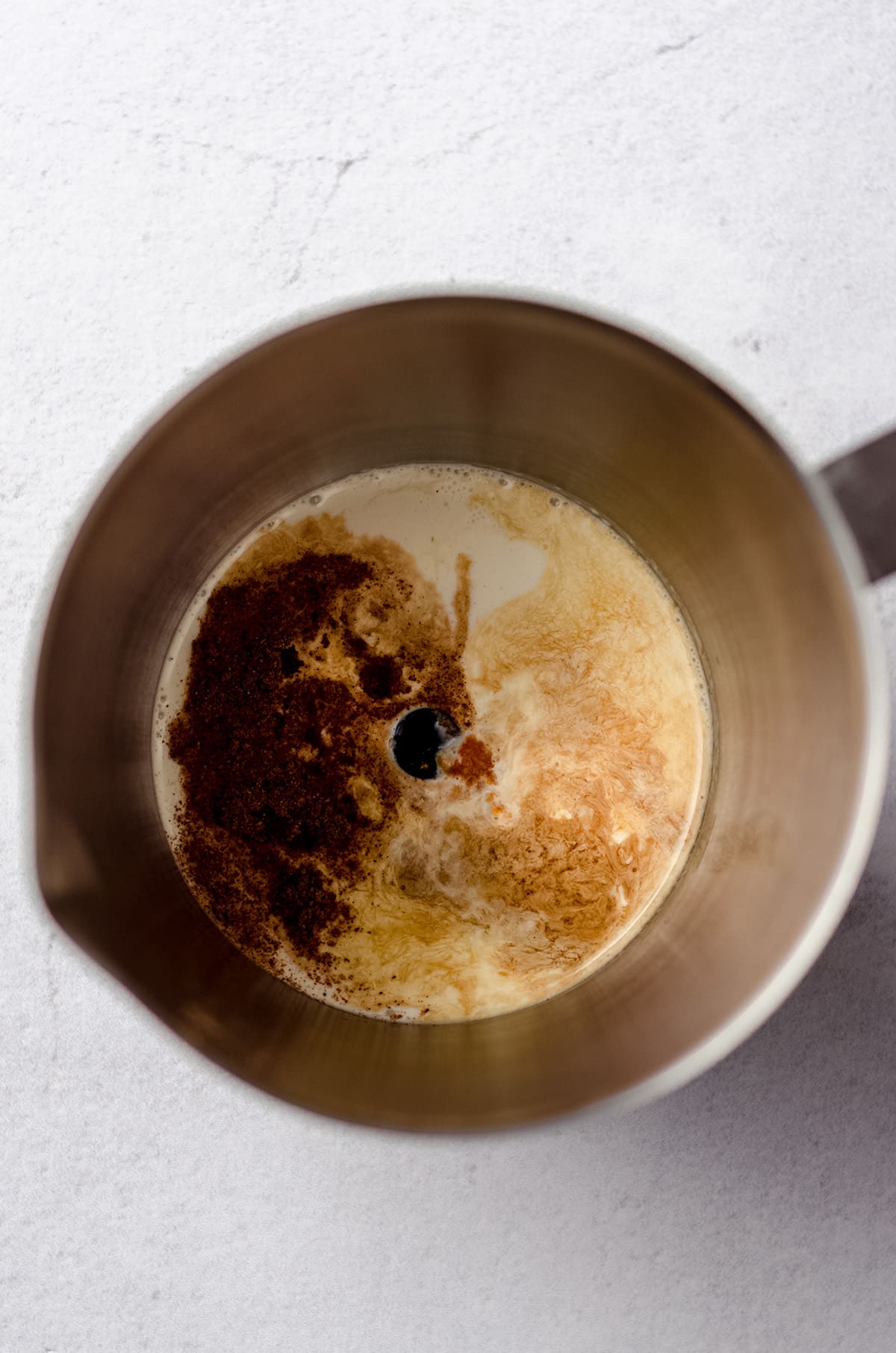 The cold foam consists of 6 simple ingredients:
HEAVY WHIPPING CREAM — this will be the bulk of the foam. The fat content of the cream will help it get nice and billowy, like homemade whipped cream.
MILK — any milk will do here. I usually go for whole milk or skim milk because that's what we have on hand. The fat content isn't too important since we have the heavy whipping cream as a base. You can even use almond milk, oat milk, or any milk you prefer. I would just advise to stay away from coconut milk since the taste might not mesh well with the flavors of pumpkin spice.
PUMPKIN PUREE — this is the key to pumpkin drinks, in my opinion. Be sure not to use pumpkin pie filling. This is not the same as plain pumpkin purée. It will bring that authentic and delicious pumpkin flavor you want in your favorite fall drink.
MAPLE SYRUP — instead of using sweetened condensed milk to get the "sweetened" part done of this pumpkin cold foam, I like to use maple syrup. It keeps the creamy foam nice and light and adds a nice complement to the warm spices in the rest of the drink.
VANILLA EXTRACT — because what is a treat without some vanilla extract? This vanilla flavor will round out everything happening in the foam.
PUMPKIN PIE SPICE — and of course, all the flavors in this spice mix make the perfect drink for pumpkin season. You can even throw a dash of pumpkin spice on the top of the cold foam to seal the pumpkin deal before serving.
SUBSTITUTIONS AND VARIATIONS
CAN I USE CAN I USE NON-DAIRY MILK? Folks have asked me if they can use non-dairy milks for this copycat recipe, and while the answer is mostly yes, I'd steer clear of coconut cream or coconut milk. While these options probably work just fine, I'm not sure the flavors would mesh well with pumpkin. If you're willing to give it a try, I would love to hear about your experience!
​CAN I USE SIMPLE SYRUP? In place of the maple syrup, you can absolutely use simple syrup. I prefer the maple syrup because it brings a nice flavor to the drink (maple = fall-y). You can even use brown sugar, if you prefer.
CAN I MAKE THIS WITH HOT COFFEE? You can absolutely make this drink with hot coffee, just be sure you're also making warm foam. The ingredients will work the same way for heated foam.
CAN I USE PUMPKIN PIE MIX? No, do not use pumpkin pie mix. This mixture contains spices and sugar, so you will find the additional ingredients in the recipe will skew the flavor. You'll get the best results following the recipe as written with pumpkin puree.
HOW TO MAKE YOUR OWN PUMPKIN CREAM COLD BREW
Before totally assembling and enjoying the homemade version of your cold foam coffee, make sure you've prepared or obtained whatever base of cold brew coffee you're using. I like to prepare the DIY pumpkin cream and then gather my coffee and ice cubes so that my coffee stays nice and chilled.
Don't miss the coffee ice cubes I shared on Instagram. They are a game changer with cold brew/iced coffee!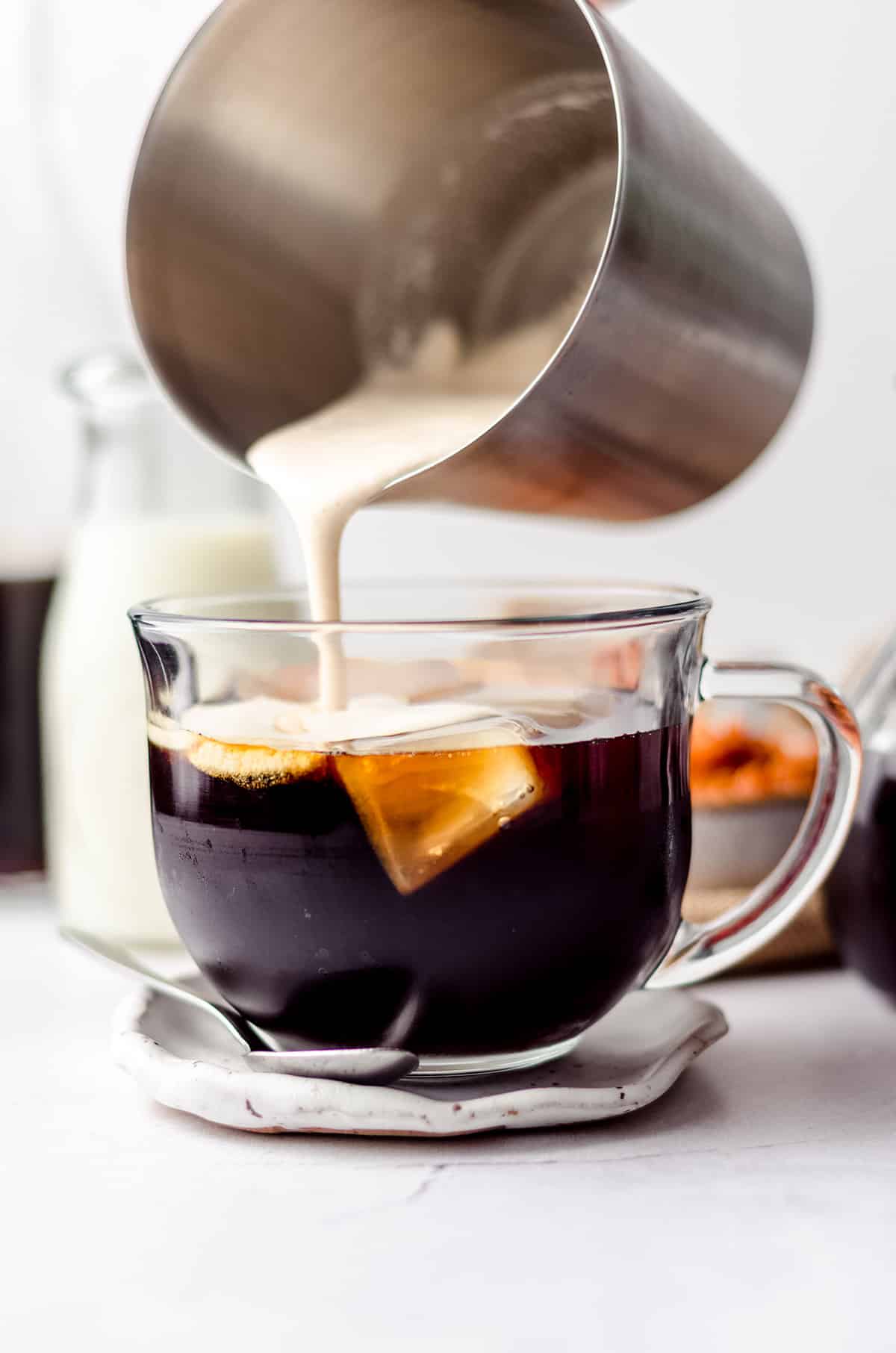 The most involved part of this drink is making the foam. As I mentioned, that fancy electric milk frother we have chills the foam as you make it, which is perfect for cold drinks. This is something to keep in mind if you want your cold foam super chilled.
Alternatively, you can always combine the foam ingredients ahead of time and let it sit in the fridge until you're ready to use it. Just don't froth it until you're ready to serve it.
WHAT IF I DON'T HAVE A MILK FROTHER?
While having a milk frother is really helpful for this pumpkin cold foam recipe, you can absolutely get by without the same fancy frother we have (I know it's not cheap, but we use ours daily so it's worth it for us).
If you'd like a less expensive option, this handheld milk frother also lives on our kitchen counter and gets used nearly as often as the heavy duty one.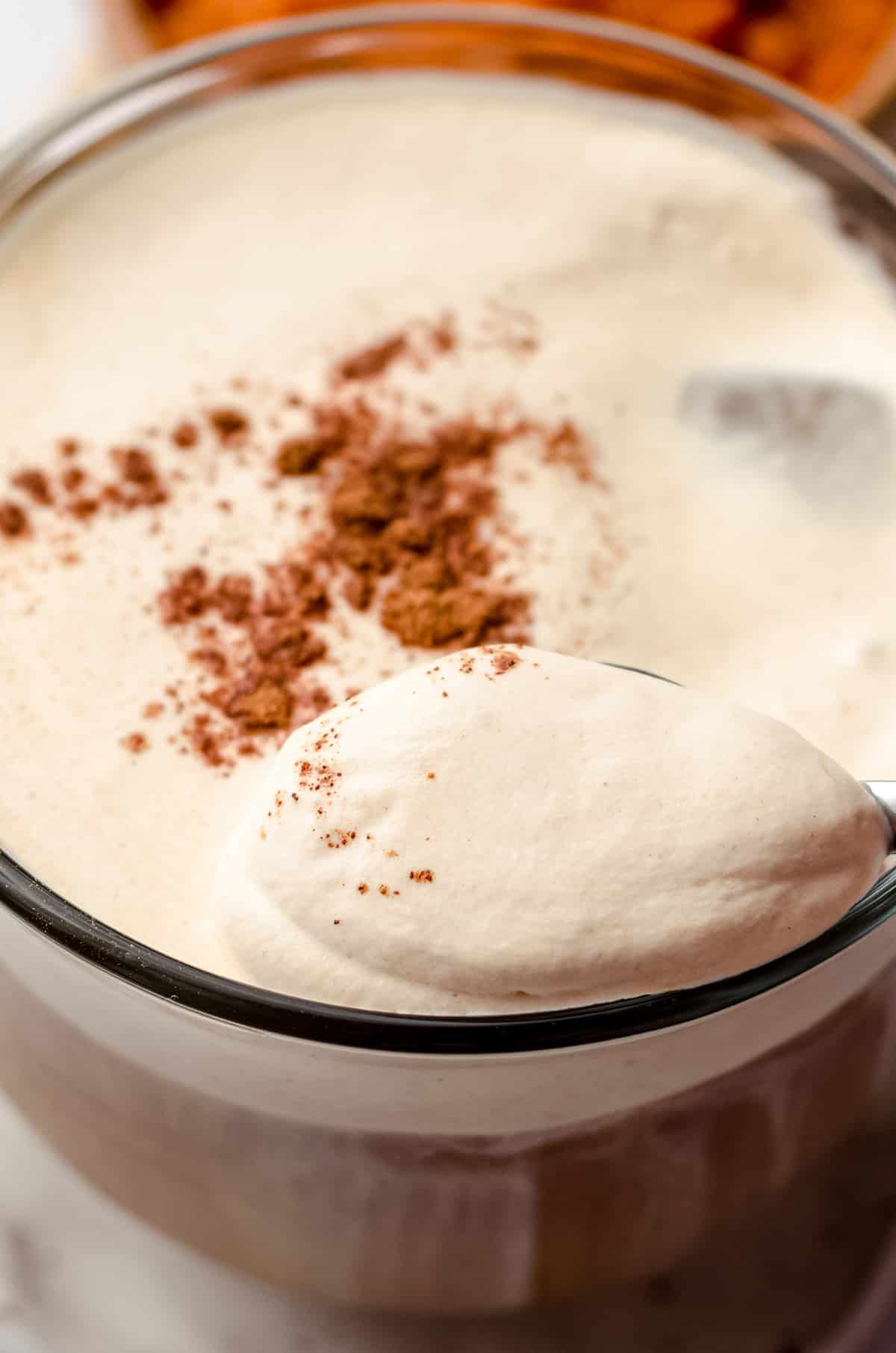 But, alas, you can do all of this with simply a blender. Have one of those fun single-serving blenders? Even better.
Whatever you can find that will whip all of your milk and pumpkin goodness together without you having to break an arm, make it happen. There is no one perfect way!
MAKE THE COLD CREAM FOAM
The actual making of the foam is simple. Press the automatic button on your frother or watch for a foamy consistency using another foaming method, and the rest is a matter of getting that coffee into a glass or mug and putting the foam on top.
SIMPLE.
What I love most about this recipe is that it makes one single solitary serving of pumpkin cream cold brew, just like you get it at Starbucks. And the best part? It costs you far less to make it at home than it does to go out and order it.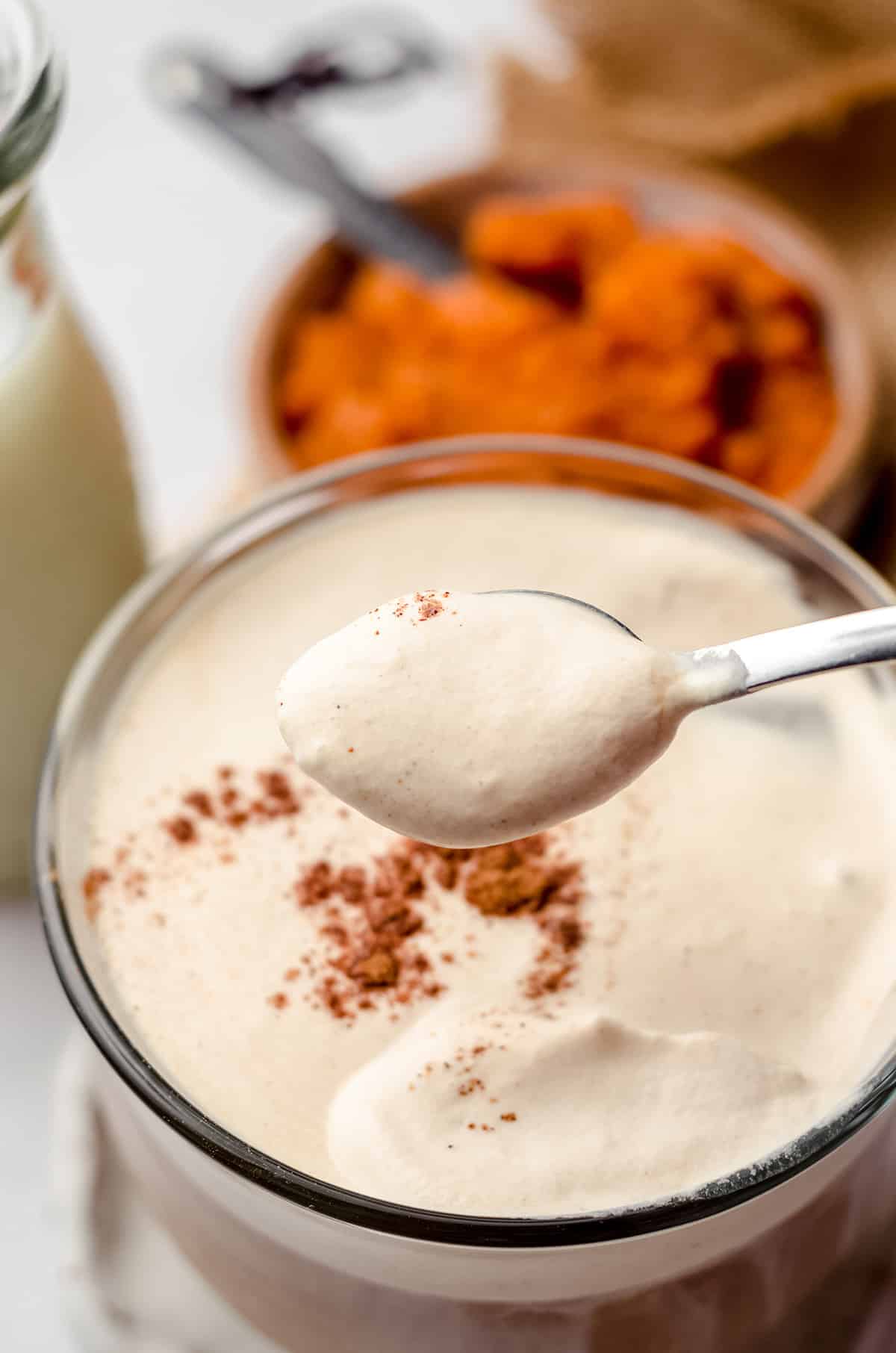 Plus… The jammies. Still in the jammies = the TRUE best part.
Want some more pumpkin with your breakfast? Try my pumpkin streusel muffins (Dunkin copycat), savory pumpkin biscuits, or pumpkin pie granola.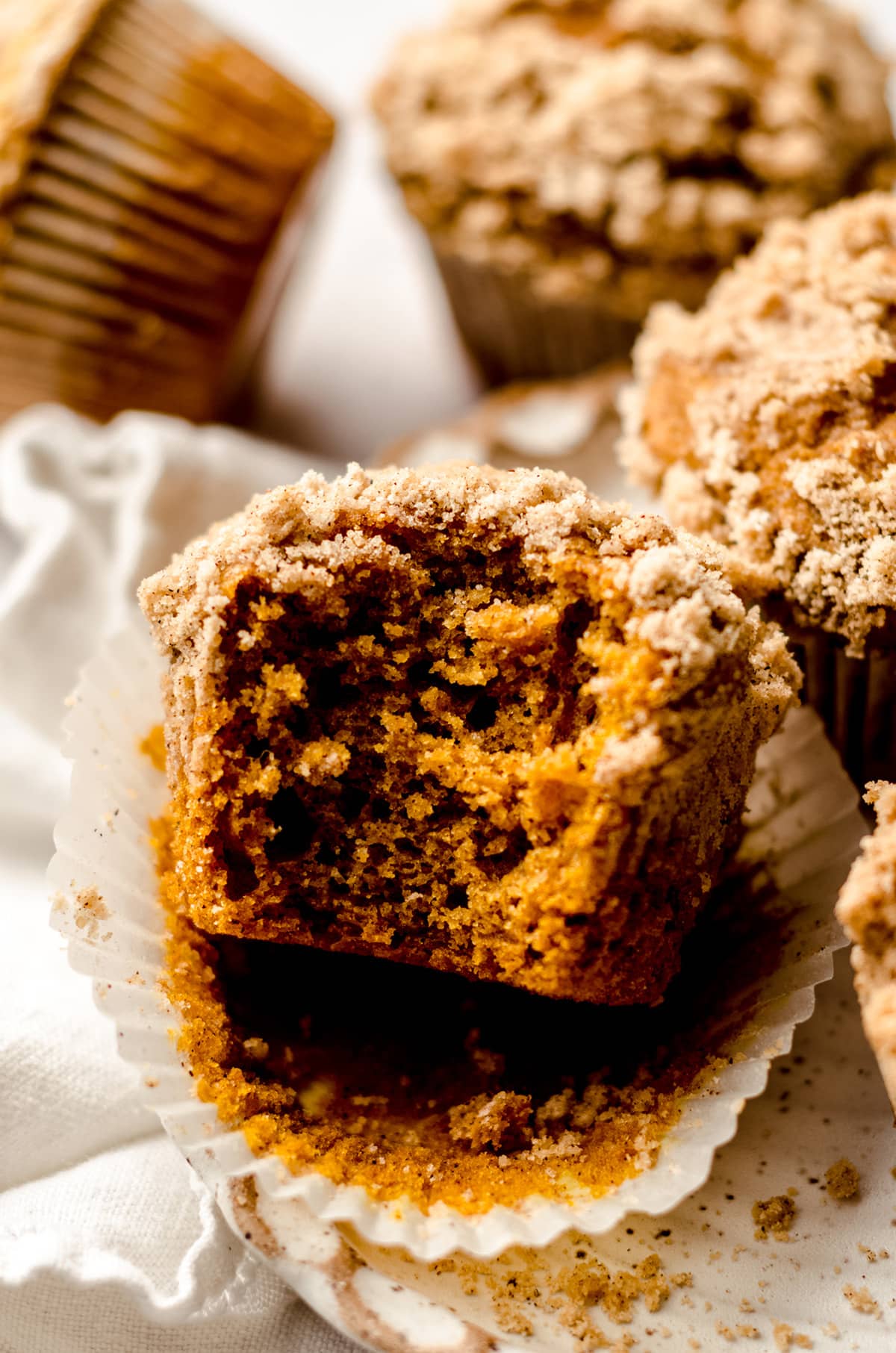 Pumpkin Cream Cold Brew Recipe
Learn how to make pumpkin cold foam in the comfort of your own home! Use your own cold brew concentrate (tutorial included) or start with pre-made cold brew and skip the drive thru or make yourself a pumpkin cream cold brew any time of year!
Ingredients
COLD BREW
½

cup (120mL)

cold brew coffee concentrate or ready-to-drink cold brew coffee or homemade cold brew coffee

½

cup

(120mL) water

½

Tablespoon

(8 mL) maple syrup
PUMPKIN COLD FOAM
3

Tablespoons

(45mL) heavy whipping cream

2

Tablespoons

(30mL) milk

any

½

Tablespoon

pumpkin purée1

½ to 1

Tablespoon

(8-15mL) maple syrup2

½

teaspoon

vanilla extract

⅛

teaspoon

pumpkin pie spice
Instructions
COLD BREW
If you are interested in making your own cold brew, see instructions for how to do that in my How To Cold Brew Coffee tutorial. Please be aware you need 24 hours to brew it.

If you want to start with pre-made cold brew concentrate, dilute it to your preference. You will want 1 cup (8 ounces) total.

If you want to start with ready-to-drink cold brew, you will want to start with 1 cup (8 ounces) of that.
PUMPKIN COLD FOAM
Whisk together the heavy cream, milk, pumpkin, maple syrup, vanilla extract, and pumpkin pie spice. Cover and chill3 until ready to use.

Right before you make your pumpkin cold foam, prepare a large mug or cup with your cold brew coffee. Add the maple syrup and stir. Add ice, if desired.

Add the pumpkin cold foam mixture to the frother or blender, then whip until billowy. Pour pumpkin cold foam over prepared coffee, then sprinkle with additional pumpkin spice, if desired. Pumpkin cream cold foam does not hold up well in the refrigerator, though it doesn't change the flavor or safety of consumption. Store leftovers covered, and re-whip or whisk as needed.
Notes
Pumpkin: I always measure pumpkin purée with measuring cups as the moisture content can wildly change the weight measurements, depending on the brand.
Maple syrup: this is based on your sweetness preference.
Chill the cold foam ingredients: if you use a milk frother that chills the foam for you, this step is unnecessary. If your frother does not chill for you, it will only take about 20-25 minutes for your cold foam ingredients to be chilled.
Nutrition Disclosure
All nutritional values are approximate and provided to the reader as a courtesy. Changing ingredients and/or quantities will alter the estimated nutritional calculations.
Serving:
1
cup
|
Calories:
235
kcal
|
Carbohydrates:
17
g
|
Protein:
2
g
|
Fat:
17
g
|
Saturated Fat:
11
g
|
Polyunsaturated Fat:
1
g
|
Monounsaturated Fat:
4
g
|
Cholesterol:
54
mg
|
Sodium:
34
mg
|
Potassium:
211
mg
|
Fiber:
0.3
g
|
Sugar:
15
g
|
Vitamin A:
1878
IU
|
Vitamin C:
1
mg
|
Calcium:
98
mg
|
Iron:
0.2
mg