Peppermint Mocha Coffee Creamer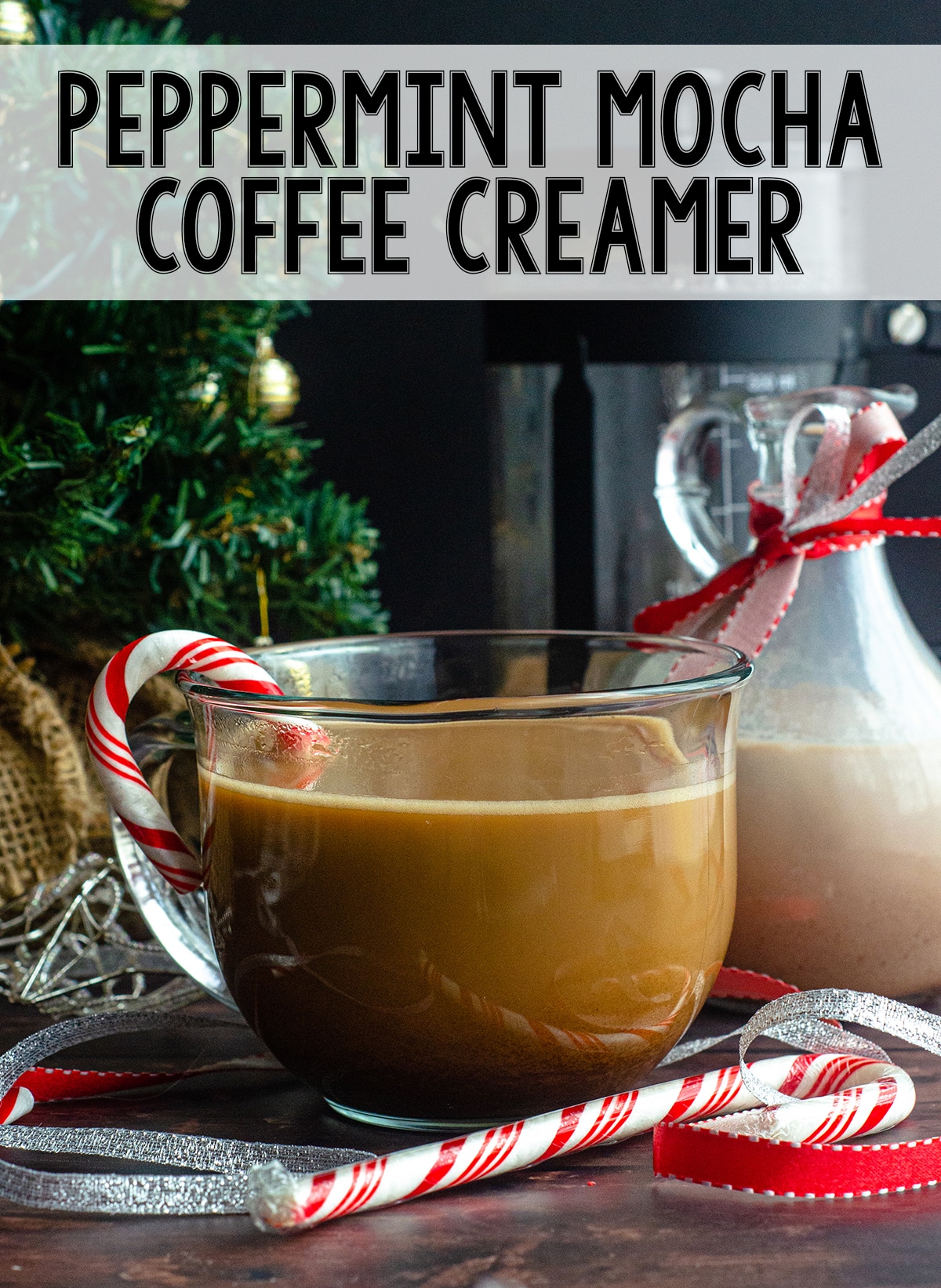 As an Amazon Associate, I earn from qualifying purchases. Read the full disclosure here.
Just a few ingredients and 5 minutes gets you an all-natural, chemical free holiday flavored cup of coffee!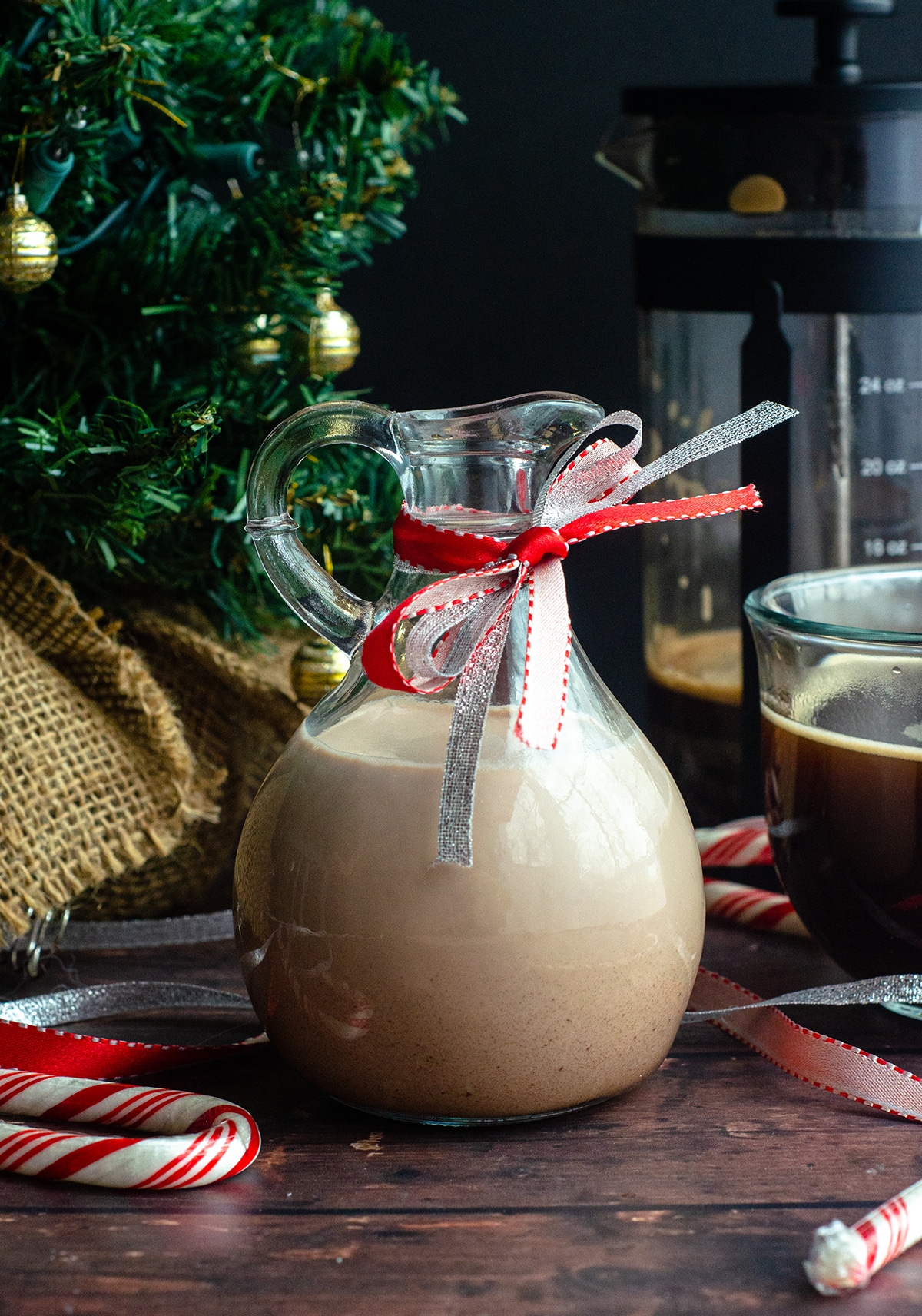 I love pumpkin. A lot. I know… So does everyone else.
When September rolls around, it's time to throw pumpkin in everything (I even saw pasta sauce this year and decided pumpkin season was a bit out of hand) and the grocery store practically turns orange (which I'm completely fine with since it's my favorite color).
But the holiday flavor I love even more, if I dare say it, is peppermint/peppermint chocolate. It's usually this week that I am all pumpkin-ed out, save for a piece of pumpkin pie at Thanksgiving dinner, and I am ready for jingle bells and tinsel and peppermint in my coffee.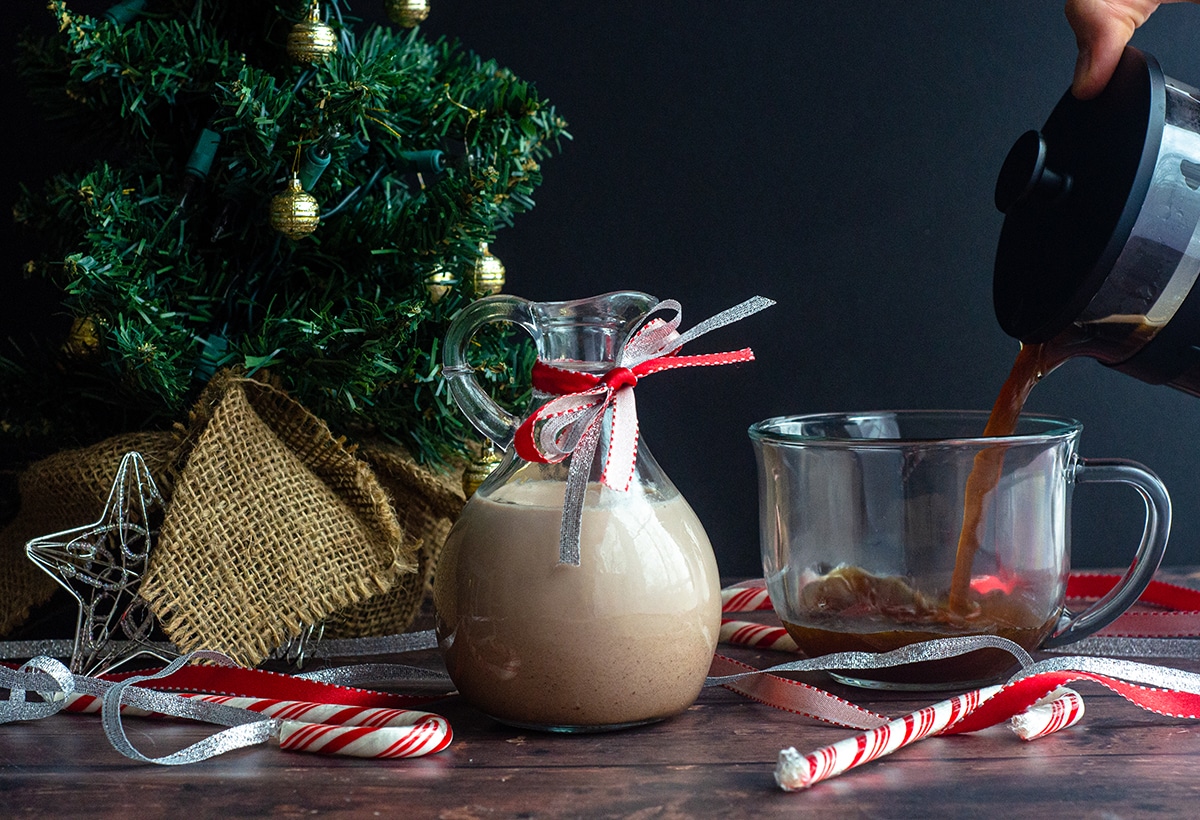 You all went absolutely nutso over my pumpkin spice coffee creamer. I get traffic to my blog through people typing some combination of "homemade coffee creamer" and "pumpkin spice" into search engines daily. Like even in the spring.
Umm… What?
Regardless of the season, I've had nothing but rave reviews from those of you who have made it yourself. So thank you to everyone who has made it and enjoyed it!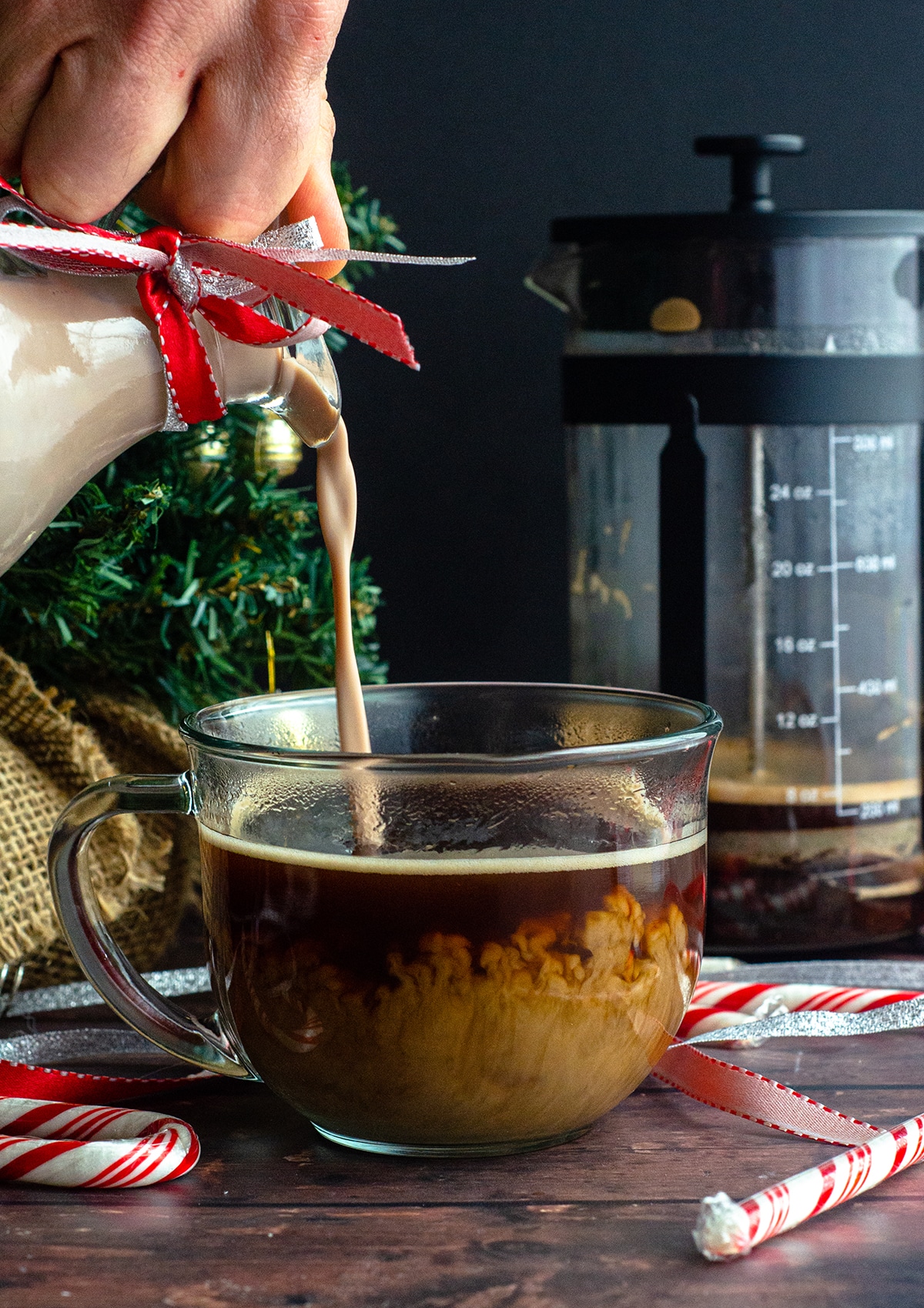 All that being said, I knew that a homemade peppermint mocha creamer was inevitable in the FAF kitchen.
I always say I love coffee in my chocolate but I do not love chocolate in my coffee. The one exception to that is when there is just a hint of chocolate and a hearty punch of peppermint.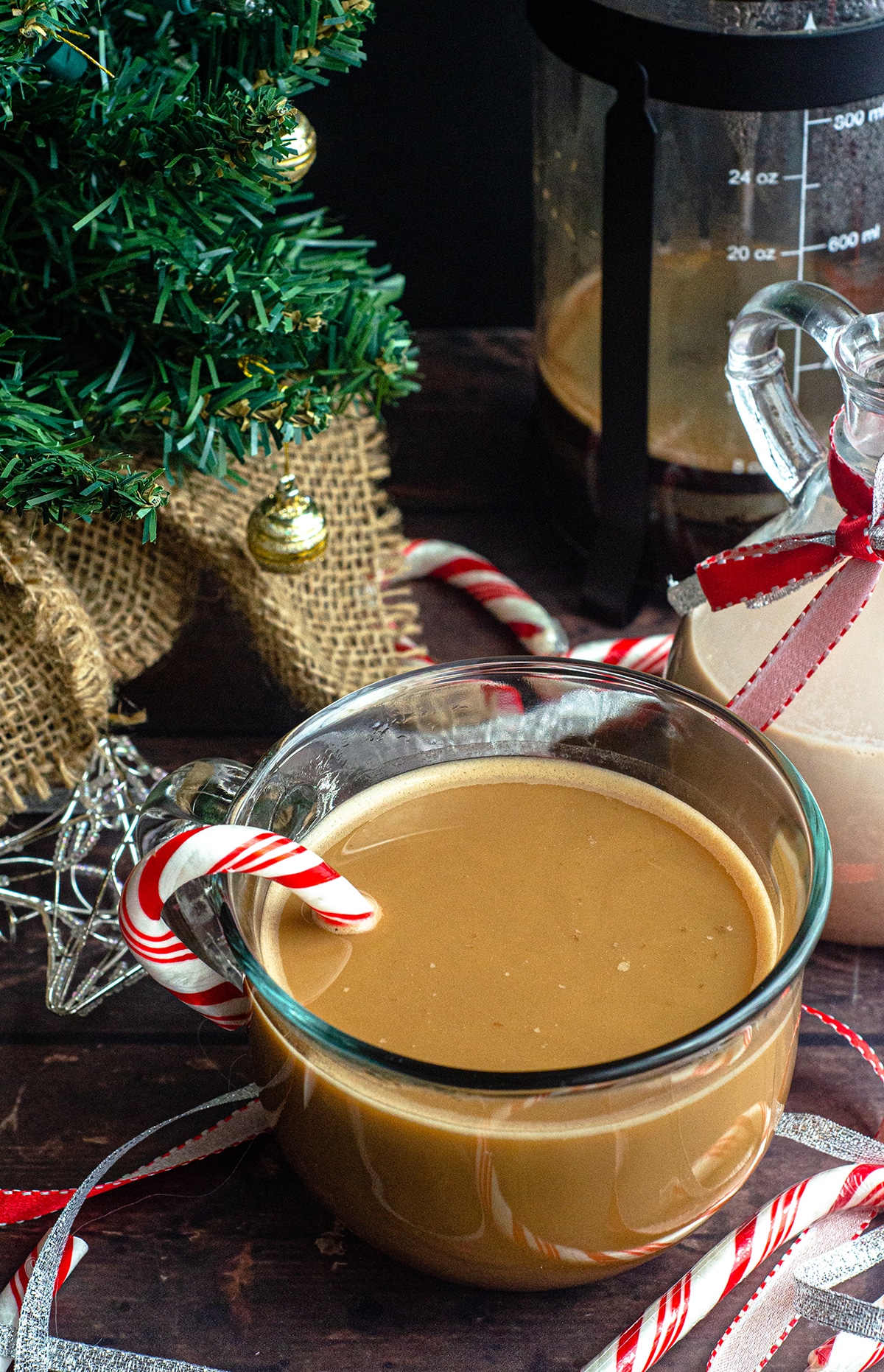 HOW TO MAKE PEPPERMINT MOCHA COFFEE CREAMER
This homemade peppermint mocha creamer comes together in less than 5 minutes.
You'll start with a simple syrup (equal parts sugar and water) which gets a quick heat up on the stovetop, just long enough to dissolve the sugar. To that, you'll whisk in some cocoa powder, and then a splash of peppermint and vanilla extracts.
That's it!
You can either keep this as a peppermint mocha syrup, or you can combine it with half-and-half/cream/milk (whatever it is you enjoy in your coffee) and turn it into a full on coffee creamer.
Change it up even more and leave out the cocoa powder completely! You'll just have peppermint coffee creamer, which sounds equally as fabulous as the mocha variety. Whatever it is you decide to do, ditch the store bought.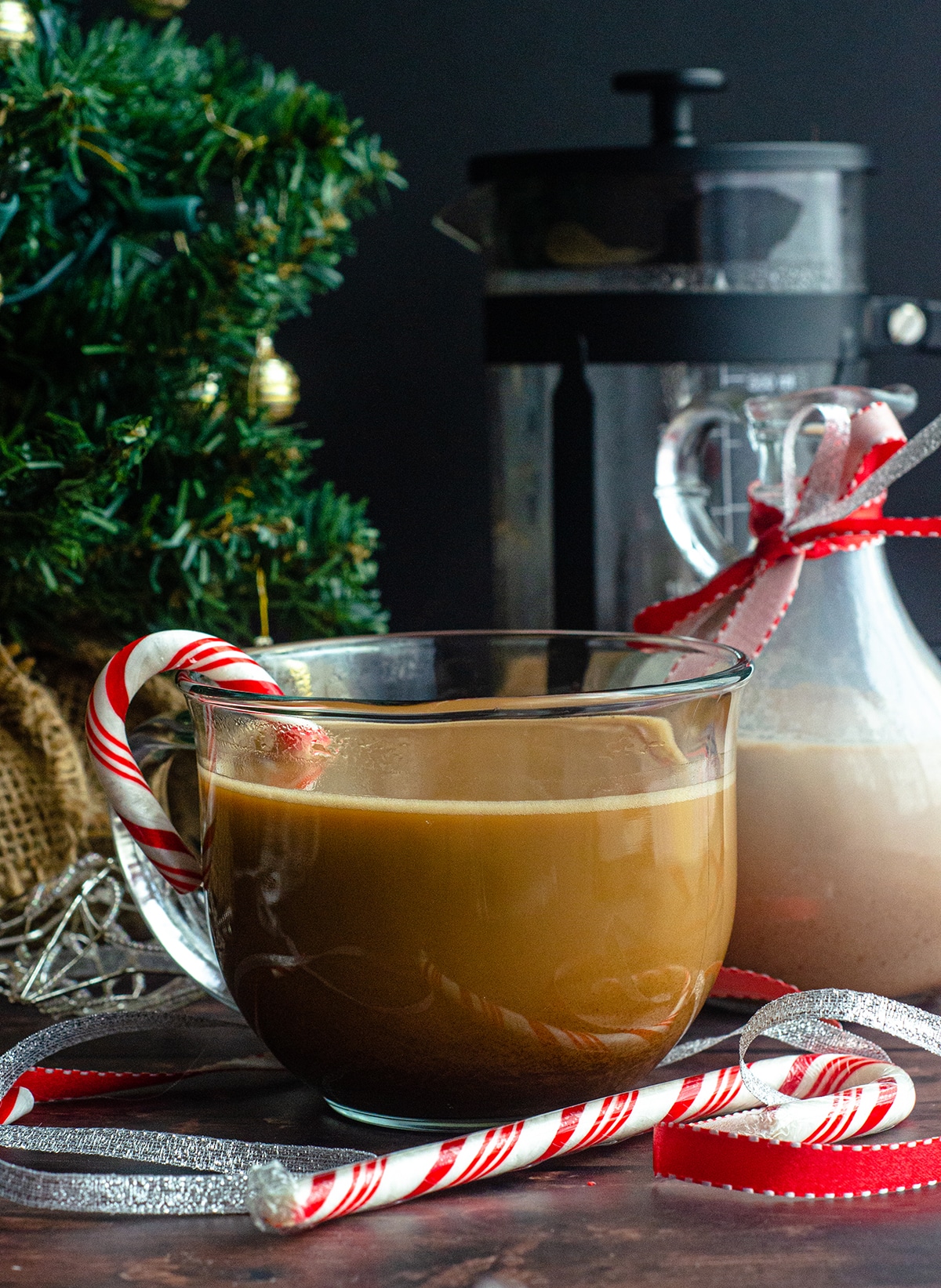 This is so much easier, less expensive, chemical-free and customizable. Want more peppermint? Add it in!
Want more chocolate flavor? Load up with cocoa powder.
Oh, and speaking of cocoa powder, it will settle as this creamer sits. So you'll need to shake it up quite a bit before you put it in your coffee!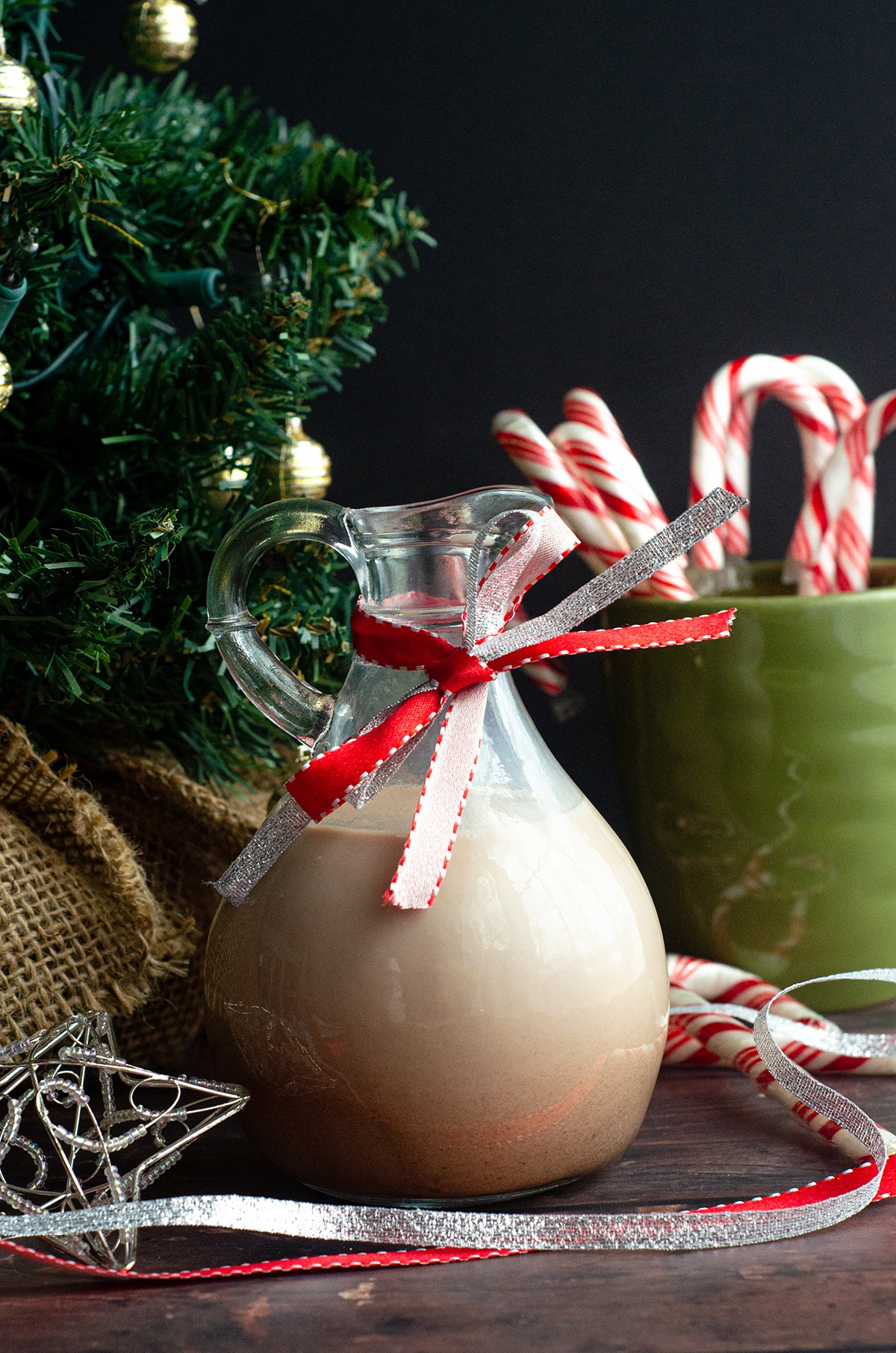 This homemade creamer puts Christmas right into your coffee mug. It's refreshing, bright, ever so slightly chocolatey, and 100% jingle bell-y.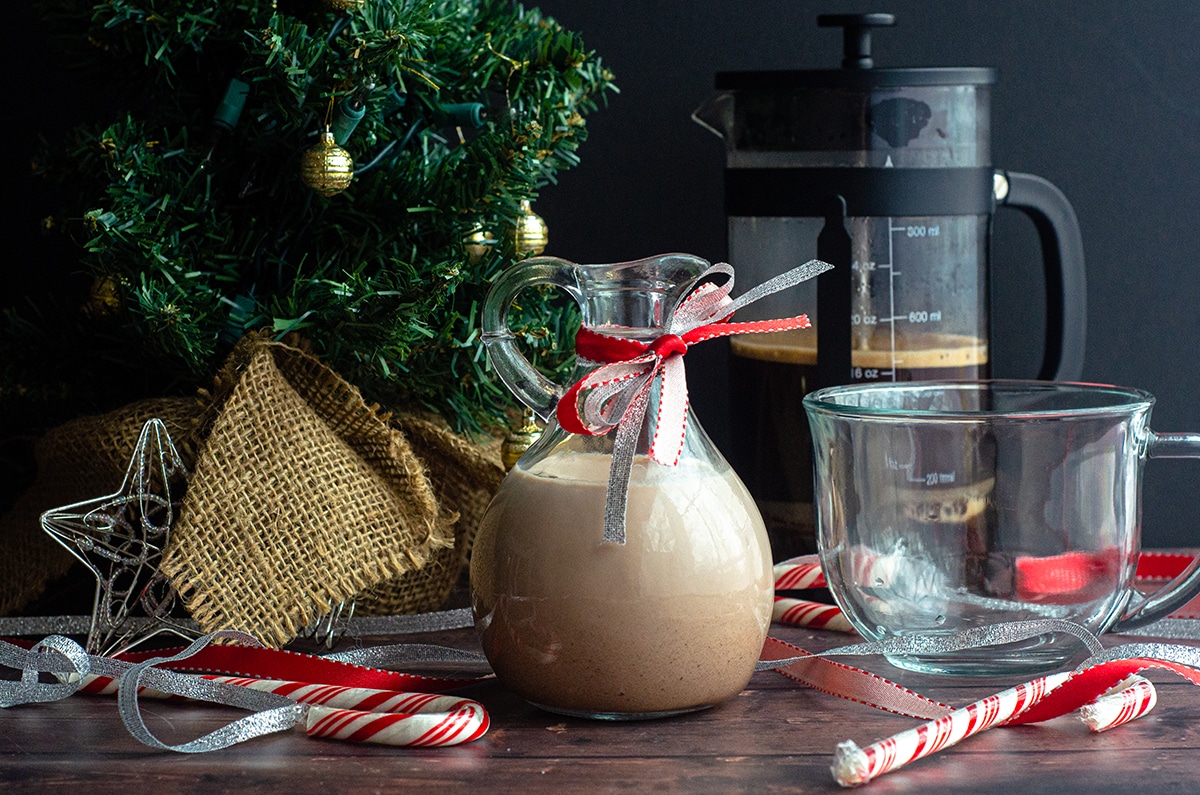 In case you haven't noticed, it's Christmas on the radio and in just about every store imaginable already. Might as well get into the spirit first thing in the morning, yeah?
Looking for more homemade coffee creamers? Check out some of my favorite ways to amp up your coffee game: gingerbread coffee creamer, pumpkin spice coffee creamer, or French vanilla coffee creamer.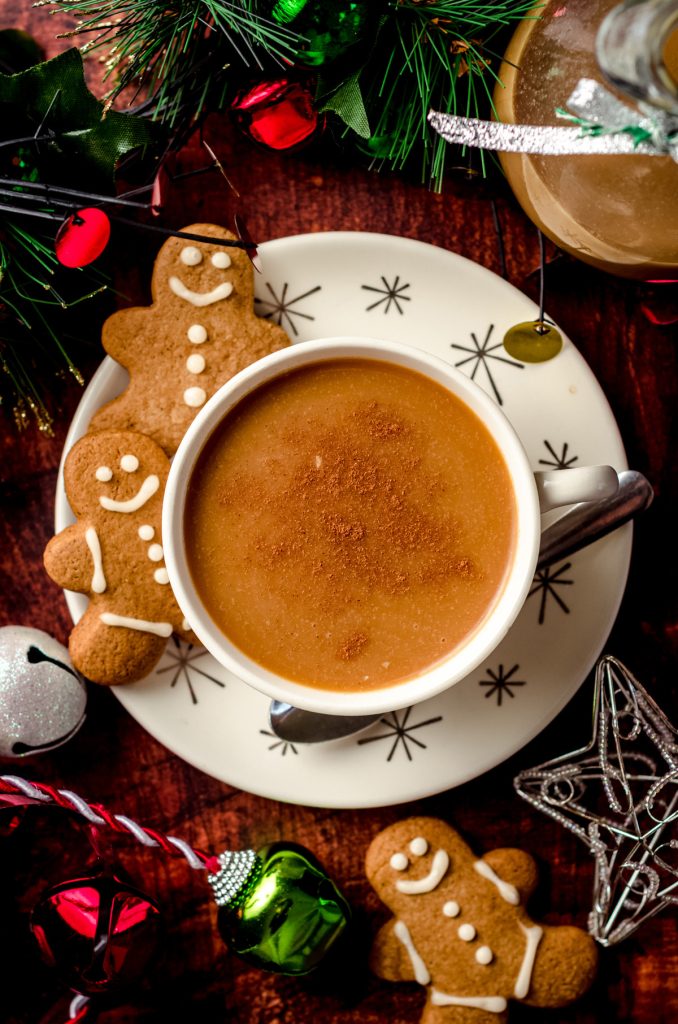 More Favorites from Fresh April Flours
Peppermint Mocha Coffee Creamer
Just a few ingredients and 5 minutes gets you an all-natural, chemical free holiday flavored cup of coffee!
Ingredients
½

cup

(100g) granulated sugar

½

cup

(120mL) water

1 and ½

Tablespoons

(8g) unsweetened cocoa powder

regular or dark

¾

teaspoon

peppermint extract

½

teaspoon

vanilla extract

¾

cup

(90mL) half-and-half, milk, or cream

any dairy or nut milk you enjoy in your coffee
Instructions
In a small saucepan over medium heat, combine sugar and water and heat until sugar is just dissolved, about 2-3 minutes. Remove from heat and whisk in cocoa powder, peppermint extract, and vanilla extract. Allow to cool for a few minutes.

Add half-and-half (if desired) to a ratio of your liking. I prefer a 1:1 ratio. You may also leave the syrup as a standalone flavoring. Store in a covered container in the refrigerator and use within 2 weeks, shaking

very well

before using.
Nutrition Disclosure
All nutritional values are approximate and provided to the reader as a courtesy. Changing ingredients and/or quantities will alter the estimated nutritional calculations.