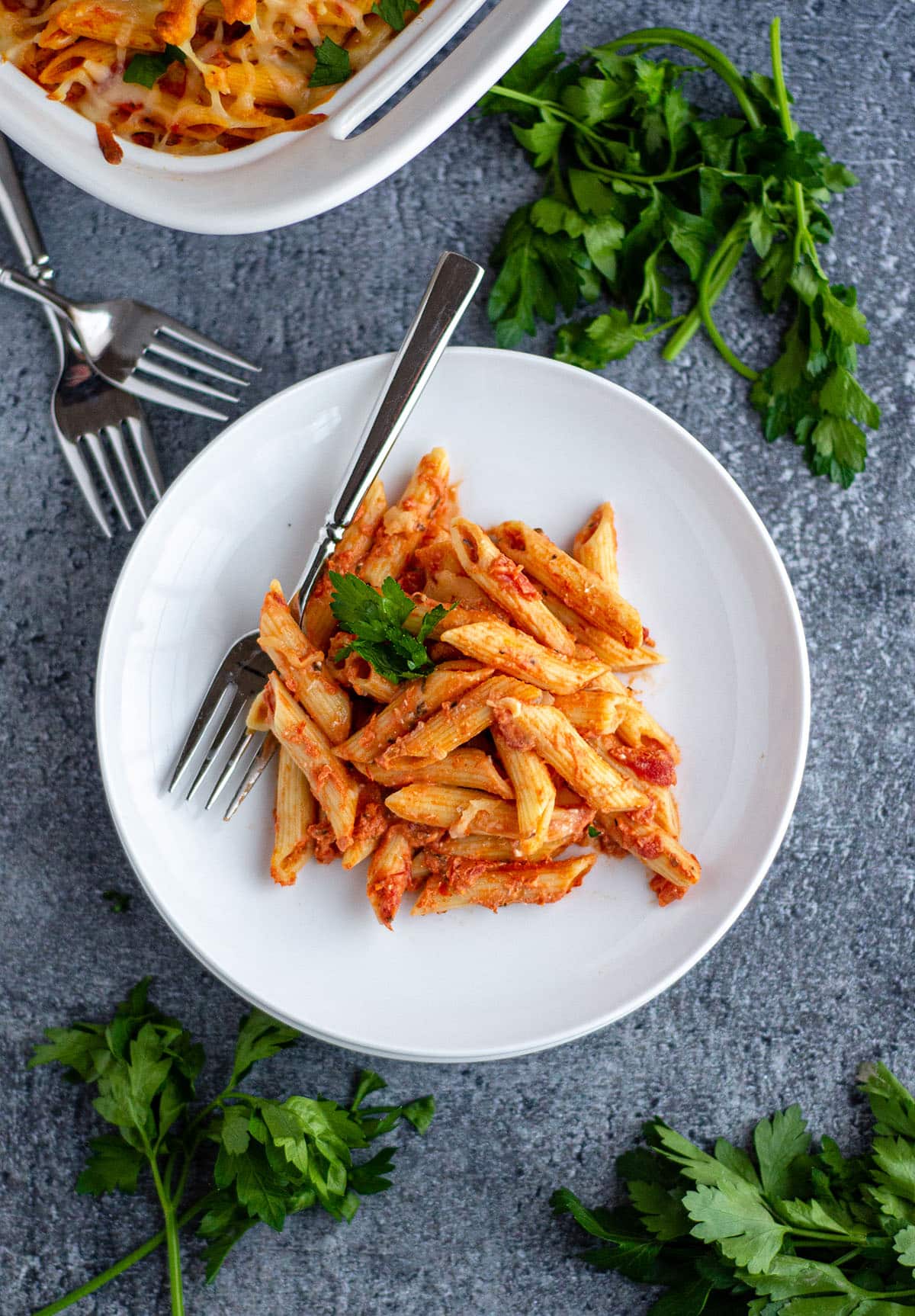 As an Amazon Associate, I earn from qualifying purchases. Read the full disclosure here.
This easy casserole goes from start to eating in far less than an hour. Perfect for entertaining or a quick dinner idea.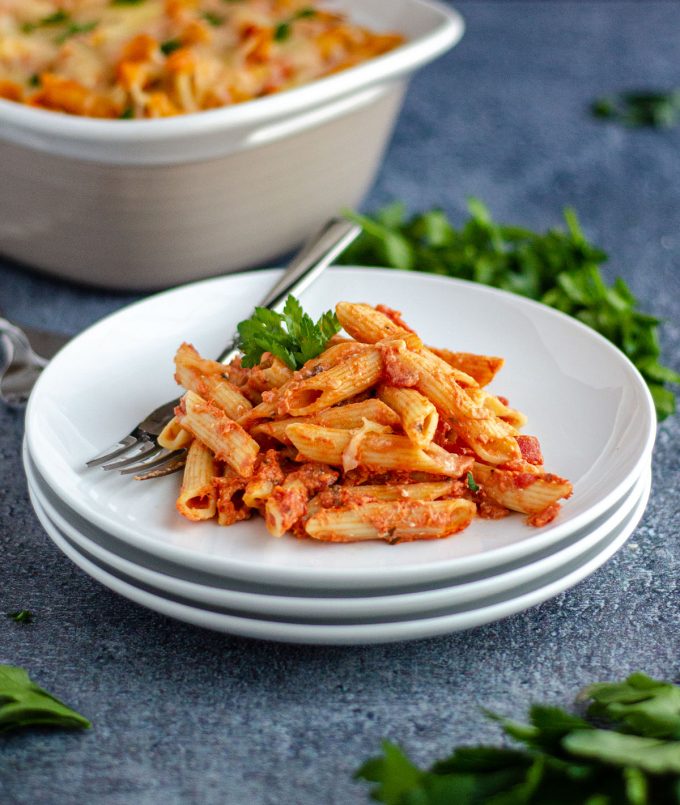 Do you have a recipe (or recipes!) in your lineup that you make SO OFTEN, you could do it in your sleep? That the recipe is just burned into your brain and you don't even need to look at it?
That's how I am with my chocolate cake and my baked ziti. I can make you a whole meal plus dessert blindfolded! Cool, right? #wifematerial
It's funny though, we almost never eat pasta in our house, which is kind of funny considering we are both Italian and, I mean, who doesn't love pasta, amirite??? It's just not a staple, and it's more of a treat.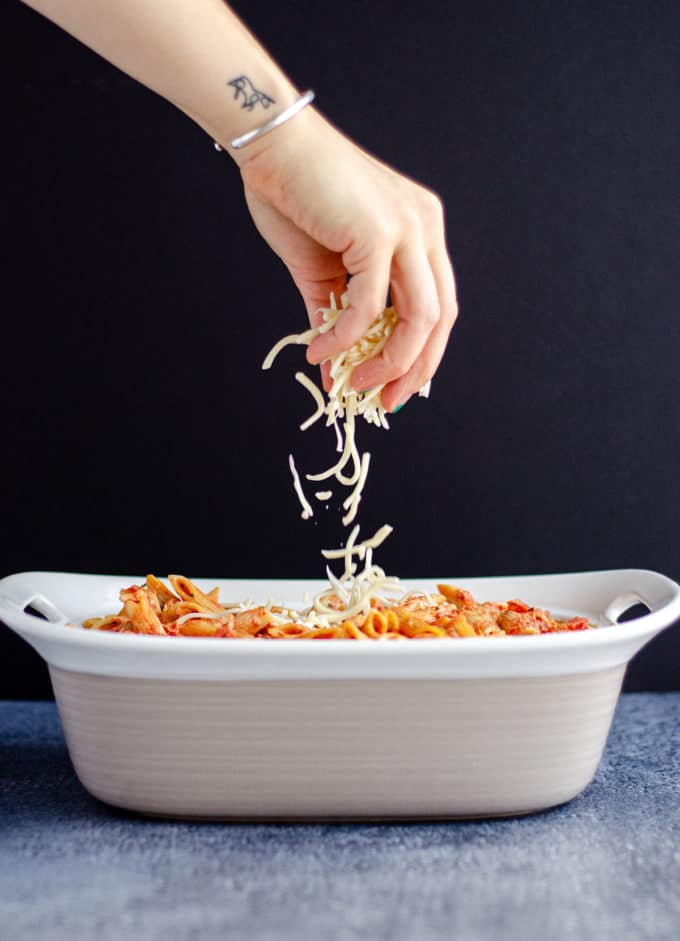 But the reason I have this baked ziti burned into my brain is because it is my absolute go-to when someone I know is in need of a meal (think: new parents, people with sick kids or family members at home or in a hospital).
A girlfriend of mine jokes every time one of my friends has a baby that it's time for a baked ziti! And she's right– it's super easy, it makes a ton, it's reheatable, AND it's freezable. It's just… Well, my favorite!
Now before I get into how easy peasy this is, let's address the one thing you may be judging me about (or maybe you haven't noticed??)… This is clearly not ziti. It's totally penne. And I don't even care, because you know why?
Probably nobody Googles "baked penne," and to be honest, I've used all kinds of noodles for this bake… Ziti, penne, rigatoni, rotini. It's super versatile. All you need is one box of your pasta of choice.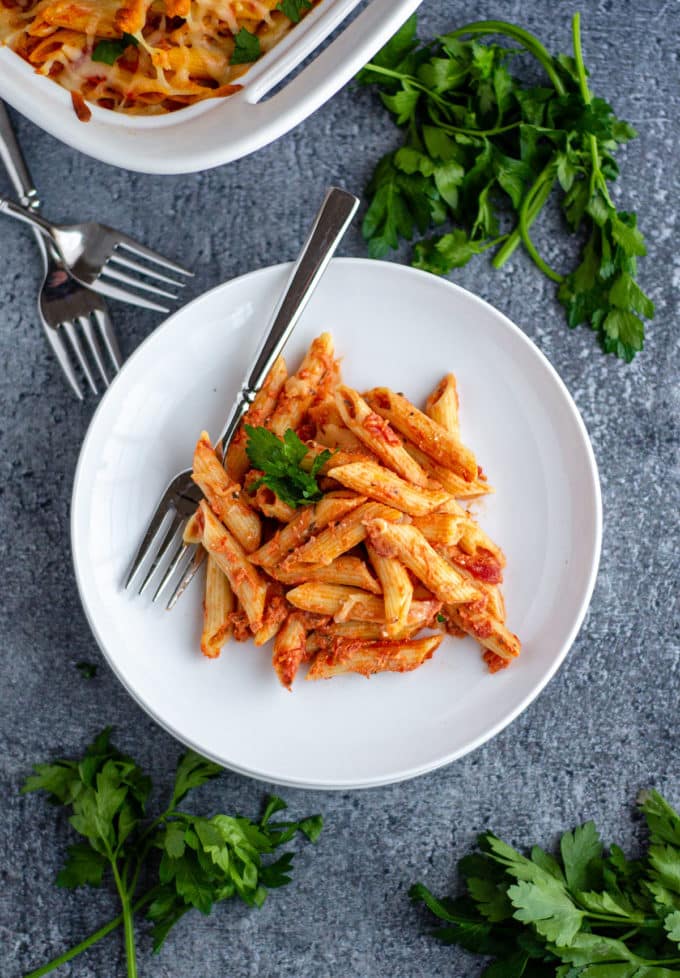 You'll also need a few other things that are easy to find and (possibly BEST OF ALL) inexpensive. You'll need…
•one block of cream cheese (any fat– although fat free is not my favorite in this recipe– you've been warned!)
•a jar of pasta sauce (I like to use tomato basil or some other kind of Italian spiced)
•a can of diced tomatoes (I prefer petite– smaller chunks!)
•and shredded cheese of your choice.
All of this goes into a pot (saving some of the cheese for the top, of course) before it gets dumped into a casserole. So easy.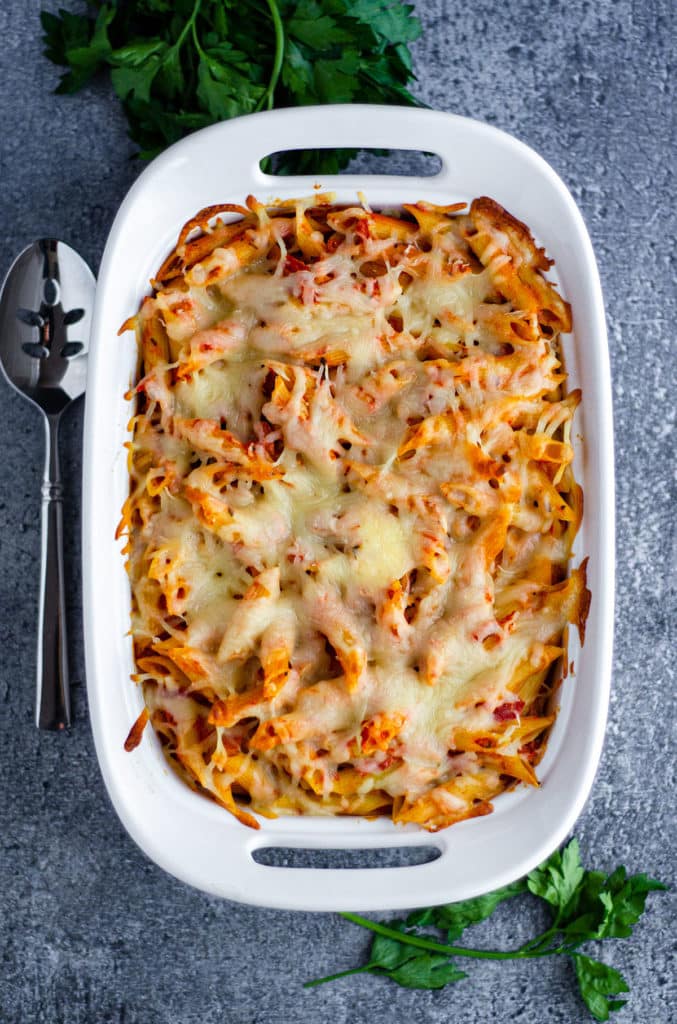 Oh, and then some basil if you'd like to make things pretty right before you serve it!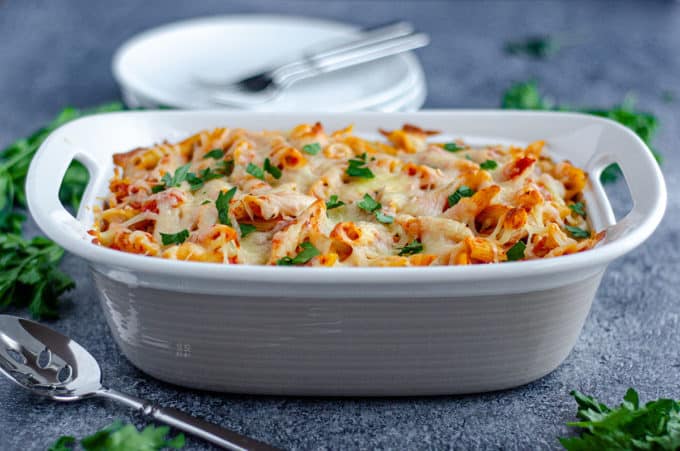 The other easy peasy thing about this recipe is that you can add meat if you're looking to make your baked ziti the star of the show. Just add 2 cups of cooked meat (chicken, beef, turkey) before it goes into the casserole and bake as usual.
Since the holidays are all about entertaining, I've teamed up with 4 of my favorite food bloggers to bring you a whole spread! You've got your main dish here, but click around the blogosphere to see what my friends are up to!
•cocktail from Leah @ Grain Changer: Jolly Holly Cocktail
•appetizer from Cate @ Chez Catey Lou: Parmesan Cheese Toast with Brown Sugar Bacon
•side dish from Amy @ Thoroughly Nourished Life: Holiday Kale, Apple, and Wild Rice Salad
•dessert from Jess @ Sweetest Menu: Peppermint Bark Chocolate Cupcakes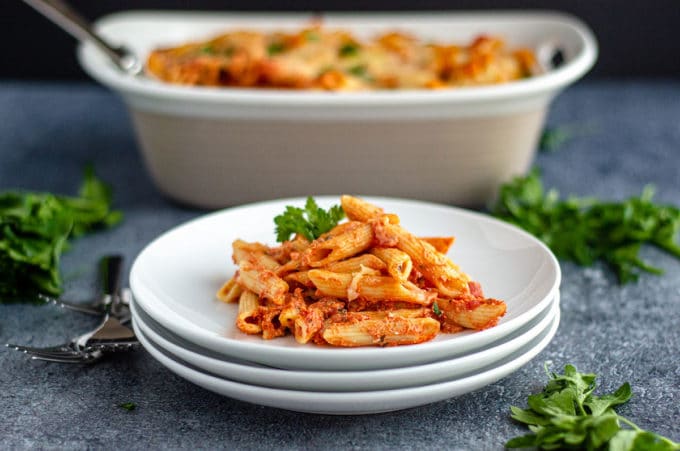 Whether or not you decide to put all of our dishes on your table this holiday season, know that we are all about the easy, so it will take you no time at all to throw together a simple party. Or, pick one and take it with you to the next gathering you head to!
I'll tell you what… This baked ziti is seriously a staple in our kitchen, despite how rarely we actually consume it. I strongly encourage you to take this recipe and keep it tucked away for when you're stuck on something to make for dinner (that will last a few days), need something to take to a potluck, or want to put an easy meal together for a friend in need.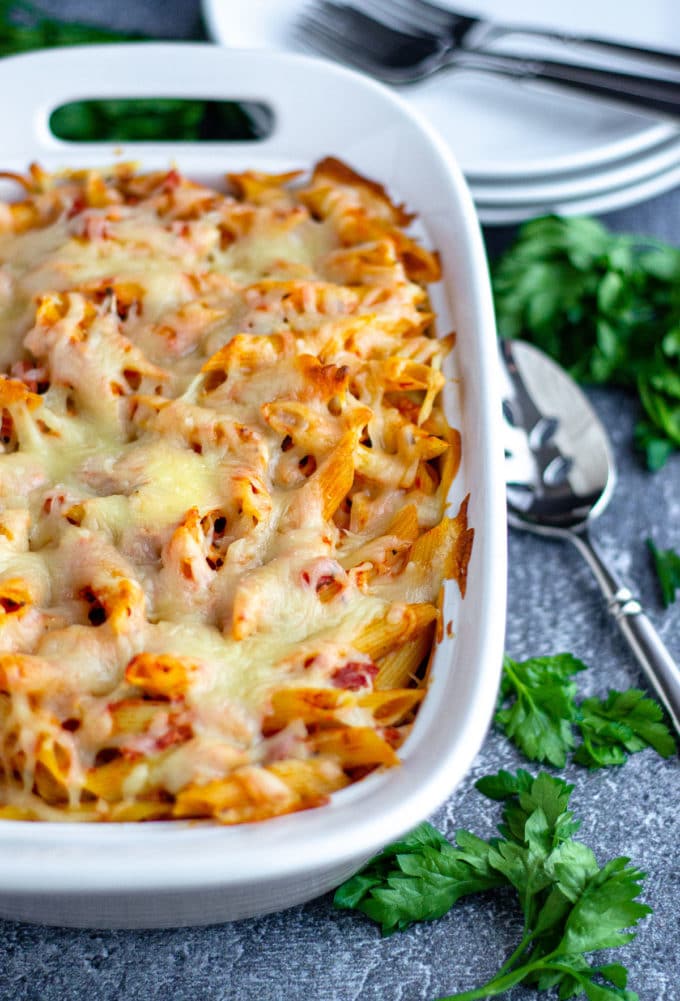 One of my favorite things about it is how it lasts for several days. A lot of times, pasta bakes get dry and the pasta gets gross after a couple days. Not this baked ziti! There is so much moisture going on in this dish that you might think it's too wet when it goes into the casserole. But it's not. I promise.
You'll be thankful for that liquid later!
The holidays aren't just about entertaining but also giving. The gift of a home cooked meal can warm someone's heart more than an object, sometimes. And I think creamy, cheesy, flavorful pasta is the perfect way to get that heart as warm as possible!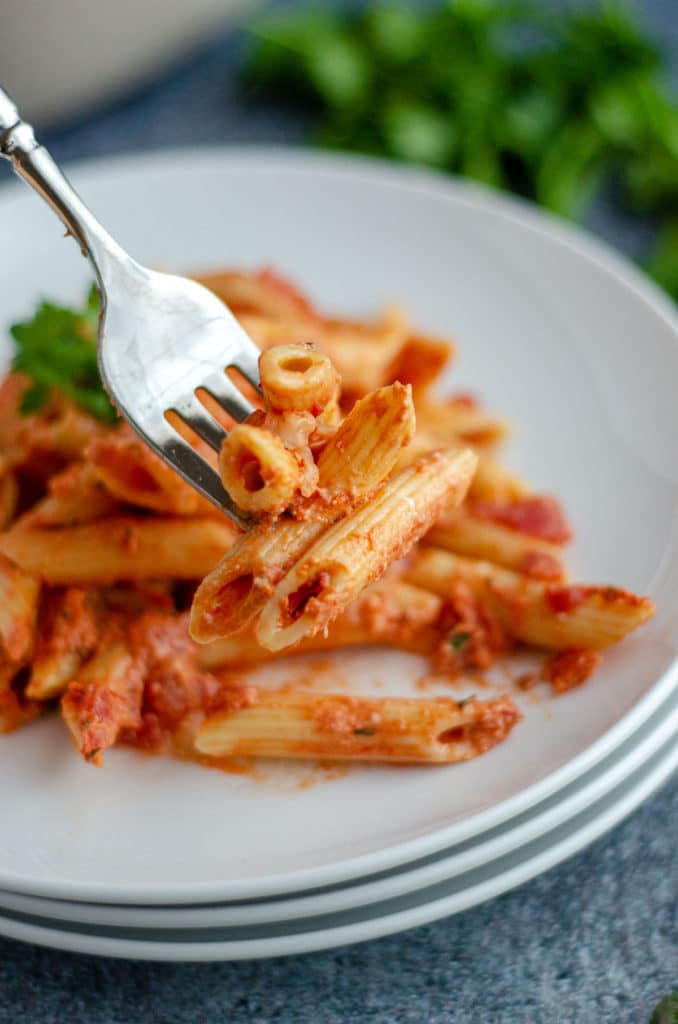 Happy entertaining, friends!
Baked Ziti
This easy casserole goes from start to eating in far less than an hour. Perfect for entertaining or a quick dinner idea.
Ingredients
1-13.5

ounce

box pasta of your choice

I prefer ziti or penne

8

ounces

block cream cheese

softened to room temperature and cut into 8 cubes; any fat content

1-25

ounce

jar pasta sauce

I prefer a basil or Italian spiced

1-14

ounce

can petite diced tomatoes

undrained

2

cups

shredded cheese

divided (I prefer mozzarella or Parmesan)

fresh basil or parsley

finely chopped
Instructions
Preheat the oven to 350ºF. In a large pot, cook the pasta according to the directions on the box. I prefer to cook my pasta al dente since it will cook a bit more in the liquid in the casserole dish. Drain the pasta.

While the large pot is still hot, add the cubed cream cheese and stir with a spatula or wooden spoon until mostly melted. Add the hot pasta, pasta sauce, and diced tomatoes. Stir until pasta is well-coated. Stir in half (1 cup) of the shredded cheese until evenly dispersed.

Pour the pasta into a 2 quart casserole (I have also used a 9x13" baking dish or disposable casserole container). Sprinkle remaining shredded cheese evenly over the top and bake for 25-30 minutes or until cheese bubbles. Remove from oven and allow to cool 15 minutes before serving. Leftovers can be stored in the refrigerator, covered or wrapped tightly, up to 1 week. Baked casserole freezes well-- up to 2 months. Thaw in refrigerator overnight. Cut up and heat individual servings in the microwave or cover with foil and bake in a 300ºF oven for 20 minutes. Make ahead: casserole can be assembled and refrigerated up to 12 hours. Add an extra 5 minutes to baking time.
Notes
If you'd like to add meat to this baked ziti, stir in 2 cups of cooked meat before you put it into the casserole to bake. Bake as directed.