Bakery Style Chocolate Chip Muffins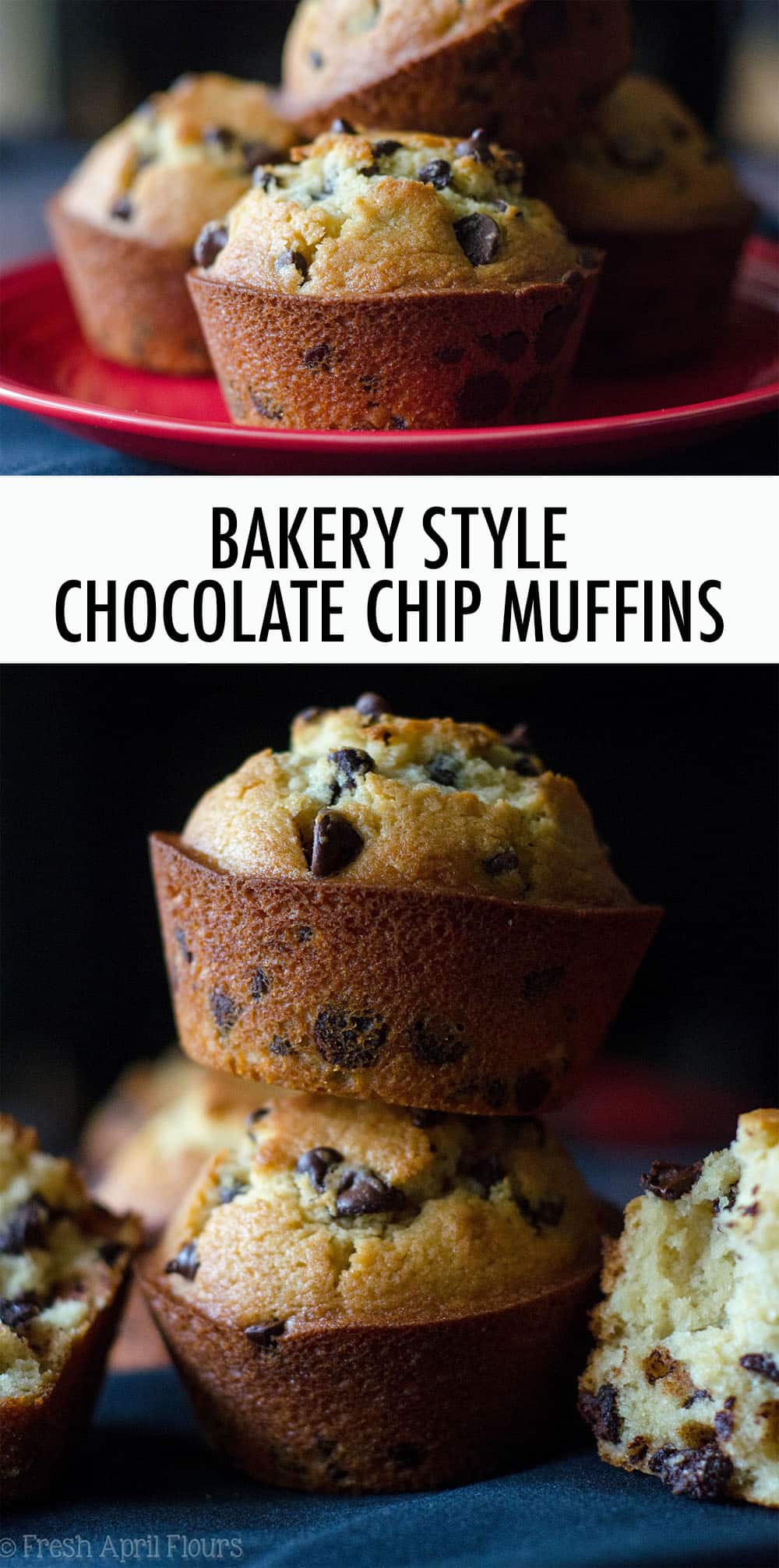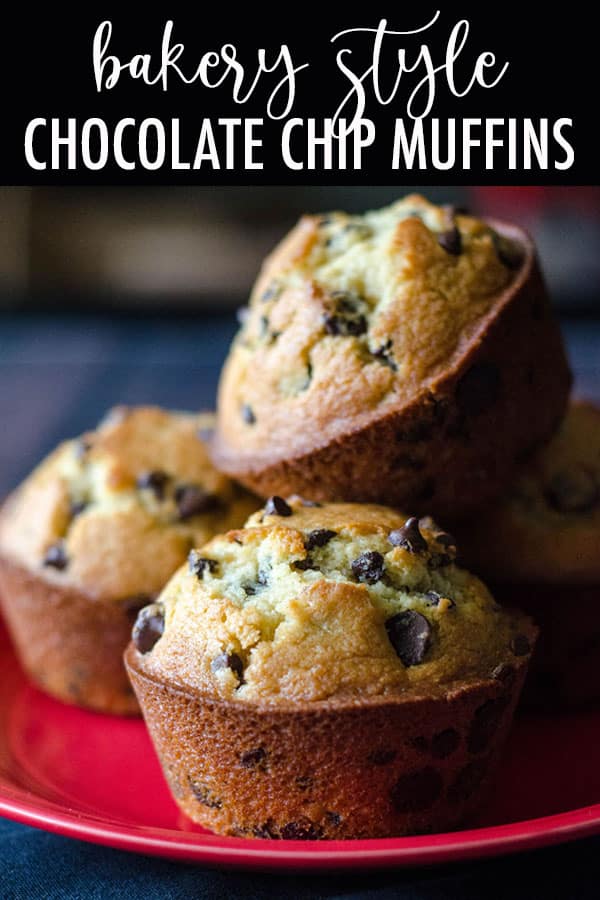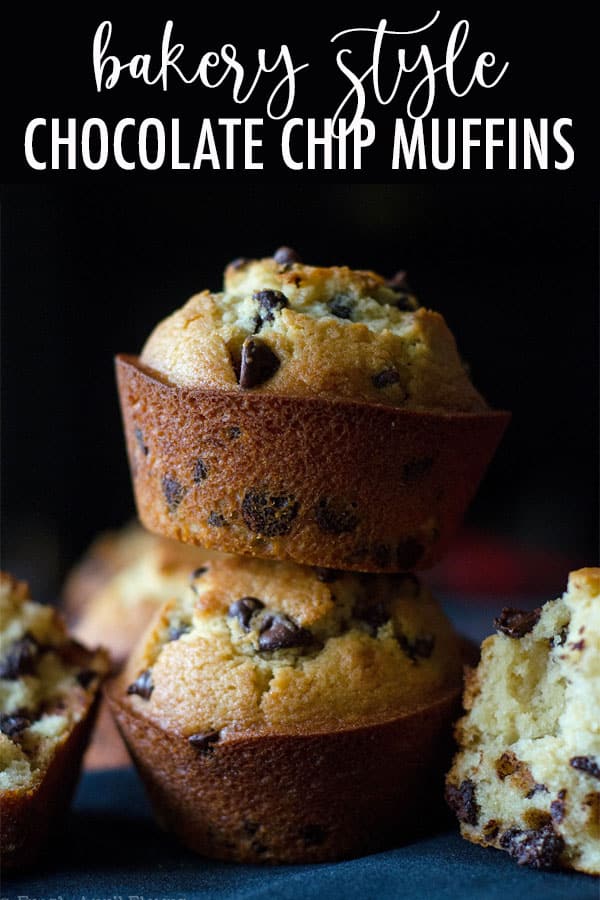 As an Amazon Associate, I earn from qualifying purchases. Read the full disclosure here.
Jumbo size buttery muffins stuffed with enough chocolate chips to rival your favorite bakery!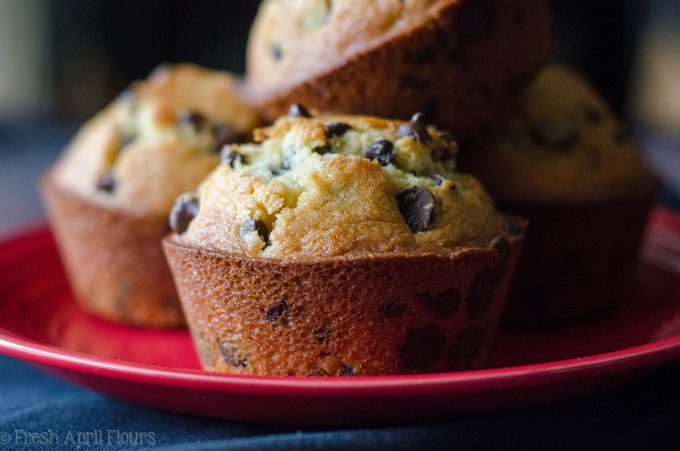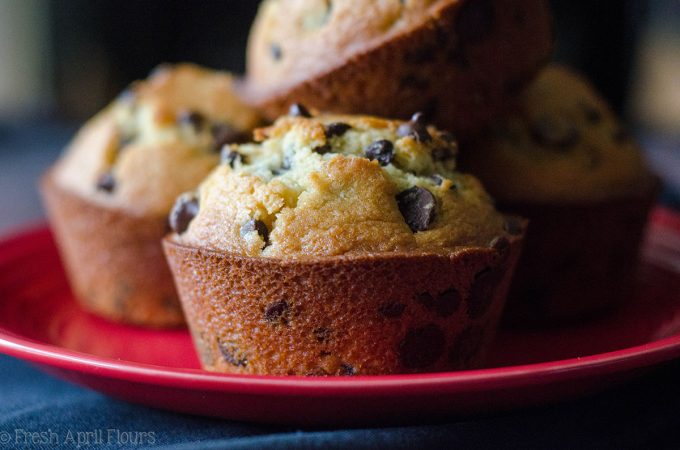 A long long time ago, I met a lady in the blogosphere named Amy. I truly can't recall who spotted who, but we instantly fell into a friendship over some sort of baked good.
We kept in touch regularly, and a few years later, we met in person (along with fellow blogger Leah), and it was a short but super sweet visit with Amy and her now husband. I wish we didn't live so far apart, in different hemispheres even, so we could laugh together in person on the regular!
Amy is, quite simply put, a badass. I have always admired her transparency in all things health and mind, but over the last year plus, she bared her soul over her journey with cancer.
A year ago on her 30th birthday, she underwent tumor removal surgery, and this year, on her 31st birthday (well, the 24th– darn hemispheres!), she doesn't have to spend any time in surgery and she gets to spend the day reveling in her clean bill of health from a few weeks ago.
How. Freaking. Awesome.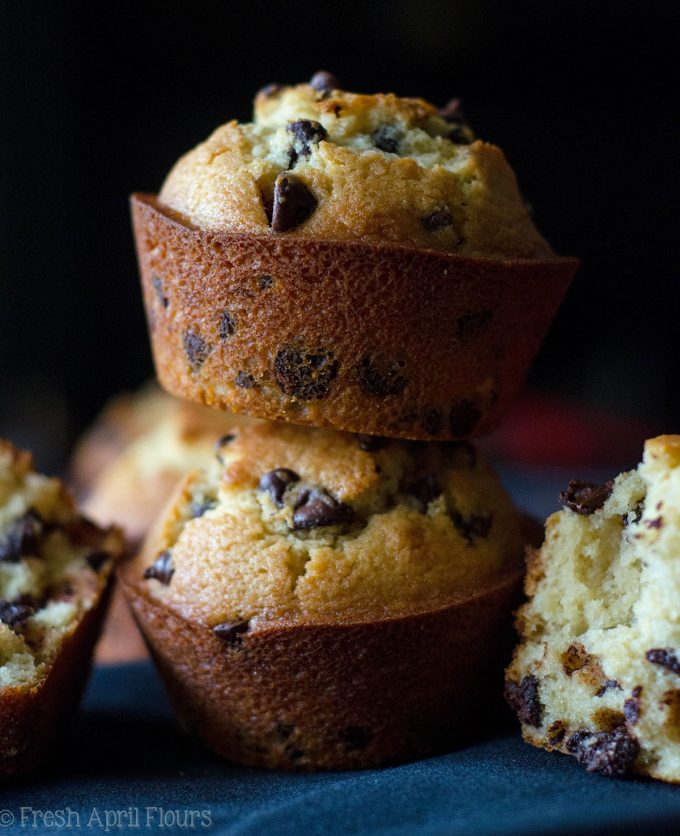 Amy lovessss herself some chocolate chip cookies, and back in 2015, I dedicated a molten chocolate chip cake for 1 to her for her birthday, and the "tradition" has just sort of stuck to go all chocolate chip on her birthday since.
So. Here we are, killing two birds with one stone by wishing Amy the happiest 31st birthday of all time and also adding installment #3 to our Muffin of The Month collection.
Now, not all the muffins I plan to bring you this year will be bakery style, but some muffins just beg to be "bakery style." BEG. Chocolate chippers are probably my favorite bakery style muffin, and recreating them at home was one of the most dangerous things I've ever done.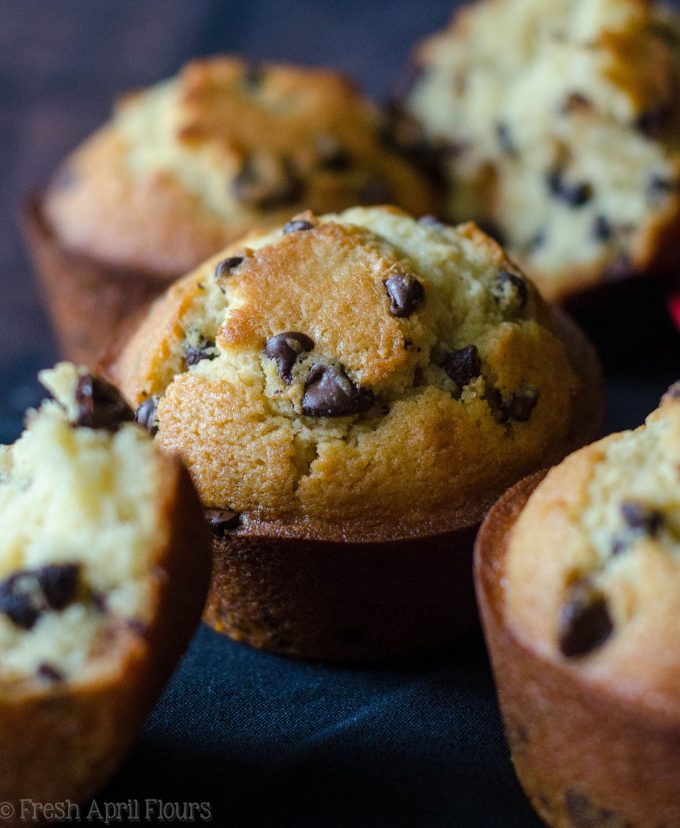 So what do I mean by "bakery style" muffins? I'm talking soft, buttery, moist, and super sized. These muffins are BIG. You'll make them in a jumbo pan! But if you decide to make them in a standard muffin pan, that's totally ok.
You'll still find yourself biting into the same buttery chocolate chip muffins, just not as amazingly as you might if you used a larger pan. Your muffins, your choice!
These bakery style chocolate chip muffins are also full of mini and standard chocolate chips.
Why?
Because that's just how I roll sometimes, and I like that some bites have lots of chocolate, and some bites have hints of chocolate, and overall, changing up the size of chips leaves plenty of opportunities for the texture lovers to be in all their glory.
That's definitely important when it comes to a muffin!
So let's talk other ingredients– pretty standard players (flour, sugar, brown sugar, leavening agents)– but we're using butter and vegetable oil. While butter imparts wonderful flavor to baked goods, it can occasionally dry them out, especially when you're baking something on a larger scale (remember JUMBO).
Vegetable oil is almost a guaranteed moist maker, but it's pretty flavorless. The two together bring unparalleled flavor and moisture to give you that bakery style muffin you're looking for. Plus, there's buttermilk involved, which is always a recipe for deeeelish.
Like I said, not all muffins need to be jumbo, but chocolate chip? Definitely. And I think you'll be happy if you decide to keep them jumbo, too. For the whole "bakery style" essence to come together.
One bite into these buttery muffins with sweet chocolate chips and you'll be whipping up another batch in no time. Because you'll polish off the first 6 way too quickly and find yourself needing more.
How do I know? Because it happened to us. Whoops!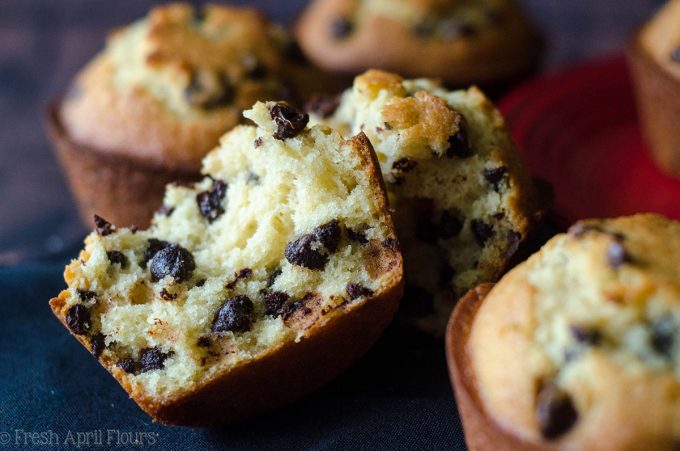 So let's bake up a batch to celebrate Amy and her badassness and enjoy a little muffin love while we're at it, shall we?
Bakery Style Chocolate Chip Muffins
Jumbo size buttery muffins stuffed with enough chocolate chips to rival your favorite bakery!
Servings:
6
jumbo muffins
Ingredients
1 and 3/4

cup

all purpose flour

be sure to measure properly

2

teaspoons

baking powder

½

tsp

salt

4

Tablespoons

unsalted butter

melted and allowed to cool

¼

cup

vegetable oil

1/2

cup

granulated sugar

1/2

cup

firmly packed brown sugar

2

large eggs

room temperature

2

teaspoons

vanilla extract

1/2

cup

buttermilk

room temperature*

1

cup

semi-sweet chocolate chips

I like a mix of standard and mini size, about 3/4 cup standard and 1/4 cup mini measured into the same measuring cup
Instructions
Preheat the oven to 400ºF. Spray the wells of a 6 count jumbo muffin tin (or line with jumbo liners) generously with non-stick spray. Set aside.

In a medium size bowl, whisk together the flour, baking powder, and salt. Set aside.

In a large bowl, whisk together the cooled butter, vegetable oil, granulated sugar, brown sugar until smooth. Whisk in the eggs, vanilla, and buttermilk until everything is thoroughly combined.

Gently fold the dry ingredients into the wet ingredients. When the batter is mostly combined, add in the chocolate chips and continue stirring gently until everything is incorporated, being careful not to overmix.

Spoon the batter evenly into the 6 wells. Two

ice cream scoop fulls

works best, totaling about 1/2 cup of batter in each well. Sprinkle with additional chocolate chips, if desired.

Bake the muffins for 5 minutes, then reduce the oven temperature to 350ºF without opening the door, and bake for another 15-20 minutes. Muffins are done when a toothpick inserted into the center comes out mostly clean and the tops are golden brown. Remove from the oven and allow them to cool in the pan for about 10 minutes before removing from the pan to cool completely on a wire rack. Muffins stay fresh covered at room temperature up to 5 days or in the refrigerator up to 1 weeks. Muffins freeze well, up to 2 months. Thaw in refrigerator or heat in the microwave about 15 seconds before serving.
Notes
*If you don't have buttermilk on hand, you can make your own: see my post about homemade buttermilk.
Nutrition Disclosure
All nutritional values are approximate and provided to the reader as a courtesy. Changing ingredients and/or quantities will alter the estimated nutritional calculations.