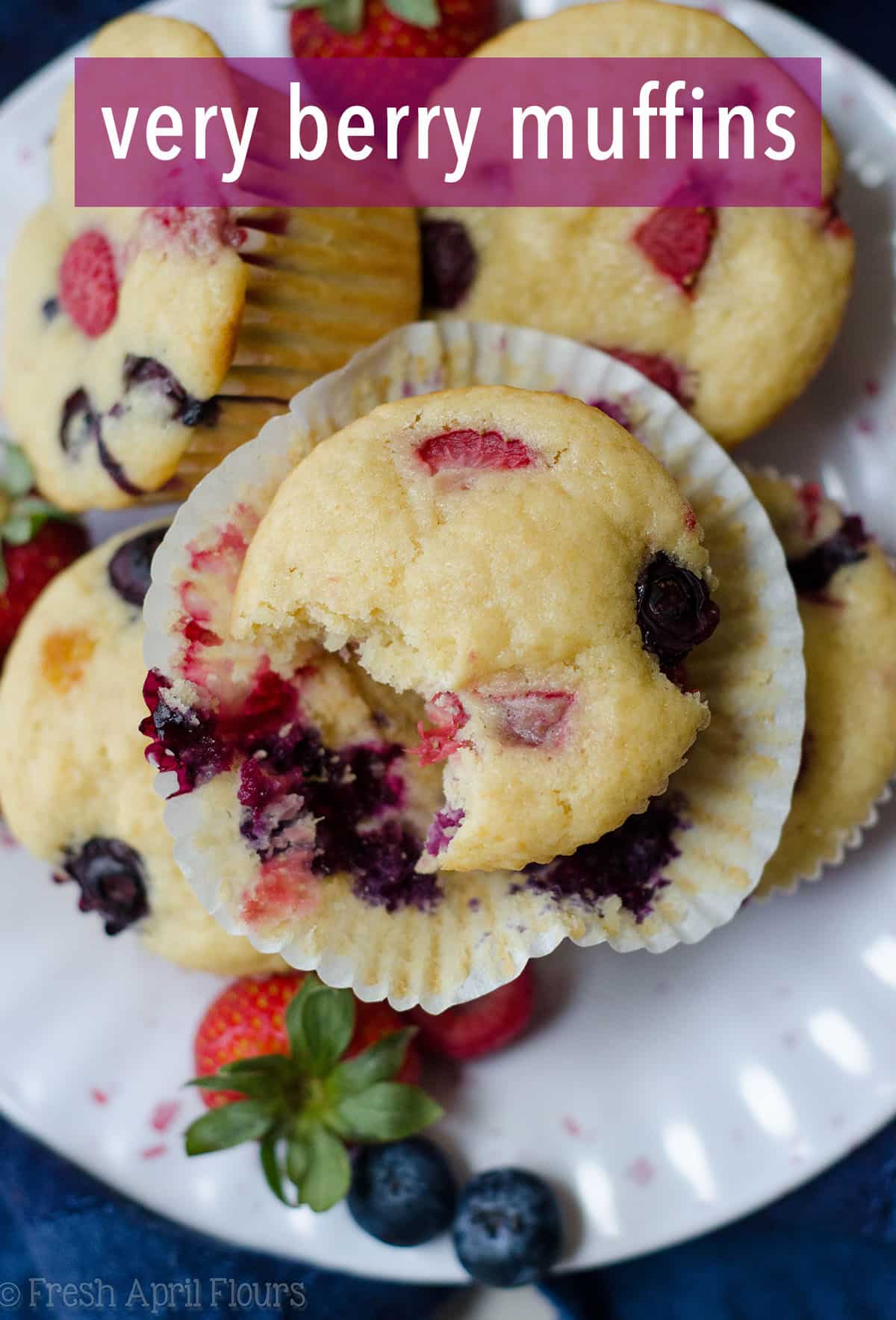 As an Amazon Associate, I earn from qualifying purchases. Read the full disclosure here.
Soft and flavorful buttermilk muffins bursting with blueberries, raspberries, and strawberries.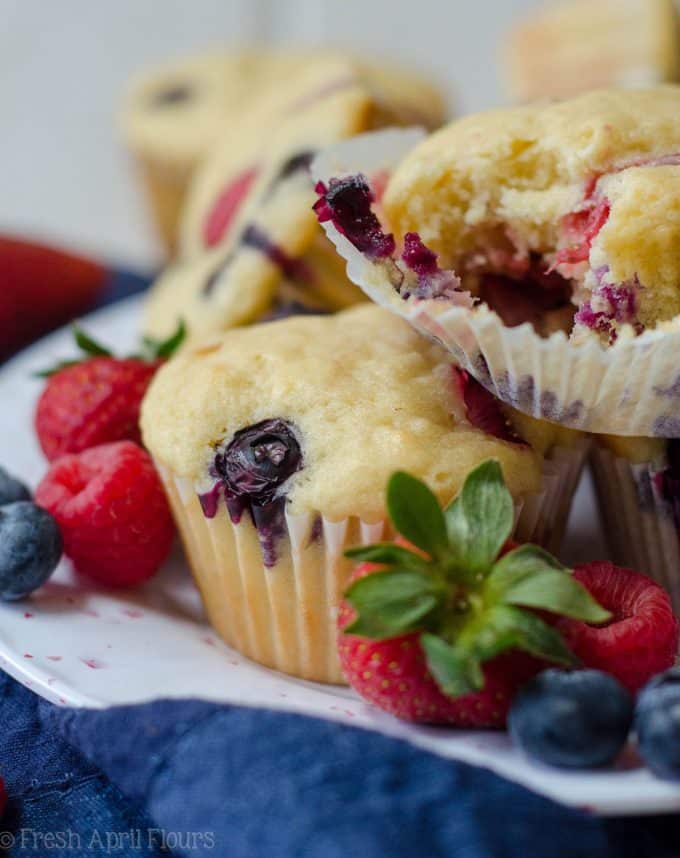 I'll be honest and say that I thought I completely missed June's Muffin of The Month post, but it turns out, I didn't. The last muffin recipe I posted in the series was May's morning glory muffin on May 2nd, but it feels like an absolute eternity ago. Just a week and 1 day after that recipe posted, I had our second son and life has been cuhhhhray since then.
He will be 7 weeks tomorrow, which doesn't sound like that many weeks, but in the life of newborn parents, it's really, really long.
I can't exactly complain, though, since he's been a pretty chill newborn since he was born, and he has been sleeping decently since week 5 and only getting up one time between when he (we) goes to bed at 10pm and when he wakes up around 7/8am.
He's been giving us between 5 and 6 hour stretches, occasionally going a little longer, so though we are getting sleep, it's still super exhausting having a newborn. Plus a toddler. Send all the coffee!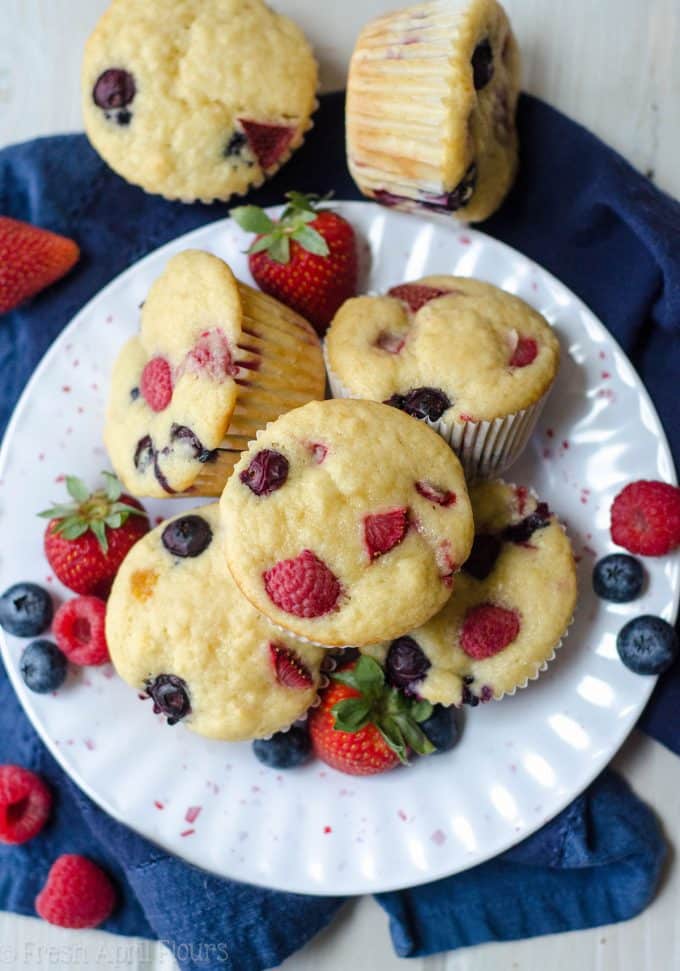 We've also been really really glad that I saved muffins in the freezer from baking a whole bunch of recipes in March, because grabbing a quick snack or meal for one of us or the toddler is absolutely saving us these days.
We've been throwing 2 or 3 muffins in the fridge from our freezer stash at night so we can eat them with breakfast or a mid-morning snack the next day.
These very berry muffins are next up on our rotation for later this week, and I know I'm super pumped. The toddler will also be so happy to see the resurfacing of these "mummins" with "booboos" in them.
Not only that, but these muffins are also serving a little shoutout to next week's 4th of July (OMG ALREADY?!) holiday by being all nice and patriotic.
We've got blueberries, raspberries, and strawberries to fill each little bite of these basic buttermilk muffins, so kill two birds with one stone and enjoy that fresh summer produce while giving a nod to the good ole USA.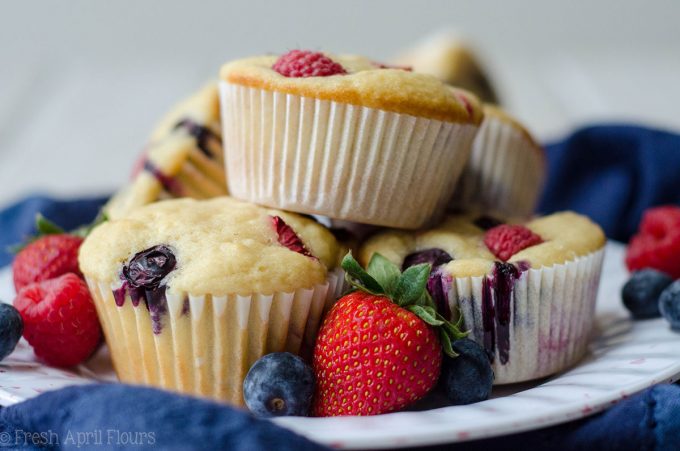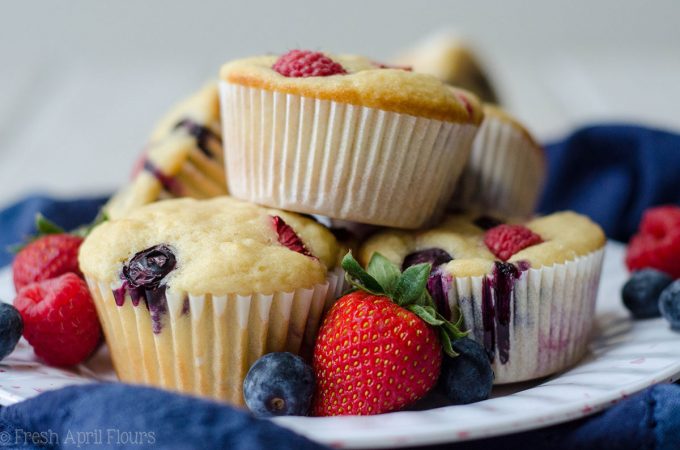 These muffins are completely uncomplicated. There are no weird ingredients and while I do love me a good streusel topping on my muffins, these fruity ones don't need it.
There are fresh berry pieces bursting through each bite, and the muffin batter is flavored just with a little brown sugar and some vanilla extract. Super simple and providing a spotlight for all the goodies packed into these little cuties.
Of course, if you don't love one of these kinds of berries, you can totally swap them out. Want to do all raspberry? Go for it. Just blueberry? Well, then… Consider this recipe for blueberry muffins OR this blueberry muffin recipe with a kick of orange! Just strawberries and blueberries?
Whatever you want.
Just be sure to have about 2 cups of fruit. And you'll want to save some for sticking in the tops of the batter. Just 1 or 2 pieces per muffin, just to have a little something special on the top. And if you're lucky and get a blueberry at the top, it's likely to burst and leave you with a beauuuuutiful purple stripe down the side of your muffin.
Very berry muffin perfection!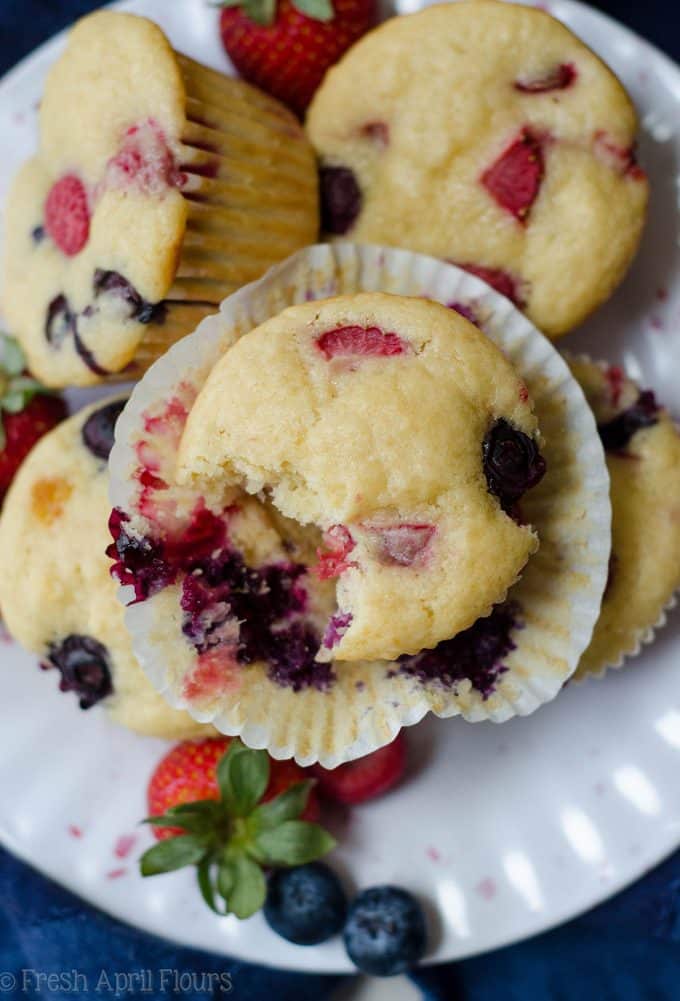 Though I love smearing peanut butter or butter on my muffins (fav for peanut butter, fav for butter!), these fruity ones don't really need it. In fact, I actually really liked eating these cold, and we were keeping them in the fridge because I was worried they would go bad quickly in the non-air conditioned spring weather during which I made them.
Plus, all that fruit keeps these muffins nice and moist, so they've got all the flavor and moisture already packed in. Glorious!
Do yourself (and your tastebuds) a favor and put all that gorgeous summer fruit to good use and whip up a batch of these muffins for your next breakfast indulgence.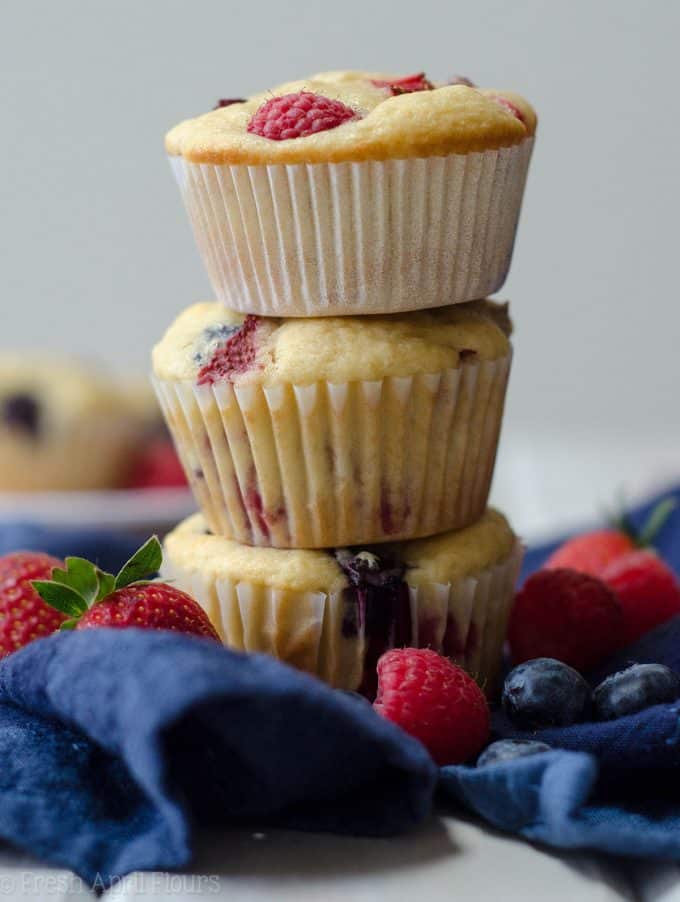 And maybe pass some along to a newborn parent you know… YAWN.
Very Berry Muffins
Soft and flavorful buttermilk muffins bursting with blueberries, raspberries, and strawberries.
Ingredients
3

cups

all purpose flour

be sure to measure properly

4

teaspoons

baking powder

1/2

teaspoon

salt

1/2

cup

(1 stick) unsalted butter

melted and allowed to cool

1/2

cup

granulated sugar

1/2

cup

brown sugar

firmly packed

2

large eggs

room temperature1

1

cup

buttermilk

room temperature2

1 and 1/2

teaspoons

vanilla extract

2

cups

mixed fresh berries3
Instructions
Preheat oven to 400ºF. Spray 18 wells of two 12-count muffin pans with non-stick spray or line the wells with cupcake liners. Set aside.

In a large bowl, toss together the flour, baking powder, and salt. Set aside.

In a medium size bowl, whisk together the butter, granulated sugar, and brown sugar until smooth. Add the eggs, buttermilk, and vanilla extract and whisk again until everything is combined.

Pour the wet ingredients into the dry ingredients and stir gently with a spatula until just combined. Carefully fold the berries (reserving some for tops of the muffins-- about 1/4 cup) into the muffin batter, being aware the color may spread a bit.

Spoon batter equally into prepared muffin pans. Place additional berry pieces in the tops of the muffins if desired. Bake muffins for 5 minutes, then reduce heat to 350ºF and bake for an additional 16-18 minutes until tops start to brown and a toothpick inserted in the center comes out mostly clean. Remove from oven and allow to cool completely on a wire rack. Muffins will stay fresh in an airtight container at room temperature up to 3 days or in the refrigerator up to one week. Muffins freeze well, up to 2 months. Thaw in microwave for 45-60 seconds before eating.
Notes
It is always a good rule of thumb to use room temperature eggs when using room temperature butter. To bring eggs to room temperature quickly, place in a bowl of warm water for 10 minutes.
If you don't have buttermilk, you can easily make your own: see my post about homemade buttermilk.
You may also use fresh blueberries or a combination of fresh and frozen. I used whole blueberries, whole and halved raspberries, and chopped strawberries. Any combination of berries is fine, totaling 2 cups.
Nutrition Disclosure
All nutritional values are approximate and provided to the reader as a courtesy. Changing ingredients and/or quantities will alter the estimated nutritional calculations.