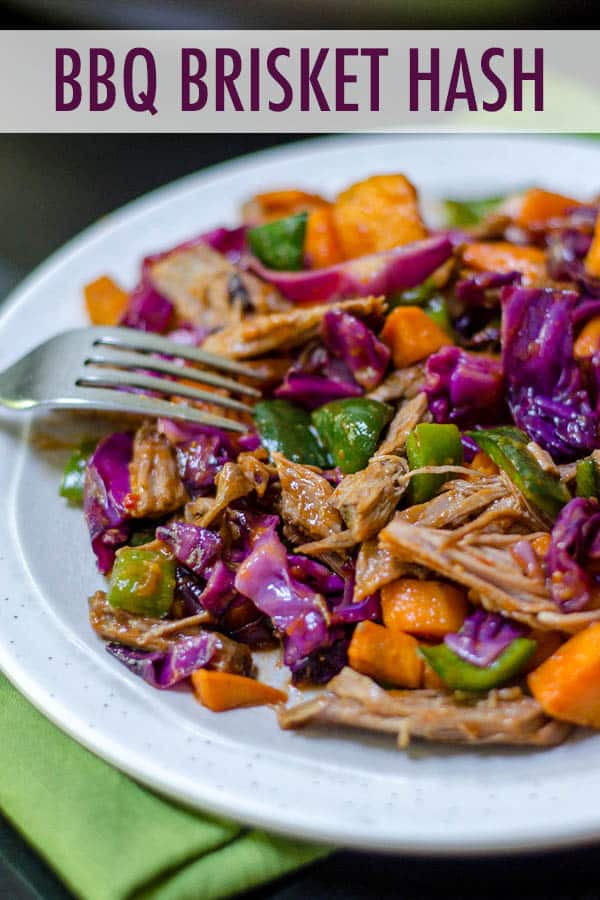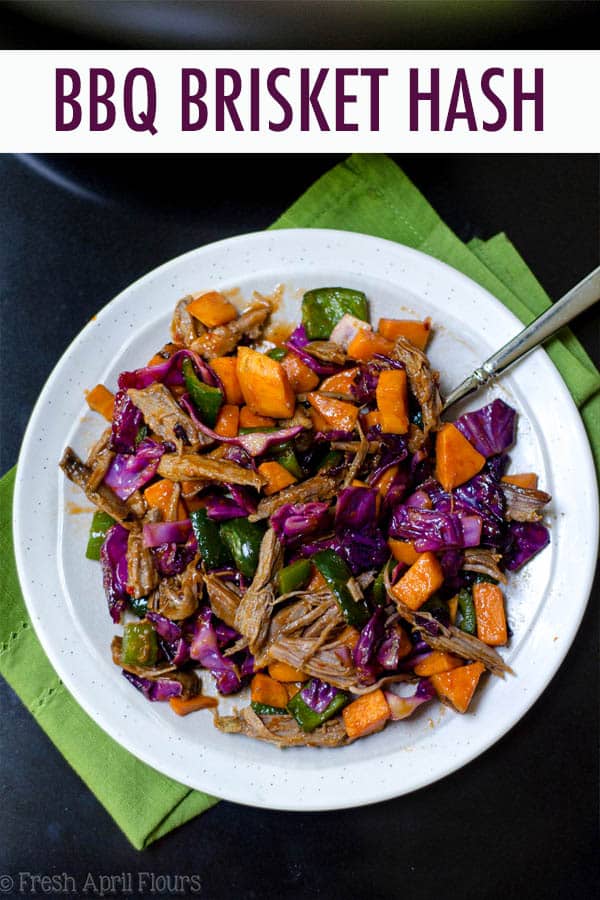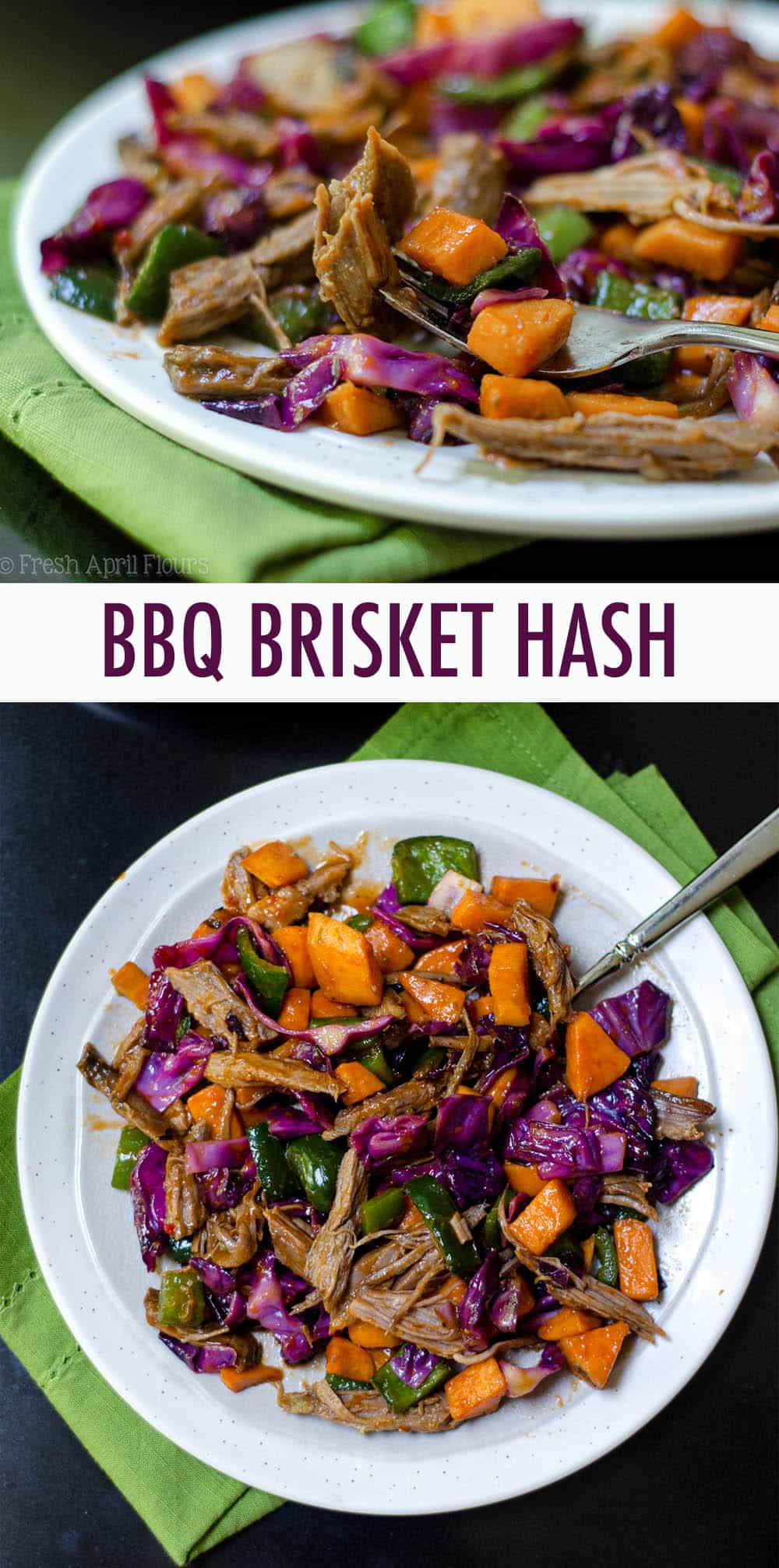 As an Amazon Associate, I earn from qualifying purchases. Read the full disclosure here.
BBQ brisket gets a vegetable overhaul, combined with tender sweet potatoes, crunchy red cabbage, and spicy poblano and jalapeño peppers.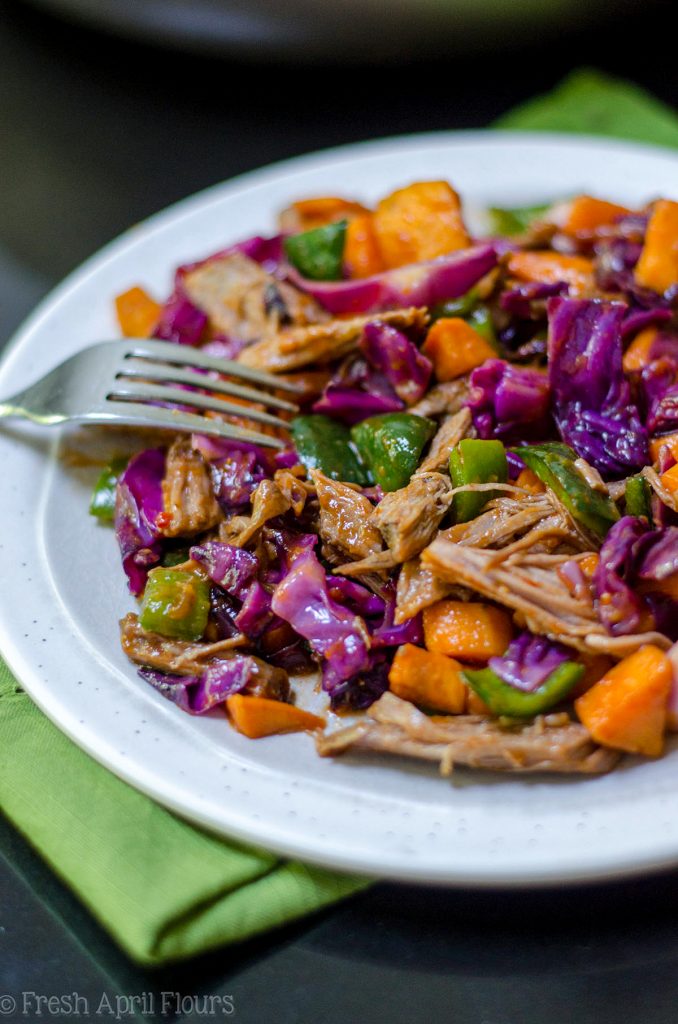 Because as much as we all wish it was, life is not all about muffins, cookies, cakes, or even skinny treats. There has to be balance, and this week, that balance comes in orange, purple, and green. Like… Look at those colors! This was too beautiful not to share with you!
I wish I could say I concocted this recipe in my own head, but the truth of the matter is, I didn't. Well, I sort of did. But the inspiration was from elsewhere. It came from this wonderful food service Matt discovered a few months ago.
No it's not one of those ones that sends you ingredients and you have to make the meal. (And, no, I'm not going to offer you any kind of affiliate link for this service.)
This is a MEAL PREP service, specializing in gluten free, soy free, dairy free, paleo, and other allergen-free diets. It was something Matt wanted to try so he could recommend something to members of his gym (plusalso, TWO KIDS IS MADNESS), and it turns out that we have absolutely loved the meals we've gotten from them.
We've been getting meals weekly since the last few weeks of my pregnancy. So like 3 months. And I have got to say, some of the meals have been out of this world. In fact, there is one that I've loved so much, I decided to try to make it myself at home.
And it turned out to be pretty close to the original, so I've given myself some pats on the back while shoveling beautifully colored bites of BBQ brisket hash into my mouth all week.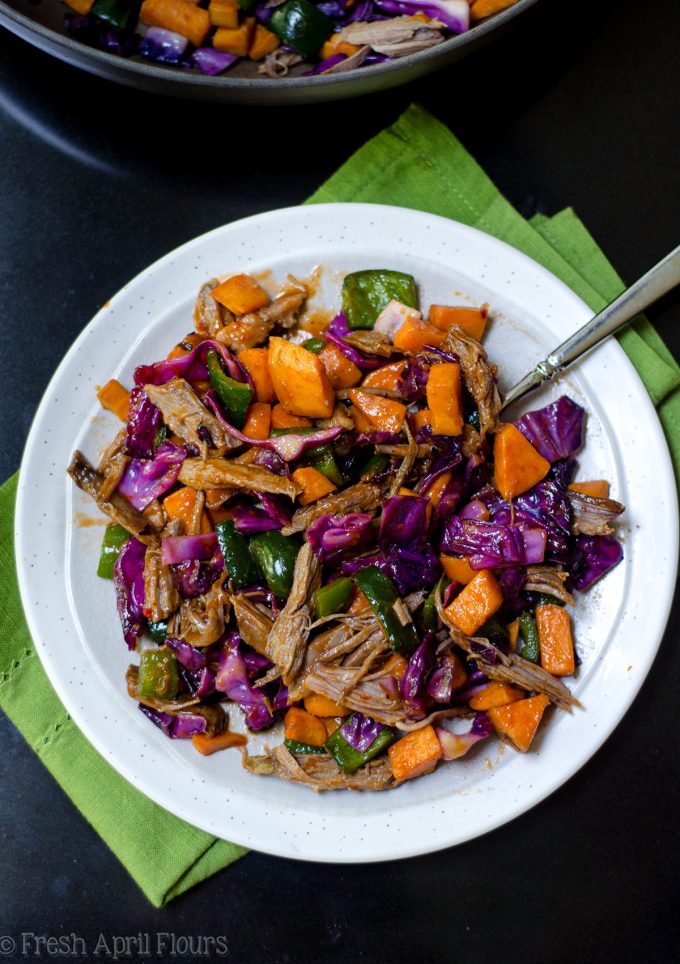 Please welcome another addition to my savory and healthy choices categories. I think you're really going to enjoy this one!
So what have we got going on in this hash? Well, we're working with sweet potatoes. They're the complex carb and the "hash" component of this whole thing. They're diced raw and pan fried to juuuuuust cooked.
You'll wind up with slightly firm sweet potato chunks when all is said and done. Just enough texture to sink your teeth into, but not the slightest bit mushy. The sweet potatoes are the first thing to go into the pan.
You'll cook them for 10 minutes before adding the veggies.
Then we've got some peppers. One poblano and two jalapeños. Seeded, unless you prefer otherwise. If you're waaaaay into spice, leave all the seeds in. If you're more into subtle spice, clean those bad boys out.
These peppers will also add a little crunch to the bunch but still be soft enough to seep their flavor into everything else around them.
RED CABBAGE. The crunchy component to the hash. SO GOOD. I can't say I've ever really cooked with cabbage, though I loveeeee me some coleslaw.
Raw, red cabbage is incredibly crunchy. Since we're coarsely chopping it up, it has a chance to sweat down a bit, but for the most part, it retains its crunch factor and adds a really nice texture to everything else going on. It's the perfect complement to that tender brisket.
Your veggies will cook with your potatoes for an additional 15 minutes.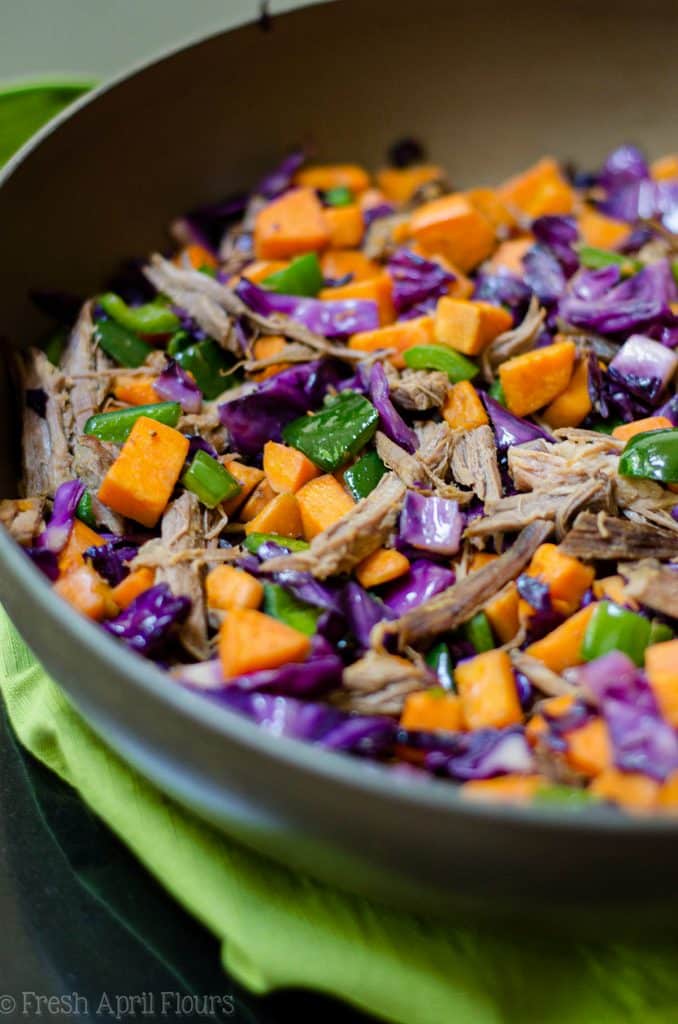 Just one pound of cooked brisket is the bread and butter of this BBQ brisket hash. You'll cook the brisket to your liking and shred it prior to starting your hash. It goes in at the end, with its juices, and cooks with everything else for a final 2-3 minutes.
You'll add the BBQ sauce when you serve it, though you're welcome to cook your brisket in BBQ sauce initially if that's how you'd like to prep it.
This is such a fun way to eat brisket and also take advantage of so much fresh produce that is available to us right now, whether it be in the grocery store, our CSA boxes, or in our gardens.
It's not often I get too excited about savory dishes enough to share them on the blog, but sometimes, we just hit the jackpot and weeknight dinners are new and exciting again!
Don't be intimidated by the 25 minutes of stovetop time. Though this does need to keep moving and stirring to prevent burning, that's all it needs.
It's not labor intensive like risotto, and since you're prepping everything before you start, this is one of those recipes that you can start the night before/morning of, store everything in the fridge, and then just throw together come dinner time.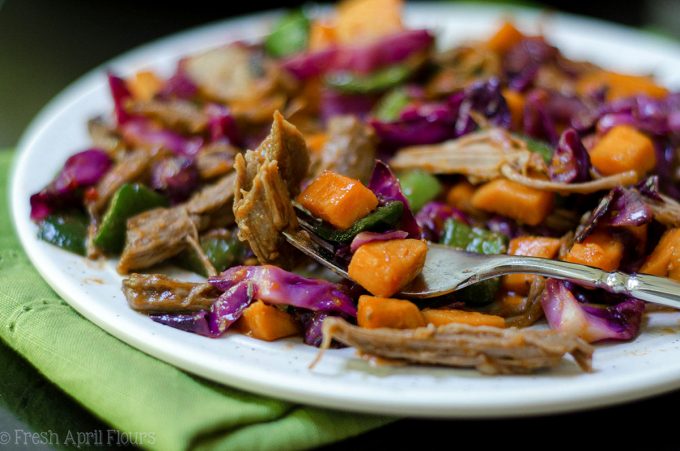 Easy peasy! And seriously, so pretty!
BBQ Brisket Hash
BBQ brisket gets a vegetable overhaul, combined with tender sweet potatoes, crunchy red cabbage, and spicy poblano and jalapeño peppers.
Ingredients
3-4

Tablespoons

olive oil

4

sweet medium potatoes

peeled and cubed

1

small head of purple cabbage

coarsely shredded (approximately 4 and 1/2 cups)

1

poblano pepper

seeded and diced

2

jalapeño peppers

seeded and chopped

1

pound

cooked beef brisket

shredded (save the juice)*

BBQ sauce of your choice

we like a spicy one, store-bought or homemade
Instructions
Heat the oil in a large saucepan over medium heat. When the oil is heated, add the sweet potatoes and stir constantly for 10 minutes to prevent burning.

Add the cabbage and peppers and stir constantly again for an additional 15 minutes, or until potatoes and peppers are just tender.

Add the shredded brisket and continue to cook and stir for another 2-3 minutes. Remove from heat and serve with BBQ sauce, added in the amount of your preference. Store leftovers covered tightly in the refrigerator up to 5 days.
Notes
*You may also choose to cook your brisket in BBQ sauce from the beginning. This is your preference.
Nutrition Disclosure
All nutritional values are approximate and provided to the reader as a courtesy. Changing ingredients and/or quantities will alter the estimated nutritional calculations.