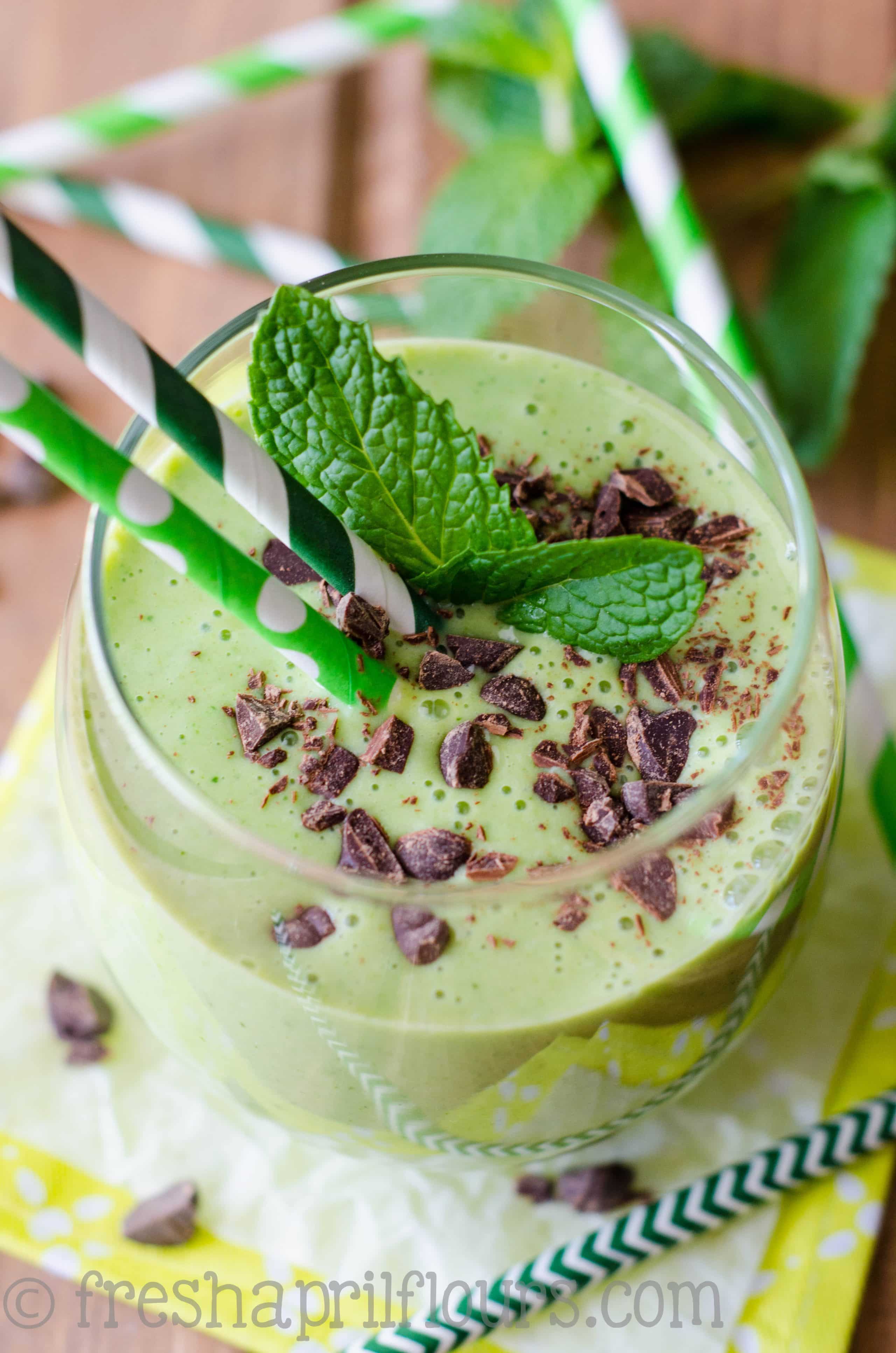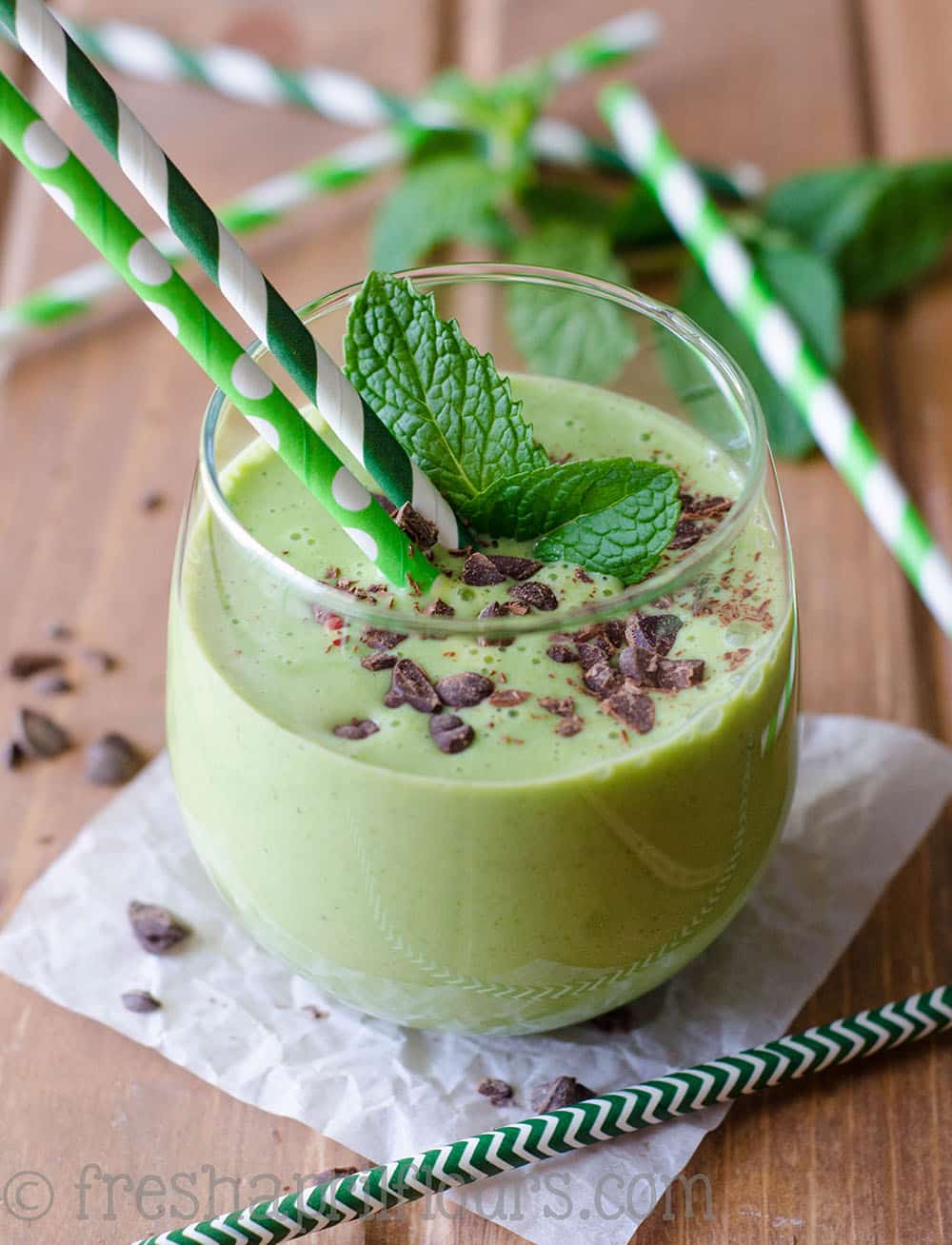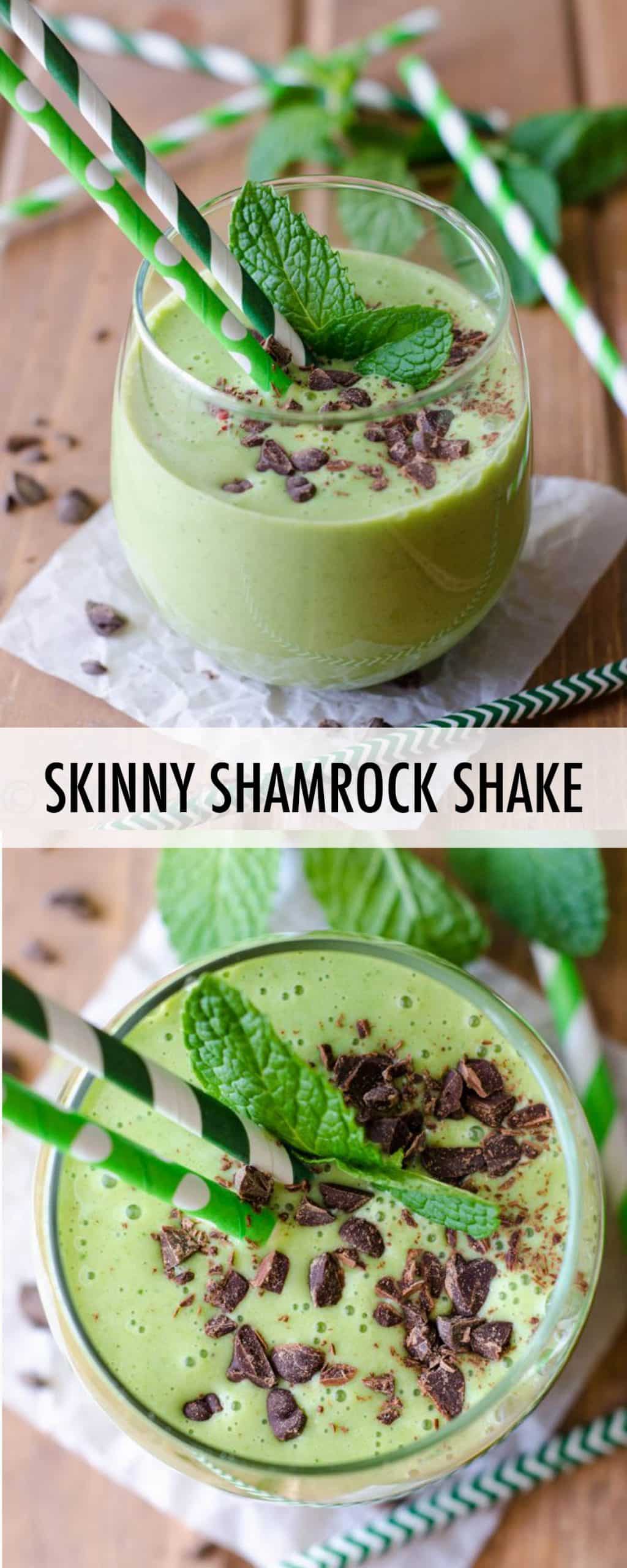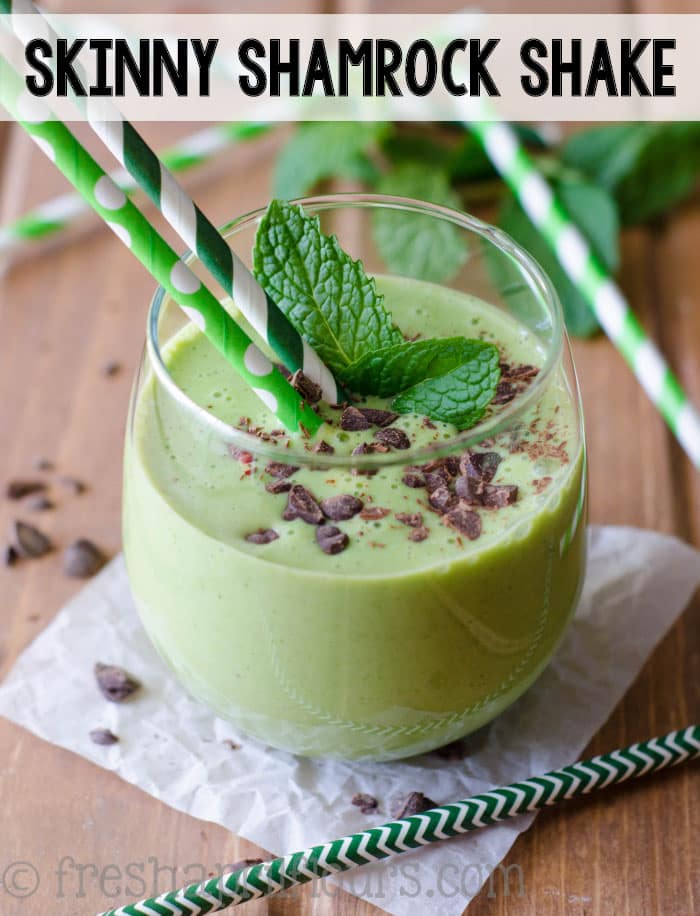 As an Amazon Associate, I earn from qualifying purchases. Read the full disclosure here.
A few ingredients and 5 minutes are all you need for this minty green Shamrock Shake-inspired smoothie.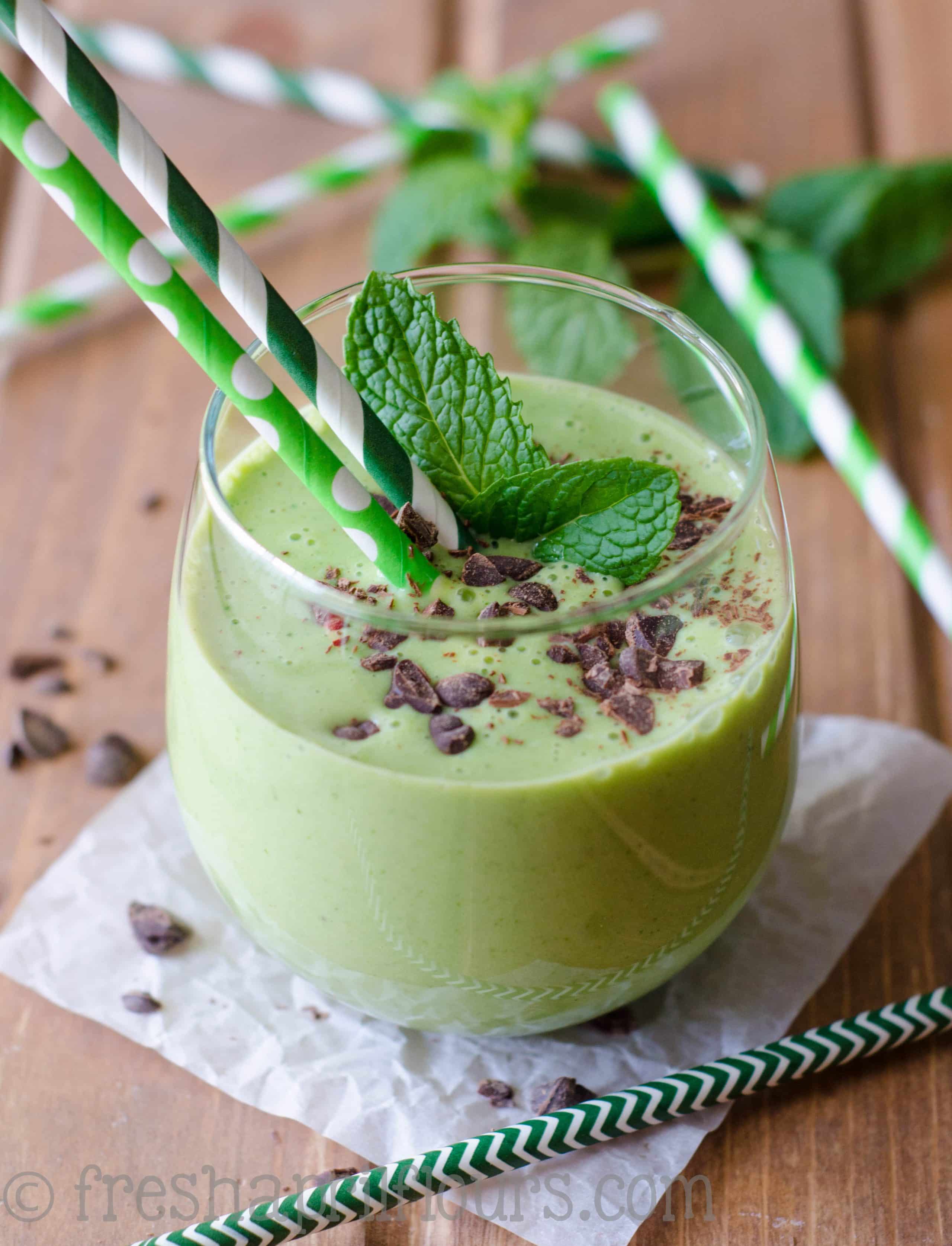 It's finally March! I thought we would never get here.
The weeks after Christmas and the New Year just seem to dragggg on and on and on… But here we are, ready for all things green and minty and shamrocky and leprechauny and St. Patrick'sy. And, with hope in every fiber of my being, some warmer weather headed our way.
I must confess… Every year for the past several years, I have gone to McDonald's for a Shamrock Shake as soon as they're available.
I know, I know, the McDonald's ice cream line is borderline scary with its ingredients, which is why last year, I decided to make my own at home!
That was, however, before I was food blogging, so I figured this year, I would share it with all of you so you can enjoy this minty green smoothie deliciousness, too.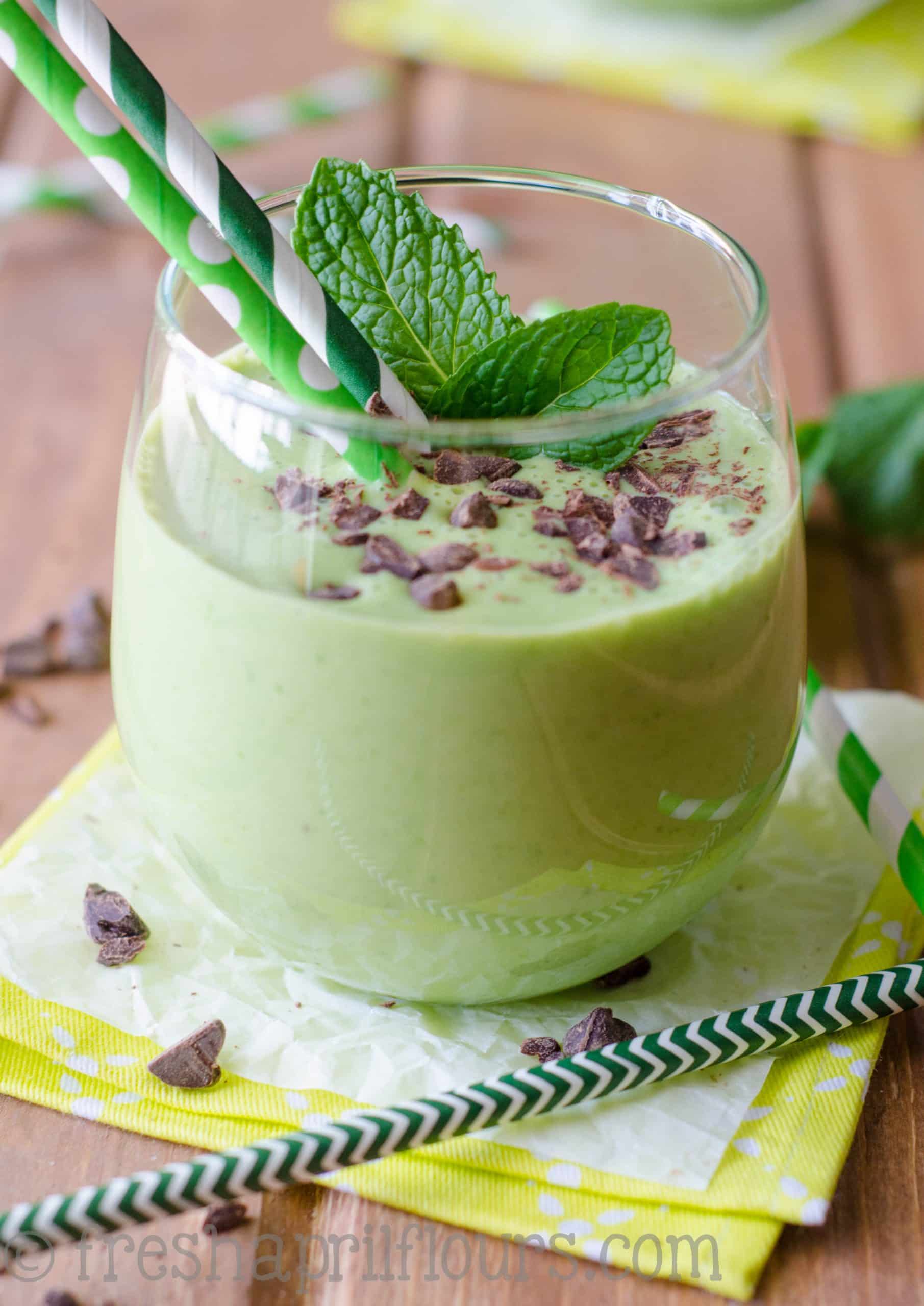 We make smoothies here a lot. Every single day. For breakfast, with lunch, for a snack… And they almost always start with a banana. This smoothie is no different, except for the fact that, unlike our usual smoothies, this one starts with a banana that has been previously sliced and frozen.
START SMOOTHIES WITH A FROZEN BANANA
When blended, banana brings a velvety, creamy texture to any smoothie. When the bananas are frozen, their texture after blending is much thicker, yet still creamy, much like ice cream. We typically use perfectly ripe bananas for our regular smoothies because the banana flavor is something we want to taste.
In this type of smoothie, while you'll probably be able to detect there is banana in it, I wouldn't say the flavor is prominent. This subtle banana flavor is made possible by freezing very ripe bananas. As bananas ripen, they get creamier and sweeter, and the banana flavor becomes a little less potent.
You'll want a banana that is pretty brown. I would even venture to say I could have let these bananas sit another day or two, but they worked quite well at this stage of ripeness.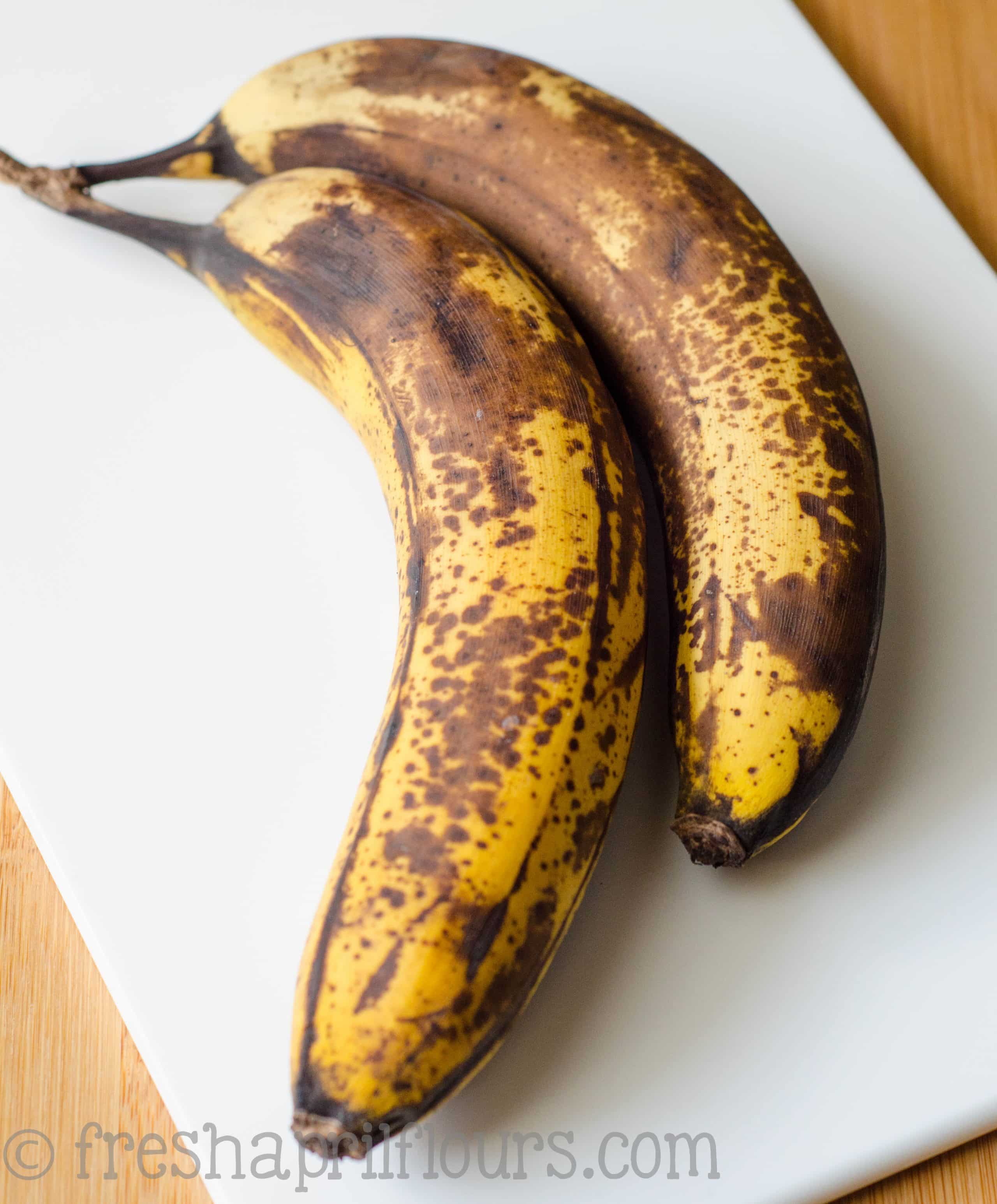 And don't forget to peel them. And slice them. Otherwise, you'll have so many banana problems.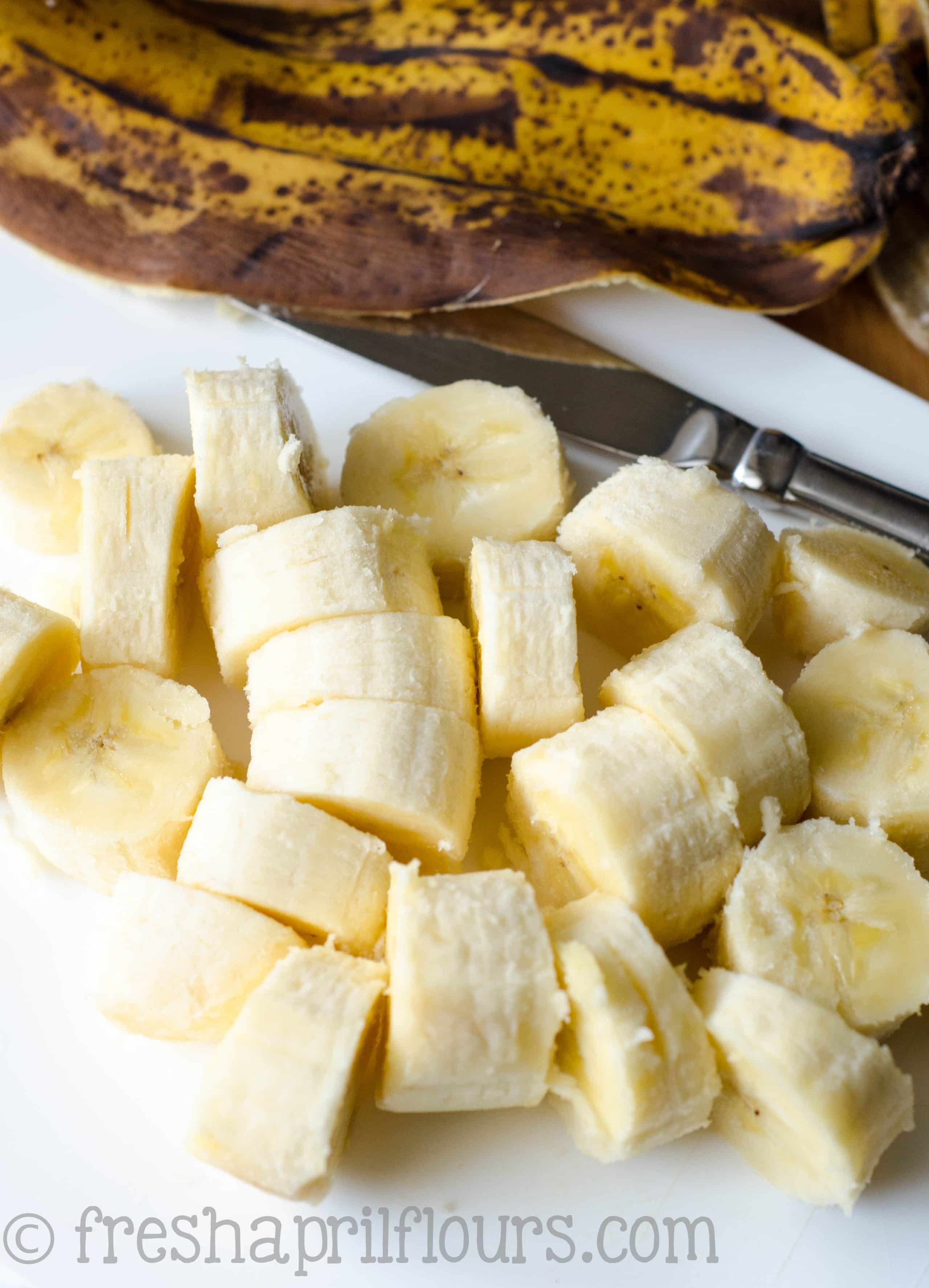 You only need 5 more ingredients to bring this skinny Shamrock Shake to life, and 2 of them are extracts. If you've made any of my peppermint recipes, you have peppermint extract, and I'm sure you've got vanilla extract in your baking arsenal.
The other ingredients you'll need are a small container of yogurt (any kind, I make note of this in the recipe) and your favorite kind of milk (I make note of this in the recipe as well). That's it!
Now, I don't want to scare you off… But the green color in this skinny shake? It comes from spinach.
Yes, you read that right: my favorite skinny dessert shake has spinach in it.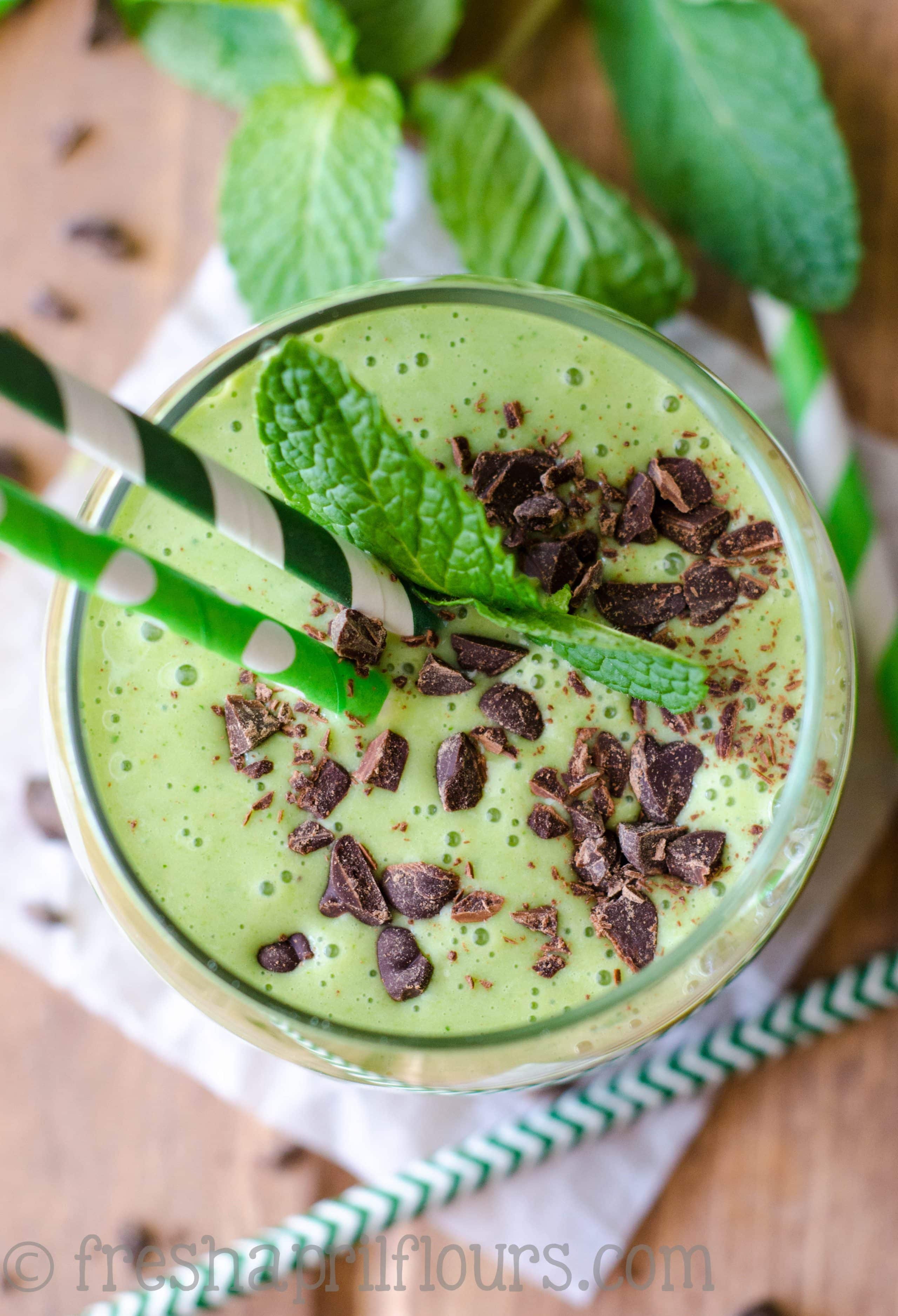 Now before you go clicking the "x" at the top of your browser, please know you cannot taste the spinach in this smoothie. Or any smoothie. Ever. I promise. I wouldn't lie to you about something like that!
If you're still weirded out by it, use green food coloring. Or, leave it au naturel. But really… Try it. Think of it as added nutritional value and some iron for your muscles.
Once everything is blended, taste it to see if needs more peppermint. I suggest starting with 1/8 teaspoon peppermint extract because you definitely don't want to go overboard on this stuff. Otherwise, your smoothie will end up tasting like toothpaste, and that's just… Gross.
You could also forego the extract altogether and use fresh mint leaves. I make note of that in the recipe.
Garnish with chocolate chips, chopped chocolate chunks, chocolate syrup, mint leaves, whipped cream and a cherry on top… Whatever you want. Make it pretty. Or make it not so pretty, because you'll be devouring it and it won't matter to anyone what it looks like (unless you plan on 'gramming it. Then it's got to be on point, right?).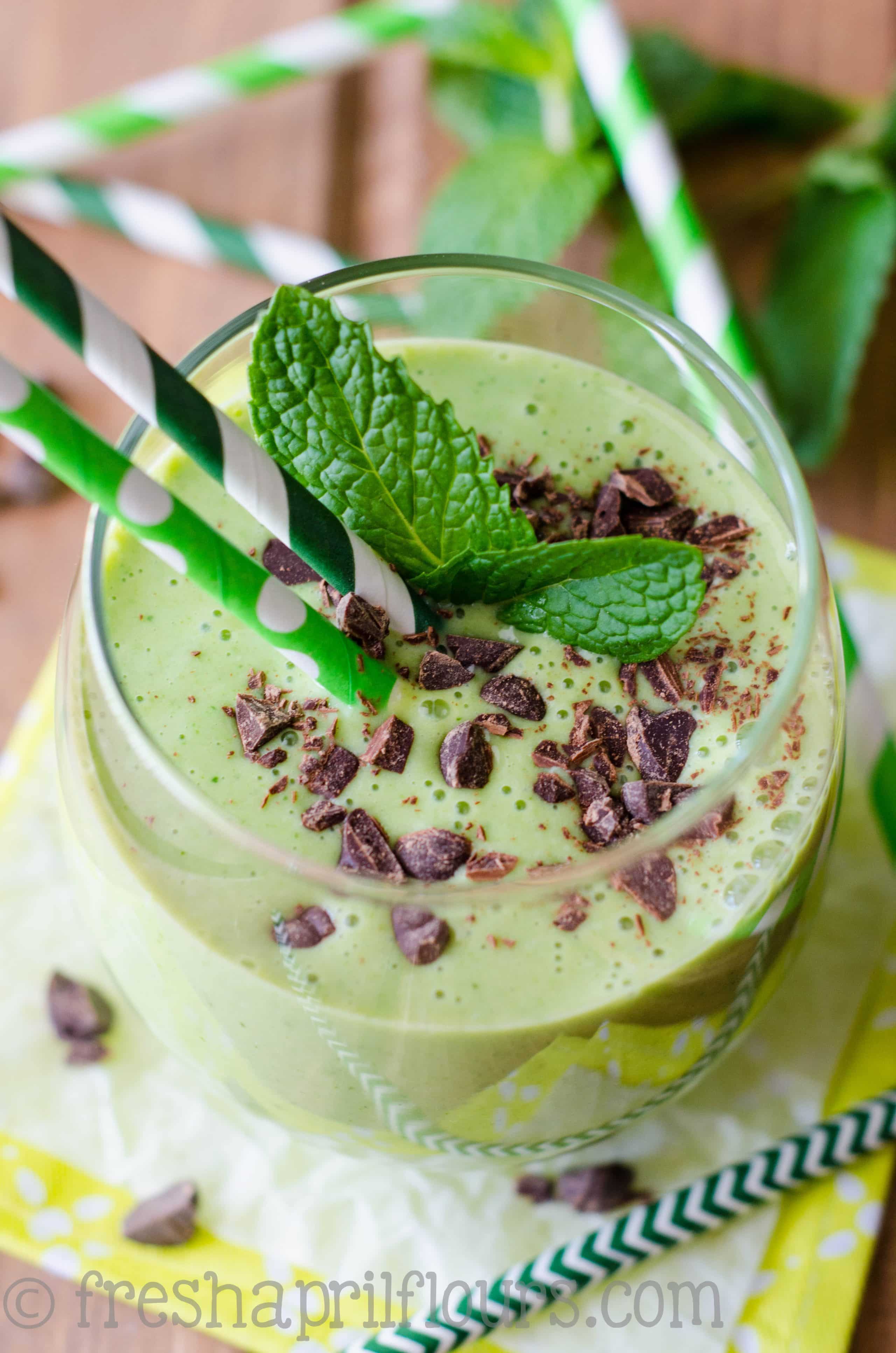 Whatever the ingredients you decide to use to make this skinny Shamrock Shake, I think you'll agree that it's a pretty good substitute for the real thing.
Smooth and creamy with a hint of peppermint without all the fat, sugar, calories, chemicals, and who knows what else in your cup. Perfectly simple, perfectly green, and perfectly easy.
Plus, the recipe makes one big smoothie or 2 "snack sized" smoothies! So share with a friend… Or save the second for later!
More mint chocolate recipes you'll love: Andes mint cookies, mint chocolate brownies, mint chocolate chip cupcakes, and no bake mint chocolate chip pie.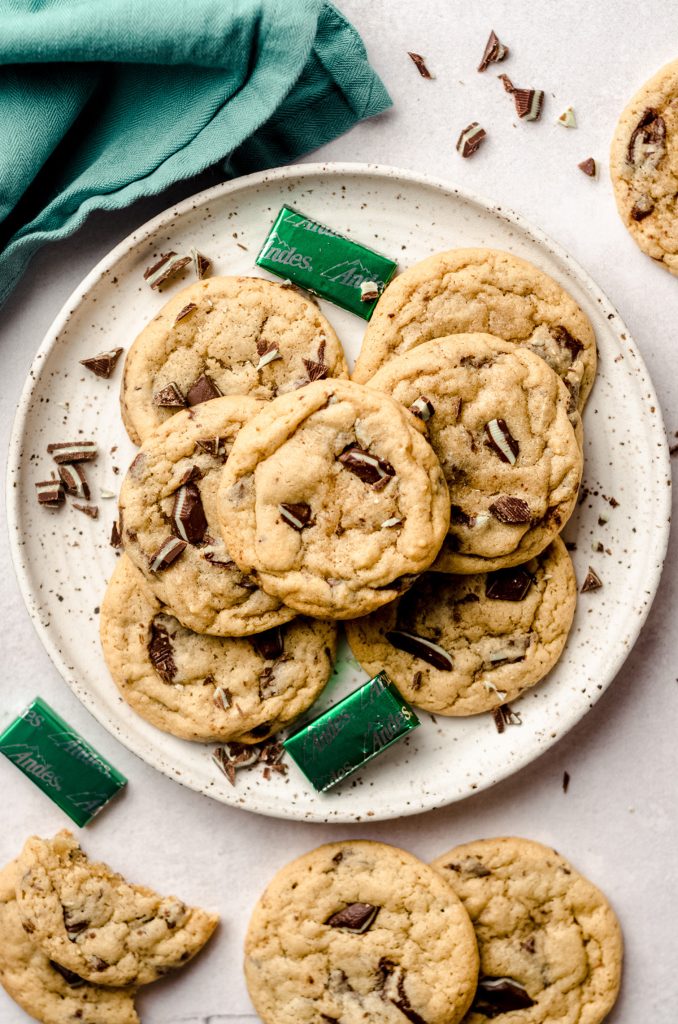 Skinny Shamrock Shake
A few ingredients and 5 minutes are all you need for this minty green Shamrock Shake inspired smoothie.
Ingredients
1

very ripe banana

previously peeled and frozen

6

ounces

(170g) non-fat Greek yogurt1

½

cup

(120mL) milk2

1

teaspoon

vanilla extract

you may want to omit if you use vanilla flavored yogurt

⅛

teaspoon

peppermint extract3

1

handful of spinach

1

Tablespoon

chopped chocolate

optional
Instructions
Add all of the ingredients to the blender and blend until thick, creamy, and smooth (approximately 3 minutes). Scrape down sides of blender as needed.

Taste smoothie and add more peppermint extract if necessary. If the smoothie is too thick for you, add some more milk. Smoothie is best served immediately, but will stay good in the refrigerator, covered, for one day.
Notes
Use any yogurt you like: vanilla or plain Greek yogurt, vanilla or plain yogurt. Non-fat or low fat. If you want to be sure you don't taste the banana, use a vanilla flavored yogurt.
Use any milk you like: cow's (skim, 1%, or 2%), almond, soy, coconut.
Start with

⅛

teaspoon peppermint extract and add more as necessary. This extract is very potent, and you don't want your smoothie to end up tasting like toothpaste. I would not exceed

¼

teaspoon.
If you prefer to omit spinach, you can leave the smoothie white, add a couple drops of green food coloring, or omit peppermint extract and use a few fresh mint leaves.
Nutrition Disclosure
All nutritional values are approximate and provided to the reader as a courtesy. Changing ingredients and/or quantities will alter the estimated nutritional calculations.