No Bake Mint Chocolate Chip Pie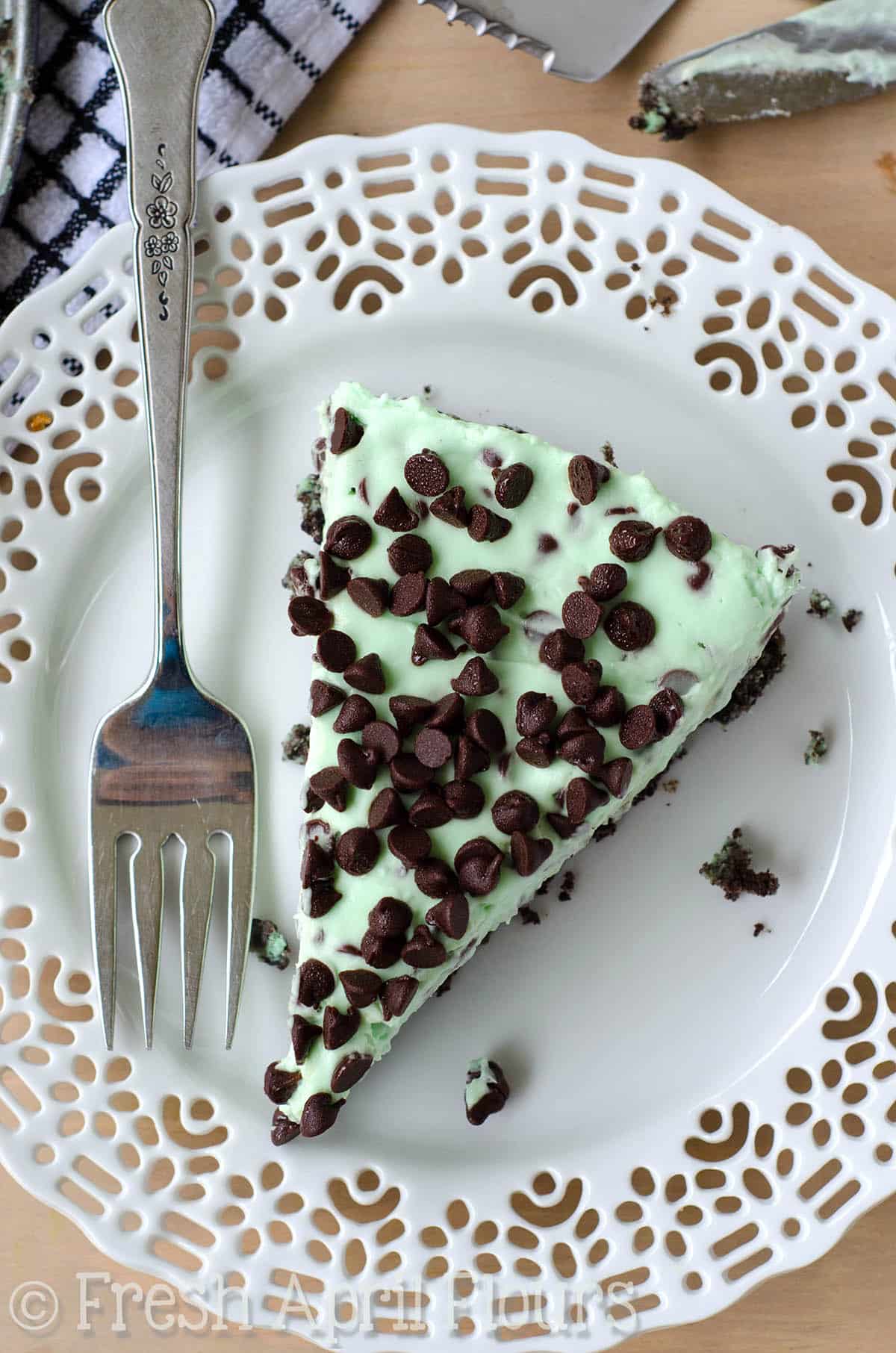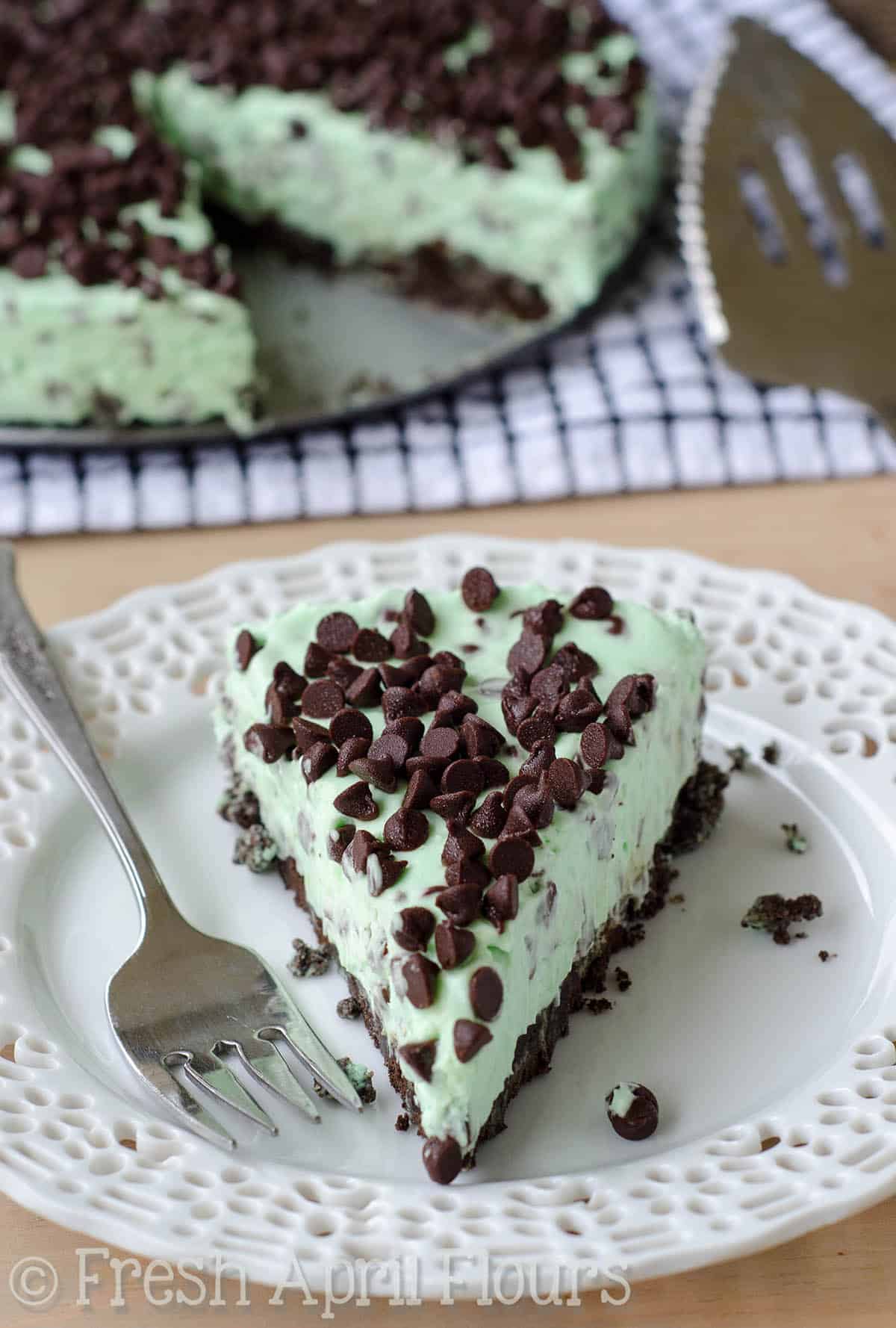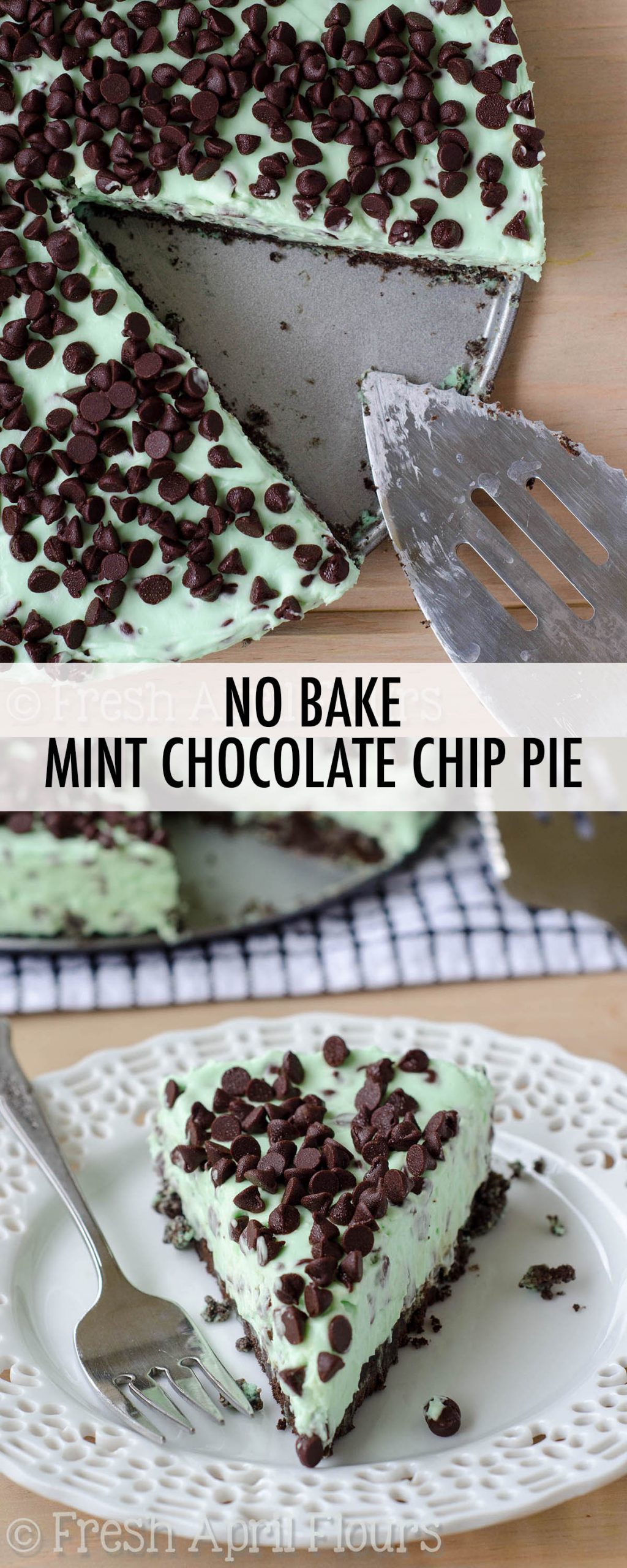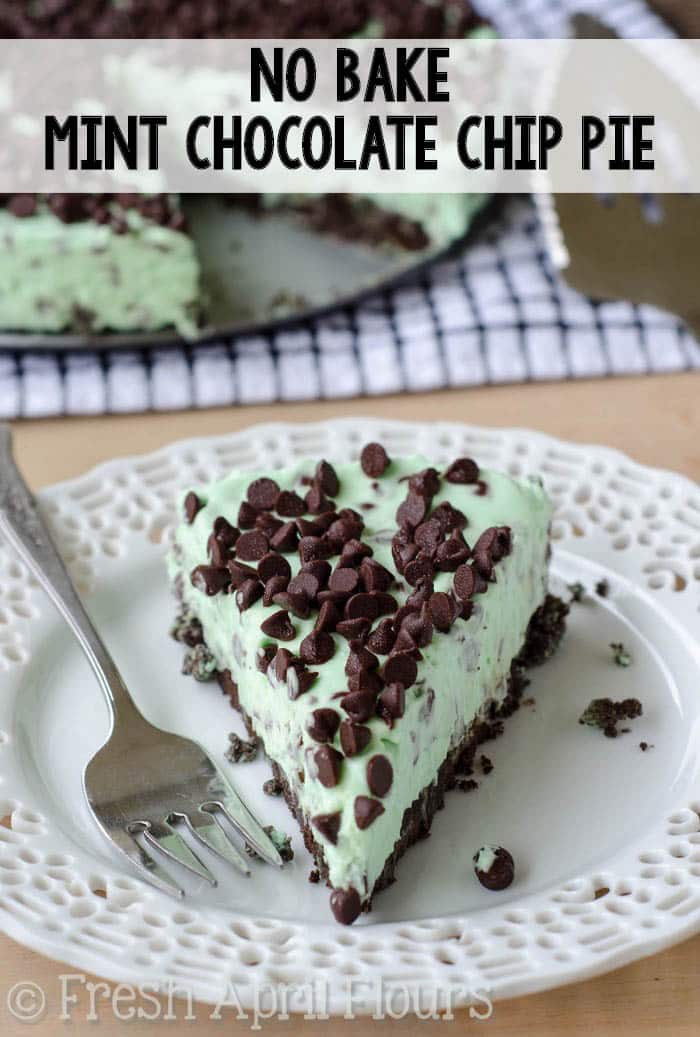 As an Amazon Associate, I earn from qualifying purchases. Read the full disclosure here.
Creamy, minty filling dotted with mini chocolate chips all on top of a crunchy mint Oreo cookie crust.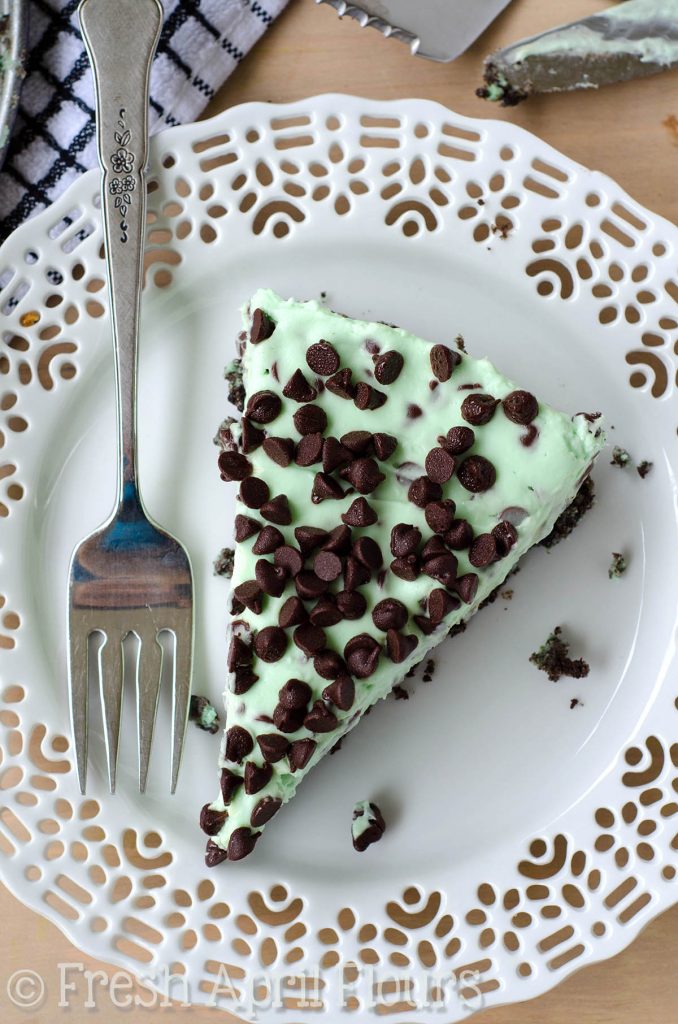 It's Pi Day! It's Pi Day! Hoorayyyy for Pi!
In case you aren't a big science nerd like I am, you might not be aware that today is Pi Day, or perhaps you do know, but you just don't get excited about it like we science nerds do.
That's totally ok, because no matter how you feel about Pi, you get to enjoy this glorious PIE recipe to help celebrate.
Aaaaand St. Patrick's Day is in 3 days, so this green (no bake) pie is appropriate for celebrating all of the things this week.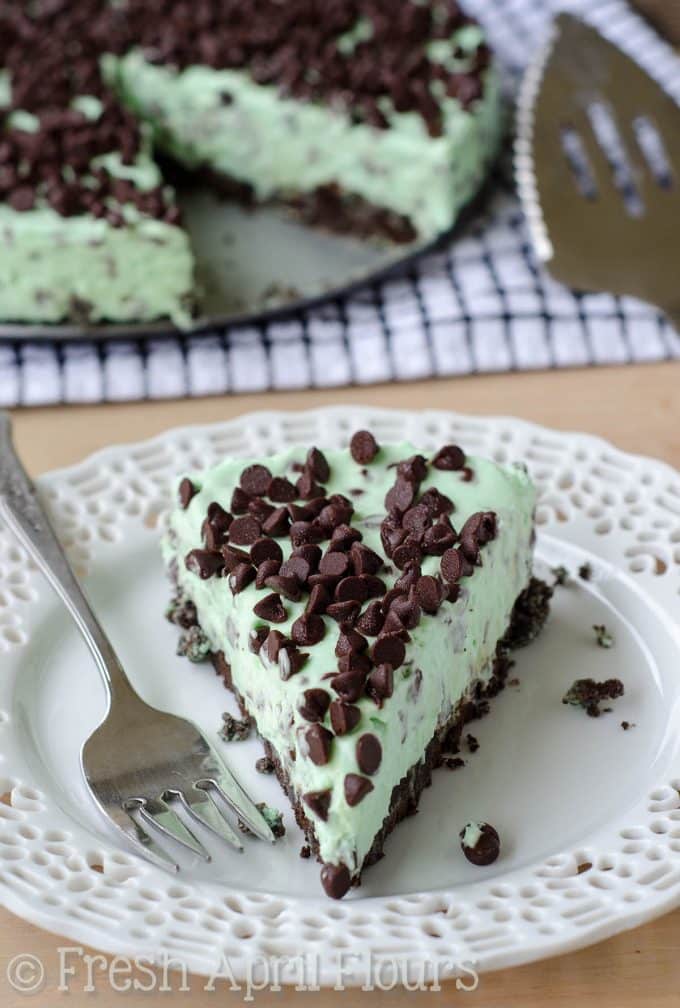 Ok, so I've talked before about the fact that I don't really love pie, but what I do love is a pie with a crust that is made of crushed Oreos. And mint Oreos at that. And one that I don't need to actually bake.
Could this pie be off to a better start?! I don't really think so.
This pie may be the easiest pie you ever make. Ever. Seriously. Just to give you an idea of how easy: it completely slipped my mind that Pi Day was today, and my equally nerdy coworkers asked me on Friday if I was planning to bring a pie for them on Monday, and if said pie would be on the blog in time to celebrate.
Uhh… Oops?
A quick brainstorm with these lovely coworkers and we figured a no bake mint chocolate chip pie would be perfect for today, given that the greenest holiday there is follows closely behind and I knew I didn't have a homemade pie crust on hand in the freezer (shame on me).
I wrote out a recipe, shopped for ingredients, made the pie, photographed the pie, edited the photos, and wrote up this post for you all in a matter of 3 days.
Considering the fact that you're likely not going to photograph this pie nor type about it extensively on your blog, you should be able to go start to finish with this pie approximately 2 days and 19 hours faster than I did.
WINNING.
So let's start from the top (bottom?). The pie crust: so easy. Crushed mint Oreos (regular are fine too!) and a little butter, pressed into the bottom of a springform pan (a regular pie plate will be just fine as well). Chill for at least 30 minutes.
Next up: the filling. The hardest part about making the filling is the homemade whipped cream, which I walk you through step-by-step right here (pssst it's not hard at all). You'll whip that up, then let it hang out in the refrigerator while you prepare the rest of the filling.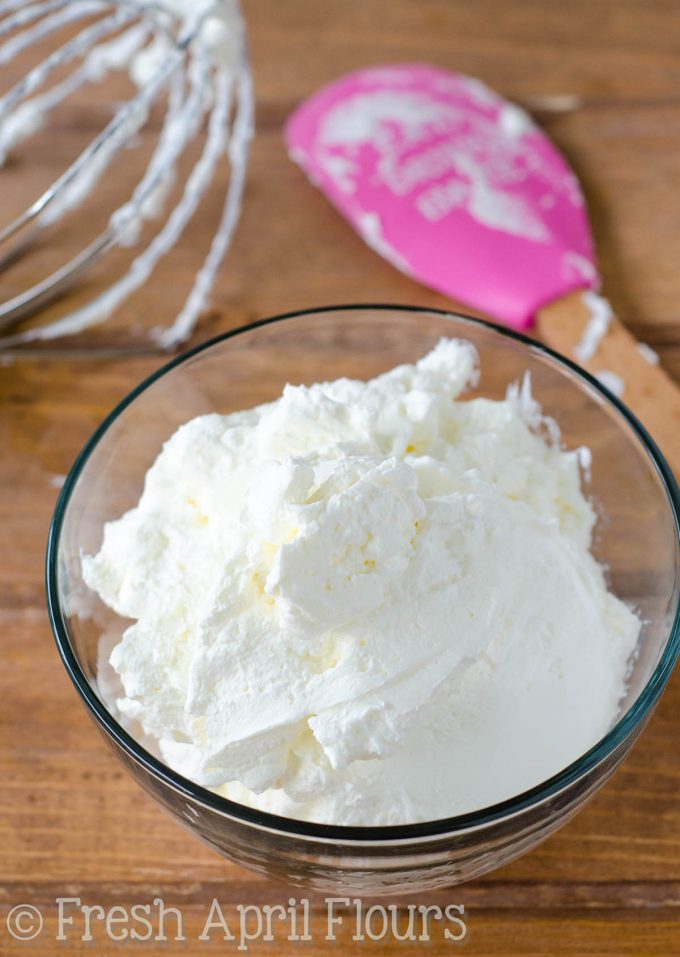 Cream cheese, some powdered sugar, peppermint and vanilla extracts, a few drops of green food coloring (totally fine to leave that out if you wish), and of course… Mini chocolate chips!
Fold that beautiful homemade whipped cream into your minty green filling, then spread it all over your minty, crunchy, chocolatey crust.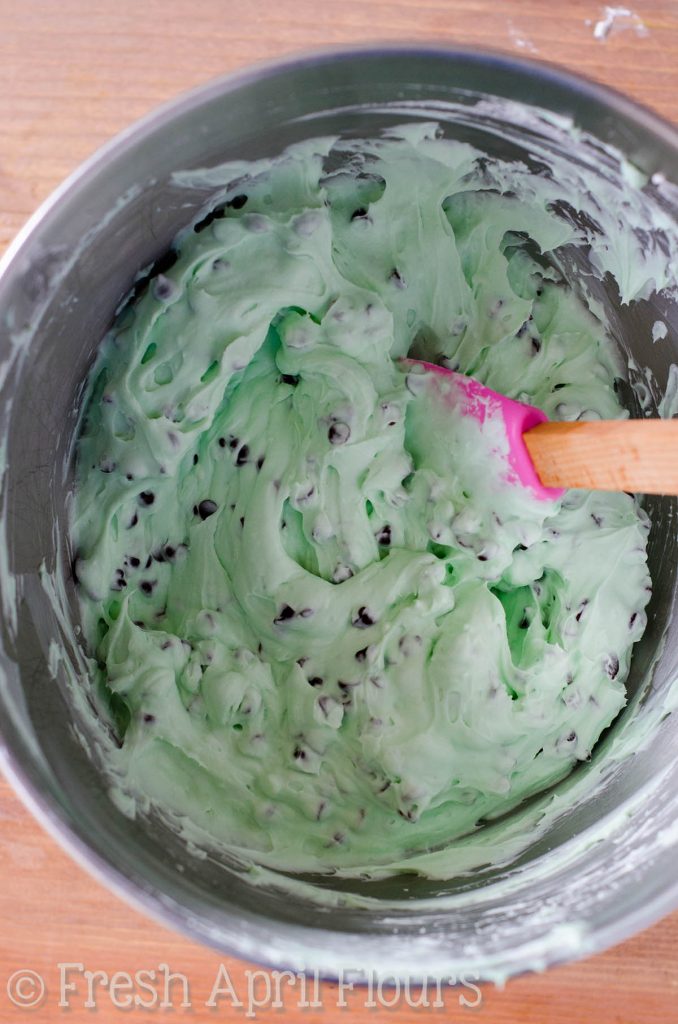 And lastly, sprinkle with more mini chips, obviously.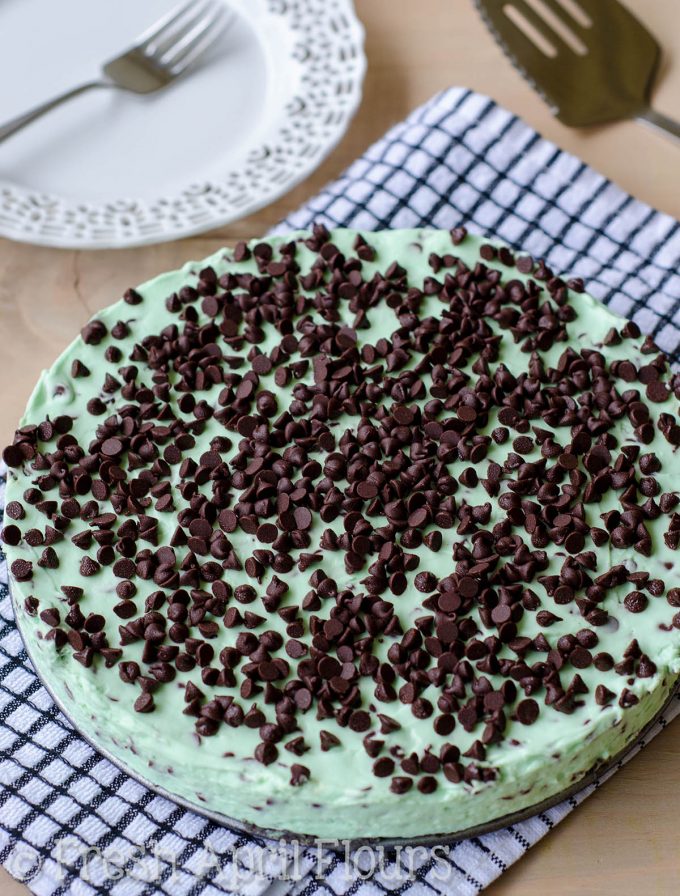 Ok, I lied a little… The hardest part might be waiting for the pie to chill. Ughhhhhh. It only needs about 4 hours, but for best results, I suggest overnight.
When it's ready, pop that baby out of the springform shell and dig in.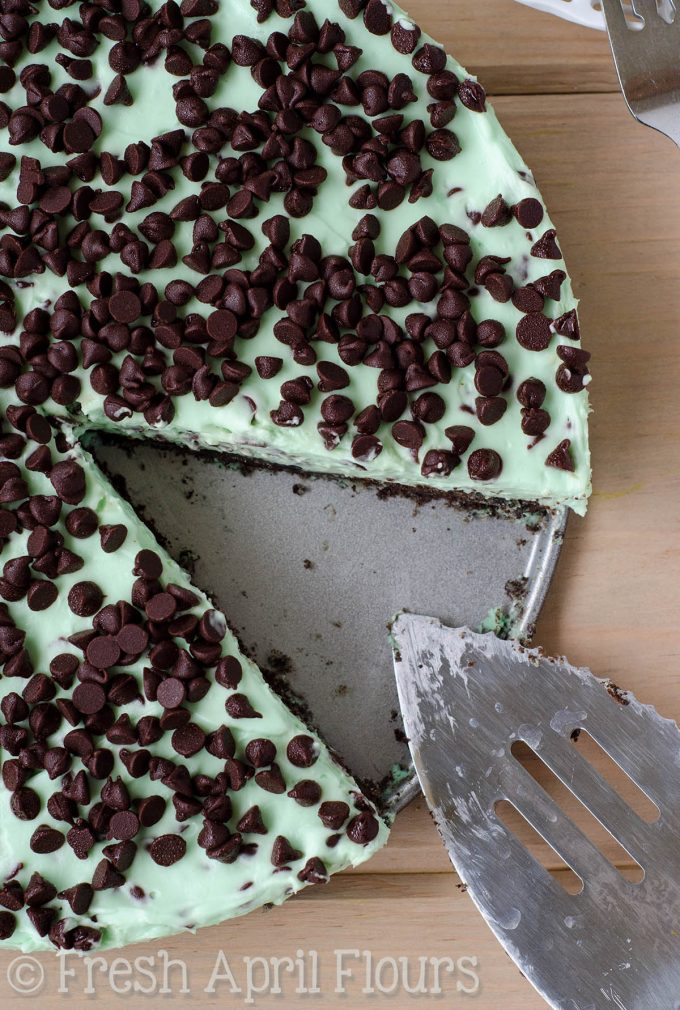 Since technically I can't tell you how my coworkers liked this pie because I'm typing this before they actually try it, I can only give you my own (plus Matt's) opinion.
That opinion? Holy. Moly. Mint. Chocolate. Chip.
I mean, I am a little biased… I do love me some mint chocolate chip, but wow. Never did I think that a pie that was this easy would taste so decadent and as if it were an incredible labor of love.
It's creamy, it's the perfect amount of minty, and that mint Oreo crust is just the perfect complement to all that smooth filling. All those textures mixed with mini chocolate chips? Mint chocolate chip heaven.
If you love mint chocolate/mint chocolate chip, 3.1415926(…), pie, Oreos, celebrating, green things, St. Patrick's Day, or just food in general, you haveeeee to make this no bake pie!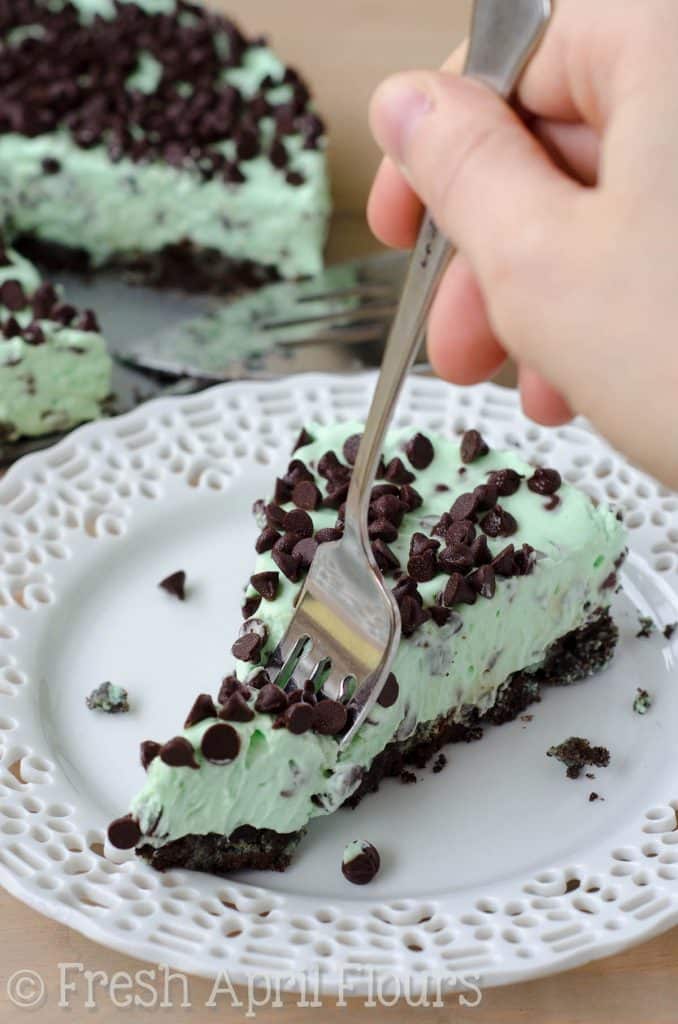 Seriously, after all this Pi/pie talk, it's possible I could be swayed in the pie loving direction. And if there are Oreos involved? Most definitely.
No Bake Mint Chocolate Chip Pie
Creamy, minty filling dotted with mini chocolate chips all on top of a crunchy mint Oreo cookie crust.
Ingredients
18

Mint Oreos

regular is fine, crushed (about 2 cups)

1/4

cup

unsalted butter

melted

1

cup

heavy cream

or heavy whipping cream

8

ounces

cream cheese

softened to room temperature

1

cup

powdered sugar

1

teaspoon

vanilla extract

3/4

teaspoon

peppermint extract

8

drops green food coloring

if desired

1 and 1/2

cups

mini semi-sweet chocolate chips

divided
Instructions
Place the crushed Oreos in a medium size bowl and drizzle the melted butter evenly over the cookies. Stir to mix completely, then press evenly into the bottom of a 9"

springform pan

(a regular 8" or 9" pie plate will work just fine as well). Chill in the refrigerator for 30 minutes.

In a medium size bowl with a hand mixer or the bowl of a stand mixer fitted with the whisk attachment, beat the whipping cream until stiff peaks form (about 3-4 minutes; see this tutorial for step-by-step instructions for homemade whipped cream). Place bowl in the refrigerator (or transfer to smaller bowl if using a stand mixer) until ready to use.

In a large bowl with a hand mixer or the same bowl of the stand mixer (no need to clean) now fitted with the paddle attachment, beat the cream cheese on medium-high speed until smooth. Reduce mixer speed to low and add the sugar, increase the mixer speed to medium-high, and beat again until smooth. Add the vanilla and peppermint extracts and the green food coloring (if using) and continue beating until smooth. Scrape down the sides as necessary.

Turn off the mixer and fold in the cold whipped cream with a large spatula until green swirls disappear. Pour in 1 cup of the mini chocolate chips and mix again with the spatula until evenly dispersed.

Pour the filling onto the prepared crust and spread evenly with the spatula (I prefer to use

this small offset spatula

). Sprinkle with remaining 1/2 cup of mini chocolate chips. Cover with foil or plastic wrap and chill in the refrigerator at least 4 hours (for best results, overnight) before serving. Store leftovers covered tightly in the refrigerator up to 5 days. Pie can be wrapped tightly and frozen up to 2 months. Thaw in refrigerator overnight.
If you're into no bake things, check out some of my no bake favs next!
Chocolate Chip Cookie Dough Bites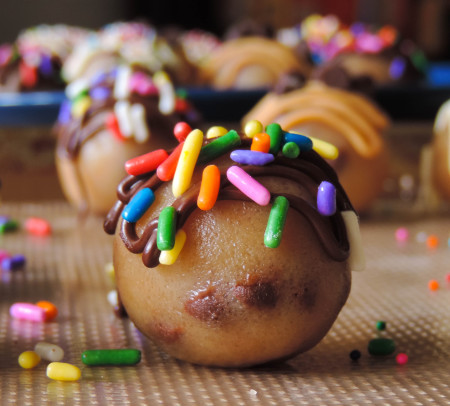 Any of the recipes in my puppy chow cookbook!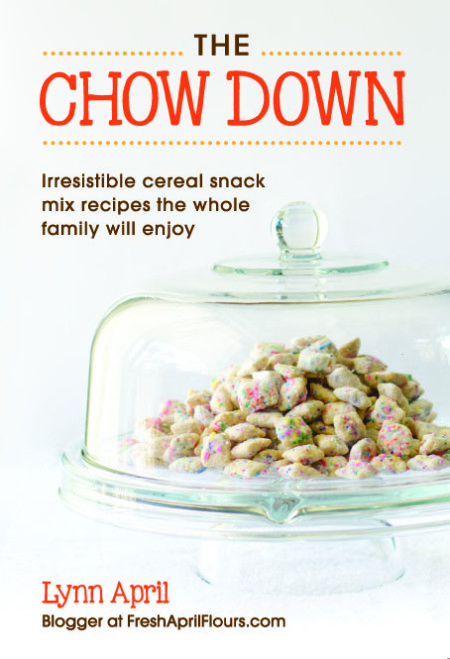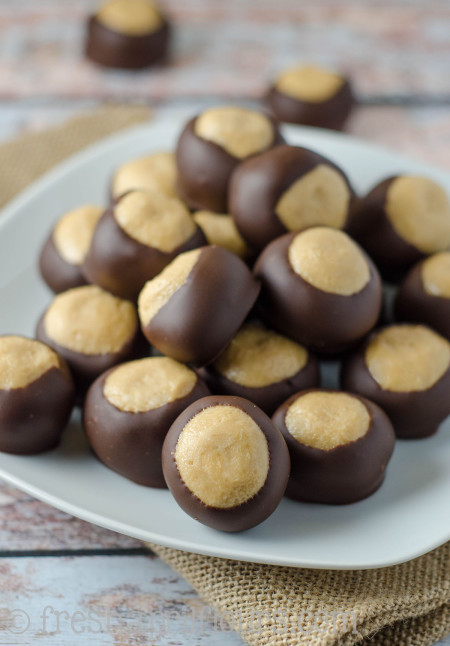 And my whole slew of mint chocolate recipes? Right this way…