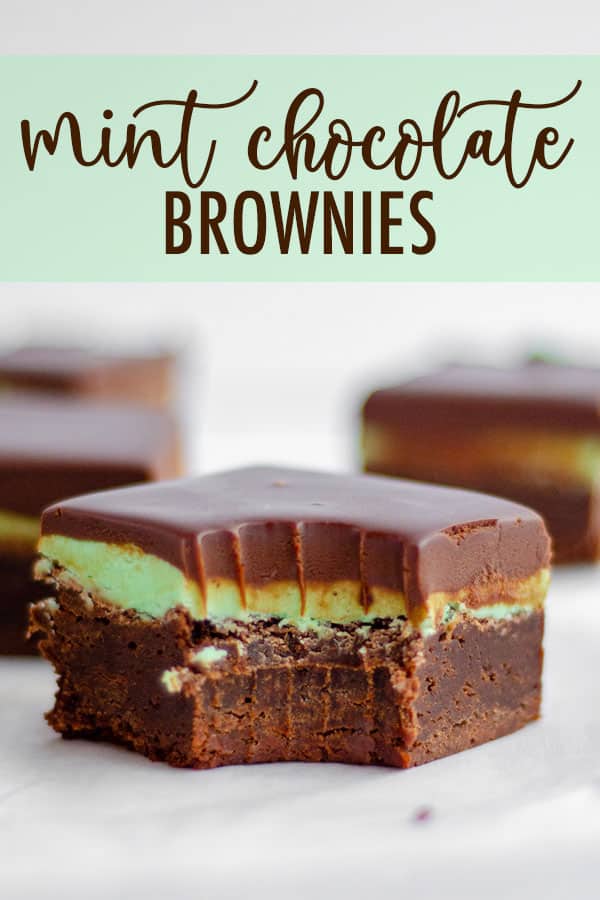 As an Amazon Associate, I earn from qualifying purchases. Read the full disclosure here.
These decadent mint chocolate brownies begin with a dense and fudgy brownie base that's topped with a creamy mint frosting and a layer of smooth chocolate ganache.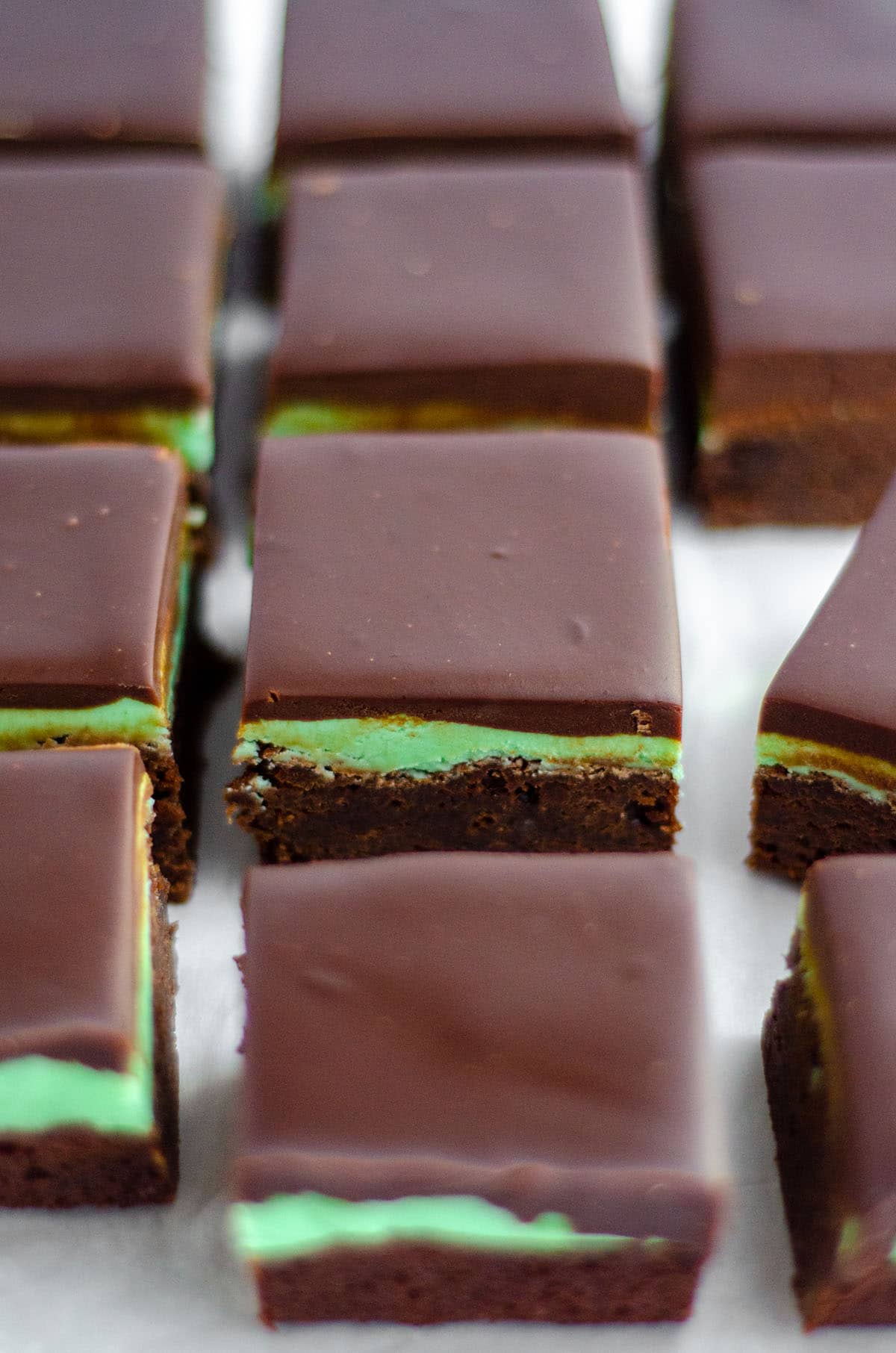 Another month, another brownie recipe! March's Brownie of The Month recipe is brought to you by the color green and mint chocolate.
I don't know– it is weird that every March, we lean to mint chocolate recipes to help us celebrate St. Patrick's Day? I guess the green does us in, but let's be serious, there is never a bad time for mint chocolate.
As always, I'm starting out this post by saying SCRATCH BROWNIES ARE THE BEST BROWNIES. Hands down.
If you don't believe me, make a batch of my simple homemade fudgy brownies, which I use as the base for, umm, all of the brownie recipes on my blog, and a batch made from a box. You'll be a believer in no time!
See my homemade fudgy brownies, which is the trusted base recipe for all of my brownies.
So today's mint chocolate brownies recipe is no different from all the other brownie recipes on my blog or in this monthly collection. The hows and whys are all addressed in that original homemade fudgy brownies recipe, so pop on over there if you're interested in all that fun info.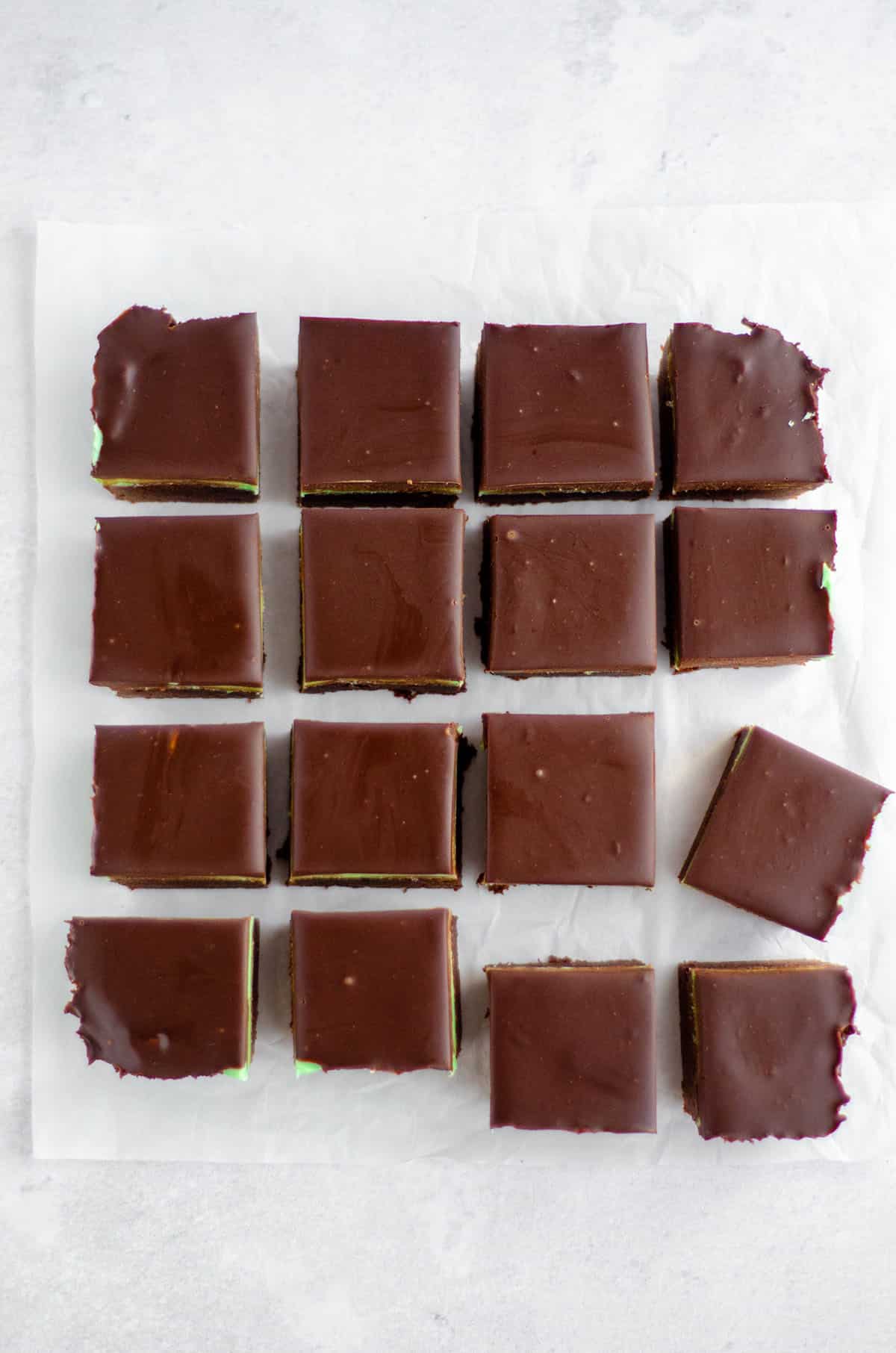 I didn't want to just make mint brownies, as in brownies with mint flavoring in them (brought to us by peppermint extract). I often worry with mint chocolate desserts that too much mint going on can overpower the chocolate and become a mint dessert.
I considered, also, making mint chocolate chip brownies by following a pattern similar to my chocolate chip cheesecake swirl brownies, but I wanted that gorgeous green mint color to have a spotlight all of its own, so it gets that fully with these guys.
Since we want these brownies to remain a chocolate dessert with mint happenings, what you'll find in today's brownie recipe is:
1) a basic chocolate brownie bottom
2) a layer of mint frosting
3) and a topping of chocolate ganache.
It's like a chocolate mint sandwich, if you will. And I know you will.
LET'S BREAK DOWN THE LAYERS
The brownie bottom base is, like I said, my basic homemade fudgy brownie recipe. Simple!
On top of that, we've got a mint buttercream frosting, which is my basic vanilla buttercream flavored with peppermint extract and tinted every so slightly green with my favorite AmeriColor gel color (I used leaf green). Regular food coloring is also totally fine here.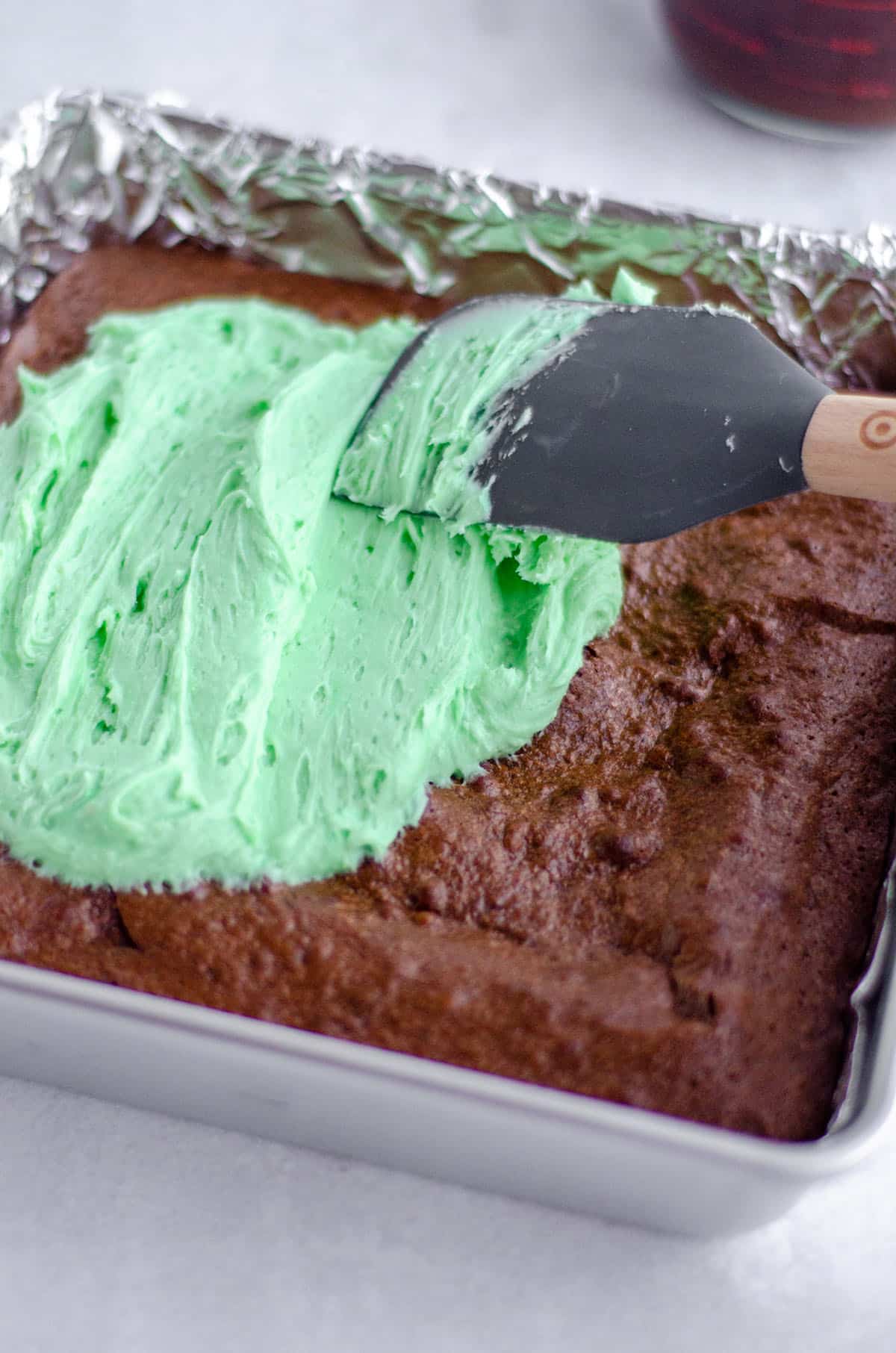 On top of the mint frosting, we've got a layer of simple chocolate ganache. We've made chocolate ganache several times on my blog, the first time being in between the graham cracker cake layers of my s'mores layer cake.
That ganache was made with chopped chocolate, a little butter, and warm heavy cream.
Buuuuut, I discovered in December when I made a chocolate bundt cake that *GASP* I could simply use semi-sweet chocolate chips and heavy cream and it was much easier.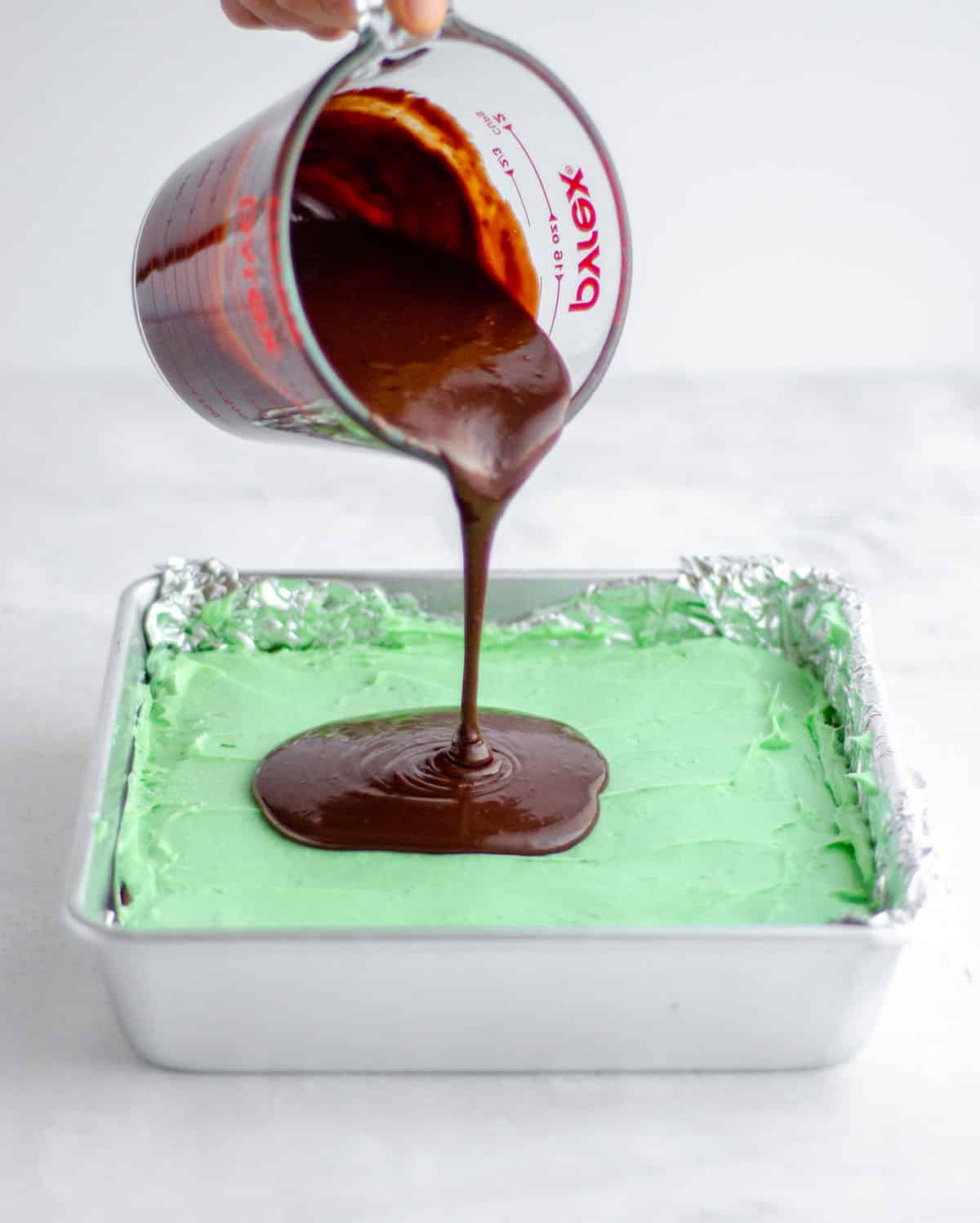 To be totally honest, I don't have one preference over the other when it comes to taste. They're both silky smooth and chocolatey, which is all I really care about, so if you'd like to use a slightly fancier version, grab that one from the s'mores layer cake recipe (also featured in my s'mores dip— check that one out, too!).
And there we have our aforementioned chocolate mint sandwich. Are you totally in or what?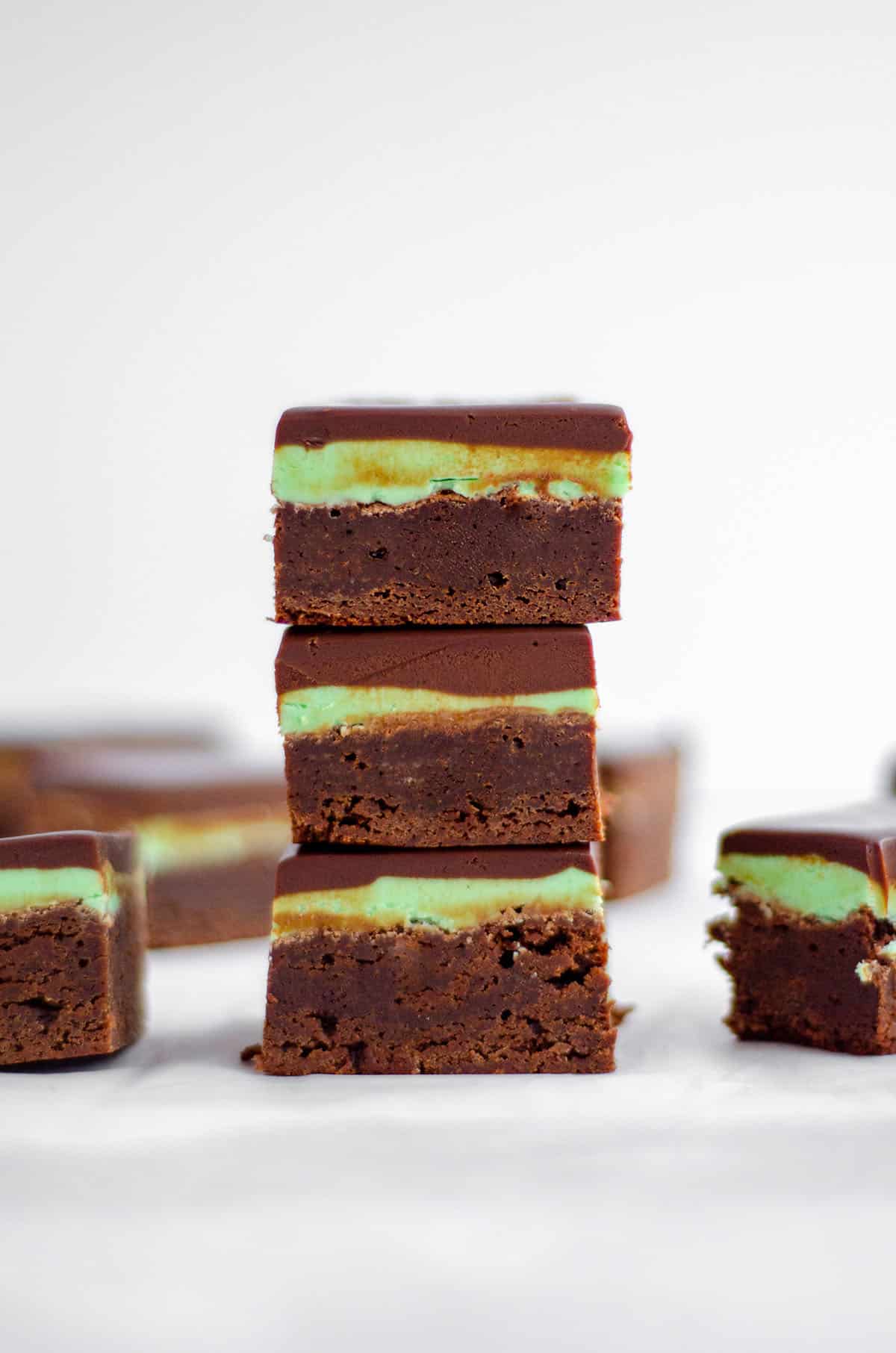 Since we have several parts to these brownies, they do take a little bit of time, and you may be wondering exactly how to execute the making and assembling of this recipe.
I promise, I've done the dirty work for you, so you just have to follow my lead.
WHAT'S THE BEST PROCESS FOR ASSEMBLING THESE BROWNIES?
At some point after making your brownie base, you'll want to make the other two components: the mint frosting and the chocolate ganache. Both will take you a combined 10 to 15 minutes to get together, and then you'll need to let the ganache cool completely before using it.
That said, my advice is to make the brownies, and then get to work on the other layers. They can absolutely sit and wait for you to need them, so allow the brownies to cool completely by either letting them sit at room temperature or speeding things up in the refrigerator.
Once they're ready, your other layers will be ready, too!
I think it goes without saying, but I do want to say it explicitly… You'll want to frost brownies that are completely cool, otherwise you risk melting your mint frosting, which will be a mess to pour ganache onto. And we definitely don't want that!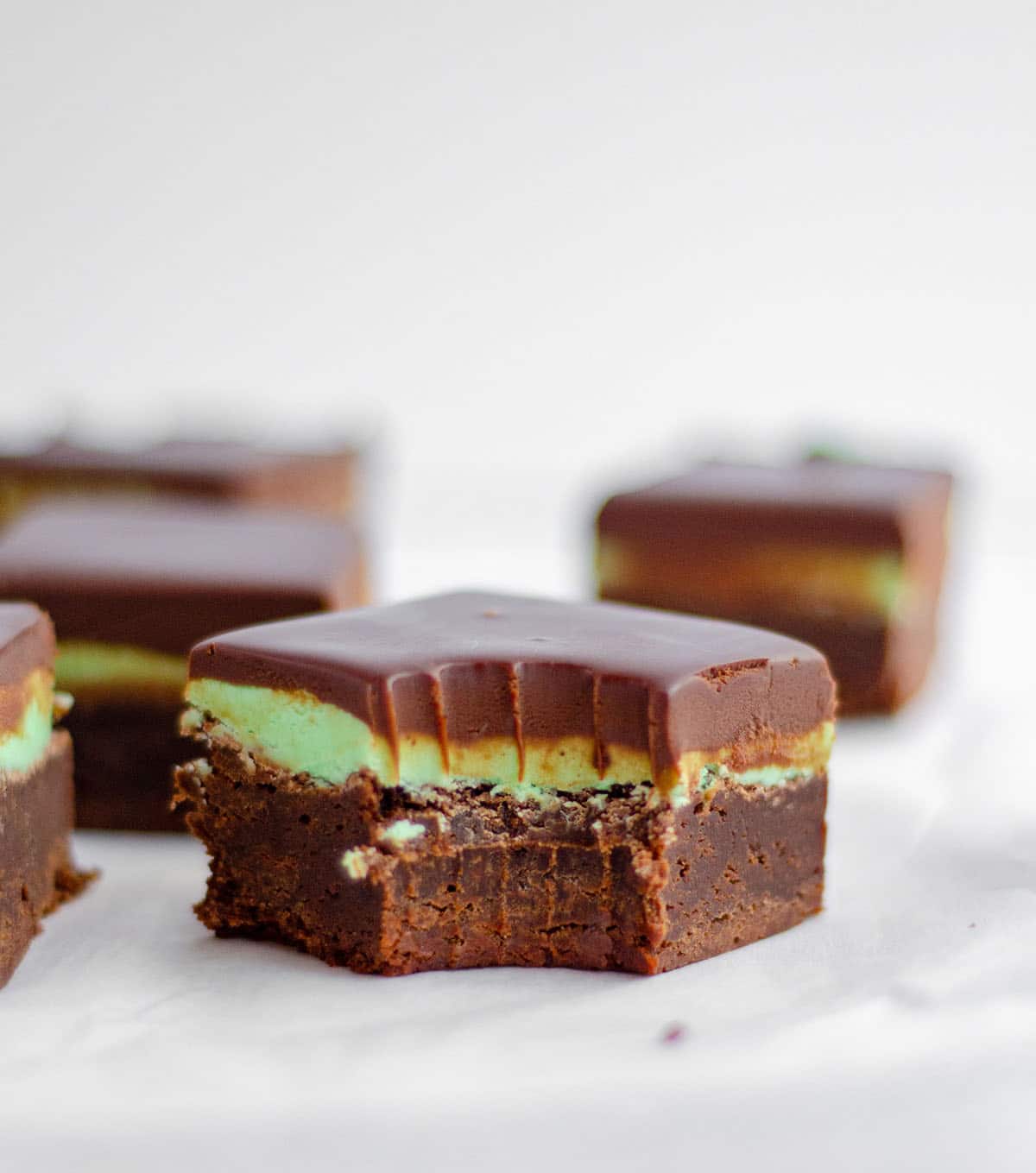 Simply spread your mint frosting over the cooled brownies and then you can move right into the cooled ganache. Also make sure your ganache has cooled significantly (it's totally fine if it's still warm) to insure you have a smooth chocolate layer on top of the brownies.
If the ganache is too warm, it could then melt your mint frosting and you'll have some mixing action going on for the top layer of your mint brownies. Certainly not detrimental, but let's keep them separated!
I took this batch of brownies to my former coworkers and watched them disappear before my eyes. Many thumbs up, lots of "yum"s, and just an empty baking pan to return home.
Definitely a success!
Call them Andes mint brownies, grasshopper brownies, creme de menthe brownies… Whatever you want. Just know that these mint chocolate brownies are the perfect answer to the question "how can I get my basic, no fail, favorite brownie recipe all minted up?"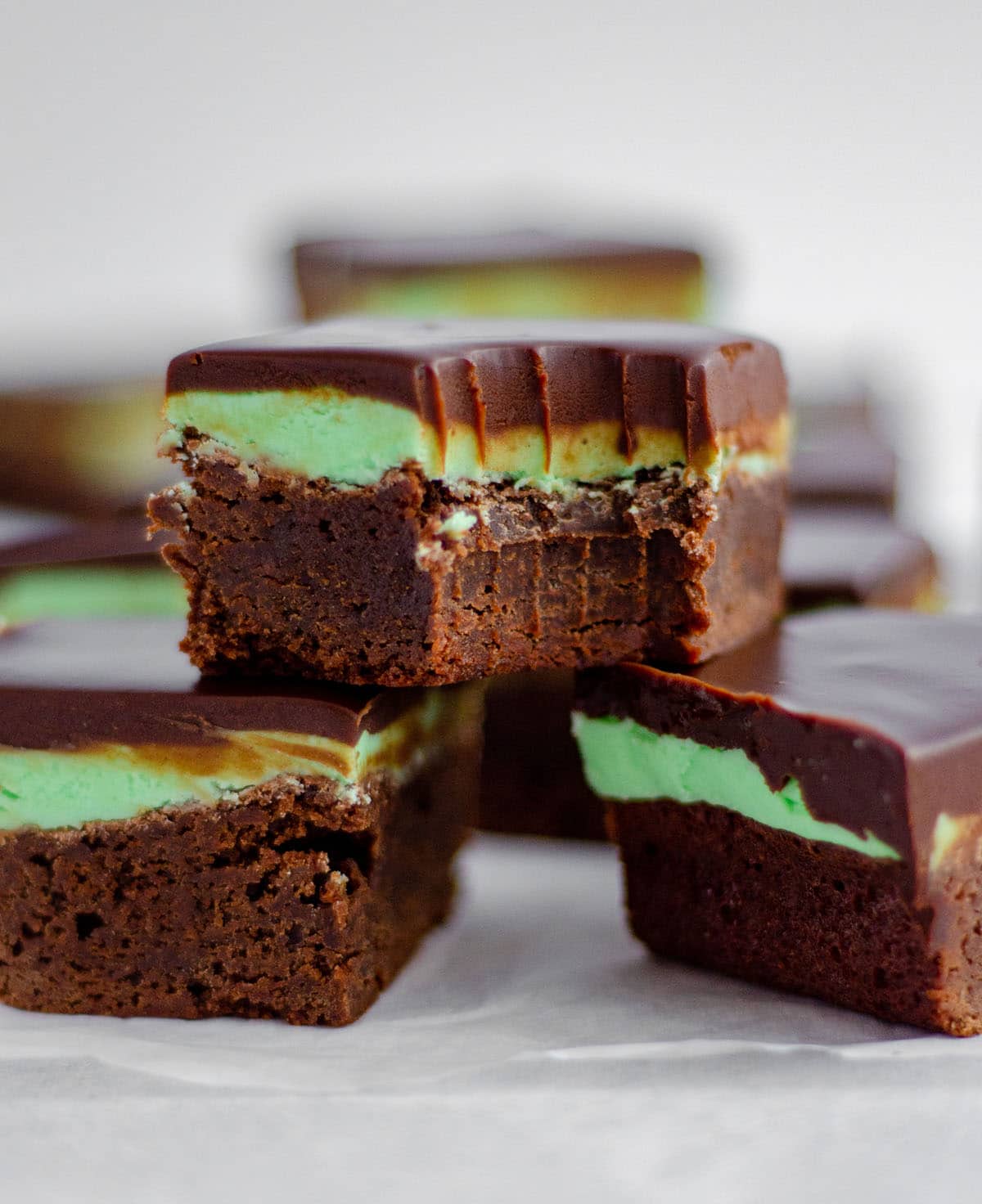 So let's get to baking and turn March's mint brownie recipe into our best Brownie of The Month yet, shall we?? It's only customary this time of year.
Mint Chocolate Brownies
These decadent mint chocolate brownies begin with a dense and fudgy brownie base that's topped with a creamy mint frosting and a layer of smooth chocolate ganache.
Ingredients
BROWNIE BASE
½

cup

(113g) unsalted butter

cut into 6-8 slices

8

ounces

(227g) semi-sweet chocolate

coarsely chopped

¾

cup

(150g) firmly packed brown sugar

¼

cup

(50g) granulated sugar

3

large eggs room temperature preferred1

1

teaspoon

vanilla extract

¾

cup

(90g) all-purpose flour be sure to measure properly

¼

teaspoon

salt
MINT FROSTING
½

cup

(113g) unsalted butter

softened to room temperature

2

cups

(240g) powdered sugar

¼

cup

(60mL) milk or cream

½ to ¾

teaspoon

peppermint extract

2

drops

green liquid or gel food coloring
CHOCOLATE GANACHE
1

cup

(175g) semi-sweet chocolate chips

⅔

cup

(160mL) heavy cream
Instructions
BROWNIE BASE
Preheat the oven to 350ºF (177ºC). Line an 8" or 9" square baking pan with foil and spray with nonstick spray. Set aside.

In a medium saucepan over medium heat, melt the butter and chopped chocolate, stirring frequently until completely smooth. Allow to cool for about 15 minutes.

Whisk sugar into cooled chocolate mixture until combined. Add the eggs one at a time, whisking after each addition until smooth. Whisk in the vanilla. Add the flour and salt and stir gently until completely combined.

Pour the batter into the prepared pan. Bake brownies for 25-30 minutes or until a toothpick inserted in the center comes out mostly clean. Allow brownies to cool completely before moving on to the other two layers. I find it best to prepare the mint frosting and chocolate ganache layers while the brownies are baking or cooling. That way, they are ready when the brownie base is cool enough to work with.
MINT FROSTING
In a large bowl with a handheld mixer, or a stand mixer fitted with the paddle attachment, beat the butter on medium speed until creamy, about 2 minutes.

With the mixer on low, add in the powdered sugar, peppermint extract, and milk or cream. Add the food coloring, increase mixer speed to medium, and beat until completely smooth, about 3 minutes. If frosting is too stiff, add more milk. If it is too thin, add more powdered sugar.
CHOCOLATE GANACHE
Pour the chocolate chips into a small bowl. Set aside.

In a small saucepan over medium heat, heat the heavy cream while whisking occasionally until steaming. Remove from heat and pour over the chocolate chips. Whisk the chocolate and the cream together until it it smooth. Allow to cool at least 20 minutes before using.
ASSEMBLE THE BROWNIES
When your brownie base is completely cool, use a spatula to spread the mint frosting evenly over the brownies.

Working quickly, pour the ganache evenly over the mint frosting layer. It will probably spread out evenly on its own, but you can use a spatula or spoon to gently guide the ganache into the corners of the pan.

Place pan of brownies in the refrigerator to allow ganache to set completely, at least 2 hours.

When you are ready to cut the brownies, remove the brownies by lifting the foil overhang straight up. Peel back remaining foil and place brownie block onto a large cutting board.

Use a sharp knife to make quick cuts, so as to prevent chocolate ganache smearing onto the mint layer as much as possible. Cleaning the knife off between each cut also helps. Store leftover brownies in the refrigerator, up to 1 week. Brownies freeze well, up to 3 months. Thaw in refrigerator overnight.
Nutrition Disclosure
All nutritional values are approximate and provided to the reader as a courtesy. Changing ingredients and/or quantities will alter the estimated nutritional calculations.
Serving:
1
brownie
|
Calories:
439
kcal
|
Carbohydrates:
47
g
|
Protein:
4
g
|
Fat:
27
g
|
Saturated Fat:
16
g
|
Polyunsaturated Fat:
1
g
|
Monounsaturated Fat:
7
g
|
Trans Fat:
0.5
g
|
Cholesterol:
78
mg
|
Sodium:
59
mg
|
Potassium:
193
mg
|
Fiber:
2
g
|
Sugar:
38
g
|
Vitamin A:
612
IU
|
Vitamin C:
0.1
mg
|
Calcium:
42
mg
|
Iron:
2
mg