Mint Chocolate Chip Cupcakes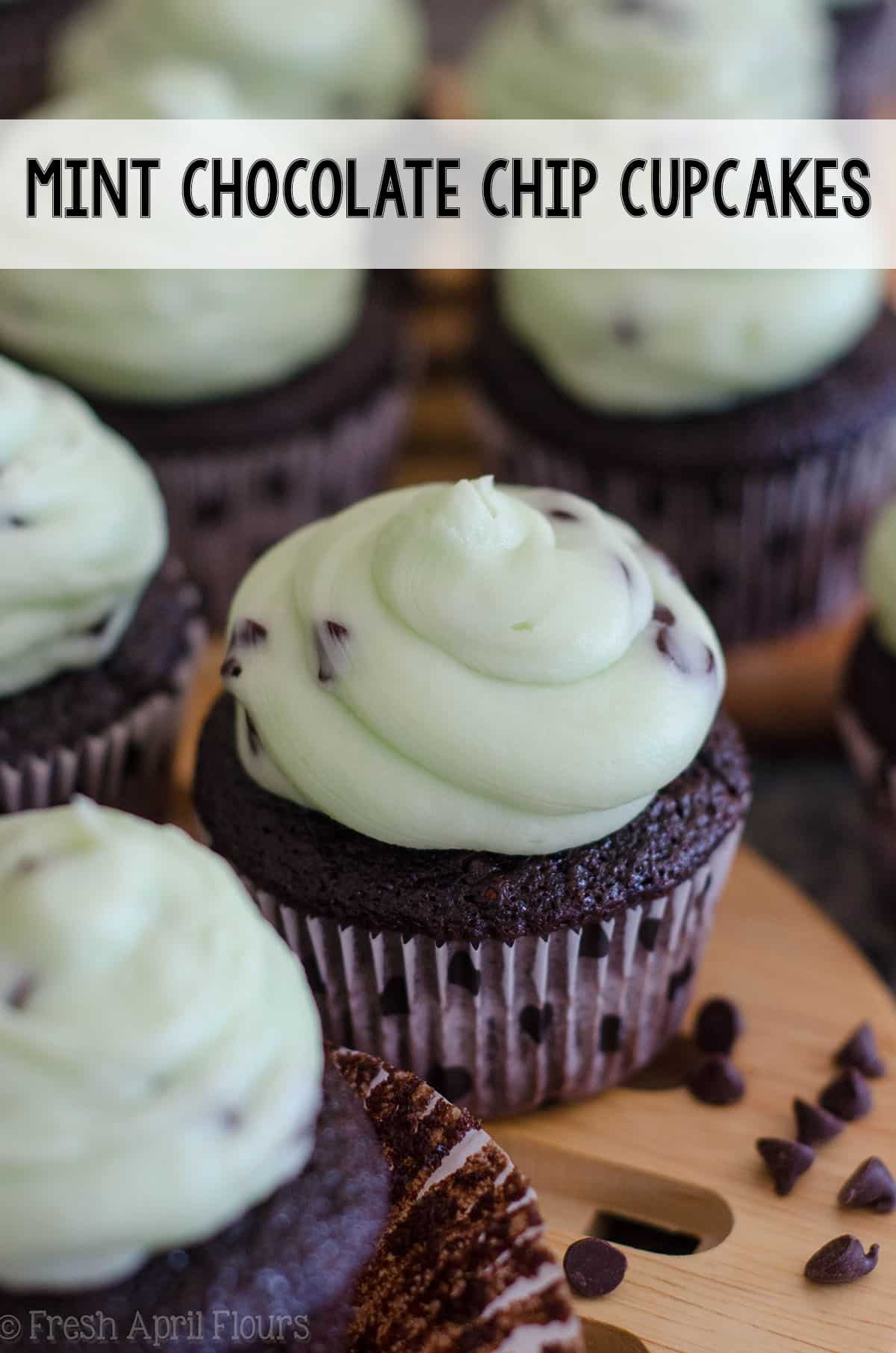 As an Amazon Associate, I earn from qualifying purchases. Read the full disclosure here.
Dark chocolate chocolate chip cupcakes topped with creamy mint chocolate chip buttercream.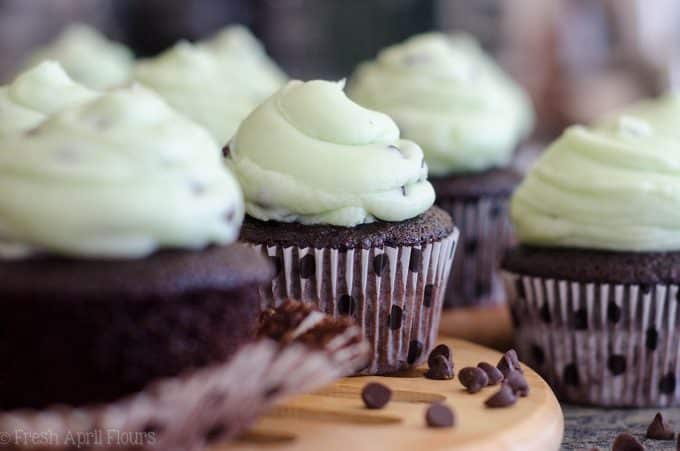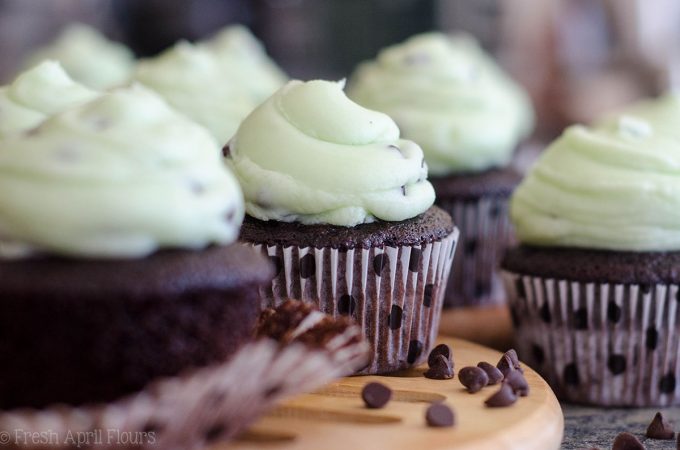 Friends, it is THAT time of year.
The time March rolls around, bringing with it potentially warmer weather (nevermind the weird snowstorm we got this past weekend or the one that's affecting a lot of the east coast today… I don't rule out a blizzard until it's April!) and, because of its special Irish holiday, all things green.
In years past, I've shared a traditional Irish recipe (this Irish soda bread) but eventually, the mint chocolate train hit me and it's just sort of stuck as one of those things I tend to share come March.
In fact, my original SKINNY Shamrock Shake kicked things off (and went semi-viral) and I've shared a few mint chocolate/chocolate chip recipes since.
Here's the whole mint chocolate collection, by the way.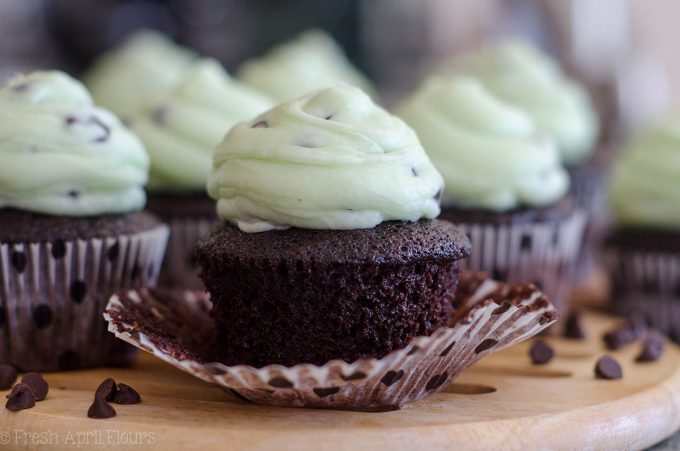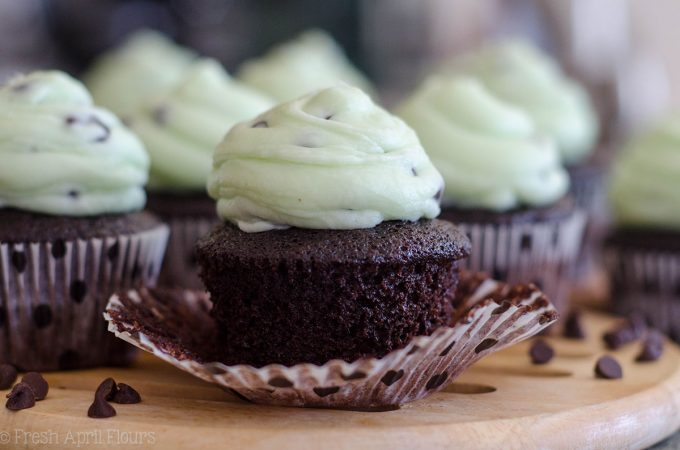 This year is no different. But since we moved right in the middle of February, the time in which I'd have to get a beginning-of-March recipe together, I had to keep it simple as far as ingredients, photographs, food props, and, most importantly, a recipe that wasn't going to take a whole lot of experimenting.
I needed something I knew would work but would also be something new to the blog!
I decided on mint chocolate chip cupcakes, because WHY NOT, and also, my dark chocolate cake recipe from last year was one of the only basic cake recipes I have that I hadn't tried in cupcake form yet.
My first chocolate cake recipe ever has been in cupcake form plenty of times over the years, but that cake is soft and fluffy and the cupcakes aren't sturdy enough for the chocolate chips I wanted to adorn the inside of each mint chocolate chip buttercream-topped cuppie.
My dark chocolate cake? Sturdy and up to the challenge for delivering mini chocolate chips in each bite. They 100% lived up to my expectations.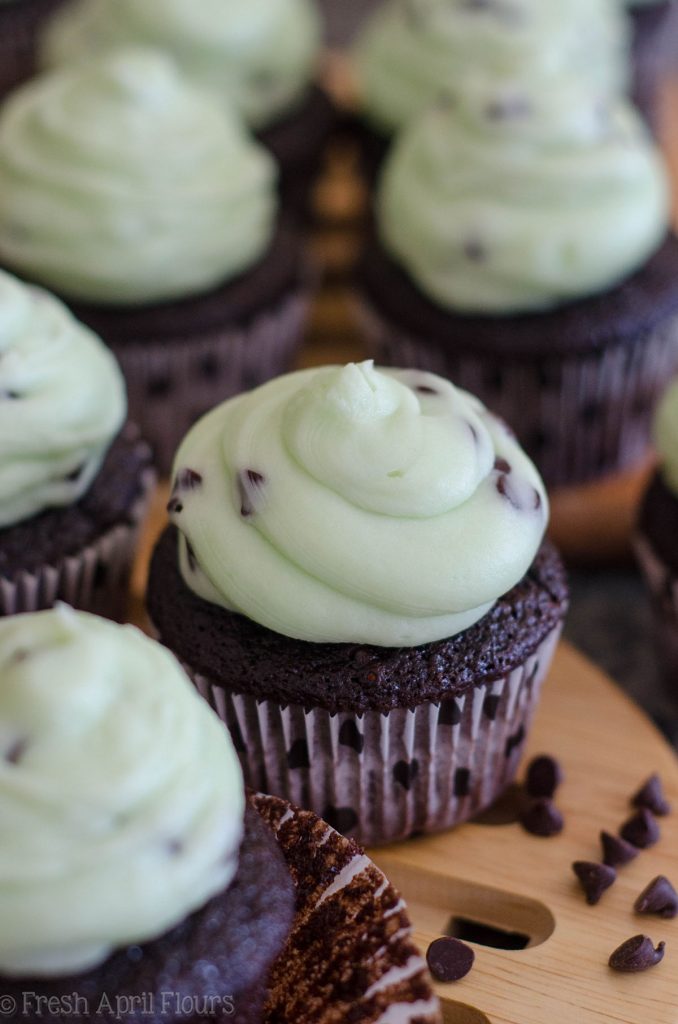 My dark chocolate cake is nothing fancy, just both kinds of sugar (granulated for sweet, brown for sweet and moisture), Dutch processed cocoa powder, vegetable oil (for majorrrr moisture), and COFFEE.
I've said it before and I'll say it again: these cupcakes will not taste like coffee. The coffee just brings out the chocolate notes. I promise! If you're super against coffee, just use water.
Semi-sweet chocolate chips (mini!) go right into the batter. I was a little worried they may sink to the bottom of the cupcakes because the batter is a little thin, but they surprised me and stayed scattered throughout, making every bite of these cupcakes a little different than the one before.
Chocolate chip perfection!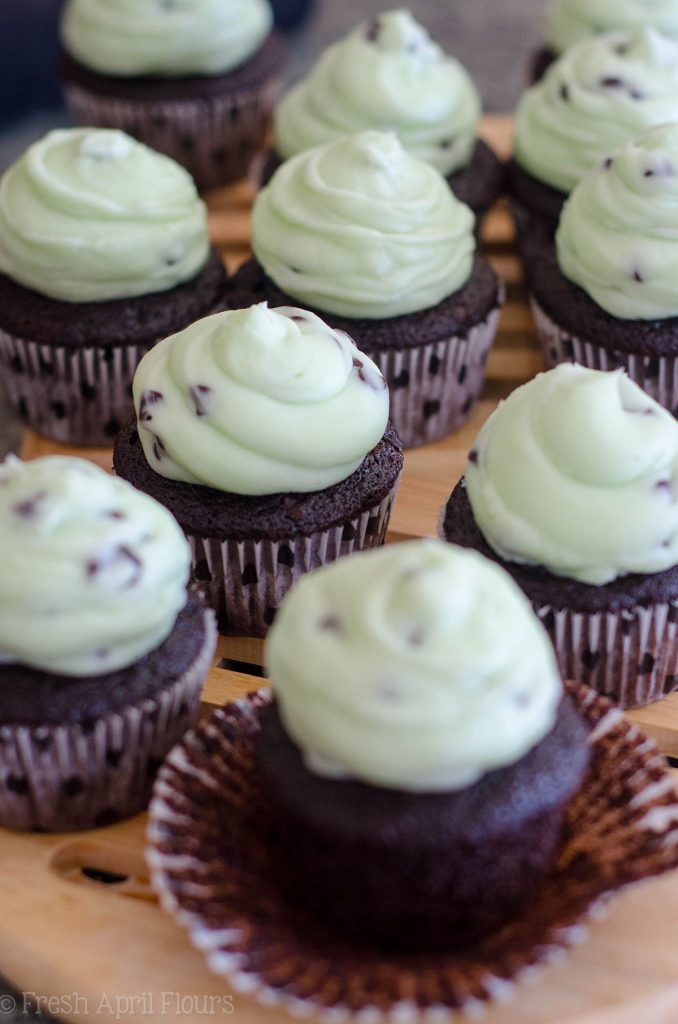 Now. The buttercream. OMG, the buttercream. This mint chocolate chip buttercream starts as most of my buttercreams do– with butter, powdered sugar, and heavy cream/milk.
We'll be using peppermint extract as the flavoring and adding just 2 drops of green food coloring to give the slightest green tint to the whole thing.
If you're not into coloring your buttercream, totally fine. Just leave it out!
And thennnn, the stars of the show, more mini chocolate chips! And yes, they should be mini, because otherwise, you'll have a terrible time trying to pipe large chips through a frosting bag.
You could also use finely chopped bar chocolate if you'd like.
A simple swirl on top of each of your 12 chocolate chip cupcakes, and you're ready to celebrate St. Patrick's Day or any day that calls for mint chocolate treats. That should probably be everyday, right?
I refrained from any mint extract in the cupcakes because I didn't want to overpower the chocolate or make any kind of toothpastey dessert, and I'm so glad that's how I did it.
The level of mint going on in the buttercream is just perfect. That deep dark chocolate cupcake is just begging for a complementary mint chocolate chip topping, and each bite is perfectly blended with all of the flavors and textures you'd expect from something boasting the title "mint chocolate chip."
There's never a bad time for a cupcake, and these mint chocolate chip cupcakes are just begging to be shared with your coworkers or fellow St. Patrick's Day celebraters.
In fact, I took a batch to my own coworkers and they were cutting the last one into slivers to savor and make sure everyone got a taste. We had a pretty happy day that day, if I do say so myself.
Whip 'em up! They'll bring good luck!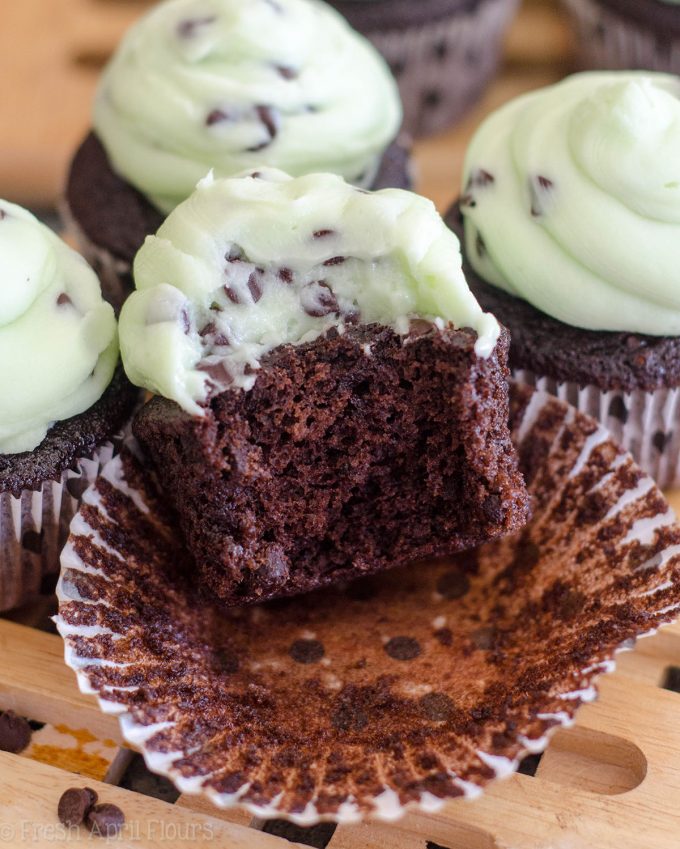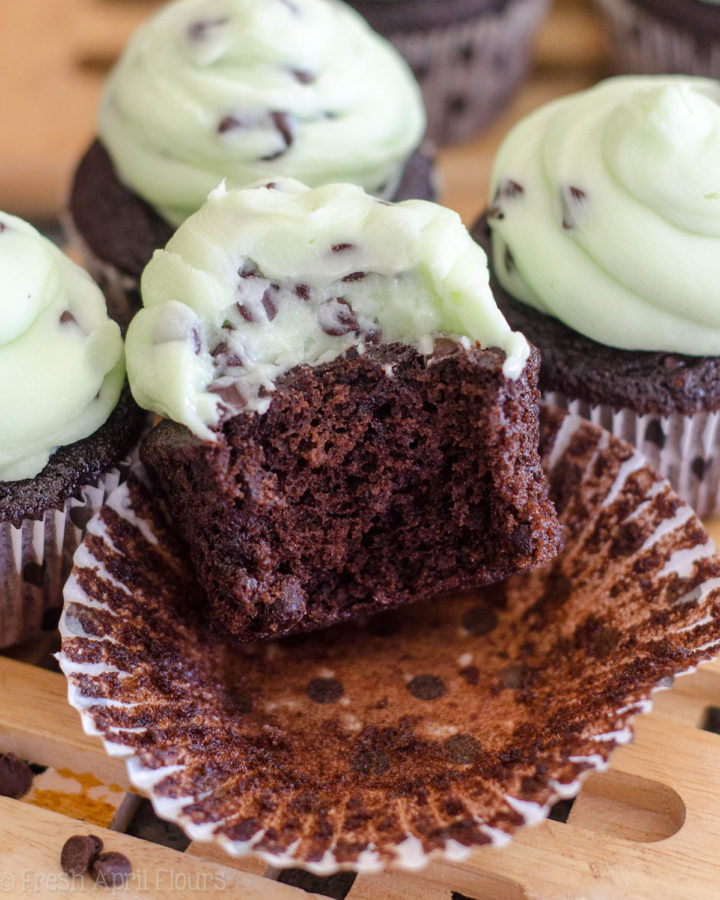 Ok, maybe I made that part up, but you probably need these, so… That's a good enough reason than any.
Mint Chocolate Chip Cupcakes
Dark chocolate chocolate chip cupcakes topped with creamy mint chocolate chip buttercream.
Ingredients
CHOCOLATE CHOCOLATE CHIP CUPCAKES
1/2

cup

(100g) granulated sugar

1/2

cup

(100g) packed light brown sugar

1

cup

(120g) all-purpose flour be sure to measure properly

1/4

cup

+ 2 Tablespoons (36g) Dutch processed cocoa powder

1

teaspoon

baking powder

1/4

teaspoon

baking soda

1/2

teaspoon

salt

2

large eggs

1/4

cup

(55mL) vegetable oil

1

teaspoon

vanilla extract

1/2

cup

+ 2 Tablespoons (180mL) coffee

1/3

cup

(56g) mini semi-sweet chocolate chips
MINT CHOCOLATE CHIP BUTTERCREAM
1

cup

(227g) unsalted butter

softened to room temperature

4 to 5

cups

(480-600g) powdered sugar

1/4 to 1/3

cup

(60-80mL) heavy cream or milk

1/4

teaspoon

peppermint extract

2

drops

green food coloring

1/3

cup

(56g) mini semi-sweet chocolate chips
Instructions
CHOCOLATE CHOCOLATE CHIP CUPCAKES
Preheat the oven to 350ºF (177ºC). Line the wells of a 12 count cupcake pan with cupcake liners. Set aside.

In a large bowl, whisk together the granulated sugar, brown sugar, flour, cocoa powder, baking powder, baking soda, and salt. Set aside.

In a small bowl, whisk together the eggs, vegetable oil, and vanilla extract until completely combined. Pour the wet ingredients into the dry ingredients, add the coffee, and whisk or stir the batter until everything is combined. Fold in the chocolate chips.

Spoon batter evenly into the cupcake liners filling ½ to ⅔ of the way full (I like to use an ice cream scoop with a trigger– one scoop full). Bake for 18-19 minutes or until a toothpick inserted in the center comes out clean. Allow to cool in the pan for a few minutes, then transfer to a wire cooling rack to cool completely.
MINT CHOCOLATE CHIP BUTTERCREAM
In a large bowl with a handheld mixer, or a stand mixer fitted with the paddle attachment, beat the butter on medium speed until creamy, about 2 minutes.

With the mixer on low, add in the powdered sugar, peppermint extract, and milk or cream. Add the food coloring, increase mixer speed to medium, and beat until completely smooth, about 3 minutes. If frosting is too stiff, add more milk. If it is too thin, add more powdered sugar.

Stir in the mini chocolate chips with a spatula.
ASSEMBLE CUPCAKES
Frost the cupcakes using a large zip top bag with the corner snipped off or a piping bag.

Store cupcakes covered tightly at room temperature up to 4 days or in the refrigerator up to 6 days.
Nutrition Disclosure
All nutritional values are approximate and provided to the reader as a courtesy. Changing ingredients and/or quantities will alter the estimated nutritional calculations.