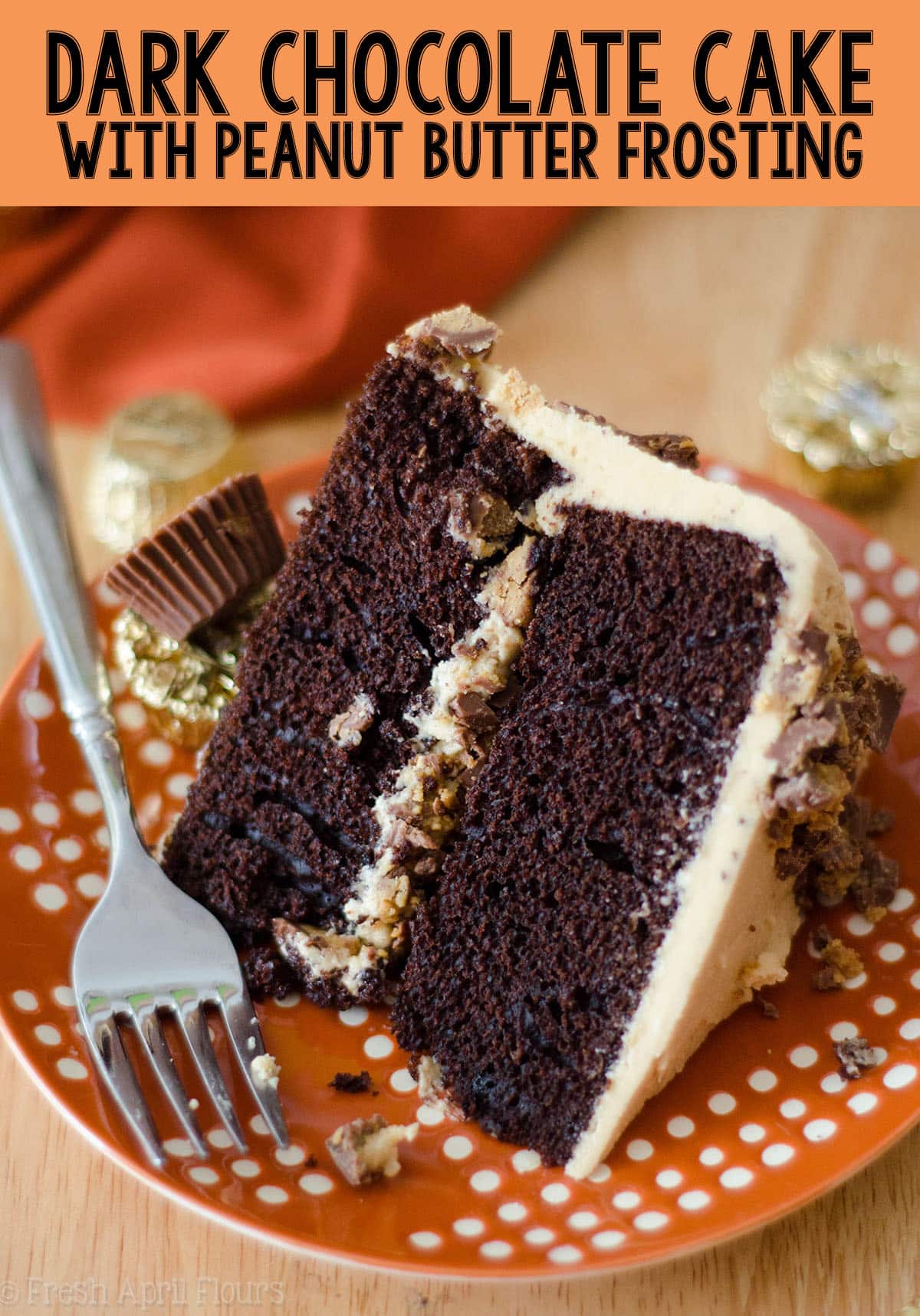 As an Amazon Associate, I earn from qualifying purchases. Read the full disclosure here.
An easy two-layer dark chocolate cake covered in creamy peanut butter frosting. No mixer required for the cake!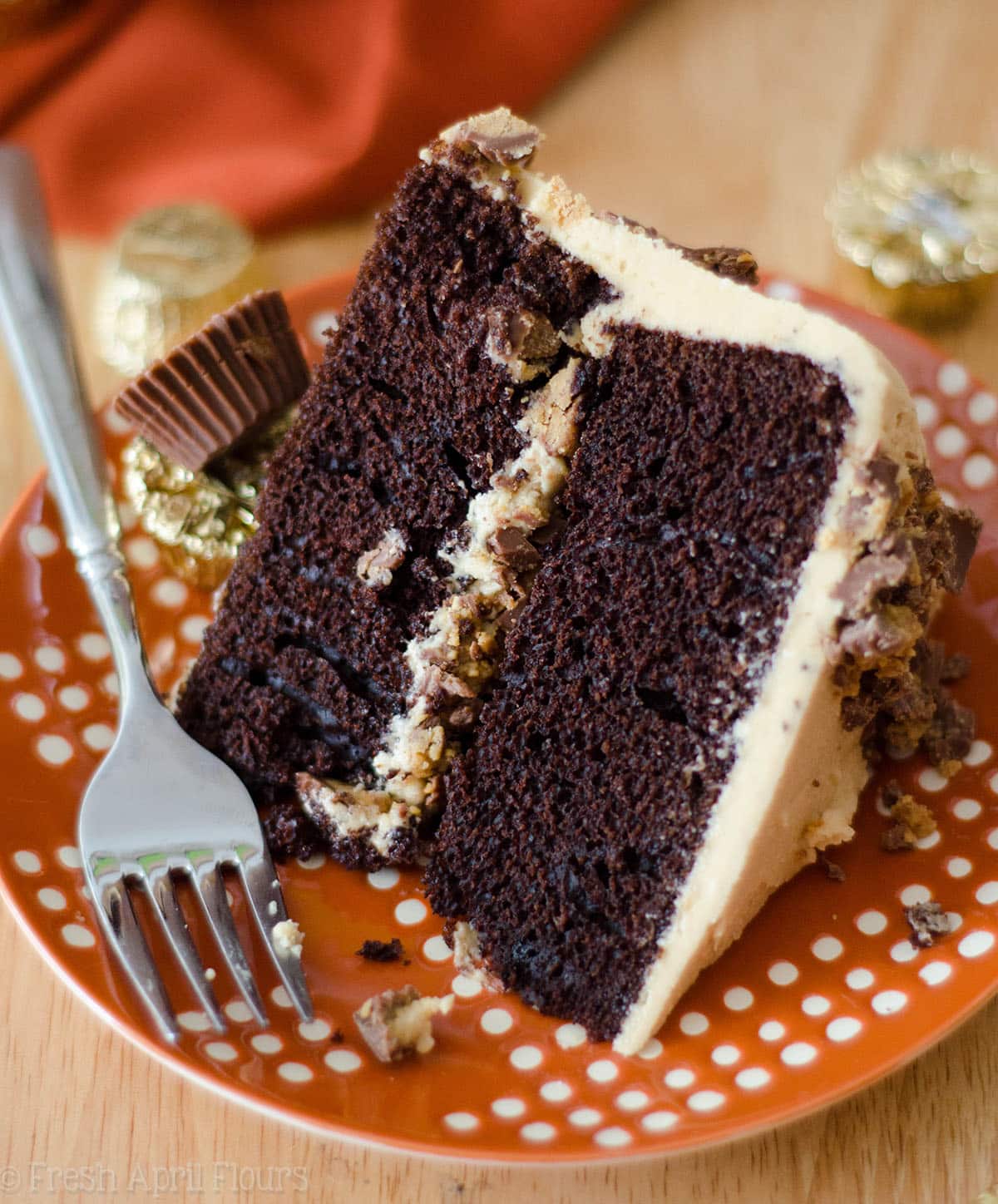 I always say there are several things a baker should have a go-to recipe for: chocolate chip cookies, easy yeast rolls, pie crust, vanilla buttercream, white cake, and chocolate cake.
Back in 2017, my themed monthly recipe was cakes, and I shared a new cake recipe every month (here are all of my Cake of The Month recipes). In that lineup, I shared a basic white cake recipe, a yellow cake recipe, and this dark chocolate cake recipe (among many other fun cake recipes, of course).
Since 2017, this cake has gotten a lot of attention from folks looking for the best chocolate cake they can get with little fuss, simple ingredients, and a flavor and texture that can go with nearly any buttercream frosting flavor.
While we're pictured here with peanut butter buttercream, you can truly pair this delicious cake with any frosting recipe you prefer. See my collection of frosting recipes or my Basic Buttercream Book if you're looking for a good complement to this cake!
INGREDIENTS
What I think is important in every recipe, not just cake recipes, is a simple ingredient list. While I do occasionally break out a strange spice (hi, cardamom!) or not-as-common ingredient (hello, almond extract), when it comes to the basics, I much prefer to keep things simple so my readers can get to baking exactly what they want when they want it.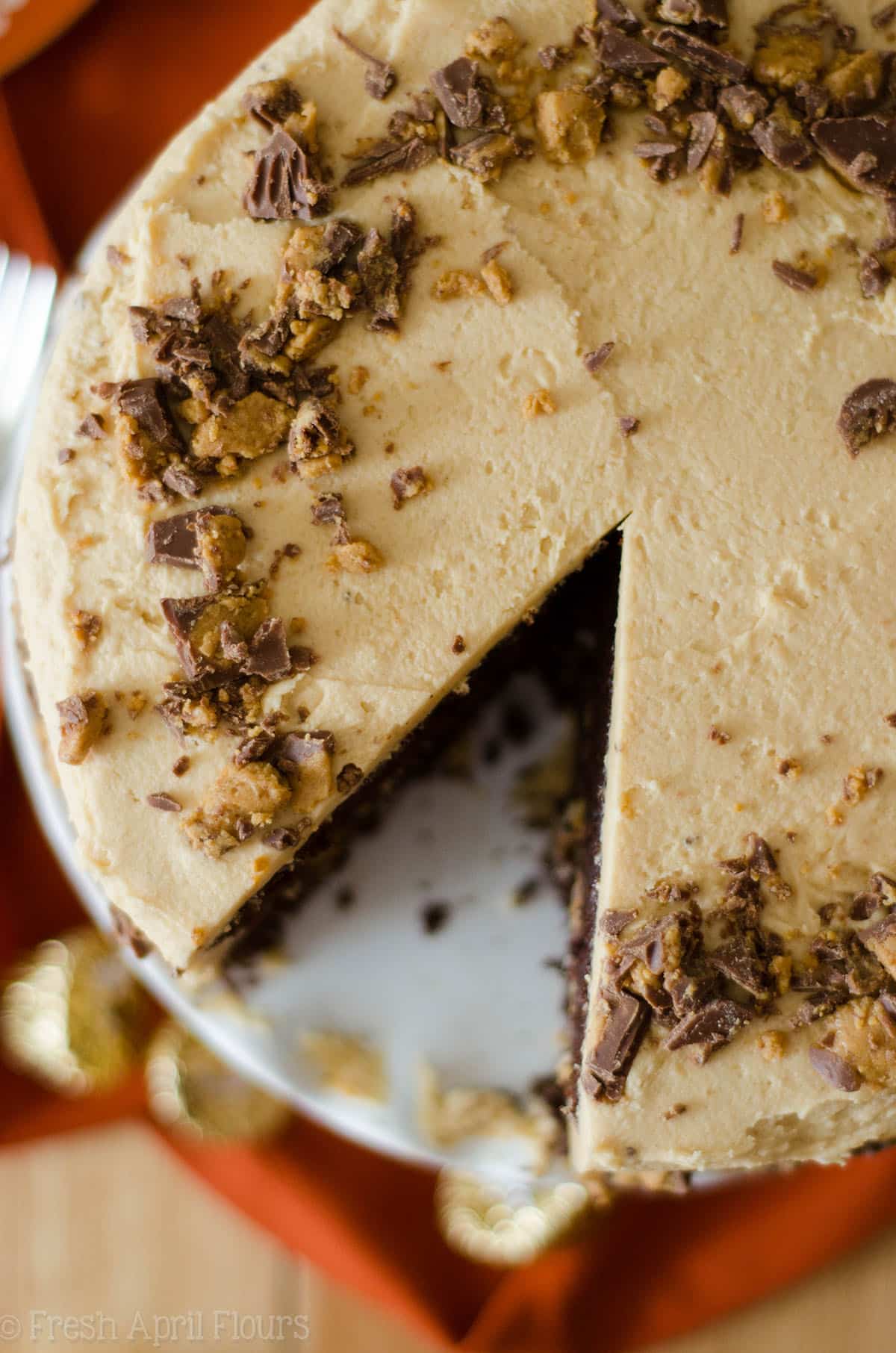 That said, the ingredient list for this dark chocolate cake is very straightforward.
CAKE INGREDIENTS
We'll sweeten this cake with both granulated and brown sugar. The combination of both sugars insures we have decent depth of sweetness, a moist cake, and nothing too dense.
I use all-purpose flour in this cake recipe, as opposed to cake flour or all-purpose + cornstarch because we won't be weighing down the cake batter with butter, so we can keep the crumb light but sturdy.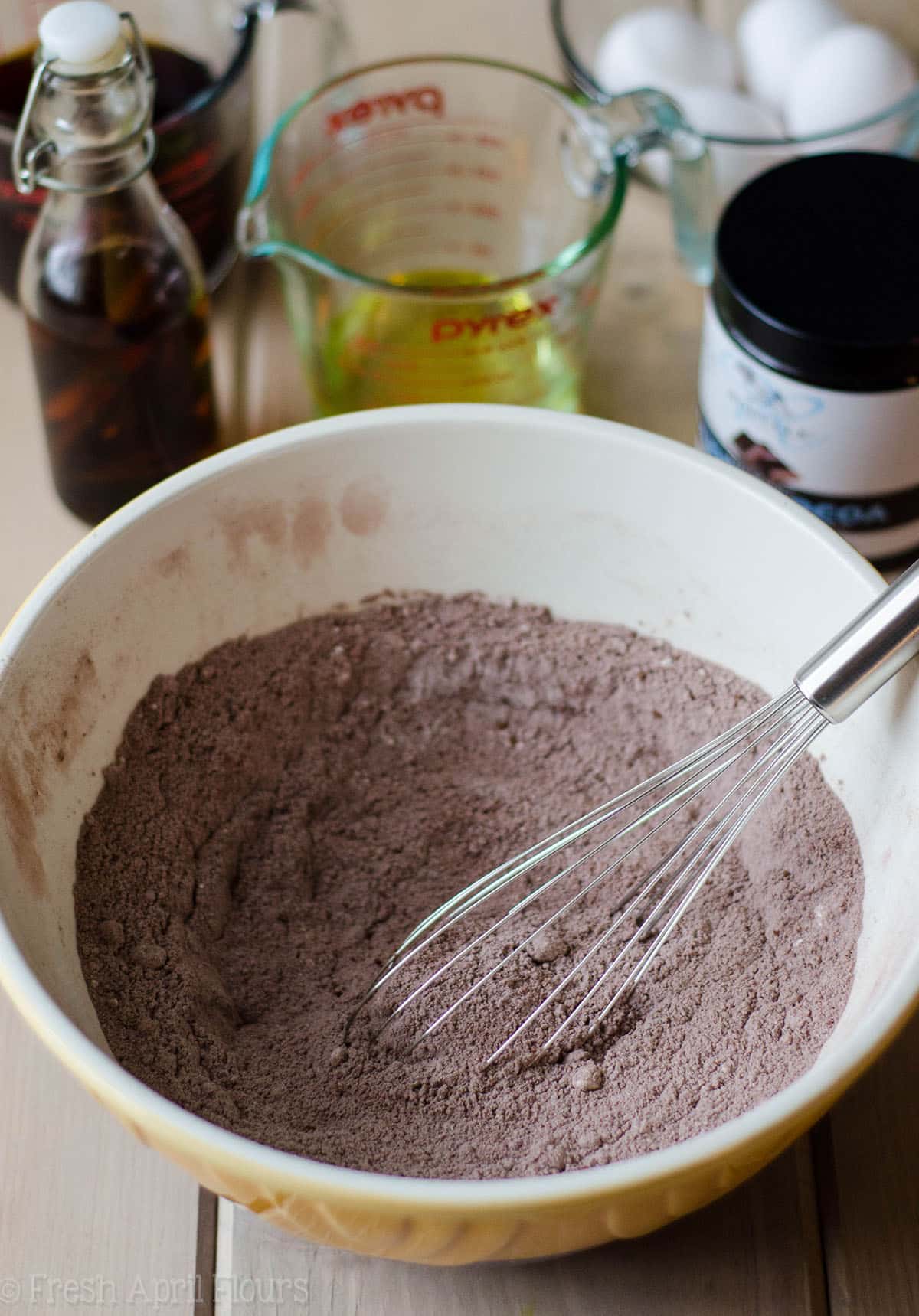 We'll be using vegetable oil to make the moistest chocolate cake, and since we don't need that buttery taste of, well, butter, because we have all that chocolate happening, we can bring all the moisture and retain it by using vegetable oil.
We use four whole eggs for this cake to bind everything together.
And last but not least, we'll be getting our full rich chocolate flavor by using a combination of vanilla extract, Dutch processed or dark cocoa powder, and coffee.
COCOA MIXTURE
Dutch processed? Dark cocoa powder? Does it matter?
In an ingredient sense, no. It doesn't matter which kind of cocoa powder you use here, because the recipe has been tested with several kinds of cocoa powder. Personally, I prefer Dutch processed cocoa powder because it brings with it a much deeper and darker chocolate color, and it boasts a smoother taste.
You may certainly use natural unsweetened cocoa powder, but because of the nature of this chocolate cake, and the fact that it is, indeed, a dark chocolate cake, I urge you to pick a dark chocolate cocoa powder (Hershey's special dark cocoa is my favorite) or just stick with the Dutch processed cocoa.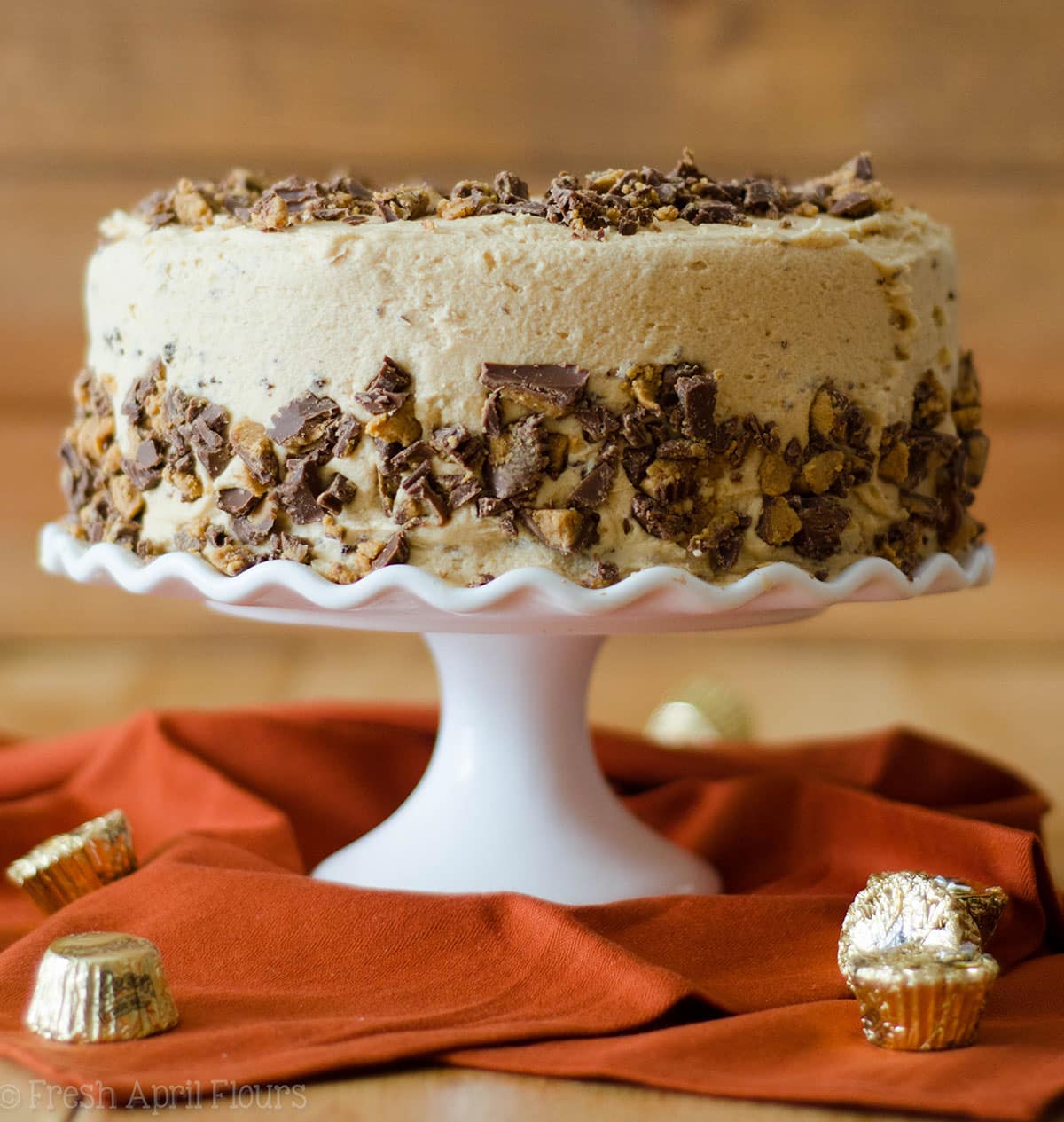 If you need them, here are many more of my recipes that use Dutch processed cocoa powder.
WHY USE COFFEE IN CHOCOLATE CAKE?
I use coffee in almost all of my chocolate cake based recipes, including my easy chocolate layer cake, which is similar to but not exactly like this dark chocolate version.
Coffee enhances the flavor of this dark chocolate cake, and even if you don't like coffee, I urge you not to leave it out. You can most certainly use water in place of the coffee, but know that your cake won't have as rich of a chocolate flavor without it. And if you're worried about the caffeine, decaf coffee is a totally acceptable substitute.
And no, it does not have to be hot coffee. You do want it to be at least room temperature, but don't worry if it's not piping hot.
FROSTING INGREDIENTS
The peanut butter frosting, which is what I love to pair this dark chocolate cake with, uses five simple ingredients.
You'll need creamy peanut butter (not natural), some unsalted butter, powdered sugar, vanilla extract, and some sort of liquid to thin it out with.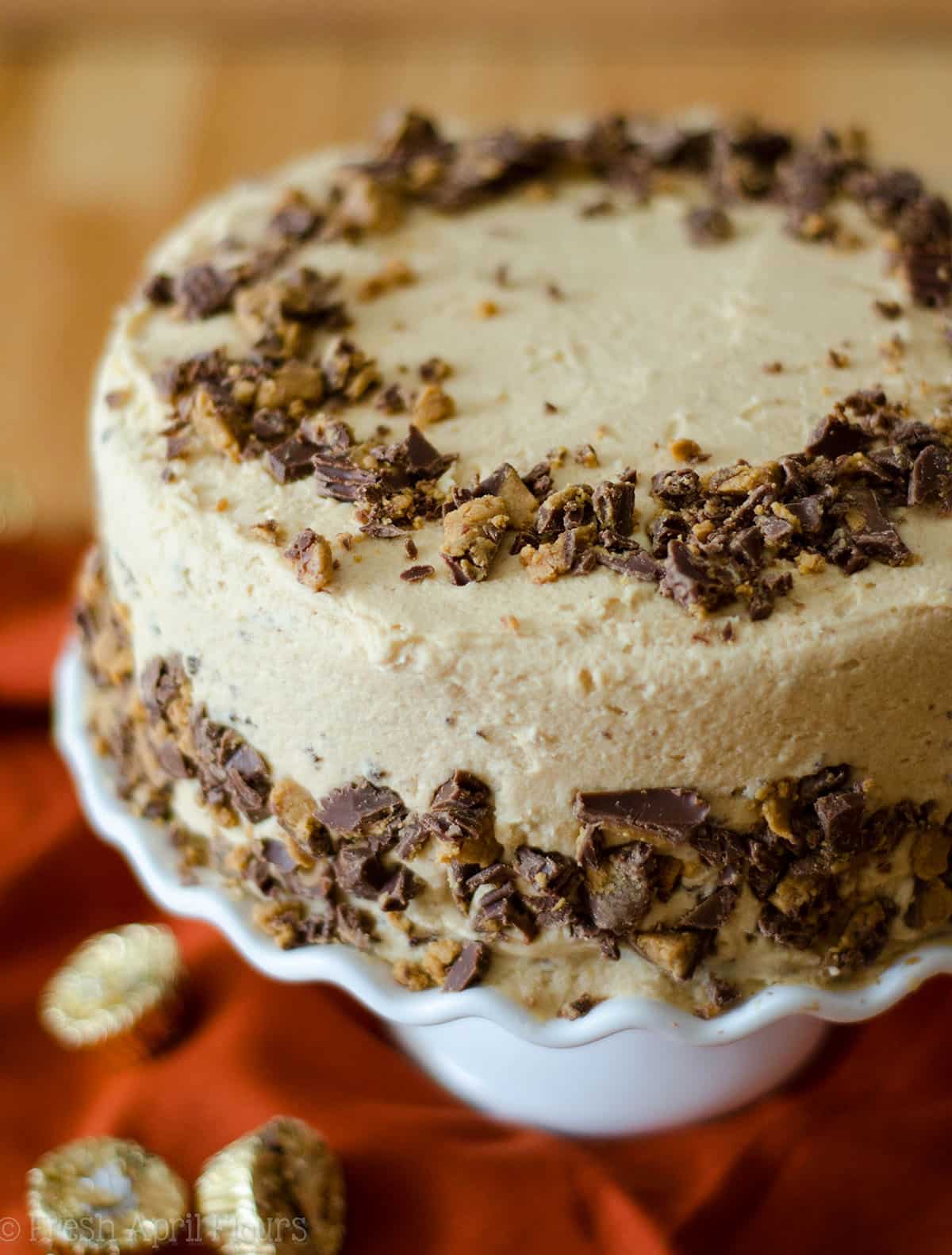 I use anything from cream to milk to water, all depending on what I have on hand, and I don't necessarily prefer one over the other. Since the peanut butter itself brings a creamy texture to the frosting, go ahead and use whatever you'd like.
HOW TO MAKE DARK CHOCOLATE CAKE
What I really love about this cake, and what I think makes it deserving of the title as the best chocolate cake recipe that I have on my site, is that it it doesn't require a mixer (until we get to the frosting).
You'll actually combine the sugars with the flour, cocoa powder, baking powder, baking soda, and salt. No creaming together sugar and butter here. Just mix and keep moving!
You'll combine your wet ingredients next, omitting the coffee for now. Add those wet ingredients to the dry ingredients, whisk until everything starts to come together, then add the coffee and whisk again until the batter is smooth.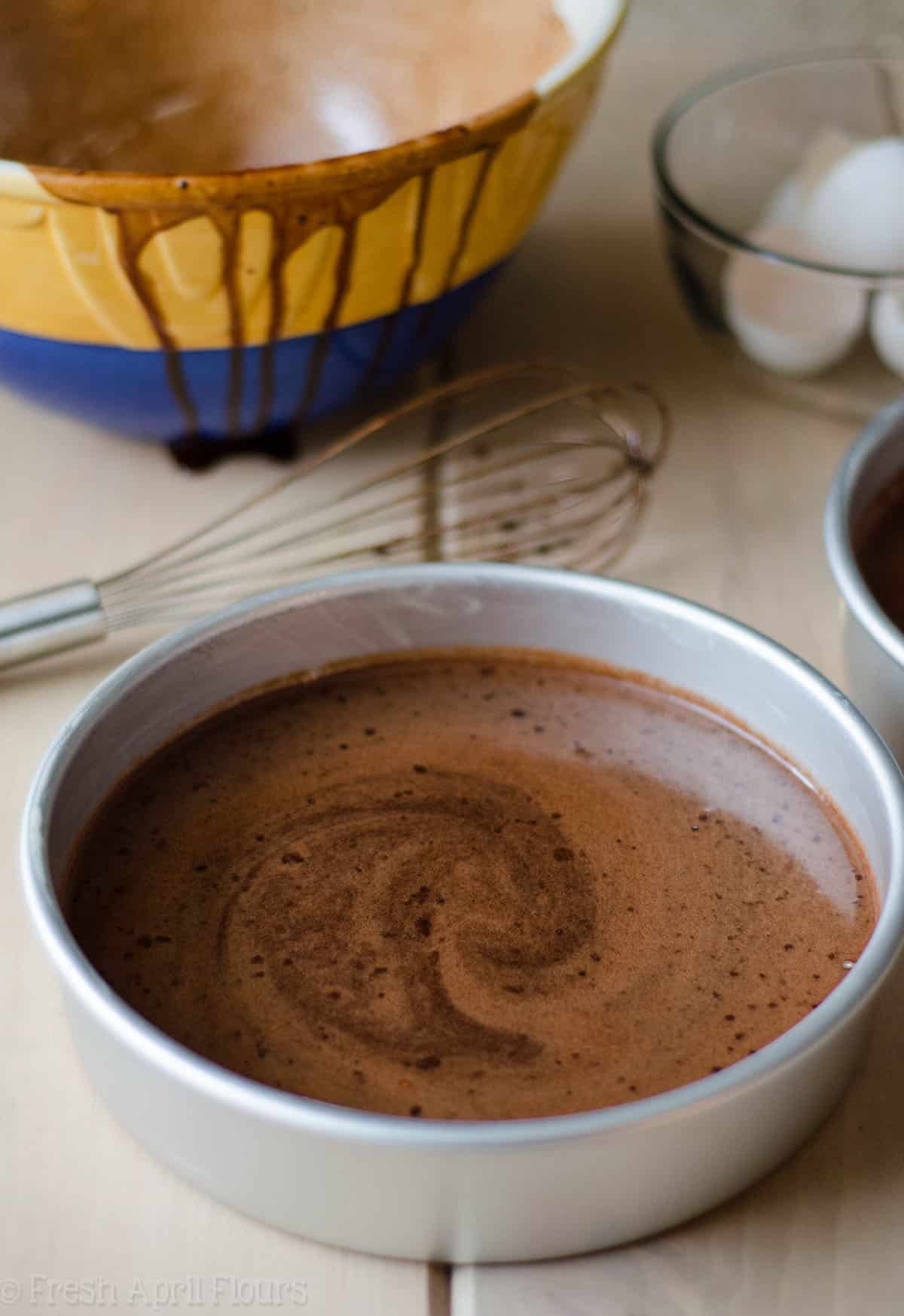 Pour the batter into the prepared pans, then bake.
HOW TO MAKE PEANUT BUTTER FROSTING
Now. The most important player here in this cake game: the peanut butter buttercream.
BELIEVE ME when I tell you that this frosting is a little gift from the cake gods.
It is absolutely irresistible, and I can tell you from experience that you may find yourself with several dirty spoons and way less frosting than you thought you had once you have one lick of this stuff (oops).
To say it's incredible is somehow an understatement. And the best part? It's so freaking simple.
Cream together the peanut butter and butter, then add the powdered sugar, vanilla extract, and whichever liquid you've chosen to thin it out.
It's very straightforward, and in my personal experience, I think you should try it on pretzels, graham crackers, a yellow cake (don't knock that combo– it's delish!), brownies…
Truly anything that pairs well with peanut butter can use some peanut butter frosting on top. No judgment if it never sees anything other than your dark chocolate cake and a spoon, though…
FILL THE CAKE WITH CHOPPED PEANUT BUTTER CUPS
This is a totally optional step, but, I mean… If you're heading to the chocolate + peanut butter world, you might as well go HAM. This easy chocolate cake just got even easier since all you'd have to do here is unwrap and chop to level up your cake.
That's a pretty good chocolate cake recipe if I do say so myself.
MORE FROSTING PAIRS
While I do love me a good chocolate + peanut butter combination, there are several frosting recipes on my site that would pair nicely with these dark chocolate cake layers. Give my standard vanilla buttercream, dulce de leche buttercream, or cream cheese frosting.
You can also turn this cake into a chocolate lover's dream by using my traditional chocolate buttercream , chocolate Swiss meringue buttercream, or simply pour some chocolate ganache over the whole thing.
Then again, if you want to be adventurous, I would highly support your endeavor to put strawberry buttercream on this rich chocolate cake and just turn it into something wild and crazy and awesome and delish.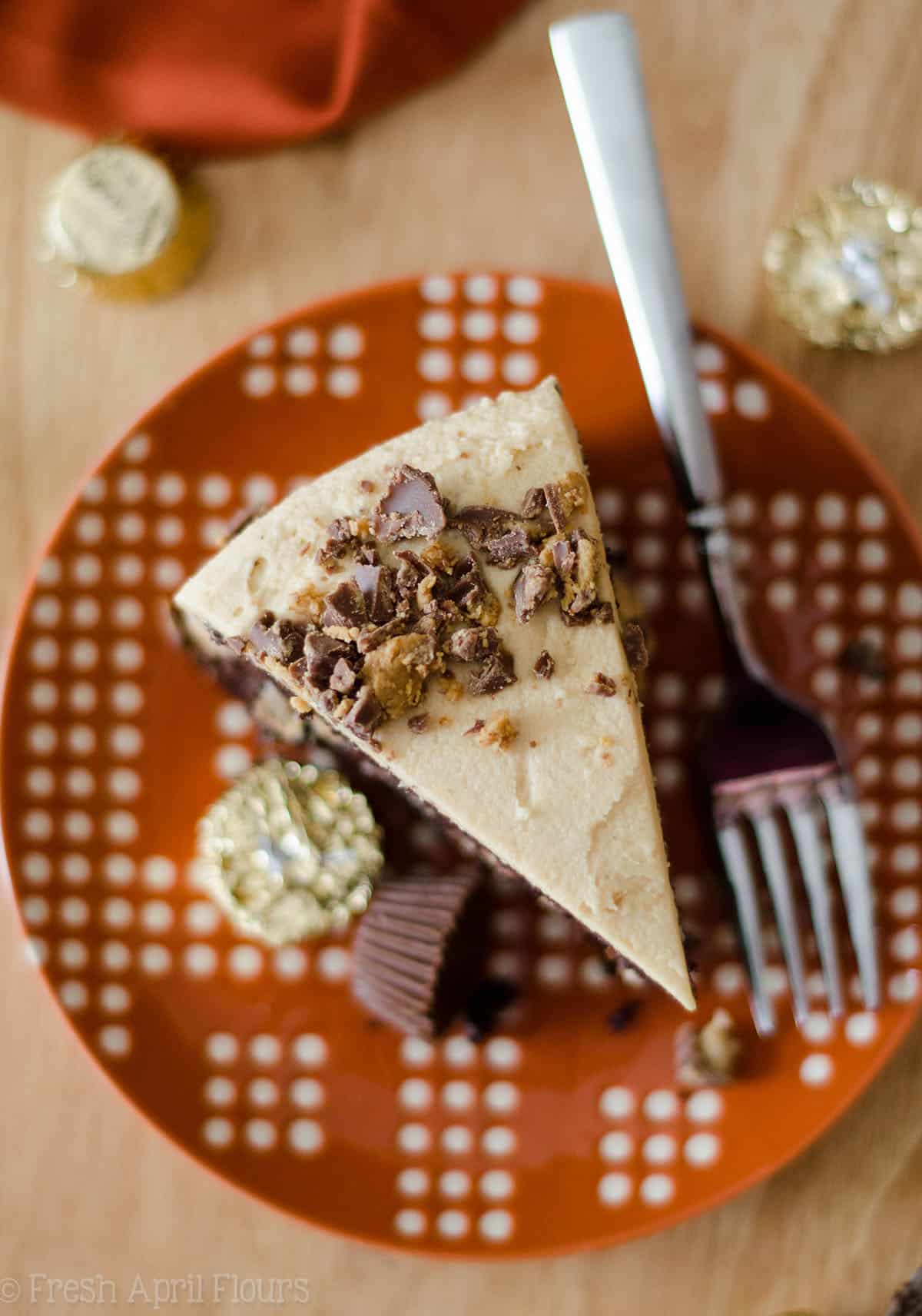 Regardless of which frosting or buttercream you choose, know that this delicious chocolate cake recipe is going to be your new favorite, as it is mine, and if you need to keep making it again and again to try out all those frosting combos, that wouldn't be the worst thing, eh?
Now that you have this go-to cake recipe in your lineup, grab some of my other favorite chocolate cake based recipes: simple chocolate cupcakes, mocha cake, chocolate bundt cake, or Texas sheet cake.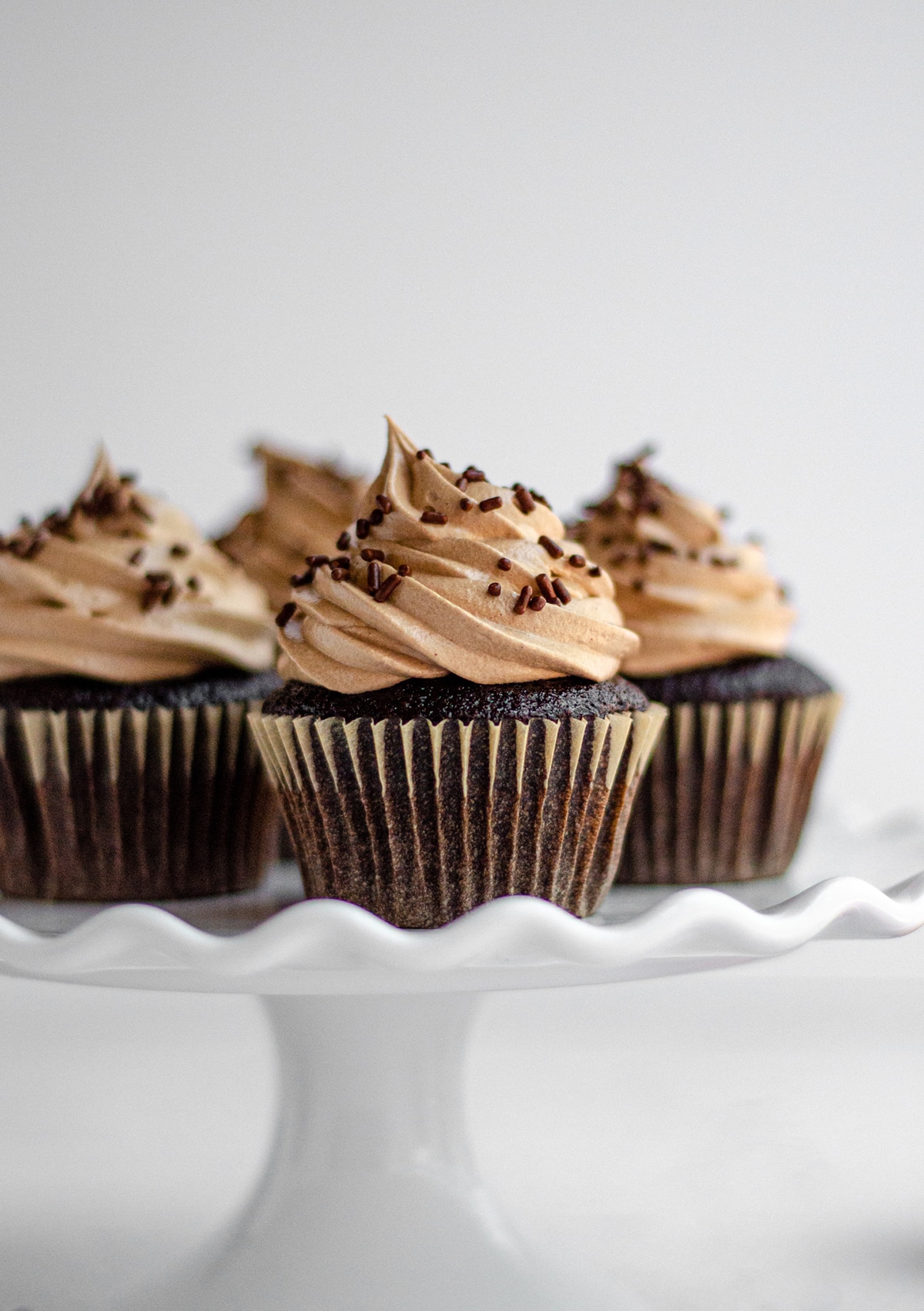 Dark Chocolate Layer Cake
An easy two-layer dark chocolate cake covered in creamy, dreamy peanut butter frosting, all from scratch!
Ingredients
DARK CHOCOLATE CAKE
1

cup

(200g) granulated sugar

1

cup

(200g) firmly packed light brown sugar

2

cups

(240g) all-purpose flour be sure to measure properly

¾

cup

(72g) Dutch processed or dark cocoa powder1

2

teaspoons

baking powder

½

teaspoon

baking soda

1

teaspoon

salt

4

large eggs

½

cup

(113mL) vegetable oil

2

teaspoons

vanilla extract

1

cup

coffee + water to 1 and ¼ cup (300mL) liquid2
PEANUT BUTTER FROSTING
1 and ½

cups

(375g) creamy peanut butter not natural

½

cup

(113g) unsalted butter

softened to room temperature

3

cups

(360g) powdered sugar

1

teaspoon

vanilla extract

⅓ to ½

cup

(80-120mL) milk, cream, or water3
Instructions
DARK CHOCOLATE CAKE
Preheat the oven to 350ºF (177ºC). Grease and flour (or use homemade cake release) two 8-inch round cake pans. Set aside.

In a large bowl, whisk together the granulated sugar, brown sugar, flour, cocoa powder, baking powder, baking soda, and salt. Set aside.

In a small bowl, whisk together the eggs, vegetable oil, and vanilla extract until completely combined.

Pour the wet ingredients into the dry ingredients, whisk until the batter starts to come together, then add the coffee, and whisk again until batter is smooth.

Divide the batter evenly between the prepared pans. Bake for 28-30 minutes, or until a toothpick inserted into the center of the cake comes out mostly clean. Remove from oven and allow cakes to cool in the pans completely on a wire rack before removing and assembling.
PEANUT BUTTER FROSTING
In a medium size bowl with a handheld mixer or in the bowl of stand mixer fitted with the paddle attachment, beat butter and peanut butter on medium speed until smooth (about 3 minutes).

Decrease mixer speed to low. Add powdered sugar, vanilla extract, and milk/cream/water. Increase mixer speed to to high and beat until completely combined (approximately 2-3 minutes). If frosting is too thick, add more liquid to desired consistency.
ASSEMBLE THE CAKE
Trim cooled cake layers to create a flat surface. You can do this with a large serrated knife or a cake leveler. Place one layer on a plate or cake stand and cover the top with peanut butter frosting. Spread evenly with an offset spatula. Sprinkle with chopped peanut butter cups, if desired.

Place second layer on top, cut surface down. For a sturdier cake, refrigerate at this point for about 10 minutes. When cake is slightly chilled, remove from refrigerator and spread more frosting on the top and around the sides. Decorate with more chopped peanut butter cups, if desired. Serve. Leftovers stay fresh, covered tightly, at room temperature up to 5 days and in the refrigerator up to 1 week.

Make ahead: prepare cakes and frosting up to 1 day in advance. Cover cakes tightly and keep at room temperature or in the refrigerator until ready to assemble. Refrigerate prepared frosting in an airtight container until ready to use. Unfrosted cake layers may be frozen, wrapped tightly, up to 2 months. Thaw overnight in the refrigerator before assembling. Frosted cake can be frozen, wrapped tightly, up to 2 months. Thaw overnight in the refrigerator and bring to room temperature before serving.
Notes
Cocoa powder: either kind of cocoa powder is fine here. I prefer Dutch processed as it has a smoother taste, and I encourage you not to use natural unsweetened cocoa powder (traditional "regular" cocoa powder).
Coffee + water: this means brew a cup of coffee then add water until the level reaches 1 and

¼

cup total. You can also just use all coffee, if you want to or have the ability to make enough.
Liquid for frosting: this is totally based on what you have on hand. I have used all of these ingredients and don't prefer one over the other, as the creaminess comes mostly from the peanut butter.
Adapted from King Arthur
Nutrition Disclosure
All nutritional values are approximate and provided to the reader as a courtesy. Changing ingredients and/or quantities will alter the estimated nutritional calculations.