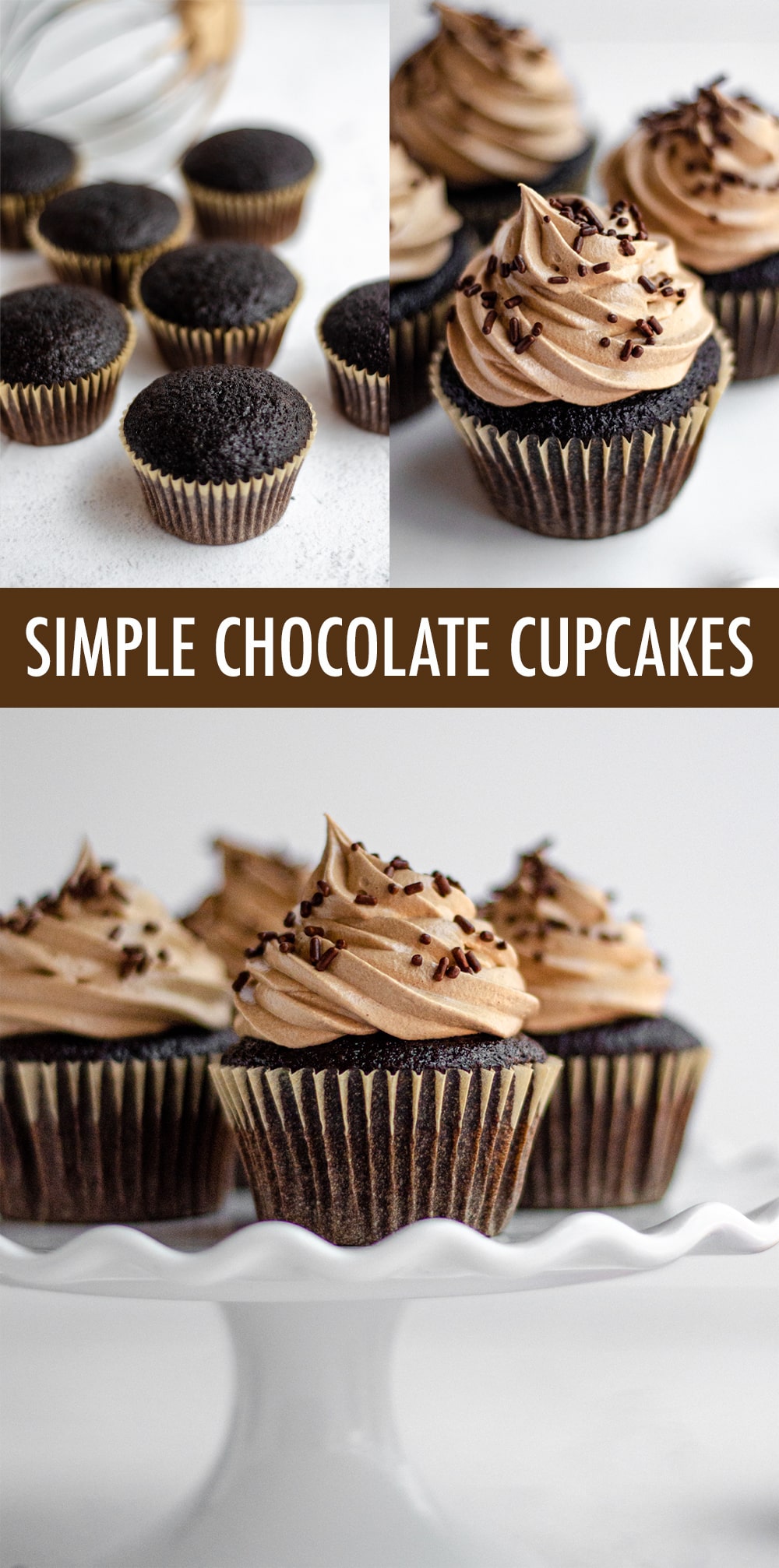 As an Amazon Associate, I earn from qualifying purchases. Read the full disclosure here.
This easy chocolate cupcakes recipe produces cupcakes that are light, fluffy, and incredibly moist. You only need one bowl and can bake and frost them in under 1 hour. You'll never go back to the box again! Top with vanilla buttercream, cream cheese frosting, chocolate Swiss meringue buttercream (recipe included), or any other frosting you can dream up!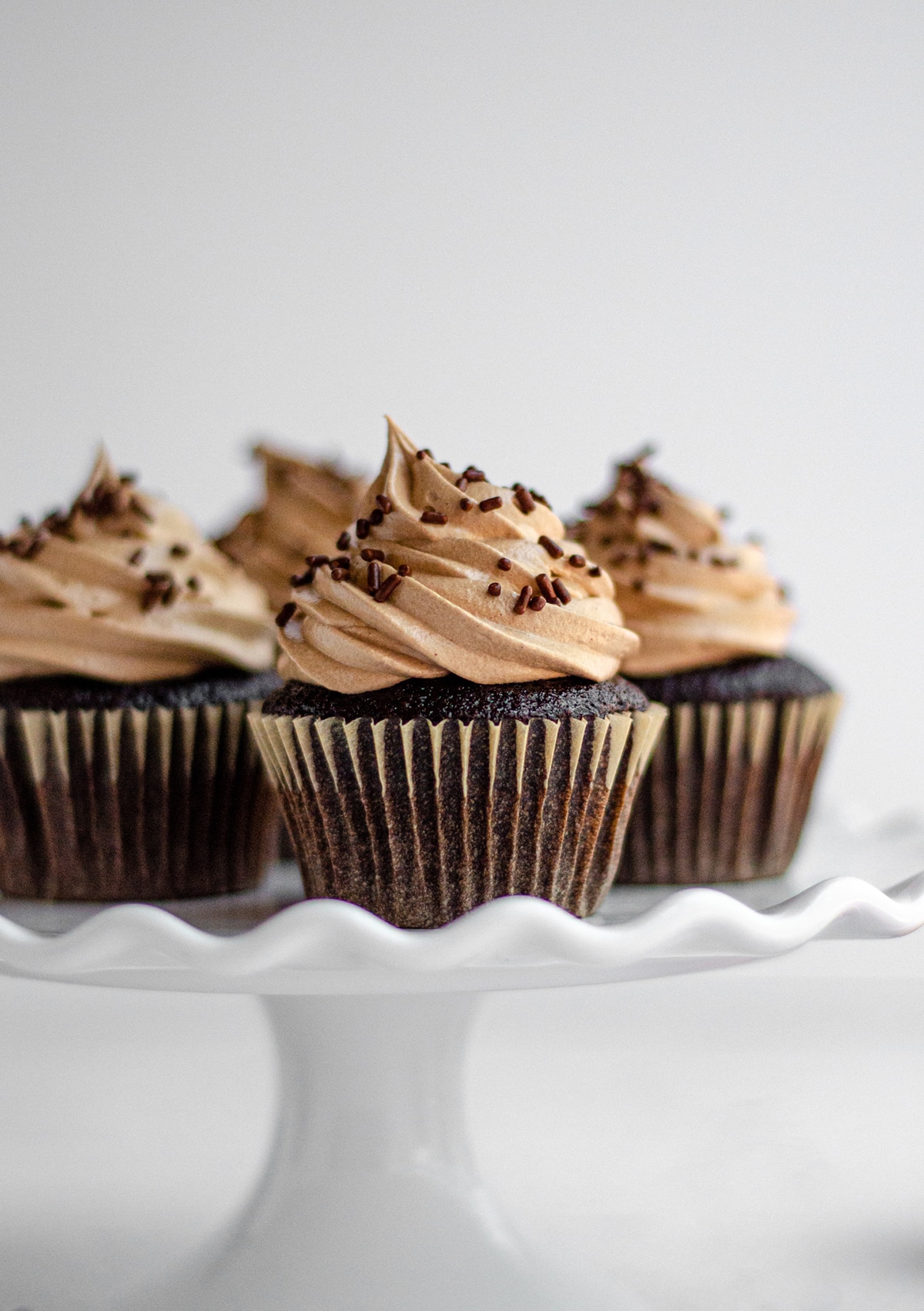 I am so grateful for my Fresh April Flours community.
Since the beginning of my blogging journey (6 years ago!), I have had faithful readers who have seen me grow from a hobby blogger, to part time blogger, to now full time blogger.
Thank you, all of you, for being here, regardless of when you got here!
That said, I am tipping my hat to the FAF community for today's recipe, because a post in my Fresh April Flours Baking Community Facebook page is really where the idea for today's chocolate cupcake recipe came from.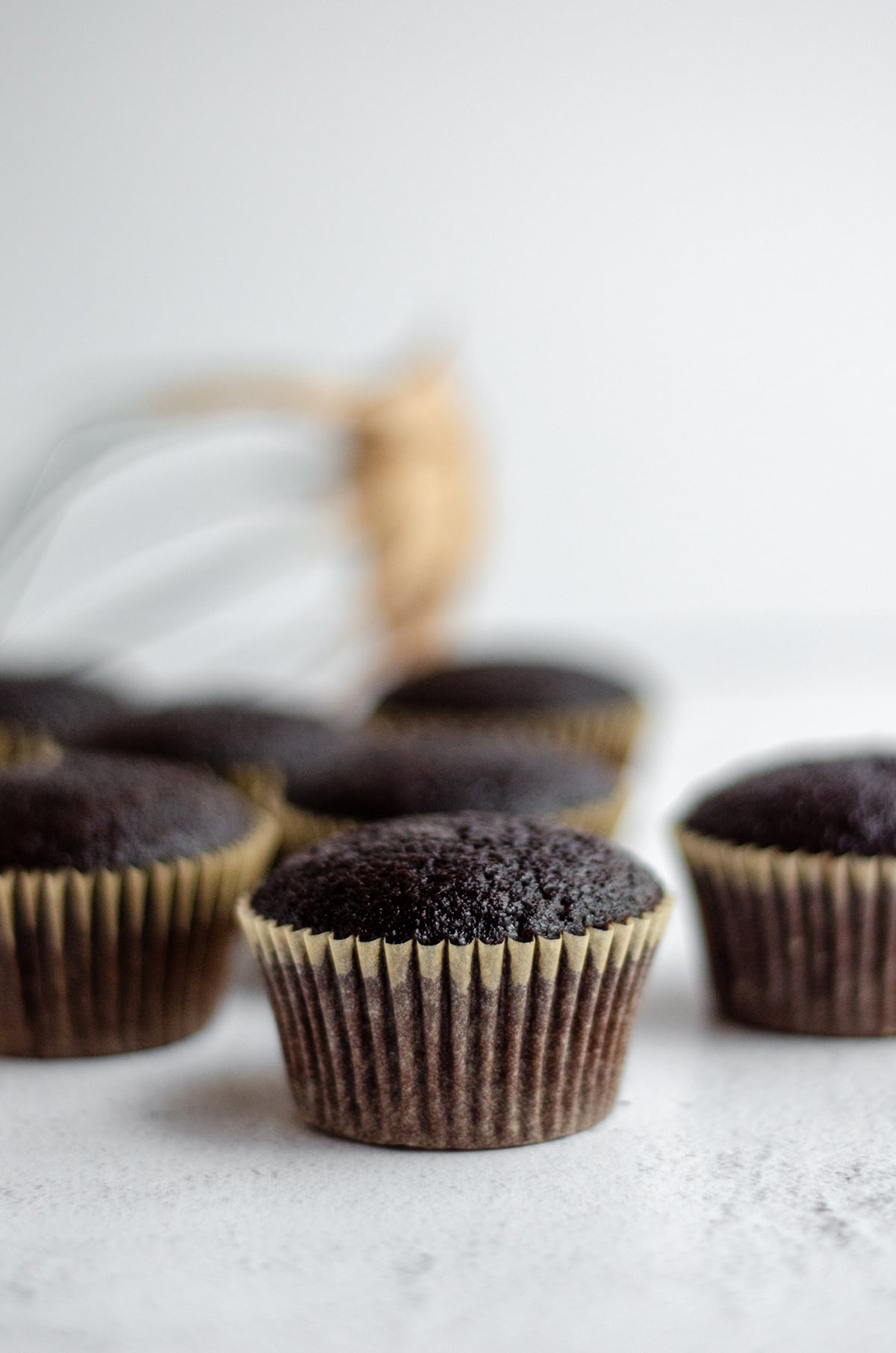 Let's back up a bit: I am forever answering personal texts, Insta DMs, and Facebook messages or comments about whether or not I have a certain recipe. And I LOVE this. More often than not, the answer is yes, and I happily pass on a link to the requester.
In 2017, I worked hard on a layer cake series, out of which I shared my basic white layer cake, yellow layer cake, and dark chocolate layer cake (I already had a basic chocolate layer cake from 2015 that was recently updated just last month!).
I included a few out-of-the-ordinary recipes in there (lookin' at you s'mores layer cake and champagne layer cake), but I really wanted to give my readers and the FAF community bases for classic cakes, because what kind of baker are you if you don't have classic go-to's of everyone's favorites?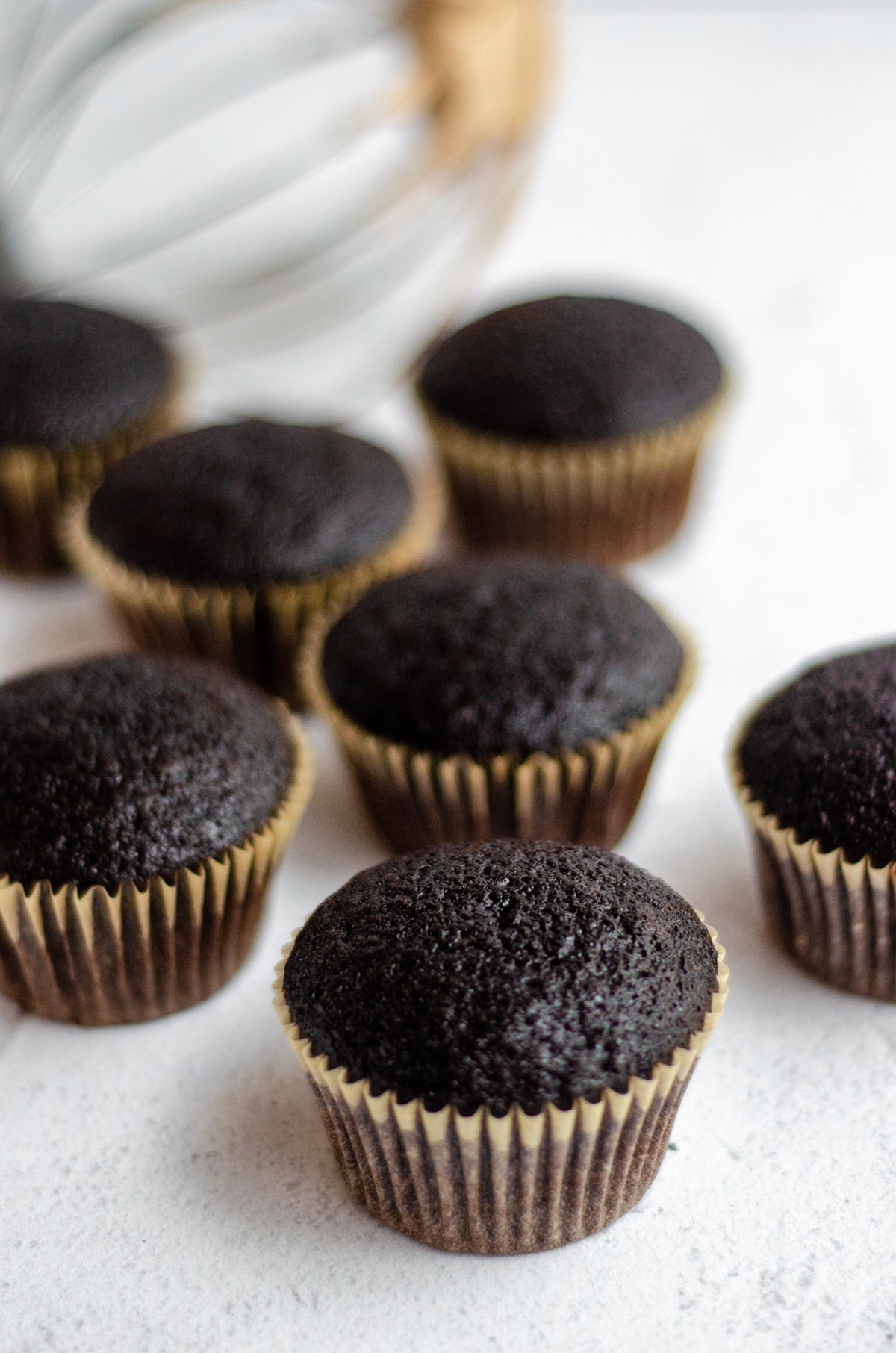 I became hyper-aware of the fact that my cupcake collection is fairly creative and not so much in the "classic" direction (aside from red velvet cupcakes and lemon cupcakes) when a friend of mine said she used my chocolate layer cake recipe to make cupcakes and had a lackluster report.
I immediately told her that no, that is not my favorite recipe to use for cupcakes, and while it gets the job done, my favorite chocolate cupcake base is featured in my football cupcakes and also in my mint chocolate chip cupcakes, just with chocolate chips added in.
Umm… Those directions are so not helpful at all.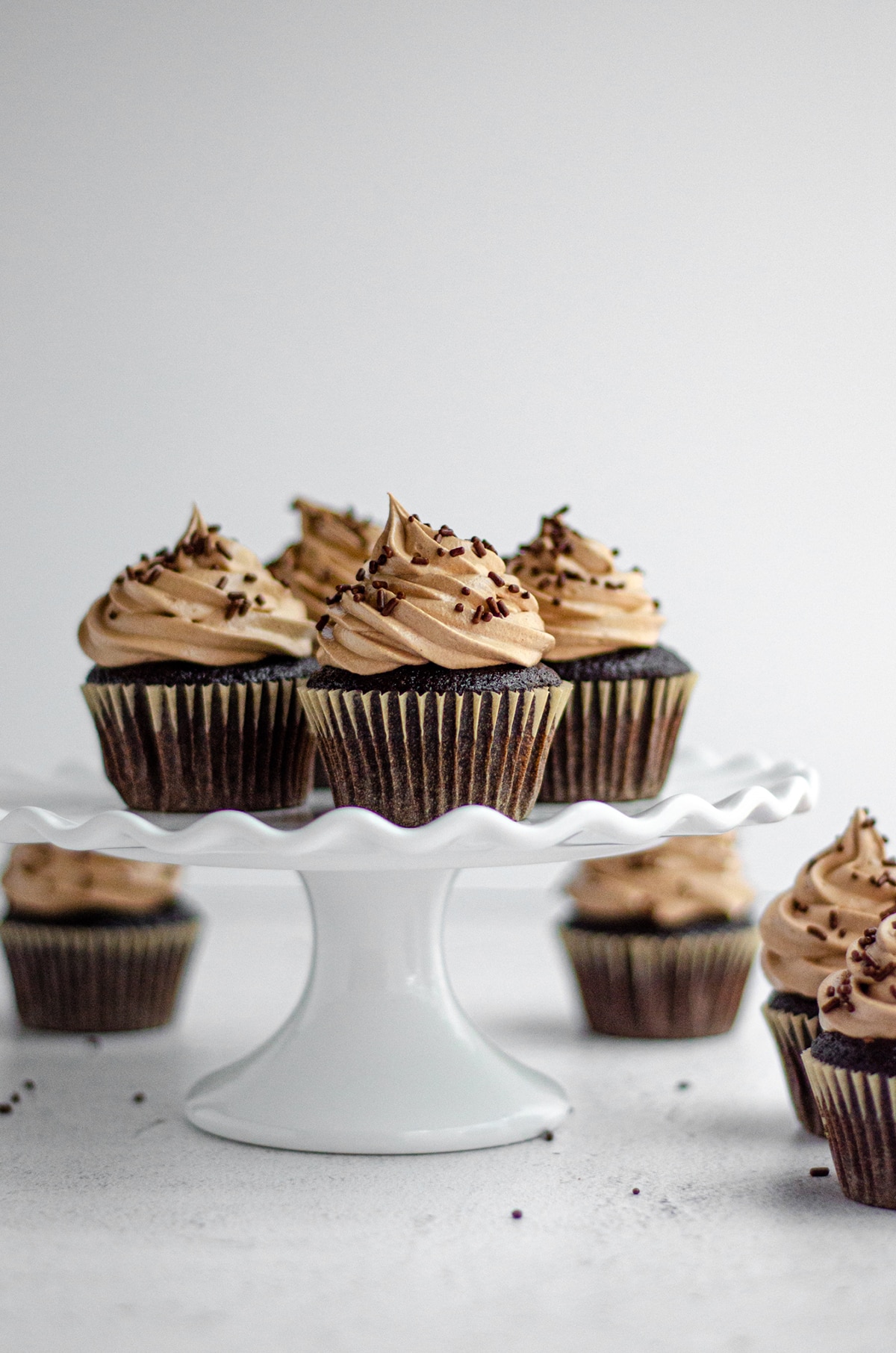 So I was compelled to present my favorite simple chocolate cupcake recipe in its own recipe post so it was
1) easy to find for my readers
2) it wasn't just hidden under adorable chocolate frosting footballs and vanilla frosting laces
3) was presented with the whats and whys of the ingredients because a FANTASTIC CHOCOLATE CUPCAKE is what one should get when they want one.
And please, don't worry… We will get to that fabulous chocolate Swiss meringue buttercream shortly.
But first: cupcakes.
These easy chocolate cupcakes actually come from my dark chocolate layer cake recipe.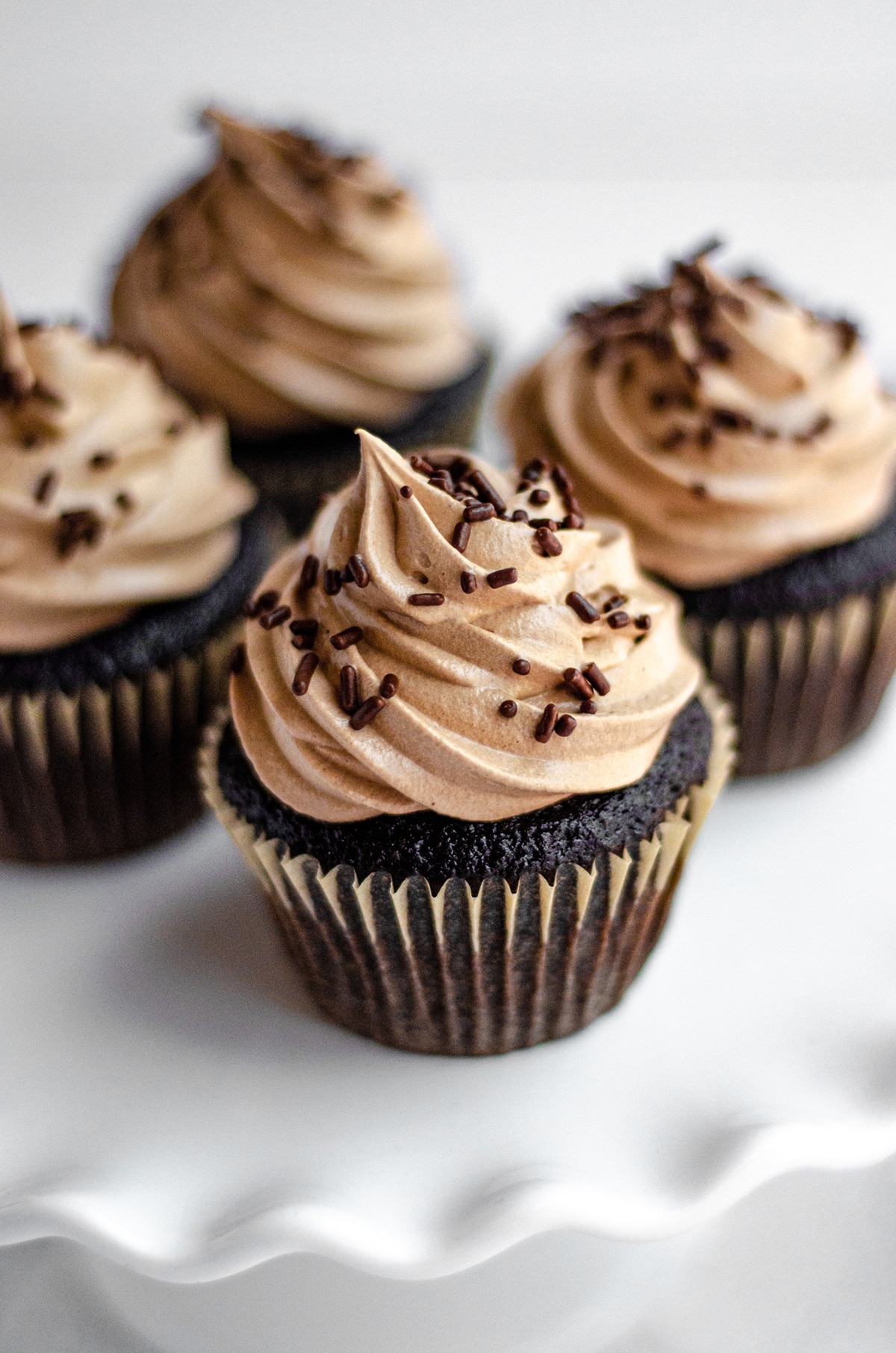 The deeeeeep chocolate flavor comes from not only Dutch processed cocoa powder, which creates more of a dark chocolate feel, but also complemented by coffee.
I use brewed coffee in these chocolate cupcakes to enhance the already chocolatey notes of the cupcakes. If you're concerned about caffeine, go ahead and use decaf. Or, leave it out and just use water.
The flavor of the cake without the coffee will still be absolutely delicious, you just won't have that little extra something that intensifies the chocolate flavor from the Dutch processed cocoa.
We're also using a lot of fat in these cupcakes in the form of eggs and oil.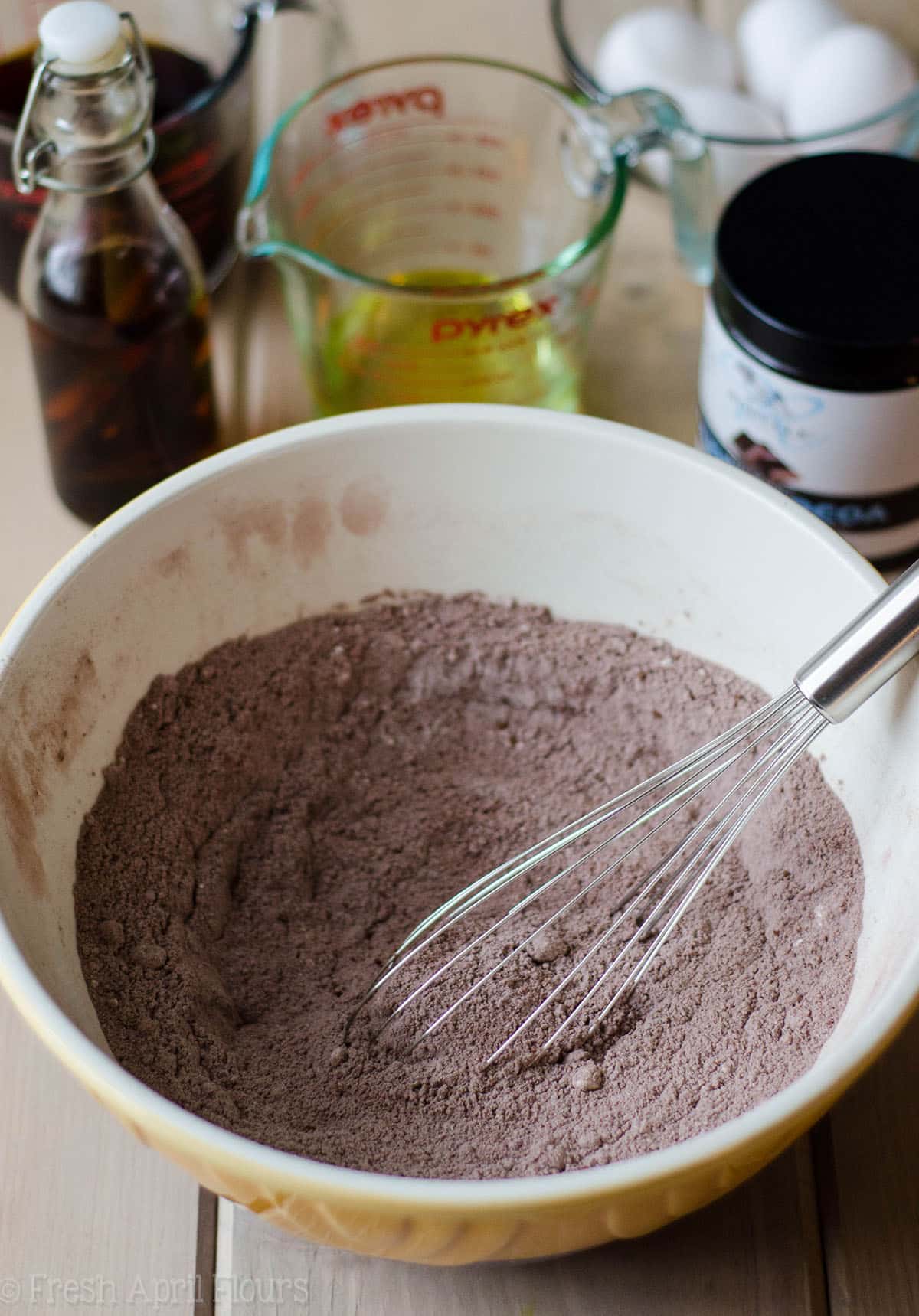 While butter is a typical go-to for cakes like yellow and white, we're opting for a neutral fat to bring extra moisture (sometimes butter can dry out baked goods) and also give the cupcakes a luscious texture.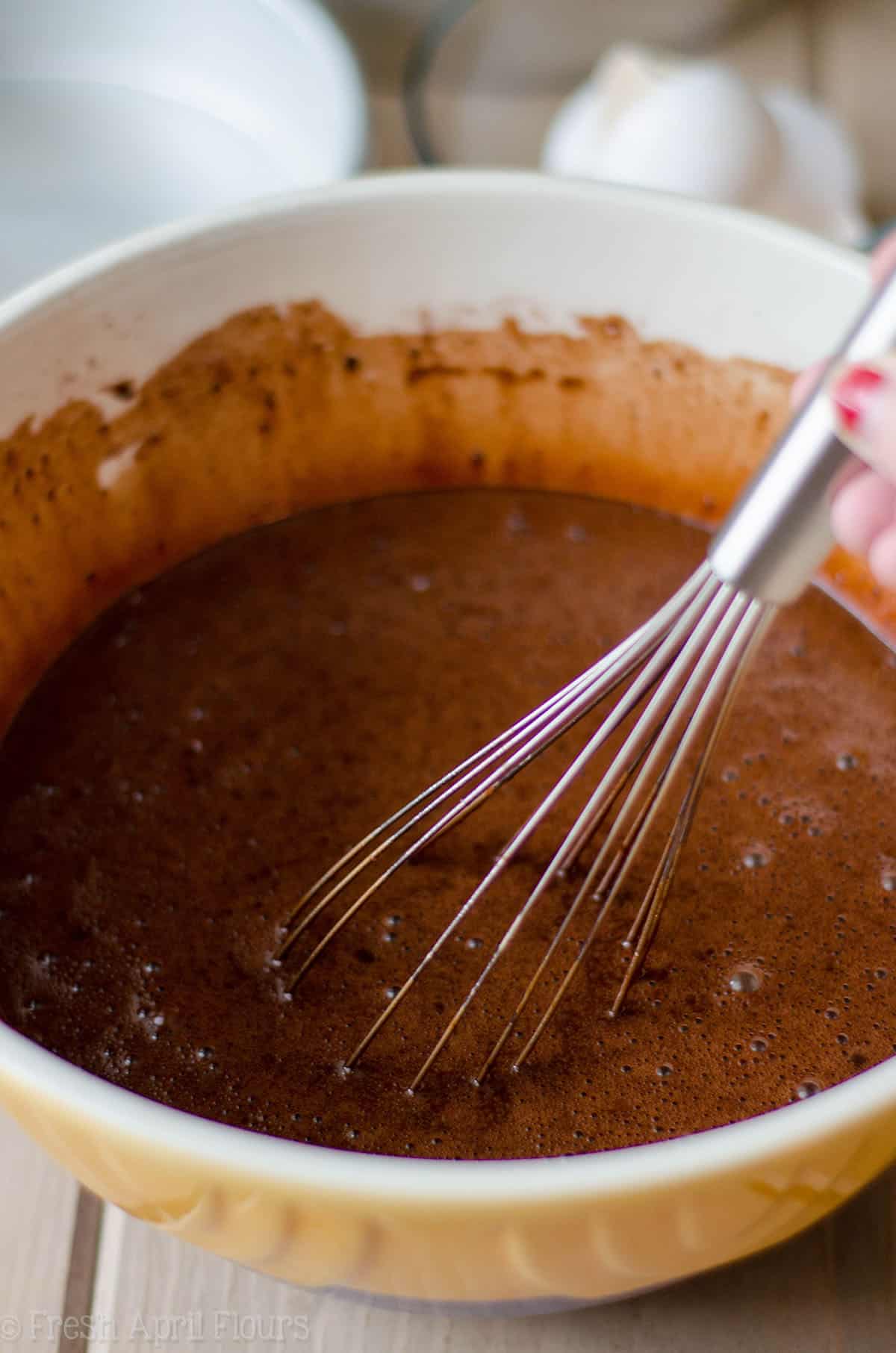 The result is a soft, puffy, and moist chocolate cupcake that can hold up to any frosting you'd like. But I wanted to bring something new to the blog, so I chose a chocolate Swiss meringue buttercream.
Now this buttercream can be a little intimidating, but I will be honest and say, it's not as scary as I thought it would be.
However… If you're unsure of whether or not this is how you'd like to proceed with topping your cupcakes, feel free to use my basic go-to:
•chocolate buttercream
•vanilla buttercream
•coffee buttercream
•mint buttercream
•strawberry buttercream
•cream cheese frosting
•whipped cream buttercream
•peanut butter frosting
•marshmallow frosting
If you're ready to take the plunge and learn chocolate Swiss meringue buttercream… Let's do it!
We talked a little bit about Swiss meringue buttercream when we tackled lemon macarons a few weeks ago. I begin this buttercream the same way I begin my macarons– by making a simple meringue.
Meringue is merely egg whites and sugar.
Create a double boiler (which is just your mixing bowl set on top of a pot of simmering water), and whisk the sugar and egg whites together until the egg whites are bubbly and opaque and you can no longer feel sugar between your fingers if you dip them in and rub them together.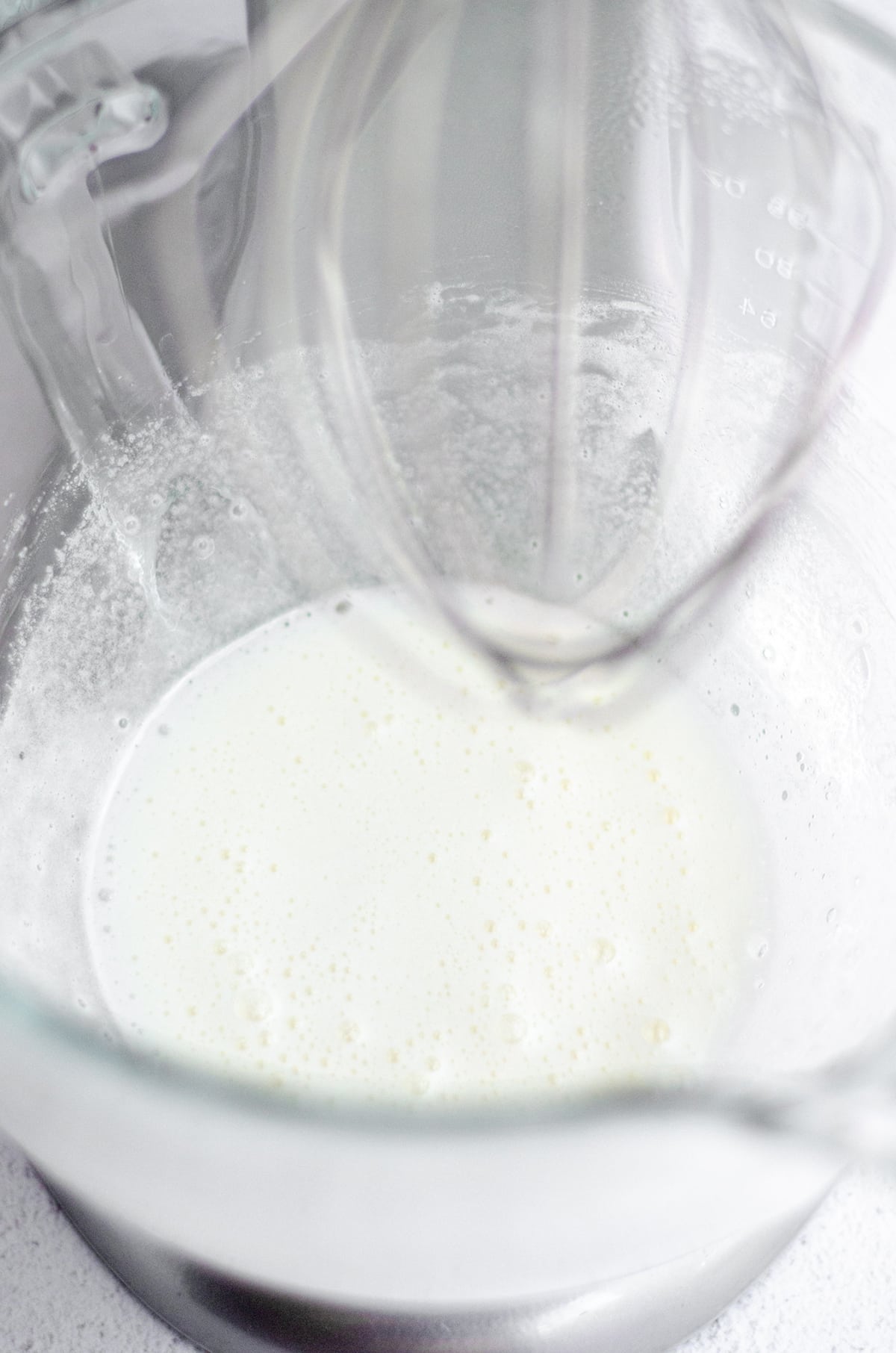 After you cook the egg whites, you'll whip them to medium peaks, which will resemble the texture of shaving cream.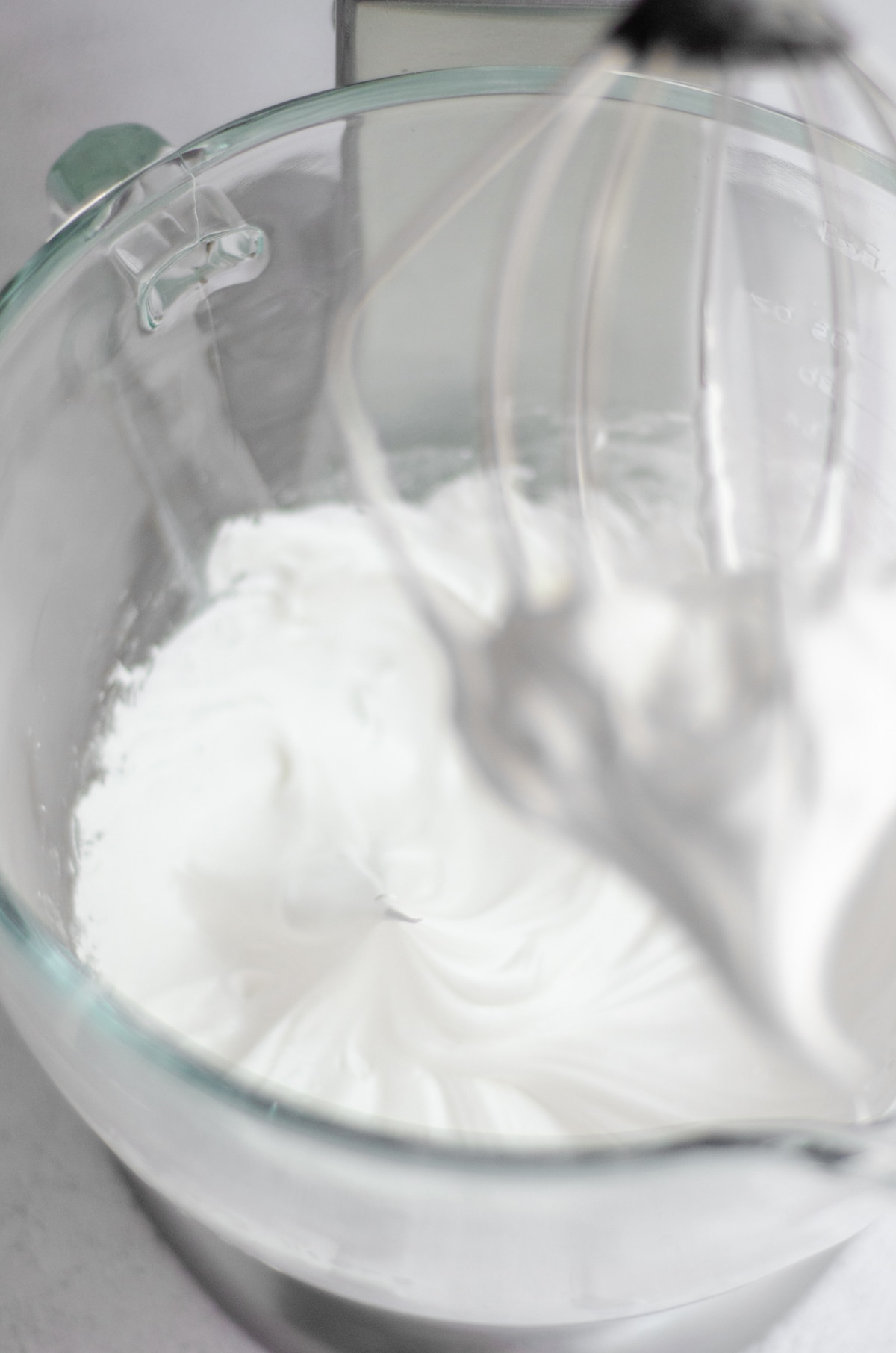 A good way to test for medium peaks is to pull your whisk attachment out of the meringue and flip it upside down. If the peaks flop over a bit, they're medium. If they flop over a lot, you're not quite there. Keep whipping.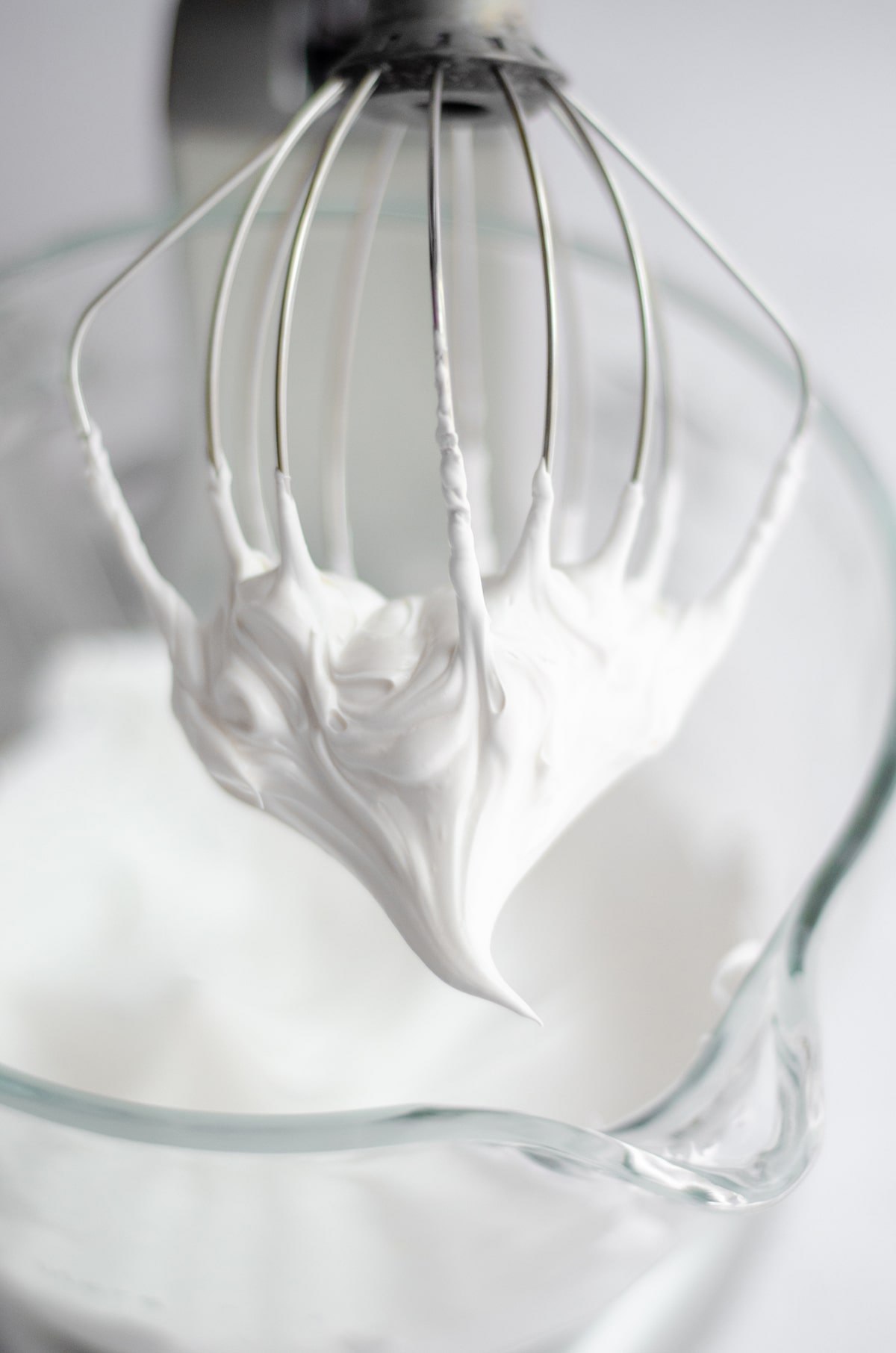 This whipping stage will also give your meringue some time to cool down, because we don't want it to be too warm for the next step…
…which is adding butter, one Tablespoon at a time.
With the mixer on low, add one Tablespoon of softened butter and let it incorporate before adding the next one.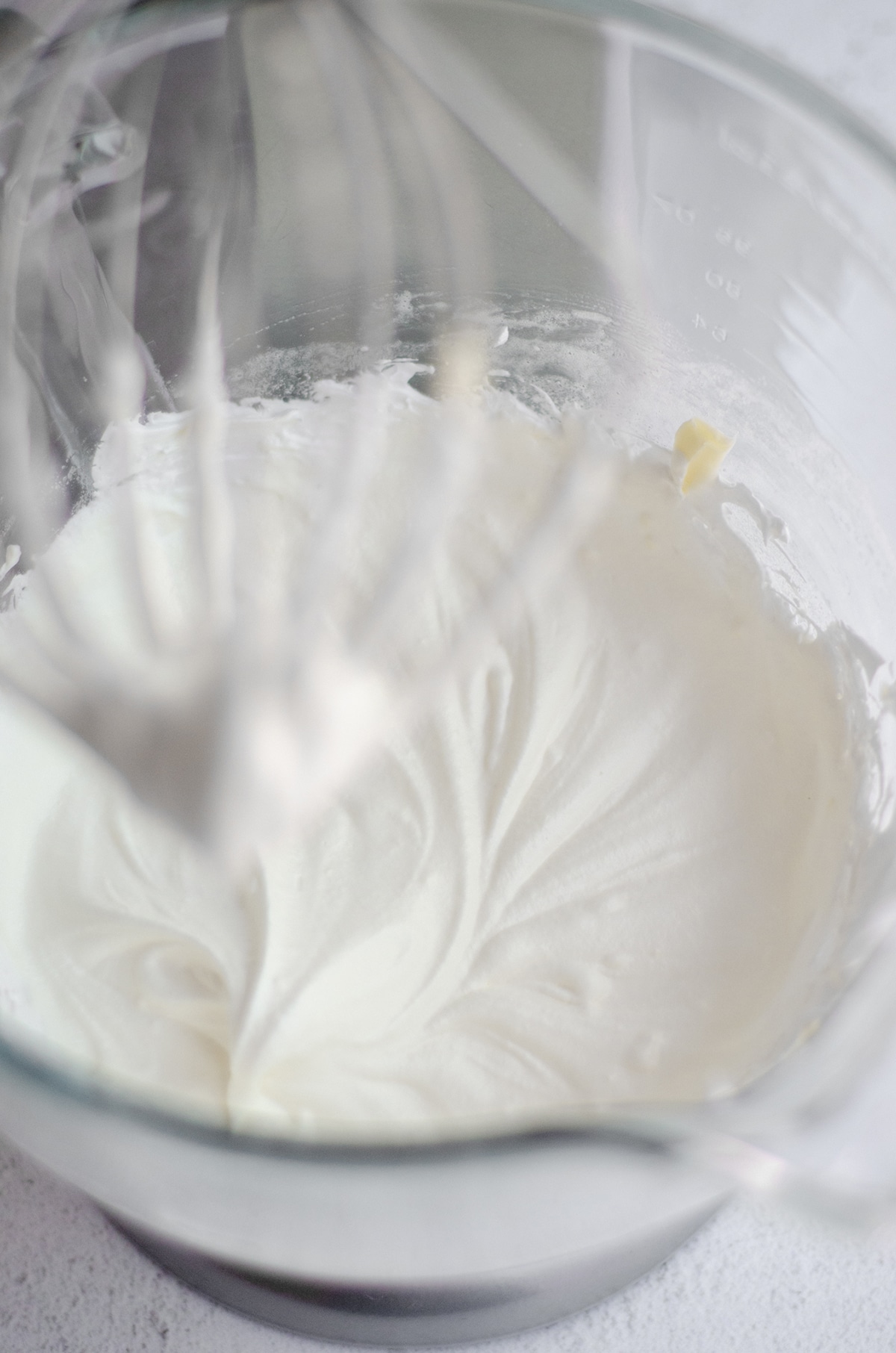 Once all of the butter is in, you can whip it again to form medium to medium-stiff peaks. If it's not getting anywhere, it's possible your mixture is too warm, and it's completely fine to pop it all in the fridge for about 10 minutes to cool it off.
IF PEAKS AREN'T FORMING, CHILL YOUR MERINGUE!
I had to do this twice during my photo shoot because it was a ridiculously hot day. Temperature and humidity can play a big role in the process here, so don't panic and use the refrigerator to your advantage if necessary.
Once you have medium to medium-stiff peaks again, add in the cooled melted chocolate, vanilla extract, and salt. And here's where you'll beat it to stiff peaks.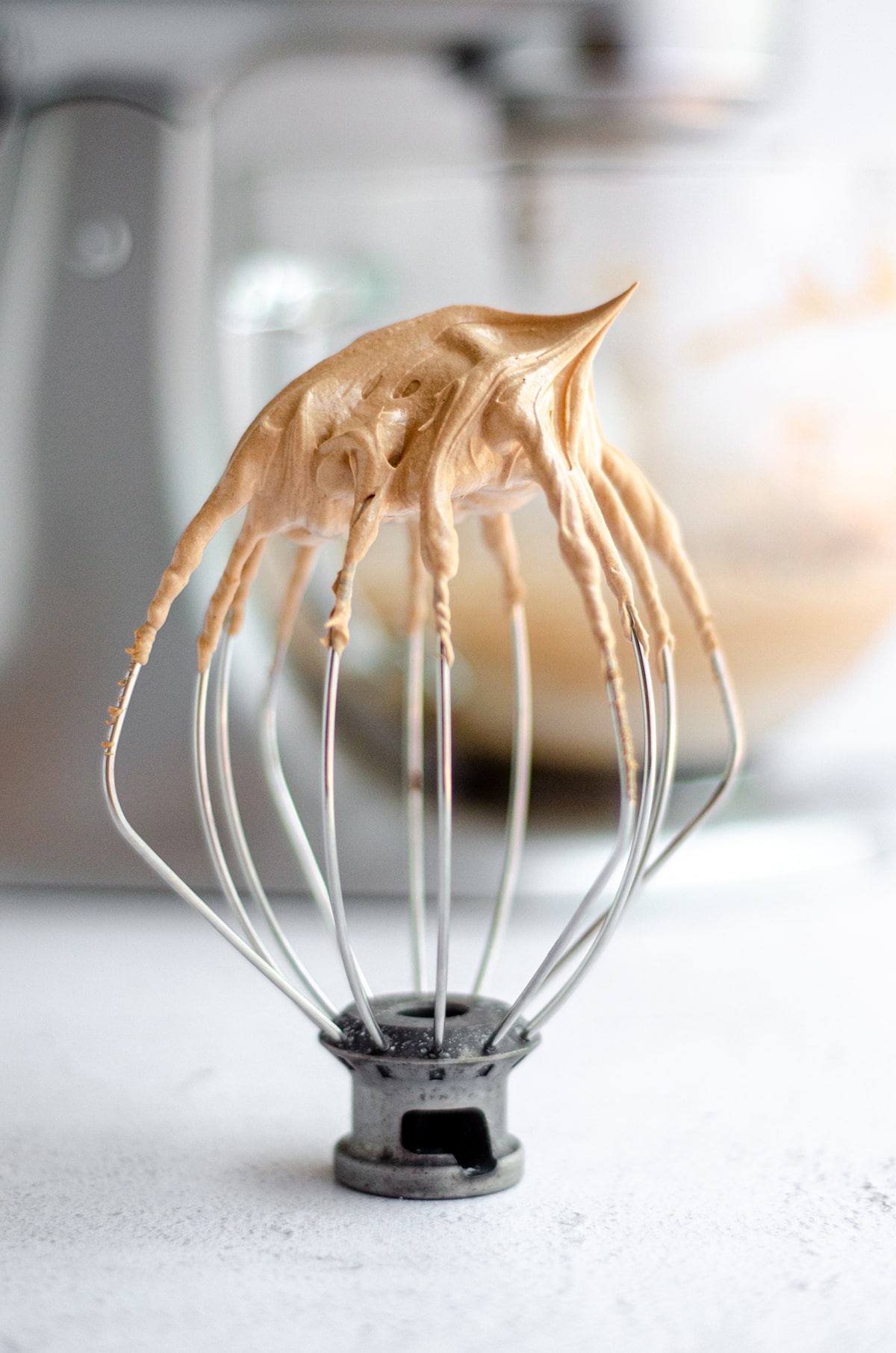 You'll remember from our macaron lesson that stiff peaks are those that stand straight up when either the whisk is flipped upside down or a portion is pulled out of the bowl.
We want this nice and sturdy.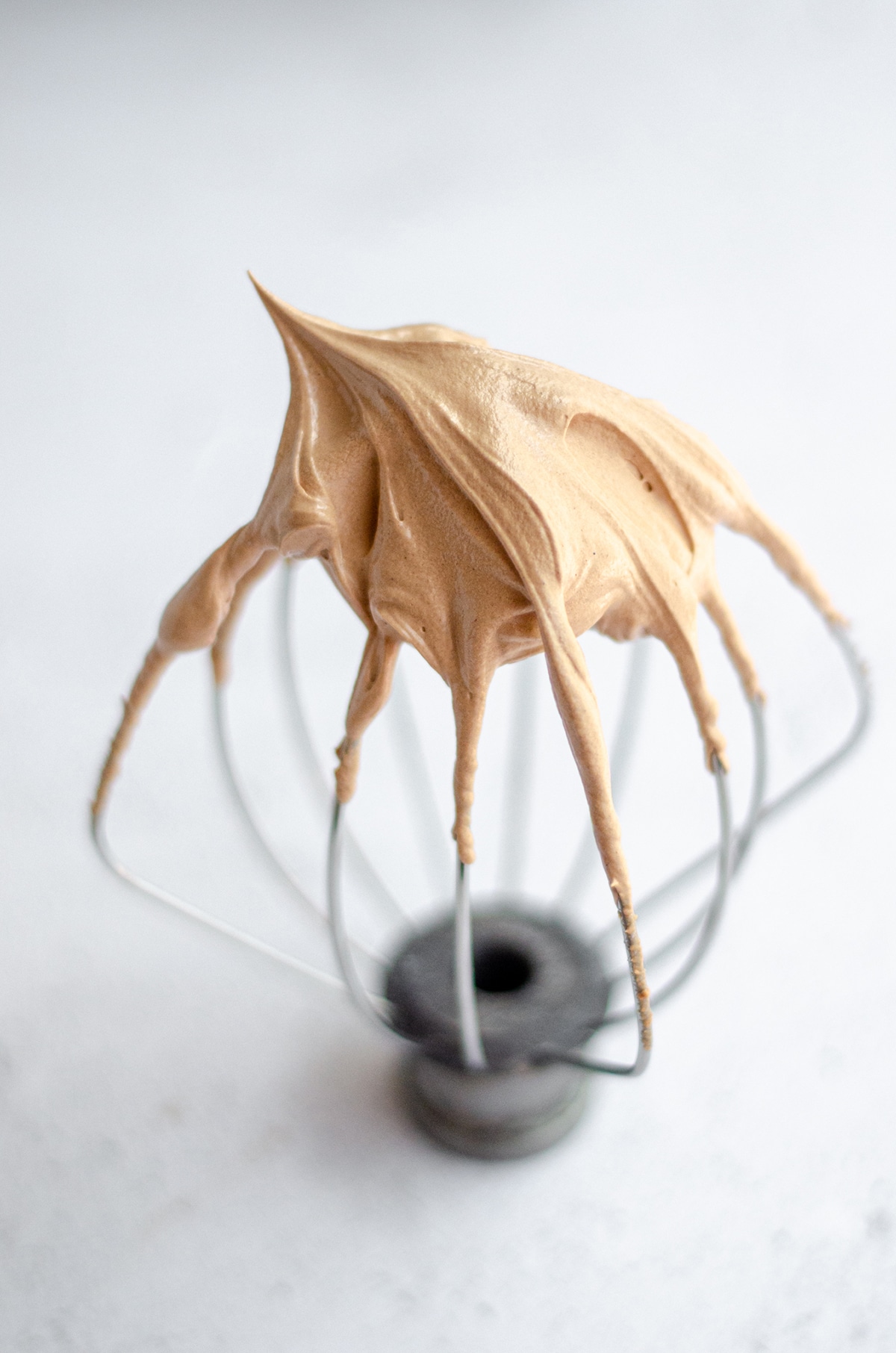 Because OMG, guys. Look at how beautiful it is.
It's soft, it's velvety, and it's that perfect amount of sweetness.
That's what I love about Swiss meringue. If you've ever had a cake or cupcakes made and you want "that whipped, not-as-sweet frosting," Swiss meringue buttercream is what you're asking for.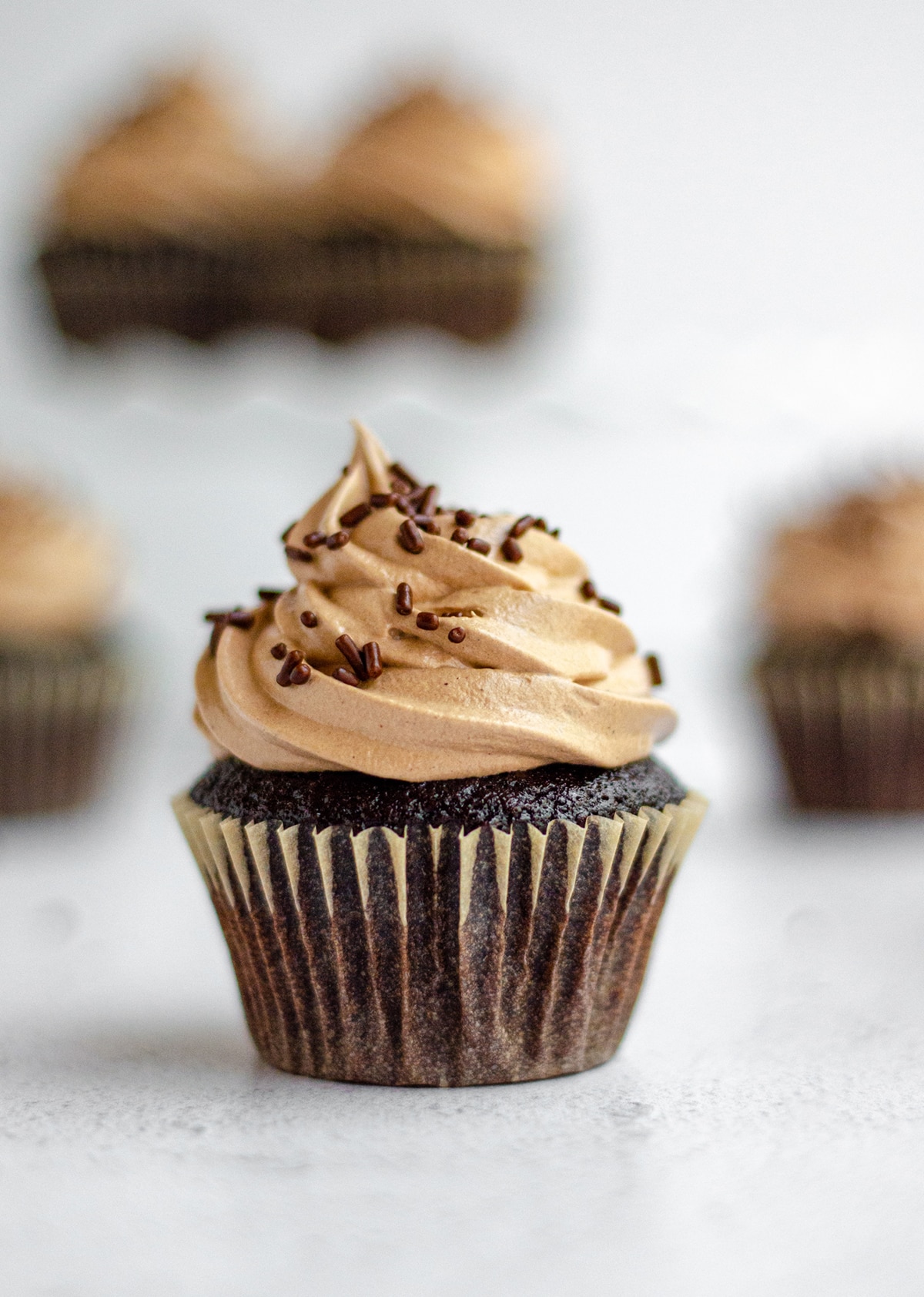 Which, fun fact, you can get if you just leave out the chocolate from my recipe. Ta-da!
But for the purposes of today's amaaaazing simple chocolate cupcake situation, chocolate was so necessary.
I'm so glad that my friend asked for a chocolate cupcake recipe. I love sharing my fun flavors with all of you, but I also know that having a solid series of basics is essential to the home baker. And I hope this cupcake can be that for you!
Again, as always, thank you so much for being here and trusting me to guide you in your kitchen! I'm excited for you to try these delectable chocolate cupcakes and try your hand at some "fancy" chocolate Swiss meringue frosting.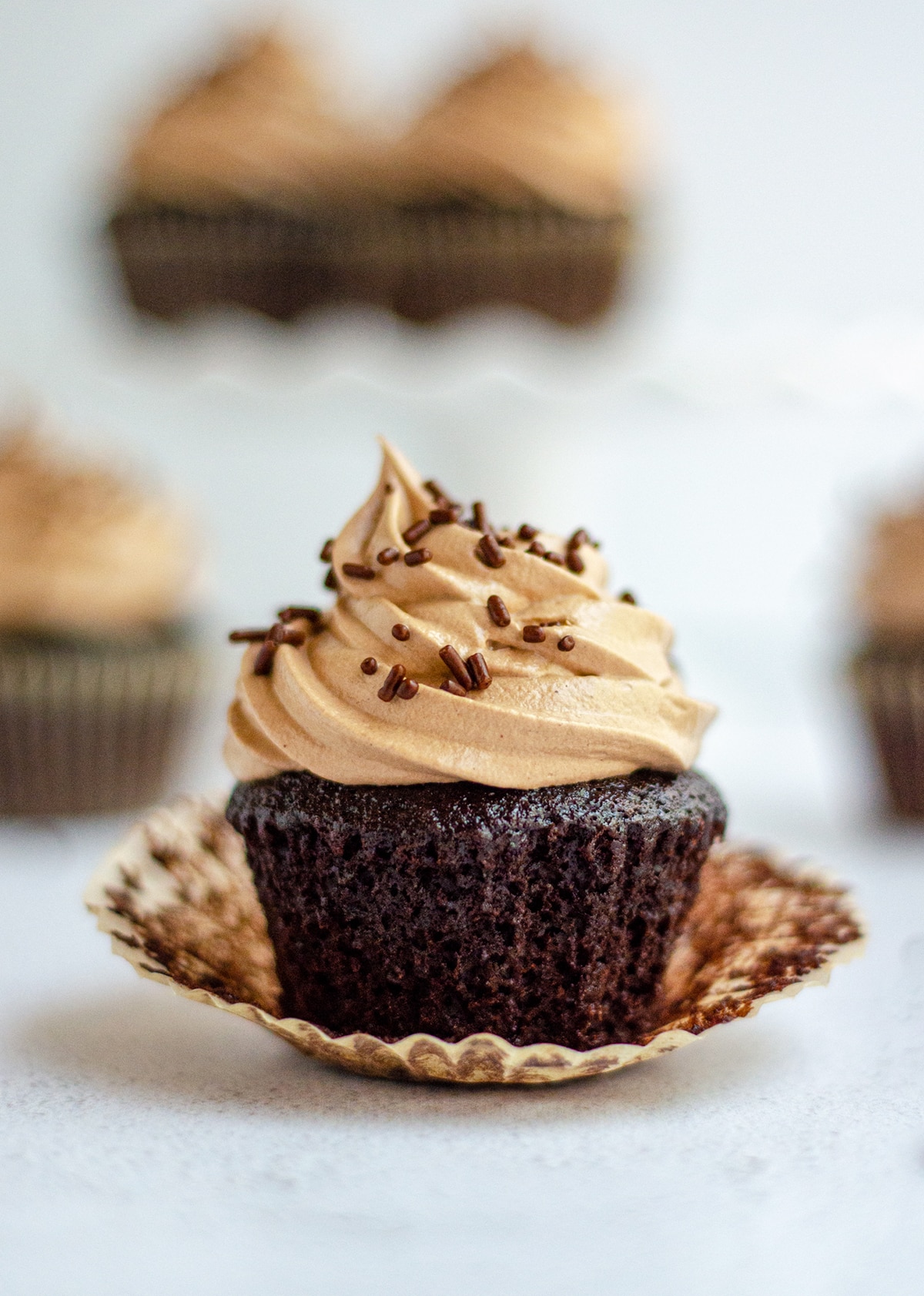 I can't wait for you to surprise yourself with your skills!
Easy Chocolate Cupcake Recipe
These easy chocolate cupcakes are light, fluffy, and incredibly moist. You only need one bowl and can bake and frost them in under 1 hour.
Ingredients
CHOCOLATE CUPCAKES
½

cup

(100g) granulated sugar

½

cup

(100g) firmly packed light brown sugar

1

cup

(120g) all-purpose flour be sure to measure properly

6

Tablespoons

(36g) Dutch processed cocoa powder

1

teaspoon

baking powder

¼

teaspoon

baking soda

½

teaspoon

salt

2

large eggs

¼

cup

(48mL) vegetable oil

1

teaspoon

vanilla extract

5

ounces

(150mL) hot brewed coffee1
CHOCOLATE SWISS MERINGUE BUTTERCREAM
3

large egg whites

¾

cup

(150g) granulated sugar

¾

cup

(170g) unsalted butter

softened to room temperature

3

ounces

(86g) semi-sweet chocolate

melted and cooled

¾

teaspoon

vanilla extract

¼

teaspoon

salt
Instructions
CHOCOLATE CUPCAKES
Preheat the oven to 350ºF (177ºC). Line the wells of a 12 count cupcake pan with cupcake liners. Set aside.

In a large bowl, whisk together the granulated sugar, brown sugar, flour, cocoa powder, baking powder, baking soda, and salt.

To the dry ingredients, add the eggs, vegetable oil, vanilla extract, and coffee and whisk until everything is completely combined.

Spoon batter evenly into the cupcake liners filling ½ to ⅔ of the way full (I like to use an ice cream scoop with a trigger— one scant scoop full). Bake for 13-14 minutes or until a toothpick inserted in the center comes out clean. Allow to cool in the pan for a few minutes, then transfer to a wire cooling rack to cool completely.
CHOCOLATE SWISS MERINGUE BUTTERCREAM
Heat a small pot of water over medium heat until it steams. In the bowl of a stand mixer, combine egg whites and granulated sugar. Place bowl over steaming pot, to create a double boiler.

Whisk the egg whites and sugar vigorously until sugar melts completely and egg whites become white and frothy, about 1 and ½ to 2 minutes. Remove from heat and place bowl back onto stand mixer.

Fit stand mixer with the whisk attachment and whisk egg white/sugar mixture on high speed until medium peaks form (it will resemble the texture of shaving cream).

Turn the mixer down to low, then add the butter one Tablespoon at a time, waiting for the butter to completely incorporate before adding more, until you have used all of the butter. If at any time your mixture starts to look curdled or chunky, just keep mixing and it will correct itself.

Once all of the butter has been incorporated, increase the mixer speed to high and beat until medium to medium-stiff peaks form. Turn off the mixer, add the cooled melted chocolate, vanilla, and salt, and beat again until stiff peaks form. If you are having trouble achieving peaks, place the bowl and whisk attachment in the fridge for about 10 minutes and then try again. Meringue (or even a kitchen) that is too warm can prevent the meringue from peaking properly.

Fill a piping bag (or a large zip top bag with the corner snipped off) with frosting and decorate your cupcakes. If you want a fancier pipe, use a Wilton 1M tip. Cupcakes stay fresh in an airtight container at room temperature up to 3 days, or in the refrigerator up to 5 days. Undecorated cupcakes may be frozen, up to 2 months. Thaw in refrigerator overnight and allow to come to room temperature before decorating.
Notes
Brewed coffee: your cupcakes will not taste like coffee, but if you would prefer not to use it, you can use hot water or very warm milk. It is important that your liquid be hot or very warm in order to bloom the cocoa powder.
Adapted from mint chocolate chip cupcakes
Nutrition Disclosure
All nutritional values are approximate and provided to the reader as a courtesy. Changing ingredients and/or quantities will alter the estimated nutritional calculations.
Serving:
1
cupcake
|
Calories:
358
kcal
|
Carbohydrates:
43
g
|
Protein:
4
g
|
Fat:
20
g
|
Saturated Fat:
10
g
|
Polyunsaturated Fat:
3
g
|
Monounsaturated Fat:
5
g
|
Trans Fat:
1
g
|
Cholesterol:
58
mg
|
Sodium:
232
mg
|
Potassium:
134
mg
|
Fiber:
2
g
|
Sugar:
33
g
|
Vitamin A:
398
IU
|
Calcium:
45
mg
|
Iron:
2
mg