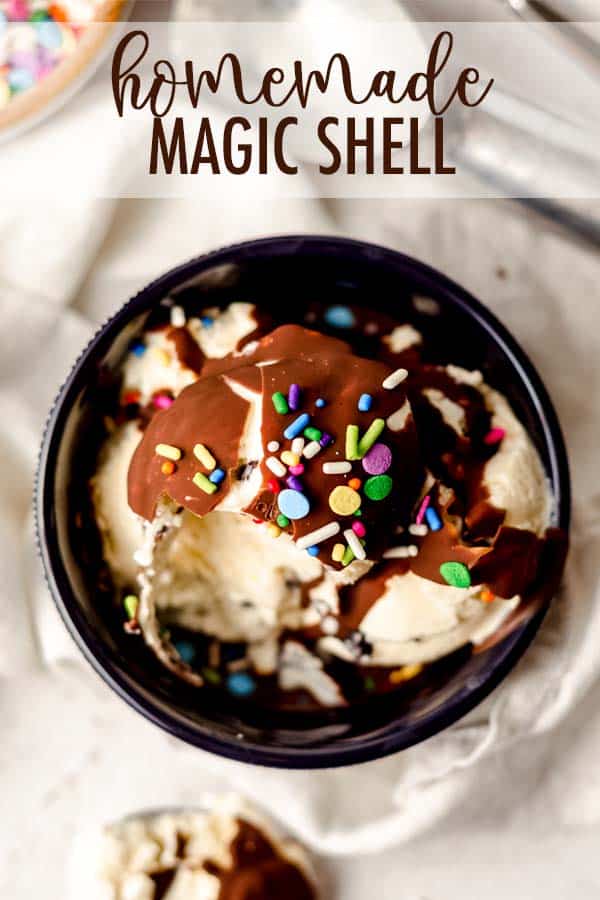 As an Amazon Associate, I earn from qualifying purchases. Read the full disclosure here.
An easy, 3-ingredient recipe for magic shell you can make at home. Bring on the sundaes!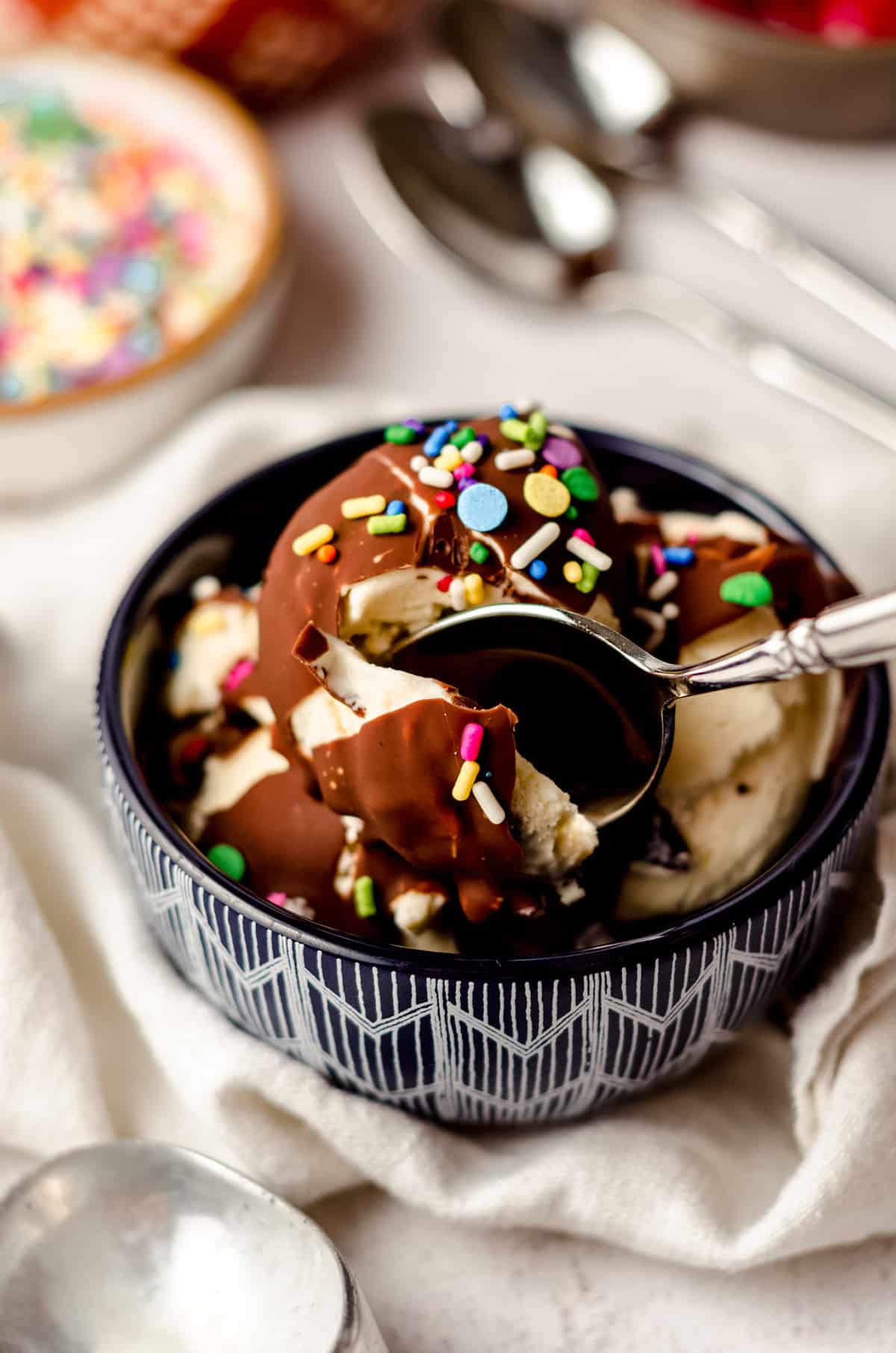 So are you just, like, completely nostalgic for your childhood looking at this picture of crackly chocolate magic shell on a bowl of ice cream or what?
Tell me you haven't had a bowl or two (or a million!) of ice cream covered in that amaaaazing hardened chocolate shell that was so fun to break through with a spoon and added so much texture to an already enjoyable dessert.
Are you with me?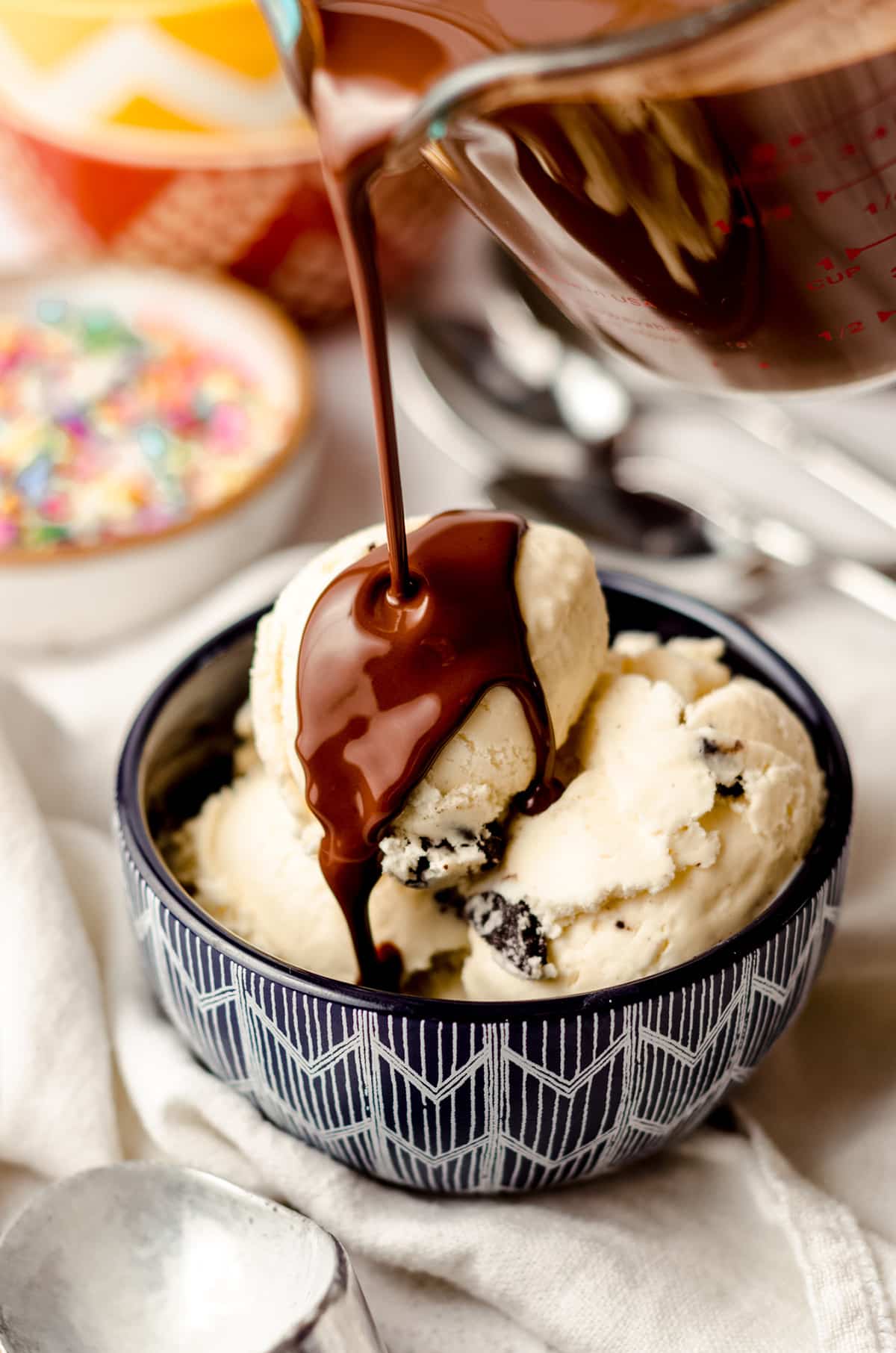 So let's back track a bit– somehow authentic Magic Shell escaped my life for oh, like, 25 years, and my fabulous husband brought it back in the summer of 2016 when we went ALL OUT to celebrate the best summer ever the weekend before I went back to work after my first maternity leave.
We had the works!
Sprinkles, nuts, caramel sauce, cherries, and the magical Magic Shell. And then, as any adults would, we started wondering "why is this stuff so magical? How do they do it?!" So we looked at the label and saw there were like, 5 ingredients.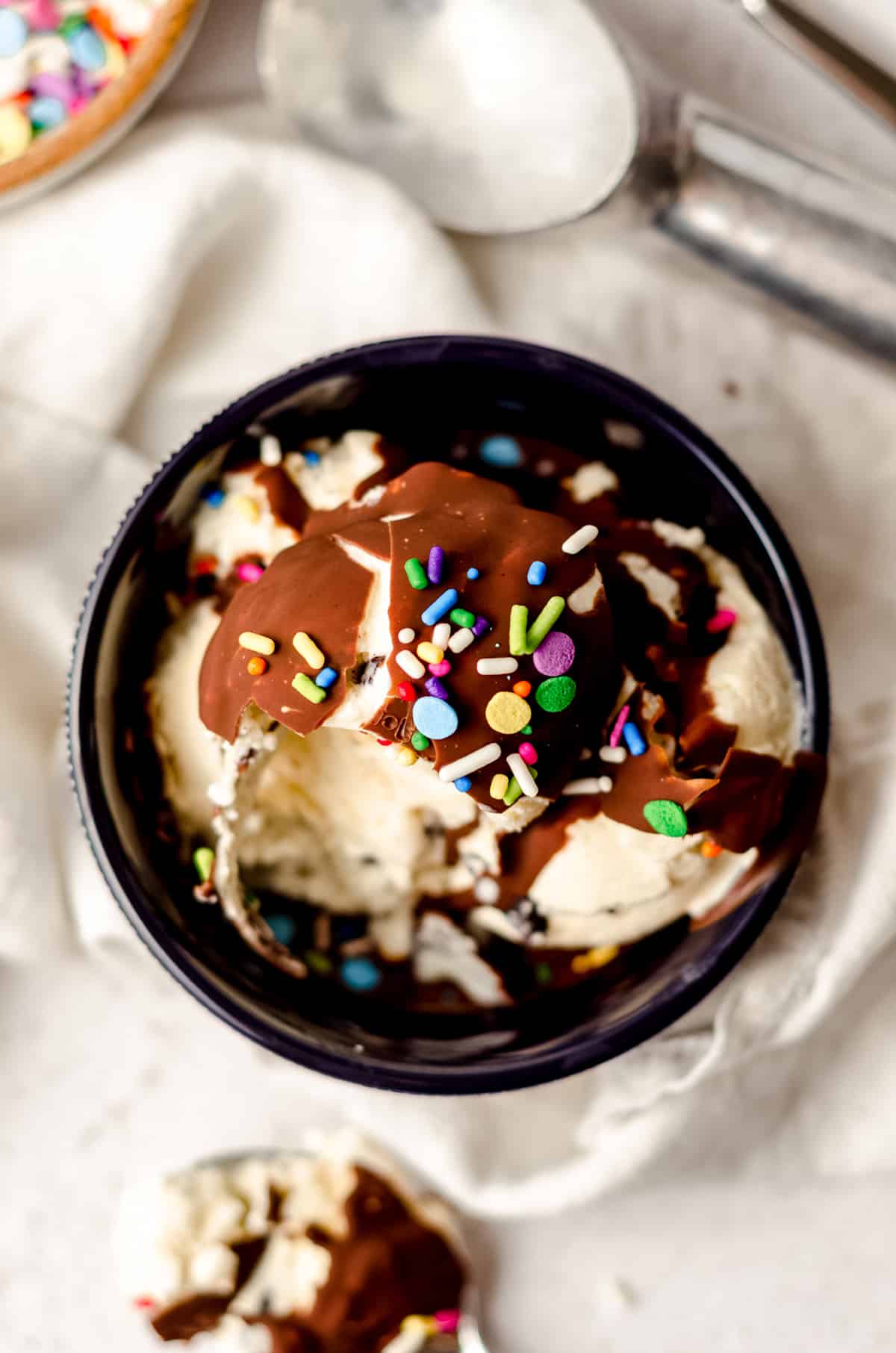 And I thought "umm, I can totally do this at home."
And then I foolishly tabled that idea for several months, and when I decided to take matters into my own hands to recreate that iconic chocolate ice cream shell, I was kicking myself for not getting to it sooner.
It has truly been a pantry staple ever since (just like my homemade taco seasoning!) and I love that it's allergen friendly (we'll get to that part).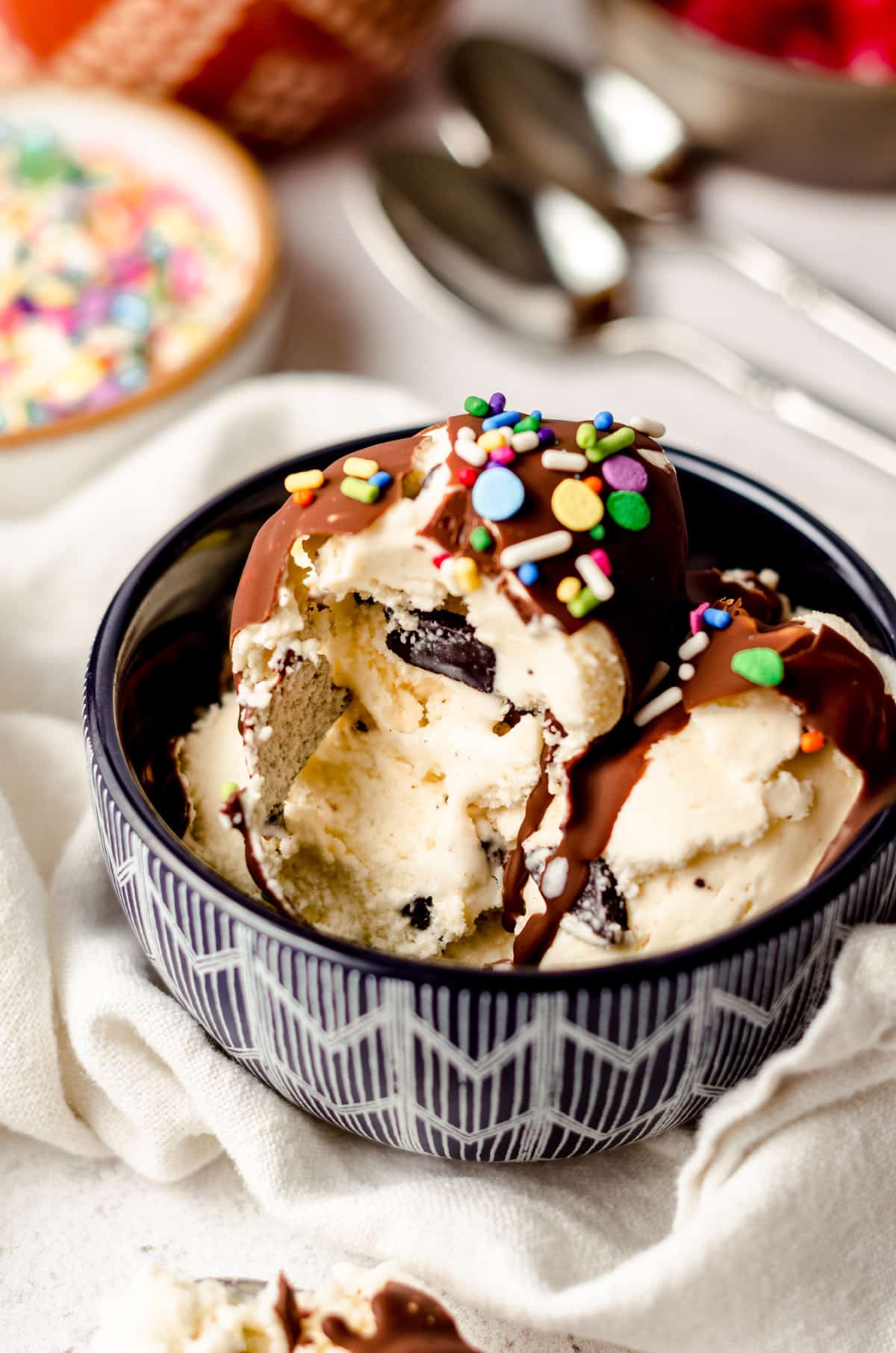 But first, we need a science lesson! My fav!
WHAT MAKES MAGIC SHELL SO MAGIC?
This magic chocolate shell goes from liquid to solid in a matter of seconds, as soon as it (a room temperature liquid) hits freezing cold ice cream. But how exactly does this happen?
The secret is coconut oil, which contains a lot of saturated fat.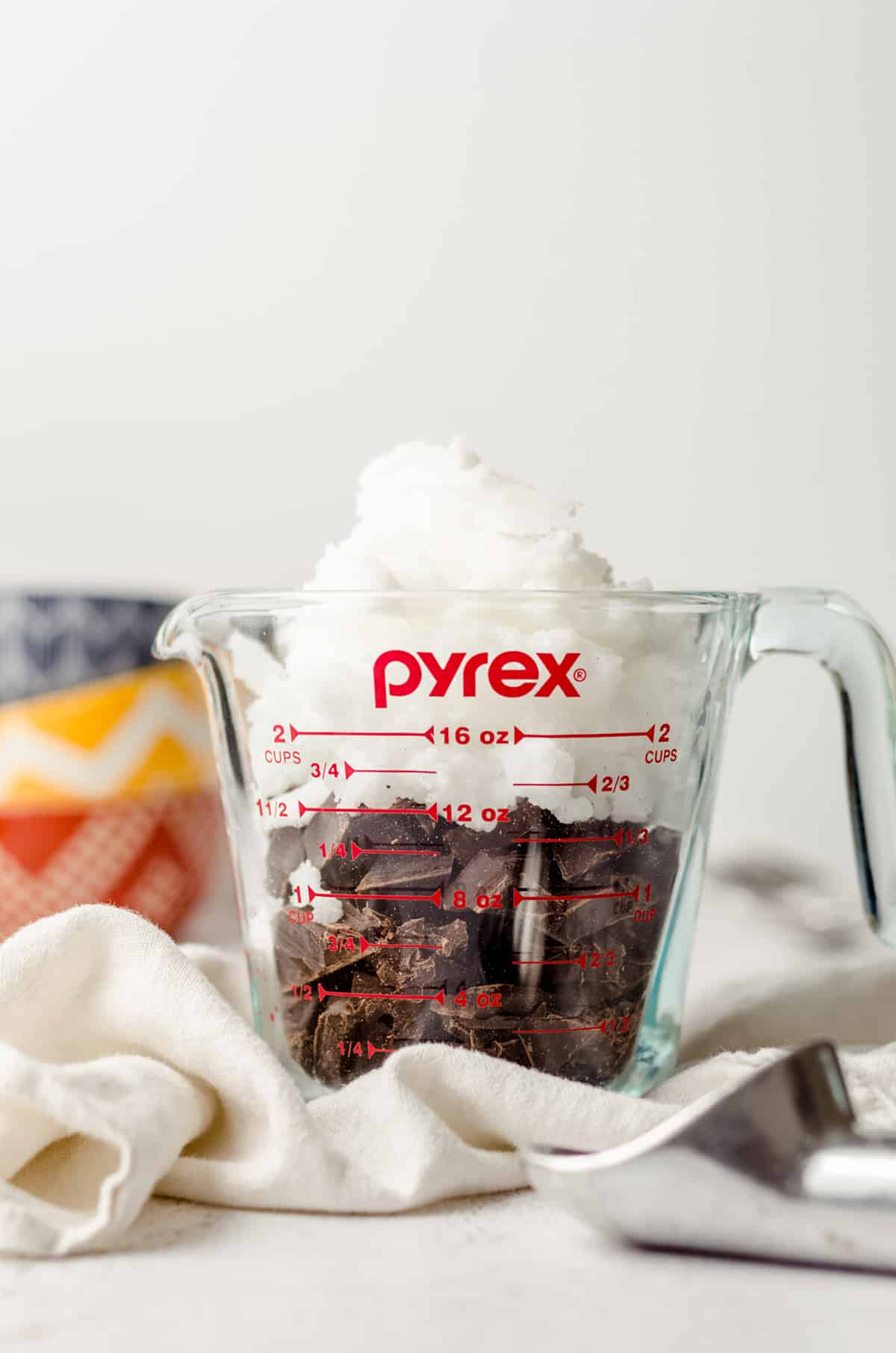 Have you ever spent a lot of time with coconut oil? I've used it in various homemade granolas, because it helps give granola its crunch. It is pretty sensitive in that at room temperature, it is solid, but even if you touch it with a warm finger, it will start to melt.
It melts at about 75ºF (24ºC), which is about 20º lower than the melting point of butter. So it's pretty sensitive! This is great for DIY magic shell purposes!
HOW TO MAKE MAGIC SHELL
Really and truly, homemade magic shell is as easy as combining equal parts coconut oil and chopped quality chocolate (and a teeeeny bit of vanilla extract). You're making a chocolate mixture that has extra fat in it to make it turn solid quickly.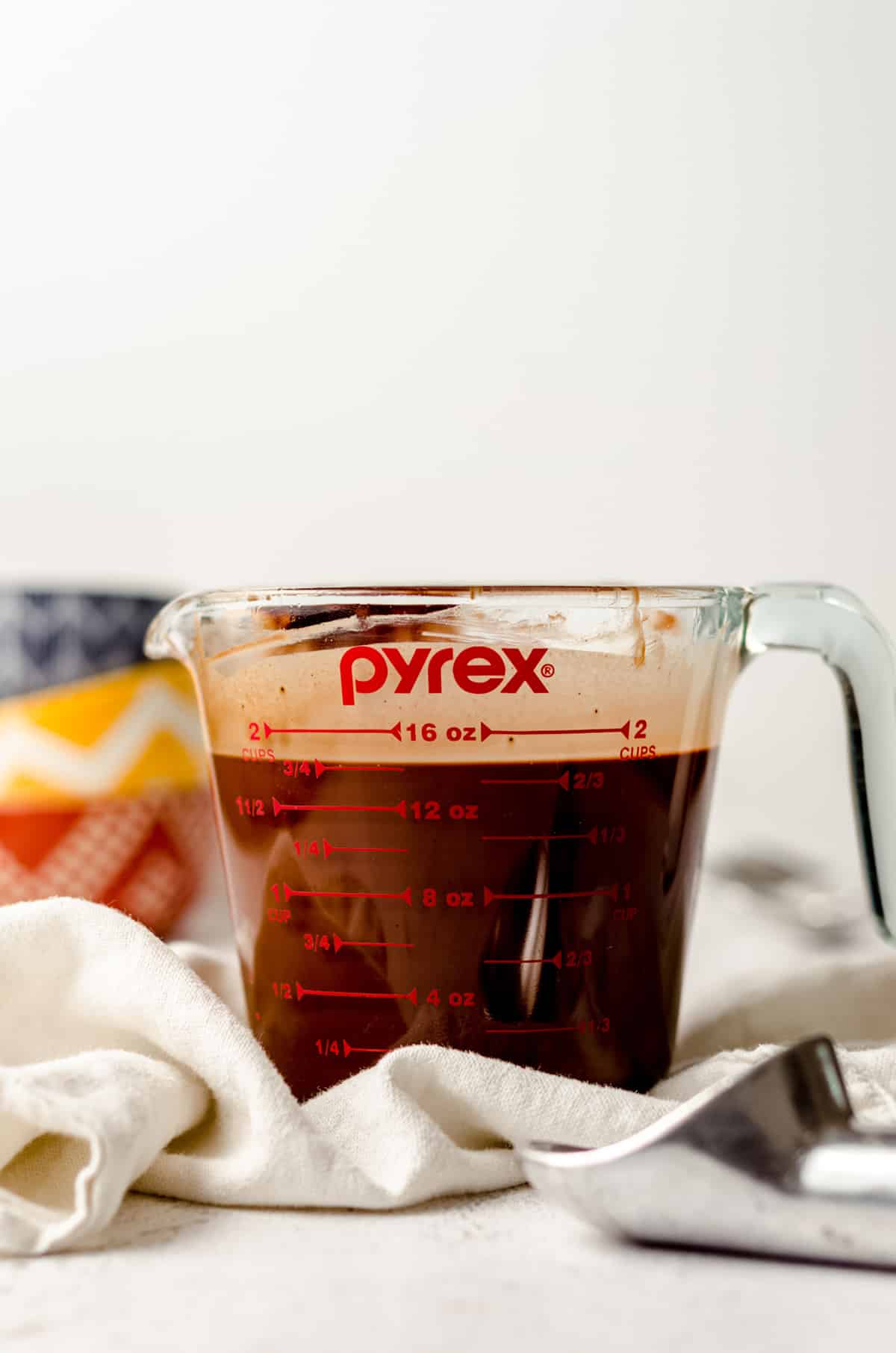 I found the best ratio is 1:1, so that makes this simple if you're looking to make a lot more or a lot less than what the recipe yields (around 1 and ¾ cup).
From the time you combine the chopped chocolate and the coconut oil, you'll need about a total of 3 minutes of microwave time, in the form of 20 second increments and stirring in between.
It's really that easy.
MAKE YOUR MAGIC SHELL CHOCOLATE SAUCE VEGAN
Since we're just using chocolate and coconut oil, grab your favorite vegan chocolate and have at this homemade ice cream goodness.
My dear husband follows a gluten free and dairy free lifestyle, so vegan recipes work out nicely for him a lot of the time. Traditional, store-bought magic topping typically contains milk, so using a darker chocolate or straight up dairy free chocolate makes this a great allergen friendly option.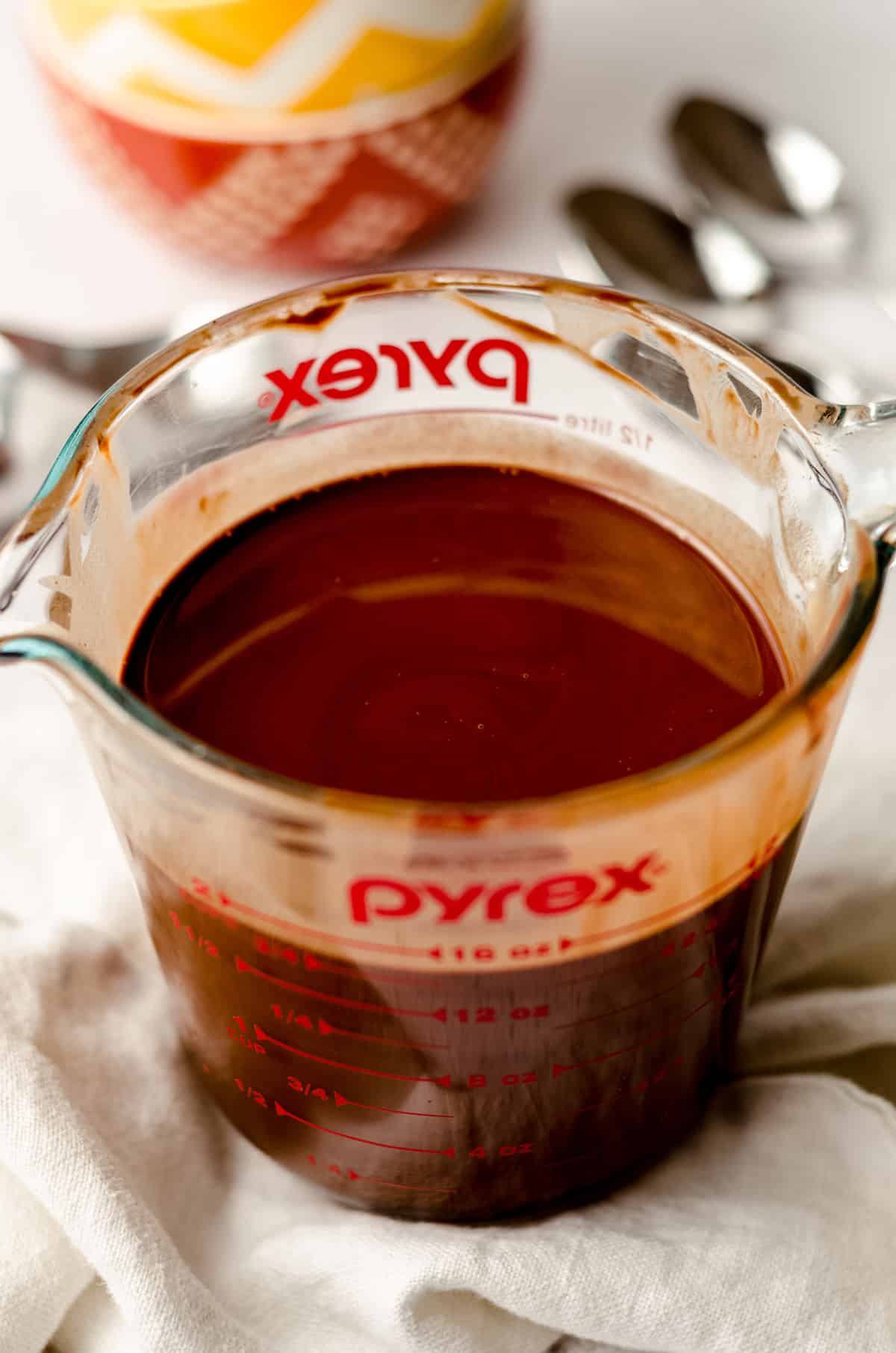 Of course, this magic shell recipe will work with any kind of ice cream, dairy or non-dairy alike. It just needs to touch something frozen before it hardens with all of its magic.
Which means that it's great for any kind of frozen dessert– perhaps you want to put it on a popsicle or a fudge bar or even get fancy and dip an ice cream cone into it. Whatever your little hard chocolate shell loving heart desires.
HOW LONG DOES HOMEMADE MAGIC SHELL LAST?
This copycat magic shell will last months at room temperature. As long as it still smells like coconut oil and/or chocolate, it is fine to use. Store it covered tightly in a dry place.
If it separates, shake it to put it back into solution. If it hardens, run it under warm water or nuke it in the microwave for a few seconds.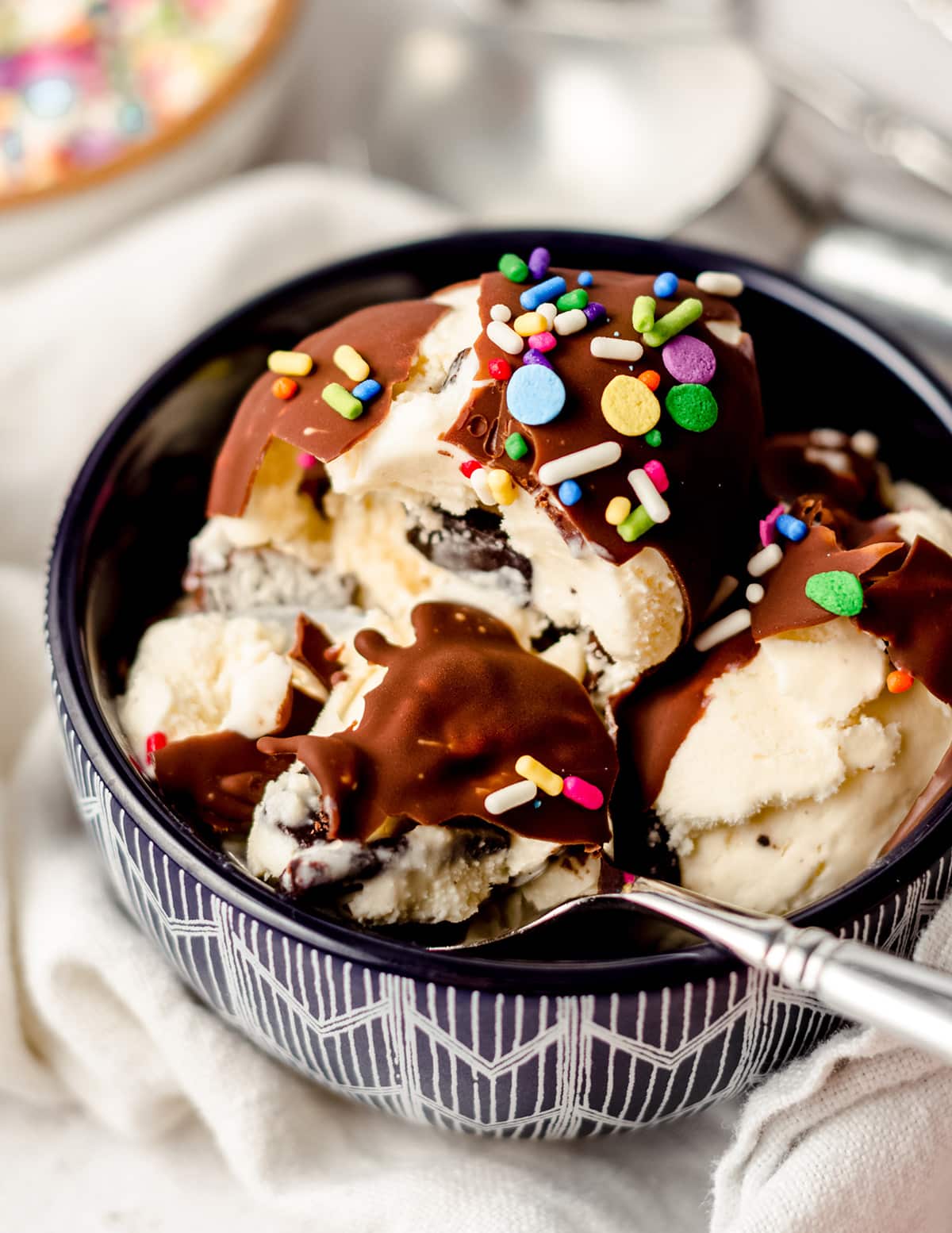 Now, let's get to jazzing up those ice cream sundaes! And grab the recipe for my ice cream sheet cake to use it up!
Homemade Magic Shell
An easy, 3-ingredient recipe for magic shell you can make at home. Bring on the sundaes!
Ingredients
8

ounces

(227g) high-quality chocolate1

chopped

8

Tablespoons

(104g) coconut oil2

¼

teaspoon

vanilla extract
Instructions
Combine all ingredients in a large microwave safe bowl or a 2 cup (or larger) glass measuring cup with a spout.

Heat in the microwave on MEDIUM power for 20 seconds at a time, stopping to stir with a spatula between sessions, until everything is smooth. Allow to cool to room temperature before using.

Shake or stir before each use. Drizzle over cold ice cream. Store covered tightly at room temperature. If magic shell hardens or starts to separate, warm in microwave or under hot water for a few seconds and stir or shake to put back into solution.
Notes
Chocolate: use

dark, semi-sweet, or bittersweet depending on your preference.

Coconut oil: it is recommended that you use virgin, extra virgin, or refined coconut oil, as unrefined coconut oil has a very strong coconut scent and taste. If that is ok with you, any coconut oil will do for your magic shell.
Nutrition Disclosure
All nutritional values are approximate and provided to the reader as a courtesy. Changing ingredients and/or quantities will alter the estimated nutritional calculations.
Grab the recipe for my homemade ice cream sheet cake to use your homemade magic shell!