Gluten & Dairy Free Chocolate Cake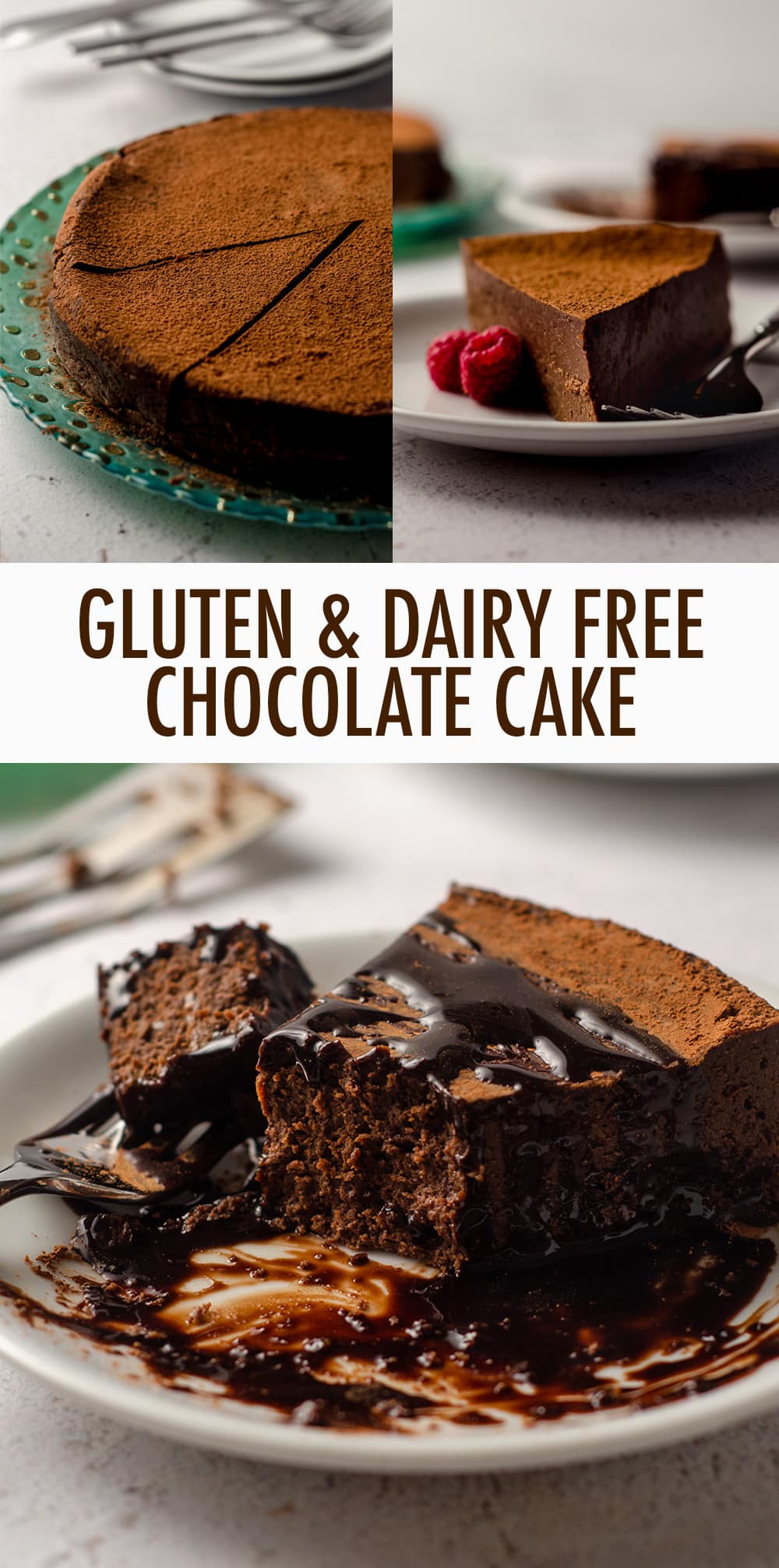 As an Amazon Associate, I earn from qualifying purchases. Read the full disclosure here.
You only need 3 ingredients for this dense and fudgy gluten and dairy free chocolate cake. A perfectly blank canvas for any toppings or frosting you desire!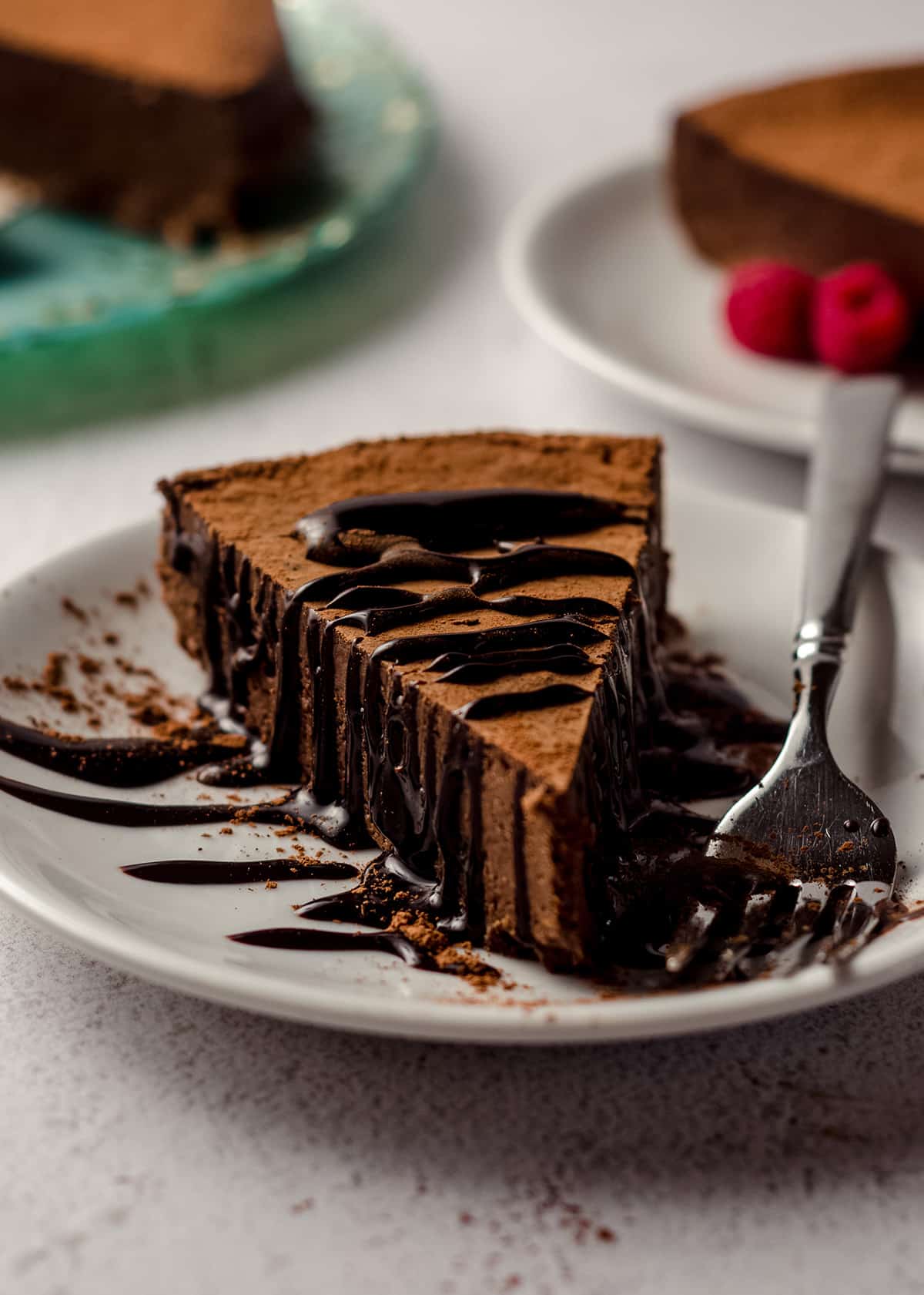 This unconventional chocolate cake might seem unrelated to just about every other dessert on my blog, but it comes to you from a place of adaptation in our house, and it is way too good not to share.
Around Thanksgiving last year, Matt adopted a totally gluten and dairy free lifestyle (which prompted these vegan cookies), so I've been adapting a lot of things on my end over here to satisfy my dear husband's insane sweet tooth when I can.
A friend of ours also adopted a similar lifestyle around the same time and she was experimenting with a lot of different adaptations in her baking as well.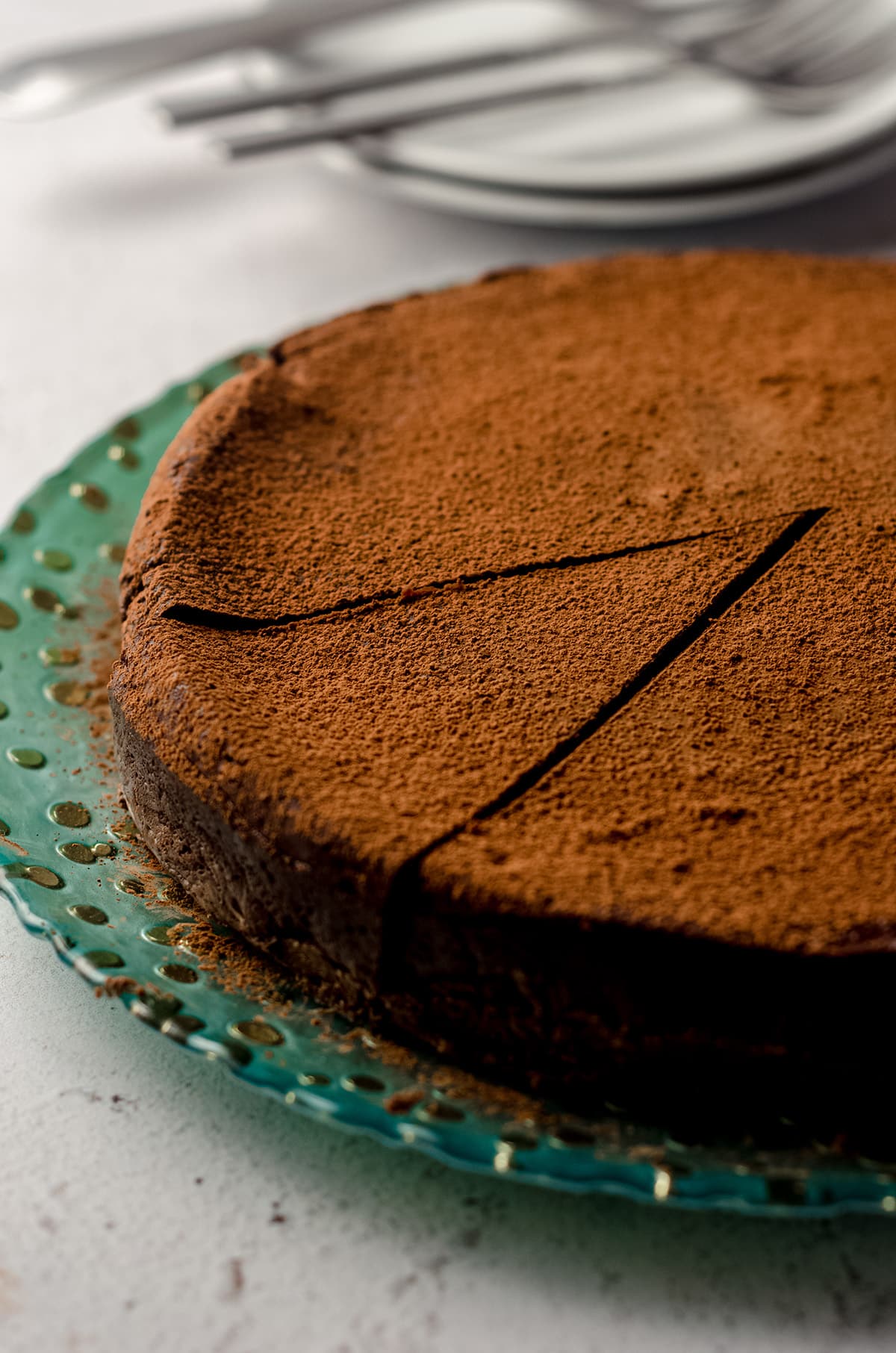 She texted me one day and said "I HAVE to share this cake with you," and when she told me it was actually a gluten free dairy free cake recipe, I was incredibly skeptical.
She sent me the link, which was originally published at Gimme Some Oven, but said she had turned it dairy free with vegan butter.
We had dairy free chocolate chunks and vegan butter on hand already thanks to Matt's dietary changes, and we forever have eggs in the house, so I went for it and our lives were changed. Literally.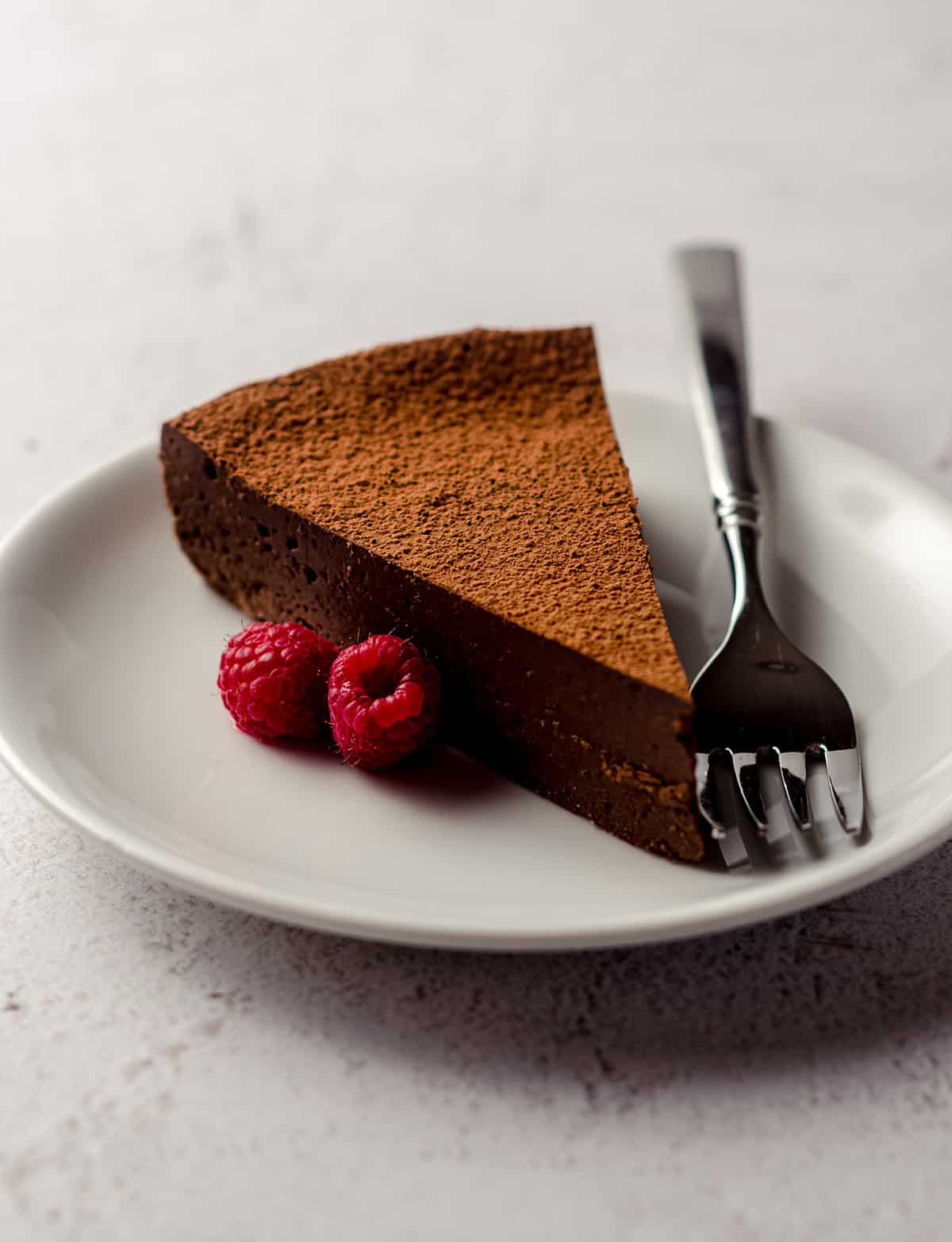 We've made this dairy free flourless chocolate cake more times than I can count, and in several sizes (which I will note about in the recipe), and honestly, it is one of the best desserts I have ever had, allergen friendly or otherwise.
WHAT DO I NEED FOR THIS CAKE?
There are only three ingredients in this chocolate cake recipe: chocolate, butter, and eggs.
Each ingredient serves an important purpose and brings stability and structure to the cake since we don't have traditional ingredients happening here, like a strong glutenous interior or any sort of leavening agent.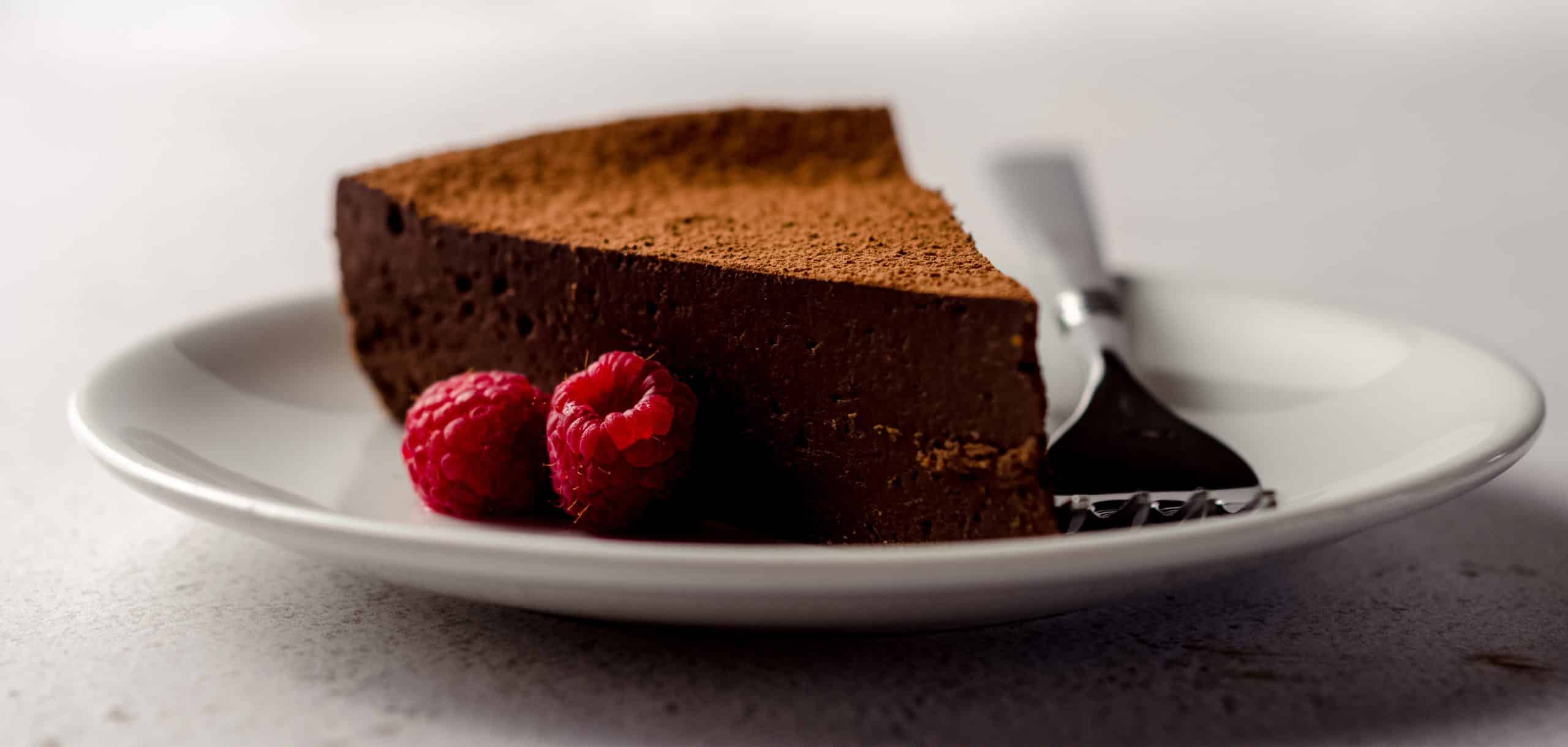 We're getting all of the sweetness and all of the chocolate from melting chocolate. You can use whatever kind of chocolate you have (dark, semi-sweet, melting wafers, bar chocolate), and of course, if you don't need this chocolate cake to remain dairy free, you don't need any special kind of dietary chocolate.
We love the chunks that we find in the baking section of our grocery store, and we have used both dairy free and dairy full chocolate. Both turn out perfectly.
Bear in mind that the flavor of your dairy and gluten free cake will take on the sweetness of the chocolate that you use, since there's no additional sugar.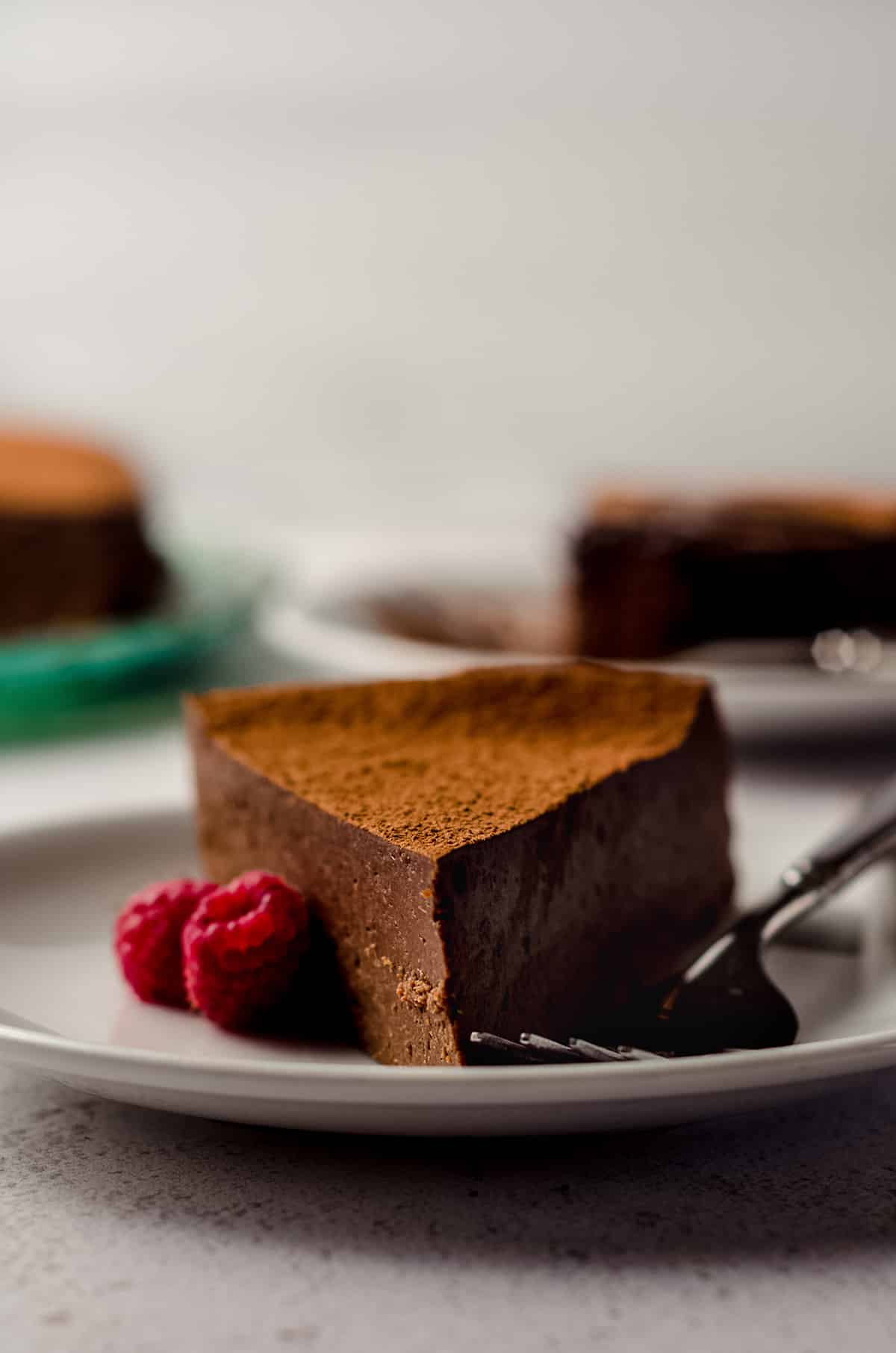 Though semi-sweet is a subcategory of dark chocolate, it tends to be a little sweeter. We have used both and prefer semi-sweet unless we have something on top (fruit, powdered sugar, chocolate syrup, ice cream, etc).
As for the butter, we're using vegan butter to keep it dairy free. If you're good with dairy, regular butter will do the trick. Just be aware, though we are using dairy free ingredients, there are still eggs in this lactose free chocolate cake, so it is not vegan.
HOW DO YOU MAKE GLUTEN FREE DAIRY FREE CHOCOLATE CAKE?
We start this cake by FIRST preparing the pan.
This cake gets baked in a water bath just like a cheesecake, so we need to prep the pan.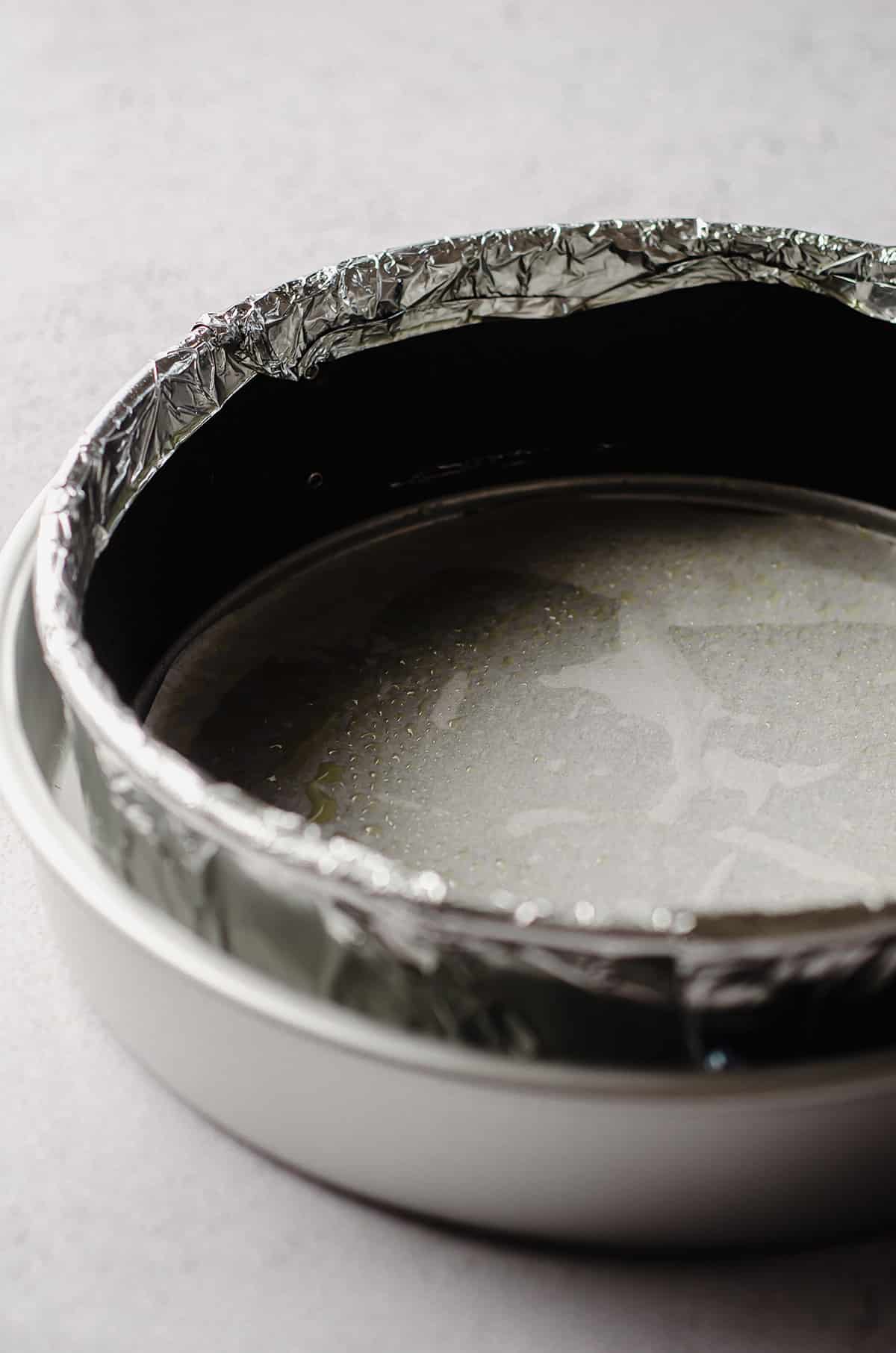 You'll want to use a 9″ springform pan wrapped in foil and lined with liberally greased parchment paper. You can skip the foil wrap if you follow my pan prep for my cheesecake, but the foil route works just fine here.
That wrapped pan will go in a larger pan, which you'll fill with water before baking. Set all the pans aside for now.
You'll melt the chocolate and butter together first to make the base, and then we'll do all the magic with the eggs.
WHIP THE EGGS TO BRING LIFT AND STRUCTURE TO THE CAKE
You'll whip 8 large eggs to double volume, which should take you about 5 minutes of whipping.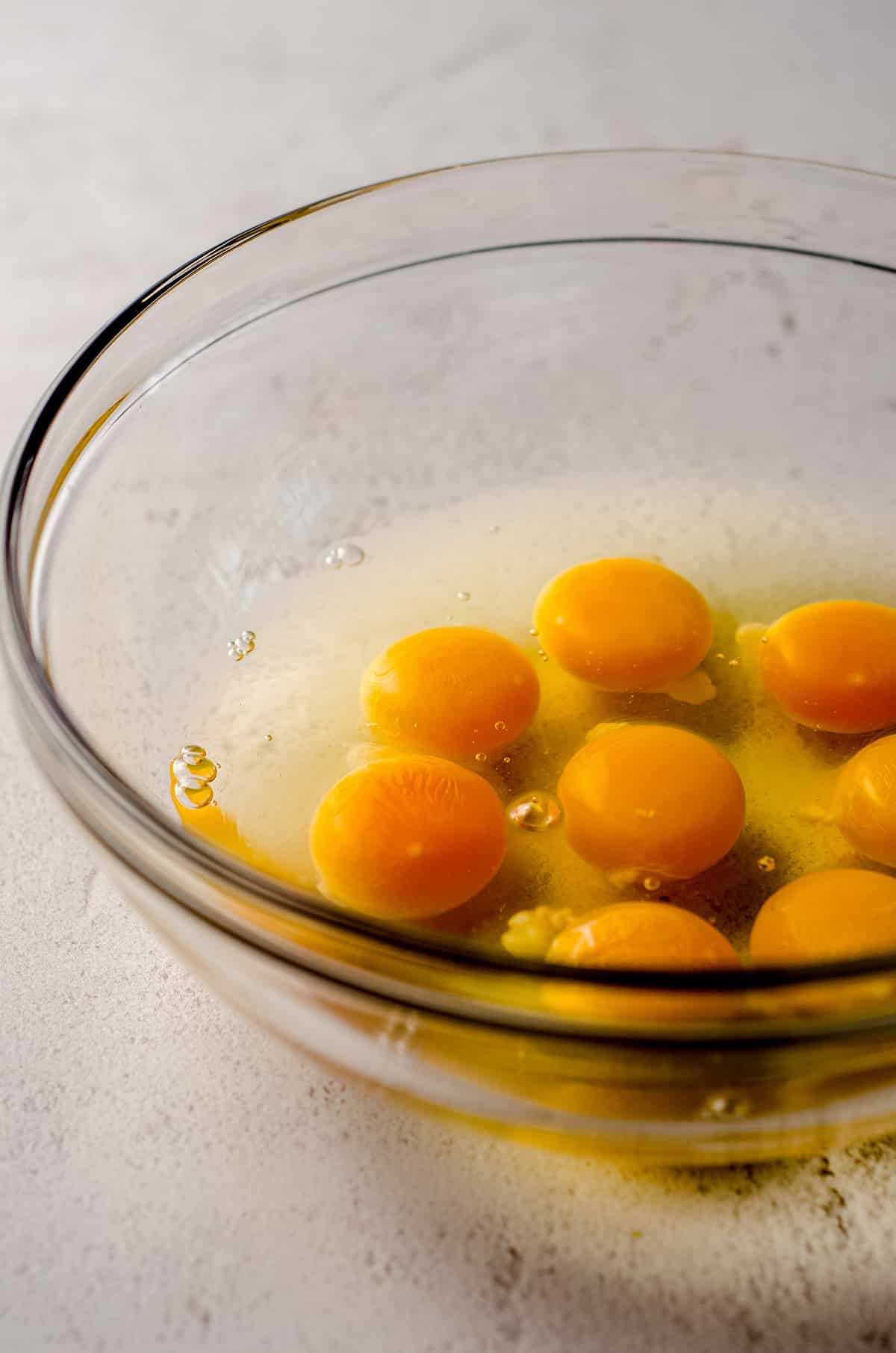 What are you looking for? Great question.
The eggs will start getting foamy, then gradually increase in foaminess and volume, while also lightening in color.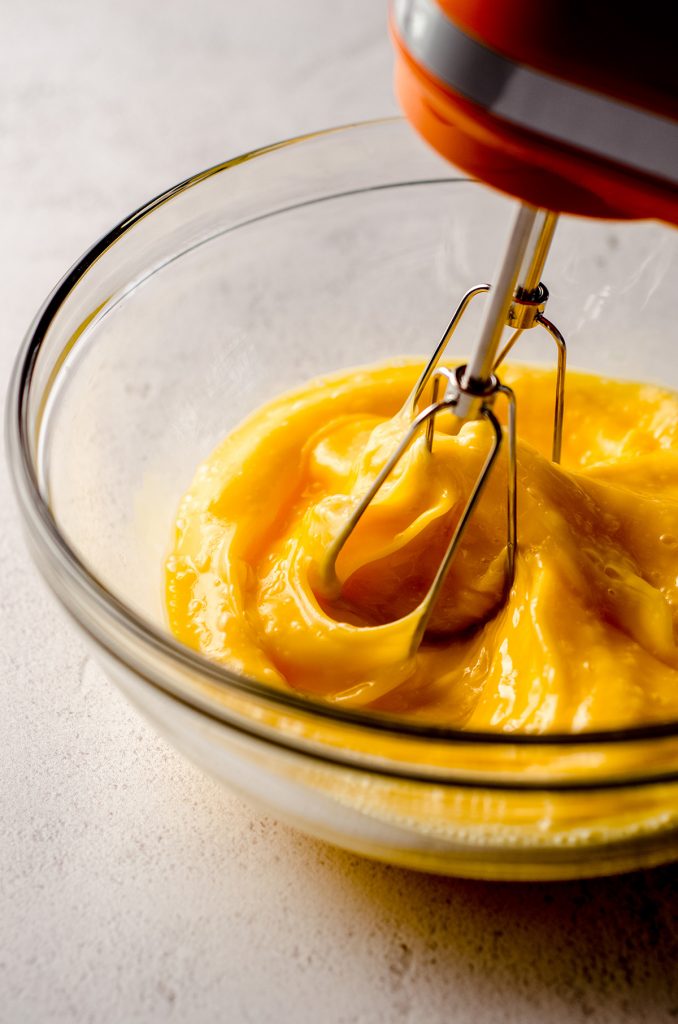 As long as the eggs are completely whipped, light yellow in color, and very foamy, you've got what you need to lift this cake.
You'll slowly add about ⅓ of the egg foam to the melted chocolate, then stir it all together until it becomes mostly homogenous.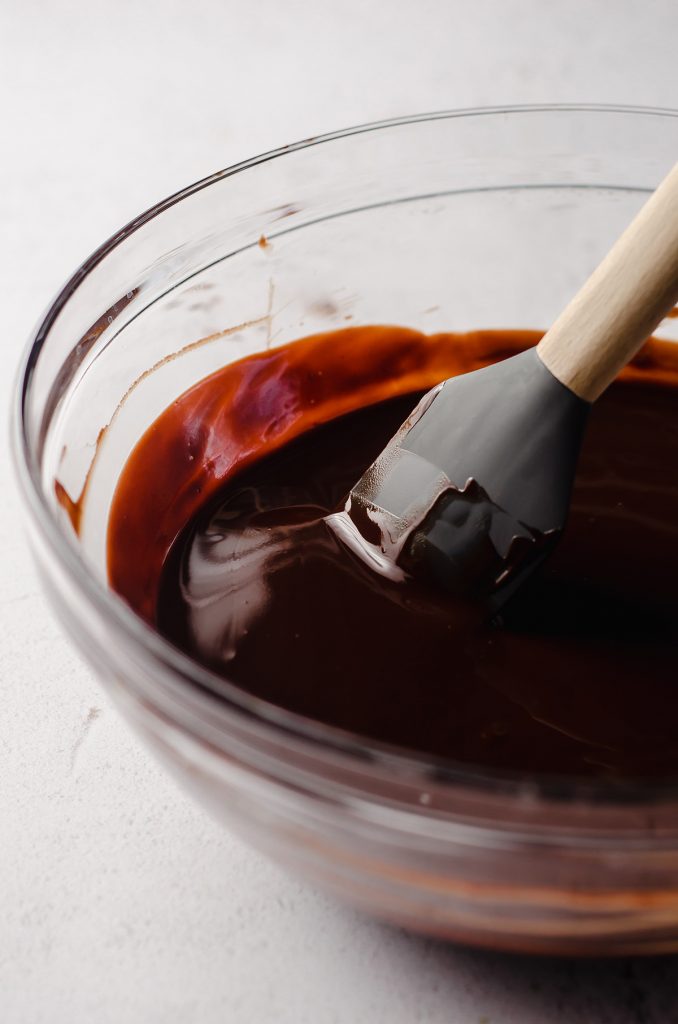 Add about half of the remaining egg foam, stir again to combine, then add the last bit of the eggs.
Once all of the eggs are in, you should have a smooth chocolatey batter which will go right into your prepared pan.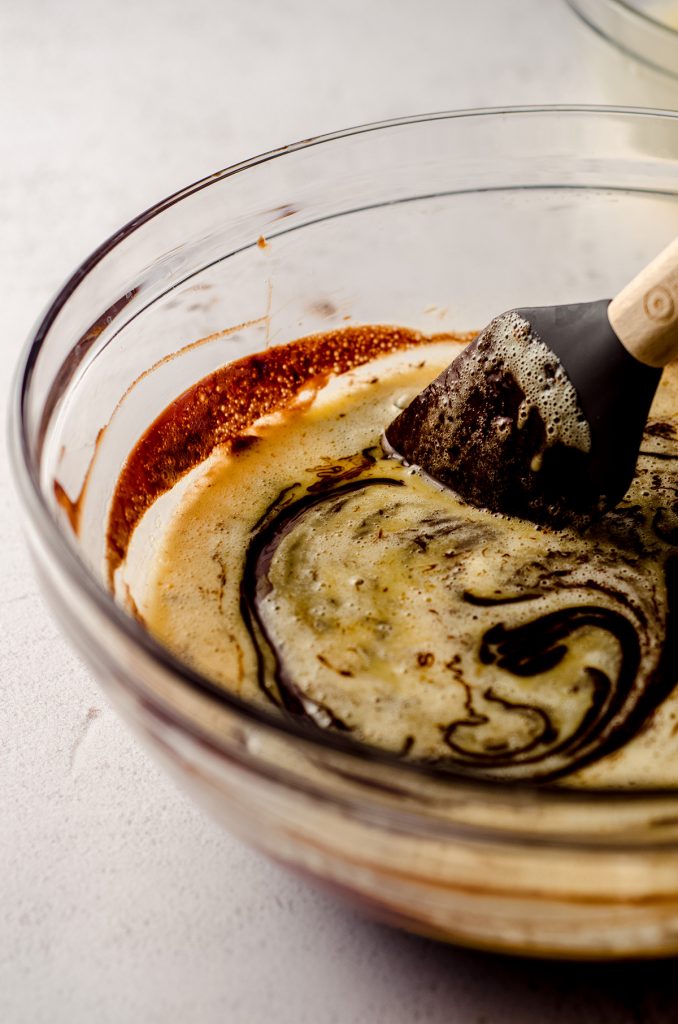 Once all of the batter is in, pour hot water into the outer pan, about halfway up the side of the inside pan. This is your water bath, and the steam from the bath will help lift the cake evenly.
Allow the cake to cool completely, then refrigerate until completely chilled.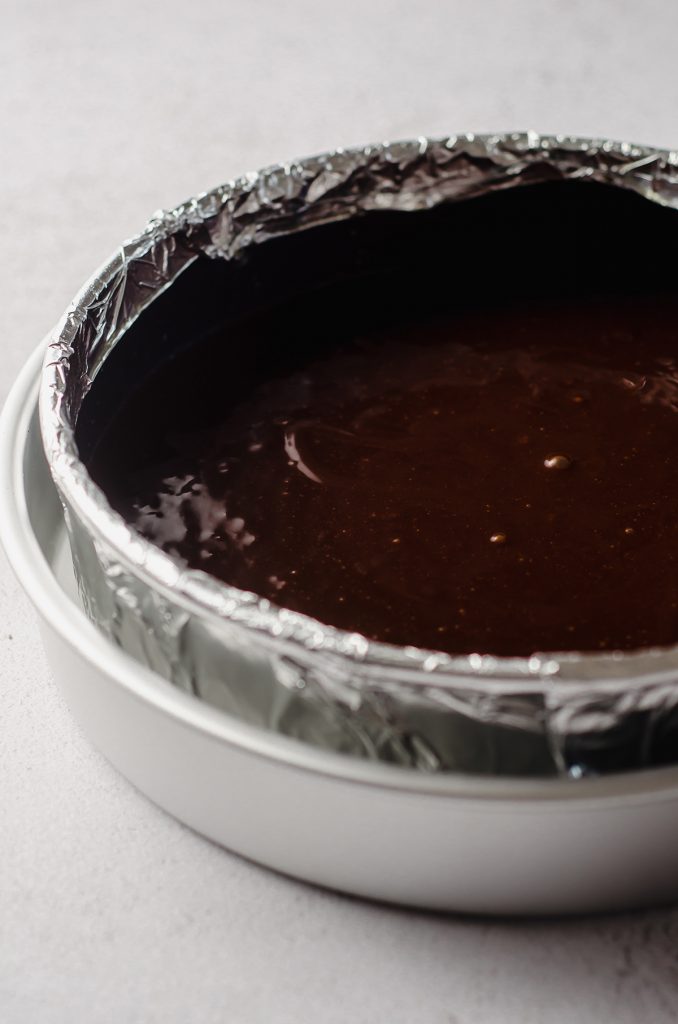 We have enjoyed this dairy free gluten free cake with many toppings, my favorite of which is ice cream. The texture of the cake is most comparable, in my opinion, to a mix between cheesecake and a brownie.
It's truly the best of both of those dessert worlds.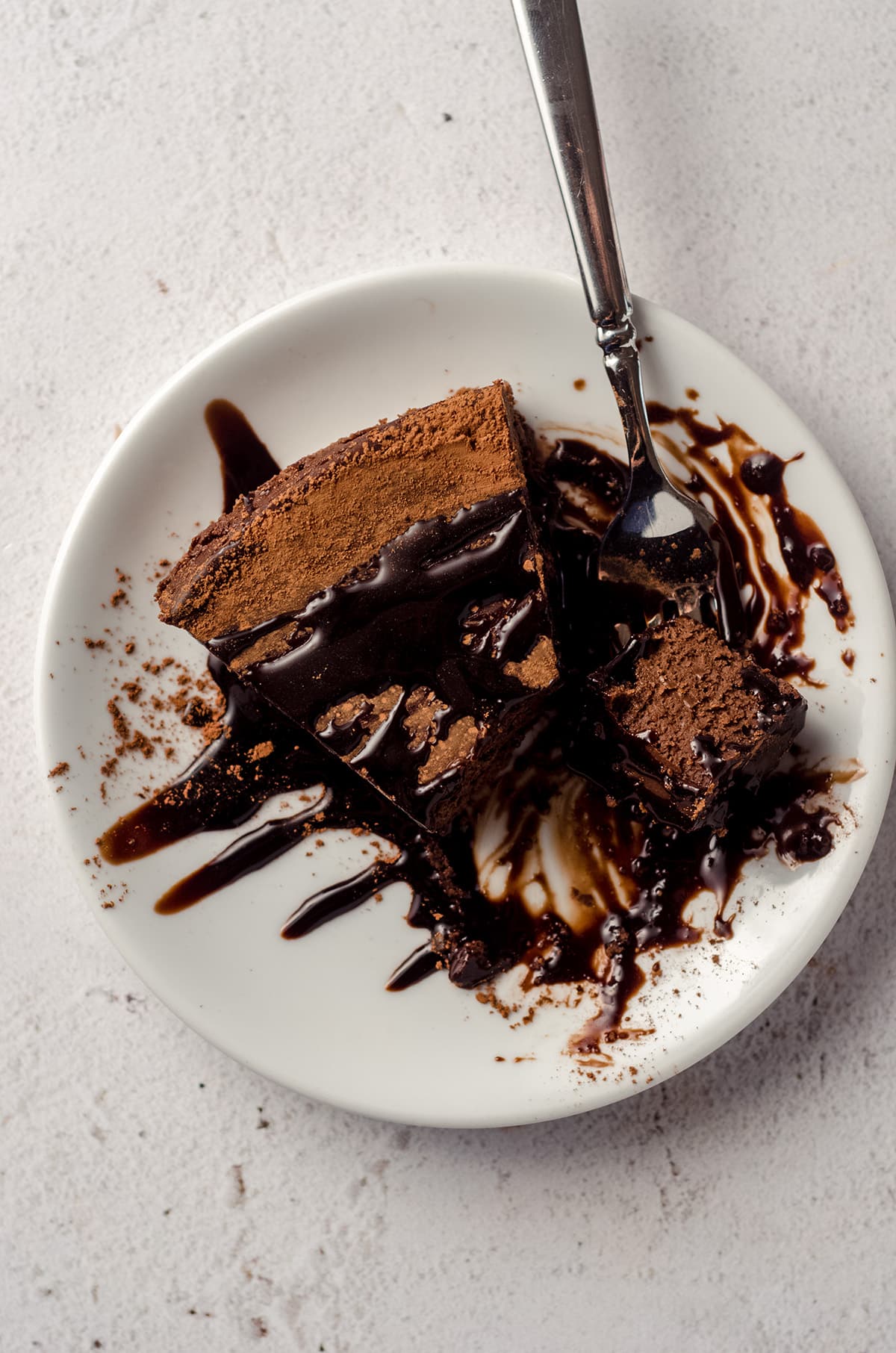 We have loved having this recipe in our kitchen for the last several months, and though it takes some elbow grease, we think it's a really satisfying dessert that serves its purpose wonderfully and is a great option for a dairy free gluten free cake recipe that doesn't use any gluten free flour blends.
We've even successfully baked this into a 4″ springform pan and split it for dessert. Check out the notes in the recipe if you're looking to make just a little cake for yourself or to share.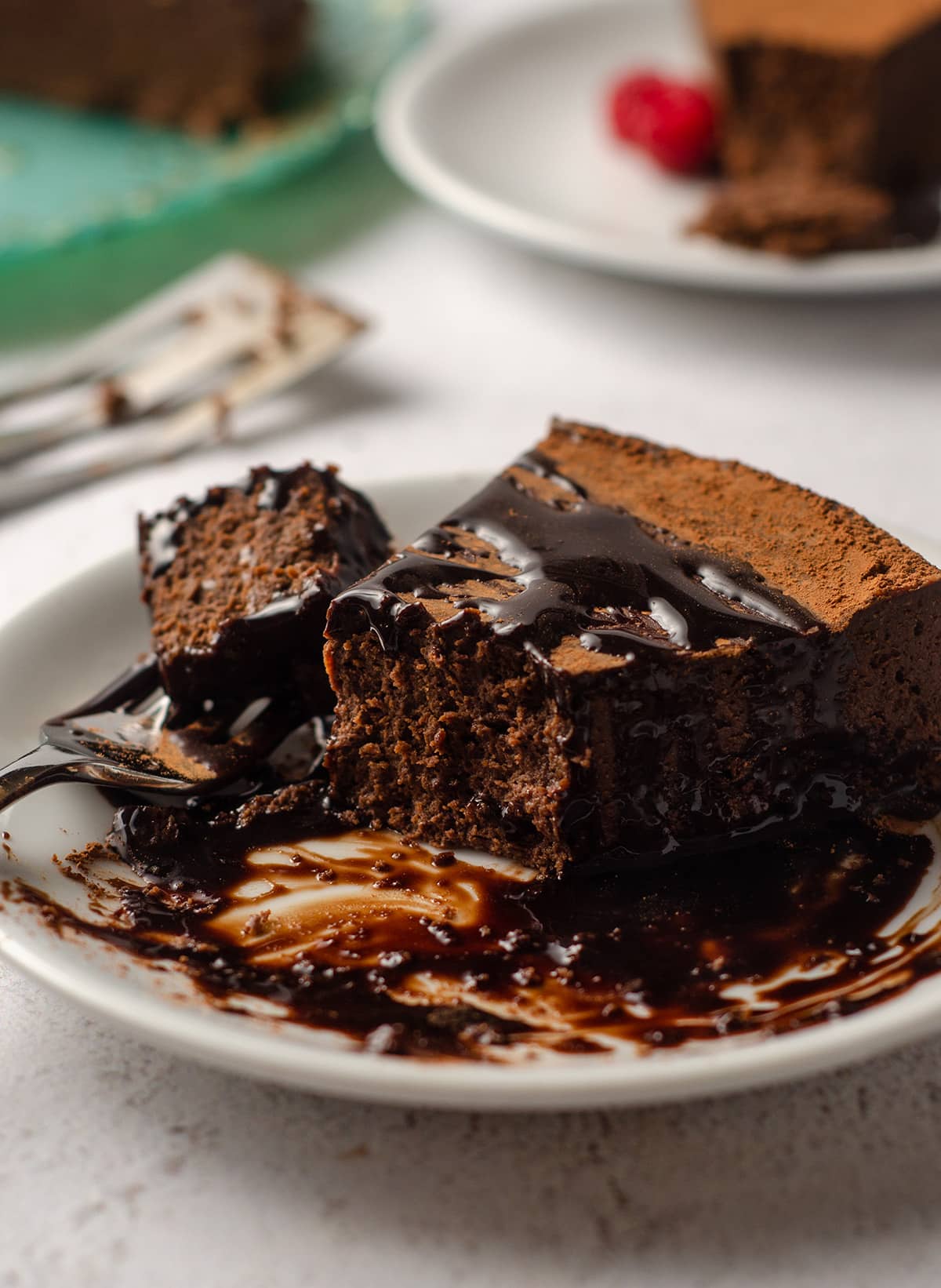 Though this cake is pretty non-traditional when it comes to cake, it totally fits the bill for a celebration and I have a feeling if you try it, you may find yourself wanting it for more than just its allergen friendly qualities!
Gluten and Dairy Free Chocolate Cake
You only need 3 ingredients for this dense and fudgy gluten and dairy free chocolate cake. A perfectly blank canvas for any toppings or frosting you desire!
Ingredients
16

ounces

dark or semi-sweet dairy free chocolate1

coarsely chopped

1

cup

(227g) salted vegan butter2

cut into 16 pieces

8

large eggs

cold
Instructions
Adjust an oven rack to the lower-middle position and preheat the oven to 325°F (163ºC).

Wrap the outside of an 8" or 9" springform pan with heavy duty foil, being sure to cover the bottom. Line the pan with parchment paper and spray the parchment and sides of the pan liberally with non-stick spray. Place this pan in a large roasting pan or any pan that's larger than the springform. Set aside.

Place the chocolate and butter into a large saucepan and melt over medium heat, stirring constantly with a spatula or wooden spoon until completely melted. Remove from heat, pour into a large bowl, and set the bowl aside.

In a large bowl with a handheld mixer or the bowl of a stand mixer fitted with the whisk attachment, beat the eggs at high speed until the volume doubles and egg mixture lightens in color. This will take about 5 minutes.

Fold about ⅓ of the egg foam into the chocolate mixture using a large rubber spatula until almost homogenous. Fold in half of the remaining egg foam, and then the last half of the foam, until the mixture is totally homogenous.

Pour the batter into the prepared pan, then pour hot water into the roasting/larger outside pan until it is about halfway up the sides of the springform pan. Bake the cake for 35-40 minutes, until the cake has risen slightly, the edges are just beginning to set, and a thin-glazed crust (similar to a brownie) has formed on the surface. If you want to check the internal temperature for proper doneness, look for 140°F (60ºC) on a digital instant-read thermometer. Remove the springform pan from the water bath and allow to cool to room temperature on a wire cooling rack. Cover the cake and refrigerate at least 4 hours. preferably overnight.

When you are ready to serve the cake, remove it from the refrigerator about 15 minutes before you want to serve it. Carefully remove the outside ring of the springform pan, invert the cake onto a sheet of waxed paper, peel off the parchment paper, and reinvert the cake onto a serving platter. Dust your cake with cocoa powder or powdered sugar, or leave plain. Serve with berries, chocolate syrup, salted caramel sauce, homemade whipped cream, ice cream, buttercream, or anything else you would pair with chocolate. Store leftovers in the refrigerator up to 5 days.
Notes
Dairy free chocolate: if you don't need to keep this cake dairy free, use regular chocolate.
Salted vegan butter: if you use unsalted butter (vegan or otherwise), add

½ teaspoon of salt.

Make a smaller cake: we have successfully cut this down to ¼ of the recipe and baked it in a 4″ springform pan. This size cake is perfect for 2-4 people to share.
Adapted from Gimme Some Oven
Nutrition Disclosure
All nutritional values are approximate and provided to the reader as a courtesy. Changing ingredients and/or quantities will alter the estimated nutritional calculations.
Serving:
1
slice
|
Calories:
359
kcal
|
Carbohydrates:
23
g
|
Protein:
6
g
|
Fat:
30
g
|
Saturated Fat:
11
g
|
Polyunsaturated Fat:
5
g
|
Monounsaturated Fat:
8
g
|
Trans Fat:
3
g
|
Cholesterol:
109
mg
|
Sodium:
157
mg
|
Potassium:
44
mg
|
Fiber:
3
g
|
Sugar:
18
g
|
Vitamin A:
158
IU
|
Calcium:
66
mg
|
Iron:
3
mg