As an Amazon Associate, I earn from qualifying purchases. Read the full disclosure here.
A simple chocolate cake made with rich, deep flavors and topped with a smooth chocolate ganache.
Happy freaking, December, my friends! Are you recovered from your turkey coma? Stuffed full of pumpkin pie and the best side dish that ever existed, stuffing?
I'm ready to get this holiday baking train rolling, and I'd like to talk first about exactly what this month is all about on the blog.
In years past, I have done 12 Days of Christmas Cookies. Last year, I ditched that for 12 Dips of Christmas, which was a gigantic hit, and this year, I'm doing something even different.
This year, I'm spending the first 10 days of December sharing 10 of my favorite "basic" recipes. And I don't mean basic like classic chocolate chip cookies, snickerdoodles, white sandwich bread, or homemade whipped cream.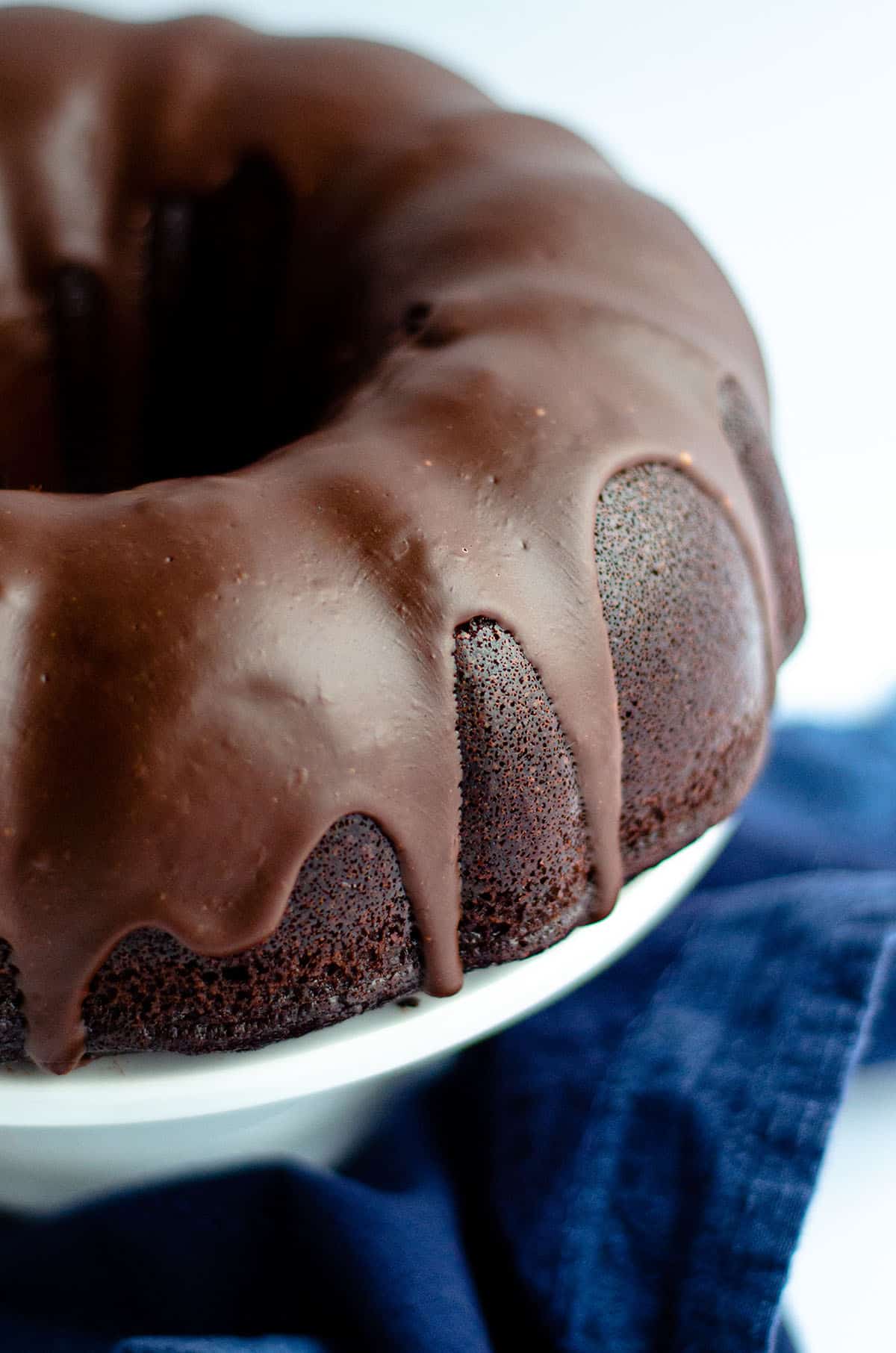 I'm talking basics as in simple. As in "what do I do with this random bag of shredded coconut?" or "what do I do with this leftover pie crust?" or "how else can I use this homemade caramel sauce?" or even "I'm tired of 'regular cookies' and want something interesting but still easy."
Recipes that you may think seem complicated, but are actually quite easy and don't require many ingredients or anything you don't already have in your pantry.
Those basics.
So to put this umbrella of a lesson into practice, I'm kicking things off with this basic recipe for chocolate bundt cake.
First of all, can we talk about how much I love bundt cakes? They're so much simpler than a whole layer cake, and all those grooves and bumps give me all the googly heart eyes.
Don't get me wrong– LOVE ME A LAYER CAKE. In fact, I dedicated a whole year to cake recipes (see 2017's Cake of The Month series), and 9 of the 13 (I made 2 cakes in September!) were layer cakes.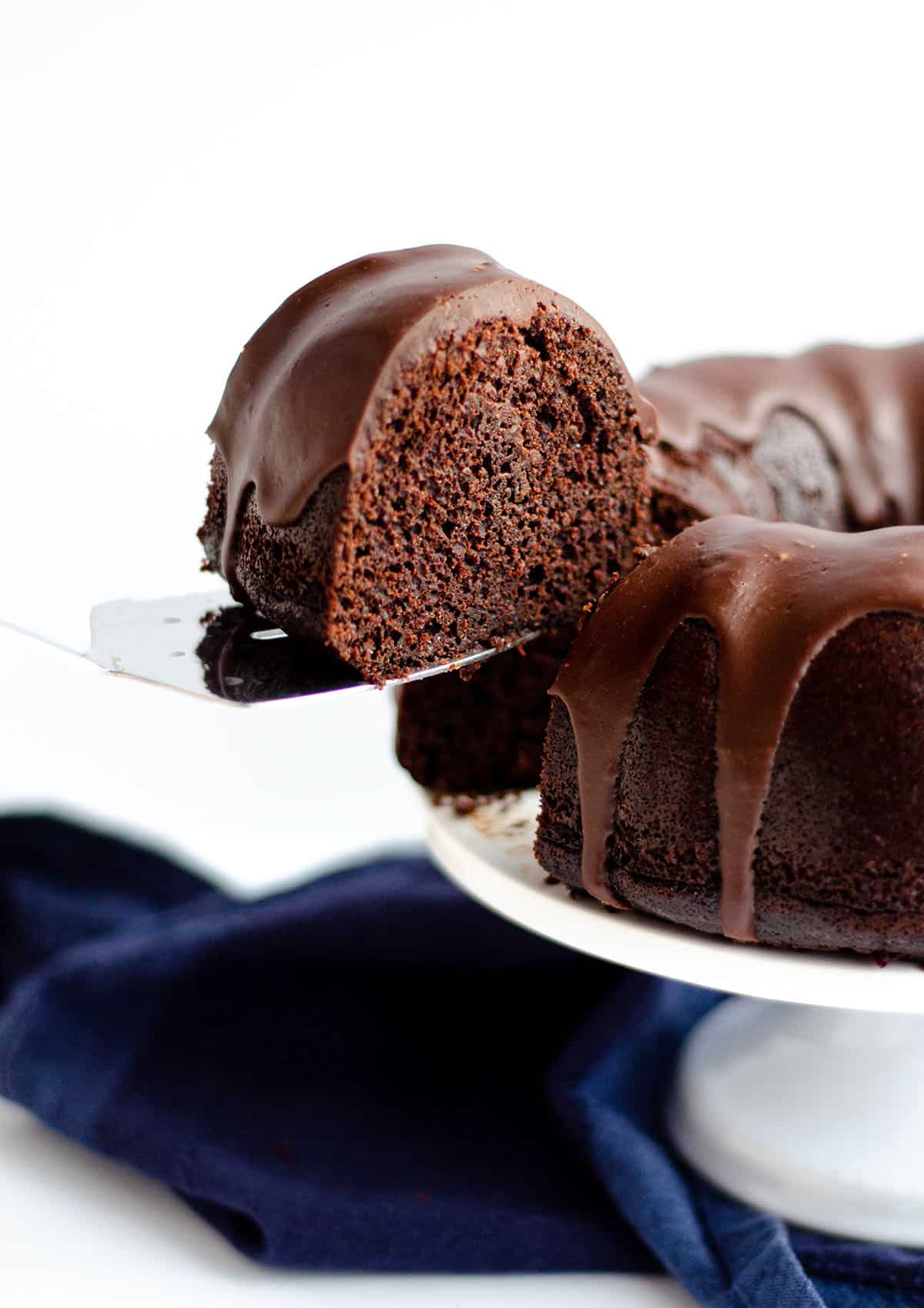 But bundt cakes are quick. They usually involve an extra step of frosting or glaze or something of the like, but you get all the wow factor of a cake in an easily executed, very hands-off dessert.
The coolest part about bundt cakes is that you can usually turn any layer cake recipe into a bundt cake. And that's exactly what I did here today, and part of my basic/simple lesson.
You know I love taking a recipe I already have and turning it into something else. Because why mess with a good thing… Right?
Today's chocolate bundt cake is brought to you by my popular dark chocolate layer cake recipe (that chocolate cake recipe published here with peanut butter frosting).
ADD EXTRA BAKING POWDER WHEN MAKING A BUNDT CAKE
One rule I do always follow when adapting a layer cake into a bundt cake, though, is to add 1 additional teaspoon of baking powder to account for double the batter to pan ratio, and because bundt cakes are meant to be tall and we're ok with giving them a little more oomph to rise up in that deep bundt pan.
One additional teaspoon of baking powder is not going to make your cake taste like metal if you have enough acidity to counteract the ingredient.
In this particular recipe, we have cocoa powder, which is typically an acidic ingredient and perfect for countering baking powder, but we're using Dutch processed cocoa powder in this chocolate bundt cake, which is a neutral ingredient.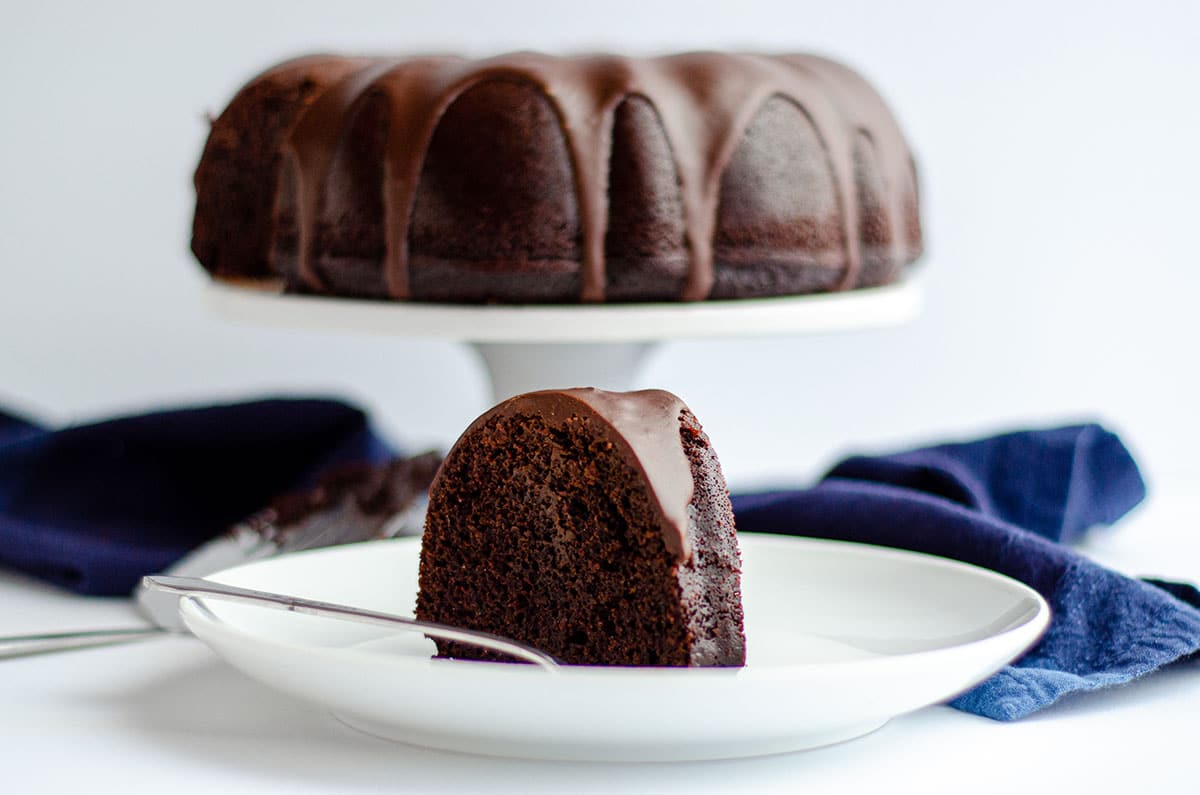 I spoke extensively about Dutch processed cocoa powder vs natural (regular) cocoa powder in my chocolate cayenne cookies post, if you're interested in reading more about that there.
Otherwise, just trust that all ratios are good to go in this chocolate bundt cake, and pay attention to the other ingredients in your layer cake recipe if you're looking to add more baking powder to turn it into a bundt cake!
Aside from all the mumbo jumbo I just threw at you re: cake, thankfully there's nothing intensive that I feel I need to discuss further, because this cake is just as simple as they come.
I paired this chocolate bundt cake with a rich chocolate ganache, which I am happy to report is crazy easy and requires only two ingredients.
I have made ganache on this blog before. In fact, I used it as the filling in my s'mores layer cake, and then used the leftovers in my s'mores dip.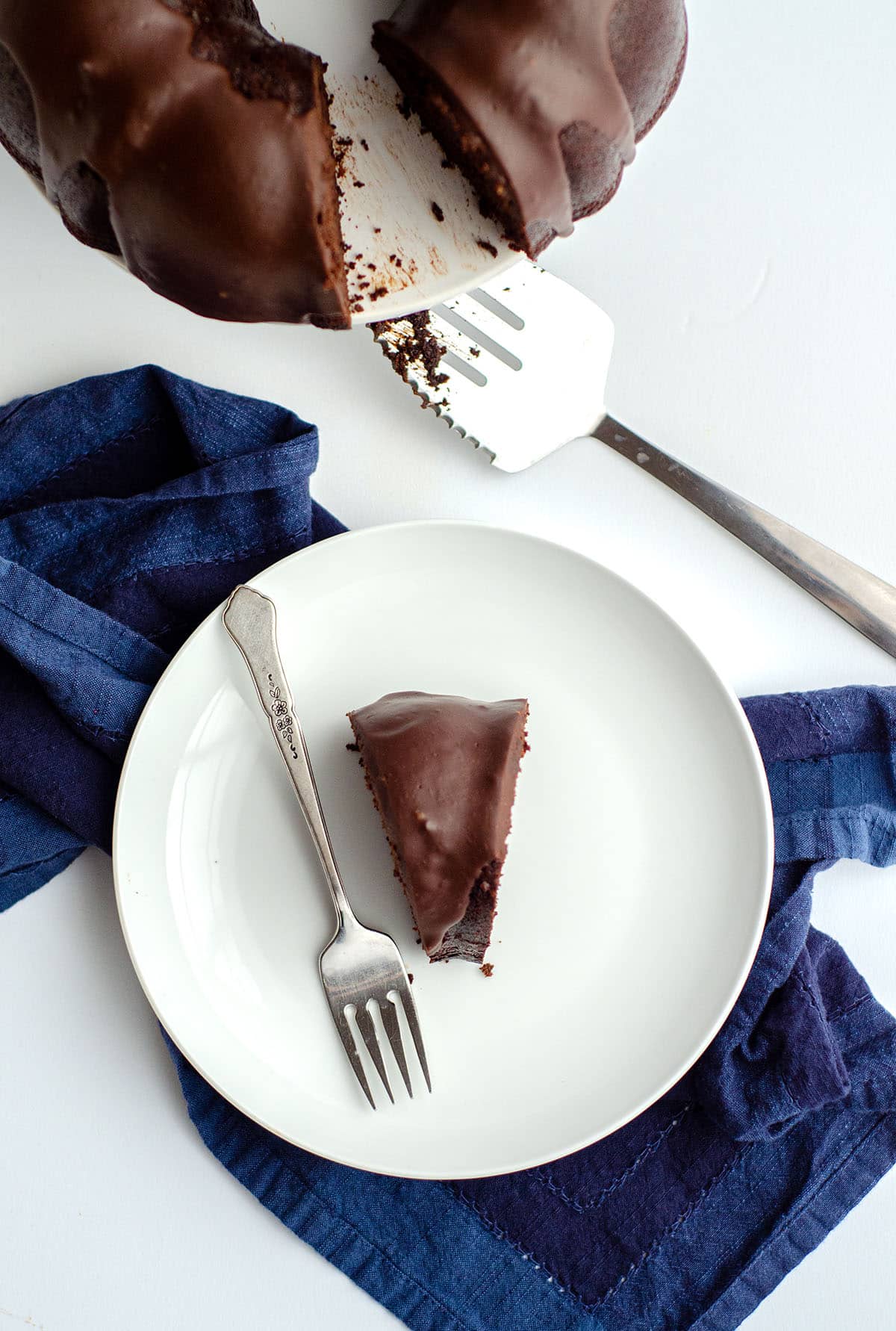 In that layer cake, my ganache consisted of heavy cream, chopped chocolate, and butter.
But GUESS WHAT?
I forgot to get semi-sweet bar chocolate at the grocery store, and I didn't feel like adding butter to this recipe in order to simplify the recipe even more.
So I tried something new, and by golly… It worked.
You ready for this?
Put 1 cup of chocolate chips into a bowl.
Heat ⅔ cup of heavy cream in a saucepan or in the microwave.
Pour it over the chocolate chips.
Stir it up.
BOOM. UNFANCY GANACHE.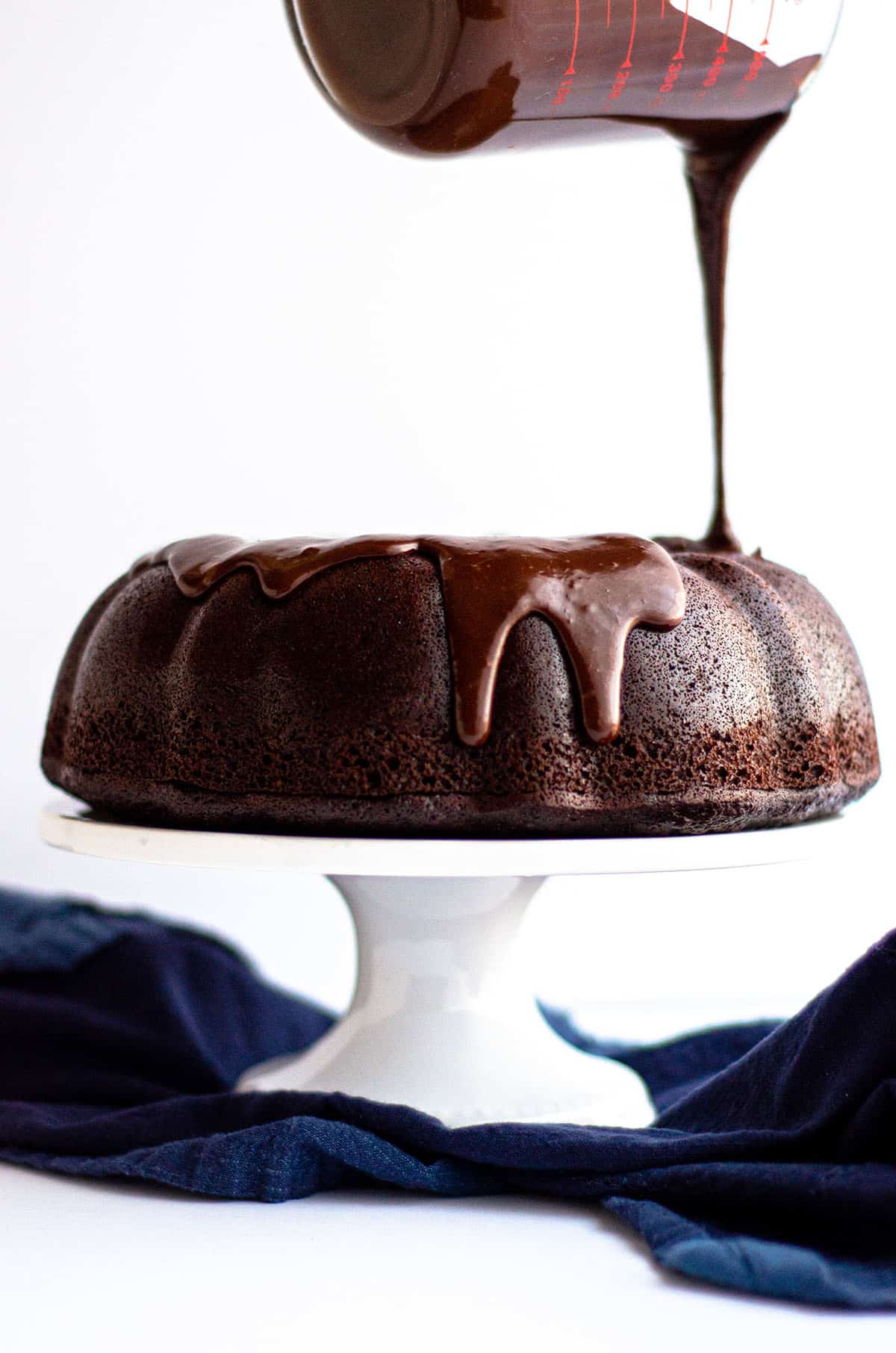 Is that not just the ultimate chocolate bundt cake right there?
You are absolutely more than welcome to use the chocolate ganache recipe from that s'mores cake, but this simple chocolate chips one was a little sturdier than that one and was the perfect consistency for pouring onto and then setting on this bundt cake.
You be the judge of your own ganache. You really just can't go wrong when it comes to a chocolate cake and pouring more chocolate on top of it. Amirite?
Feel free to use any of my other classic frostings to top this chocolate bundt cake, keeping in mind to make HALF of what the recipe calls for and know that you'll be spreading it and not pouring it.
Consider any of the following:
•classic vanilla buttercream
•peanut butter frosting
•cream cheese frosting
•strawberry buttercream
•whipped white chocolate ganache frosting
•mint chocolate chip buttercream
•whipped cream buttercream
•orange cream cheese frosting
•marshmallow buttercream
Umm, hi, yes, let's make 9 more bundt cakes to test out these combos… Mmmkay?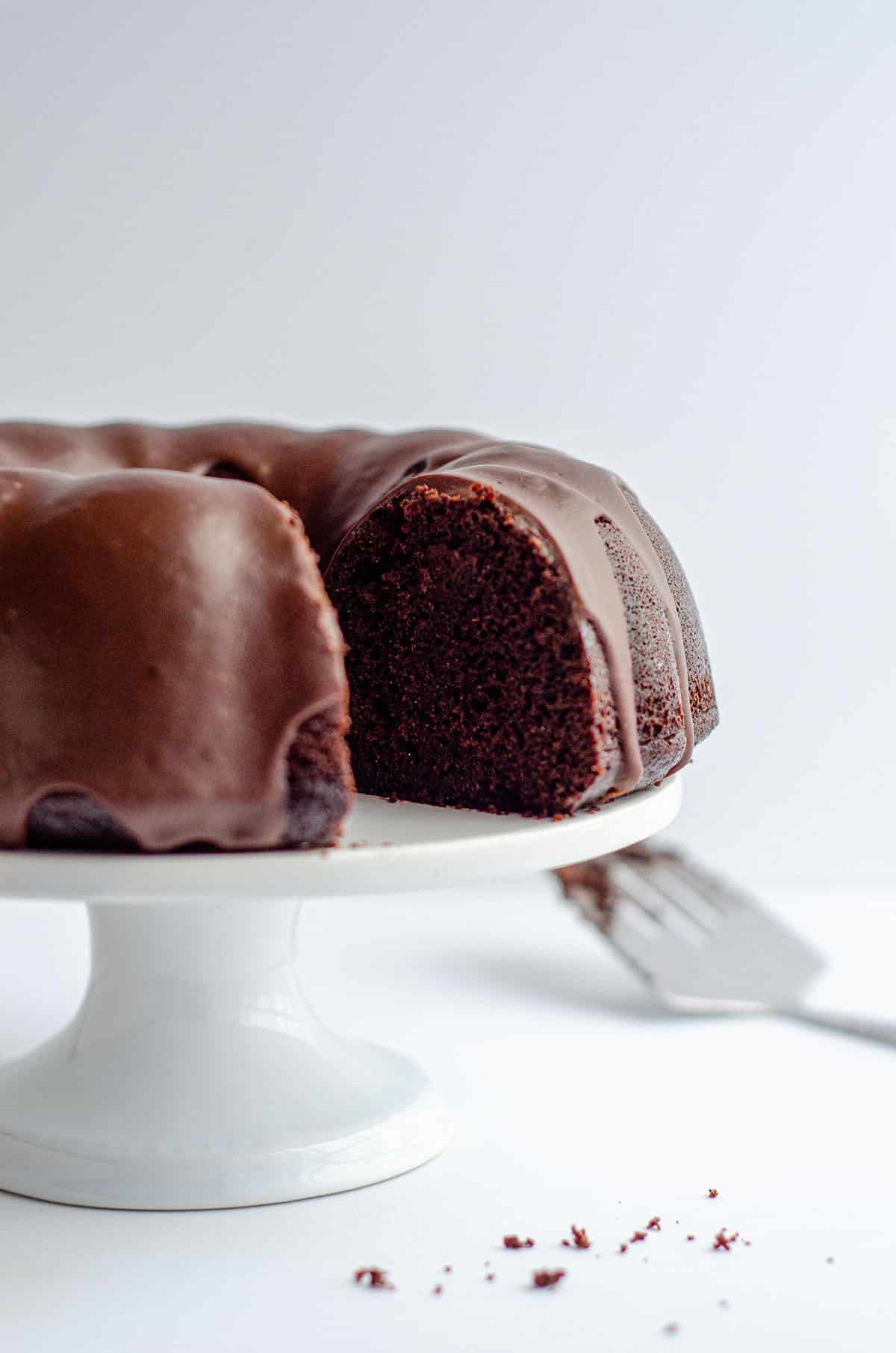 Rich, classic chocolate flavor, an unfussy chocolate bundt cake recipe, and a beautiful sight to behold, if I do say so myself. Let's cheers to kicking off 10 days of basics, shall we?
Chocolate Bundt Cake
A simple chocolate cake made with rich, deep flavors and topped with a smooth chocolate ganache.
Ingredients
CHOCOLATE CAKE
1

cup

(200g) granulated sugar

1

cup

(200g) firmly packed light brown sugar

2

cups

(240g) all-purpose flour be sure to measure properly

¾

cup

(69g) Dutch processed cocoa powder

3

teaspoons

baking powder

½

teaspoon

baking soda

1

teaspoon

salt

4

large eggs

½

cup

(120mL) vegetable oil

2

teaspoons

vanilla extract

1

cup

(240mL) coffee + water to 1 and ¼ cup (280mL) liquid
CHOCOLATE GANACHE
1

cup

(170g) semi-sweet chocolate chips

⅔

cup

(180mL) heavy cream
Instructions
CHOCOLATE CAKE
Preheat the oven to 350ºF (177ºC). Grease and flour (or use homemade cake release) a bundt pan. Set aside.

In a large bowl, whisk together the granulated sugar, brown sugar, flour, cocoa powder, baking powder, baking soda, and salt. Set aside.

In a small bowl, whisk together the eggs, vegetable oil, and vanilla extract until completely combined. Pour the wet ingredients into the dry ingredients, add the coffee, and whisk or stir the batter until everything is combined.

Bake for 30-35 minutes, or until a toothpick inserted into the center of the cake comes out mostly clean. Remove from oven and allow to cool for 15 minutes on a wire cooling rack. Using oven mitts, carefully flip the bundt cake onto your serving dish/platter. To do this: flip the serving dish/platter over and place on top of the cooling bundt pan. Flip everything over and allow cake to cool completely in the pan, sitting on the serving dish. When cake is completely cool, lift pan off of the cake.
CHOCOLATE GANACHE
When you are ready to frost the cake, pour the chocolate chips into a small bowl. Set aside.

In a small saucepan over medium heat, heat the heavy cream while whisking occasionally until steaming. Remove from heat and pour over the chocolate chips. Whisk the chocolate and the cream together until it it smooth. Allow to cool for 15 minutes.

Pour the cooled ganache evenly over the bundt cake and allow ganache to set before serving (about 1 hour). You can speed up this process by putting cake in the fridge. Store leftovers at room temperature, up to 5 days. Cake freezes well, up to 3 months. Thaw in refrigerator overnight.
Nutrition Disclosure
All nutritional values are approximate and provided to the reader as a courtesy. Changing ingredients and/or quantities will alter the estimated nutritional calculations.
Serving:
1
serving
|
Calories:
343
kcal
|
Carbohydrates:
47
g
|
Protein:
5
g
|
Fat:
16
g
|
Saturated Fat:
6
g
|
Polyunsaturated Fat:
4
g
|
Monounsaturated Fat:
4
g
|
Trans Fat:
0.1
g
|
Cholesterol:
53
mg
|
Sodium:
284
mg
|
Potassium:
193
mg
|
Fiber:
3
g
|
Sugar:
30
g
|
Vitamin A:
211
IU
|
Vitamin C:
0.1
mg
|
Calcium:
83
mg
|
Iron:
2
mg