Orange Creamsicle Layer Cake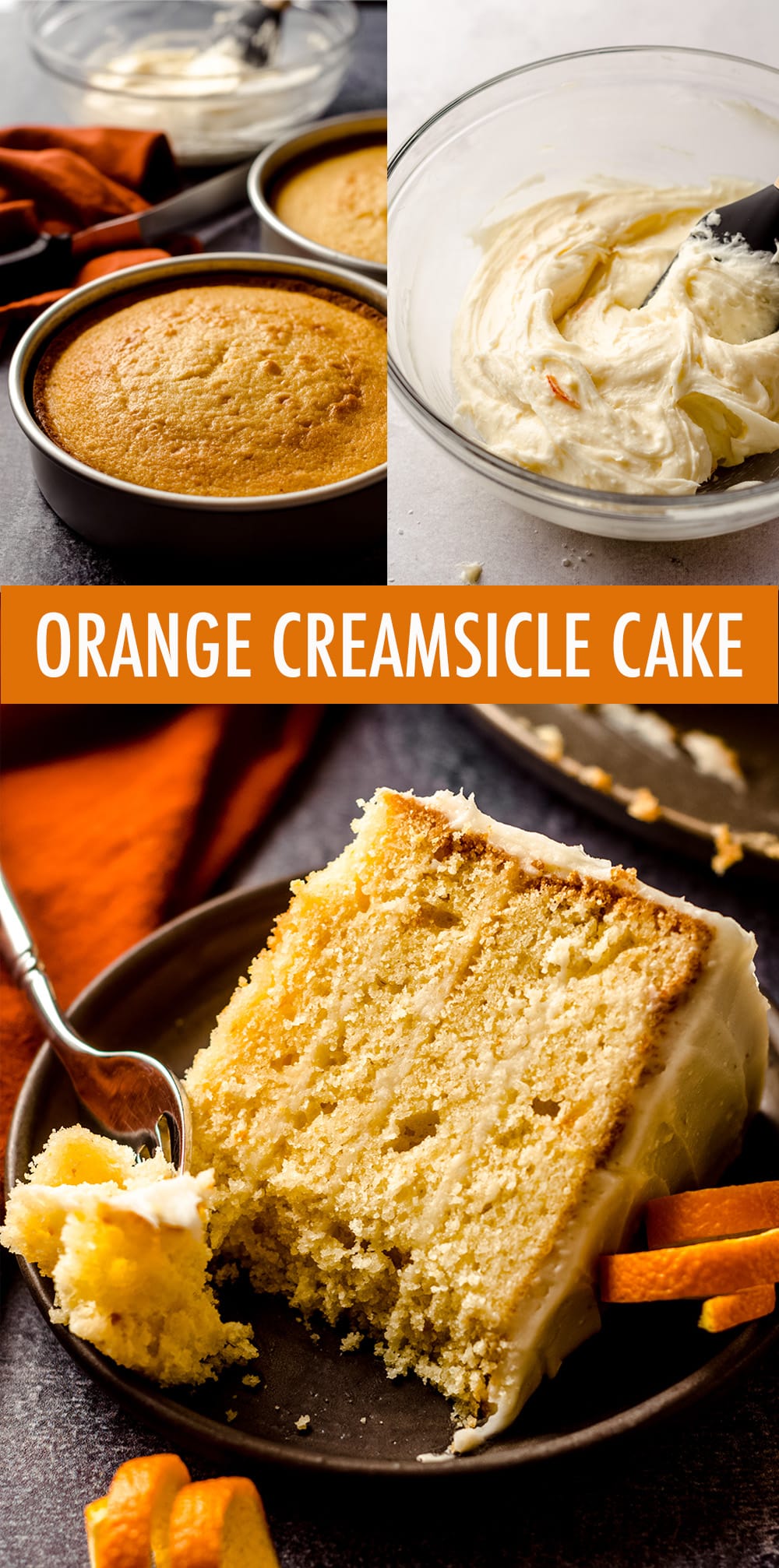 As an Amazon Associate, I earn from qualifying purchases. Read the full disclosure here.
A moist and flavorful orange vanilla cake full of bright and zesty orange marmalade. Sunny orange cream cheese frosting makes this orange creamsicle cake simply irresistible!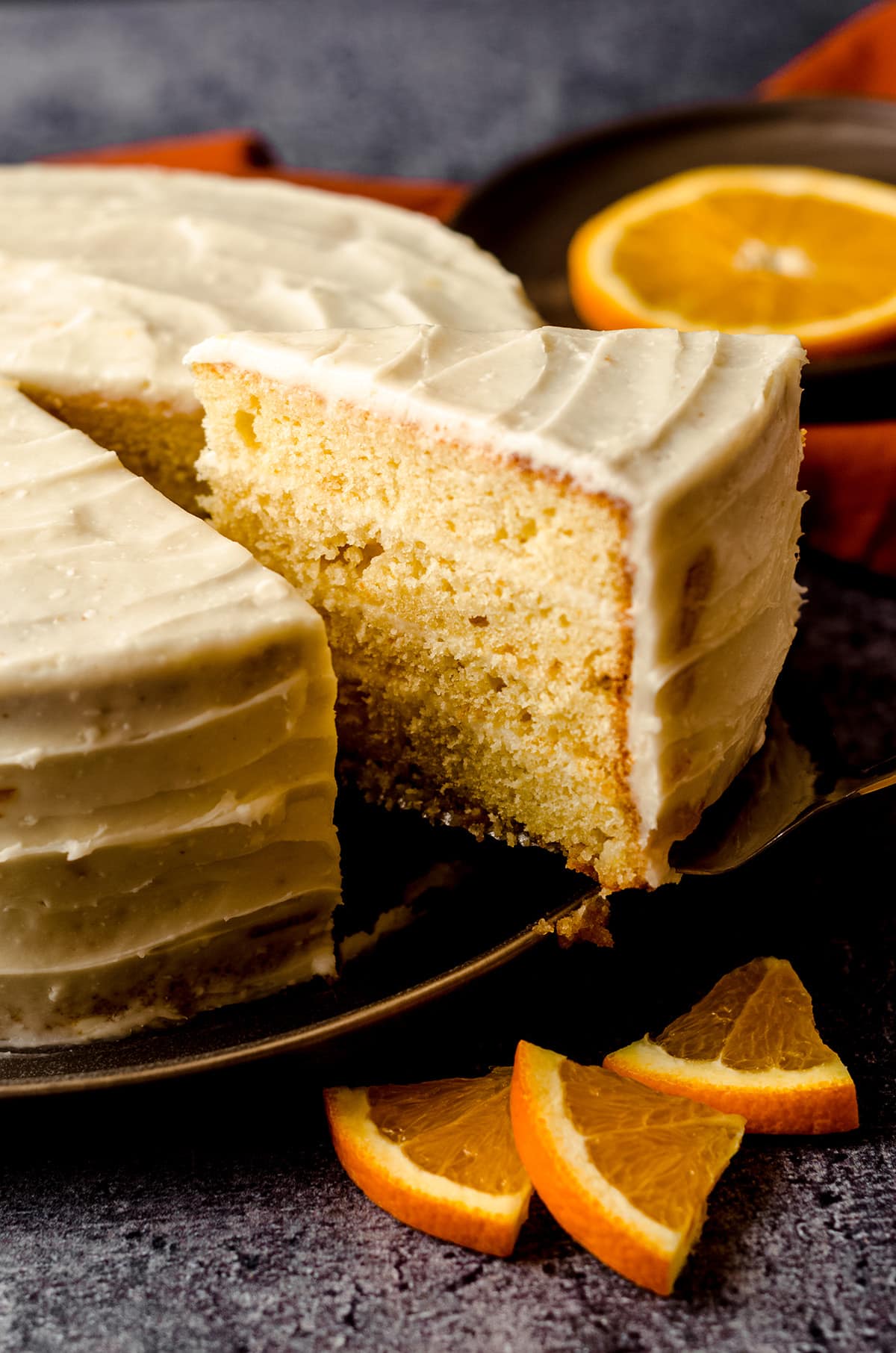 I am so excited to be refreshing this recipe for you, because since its establishment in 2016, it has been one of the most popular recipes on my entire blog.
Shortly after I published it, it went semi-viral on Pinterest and has since brought lots of people to it who are looking for an orange vanilla cake. And as you can see from the reviews, many manyyyy 5 star ratings!
The first time I made this cake was for Easter when I was pregnant with our first son. It usually gets a bump in traffic around Easter, all summer long, and again in the winter when oranges pop back up in season.
I don't know about you, but I am a sucker for citrus desserts, especially orange. Check out my orange creamsicle cupcakes, orange creamsicle cookies, orange poppy seed scones, and orange blueberry muffins if you are, too!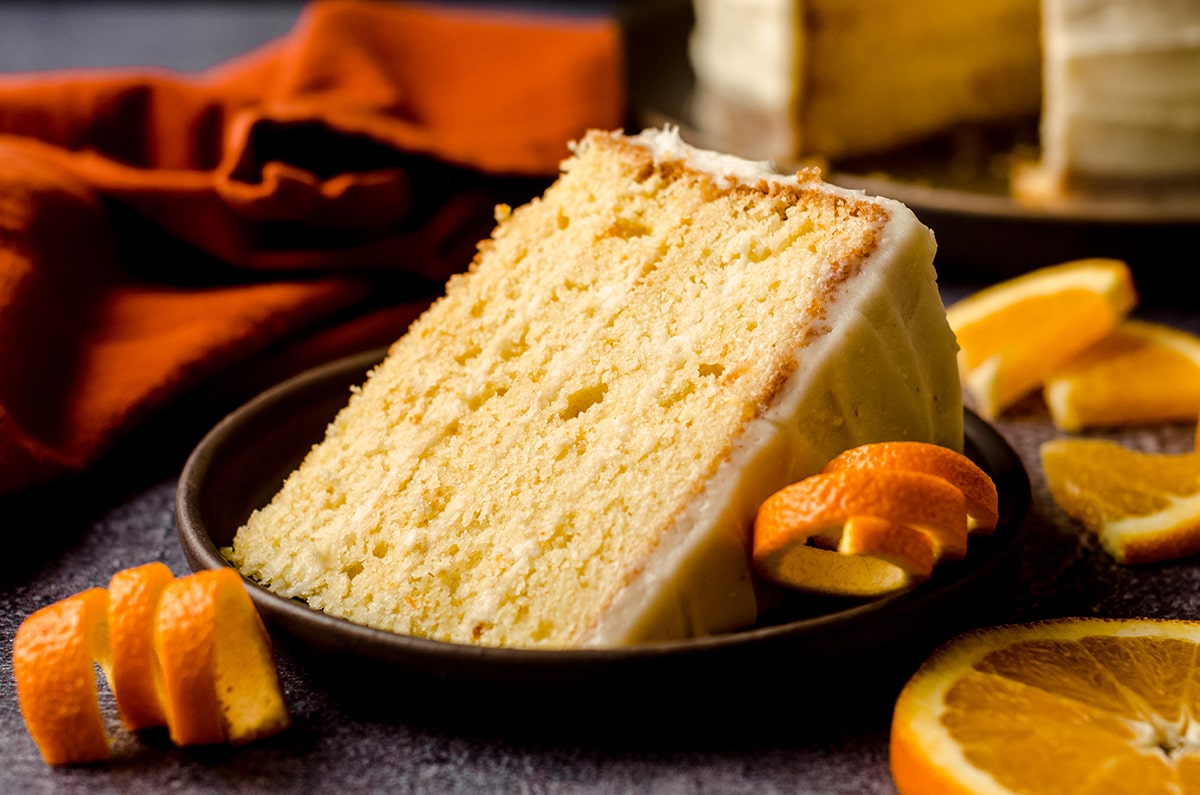 Though there's never a bad time for orange (in my opinion), this orange cake recipe usually makes me think of spring, so let's bring on the sunshine, shall we?
Quite some time ago, I published a recipe for blueberry lemon cupcakes, which I had made for my brother-in-law's wedding.
This orange and vanilla cake is almost identical to that cupcake base, with just a couple tweaks to involve plenty of orange and lots and lots of crannies (not these kinds of crannies) for orange zest.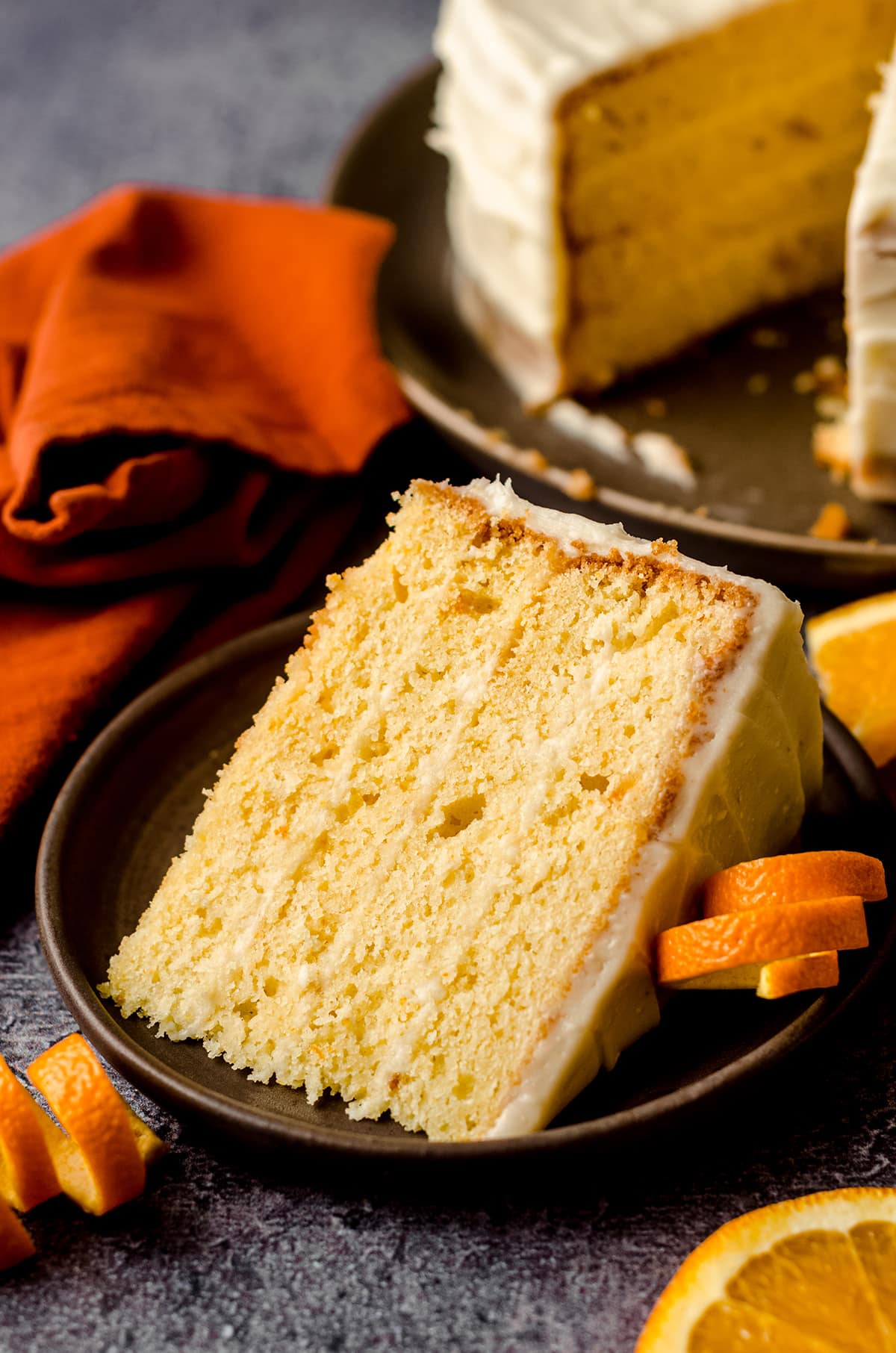 HOW TO MAKE ORANGE CREAMSICLE CAKE
This cake is really, really easy. No fancy ingredients, nothing you can't handle, and plenty of flavor and impressability (is that a word?) to turn you into a fabulous cake baker.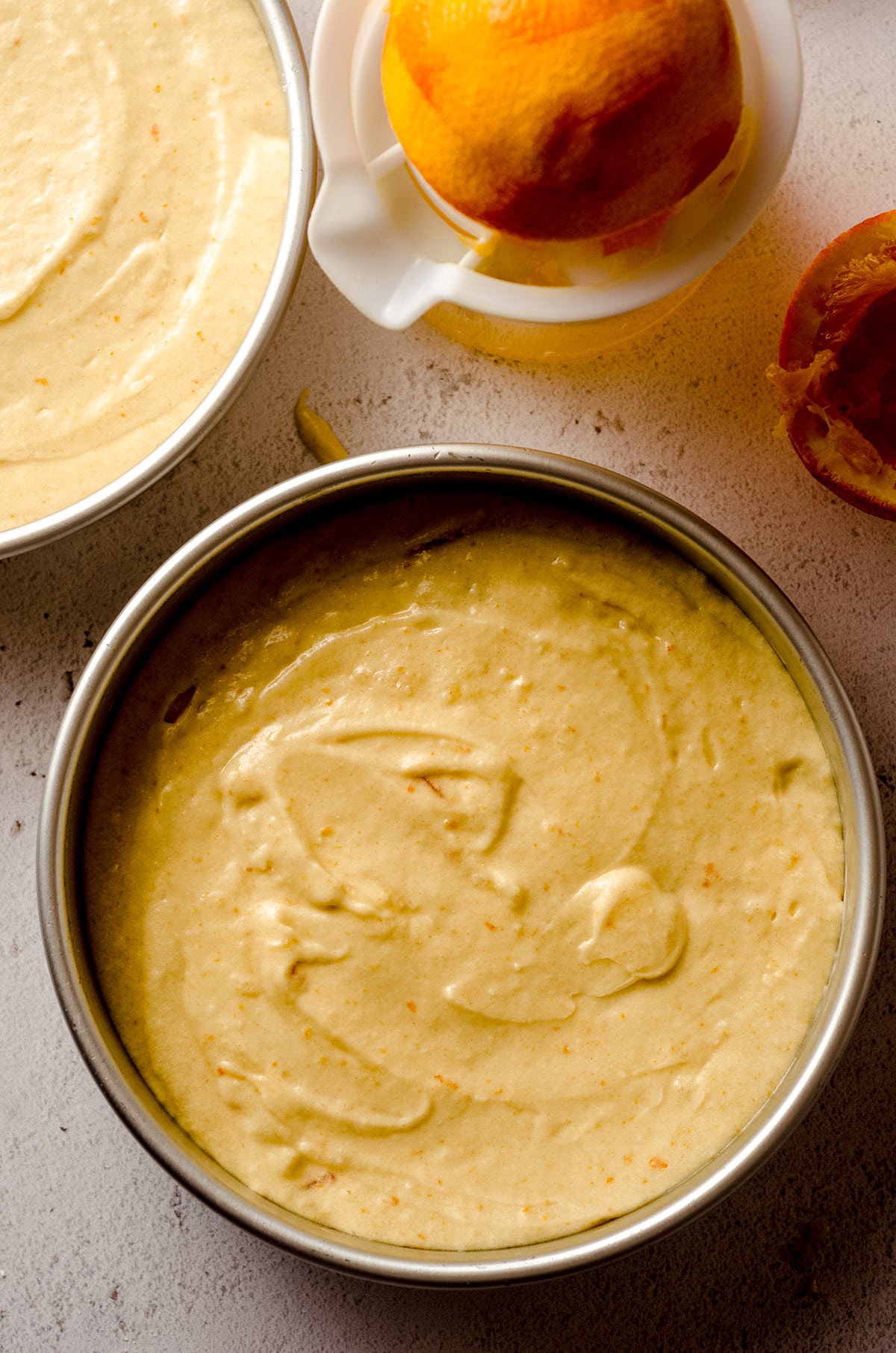 So let's break it down:
You'll start by creaming together butter, sugar, and some orange marmalade. Butter + sugar is a pretty standard start to a cake, but I add in the orange marmalade here to help bring out ultra orange flavor. All that creaming with the orange zest really does something fancy to that base!
ROOM TEMPERATURE INGREDIENTS ARE A MUST
Next up, 4 large eggs, at room temperature. I've said it before and I'll say it a million times again: room temperature eggs are always the better choice when working with room temperature butter. They incorporate much more easily into your batter.
You'll add each egg in separately and beat it into the creamed butter/sugar/marmalade.
A hefty dose of vanilla extract and some additional orange zest are added to the party to really amp up the orange creamsicle flavor.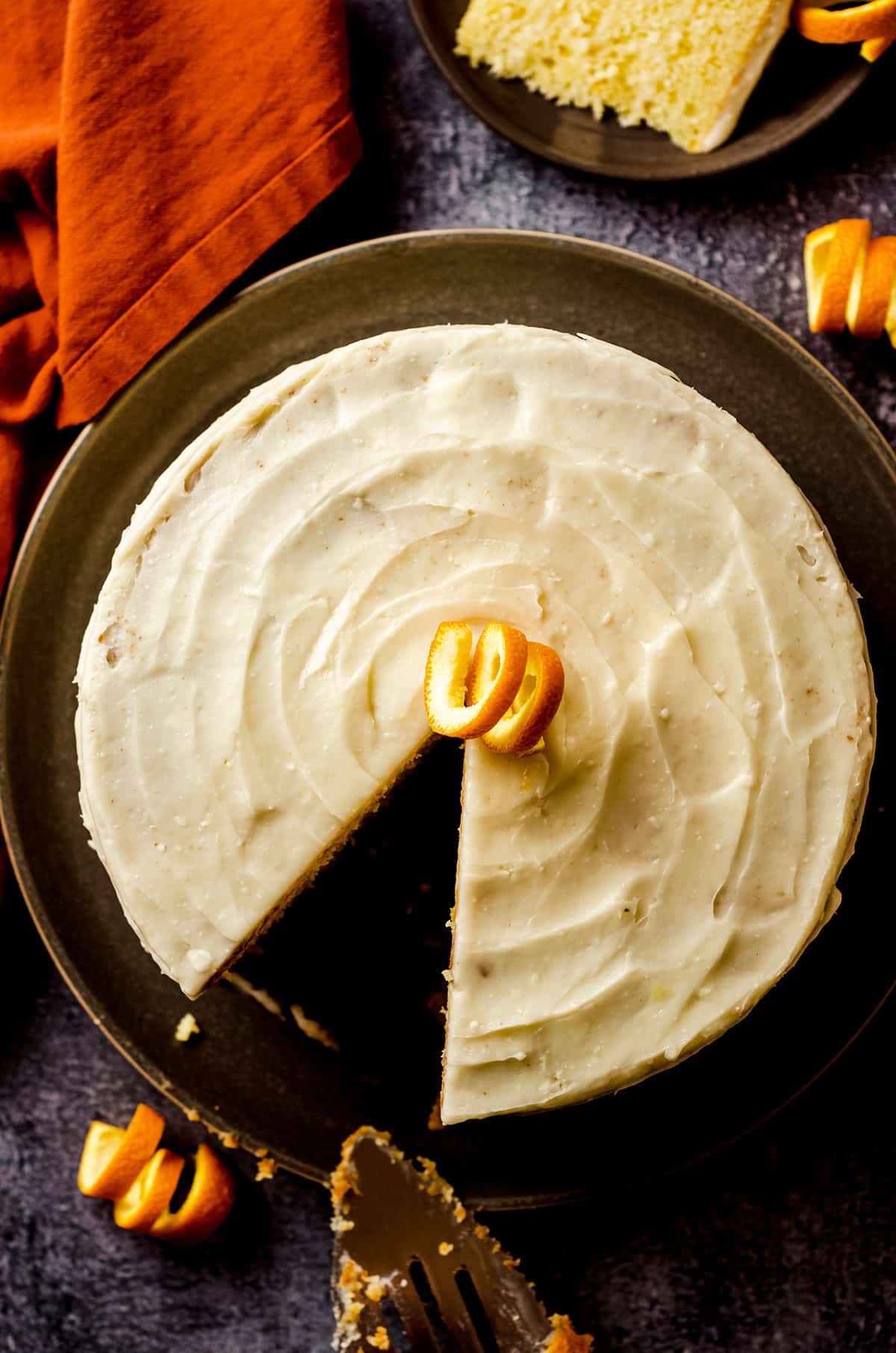 It's also best to have room temperature orange marmalade as well as milk, and you can prep these by setting them out when you set out your butter to soften.
Lastly, you're going to add your flour/baking powder/salt mixture and a milk + fresh orange juice combo.
The most important step here is to alternate additions of each. You'll start by adding about half of the flour mixture then about half of the liquid. Repeat again until everything has been added.
WHY DO WE ALTERNATE ADDING WET AND DRY INGREDIENTS?
Great question!
Since the base of this cake is quite buttery and also contains marmalade and a whole 4 eggs, it's quite wet. You can only add so much more liquid to this mixture before it just can't absorb any more.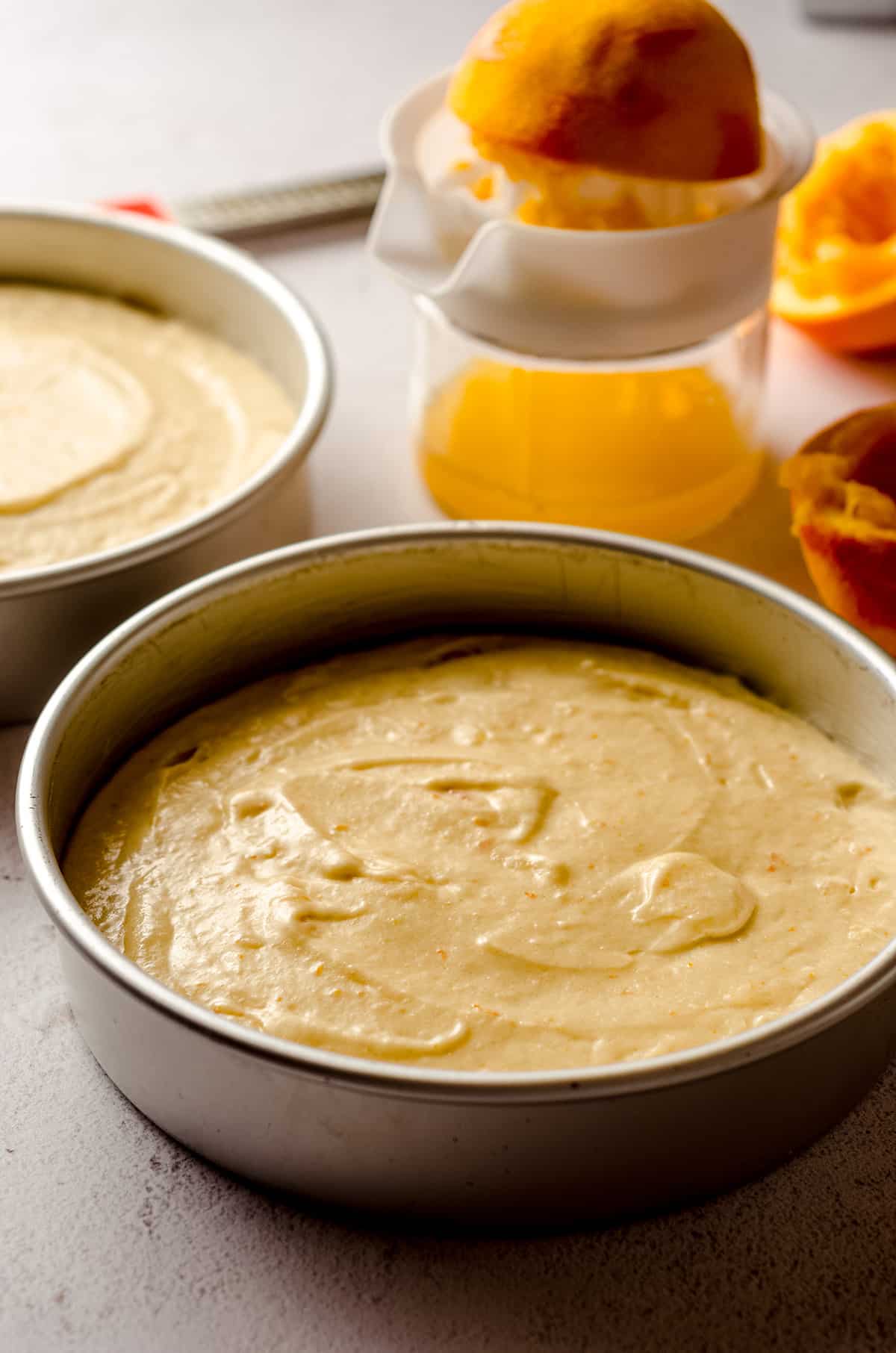 It's likely to separate if there's too much liquid introduced into this wet base before there's anything there to help absorb it. If we start with a little bit of flour, we have a bit more of a vehicle for adding more liquid.
I have made this cake (and into cupcakes) several ways, and I always find the lightest crumb with my alternating additions method. This isn't always the method when it comes to making a cake, but the ratios in this batter benefit from it.
Your cakes will only take about 30ish minutes in the oven.
Not long at all! And while we're talking about baking those beautiful layers, I have to give a little shoutout to one of my favorite cake baking tools to ever exist: homemade cake release.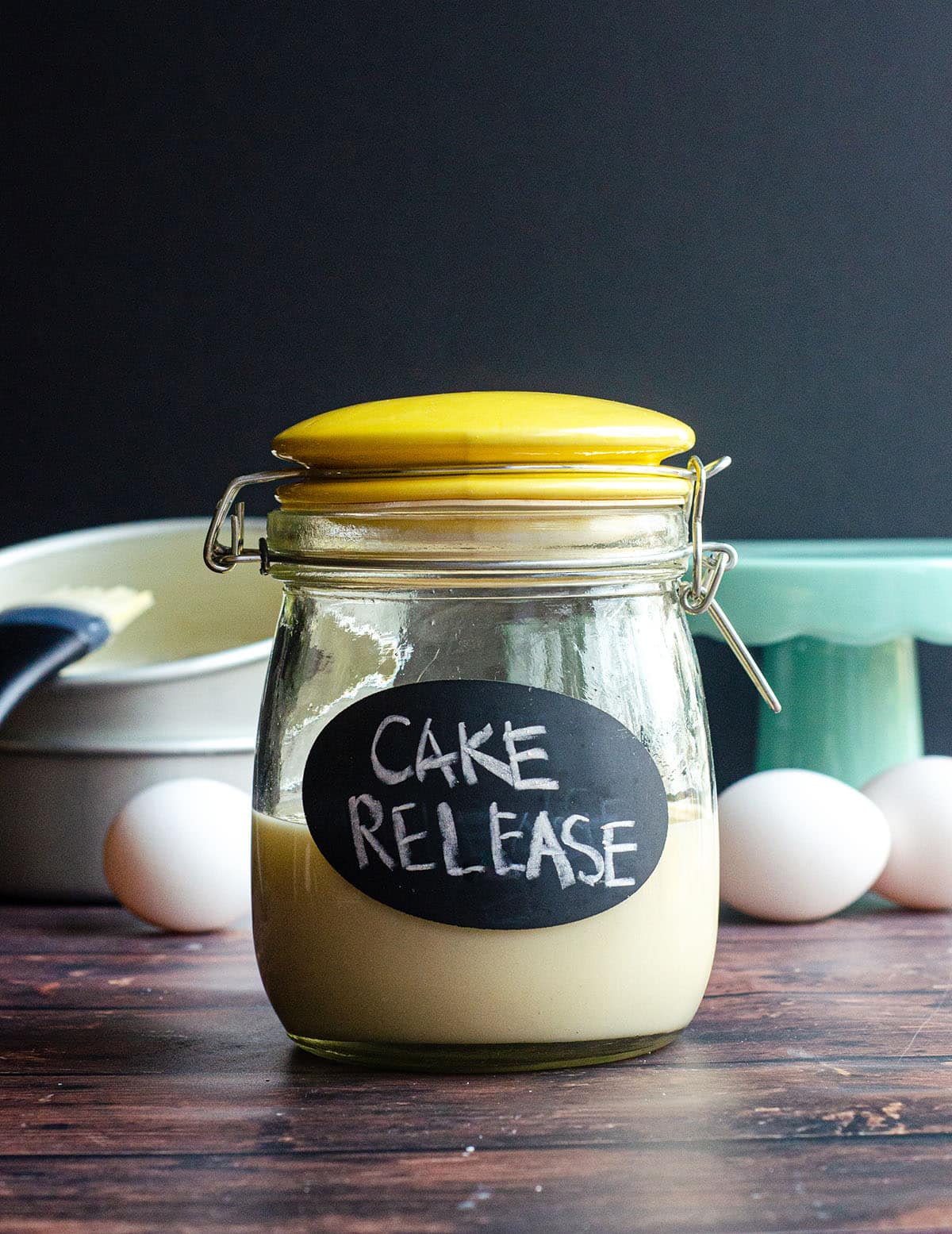 I have been using this stuff from day 2 of scratch cake baking. Day 1? I greased and floured. I just do not love that method.
I swear by this cake release, and I urge you to try it. Your cakes will literally fall out of your pans, leaving behind little to no crumbs.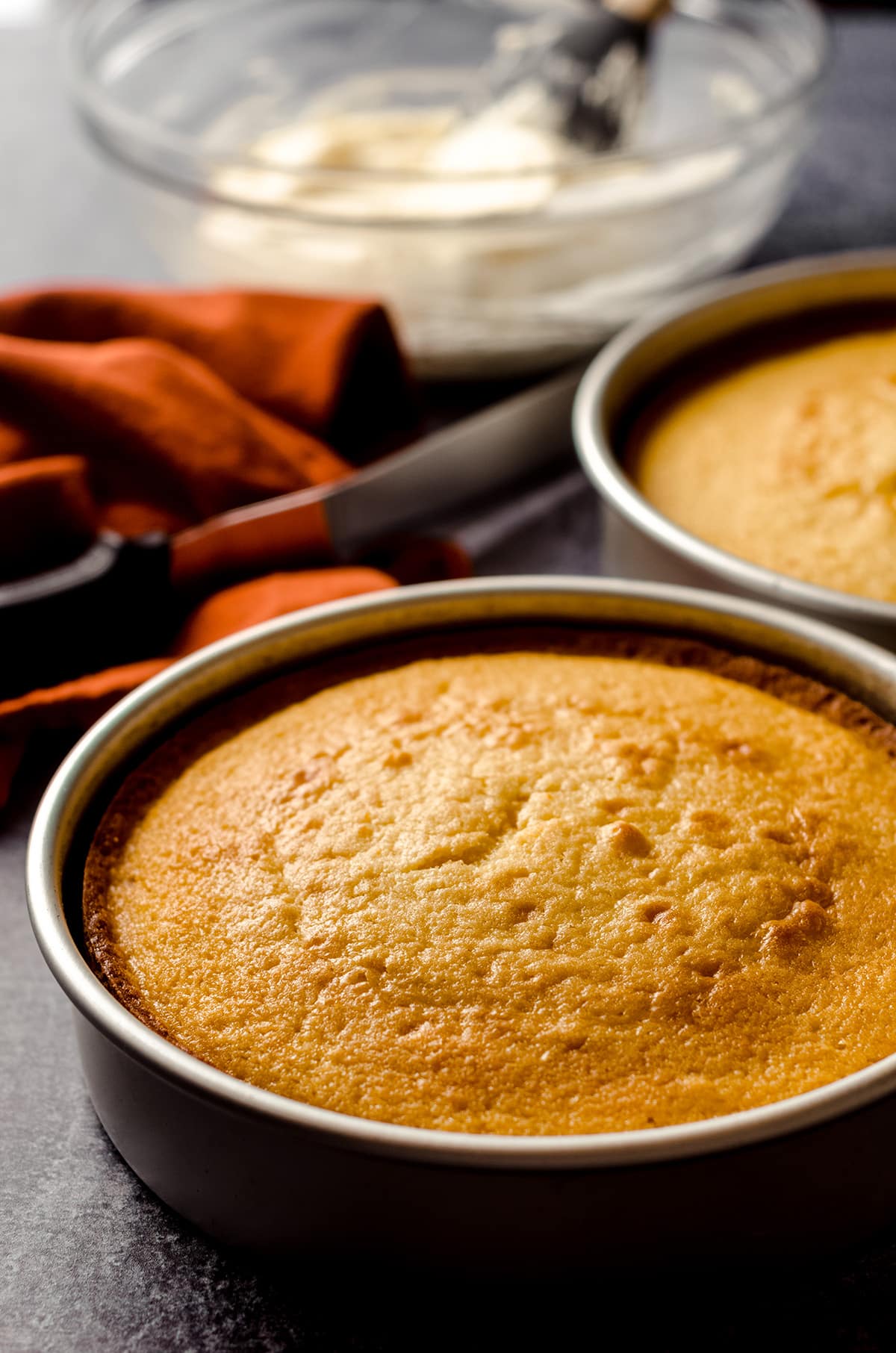 Easy peasy removal + no chunks of cake missing? Easy release making easy orange cake even easier? Pshh, yes please!
You may have no problem with the grease and flour method, and in that case, please… Carry on! Just know that this is my tried and true.
After the cake comes the creamiest, orangiest, heavenliest cream cheese frosting that ever existed.
Ohhhhh my goodness, friends.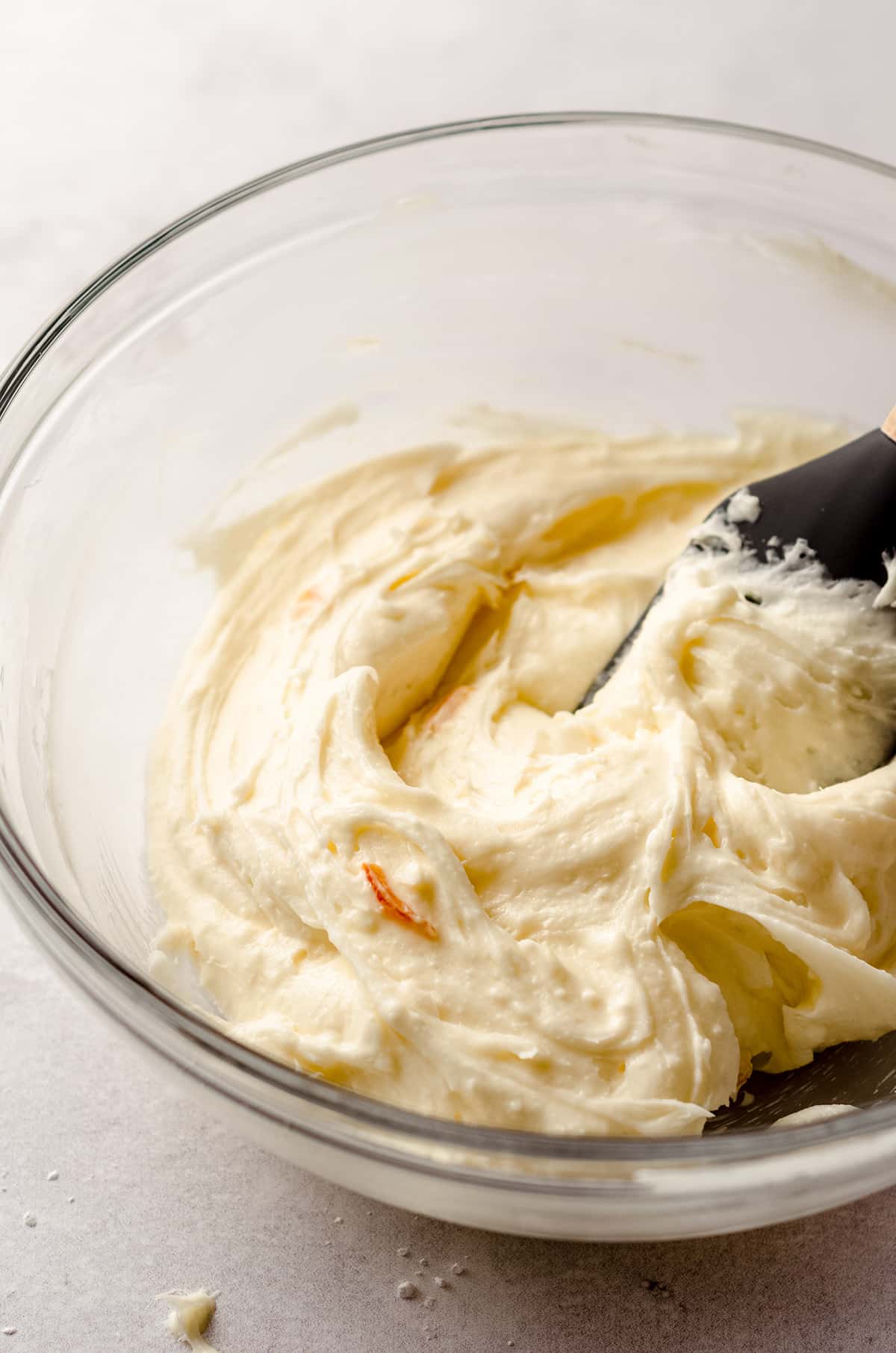 I always have to stop myself from eating all of the leftover frosting. It is unreal good.
Nothing too crazy there either: a stick of butter, a block of cream cheese, some powdered sugar, orange zest or orange marmalade, and a touch of vanilla.
If you're not so much into all that extra orange flavor (you cray!), feel free to leave out the added zest/marmalade. Whatever your tastebuds are feeling works just fine.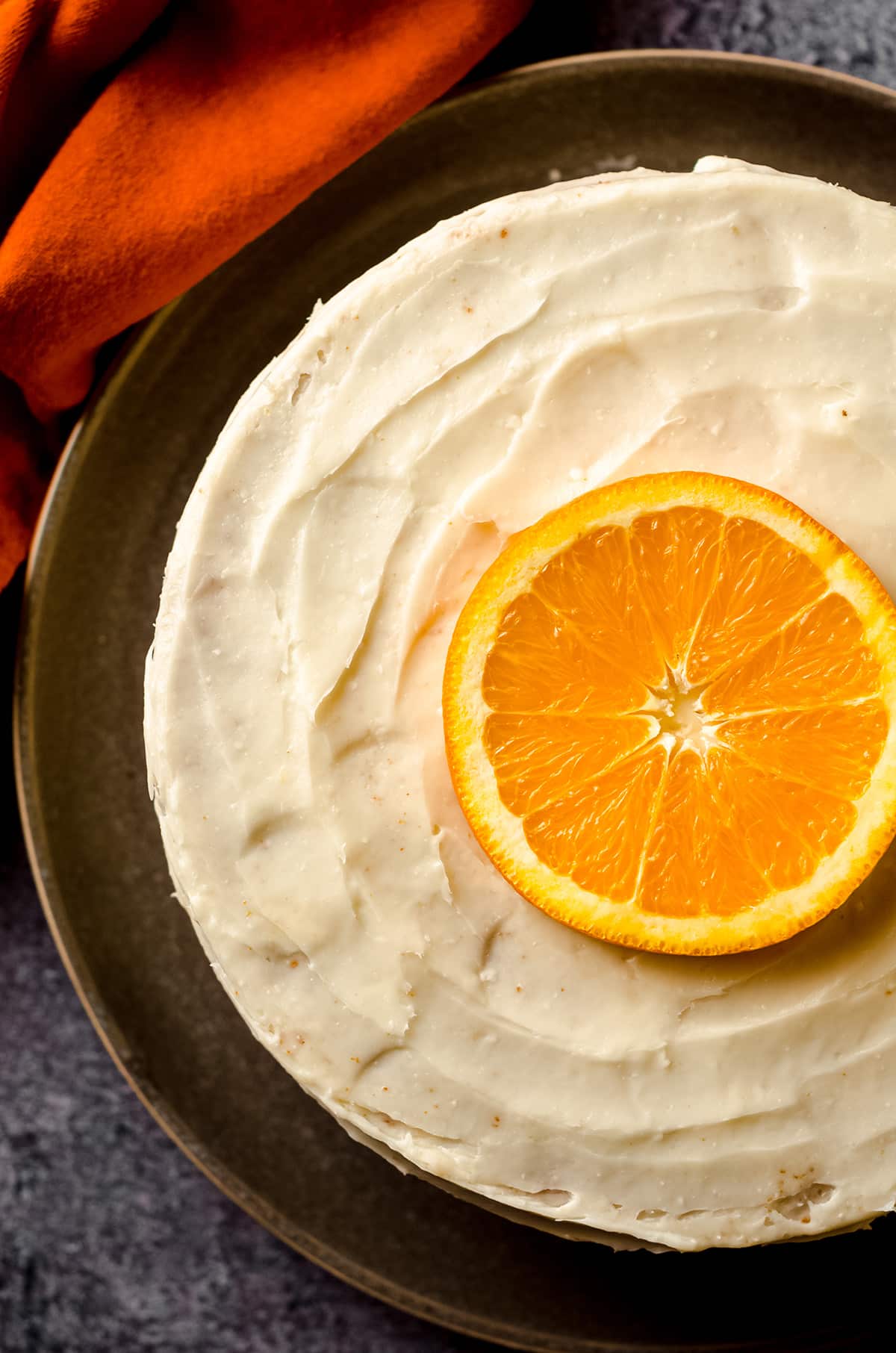 Once your cakes are completely cool, you're ready to assemble. If you've never assembled a layer cake before, please do not be intimidated. It's not as daunting as it may seem.
MY BEST TIPS FOR ASSEMBLING A LAYER CAKE
I always start by leveling my cakes. You can do this with a serrated knife (not my favorite way) or a cake leveler. I have used this cake leveler since I began baking cakes.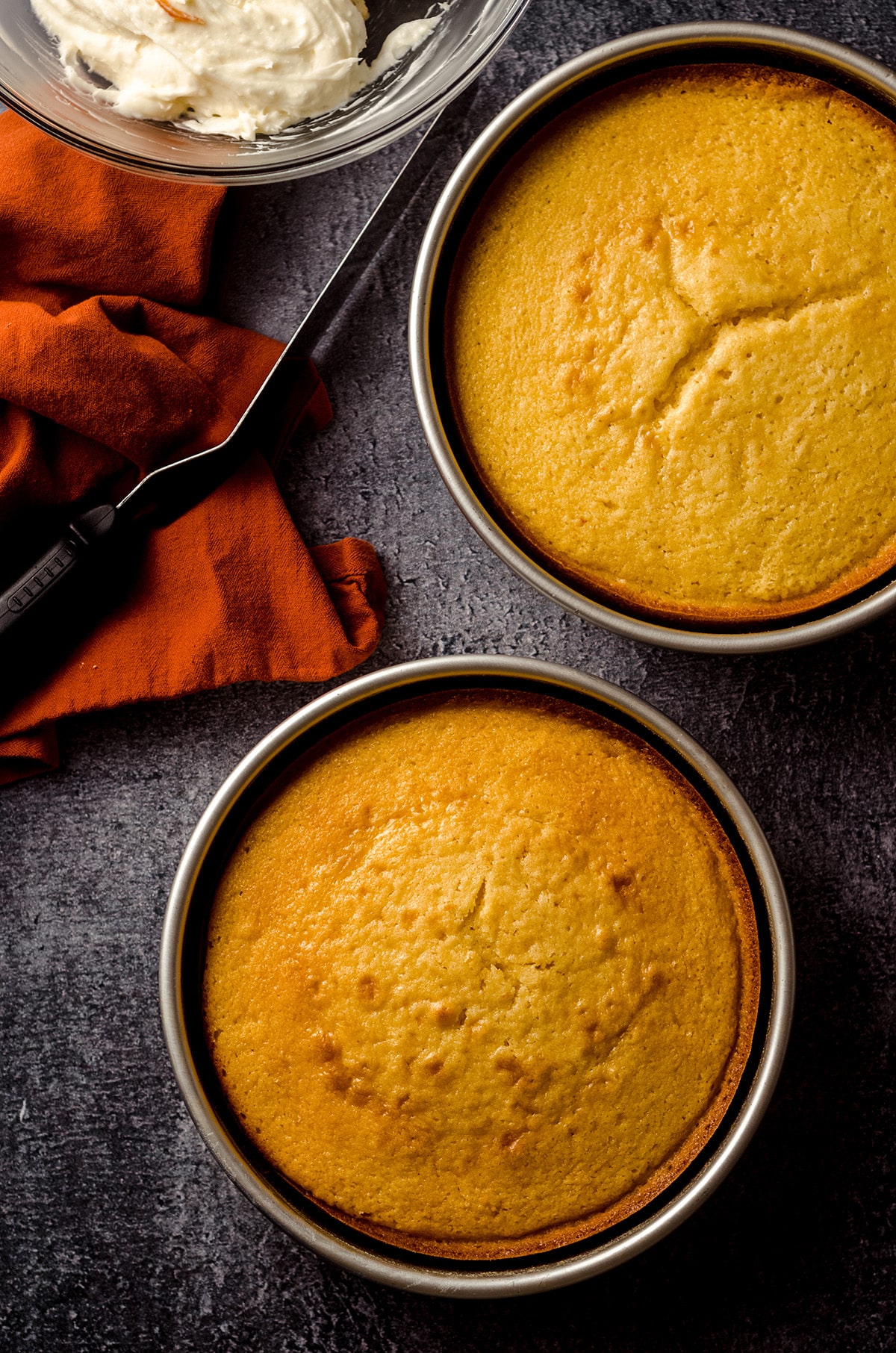 It is adjustable, durable, and it doesn't take up a lot of space. And it's super inexpensive. It makes leveling cakes a cinch, and I prefer it to a knife a million times over.
Once you're leveled, place one layer on a cake stand or serving plate, spread a decent amount of frosting evenly on top, place the second level (cut side down) on top of that, and refrigerate for about 10 minutes.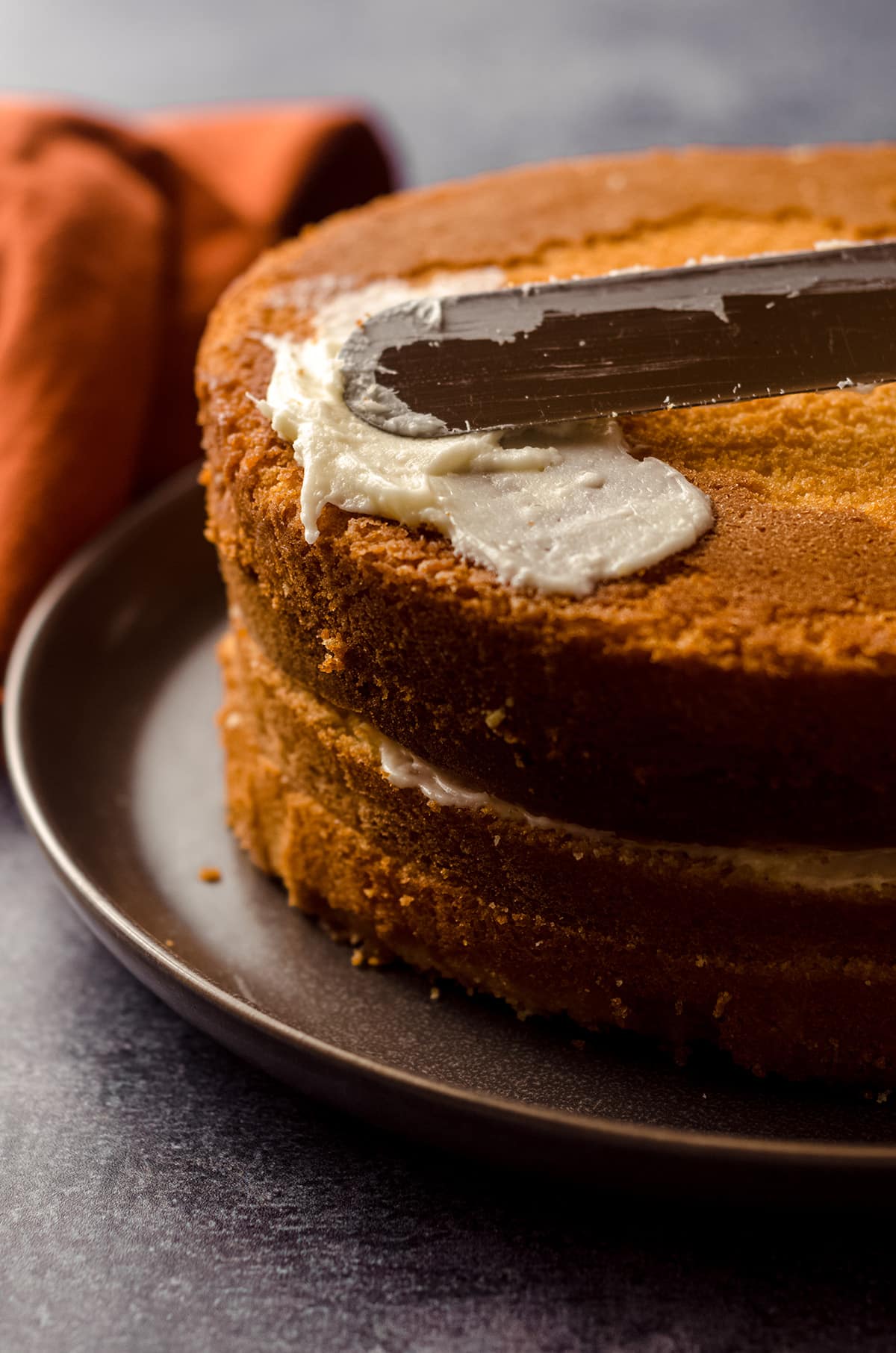 I like to chill the whole cake before I frost the entire thing because it sturdies everything up a bit. Otherwise, I find that things can start to slide and then it's all kinds of messy.
Feel free to refrigerate for longer, especially if you have the time!
Spread the remaining frosting on the top and all around the sides, pop in the refrigerator for about 30 minutes to allow everything to set, and you are ready to serve up the most delightful little orange creamsicle cake your tastebuds ever laid tastes on (what?).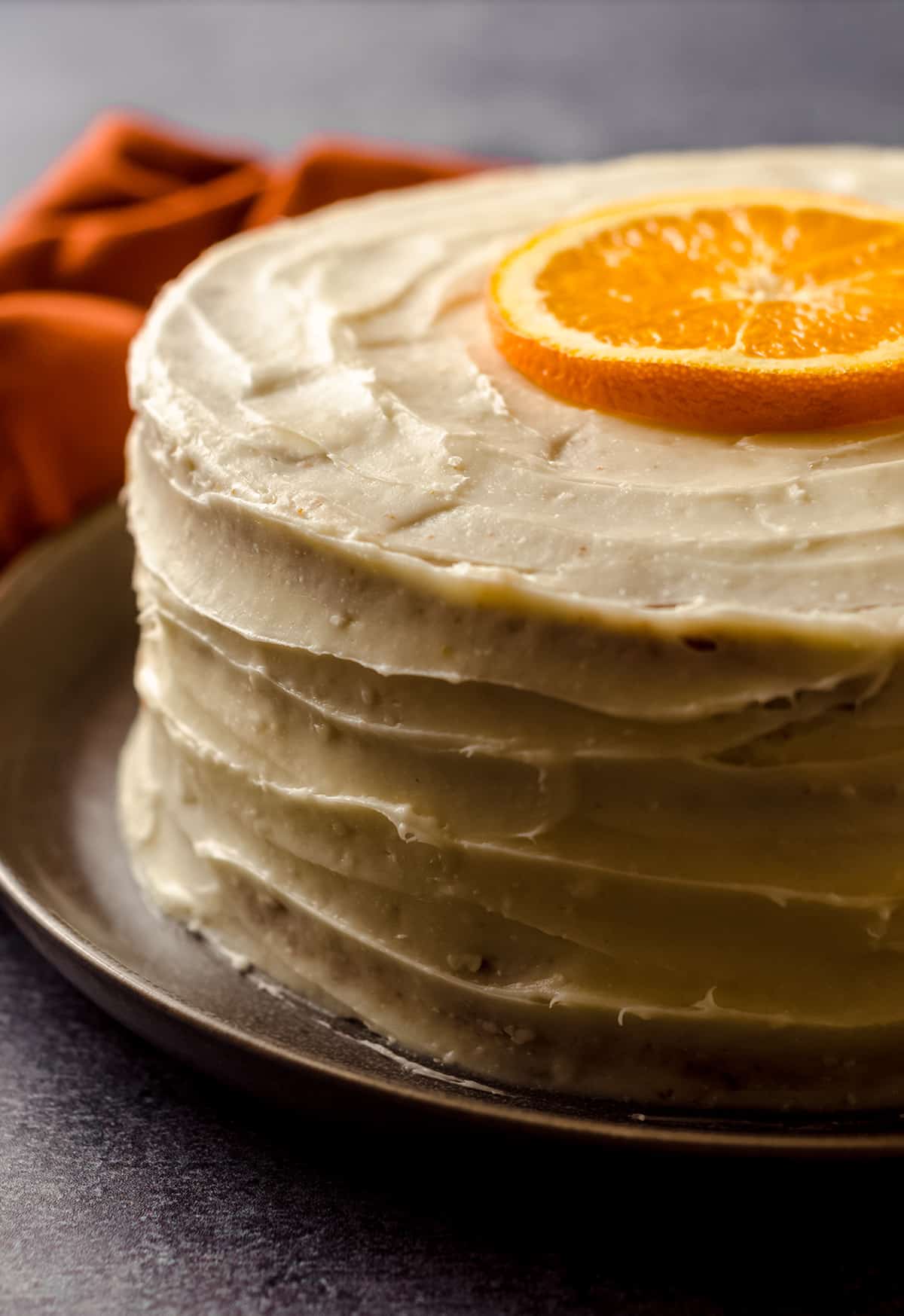 If you want a 4 layer cake, simply split each layer into 2, and layer as instructed until you run out of layers.
I have made this cake several times over the years, and it is always met with people who can't stop nibbling.
I actually had someone on this most recent round of tasting say:
Each bite of this orange creamsicle cake is filled with a burst of orange flavor, a soft, moist crumb, and surrounded by luscious cream cheese frosting that adds just the perfect amount of additional orange flavor to categorize this cake as "dreamy."
My favorite bites are the ones with chunks of orange zest from the marmalade, because they add texture and a tangy punch of orange. The BEST!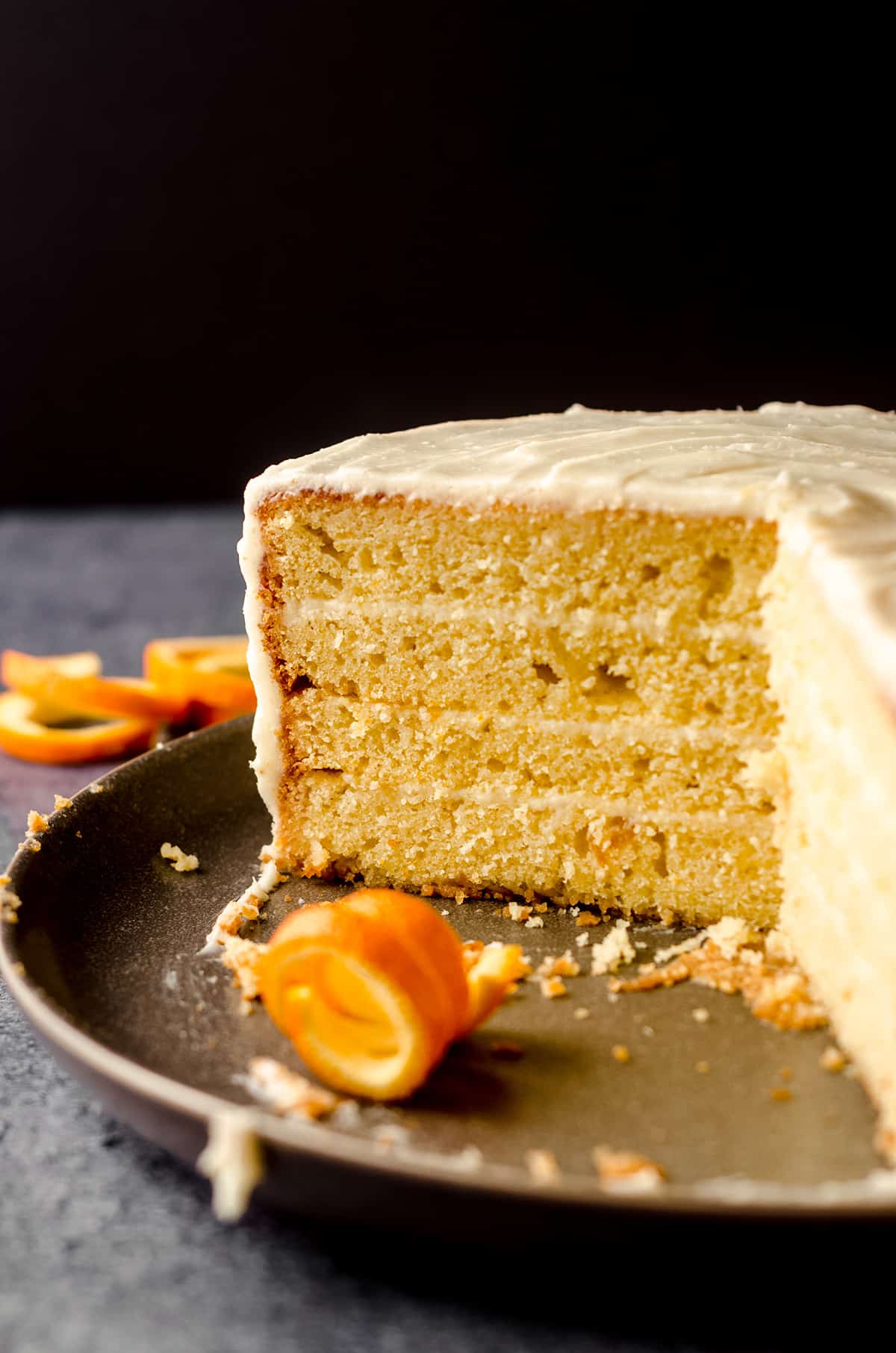 I seriously love this cake: not too fancy, not too difficult, and sure to dazzle anyone who tries it!
This cake is perfect for spring or summer, but let's be honest, there really is never a bad time for orange, especially when it comes in the form of cake that reminds you of that childhood popsicle you could never get enough of.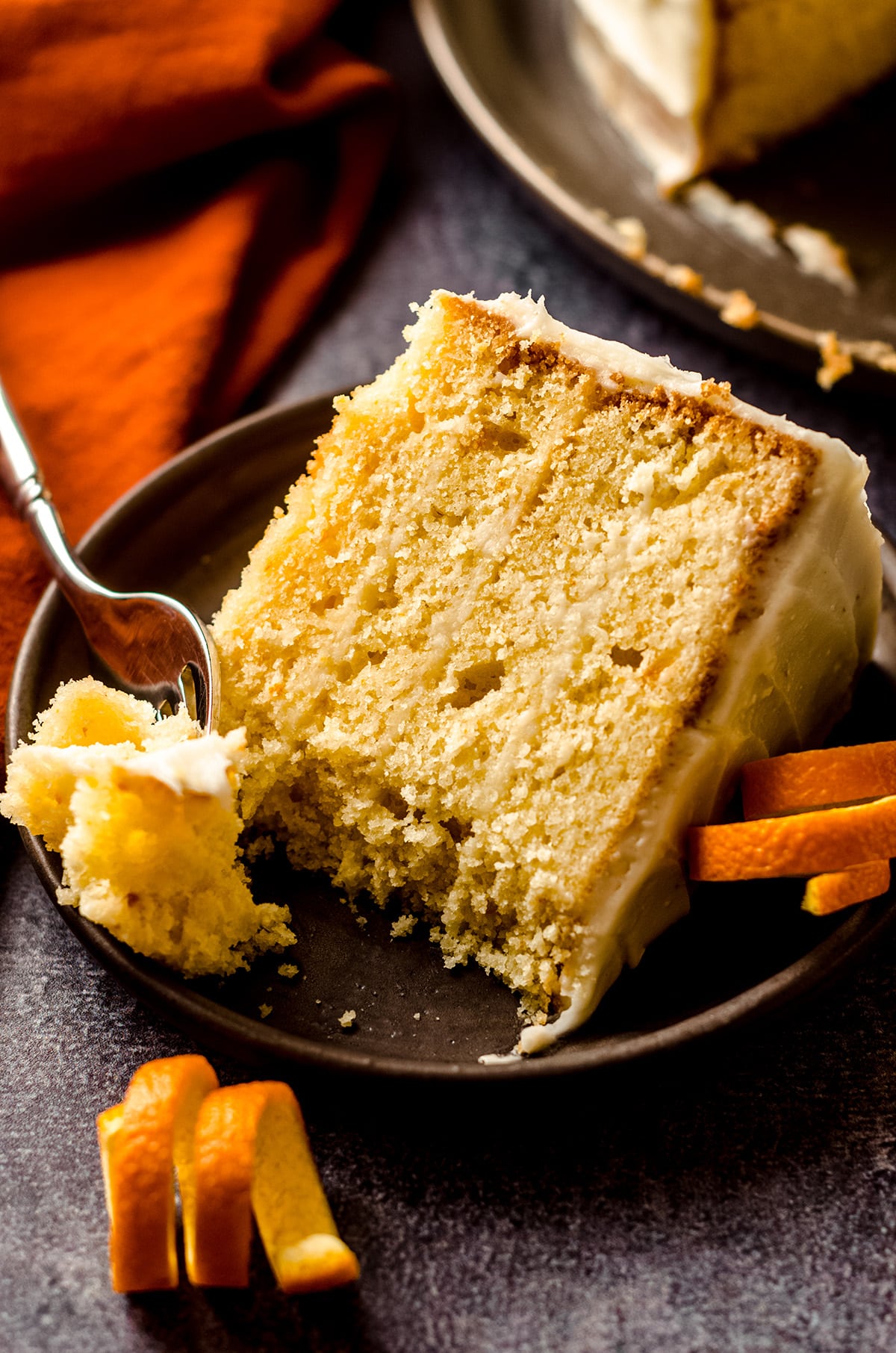 Give it a try! I can almost guarantee you'll be impressing yourself (and your friends) in no time with your ability to make a fabulous orange creamsicle cake from scratch!
Looking for more orange recipes? Try my orange poppy seed scones or orange blueberry muffins next!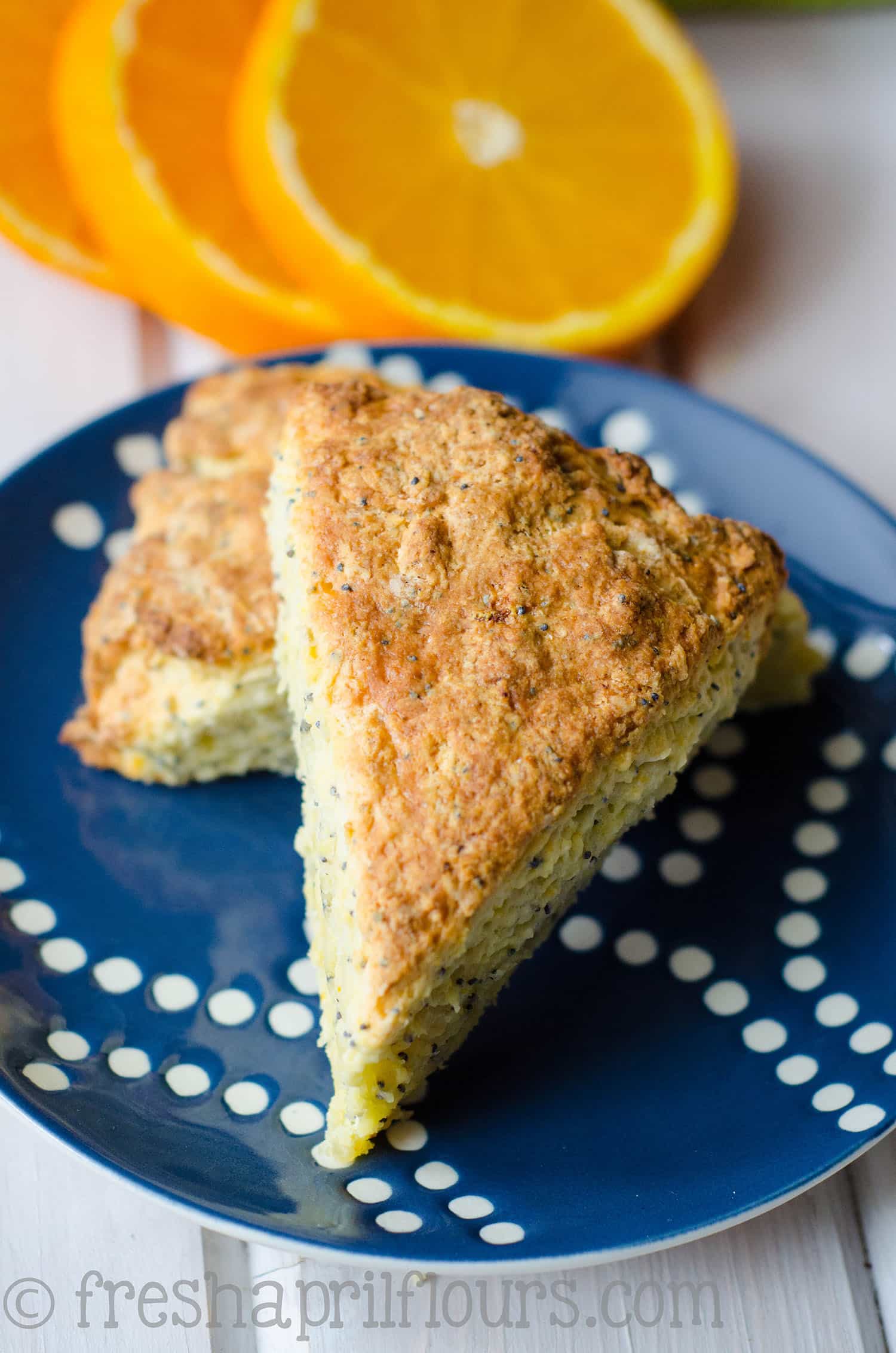 Orange Creamsicle Layer Cake
A moist and flavorful orange vanilla cake full of bright and zesty orange marmalade. Sunny orange cream cheese frosting makes this orange creamsicle cake simply irresistible!
Ingredients
ORANGE CAKE
3

cups

(360g) all-purpose flour be sure to measure properly

4

teaspoons

baking powder

1

teaspoon

salt

1

cup

(227g) unsalted butter

softened to room temperature

1 and ¼

cup

(250g) granulated sugar

½

cup

(160g) orange marmalade

4

large eggs room temperature1

3

teaspoons

vanilla extract
zest and juice of 2 large navel oranges2

¾

cup

(180mL) milk room temperature1; any but whole cow preferred3
ORANGE CREAM CHEESE FROSTING
½

cup

(113g) unsalted butter

softened to room temperature

8

ounces

(225g) full fat block cream cheese

softened to room temperature

2

cups

(240g) powdered sugar
zest of ½ a large navel orange OR 1 Tablespoon (20g) orange marmalade

½

teaspoon

vanilla extract
Instructions
ORANGE CAKE
Preheat the oven to 350ºF (177ºC). Grease and flour (or use homemade cake release) two 8" round baking pans. Set aside.

In a medium size bowl, toss together the flour, baking powder, and salt. Set aside.

In a large bowl with a handheld mixer or the bowl of a stand mixer fitted with the paddle attachment, beat the butter, sugar, and orange marmalade on medium-high speed until light and fluffy (about 3 minutes). Add each egg, one at a time, beating on medium-high speed until fully incorporated, scraping down the sides as necessary. Add the vanilla extract and orange zest and beat again until combined.

Stir the orange juice into the milk. Scrape down the sides of the mixer bowl and turn the mixer speed to low. Add the flour in 2 additions, alternating with the milk/orange juice. Remove bowl from mixer and stir with a spatula until everything is completely combined.

Spoon batter evenly into prepared pans and bake 28-34 minutes or until lightly browned on top and a toothpick inserted in the center comes out clean. Remove from oven and allow cakes to cool in the pans completely on a wire rack before removing and assembling.
ORANGE CREAM CHEESE FROSTING
In a medium size bowl with a handheld mixer or in the bowl of stand mixer fitted with the paddle attachment, beat the butter and cream cheese on medium speed until no lumps remain (about 3 minutes).

Decrease mixer speed to low. Add powdered sugar, orange zest or orange marmalade, and vanilla extract. Increase mixer speed to to high and beat until completely combined (approximately 2-3 minutes).
ASSEMBLE CAKE
For a 2 layer cake: trim cooled cake layers to create a flat surface. You can do this with a large serrated knife or a cake leveler. Place one layer on a plate or cake stand and cover the top with cream cheese frosting. Spread evenly with an offset spatula. For a 4 layer cake: split each layer into two even layers and proceed with step 2, alternating cake and frosting.

Place second layer on top, cut surface down. For a sturdier cake, refrigerate at this point for about 10 minutes. When cake is slightly chilled, remove from refrigerator and spread more frosting on the top and around the sides. Refrigerate frosted cake at least 30 minutes before cutting so cake and frosting can set completely. Leftovers stay fresh, covered tightly, at room temperature up to 3 days and in the refrigerator up to 5 days.

Make ahead: prepare cakes and frosting up to 1 day in advance. Cover cakes tightly and keep at room temperature or in the refrigerator until ready to assemble. Refrigerate prepared frosting in an airtight container until ready to use. Unfrosted cake layers may be frozen, wrapped tightly, up to 2 months. Thaw overnight in the refrigerator before assembling. Frosted cake can be frozen, wrapped tightly, up to 2 months. Thaw overnight in the refrigerator and bring to room temperature before serving.
Notes
Room temperature ingredients: these incorporate into batter much more easily than cold ingredients. Allow to sit at room temperature for 45 minutes. You can place eggs in a bowl of warm water for 10 minutes or until ready to use.
Orange juice: approximately

¼

cup juice from each orange, for a total of about

½

cup for the entire cake batter recipe. Do not exceed ½ cup of juice.
Milk: a higher fat milk brings the best texture to this cake.
Make in a bundt pan: this recipe also fits in a bundt pan. Bake time is approximately 40 minutes. Top with a simple glaze or half the recipe of the orange cream cheese buttercream.
Nutrition Disclosure
All nutritional values are approximate and provided to the reader as a courtesy. Changing ingredients and/or quantities will alter the estimated nutritional calculations.