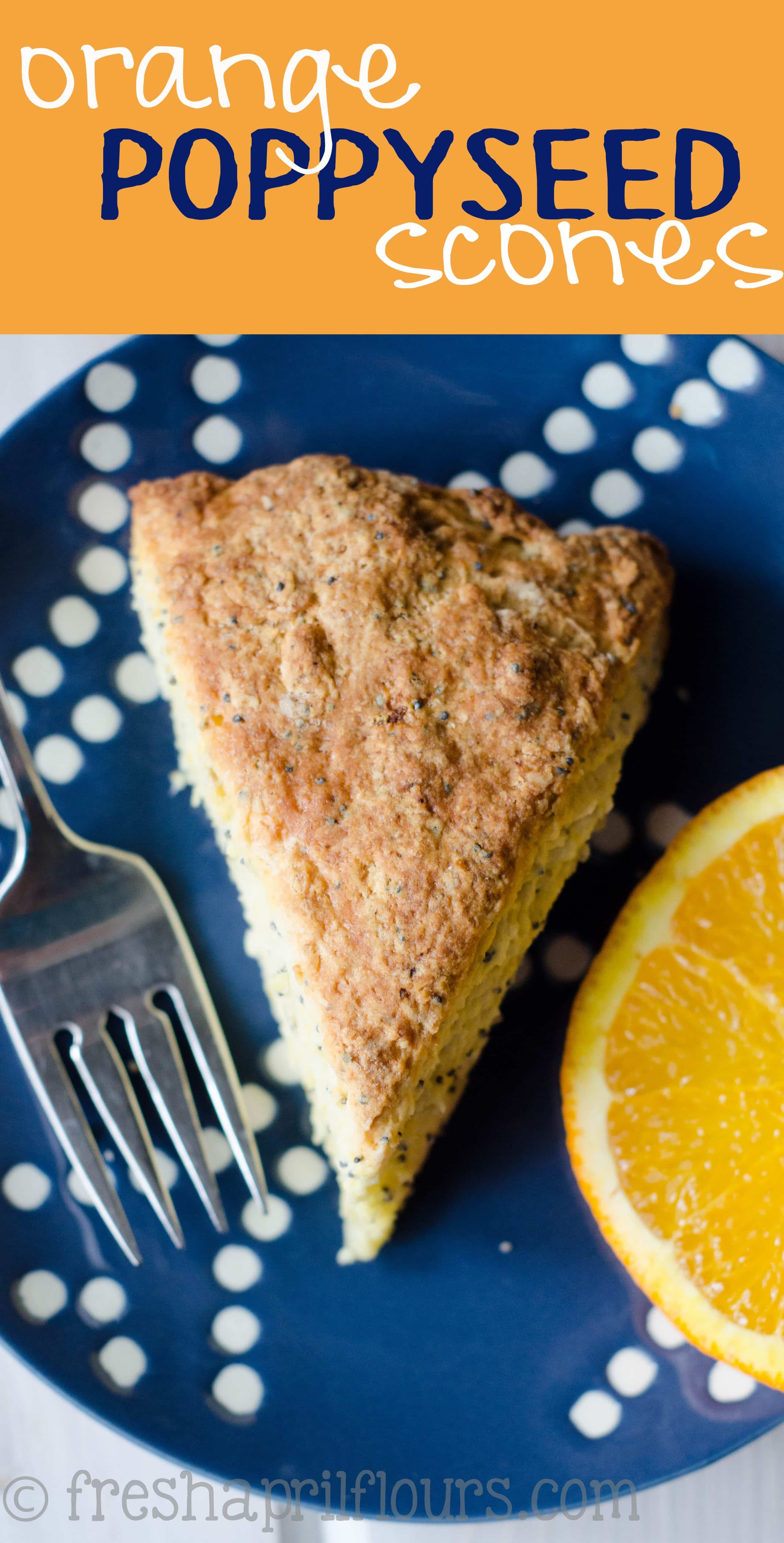 As an Amazon Associate, I earn from qualifying purchases. Read the full disclosure here.
Bright and sunny scones that are full of tangy yet sweet orange flavor, made even better with an orange simple syrup soak.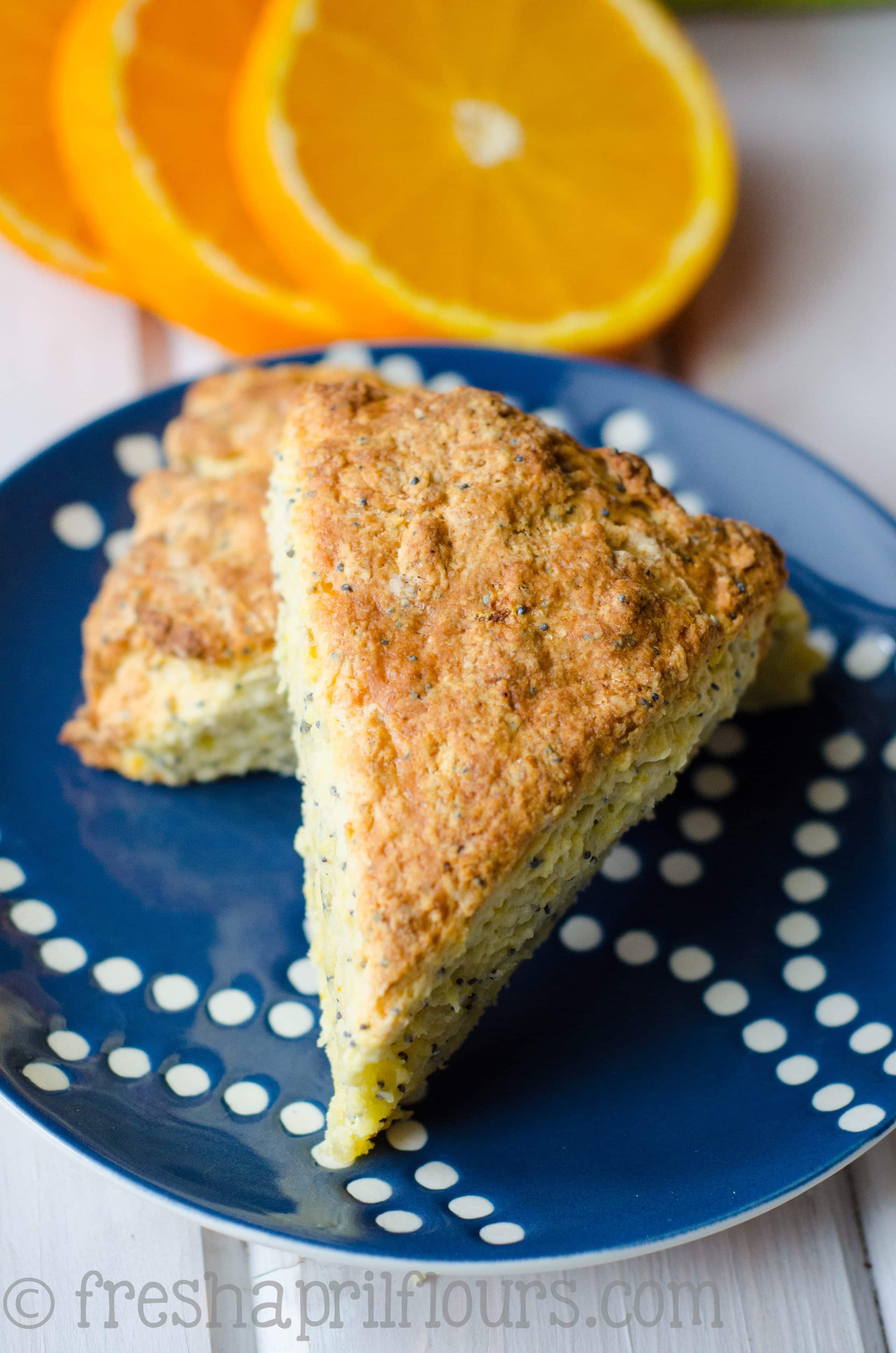 Are you completely frozen yet? If you don't live on the east coast (or even some other unfortunately unusually cold areas of the United States), don't answer that. It has been single digit temperatures lately, and that's just… The worst.
I've lived in Pennsylvania all my life, but this is getting a little tough to handle. I'm tired of bundling up and wearing 10 layers to the gym because I leave at 4:45am and it's basically still in the negatives that early in the morning.
All of the cold being said, I was feeling something sunny. I needed some sunshiny fruit in my life, and oranges are totally the way to my heart. If you know me, you know I love orange.
Orange the color, orange the scent, orange the flavor… Oranges even made quite the appearance in our wedding decor.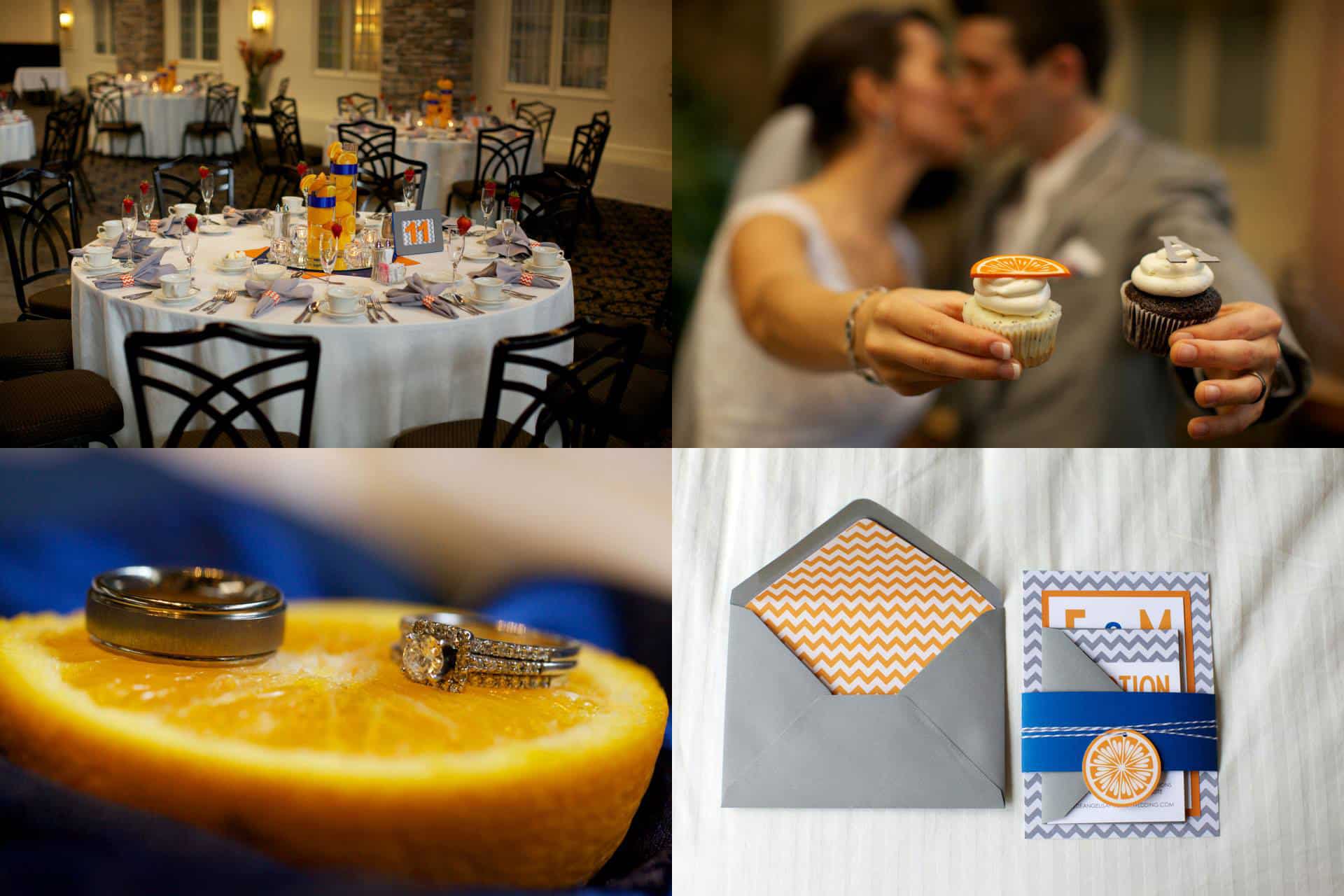 Photo credit: (mattnnat)
So it's no surprise that when I wanted to attempt fruit in scones again that I would choose orange. But I didn't want to do anything "typical" and combine my orange with cranberry… So I chose the next best thing: poppy seeds!
Poppy seeds typically get paired up with lemons in baked goods, so why not change it up and let poppy seeds hang out with oranges for a bit? No harm, right? NONE. All magic, really.
I made scones over the summer, and I talked about how those cinnamon scones were moist and tender and all the things scones are not "supposed" to be. Well, these orange poppy seed scones are a little more on the "typical" scone side.
While they're certainly not dry and bland, they are a little less sweet than my cinnamon ones, and they obtain most of their moisture from the orange simple syrup that they get soaked in after baking.
That's right… Soaked in orange sugar water.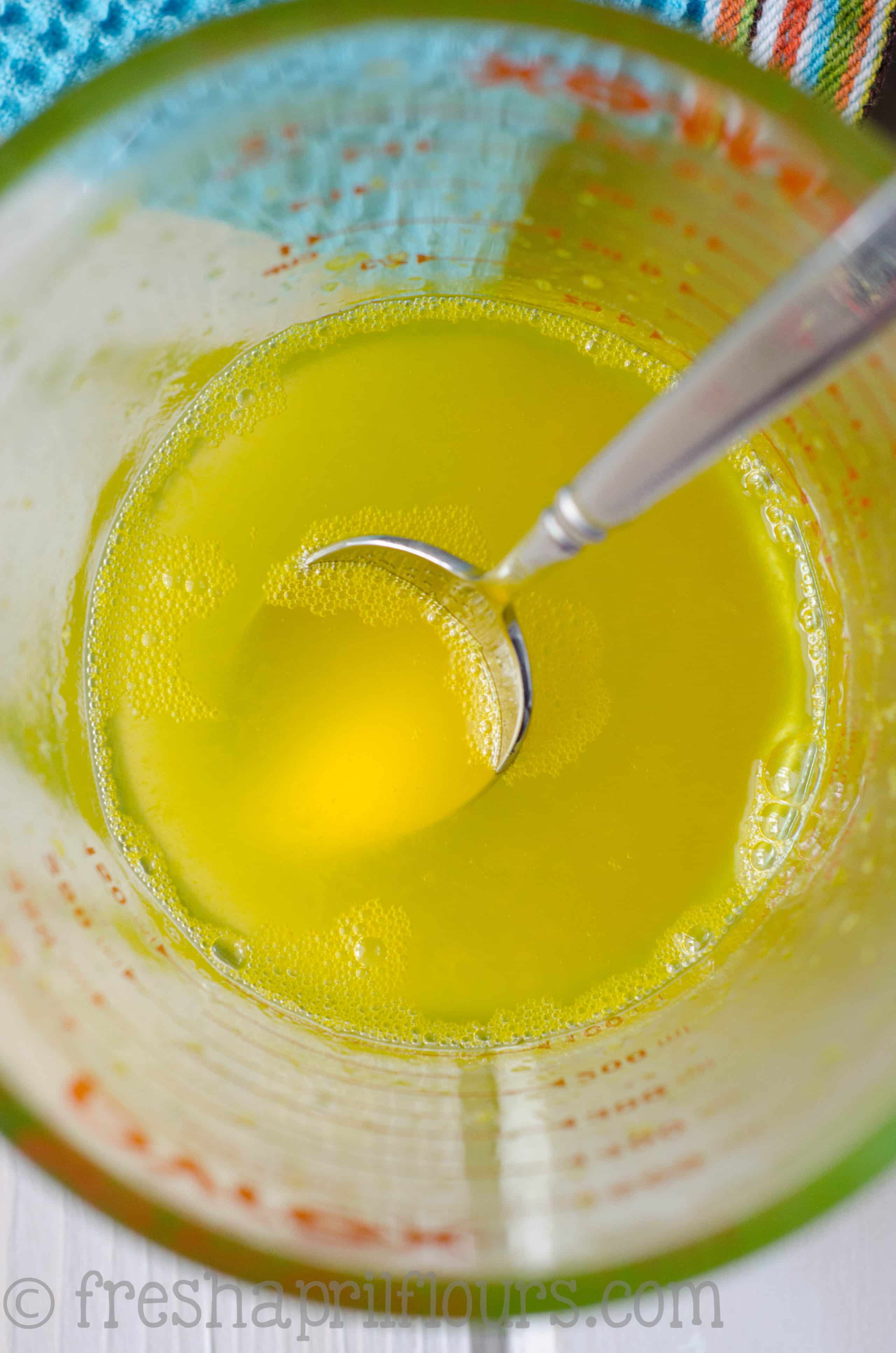 I would swim in this, I swear it.
Back to the sunshine scones… You'll start by whisking together all of your dry ingredients. Typical offenders: flour, sugar, salt, some baking powder, a ton of poppy seeds, and my secret weapon to really make the orange flavor pop: ground ginger. It makes a world of difference.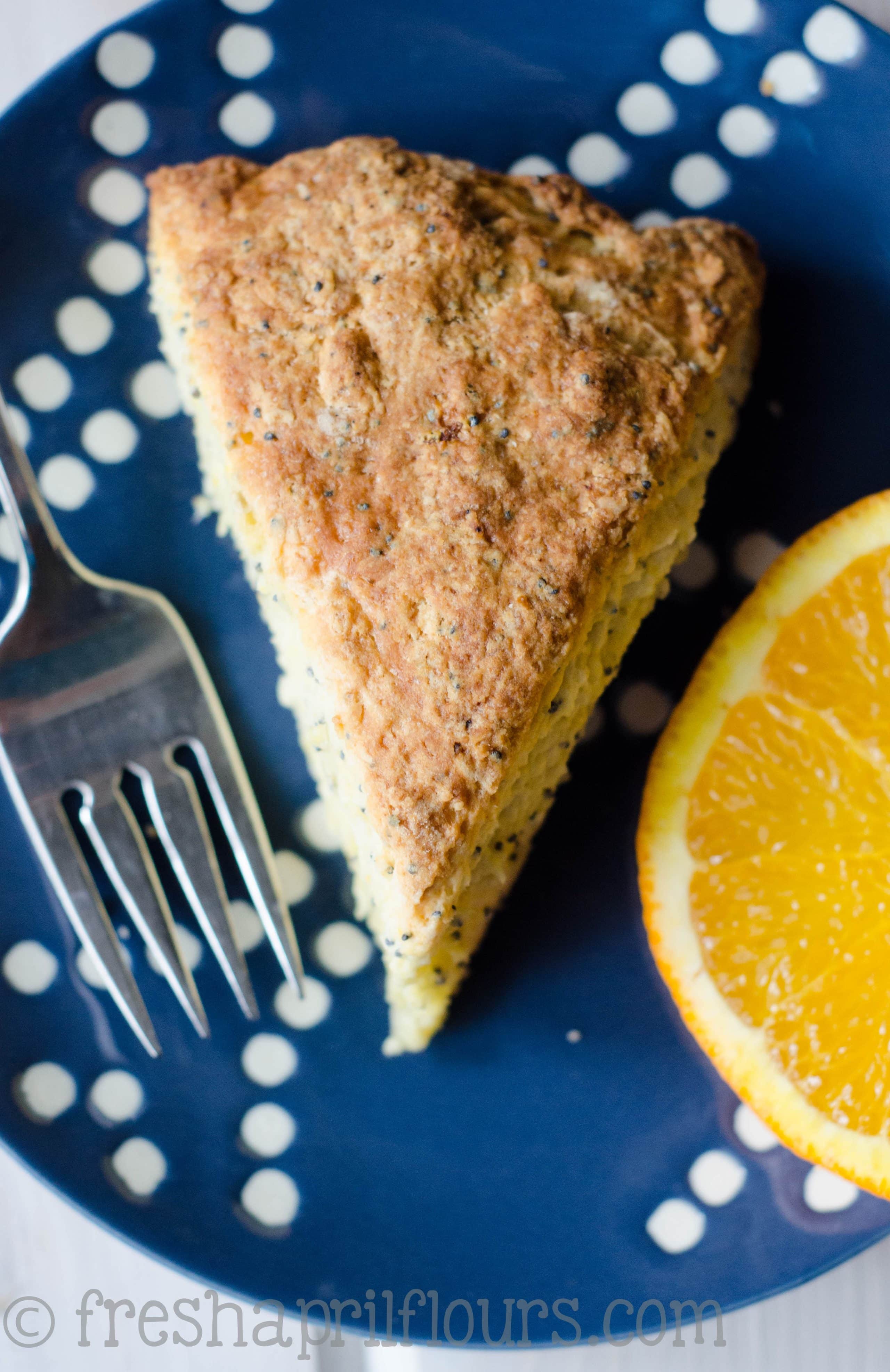 Next, the butter. You'll want to use frozen butter, for the same reasons you want to use frozen butter when you make pie crust: when the frozen butter melts in the oven, it creates pockets of steam that keep the scones light and airy on the inside.
I freeze my butter for at least 30 minutes. You'll want to grate the butter into your dry ingredients quickly with a cheese grater.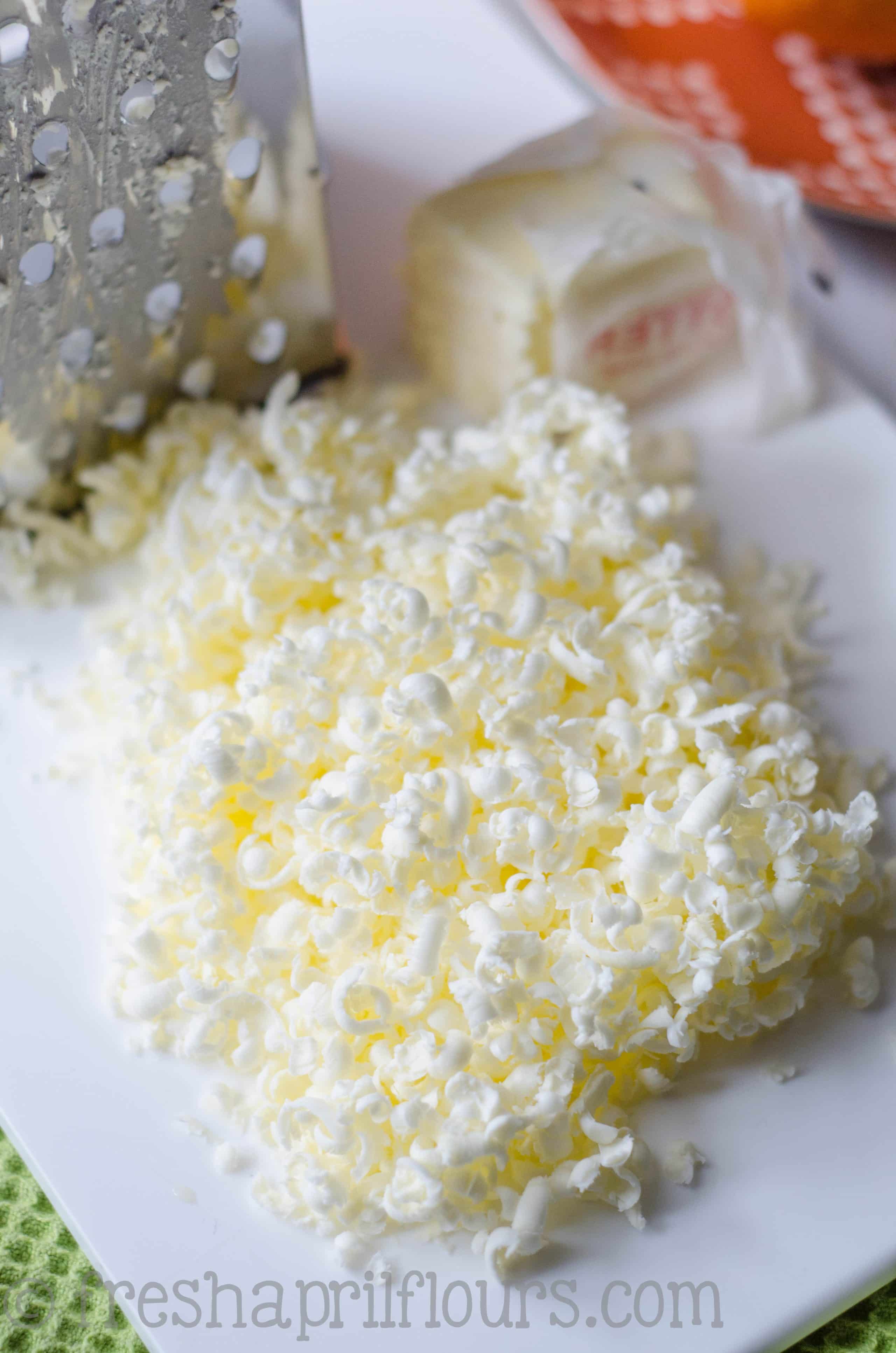 Once your butter is in, you're going to cut it in with a pastry blender. If you don't have a pastry blender, get one. In the meantime, use a fork or two knives. Cut it in until it resembles coarse crumbs.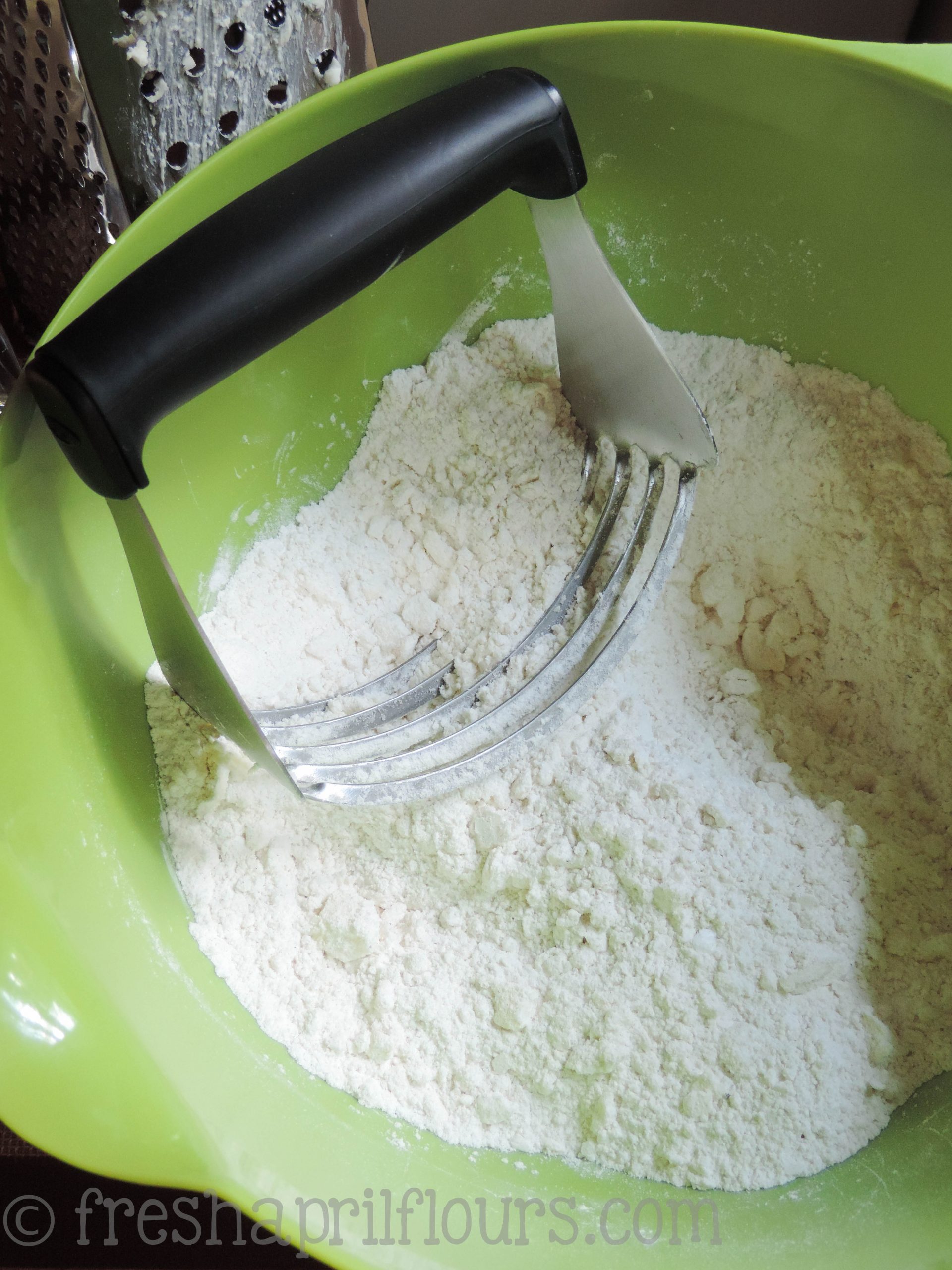 After your butter is in, it's time to make the most delicious smelling concoction that has ever existed in my Pyrex measuring cup. I recommend mixing your liquid ingredients in a cup or small bowl with a spout so that you can easily drizzle it into your dry ingredients.
You don't just want to dump it in as you'll be mixing your scone batter as little as possible once everything is all together.
This mixture contains an egg, some vanilla extract, heavy cream (please, don't think about substituting. You need the incredible moisture it brings!), and the juice and zest from one large naval orange.
I squeezed my own orange juice, but you're certainly welcome to use store bought. Just make sure you get some without any added sugar, otherwise your scones may end up too sweet (unless that's what you're going for).
You'll need another orange for your simple syrup.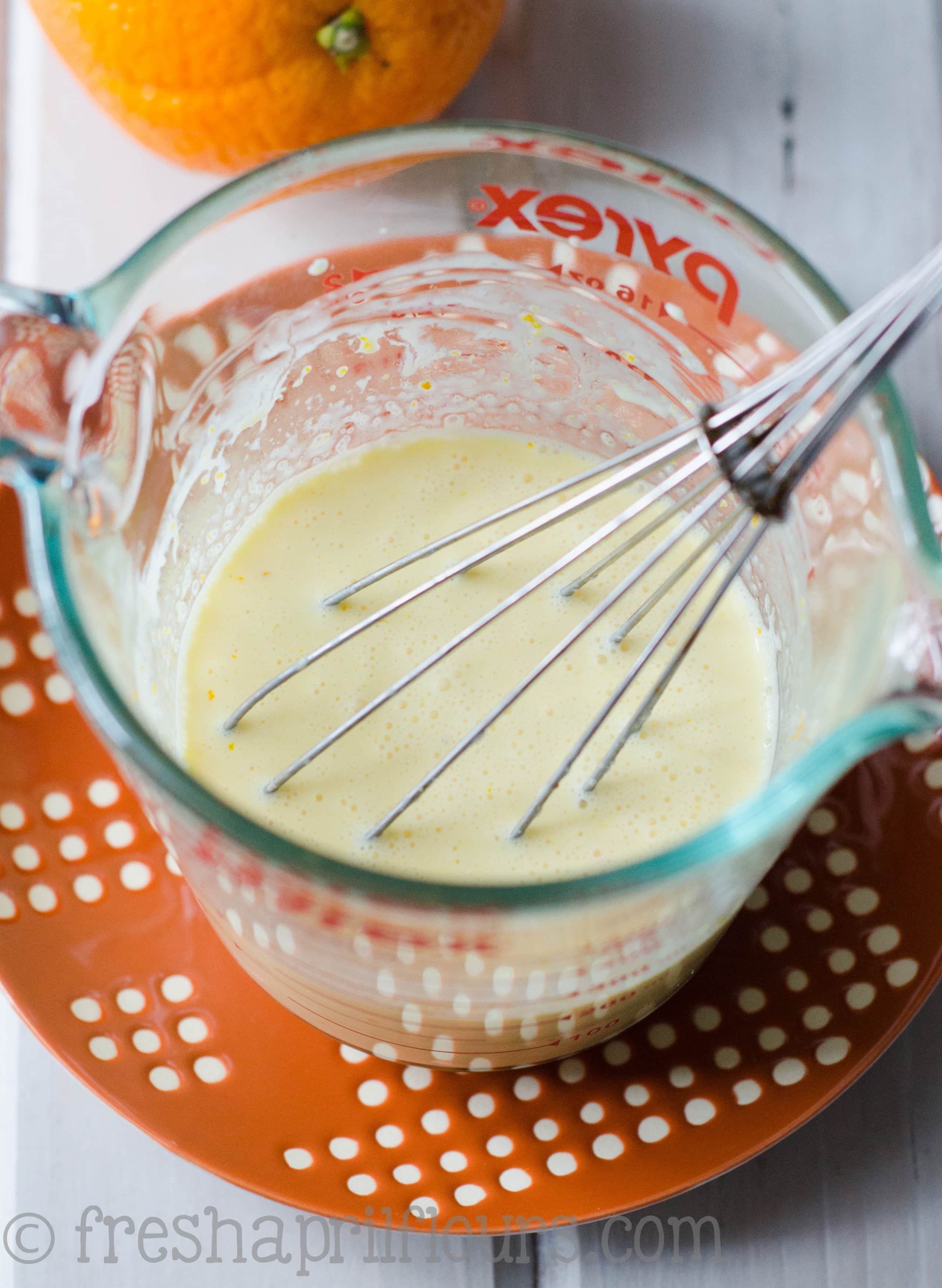 Dump the dough out into a baking sheet lined with parchment or a silicone baking mat, and, with your hands, pat your dough into an 8″ disc. Cut it into 8 pieces with a sharp knife, and pop those sunshiny babies in the oven!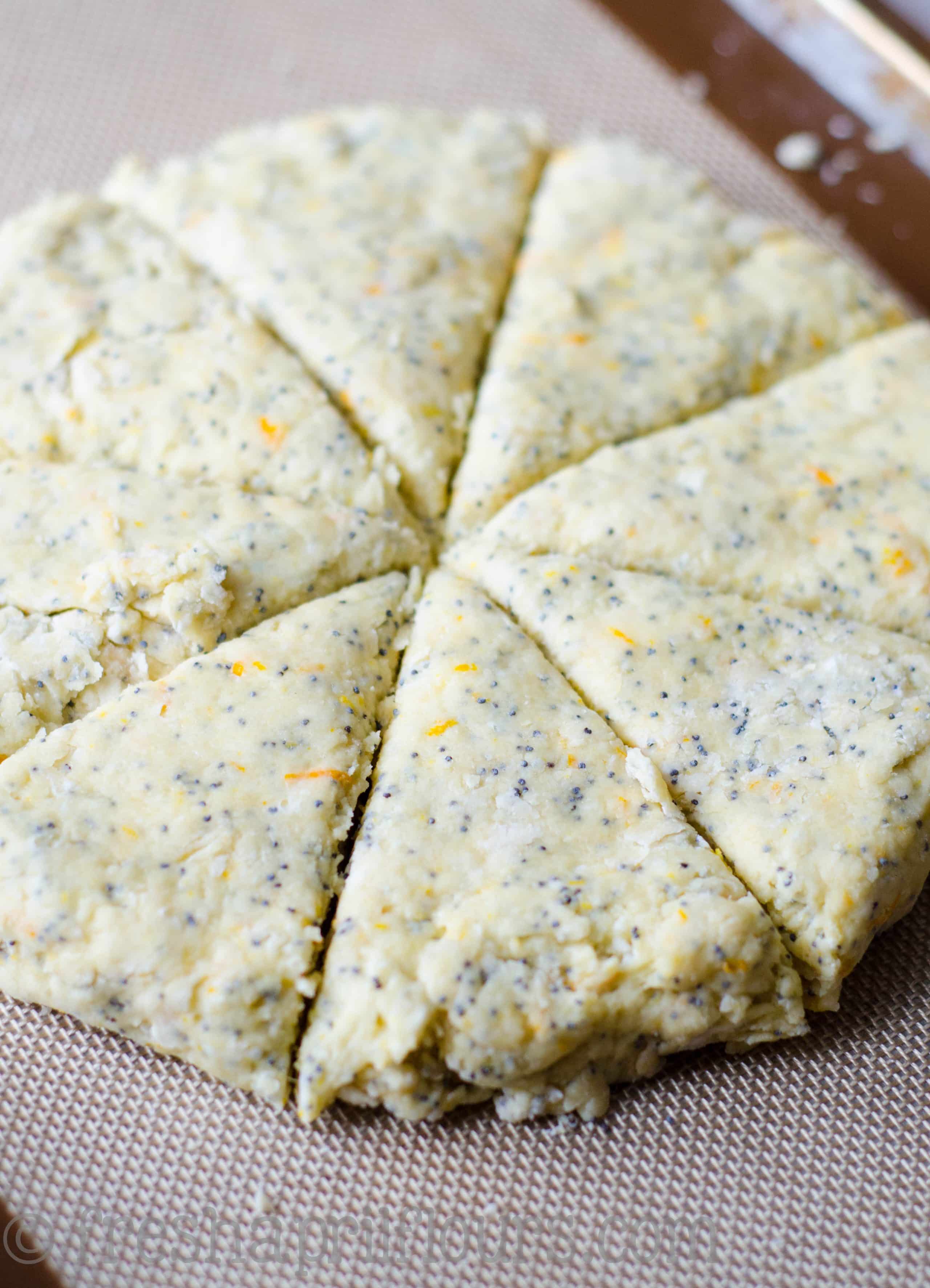 While your scones are baking, they'll start to smell aaaaamazing, and that's when you'll know it's time to make your simple syrup. And it's really simple (heh…): equal parts orange juice to sugar.
I got about 1/4 cup of juice out of my large naval orange, so I used 1/4 cup of granulated sugar. Heat it up in the microwave and you're ready to pour it all over your golden brown scones when they're fully baked.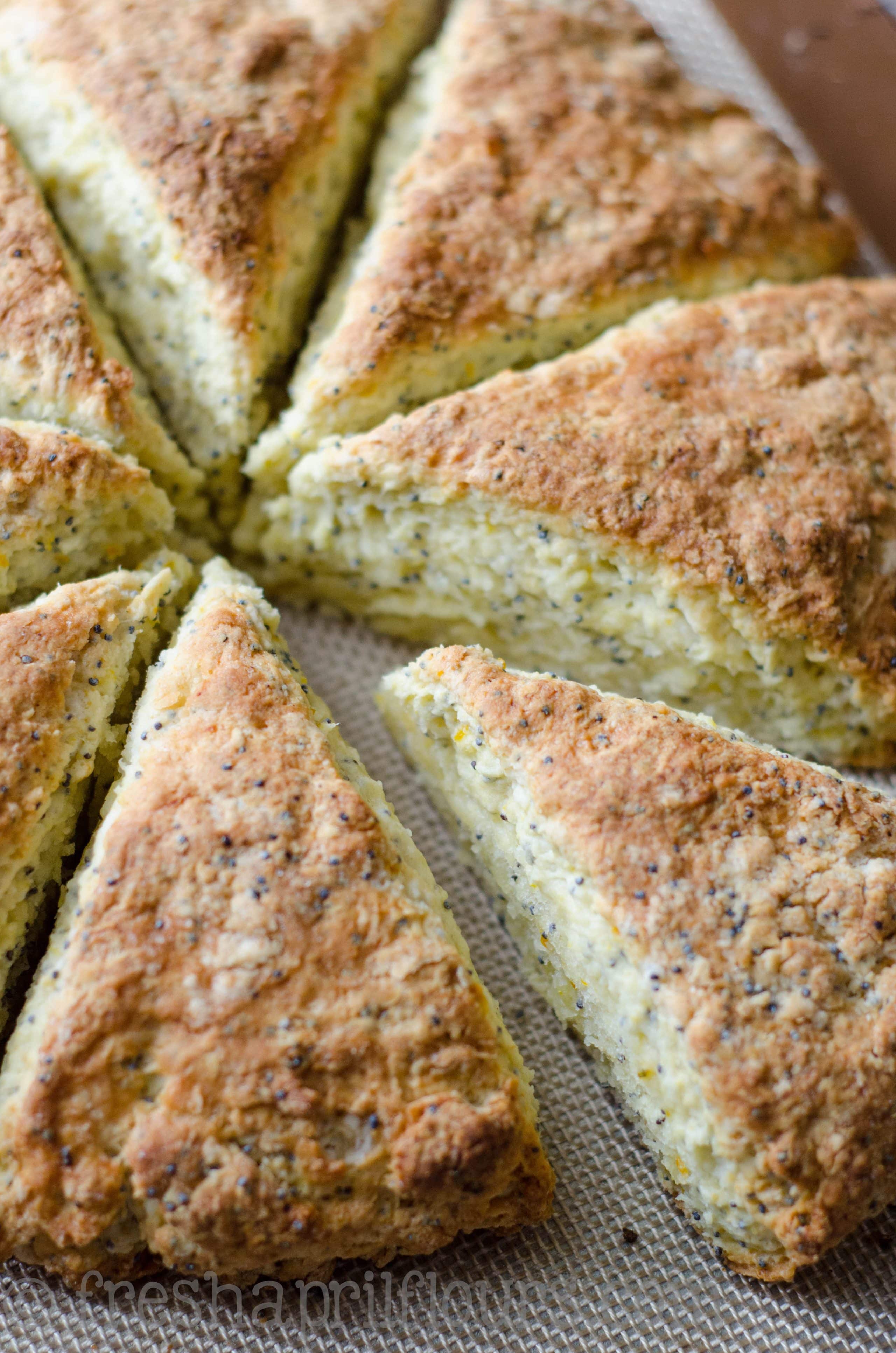 Guys… If cherries were actually oranges, this orange syrup would be the cherry on top. It adds so much moisture to the scones without making them soggy. The syrup adds just a touch more flavor, and soaks into every nook and cranny giving every bite a burst of juicy orange.
It was an afterthought, and I'm so glad I decided to go with it. The scones are mighty good without it, so feel free to taste test and add syrup as you see fit, but my taste testers agreed… Orange simple syrup > everything.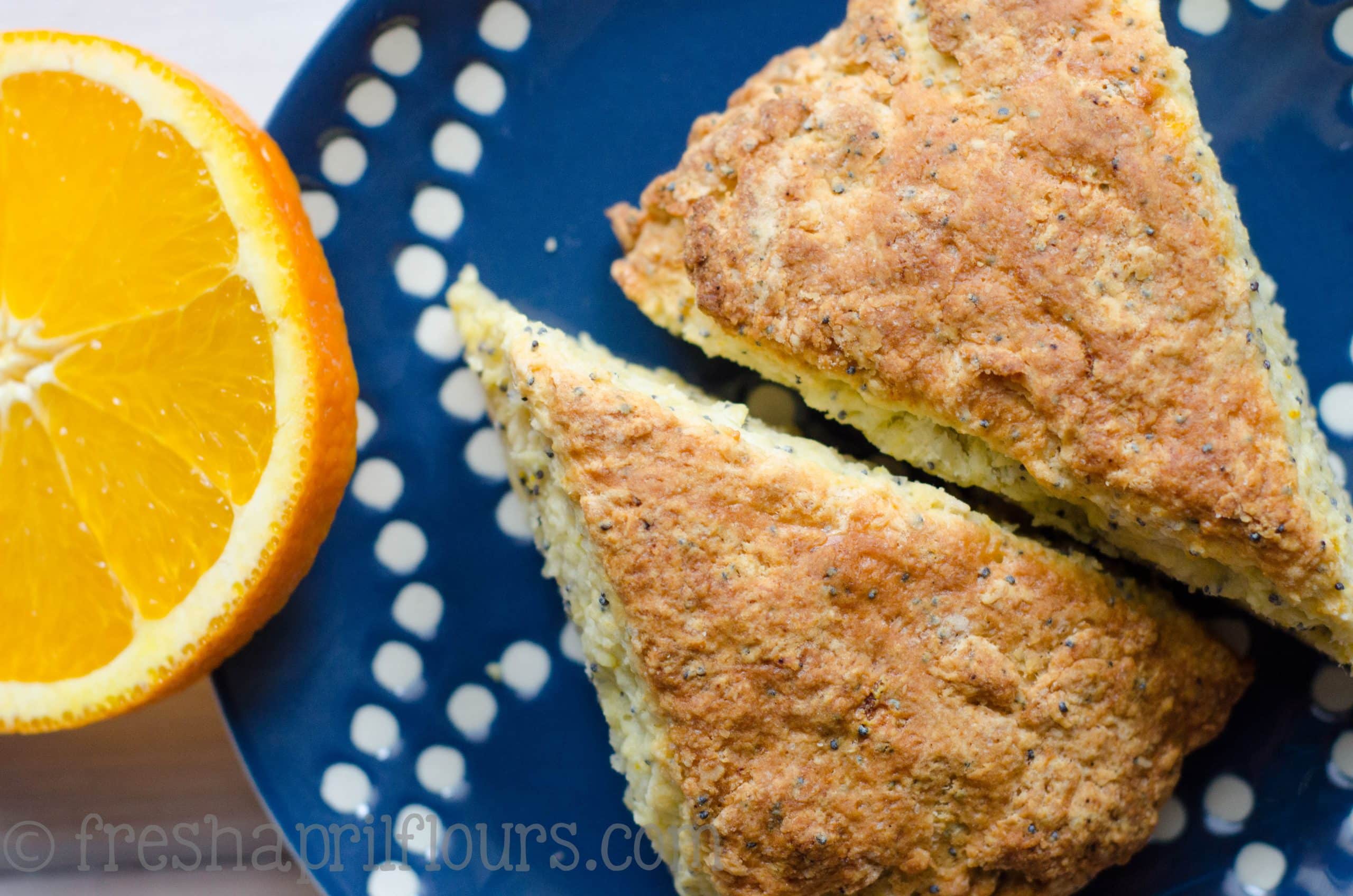 These orange poppy seed scones did not last long around here… Only one day, in fact. I toted them along with me to a girls' brunch where several of them were split in half so we could enjoy ALL of the goodies that were served.
Once the 2 that were left over came home, they stood no chance to my mouse named Matt.
If you're looking for a little ray of sunshine in this bitter cold weather, or really just any excuse to get citrus and poppy seeds all up in your breakfast, these scones are the way to go.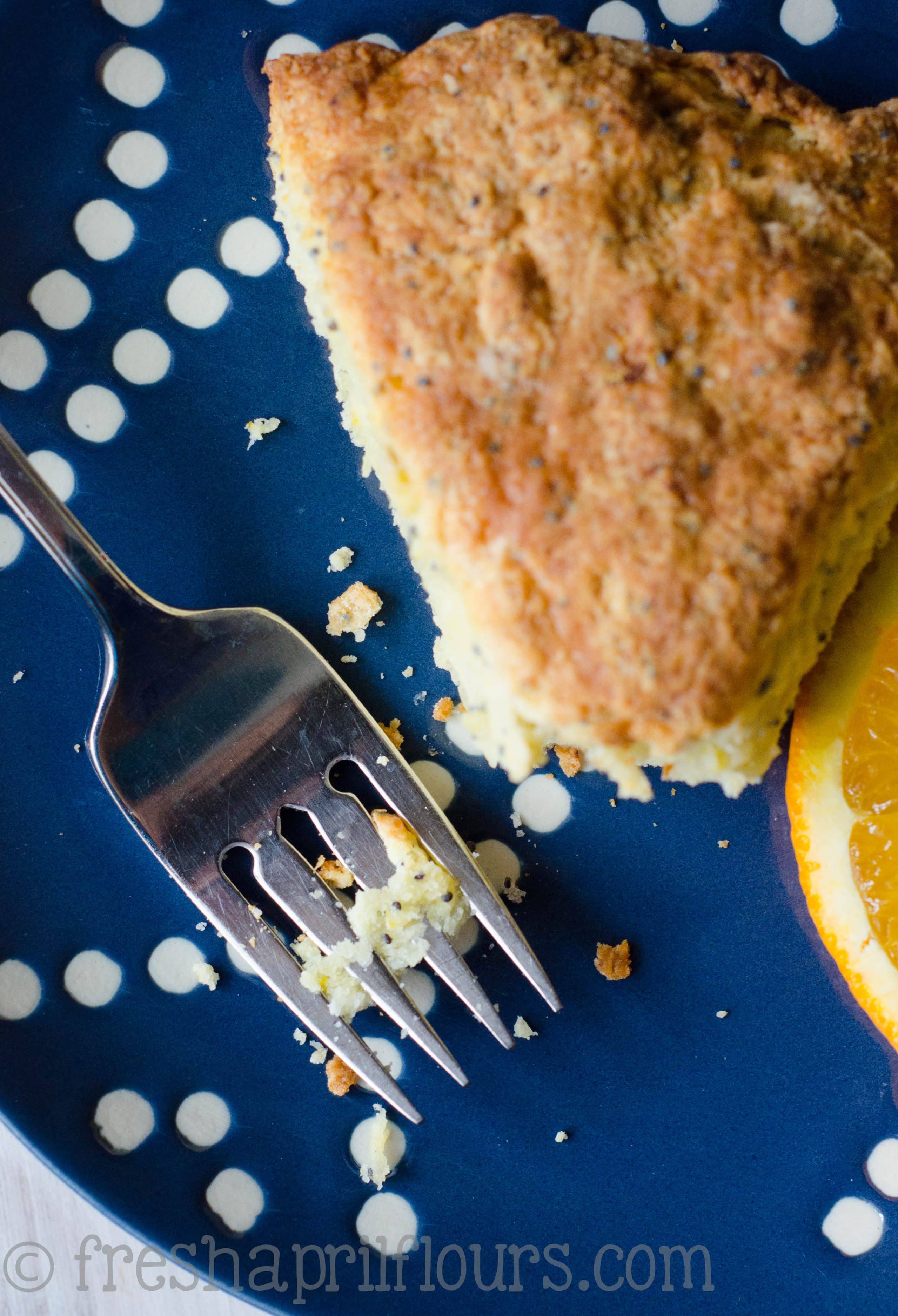 Tangy yet sweet, crunchy on the outside yet tender on the inside, and the perfect pairing for a hearty, savory breakfast of eggs and bacon… You're going to love them.
More orange recipes for your enjoyment: orange creamsicle cookies, orange creamsicle layer cake, and orange blueberry muffins.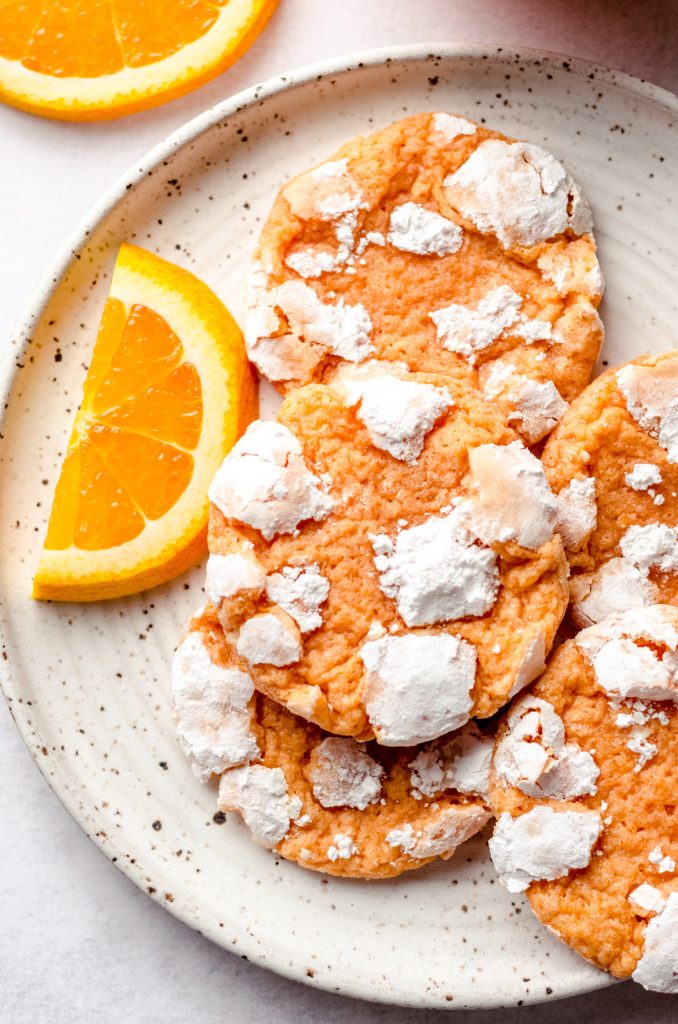 Orange Poppy Seed Scones
Bright and sunny scones that are full of tangy yet sweet orange flavor, made even better with an orange simple syrup soak.
Ingredients
SCONES
2 and 1/2

cups

all-purpose flour

be sure to measure properly

1/3

cup

granulated sugar

2 and 1/2

teaspoons

baking powder

1/2

teaspoon

salt

1 and 1/2

Tablespoons

poppy seeds

1/4

teaspoon

ground ginger

6

Tablespoons

unsalted butter

frozen

1

egg

1/3

cup

+ 1 Tablespoon heavy cream

no substitutions

1 and 1/2

teaspoons

vanilla extract

the juice of one large naval orange

approximately 1/4 cup*

the zest of one large naval orange

approximately 2 and 1/2 to 3 teaspoons
ORANGE SYRUP
juice of one large naval orange

approximately 1/4 cup*

1/4

cup

granulated sugar
Instructions
SCONES
Preheat oven to 400ºF. Line a baking sheet with a silicone baking mat or parchment paper. Set aside.

In a large bowl, whisk together flour, sugar, baking powder, salt, poppy seeds, and ground ginger. Quickly grate the frozen butter into the flour mixture. Using a pastry blender, a fork, or two knives, blend the butter into the flour until it resembles coarse crumbs. Set aside.

In a small bowl or measuring cup (preferably one with a spout), whisk together the egg, heavy cream, vanilla extract, orange juice, and orange zest. Pour this mixture evenly over the flour/butter mixture and blend together with a spatula until everything is just moist.

With your hands, form into a ball and transfer to prepared baking sheet. Press ball into 8″ disc and cut into 8 equal triangles with a sharp knife.

Bake for 26-28 minutes. Edges will be quite brown, but not burned. Remove from oven and allow to cool on baking sheet while you prepare the syrup.
ORANGE SYRUP
In a small bowl, combine orange juice and granulated sugar. Stir to combine, and microwave on high in 20 second increments, stirring after each, until sugar is completely dissolved.

Drizzle over slightly cooled scones and allow syrup to soak in. You may transfer scones to a wire rack to allow excess syrup to drip out (there won't be much), or serve immediately. I found their taste to be better the same day, but after a few hours. Scones will stay fresh in an airtight container at room temperature one additional day and may be frozen up to 3 months. Defrost at room temperature and warm to preference before enjoying.
Notes
*You may use store-bought orange juice. Be sure to purchase "no sugar added" juice, unless you want your scones to be sweeter.
Nutrition Disclosure
All nutritional values are approximate and provided to the reader as a courtesy. Changing ingredients and/or quantities will alter the estimated nutritional calculations.