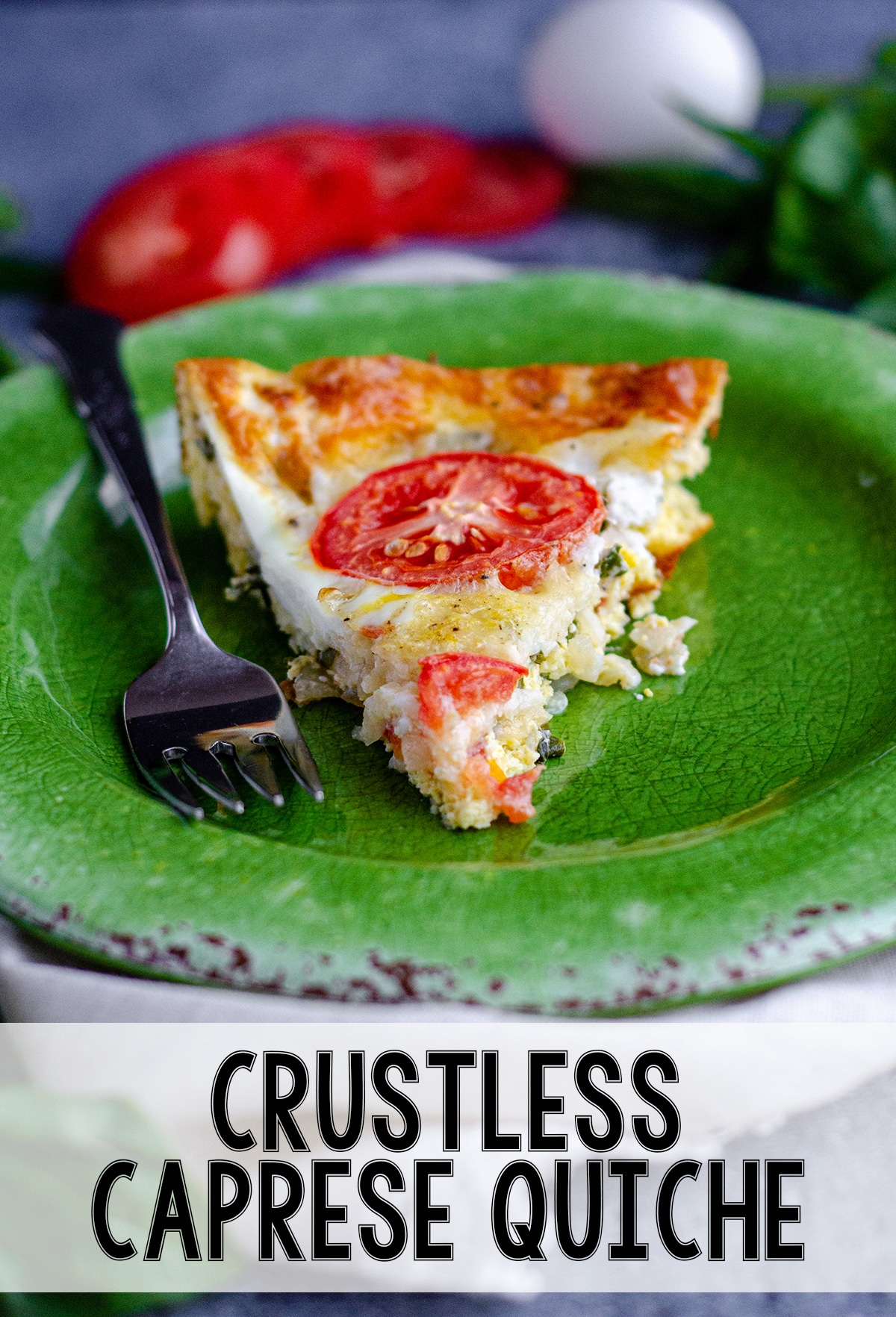 As an Amazon Associate, I earn from qualifying purchases. Read the full disclosure here.
A crustless, low-carb quiche bursting with flavorful basil, creamy mozzarella, and juicy tomatoes.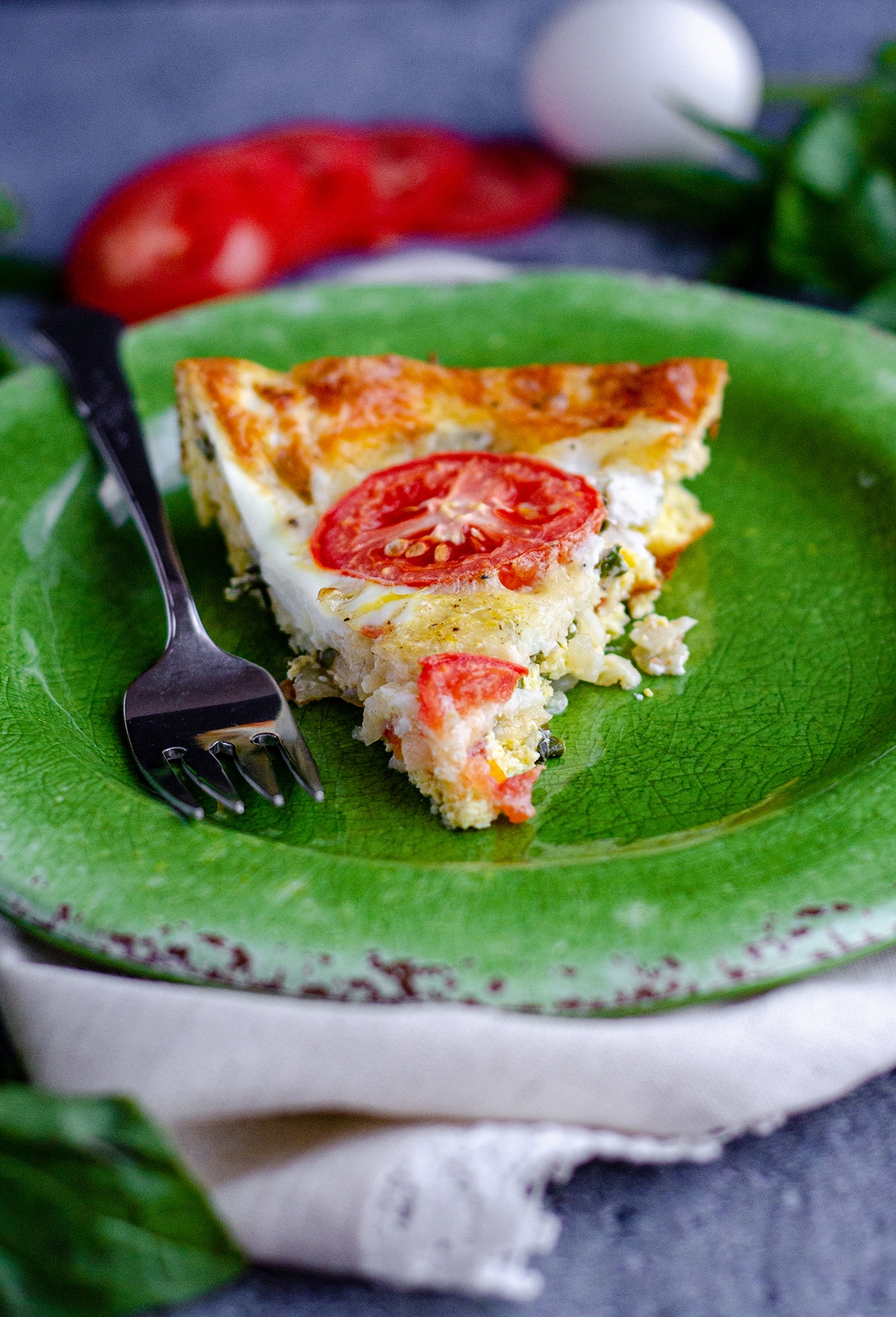 Wayyy back in 2015, I published this recipe on a whim, because it was something I was craving. Since then, it's become one of the most popular recipes on my blog, and it's one we make often. It always gets rave reviews, especially on Pinterest.
It fits really well with a healthier mindset for January, and I hope you'll take all of its positive feedback as a reason to give it a try!
This recipe not only features one of my very favorite flavor combinations, but one that you can eat at breakfast, lunch, dinner, or for a snack. You could eat this all the live long day… And I hope some of you end up doing just that.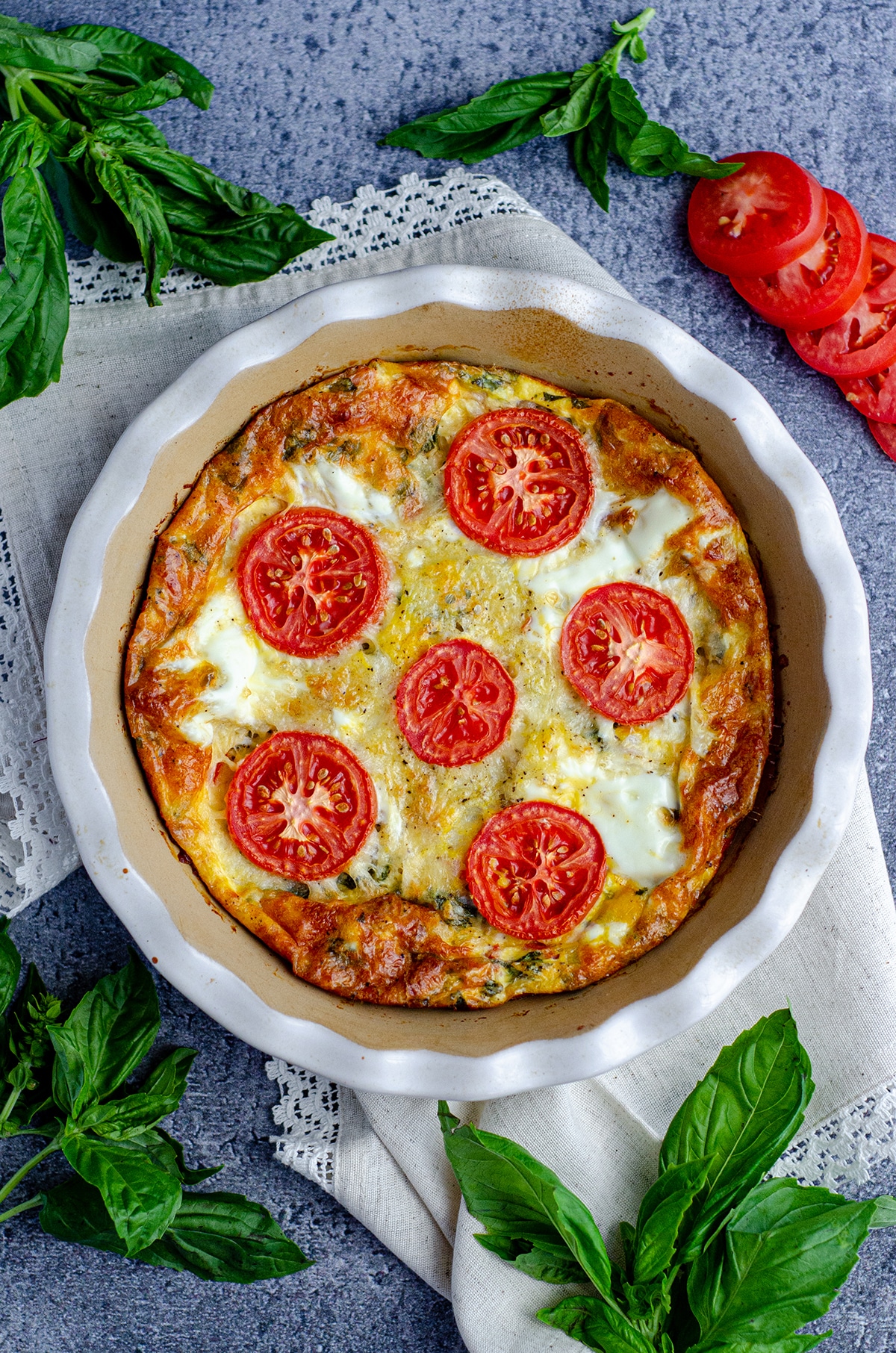 If you've been following FAF for awhile, or even if you just arrived and maybe only recently ran into this nice little list, you know that one of the most popular recipe on my blog is my cheesy vegetable quiche with cauliflower crust (thankyouverymuch Huffington Post for blowing me up).
It may seem a bit out of place on a blog that features a lot of cake batter puppy chow and brownie batter puppy chow and brownie cookies, but the truth of the matter is… I have a ton of self-control when it comes to sweets.
Don't get me wrong, I loveeee me some chocolate (dark, of course), but put me in front of a huge chocolate cake or an enormous plate of this, and I will take the latter 9 out of 10 times (hey, I am allowed to be flawed).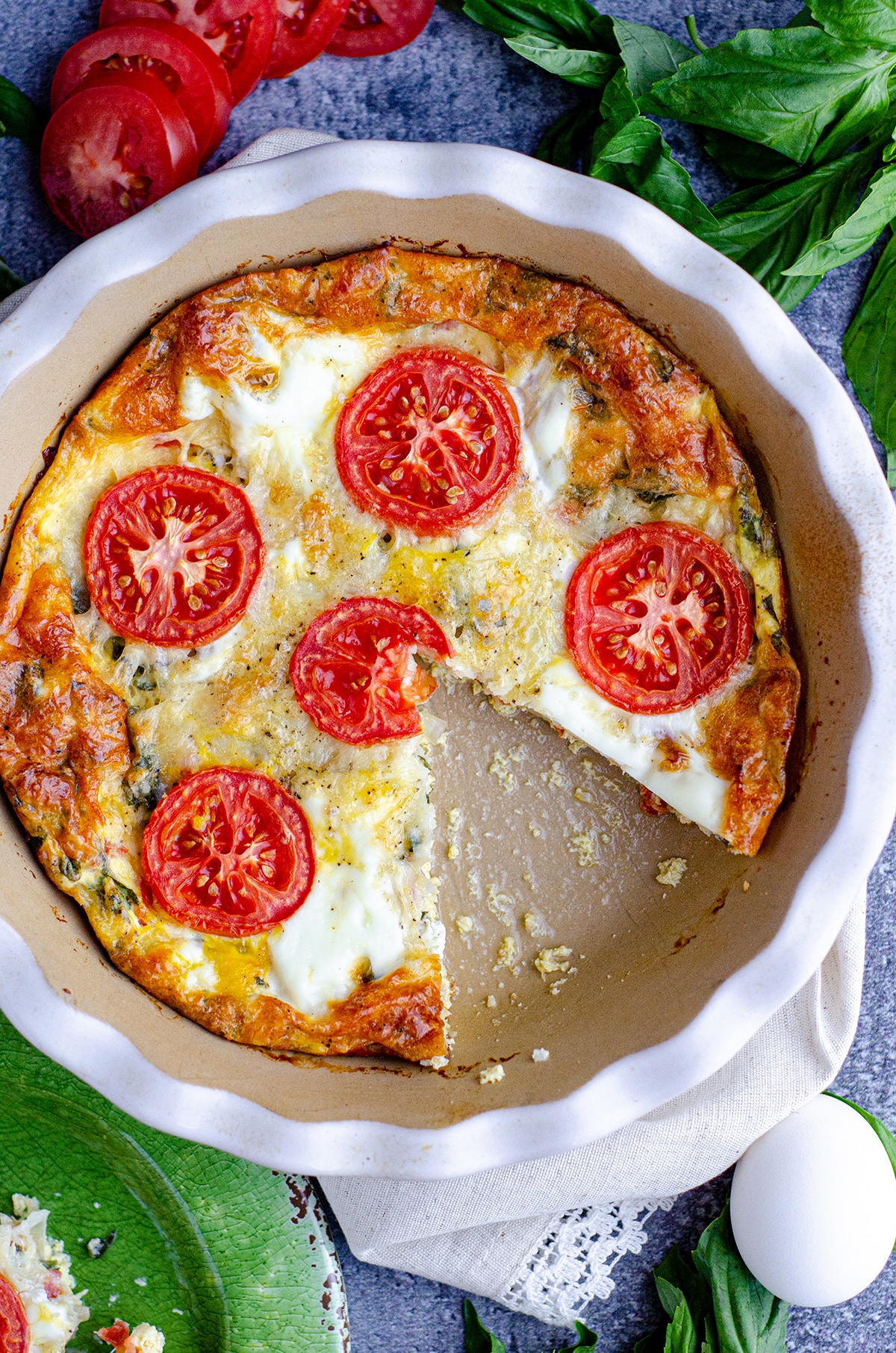 Plus, I need to balance out all of my sweets with some savory and/or healthy once in awhile, yes? I'm glad you see it my way.
Like I said, I am a sucker for the caprese flavor combination.
WHAT IS CAPRESE?
If you're not familiar with the term caprese, it's just a fancy way to say tomato, mozzarella, and basil. A lot of times you'll see a caprese salad on the menu at an Italian restaurant… It's literally just all 3 of those things together.
On a pizza, it's typically referred to as margherita, but that "h" in there always throws me off, so I preferred to call this quiche "caprese."
Also… Crustless caprese quiche. Who doesn't love alliteration?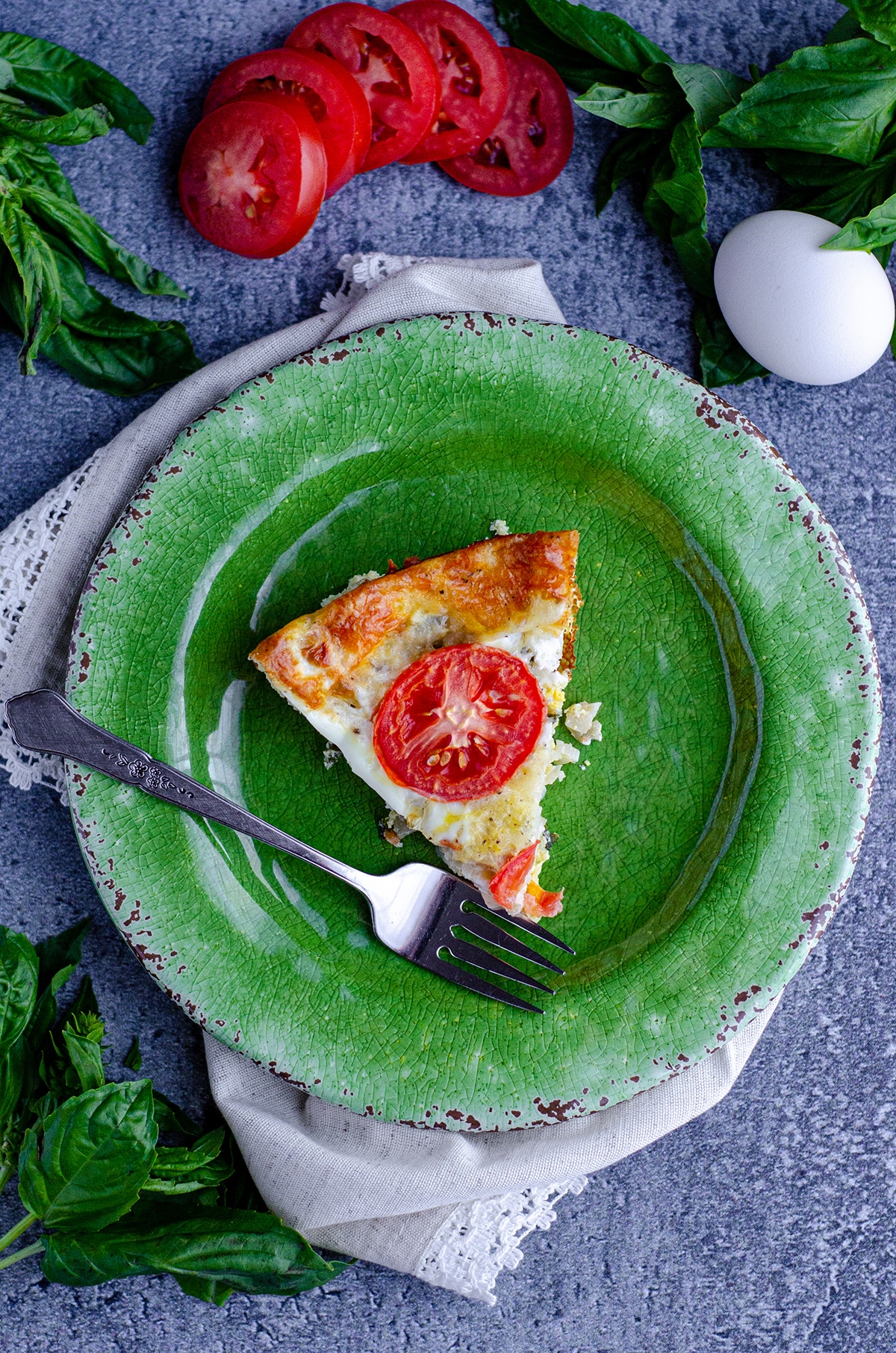 This quiche could not be simpler to throw together. Because it's crustless, we can spend a lot less time getting it all together and a lot more time eating it. I like that plan.
BUT! I definitely wouldn't be mad if you put it in this cauliflower crust or this FAVORITE pie crust. Report back if you try this with either one of those.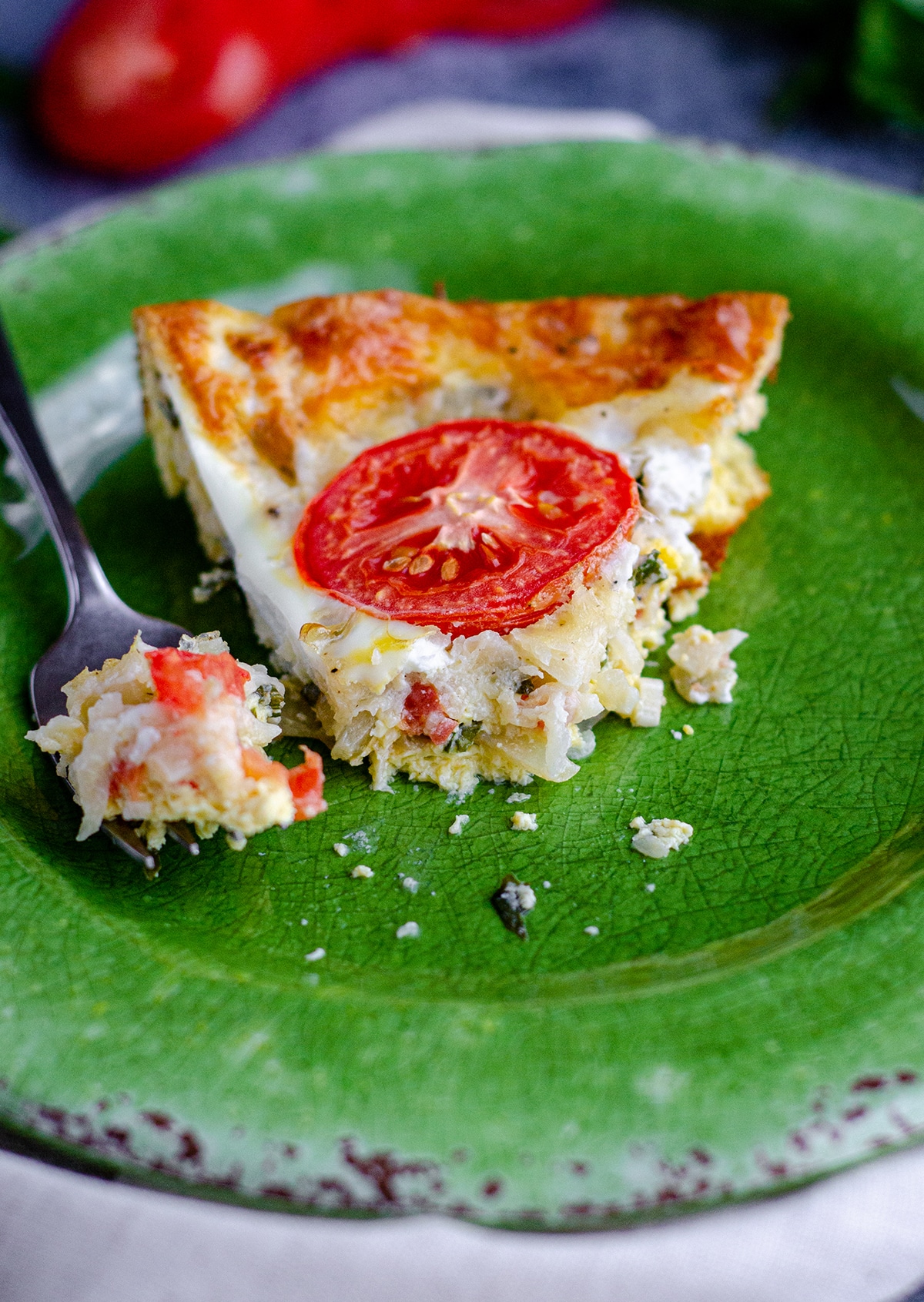 SIMPLE INGREDIENTS, EASY METHOD
You'll start with an onion and some garlic which you'll sauté until just tender. The amount of onion and garlic you use is entirely up to you. I used ¼ cup chopped onion and 2 cloves of garlic (we like it garlic-y). You can certainly use more or less of either.
Something you also may or may not like is extra tomatoes inside of your quiche. I love tomatoes, so the answer to the question "should I use more tomatoes" is always yes.
VERY IMPORTANT TIP FOR PERFECTING YOUR QUICHE
Please please please know that if you go this route, you'll want to remove all of the seeds from the tomato that you chop up. Removing the seeds will help remove some of the moisture and prevent your quiche from being soggy.
Soggy quiche = sad quiche. We don't want that. Remove those seeds.
I preferred fresh mozzarella that I shredded myself, but you're welcome to use pre-shredded (a.k.a. what gets the quiche in your mouth faster, so… You be the judge). Part skim, whole milk… Whatever you want.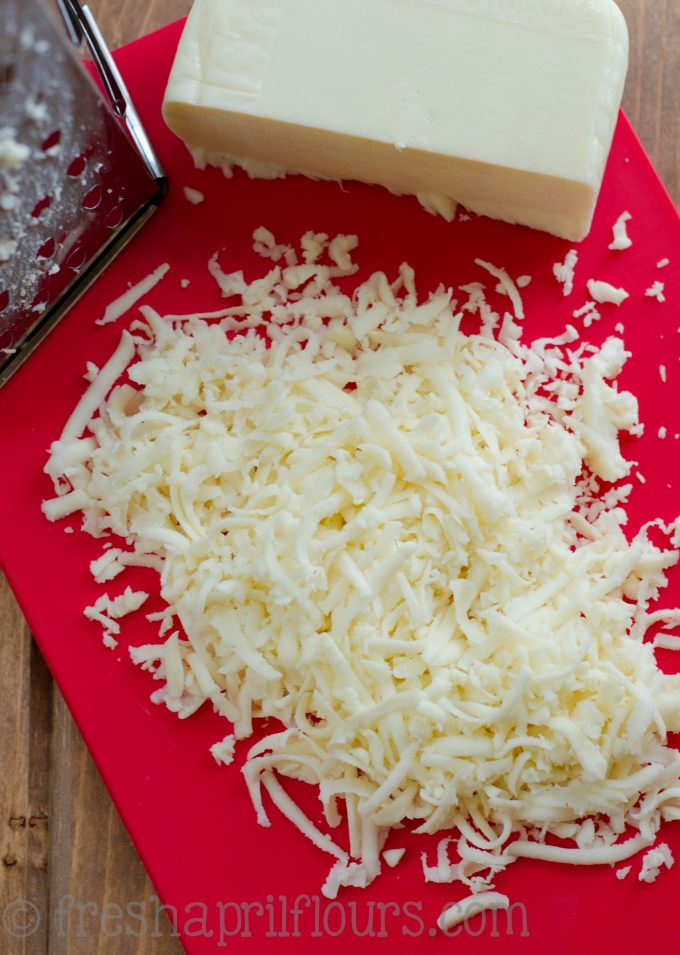 Ah, my favorite part: basil. I could sniff basil all.day.long. Fresh basil is the way to go here, and you can find a plant in the produce section of your grocery store.
You'll need ⅓ cup of packed leaves. Once you have your measuring cup packed with basil, chop it to your desired size. I chopped mine pretty small to help distribute the flavor! <– great decision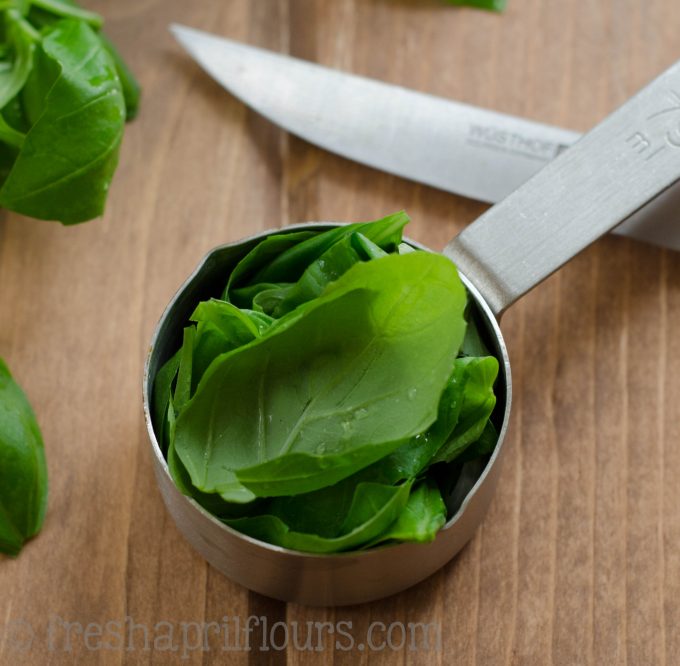 This quiche is just absolutely bursting with fresh Italian flavors. It will make your home smell amazing and you'll be itching to get it out of the oven and onto a big ol' plate.
You can certainly get 8 slices out of this quiche, but if I'm being honest… We ate it in 4 slices. Four huge, protein-packed, flavorful slices. And I feel great about it, because: fresh vegetables, fresh produce, and fresh cheese.
Go ahead and use the freshest eggs you can find to take this over the top!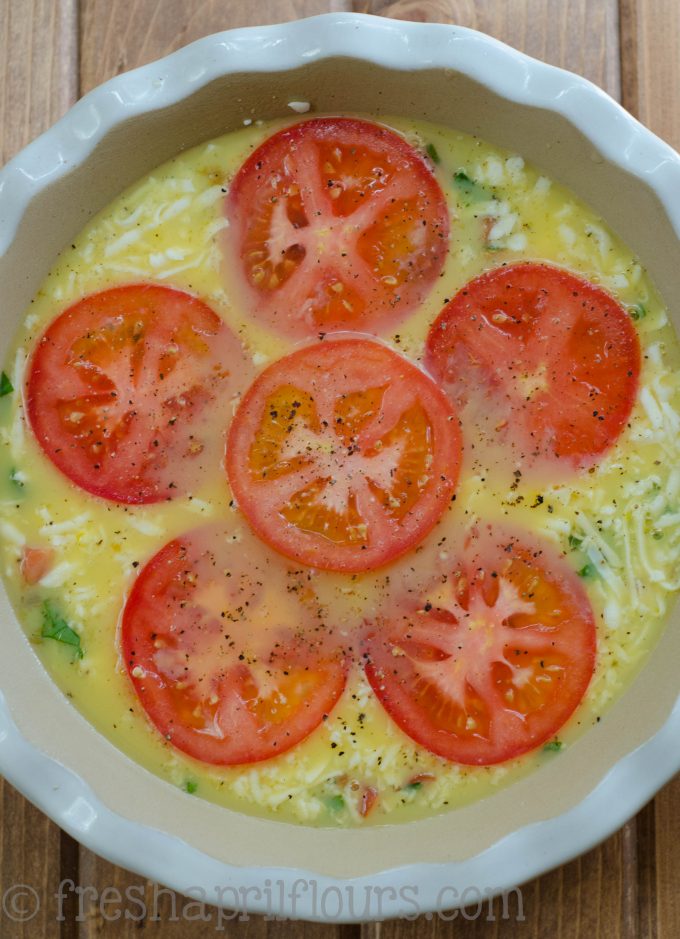 If you're looking for a healthy alternative to breakfast in this chilly weather, a creative way to change up your lunch routine, or a quick dinner you can throw together for your family, this caprese quiche is the way to go.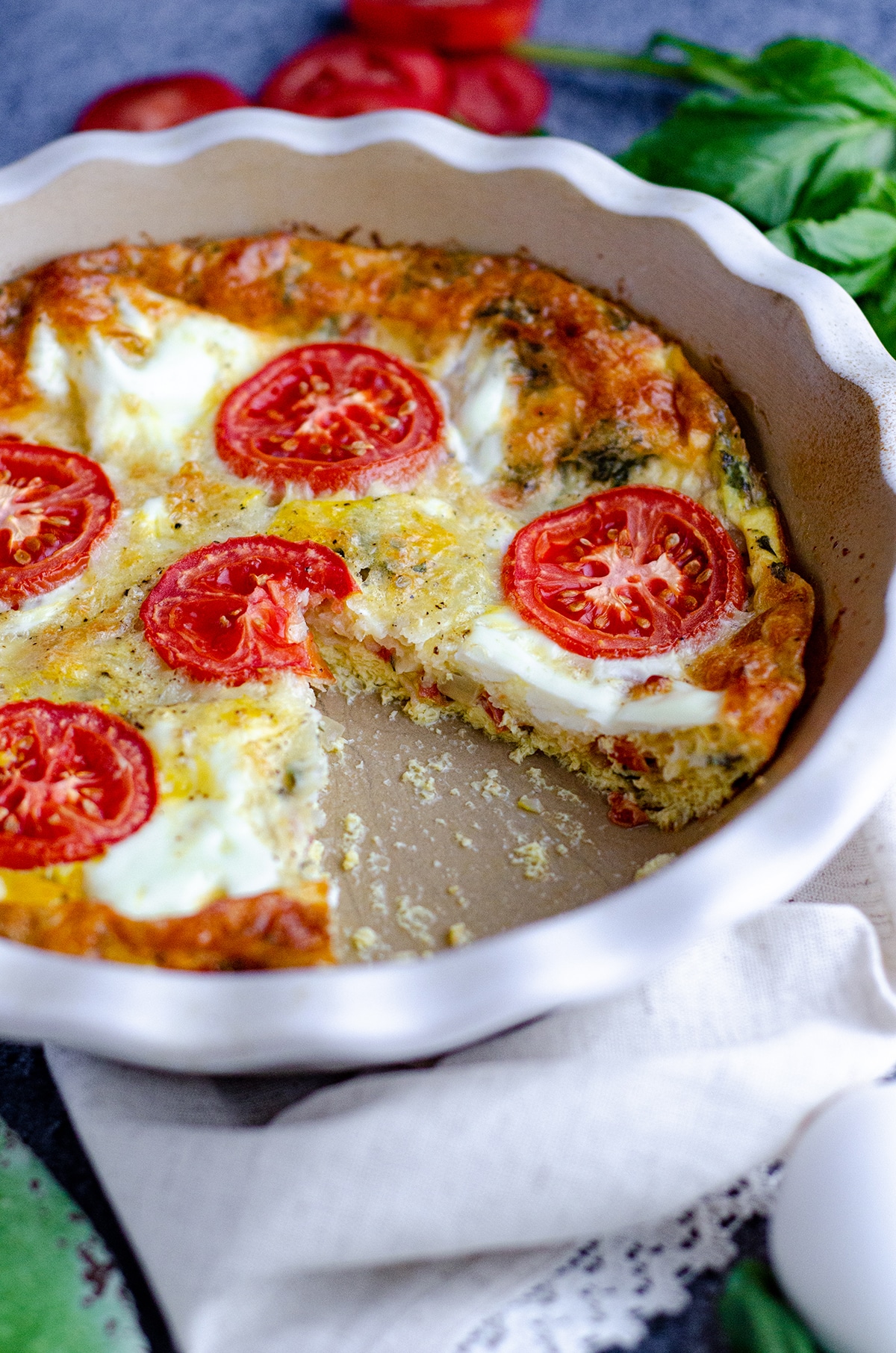 Plus, it's just so darn pretty!
Some more of my cheesy favorites: cheesy vegetable quiche with cauliflower crust, enchilada quinoa casserole, jalapeño cream cheese dip.
Crustless Caprese Quiche
A crustless, low-carb quiche bursting with flavorful basil, creamy mozzarella, and juicy tomatoes.
Ingredients
½

Tablespoon

(8mL) olive oil

½

of a small onion chopped (approximately 1/4 cup) (I used a yellow onion)

1-2

cloves

garlic

chopped

2

large Roma tomatoes

one with the seeds completely removed and chopped, the other sliced to desired thickness

⅓

cup

packed fresh basil

chopped

4

ounces

(113g) fresh mozzarella

shredded (pre-shredded is fine)

4

large eggs

2

large egg whites

¾

cup

(180mL) milk

any

½

teaspoon

salt

¼

teaspoon

black pepper
Instructions
Preheat oven to 350ºF (177ºC). Spray an 8" or 9" pie plate with olive oil. Set aside.

In a large skillet over medium-high heat, heat the olive oil. Add chopped onion and garlic and cook for 5-6 minutes, stirring frequently, or until tender. Remove from heat and allow to cool.

Slice one of your tomatoes in half and scoop out as many of the seeds as you can (to prevent quiche from getting soggy). After seeds are removed, chop tomato and add to onion/garlic mixture. Stir to combine.

Pack washed basil leaves into ⅓ cup measuring cup, then chop to desired size (I chopped mine quite small). Add chopped basil to onion/garlic and tomato mixture and again to combine. Spoon this mixture into the bottom of your pie plate and spread into an even layer. Top with mozzarella and set aside.

In a medium bowl, preferably with a spout, whisk the eggs, egg whites, milk, salt, and pepper until thoroughly combined. Pour the egg mixture evenly on top of cheese layer. Lay tomato slices gently on top of egg mixture (overlapping slices is fine). It is ok if egg mixture comes up over tomato slices. Sprinkle additional salt and black pepper on top of tomato layer, if desired.

Bake quiche for 50 minutes or until filling is set. Cool for 10 minutes on a wire rack before serving. Cover leftovers tightly and store in the refrigerator up to 4 days, or in the freezer up to 2 months. Thaw in fridge overnight and bake at 350ºF (177ºC) for about 20 minutes.
Nutrition Disclosure
All nutritional values are approximate and provided to the reader as a courtesy. Changing ingredients and/or quantities will alter the estimated nutritional calculations.