Chocolate Cut-Out Sugar Cookies

As an Amazon Associate, I earn from qualifying purchases. Read the full disclosure here.
Soft chocolate cut out sugar cookies that require no dough chilling and are perfect for shaping with cookie cutters. Crisp edges, soft centers, and plenty of room for decorative icing and sprinkles.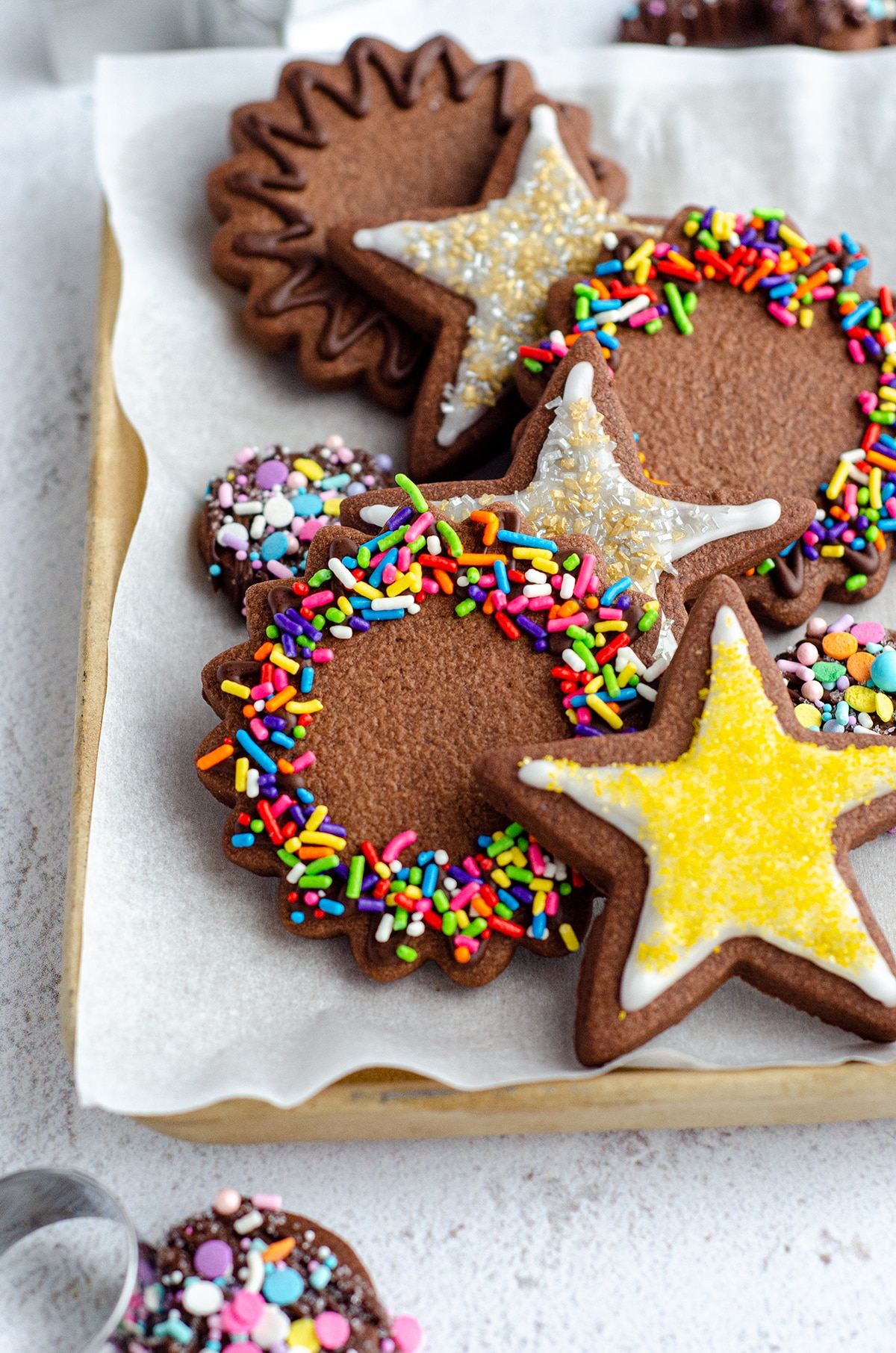 Several years ago, I shared my go-to easy cut-out sugar cookies recipe with you, and it has since been the base for all of the cut-out cookie recipes on my blog going forward.
That list includes:
•funfetti cut-out sugar cookies
•pumpkin spice cut-out sugar cookies
•peppermint cut-out cookies
Today, we're adding a chocolate cut-out cookie recipe to that collection, and I am so excited to be doing so, because my cookie nerd status went through the roof with this one.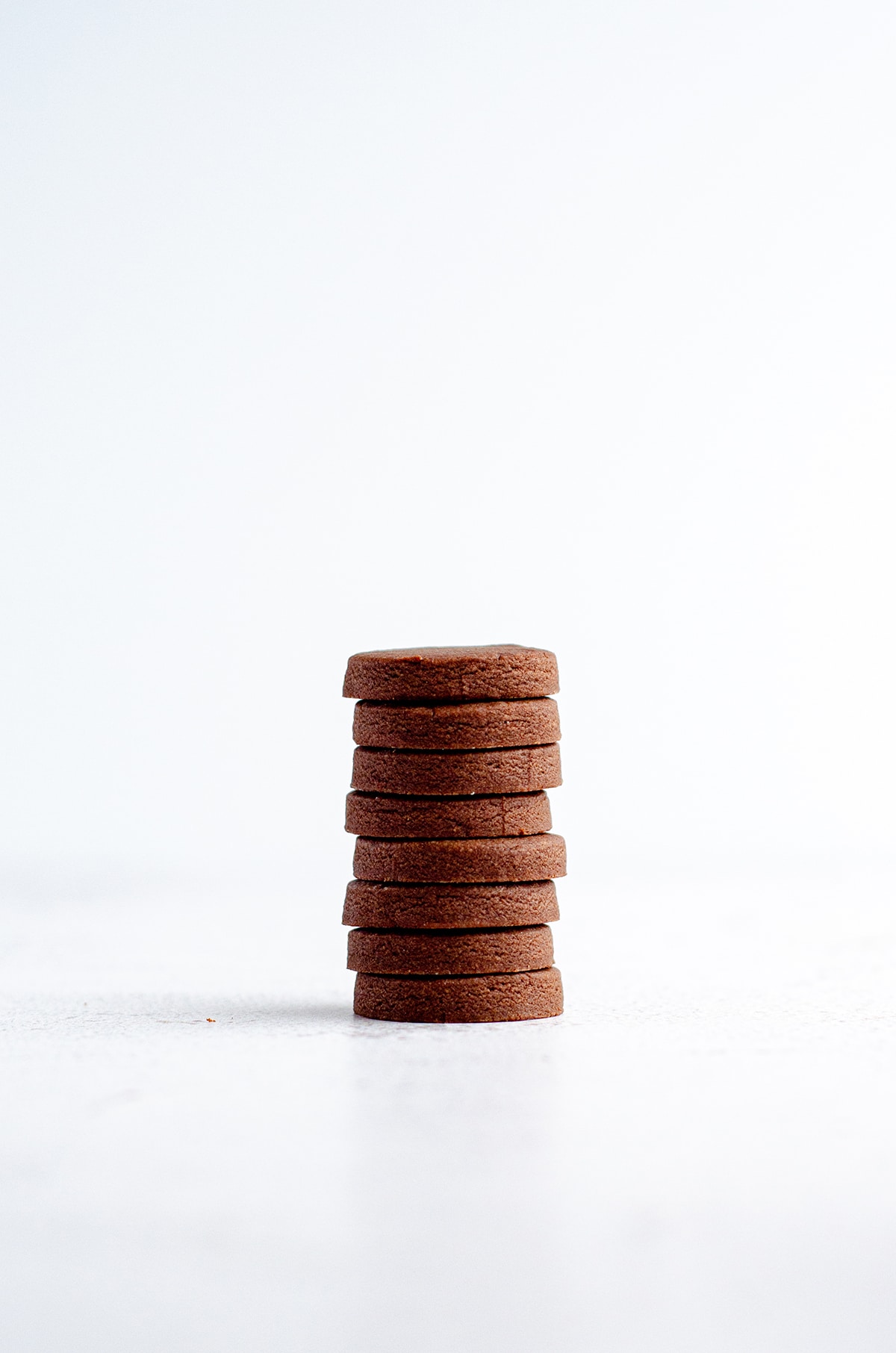 When I nailed that first cut-out sugar cookie recipe, it was very obviously a winner. It lends itself quite easily to add-ins like sprinkles, pumpkin spice extract, and chopped candy canes, but I knew that simply adding in cocoa powder in order to achieve a perfect chocolate sugar cookie recipe was not the way to go about turning those cookies into chocolate ones.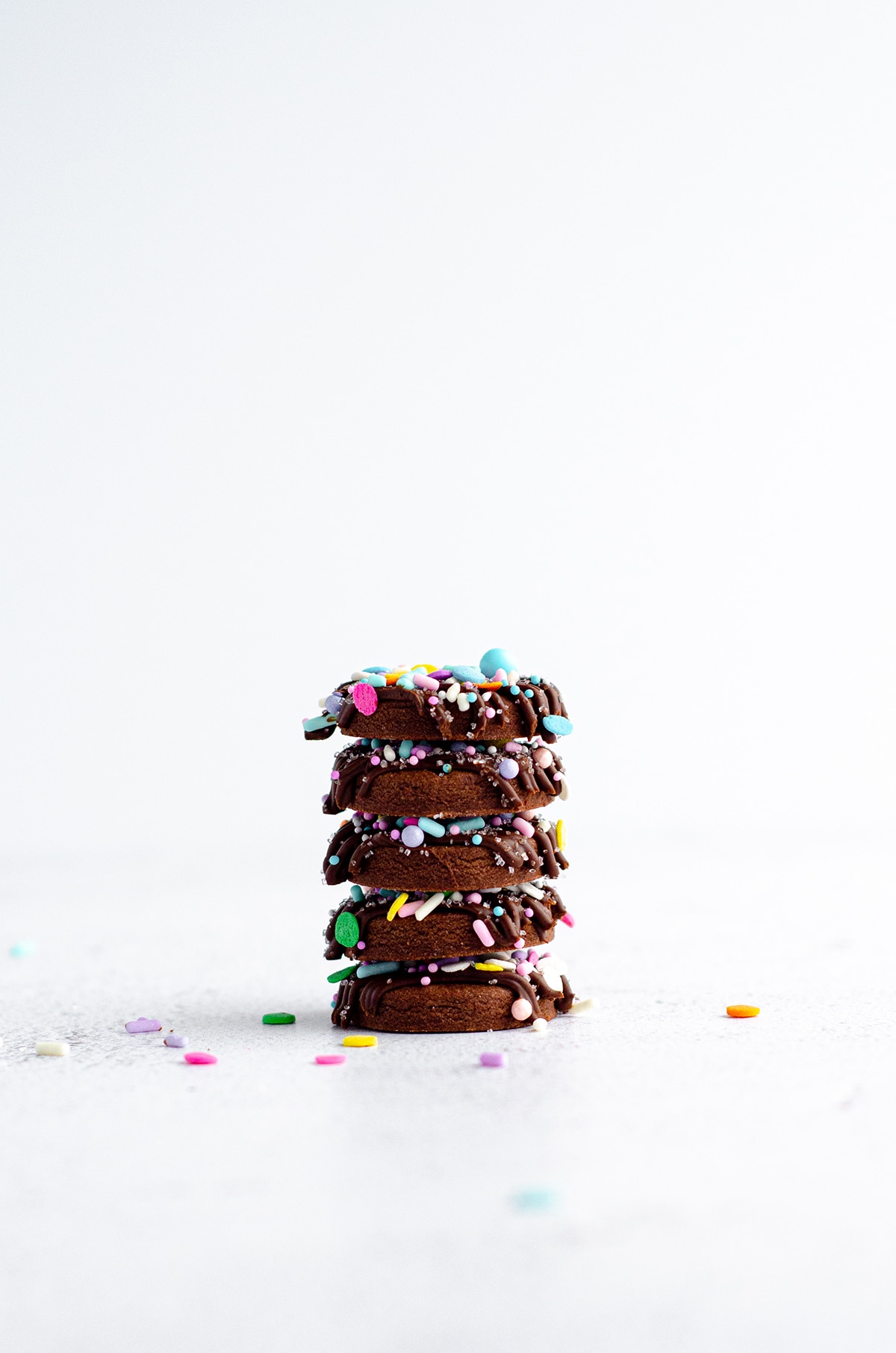 HOW TO MAKE CHOCOLATE SUGAR COOKIES
Making swaps with dry ingredients can be tricky. Especially when it comes to a cut out cookie recipe. If there's too much flour, cookies can lose their shape, develop cracks in the tops, and even puff up too much.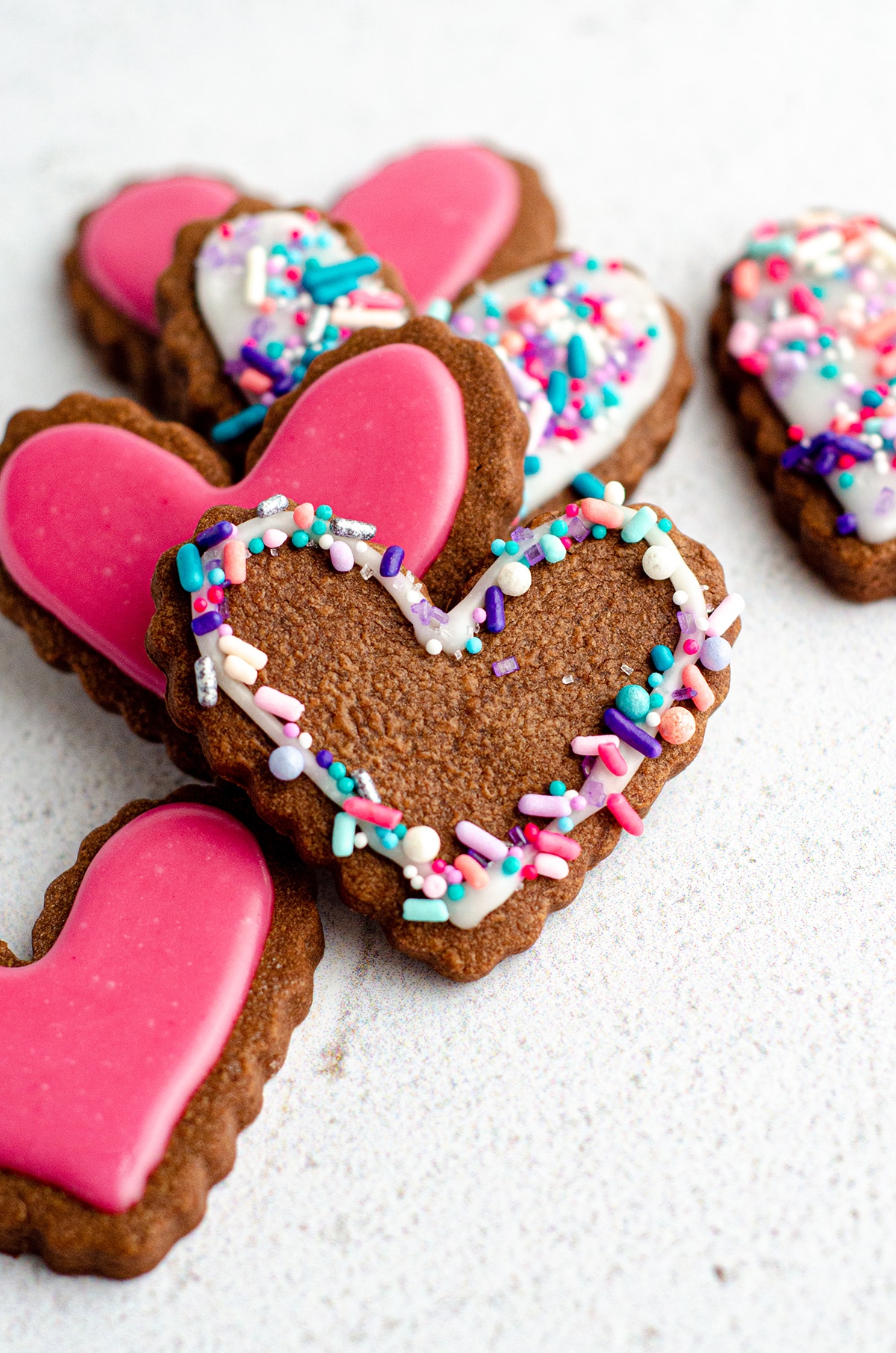 While flour and cocoa powder are both dry ingredients, simply putting one in and taking one out. In fact, I had to really think hard about how to go about this if I was going to remove any flour (because too little flour can also result in spreading cookies).
And then I decided that in order to safely swap around some dry ingredients for these chocolate cutout cookies, I was going to tackle the amount of powdered sugar in my chocolate roll out cookies.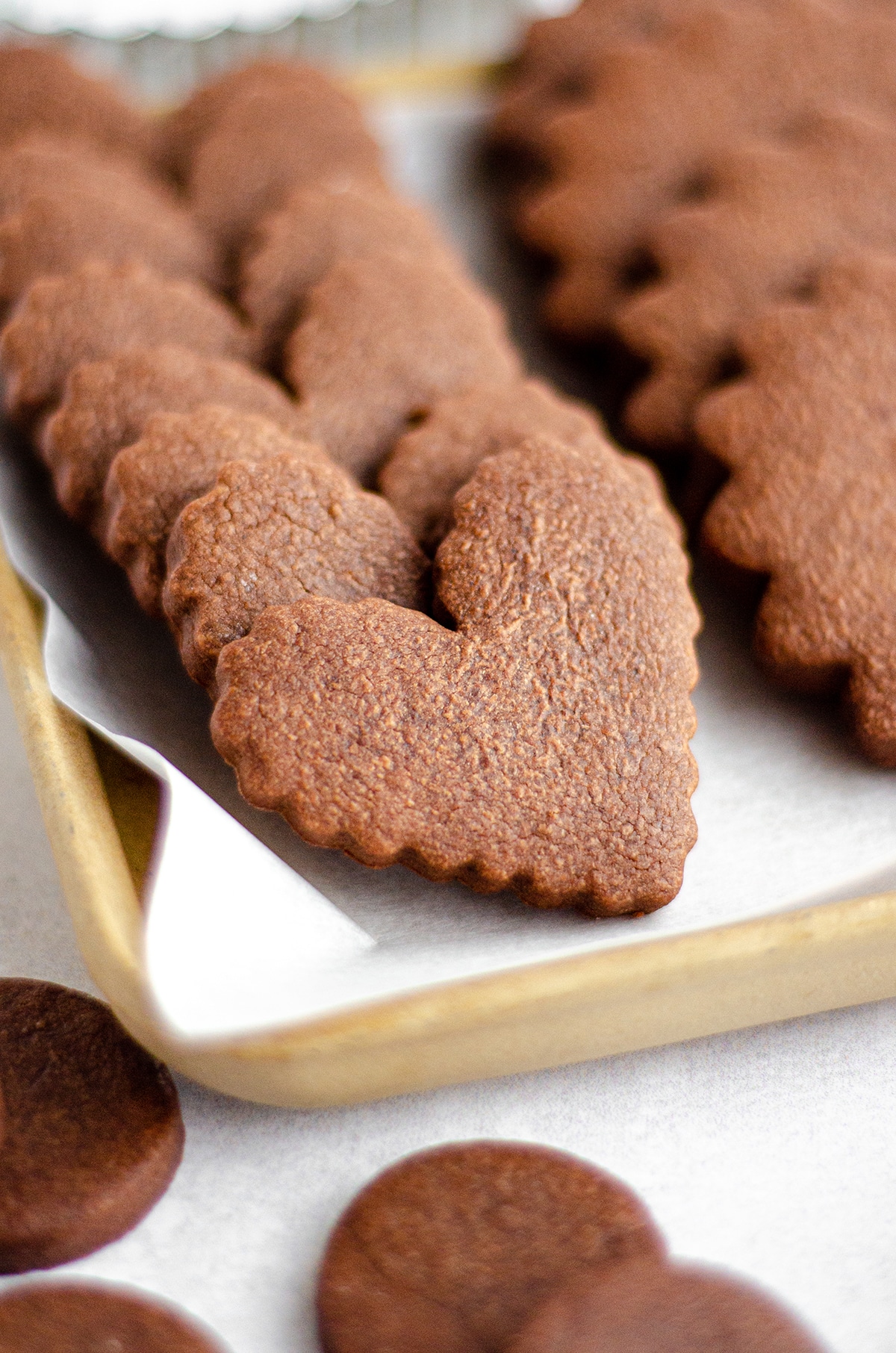 I talk in length in my post about my easy cut-out sugar cookies why I don't use granulated sugar. And that's because all of the recipes I found and tested with granulated sugar were too finicky, sticky, and, above all else, required chilling.
Now, don't get me wrong, some of my most favorite cookies require chill time (looking at you, chewy oatmeal raisin cookies). There is nothing wrong with a cookie recipe that requires chilling.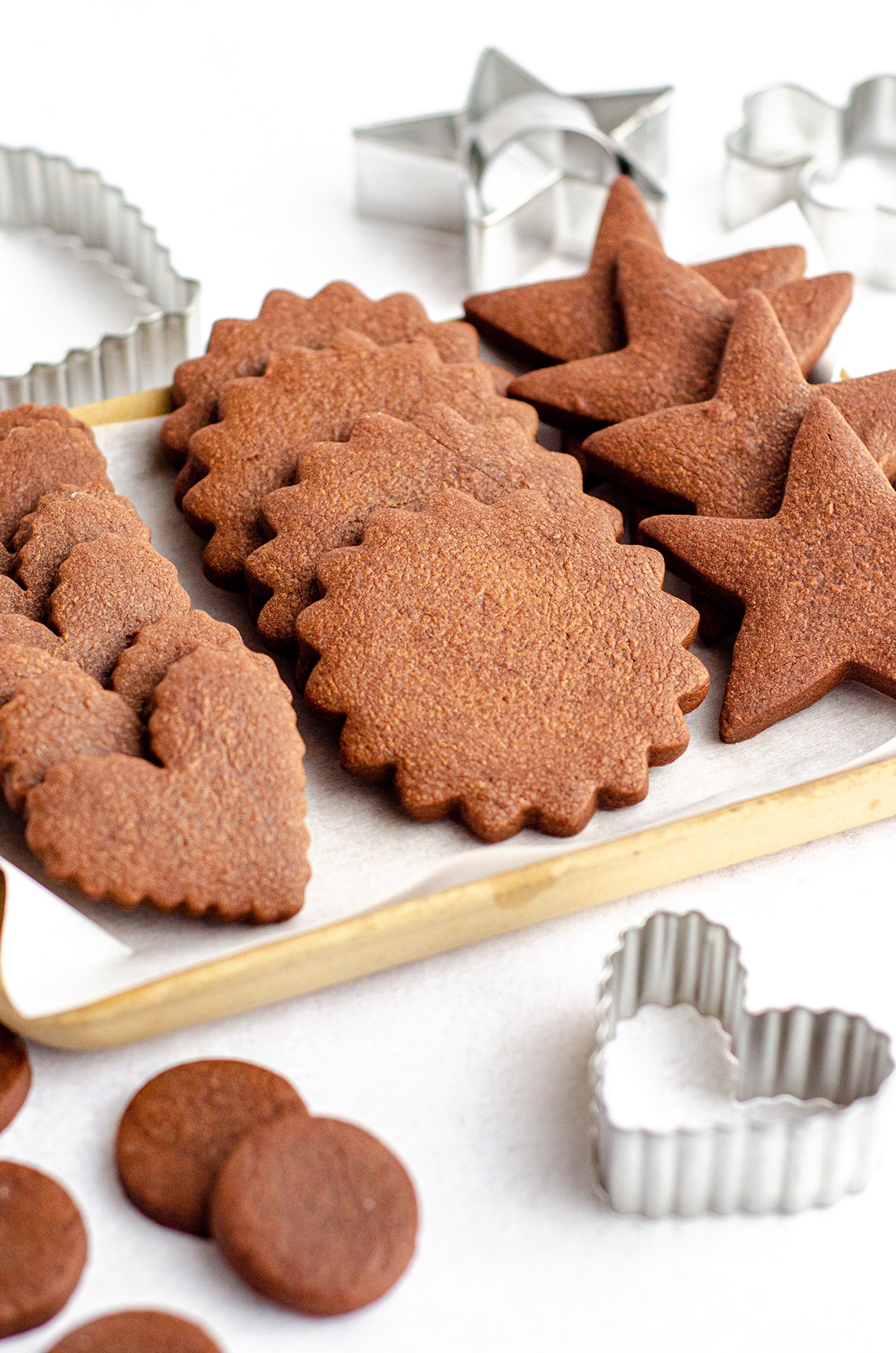 But a roll out cookie recipe can take up a lot of time, with all the rolling, cutting, rerolling, recutting… And working with the dough continually softens the butter and sometimes requires rechilling and that's just so much time just to get the cookies in the oven.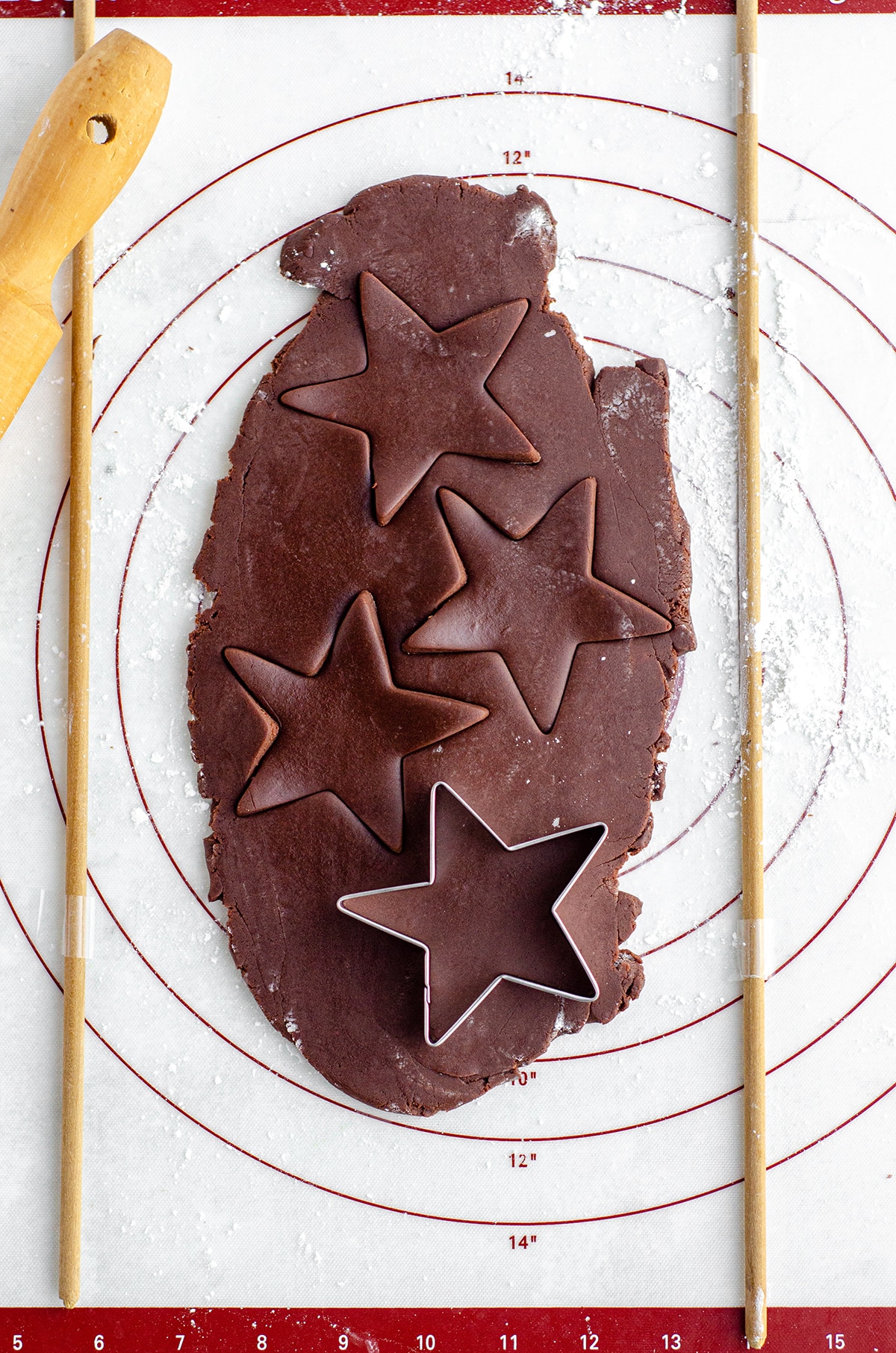 MY TRICK FOR DOUGH THAT DOESN'T NEED TO BE CHILLED
When I discovered that simply using powdered sugar instead of granulated sugar for sweetness in my cut-out sugar cookies meant I cut out about 2 hours of prep time? Psh. Game over. Done. No more recipe tests needed.
All that said, in order to keep my chocolate roll out cookie recipe out of the fridge for chill time, I decreased the amount of powdered sugar and replaced it completely with cocoa powder.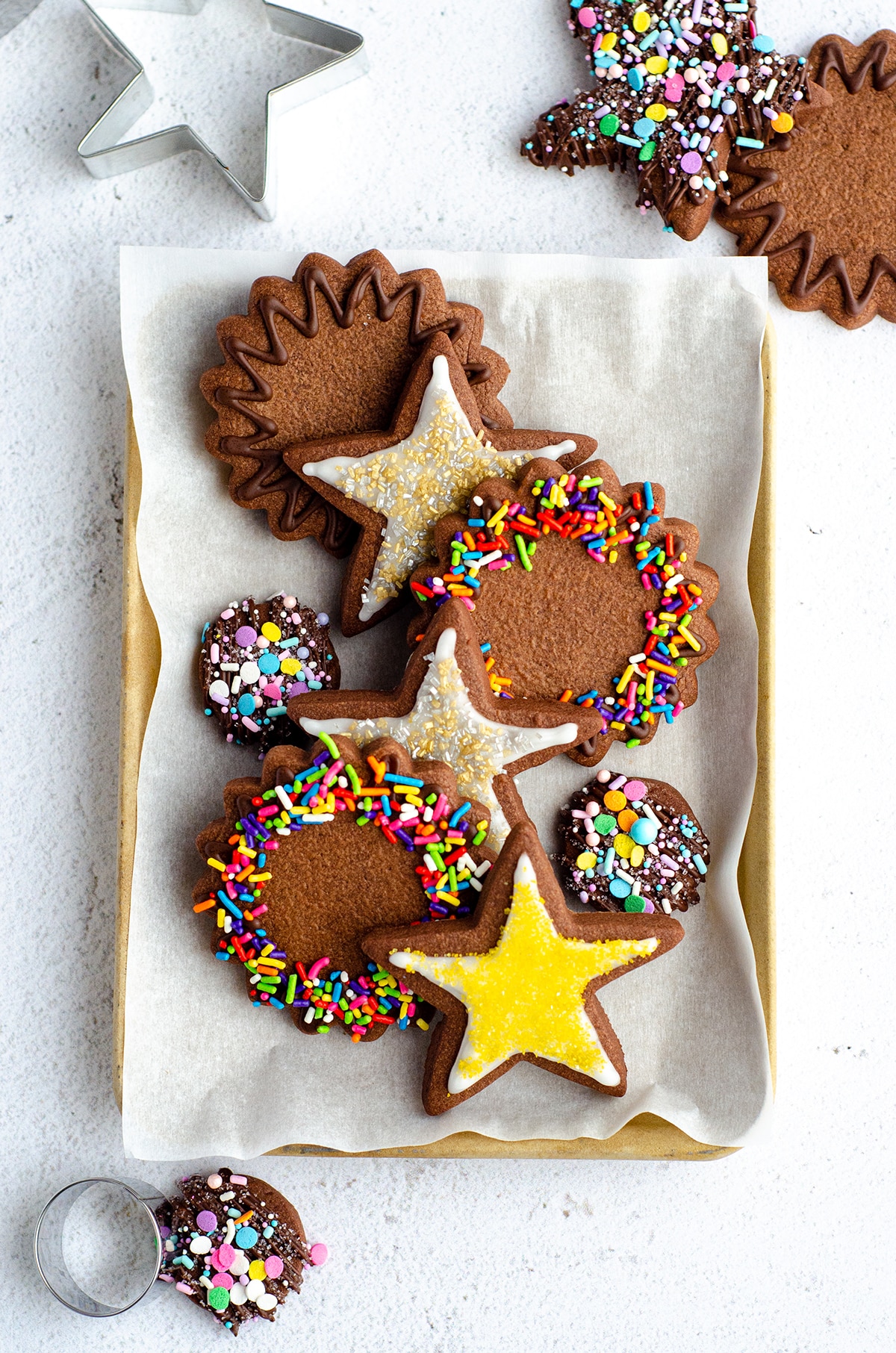 I was fully prepared to test them again and add in more sweetness in case they came out too bitter or add in more cocoa powder if the chocolate flavor wasn't there, but I am happy to report this recipe testing took one glorious attempt. I decided to keep the new recipe for chocolate sugar cookies (no chill) at that and not mess with a good thing.
To my continued surprise, working with the dough was just as easy as I was hoping it would be. The dough was just as easy to work with as it has been in other flavors, and the shapes stayed perfectly shaped like the cookie cutters I used to cut the dough.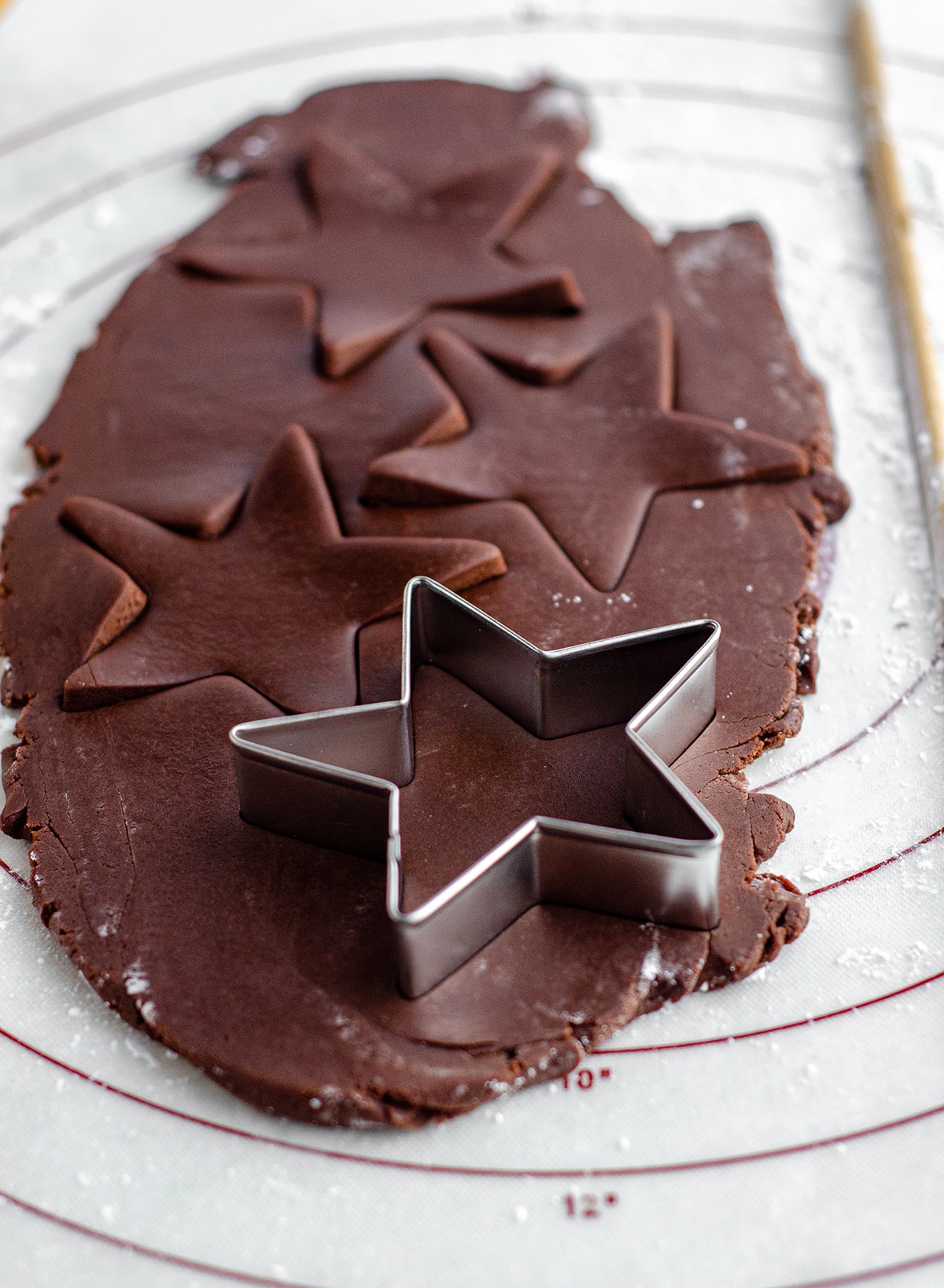 If you're looking for a recipe for chocolate sugar cookies that are SERIOUSLY EASY, this is it, my friends. I can't stress to you enough just how simple they are and how you're going to love using this dough for all your go-to chocolate shapes.
Oh, and… My BEST tip for getting uniform and perfectly identical shapes is to invest in (BAH– they're super cheap) two ¼" rods from a hardware store. Round or square will do.
I have round and usually tape them to my rolling mat.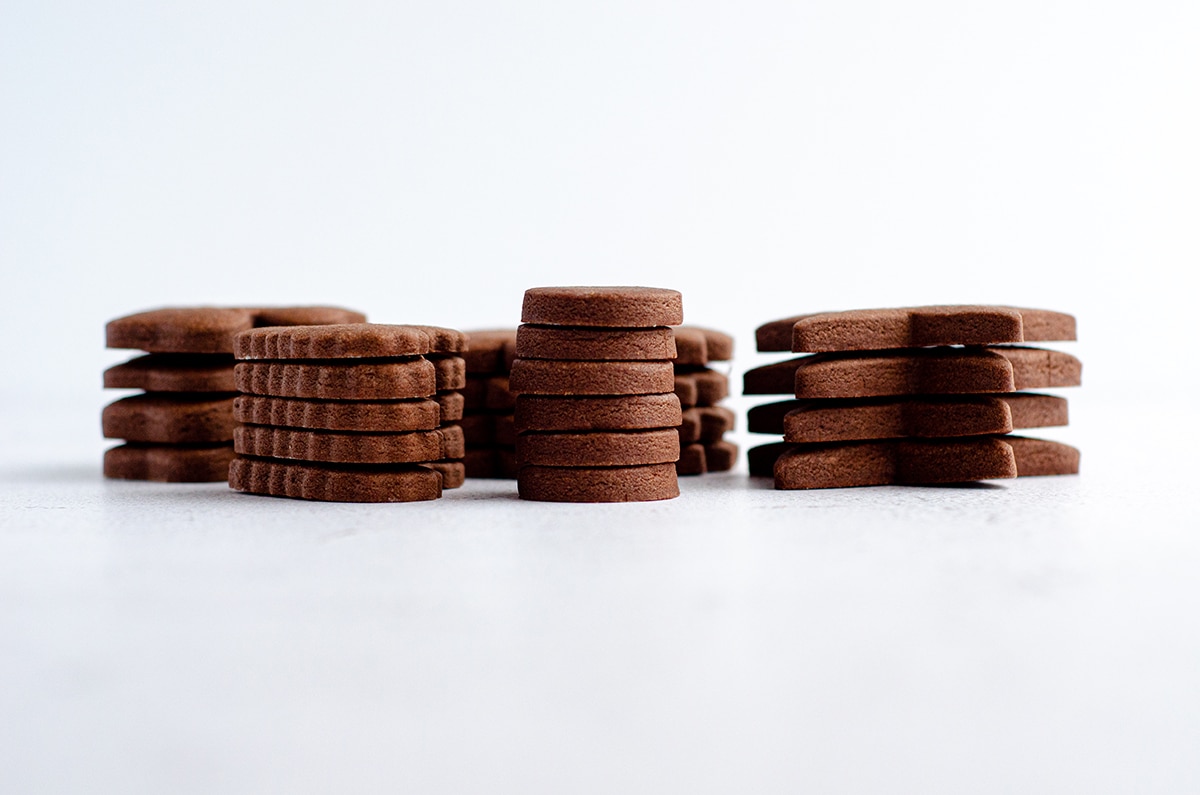 This will ensure your dough is ¼" thick… Ta-da.
(Look at all those uniform cookies. Gorg.)
USE MY EASY ROYAL ICING TO DECORATE
Plus, paired with my easy royal icing, you just have everything you need for the best chocolate cut out cookies ever.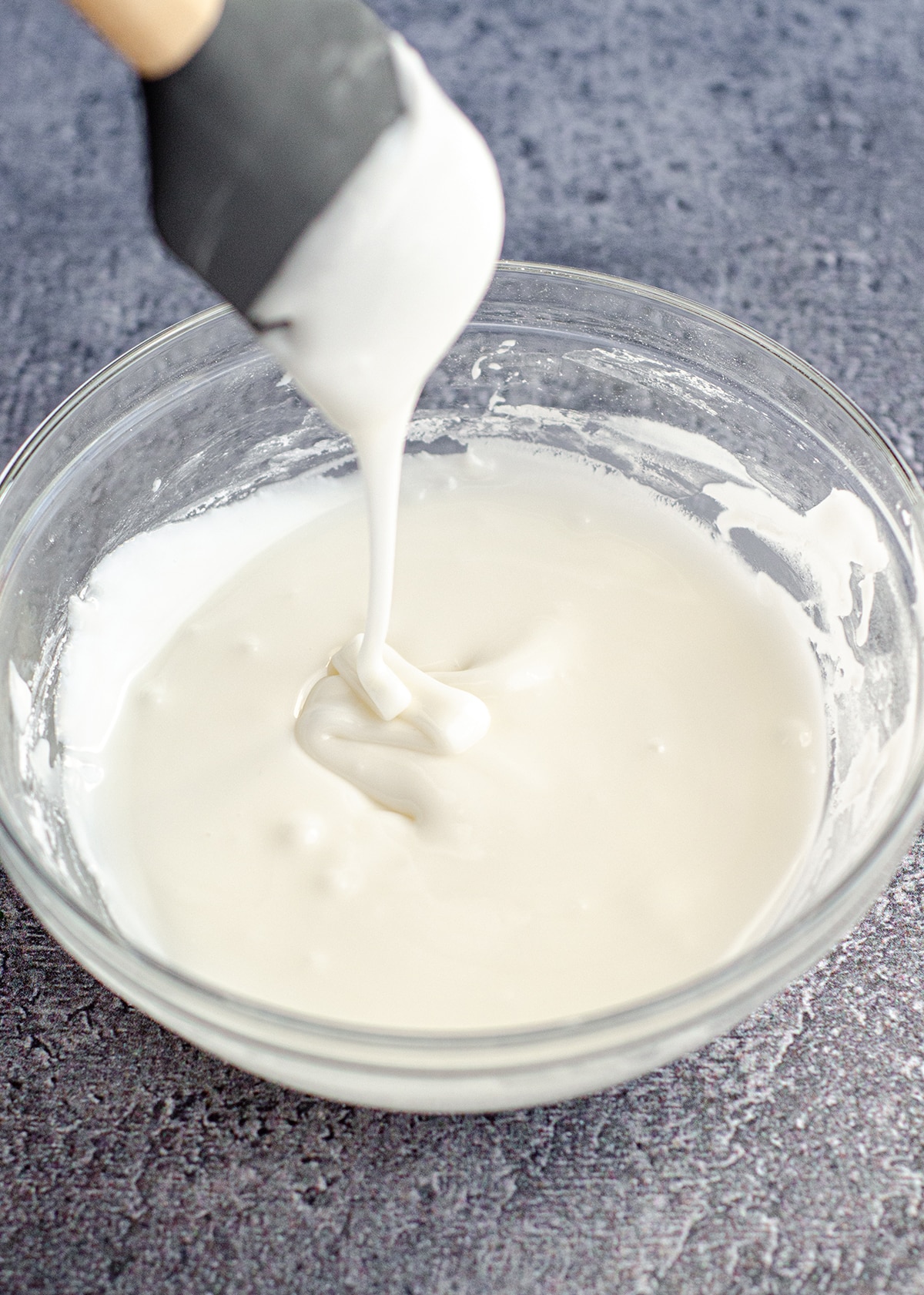 I do recommend, however, letting these cookies sit out for a day to dry out. I know, I know. That sounds so weird. But they are sturdiest when they've had a chance to sit and lose some of that initial moisture.
You're certainly welcome to decorate them right away, but it's always been my preference to wait a bit. Your choice!
I hope you'll give this chocolate cut-out sugar cookie recipe a try. I'm really proud of it and I think you'll be happy with how easily you (and maybe your kiddos?) can achieve delicious, chocolate shapes.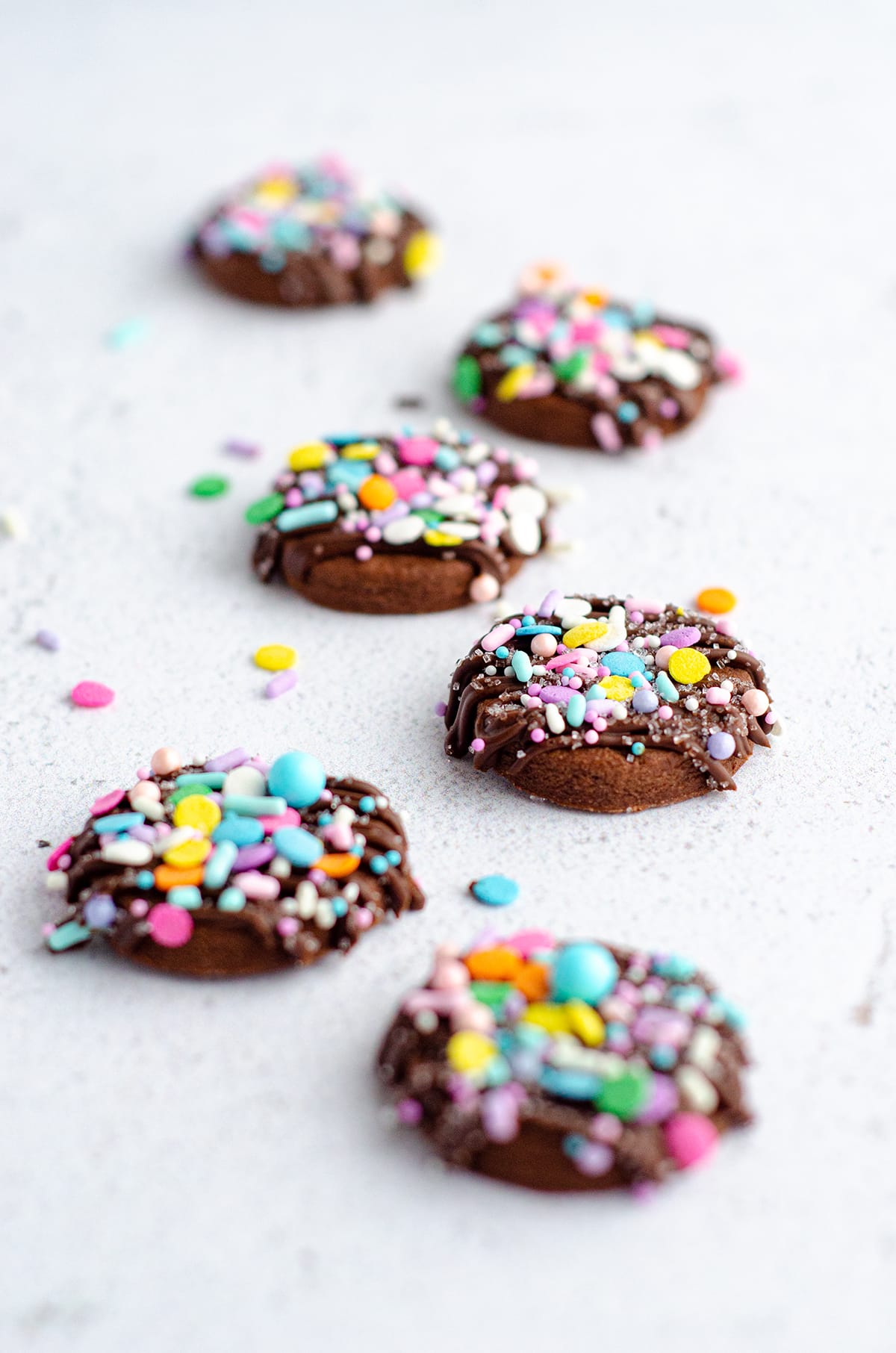 With all the sprinkles, of course.
Chocolate Cut-Out Sugar Cookies
Soft chocolate cut out sugar cookies that require no dough chilling and are perfect for shaping with cookie cutters. Crisp edges, soft centers, and plenty of room for decorative icing and sprinkles.
Servings:
24
(2″) cookies
Ingredients
CHOCOLATE CUT-OUT SUGAR COOKIES
2 and ½ to 3

cups

(300-360g) all-purpose flour1 be sure to measure properly

½

cup

(48g) Dutch processed cocoa powder

2

teaspoons

baking powder

1

teaspoon

salt

1

large egg room temperature2

2

teaspoons

vanilla extract3

1

cup

(227g) unsalted butter

softened to room temperature

1 and ½

cups

(180g) powdered sugar
COOKIE ICING
1 and ½

cups

(180g) powdered sugar

2

Tablespoons

(30mL) warm water

½

Tablespoon

(10g) light corn syrup

⅛

teaspoon

vanilla or almond extract
Instructions
CHOCOLATE CUT-OUT SUGAR COOKIES
In a medium sized bowl, toss together 2 and ½ cups of flour, cocoa powder, baking powder, and salt. Set aside.

In a measuring cup or small bowl with a spout, beat the egg and vanilla extract. Set aside.

In a large bowl with a hand mixer or the bowl of a stand mixer with the paddle attachment, cream together butter and powdered sugar until light and fluffy, about 3 minutes. Add egg mixture to creamed butter and sugar and beat on high until completely incorporated, scraping down sides as necessary.

With mixer on low, add flour mixture to wet ingredients little by little, allowing dough to come together after each addition. After you have added all 2 and ½ cups of flour (plus baking powder and salt) to the bowl, most of the dough should stick to your beaters or paddle.

Test dough consistency by touching it with your fingers. It should be slightly tacky, but not sticky. It should remind you of Play-Doh. If it is too sticky, add 2 Tablespoons of flour at a time until you reach 2 and ¾ total cups of flour. Occasionally, I will need a tad more flour, but do not exceed 3 cups of flour. Too much flour yields denser cookies, and we want these to stay soft.

When your dough is the right consistency, gather it into a ball and allow it to rest for 10 minutes. While it is resting, preheat your oven to 400ºF (204ºC). Line two large baking sheets with parchment paper or silicone baking mats. Set aside.

Prepare your rolling surface by dusting it lightly with powdered sugar. If you would like, use two wooden dowels, sized at ¼" thickness, on either side of your dough while rolling it out to keep cookies a uniform thickness.

When your dough is ready to roll, break off a workable size of dough. I usually break it into 4 pieces. Roll dough with a powdered sugared rolling pin to about ¼" thickness and cut into desired shapes with cookie cutters. I like to dip my cookie cutter into powdered sugar every few cuts to keep my cookie edges clean.

Transfer cut dough onto baking sheets. It is best to keep cookies that are the same size and shape together on baking sheets so as to uniformly bake all of your cookies. Re-roll and cut dough as needed until all of the dough is used up. At this point, you may decorate cut cookies with sprinkles or just leave them plain and decorate them with icing later.

Bake cookies for 4-6 minutes. My small hearts (2") took 4 minutes. Large sawtooth circles took 6 minutes. Mini circles (1") took 4 minutes. Bake until cookies are slightly puffed and are no longer shiny. Allow cookies to rest on baking sheet for 5 minutes before transferring to wire rack to cool completely. I prefer to decorate day-old cookies, as they are sturdier, but this is personal preference and only a suggestion. Undecorated cookies freeze extremely well (I actually like to eat them frozen!), up to 3 months. Do not freeze decorated cookies. Thaw overnight before decorating previously frozen cookies.
COOKIE ICING*
When you're ready to decorate your cookies, place powdered sugar in a medium bowl and set aside. In a small bowl, combine warm water, light corn syrup, and extract. Stir until corn syrup is dissolved.

Add sugar water to powdered sugar and stir until completely combined. Mixture will be thick. The consistency you're looking for is a slowly dripping icing that disappears into the bowl within about 12 seconds. Add water by drop if you think it's too thick. If it becomes too thin, add more powdered sugar by the teaspoon. Use immediately. If you need to wait to use your icing, cover tightly, and use within 1 day. You will need to stir it up again and possibly add more water before using. Cookies will stay fresh in an airtight container at room temperature well over a week.
Notes
Flour: start with 2 and

½

cups of flour and work your way up to 3 cups as needed. Do not exceed 3 cups.
Room temperature egg: this is preferred. It is always a good idea to use a room temperature egg when using room temperature butter, which allows for better incorporation into dough.
Extracts: you may use any flavoring you like (such as a citrus to complement the chocolate). Total flavoring 2 teaspoons depending on your preference.
*See my detailed easy royal icing recipe for a video of exactly how to make this icing and what the drizzle test looks like.
Nutrition Disclosure
All nutritional values are approximate and provided to the reader as a courtesy. Changing ingredients and/or quantities will alter the estimated nutritional calculations.
Serving:
1
cookie
|
Calories:
183
kcal
|
Carbohydrates:
26
g
|
Protein:
2
g
|
Fat:
8
g
|
Saturated Fat:
5
g
|
Polyunsaturated Fat:
0.4
g
|
Monounsaturated Fat:
2
g
|
Trans Fat:
0.3
g
|
Cholesterol:
27
mg
|
Sodium:
137
mg
|
Potassium:
47
mg
|
Fiber:
1
g
|
Sugar:
15
g
|
Vitamin A:
247
IU
|
Calcium:
27
mg
|
Iron:
1
mg