Jalapeño Cream Cheese Dip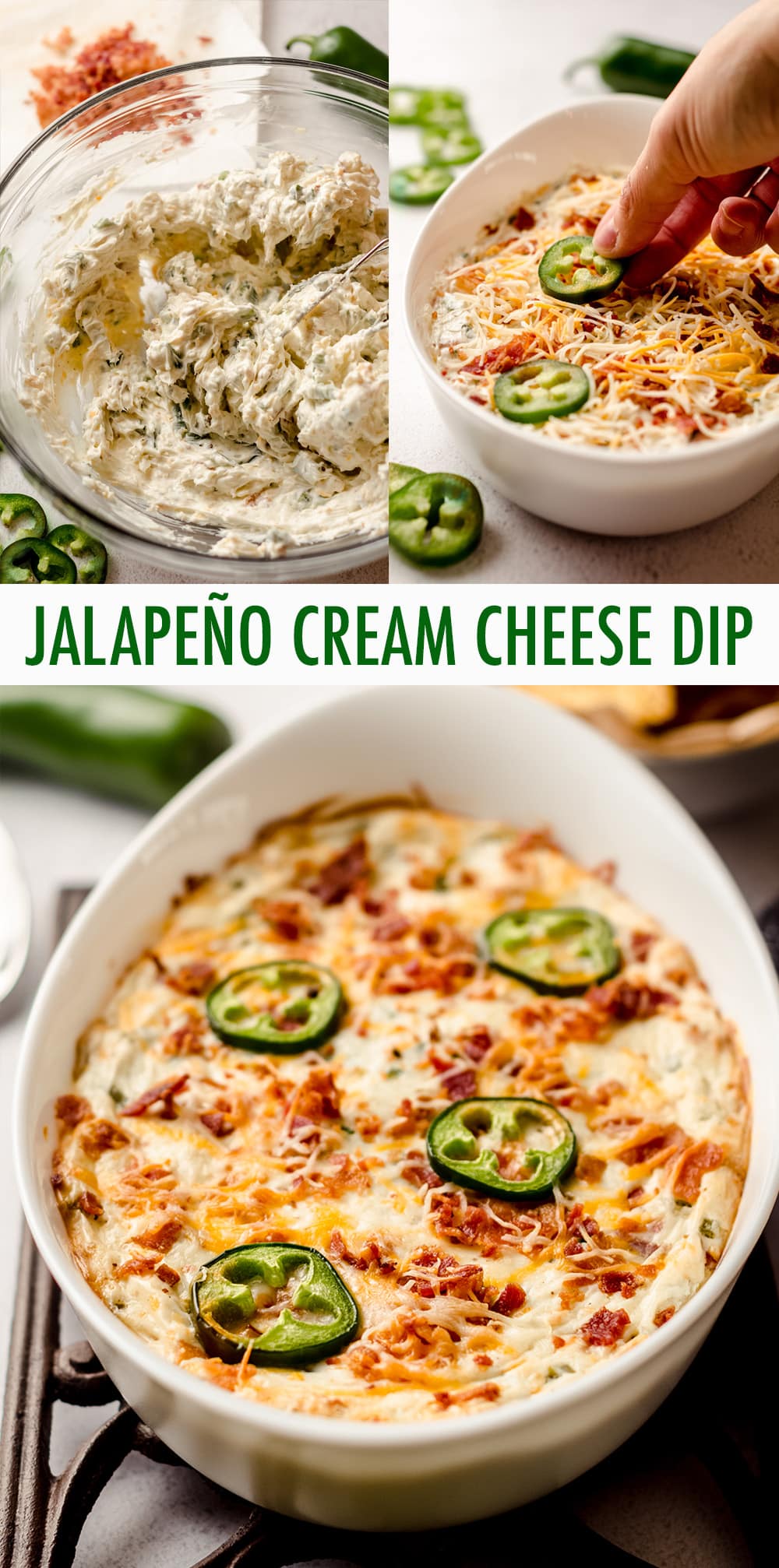 As an Amazon Associate, I earn from qualifying purchases. Read the full disclosure here.
Cheesy, creamy, and spicy baked jalapeño cream cheese dip is the perfect appetizer or side for any Mexican dish. Serve with chips, vegetables, or as a topping.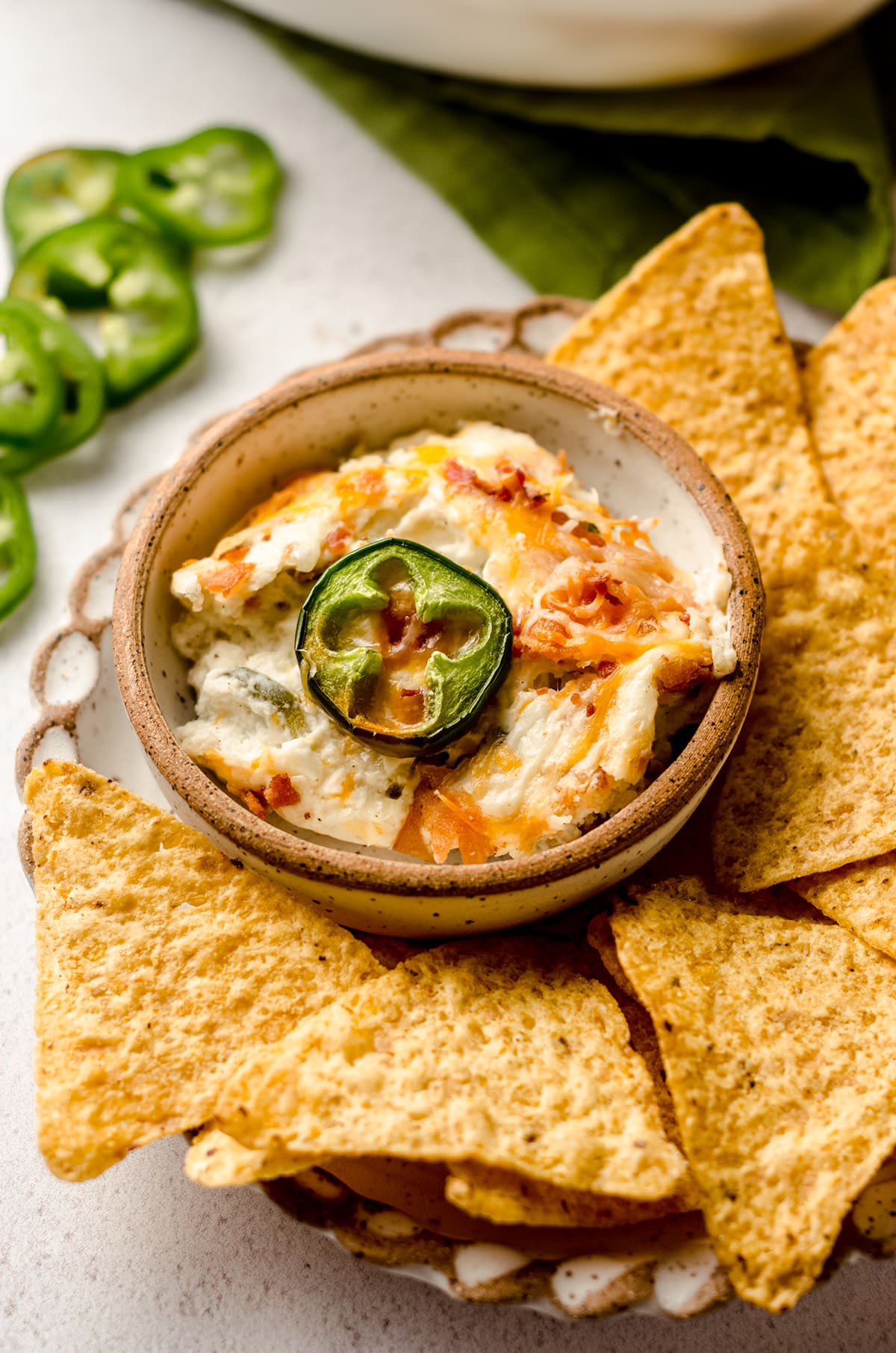 While it's usually about the desserts around here, we truly cannot live on sugar alone, so… Allow me to bring a little spice and flair to your life this week, because I'm always one for channelling summer time and it's never a bad time for dip.
This jalapeno dip recipe is one of my all time favorites, as a self-proclaimed chip and dip lover and a "cannot be trusted with a bag of salty carbs" kinda gal. I'm also a gigantic Mexican food lover, and anything with spice and flair is welcome at my table… Just make sure I also have a huge margarita. Mmmkay?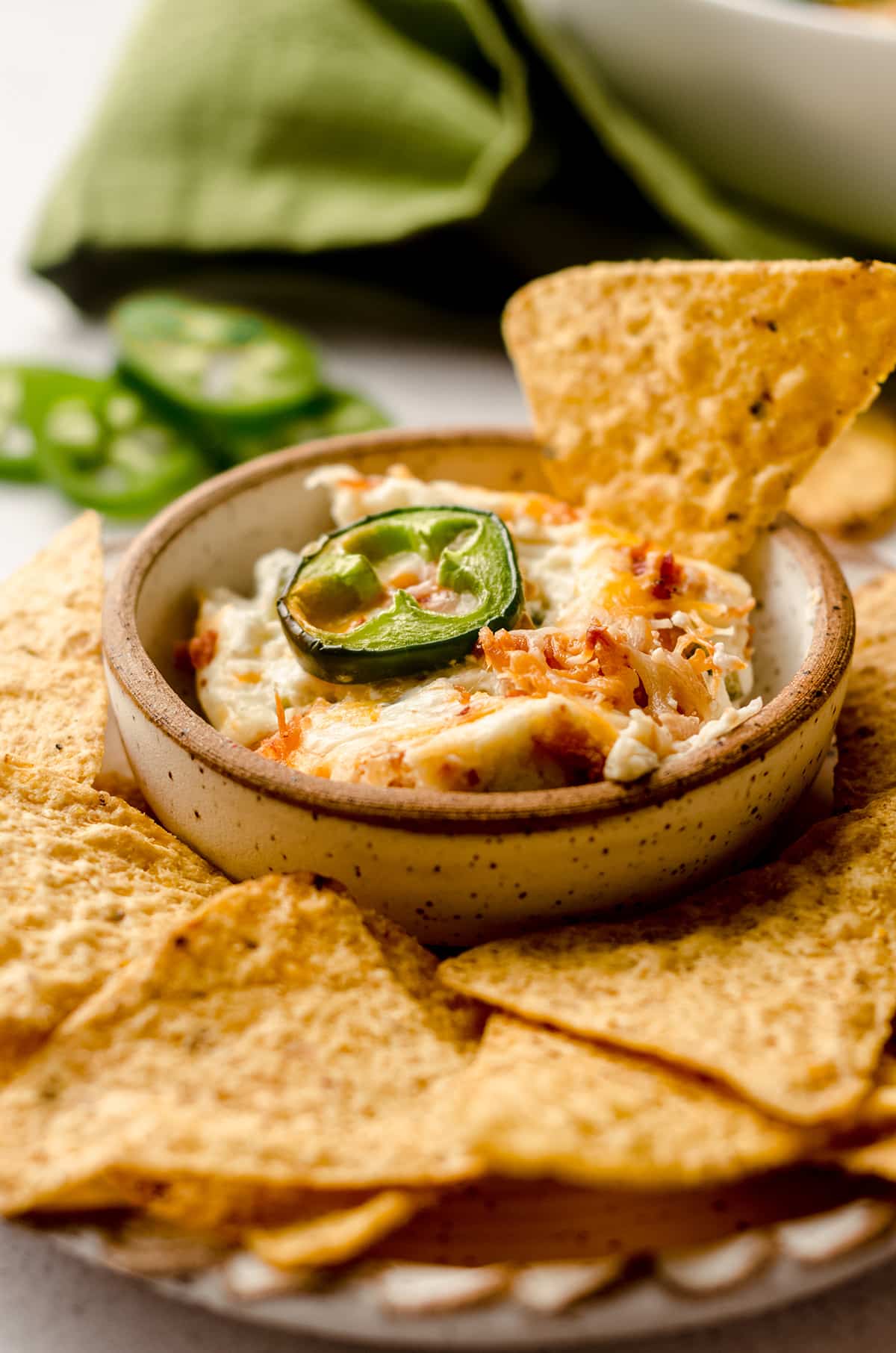 Do you like jalapeno poppers? I loveeeee them. That spicy, crunchy jalapeno pepper stuffed with creamy, melted cheese, all wrapped up in crisp bacon is the perfect marriage of flavors. This dip is essentially jalapeno popper dip, but with a heavy focus on all that creamy cream cheese.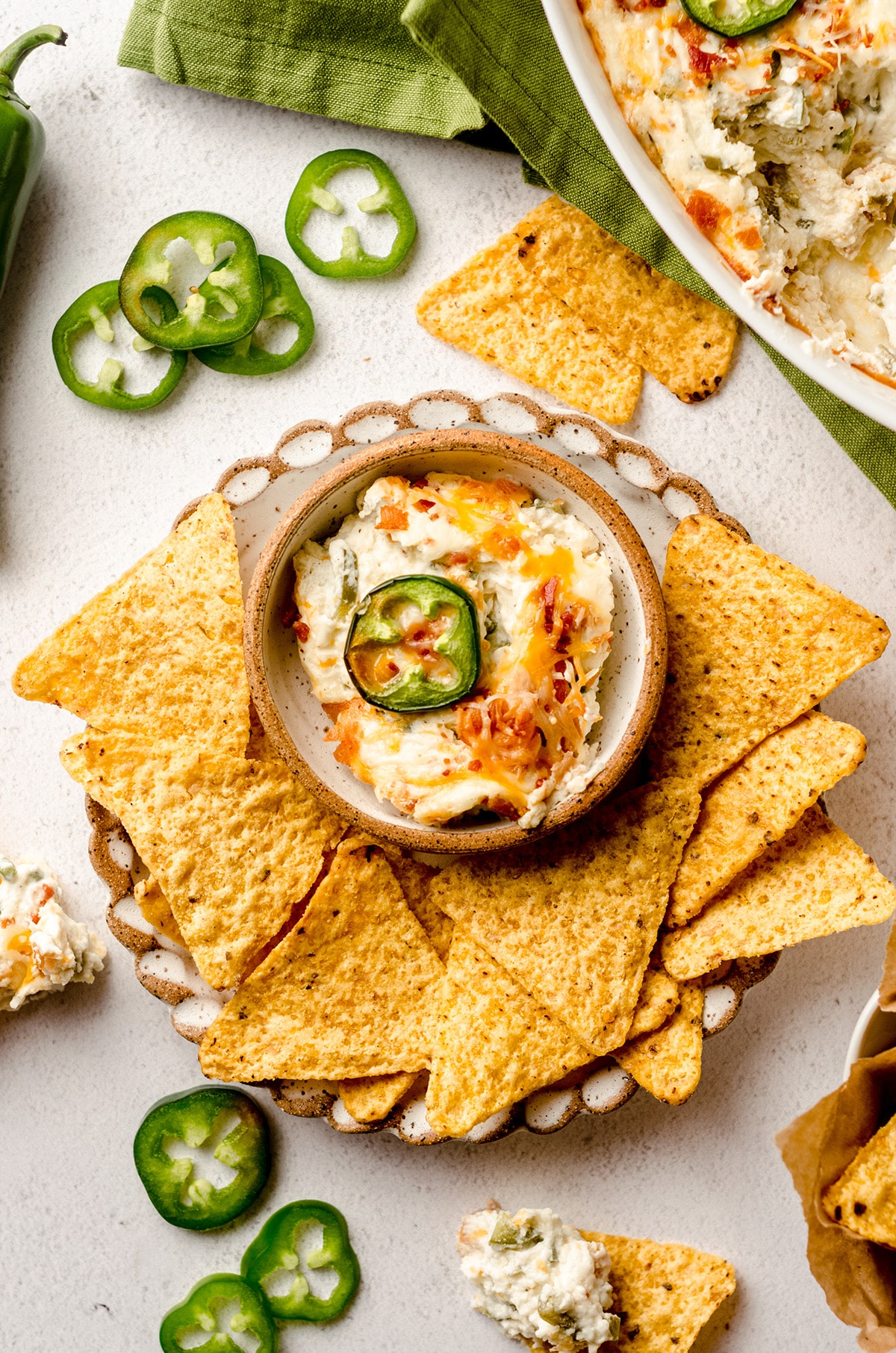 I have an incredible amount of self-control (I've had to teach myself this since starting my blog), but I will be totally honest and say that whenever I make this jalapeno cream cheese dip, I finish nearly all of it myself and I have zero shame about that.
This jalapeno and cream cheese dip is one of my favorites to throw together as something a little "different," and it could not be simpler to make.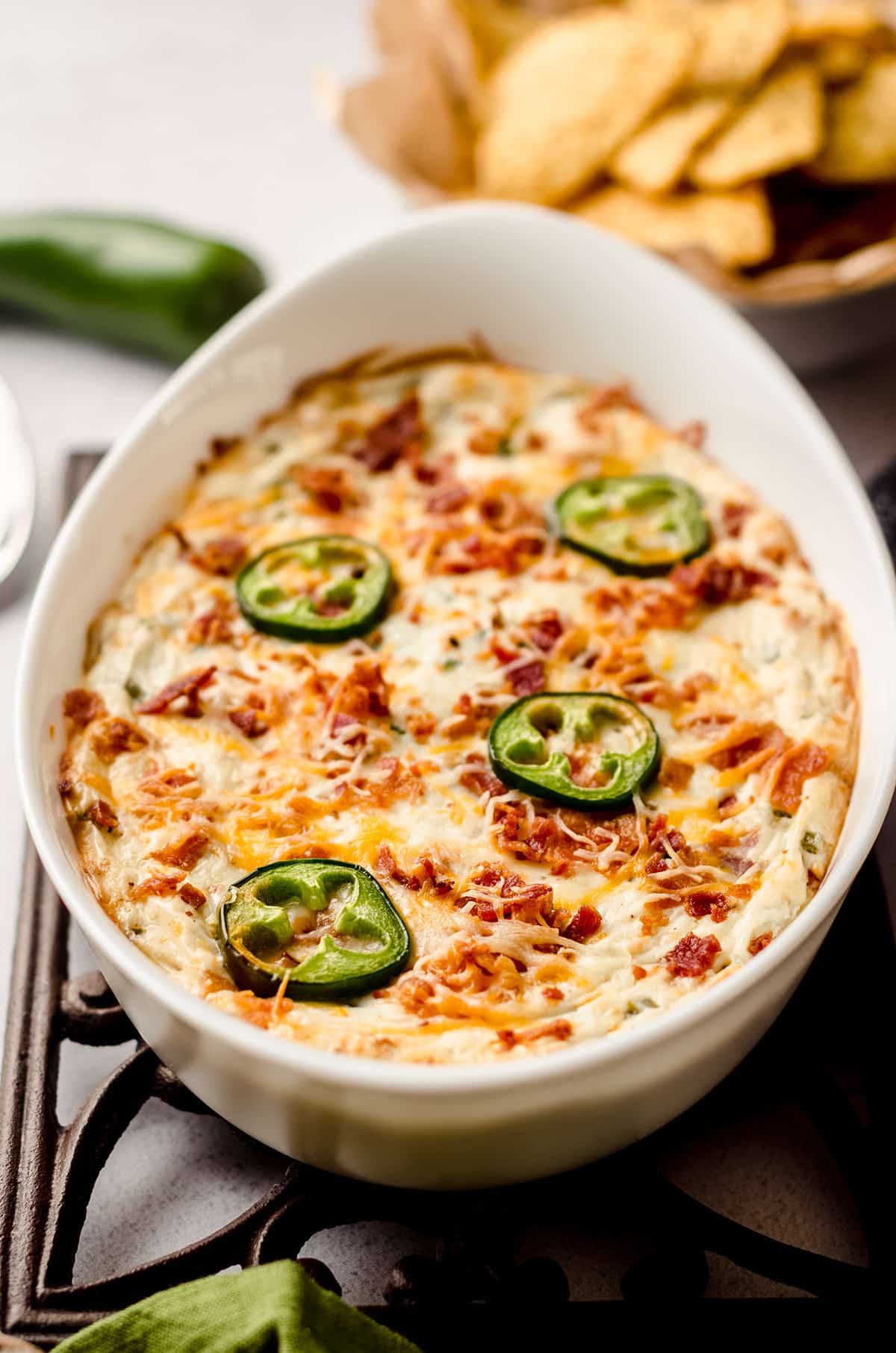 HOW TO MAKE JALAPENO CREAM CHEESE DIP
All you'll need for this dip is some bacon, cream cheese, yogurt or sour cream, a little mayo, some shredded Mexican cheese, and of course, jalapeños.
Let's talk about those peppers though… I have used both canned pickled jalapenos and fresh, but please, proceed with caution if you're using the fresh ones.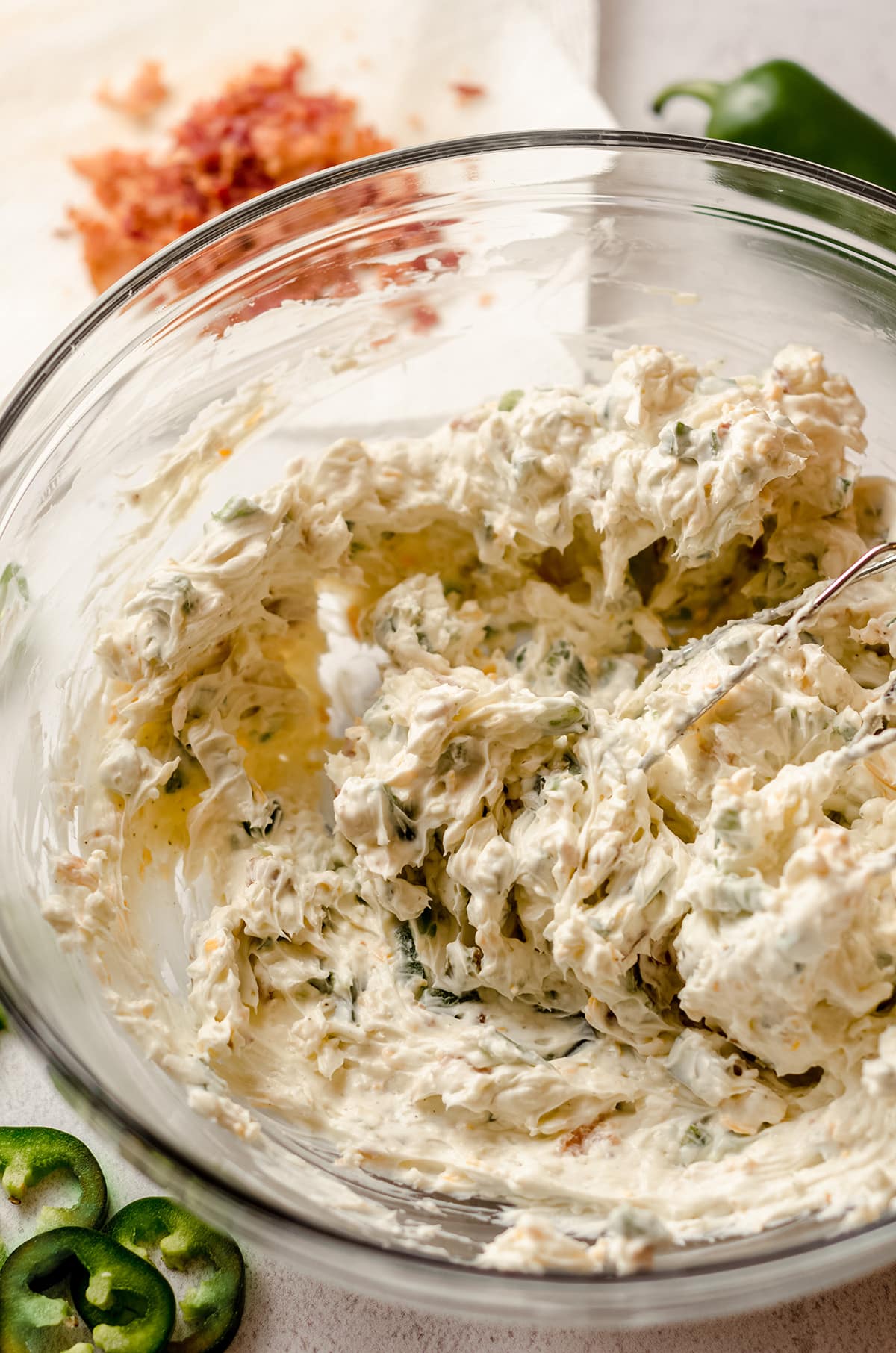 Chances are if you're using them, you've prepped them before, but I had one terrible experience with chopping jalapeno peppers in the past that ended with my fingers in yogurt and vodka (not kidding), so I stay away from preparing them as much as I can.
I make exceptions with this dip, which involves gloved hands and cheap vodka that I use to clean up everything after I'm done. I leave no drop of fresh jalapeno pepper behind if I can help it.
So, keep in mind, if you're going to leave your peppers raw, you leave the seeds in at your own risk. I typically remove 99.9% of them, but will leave some in depending on my spread of consumers.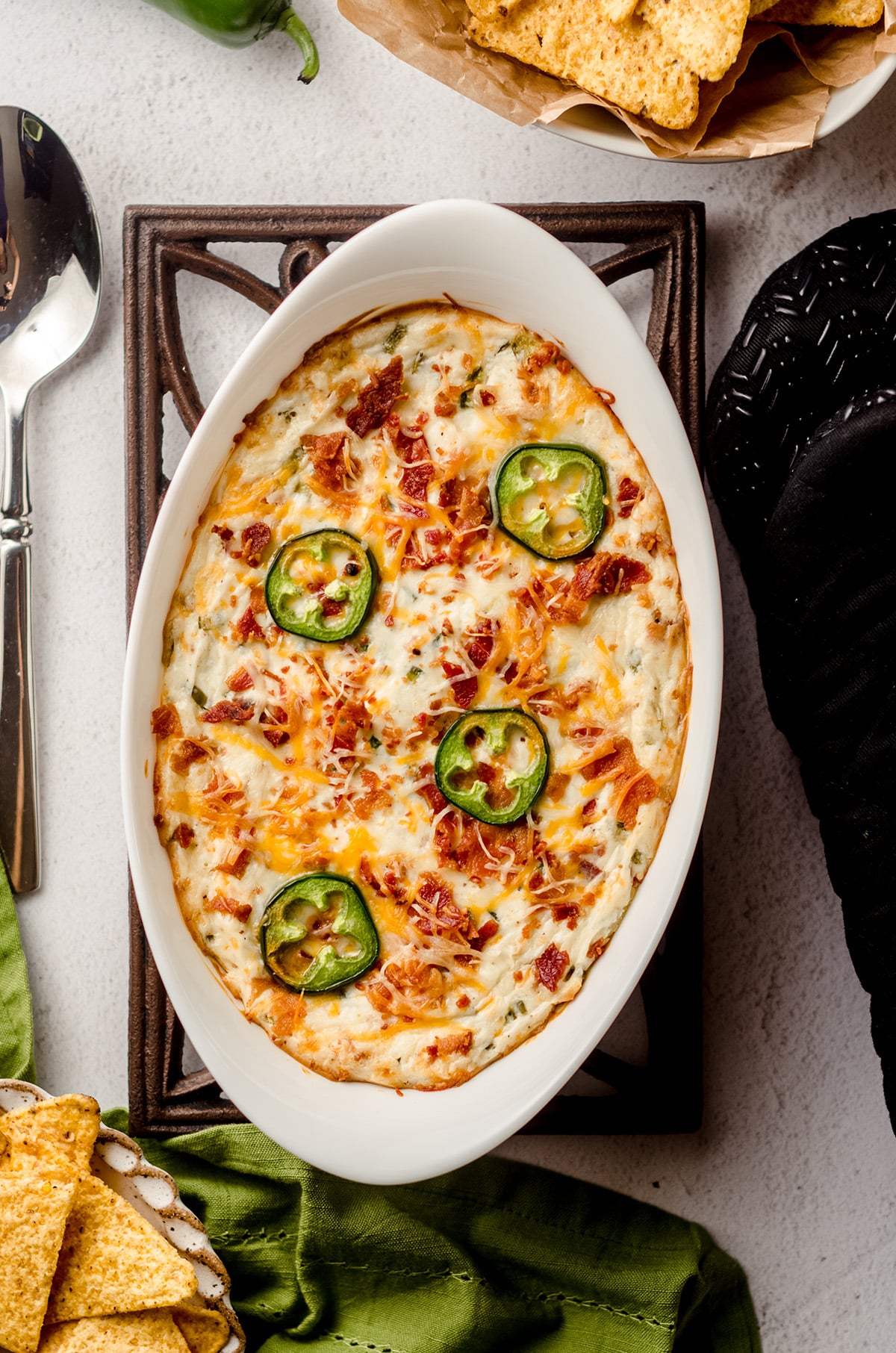 Another thing to remember is that this cream cheese jalapeno dip gets baked in the oven, so those seeds will lose a little of their spice, but not all of it.
Basically: jalapeno at your own risk.
Aaaaand end jalapeno public service announcement.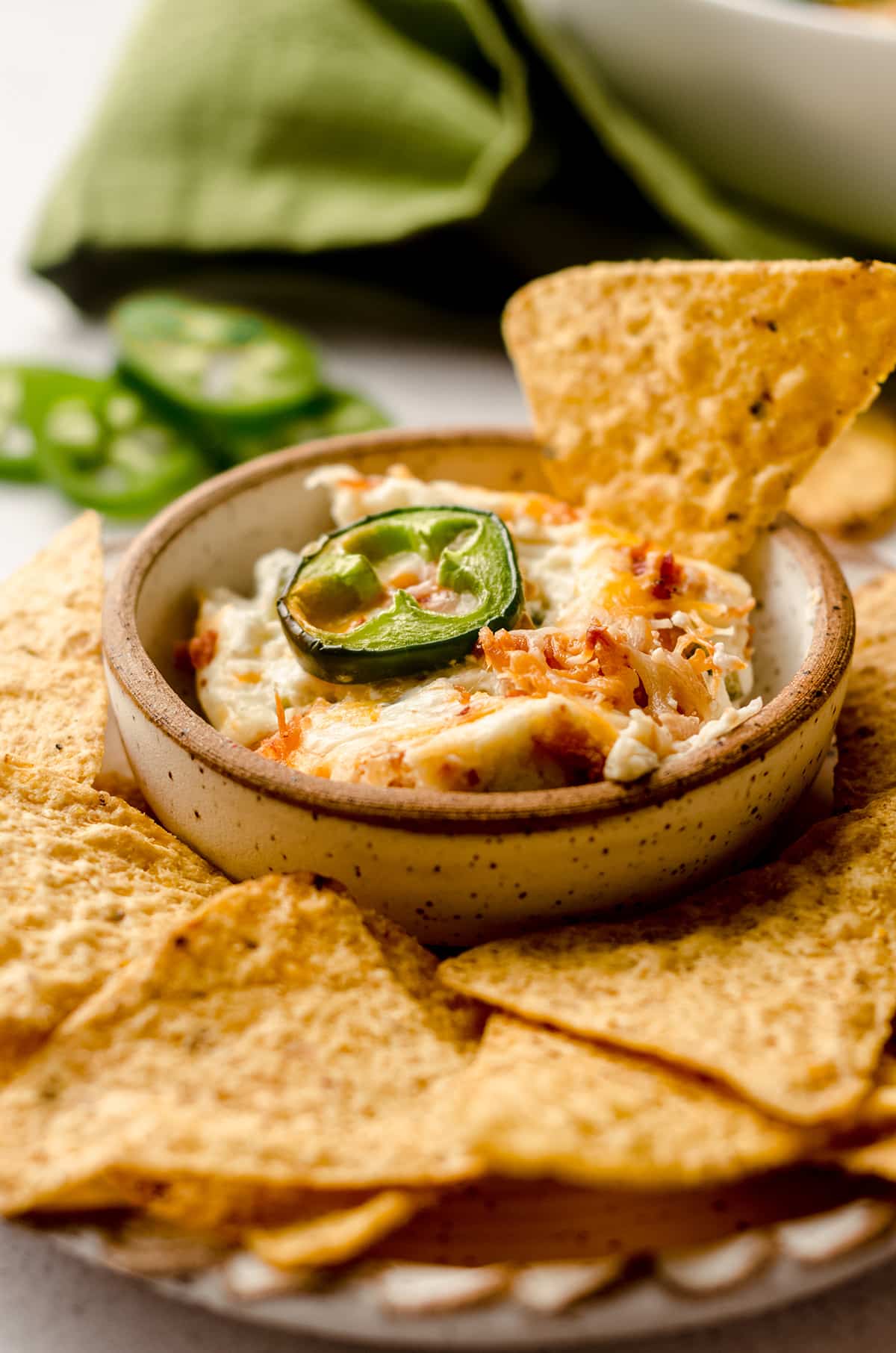 Once all of your ingredients are combined, you'll put your dip into a small casserole or divide it up into 4-6 ramekins, top with a little extra bacon and shredded cheese, and bake it for 25-30 minutes. I also like to add a few slices of jalapenos to the top, though this is just for aesthetics.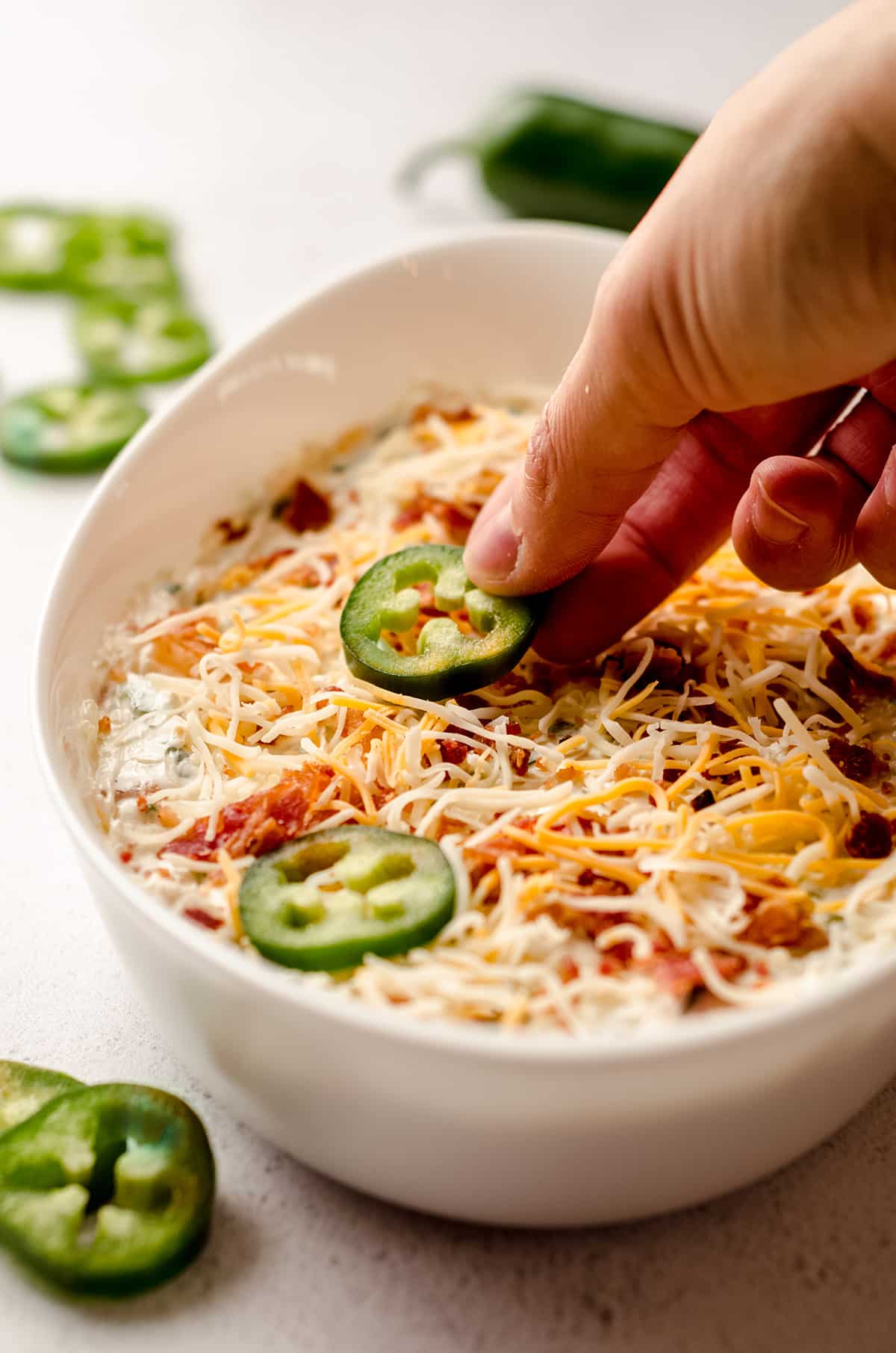 Since there are no raw ingredients in this dip, we're only baking it to warm it up, so really, any vessel you use to bake your cream cheese and jalapeno dip is fine. We're simply aiming for bubbly cheese!
And, bonus, we've eaten this jalapeno cream cheese dip cold, and it's just as good. You'll just want to make sure you give it that initial bake to melt all the cheese, get the bacon flavor all up in the crannies, and soften up the jalapeno pieces.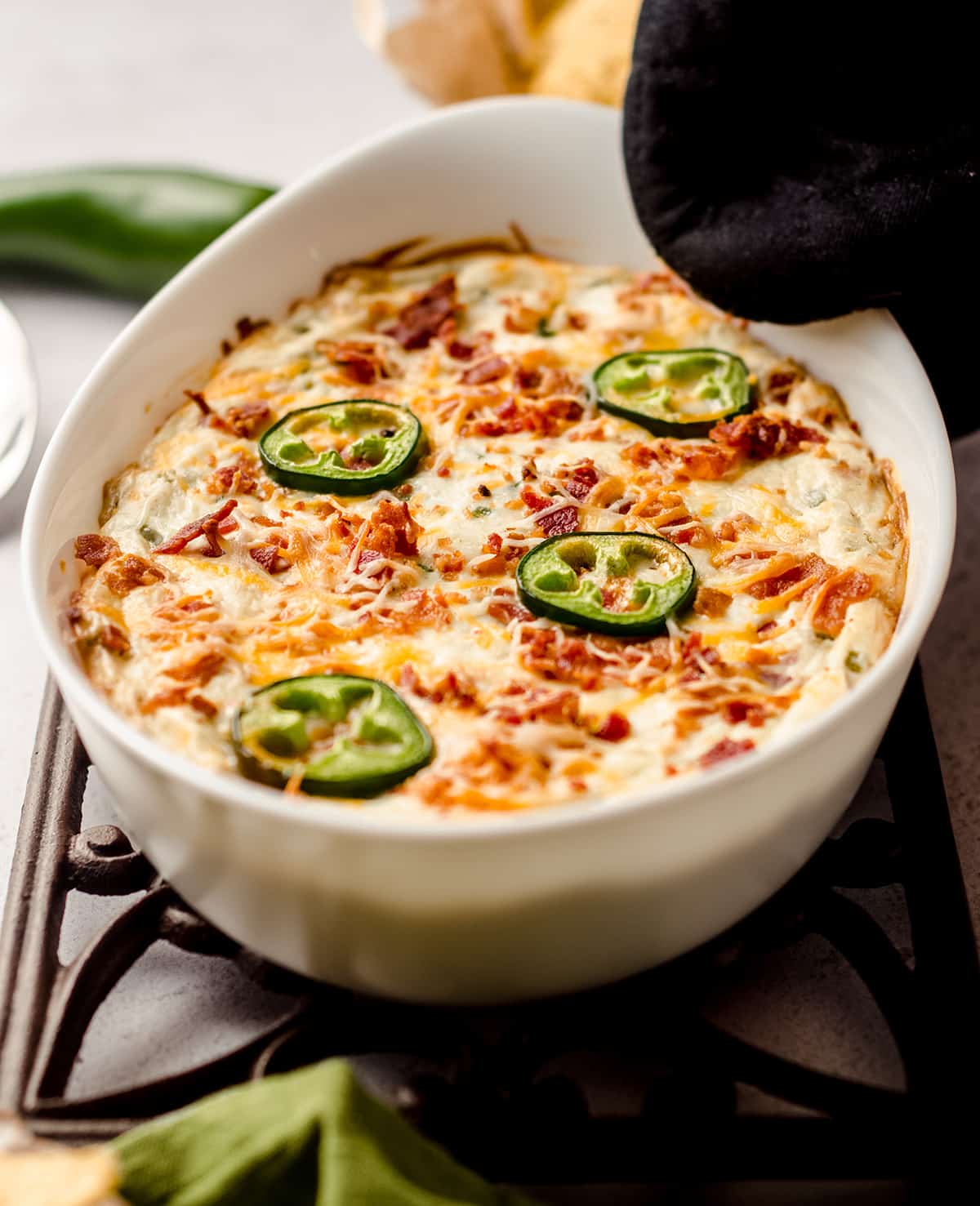 I have made this jalapeno cream cheese dip recipe in several different ways, halving it for a smaller crowd and doubling it for a larger one, and it truly never disappoints.
Serve your dip with chips, vegetables, along side some salsa, pico, or guacamole in a Mexican spread, and of course… A margarita. Margaritas are always welcome in my life, but especially when salty chips and cheesy dips are involved.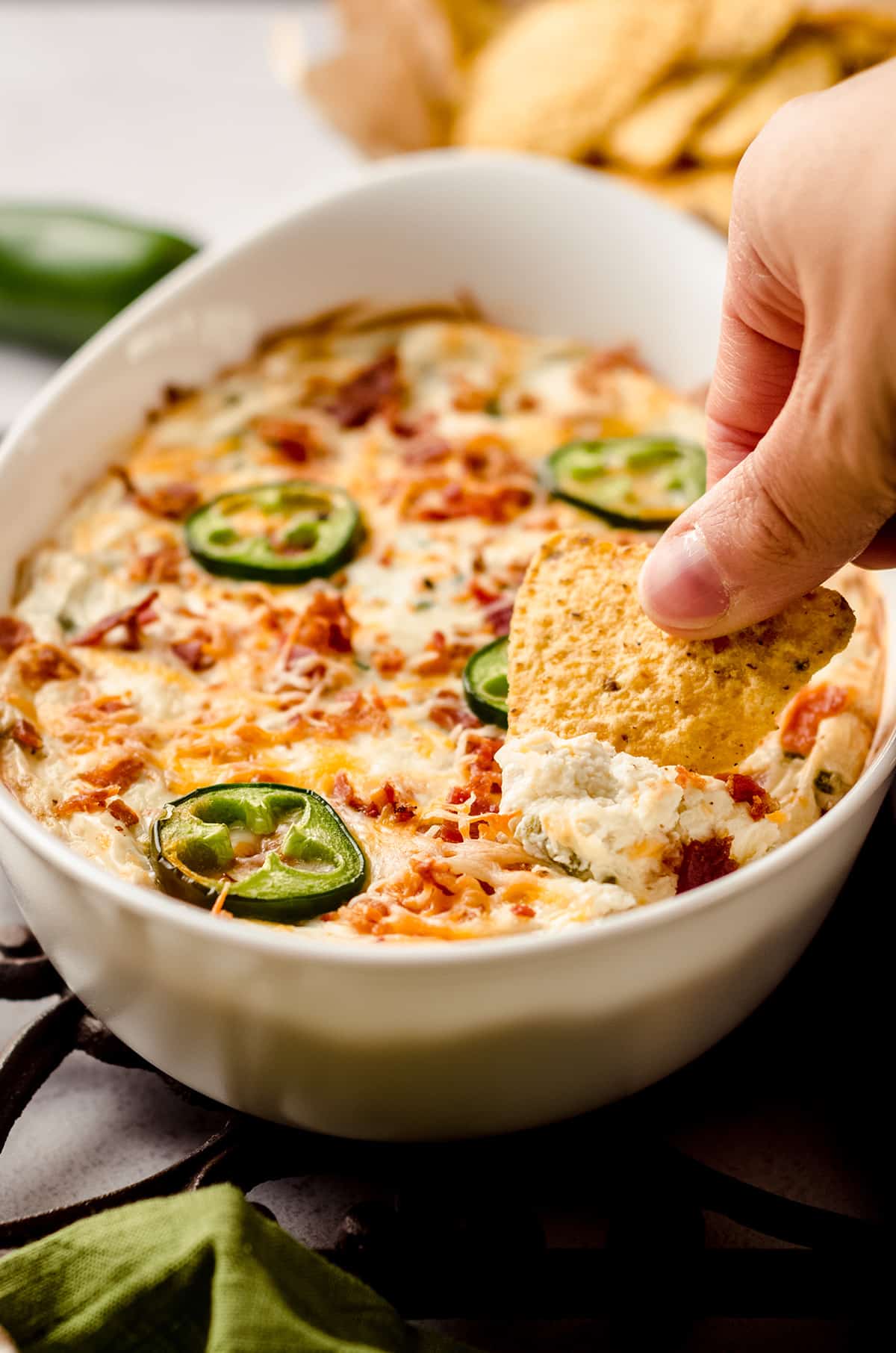 Grab some jalapenos and any of the ingredients you don't already have in your fridge on your way home from work today, call in an order to your favorite Mexican restaurant, and have yourself a spicy little spread in no time.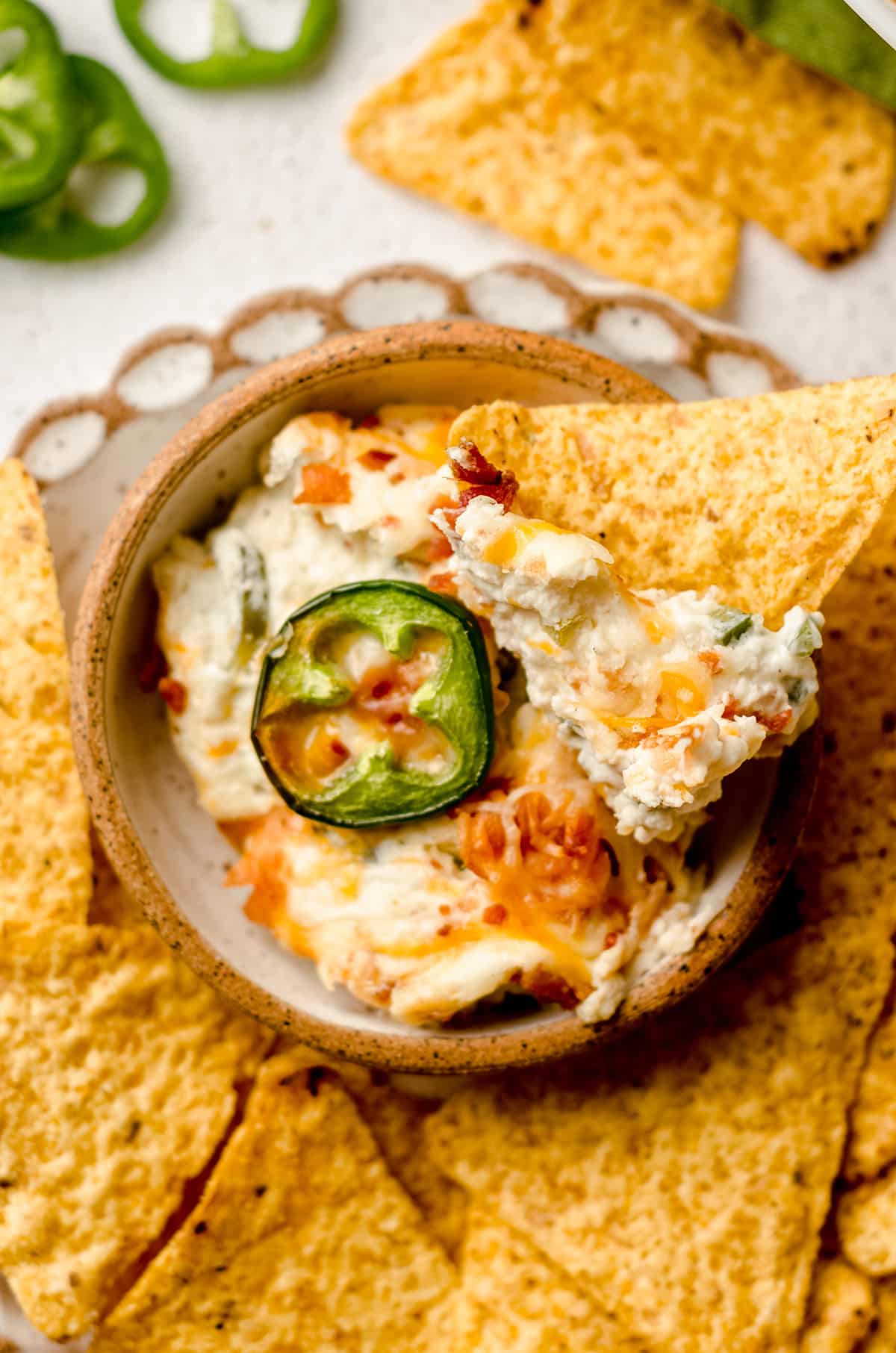 Spicy, cheesy, salty, and bacon-y. With flavors like that, how can you go wrong?
Jalapeño Cream Cheese Dip
Cheesy, creamy, and spicy baked jalapeño cream cheese dip is the perfect appetizer or side for any Mexican dish. Serve with chips, vegetables, or as a topping.
Ingredients
6

slices

bacon

divided

8

ounces

(225g) cream cheese

softened to room temperature

6

Tablespoons

(92g) plain yogurt or sour cream

2

Tablespoons

(28g) mayonnaise

¼

teaspoon

salt

¼

teaspoon

black pepper

½

cup

(56g) shredded cheese

4

ounces

jalapeño peppers1

chopped
Instructions
Preheat the oven to 350ºF (177ºC).

Cook the bacon as per the directions on the package. I prefer to use pre-cooked bacon so it only takes a few seconds in the microwave. Set the cooked bacon aside to cool while you prepare the rest of the dip.

In a small bowl with a handheld mixer or stand mixer fitted with a paddle attachment, beat the cream cheese, yogurt, and mayonnaise together on medium-high speed until smooth. Add the salt, pepper, and shredded cheese and beat on high until combined.

Crumble or chop 4 slices of the cooked bacon. Add the bacon and chopped jalapeños to the cream cheese mixture and stir together with a spatula until combined.

Spoon the mixture into a casserole dish2 or baking pan. Alternatively, you can spoon it evenly into 4-6 small ramekins (6 ounce size). Crumble or chop the remaining pieces of bacon and sprinkle on top. Top with additional shredded cheese and sliced jalapeños, if desired. Bake for 25-30 minutes or until cheese on top is melted and the sides are bubbling. Dip is best enjoyed immediately, but leftovers keep well covered tightly in the refrigerator up to 3 days. Reheat portions in the microwave or serve cold.
Notes
Jalapeño peppers: 4 ounces of jalapeño peppers is about 3-4 medium size peppers. I have used pickled jalapeño peppers for this as well as fresh. I like this dip both ways, but the pickled ones lend to quicker prep time. Keep the seeds in the fresh ones at your own risk.
Casserole dish: the size of the dish you use does not need to be specific. I have used an 8″ cake pan, 6 ounce ramekins, and a 1 quart casserole. When I halve the recipe, I use a smaller 6″ cake pan. The smaller your dish, the deeper the dip will be.
Nutrition Disclosure
All nutritional values are approximate and provided to the reader as a courtesy. Changing ingredients and/or quantities will alter the estimated nutritional calculations.