As an Amazon Associate I earn from qualifying purchases.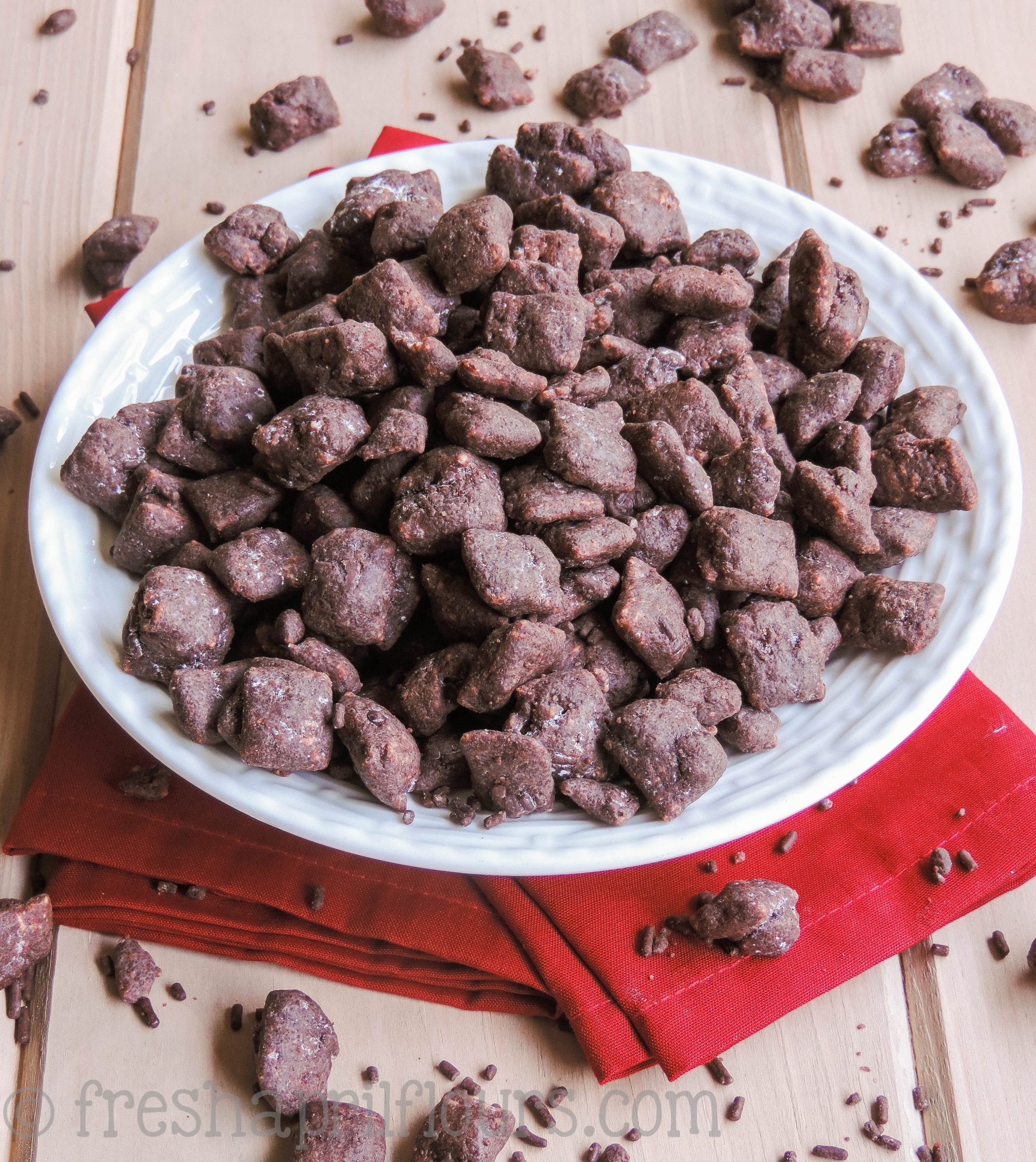 A super chocolatey and slightly gooey take on classic puppy chow. Plus– there's sprinkles!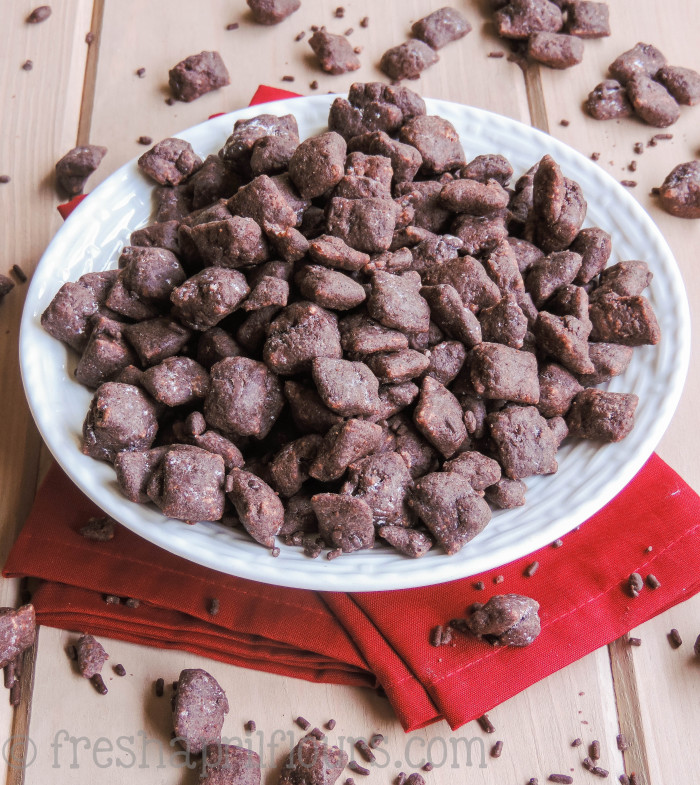 If you love puppy chow, check out my cookbook! 20+ exclusive puppy chow recipes!
At first glance, you might think this is your traditional puppy chow, but it's not. Ohhh no, it's not at all. This, my friends, is Cake Batter Puppy Chow's devilish counterpart.
I say devilish, because if cake batter puppy chow is the rainbows and butterflies and ultra sweet and sprinkley variety of this snack, this brownie batter version is of the rich and chocolatey and almost slightly gooey variety. It may not be as pretty or colorful as the cake batter version, but my oh my is it full of all the right kinds of chocolate flavor.
And of course… There are sprinkles involved (come on, it's Sprinkle September, people). They're not the rainbow kind, but they are chocolate and they are sprinkles… I had to make it work somehow!
Let's start from the beginning, because apparently, there are still some of you out there who don't know what puppy chow (also referred to as muddy buddies) is.
You start with Chex cereal, coat it in chocolate and peanut butter, and then shake it up with some powdered sugar.
I grew up snacking on this treat, and it blows my mind that some of you didn't! Anyway, people all over the place are making all kinds of flavors based off of the original, and you better believe I have a pumpkin spice version for September as well!
Ok, now that that's out of the way, I bring you crunchy brownie batter.
You'll start with chocolate Chex cereal, which by the way is SO GOOD. Some squares are chocolately, and other squares are just sugary. It's the perfect amount of chocolate for a cereal (those Cocoa Pebbles and cereals of the like make my stomach turn just thinking about them) but you're going to throw that ALL out the window and cover every single square in melty dark chocolate.
If you don't like dark chocolate and prefer semi-sweet, by all means use that. I just would advise against milk chocolate because you'll lose the "brownie" flavor we're going for here. Don't worry, there's plenty of sugar to make up for it!
You're going to use the entire box of chocolate Chex (the flavored boxes are smaller than the plain rice Chex).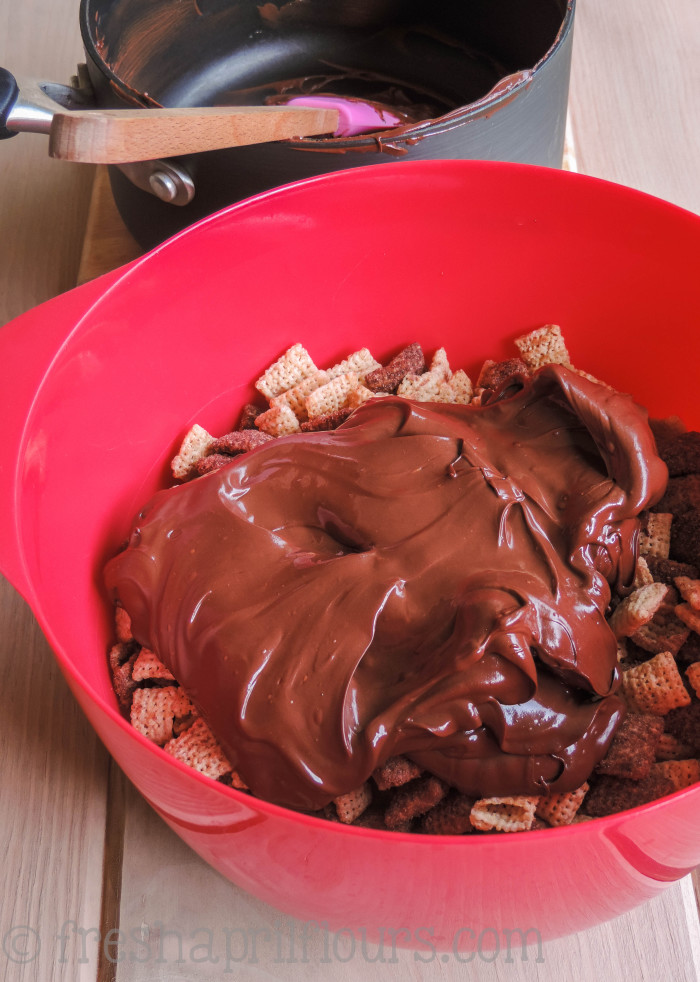 In typical puppy chow recipes, you'll coat your cereal and then get right to the powdered sugar. You're going to do things a little different this time…
Before you even melt your chocolate, you'll make a mixture of white sugar, brown sugar, and cocoa. This is going to act as the "batter" flavor. A heavy dose of chocolate sprinkles, your cocoa mixture, and then a little bit of powdered sugar to seal the deal, and you're ready to start snacking.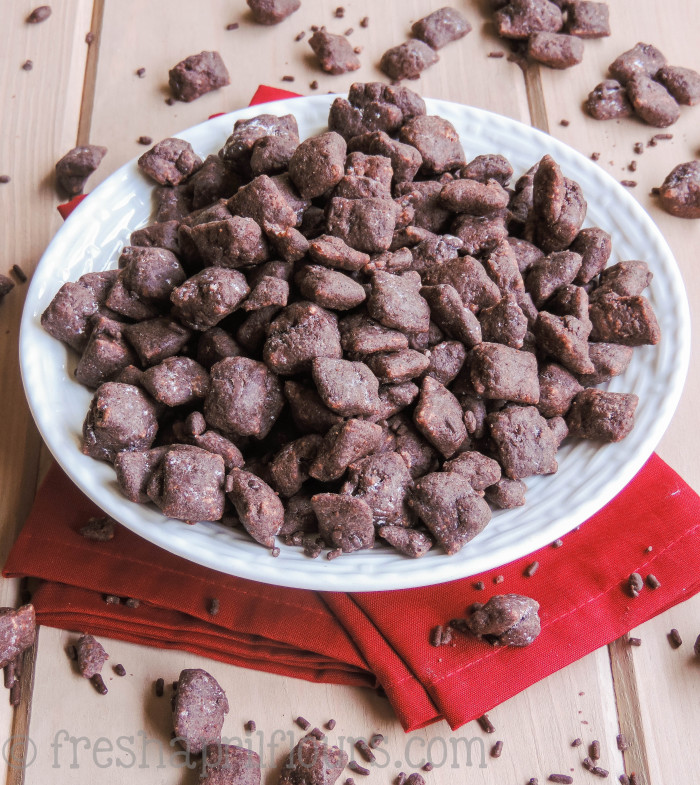 Watch out, guys. This snack is hard to stop eating.
It's crazy chocolatey with just enough sweetness to make you come back for more.
The white and brown sugar create an almost sticky exterior that really mimics the thick and gooey nature of brownie batter.
And the sprinkles just add a little fun! I fed this to Matt and one of my brothers-in-law while they were working hard on a business idea one day. I had to force them to stop eating it so that I could take it to a picnic!
I brought only about a handful home with me, because no one wants to be the person who takes the last little bit… But trust me when I tell you, you'll want to be that person.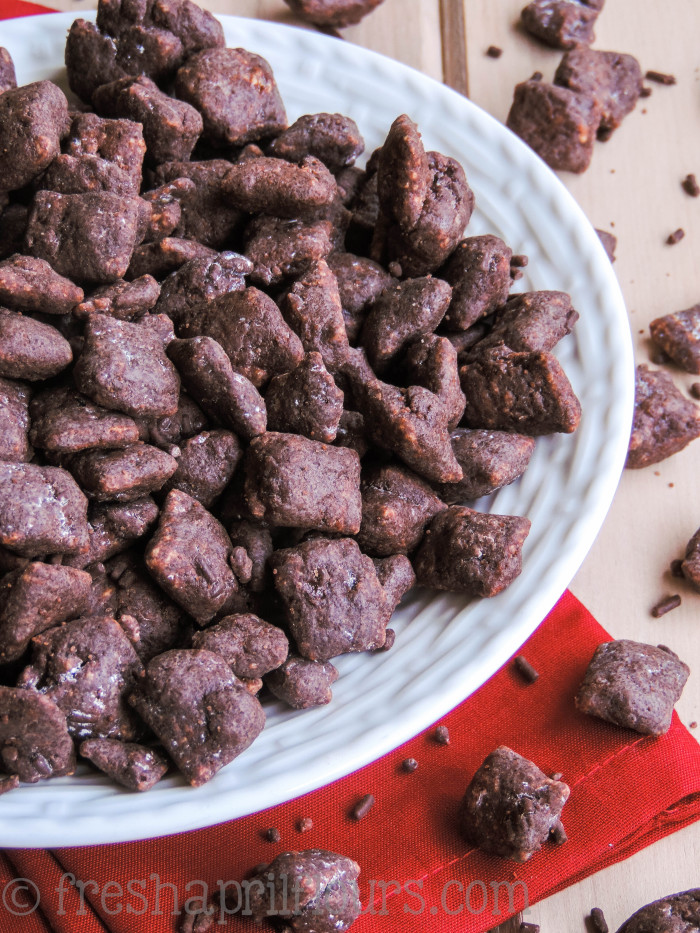 Seriously, every last sprinkle. Do it up, friends.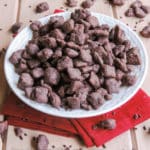 Print Recipe
Brownie Batter Puppy Chow
A super chocolatey and slightly gooey take on classic puppy chow. Plus-- there's sprinkles!
Ingredients
1

box

Chocolate Chex® cereal

10

ounces

dark or semi-sweet chocolate

chopped

1/2

cup

light brown sugar

1/3

cup

granulated sugar

1/3

cup

unsweetened cocoa powder

2/3

cup

chocolate sprinkles

1/4

cup

powdered sugar
Instructions
Pour the cereal into a large bowl and set aside.

In a small bowl, toss together brown sugar, granulated sugar, and cocoa powder. Set aside.

Place the chocolate in a small microwave safe bowl. Heat in microwave for 20 seconds on HIGH, stir, and heat again as necessary in 20-second increments until completely melted.

Immediately pour melted chocolate over cereal and stir gently to coat.

Pour cereal into a large zip-top bag or large container with a tight-fitting lid and add the sprinkles. Shake until all of the sprinkles are evenly dispersed.

Add the sugar and cocoa mixture and shake again until everything is coated. Add the powdered sugar and shake one last time until everything is coated. Spread onto baking sheet lined with foil or parchment and allow to cool. Discard excess powder. Store in an airtight container at room temperature up to one week.
QUESTION: What other puppy chow flavors would you like to see?
Read more about my PUPPY CHOW COOKBOOK!