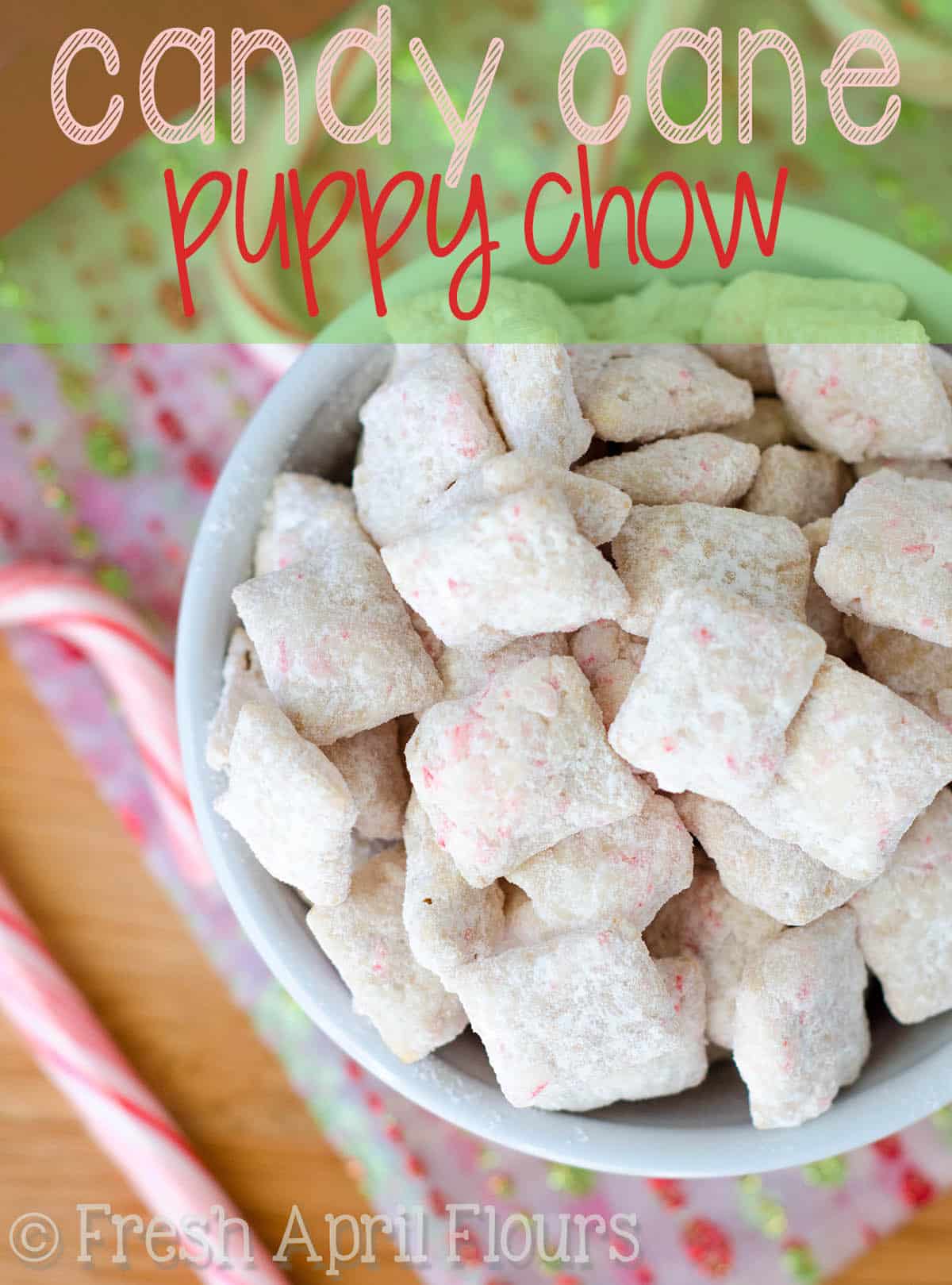 As an Amazon Associate, I earn from qualifying purchases. Read the full disclosure here.
A sweet and minty white chocolate coated rice cereal snack loaded with bits of candy canes for a satisfying crunchy snack.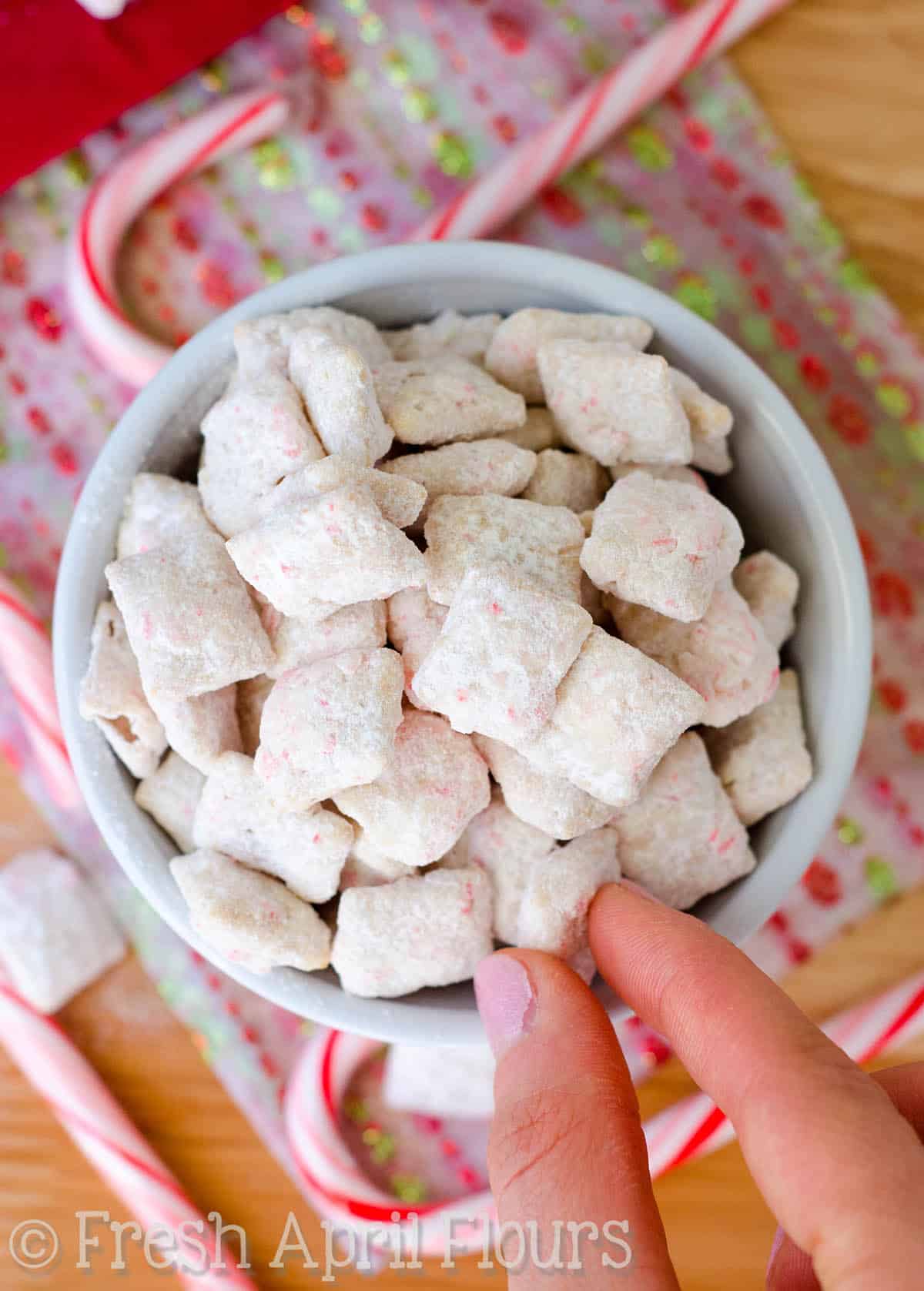 What is this?! Two Christmas-y recipes in one week?! Don't worry, I haven't gone all jingle bells on you yet.
I won't turn on Christmas music until Black Friday, but I did already order the April family's Christmas card and I mayyyy have had a Netflix Christmas movie on in the background while I edited these photos last week…
But that's neither here nor there. A blogger must be ahead of the game!
Besides… I have something super fun planned for the month of December and I need all of my recipe spots open for that. THAT, my friends, is something you should all get pretty pumped about. I can barely contain my excitement!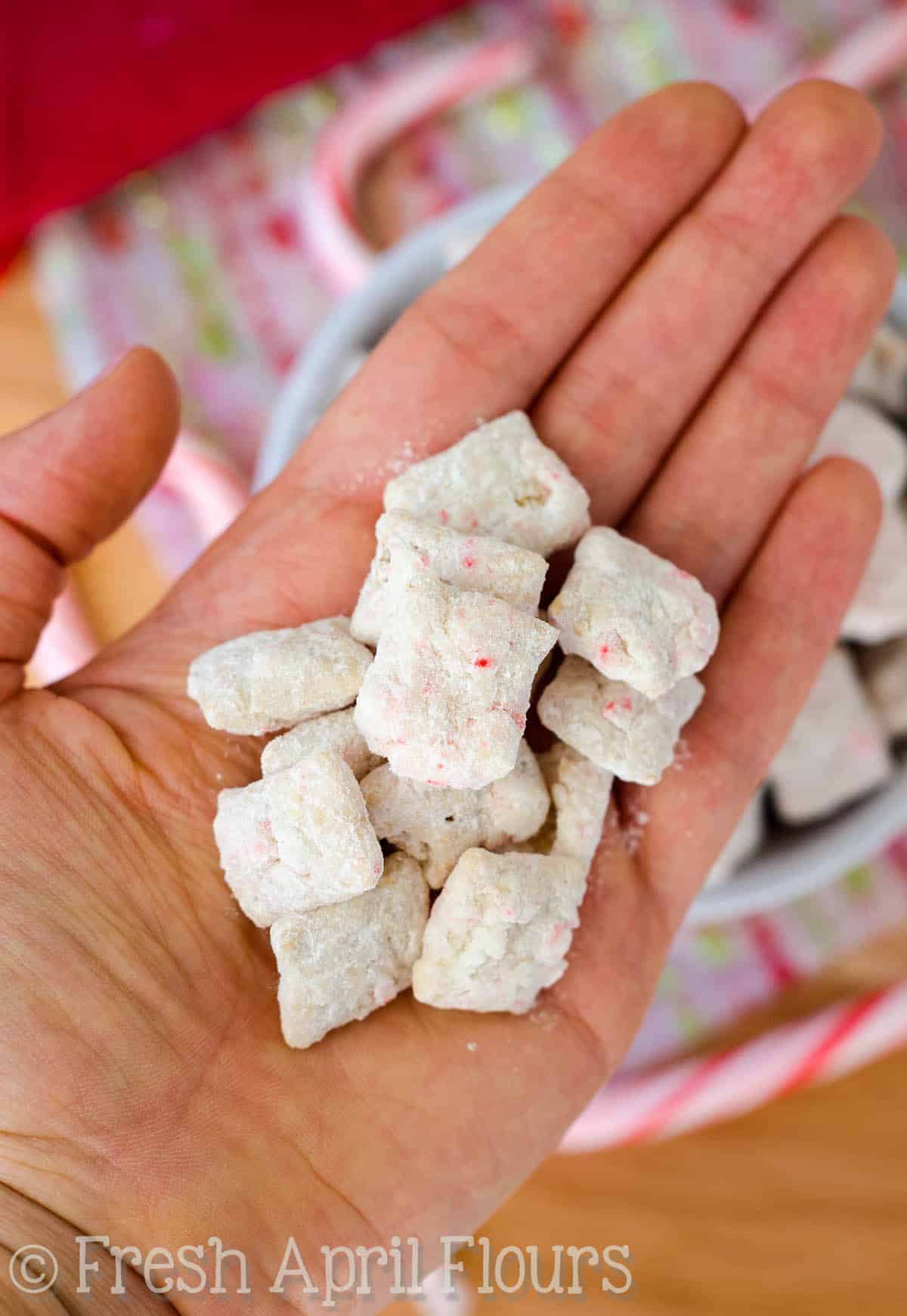 But you're here for puppy chow. Puppy chow queen, yes indeed (here's my puppy chow cookbook). If you weren't too sure about the cornbread variety, I think you will be able to easily jump on this puppy chow train (although do try the cornbread one– I promise– it's delicious!) because who doesn't love candy canes???
Just like all of my puppy chow recipes, this recipe is easy peasy SIMPLE. All you need is Chex cereal, white chocolate, powdered sugar, and of course… CANDY CANES.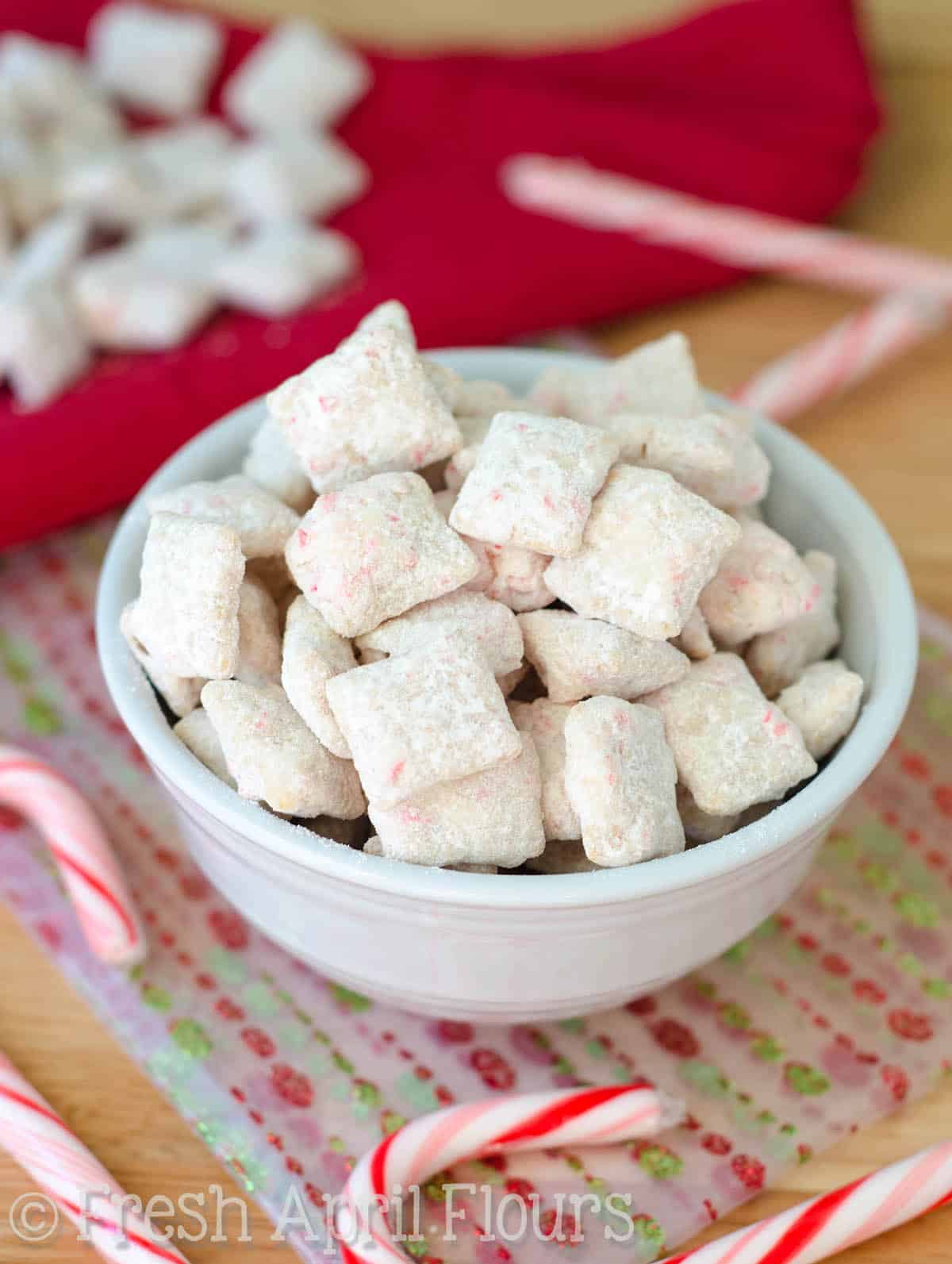 And the best part about the candy canes? You get to crush them up reallyyyy fine. Like powder fine. Candy cane powder. I'll take that all over everything, pleaseandthankyou!
It's best to throw the candy canes into a plastic zip-top bag (double bag if you don't want the pieces poking through the bag and getting all over everything <–personal experience one too many times) and roll with a rolling pin.
Or smash with a spoon.
Or… Stomp on it?
Whatever you need to do to get the job done, crush those bad boys up until they're a powder. Send the day's frustrations into your snack! Think powdered sugar but a little chunkier. I think you'll be able to tell when it's properly crushed. This is not rocket science, promise.
I wasn't sure how this puppy chow was going to go (don't you love when I make weird things like Peeps blondies and quinoa patties and hope that you'll like them?), because I wasn't sure that mint would combine that well with cereal, but OHHHH MAMA, this stuff is goooooooood.
I found it incredibly hard not to nibble on this one, and funny enough, as much as a sweets lover Matt is, he was totally drawn to the cornbread variety more.
Hmm. Go figure.
But this meant I didn't have to share! Except that I did, of course. I always share!
My taste testers loved both varieties of puppy chow, and we all agreed… It was a great way to kick off the holiday season, even if the taste testing was performed in October. Long before Halloween. My taste testers have to be just as ahead as I am. I've yet to hear a complaint!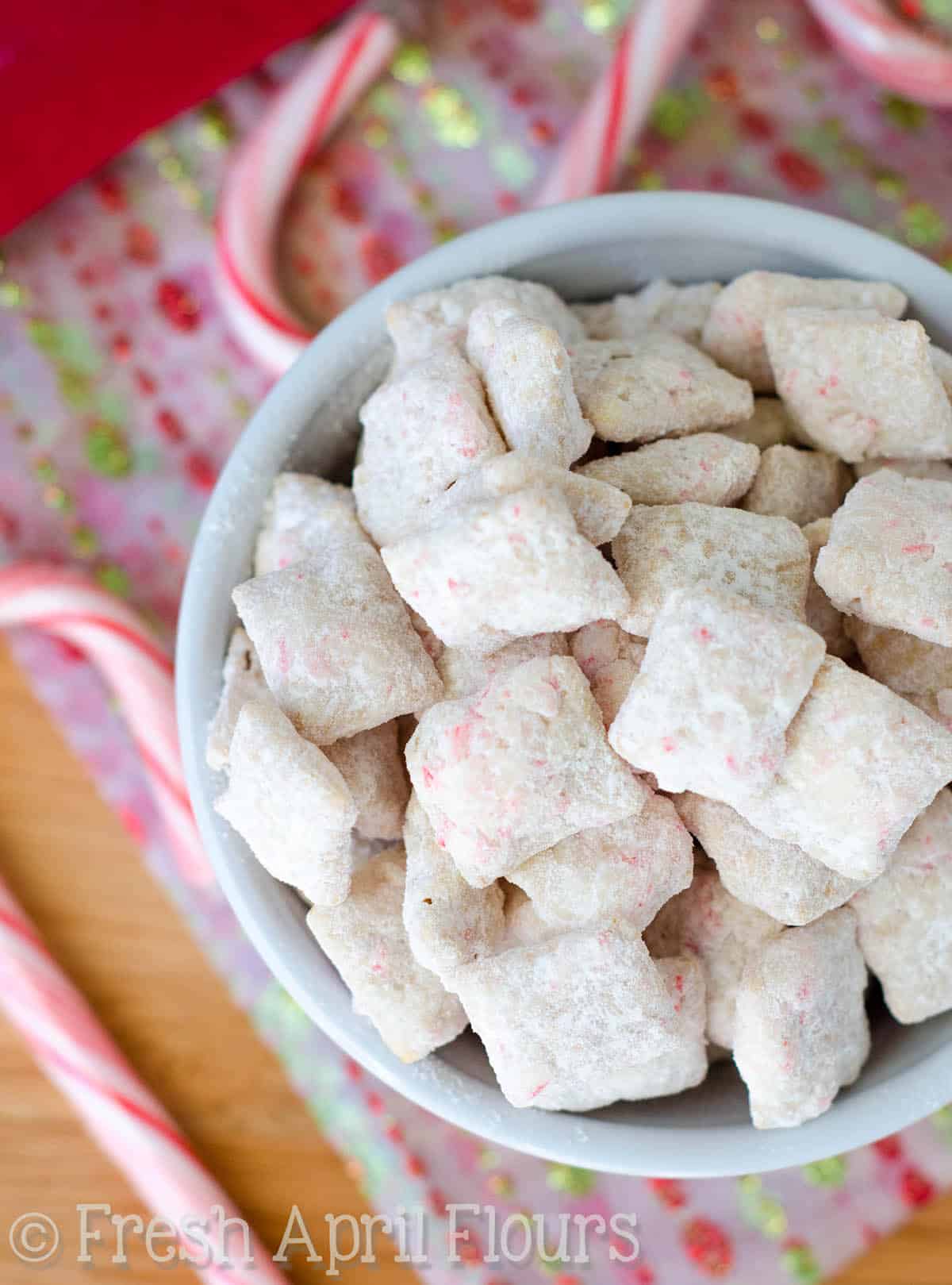 If this little treat doesn't get you in the Christmas/winter spirit, I don't know what will. Except maybe some peppermint bark, chocolate peppermint blossoms, or even better– peppermint mocha coffee to start the day off on the right foot!!
Ok, woah. I need to step back. Wasn't I just preaching on Monday about how we need to take time for Thanksgiving? I still believe that… But I will do so with a peppermint dagger in the making.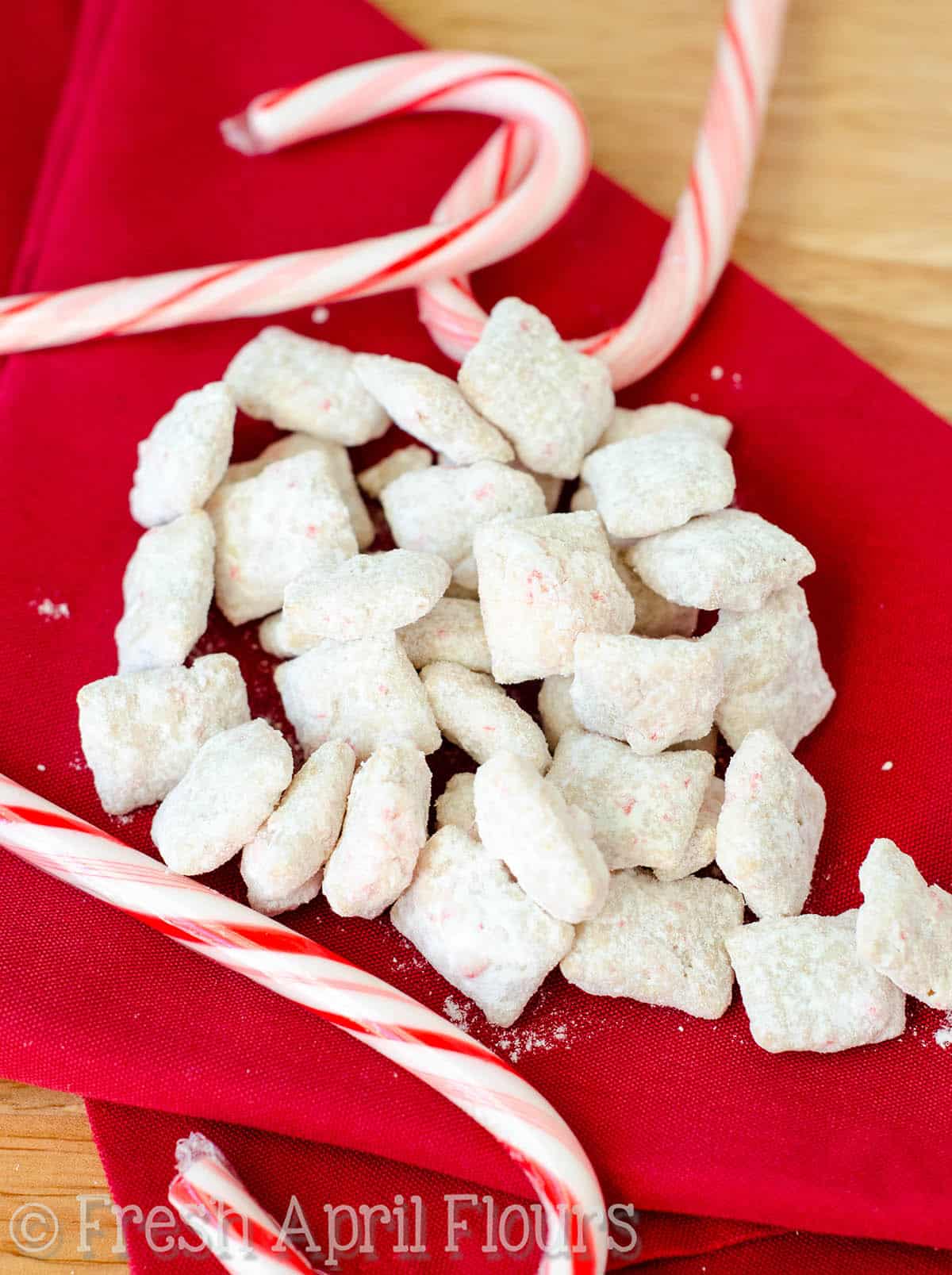 Yay for holiday cheer!
Ready for more recipes with candy canes in them? Step right up to these recipes: peppermint bark, peppermint brownies, no bake candy cane crunch pie, and chocolate peppermint blossoms.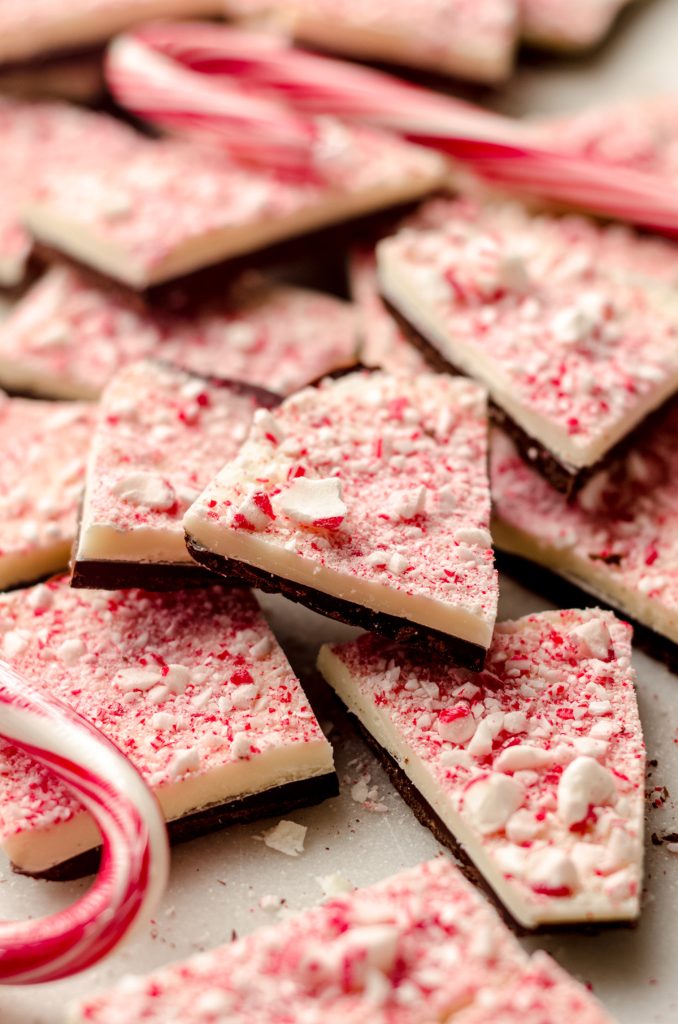 Candy Cane Puppy Chow
A sweet and minty white chocolate coated rice cereal snack loaded with bits of candy canes for a satisfying crunchy snack.
Ingredients
1

cup

crushed candy canes

approximately 16 candy canes

4 and 1/2

cups

Rice Chex® cereal

8

ounces

white chocolate

coarsely chopped

1

cup

powdered sugar
Instructions
Pour the cereal into a large bowl and set aside.

In a medium saucepan over low heat, melt the white chocolate, stirring constantly until completely melted. Remove from heat. You may also melt the white chocolate in a microwave safe bowl in the microwave on HIGH in 20 second increments until completely melted and smooth.

Pour melted white chocolate over cereal and stir gently to coat.

Pour in the crushed candy canes and stir again until evenly dispersed.

Pour cereal into a large zip-top bag or large container with tight fitting lid. Add the powdered sugar. Shake until everything is coated. Spread onto baking sheet lined with foil or parchment and allow to cool. Discard excess powder. Store in an airtight container at room temperature up to two weeks.
Nutrition Disclosure
All nutritional values are approximate and provided to the reader as a courtesy. Changing ingredients and/or quantities will alter the estimated nutritional calculations.