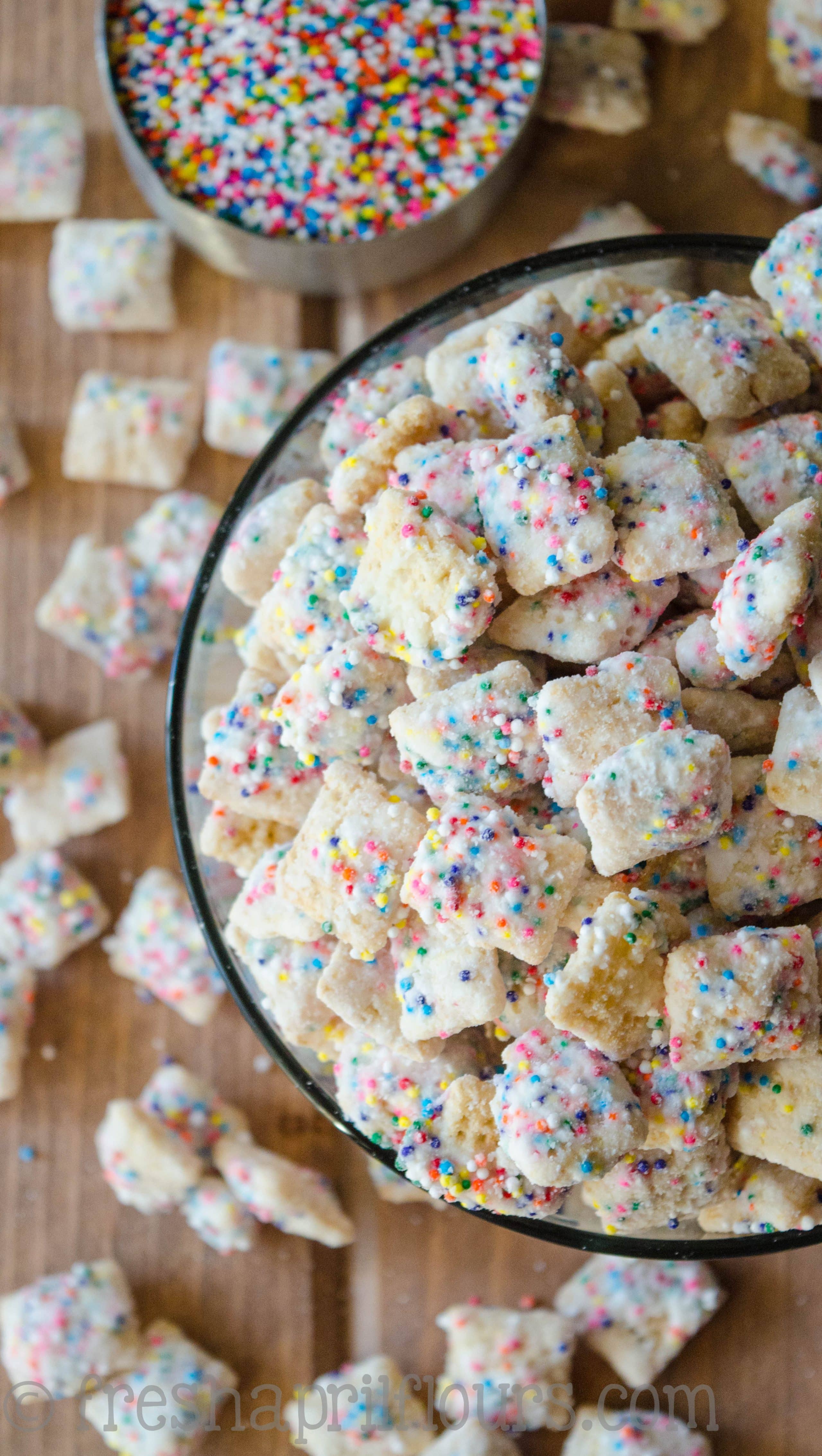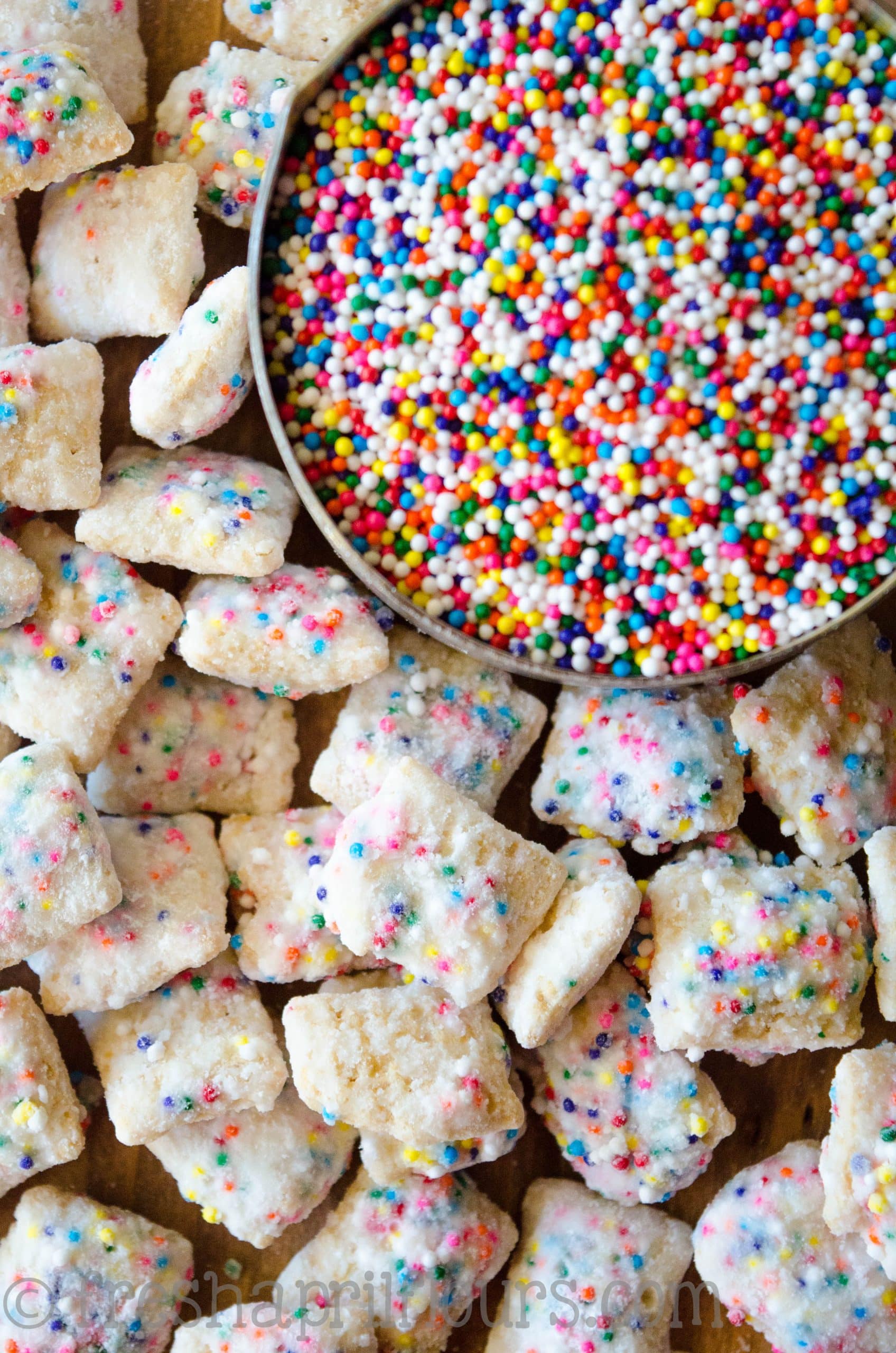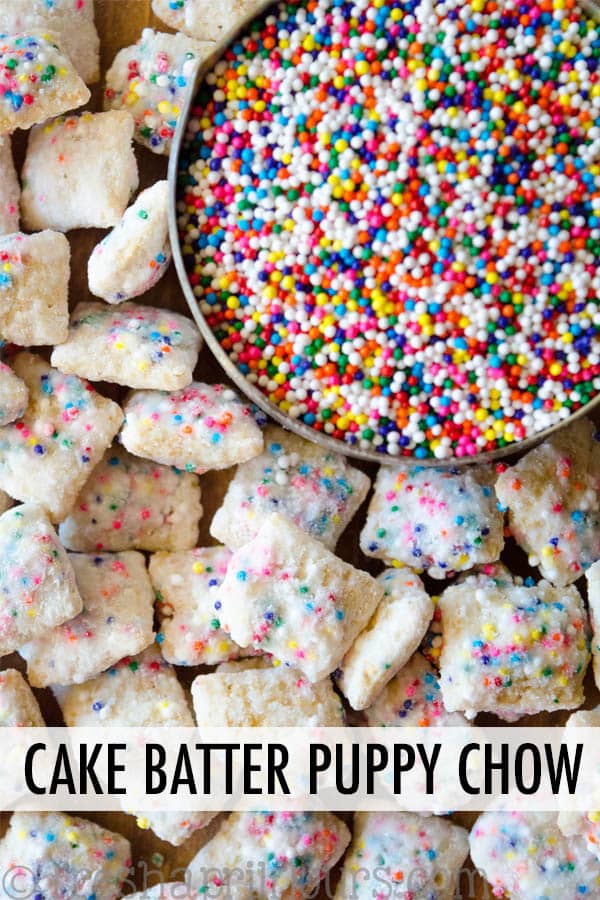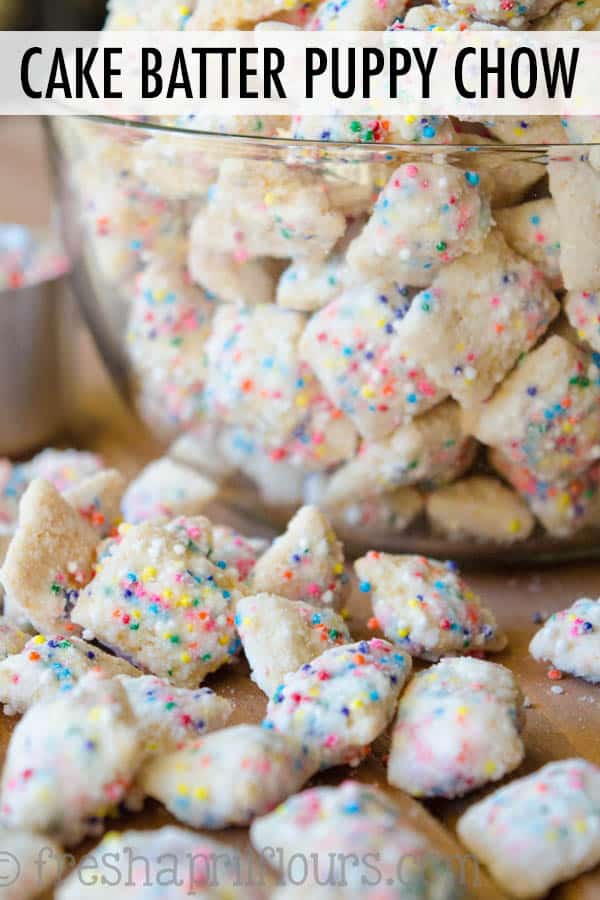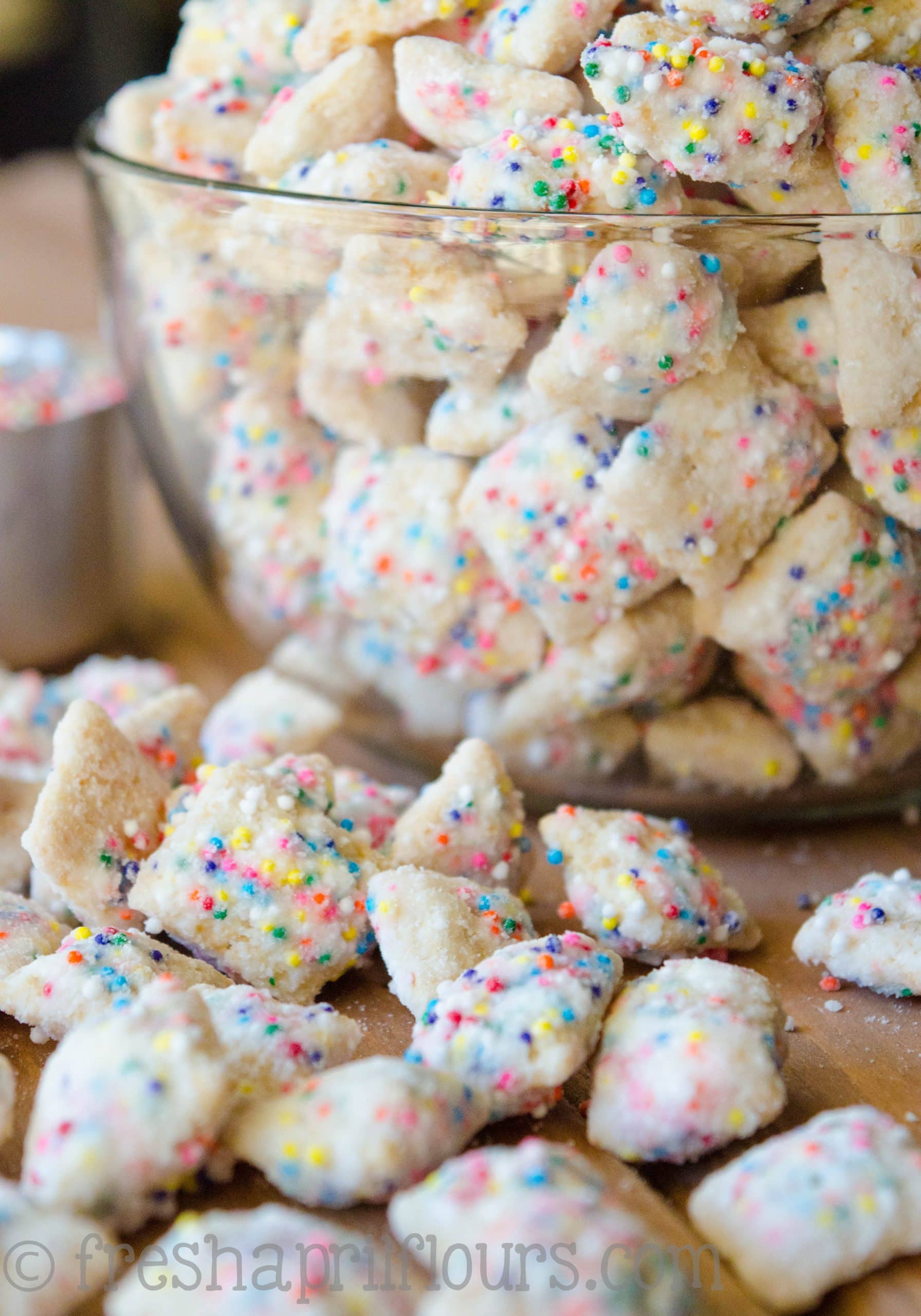 As an Amazon Associate, I earn from qualifying purchases. Read the full disclosure here.
Call it funfetti puppy chow, call it birthday cake puppy chow– this is the crunchy, cake-battery take on the classic Puppy Chow you want for your next celebration!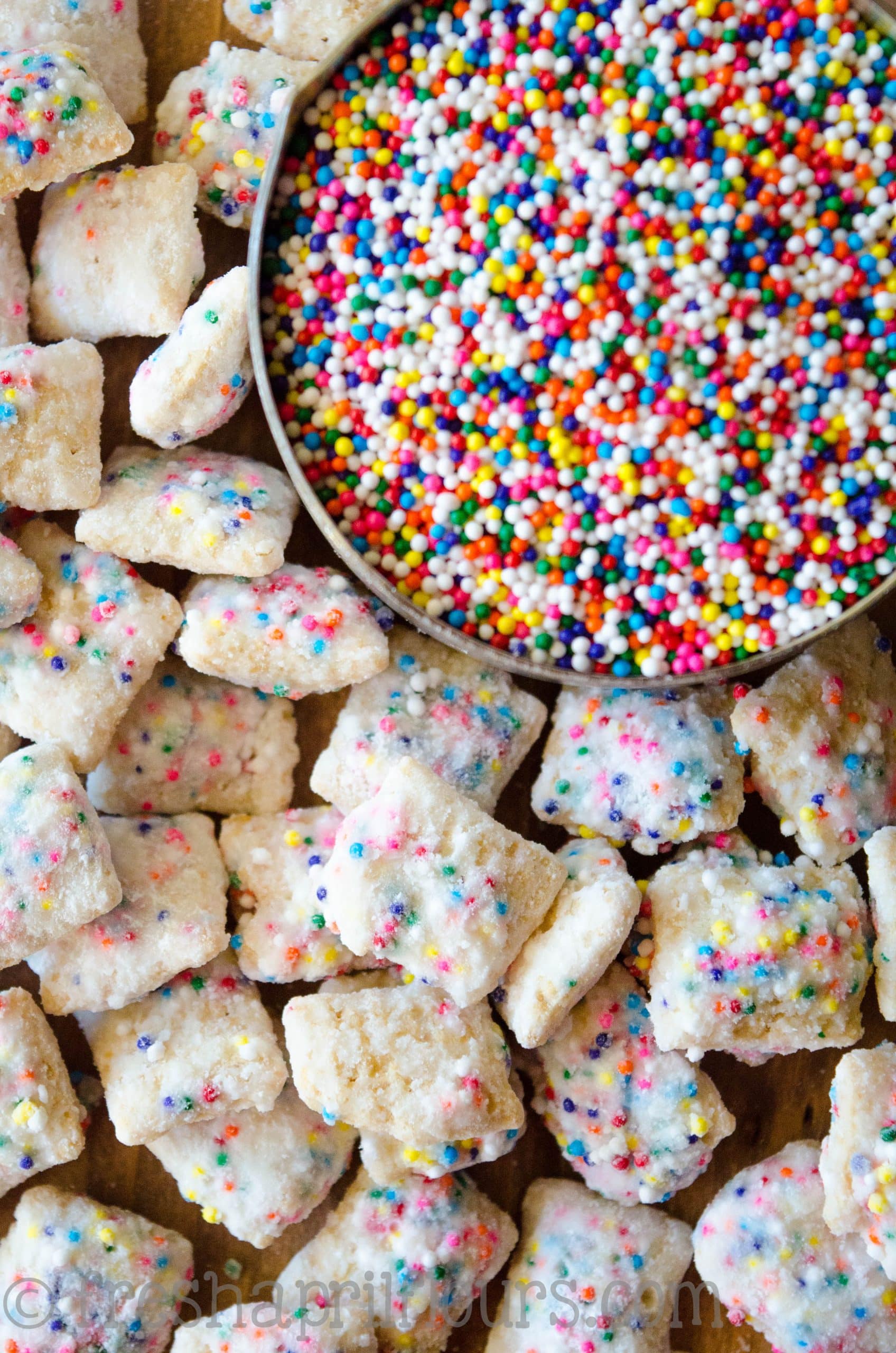 If you don't love sprinkles, get out now. Just kidding. But seriously, if you don't love sprinkles… Check your pulse! Sprinkles just make life better, no matter what form they're in.
Being a baker, I have an entire storage container for my jars and jars of different types of sprinkles, and Matt and I have been known to pour them into the palms of our hands and just have at it.
Simply scrumptious.
Not only that, but I also own a line of premium sprinkle blends called Fresh April Sprinkles. Take a look and see what we have– I'm sure you can find some sprinkles that tickle your baking fancy!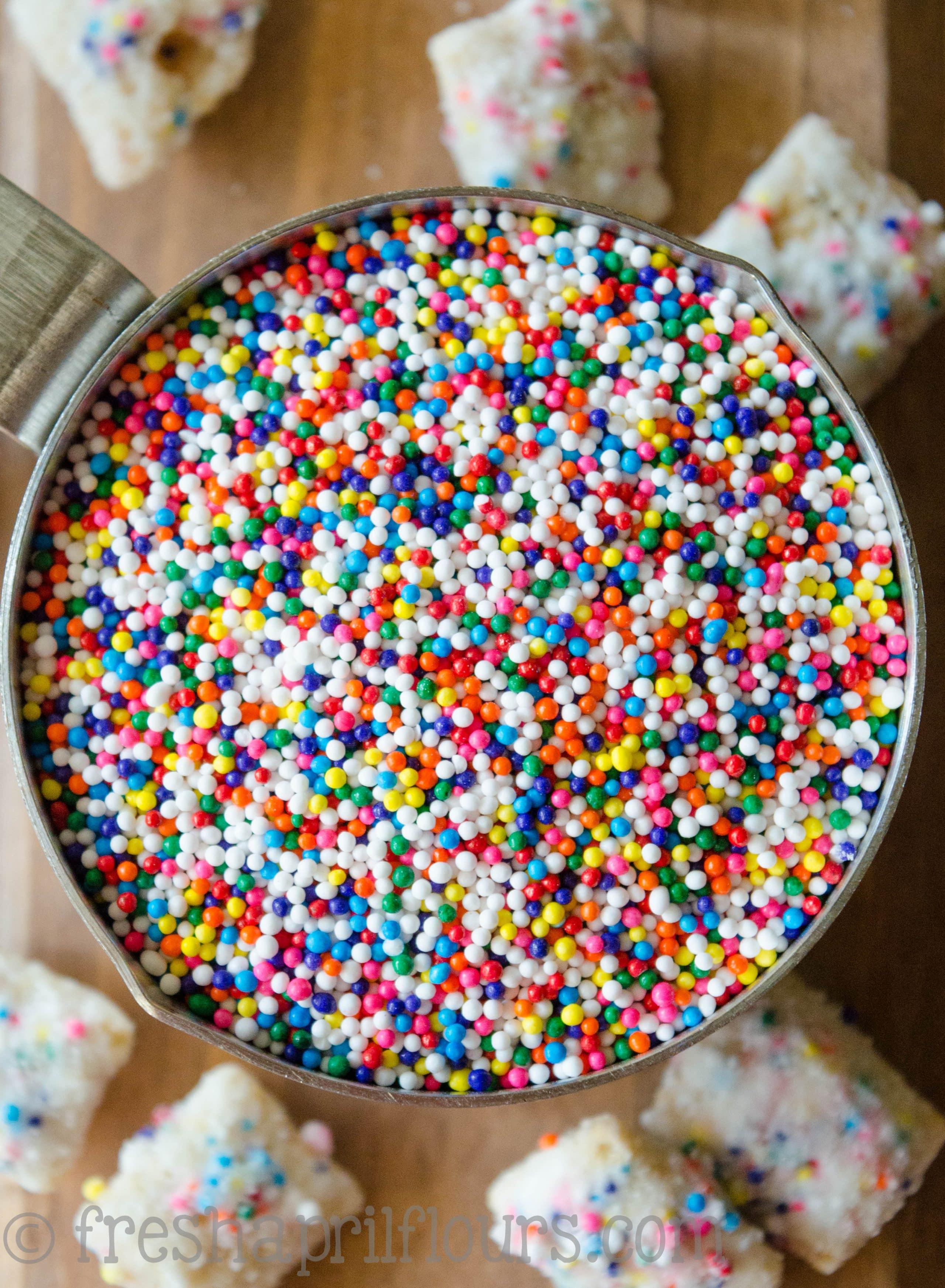 So you're here because you want to know more about this cake battery, sprinkley, sugary concoction. Read on, my friend. You are moments away from amazingness.
I will warn you now about two things: one– this is a VERY sweet treat. And two– you're going to have to have some self control here. I found it very hard to stop eating.
I took it into work and the consensus was the same: hooked. Also, I would be lying if I said I didn't have a few pieces at 4:45am on my way to spin class (whoops).
This recipe is so easy that you're going to wonder why you've never made it before. And then once you make it, you might love me or hate me. I'll take both as a compliment.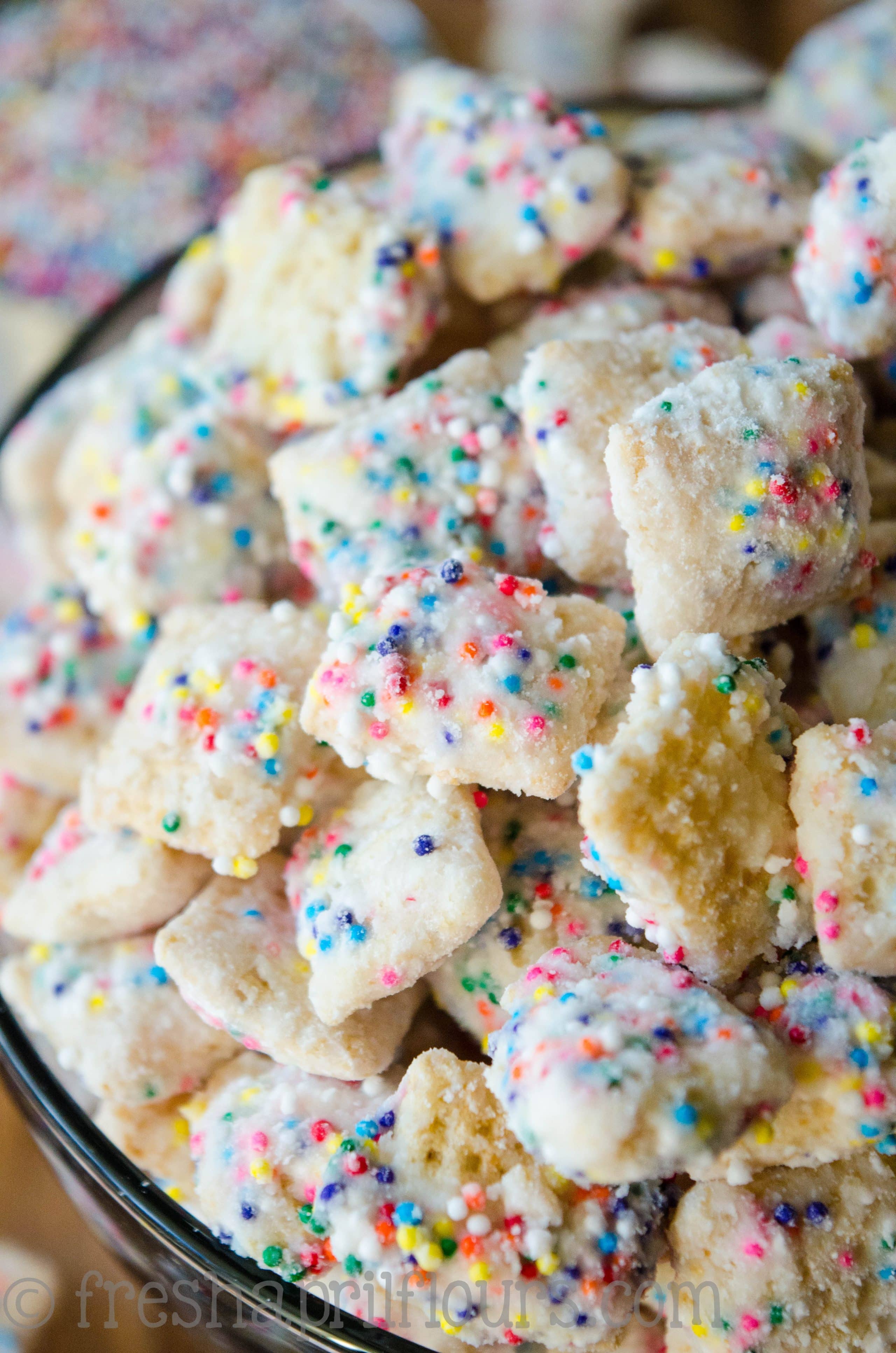 If you're not familiar with puppy chow, let's catch those of you who have this unfortunate circumstance up to speed.
There are a couple approaches you can take here… One way is with almond bark, which is the candy melts used to make dipped treats, pictured here: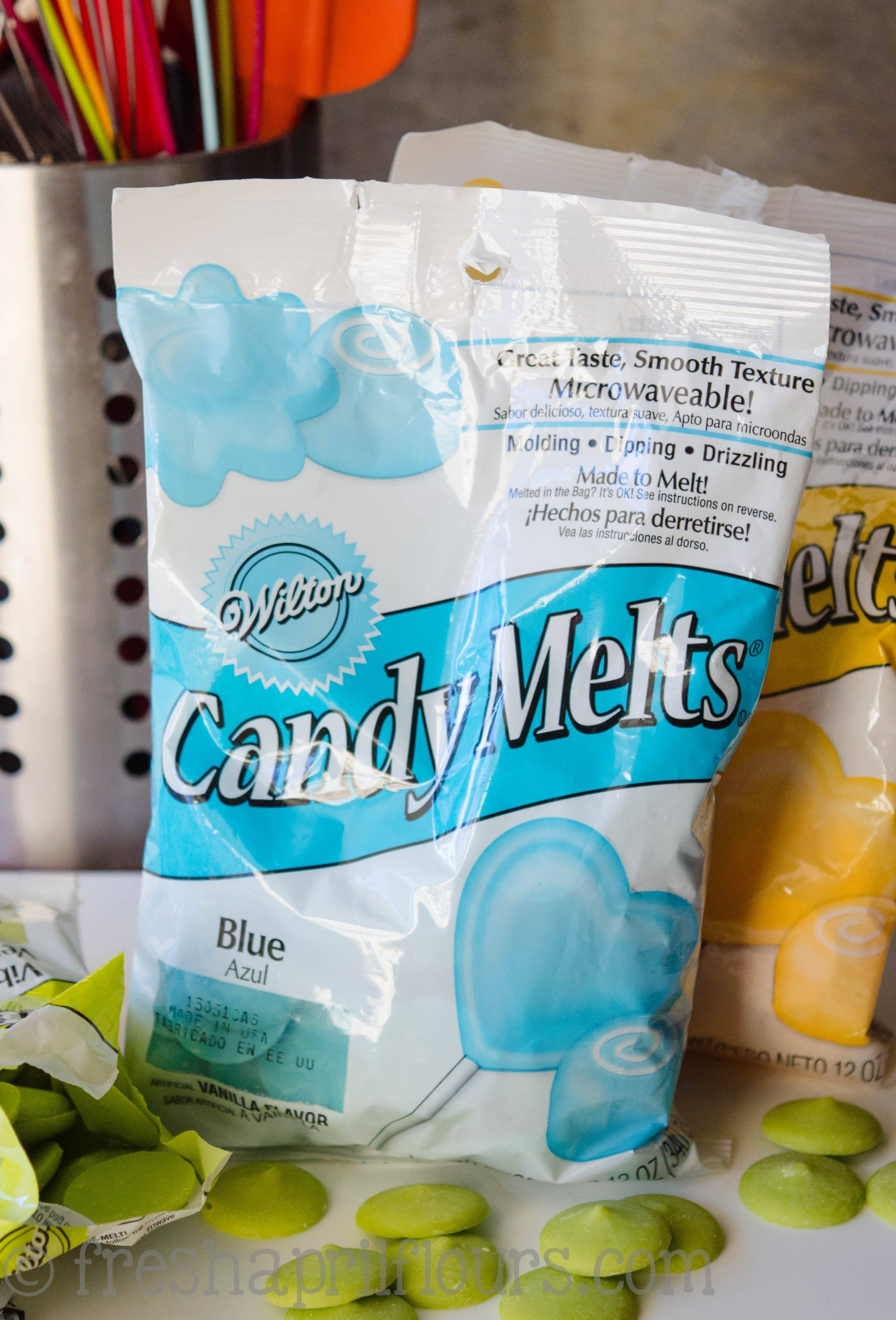 The other way is white chocolate (either melting wafers or melting bar).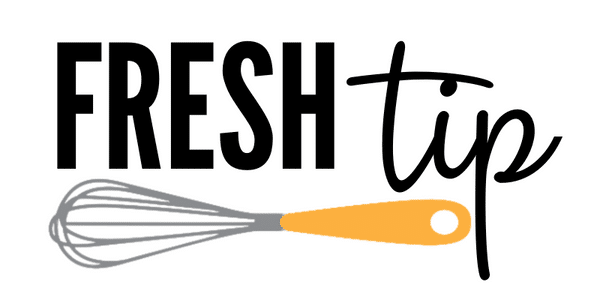 Whatever you do, DO NOT USE WHITE CHOCOLATE CHIPS.
Chips have stabilizers in them that help them keep their shape. They do not melt down nicely to be poured over cereal like wafers or a bar do.
No matter what melting material you use, you're going to add almond extract. That might sound funny, but hear me out: the introduction of almond really puts the "batter" flavor into play.
If you don't have almond extract or you can't find candy melts, fear not: white chocolate alone will be more than sufficient to make this treat taste like cake. Promise! If you're going the extract route, make sure you read my notes at the bottom of the recipe.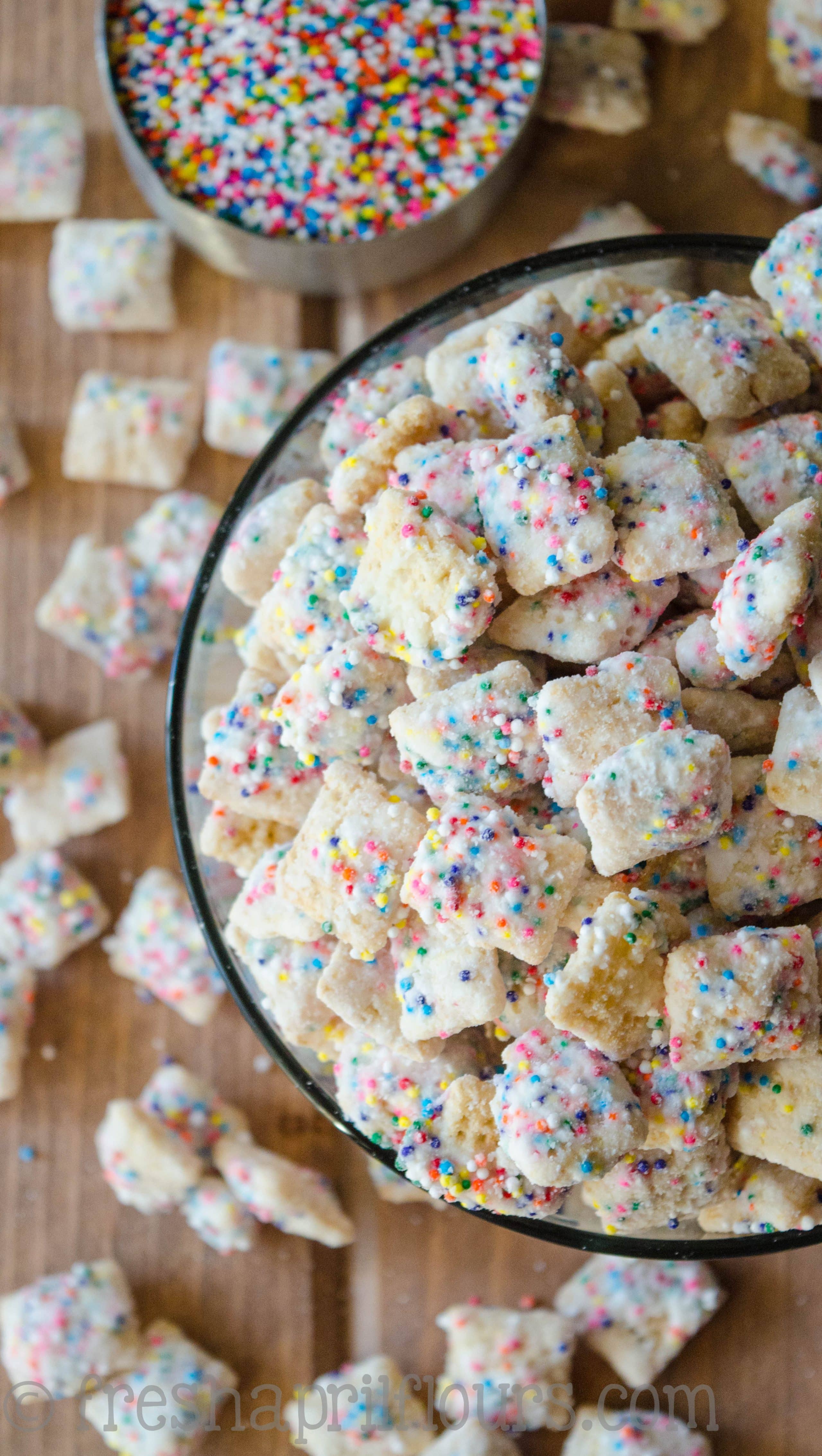 A little butter, some candy coating, a crap ton of sprinkles, powdered sugar, and 15 minutes. That's all you need before this crunchy cake batter is in your mouth.
Oh, and a zip top bag or container with a lid! Otherwise, things could get really messy!
I used regular rainbow sprinkles in addition to non-pareil rainbow sprinkles. The combination of the two was perfect.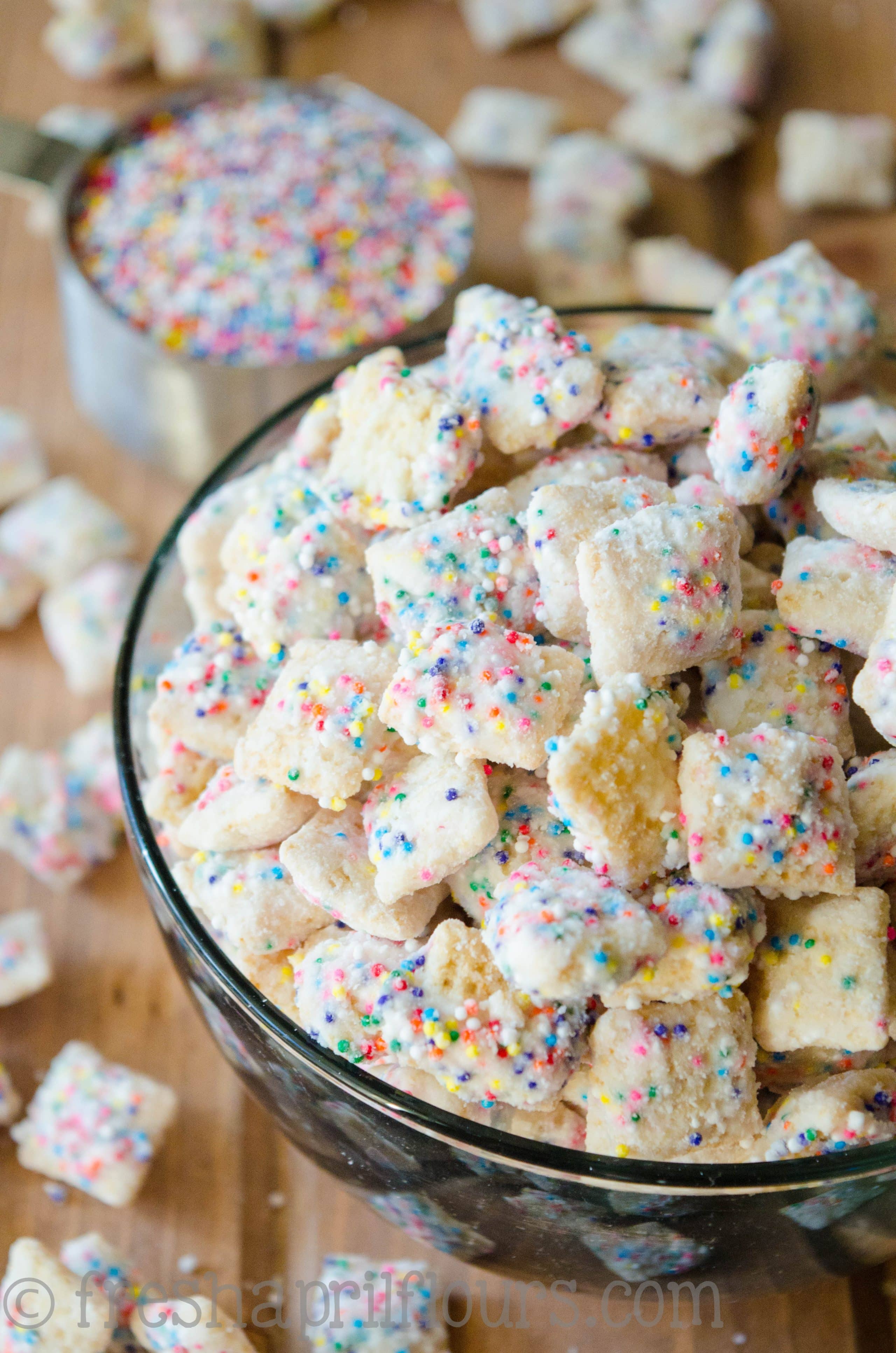 To make this puppy chow, start by melting your almond bark or white chocolate with some butter. The butter is imperative, as it helps bring out the cake batter notes in the flavor of the snack.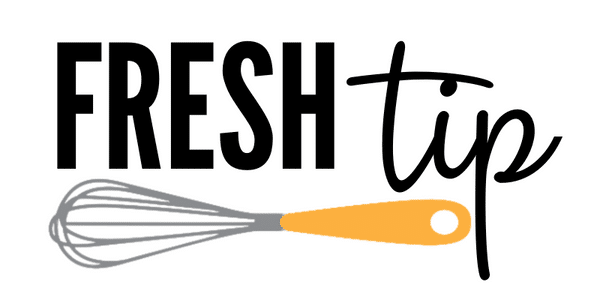 If you're using extract, you'll want to add it before you start melting everything. Adding it after your candy and butter are melted will cause your candy to seize up, and it will be ruined.
There's no coming back from seizing! So if you forget, don't try to add it later.
Melt your candy and butter until everything is just melted. Heating it much longer after that can cause scorching or burning, and those are also impossible to rebound from.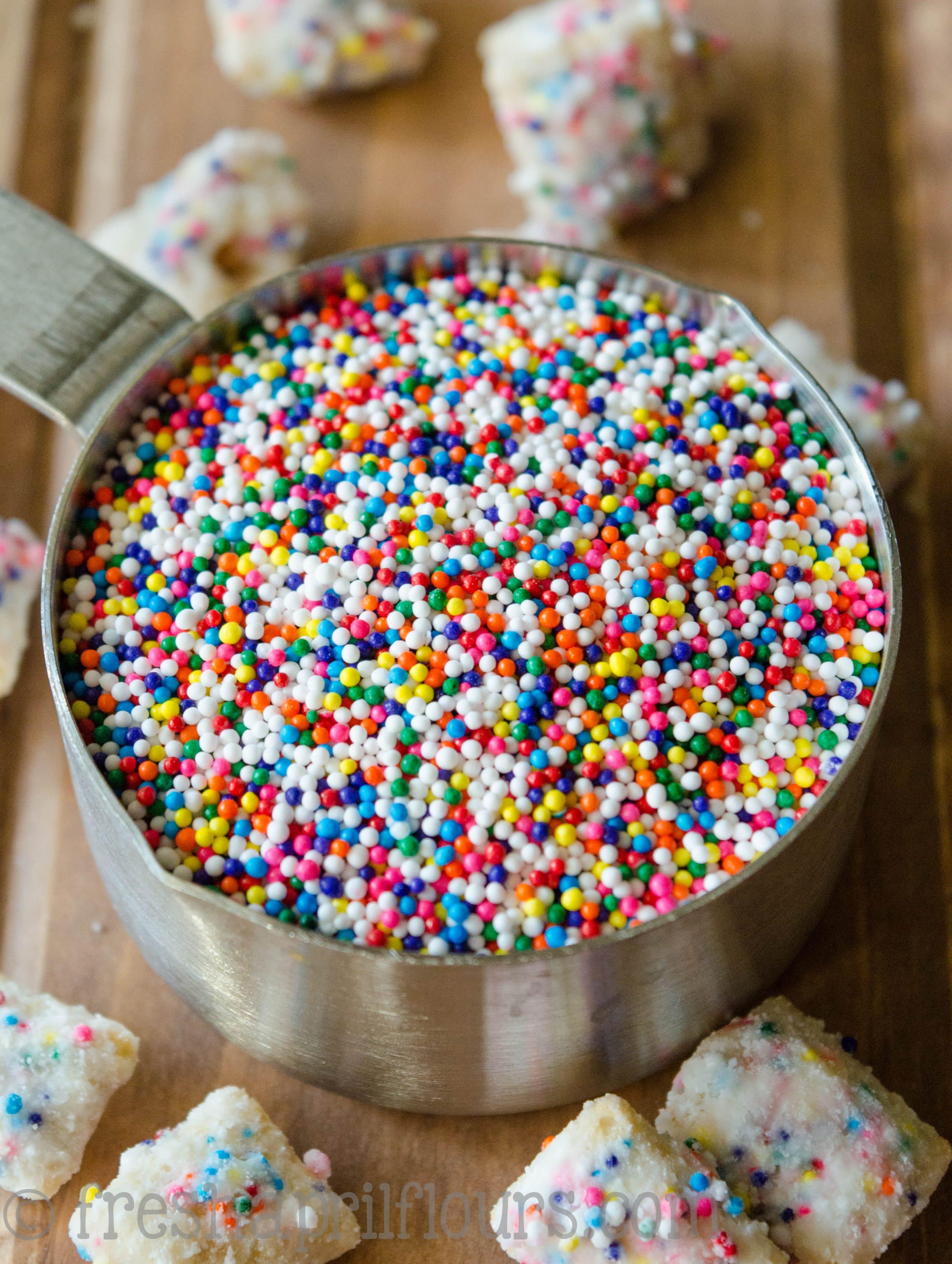 Pour your melted goodness over your Chex, mix it up gently, then shake in your sprinkles and powdered sugar. It really is that simple.
Oh geez, it's just so delicious. Crunchy cereal with all the goodness of sprinkles and cake batter without the mess of icing and silverware. Perfect!
And also, as I was perusing the tons of recipes featuring this flavor combo, I found out that puppy chow has more flavors than I ever thought possible.
You better believe I will be visiting some of those in the future.
Seriously, this is bad!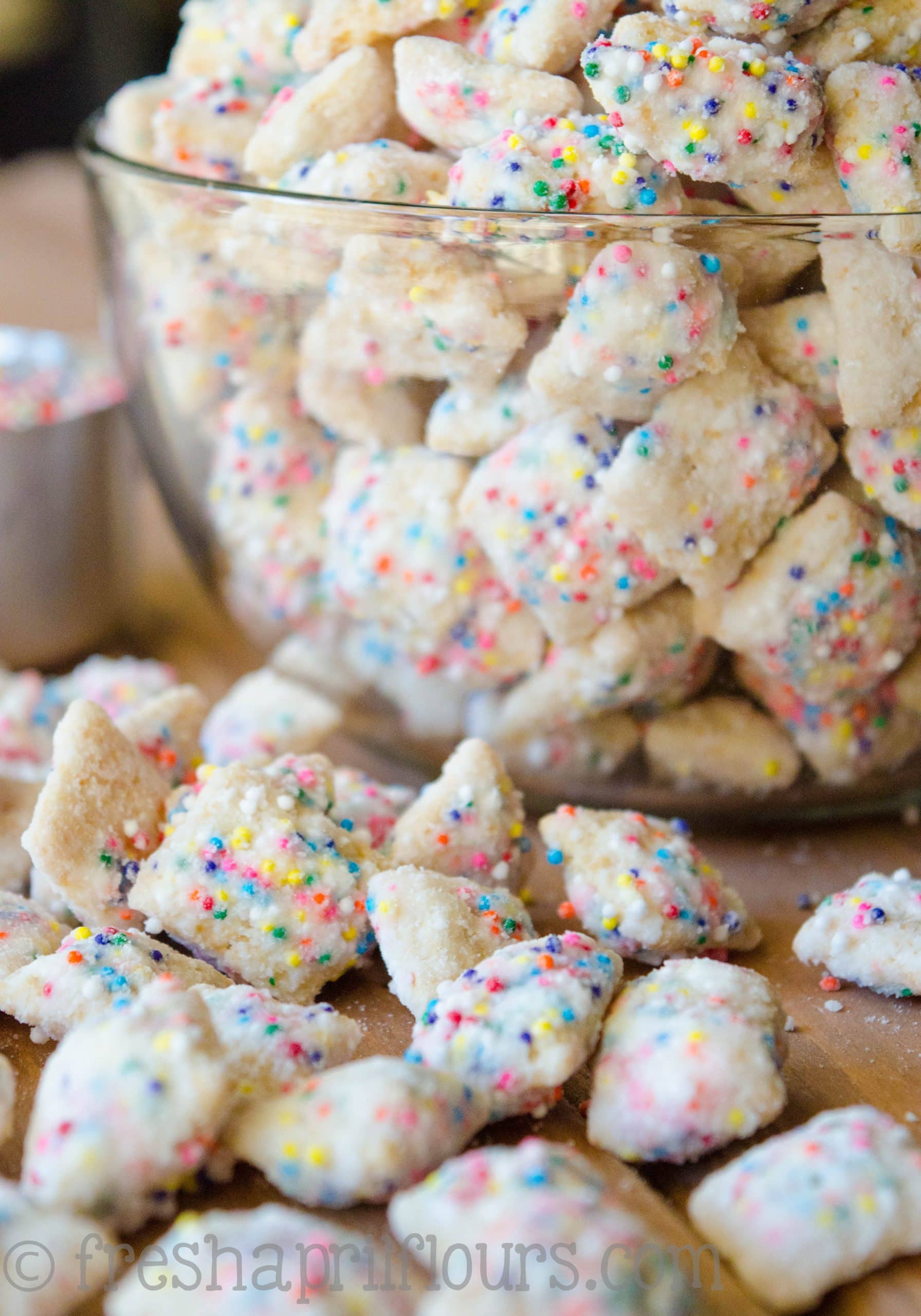 So I have one last question for you… Are you melting your candy yet?
Other cake batter/funfetti recipes right this way: funfetti cheesecake, funfetti sheet cake, funfetti brownies, funfetti sugar cookie cake, funfetti white chocolate chip oatmeal cookies, and baked funfetti donuts.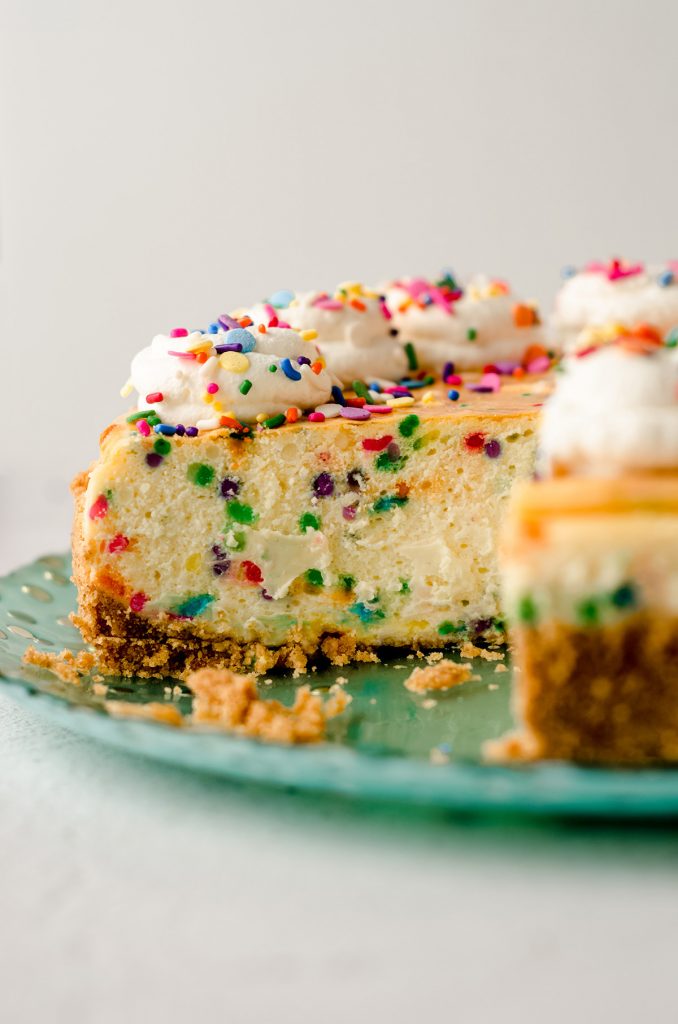 Cake Batter Puppy Chow
Call it funfetti puppy chow, call it birthday cake puppy chow– this is the crunchy, cake-battery take on the classic Puppy Chow you want for your next celebration!
Ingredients
4 and 1/2

cups

(135g) Rice Chex® cereal

4

Tablespoons

(57g) unsalted butter

cut into 8 slices

8

ounces

(227g) white chocolate

1

teaspoon

almond extract*

1

teaspoon

vanilla extract*

⅔

cup (134g)

sprinkles

1

cup

(120g) powdered sugar
Instructions
Pour the cereal into a large bowl and set aside.

In a medium saucepan over low heat, melt the butter, white chocolate, almond extract and vanilla extract, stirring constantly until completely melted. Remove from heat.

Immediately pour melted mixture over cereal and stir gently to coat.

Pour cereal into a large zip-top bag or large container with a tight-fitting lid and add the sprinkles. Shake until all of the sprinkles are dispersed evenly.

Add the powdered sugar and shake again until everything is coated. Spread onto baking sheet lined with foil or parchment and allow to cool. Discard excess powder. Store in an airtight container at room temperature up to one week.
Notes
*It is important to add extract at the beginning of the melting process. Adding it later will cause the mixture to seize up, and you will be unable to use it.
I cannot stress enough that you should not use white chocolate chips for this recipe. Chocolate chips contain stabilizers that help them keep their shape, so melting them smoothly can be tricky. Because you're introducing moisture (the extract and the butter) to your melting material, it is already going to be a little less smooth than if you left those things out to begin with.
Nutrition Disclosure
All nutritional values are approximate and provided to the reader as a courtesy. Changing ingredients and/or quantities will alter the estimated nutritional calculations.