Funfetti White Chocolate Chip Oatmeal Cookies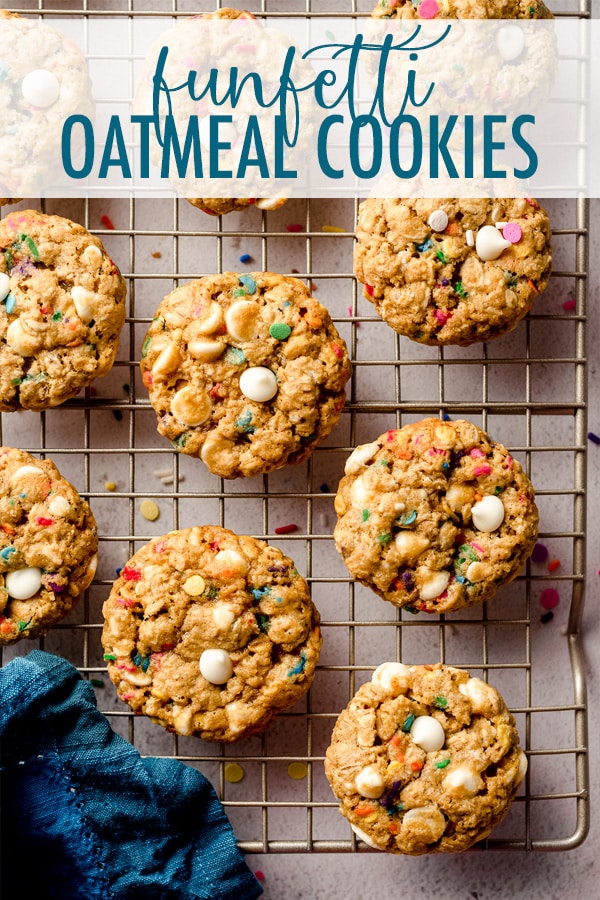 As an Amazon Associate, I earn from qualifying purchases. Read the full disclosure here.
Soft and chewy oatmeal cookies filled with white chocolate chips and plenty of sprinkles for celebrating any occasion!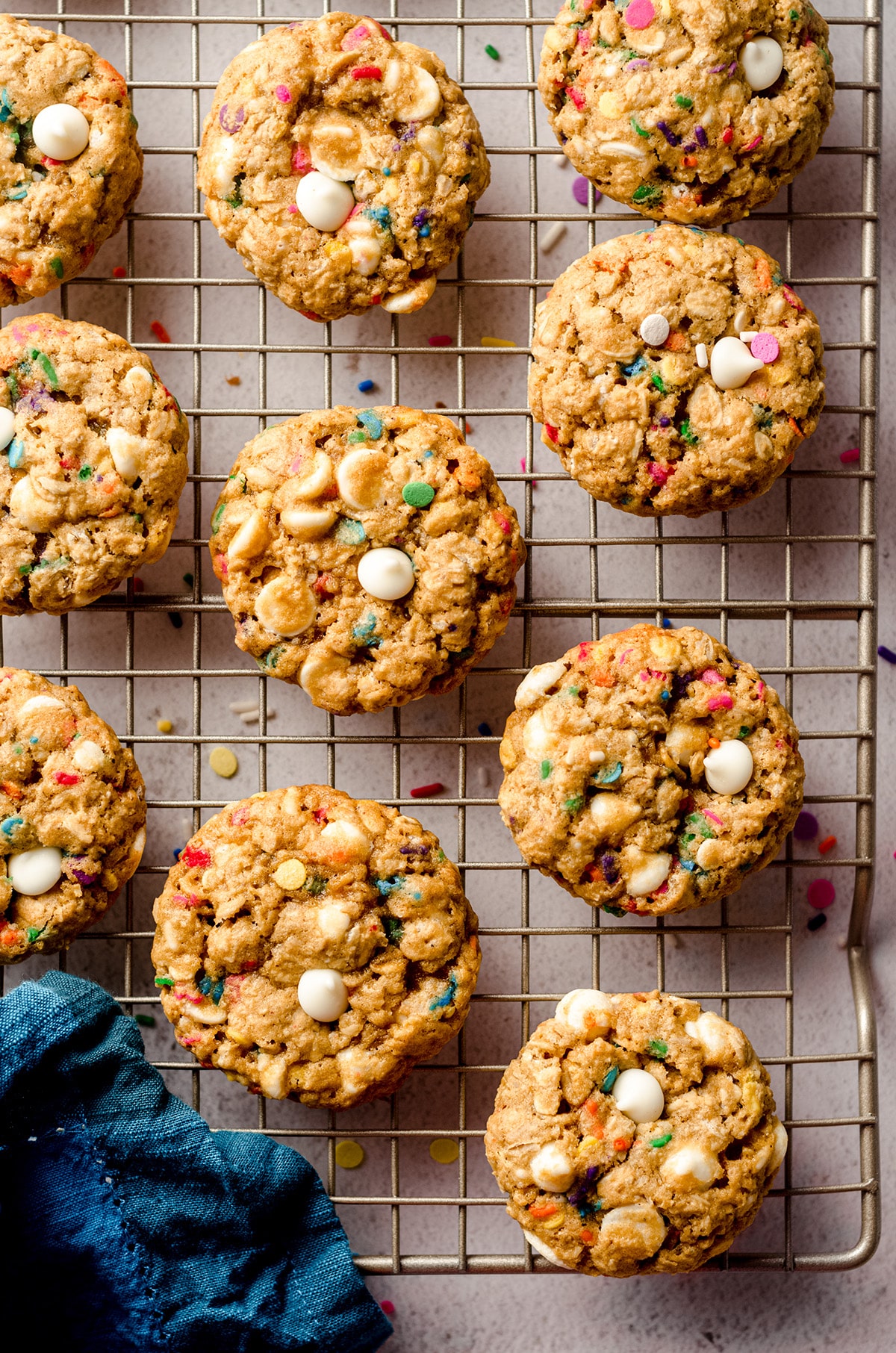 Hang on to your sprinkle-loving hats, my friends! These cookies are epic, a crowd fav, a personal fav, just asking for a party, and all kinds of updated since I first published them in 2016.
I originally brought these white chocolate confetti cookies to the blog when I had my 2nd blogiversary.
Back then, I was so excited that my hobby had turned into a side-hustle, and now, here we are 5 MORE years later celebrating the blog's 7th birthday, and so many (almost all of the) things have changed.
When I made these cookies for the first time, I was pregnant with our first son. He's now about to be 5, and his little brother is turning 3 soon.
As a nod to that first son, I let him help me with the photos for these funfetti white chocolate chip cookies. He is so fun these days!
If you've been here for awhile, you know that my love for all things oatmeal cookies runs deep. I had been brainstorming the idea of putting sprinkles in oatmeal cookies for awhile before developing this recipe, and after thinking about it way too hard, I decided to just go for it.
And it worked really well.
So well, in fact, that Matt, the one who proclaimed his undying love/#1 fandom for my compost cookies said that these cookies may had become his new favorite.
WHAT?! No way. I could hardly believe him.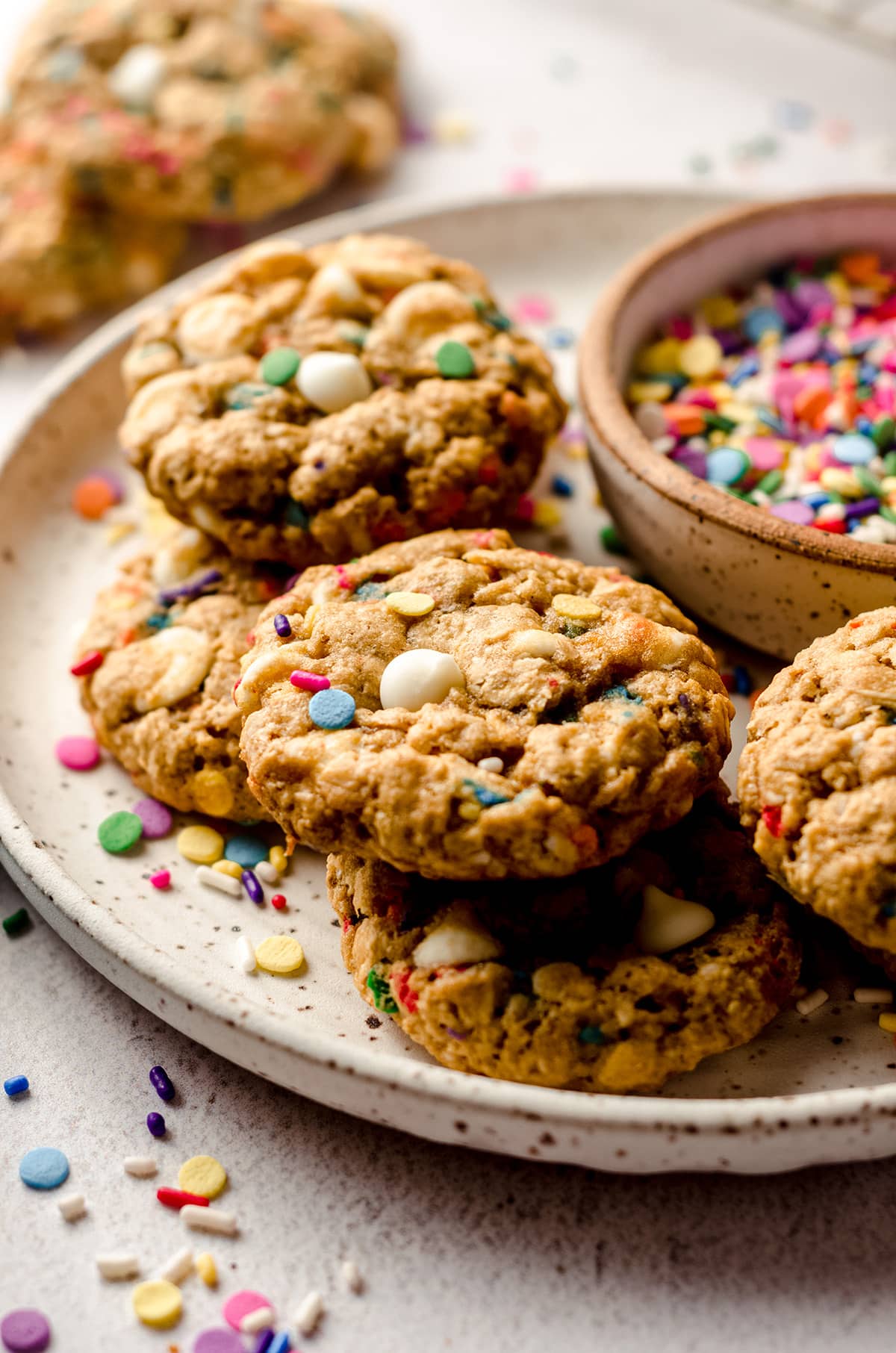 He has since, of course, proclaimed many other cookies to be one of his favorites, but every time I make these easy funfetti cookies, he is reminded that they are most definitely the ultimate celebratory oatmeal cookie.
If you're interested in learning about all the "musts" of my original chewy oatmeal cookie recipe, head on over to that post to read all about it.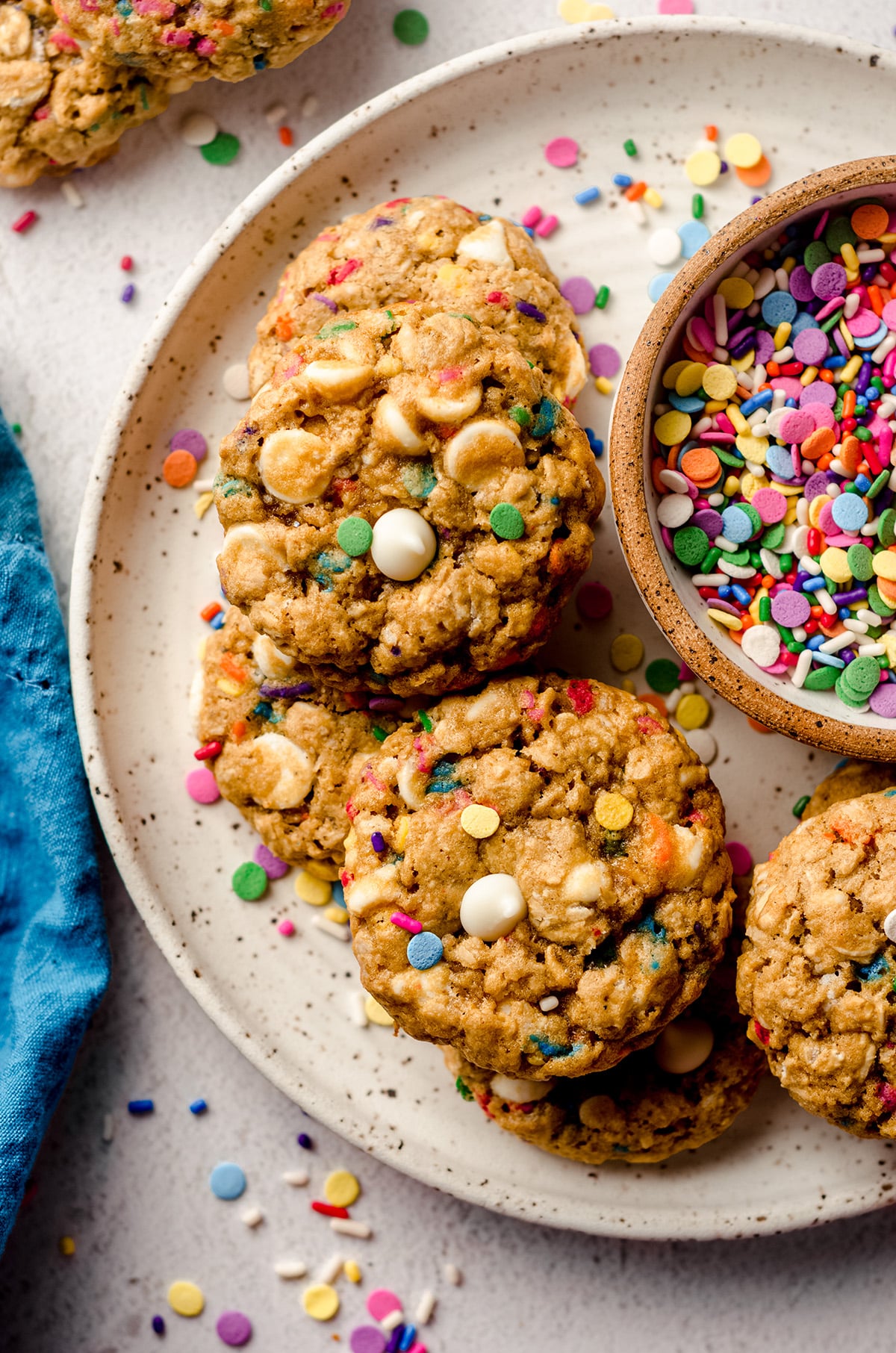 Just know that all of my oatmeal cookies are based off of the same recipe with alterations, just as all of my brownie recipes are based off of the same homemade fudgy brownies base.
Don't mess with a good thing– right?
These funfetti white chocolate cookies have all the party business, all the sprinkles, all the flavor, and yet stay true to everything you all love about those original chewy oatmeal raisin cookies.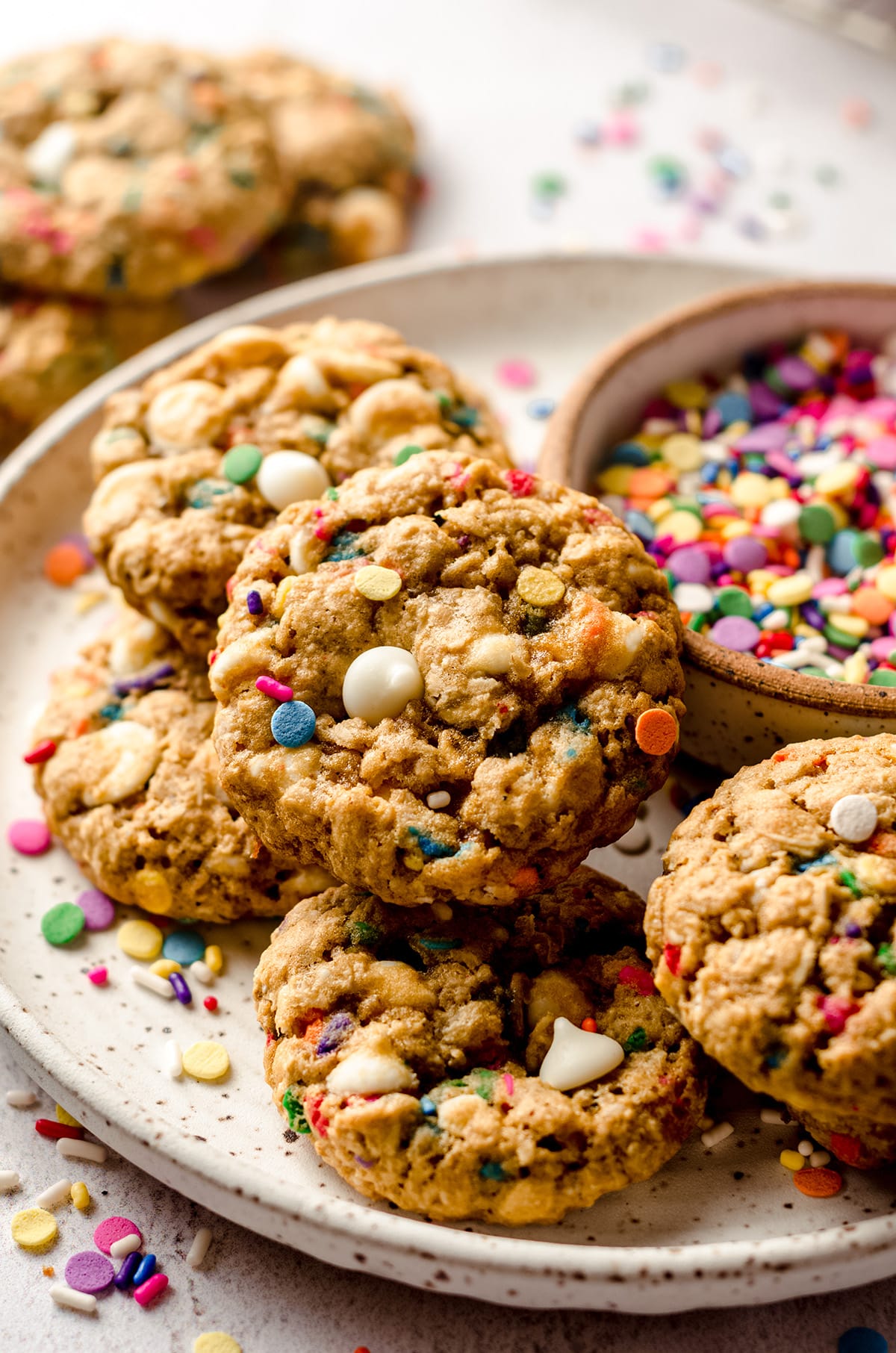 In order to achieve funfetti oatmeal cookie perfection, I needed to adjust a few things.
First of all, I had to make some room for almond extract, the key ingredient to bringing that funfetti flavor to baked goods. In order to do this, I decreased the amount of molasses in the cookie dough.
I didn't want to eliminate it completely, because I was afraid we would lose that rich, dense flavor that all oatmeal cookies must have. Keeping just some of it brings the perfect spice balance.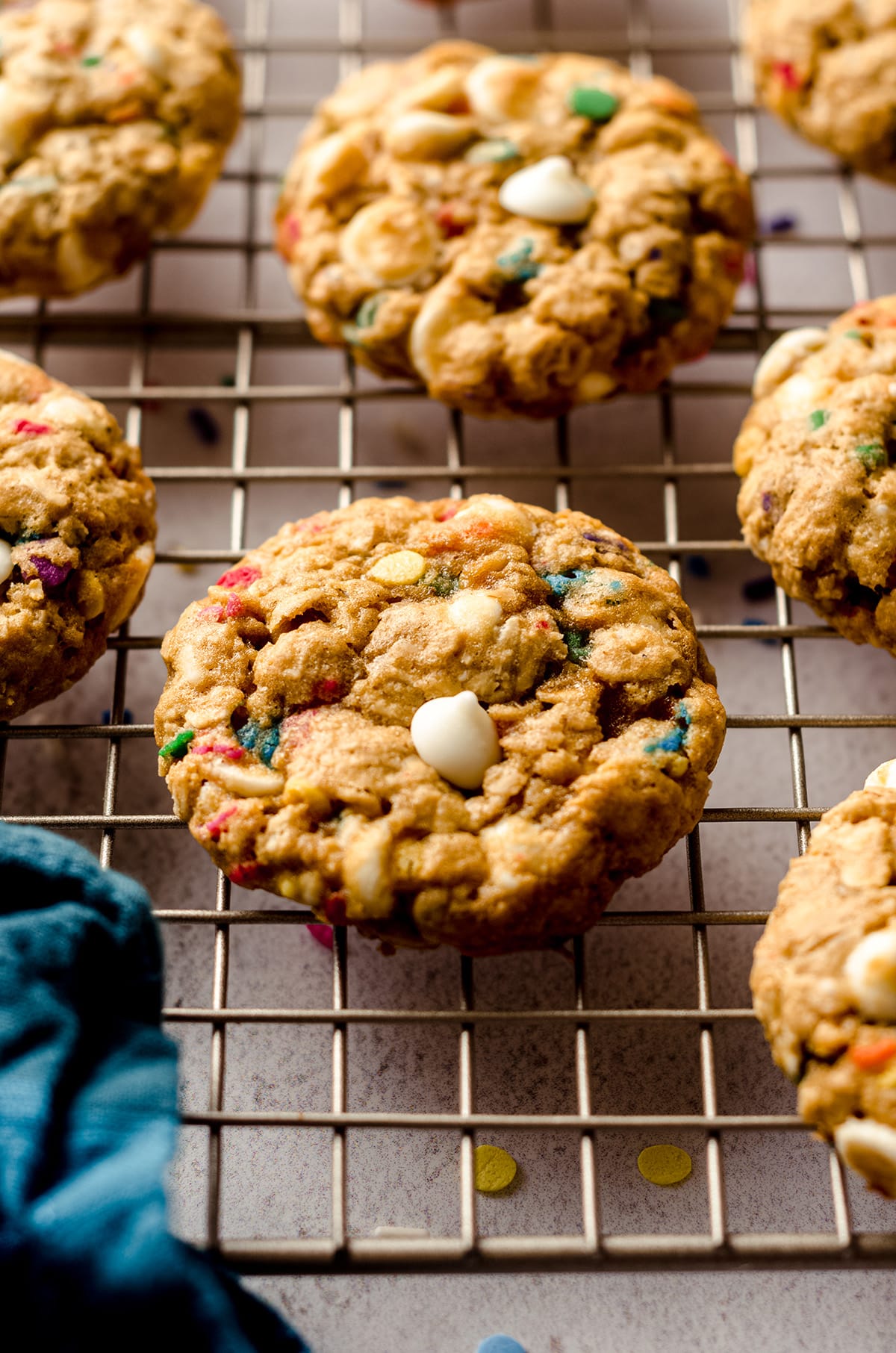 To kick the funfetti flavor up a notch (alongside the almond extract), I swapped out my original ground cinnamon for ground nutmeg. I used this spice in my baked funfetti donuts awhile back and loved how it gave a little bit of a spice flavor without feeling like a spiced flavor.
Did that even make a bit of sense?
Even if it didn't, trust me on this one. It adds the perfect balance to all that inherent sweetness in the cookies themselves.
Lastly, to make these funfetti white chocolate chip oatmeal cookies a full blown party: SPRINKLES.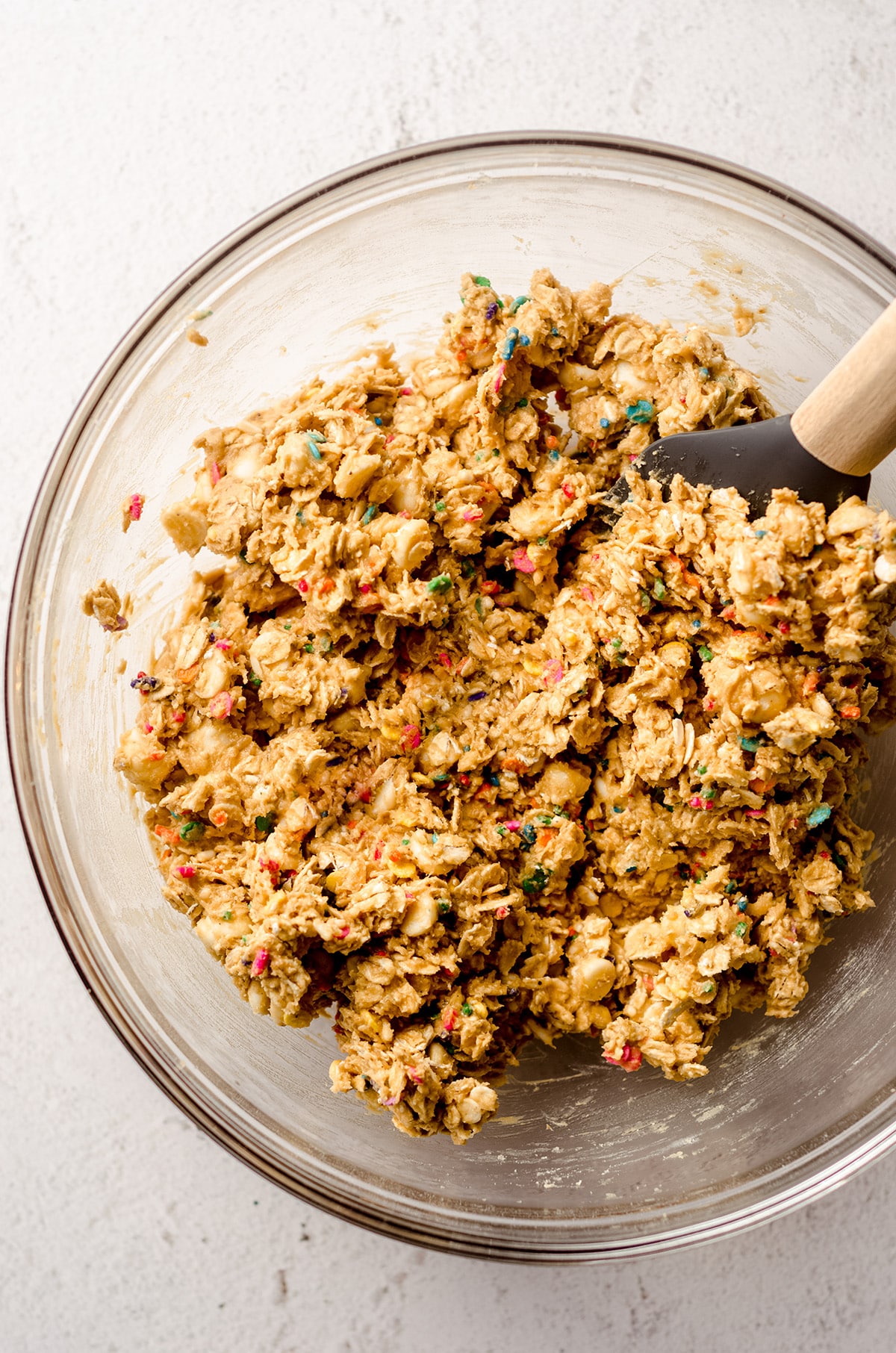 I used a mix of regular and also confetti quins. Use whatever kind you want, just do not use nonpareils. They will bleed into your batter and just make some messy (although still tasty!) cookies. Trust me again!
All of my taste testers can never believe how fantastically the flavor works out in these cookies.
First, there's a soft and chewy oatmeal base, made slightly salty with just a touch of spice.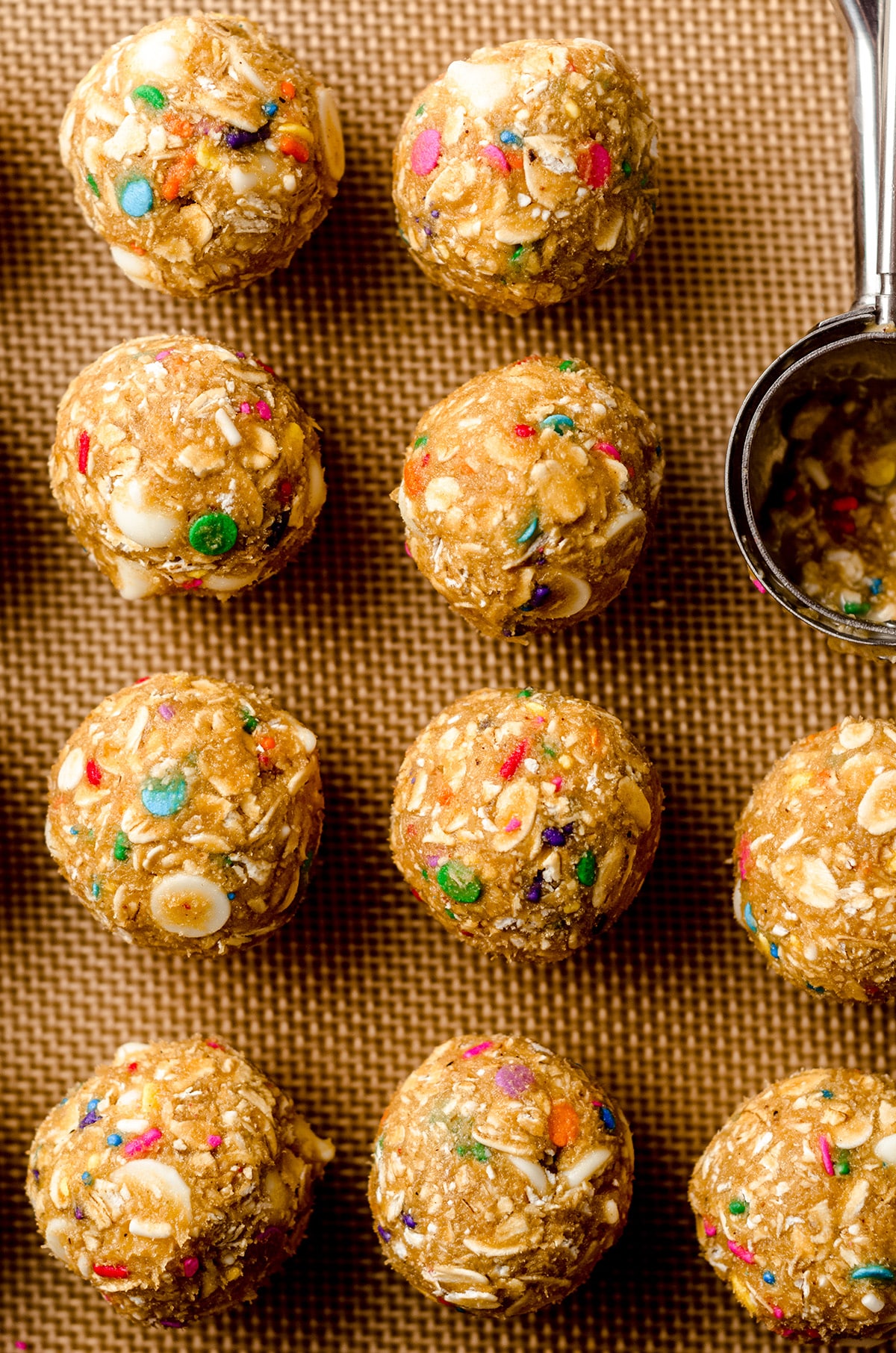 Each bite is dotted with sweet and creamy white chocolate chips between little bites of mini rainbows, and all of those flavors and textures mix together to create the greatest celebratory oatmeal cookie that could ever grace your tastebuds.
If there's one cookie I think you need to try ASAP, it's this one. Celebrate the fact that cookies are a thing. That's reason enough to make them!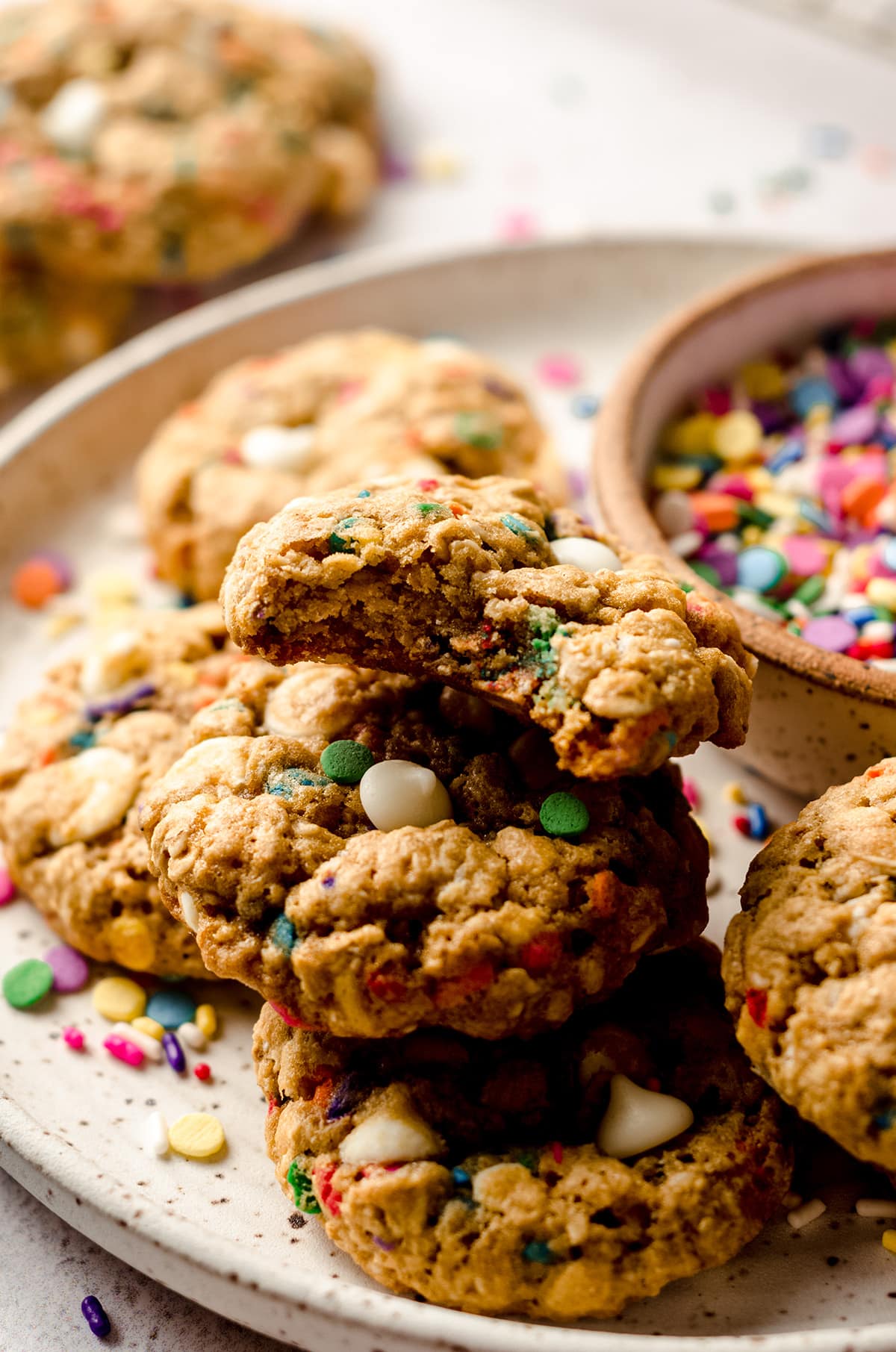 Though I mentioned above that so many things have changed since 2016 when this recipe was brand new, I do want to keep an excerpt from the original posting, for perspective:
I really just want to say "thank you" to all of you.
For reading, for commenting, for Pinning, for 'gramming, and for just generally continuing to support my blog. Two years ago, I would have never thought this blog would be where it is.
In fact, I had no intention of ever publishing a book, working with brands I love, or starting a YouTube channel with videos of my recipes to share with the world.
Not only those things, but I never thought that I would make a handful of blogger friends who I consider some of my dearest friends.
Seriously… What? What is this life? I've got to say, I adore it, and I can't wait to see where it goes.
Since originally publishing this recipe, I have made this blog my full time job.
I left behind a career I loved to see if I could make this my career, and though it has certainly not been easy, it has been so rewarding, so fun, so empowering, and so much more of an adventure than I was anticipating.
I still think to myself "what is this life?" on the daily, and I will never stop being ridiculously grateful to all of you for helping me make this dream I didn't know I had a reality I never knew I needed.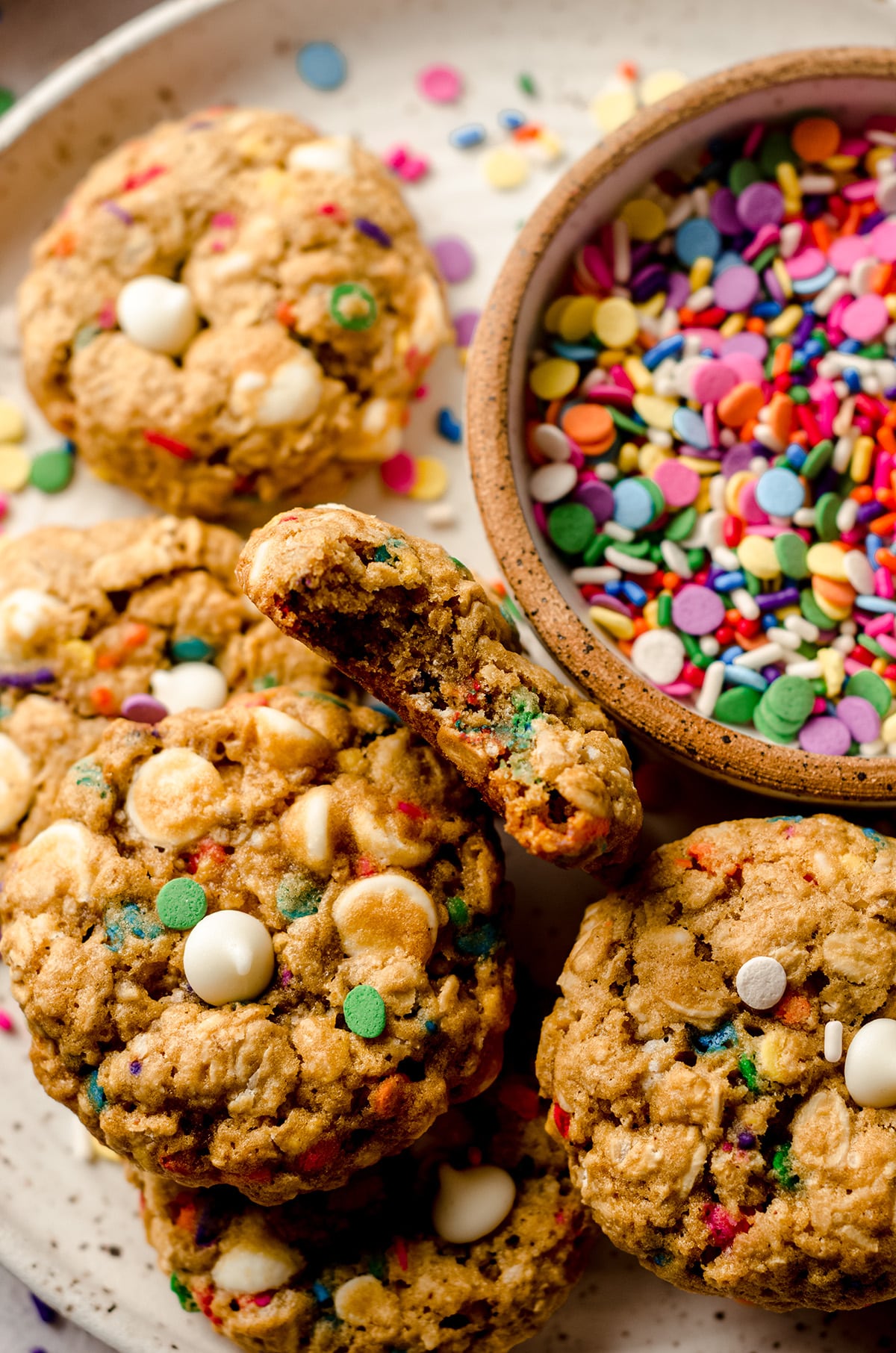 I'll bake (cookies) to that.
Funfetti White Chocolate Chip Oatmeal Cookies
Soft and chewy oatmeal cookies filled with white chocolate chips and plenty of sprinkles for celebrating any occasion!
Servings:
2
dozen cookies
Ingredients
¼

cup

(57g) unsalted butter

softened to room temperature

3

Tablespoons

(38g) firmly packed light brown sugar

2

Tablespoons

(25g) granulated sugar

1

large egg

room temperature

1

teaspoon

vanilla extract

½

teaspoon

almond extract

1

Tablespoon

(15mL) molasses

¾ cup + 1 Tablespoon

(98g) all-purpose flour be sure to measure properly

½

teaspoon

baking soda

¼

teaspoon

salt

¼

teaspoon

ground nutmeg

1 and ½

cups

(120g) old fashioned oats

do not use quick oats

½

cup

(80g) white chocolate chips

⅓

cup (33g)

sprinkles
Instructions
In a medium size bowl with a hand mixer, or a stand mixer with the paddle attachment, cream together the butter and both sugars until smooth. Add the eggs and beat on high until combined. Scrape sides and bottom of bowl as needed. Add the vanilla and almond extracts and molasses and beat on high again until completely combined. Scrape again if needed. Set aside.

In a small bowl, whisk together flour, baking soda, salt, and nutmeg. Pour the dry ingredients into the wet ingredients and mix well on low until combined. With the mixer still on low, add oats, white chocolate chips, and sprinkles. Chill the dough for at least 45 minutes or up to 2 days in the refrigerator. If chilling for longer than an hour, allow dough to sit at room temperature for at least 20 minutes before rolling and baking.

Preheat oven to 350ºF (177ºC). Line one large baking sheet with parchment or a silicone baking mat and set aside.

Using a cookie scoop (I use this #50 cookie scoop for all of my standard size cookies), scoop dough into your hand and roll into a ball. Place on baking sheet at least 1 and ½" apart.

Bake for 11-13 minutes or until edges just begin to brown. Remove from oven and allow to sit on baking sheet for at least 3 minutes. Cookies will look underdone, and will "set" as they cool on baking sheets. Cookies will stay fresh covered at room temperature up to 5 days. Baked cookies freeze well, as does unbaked rolled dough (up to 2 months). Do not thaw and add an extra minute to baking time.
Nutrition Disclosure
All nutritional values are approximate and provided to the reader as a courtesy. Changing ingredients and/or quantities will alter the estimated nutritional calculations.