As an Amazon Associate I earn from qualifying purchases.

Soft and chewy oatmeal cookies filled with white chocolate chips and plenty of sprinkles for celebrating any occasion!
This giveaway is currently closed.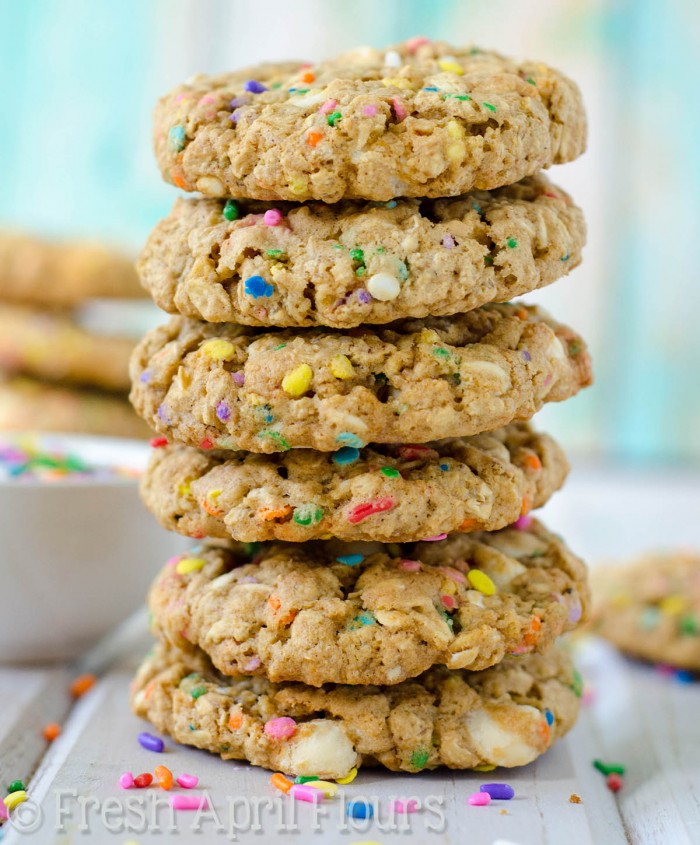 Happy Wednesday, my dear friends! We're halfway through the week already, and it's about to get a whole lot sweeter. And more colorful. And celebratory. And there are cookies involved. And sprinkles! I mean… Could it get any better than that? Let's get this ball rolling.
Today is special. Someone turns 2, and it's certainly not me, nor the little guy I'm growing, nor my husband (that last one would be too, uhh, weird, or something…). Today's birthday celebration is in honor of Fresh April Flours, and I can barely believe it!
Two years ago, I posted my first recipe, DeAngelis Family Easter Pizza. My favorite yeast bread spiced by anise and adorned with a soft, pillowy center. The pictures were… Not fab (see example below). But the recipe?! Always a winner. It's a staple around these parts when Easter rolls around.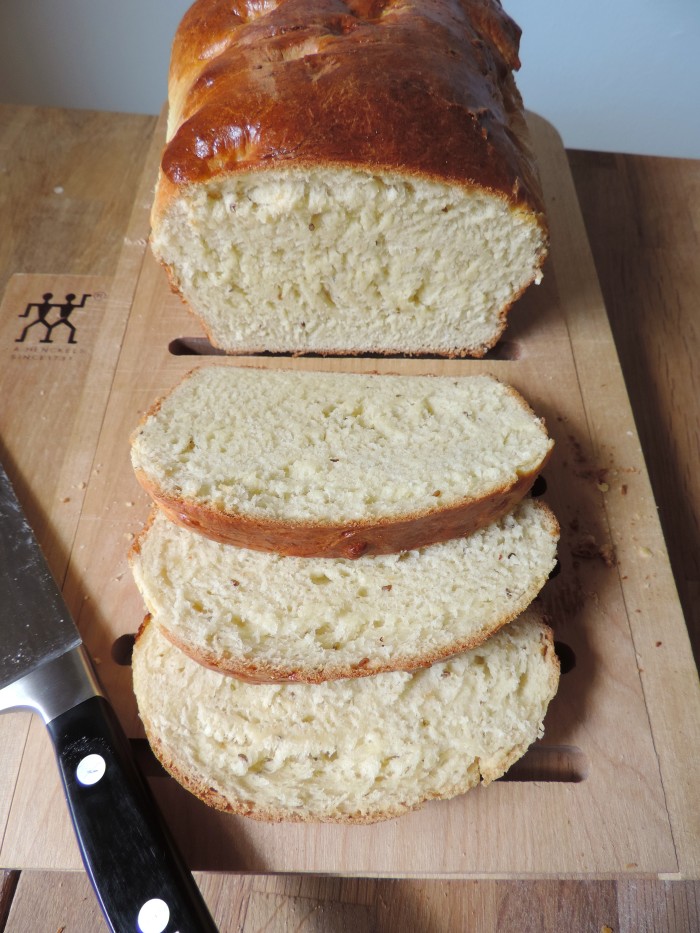 Last year, I celebrated FAF's 1st birthday with homemade funfetti cupcakes: delightful little cuppies filled with tons of colorful sprinkles and topped with an equally funfetti-fied buttercream on top. The perfect vehicle for a birthday candle.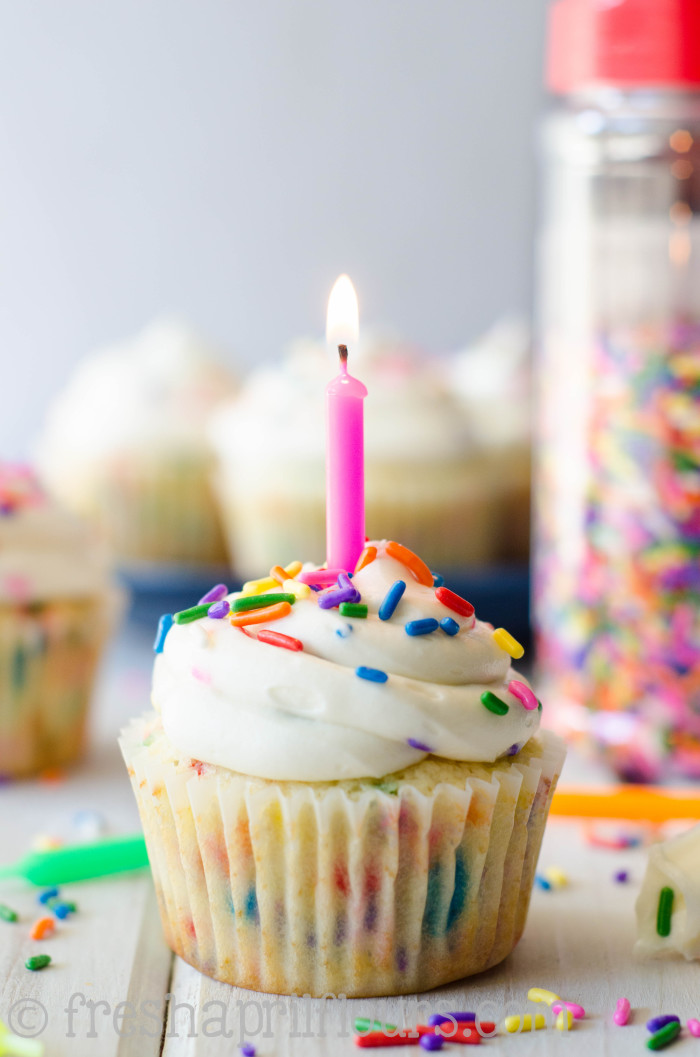 This year is, again, all about the funfetti and sprinkles, and I had to think of the greatest thing I could jam a bunch of sprinkles into (hello, undying love for oatmeal cookies!). PLUS, to make the celebration even sweeter, I'm giving away a copy of my cookbook to two lucky readers!
Details about the giveaway at the bottom of the post.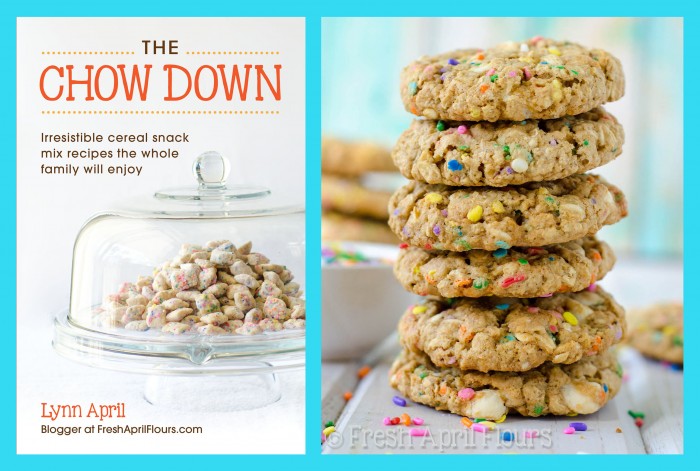 So yes, my love for all things oatmeal cookies runs deep. I had been brainstorming the idea of putting sprinkles in oatmeal cookies for a few weeks, and decided one day I just needed to see if it was going to work.
And, well… It did. Really well. So well, in fact, that Matt, the one who proclaimed his undying love/#1 fandom for my compost cookies said these cookies may have become his new favorite.
WHAT?! No way. I could hardly believe him.
But then he ate his fair share of these cookies and then some and I believed him a bit more (thank goodness he works out so much).
I won't chat too much about what's going on in these cookies, because I went into fairly extensive detail when I posted my first chewy oatmeal raisin cookie recipe (cookie science nerd alert right there, just so you're fairly warned). But I will say, I made a few adjustments to my beloved recipe so that these oatmeal cookies were straight up funfetti.
All the party business. All the sprinkles. All the flavor, yet staying true to everything you all love about those cookies.
First of all, I had to make some room for almond extract, the key ingredient to bringing that funfetti flavor to baked goods. In order to do this, I decreased the amount of molasses in the cookie dough.
I didn't want to eliminate it completely, because I was afraid we would lose that rich, dense flavor that all oatmeal cookies must have.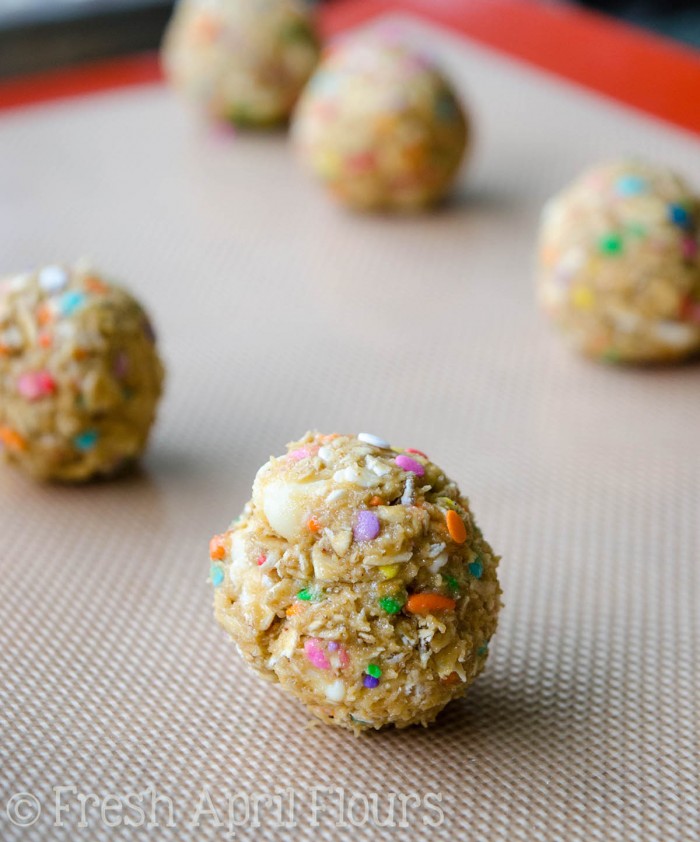 To kick the funfetti flavor up a notch (alongside the almond extract), I swapped out my original ground cinnamon for ground nutmeg. I used this spice in my baked funfetti donuts awhile back and loved how it gave a little bit of a spice flavor without feeling like a spiced flavor.
Did that even make a bit of sense?
Even if it didn't, trust me on this one. It adds the perfect balance to all that inherent sweetness in the cookies themselves.
Lastly, to make these funfetti white chocolate chip oatmeal cookies a full blown party: SPRINKLES. I used a mix of regular and also confetti quins. Use whatever kind you want, just do not use nonpareils. They will bleed into your batter and just make some messy (although still tasty!) cookies. Trust me again!
Matt and I both couldn't believe how fantastically the flavor worked out in these cookies. First, we've got a soft and chewy oatmeal base, made slightly salty with just a touch of spice.
Each bite is dotted with sweet and creamy white chocolate chips between little bites of mini rainbows, and all of those flavors and textures mix together to create the greatest celebratory oatmeal cookie that could ever grace your tastebuds.
If there's one cookie I think you need to try ASAP, it's this one. Celebrate the fact that cookies are a thing. That's reason enough to make them!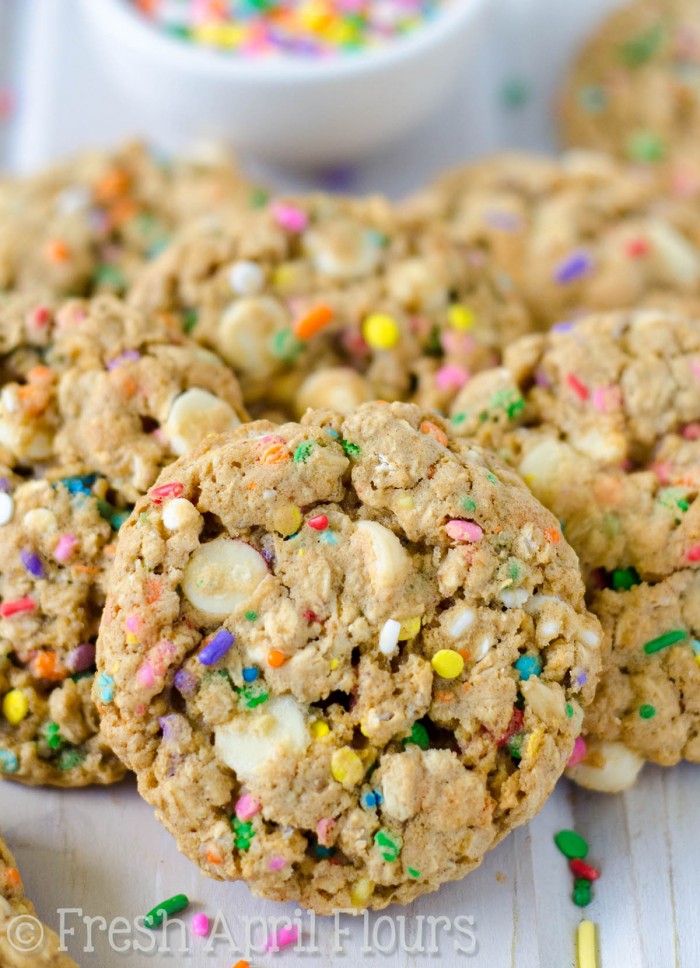 Now, before I get to the good stuff to let you know how you can get your hands on my cookbook, I really just want to say thank you to all of you.
For reading, for commenting, for Pinning, for 'gramming, and for just generally continuing to support my blog. Two years ago, I would have never thought this blog would be where it is.
In fact, I had no intention of ever publishing a book, working with brands I love, or starting a YouTube channel with videos of my hands making my recipes to share with the world.
Not only those things, but I never thought that I would make a handful of blogger friends who I consider some of my dearest friends.
Seriously… What? What is this life? I've got to say, I adore it, and I can't wait to see where it goes.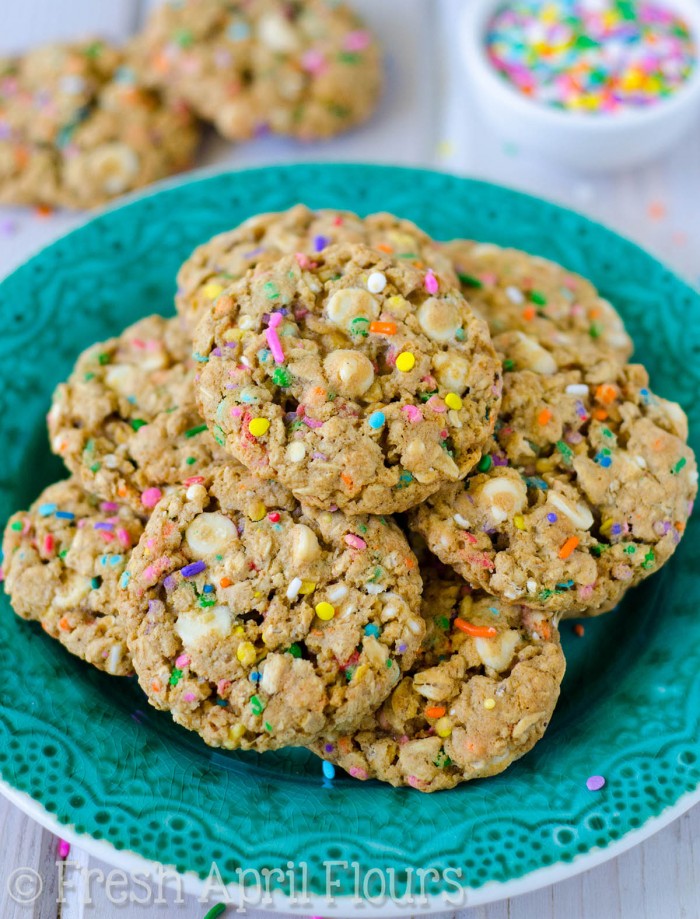 Ok, enough sap! Here's are the giveaway details:
What you will win
2 winners will receive a free copy of my cookbook, personally signed by me!
Winners will be chosen using random.org.
How to enter
Simply leave a comment on this blog post telling me your FAVORITE treat for celebrating your own birthday.
Details
This giveaway is open to the US and Canada
Giveaway ends at 11:59pm (EST) on April 14th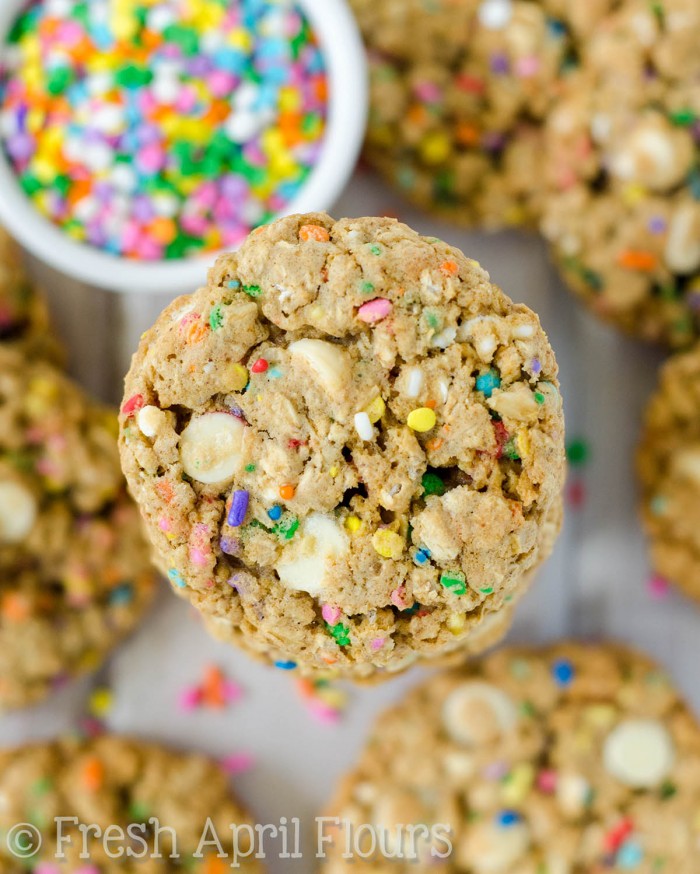 Good luck entering the giveaway, and remember… No birthday is a real birthday without an overload of sprinkles. Happy 2nd birthday, FAF!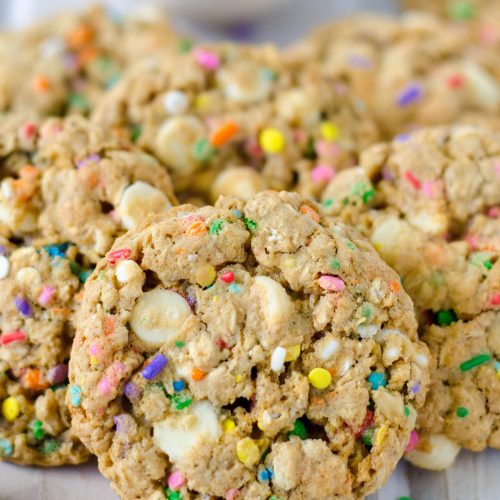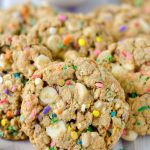 Print Recipe
Funfetti White Chocolate Chip Oatmeal Cookies
Soft and chewy oatmeal cookies filled with white chocolate chips and plenty of sprinkles for celebrating any occasion!
Servings:
2
dozen cookies
Ingredients
½

cup

butter

softened to room temperature

3/4

cup

packed brown sugar

¼

cup

granulated sugar

2

eggs

room temperature

2

teaspoons

vanilla extract

1

teaspoon

almond extract

2

Tablespoons

molasses

1 and 2/3 cup

all-purpose flour

1

teaspoon

baking soda

½

teaspoon

salt

1/2

teaspoon

ground nutmeg

3

cups

old fashioned oats

do not use quick oats

1

cup

white chocolate chips

2/3

cup

sprinkles
Instructions
In a medium size bowl with a hand mixer, or a stand mixer with the paddle attachment, cream together the butter and both sugars until smooth. Add the eggs and beat on high until combined. Scrape sides and bottom of bowl as needed. Add the vanilla and almond extracts and molasses and beat on high again until completely combined. Scrape again if needed. Set aside.

In a small bowl, whisk together flour, baking soda, salt, and nutmeg. Pour the dry ingredients into the wet ingredients and mix well on low until combined. With the mixer still on low, add oats, white chocolate chips, and sprinkles. Chill the dough for at least 45 minutes or up to 2 days in the refrigerator. If chilling for longer than an hour, allow dough to sit at room temperature for at least 20 minutes before rolling and baking.

Preheat oven to 350ºF. Line 2 baking sheets with parchment or silicone baking mats and set aside.

Using a 1 ounce cookie scoop, scoop dough into your hand and roll into a ball. Place on baking sheet at least 1 and ½" apart.

Bake for 11-13 minutes or until edges just begin to brown. Remove from oven and allow to sit on baking sheet for at least 3 minutes. Cookies will look underdone, and will "set" as they cool on baking sheets. Cookies will stay fresh covered at room temperature up to 5 days. Baked cookies freeze well, as does unbaked rolled dough (up to 2 months). Do not thaw and add an extra minute to baking time.

More birthday treats!
Chocolate Chip Cookie Cake with Chocolate Fudge Frosting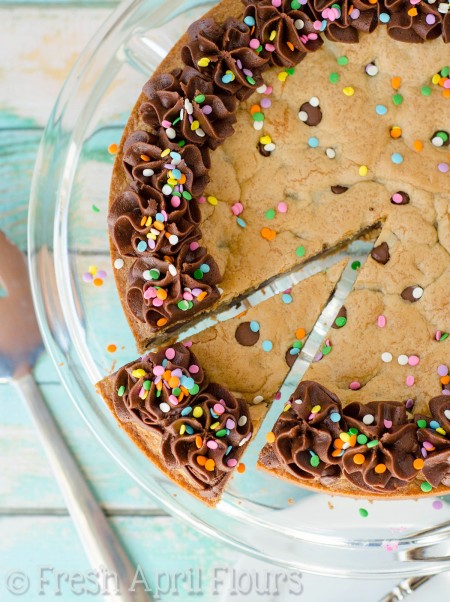 Chocolate Chip Cookie Dough Bites