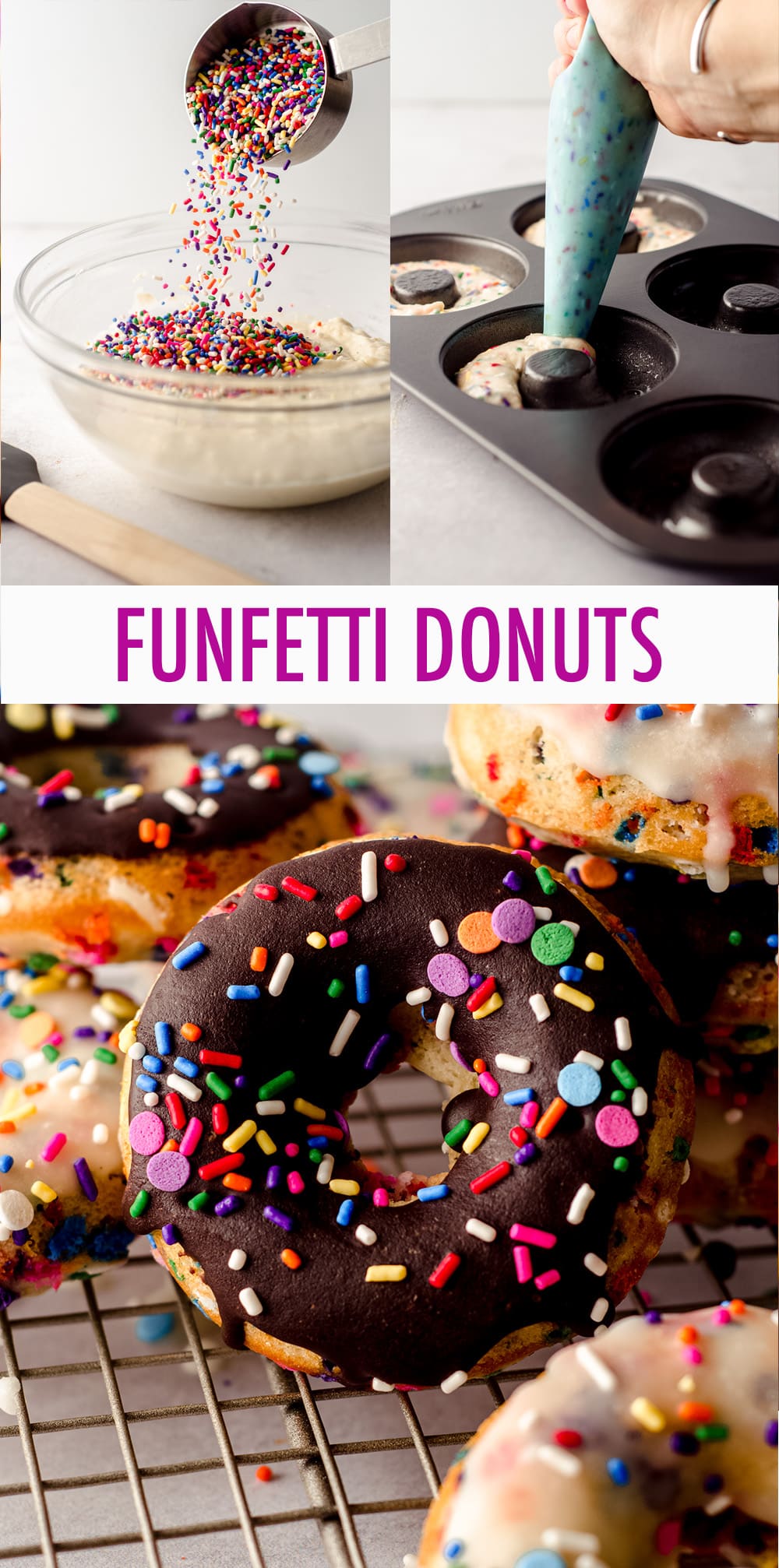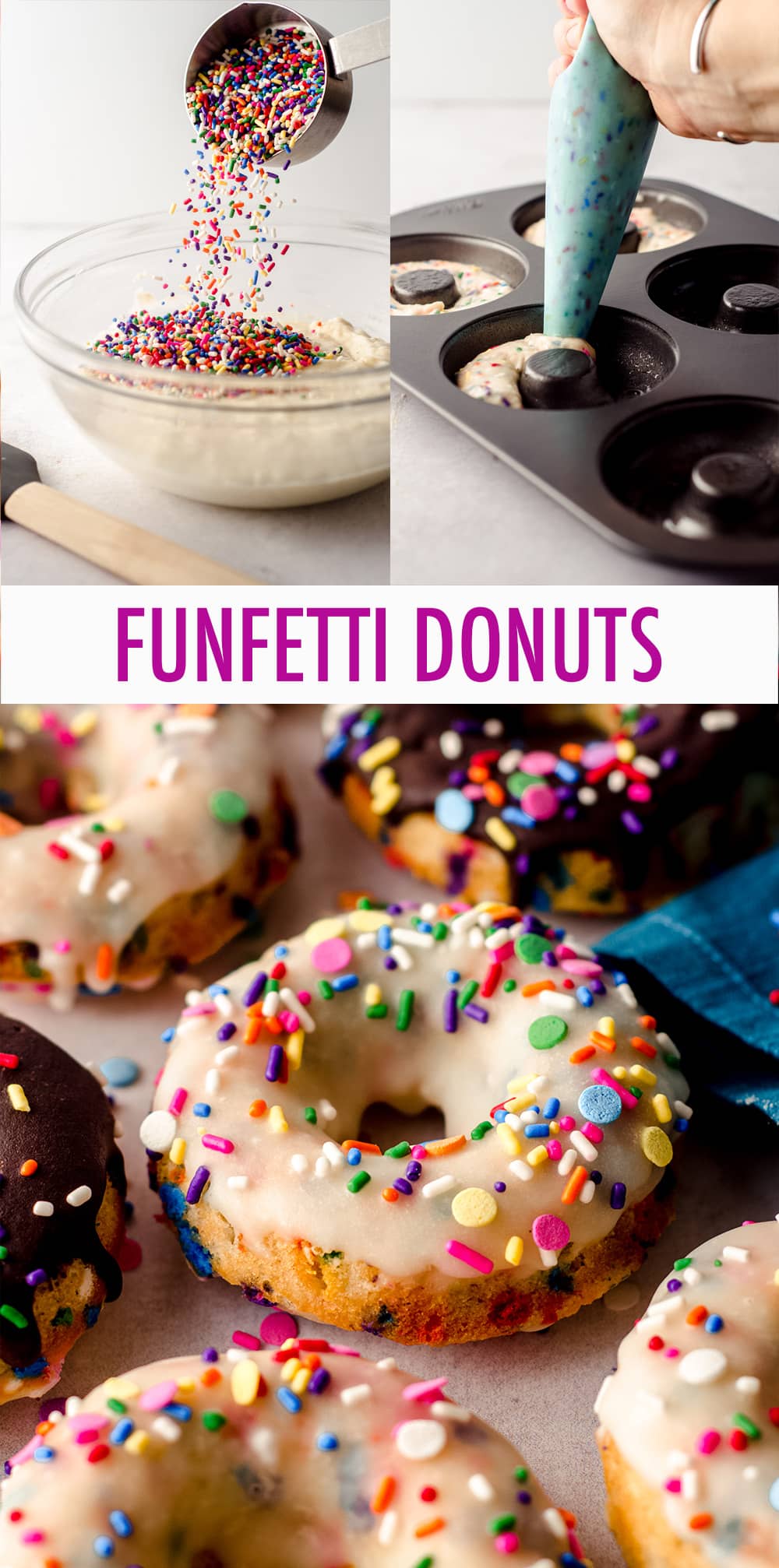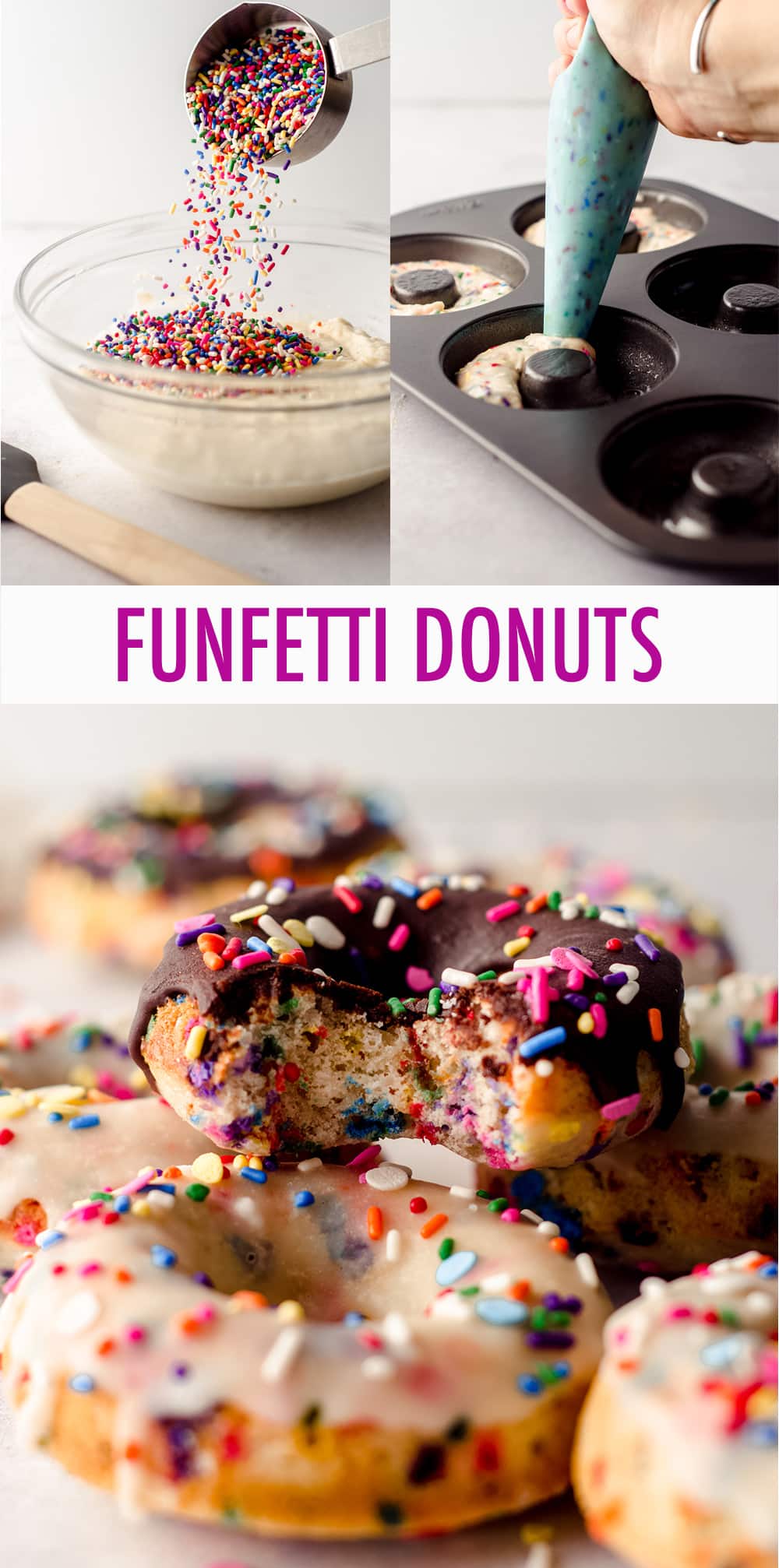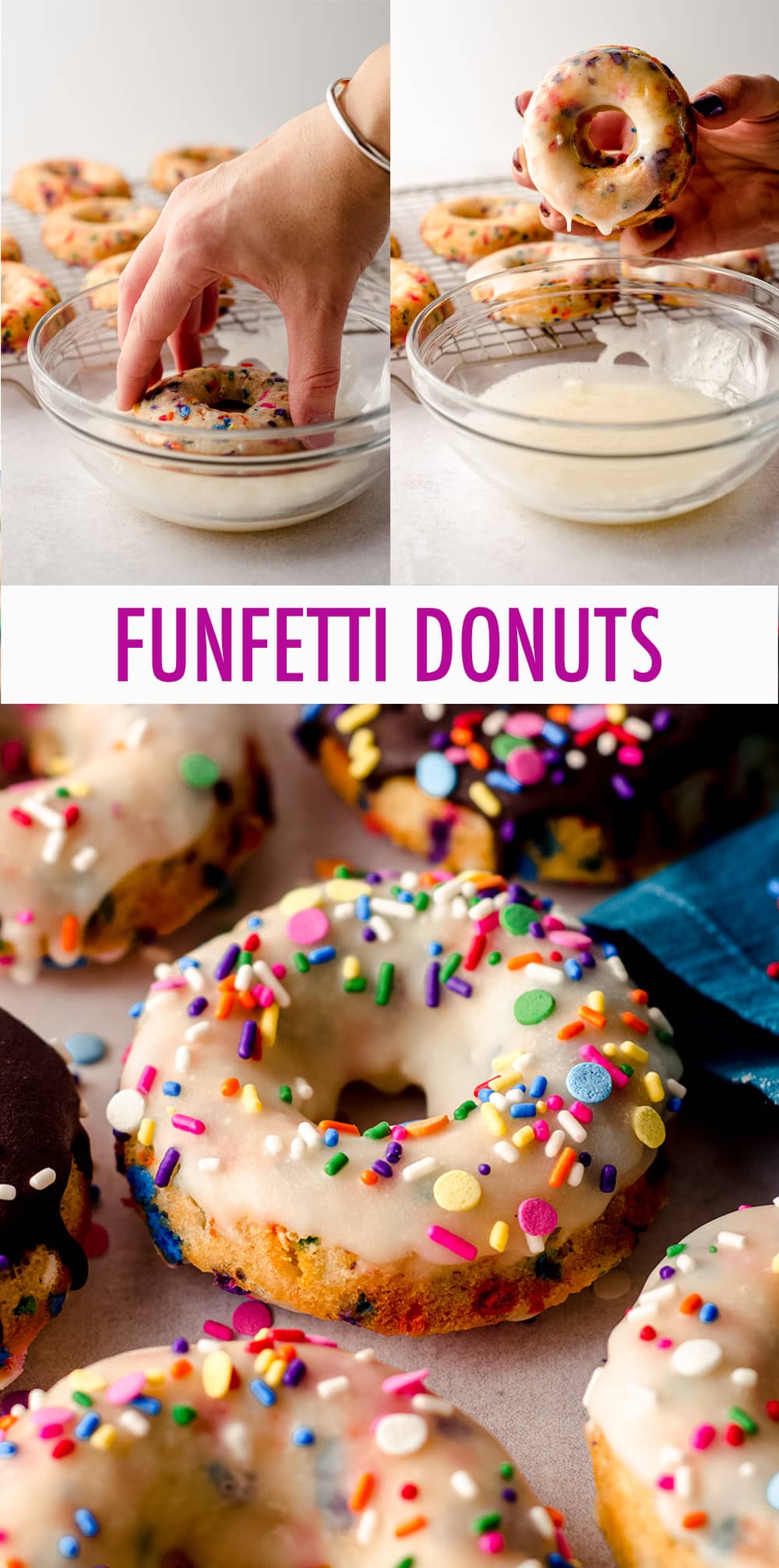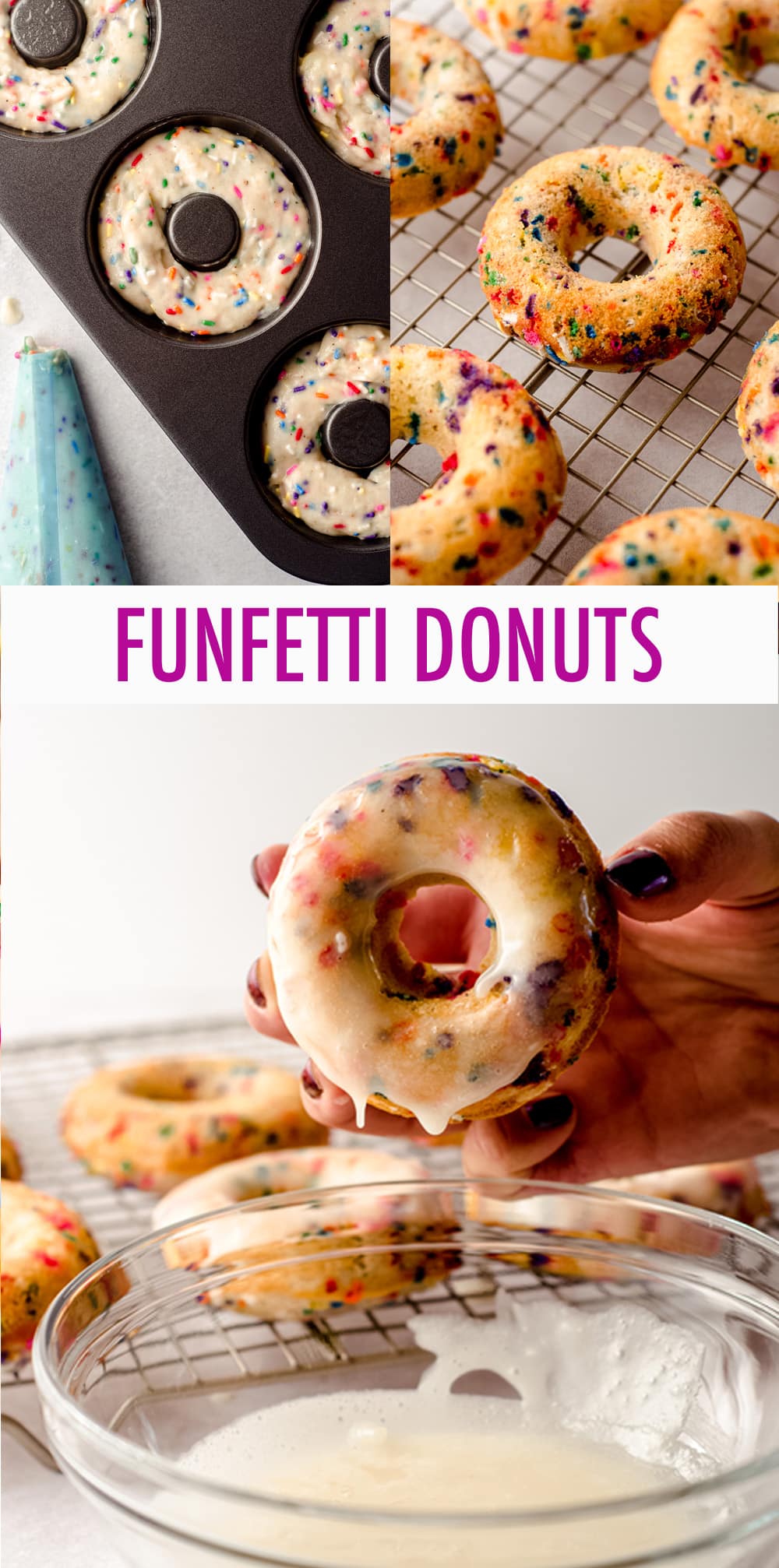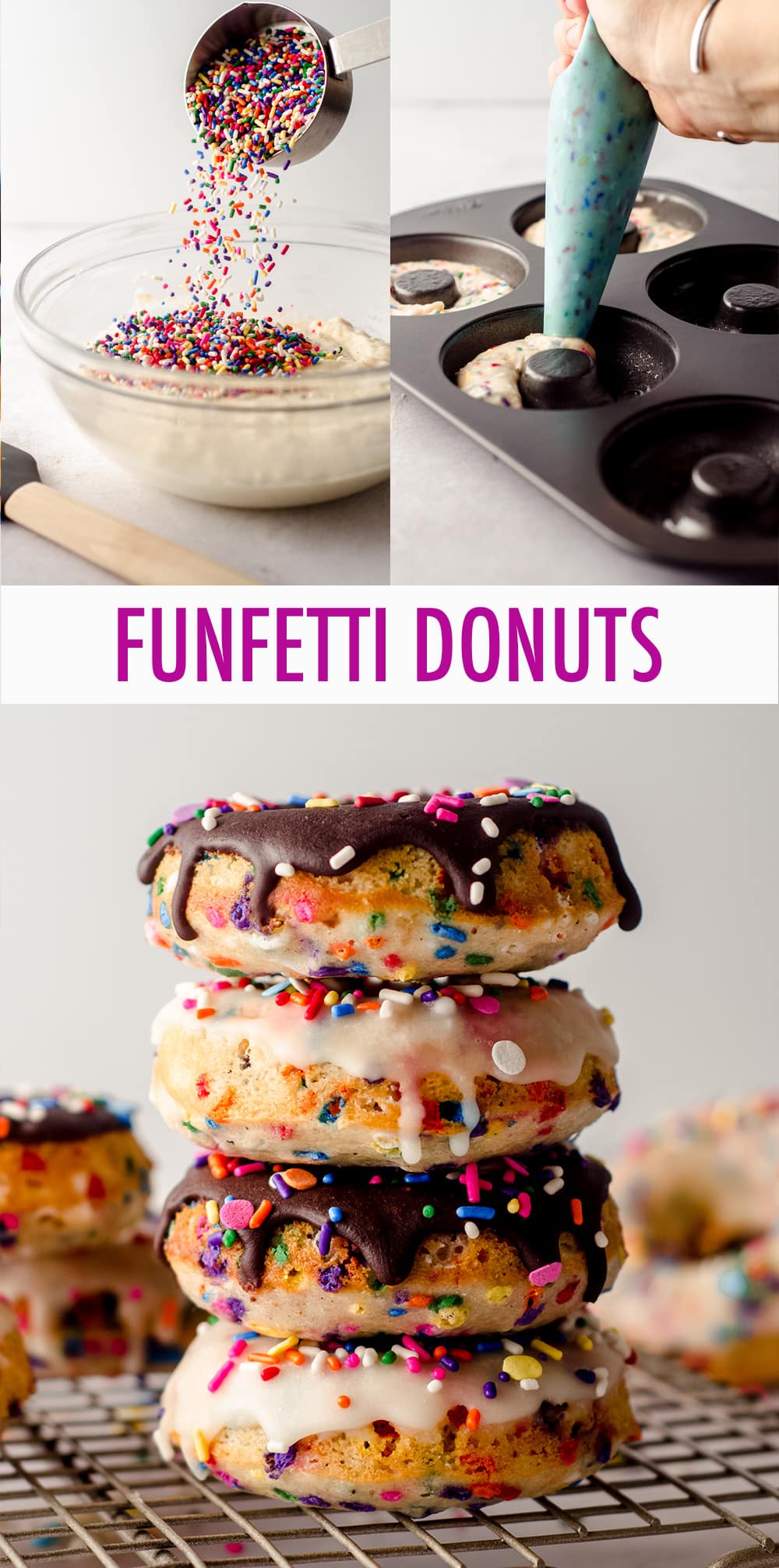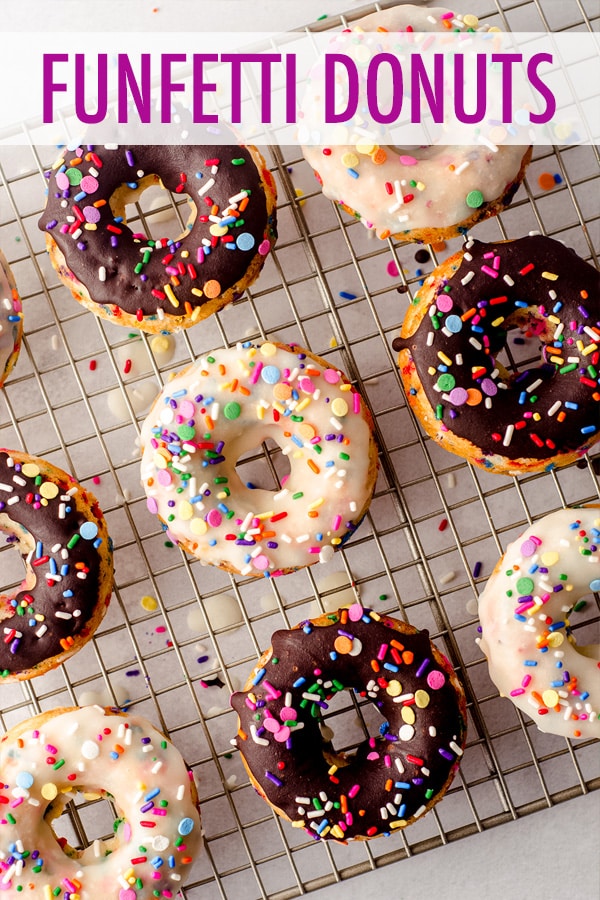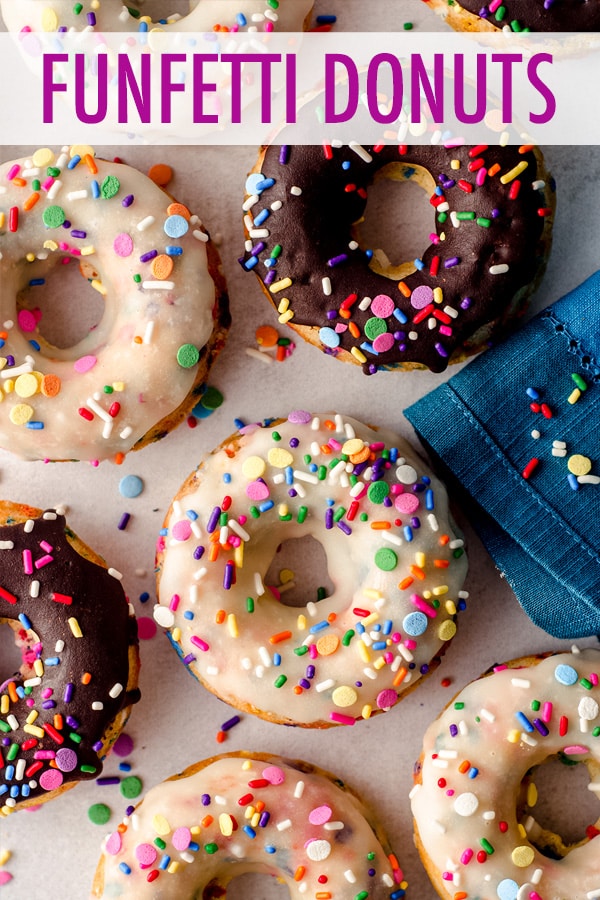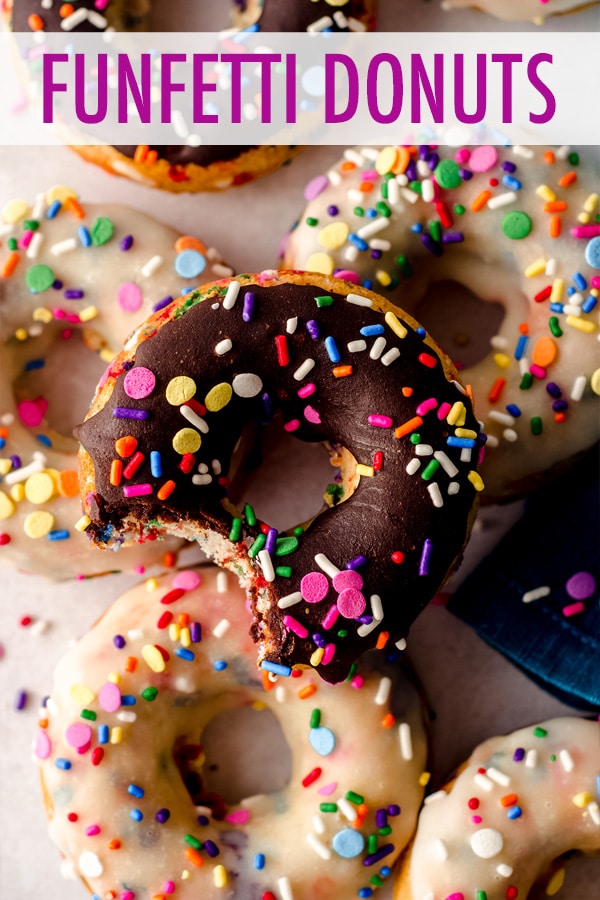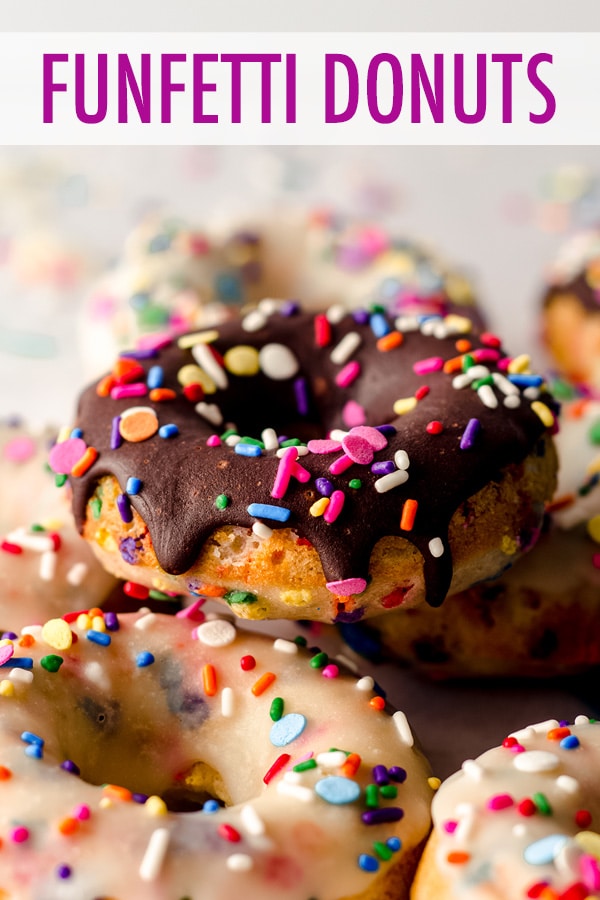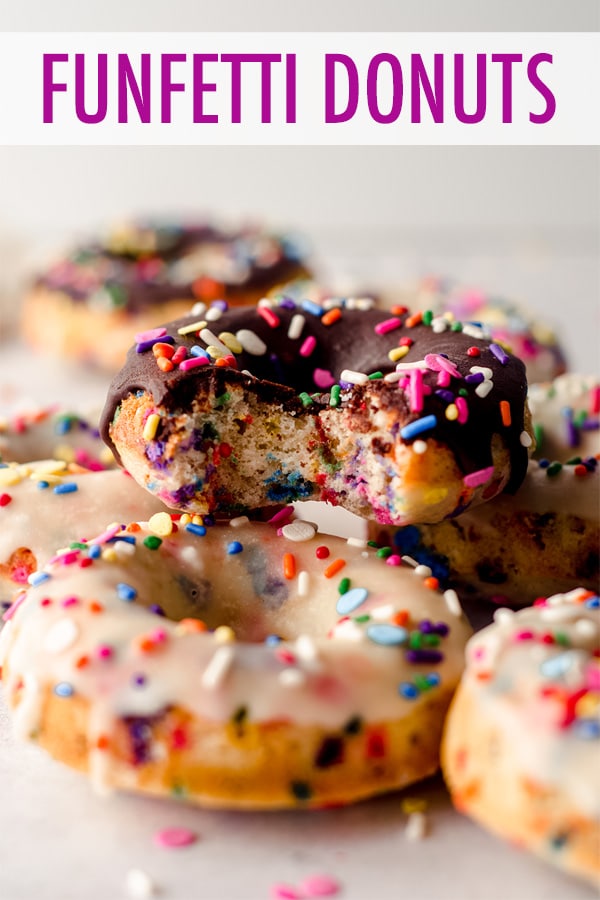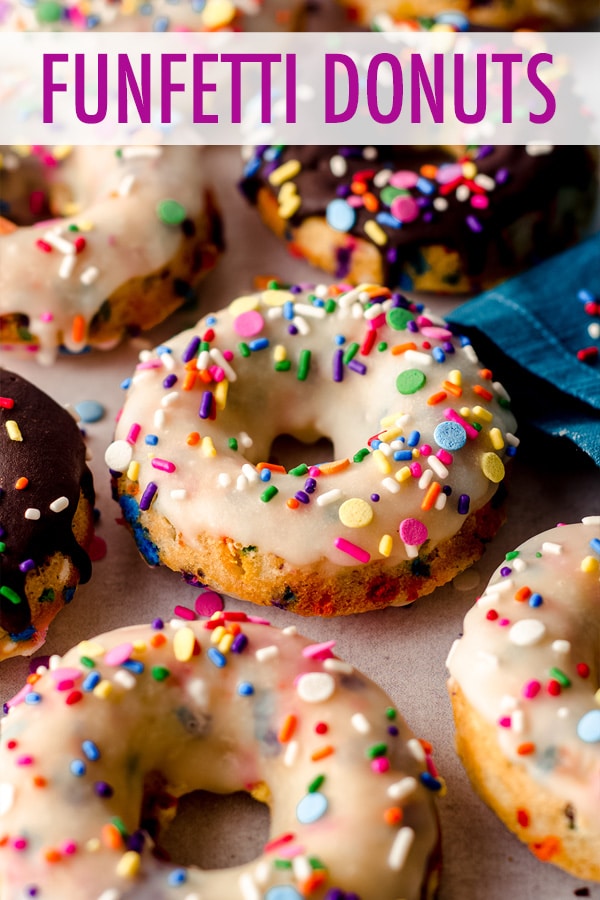 As an Amazon Associate, I earn from qualifying purchases. Read the full disclosure here.
Baked and not fried cake donuts filled with sprinkles and topped with a simple vanilla or chocolate glaze.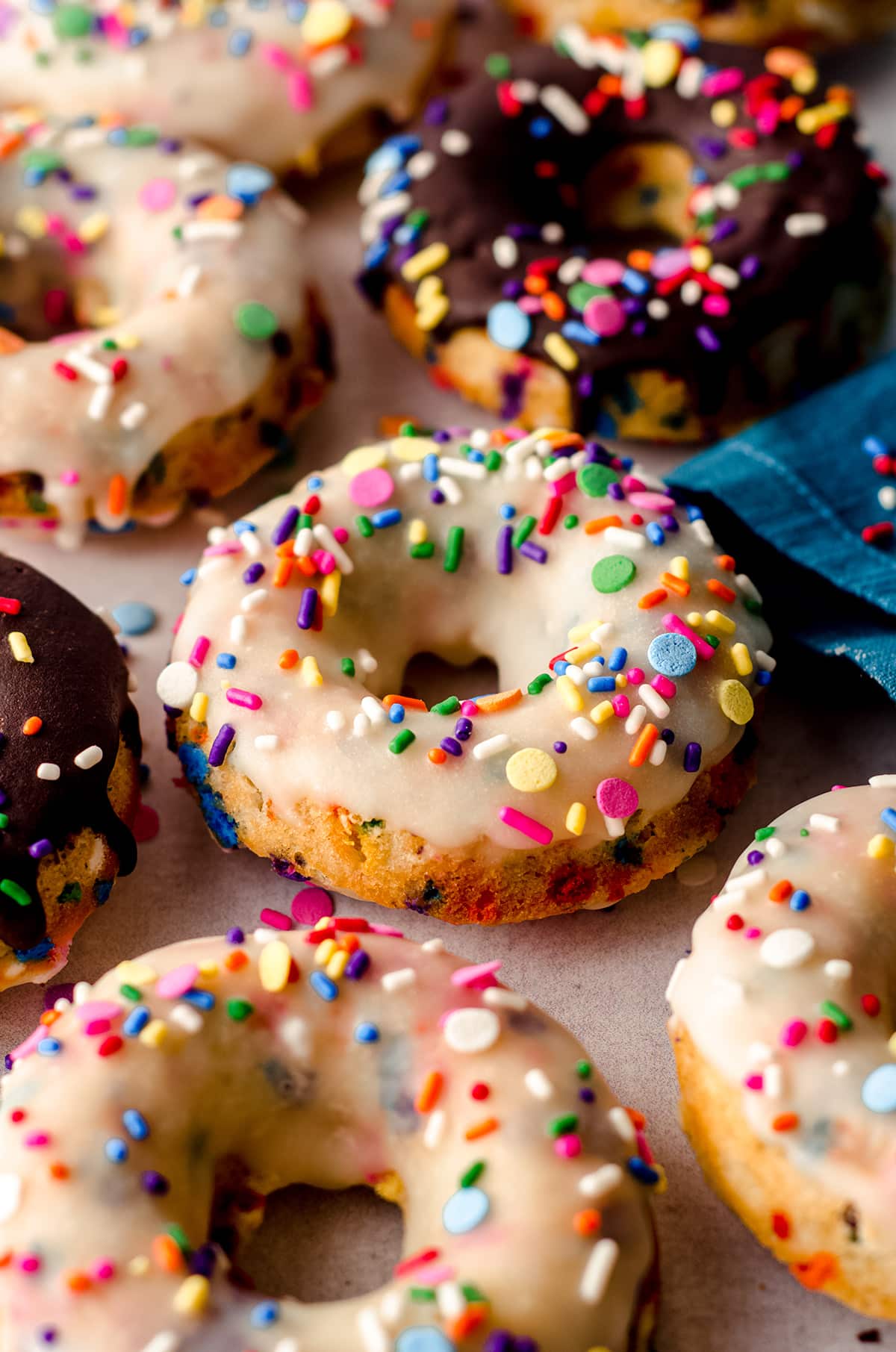 I enjoy a good donut. It HAS to be good though. I don't enjoy a donut that isn't fresh, soft, or flavorful and my ideal donut gives me just enough satisfaction without making me want to puke.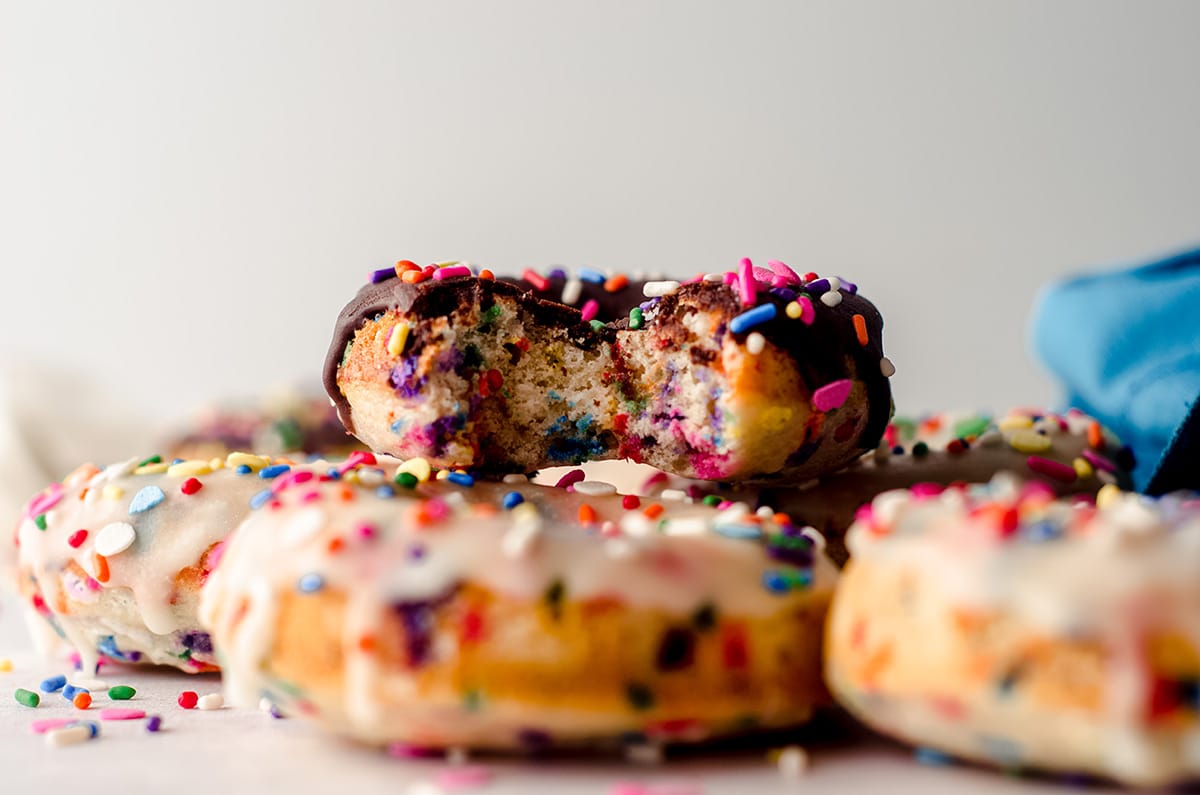 Many years ago when I first whipped up this baked funfetti donut recipe, I had had baked donuts on my want-to-bake list for quite some time. I remember it was a dreary Saturday morning and I thought sprinkles would boost my mood… And I was right (duh).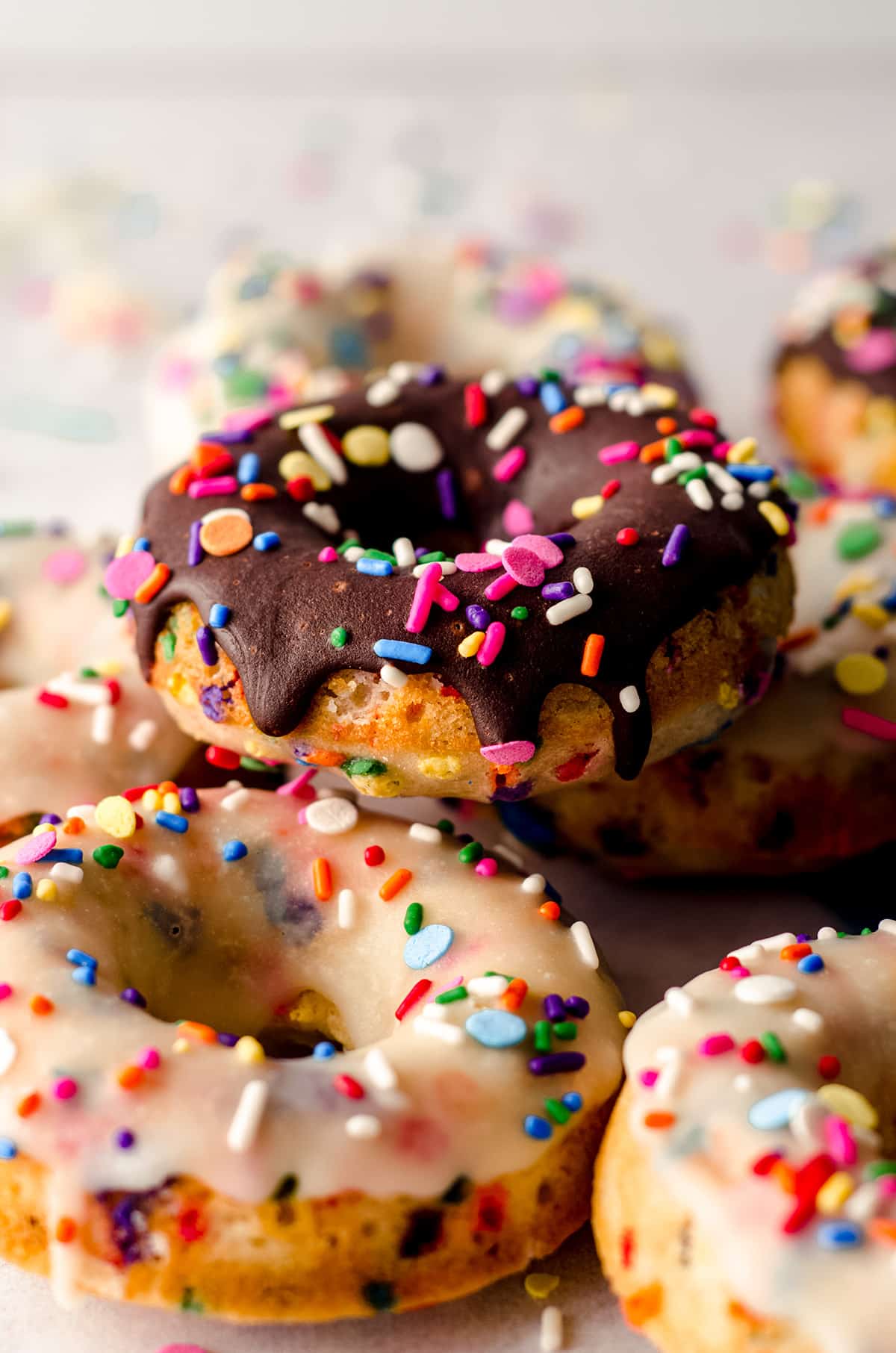 I, of course, thought it would be easy, but I was surprised how much easier it was than I had anticipated. I did stumble a little bit, and please learn from my mistake… Do not, I repeat, DO NOT use nonpareil sprinkles (those teeny tiny colored balls) for these donuts.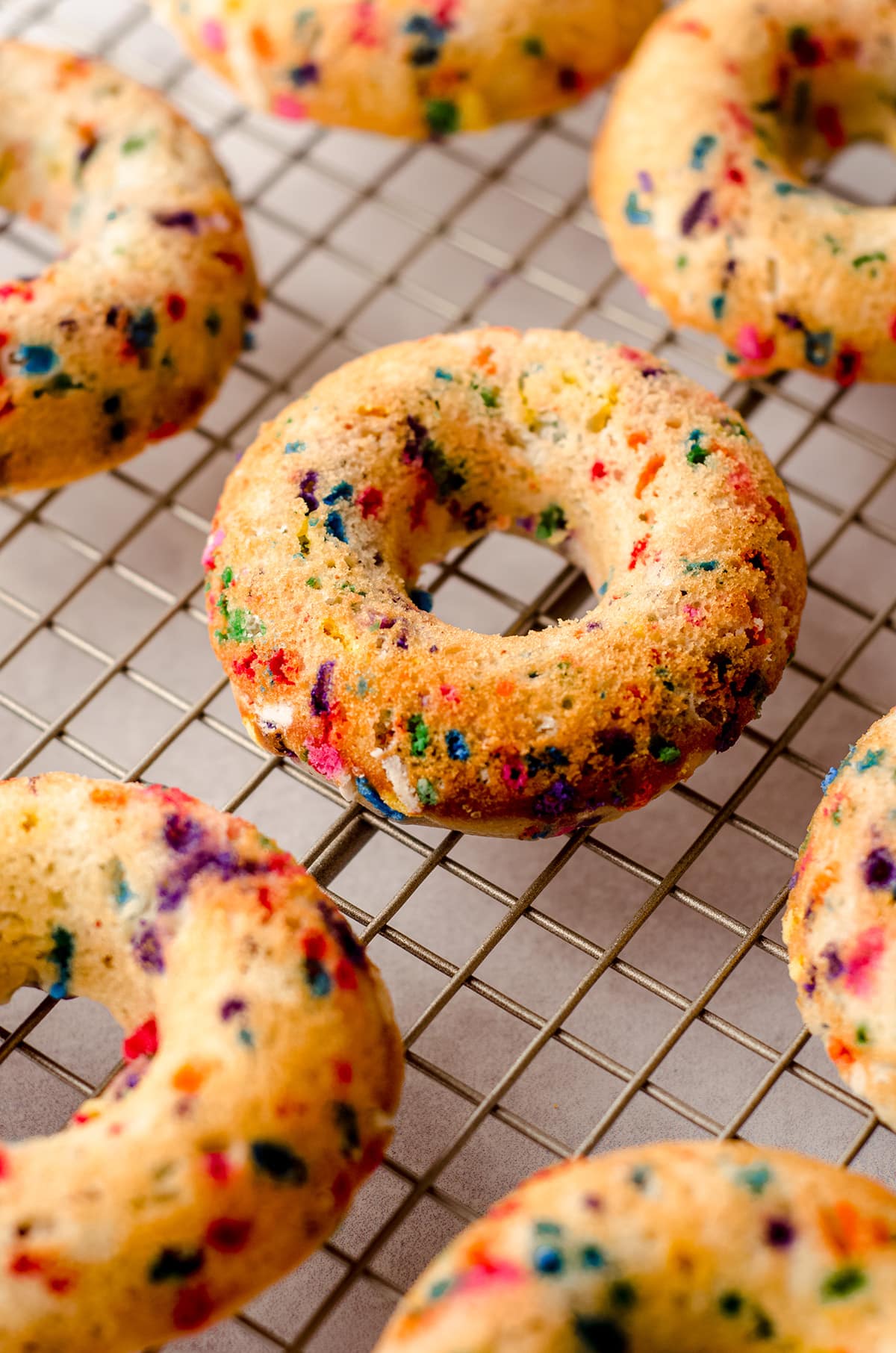 USE PLAIN RAINBOW SPRINKLES AND NOT NON-PAREILS
Back in 2014, I had just started blogging and baking things from scratch. I happily dumped nonpareils into my batter and immediately regretted it as it turned my batter brown. Those suckers have a sensitive colored shell.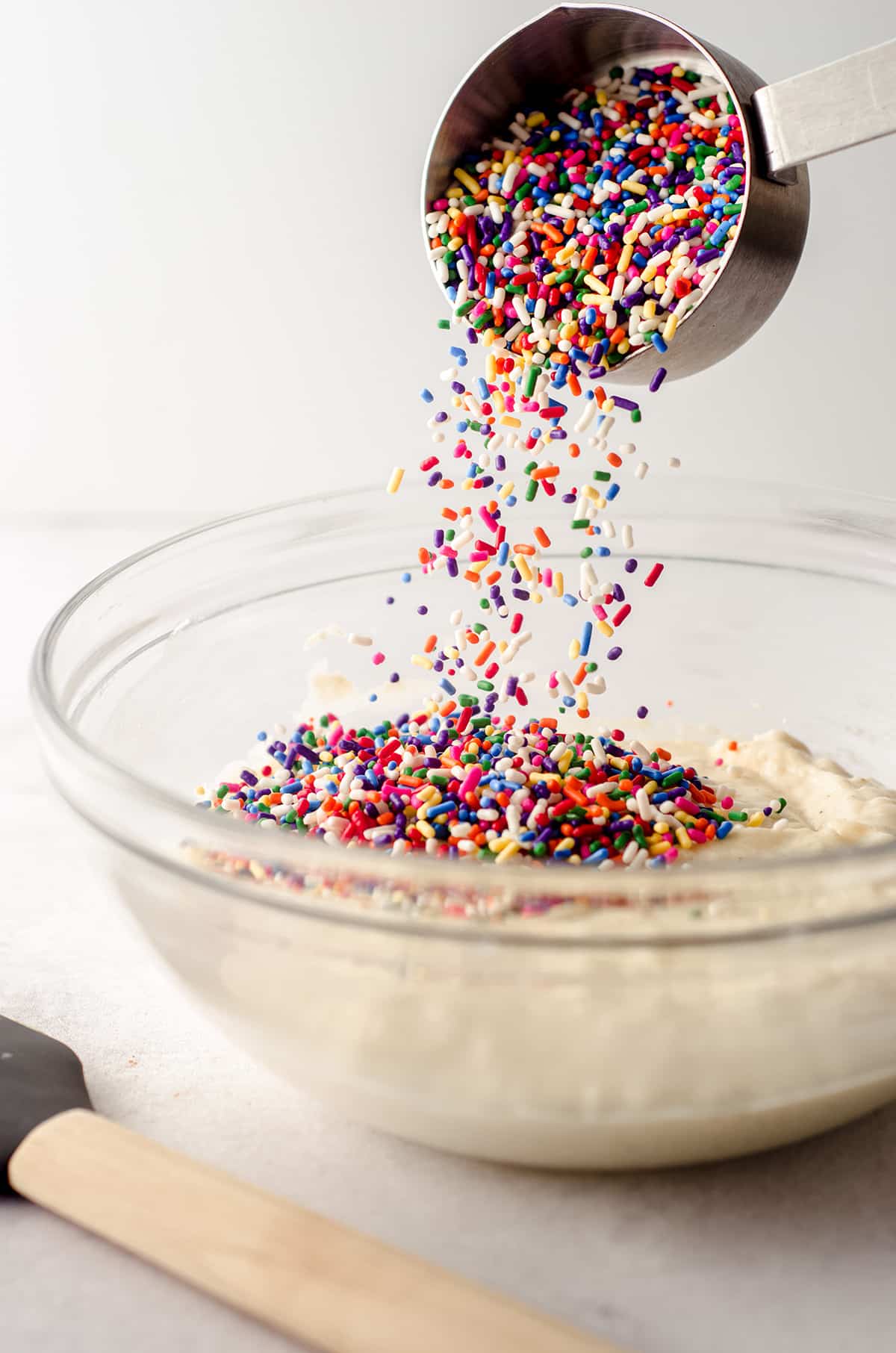 They're fine for the top after you glaze your donuts, but please, just don't put them on the inside!
Use regular rainbow sprinkles for that!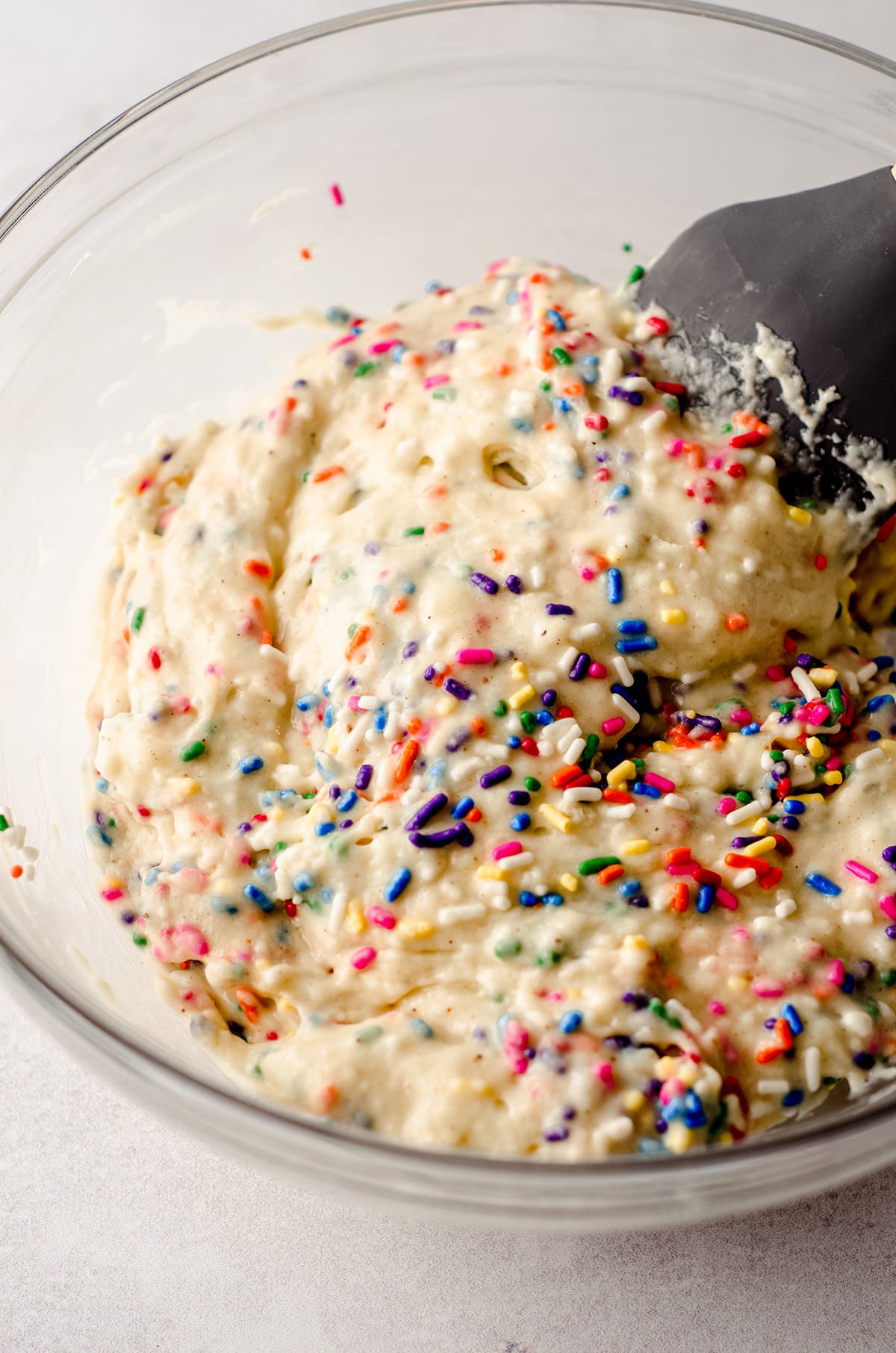 Round 2 (and every round since– we've made these a lot since 2014!) came together much quicker and much more beautifully.
I am able to mix the batter, bake the donuts, allow them to cool, and make the glaze, quick enough to stave off grabby toddlers and still maintain their interest in them.
Parents, you feel me… Quick, huh?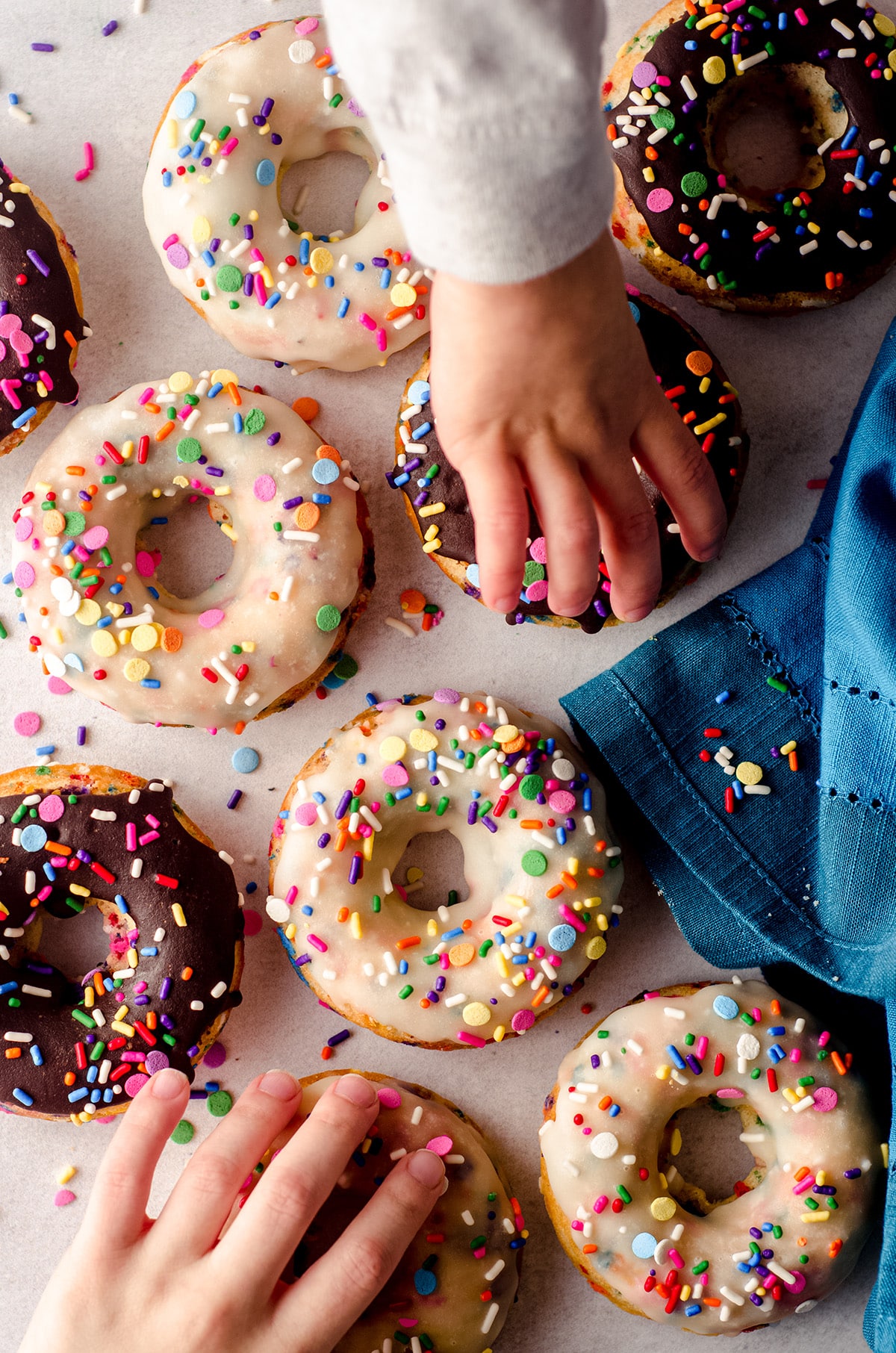 So if you find yourself craving a donut some morning, you're in luck! You can whip up a batch before you can think twice about getting in the car and going to get one.
Of course, you will need one thing, and that's a donut pan. They're super cheap, easy to store, and will be worth every single penny!
Here are my many more baked donut recipes to help convince you that you need one.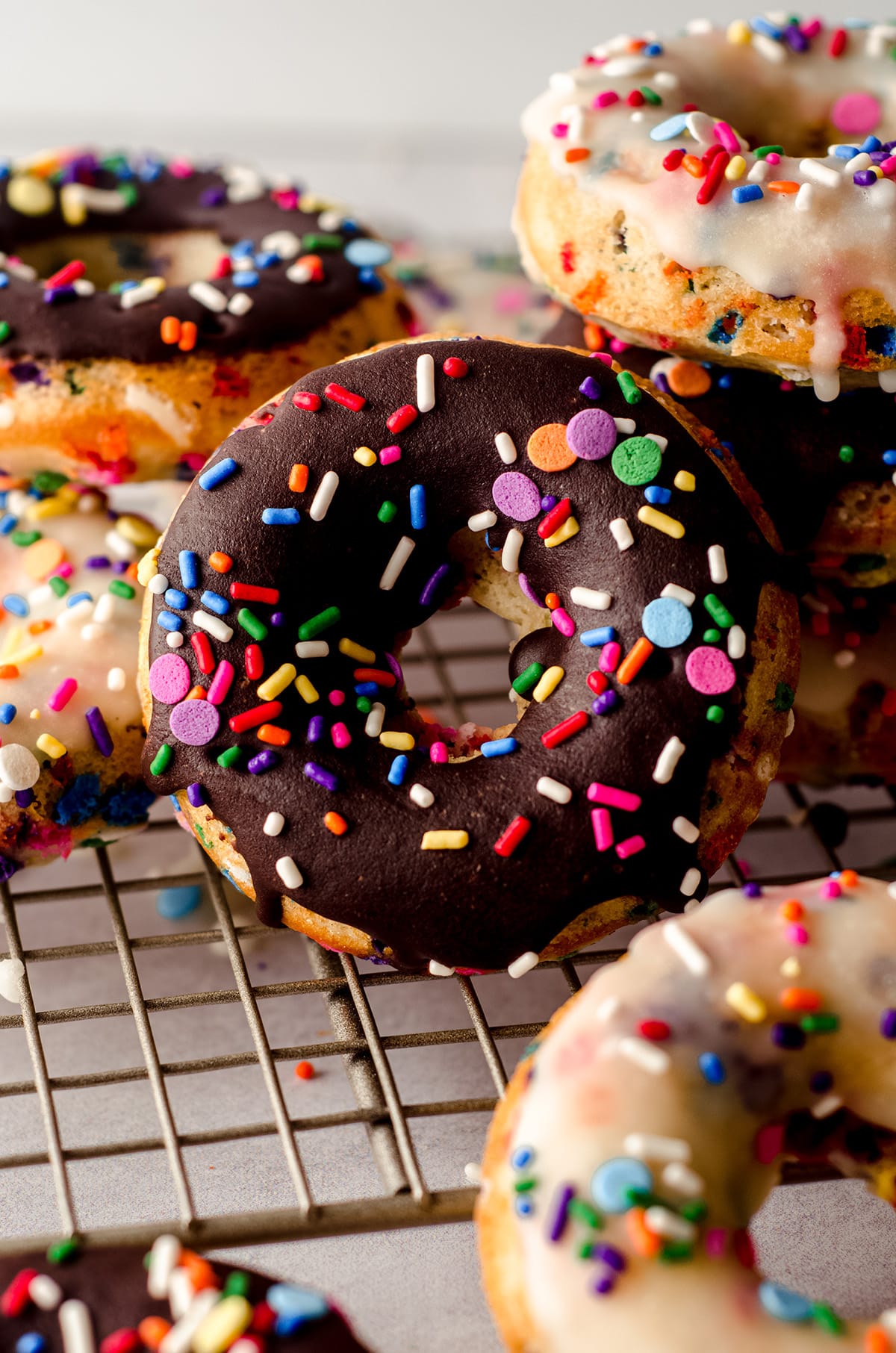 HOW TO MAKE FUNFETTI DONUTS
The only ingredients involved here that you might not have on hand are plain yogurt (I always use full fat Greek) and almond extract.
I use almond extract to get the "cake batter" flavor that goes along with funfetti. Everything else is pretty standard, and if you haven't realized yet, you don't need any yeast… So no need to be intimidated by making your own donuts at home!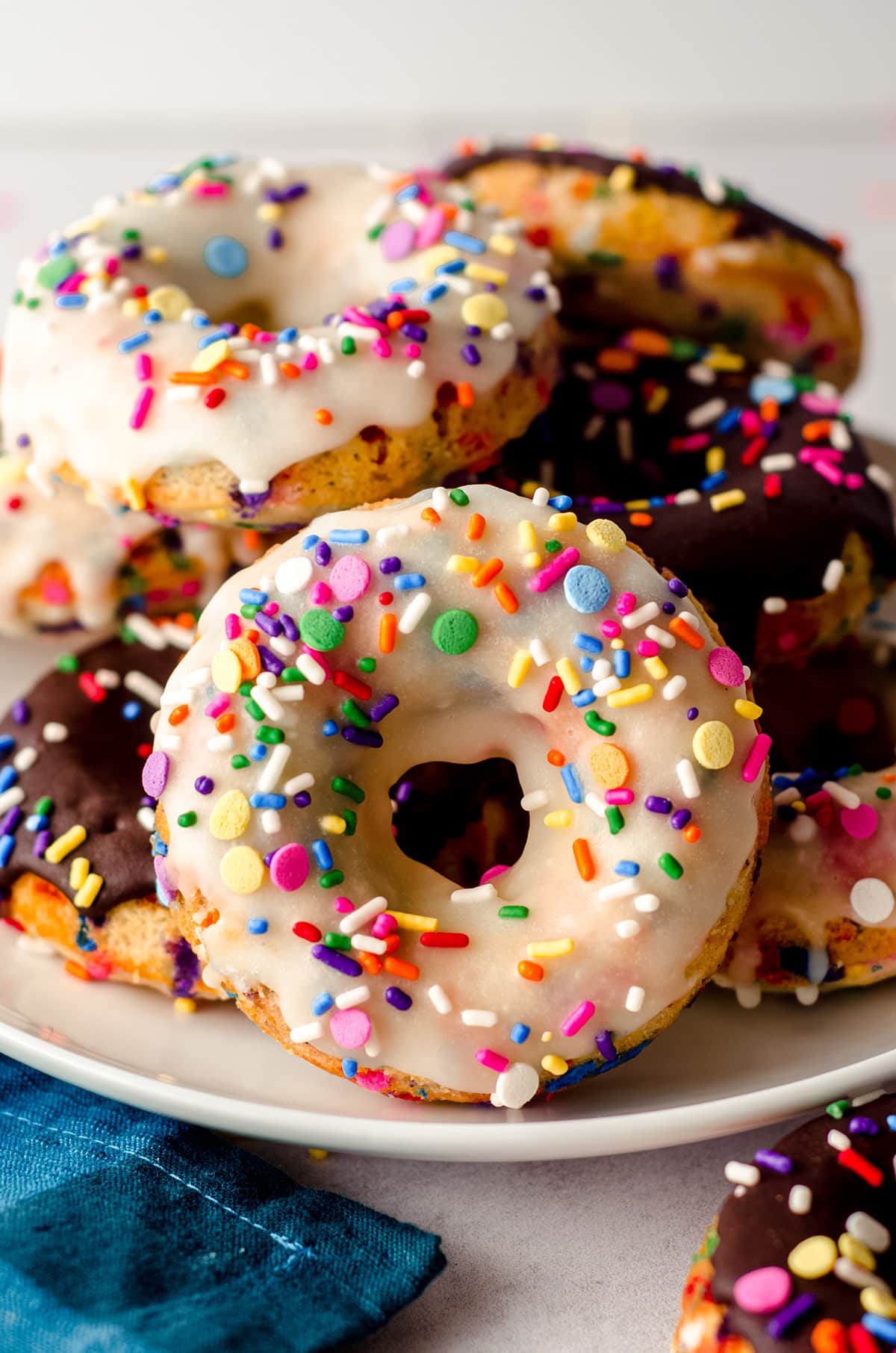 You'll also see that nutmeg is listed as an ingredient. This might sound strange, but in all the non-chocolate baked donut recipes I have baked, it is a very common ingredient.
It is a spice commonly used in traditional donut frying, so don't leave it out!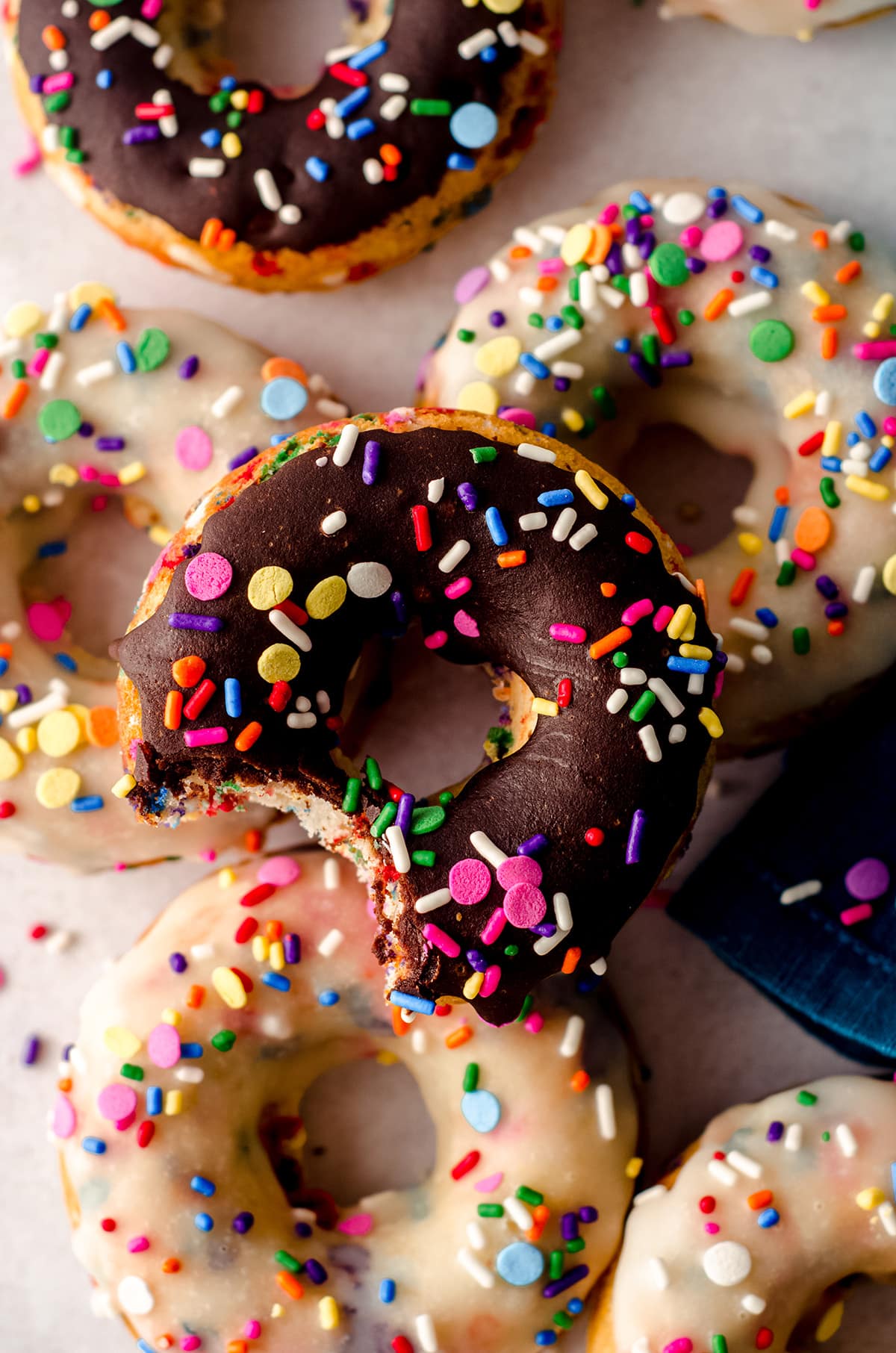 I strongly suggest using a large zip top bag or a piping bag (these are my favorite reusable ones!) to transfer your batter into your pans.
You'll be able to make a smooth, uniform shape, and your donuts will bake up nicely. You may certainly spoon your batter in, but using a bag will give you the best distribution.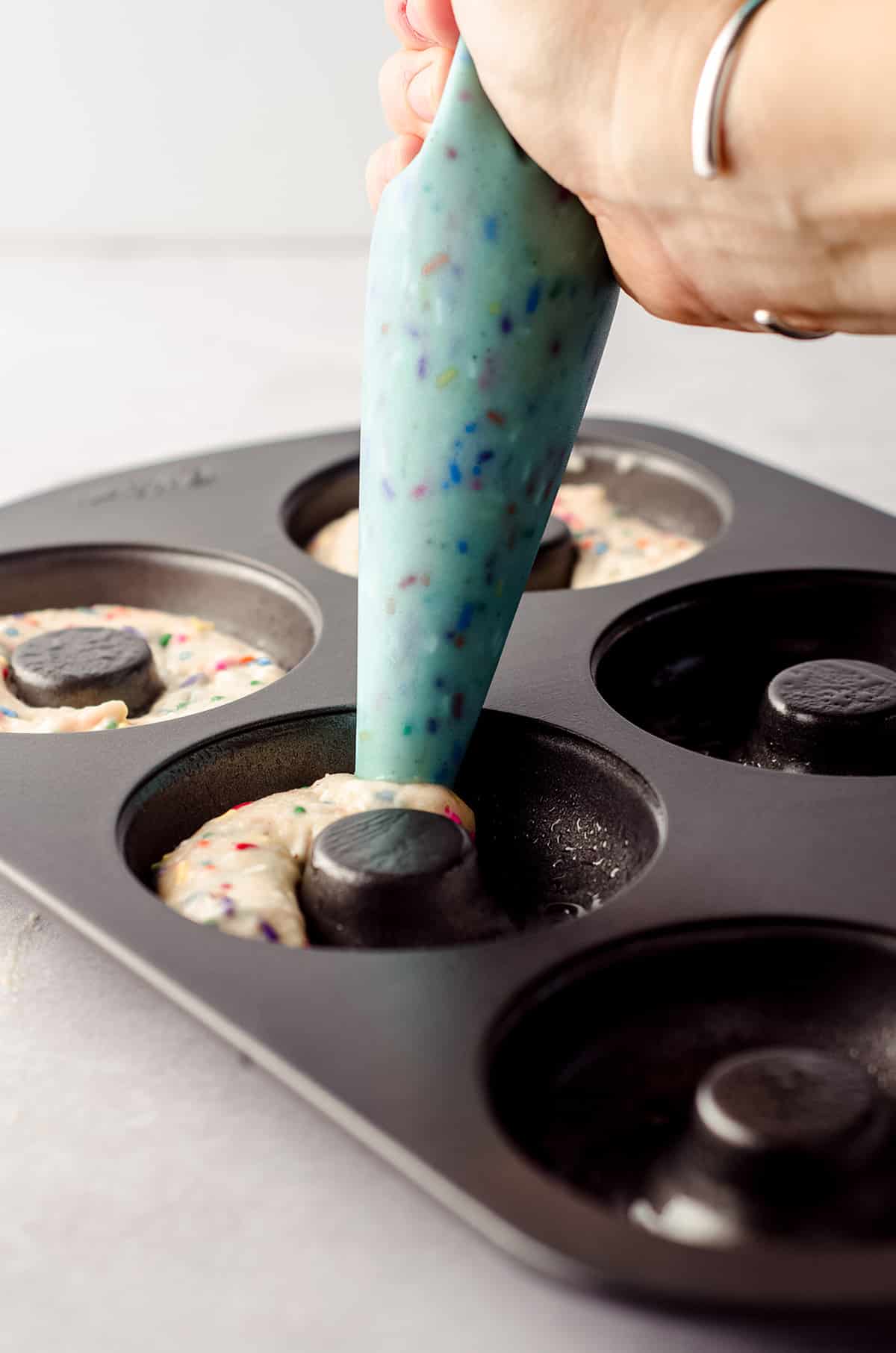 You only need to fill the wells up ⅔ to ¾ of the way full. They'll puff up in the oven, I promise!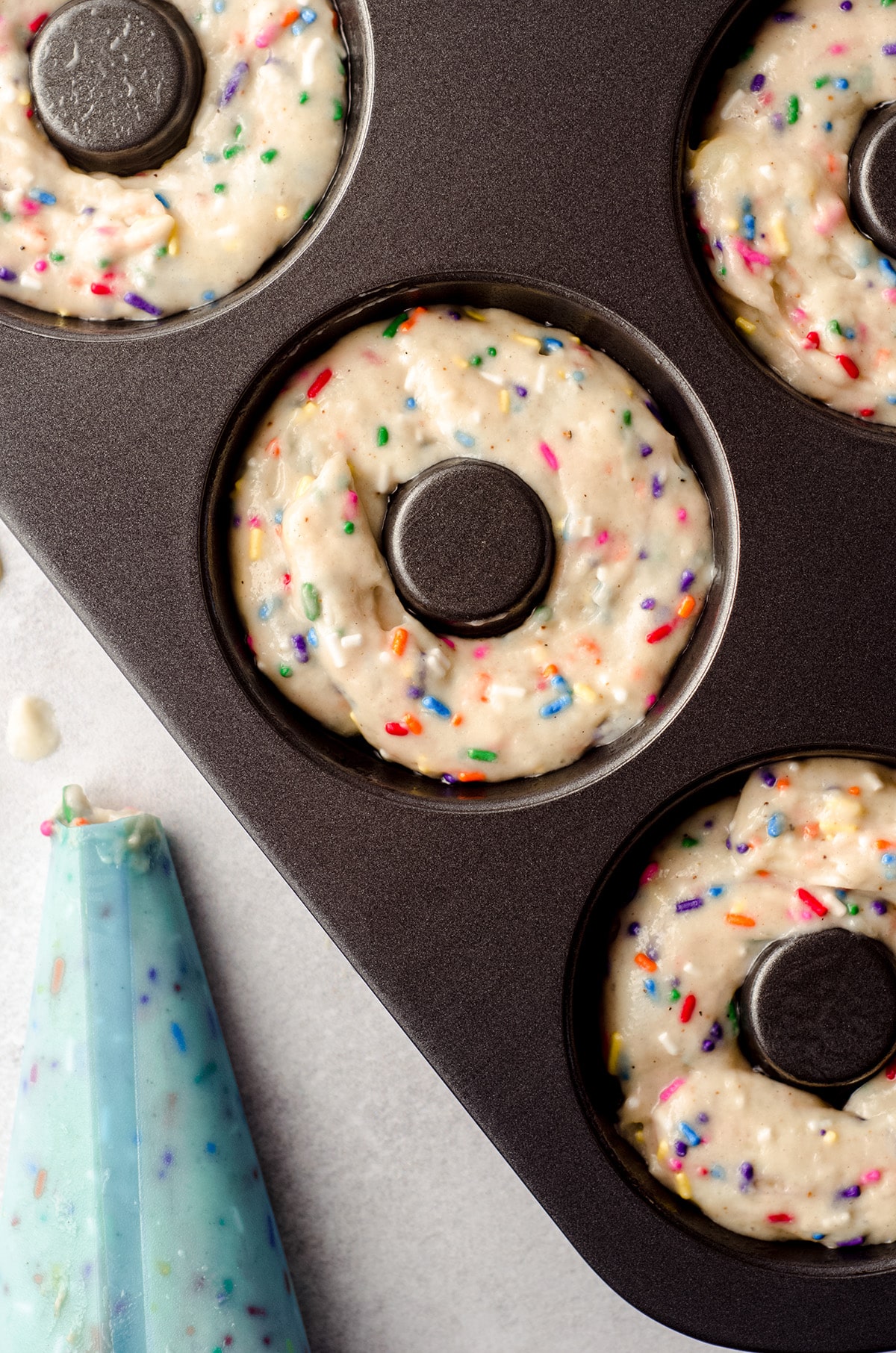 The glaze is super simple. It's just powdered sugar, some milk, and a touch of vanilla (and cocoa powder if you're looking to make chocolate glazed donuts).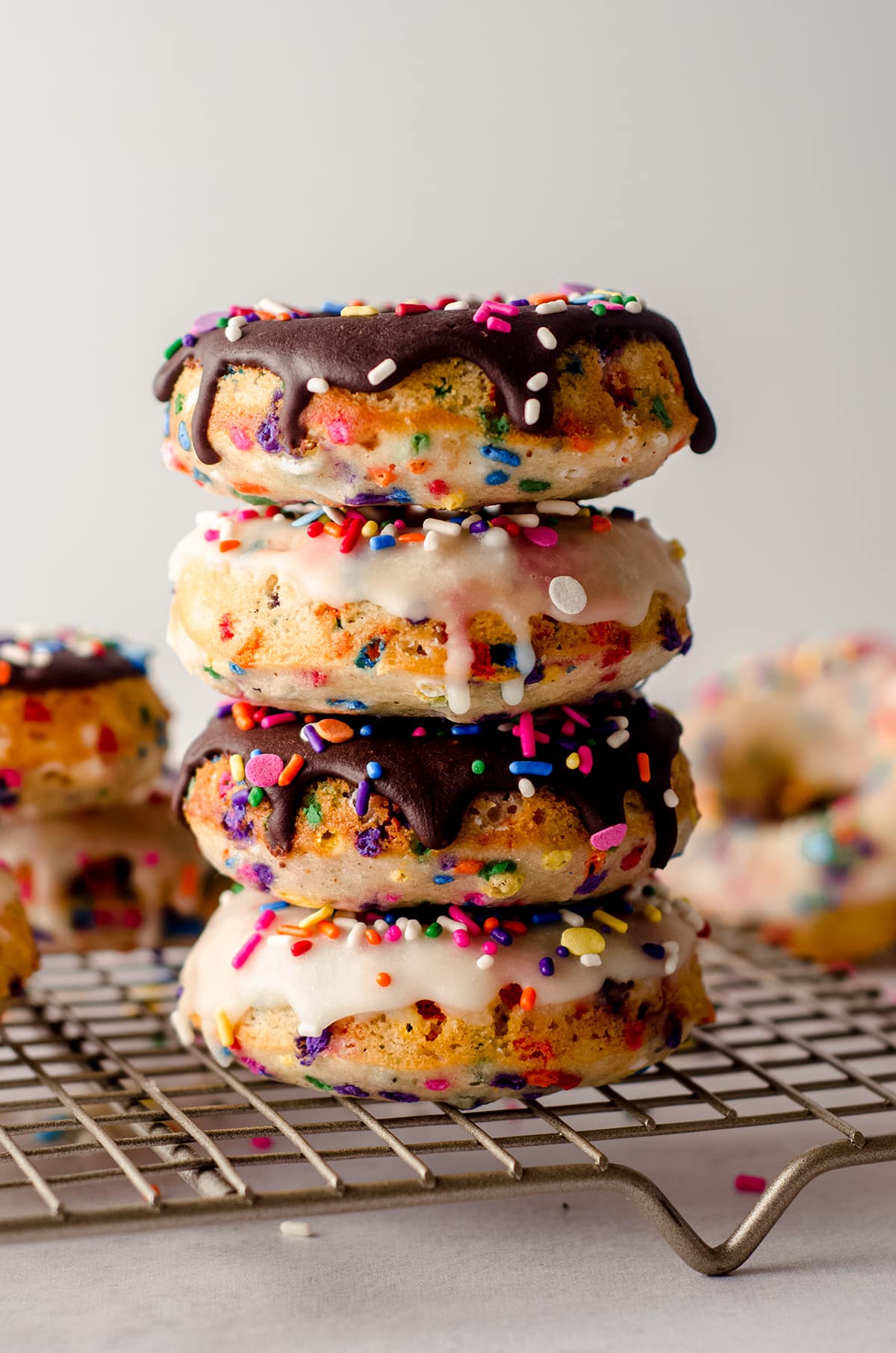 You're actually going to heat these ingredients on the stove for just a few minutes.
THE SECRET TO CRACKLY ICING IS TO COOK IT
Alton Brown taught me that if you do this, your glaze will crack, just like it does on the donut from a bakery.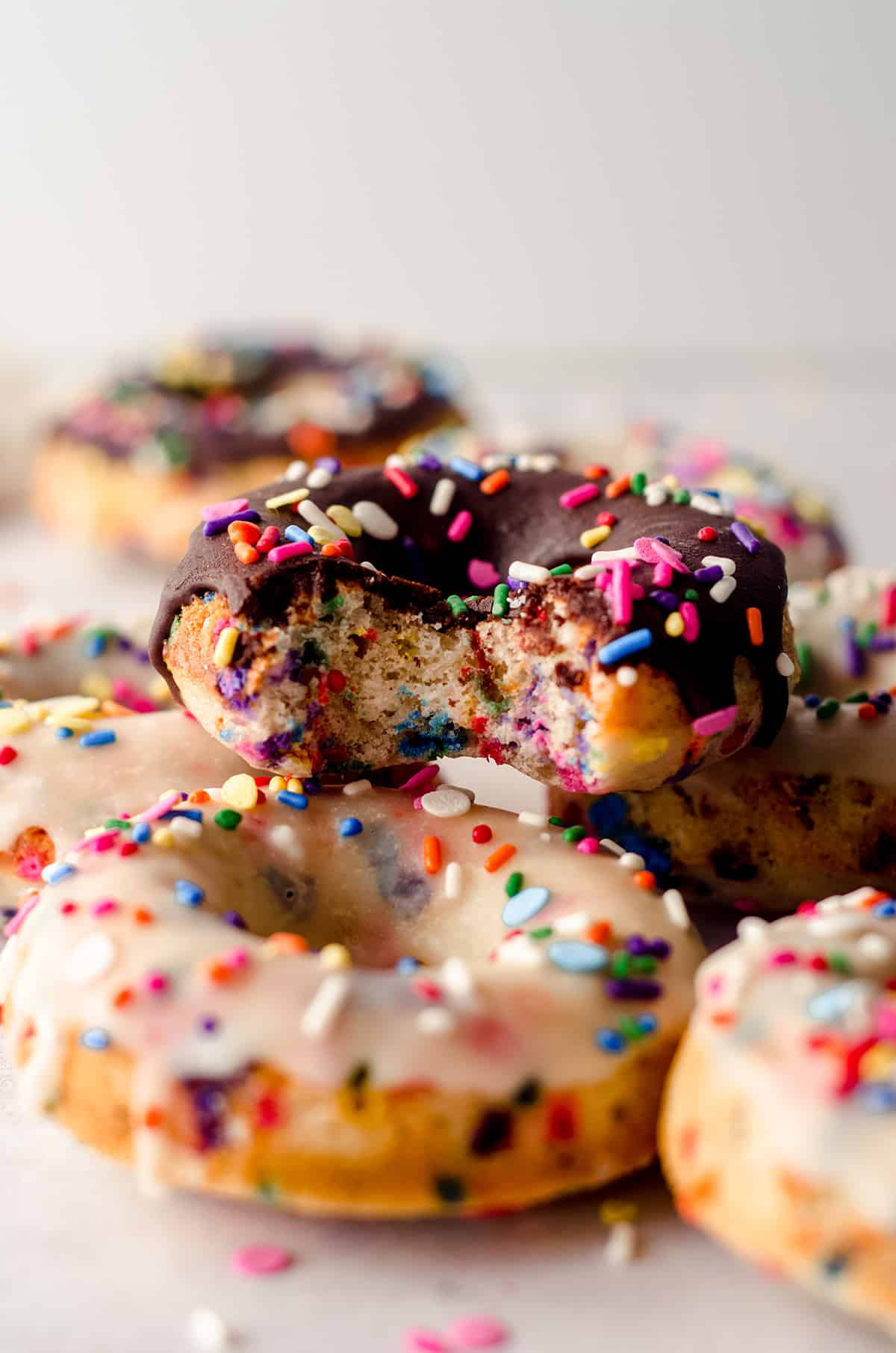 Plus, you should have enough glaze to dunk your donuts twice. Crackly glaze x2 >>>> crackly glaze.
Dunk once, set on a wire rack (glaze side up) while you work through the rest…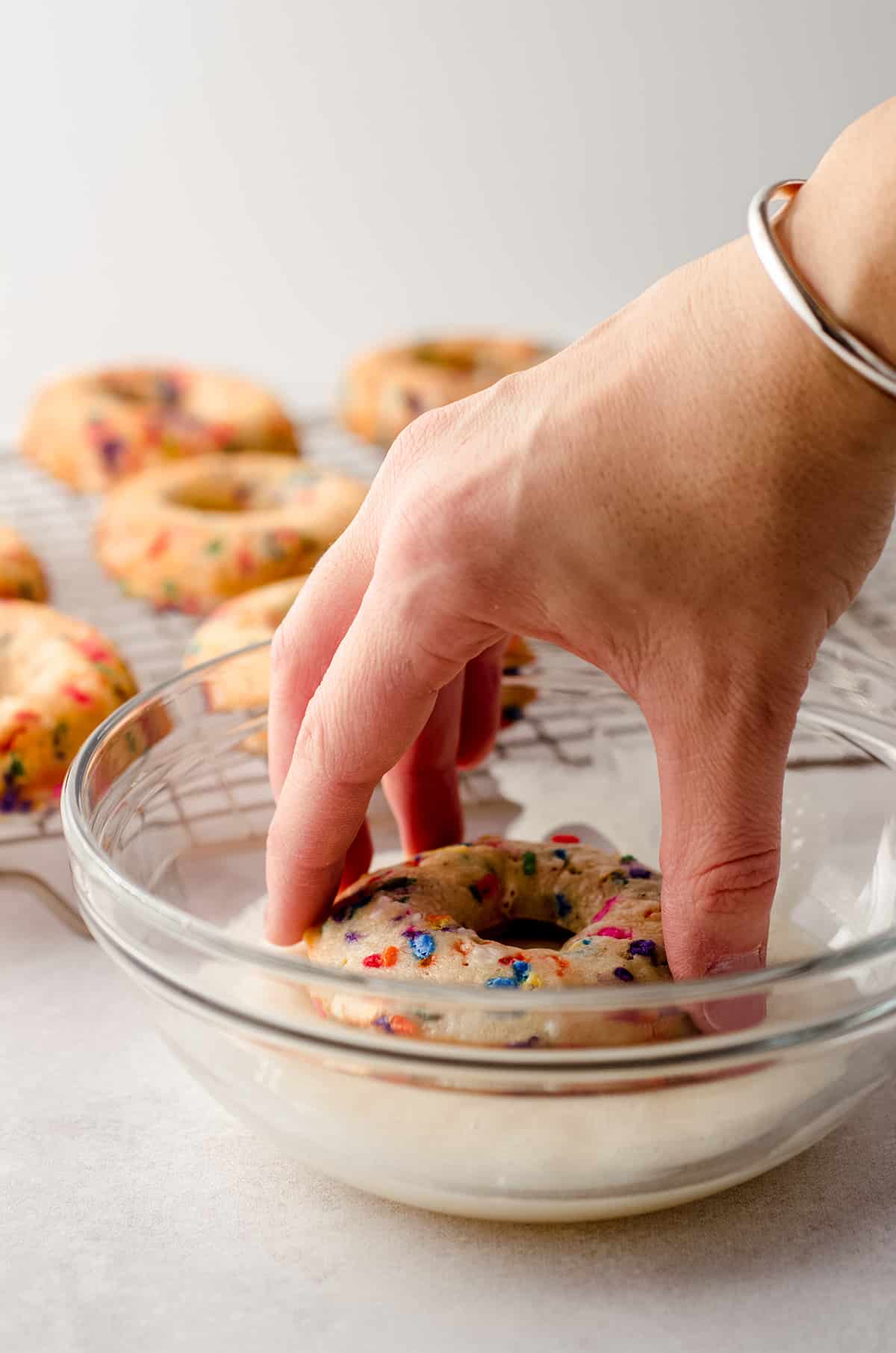 …then go back through and dunk again.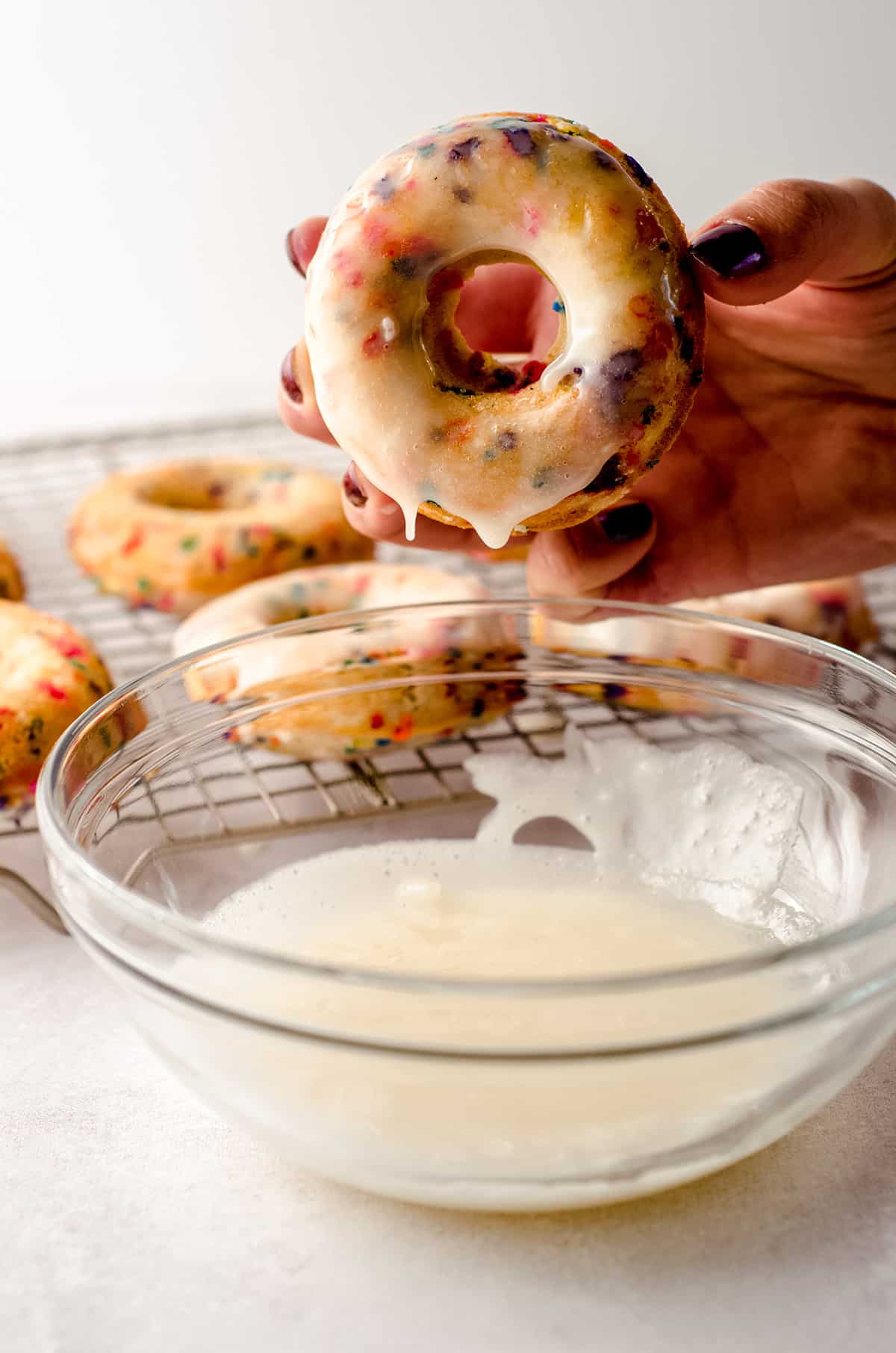 If you want vanilla glaze on half of them and chocolate glaze on the rest, use my best tip for splitting it up: glaze half of the donuts in vanilla, then add only ½ of a Tablespoon of cocoa powder to what's left, and you have chocolate glaze for the remaining donuts!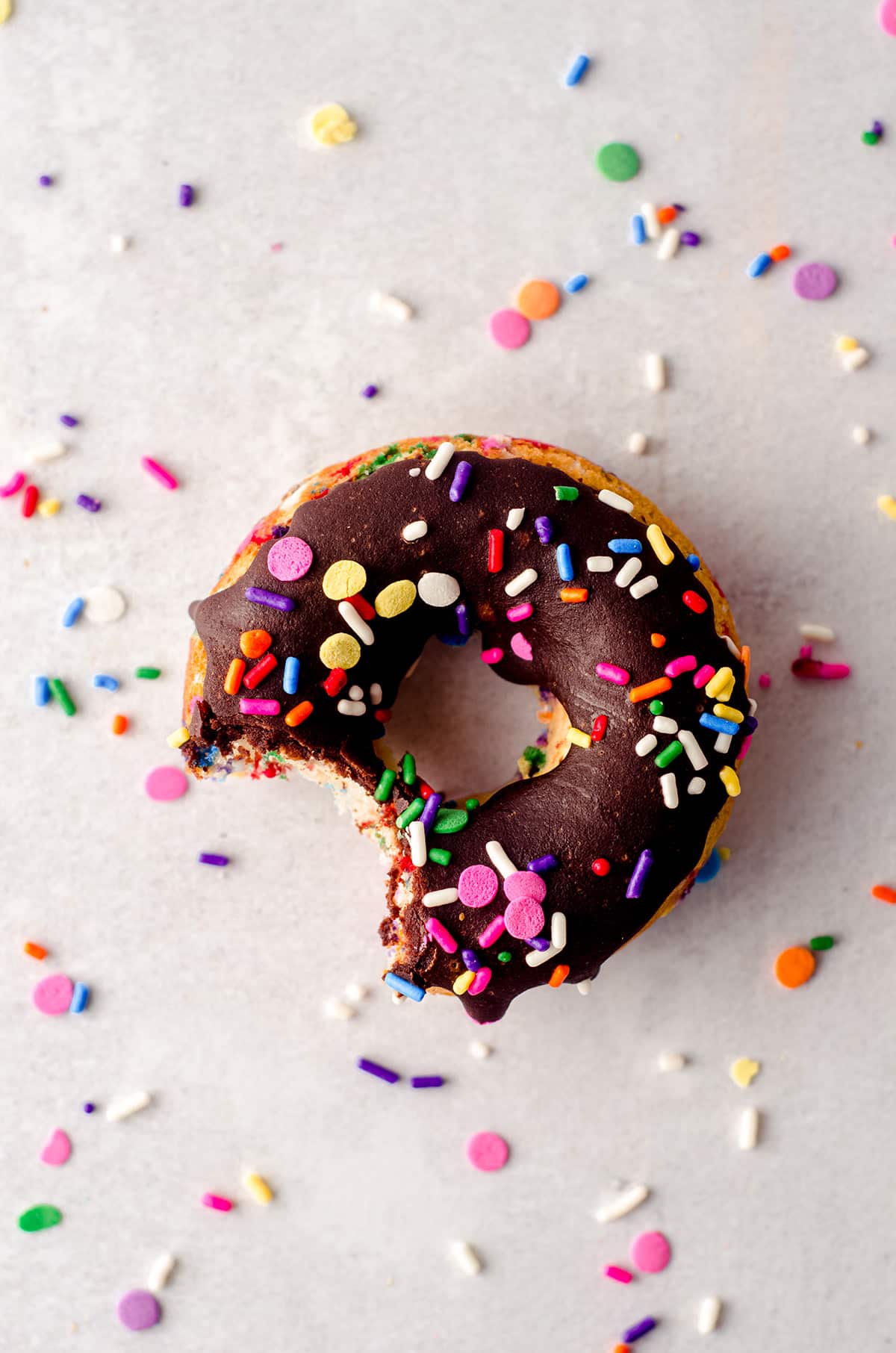 Decorate however you wish, leave them plain and forget about the glaze, whatever! I promise you that you'll surprise yourself at how easy it is for you to make fresh, soft baked funfetti donuts at home.
Funfetti Donuts
Baked and not fried cake donuts filled with sprinkles and topped with a simple vanilla or chocolate glaze.
Ingredients
DONUTS
1

cup

(120g) all-purpose flour be sure to measure properly

1

teaspoon

baking powder

¼

teaspoon

ground nutmeg

¼

teaspoon

salt

⅓

cup

(67g) granulated sugar

1

large egg

2

Tablespoons

(29g) unsalted butter

melted

¼

cup

(60mL) milk any, but full fat preferred1

¼

cup

(123g) plain yogurt regular or Greek, full fat preferred1

½

teaspoon

vanilla extract

½

teaspoon

almond extract

½

cup (144g)

sprinkles

not nonpareils
GLAZE
2

Tablespoons

(30mL) milk

any

½

teaspoon

vanilla extract

1

cup

(120g) powdered sugar

1

Tablespoon

(6g) unsweetened cocoa powder if you want chocolate glaze2
Instructions
Preheat the oven to 350ºF (177ºC).

Spray a donut pan with non-stick spray and set aside.
DONUTS
In a medium size bowl, whisk together the flour, baking powder, nutmeg, salt, and sugar. Set aside.

In a small bowl, whisk together the egg, butter, milk, yogurt, and vanilla and almond extracts and combine until smooth.

Pour the wet ingredients into the dry ingredients and blend until just combined, being careful not to over mix. Then, gently stir in the sprinkles.

Transfer batter to a piping bag or a large zip top bag with the corner snipped off, and pipe batter evenly into donut wells, filling them ⅔ to ¾ of the way full. You may also use a spoon.

Bake for 10-12 minutes or until edges just start to brown. Cool completely on a wire rack before dipping in glaze.
GLAZE
Combine all of the ingredients in a small saucepan. Heat over low heat and whisk until smooth.

Remove saucepan from heat and dunk donuts into glaze one by one. Transfer to wire rack over a baking sheet or wax paper to catch glaze drippings. Glaze does not have to be completely set for the second dunk.½

Dunk donuts a second time with remaining glaze. Decorate with more sprinkles, if desired. Donuts taste the freshest the same day they are baked, but can be stored covered at room temperature up to 2 days. Unglazed donuts freeze well, up to 3 months. Thaw in the refrigerator overnight and then glaze.
Notes
Full fat dairy: this produces the moistest end result possible. If you use lower fat dairy, understand you may sacrifice some moisture.
Chocolate glaze: if you want to do some donuts with vanilla glaze and some with chocolate, do all the vanilla first, then add cocoa powder to remaining glaze. You do not need to reheat glaze after adding chocolate. My best advice: do half of the donuts in vanilla, then add

½ Tablespoon of cocoa powder to that.
Nutrition Disclosure
All nutritional values are approximate and provided to the reader as a courtesy. Changing ingredients and/or quantities will alter the estimated nutritional calculations.