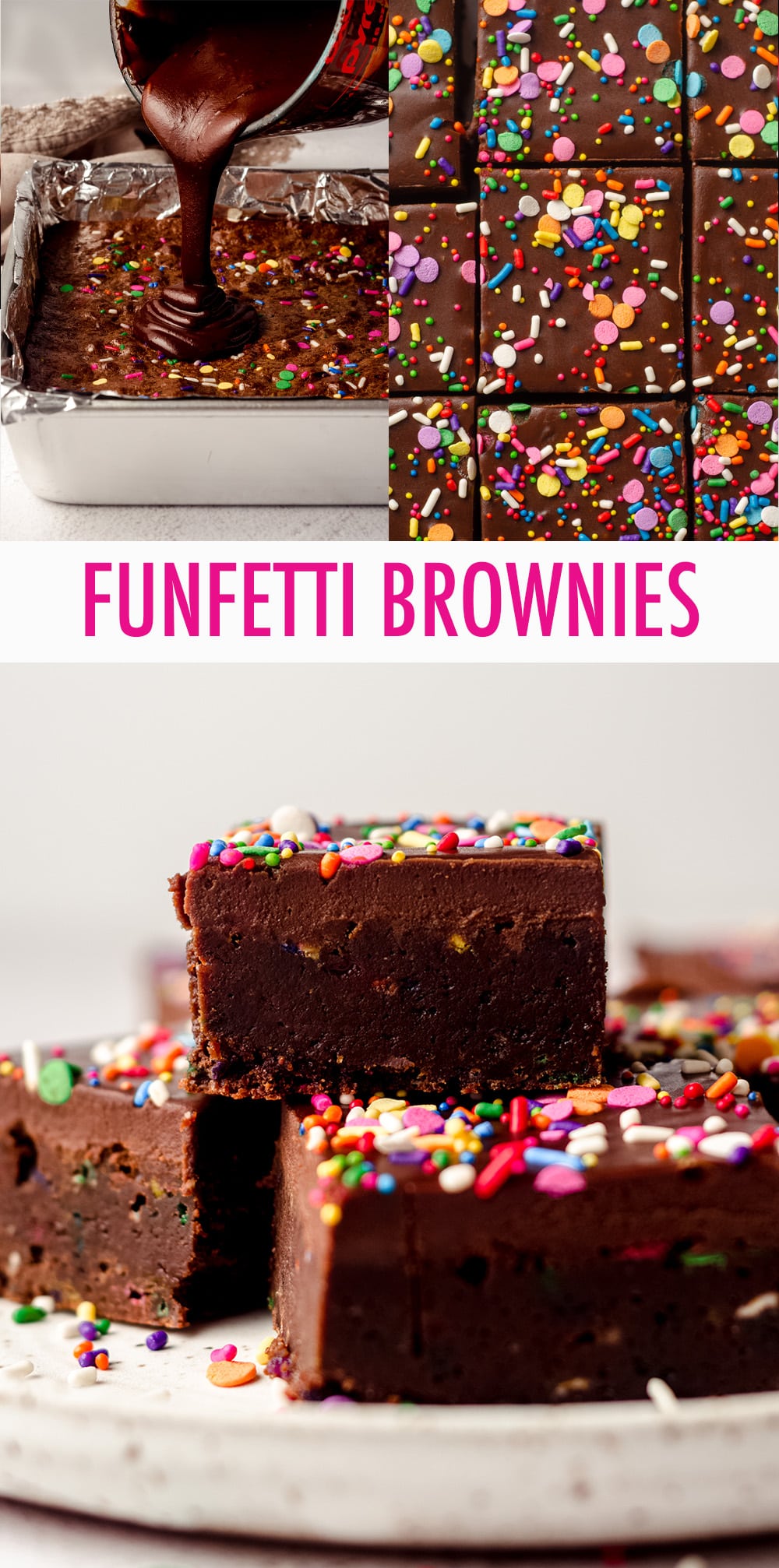 As an Amazon Associate, I earn from qualifying purchases. Read the full disclosure here.
Simple from-scratch brownies filled with sprinkles and topped with a smooth and creamy chocolate ganache.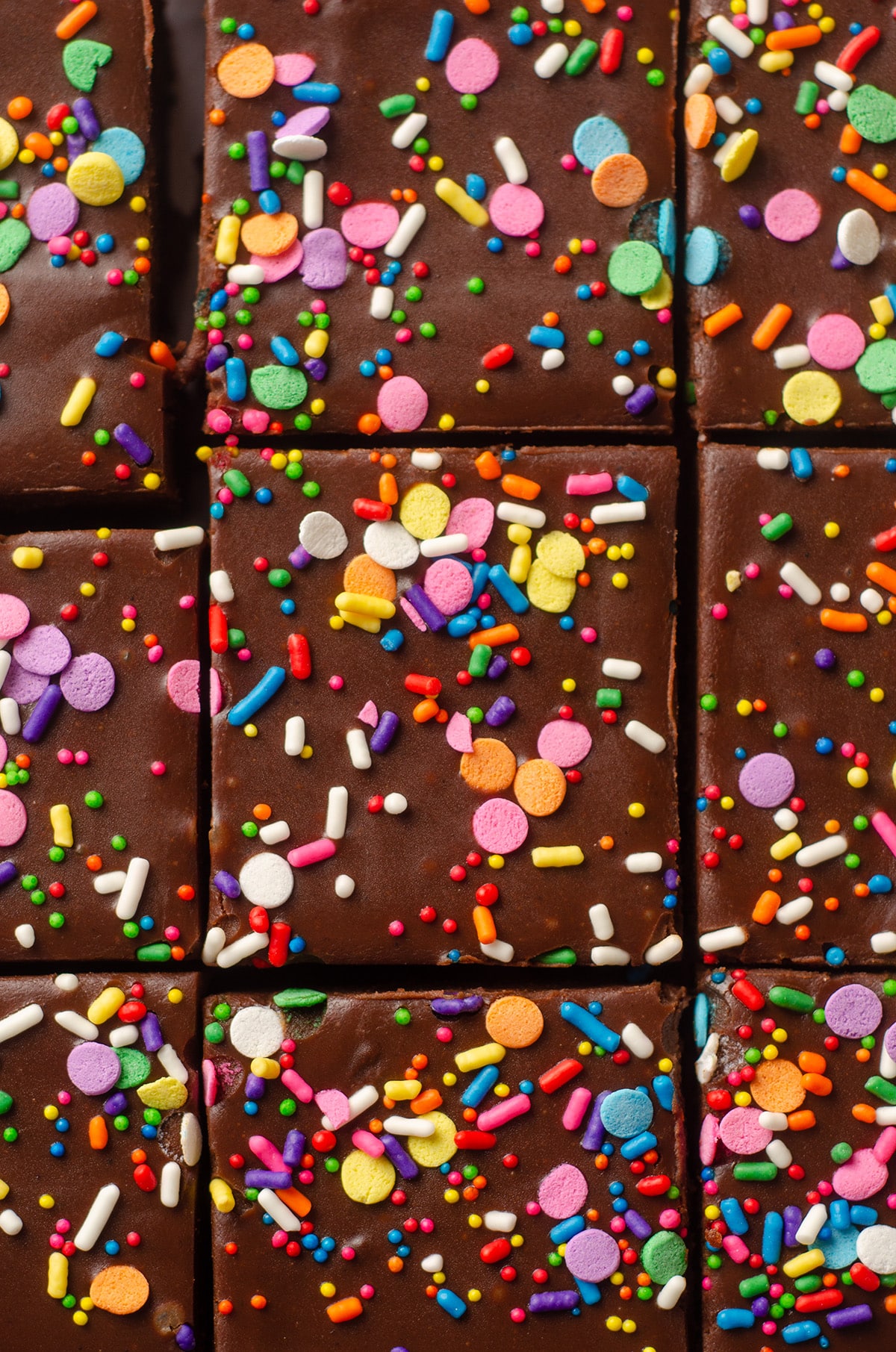 Are you into celebrating birthdays for inanimate objects/things that aren't humans/animals? Because I'm here to tell you that I AM and this week is a big one!
April 13th is the official birthday of my blog, when I hit "publish" for the first time and had zero expectations of what was to come.
Of course, as it often does, my fun thing turned into a hobby which turned into a part time side-hustle, which turned into an almost full-time side-hustle that was getting in the way of my actual full time job.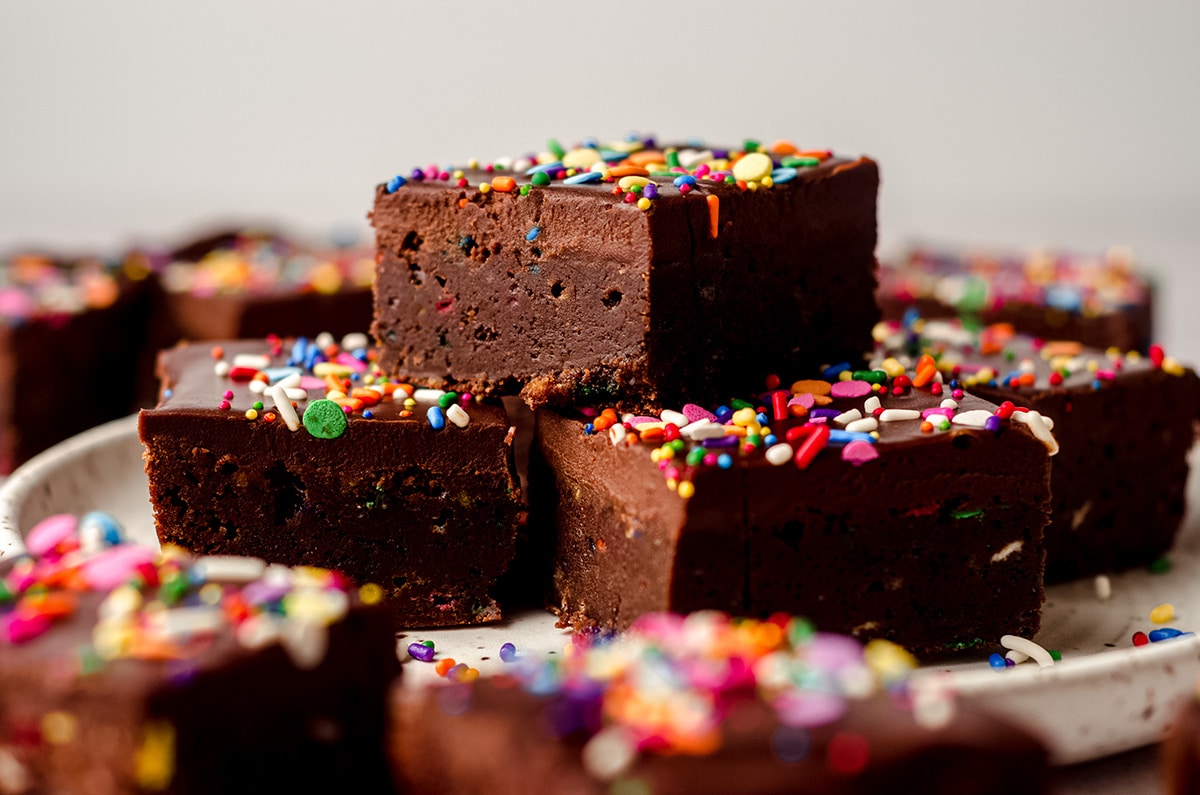 It's been a year and a half since I first called this blog my full time job (a year and a half to the day, in fact!), and I know it's so cliche to say it, but I could have never pictured myself doing this when I started it seven years ago.
But then again, what do we actually see coming, right? (#2020 anyone?)
This week, at least in this corner of the internet, is all about the sprinkles and celebrations. I spruced up and improved four of my beloved funfetti recipes (funfetti donuts, funfetti oatmeal cookies, cake batter dip, and funfetti sugar cookie cake), and today's homemade funfetti brownies are brand new!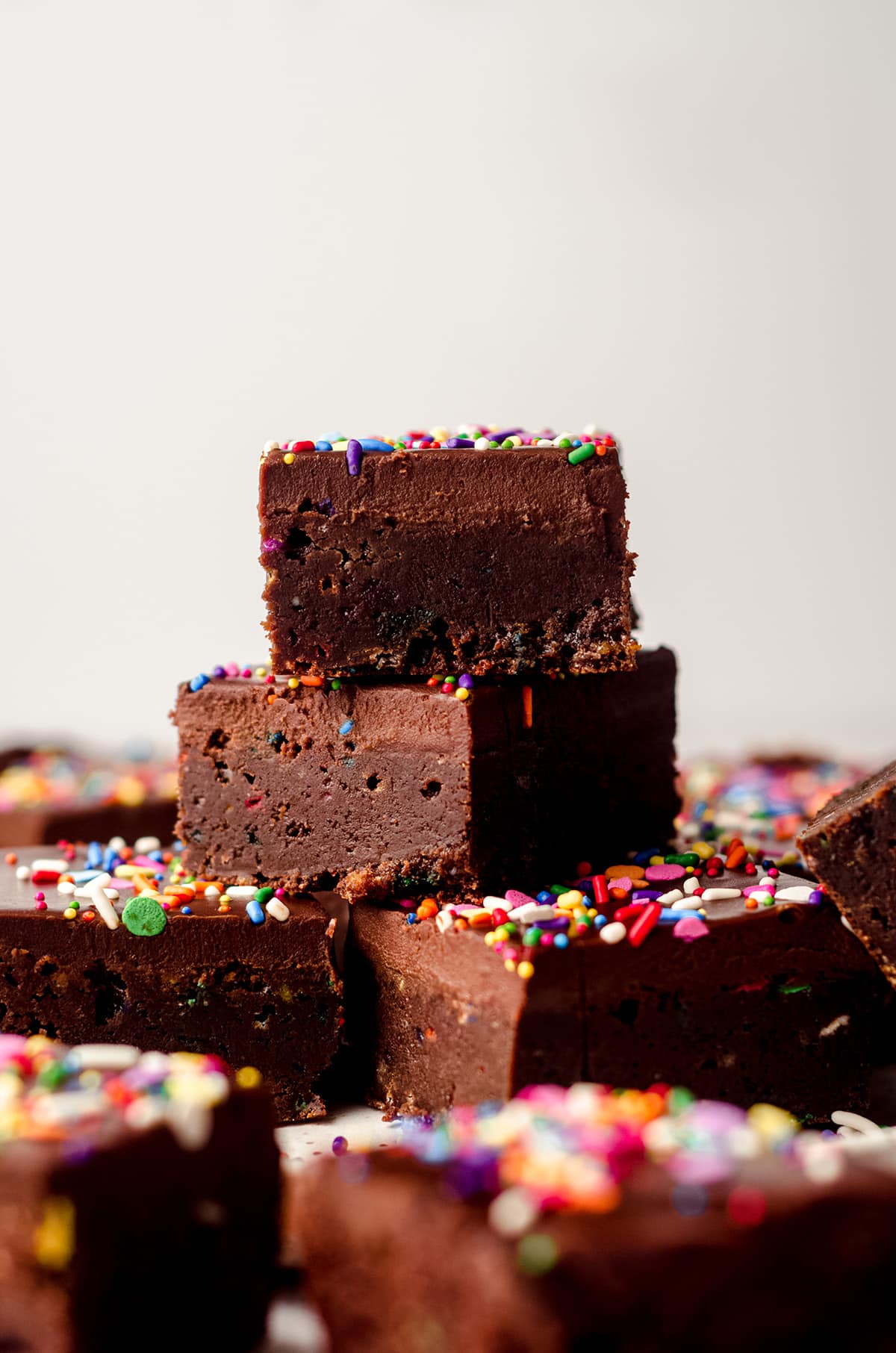 If you were around for any of 2020, you know that I have a beloved go-to homemade fudgy brownies recipe that is the base for literally all of my brownie recipes.
I published 12 new brownie recipes on my blog last year in my Brownie of The Month series, and saved this one specifically for my 7th blogiversary.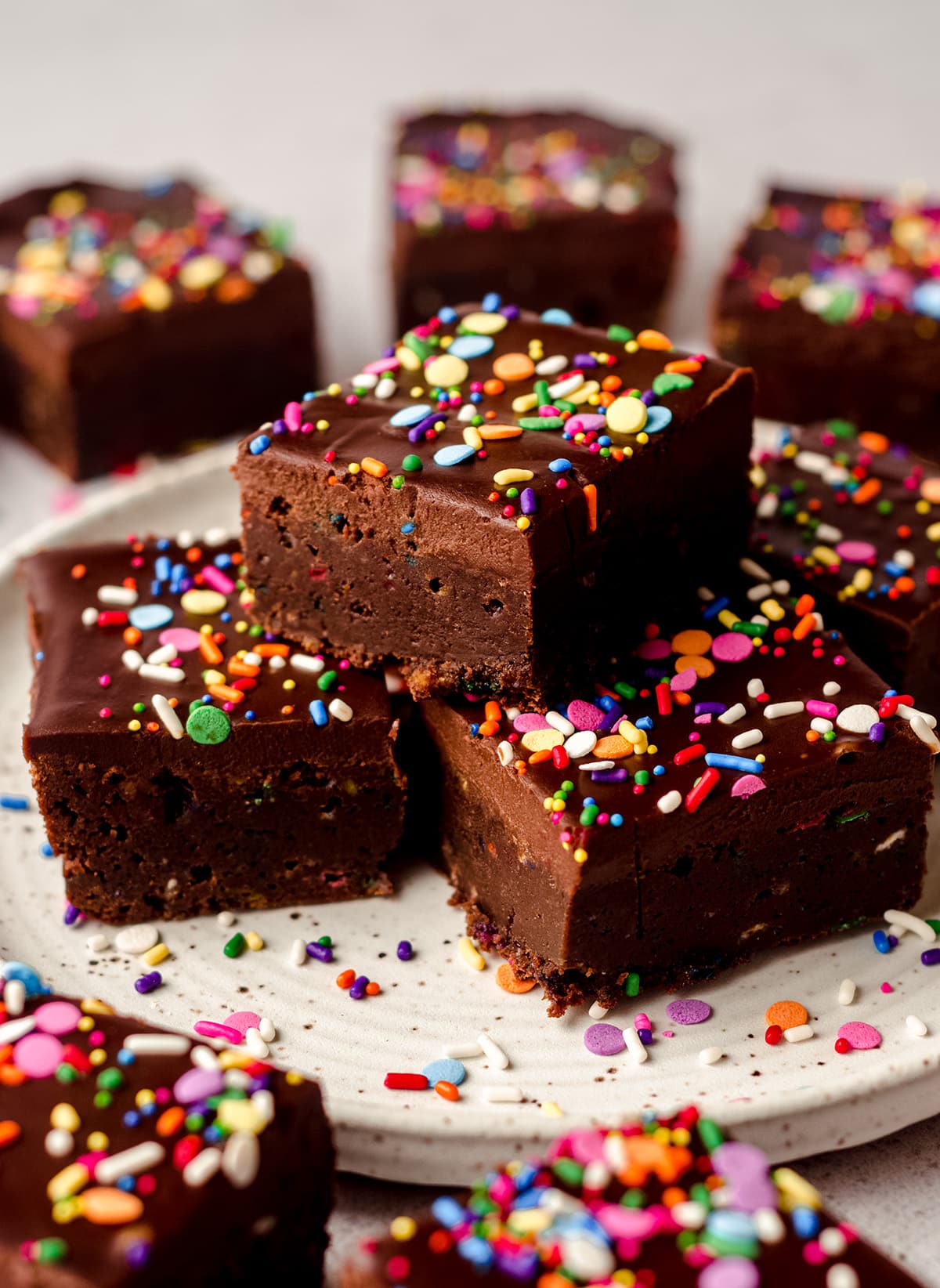 But here's the thing– I've got some beef with the funfetti brownie selection I saw when I typed those two words into Google several months ago.
None of these funfetti brownies were actually funfetti chocolate brownies. Everything I saw was technically a blondie, and that's not what I think of when I think of funfetti cake batter brownies.
Here's a blondie. And here's another blondie! A brownie is a brownie. It's as simple as that.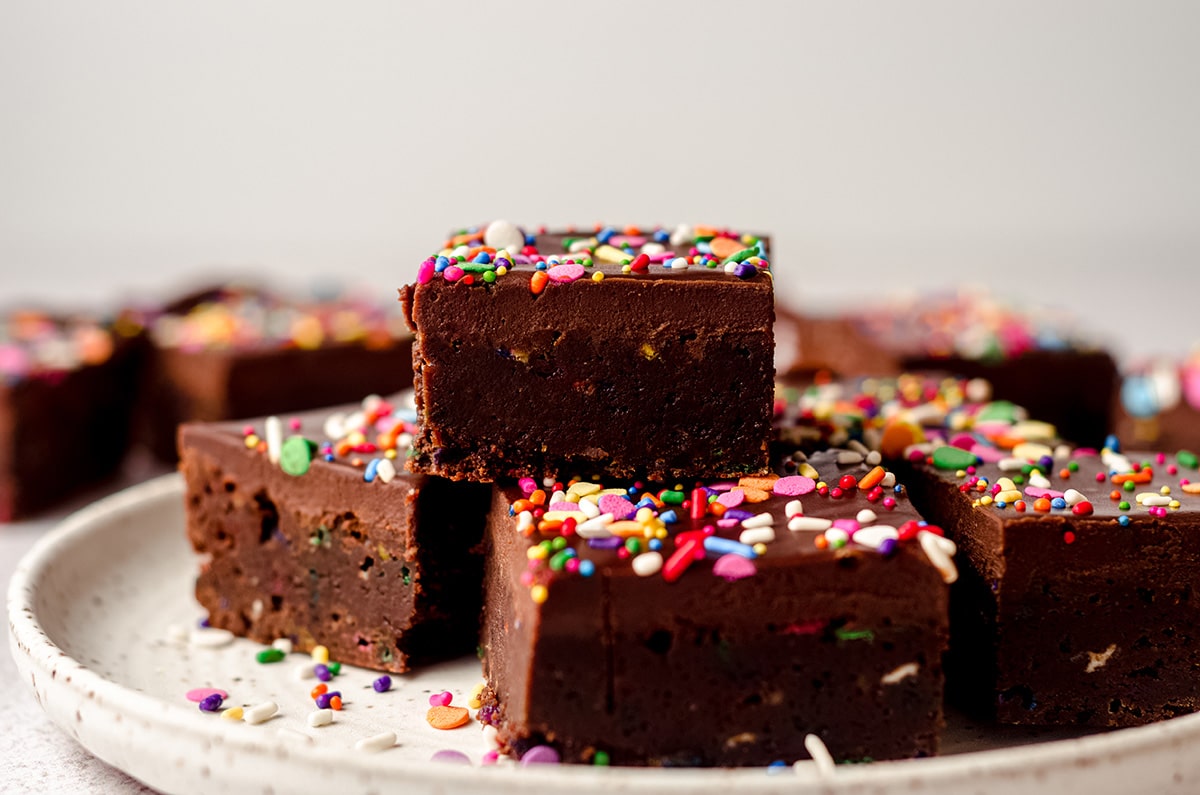 So if you're here for more of a funfetti blondie, chances are, you're not still reading (LOL). But if you're here for a recipe you'd consider birthday cake brownies or a copycat of Pillsbury funfetti brownies, you've come to the right place.
HOW TO MAKE FUNFETTI BROWNIES
Like I mentioned, this brownie recipe, like all of my brownie recipes, starts with the same scratch brownie recipe I rely on for all of my brownie adventures.
If you're interested in the whys and hows of all of the ingredients, I suggest popping over to that post to get the details. I talk extensively about exactly why I chose and use the ingredients that I do and the end result I strived for.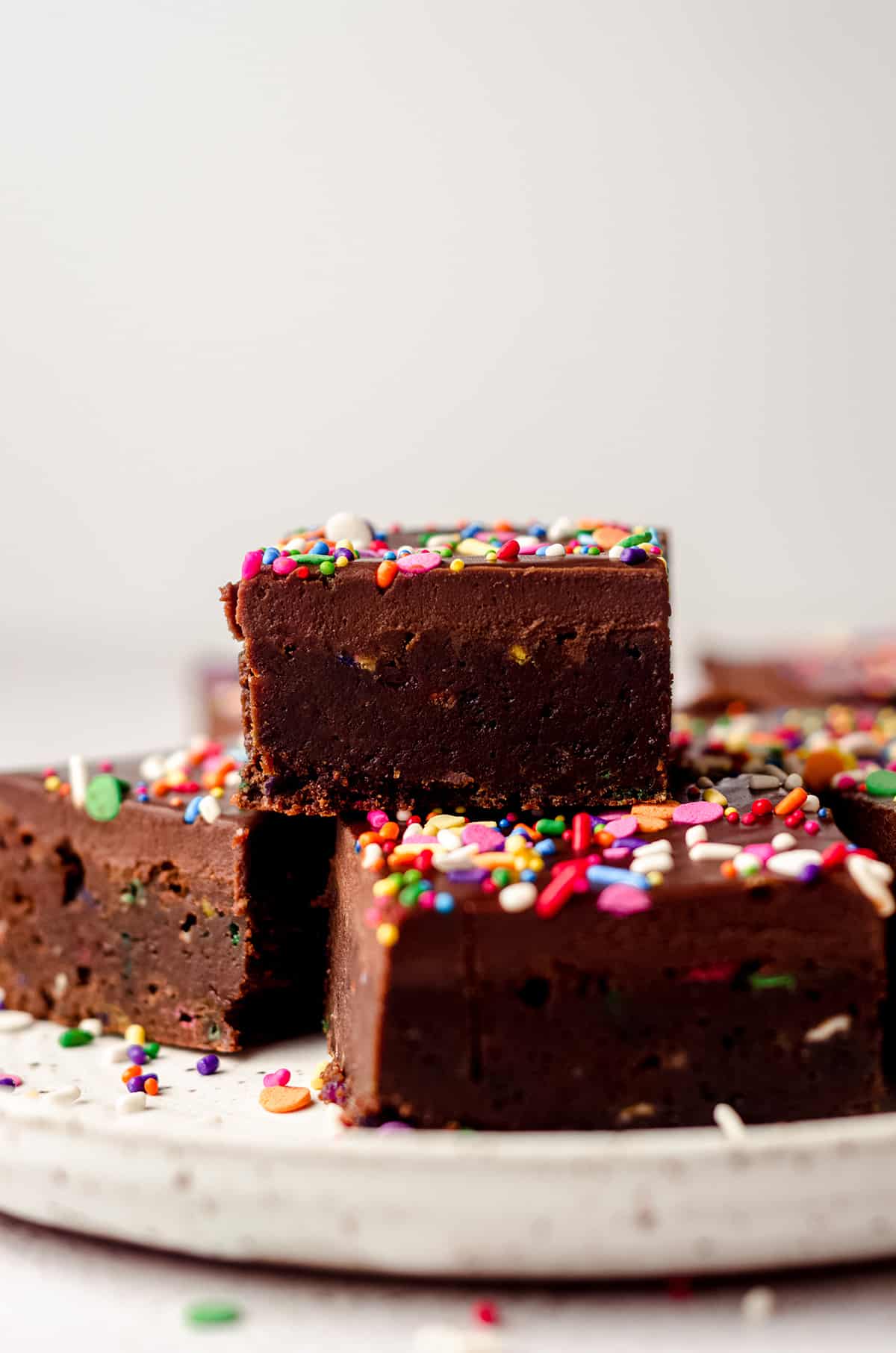 These funfetti brownies are no different, but they do include one ingredient I use in all of my funfetti or cake batter recipes, and that's almond extract.
Of course, if you have any aversion or allergy to nuts, you can 100% leave it out. It just gives that signature essence of "cake batter" flavor and makes these brownies a touch different from the rest.
Sprinkles go in the batter as well, because duh. Funfetti = sprinkles and there is no other way to do a celebration, are you with me??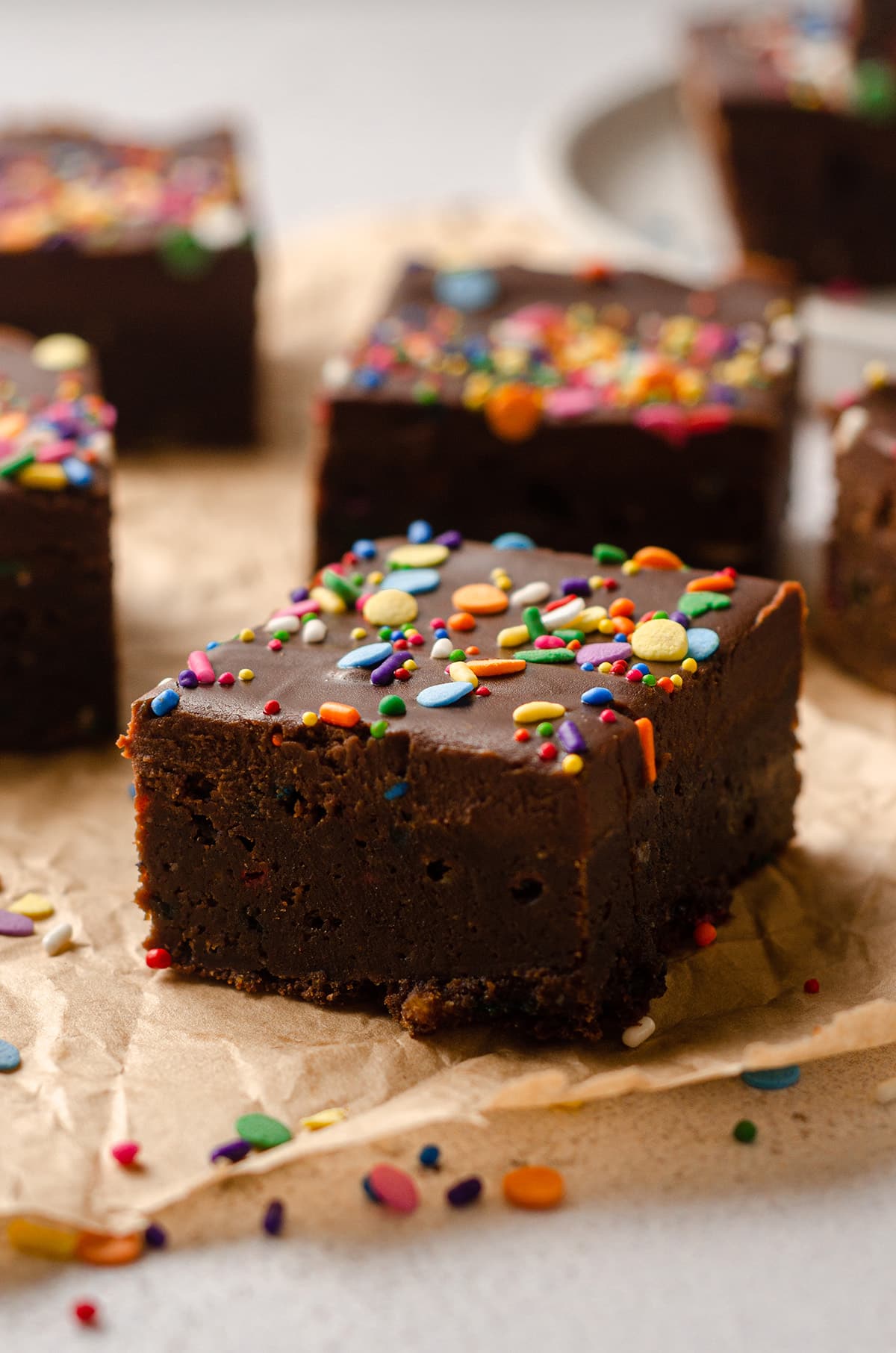 TOP WITH CREAMY CHOCOLATE GANACHE
When I wrote this recipe for funfetti brownies, I wanted them to be a little different than just brownies with sprinkles, so I took a note from a gal named Little Debbie.
I love the look of cosmic brownies and I love the texture combination that brownies + ganache make. Hence, my mint chocolate brownies. So I took the homemade cosmic brownies approach and sort of made it happen.
Instead of using little chocolate beads like authentic Little Debbies' cosmic brownies, I just opted for essentially brownies with rainbow sprinkles topped with chocolate ganache and more rainbow sprinkles (holy mouthful). We can call these cosmic brownie-esque. Ok?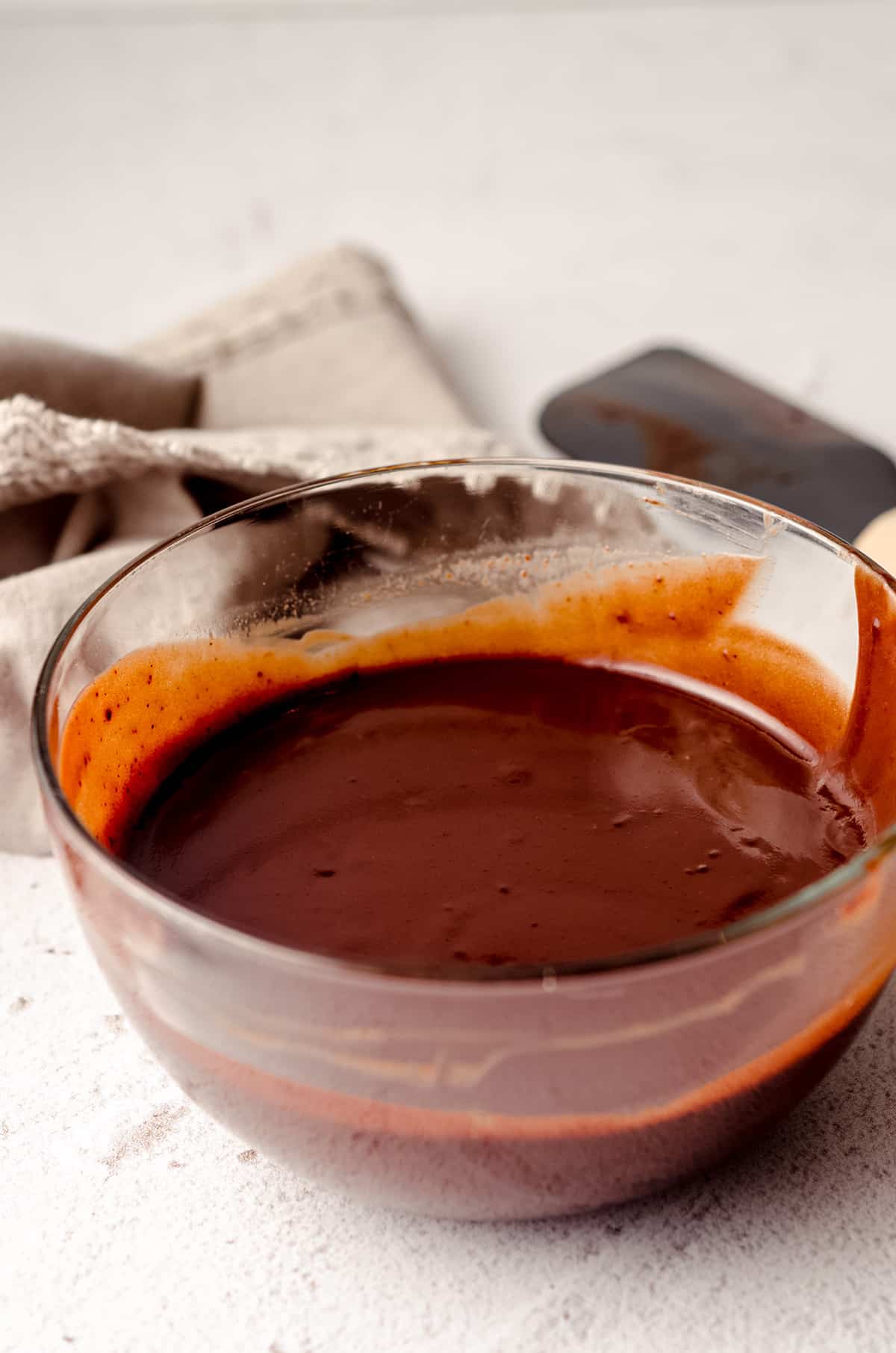 And if you've never made homemade chocolate ganache, I'm here to tell you it's so simple, you'll be going "what? That's it?"
I discovered the super simple way of making homemade chocolate ganache when I made my chocolate bundt cake. I had made ganache several times before, but I used chopped chocolate, butter, and heavy cream to do so (see my whipped white chocolate ganache that I used on my funfetti bundt cake).
Of course, there is nothing wrong with this method, but we can make chocolate ganache even more simply by using chocolate chips. SCORE!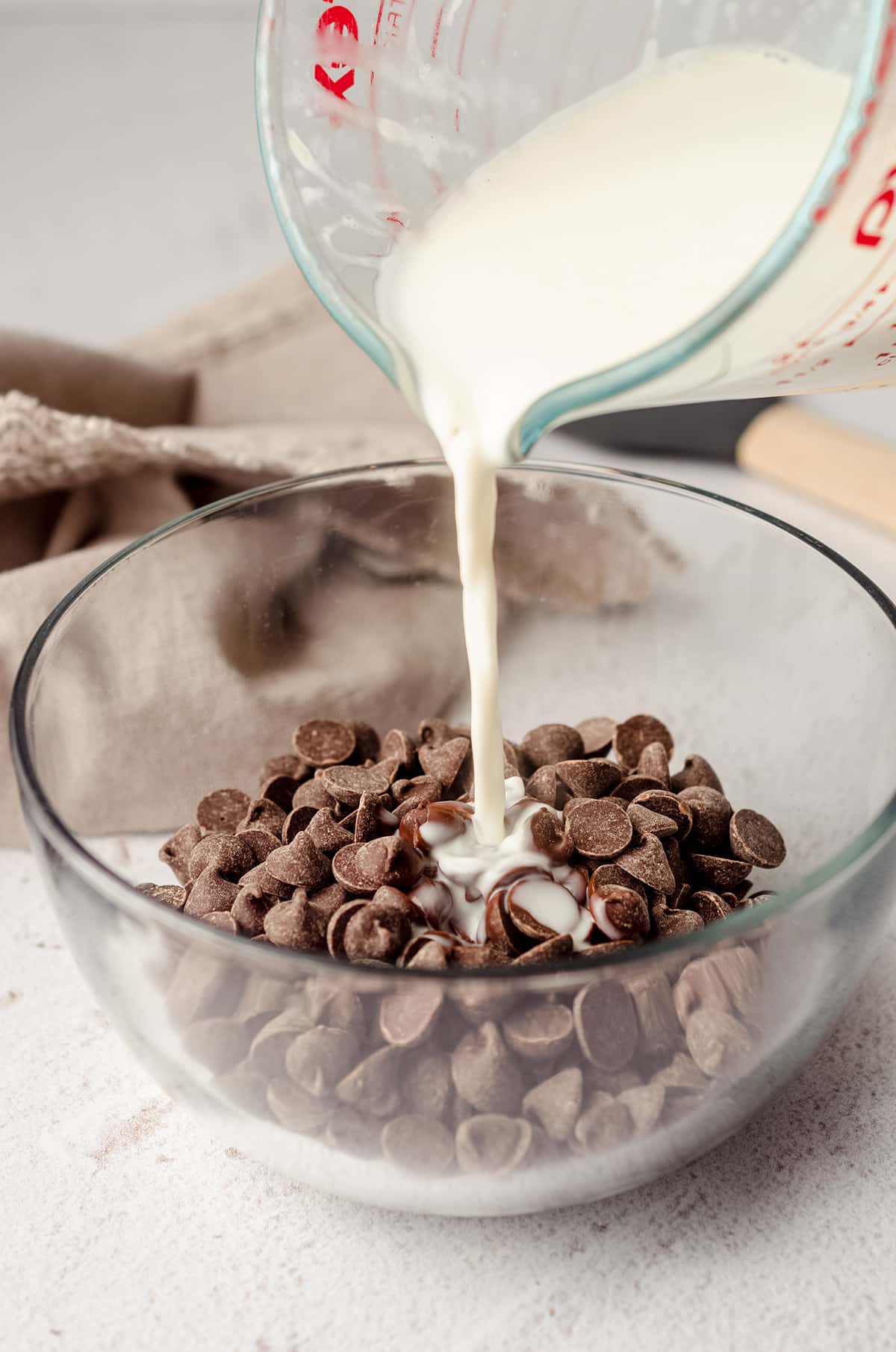 You'll need a cup of chocolate chips and little bit of heavy cream. Warm the cream, pour it over the chips, allow it to sit for a couple minutes, then stir it (with patience– it takes a bit!) until you create this incredibly smooth chocolate mixture.
You'll be able to drip it back into itself at first, but as you let the ganache cool, it thickens, which allows us to use it as a perfect topping for these rainbow brownies.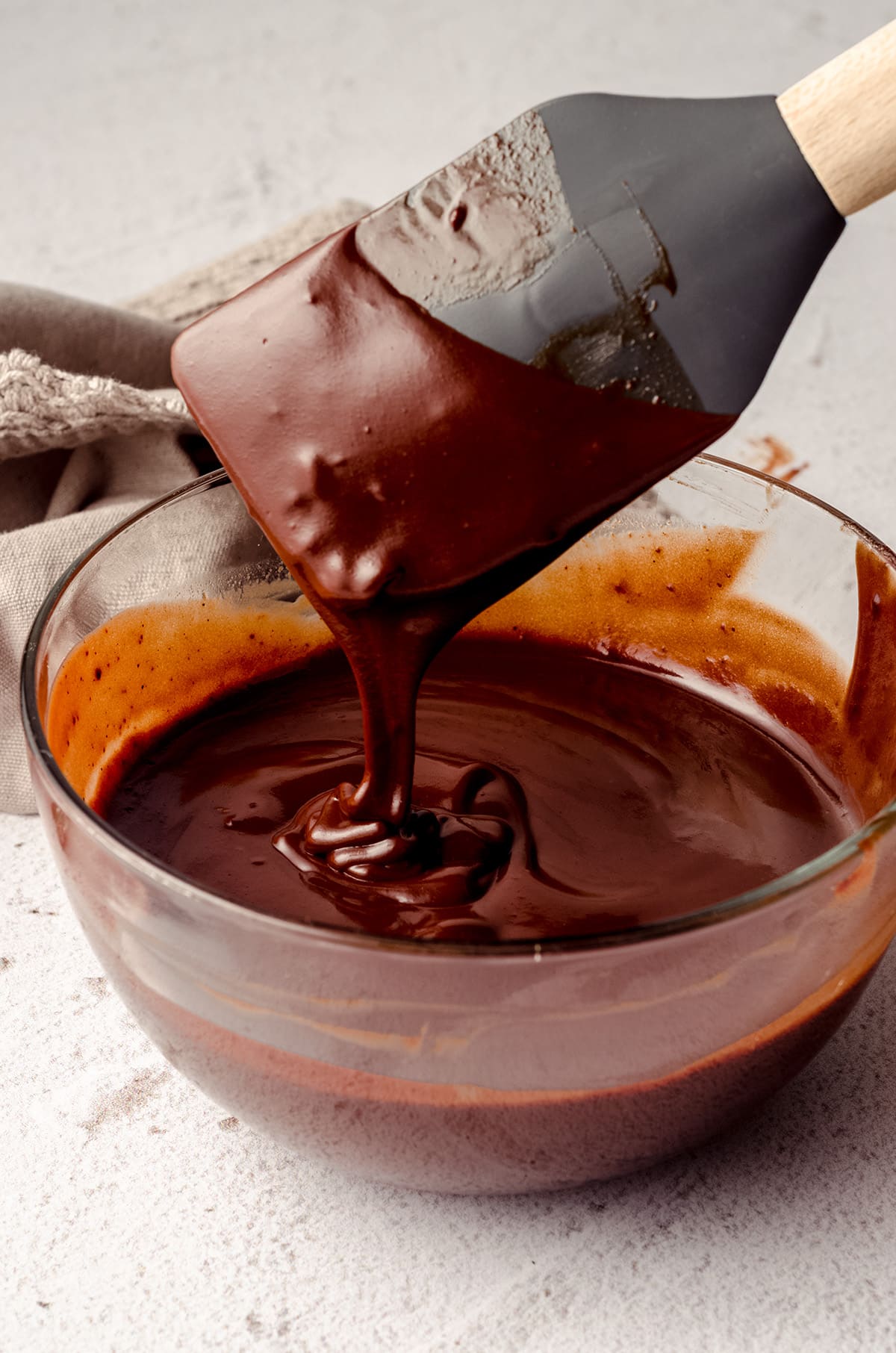 Because YES, the contrast of rainbow sprinkles against chocolate is just divine, isn't it?!
Once you've topped your brownies with the chocolate ganache and additional sprinkles, you'll need to chill the whole pan in the fridge to allow the ganache to firm up. It won't harden, but it will become firm.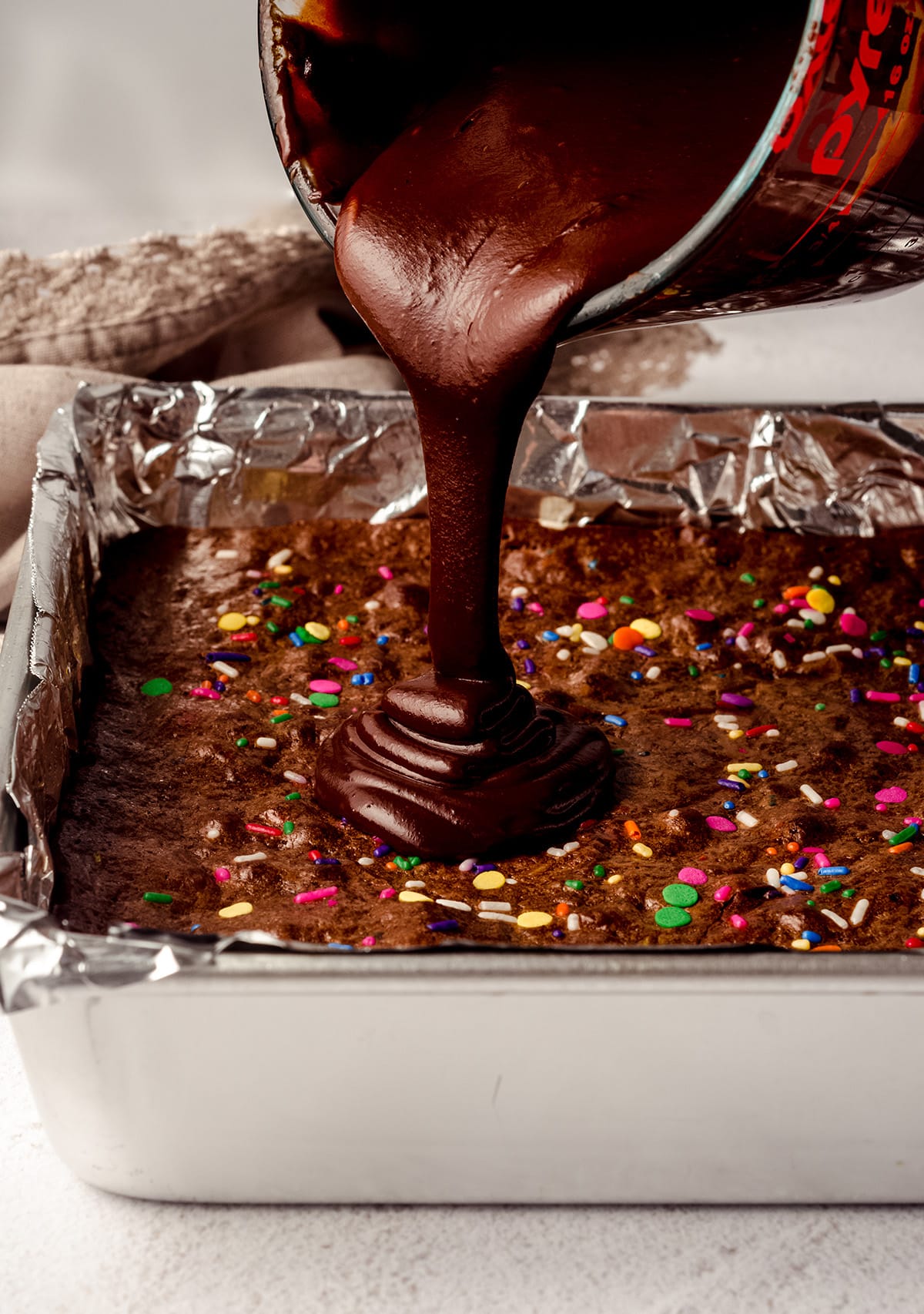 When at room temperature, the ganache will still stay set, but soften up nicely so that when you sink your teeth into one of these funfetti brownies, you're met with incredible taste and heavenly texture.
Personally, I think these are a better choice than store bought cosmic brownies, but hey, that's just me and my "scratch tastes better" philosophy. But you can totally be the judge!
As I've mentioned, I am so grateful to be able to do THIS *gestures to the air because that's where the internet exists* as my job, and I am so happy to be able to bring you my beloved recipes regularly. And have you bake them!!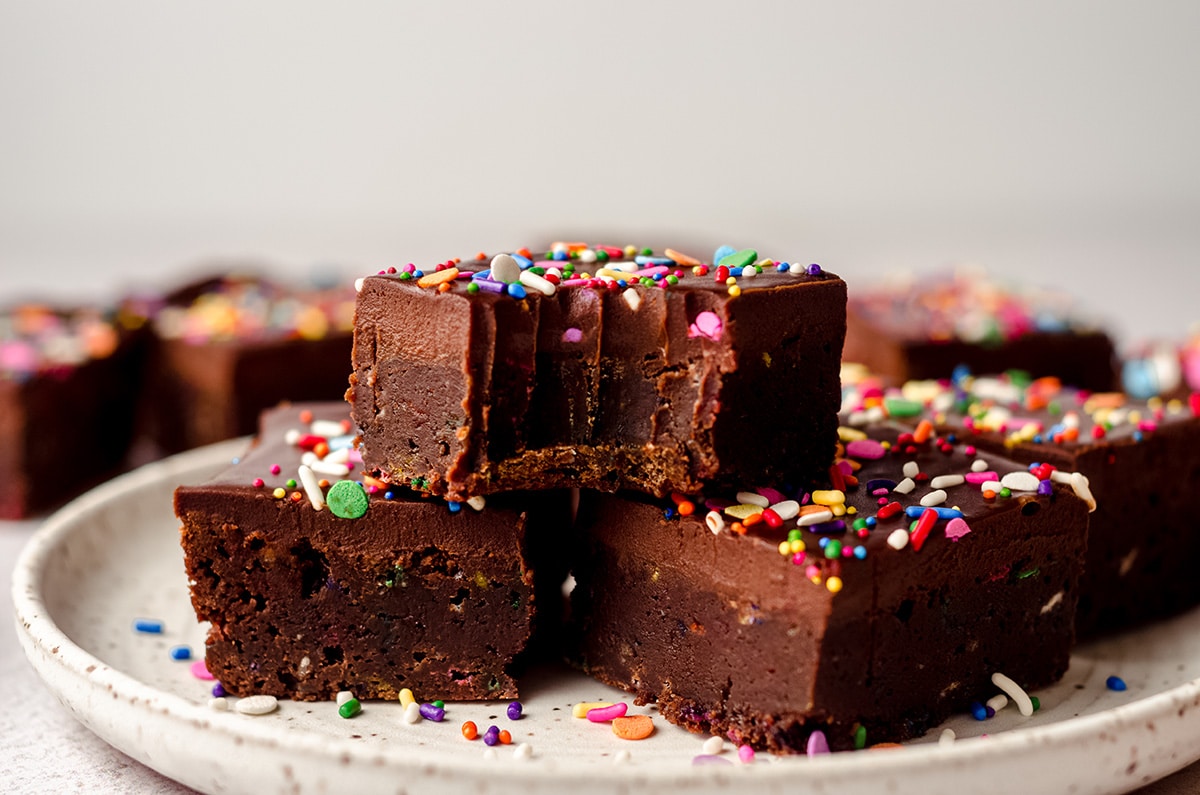 I can't wait to see your homemade funfetti brownies pics and if you feel so inclined, stick a candle in one and celebrate someone or something turning some age.
Because every additional year we get is the opportunity for something amazing to happen, and you never know when something "fun" can turn into something incredible.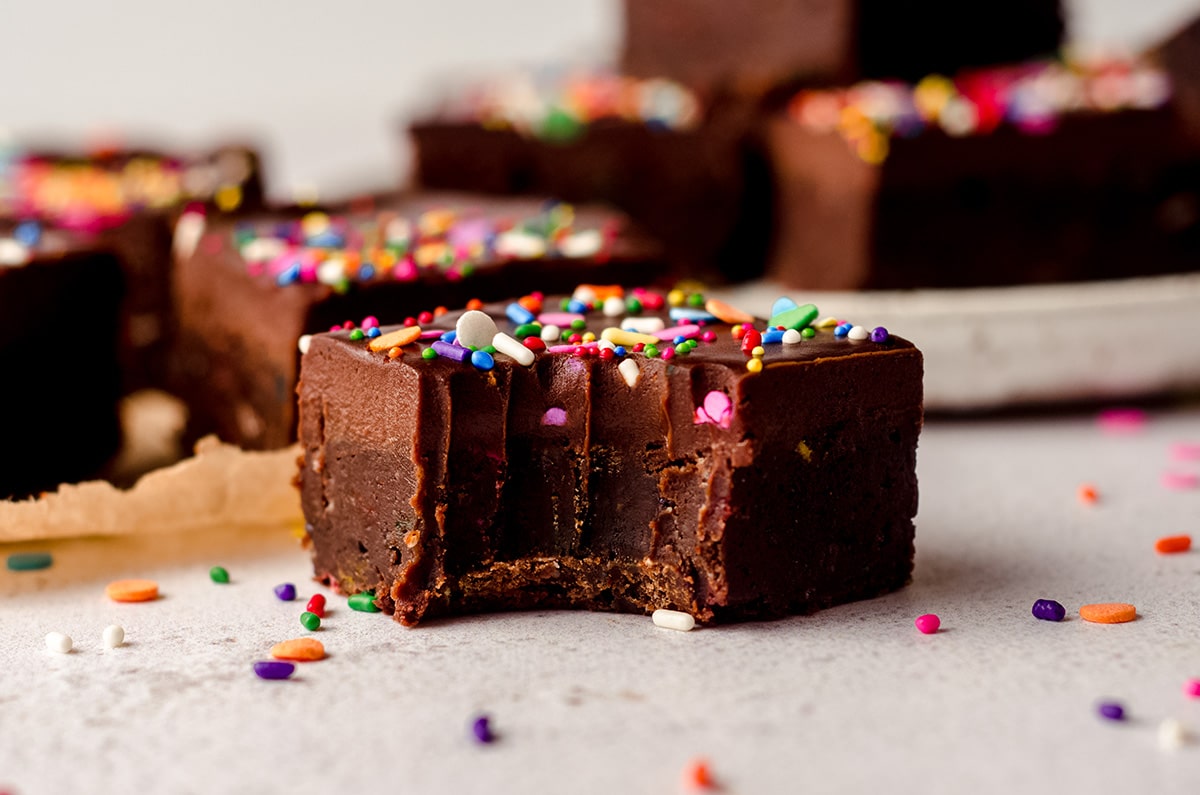 Happy birthday, FAF!
Funfetti Brownies
Simple from-scratch brownies filled with sprinkles and topped with a smooth and creamy chocolate ganache.
Ingredients
FUNFETTI BROWNIES
½

cup

(113g) unsalted butter

cut into 6-8 slices

8

ounces

(227g) semi-sweet chocolate

coarsely chopped

¾

cup

(150g) firmly packed brown sugar

¼

cup

(50g) granulated sugar

3

large eggs room temperature preferred1

1

teaspoon

vanilla extract

½

teaspoon

almond extract

¾

cup

(90g) all-purpose flour be sure to measure properly

¼

teaspoon

salt

½

cup (100g)

sprinkles
CHOCOLATE GANACHE
1

cup

(175g) semi-sweet chocolate chips

⅔

cup

(160mL) heavy cream
sprinkles
Instructions
FUNFETTI BROWNIES
Preheat the oven to 350ºF (177ºC). Line an 8" or 9" square baking pan with foil and spray with nonstick spray. Set aside.

In a medium saucepan over medium heat, melt the butter and chopped chocolate, stirring frequently until completely smooth. Allow to cool for about 15 minutes.

Whisk sugar into cooled chocolate mixture until combined. Add the eggs one at a time, whisking after each addition until smooth. Whisk in the vanilla and almond extracts. Add the flour and salt and stir gently until completely combined.

Pour the batter into the prepared pan. Bake brownies for 25-30 minutes or until a toothpick inserted in the center comes out mostly clean. Allow brownies to cool completely before covering in ganache.
CHOCOLATE GANACHE
Pour the chocolate chips into a small bowl. Set aside.

In a small saucepan over medium heat, heat the heavy cream while whisking occasionally until steaming. Remove from heat and pour over the chocolate chips. Whisk the chocolate and the cream together until it it smooth. Allow to cool at least 20 minutes before using.

Pour the ganache evenly over the brownies. It will probably spread out evenly on its own, but you can use a spatula or spoon to gently guide the ganache into the corners of the pan. Add sprinkles on top of the ganache, if desired.

Place pan of brownies in the refrigerator to allow ganache to set completely, at least 2 hours.

When you are ready to cut the brownies, remove the brownies by lifting the foil overhang straight up. Peel back remaining foil and place brownie block onto a large cutting board.

Use a sharp knife to make quick cuts, so as to prevent chocolate ganache smearing onto the mint layer as much as possible. Cleaning the knife off between each cut also helps. Store leftover brownies in the refrigerator, up to 1 week. Brownies freeze well, up to 3 months. Thaw in refrigerator overnight.
Notes
Room temperature eggs: these incorporate into batter much more easily than cold eggs, although this is not absolutely necessary.
Adapted from homemade fudgy brownies
Nutrition Disclosure
All nutritional values are approximate and provided to the reader as a courtesy. Changing ingredients and/or quantities will alter the estimated nutritional calculations.
Serving:
1
brownie
|
Calories:
348
kcal
|
Carbohydrates:
38
g
|
Protein:
4
g
|
Fat:
20
g
|
Saturated Fat:
12
g
|
Polyunsaturated Fat:
1
g
|
Monounsaturated Fat:
6
g
|
Trans Fat:
0.3
g
|
Cholesterol:
59
mg
|
Sodium:
57
mg
|
Potassium:
187
mg
|
Fiber:
2
g
|
Sugar:
30
g
|
Vitamin A:
380
IU
|
Vitamin C:
0.1
mg
|
Calcium:
38
mg
|
Iron:
2
mg