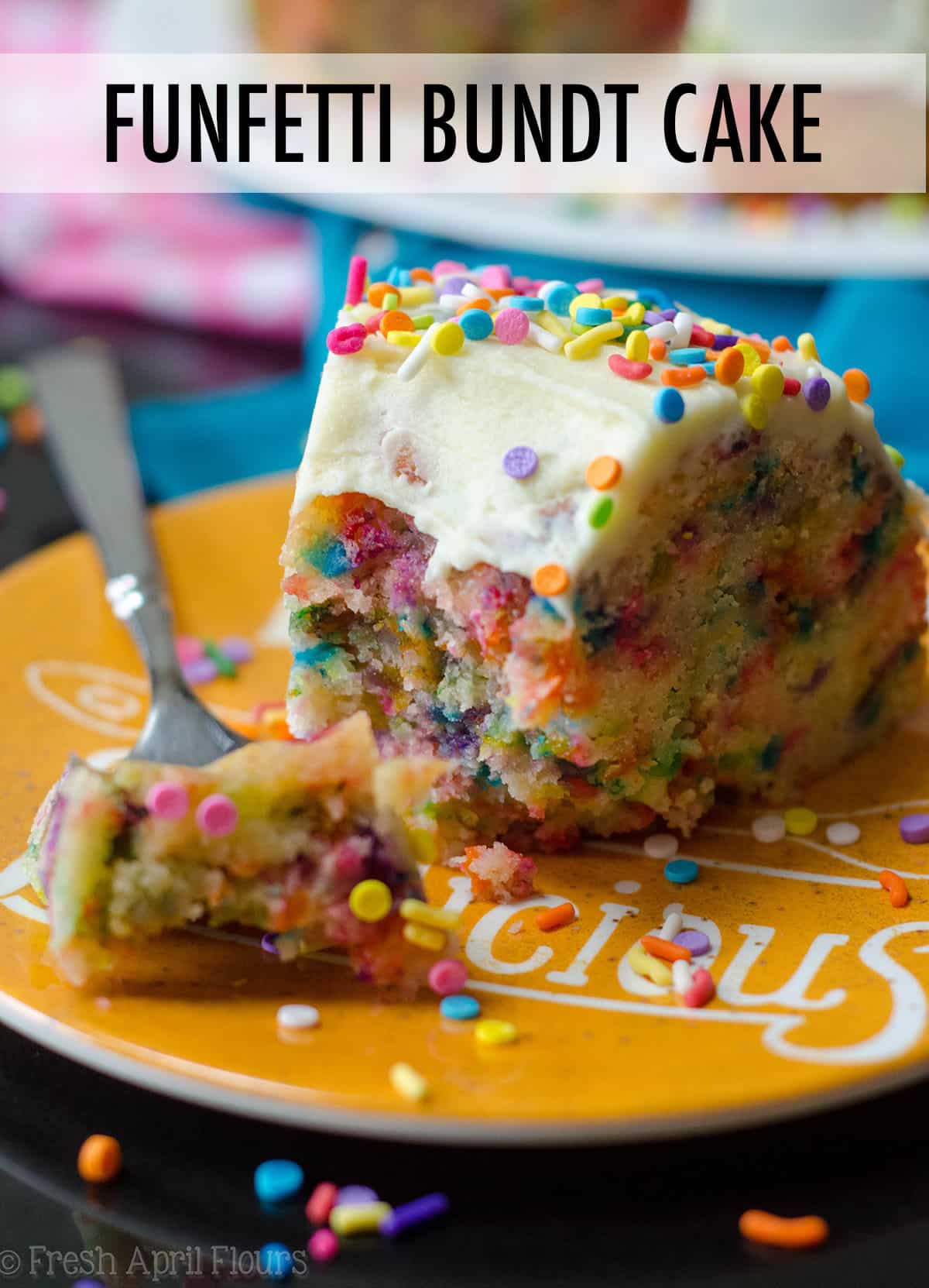 As an Amazon Associate, I earn from qualifying purchases. Read the full disclosure here.
Classic white cake loaded with sprinkles and covered in a fluffy and buttery white chocolate ganache.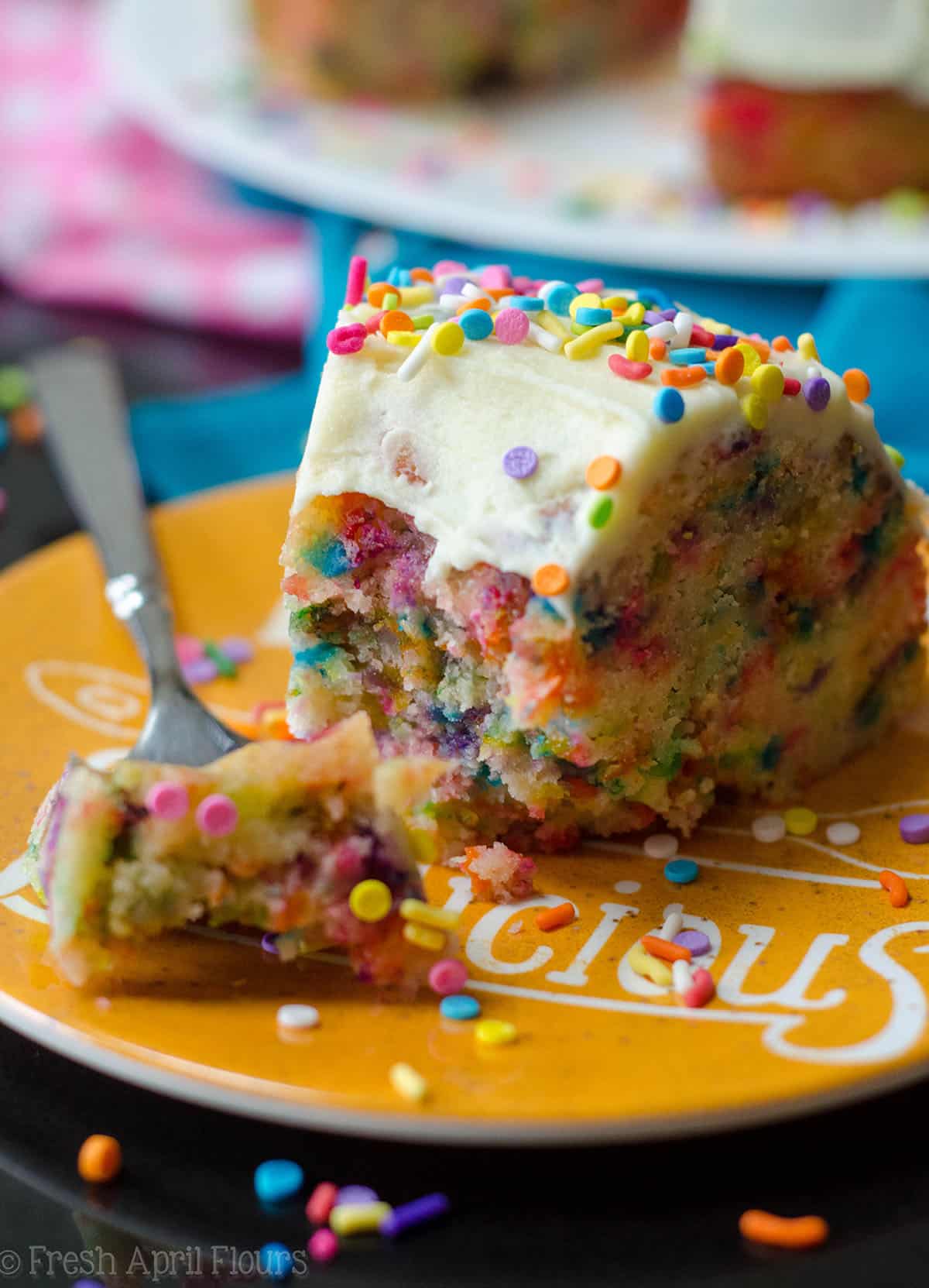 This is a cake fit for a celebration if I ever saw one… Wouldn't you agree?
Years ago, in 2018 to be exact, I originally shared this funfetti bundt cake recipe on my site to celebrate hitting 4 years of recipe blogging.
It was still a "side job" and a hobby that paid me, and since then, I have actually turned recipe blogging into my career. And it has been an absolute joy.
This homemade funfetti cake (in bundt form, of course) graced the pages of my site a few weeks before we added a second child to our family, something I thought for sure was going to break my streak of blogging, but alas, it did not!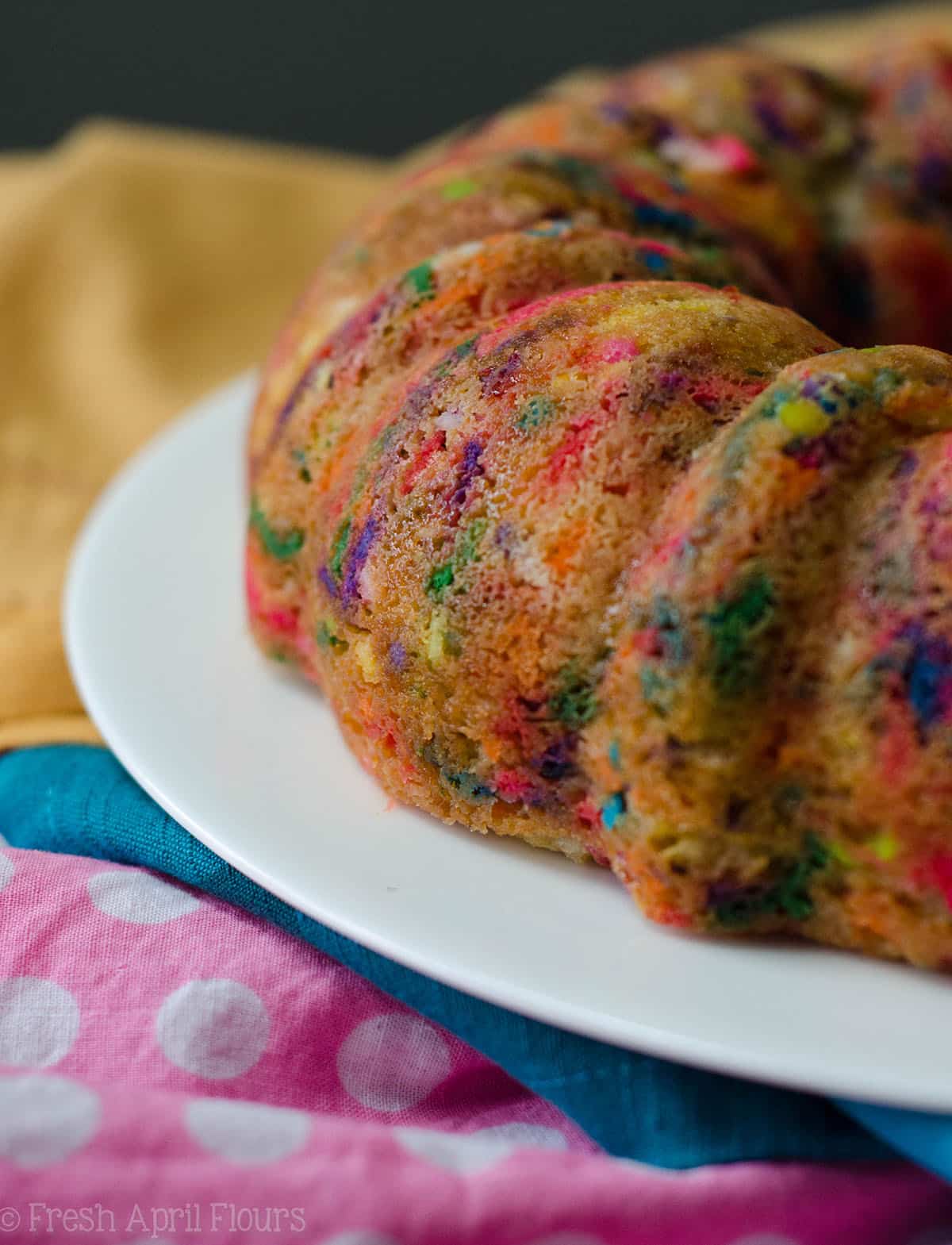 So this easy funfetti bundt cake is here for you still, updated, containing way more helpful information than it did back in 2018 when I still was just sort of "winging it," and is ready for any celebration you might have, big or small, that needs cake + sprinkles.
That's all of the celebrations… Isn't it?
INGREDIENTS
If you've been here for any amount of time, you know I am a fan of using the same recipe in different forms because if it ain't broke, don't fix it.
CAKE
This confetti bundt cake is simply my white cake recipe in a bundt cake (just like it is in my red, white, and blue swirl bundt cake). So you'll need the same major ingredients you need for that: flour + cornstarch (to keep the crumb nice and soft), sugar, butter, heavy cream, and egg whites.
FROSTING
I like to top this funfetti bundt cake with whipped white chocolate ganache, and for that you'll also need some heavy cream as well as some white chocolate and a bit of butter.
HOW TO MAKE FUNFETTI BUNDT CAKE
In order to get the batter for this homemade funfetti cake just right, we use a method I really love called reverse creaming.
Instead of creaming together butter and sugar, you're actually going to mix together your flour, sugar, cornstarch, baking powder, and salt and then add room temperature butter right there into the mix.
You'll wind up with a sand-like mixture. This is a visual: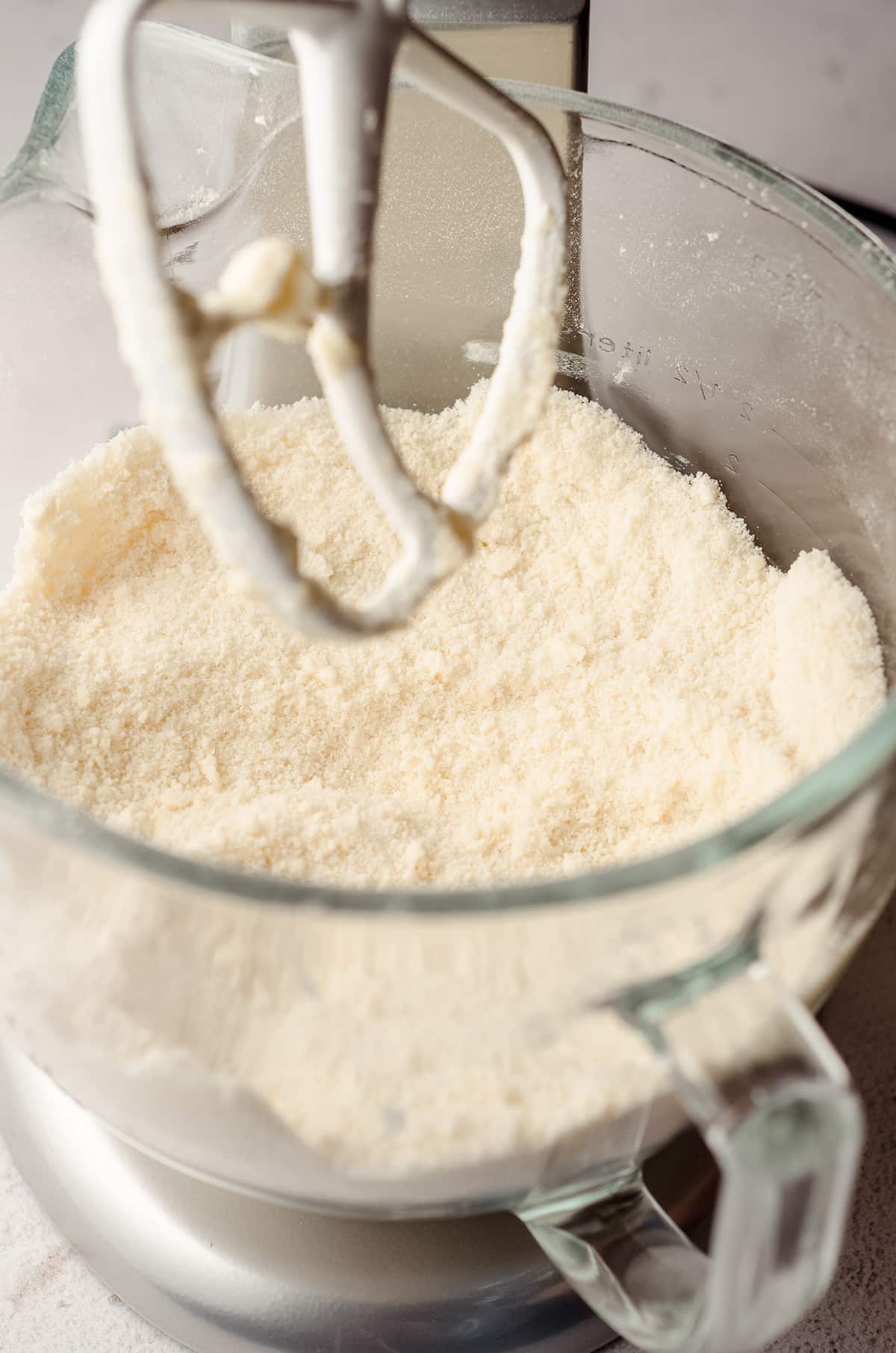 To that sandy mixture, you'll slowly add your solution of heavy cream, egg whites, and the almond and vanilla extracts.
Next, you'll add half of the wet mixture to the dry, allow it to fully incorporate, then add the remaining half of the liquid.
WHY ADD THE LIQUID TO THE DRY INGREDIENTS SLOWLY?
Your batter can only absorb so much liquid at one time. In order not to overload it with too much at once, adding it in two parts ensures there's enough room for everyone to be happy and work together properly.
It may seem like an unnecessary step, but trust me, it is crucial in producing the perfect texture for this funfetti cake recipe.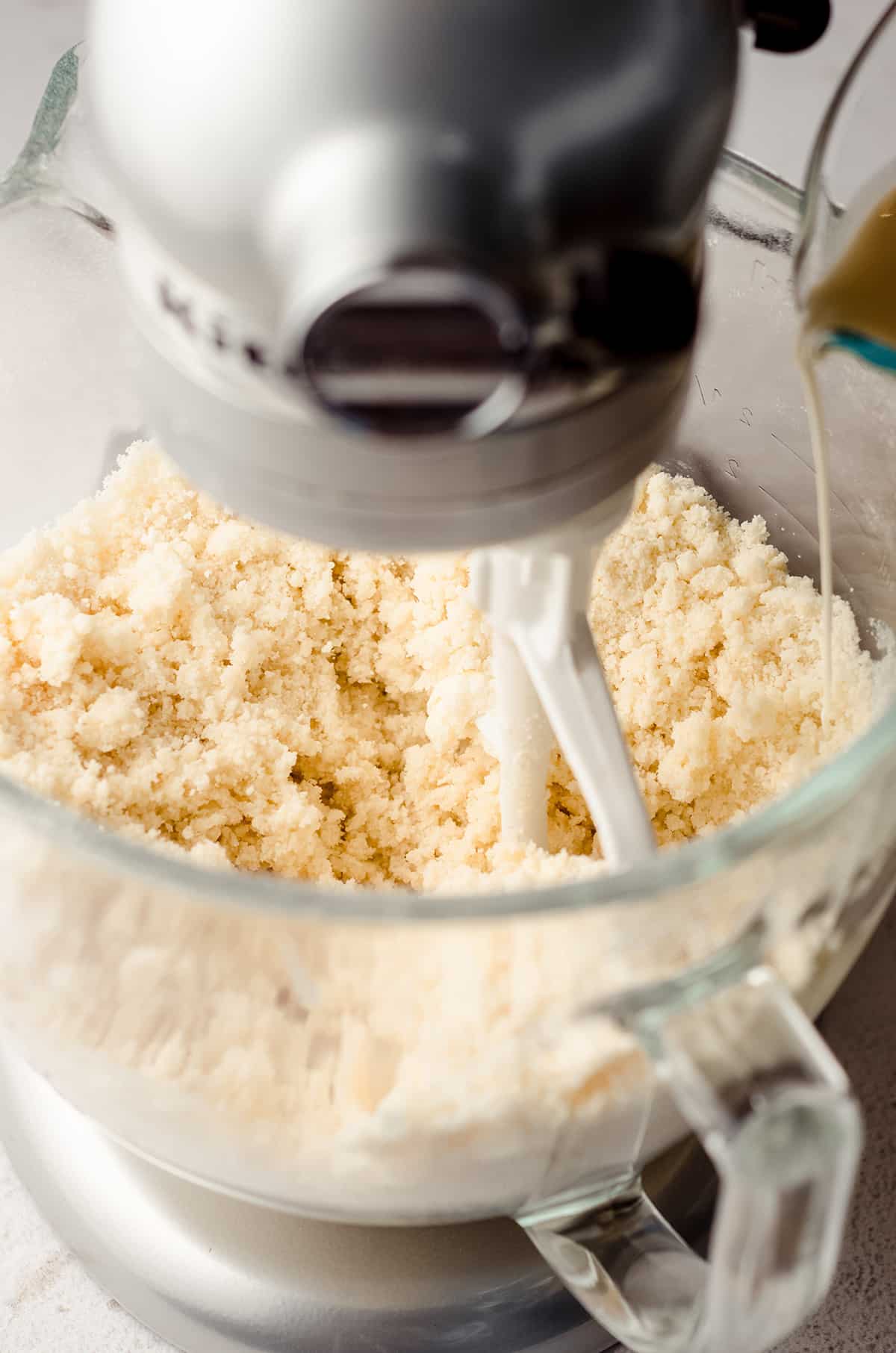 A 40ish minute bake in a bundt pan and you're well on your way to the best cake for a unicorn party or celebrating that special occasion that obviously needs lots of sprinkles.
HOW TO MAKE THE FROSTING
Once your funfetti bundt cake is completely cool, you'll top it off with this unbelievable whipped white chocolate ganache. And it's super simple.
Making the frosting is something I like to start before I actually even bake the cake, because the white chocolate ganache does need substantial time to cool before we can whip it and turn it into frosting.
When you make your white chocolate ganache is totally up to you, just know that it needs about 4 hours to chill in the refrigerator before you can use it.
MAKE WHITE CHOCOLATE GANACHE
Ganache is simple– it's made of chopped quality chocolate, butter, heavy cream, and a tiny bit of almond extract.
Heated butter and heavy cream will do all the work in melting the chocolate, and you'll be left with an incredibly buttery white chocolate mixture with the perfect touch of funfetti flavor thanks to the almond extract.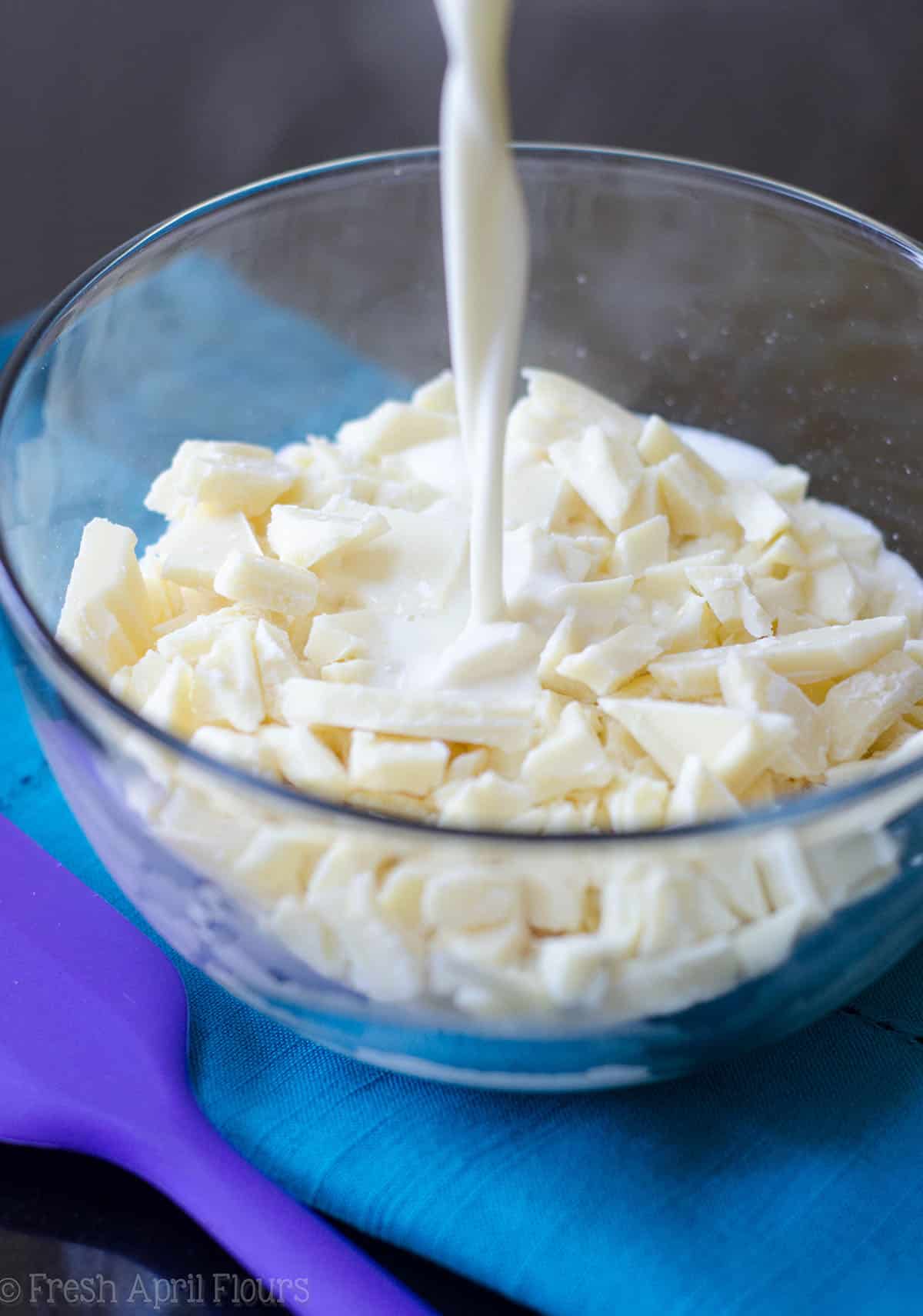 And we all know how much I love my almond extract. Shoutout to Rodelle for making my favorite kind!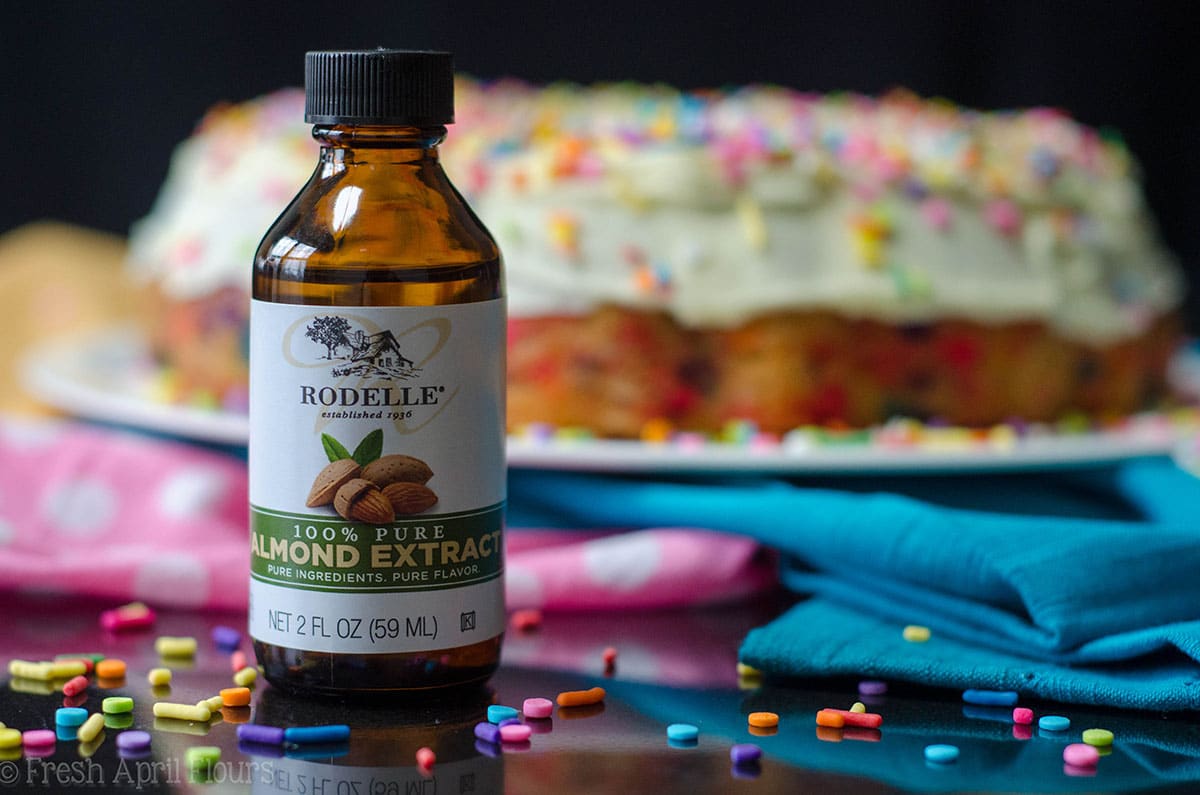 We've actually made ganache here at FAF plenty of times before, and we used it to fill the layers of a s'mores cake, in s'mores dip, all dolled up with strawberry and on top of strawberry bundt cake, on top of chocolate bundt cake, so… Make all of those things if you're even a little bit into ganache.
WHIP THE COOLED GANACHE
Once the ganache is cool, you'll whip the white chocolate ganache to make it sturdy, spreadable, and the perfect topping for a moist and tender cake with the heftiest dose of sprinkles… And of course, it makes itself completely available for more sprinkles.
What a kind little frosting, don't you think?
HOW DO YOU WHIP GANACHE?
Whipping cooled ganache is very simple.
You only about 2-3 minutes with a mixer using the paddle or whisk attachment. Both will work just fine and you'll be amazed to find that that smooth and glossy white chocolate turns into this dreamyyyyy business in just a few minutes.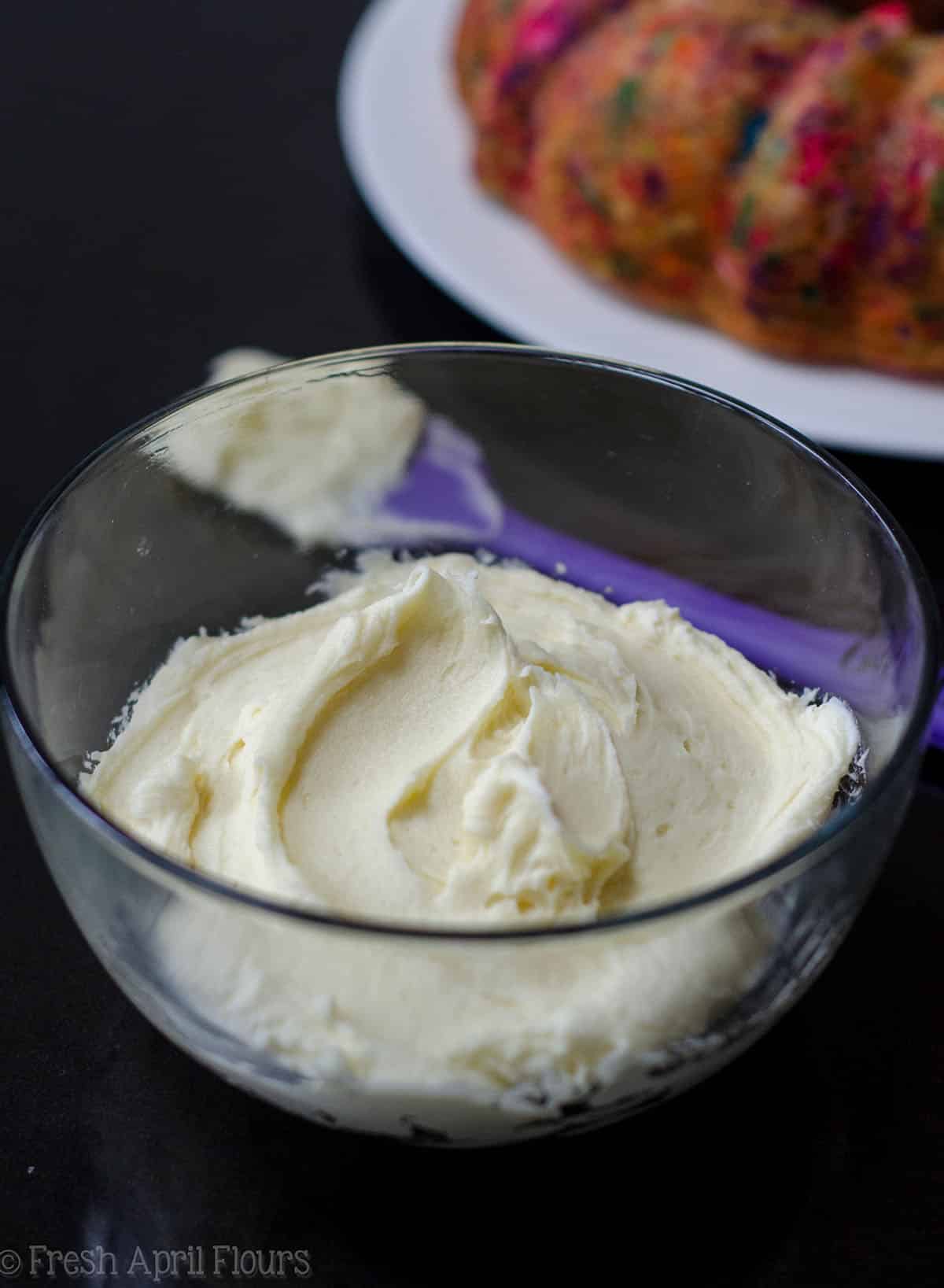 JUST LOOK AT IT.
I have to warn you: this frosting is absolutely downright amazing, and I think you'll fall in love with the light whipped texture that complements that dense and pound-cake like cake underneath.
And don't forget all the extra sprinkles on top!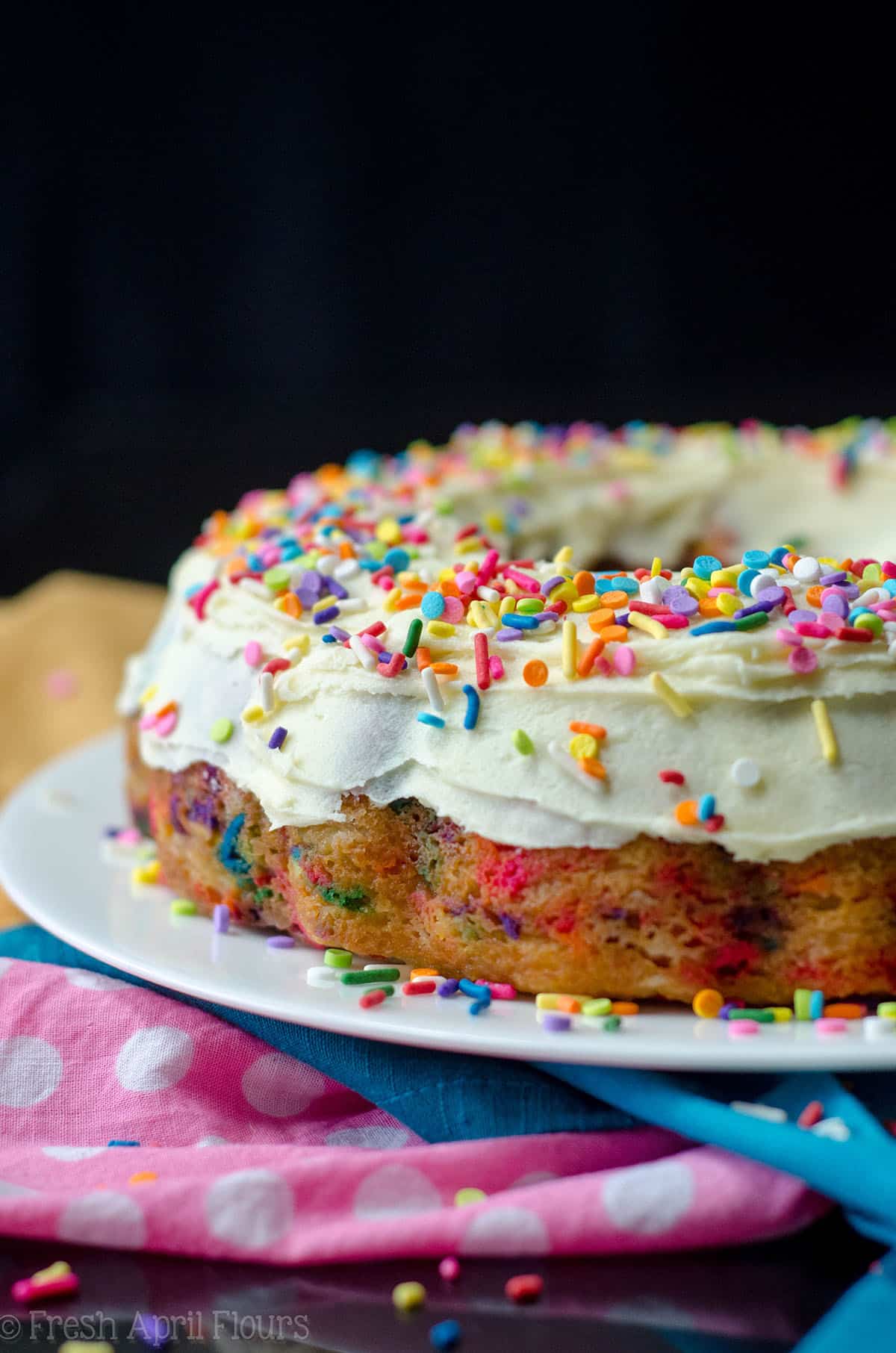 This cake is always a hit whenever I take it to a party. I love this birthday bundt cake because it's so simple to put it together, and while I do love me some layer cakes, bundt cakes can just be so much easier and take absolutely zero assembly.
Perfect for a celebration, fit for any color combination you need it for, and no shortage of canvas for a sprinkle explosion.
As I always say, thank you so much for reading and for staying around these parts for all these years. And if you're new here, welcome! I hope you'll stick around.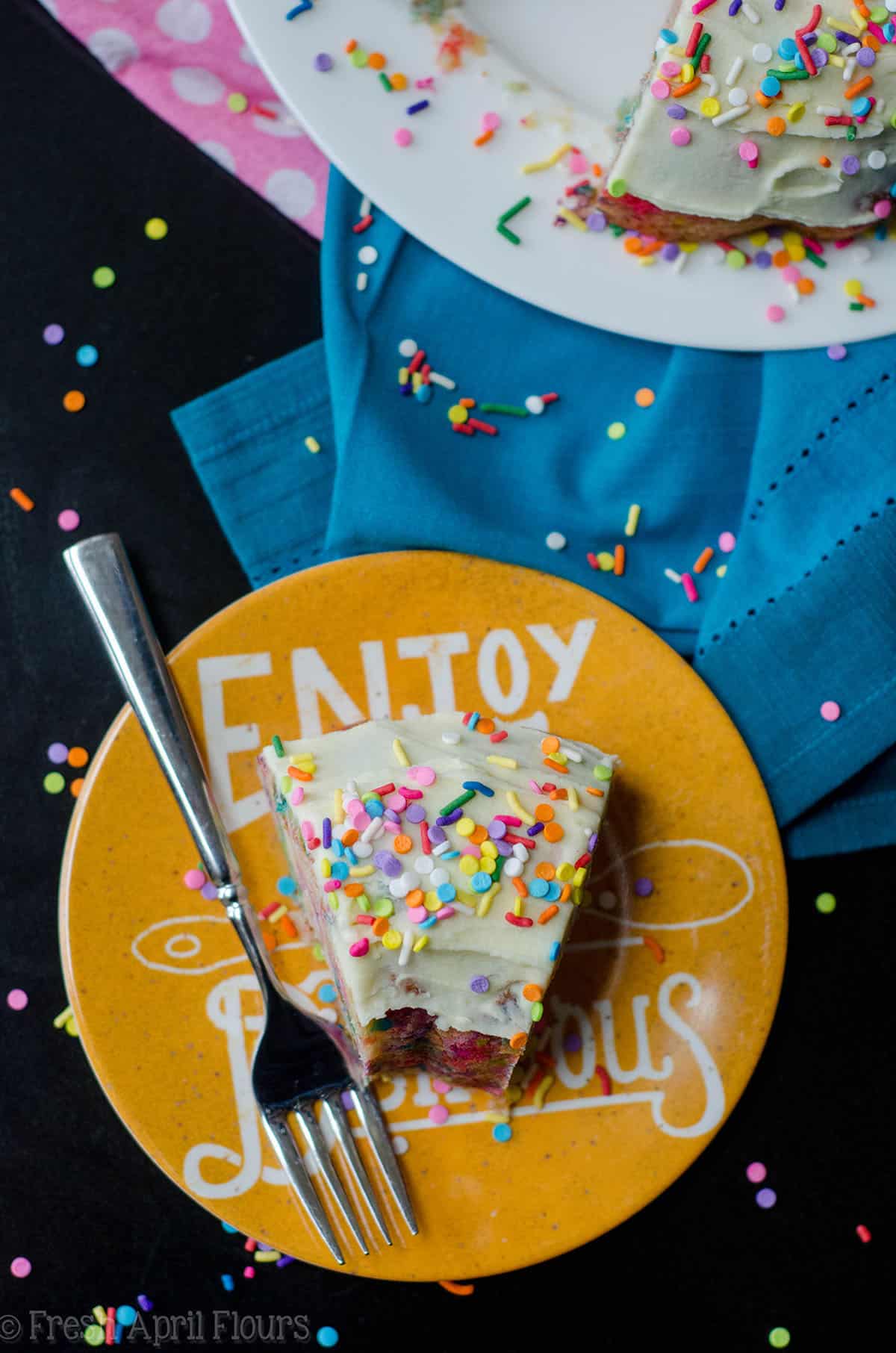 I promise to always share the best of the best recipes, and never to have a shortage of sprinkles EVER.
More of my favorite funfetti recipes: funfetti cheesecake, funfetti sugar cookie cake, funfetti white chocolate chip oatmeal cookies, and funfetti donuts.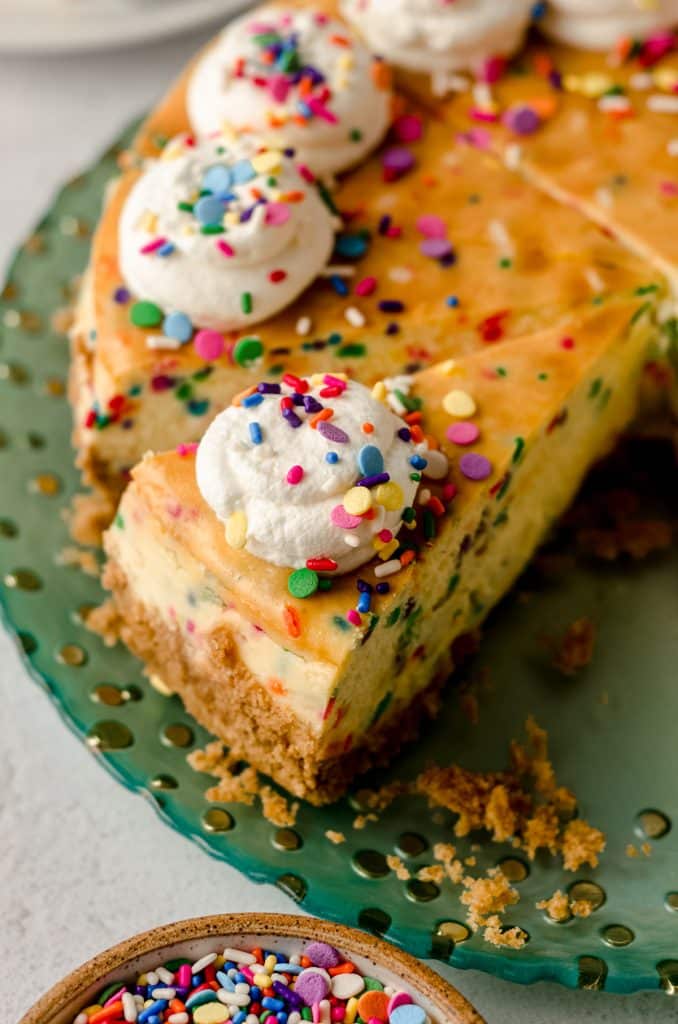 Funfetti Bundt Cake
Classic white cake loaded with sprinkles and covered in a fluffy and buttery white chocolate ganache.
Ingredients
FUNFETTI CAKE
2

cups

(240g) all-purpose flour be sure to measure properly

2

Tablespoons

(15g) cornstarch

1 and ¾

cups

(350g) granulated sugar

5

teaspoons

baking powder

1

teaspoon

salt

12

Tablespoons

(171g) unsalted butter softened to room temperature1

1

cup

(240mL) heavy cream room temperature1

6

large egg whites room temperature1

1 and ½

teaspoons

Rodelle almond extract

1

teaspoon

vanilla extract

⅔

cup (67g)

sprinkles

not non-pareils
WHIPPED WHITE CHOCOLATE GANACHE
8

ounces

(227g) high-quality white chocolate finely chopped2

4

ounces

(120mL) heavy cream

1

Tablespoon

(14g) unsalted butter

½

teaspoon

Rodelle almond extract
Instructions
FUNFETTI CAKE
Place oven rack on the middle setting and preheat the oven to 350ºF (177ºC). Generously grease and flour (or use homemade cake release) a 10" bundt pan.

In a large bowl with a handheld mixer or the bowl of a stand mixer fitted with the paddle attachment, combine the flour, cornstarch, sugar, baking powder, and salt. Blend ingredients together on low until completely combined, about 1 minute. Add the room temperature butter and beat mixture on low speed until it resembles sand. Scrape down the sides and bottom of the bowl with a spatula and mix again on low for a few seconds until thoroughly combined.

Combine the heavy cream, egg whites, and almond and vanilla extracts in a large container with a spout (like a 2-cup glass measuring cup) and mix gently with a fork until blended. With the mixer speed on medium-low, add half of the milk mixture (about 1 cup) to the crumb mixture and mix until blended. Add the remaining milk mixture to the batter and beat again on medium-low until everything is incorporated. Turn the mixer off, scrape down the sides and bottom of the bowl with a spatula, and increase mixer speed to medium. Beat the batter for about 30 seconds until batter is smooth. Carefully fold in the sprinkles with a spatula until just combined.

Pour the batter into the prepared bundt pan and bake for 40-42 minutes, or until a toothpick inserted in the center comes out clean.

Remove from oven and allow to cool for 10 minutes on a wire cooling rack. Using oven mitts, carefully flip the bundt cake onto your serving dish/platter. To do this: flip the serving dish/platter over and place on top of the cooling bundt pan. Flip everything over and allow cake to cool completely in the pan, sitting on the serving dish. When cake is completely cool, lift pan off of the cake.
WHIPPED WHITE CHOCOLATE GANACHE FROSTING
Place the finely chopped chocolate into a medium size bowl. Set aside.

In a small saucepan over medium heat, combine the heavy cream, butter, and almond extract and heat to steam. Remove from heat and immediately pour over the bowl of chocolate. Allow to sit for a few minutes, then carefully stir mixture until all of the chocolate is melted. Allow to cool at room temperature, then refrigerate until completely cool, about 4 hours.

Place the cooled ganache in a large bowl or the bowl of a stand mixer. Using a handheld electric mixer or a stand mixer fitted with the paddle or whisk attachment, whip the ganache until soft peaks form, about 2-3 minutes.

Spread over the cake using a spatula and decorate with more sprinkles. Cake stays fresh covered in the refrigerator for up to 7 days. Cake freezes well, up to 2 months. Wrap in plastic wrap, then in foil, then place in a large freezer bag or freezer-safe container. Thaw in the fridge overnight.
Notes
Room temperature ingredients: it is imperative to use room temperature ingredients in this recipe. Allow ingredients to sit out at room temperature at least 45 minutes before beginning.
White chocolate: you must use high-quality chocolate for this ganache, like Ghirardelli. White chocolate chips will not work for ganache as they contain stabilizers that prevent them from melting smoothly.
Nutrition Disclosure
All nutritional values are approximate and provided to the reader as a courtesy. Changing ingredients and/or quantities will alter the estimated nutritional calculations.