As an Amazon Associate, I earn from qualifying purchases. Read the full disclosure here.
An easy gluten free dip made with marshmallow buttercream swirled with chocolate ganache. Serve with graham crackers or your favorite crunchy dipper and have the taste of summer all year long!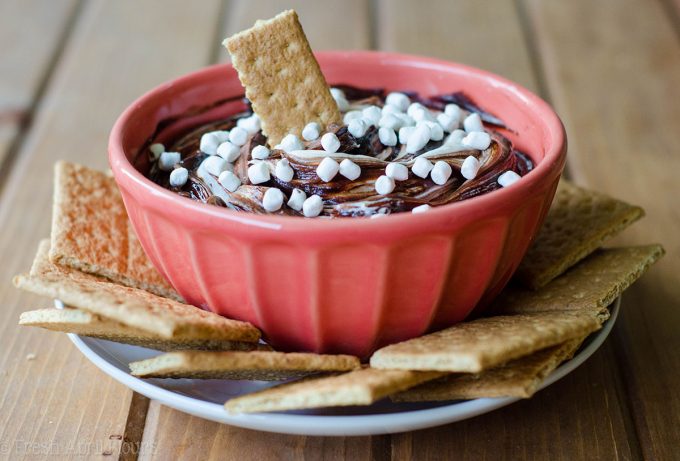 Well, it's Friday, and this has been one of the weirdest weeks ever, so I think we all need a little dippable s'mores in our lives. I mean, I do anyway. Do you feel me?
We started this week out in 85ºF weather. Mind you, it's mid-October and we live in southeastern Pennsylvania. It snows here. We get true winter.
We get all the wonderful seasons. Except fall, apparently, this year, because we had the air conditioning on until yesterday when fall decided to sort of show up and gave us 60something temperatures so at least we can crunch our leaves in appropriate weather and not wish we were swimming in a pool instead.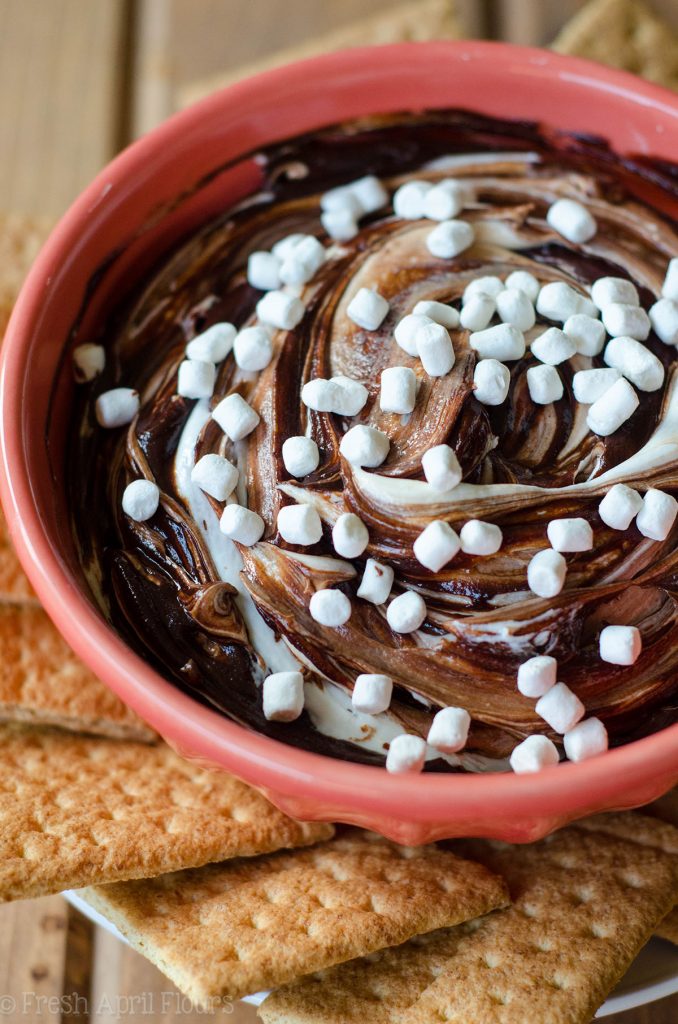 I'll tell you what though, it's this time of year that I am reminded the world is humongous and there are other parts of the world experiencing completely different seasons than we are right now. Like Australia. Where my friend Amy lives (we've seen Odes to Amy before in my no bake Cadbury egg pie post and my great chocolate chip collection and my molten chocolate chip cake for one).
It's summery there right now, so what Pennsylvania was trying to still be this week, and our dear friend gets to have a beautiful summer wedding in October, which is totally unheard of here in PA.
Despite what the temperature is, you're bound to have turning leaves if you have an October wedding here, and you most definitely won't be craving any s'mores.
But you know who may be lovin' up on s'mores right now? Australia. Those lucky Aussies!
(I mean, I love me some fall, but I could stand to hold onto summer flavors a little longer!)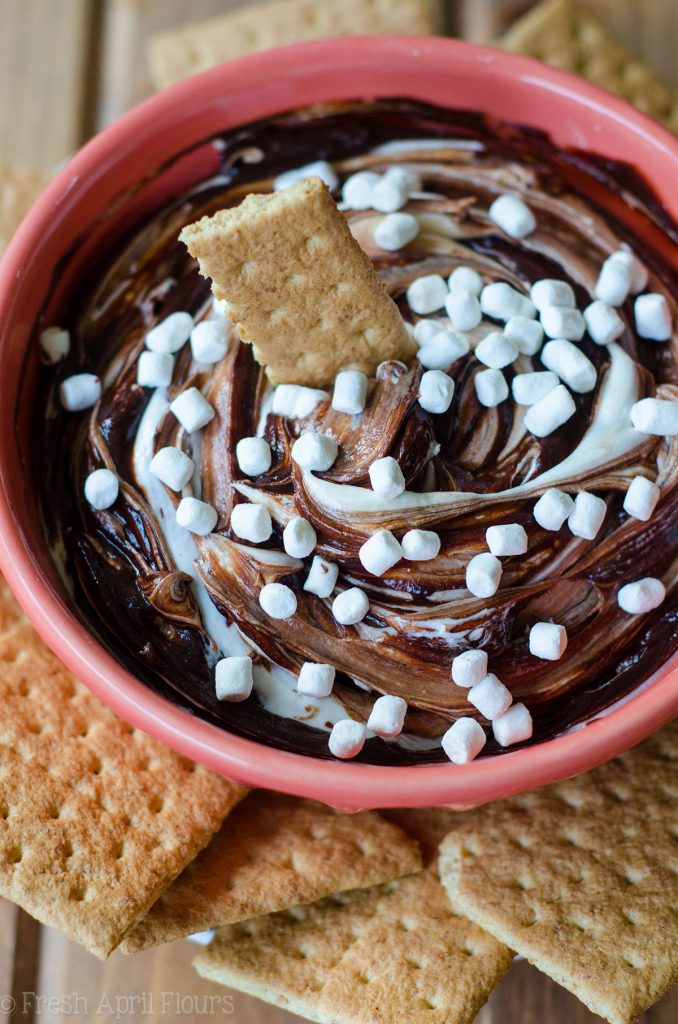 So that's what we're doing today. Celebrating Amy and her almost hubby Chris as they prepare for the day that will officially start their family. In the summer sun.
THIS DIP IS SO SIMPLE
This dip is so so so simple. It's just 2 parts.
We've got marshmallow buttercream and we've got chocolate ganache, both of which you'll remember from the s'mores layer cake I posted in August. And that's exactly how this dip came to be…
I had leftover of both of those things!
Instead of tossing them, I repurposed them and turned them into a dip that went with me to a bachelorette party where it was met with pretzels and graham crackers and general merriment that it even existed.
Yes, you'll be that excited too.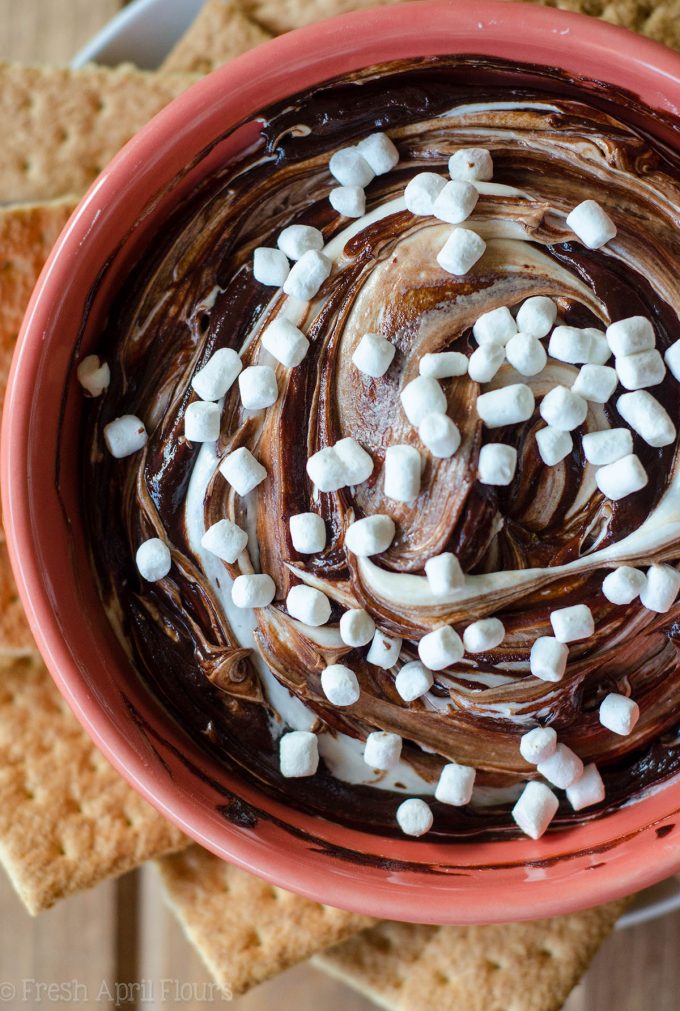 So let's raise a graham cracker to Amy and Chris. We are so sad we couldn't actually make it out there for the wedding, but we will absolutely be there in spirit as you vow your love to each other and agree that there is nothing you'd rather do than spend your lives together.
You two are going to rock this marriage thing, we know it!
Creamy dreamy marshmallow buttercream, swirled with ganache is the perfect way to hold onto summer just a little bit longer… Or break it out whenever you're feeling a little nostalgic for some summer flavors.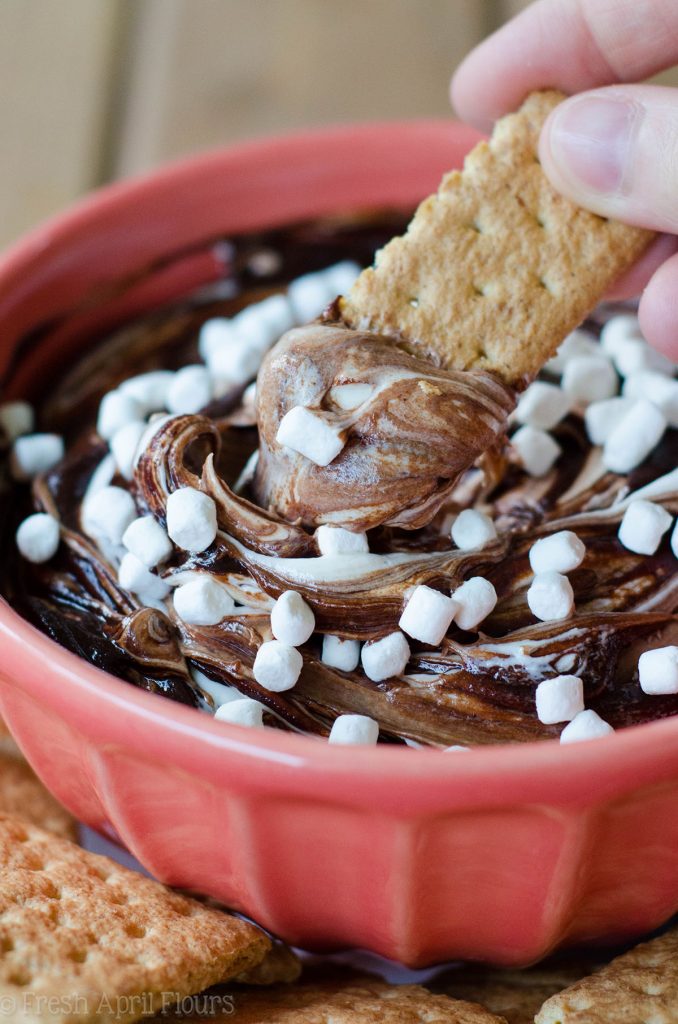 And really, any time you just want a sweet treat, because GUYS. This s'mores dip is everything.
S'mores Dip
An easy gluten free dip made with marshmallow buttercream swirled with chocolate ganache. Serve with graham crackers or your favorite crunchy dipper and have the taste of summer all year long!
Ingredients
CHOCOLATE GANACHE
4

ounces

quality semi-sweet chocolate

finely chopped

2

ounces

heavy cream

1/2

Tablespoon

unsalted butter
MARSHMALLOW BUTTERCREAM
½

cup

(1 stick) unsalted butter

softened to room temperature

1-7

ounce

container marshmallow creme

1 and 1/2

cups

powdered sugar

mini-marshmallows

for decoration (if desired)
Instructions
CHOCOLATE GANACHE
Place the finely chopped chocolate into a medium size bowl. Set aside.

In a small saucepan over medium heat, combine the heavy cream and butter and heat to steam. Remove from heat and immediately pour over the bowl of chocolate. Allow to sit for a few minutes, then carefully stir mixture until all of the chocolate is melted. Allow to cool completely at room temperature before using.
MARSHMALLOW BUTTERCREAM
In a large bowl with a handheld mixer or the bowl of a stand mixer fitted with the paddle attachment, cream the butter until it is light and fluffy. Add the marshmallow creme and beat on high until smooth (approximately 2 minutes).

With the mixer on low, add the powdered sugar. Increase mixer speed to medium and beat until completely combined (approximately 1 minute).
ASSEMBLE THE DIP
Layer approximately 1/3 of the marshmallow buttercream evenly into the bottom of a medium size serving bowl. Layer half of the ganache on top of the buttercream. Repeat again, finishing with the last 1/3 of the marshmallow buttercream.

Gently stir the dip with a butter knife, allowing the layers to just combine. Top with mini-marshmallows, if using.

Serve dip with graham crackers (or your favorite crunchy dipper). Leftover dip can be stored in the refrigerator, covered tightly, up to 5 days. Allow to come to room temperature before serving.
Nutrition Disclosure
All nutritional values are approximate and provided to the reader as a courtesy. Changing ingredients and/or quantities will alter the estimated nutritional calculations.