Cadbury Egg Cookie Dough Bites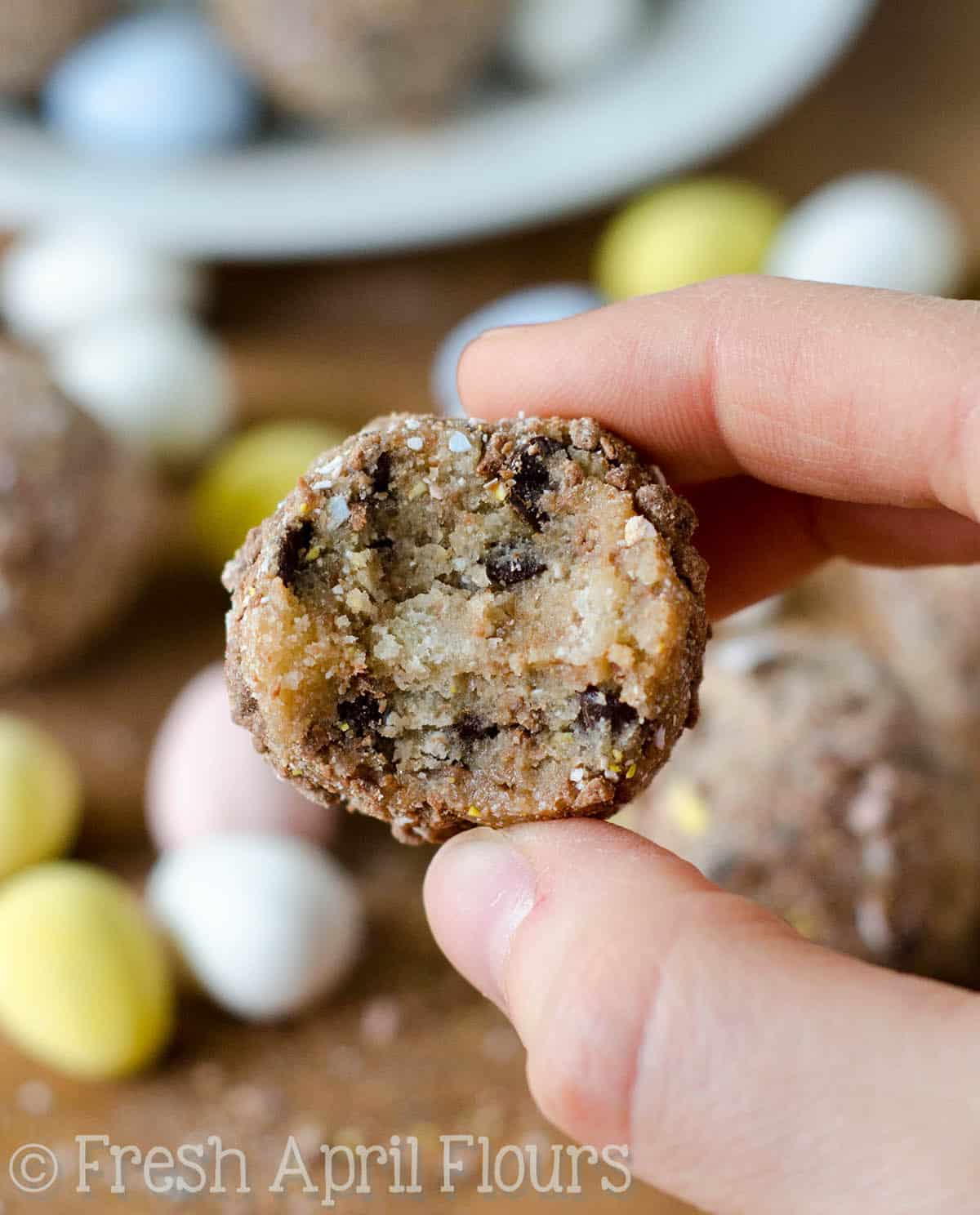 As an Amazon Associate, I earn from qualifying purchases. Read the full disclosure here.
Eggless and safe-to-eat chocolate chip cookie dough balls filled and coated with crunchy pieces of Cadbury Mini Eggs. The perfect treat for Easter!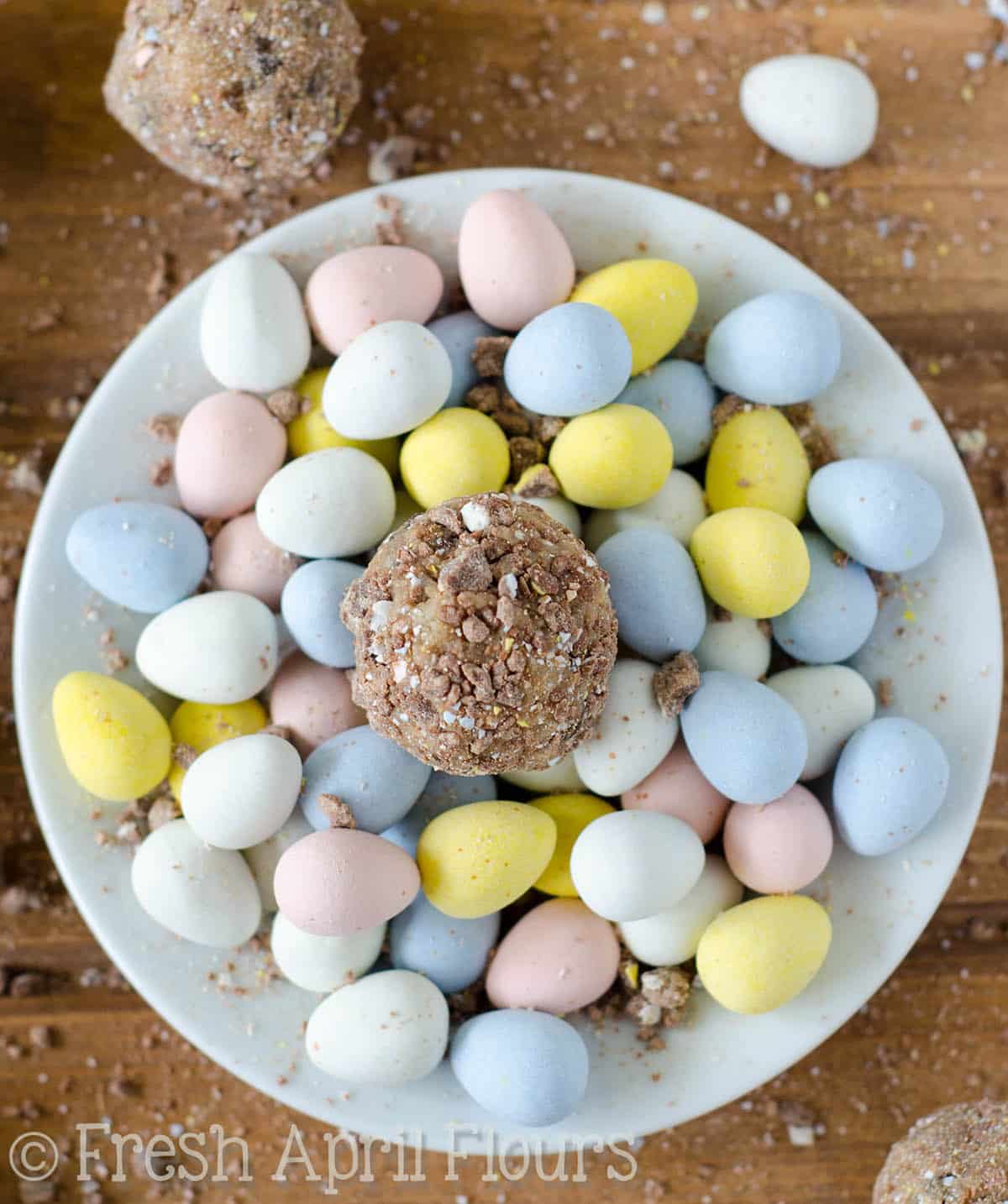 It's the return of my beloved chocolate chip cookie dough bites! This time, they've been visited by the Easter bunny and are all mini-egged up!
Yessssssss. Thank you, Easter bunny!
Wait one second… Are you yay or nay on mini eggs? I asked Snapchat and I got several yays and no nays. I think this means it's safe to assume that mini eggs are quite possibly one of the best Easter candies to ever exist. I'm pretty sure that's how scientific research goes.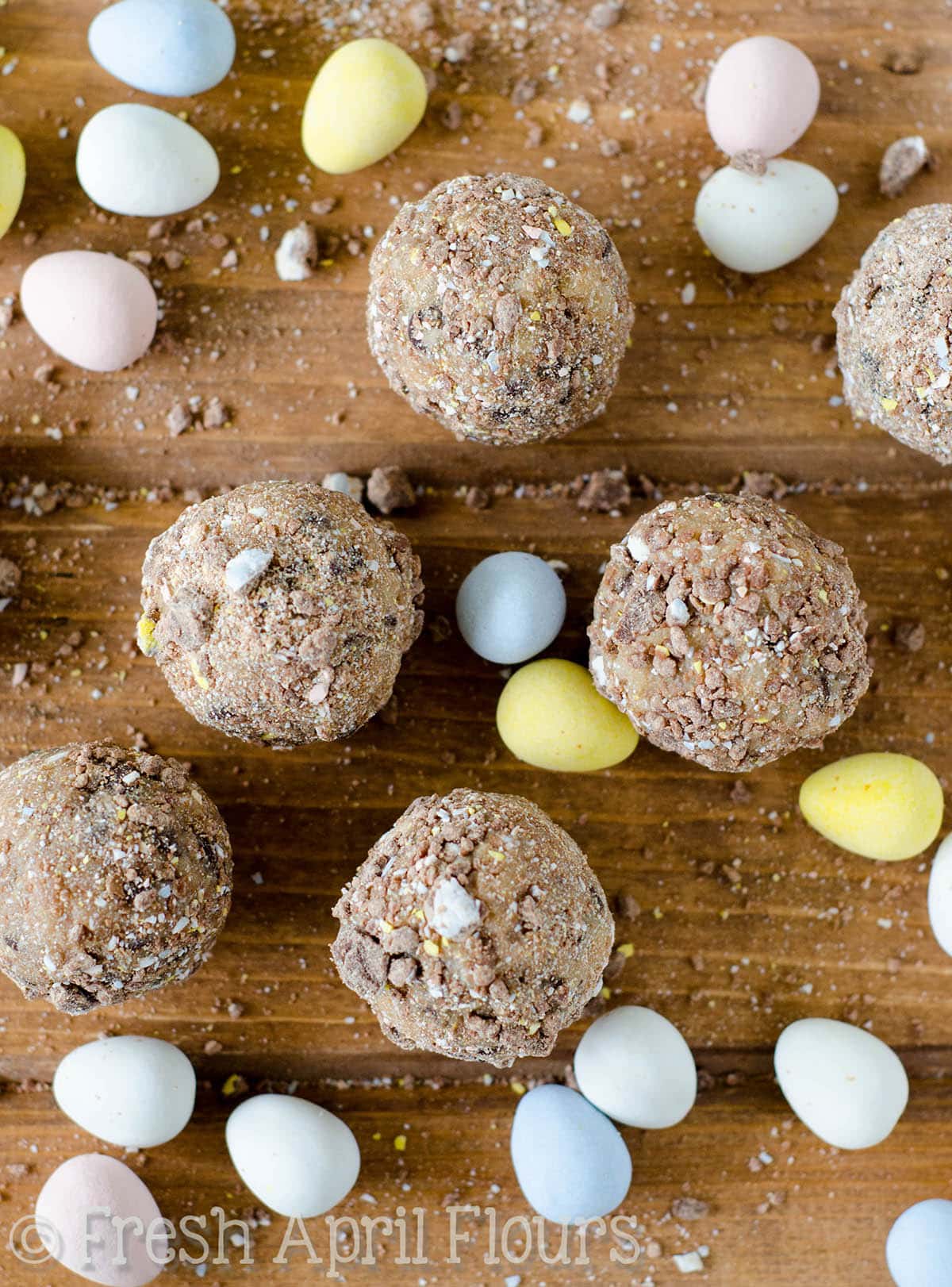 The first time I made safe-to-eat chocolate chip cookie dough bites, I fell in love. And so did everyone who tasted them. Let's be honest: one of the best things about making cookies is licking the bowl and sampling the dough.
But apparently, that's not so good for you, so my alternative takes my recipe for my classic chocolate chip cookies and leaves out the things that make the dough "unsafe" (the eggs) and the thing that helps the cookies bake (baking soda).
I chose this recipe today for two reasons. One reason is that Easter is right around the corner and these little wonders of cookie dough would be perfect for the celebration.
The second reason is in honor of my friend Amy from Thoroughly Nourished Life who has a birthday today!
Well, it's tomorrow. But she's in Australia. So it's today there. Right? Holy time zones. Amy's birthday is March 24th.
How about that?
Geez, my brain hurts.
Anyway, Amy loves herself a chocolate chip cookie. So much so, in fact, that she has not one but two gluten free chocolate chip cookie recipes on her blog (and a whole slew of other chocolate chip lovelies to choose from if you look around enough)!
Last year, I made Amy a molten chocolate chip cake for one, and although Amy follows a gluten free diet, I put flour in mine because I was the one taste testing it for her.
The same goes for these chocolate chip mini egg cookie dough bites: gluten FULL, but easily adapted to be gluten FREE, especially since there's no baking involved.
I can guarantee your favorite gluten free flour substitution results won't flop! Report back if you do make the swap!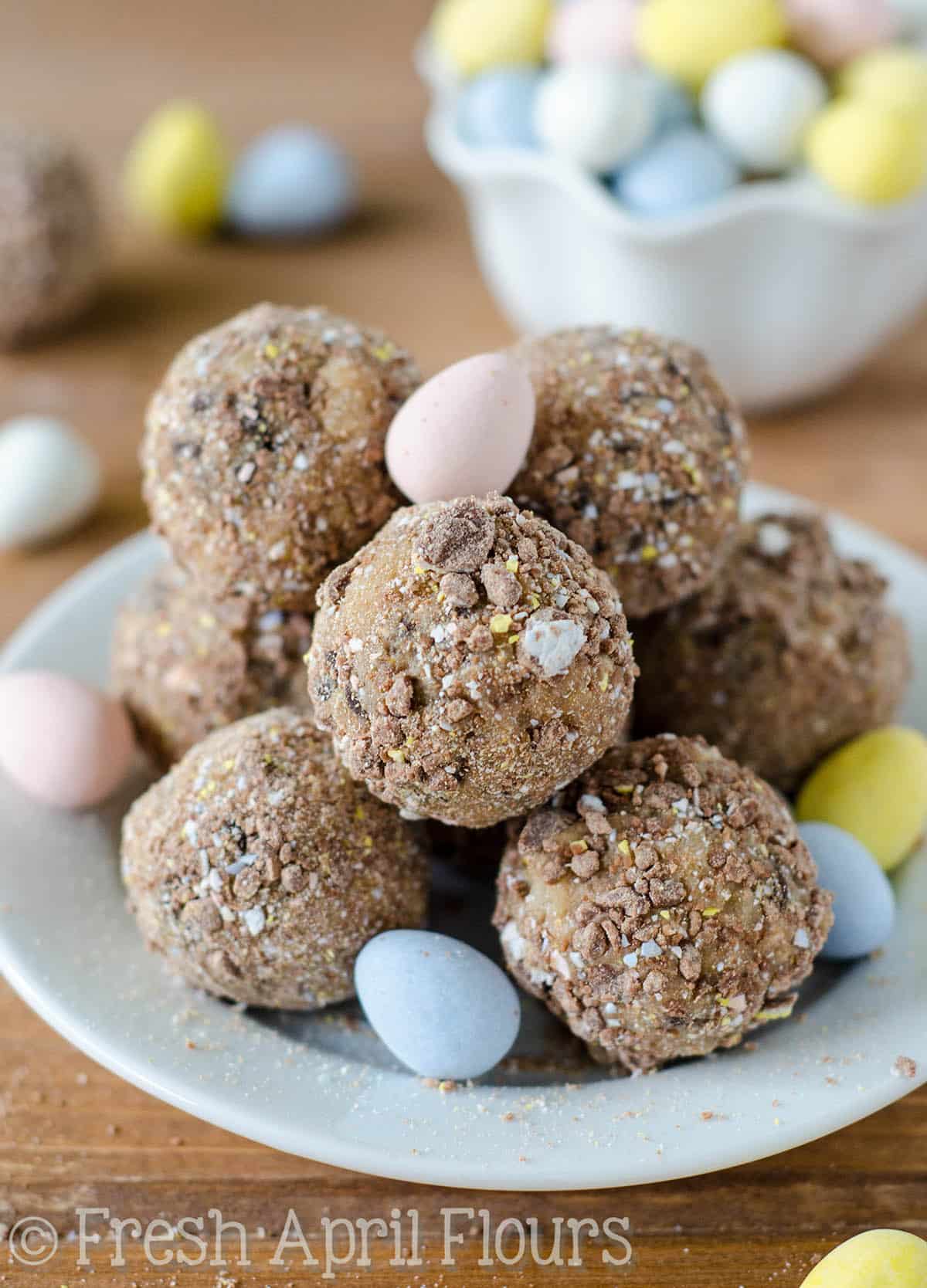 There are a couple things different about these cookie dough bites than the original. First of all, I reduced the amount of mini chocolate chips because I wanted to make room for the crushed mini eggs.
Another addition is a little drizzle of water to the dough. I found that adding in crushed mini eggs was similar to adding more flour and the texture was just not working with me one bit. Just 1 Tablespoon of water did the trick to keep the dough moist enough to form into a ball but not the slightest bit soggy.
Lastly, and quite possibly my favorite part, is the coating of more crushed mini eggs. I mean, look at that coating. Isn't it just calling your name?!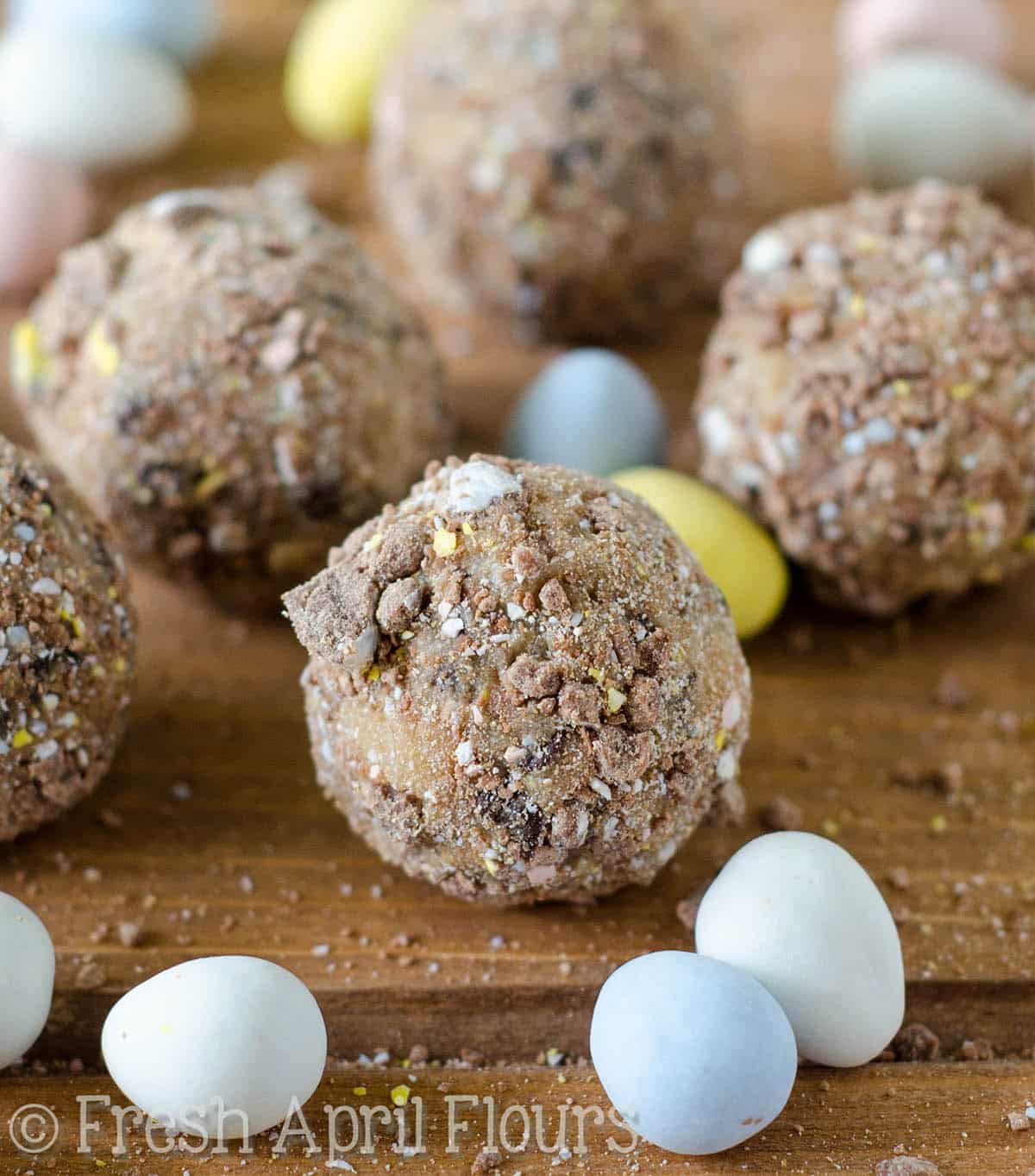 That coating is the perfect complement to the crunchy bits of crushed eggs inside each cookie dough bite, plus all that sweet, creamy chocolate pairs so well with the slightly salty dough that makes up the heart of each bite. They're really such a heavenly little treat!
From start to finish, this recipe is so quick. There's a little bit of chilling time after you assemble the dough and a little more after you've coated each dough bite. Other than that, so fast!
You can throw these bad boys together before you head out the door to your grandparents' house for Easter dinner. I'm sure you have most if not all of the ingredients in your pantry right now.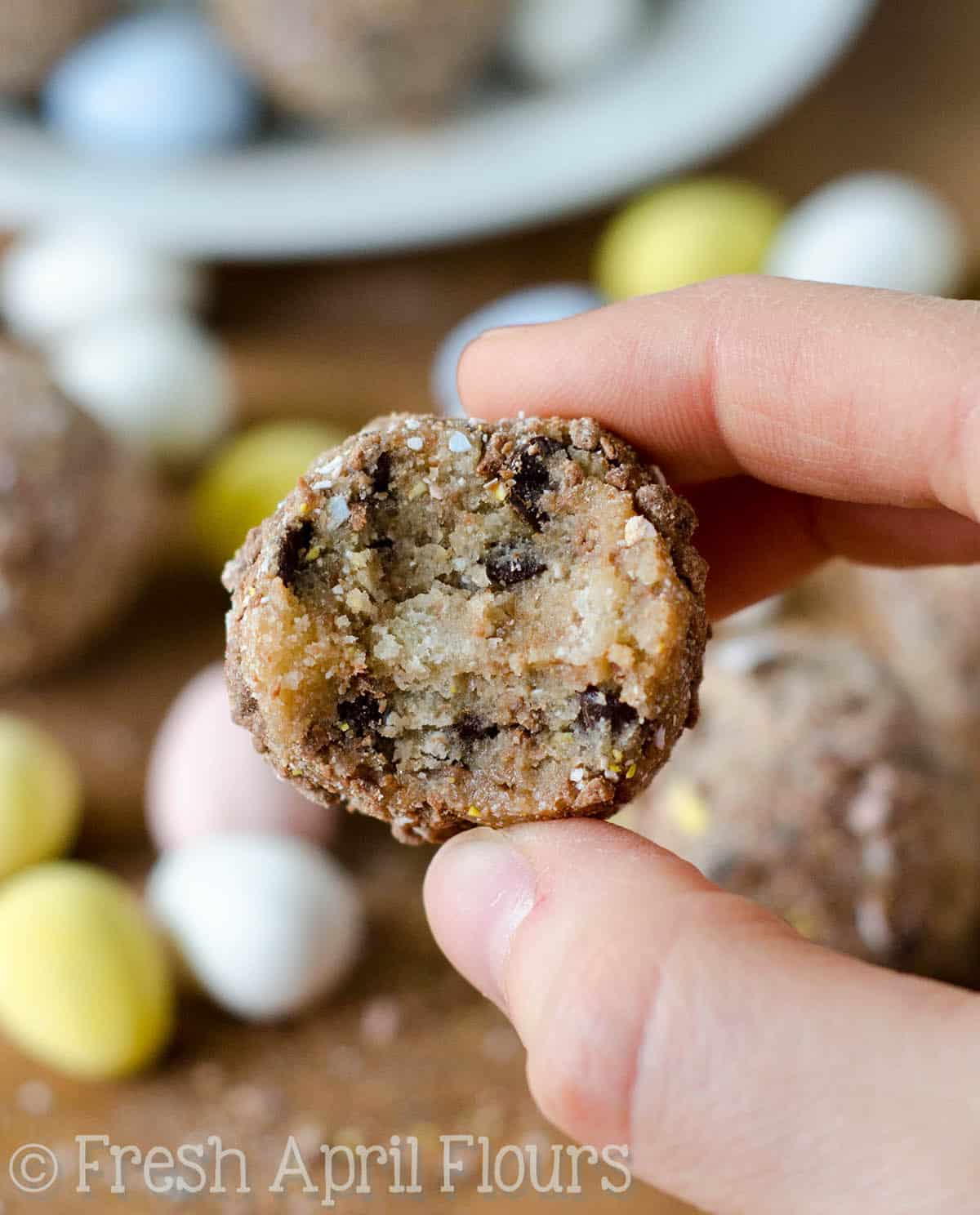 You might just have to make a special run for some mini eggs, but let's be honest… That isn't the worst shopping trip you could take. When it comes to anything, if mini eggs are involved, sign me up!
Cheers to Easter and my dear friend Amy!
More mini egg recipes right this way: mini egg cookies and no bake mini egg pie!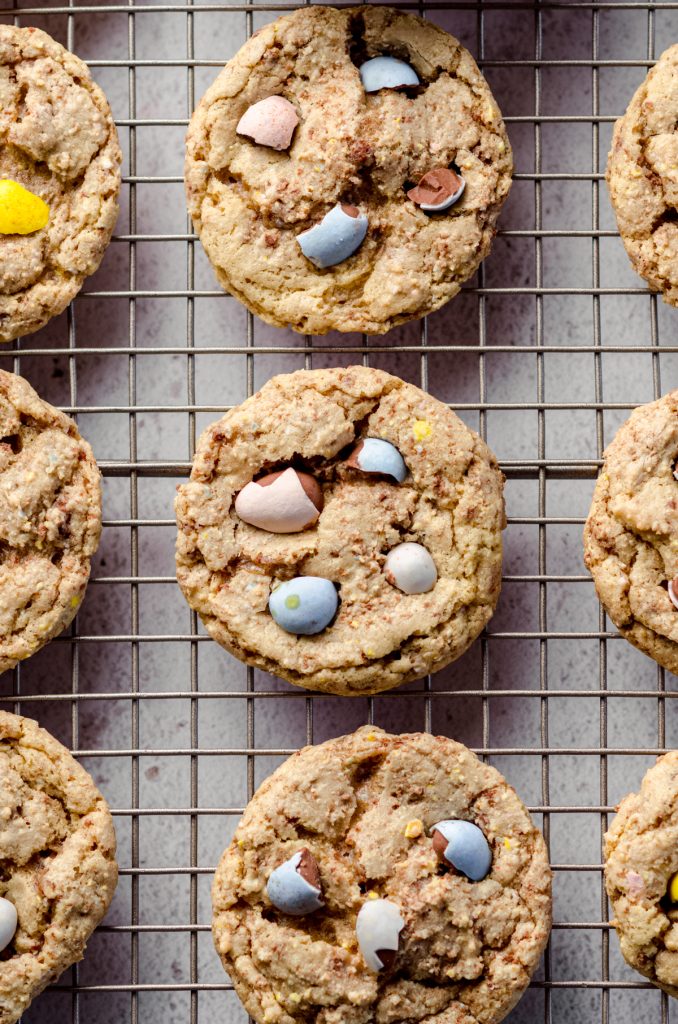 Cadbury Egg Cookie Dough Bites
Eggless and safe-to-eat chocolate chip cookie dough balls filled and coated with crunchy pieces of Cadbury Mini Eggs. The perfect treat for Easter!
Ingredients
½

cup

(1 stick) unsalted butter

melted

1

cup

+ 2 Tablespoons all purpose flour*

½

teaspoon

salt

6

Tablespoons

brown sugar

6

Tablespoons

granulated sugar

½

teaspoon

vanilla extract

1

Tablespoon

water

1/2

cup

mini semi-sweet chocolate chips

1

cup

crushed Cadbury Mini Eggs

divided
Instructions
Line a large baking sheet with parchment paper or a silicone baking mat. Set aside.

In a microwave safe bowl, melt the butter. Allow to cool for 5 minutes. While it cools, prepare your dry ingredients.

In a medium sized bowl, toss together the flour, salt, and both sugars. Add vanilla extract to butter, stir it around, and then add your slightly cooled butter to your dry ingredients. Stir with a spatula until completely combined. Mixture will be crumbly, but add your mini-chocolate chips and 1/2 cup of the crushed mini eggs and stir well until distributed evenly. Drizzle water over dough and mix until everything is well combined. You may need to use your hands. Refrigerate dough for 10 minutes.

Place remaining 1/2 cup of crushed mini eggs in a shallow bowl. When dough has been chilled, form dough into balls about 1 Tablespoon (1 ounce) or ½ Tablespoon (1/2 ounce) in size (or desired size) and roll in crushed mini eggs. Place coated dough balls on prepared baking sheet. Refrigerate dough balls at least 10 minutes. Serve cold or at room temperature. Store bites in an airtight container in the fridge for up to one week.
Notes
*Flour should be heat-treated: place in a microwave safe bowl and microwave for 1 minute and 15 seconds on high, stirring after each 15 second interval.
Nutrition Disclosure
All nutritional values are approximate and provided to the reader as a courtesy. Changing ingredients and/or quantities will alter the estimated nutritional calculations.