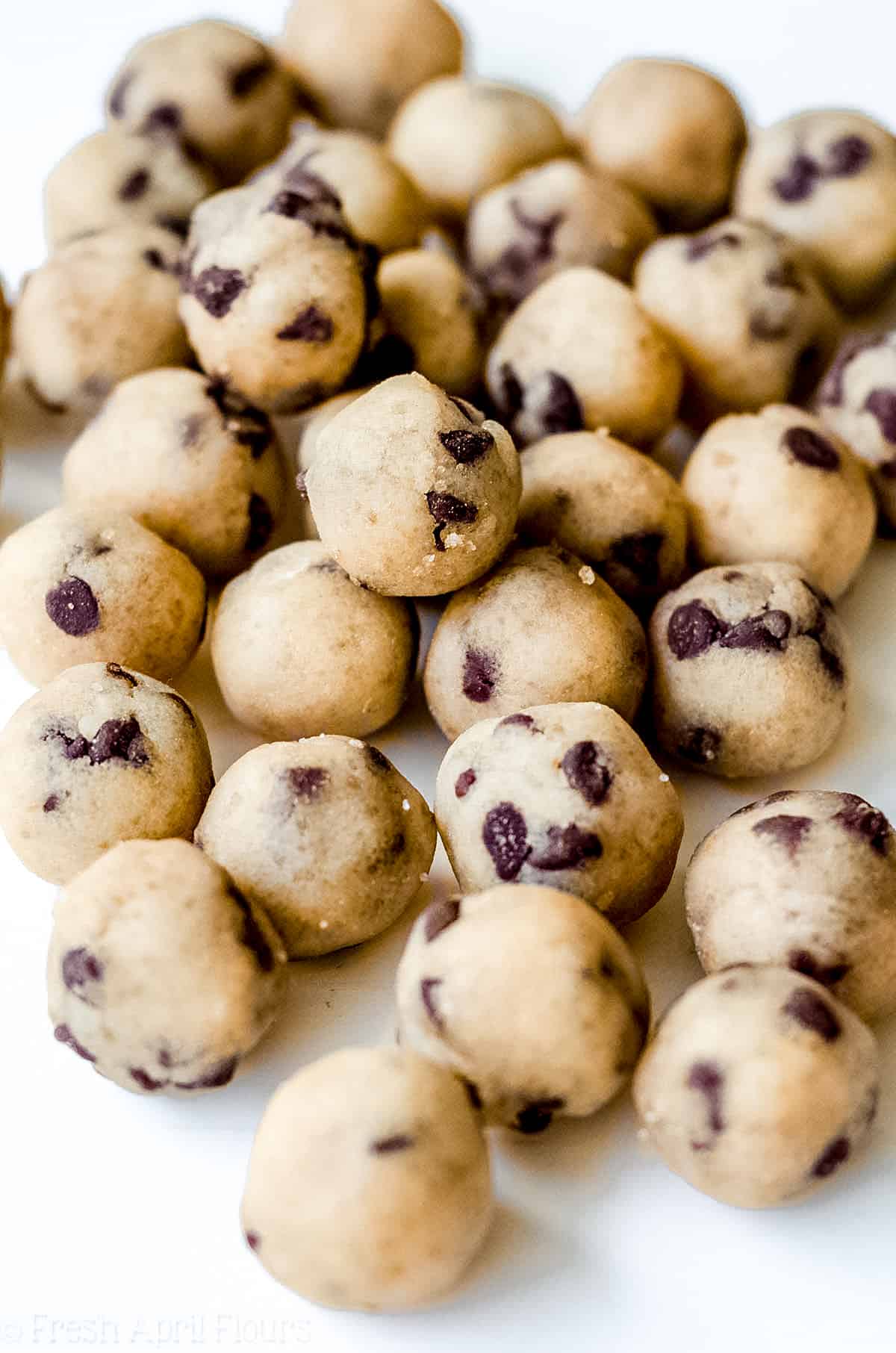 As an Amazon Associate, I earn from qualifying purchases. Read the full disclosure here.
Safe to eat, eggless chocolate chip cookie dough rolled into a bite-size snack. You're going to find it hard to stop nibbling!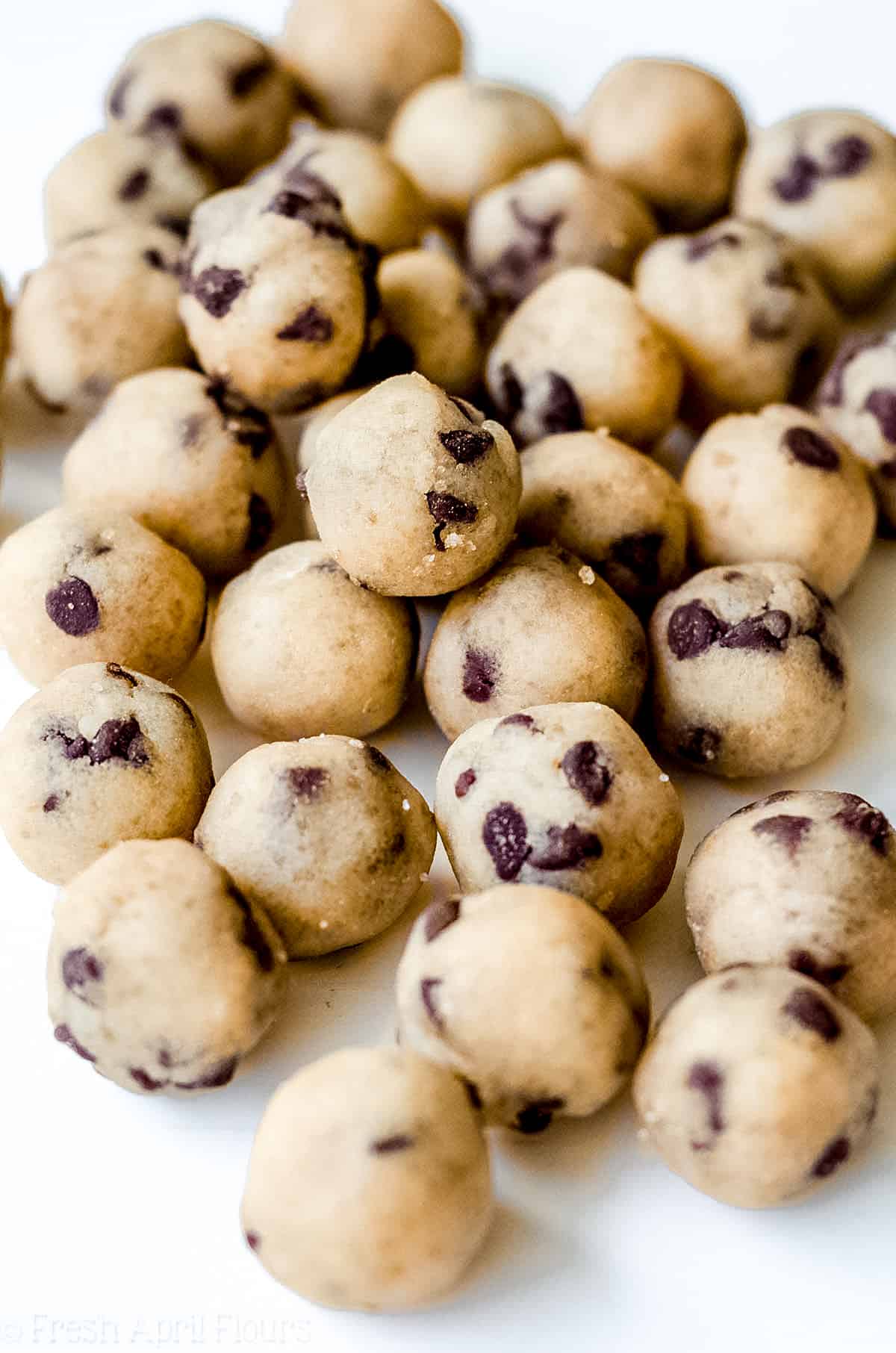 When you're making cookies, I'm sure you, like most folks, find it really hard not to continually "sample" the dough.
And you know what? Samesies. I probably end up with far fewer cookies than I should simply because I can't stop eating little bits.
By the time the cookies are baked and I only eat one, I'm feeling pretty good about myself because I've only managed to eat one! Never mind how many cookies all that dough added up to… Right?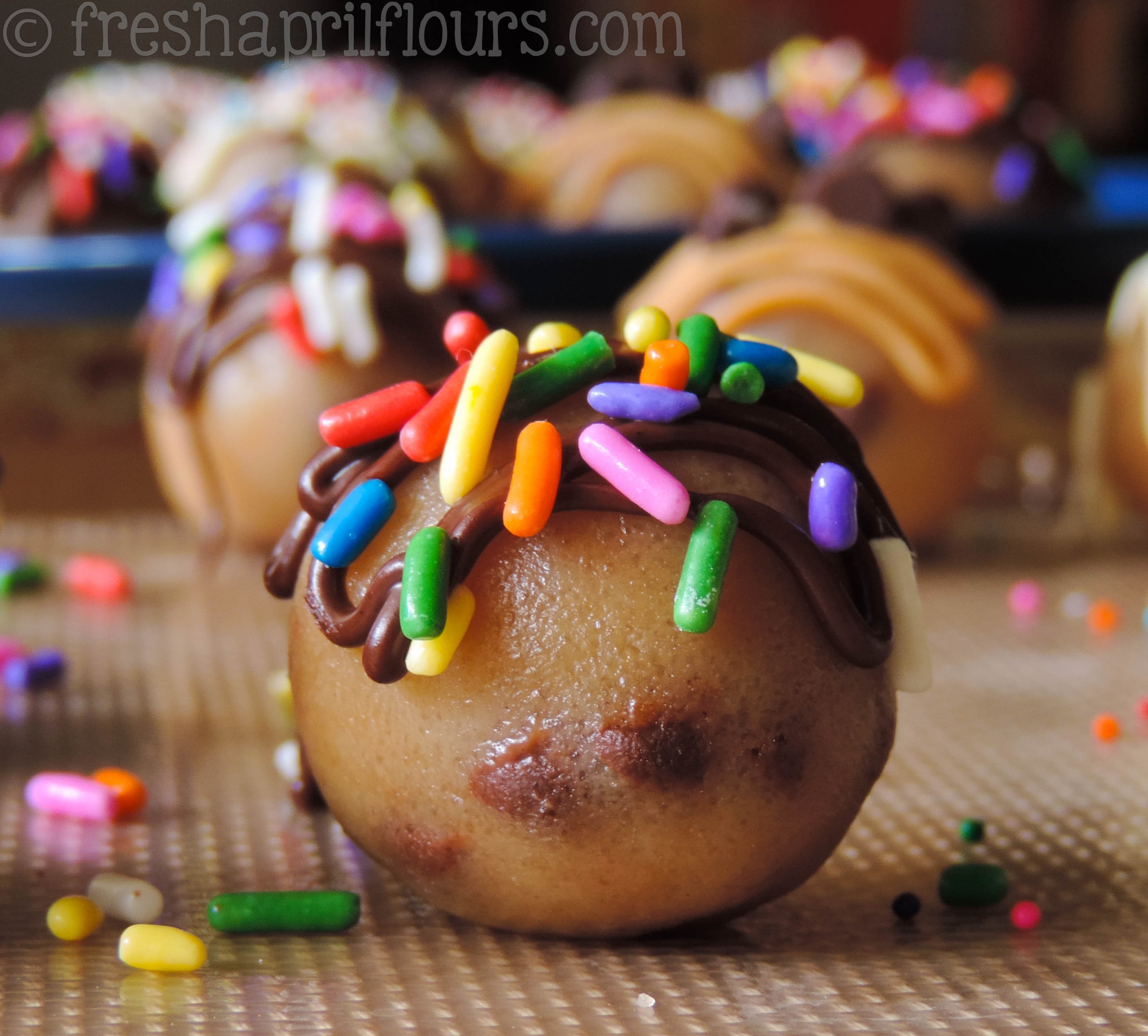 Although there are many of us in the world who couldn't care less about the "don't eat raw batter" warning our parents always gave us, you can push that tiny bit of guilt you might have out of your thoughts and feel even better about eating an entire batch of dough by following this super simple recipe.
WHY IS COOKIE DOUGH UNSAFE TO EAT?
Ok, here's the thing. You'll often hear "I always eat raw cookie dough and never have a problem!"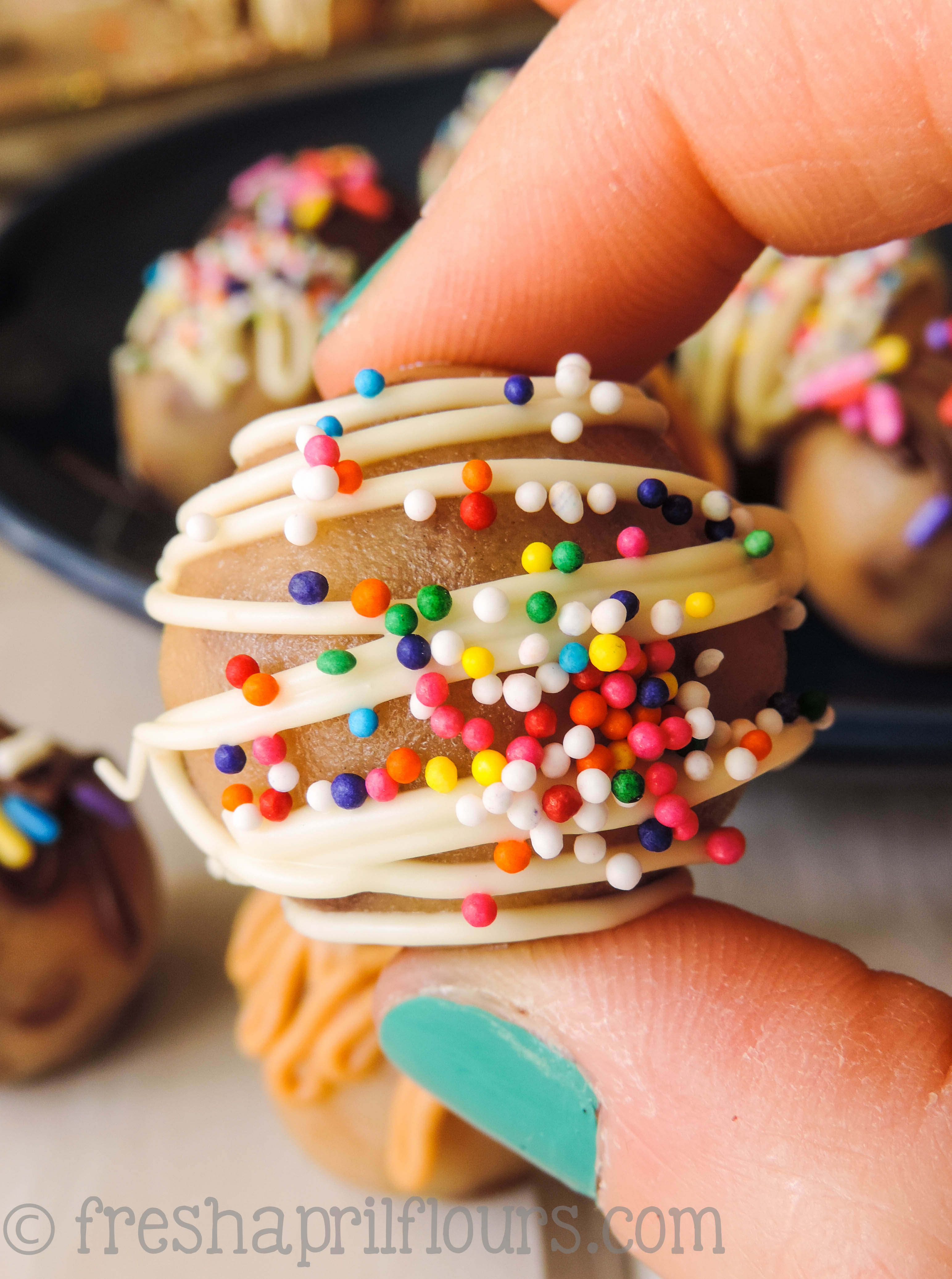 And guess what? The likelihood of you contracting a belly issue from raw cookie dough is low, but you still need to take precautions when consuming raw dough.
You might see that this cookie dough doesn't contain any eggs, but did you know eggs aren't the only food we need to be safe about when it comes to raw dough?
That's right– flour can contain all kinds of contaminants like E. coli and also little bugs, so it's important to heat treat our flour before putting it into these edible cookie dough balls.
HOW TO HEAT TREAT FLOUR
While you can read all about how to heat treat flour in my cookie dough brownies recipe, we are going to simplify the process here since we aren't turning on the oven for these no bake cookie dough bites.
You just want to make sure you have an instant-read digital thermometer to check the temperature of the flour has reached at least 165ºF (74ºC) internal temperature.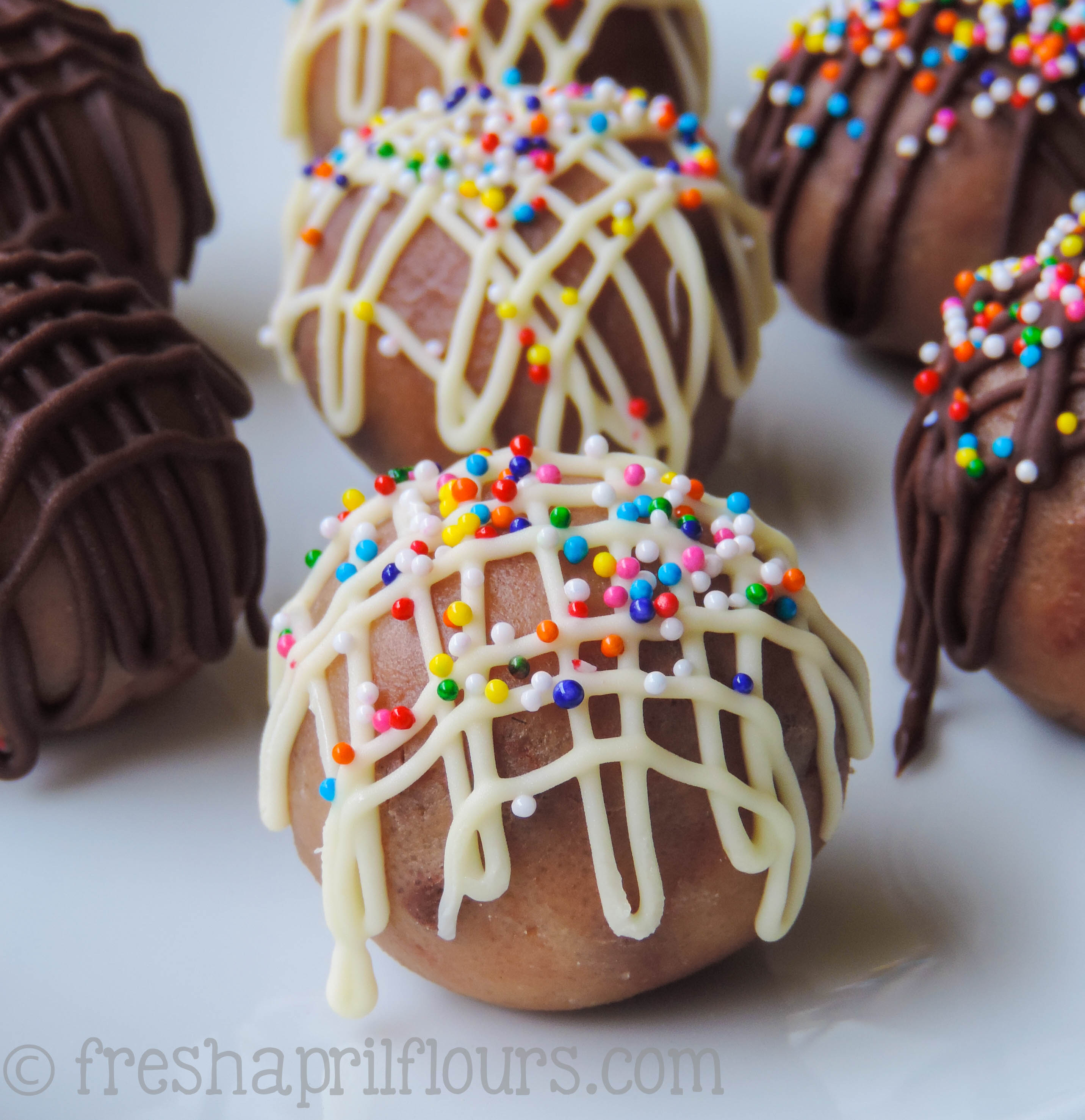 Once it has, allow the heat-treated flour to cool, then sift to remove any large chunks. It is now ready to use.
INGREDIENTS
As I mentioned, there are no eggs in this recipe, but it is otherwise identical to my classic chocolate chip cookie recipe. No fancy ingredients, just the basic chocolate chip cookie ones. I'm sure you're familiar.
While are absolutely no eggs in this recipe, there are also no leaveners, so you couldn't even bake this cookie dough if you wanted to. It would just turn into cookie puddles, which don't sound all that bad, but I can guarantee you they're a giant mess.
I just replace the semi-sweet chocolate chips with mini semi-sweet chocolate chips because I like how they work into the cookie dough balls much better. Also… More chips per bite, and I'm not sure I know anyone who could argue with that.
HOW TO MAKE COOKIE DOUGH BITES
Since we don't have to be super careful about the way we combine these ingredients, you can essentially just add all of the ingredients to a bowl and stir it up.
You're going to chill your dough before you start rolling it into balls, just to make sure everything is nice and sturdy.
And once you've formed dough balls, you'll refrigerate or freeze them again (depending on what you want to do with them, see notes at the bottom of the recipe) before adding any kind of chocolate to the outside.
See how simple that is?
ADD CHOCOLATE OR SPRINKLES TO COOKIE DOUGH BITES
I have made these bites into a chocolate covered cookie dough bites recipe quite easily by dipping them in chocolate. I've also just drizzled them with chocolate.
And I've also, most simply, left them naked, for lack of a better word.
You can do whatever you want with them, but if you want to leave them naked and chop them up, you're halfway to my no bake chocolate chip cookie dough pie, so might as well head over there…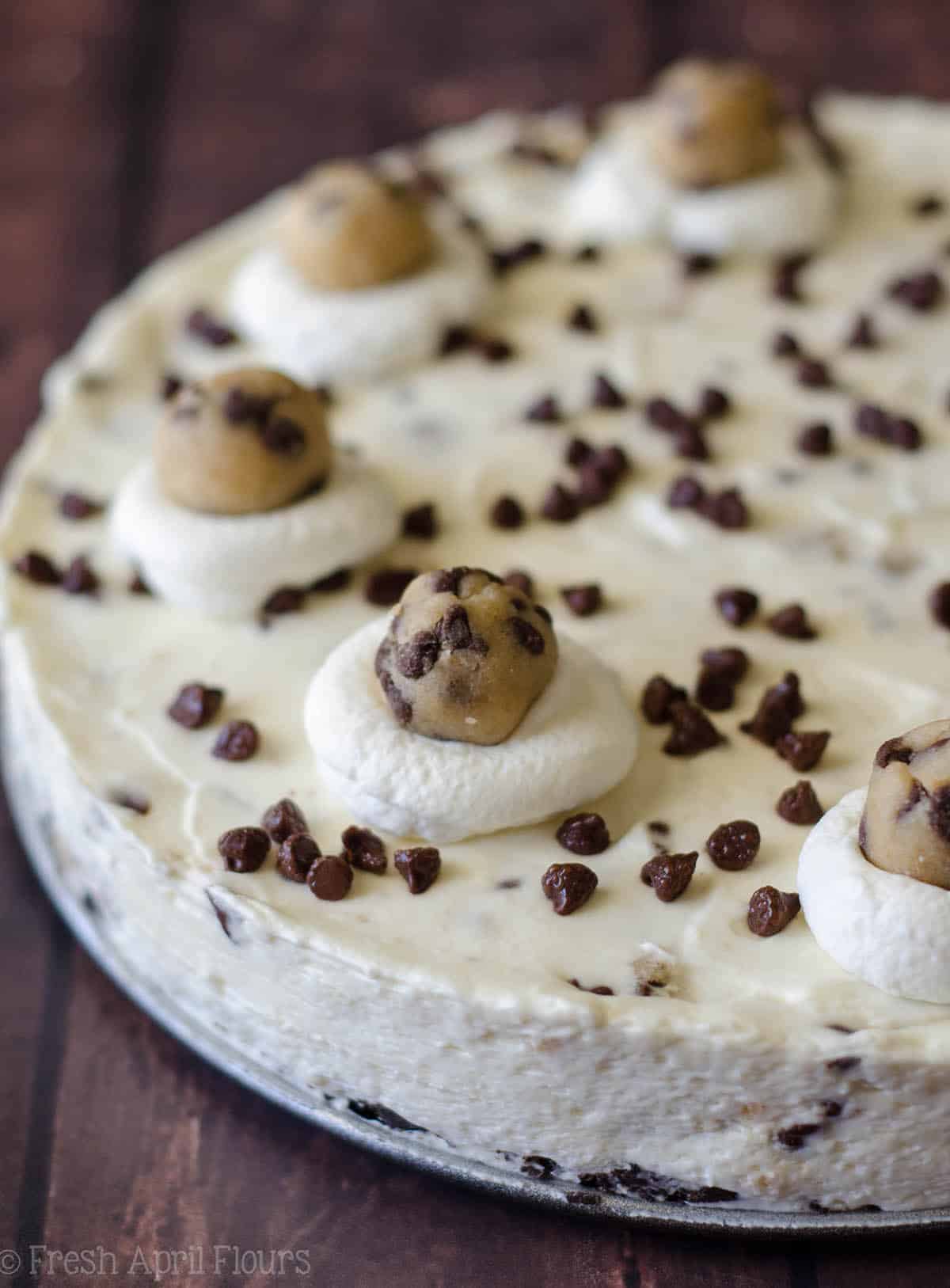 Seriously, these little cookie dough bites are so versatile and can be jazzed up however you see fit. You could even roll them into teeny tiny bits and throw them in some ice cream! Oh man, now we're talking.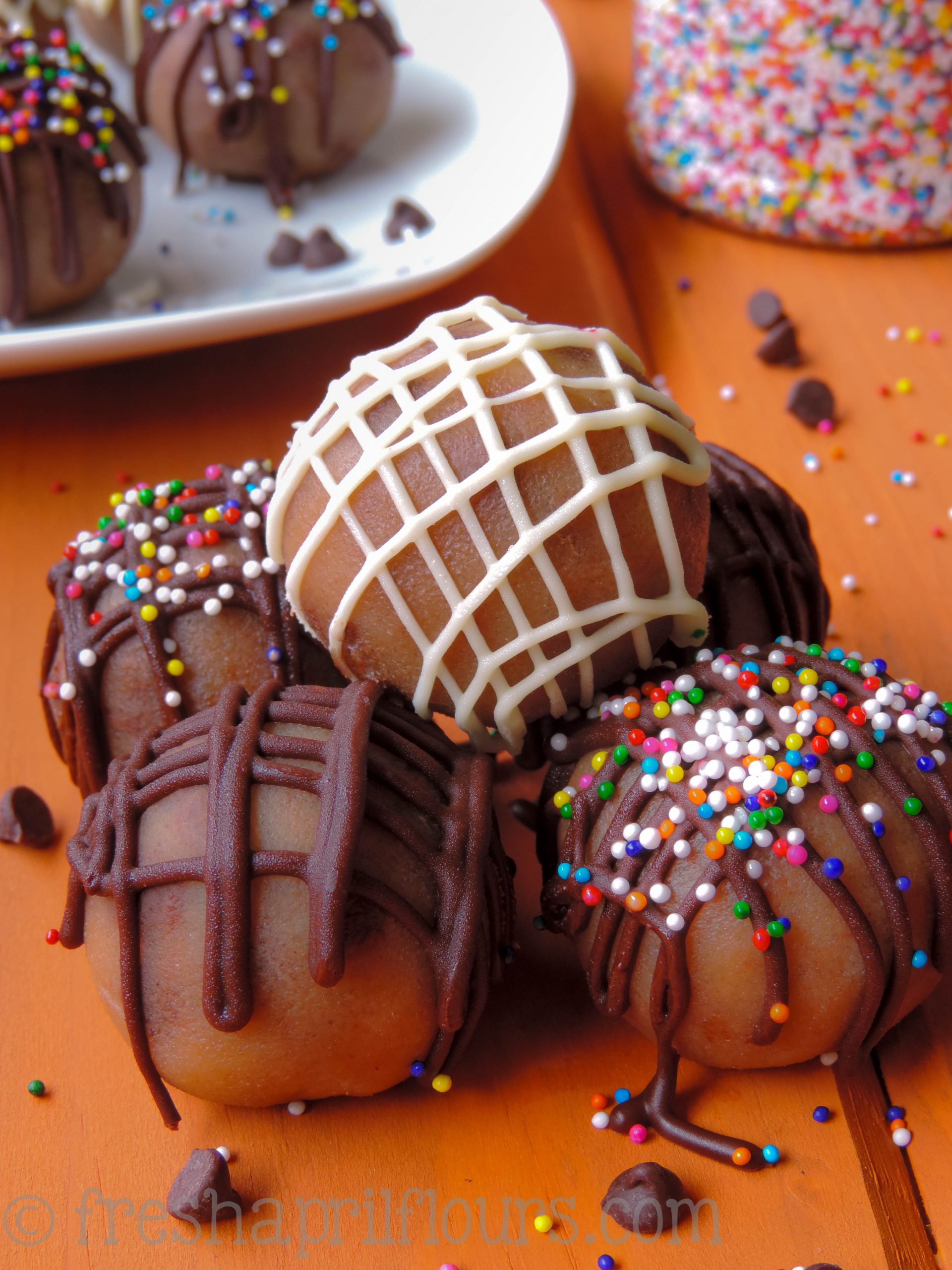 Whatever you decide to do with your edible cookie dough, please know I cannot be held responsible for the increase in your cookie dough consumption. I'm merely showing you that you don't need to be afraid of cookie dough anymore…
And if that's going to be a problem for you…
I'm sorry I invited you to my recipe.
But not really.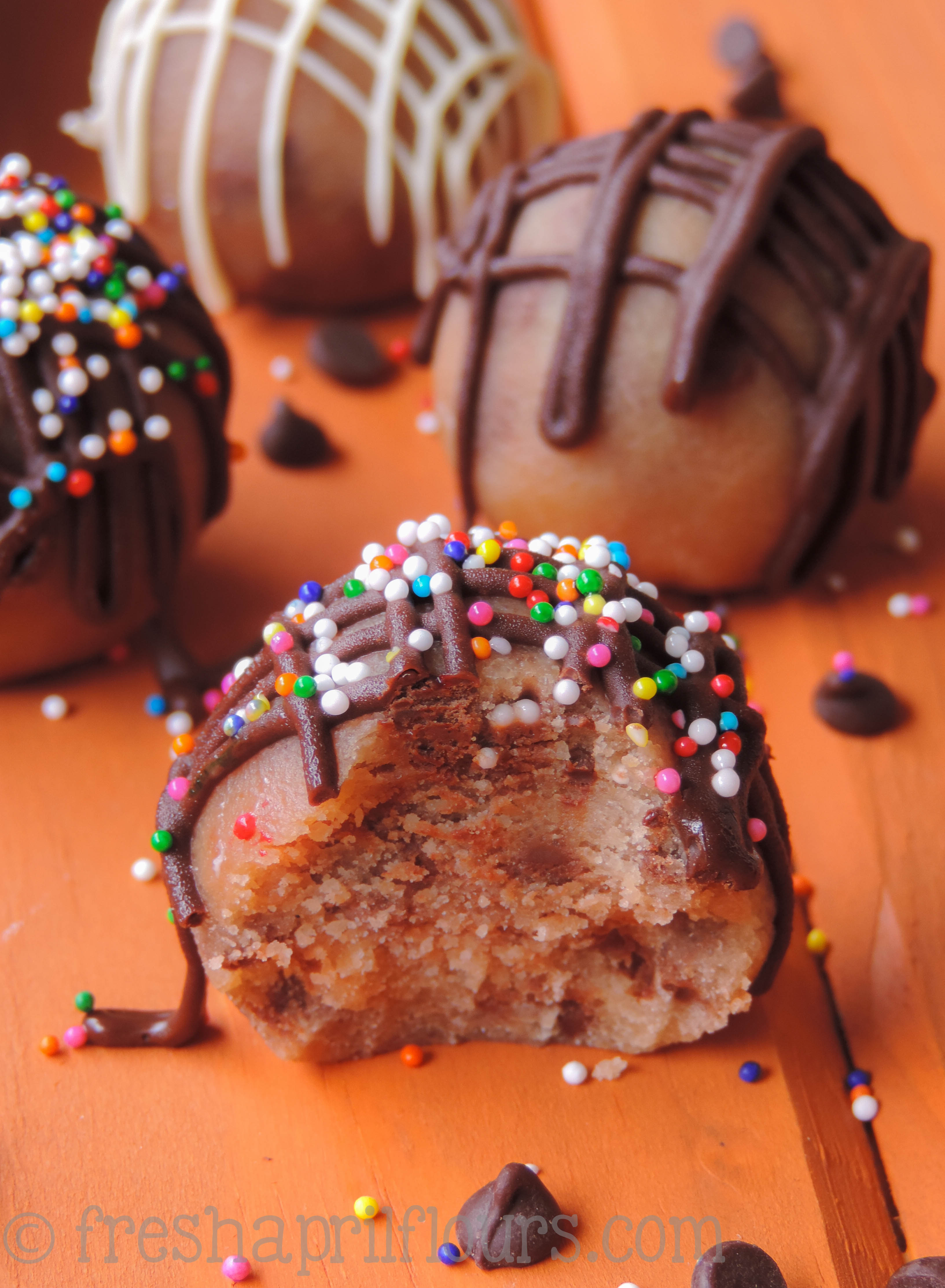 Happy dough eating, my friends!
Love cookie dough? Check out my other chocolate chip cookie dough recipes: chocolate chip cookie dough ice cream pie, chocolate chip cookie dough dip, no bake chocolate chip cookie dough pie, cookie dough brownies.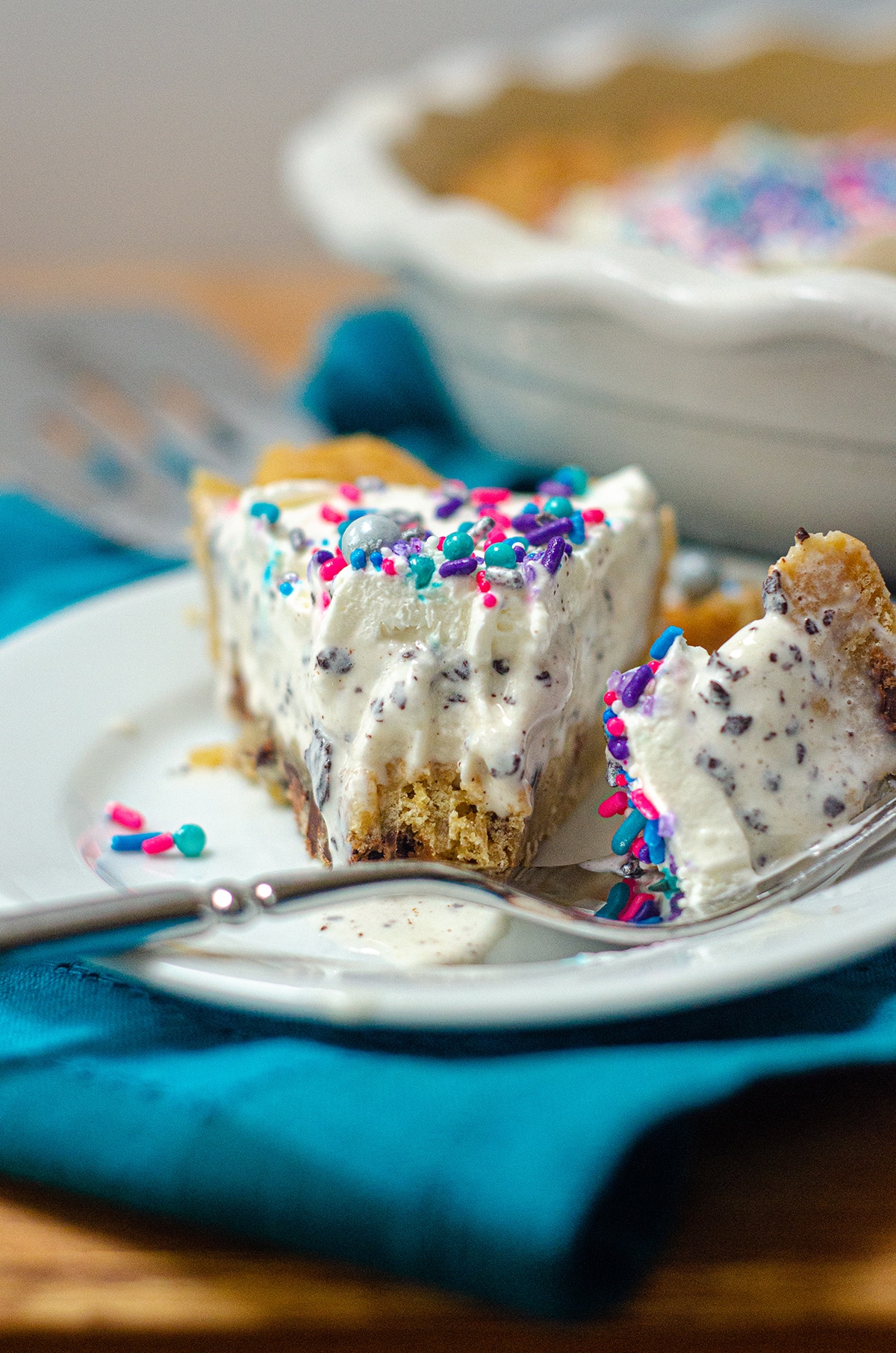 Cookie Dough Bites
Safe to eat, eggless chocolate chip cookie dough rolled into a bite-size snack. You're going to find it hard to stop nibbling!
Servings:
18
1-ounce balls
Ingredients
1

cup

+ 2 Tablespoons (135g) all-purpose flour

½

teaspoon

salt

6

Tablespoons

(75g) firmly packed light brown sugar

6

Tablespoons

(75g) granulated sugar

½

cup

(113g) unsalted butter

melted and allowed to cool

½

teaspoon

vanilla extract

⅔

cup

(168g) mini semi-sweet chocolate chips
white, dark, milk, or semi-sweet chocolate

for decorating; you'll want approximately 2 ounces for drizzling or 8 ounces for dipping
Instructions
Line a large baking sheet with parchment paper or a silicone baking mat. Set aside.

Heat treat the flour: heat the flour in the microwave on HIGH in 30 second increments, then stir before checking for a uniform 165ºF (74ºC) internal temperature with an instant-read digital thermometer. Allow heat-treated flour to cool, then sift to remove any large chunks. It is now ready to use.

In a medium sized bowl, toss together the heat-treated flour, salt, and both sugars. Add the butter and vanilla to the dry ingredients and stir with a spatula until completely combined.

Mixture will be crumbly, but add your mini-chocolate chips and stir well until distributed evenly. You may need to use your hands. Refrigerate dough for 10 minutes.

Once dough is chilled, form dough into balls about 1 Tablespoon (1 ounce) or ½ Tablespoon (½ ounce) in size (or desired size) and place on prepared baking sheet. Freeze or refrigerate dough balls depending on what you would like to do with them (see notes below).

While dough is chilling, chop the chocolate and place it in a microwave safe bowl. Melt in the microwave in 20 second increments, stopping to stir, until completely melted.

To drizzle chocolate: add to a decorating bottle or a zip top bag with the corner snipped off.

To completely coat in chocolate: place dough ball in the center of the bowl and cover with chocolate using a fork. When dough ball is covered, lift out with fork and tap the stem of the fork lightly on the side of the bowl. Place covered dough ball on baking sheet. Add sprinkles, nuts, chopped candy, etc. while chocolate is still wet. Store bites in an airtight container in the fridge for up to 5 days.
Notes
If you plan to dip your cookie dough balls in melted chocolate, freeze them for at least 30 minutes to insure they can handle the heat of the chocolate. If you are simply drizzling your cookie dough balls, you only need to refrigerate them for 10 minutes. Decorate with sprinkles, chopped nuts, chopped candy bars, chocolate chips, etc. Feel free to leave the cookie dough balls plain.
Nutrition Disclosure
All nutritional values are approximate and provided to the reader as a courtesy. Changing ingredients and/or quantities will alter the estimated nutritional calculations.