No Bake Chocolate Chip Cookie Dough Pie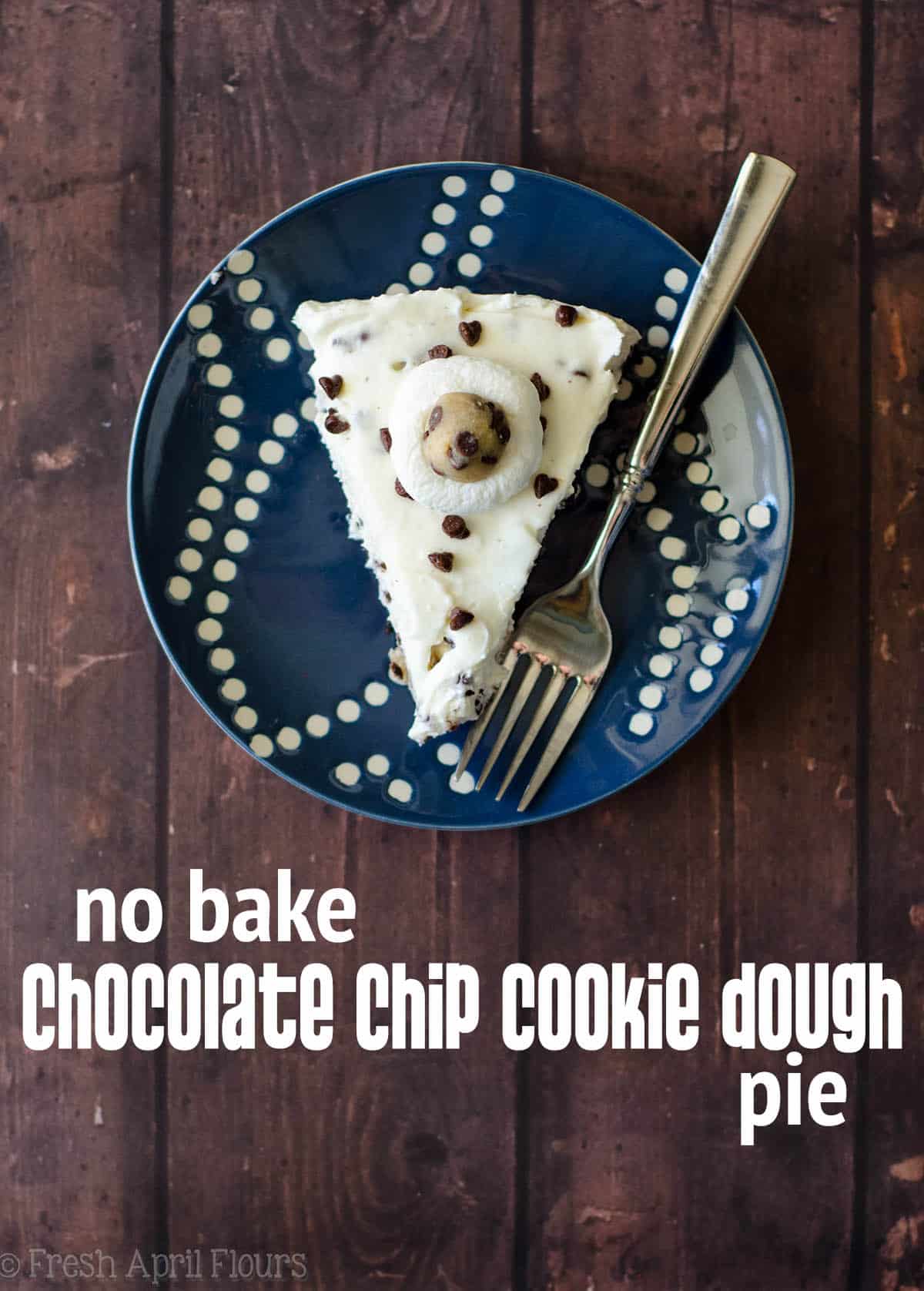 As an Amazon Associate, I earn from qualifying purchases. Read the full disclosure here.
An easy, cheesecake-like pie filled with edible cookie dough pieces and plenty of chocolate chips, all atop a crunchy Oreo crust.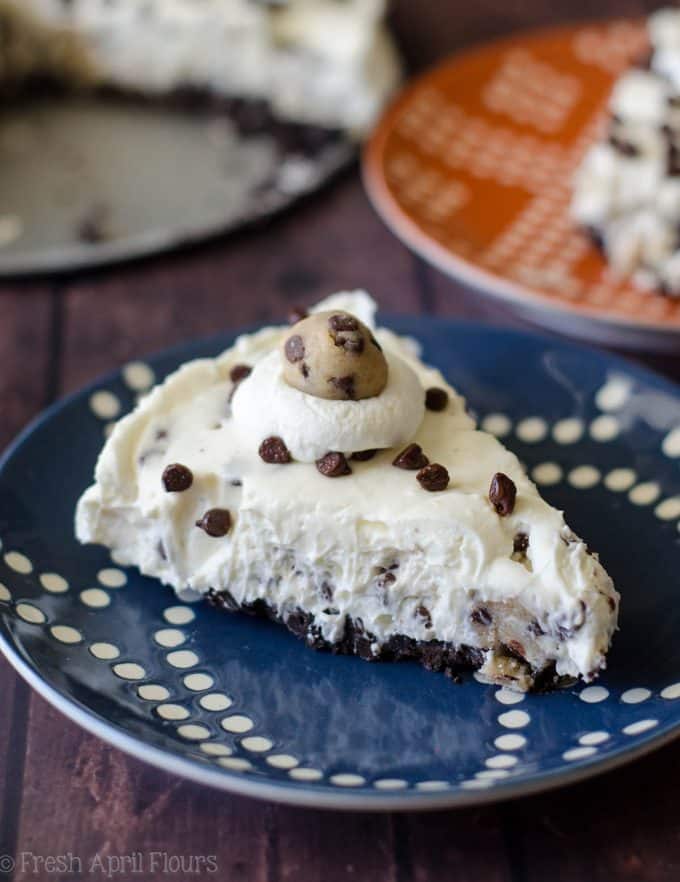 Let the record state that I am a pretty big science nerd (some of you who have been around these parts for awhile already knew this about me). I work full time in an immunology lab where I make secondary antibodies for people who do microbiology research.
I spend all day in a lab in comfy clothes that sometimes get dirty, I occasionally wear a lab coat and safety googles, and every once in awhile, I have to change my clothes immediately when I get home for fear of exposing my family to chemicals that may or may not be left on my shirt.
All of that, in turn, makes me sort of a math/number nerd, although I can't be 100% sure the two are related.
For this purpose, let's say it does.
I am always looking for number sequences, neat number combinations, and my favorite thing is dates that are math problems, palindromes, or just sound cool.
For example, Matt and I got married on 6/7/13 (6 + 7 = 13), and I may or may not have picked that available date simply because of the cool math (I did).
And although we had no control over it, I was pretty excited when I found out I was going to be induced during a week that any of the days would have produced a palindrome date.
Our son was born on 6/14/16, and I would be lying if I said the first thing I asked when he was finally out was "what time is it??" When the nurse said "6:06," I pumped both of my hands in the air and yelled "6:06!!!!"
This is a 100% true story, friends. Nerds unite.
All of that to say, welcome to Pi Day, but not just any Pi Day. A Pi Day that will not come for another 100 years, and one that has not been here since 1917. Today, 3/14/17, is a math problem date, and I think that makes it double cool and I made an extra special treat to celebrate the occasion with all of you.
Indulge in my weird baking/science/math brain, will you?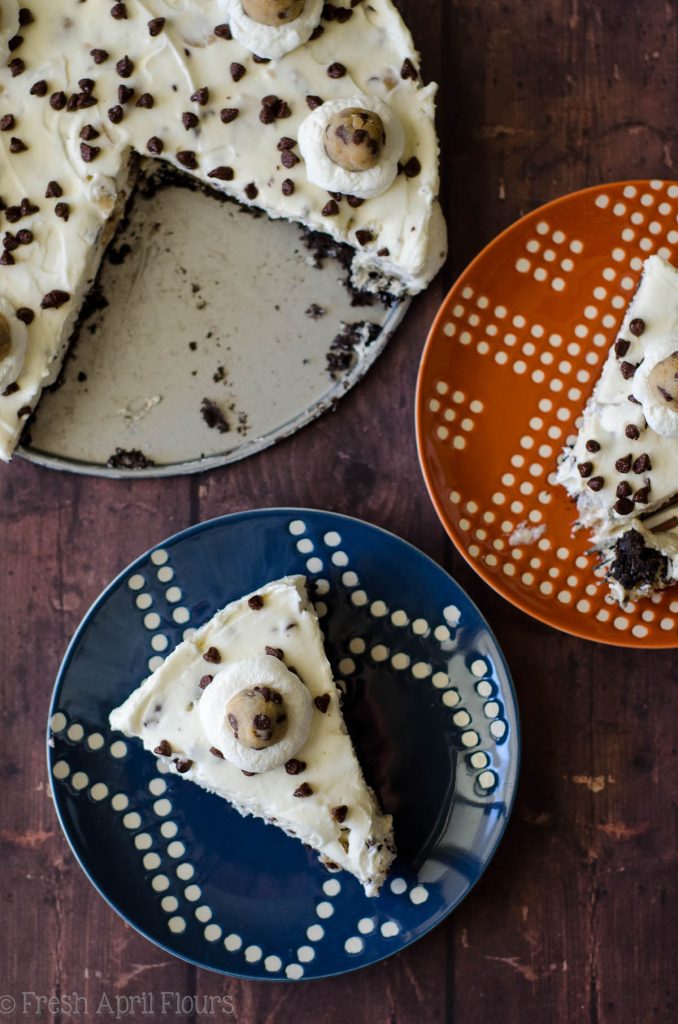 Last year, I made a no bake mint chocolate chip pie. And it.was.amazing. I actually recreated that pie in December with a candy cane version, and that, too, was simply wonderful. I continued the no bake pie trend for today's recipe, and I decided to turn it into one of the best desserts I've ever made by including chocolate chip cookie dough.
That's right– as if this pie needed to get any better, I went and did that. You're welcome.
A long time ago on the blog, I shared chocolate chip cookie dough bites, made with all of the goodness you'd find in a chocolate chip cookie, without the egg. Thus, a safe-to-eat, eggless cookie dough, perfect for dressing up with chocolate drizzle and sprinkles, or eating straight up.
Or, you know, adding to other desserts to take them from amazing to amazeballs.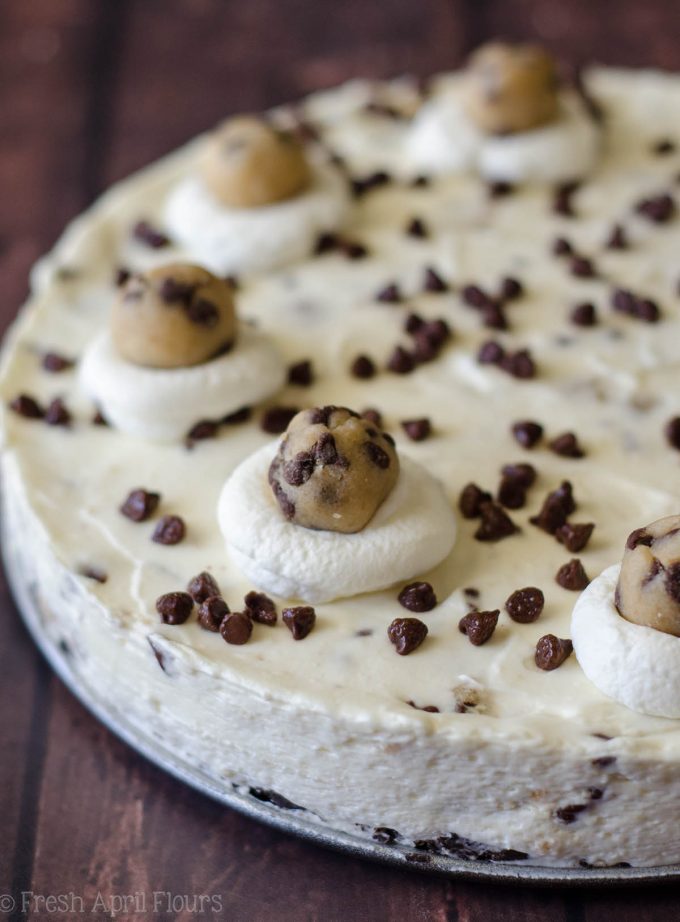 So really, making the chocolate chip cookie dough pieces is really the hardest and most time consuming part of this whole deal. But the good news is, you can do this step ahead of time, even days ahead of time, because the cookie dough bites will stay fresh stored properly for several days.
You'll need 1/2 a recipe of my chocolate chip cookie dough bites (don't worry, I broke that recipe down for you in the recipe below), and you'll only need to roll them into balls about 1 teaspoon in size (I actually used a melon baller to make my dough bites).
Then, you'll roughly chop those balls, saving some (if you'd like to) for decorating the top of the cake before serving. I tried to chop all of the balls in half first, then ran the knife through a few more times so that the majority of them were in quarters by the time I was done.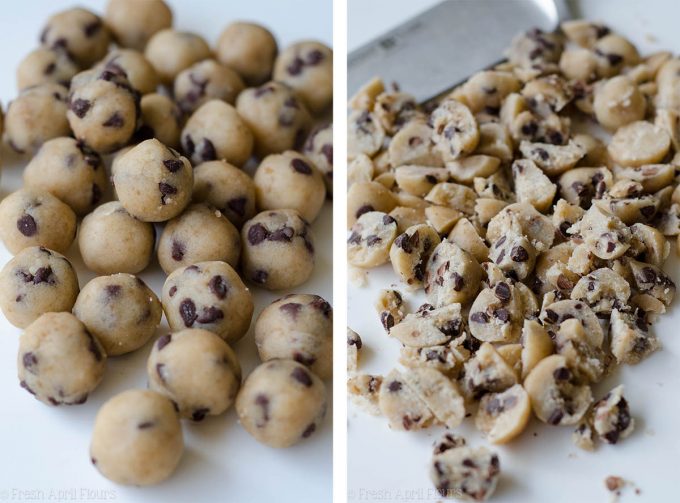 The crust is a simple Oreo crust, made up of crushed Oreos and melted butter. The filling of the pie is made with heavy cream, cream cheese, powdered sugar, and vanilla extract.
Oh, and more mini chocolate chips, of course.
Aaaaand that's it.
Use the remaining heavy cream to make your own homemade whipped cream and get a little fancy with it. OR, get even fancier and decorate it with a little chocolate fudge frosting!! And, ohmigosh, invite me over for taste testing, STAT.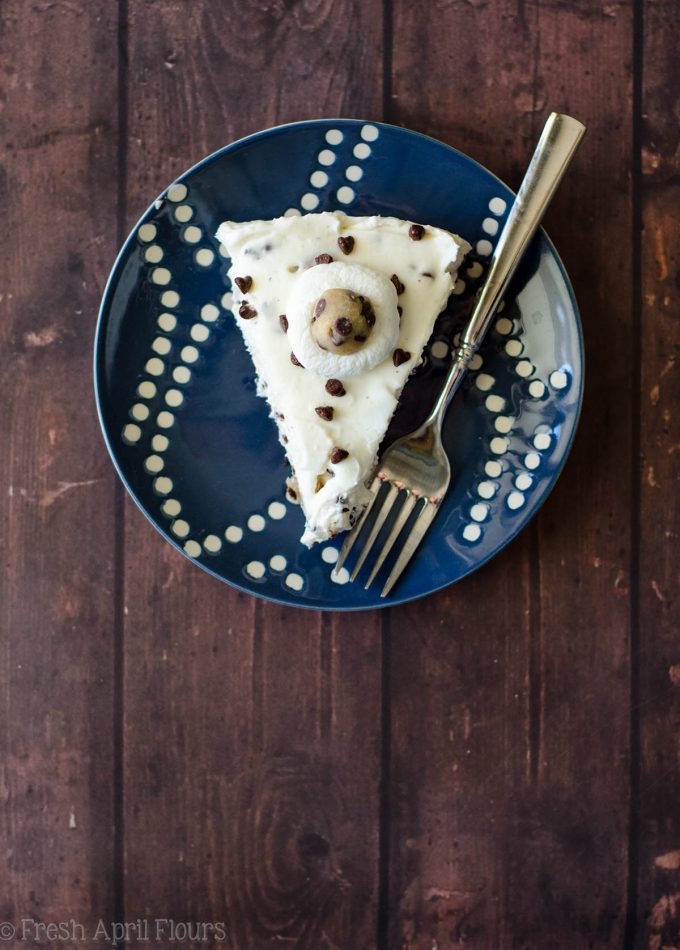 The slight cream cheese filling of this pie is the perfect little vehicle for all of those delectable chocolate chip cookie dough pieces, and it's almost like eating chocolate chip cookie dough ice cream but somehow better, because there are Oreos. I mean…
How can you refuse that?!
So, join me in this extra special Pi Day celebration with creamy dreamy cookie dough pie, because it's a blizzard outside and we need something to turn this day right-side up again.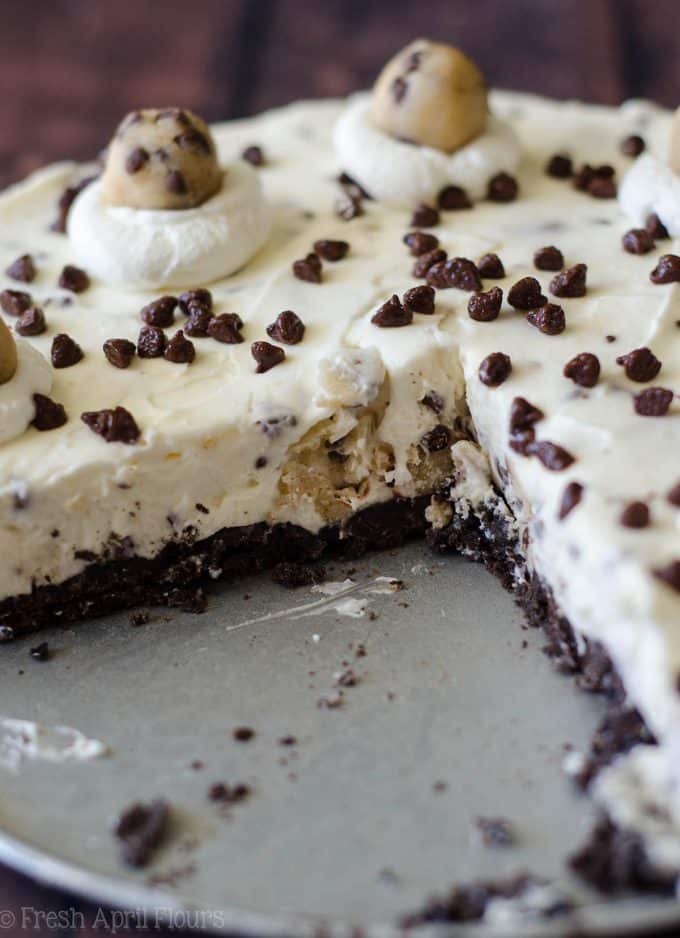 I say, more cookie dough, please!
No Bake Chocolate Chip Cookie Dough Pie
An easy, cheesecake-like pie filled with edible cookie dough pieces and plenty of chocolate chips, all atop a crunchy Oreo crust.
Ingredients
COOKIE DOUGH BALLS
4

Tablespoons

unsalted butter

melted

1/2

cup

+ 1 Tablespoon all purpose flour1

1/4

teaspoon

salt

3

Tablespoons

brown sugar

3

Tablespoons

granulated sugar

1/4

teaspoon

vanilla extract

1/3

cup

mini semi-sweet chocolate chips
PIE
18

Oreos

crushed (about 2 cups)

¼

cup

unsalted butter

melted

1

cup

heavy cream

or heavy whipping cream

8

ounces

cream cheese

softened to room temperature

1

cup

powdered sugar

2

teaspoons

vanilla extract

1/3

cup

mini semi-sweet chocolate chips
Instructions
COOKIE DOUGH BALLS
In a microwave safe bowl, melt the butter. Allow to cool for 5 minutes. While it cools, prepare your dry ingredients.

In a small sized bowl, toss together the flour, salt, and both sugars. Add vanilla extract to butter, stir it around, and then add your slightly cooled butter to your dry ingredients. Stir with a spatula until completely combined. Mixture will be crumbly, but add your mini-chocolate chips and stir well until distributed evenly. You may need to use your hands. Refrigerate dough for 10 minutes.

When dough has been chilled, form dough into balls about 1 teaspoon in size and place on a large plate (you will have approximately 32-36 dough balls). Place dough balls in the refrigerator while you prepare the pie filling.2
PIE
Place the crushed Oreos in a medium size bowl and drizzle the melted butter evenly over the cookies. Stir to mix completely, then press evenly into the bottom of a 9" springform pan (a regular 8" or 9" pie plate will work just fine as well). Chill in the refrigerator for 30 minutes.

While the crust chills, chop the cookie dough balls, reserving some for decorating the pie, if desired. Chop each dough ball in half, then coarsely chop all of the dough balls again so that most of them are in quarters. This does not need to be exact. Set aside.

In a medium size bowl with a hand mixer or the bowl of a stand mixer fitted with the whisk attachment, beat the whipping cream until stiff peaks form (about 3-4 minutes; see

this tutorial

for step-by-step instructions for homemade whipped cream). Place bowl in the refrigerator (or transfer to smaller bowl if using a stand mixer) until ready to use.

In a large bowl with a hand mixer or the same bowl of the stand mixer (no need to clean) now fitted with the paddle attachment, beat the cream cheese on medium-high speed until smooth. Reduce mixer speed to low and add the sugar, increase the mixer speed to medium-high, and beat again until smooth. Add the vanilla extract and continue beating until smooth. Scrape down the sides as necessary.

Turn off the mixer and fold in the cold whipped cream with a large spatula until fully incorporated. Pour in the chopped cookie dough balls and mini chocolate chips and mix again with the spatula until evenly dispersed.

Pour the filling onto the prepared crust and spread evenly with the spatula (I prefer to use this

small offset spatula

). Sprinkle with more mini chocolate chips, if desired. Cover with foil or plastic wrap and chill in the refrigerator at least 4 hours (for best results, overnight) before serving. Decorate with dollops of whipped cream and reserved cookie dough balls, if desired. Store leftovers covered tightly in the refrigerator up to 5 days. Pie can be wrapped tightly and frozen up to 2 months. Thaw in refrigerator overnight.
Notes
Flour should be heat-treated: place in a microwave safe bowl and microwave for 1 minute and 15 seconds on high, stirring after each 15 second interval.
You can make the cookie dough balls up to 2 days ahead of time. Store in the refrigerator covered tightly or in an airtight container.
Nutrition Disclosure
All nutritional values are approximate and provided to the reader as a courtesy. Changing ingredients and/or quantities will alter the estimated nutritional calculations.