Chocolate Chip Cookie Cake with Chocolate Fudge Frosting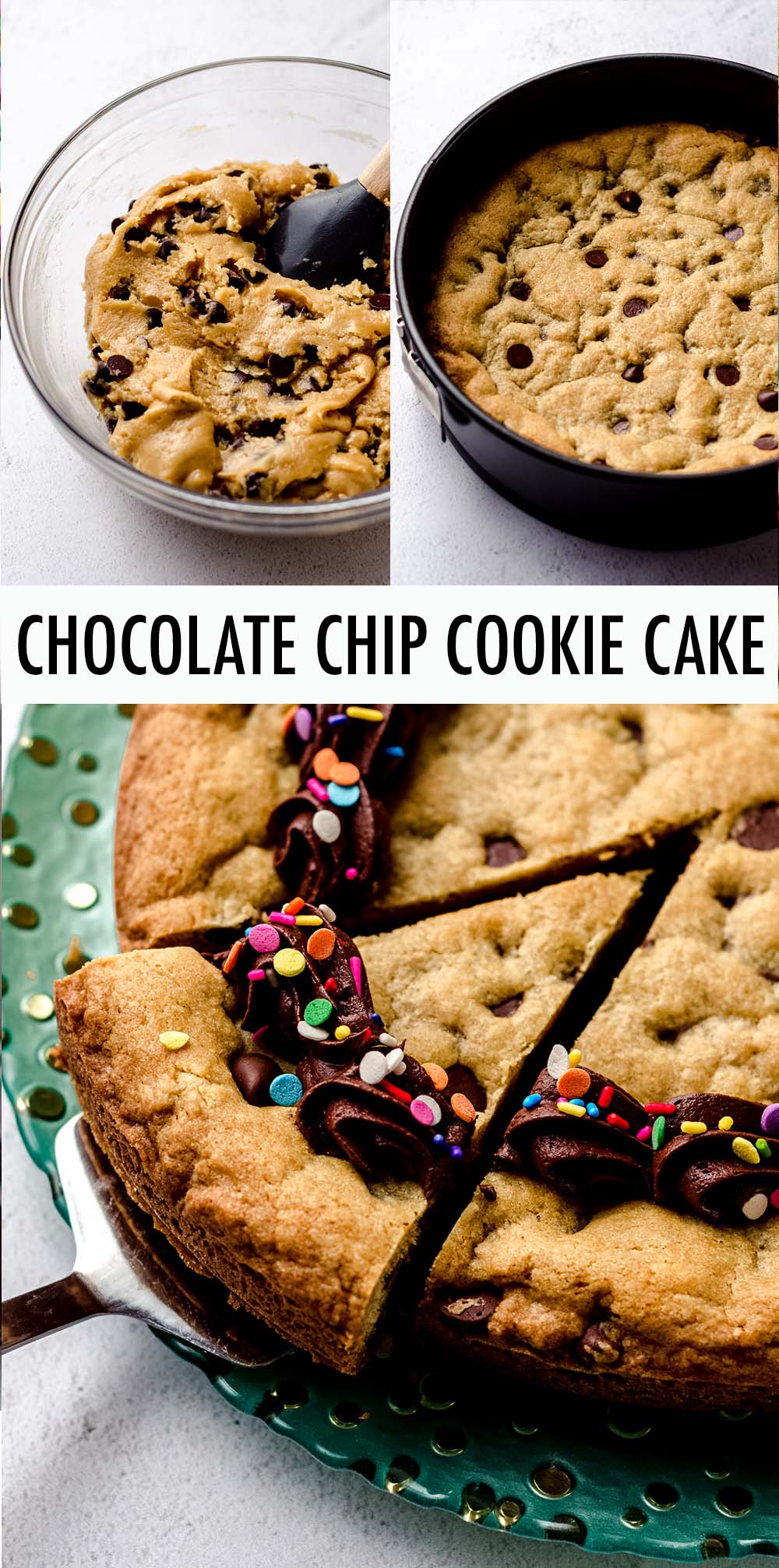 As an Amazon Associate, I earn from qualifying purchases. Read the full disclosure here.
This giant chocolate chip cookie cake is the best way to eat a chocolate chip cookie! Soft in the center, chewy on the edges, and the perfect canvas for decorating for any special occasion.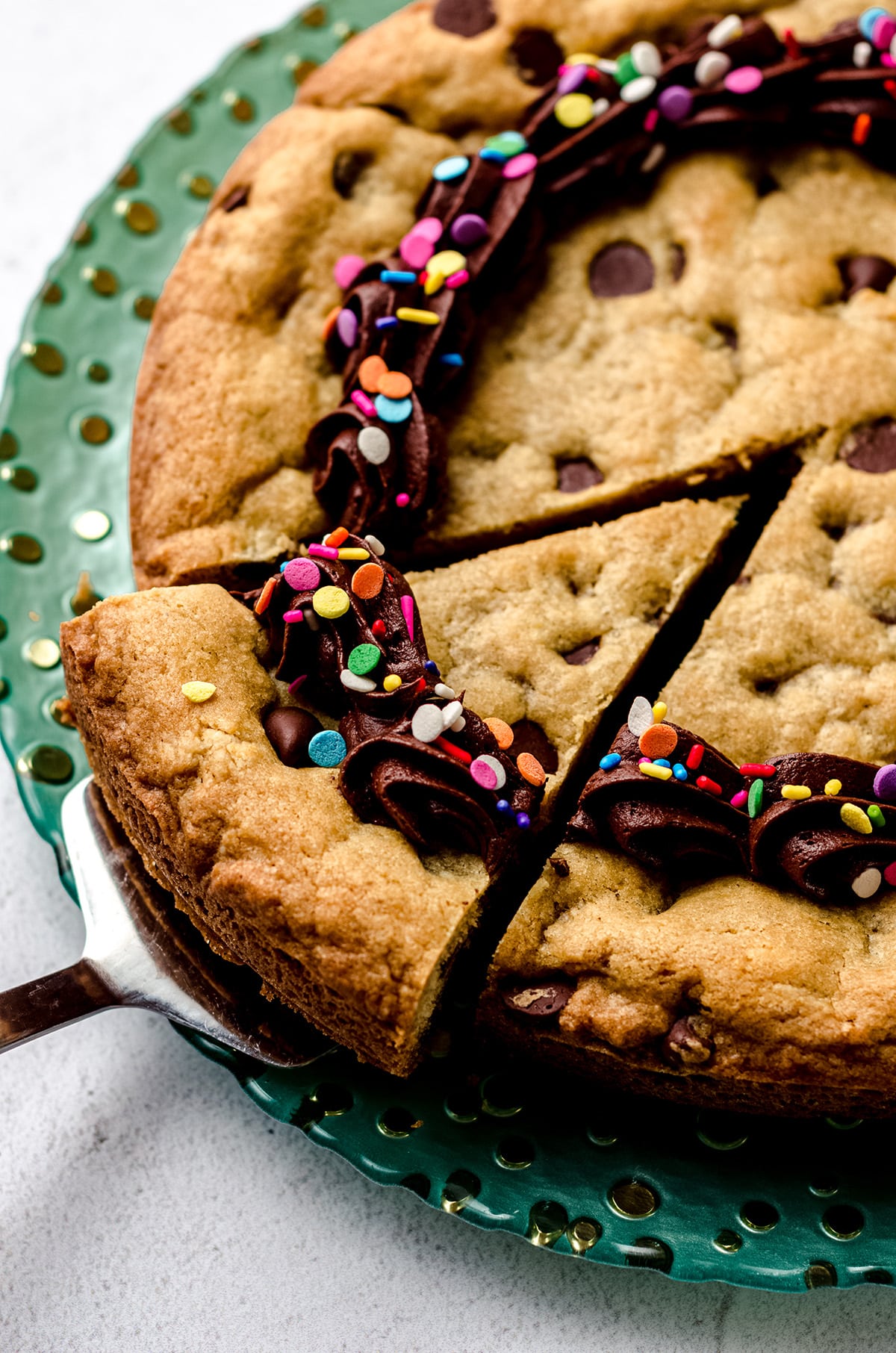 In the spirit of tradition I give you…the Best Cookie Cake Recipe!
It's that time of year– my annual share of some kind of cookie cake. Because I unofficially started sharing cookie cake recipes a long time ago– when I turned 30, in fact– on or around my birthday and it turned into an unofficial tradition.
Maybe it's an official tradition? I mean, I am the boss around here. It can be as official or unofficial as I want it to be, right?
Plus, it's my birthday. Ok, well, maybe it's not my birthday when you're reading this, but in the spirit of tradition… That's why this chocolate chip cookie cake recipe is here.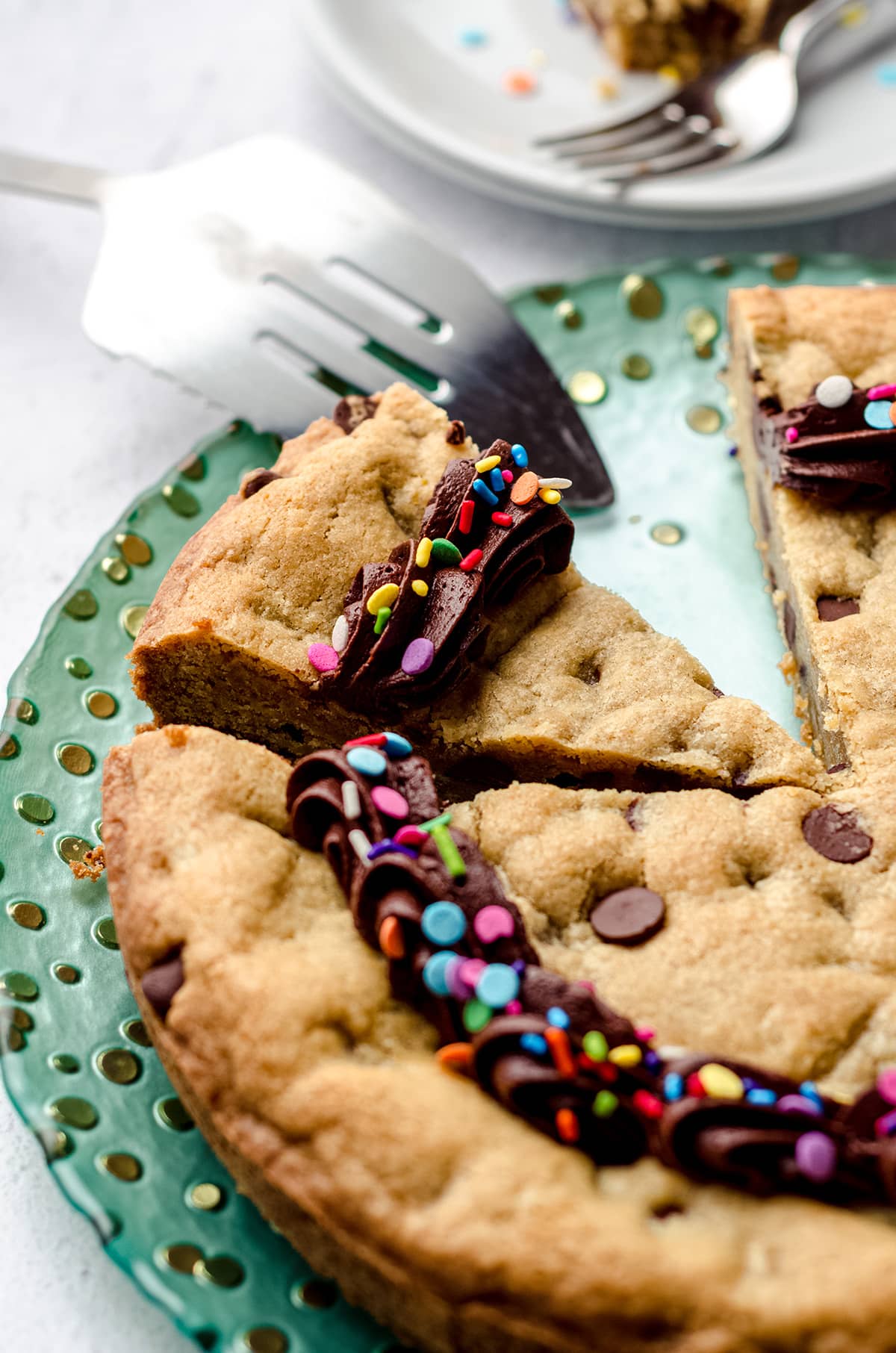 Back in 2015 when I turned 30, I had only had this website for a little over a year. I shared this giant cookie recipe and over the years, it has served many readers (as well as myself!!) very well who were on the hunt for something other than a traditional birthday cake to celebrate a birthday.
Of course, you don't need a birthday to enjoy this perfect cookie cake, and it can serve as the treat for truly any occasion, but birthdays sure are more fun when cookies are involved.
Cookie Cake Recipe ingredients
This easy chocolate chip cookie cake recipe is actually the same recipe you'll find in my ever-popular homemade chocolate chip cookies. Those cookies are SO good, and when I wanted to make the best cookie cake, I started there and never had to stray from that base.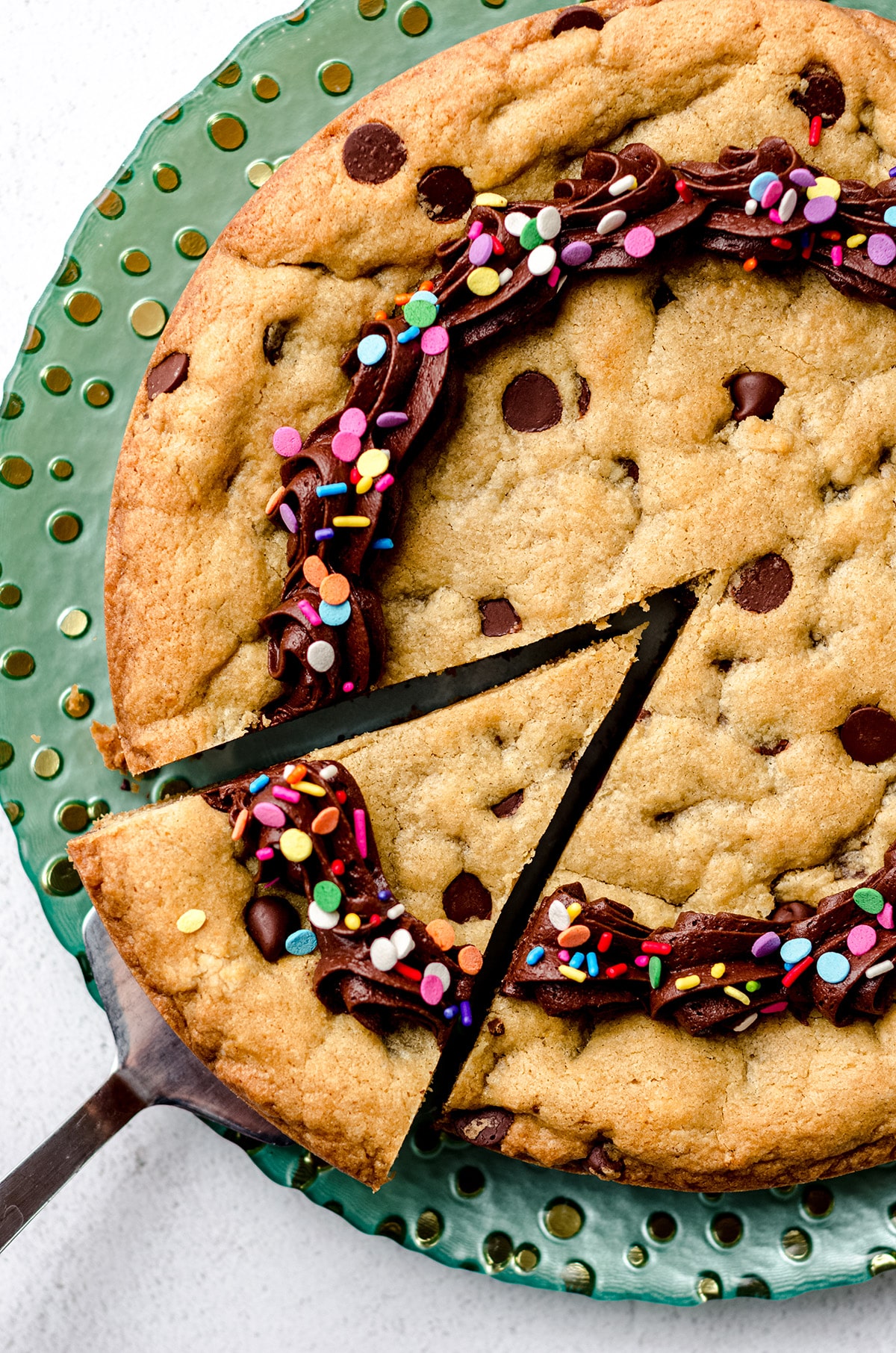 That said, this cookie cake recipe uses pretty standard ingredients, so it's highly likely you can make this cookie cake today.
How lucky for you!
COOKIE CAKE
For the cookie cake base, you'll need a combination of all-purpose flour and cornstarch for your dry ingredient base. The cornstarch is there to keep the inside of the cookie cake nice and soft. You might wonder if 2 teaspoons makes that much of a difference, but it does. Don't leave it out!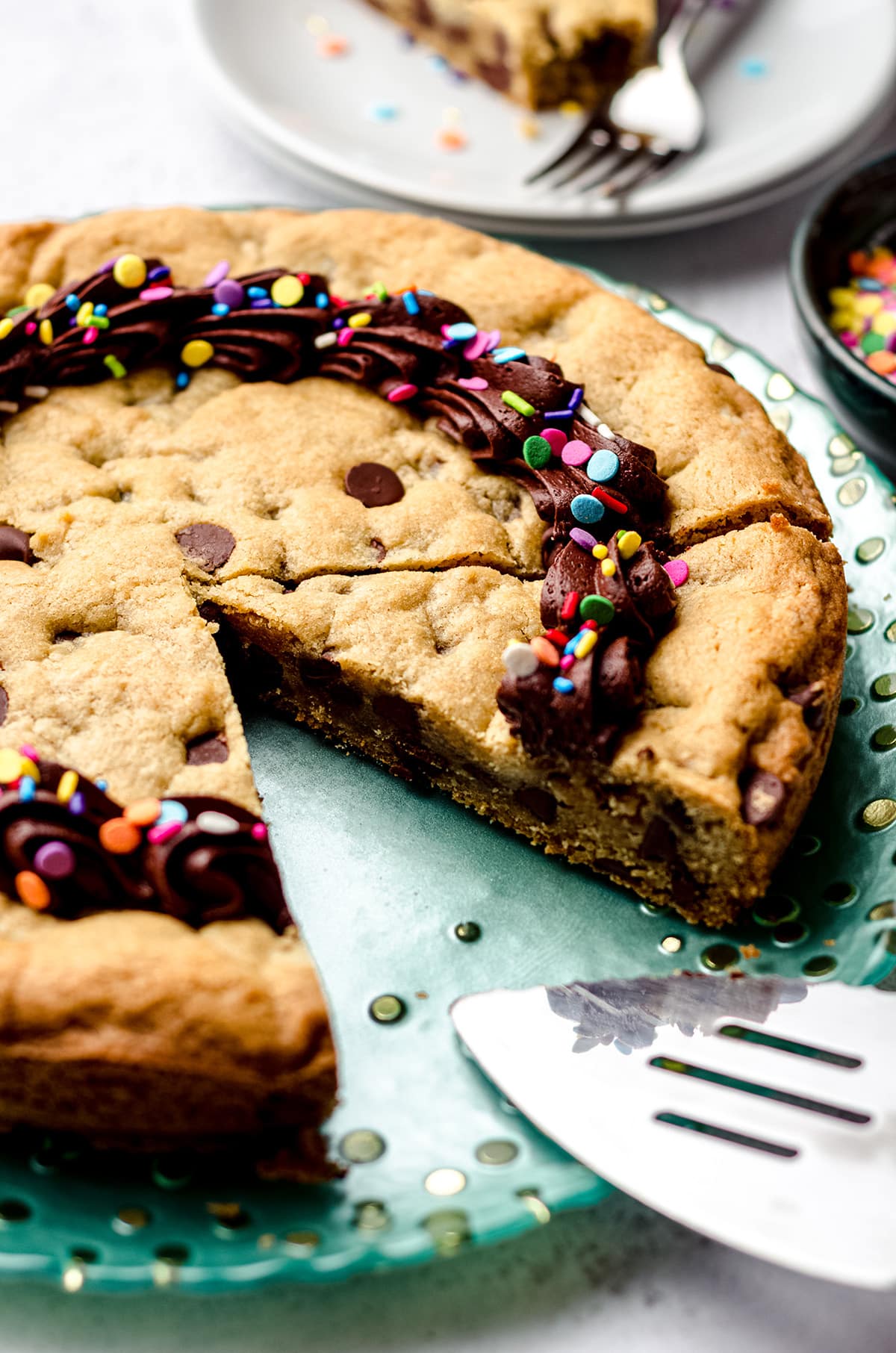 You'll need baking soda and salt to round out the dry ingredient 4-some.
The fat base of this cookie cake is melted butter, which you often see in cookie recipes. In fact, the chewy chocolate chip cookies this cookie cake is modeled from uses melted butter, which then means we have to chill that dough so the cookies don't spread.
Since this cookie cake is going into a springform pan (you can also use a cake pan or a pie plate– see recipe notes!), we don't have to worry about spreading and can just whip up the cookie dough and move right along.
We'll sweeten with a combination of brown sugar and granulated sugar, add one egg + one extra egg yolk, some vanilla extract, and then chocolate chips.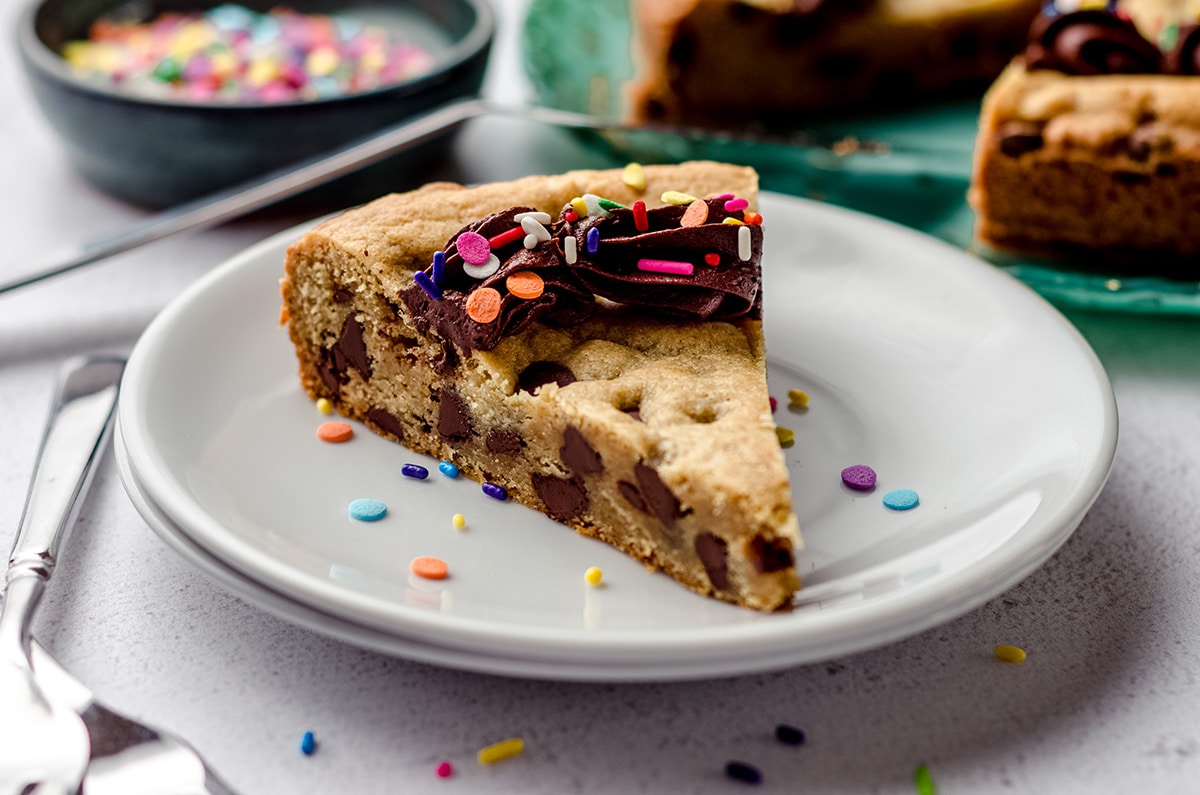 I have made this chewy cookie cake many ways over the years, but it always comes down to a combo of chocolate chips that I love– an equal mix of semi-sweet and milk chocolate chips.
This is a total personal preference, so do whatever you want with the chips. This is your cookie cake, of course.
COOKIE CAKE FROSTING
The cookie cake icing for this chocolate chip cookie is one of my very favorites. I have used this chocolate chip cookie cake icing recipe in so many places around my site, and while the ingredient list might require a trip to the grocery store, I promise that it's totally worth the trip.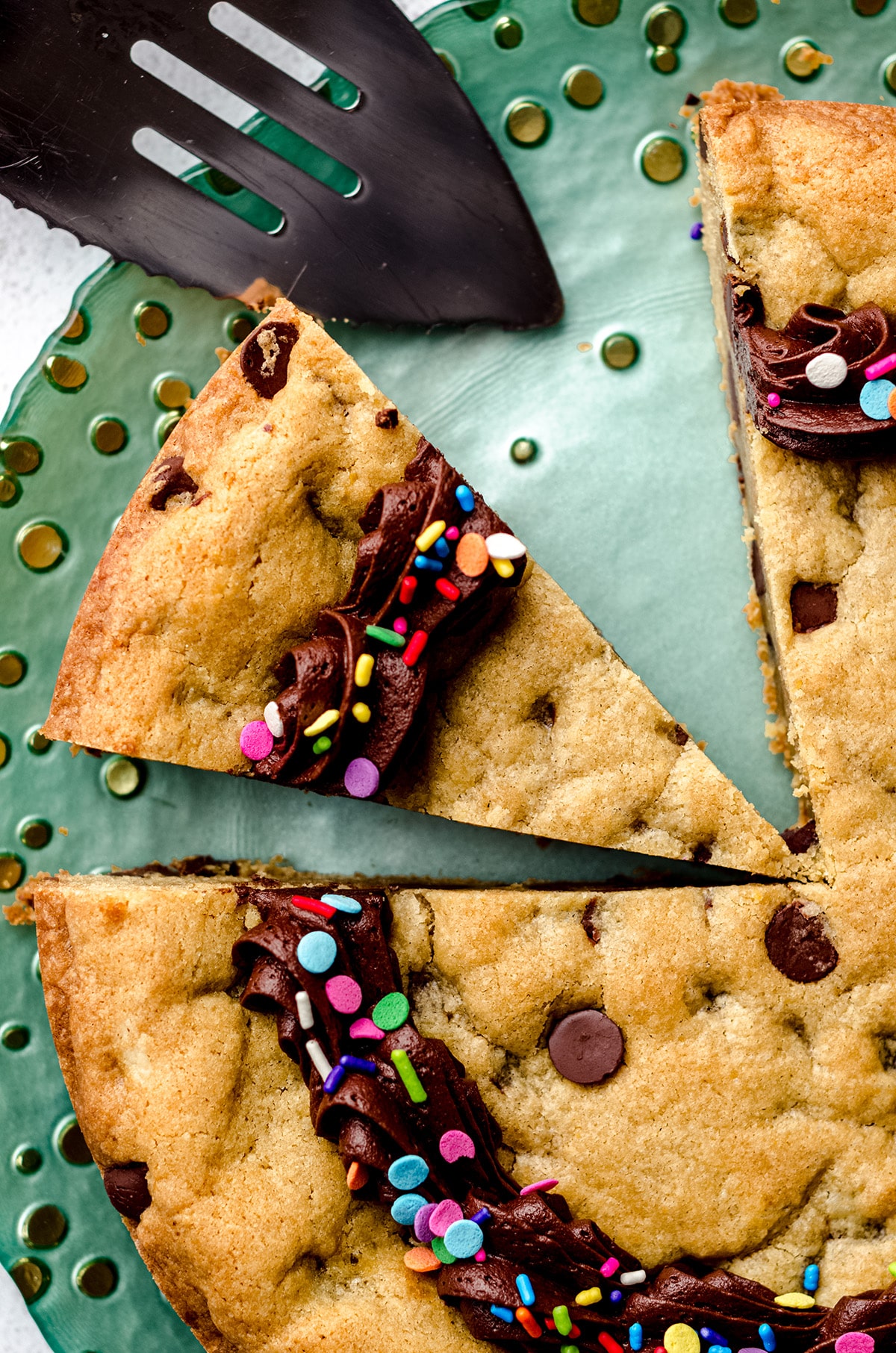 This creamy chocolate frosting is made from melted unsweetened chocolate and butter, which creates a smooth base. While chocolate buttercream frosting is typically made with cocoa powder, this cookie cake icing uses straight up, creamy dreamy and smooth chocolate.
See notes in the recipe if you don't have or can't find unsweetened chocolate. You'll have to make an adjustment to the liquid involved, so take note if you're going to change up the chocolate.
The rest of the ingredients for your icing/frosting are vanilla extract, milk or cream, powdered sugar, and a little salt.
So simple! You're ready to make it today, aren't you?
HOW TO MAKE THIS COOKIE CAKE
The method for getting this cookie cake from ingredients to in your mouth is simple.
COOKIE CAKE
For the cookie cake base, you'll combine your dry ingredients, then whisk together the wet ingredients, put the two teams together, then load that batter up with chocolate chips.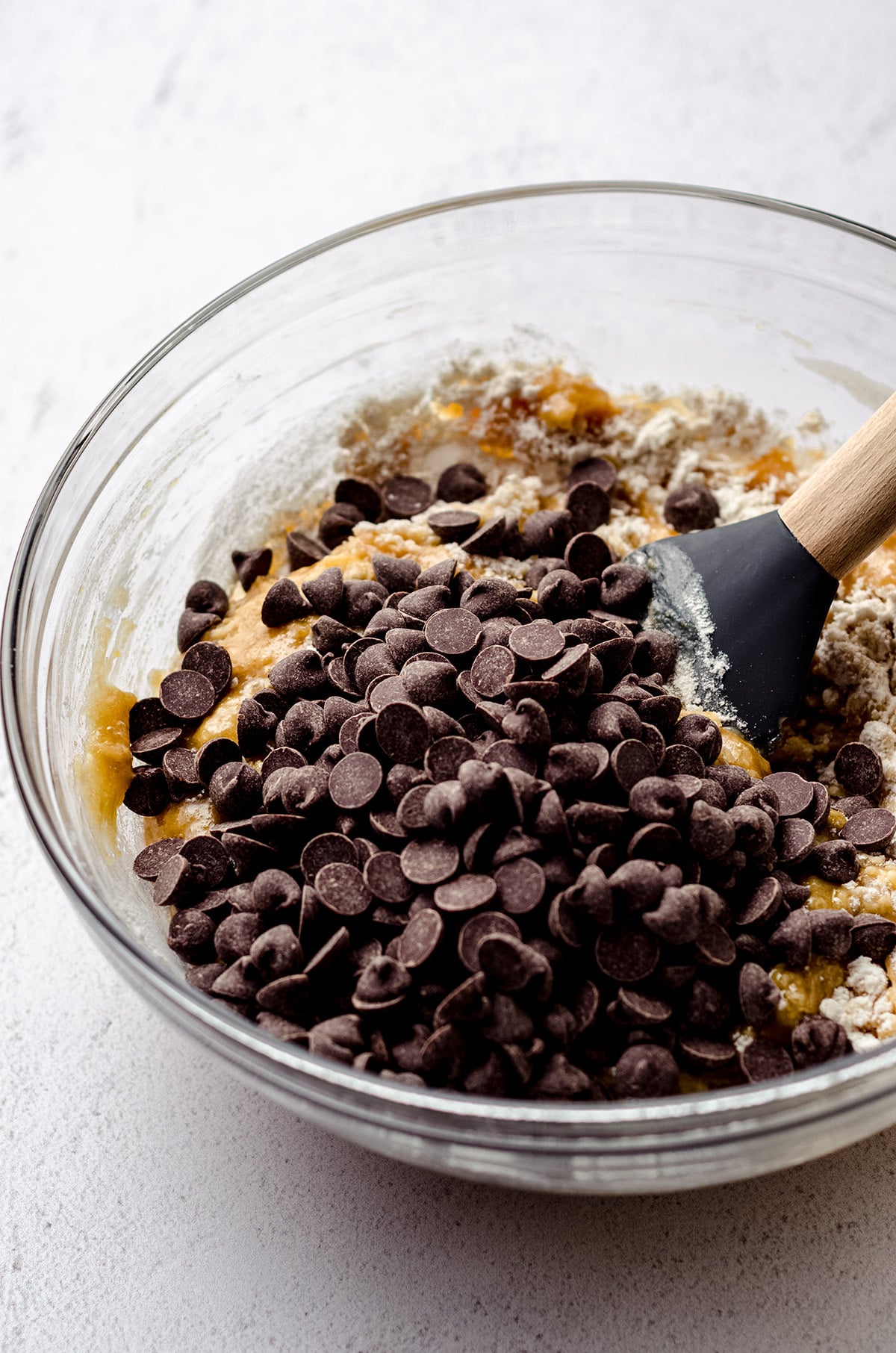 Then, simply press the cookie dough into the pan and bake it. Easy peasy!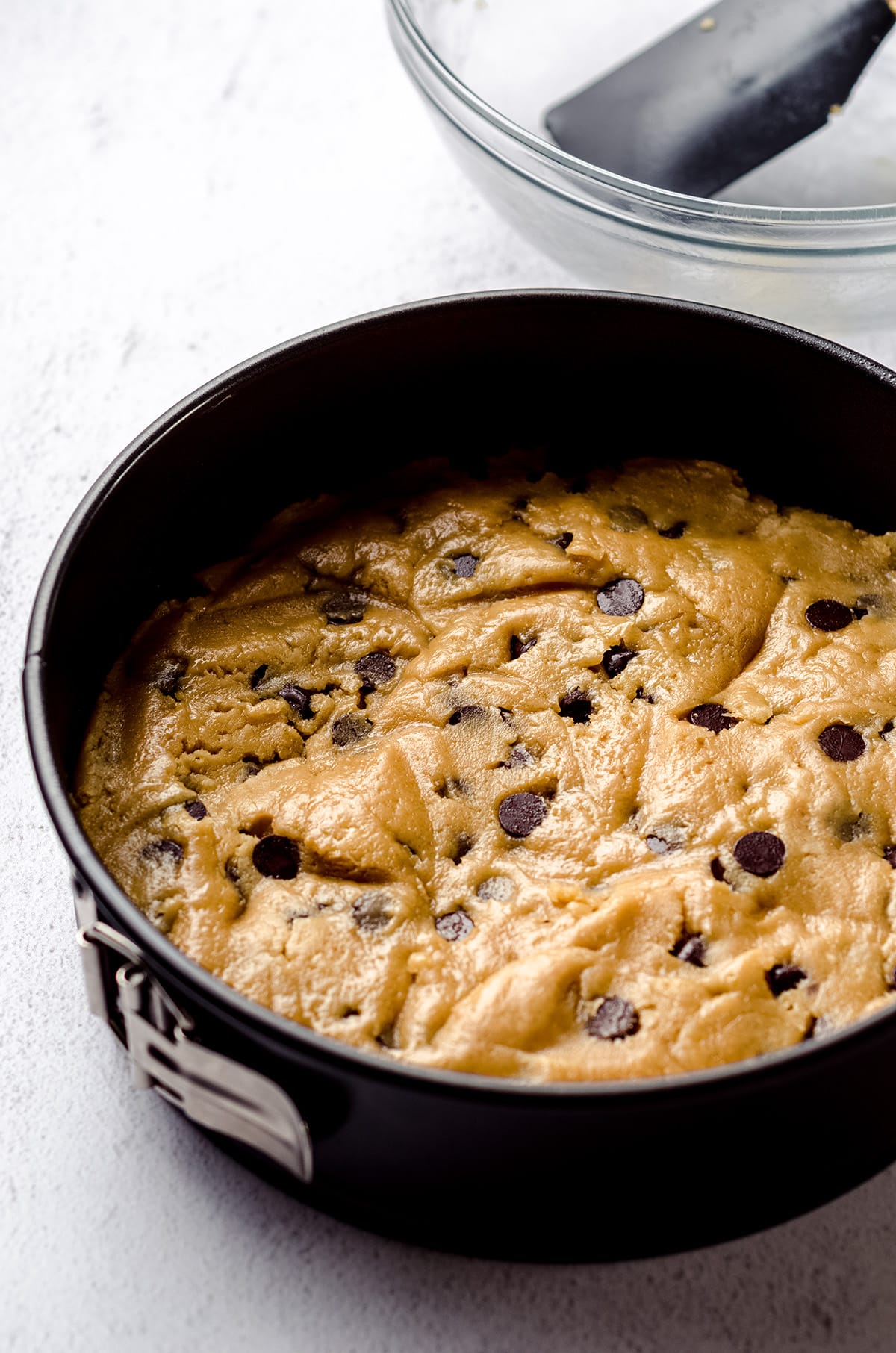 A note on the pan: I prefer to use a springform pan for my cookie cakes, because it makes it so much easier to get beautiful slices. I can also shimmy the cookie cake off of the platform onto a serving plate to make it look all pretty.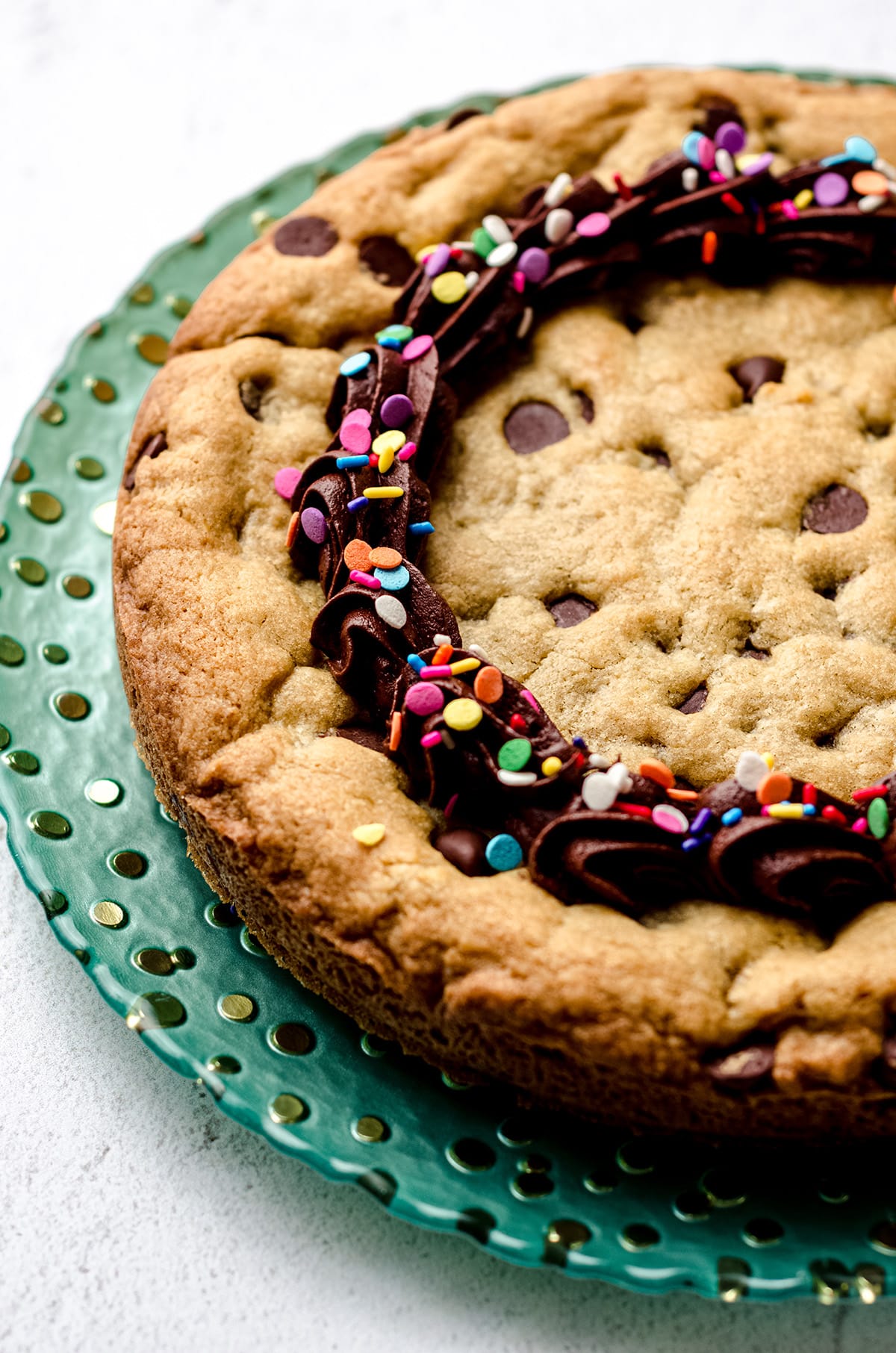 You'll want the cookie cake to cool before you add the chocolate frosting, but it shouldn't take too long.
COOKIE CAKE FROSTING
As mentioned, the base of this cookie cake topping is a combination of melted chocolate + butter.
You'll have to let this mixture cool once it's melted, otherwise your frosting will wind up too runny and you'll melt the sugar.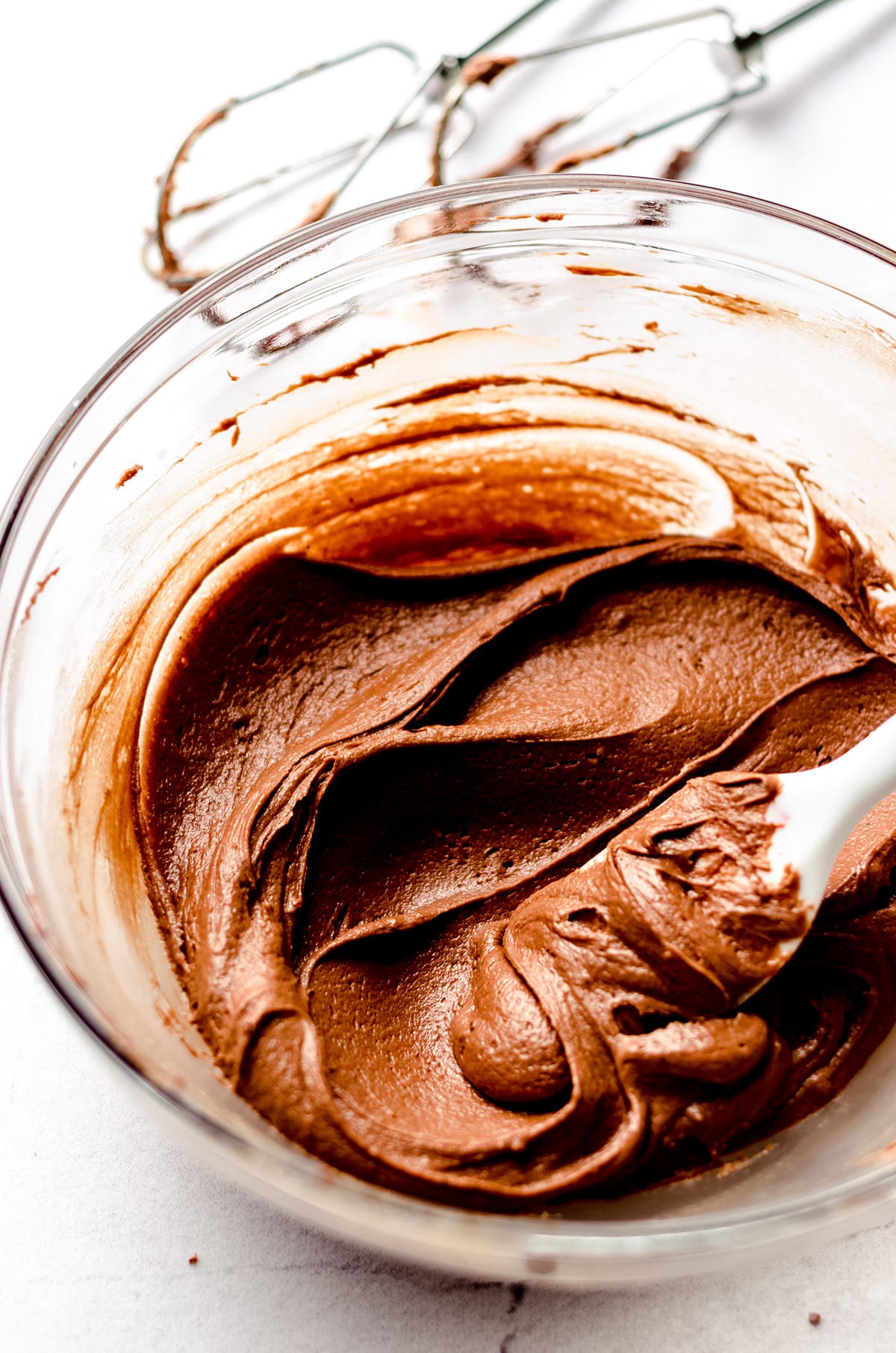 Once it's cooled enough, add the milk or cream, vanilla extract, and powdered sugar. Salt to taste, as always, then try not to eat the whole bowl before you pipe it onto the cookie cake.
Decorating this Chocolate Chip Cookie Cake
If you've been here before, you know I love me some rainbow sprinkles. I love them a lot. Sprinkle some on top of this cookie cake, change up the sprinkles to match your occasion… Whatever your cookie-cake-decorating heart desires!
How to serve Homemade Cookie Cake
You can even top it with ice cream… And then invite me over because I haven't actually done that. And now I'm wondering why not!!
Looking for more cookie cake recipes? Check out some of the cookie cakes in my collection: triple chocolate cookie cake, funfetti sugar cookie cake, pumpkin cookie cake, snickerdoodle cookie cake, and Nutella cookie cake.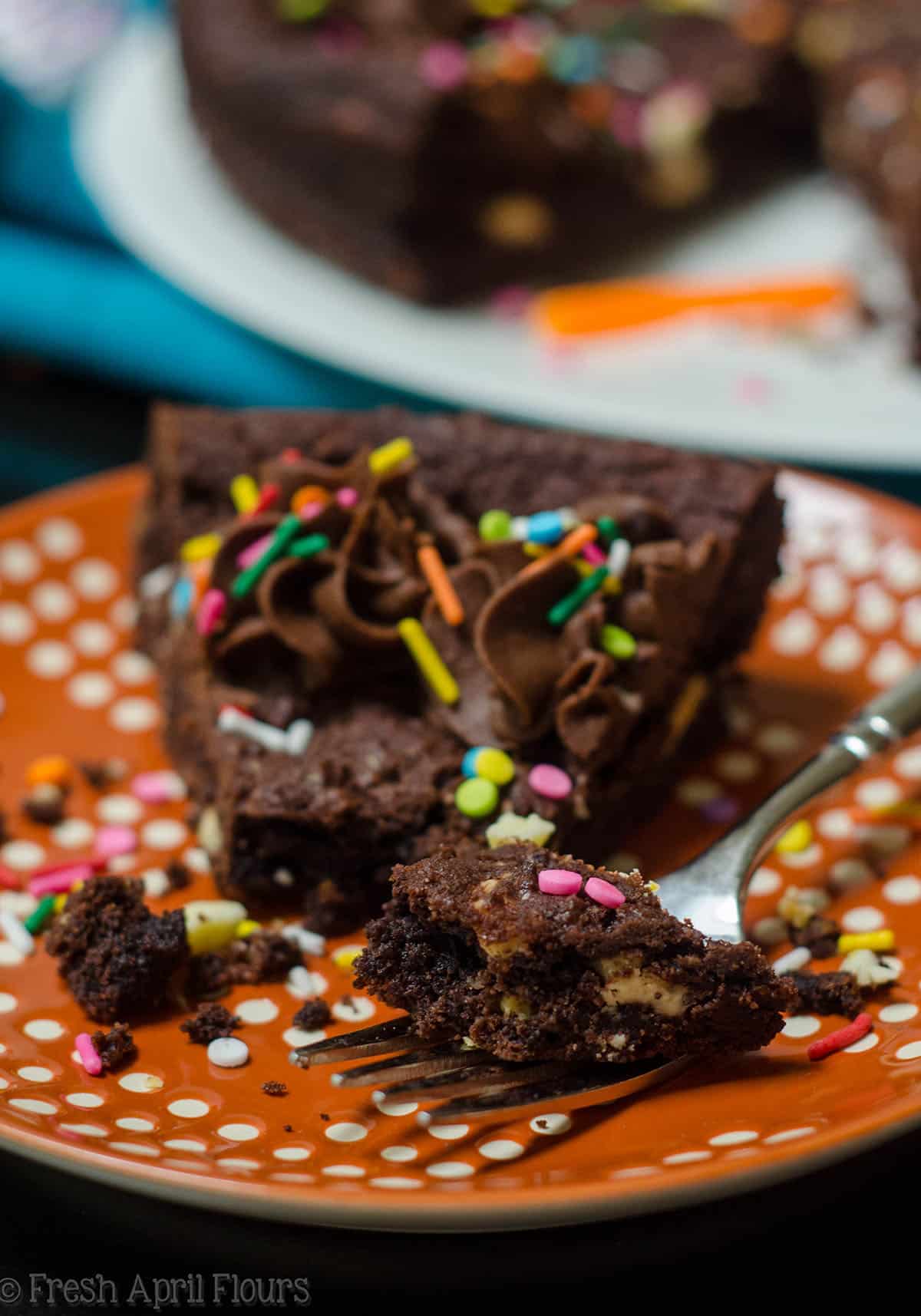 Chocolate Chip Cookie Cake
This giant chocolate chip cookie cake is the best way to eat a chocolate chip cookie! Soft in the center, chewy on the edges, and the perfect canvas for decorating for any special occasion.
Ingredients
COOKIE CAKE
2 and ¼ cup

(270g) all-purpose flour be sure to measure properly

2

teaspoons

(5g) cornstarch

1

teaspoon

baking soda

¾

teaspoon

salt

¾

cup

(171g) unsalted butter

melted

1

cup

(200g) firmly packed brown sugar

light or dark

¼

cup

(50g) granulated sugar

1

large egg + 1 large egg yolk

2

teaspoons

vanilla extract

1

cup

(170g) chocolate chips1
CHOCOLATE FUDGE FROSTING
1

ounce

(14g) unsweetened baking chocolate2

coarsely chopped

2

Tablespoons

(28g) unsalted butter

½

teaspoon

vanilla extract

2 to 3

Tablespoons

(30-45mL) milk or cream

1

cup

(120g) powdered sugar

pinch

of salt
Instructions
COOKIE CAKE
Preheat the oven to 350ºF (170ºC). Spray a 9" springform pan3 with non-stick spray. Set aside.

In a large bowl, whisk together the flour, cornstarch, baking soda, and salt. Set aside.

In a medium size bowl, whisk together the butter, brown sugar, and granulated sugar until smooth. Whisk in the egg, egg yolk, and vanilla extract until completely combined.

Pour the wet ingredients into the dry ingredients and stir until no flour lumps remain. Fold in the chocolate chips. Press the cookie dough evenly into the prepared pan. Bake for 23-25 minutes until edges begin to brown. You may cover the cake with foil to prevent browning, if preferred. Remove from oven and allow to cool on a wire rack completely before decorating with frosting.
CHOCOLATE FUDGE FROSTING
In a small saucepan over medium heat, melt the unsweetened baking chocolate and the butter, stirring constantly to prevent scorching or burning. Remove from heat and allow to cool for 15 minutes.

In a medium size bowl with a handheld mixer or the bowl of a stand mixer fitted with the paddle attachment, combine the cooled chocolate/butter mixture, vanilla extract, and milk or cream (starting with 2 Tablespoons). Turn the mixer down to low and slowly add the powdered sugar. Increase mixer speed to medium and beat until completely combined, scraping down sides as needed. Add salt to taste.

Remove cooled cookie cake from springform pan and place on serving platter. Fill a piping bag with the frosting and decorate the cookie cake. I like to use a Wilton 1M tip. If using, add sprinkles before frosting sets. Store leftovers covered tightly at room temperature for up to 5 days. Undecorated cookie cake may be frozen, up to 2 months. Thaw in refrigerator overnight and allow to come to room temperature before decorating.
Notes
Chocolate chips:

I prefer ½ milk and ½ semi-sweet chips, but realistically, you can put any kind of chips you like in this cookie cake.

Unsweetened chocolate: if all you have or can find is semi-sweet or bittersweet chocolate, you can still make this cookie cake icing. You may just need less liquid, so take care when adding liquid to the frosting base.
Springform pan: alternatively, you may use a 9″ pie plate or a 8″ or 9″ round or square baking pan.
Adapted from classic chocolate chip cookies
Nutrition Disclosure
All nutritional values are approximate and provided to the reader as a courtesy. Changing ingredients and/or quantities will alter the estimated nutritional calculations.