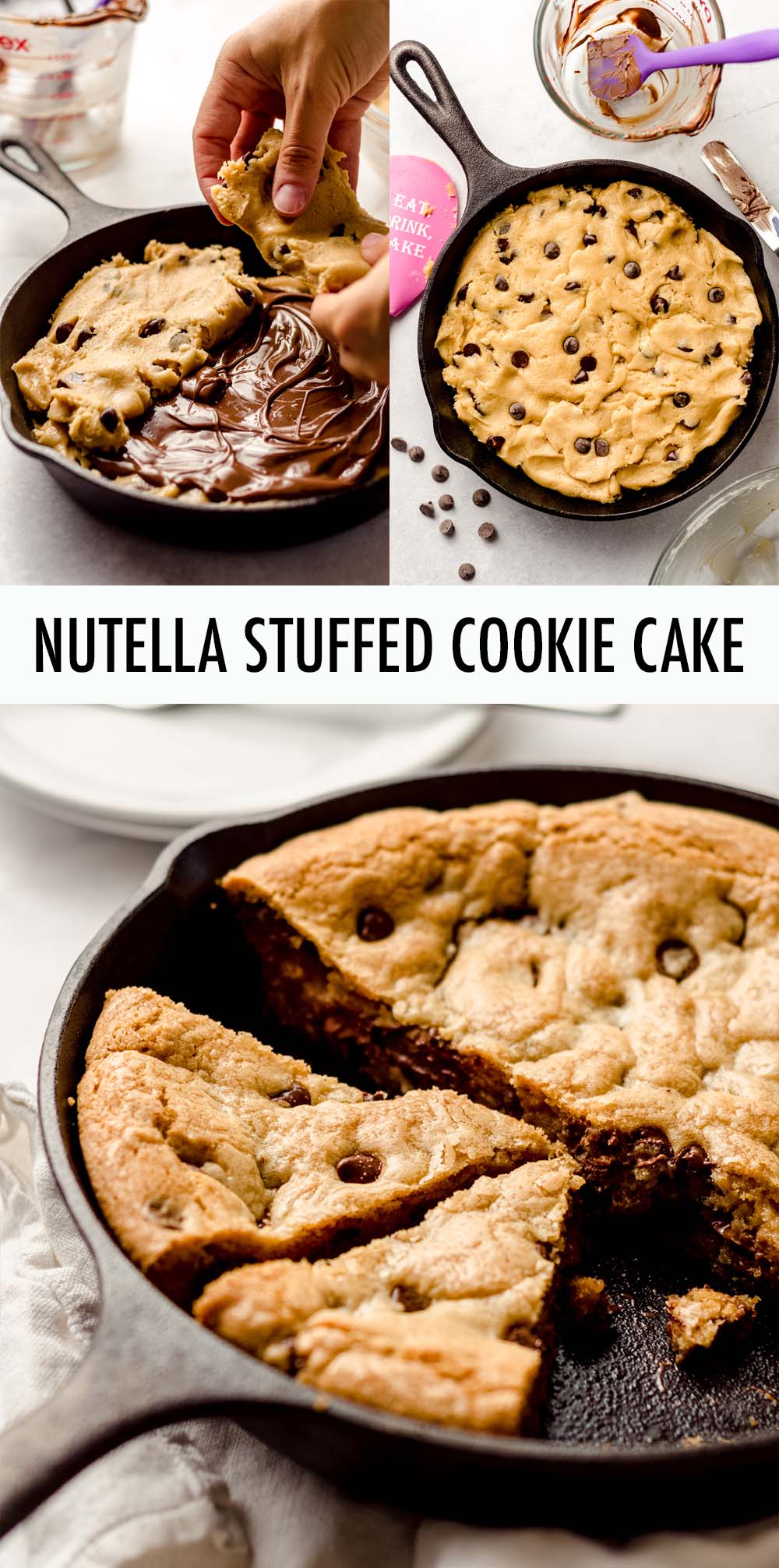 As an Amazon Associate, I earn from qualifying purchases. Read the full disclosure here.
This Nutella stuffed chocolate chip cookie cake is baked in a skillet so you can dig in with some spoons and ice cream or cut it into gooey slices of plated cookie cake. However you serve it, this epic cookie cake is bound to satisfy any Nutella lover's sweet tooth!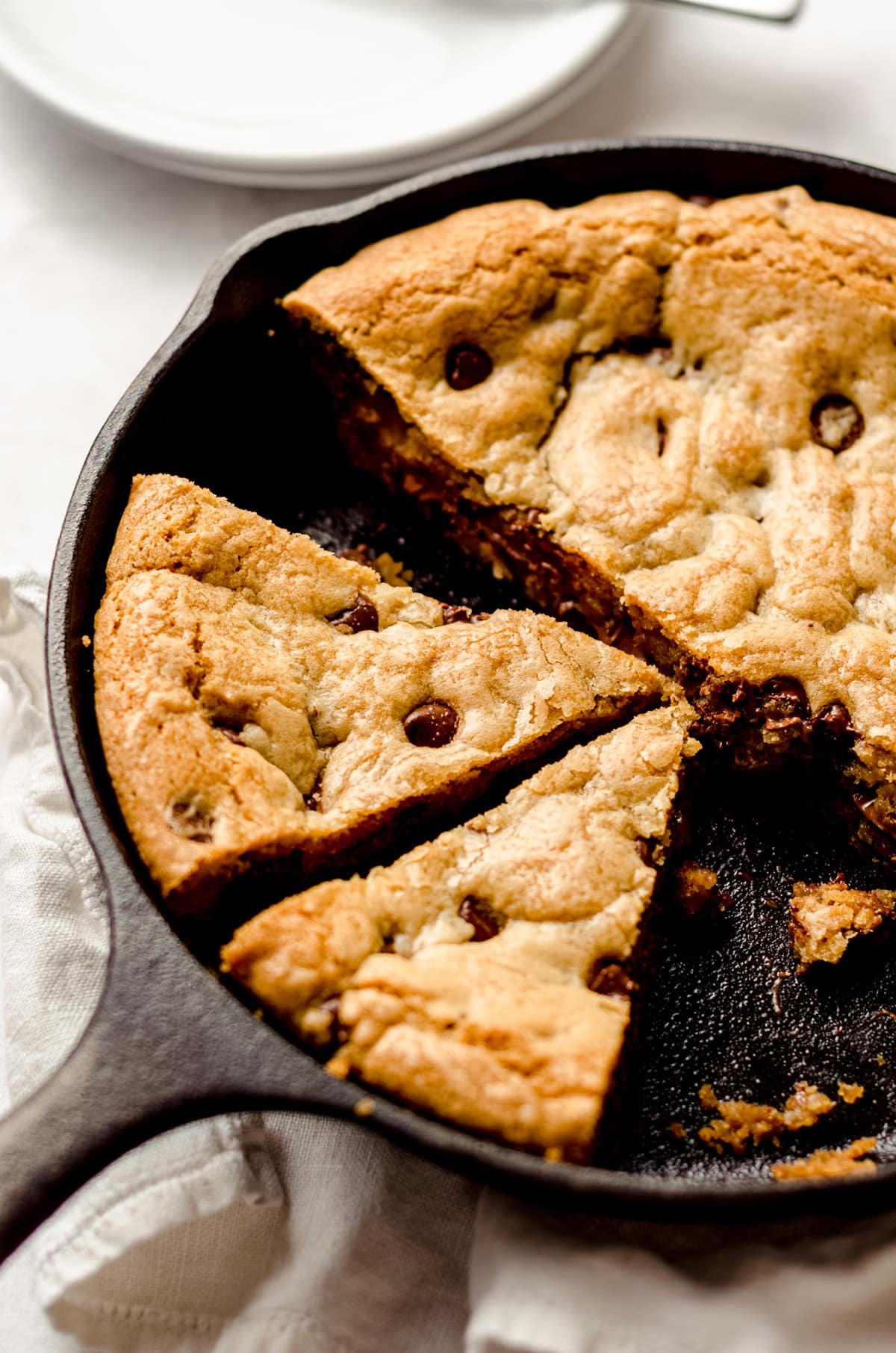 Go hard or go home, friends. That's the motto for this year's annual cookie cake recipe, which comes to you this year in the form of a deep dish cookie pie that can be described as nothing less than EPIC.
What is this annual cookie cake situation I speak of, you ask? Back in 2015, I shared this original chocolate chip cookie cake with chocolate fudge frosting on my 30th birthday, so every year since, I've shared some kind of cookie cake recipe on my site on or around my birthday.
This year, I'm turning 36, which means you have 6 other cookie cake recipes to check out after you add this gooey chocolate chip cookie pie that literally oozes Nutella to your baking list.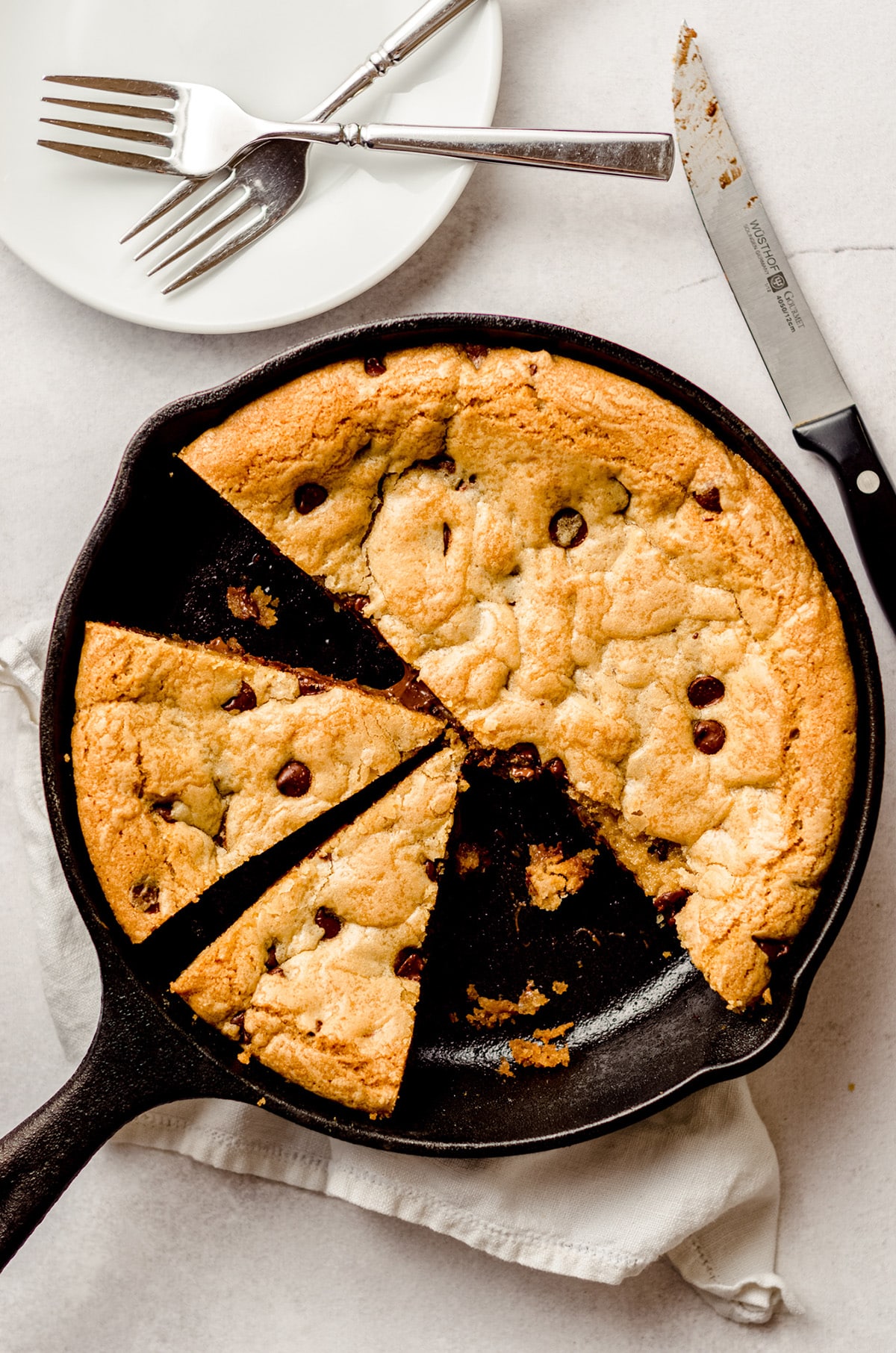 Believe it or not, this is the first stuffed skillet cookie recipe to show up here on FAF, and I have to say… I only wish I'd have ventured into this world sooner.
Do you like Nutella? I used to think it was overrated, until I started baking with it. It turns out I was only really using it as a spread, but as soon as I started putting it into baked goods, my appreciation for Nutella grew and it's now one of my favorite ingredients to pair with chocolate or peanut butter.
Be sure to check out my Nutella swirl muffins, my fudgy Nutella brownies, and one of my favorite cookies ever– my Nutella swirled peanut butter chip cookies.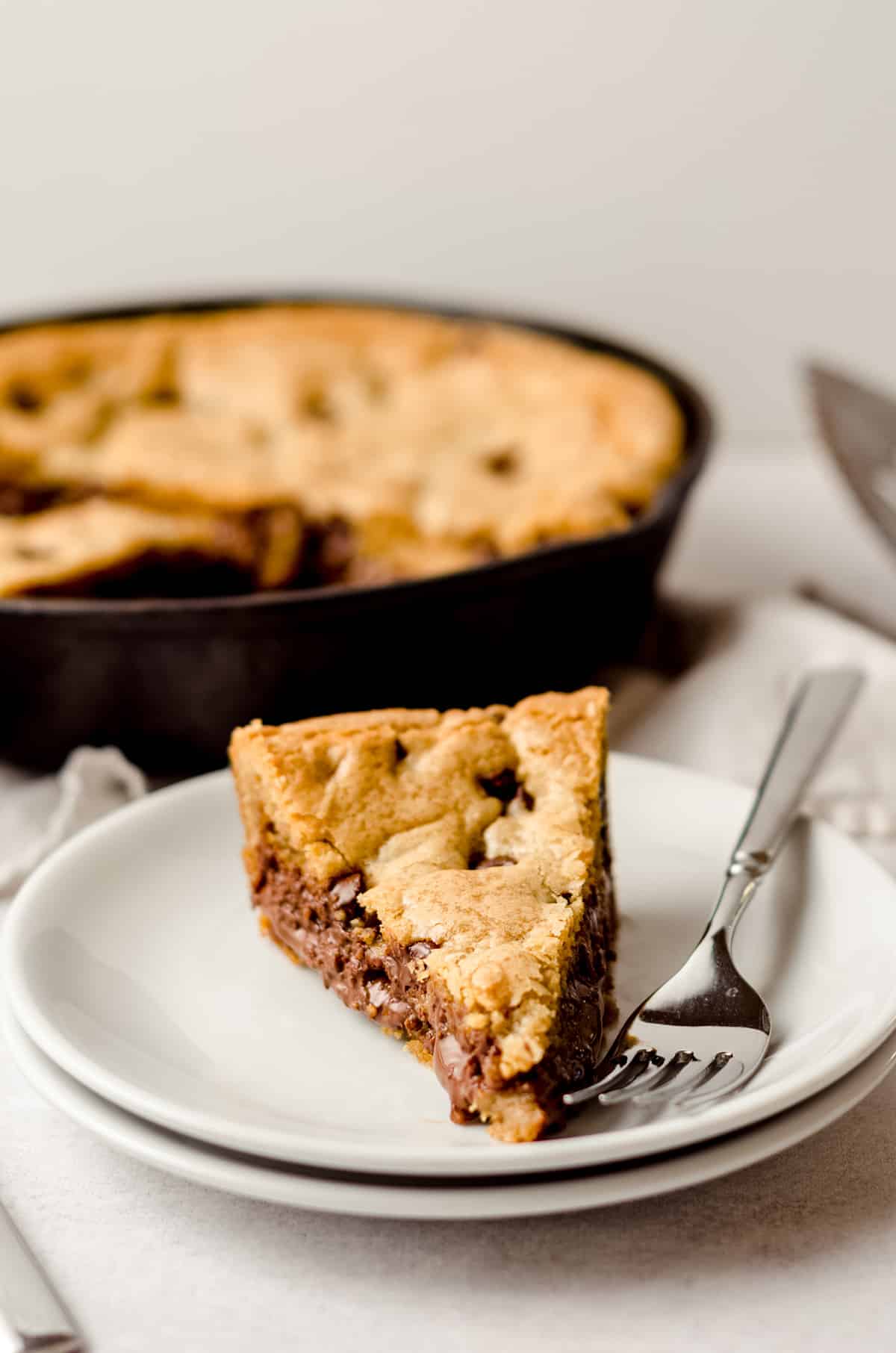 INGREDIENTS FOR NUTELLA COOKIE CAKE
Aside from the obvious Nutella, you won't need any strange ingredients for this chocolate chip skillet cookie. I use the exact same chocolate chip cookie dough base from my original chocolate chip cookie cake, because that recipe is tried and true.
It's soft, it's buttery, it's chewy, and it comes together really simply. You only need one bowl for dry ingredients and another for the wet ingredients, and there is no mixer involved.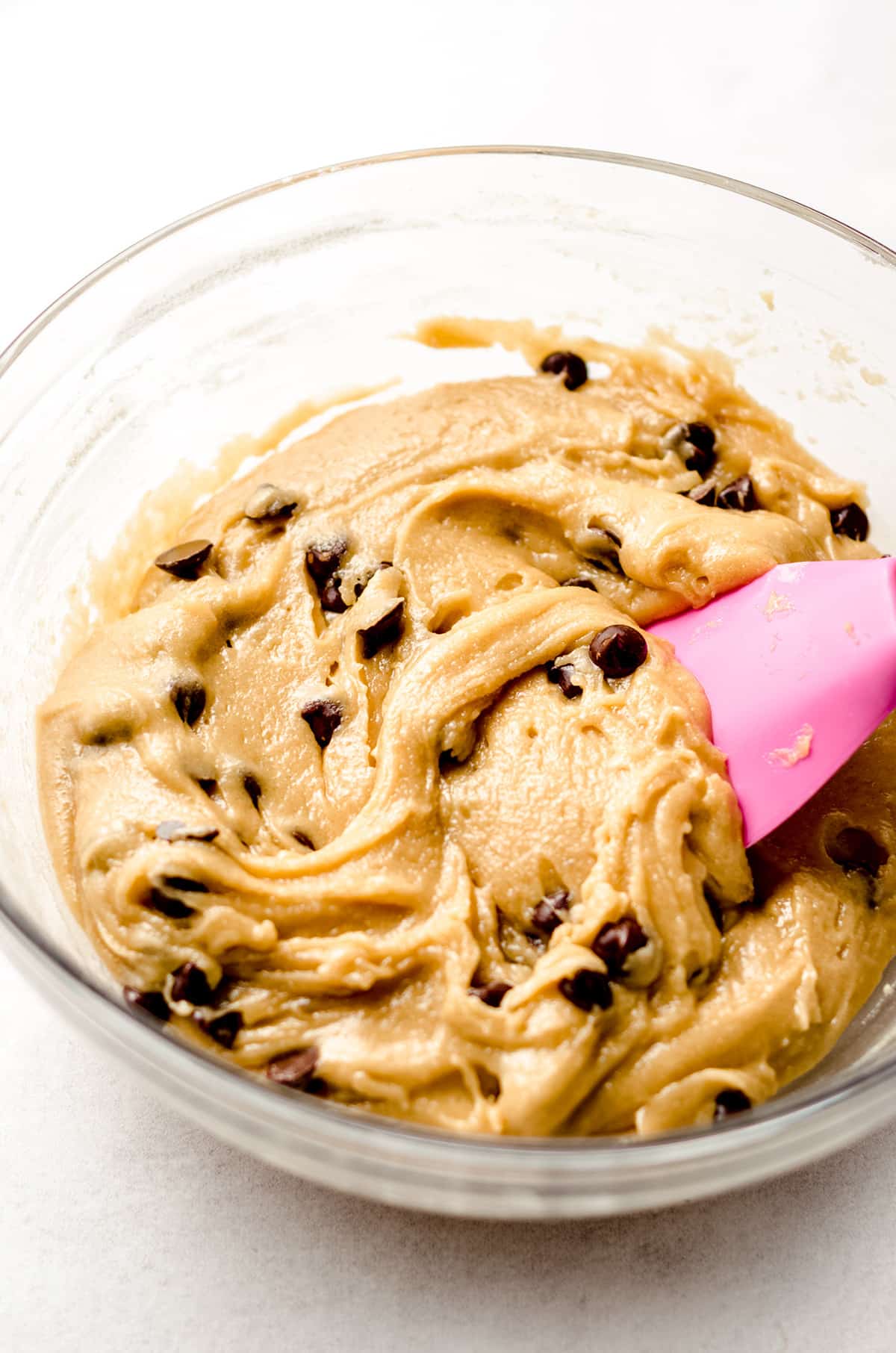 We're using a mix of both brown sugar and granulated sugar to bring a balance of sweetness and deep molasses flavor, keeping the cookie texture soft with a little cornstarch, and melted butter since we don't have to worry about the cookie dough spreading.
So. Super. Simple.
HOW TO STUFF THIS COOKIE CAKE WITH NUTELLA
Once your chocolate chip cookie dough is ready, assembling the components is very uncomplicated.
First, press a little less than half of the cookie dough into the bottom of the skillet, then pour the melted Nutella over the dough.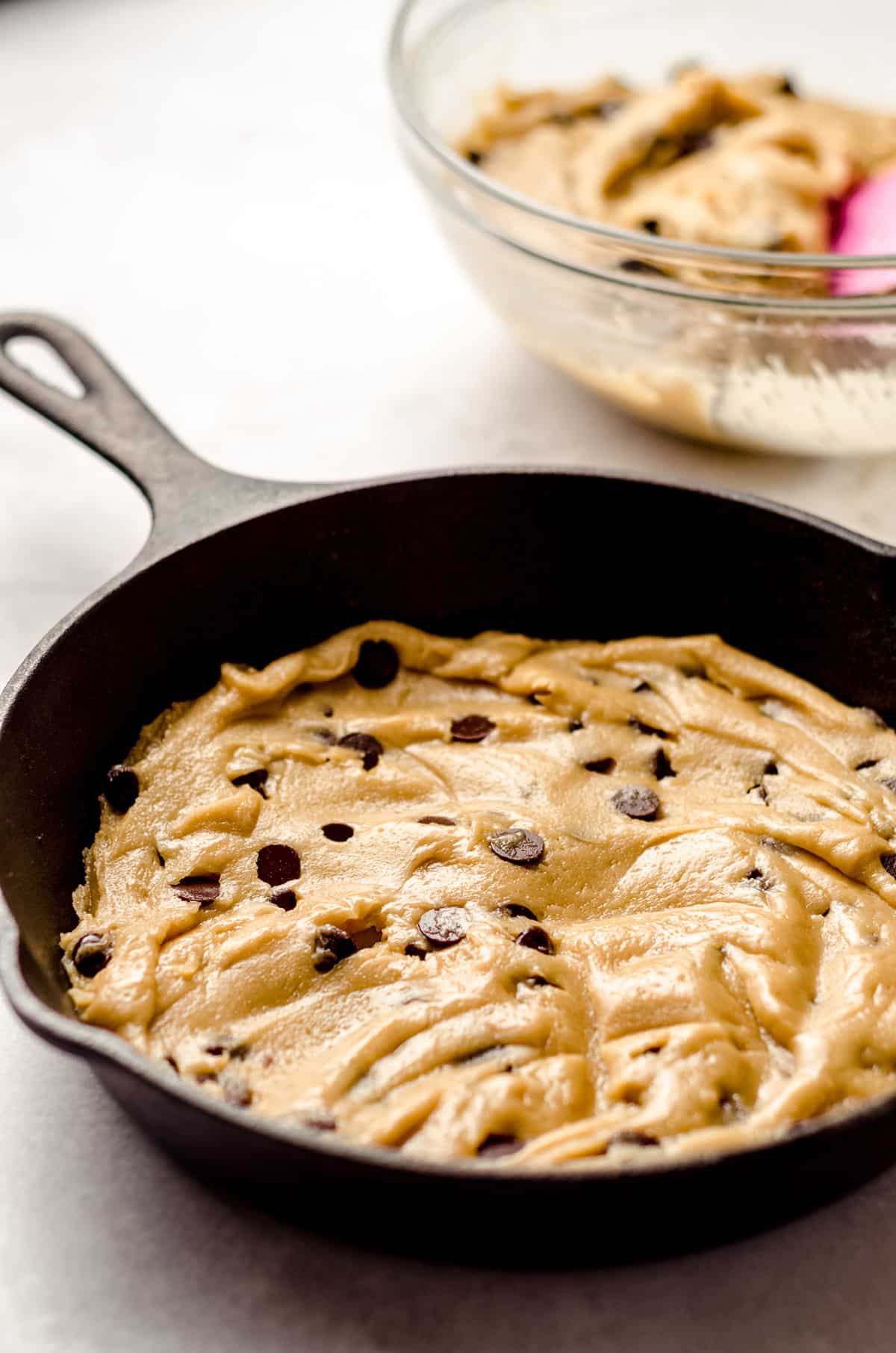 Spread it into an even layer, leaving about a half inch border around the sides. We don't want Nutella oozing out of every single crevice once it's sliced, so really take care to keep that border intact.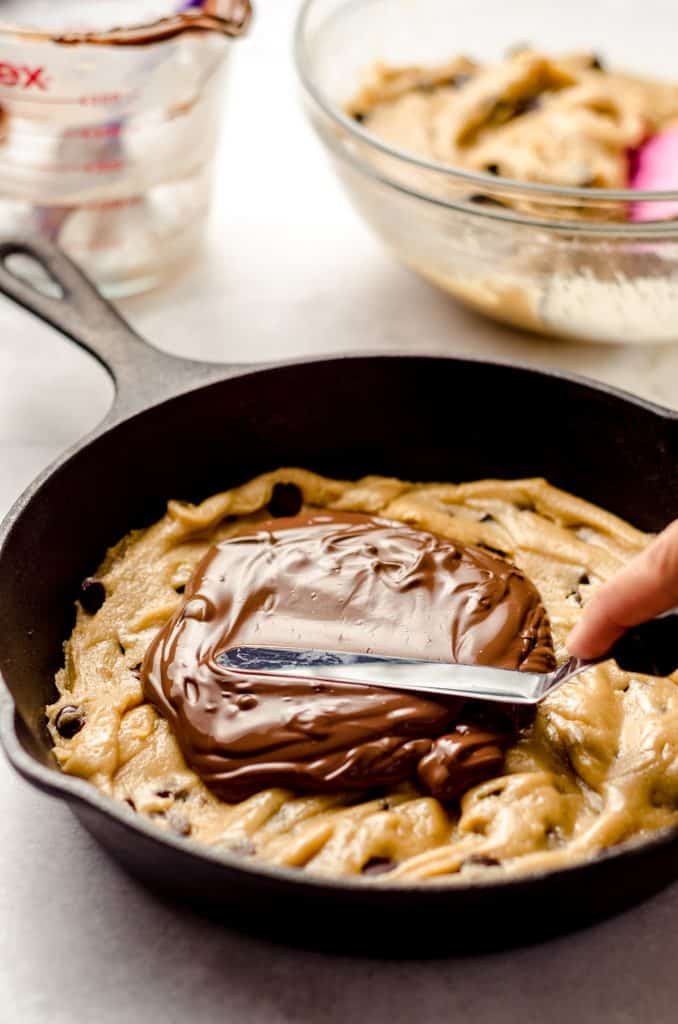 To get that top layer on, you'll shape the remaining cookie dough into 4 chunks. I chose to do 3 large chunks and 1 smaller chunk.
Using your hands, flatten each chunk, then place it on top of the Nutella layer. I used my 3 large chunks for the outside and the smaller chunk to cover the center.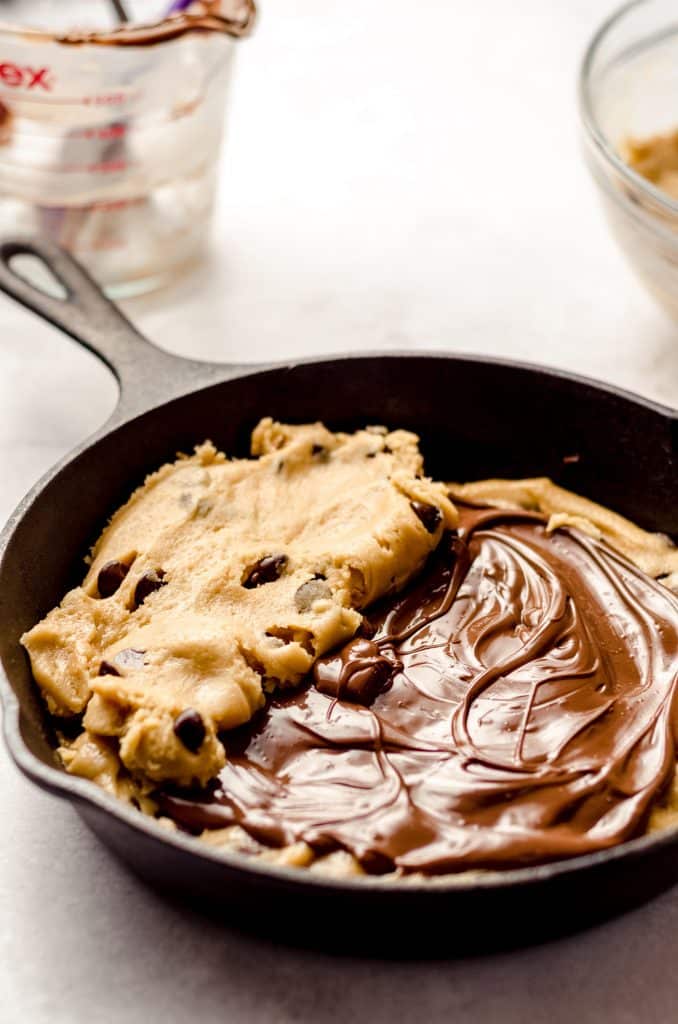 Gently press all the seams together to insure there is no Nutella peeking out of the surface of the stuffed cookie pie, then bake!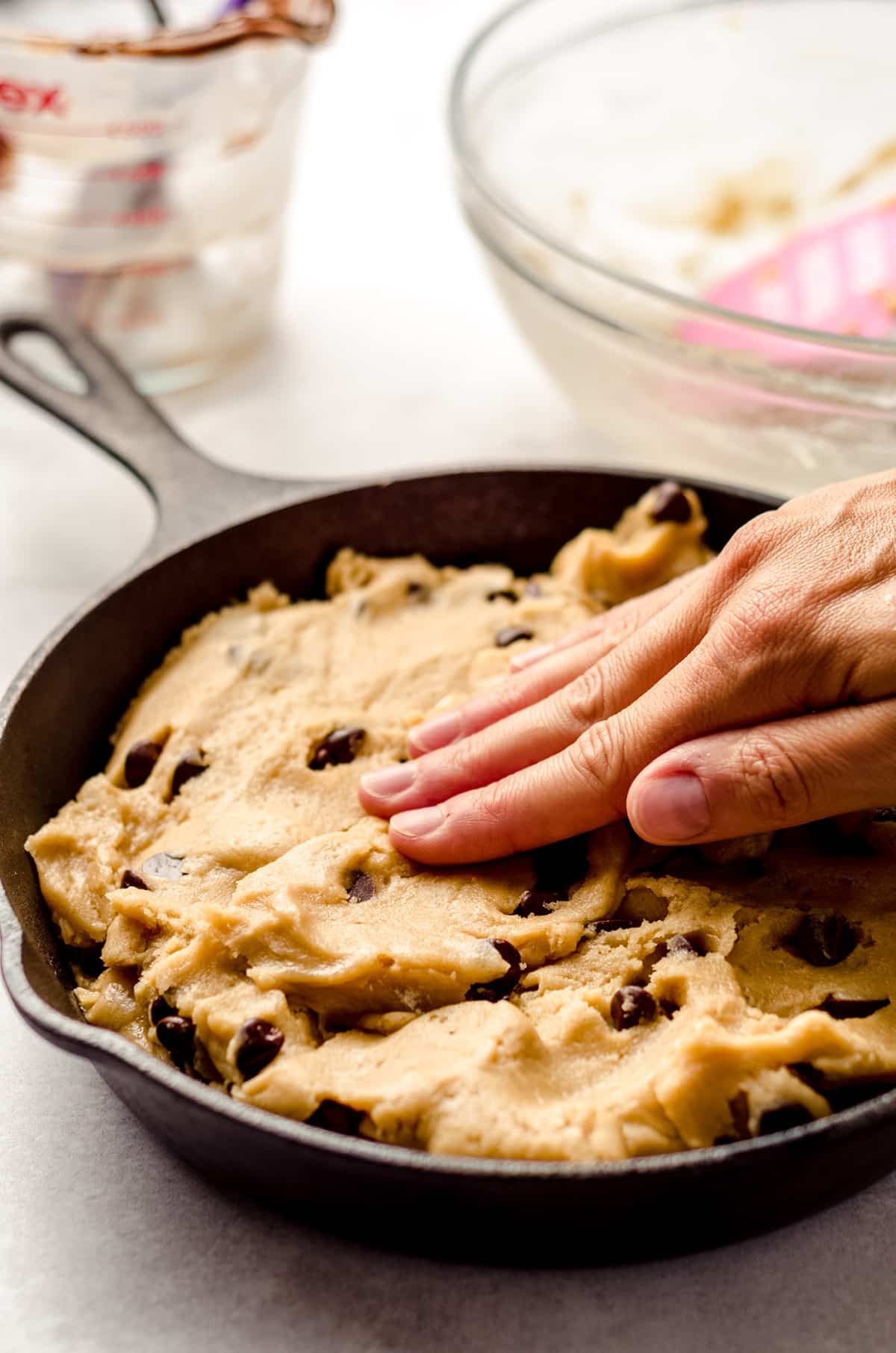 WHY USE A CAST IRON SKILLET FOR A DEEP DISH COOKIE RECIPE?
Cookie skillets have long been quite popular in the dessert world, and for good reason! First of all, a cast iron skillet helps get the edges of the cookie nice and crisp while keeping the center ooey gooey and chewy.
Second, putting one giant Nutella filled cookie into a skillet makes it immediately shareable with whomever you are comfortable sharing the same dish with.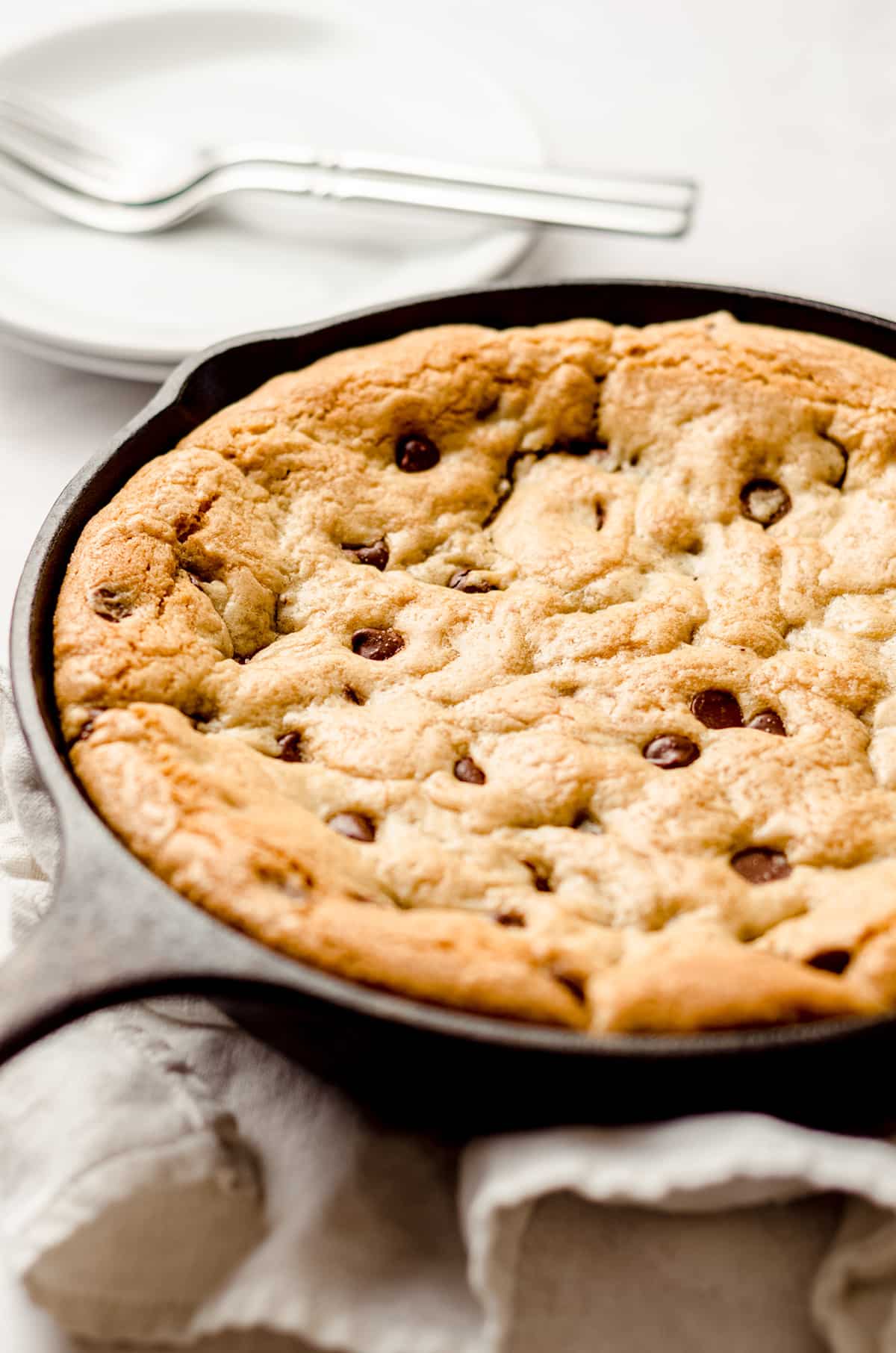 While this Nutella filled deep dish chocolate chip cookie is totally sliceable, digging in with a spoon is a pretty good way to get after it.
See the recipe for recommended cooling times based on your method of devouring.
WHAT IF I DON'T HAVE A CAST IRON SKILLET?
While a cast iron skillet makes this giant cookie pie what it is (crisp and chewy! shareable!), it's not 100% necessary.
I have always baked my cookie cakes in a 9″ springform pan because I like being able to slice and serve it like a cake, but even if that's not available, a 9″ pie dish, round cake pan, or square baking pan will totally do the trick.
The texture of the edges of your Nutella cookie cake may turn out a little less crispy, but if that's ok with you and you don't have a skillet, don't sweat it. Your cookie cake will still turn out delightfully delicious, oozing with Nutella, and sure to be one of your new favorite ways to enjoy a non-traditional Nutella cookie recipe.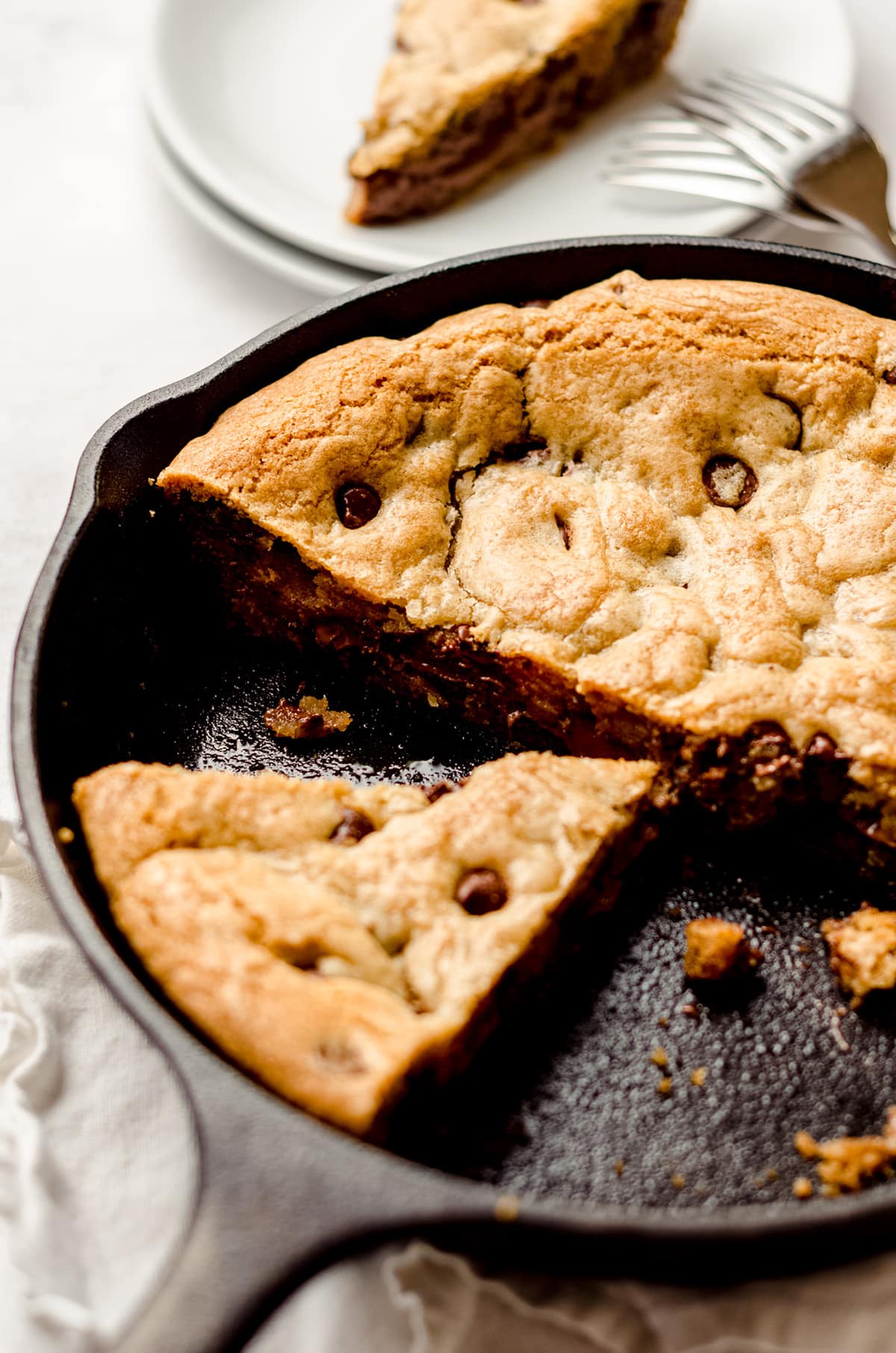 This cookie in a pan wound up being my birthday treat for a fire pit night with the neighbors, and it was a giant hit. I warmed it in the oven for a bit before serving it up in slices, some enjoyed with some ice cream and a spoon, some picked it up and ate it like pizza, and others just used a fork and ate it like cake.
There's really no bad way to devour this Nutella cookie cake, and I hope that if you're even a little bit into Nutella, you'll add this to your baking list ASAP. Not much beats those gooey bites of sweet and salty cookie filled with smooth, creamy, nutty chocolate spread.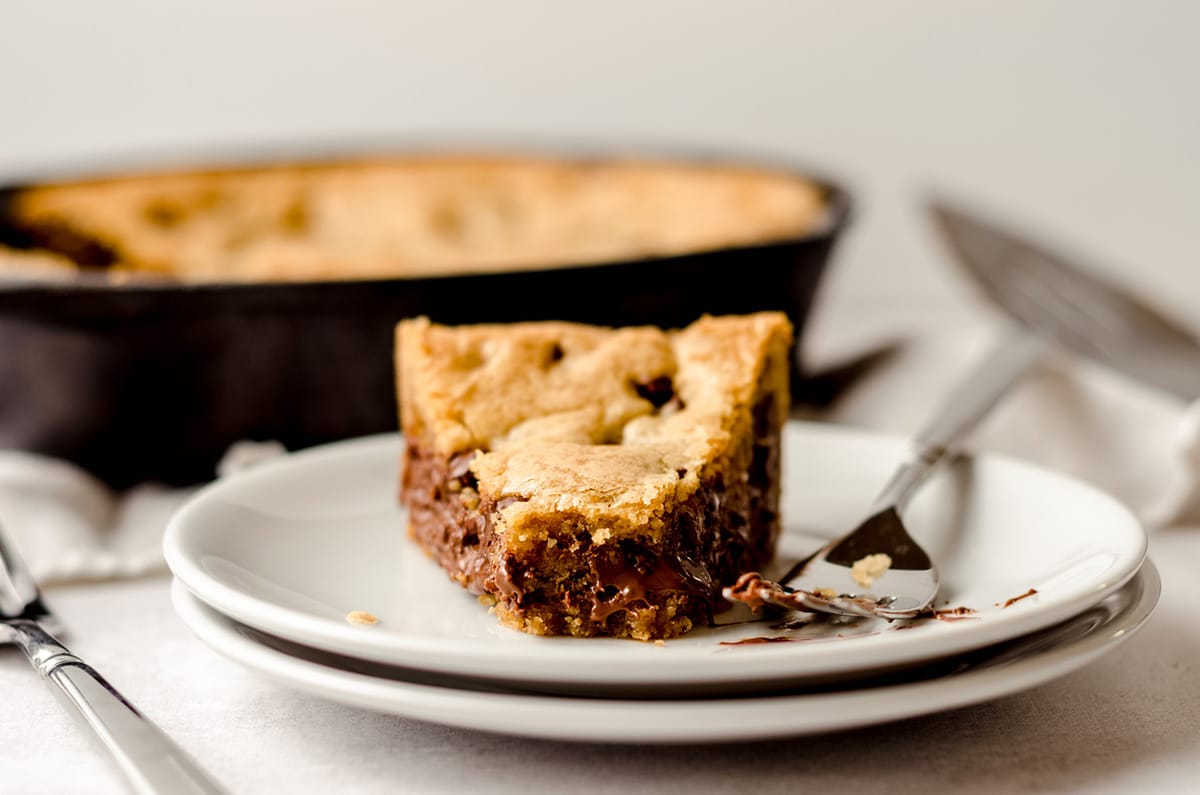 Here's to 36, to cookie cakes, and chocolate. Cheers!
Nutella Cookie Cake
This Nutella stuffed chocolate chip cookie cake is baked in a skillet so you can dig in with some spoons and ice cream or cut it into gooey slices of plated cookie cake. However you serve it, this epic cookie cake is bound to satisfy any Nutella lover's sweet tooth!
Ingredients
2 and ¼ cup

(270g) all-purpose flour be sure to measure properly

2

teaspoons

(5g) cornstarch

1

teaspoon

baking soda

¾

teaspoon

salt

¾

cup

(171g) unsalted butter

melted

1

cup

(200g) firmly packed brown sugar

light or dark

¼

cup

(50g) granulated sugar

1

large egg + 1 large egg yolk

2

teaspoons

vanilla extract

½

cup

(85g) semi-sweet chocolate chips

½

cup

(148g) Nutella

melted
Instructions
Preheat the oven to 350ºF (171ºC). Spray a 9" cast iron skillet with non-stick spray1. Set aside.

In a large bowl, toss together the flour, cornstarch, baking soda, and salt. Set aside.

In a medium size bowl, whisk together the butter, brown sugar, and granulated sugar until smooth. Whisk in the egg, egg yolk, and vanilla extract until completely combined.

Pour the wet ingredients into the dry ingredients and stir until no flour clumps remain. Fold in the chocolate chips.

Press a little less than half of the cookie dough evenly into the prepared skillet. Pour the melted Nutella into the cookie dough, then spread it into an even layer, leaving about ½" border around the edge.

Using your hands, break the remaining cookie dough2 into 4 chunks. Flatten each chunk slightly with your fingers and gently place on top of the Nutella. Seal any cracks where Nutella is peeking out.

When the top layer of cookie dough is all filled in, bake the cookie cake for 25-28 minutes until edges begin to brown. Remove from oven and allow to cool on a wire rack. I suggest allowing it to cool for at least 2 hours before cutting into slices, but if you want to put some ice cream on top and dig in with spoons, it only needs about 45-60 minutes to cool. Store leftovers covered tightly at room temperature up to 5 days. Cookie cake freezes well, up to 3 months. Thaw at room temperature, then warm in a 200ºF (93ºC) for 10 to 15 minutes before serving (or serve at room temperature).
Notes
Cast iron skillet: alternatively, you may use a 9″ pie plate, springform pan, or round or square baking pan.
Handling dough: if dough is too soft, allow to sit at room temperature for a few minutes to cool down, or pop into the refrigerator for no more than 5 minutes.
Nutrition Disclosure
All nutritional values are approximate and provided to the reader as a courtesy. Changing ingredients and/or quantities will alter the estimated nutritional calculations.
Serving:
1
slice
|
Calories:
369
kcal
|
Carbohydrates:
41
g
|
Protein:
2
g
|
Fat:
22
g
|
Saturated Fat:
15
g
|
Polyunsaturated Fat:
1
g
|
Monounsaturated Fat:
5
g
|
Trans Fat:
1
g
|
Cholesterol:
54
mg
|
Sodium:
305
mg
|
Potassium:
153
mg
|
Fiber:
2
g
|
Sugar:
38
g
|
Vitamin A:
454
IU
|
Calcium:
47
mg
|
Iron:
1
mg