Pumpkin Peanut Butter Pretzel Bites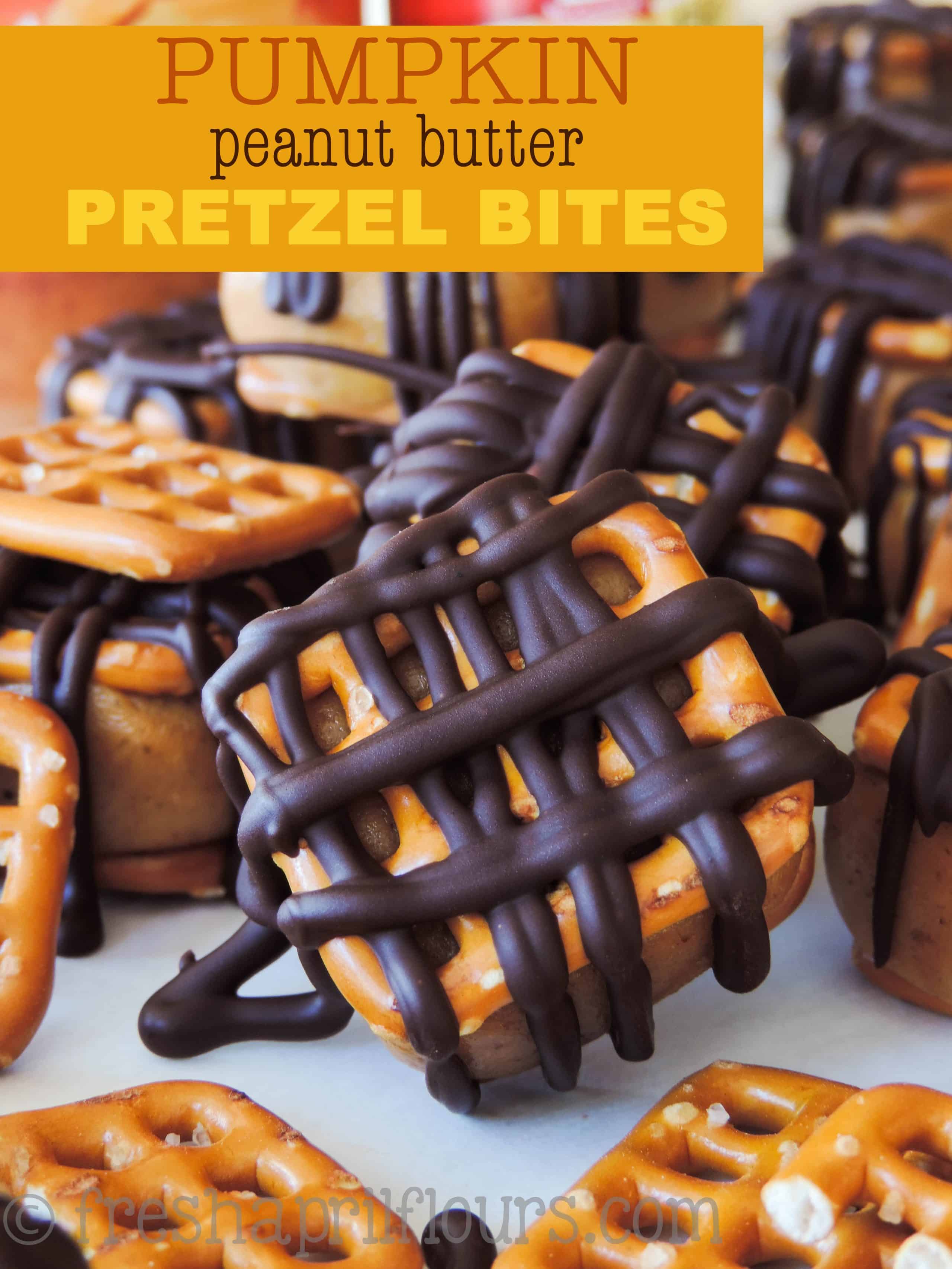 As an Amazon Associate, I earn from qualifying purchases. Read the full disclosure here.
A gooey, nutty, and spicy blend of pumpkin and peanut butter, sandwiched between two pretzels and topped off with a chocolate coating. This is one flavor combination you must try for fall!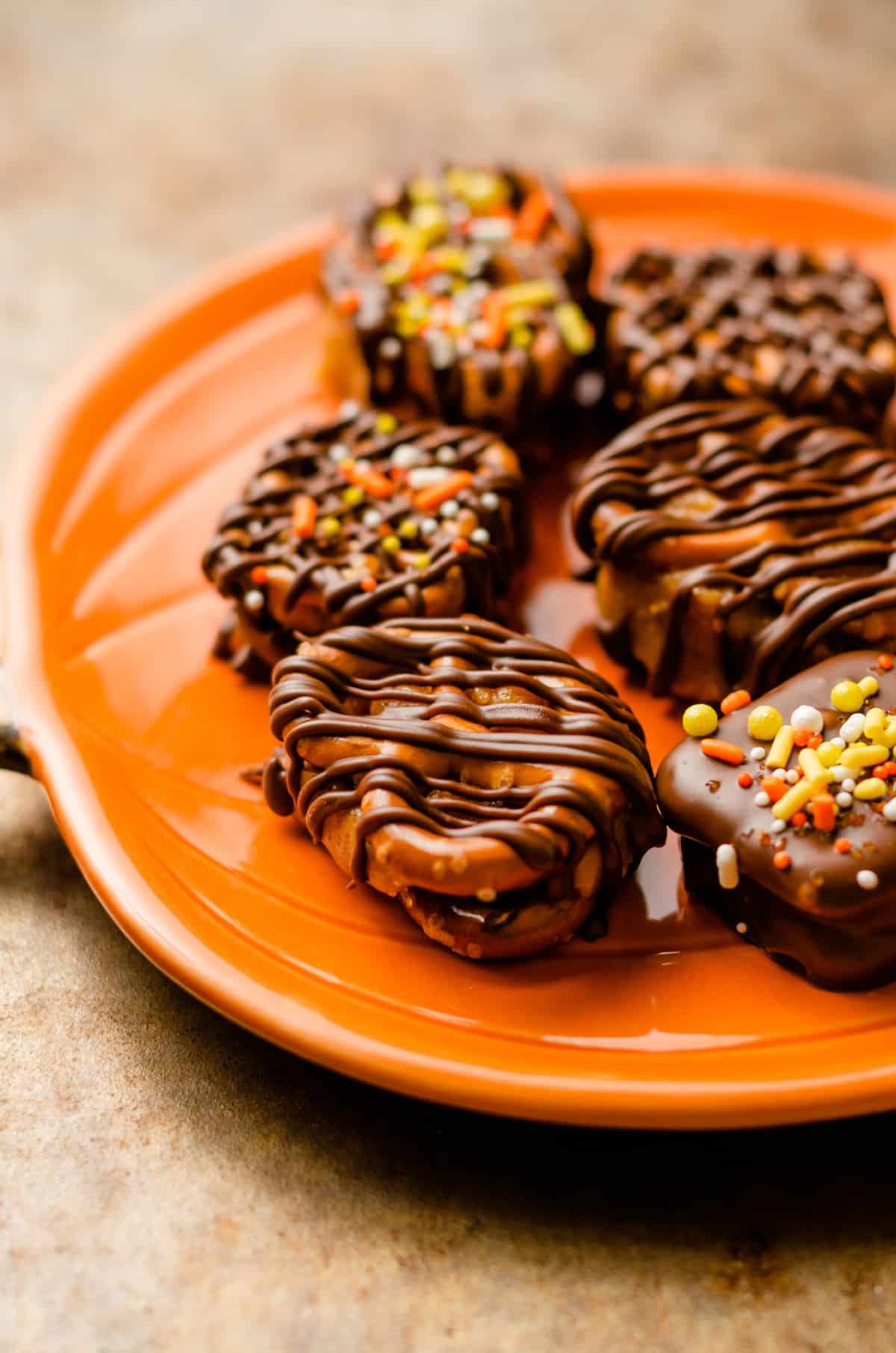 Before you go running from "pumpkin and peanut butter" because you're thinking "do pumpkin and peanut butter actually go together," let me be the first to tell you that yes, they do.
And if you stick around long enough to read about where these pumpkin peanut butter pretzel bites actually came from, I think you'll be convinced enough to try them for yourself (and likely fall in love with them like we and many others did).
And don't forget– this complete's September's No Bake of The Month contribution, so yay for a no bake treat!
Back in the early days of my blogging career, I did some informal Insta research and asked all of my followers what their favorite kind of candy was. It came as no surprise to me that Reese's (and really, the chocolate and peanut butter combination in all forms) reigned supreme.
Around the same time, a friend of mine posted a picture of her Reese's pumpkin, and people were all kinds of confused about what exactly it was.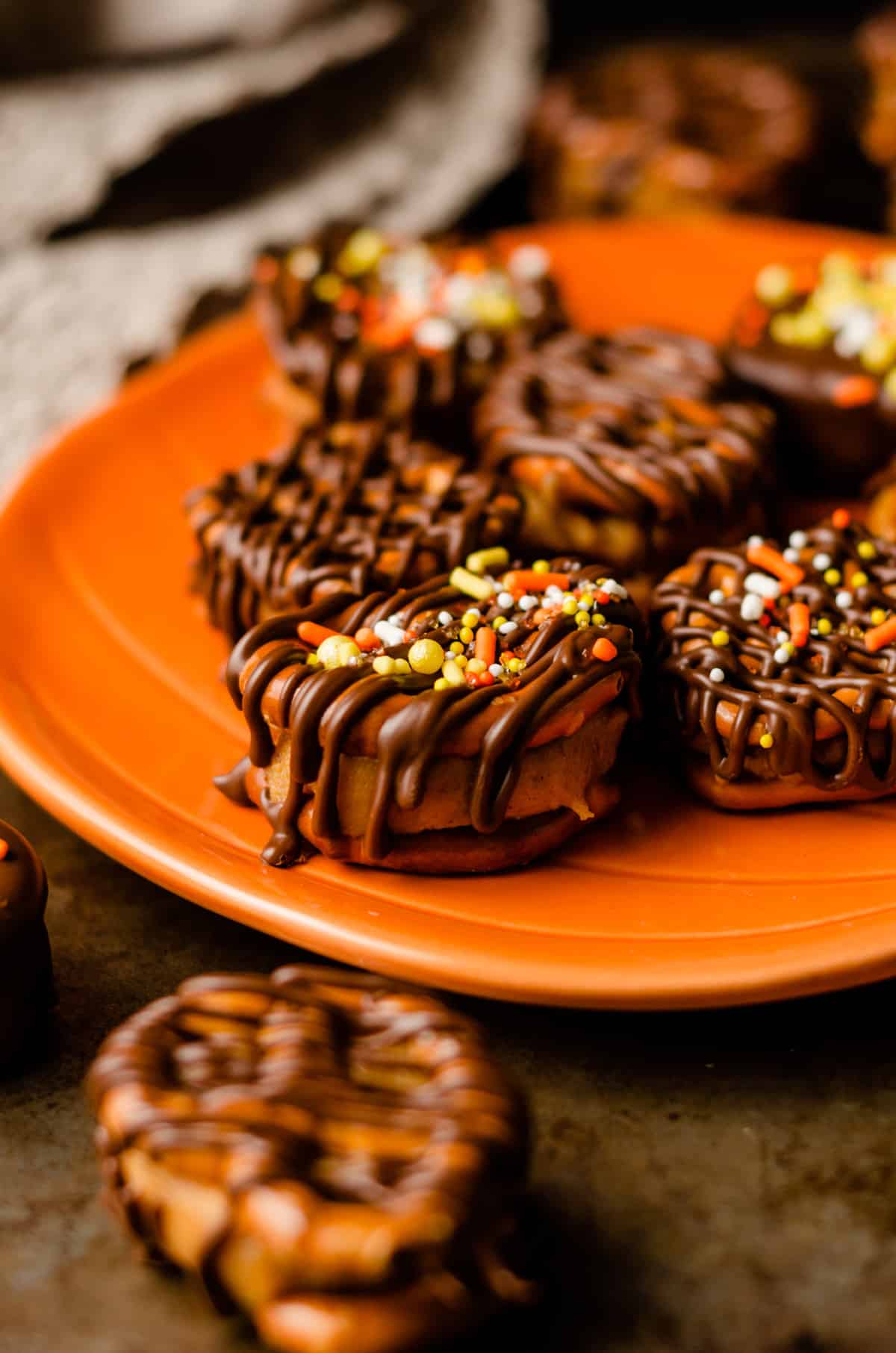 A lot of people were thinking it was a pumpkin flavored peanut butter cup (I mean, are the Santas and Trees confusing to people??), and it got me thinking this was a flavor combination I had to try.
I was a little hesitant, so I waited until Matt and one of my brothers-in-law were both here so I had some taste testers. Matt is a self-proclaimed pumpkin hater (but a peanut butter and chocolate crazy person) and my BIL is the opposite (at least when it comes to pumpkin).
I figured they were the perfect subjects for my experiment, and they both agreed we hit the jackpot with this flavor combo.
At that time of recipe developing, my triple chocolate peanut butter bites were one of my most popular recipes, so I used them as a guide for where to go with some ratios and ingredient combinations.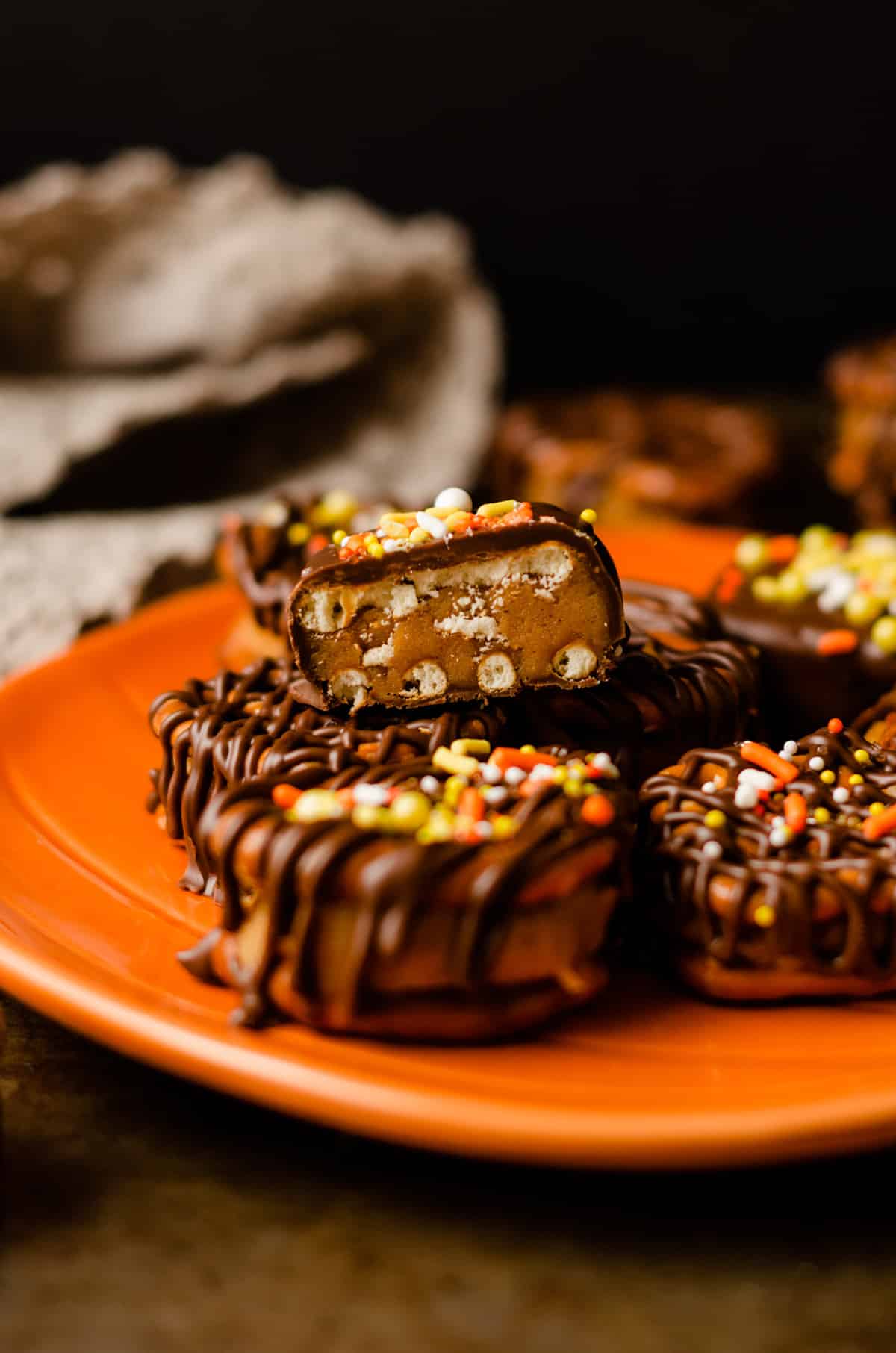 INGREDIENTS FOR PUMPKIN PEANUT BUTTER FILLING
Using those triple chocolate peanut butter bites as my outline, I went with powdered sugar, creamy peanut butter (not natural), and a little pumpkin pie spice to start things off. Then, I removed the butter and subbed in some pumpkin.
This combination makes a soft but sturdy "filling" that is very honestly totally delicious on its own. But because I'm a texture lover and I always love a good crunch, I decided that sandwiching this filling between two pretzels would be a good route to try.
Over the years, I have used both Snaps (or square pretzels) and small/mini traditional shape pretzels. There really is no wrong way to go here, but I find that the smaller/mini pretzels are the best choice for the perfect bite-size treat.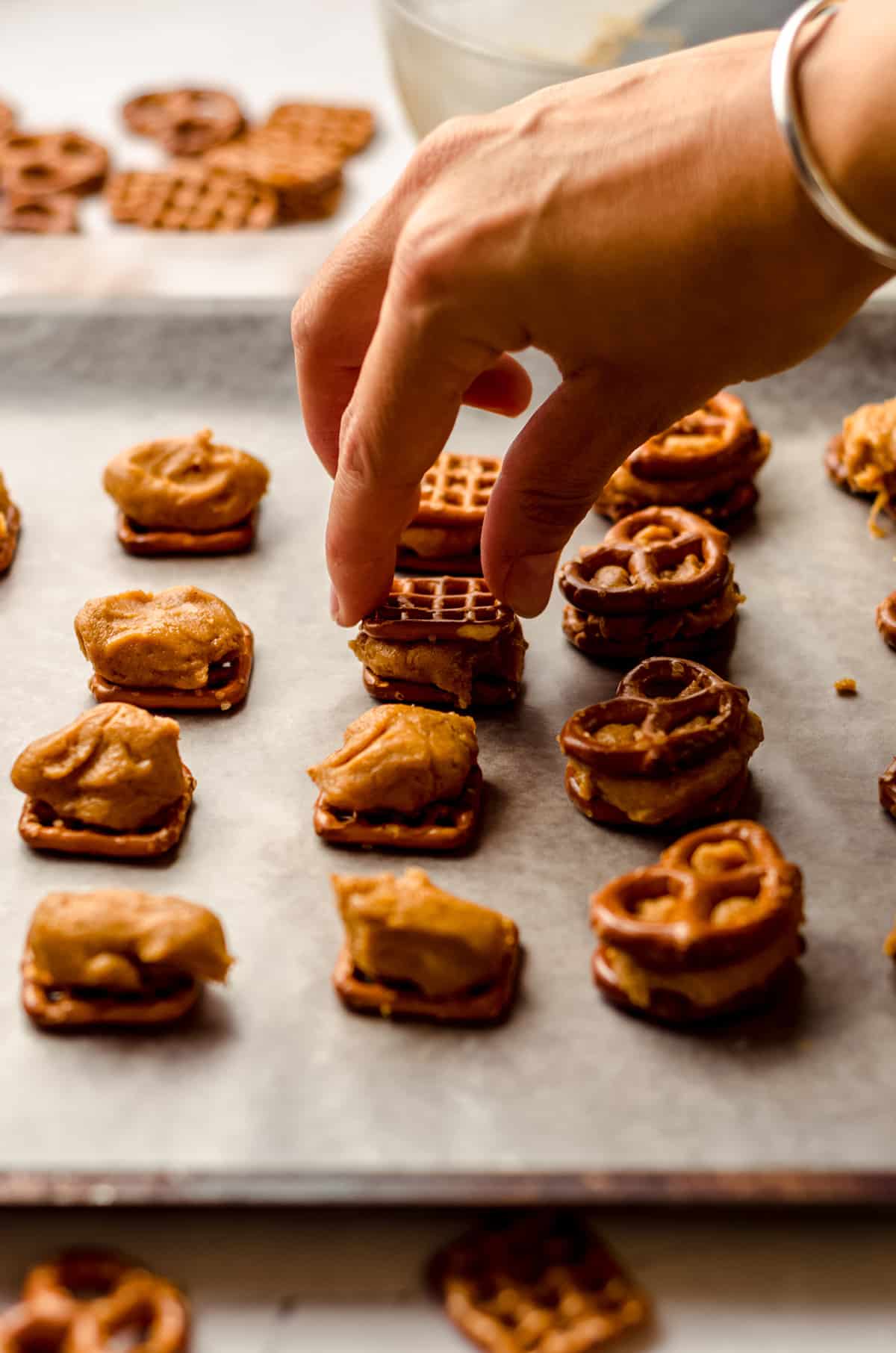 You'll start assembling your bites by placing the bottoms of them onto a baking sheet. Then, add about 1 to 1 and ½ teaspoons of filling per pretzel.
Add the top pretzel and press down gently to secure it in place.
You'll then want to square off or smooth out the sides of the filling in order to create a nice and contained pumpkin peanut butter filled pretzel bite, especially if you're fully submerging the bites.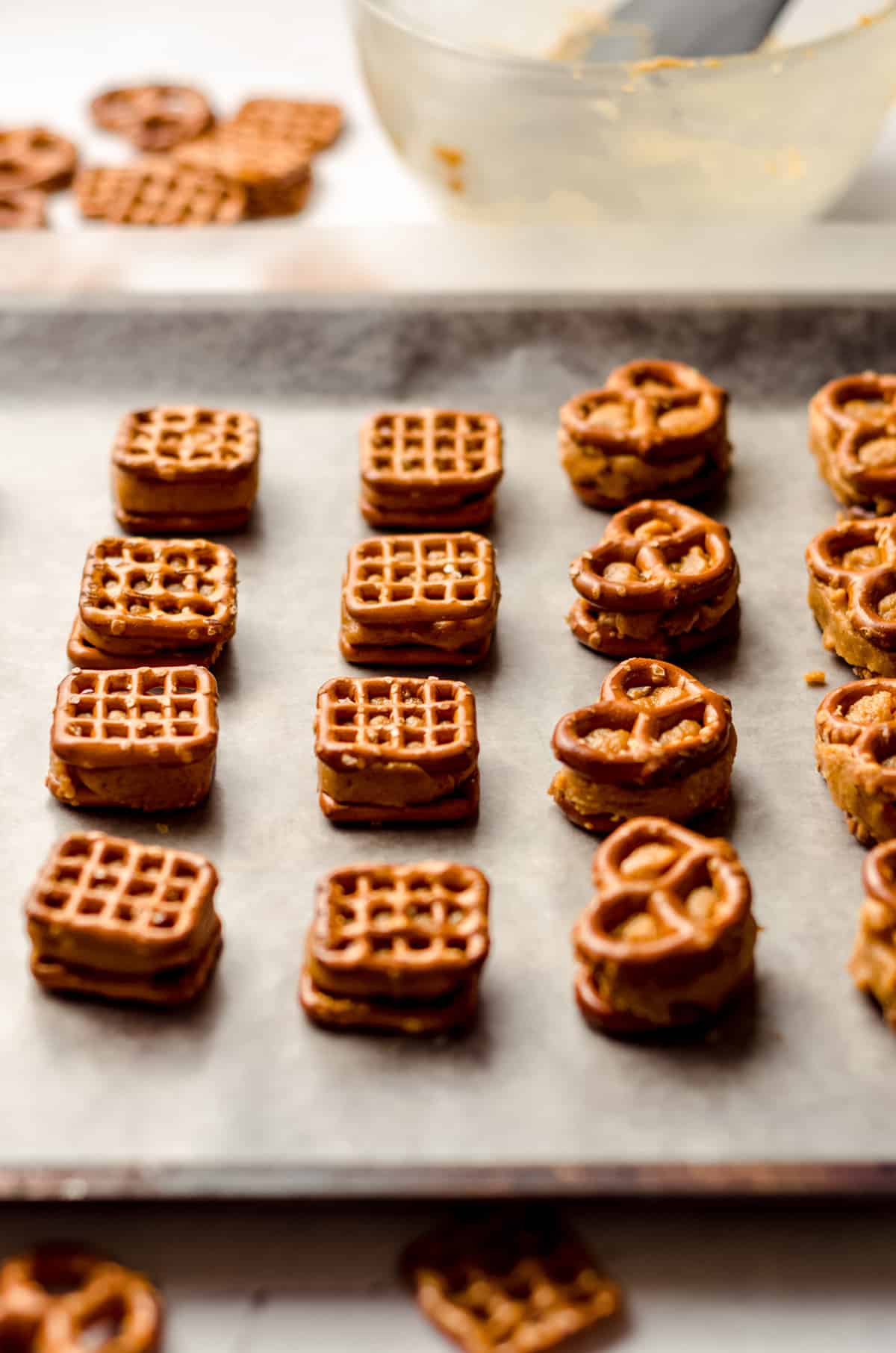 DIP OR DRIZZLE IN CHOCOLATE
And then, of course, it's time for the chocolate to bring the whole Reese's-pumpkin-confusion dilemma full circle. And because a peanut butter pretzel chocolate love affair is hardly one to overlook.
I have done both fully dipping and just drizzling these pumpkin peanut butter pretzels, and I honestly love them both ways.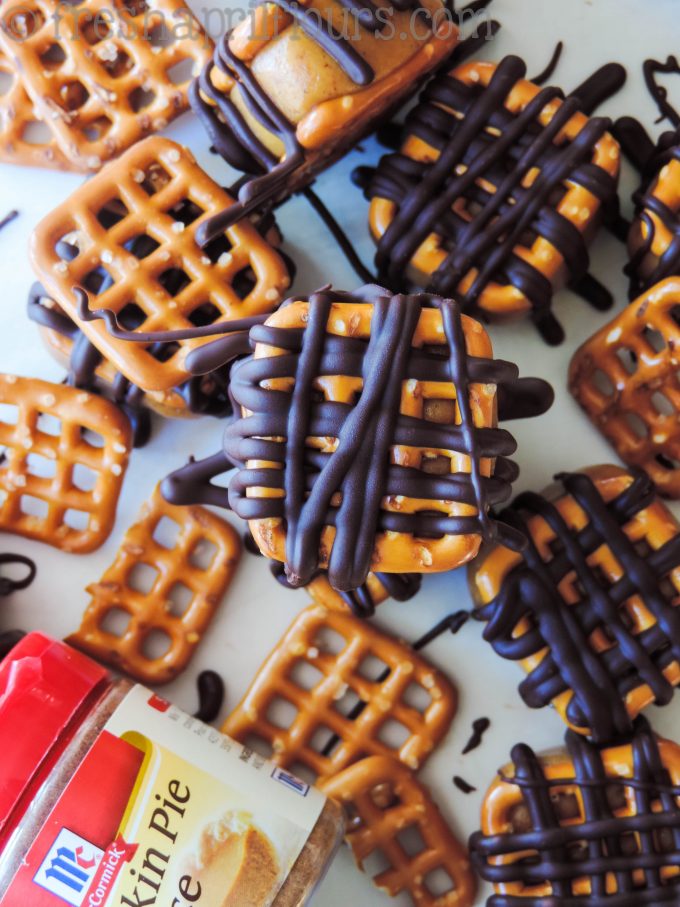 There's nothing wrong with doing a combination of each method, and you may choose one method over the other simply because of the decorations you may or may not want to add to the outside of your chocolate covered pumpkin peanut butter pretzel bites.
My friends, that pumpkin peanut butter filling is totally amaze-balls. I kind of hate that word, and kind of want to punch myself in the face for typing it, but there's really no other way to describe it.
I started with a small amount of pumpkin pie spice in the filling, then taste-tested and slowly added more until we got to the perfect amount. It is really a unique and likable flavor combination, and if you don't believe that this combo is a winner, I'm going to need you to make them so you can see for yourself just how amazing it is.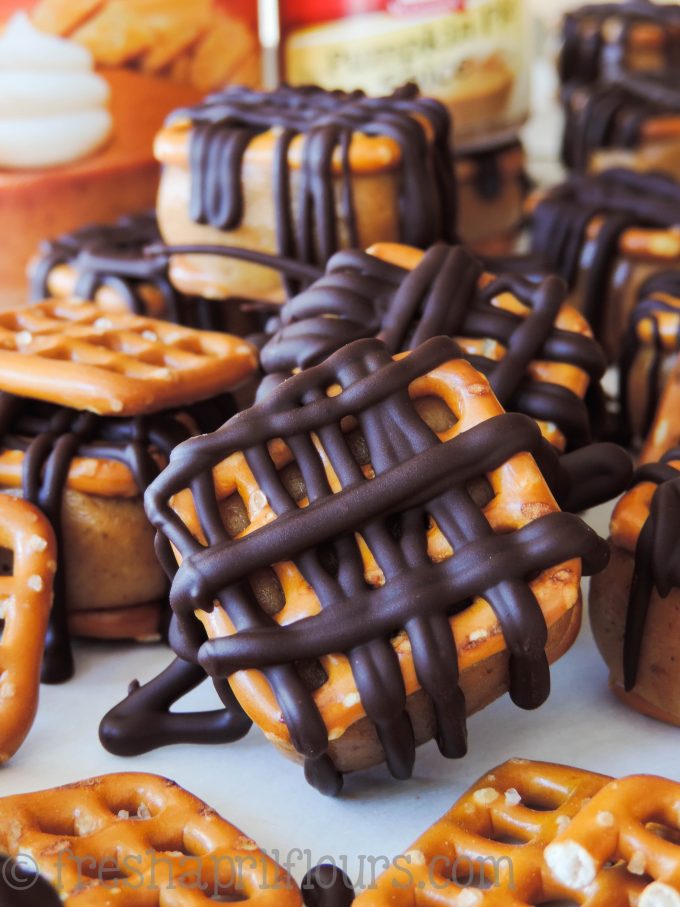 The nuttiness of the peanut butter is only enhanced by the spicy pumpkin pie spice flavors, the pretzel adds just a touch of salt while crunchily (yep, technical term) mixing with the gooey texture of the filling, and the chocolate just seals the deal.
Always chocolate when it comes to sealing any kind of deal.
HOW TO DECORATE
Decorate as you wish, as usual. I recommend candy corns, crushed nuts, sprinkles, candy eyeballs, or just leaving them plain! Then share then with your pumpkin lovers and try to convert those who claim to hate it.
Just ask my darling husband… He always asks me to pack these up pretty swiftly after they're ready and give them away so he doesn't wind up eating all of them.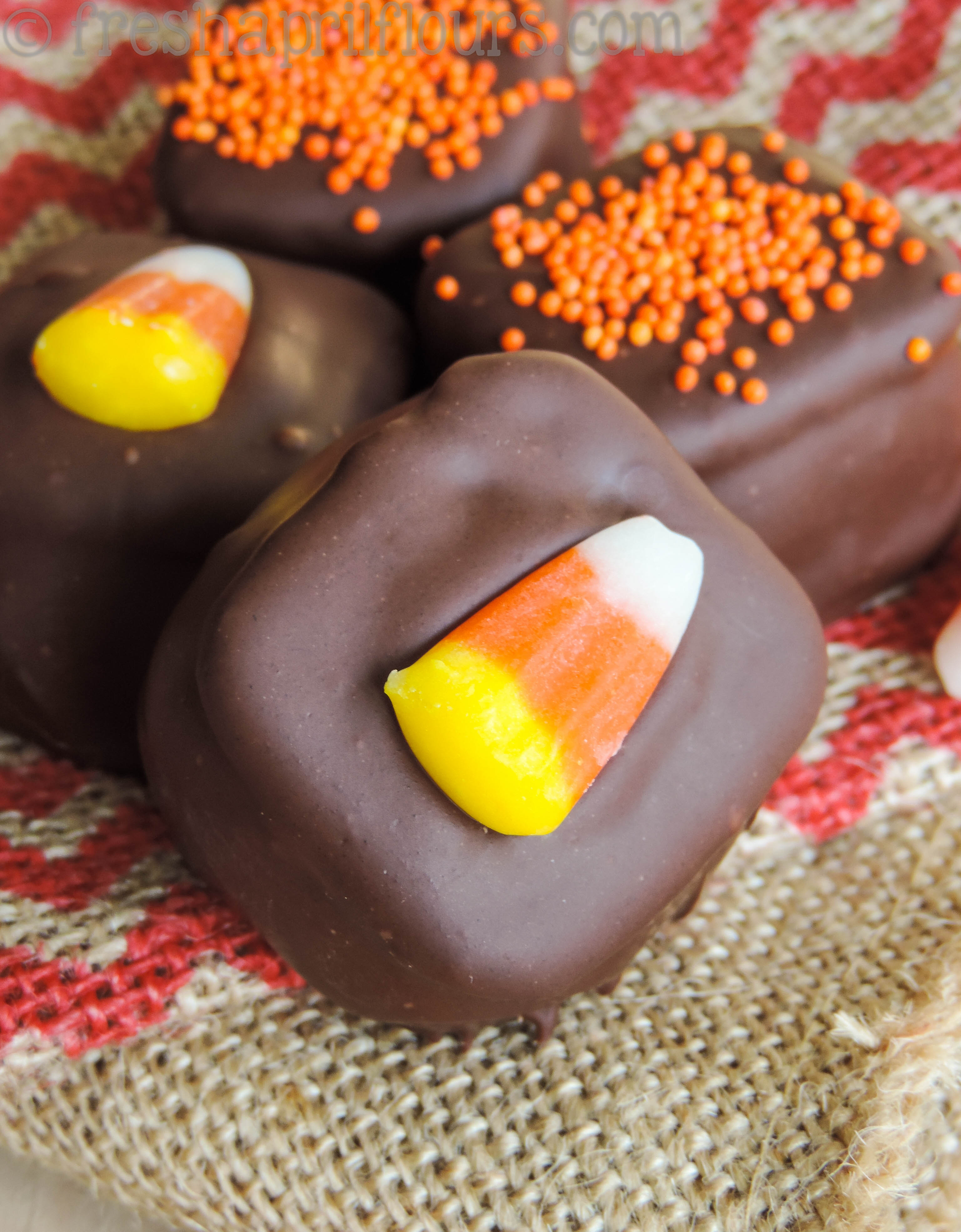 But who can blame him? Or me?! He and I both cannot be trusted around pumpkin peanut butter pretzel perfection. And I bet you can't be either!
Pumpkin Peanut Butter Pretzel Bites
A gooey, nutty, and spicy blend of pumpkin and peanut butter, sandwiched between two pretzels and topped off with a chocolate coating. This is one flavor combination you must try for fall!
Ingredients
Instructions
In a small bowl, toss together powdered sugar, pumpkin pie spice, and salt. Add peanut butter and pumpkin purée and mix until thoroughly combined. Allow to chill in refrigerator at least 10 minutes while you prepare the pretzels.

Line a baking sheet with parchment paper or a silicone baking mat. Place approximately 24 pretzels neatly on baking sheet.

Remove pumpkin peanut butter filling from refrigerator and, using a teaspoon measure, roll some of the filling into a ball (I used 1 to 1 and ½ teaspoons of filling per pretzel). Place ball on a pretzel and use another pretzel to make a "sandwich" by pressing lightly on the top pretzel.

Using a gentle touch, square off or even out the edges of your filling to line up with the edges of the pretzels. Repeat this step until all filling has been used. Place in freezer or refrigerator for at least 30 minutes, but no longer than 1 hour.

Line another baking sheet with parchment or a silicone baking mat. Set aside.

Melt the chocolate in a microwave safe bowl, heating for 20 seconds at a time on medium power and stirring after each session until completely melted.

Remove pretzel sandwiches from freezer or refrigerator and, one by one, immerse completely in melted chocolate. Using a fork, make sure chocolate coats the entire sandwich. Gently lift sandwich out of chocolate and lightly tap fork on the side of the bowl to remove excess chocolate. Place on baking sheet, decorate as desired, and allow to cool. If just drizzling chocolate, melt and either use a spoon to drizzle the chocolate over the bites or place in a small plastic zip top bag with a small corner snipped off.

When all sandwich bites are finished, refrigerate at least 15 minutes to allow chocolate to harden completely. Bites should be kept in the refrigerator and will last up to 1 week, though pretzels will lose their crunch as time goes on.
Notes
Peanut butter: do not use natural peanut butter.
Pumpkin: I always measure pumpkin purée with measuring cups as the moisture content can wildly change the weight measurements, depending on the brand.
Pretzels: I like to use small squares (also known in my favorite brand as Snaps) but small traditional shaped pretzels work, too.
Semi-sweet chocolate: this is how much you will need to dip the pretzels. If you just want to drizzle the chocolate on, reduce to 2 ounces (57g) of chocolate.
Adapted from triple chocolate peanut butter bites
Nutrition Disclosure
All nutritional values are approximate and provided to the reader as a courtesy. Changing ingredients and/or quantities will alter the estimated nutritional calculations.
Wondering what to do with your leftover pretzels? Throw together some Halloween bark!