As an Amazon Associate I earn from qualifying purchases.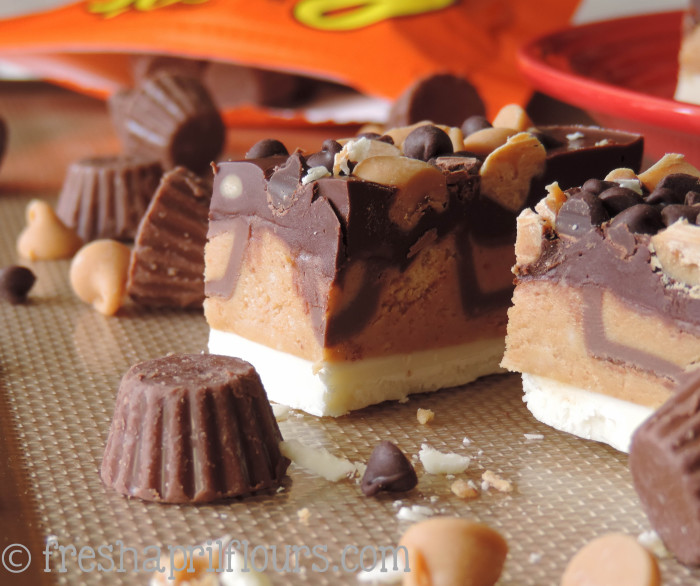 This dessert is going through a serious identity crisis. In the very best way possible. Let me explain…
It all started when I pinned this recipe from The Gunny Sack and you people went bananas. I got a lot of likes and re-pins, most of which were within just a few minutes of having pinned it myself.
The title of the original recipe calls this a "truffle bark" (see? It was already confused before I got my hands on it), but the way I made it, it's kind of a bar, but also kind of a bite-size snack. Whatever the heck it is, I think we all can agree that you can never go wrong with peanut butter and chocolate.
But this is so much more than just peanut butter and chocolate. Ohhhh yes, my friends. This is peanut butter and peanut butter chips and white chocolate and dark chocolate and semi-sweet chocolate chips and Reese's mini cups and OMIGOSH GRAHAM CRACKERS.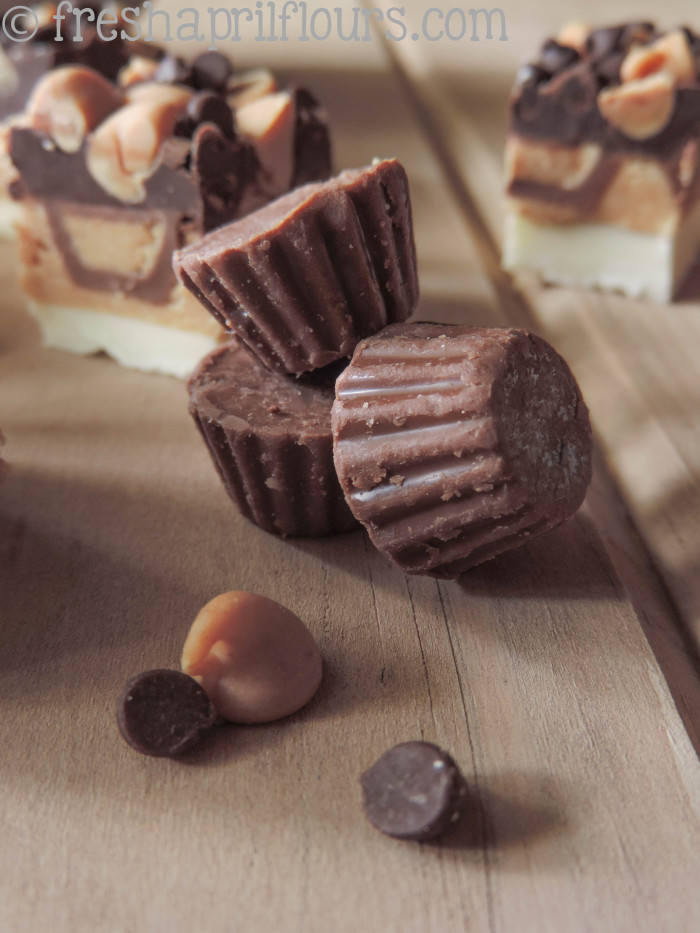 Oh, right… Bikini season? This recipe is why I work out.
The original recipe used vanilla melting candy, but I wasn't all about that. No, this needed an overload of chocolate– "chocolate three ways" is what you might call this if it was served in a fancy restaurant… Ok, ok, "chocolate three ways with peanut butter and graham crackers and a bunch of other goodies on top."
I am so in love with this snack I can barely type! Or maybe that's just the chocolate stuck to my fingers…
Ahem.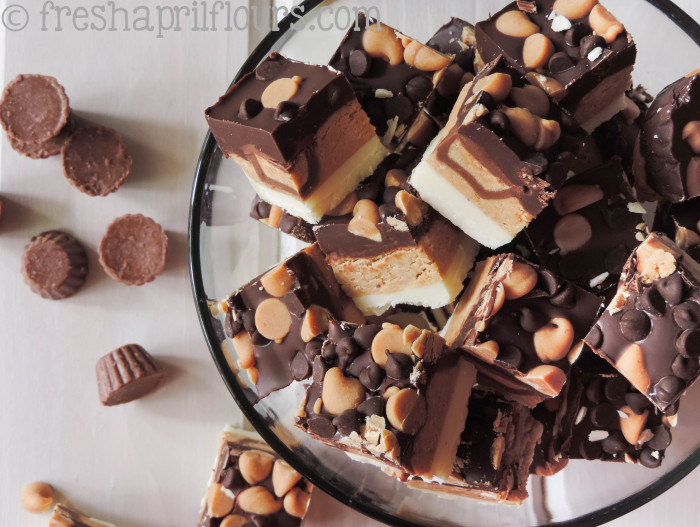 Anyway…
This starts with a bottom layer of white chocolate. I added a teaspoon of shortening to my chips in order to keep everything smooth during the melting process. Low heat. Keep it moving at all times. You don't want to scald your chocolate!
Once everything is melted, pour all of it into an 8″ x 8″ pan lined with foil, spread it out, tap it on the counter to help settle everything, and pop it in the fridge while you prep your peanut butter layer.
And no need to clean your pot yet– you're going to need it again when you melt your dark chocolate!
So, about this peanut butter layer… Wow-wow-wee-wow. Hold on to your peanut-butter-loving hats, folks.
It's mixed with butter, a little vanilla, some powdered sugar, and crushed graham crackers. The filling is like the inside of a Reese's peanut butter cup, but the graham crackers take it over the top. The crunch they add is just the thing these creamy chocolate bars need.
Then comes the fun part– sticking mini Reese's into this crunchy peanut butter layer. I mean… Can this get any better?? Spoiler alert: IT CAN.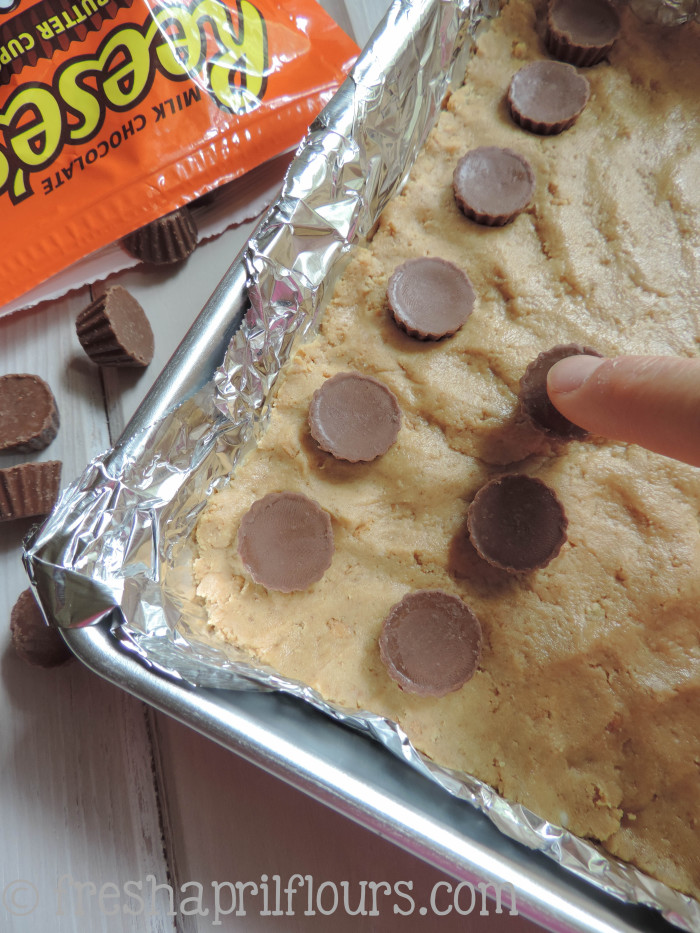 Feel free to scatter your Reese's around. I'm just a bit obsessive when it comes to this kind of thing. And don't be afraid to smoosh your cups a little!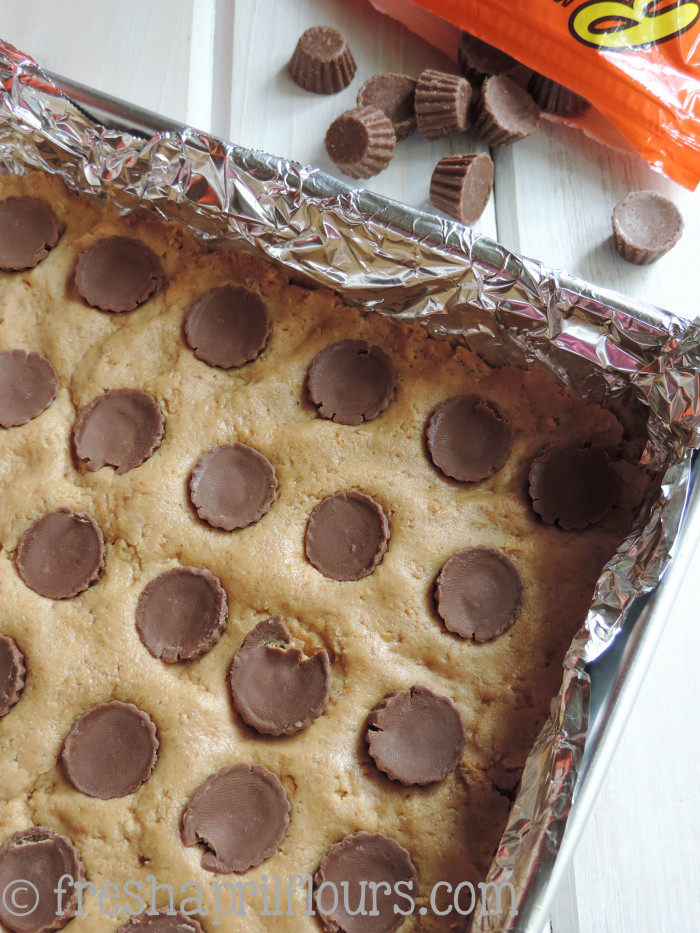 One last layer of dark chocolate, and a generous sprinkling of both semi-sweet and peanut butter chips, and these delectable goodies are just about ready.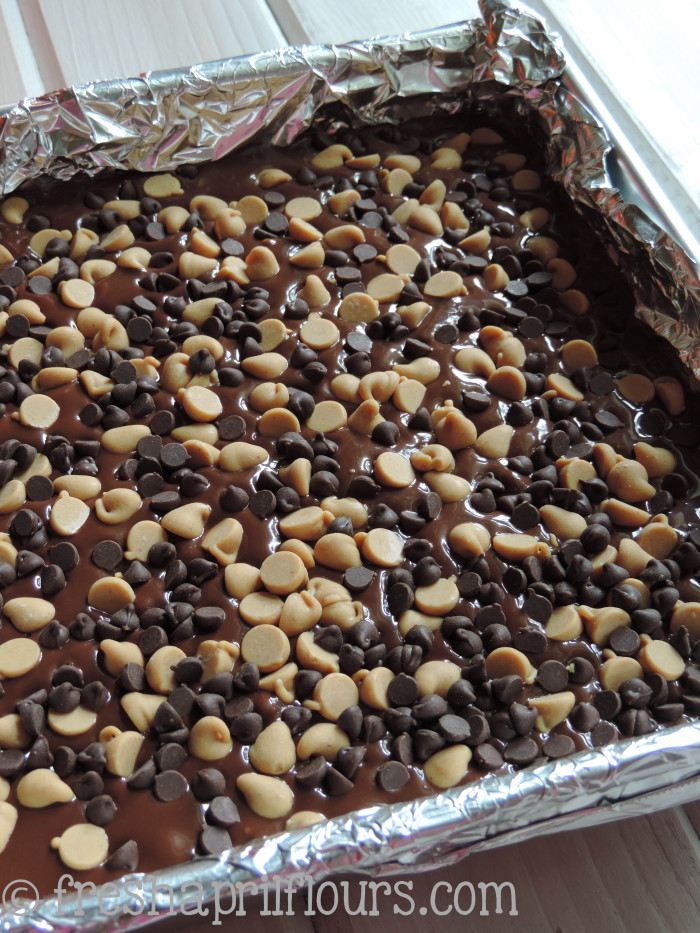 The next part is the hardest part: waiting the half hour it takes for the whole pan to be chilled enough to cut into pieces.
Once they're ready to cut, lift the foil out of the pan and have at it. Bars, bites, jaggy edged pieces, one big huge 8″ x 8″ square (?!?!). I'll take that last option, pleaseandthankyou.
Seriously, people. Look at them. Just LOOK AT THEM!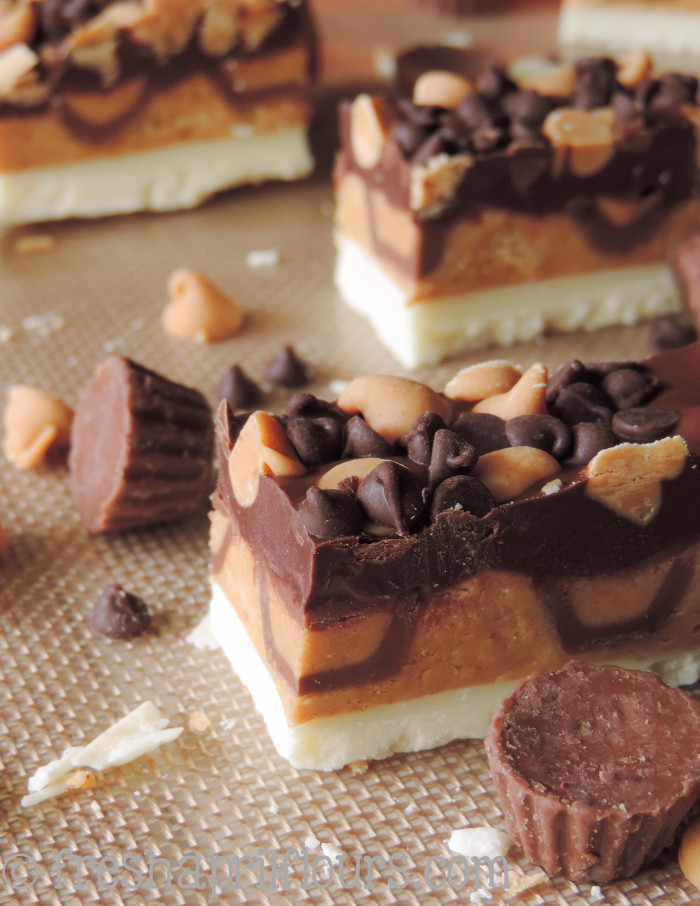 A sweet and creamy white chocolate layer…
A crunchy, salty peanut butter layer studded with mini peanut butter cups…
A smooth, slightly bitter dark chocolate layer…
And more chocolate and peanut butter chips on top for good measure.
There's no way you won't love this. Unless, of course, you don't love one of the best combinations of flavors to ever exist in the history of the world. Do those people even really exist?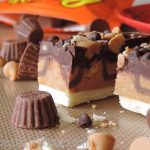 Print Recipe
Triple Chocolate Peanut Butter Bites
A slightly crunchy peanut butter cup layer, sandwiched between dark and white chocolate layers, and topped off with some more chocolate and peanut butter!
Servings:
32
bars or 64 bites
Ingredients
10

ounces

white chocolate

chopped

2

teaspoons

vegetable shortening

divided

10

ounces

semi-sweet or dark chocolate

chopped

1/4

cup

unsalted butter, melted

3/4

cup

peanut butter

I used creamy

4

sheets graham crackers

crushed (about 3/4 cup)

1 and 1/2

cups

powdered sugar

1

teaspoon

vanilla extract

Reese's peanut butter cup minis

approximately 24

1/2

cup

mini semi-sweet chocolate chips

1/3

cup

peanut butter chips
Instructions
Line an 8" x 8" baking pan with foil, leaving an overhang. Set aside.

In a medium saucepan over low heat, melt white chocolate and 1 teaspoon of vegetable shortening, stirring constantly, until completely melted. Pour into prepared pan, tap on counter a few times to settle everything, and refrigerate pan while you make your peanut butter layer. Do not clean your saucepan-- you will need it again.

In a medium size bowl, combine melted butter, peanut butter, crushed graham crackers, powdered sugar, and vanilla extract. Mix well until completely combined. Remove your pan with the chilled white chocolate layer from the refrigerator. Press the peanut butter layer evenly on top of the white chocolate layer with your hands or the back of your spoon or spatula.

Press mini-peanut butter cups into peanut butter layer in rows (does not have to be perfect).

Working again with the saucepan, melt the dark chocolate and the remaining teaspoon of vegetable shortening, stirring constantly, until completely melted. Pour on top of peanut butter/mini-peanut butter cup layer and spread evenly with spoon or spatula. Tap pan on counter a few times to settle everything. Sprinkle mini semi-sweet chocolate chips and peanut butter chips on top of dark chocolate layer. Refrigerate for 30 minutes.

When pan is completely chilled, remove by holding foil overhangs and cut into desired serving size. Cut bar/bites should be kept in the refrigerator.
See all chocolate peanut butter recipes.