Gluten Free Flourless Crunchy Peanut Butter Cookies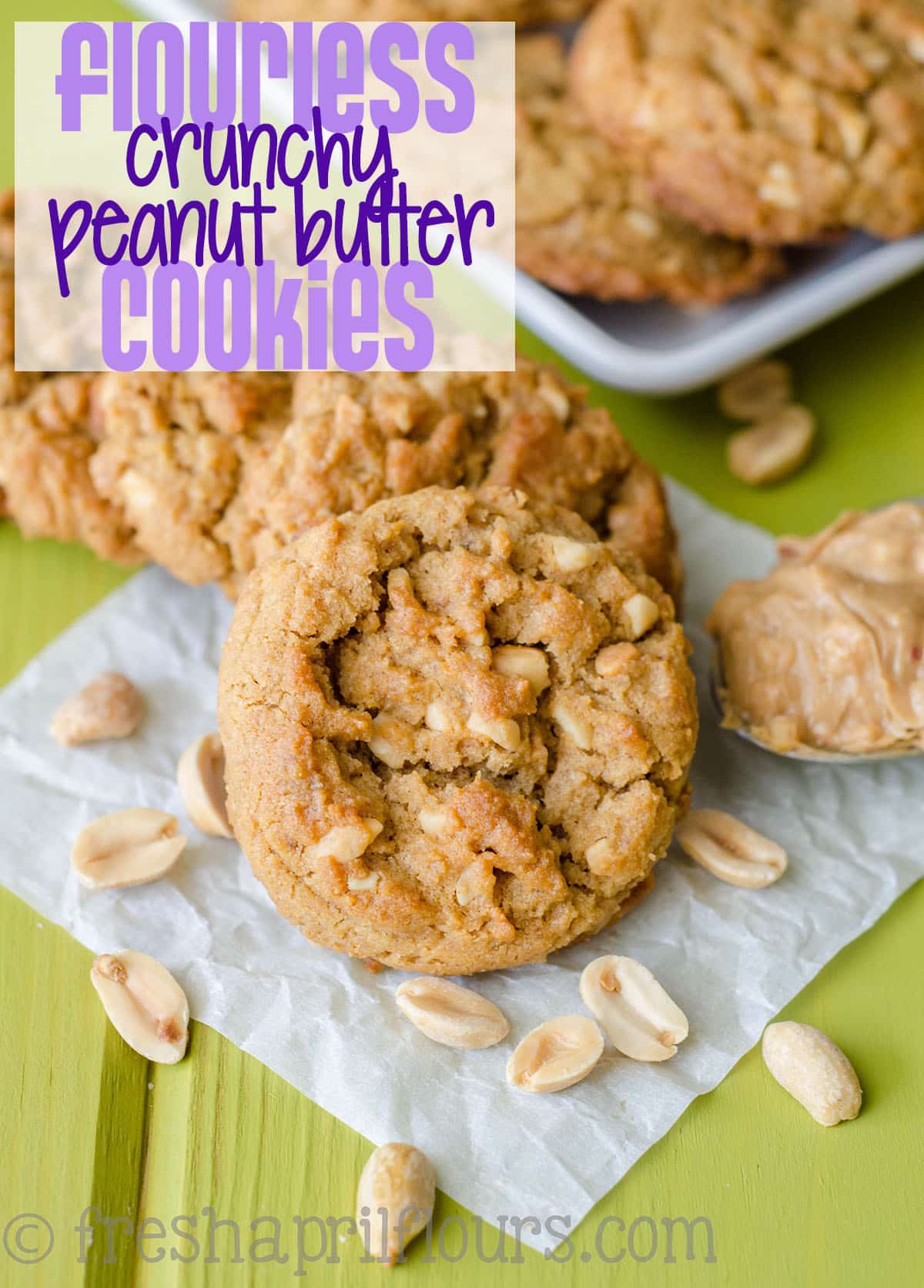 As an Amazon Associate, I earn from qualifying purchases. Read the full disclosure here.
Just 5 simple ingredients produce these crunchy, nutty, gluten free cookies. You'd never guess they have no flour!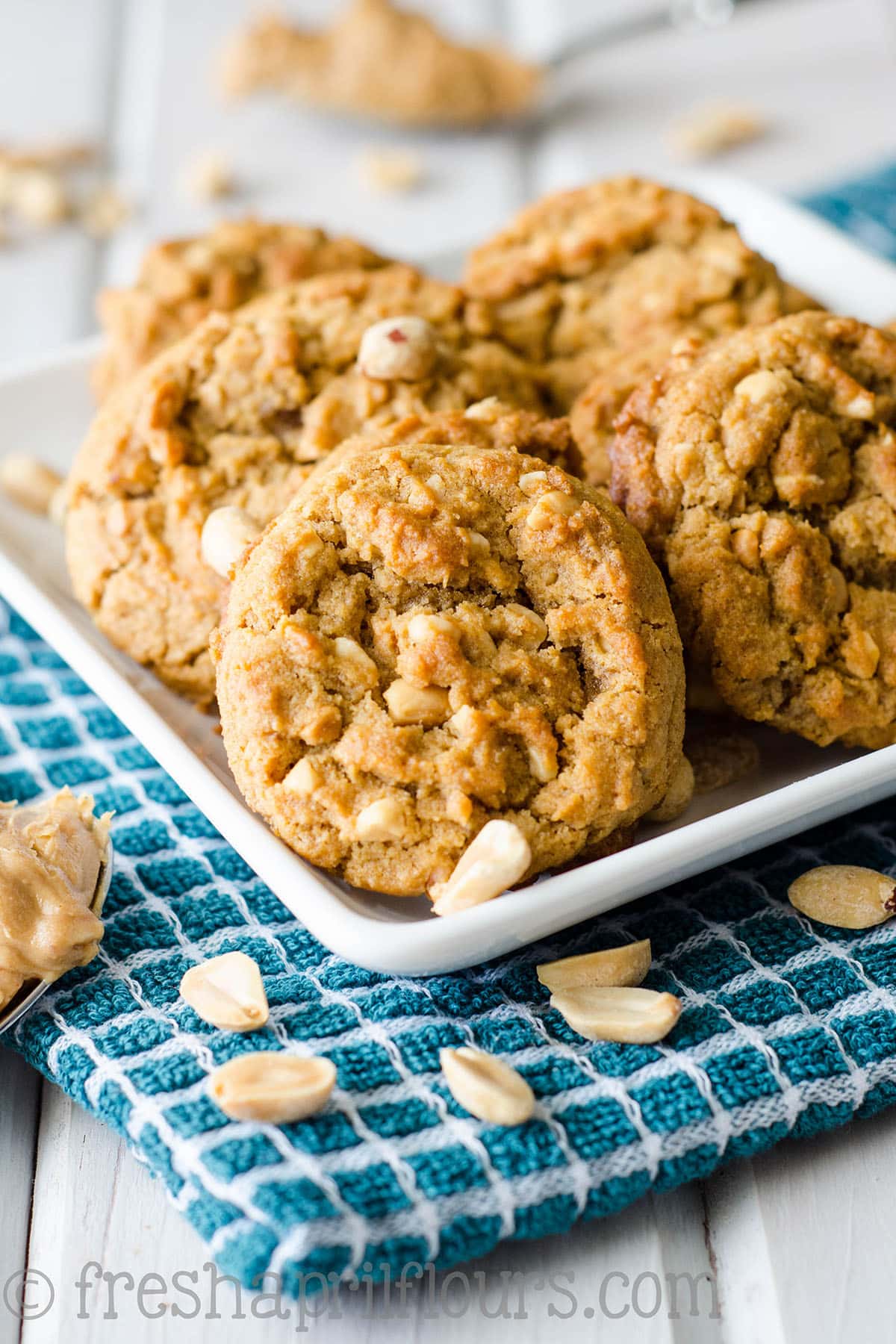 Before I get to it, I have a very important question. Are you a creamy or crunchy peanut butter lover? I asked you all on IG this weekend, and the split was pretty much down the middle. Me? I'm a chunky girl all.the.way.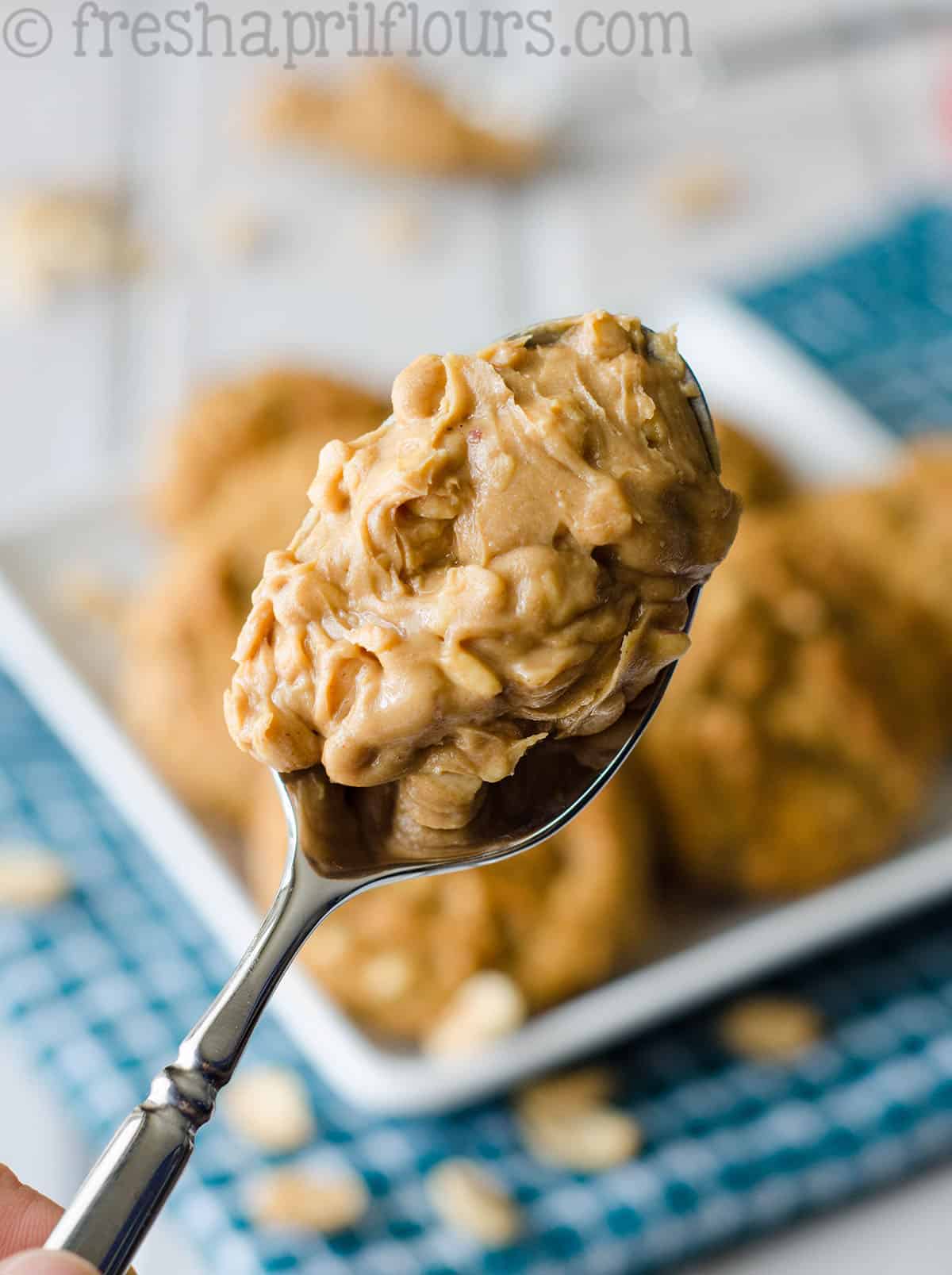 This recipe features crunchy peanut butter, and while you could certainly substitute creamy, I think you would be making a big mistake. Come on… Give chunks a chance.
I've been wanting to make another batch of gluten free cookies since my last GF cookie adventure, but I didn't want that cookie to be chocolate again. I tried my hand at a couple different approaches to this new cookie, and both times, I failed miserably.
One batch is sitting in our freezer, because it actually turned out to taste really good, but it was one big crumbly mess (don't worry, you'll see that when 2015 get its own one of these), and the other was picked up by the trash truck last week.
The one in the freezer will make a great topping for ice cream or yogurt! The other one couldn't be saved. I didn't even want to force the birds to eat them.
This glorious recipe is the result of "third time's a charm," and I seriously couldn't believe how good these cookies were. Thankfully, the first and second tries taught me a few things not to do, so I can help you have success right off the bat.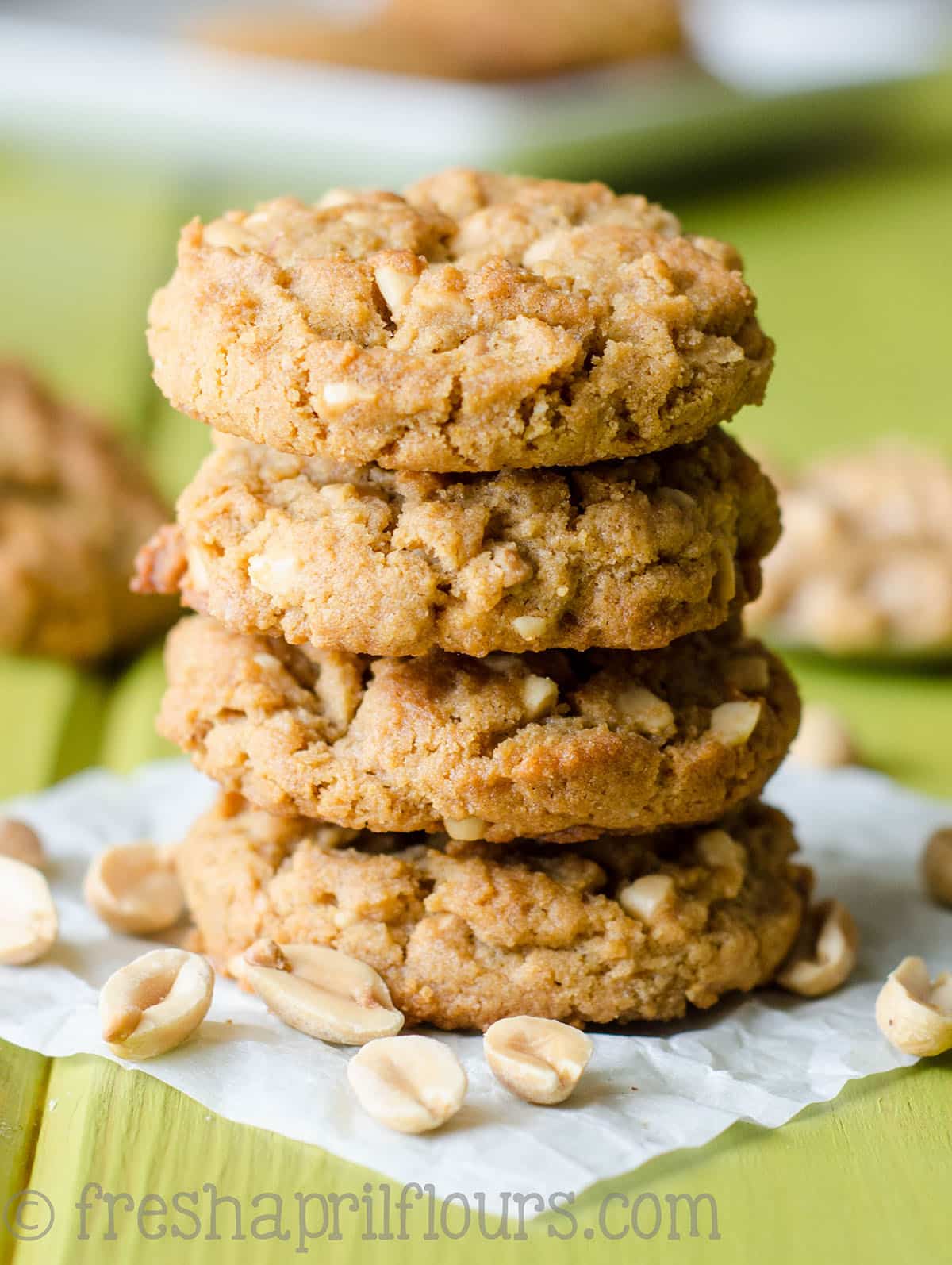 WHAT KIND OF PEANUT BUTTER SHOULD I USE?
First of all, my initial mistake was using natural peanut butter that was way too oily. There was absolutely no "glue," and I could probably have added an egg to fix that, but I didn't. That is the batch that is in the freezer. It just crumbled. No structure.
The second batch has structure, because I added some other ingredients to hold the dough together, but the taste was just blah. Crunchy, nutty cardboard. YUM.
All that being said, your best bet is to use a thick peanut butter. I found the best result to come from Skippy Natural. You may certainly use homemade (consider using this recipe for cinnamon raisin peanut butter and omitting the cinnamon and raisins– OR DON'T– I'm sure that would be delicious!), just make sure it's nice and chunky.
My favorite part about this recipe is that it comes together in 5 minutes. No chilling, not even any rolling of the dough… Just straightforward cookie business that gets cookies into your mouth in under 20 minutes.
This recipe is so easy that I just want you to get right down to baking them TODAY so I'm keeping this post short and sweet (do you even actually read the words I write?!). I'm sure you have all of the ingredients right now.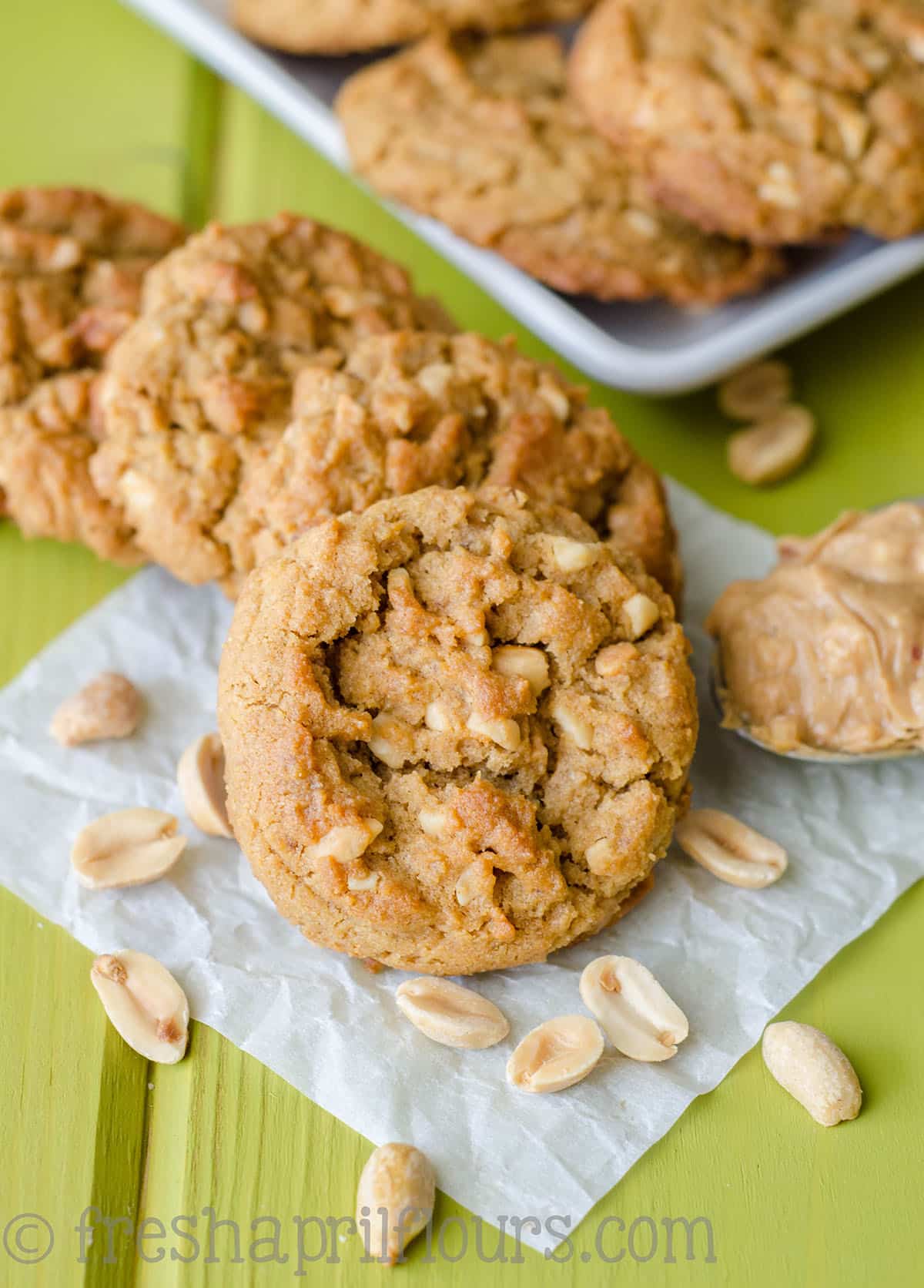 These cookies, while they're crunchy on the outside, are chewy and soft once you get to the inside.
No butter, no oil, no flour, but all the taste you expect.
I might even go out on a limb and say your taste testers won't even be able to tell they're anything out of the ordinary. And your gluten free friends will love you!
PLUS, these chunky cookies are full of little peanut pieces which make texture lovers (me!) happy. Everybody wins and the prize is one ticket to peanut butter heaven.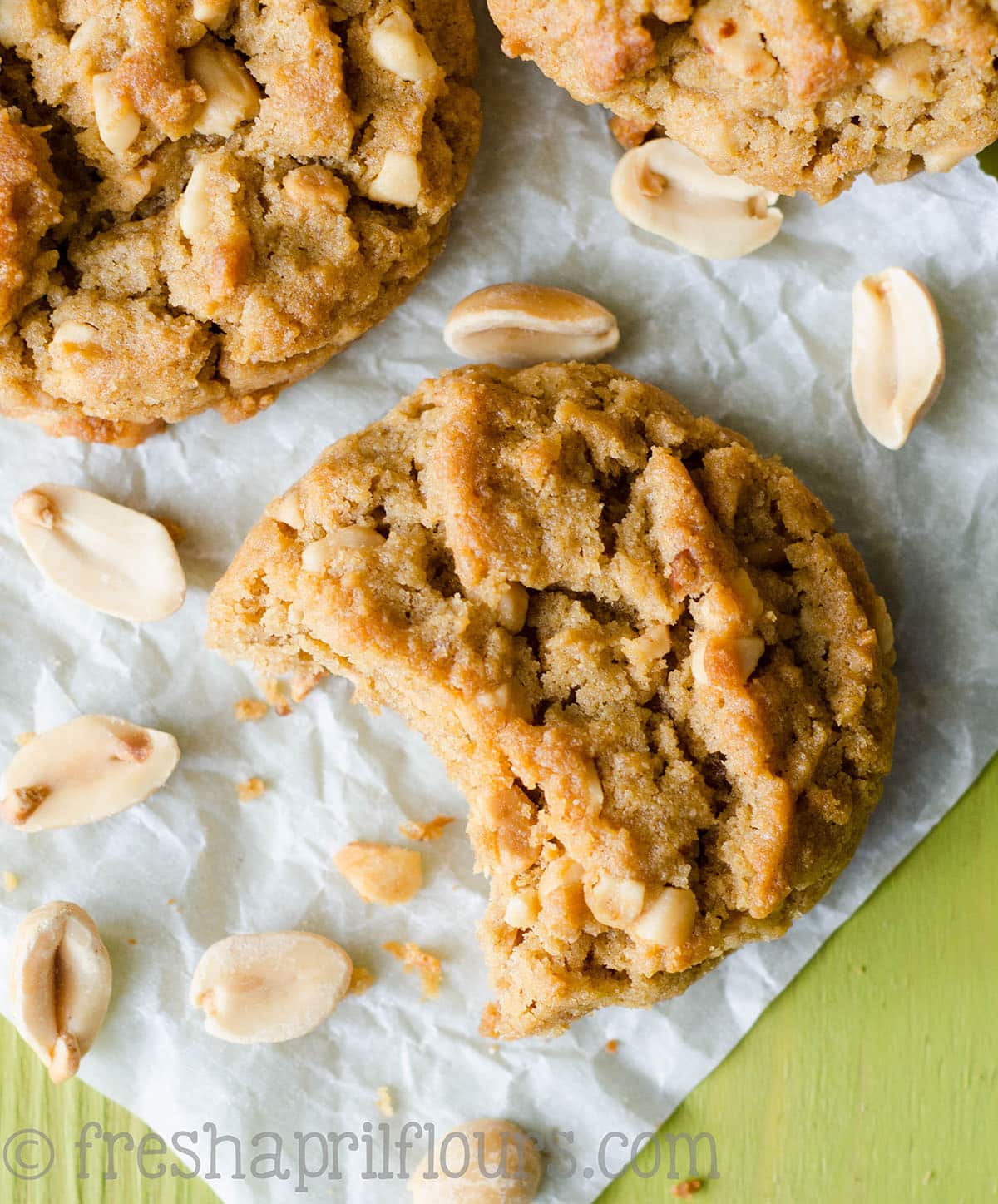 Seriously… You're going to love them. Enjoy, peanut butter lovers!
More gluten free favorites in my recipe collection: gluten free apple crisp, almond flour pecan sandies, and gluten and dairy free chocolate cake.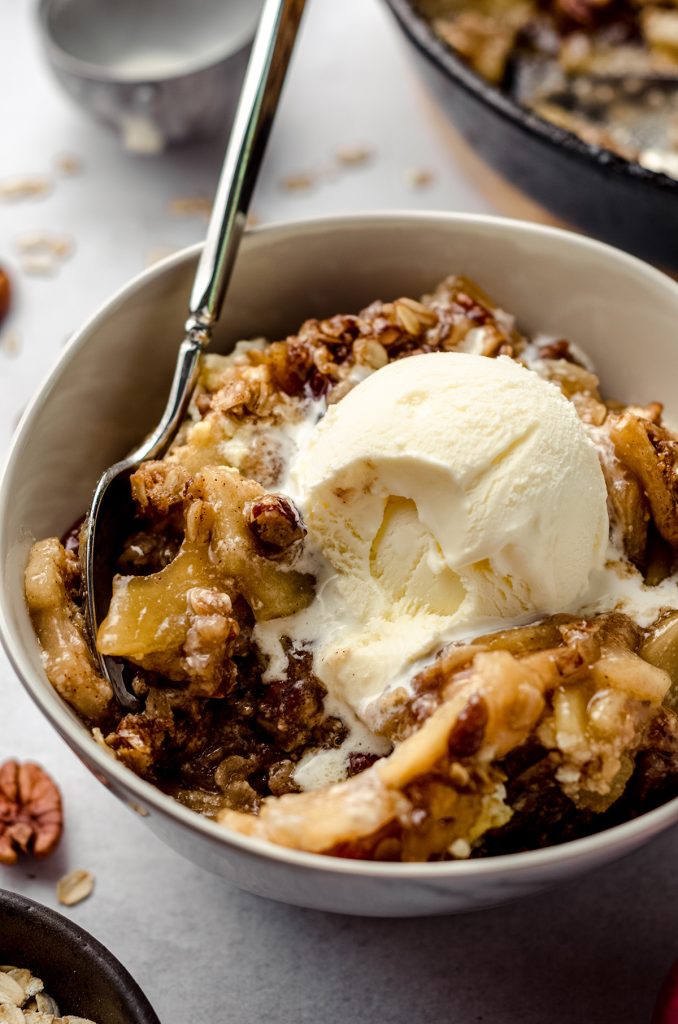 Gluten Free Flourless Crunchy Peanut Butter Cookies
Just 5 simple ingredients produce these crunchy, nutty, gluten free cookies. You'd never guess they have no flour!
Ingredients
1

cup

chunky peanut butter*

1/2

cup

brown sugar

firmly packed

1

teaspoon

baking soda

1

large egg

1/2

teaspoon

vanilla extract
Instructions
Preheat oven to 350ºF. Line two large baking sheets with parchment paper or silicone baking mats. Set aside.

In a medium bowl with a spatula, stir together peanut butter, brown sugar, and baking soda. In a small prep bowl, beat the egg and vanilla together. Add egg to peanut butter mixture and stir with spatula until evenly distributed.

Scoop the dough with a cookie scoop (I use this #50 cookie scoop for all of my standard size cookies) and drop onto baking sheet. There is no need to roll the dough into balls. Bake 7 cookies per baking sheet, 10-11 minutes or until edges and tops start to brown. If you prefer crunchier cookies, bake up to 13 minutes.

Allow cookies to cool on baking sheet for 5 minutes before transferring to a wire rack to cool completely. Cookies stay fresh in an airtight container at room temperature up to 7 days. Cookies may be frozen, up to 2 months.
Notes
*You may use homemade, natural, or commercial peanut butter, but be careful with more oily consistencies. I found the best texture was with 1 cup of Skippy Natural. If using natural peanut butter (either homemade or peanut butter that is made with just peanuts and salt), be sure any excess oil is stirred in and peanut butter is thick. If it is thin, this recipe wont work well. Almond butter may also be substituted for the peanut butter.
Nutrition Disclosure
All nutritional values are approximate and provided to the reader as a courtesy. Changing ingredients and/or quantities will alter the estimated nutritional calculations.