Almond Flour Pecan Sandies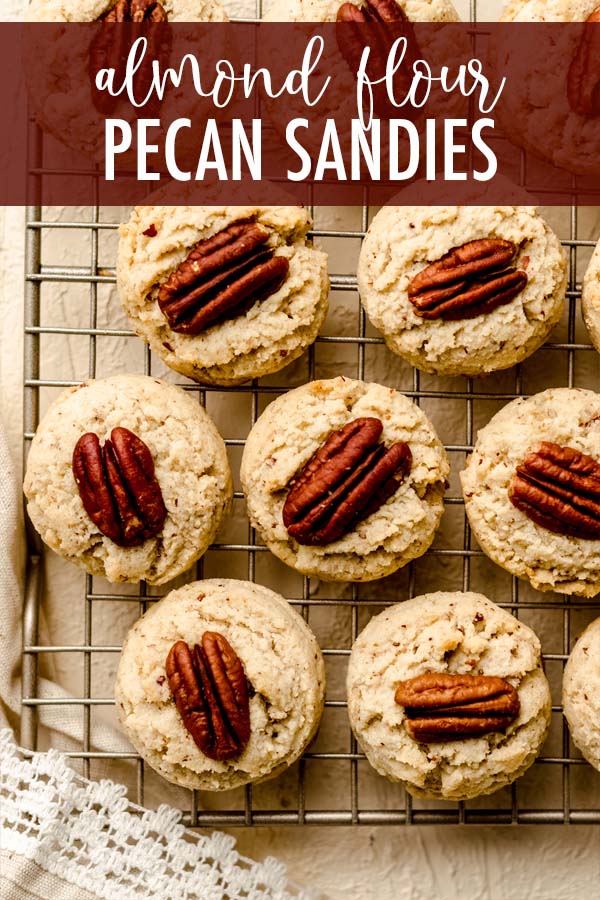 As an Amazon Associate, I earn from qualifying purchases. Read the full disclosure here.
An easy, one bowl recipe for gluten free, buttery pecan cookies.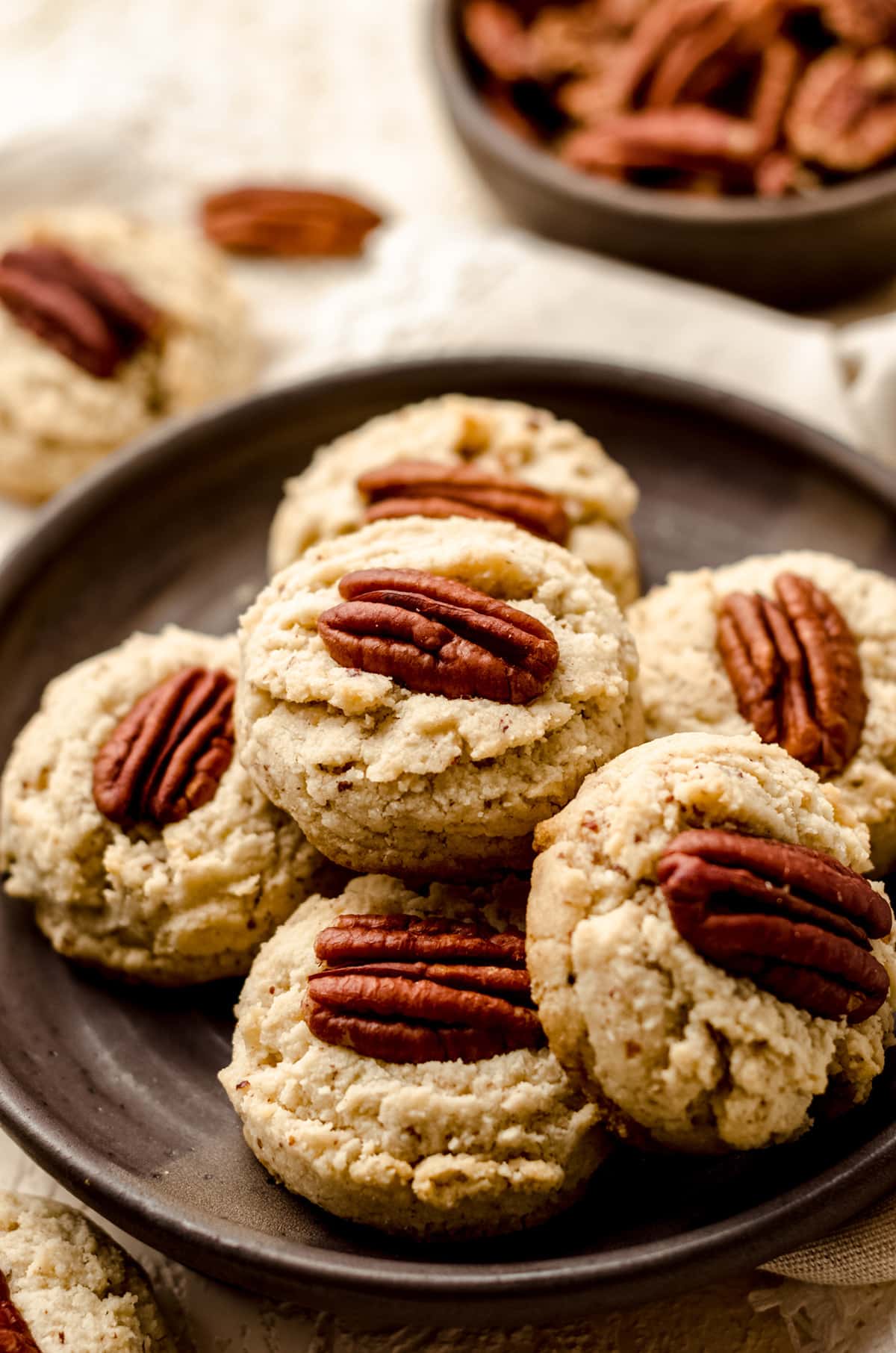 For many many years, these gluten free pecan sandies have lived happily on my site, popping up all year long as a way to not only use almond flour, but also provide a cookie to folks who are looking for something super simple and easy (it's also a very popular almond flour Christmas cookie).
That said, this particular cookie caters to those who live a gluten free life, whether by choice or necessity, and those who have tastebuds and don't care gluten/no gluten about their cookies. Because friends, they are so good.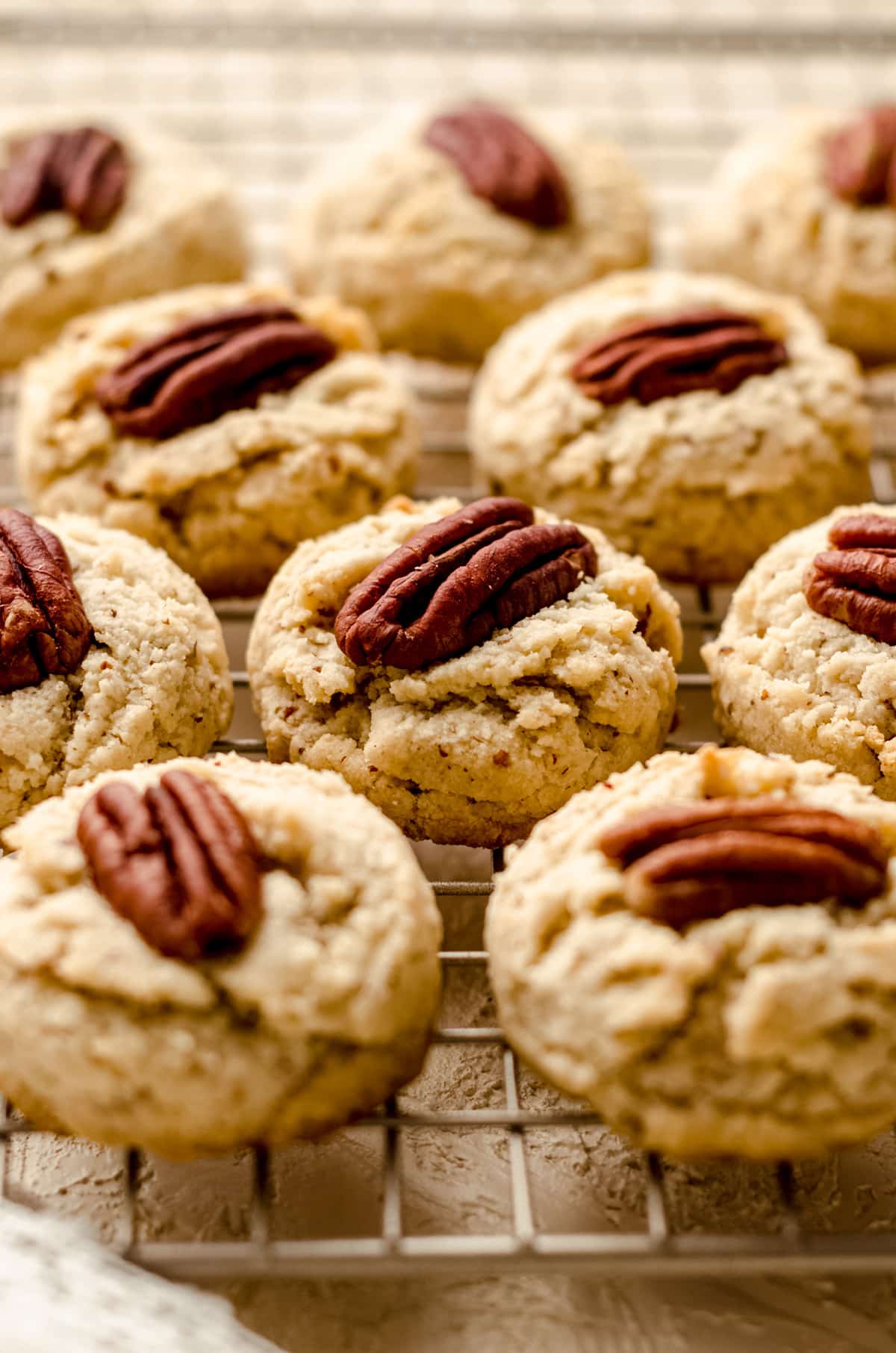 From a personal standpoint, these flourless pecan cookies are actually one of my favorite cookies to ever grace my oven. I make them multiple times a year, most frequently at Christmas, and every time I taste them, I'm reminded of why I love them so much.
Not only are they incredibly delicious, they are so laughably simple. You're going to love them for so many reasons!
For several years, we've had almond flour in our pantry at all times. It's a lovely way to make recipes gluten free without using a gluten free flour blend, and it's perfect for adding nutty flavor to baked goods that might not normally have such a flavor profile.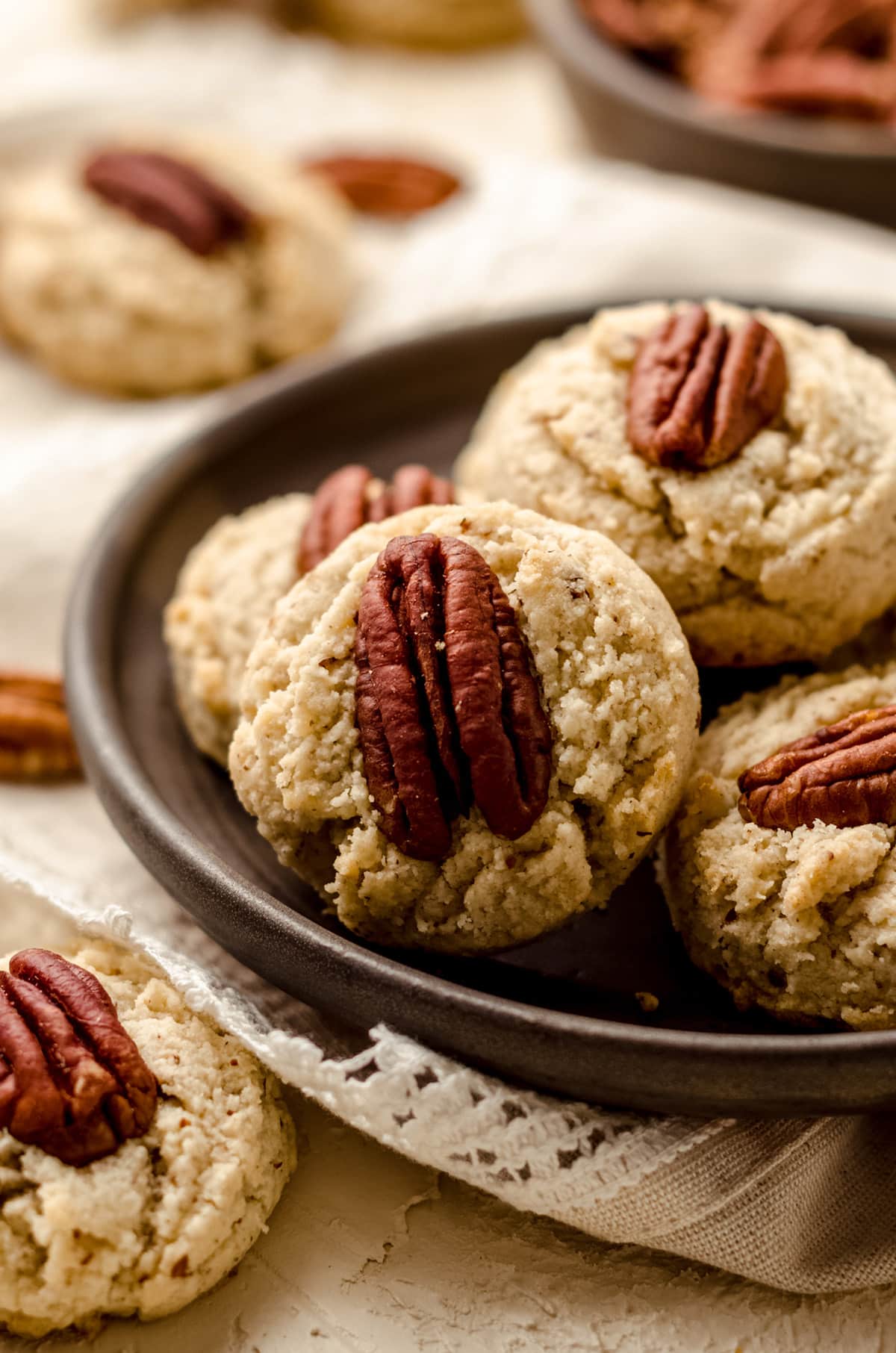 Take my almond flour banana bread for a spin– it's a guaranteed winner and it's beloved by gluten and non-gluten eaters whenever I make it.
MADE WITH ALMOND FLOUR = COMPLETELY GLUTEN FREE
This pecan sandies recipe came about when I opened my first beautiful bag of almond flour. As a kid, I loved classic pecan sandies, but I wanted to try to recreate that incredibly nutty and buttery cookie without flour, because I knew that using something like almond flour could get the job done nicely.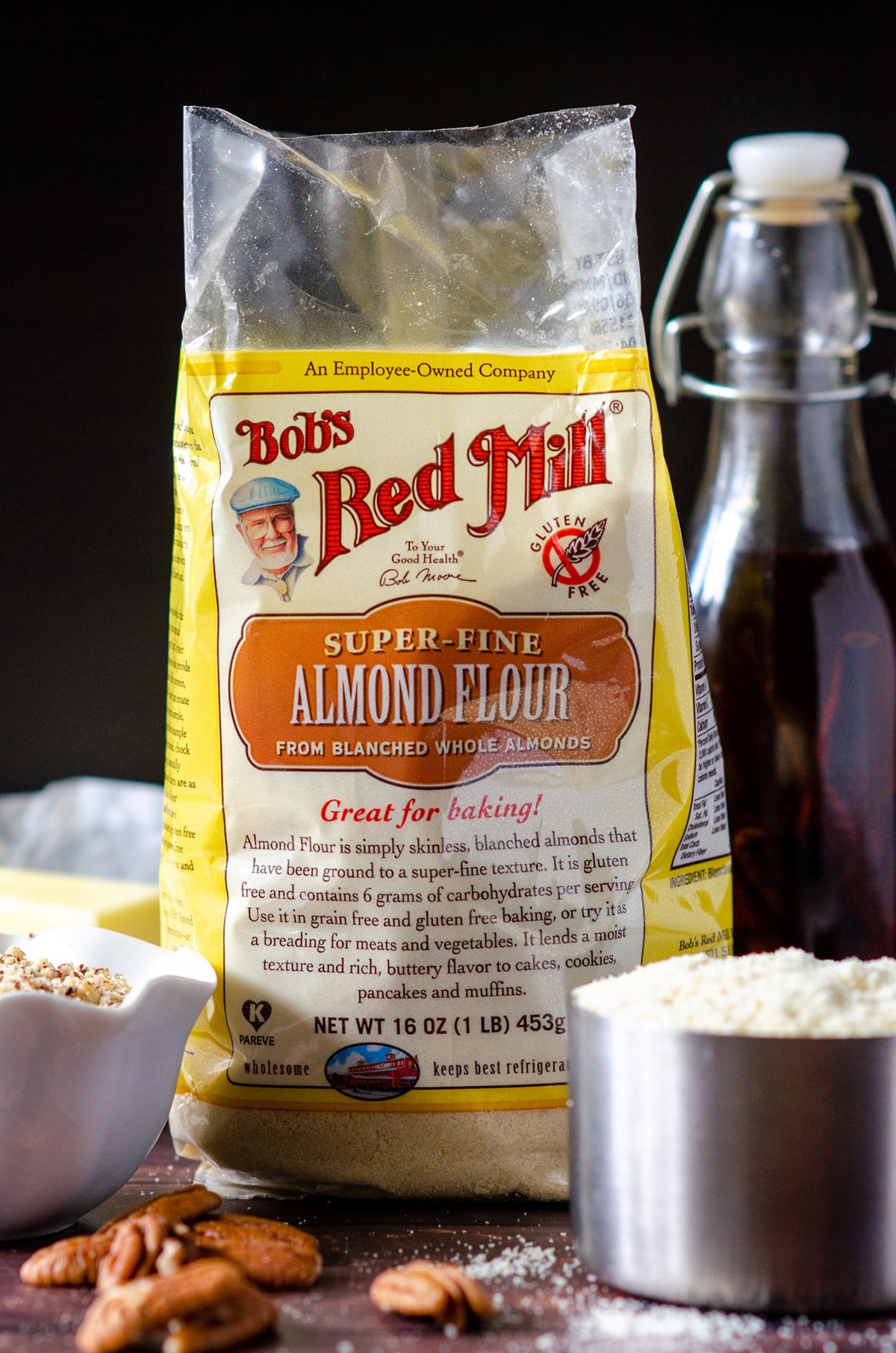 INGREDIENTS
Along with almond flour, for this easy pecan sandies cookie recipe, you'll need some butter, finely chopped pecans, powdered sugar, salt, baking powder, some vanilla extract, and pecan halves.
That's it: 7 simple ingredients.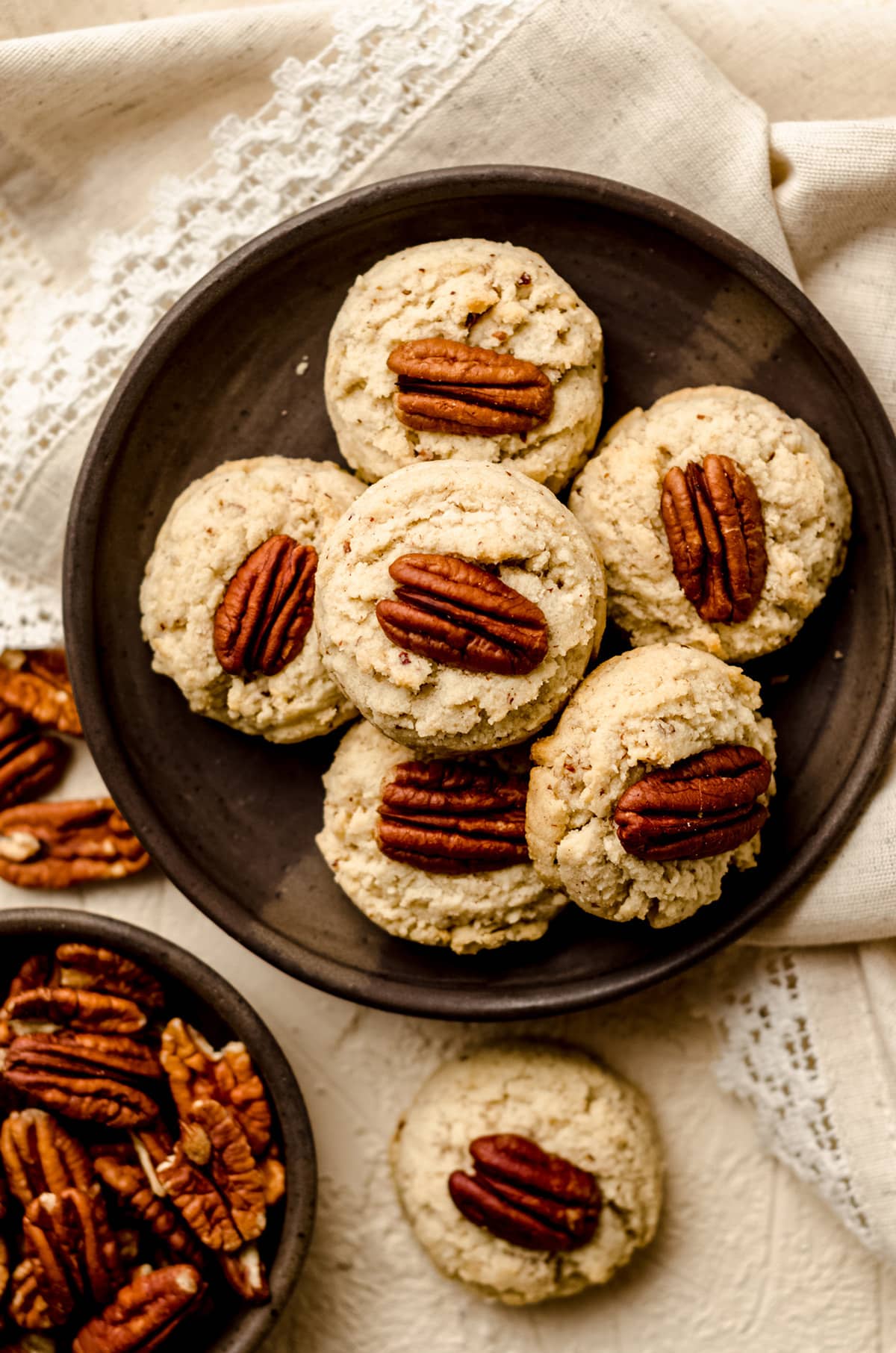 As you can see, there are no eggs in these almond flour pecan sandies, which means if you use vegan butter, you can turn these into not only vegan pecan sandies, but also gluten free dairy free pecan sandies.
One thing I must note is that the finely chopped pecans need to be very finely chopped. Some small chunks are fine, but for the most part, you want a very fine mixture, almost like pecan meal, in order to keep the dough together. Larger chunks will inhibit the dough from coming together.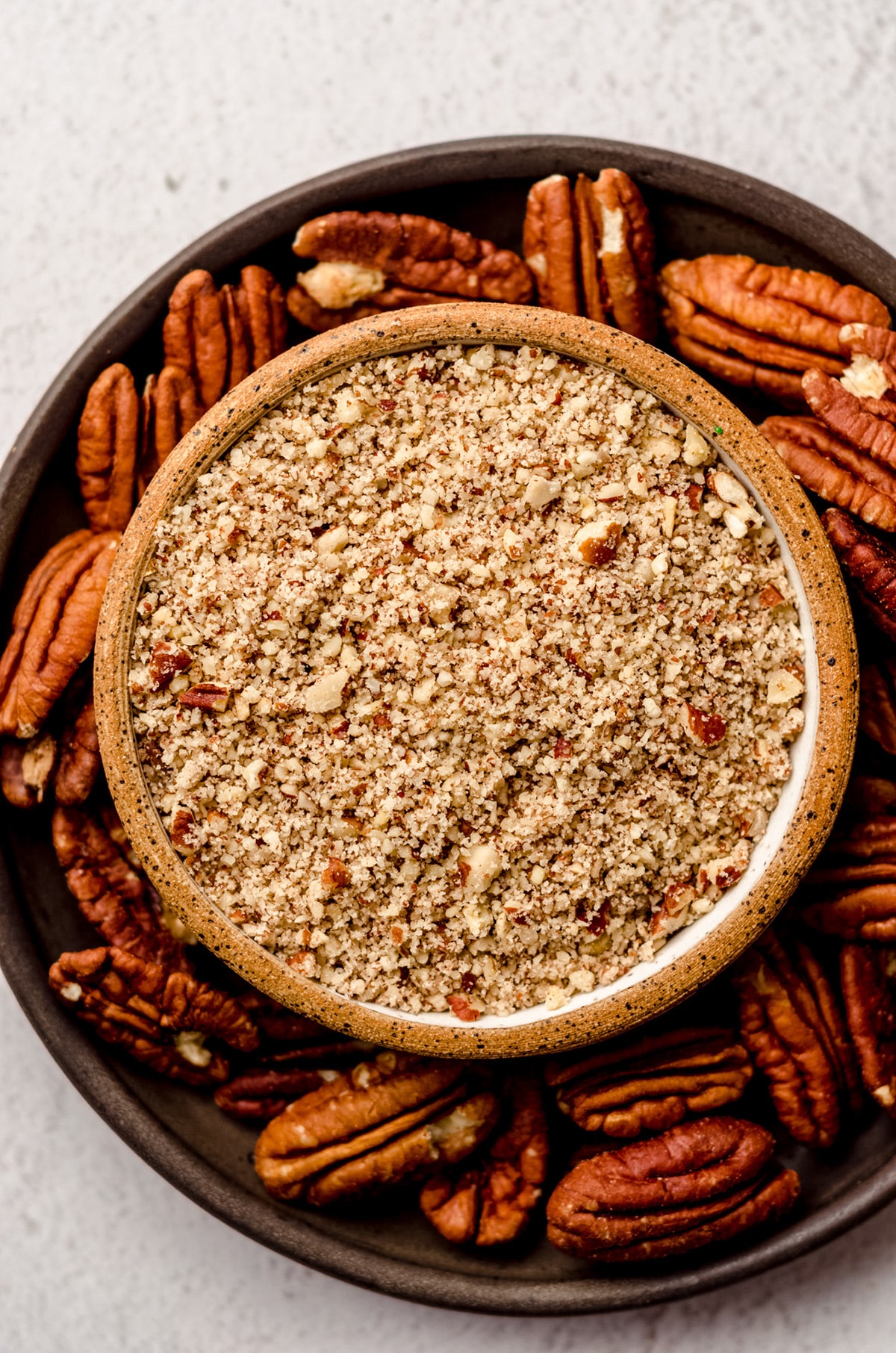 HOW TO MAKE ALMOND FLOUR PECAN SANDIES
The texture of almond flour is typically labeled "super fine" for a reason: it's like powdery snow. It is light as a feather with a touch of moisture from all of the natural oil in the almonds.
While this almond flour is the base for these almond flour pecan sandies, you'll actually be treating it a little differently than you would all-purpose flour.
You'll start by "creaming" the almond flour with softened butter. Typically, you'd cream butter and sugar, but in order to get a smooth base for these cookies, this is the method you'll use to get your cookie base started.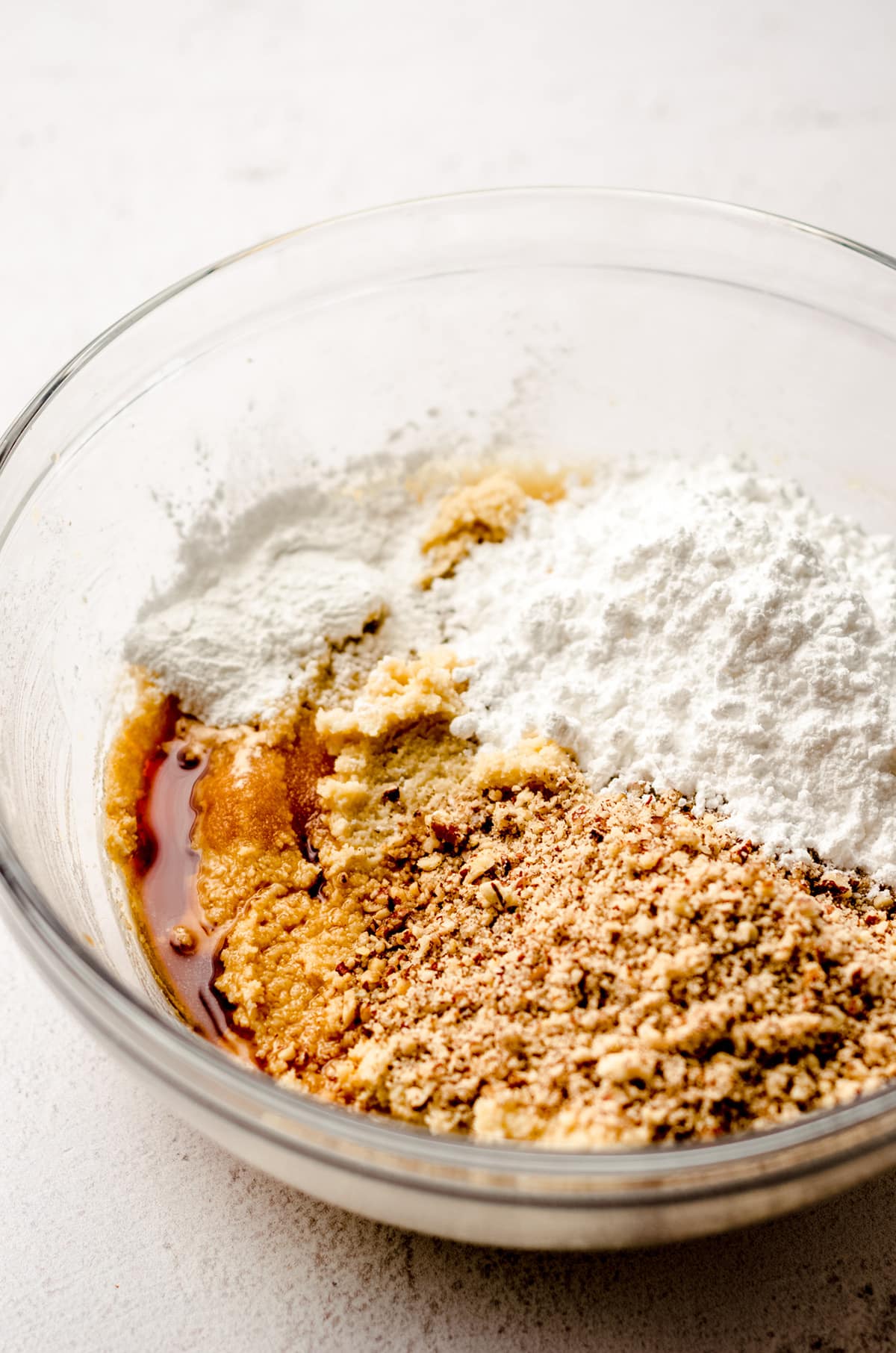 Next, we're sweetening with powdered sugar instead of granulated sugar, a technique I find works really well in keeping cookie dough easy to work with. Check out my easy cut-out sugar cookies (in peppermint form! and pumpkin form! AND funfetti form!) and vanilla bean sugar cookies that all use powdered sugar in place of granulated sugar.
By using powdered sugar instead of granulated sugar, we have a lot less of a "wet" dough, but still keep the sweetness we need.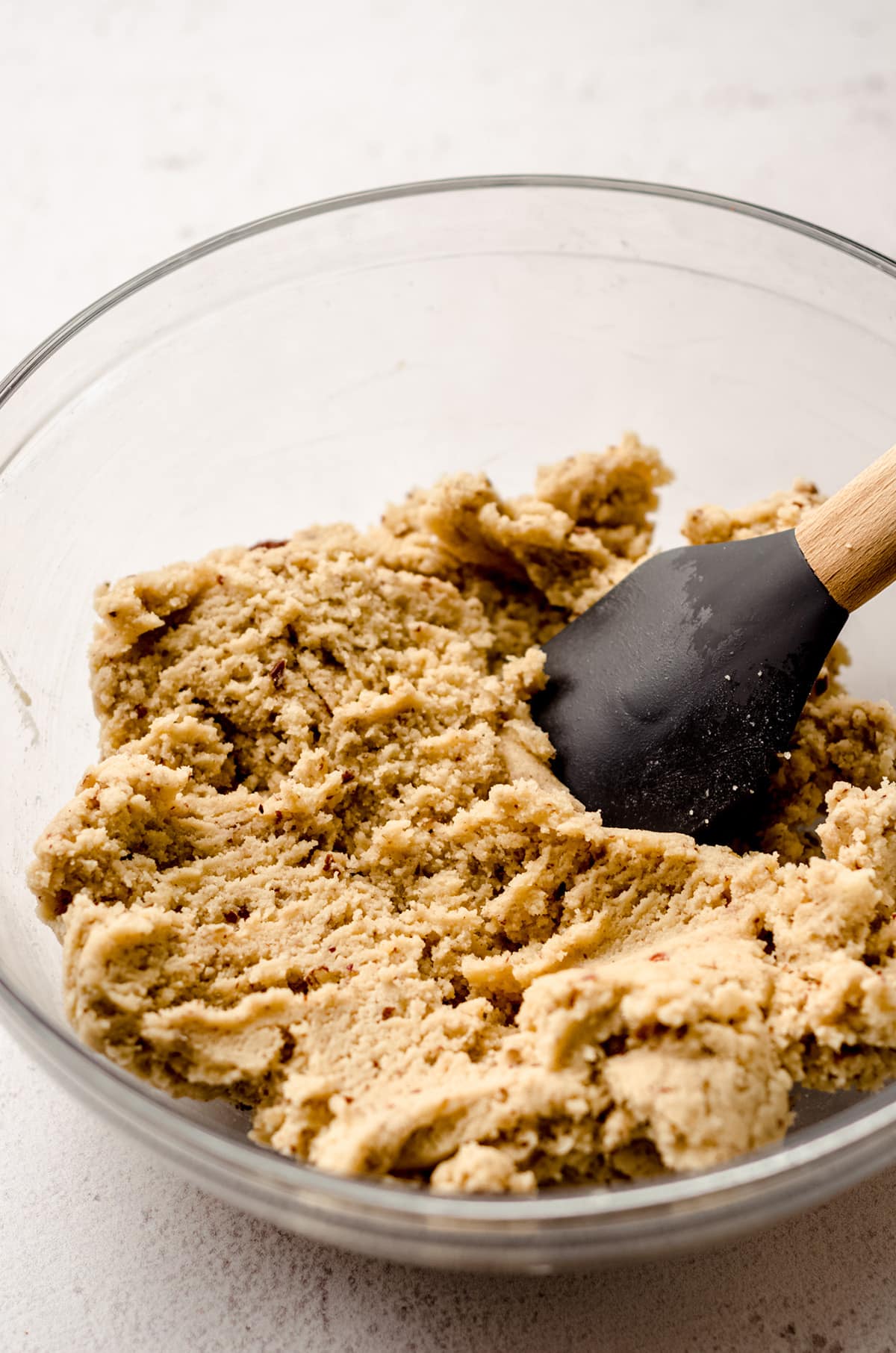 SHAPE THE COOKIE DOUGH
As I mentioned, I have made these cookies countless times. You can approach the cookie dough balls in two different ways, and the only difference will be the end aesthetic.
Using a cookie scoop, gather the dough into a ball. From here, you can either drop it right onto the cookie sheet, or you can gently roll it into a ball and then place it on the baking sheet.
If just dropping dough balls, you'll get a little more of a textured, craggy finish. If you choose to roll them, you'll have a smoother finish.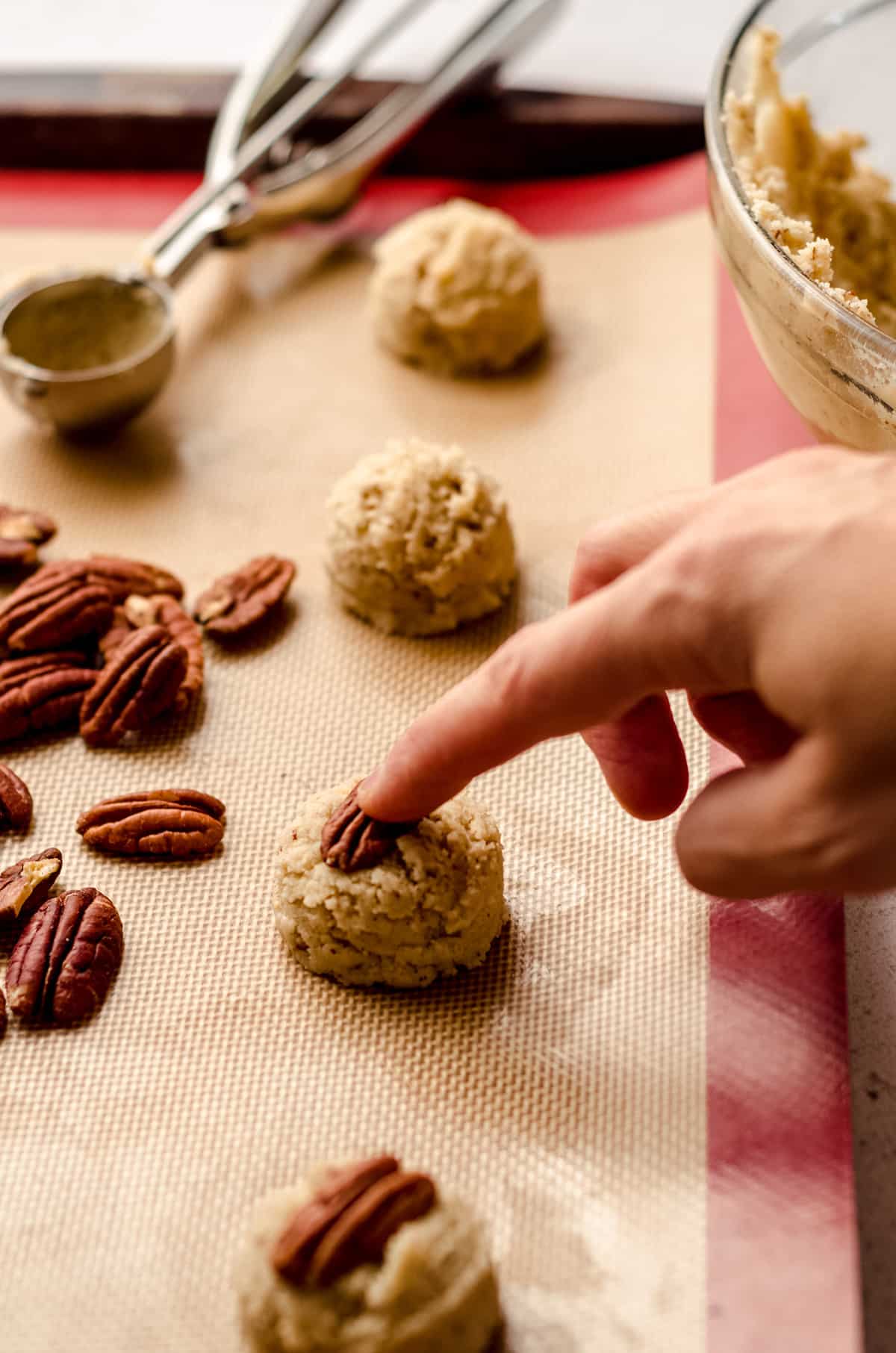 It really doesn't matter which method you choose, because bake time and taste are both the same. It's all personal preference, though I can say that eliminating that extra hands on step obviously reduces prep time a bit (but only a bit– it doesn't take too long!).
Gently press a pecan half into the top of each cookie dough ball, then they're ready to bake!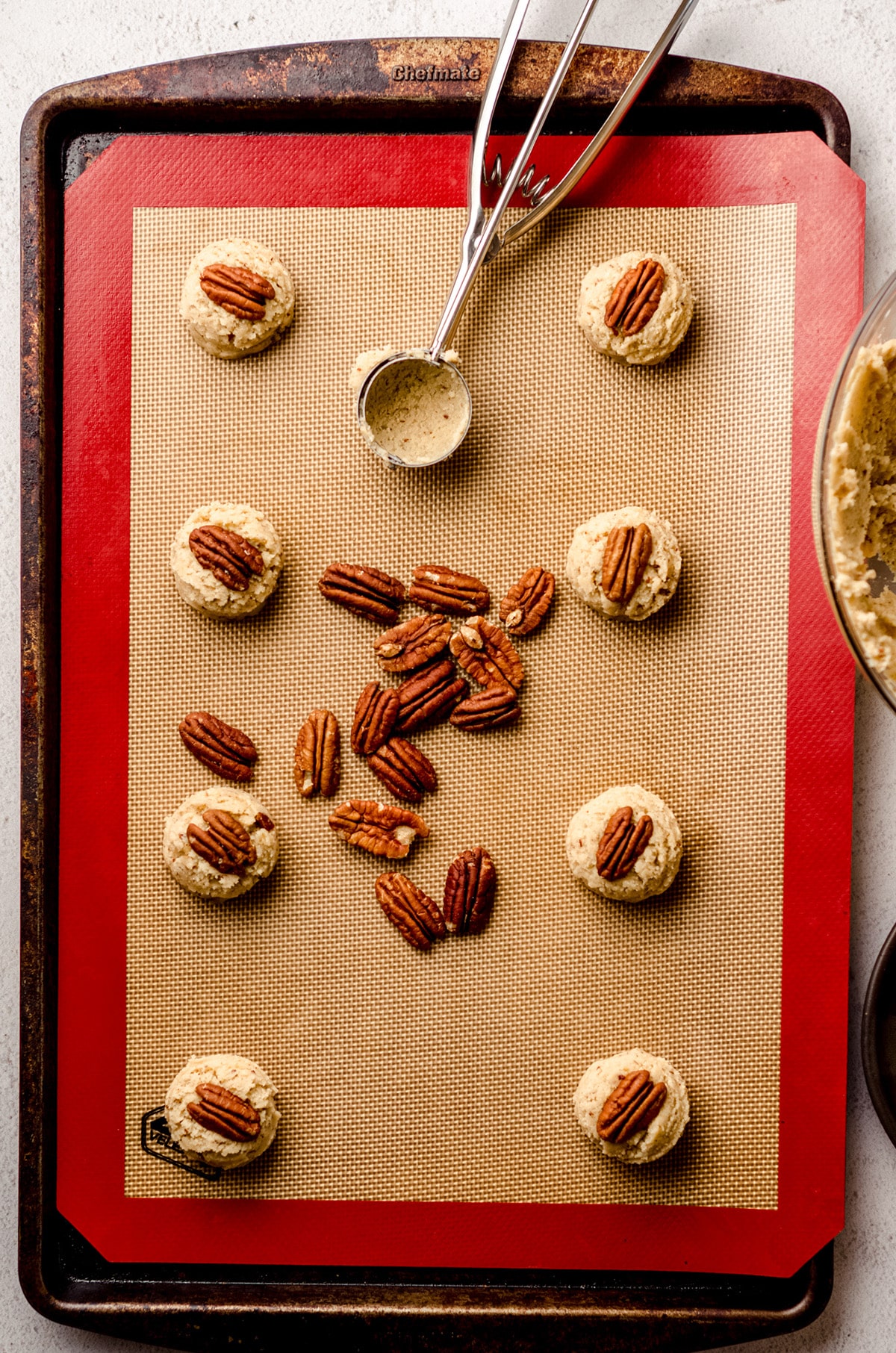 NO EGGS MEANS A QUICK BAKE TIME
Since these cookies don't have eggs in them, you really only need to bake them until they're set. Since there is a fine line between "set" and "burned" with these cookies, you'll need to watch them a little closely to make sure you don't miss the window.
They will only need 10 to 12 minutes in the oven, at which point they will take on a beautiful golden brown color around the edges. This is how you know they're done.
If they go much further than this, they wind up crumbly and dried out. Underbake them and they will fall apart.
That in between perfection is the ticket!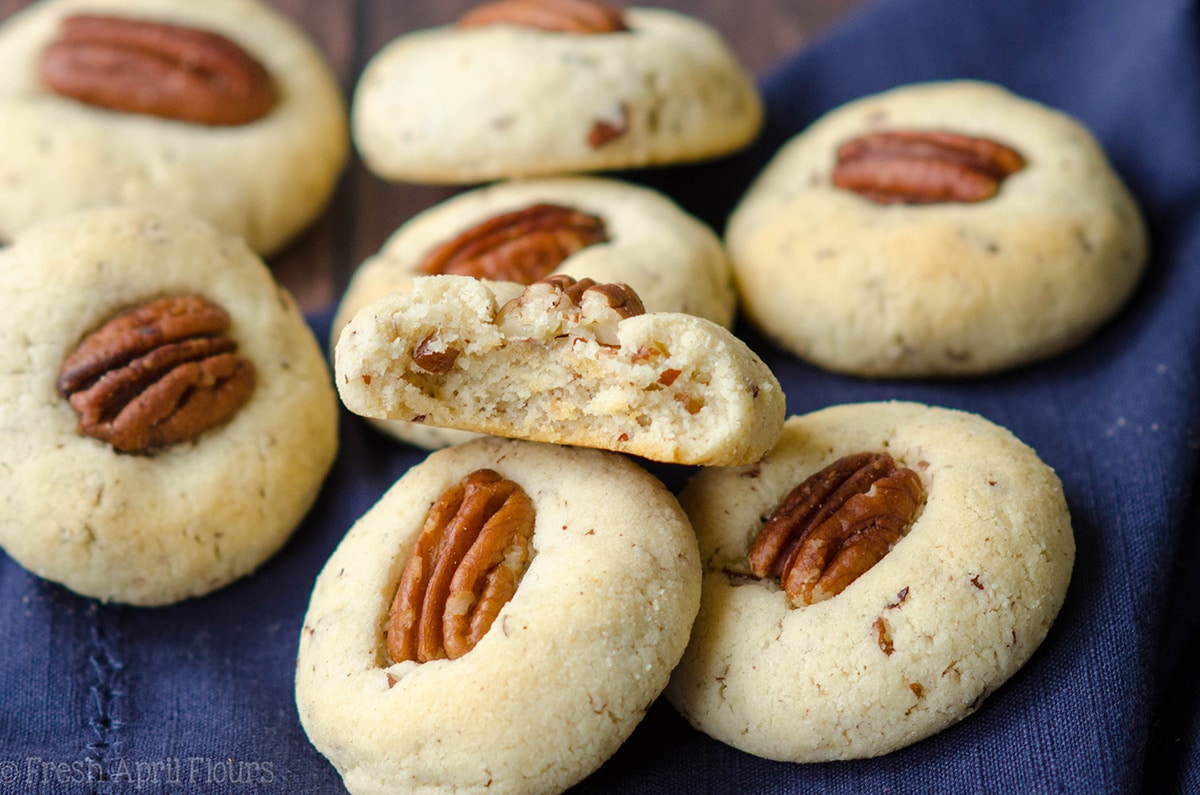 As I said, these almond flour pecan sandies are one of my favorite cookies in my entire cookie recipe collection. Not only are they so easy, but they only use one bowl, and they cater to gluten free and gluten full eaters alike.
Hand one to a gluten eater and I guarantee they are none the wiser to the fact that these cookies are completely gluten free.
The texture of these pecan sandies cookies is soft and buttery, the flavor is bold and nutty, and the pecans on the inside and outside give the crunch that a soft and buttery cookie needs to make it exceptional.
Plus the sweet to salty ratio is on point!
I truly love these cookies and many of my celiac friends have them in their regular baking rotation. And many who eat gluten regularly! Seriously, they are that good.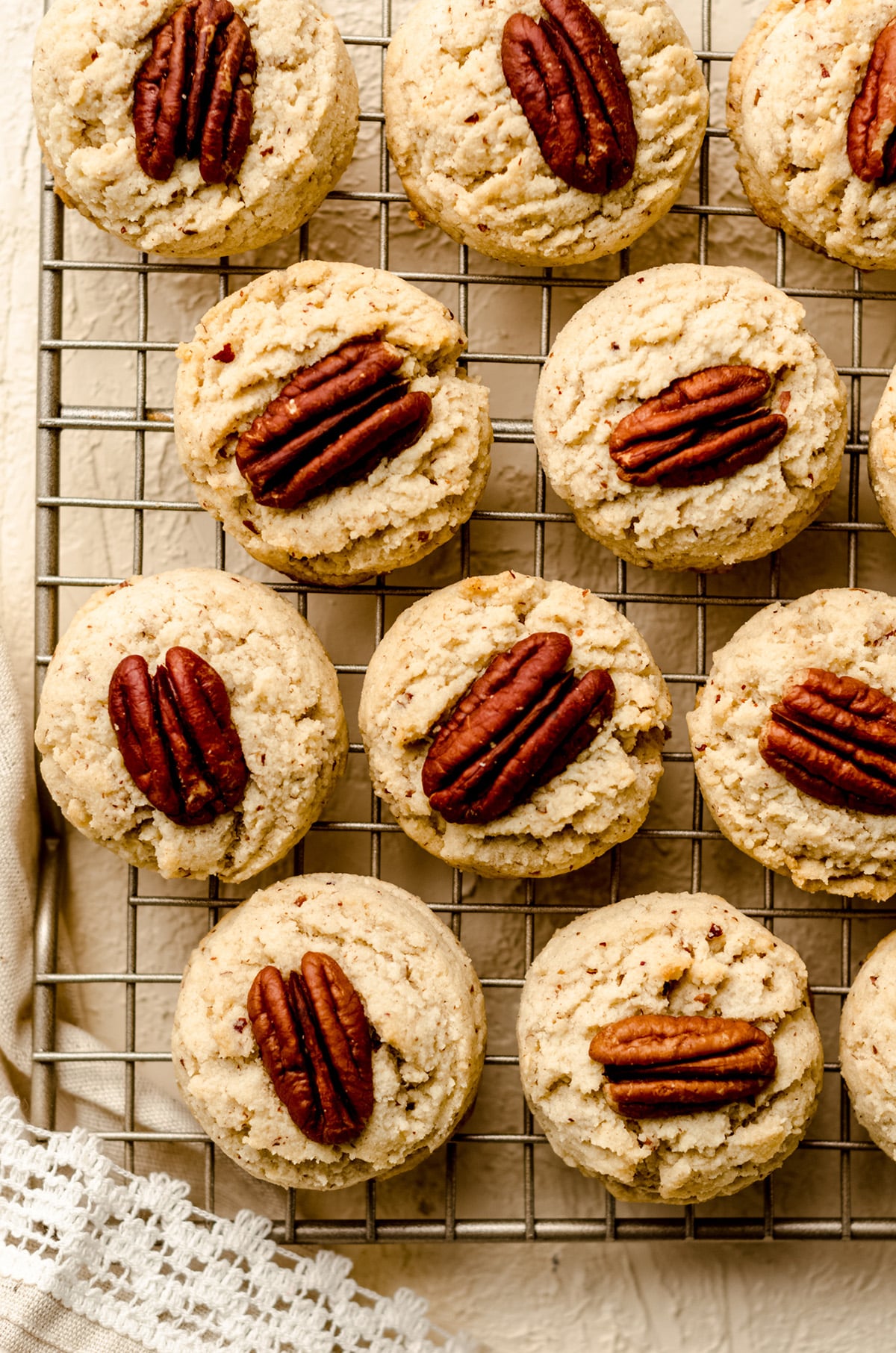 If you're looking for an easy cookie that will appeal to the masses, this one is it. I can't wait for this gluten free pecan cookies recipe to make its way to your oven, too!
Almond Flour Pecan Sandies
An easy, one bowl recipe for gluten free, buttery pecan cookies.
Ingredients
2

cups

(224g) almond flour

½

cup

(113g) unsalted butter

softened to room temperature

½

cup

(60g) finely chopped pecans1

½

cup

(60g) powdered sugar

½

teaspoon

salt

½

teaspoon

baking powder

2

teaspoons

vanilla extract

20

pecan halves
Instructions
Preheat the oven to 350°F (177ºC). Line a large baking sheet with parchment paper or a silicone baking mat. Set aside.

In a medium size bowl with a handheld mixer or the bowl of a stand mixer fitted with the paddle attachment, blend the almond flour and butter on low speed until no more clumps remain and a soft dough forms.

Turn the mixer off, add the chopped pecans, powdered sugar, salt, baking powder, and vanilla extract. Turn the mixer speed to low again and blend until a soft dough forms.

Using a cookie scoop (I use this #50 cookie scoop for all of my standard size cookies), drop balls of dough2 onto the prepared cookie sheet. Do not place more than 8 cookies on a baking sheet at a time. Gently press a pecan half into the top of each dough ball, flattening the ball of dough slightly. Bake the cookies for 10-12 minutes, until the cookies just begin to brown. Remove from the oven and allow to rest on the baking sheet at least 10 minutes before transferring to a wire rack to cool completely. Cookies stay fresh in an airtight container up to 1 week. Baked cookies may be frozen, up to 3 months.
Notes
Pecans: it is important the pecans are finely chopped. Larger chunks inhibit the dough from sticking together as nicely as possible. I like to use a blender or food processor to get them fine enough. Do not use salted pecans.
Cookie dough balls: if you want a smooth texture/finish on the cookies, g

ently roll the dough into balls with your hands and place on the baking sheet. This will not alter baking time or taste.
Nutrition Disclosure
All nutritional values are approximate and provided to the reader as a courtesy. Changing ingredients and/or quantities will alter the estimated nutritional calculations.
Serving:
1
cookie
|
Calories:
144
kcal
|
Carbohydrates:
6
g
|
Protein:
3
g
|
Fat:
13
g
|
Saturated Fat:
4
g
|
Polyunsaturated Fat:
1
g
|
Monounsaturated Fat:
3
g
|
Trans Fat:
0.2
g
|
Cholesterol:
12
mg
|
Sodium:
69
mg
|
Potassium:
18
mg
|
Fiber:
2
g
|
Sugar:
4
g
|
Vitamin A:
144
IU
|
Vitamin C:
0.04
mg
|
Calcium:
34
mg
|
Iron:
1
mg
More almond flour favorites: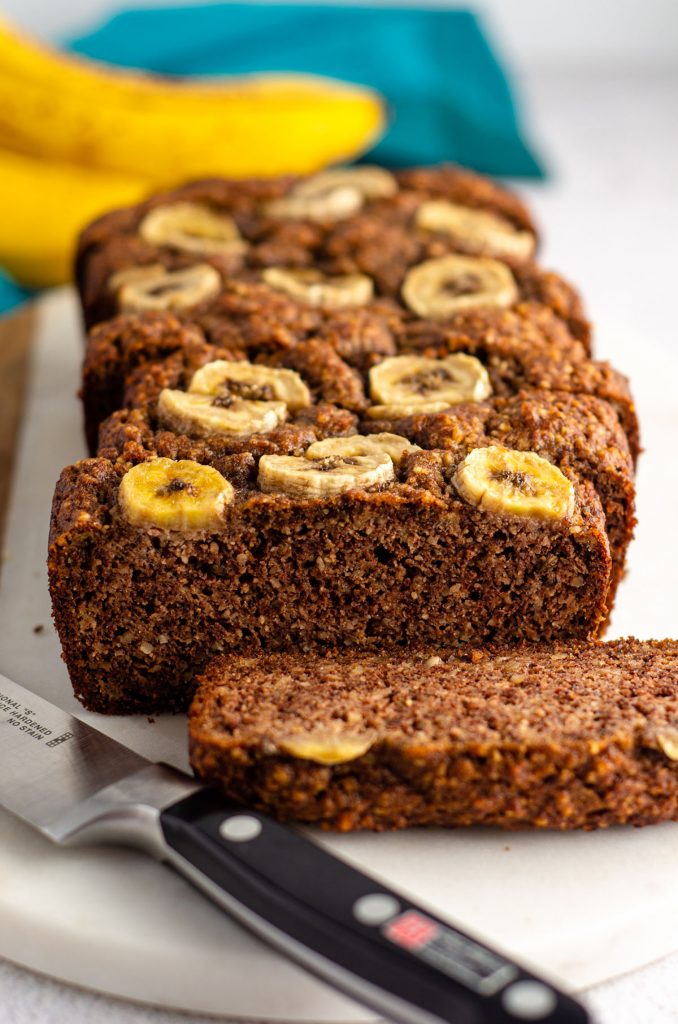 Almond flour peanut butter cookies (vegan and gluten free!)