Funfetti Cut-Out Sugar Cookies

As an Amazon Associate, I earn from qualifying purchases. Read the full disclosure here.
No dough chilling necessary for these soft cut-out sugar cookies that are filled with colorful sprinkles and perfect for any occasion. Crisp edges, soft centers, and completely customizable in flavor and shape!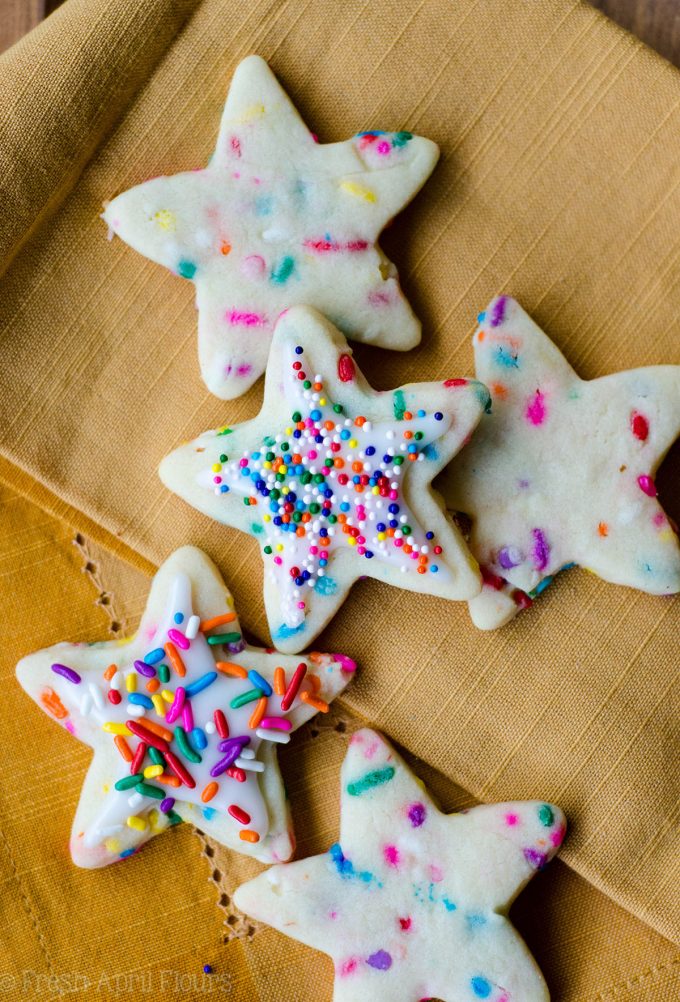 Another week, another batch of Christmas cookies! Have you seen the kickoff to FAF's 12 Days of Christmas Cookies? We made some super simple chocolate covered pretzel cookies last week, and I'm continuing the trend of easy to start out this week.
PLUS, sprinkles. I mean… Who the heck doesn't love sprinkles?!
You may recognize this recipe if you've been around here for awhile. A few years ago, I shared my basic easy cut-out sugar cookies with you, and they've been a super huge hit on the blog since.
They've been pinned thousands of times, made hundreds, and I can't tell you how many comments, emails, DMs, and tweets I've gotten about those bad boys.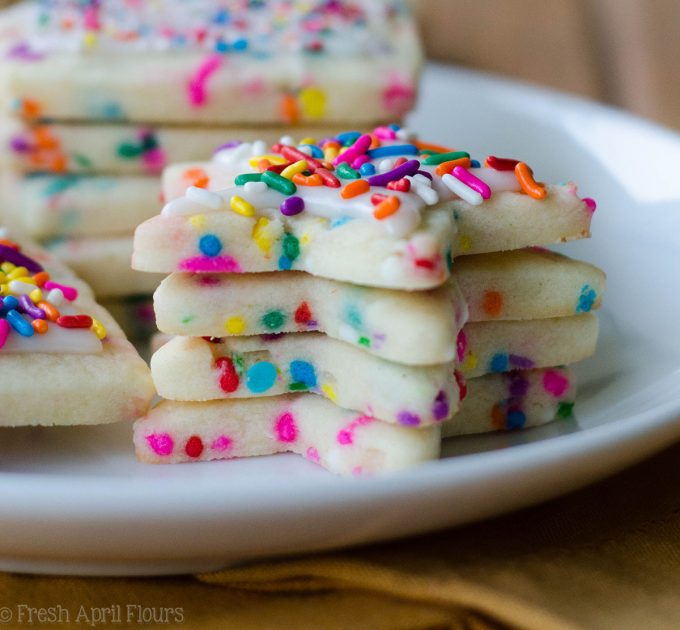 Not only are they so easy to put together, they are are special in the way that they don't require any chilling, which is huge when it comes to cookies, especially cut-out ones. I tried making so many cut-out sugar cookies, and they just never held up to my standards.
Most were so buttery, they just melted when it came time to roll and cut them, others had no flavor, and some were just a mess from the get-go.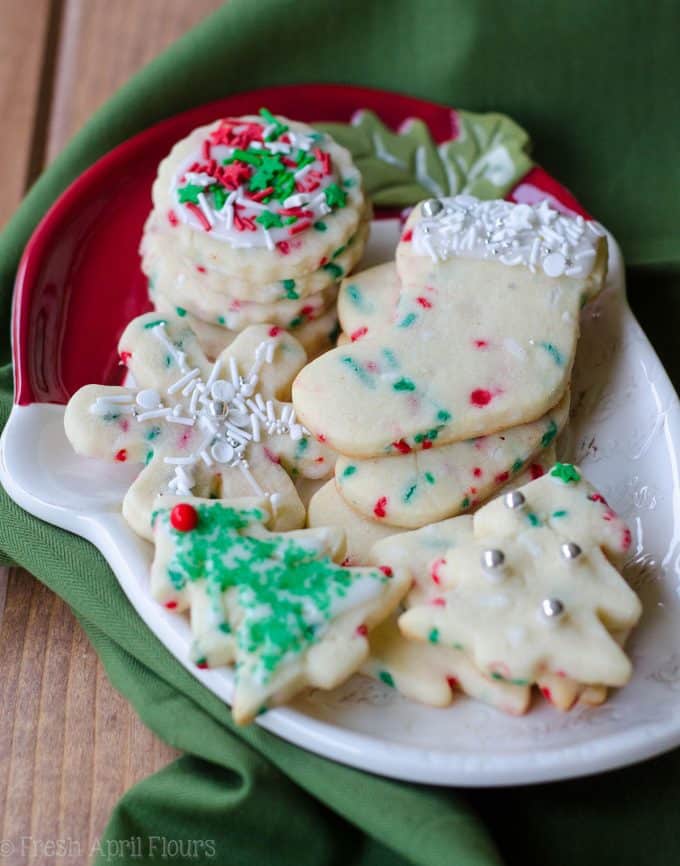 These cookies? Perfection. The dough comes out the texture of Play-Doh, so it's easy to handle and nice to work with. Also, they're made with powdered sugar, which I think is the key to their success. Sometimes, when soft butter and granulated sugar get together, they go so well together that they just turn into a drippy mess.
Not with that powdered sugar!
Things stay nice and dry (in a good way), making these cookies the perfect kind for cutting out with your favorite shapes.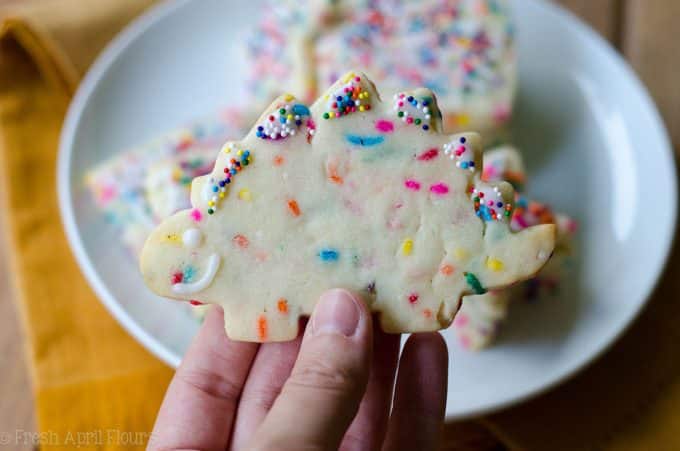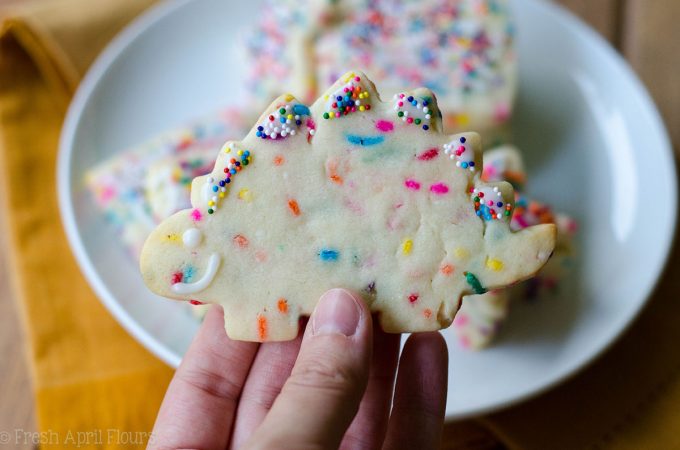 (I mean… When you have a toddler… Amirite?)
Of course, they're flavored with almond extract to get that funfetti flavor, but the sprinkles are where it's at. Last year, we used crushed candy canes. This year, it's all about the party-in-your-cookie experience. All the sprinkles.
Rainbow.
Christmas.
Hanukkah.
Kwanzaa.
New Year's Eve.
A favorite sports team.
YOU NAME IT, you can sprinkle it up in these cookies for your occasion.
Might I even say these are the very best cut-out sugar cookies for that reason?? I think I might. Yes, I'm saying it. You need these for every celebration from here on out… K?
Over in that original post about these cookies, I included a billion pictures. Instead of putting them here, please check them out over there.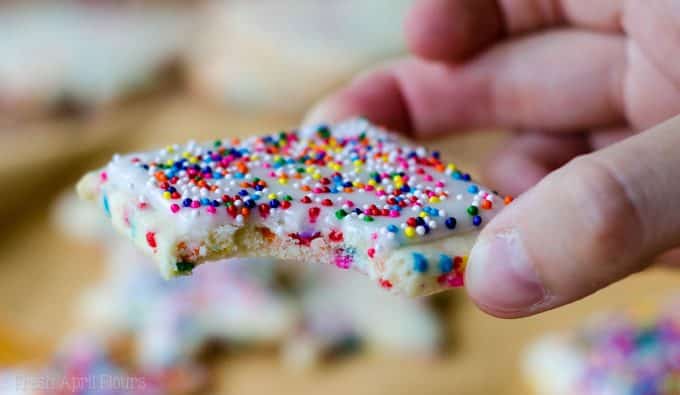 These funfetti cut-outs are the perfect canvas for more sprinkles, so what you can also find in that post is the recipe for my easy royal icing that is no fail, no fuss. True royal icing can be a pain, but this one is easy.
Trust me!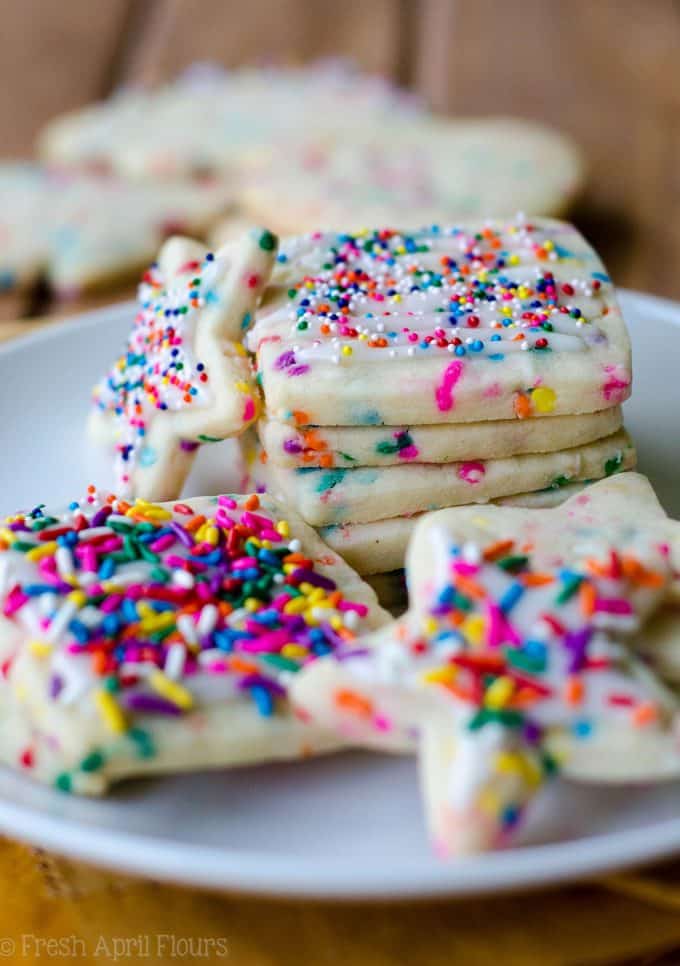 Please add these cookies to your Christmas line up, won't you? They will not disappoint, and they are just so darn cute with Christmas sprinkles all up in them. ANDDDD, you can dunk them in all the holiday beverages– coffee, hot chocolate, tea, peppermint mochas, eggnog, etc.
I mean, who doesn't love a good dunking cookie? (and yes, more biscotti coming your way shortly!)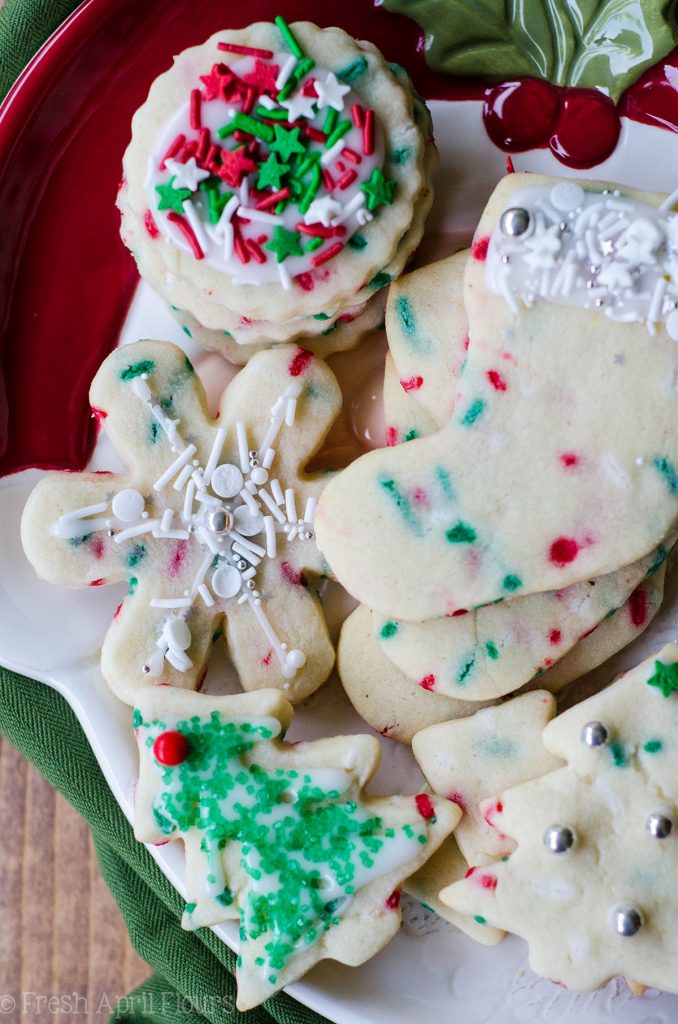 Stay tuned! We have 10 more cookie recipes to get to. We're only just getting started and there have already been sprinkles… The road ahead can just get sweeter!
Funfetti Cut-Out Sugar Cookies
No dough chilling necessary for these soft cut-out sugar cookies that are filled with colorful sprinkles and perfect for any occasion. Crisp edges, soft centers, and completely customizable in flavor and shape!
Servings:
2
dozen (2″) cookies
Ingredients
2 and 1/2 to 3

cups

all-purpose flour1 be sure to measure properly

2

teaspoons

baking powder

1

teaspoon

salt

1

large egg

room temperature2

1 and 1/2

teaspoons

almond extract

1/2

teaspoon

vanilla extract

1

cup

(2 sticks) unsalted butter

softened to room temperature

1 and 3/4

cup

powdered sugar

2/3

cup

sprinkles
Instructions
In a medium sized bowl, toss together 2 and ½ cups of flour, baking powder, and salt. Set aside.

In a measuring cup or small bowl with a spout, beat the egg and flavoring/extract of your choosing.

In a large bowl with a hand mixer or the bowl of a stand mixer with the paddle attachment, cream together butter and powdered sugar until light and fluffy, about 3 minutes. Add egg mixture to creamed butter and sugar and beat on high until completely incorporated, scraping down sides as necessary. Add the sprinkles and mix again on low until evenly dispersed.

With mixer on low, add flour mixture to wet ingredients little by little, allowing dough to come together after each addition. After you have added all 2 and 1/2 cups of flour (plus baking powder and salt) to the bowl, most of the dough should stick to your beaters or paddle.

Test dough consistency by touching it with your fingers. It should be slightly tacky, but not sticky. It should remind you of Play-Doh. If it is too sticky, add 1/4 cup of flour at a time until you reach 3 total cups of flour (two additions). Occasionally, I will need a tad more flour, but do not exceed 3 cups + 2 Tablespoons flour. Too much flour yields denser cookies, and we want these to stay soft.

When your dough is the right consistency, gather it into a ball and allow it to rest for 10 minutes. While it is resting, preheat your oven to 400ºF. Line two large baking sheets with parchment paper or silicone baking mats. Set aside.

Prepare your rolling surface by dusting it lightly with powdered sugar. If you would like, use two wooden dowels, sized at 1/4" thickness, on either side of your dough while rolling it out to keep cookies a uniform thickness.

When your dough is ready to roll, break off a workable size of dough. I usually break it into 4 pieces. Roll dough with a powdered sugared rolling pin and cut into desired shapes with cookie cutters. I like to dip my cookie cutter into powdered sugar every few cuts to keep my cookie edges clean. Transfer cut dough onto baking sheets. It is best to keep cookies that are the same size and shape together on baking sheets so as to uniformly bake all of your cookies. Re-roll and cut dough as needed until all of the dough is used up. At this point, you may decorate cut cookies with sprinkles or just leave them plain and decorate them with icing later.

Bake cookies for 4-6 minutes. My medium circles (2") took 6 minutes. Stars took 5 minutes. Mini circles (1") took 4 minutes. Bake until cookies are slightly puffed and are no longer shiny. Edges may start to brown, and that's ok, just work quickly to remove them from the oven. I prefer to remove mine before they start to brown. Allow cookies to rest on baking sheet for 2 minutes before transferring to wire rack to cool completely. I prefer to decorate day-old cookies, as they are sturdier, but this is personal preference and only a suggestion. This is my favorite royal icing recipe. Undecorated cookies freeze extremely well (I actually like to eat them frozen!), up to 3 months. Do not freeze decorated cookies. Thaw overnight before decorating previously frozen cookies.
Notes
Flour: start with 2 and ½ cups of flour and work your way up to 3 cups as needed. Do not exceed 3 cups + 2 Tablespoons.
Room temperature egg: it is always a good idea to use a room temperature egg when using room temperature butter, which allows for better incorporation into dough.
Icing: if you want to add icing to this cookie, use my easy royal icing recipe.
Nutrition Disclosure
All nutritional values are approximate and provided to the reader as a courtesy. Changing ingredients and/or quantities will alter the estimated nutritional calculations.