Peppermint Cut-Out Sugar Cookies

As an Amazon Associate, I earn from qualifying purchases. Read the full disclosure here.
No dough chilling necessary for these soft cut-out sugar cookies that are perfect for decorating with chocolate, icing, or sprinkles. Crisp edges, soft centers, and filled with bits of candy canes!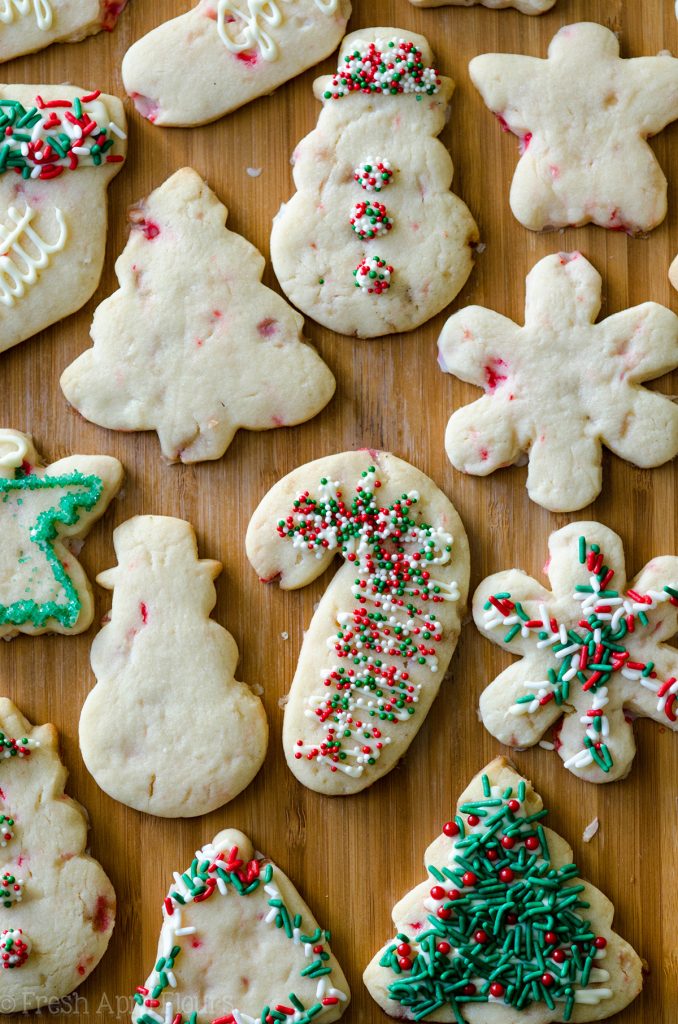 And just like that, we're 1/3 of the way through our 12 Days of Christmas Cookies! Let's recap for those of you who may just be joining the party: we have chocolate cayenne cookies, chocolate chip snowballs, monster cookies, and now we have one that is absolutely jam-packed with Christmas cheer.
It's also a recipe you've likely seen here before if you're a regular.
Last year, I posted my easy cut-out sugar cookie recipe. And it went bananas on the blog! Rightfully so– that recipe is so easy, there's no chilling of the dough involved, and the result is always perfectly shaped cookies with crisp edges and soft centers.
I don't normally like calling recipes "easy" or "the best" in the title, because, well, I wouldn't ever bring you a super hard or "just ok" recipe. But it really is so easy, and I've had many rave reviews from readers and friends in real life who have made that sugar cookie recipe and held onto it for safe-keeping.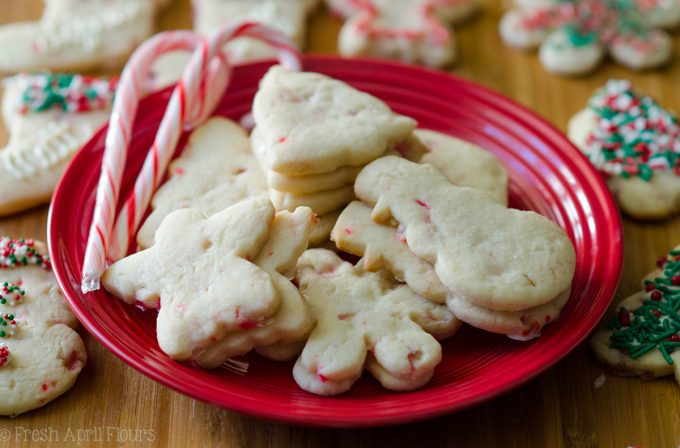 So today, we've got essentially that same recipe with just a little flair. Today, we're adding not only peppermint extract to these cookies to give them their Christmas cheer, but we are putting crushed candy canes directly into these cookies. Yes, that's right. Not on the cookies, in the cookies. Are you a little skeptical right now? I was too, but I promise, this is going wonderful places.
When I originally made these cookies, I was convinced they were a fail after they came out of the oven. They weren't as crisp as I wanted them to be, and the candy cane pieces sort of melted and didn't stay crunchy.
But then, I gave out several samples to both adults and kids, and the results came flooding back in: THESE COOKIES ARE SO GOOD!
The truth of the matter is, chewy candy cane pieces is exactly what you want in your peppermint sugar cookie. The more I thought about it, the more I realized a crunchy piece of candy inside my cookie might actually be a little weird.
Those crushed candy cane pieces that got all nice and melty knew what they were doing: creating a unique and irresistible chew that is so hard to pass up.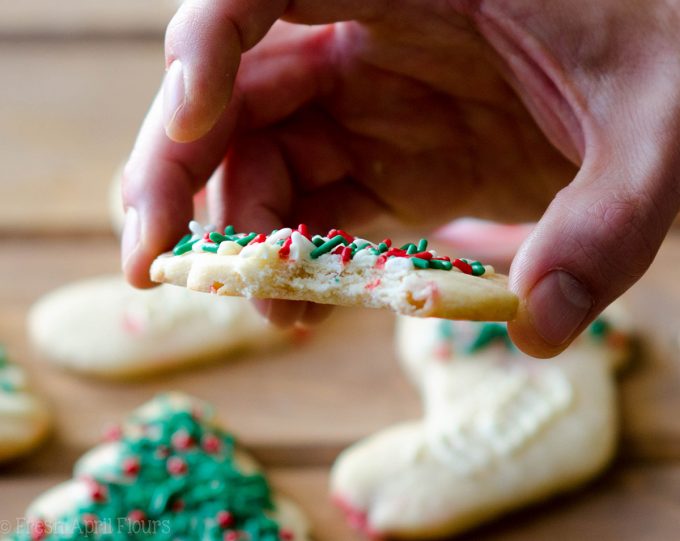 Now, I won't chat about the dough as much as I did in my original cut-out sugar cookie recipe because I seriously typed a novel over on that recipe post.
I also included about 87 pictures.
So please, if you're interested in knowing exactly what things should look like and/or you love reading about cookies, head on over to that post. There is a plethora of information over there to get you through these cookies.
But I promise, they are not hard at all. That's why I didn't lie when I called them "easy."
One thing I will caution you with is the type of cookie cutters to use for this dough. You'll definitely want to use metal cutters as opposed to plastic. I tried both, and while the plastic eventually got the job done, it was a struggle. The metal ones went right through those candy cane pieces.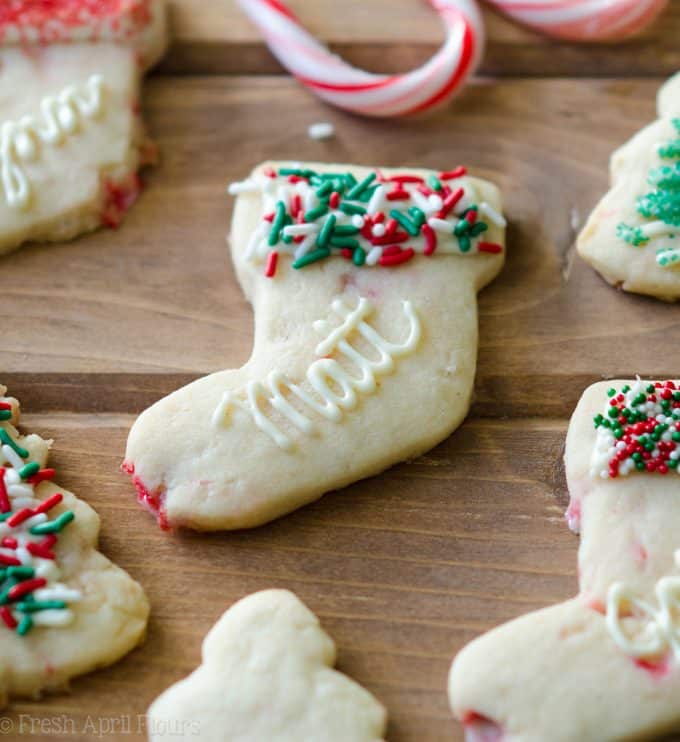 I will tell you what, these cookies are my new favorite for the holidays. They are the perfect canvas for decorating, are fun for kids to work on, and they package up nicely. I sent half a dozen across the country, and they were all intact when they arrived.
Aaaaand devoured quite quickly.
As far as decorating goes, you are welcome to use whatever method of decorating that you'd prefer. I used white chocolate on the ones I photographed, but I have a recipe for an easy cookie icing in the original cut-out sugar cookie recipe. That one is very easy and works great for "flooding."
You can even just sprinkle some sprinkles right onto the raw dough and they will bake up nicely in the oven. Or, don't decorate them at all! The little red specks are super cute and, duh, they taste wonderful.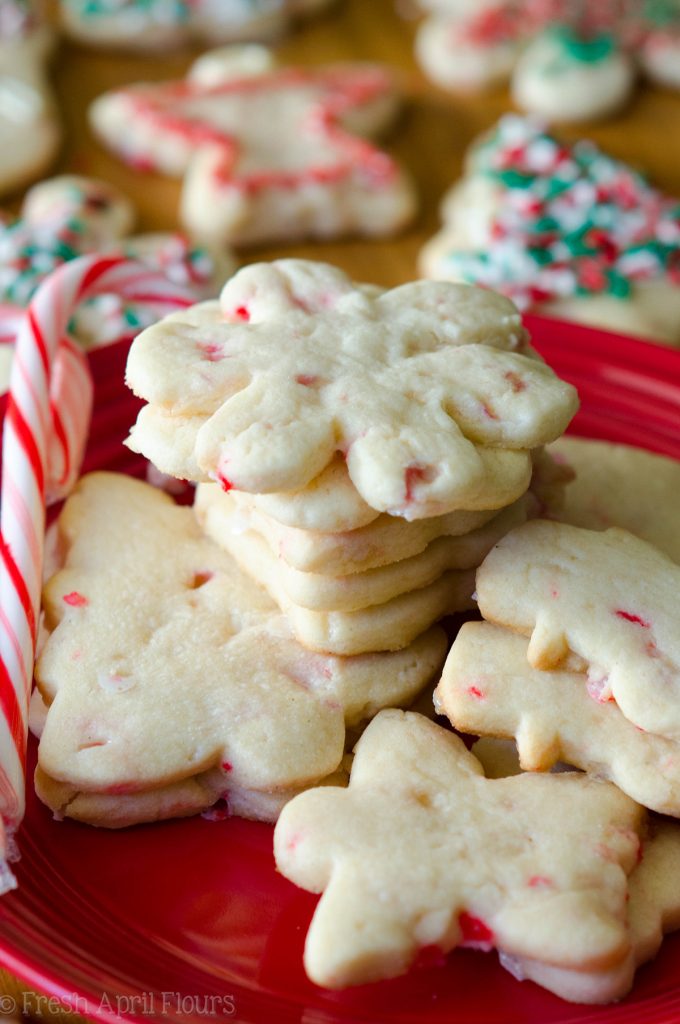 However it is you decide to decorate these cheery little cookies, you have got to try them this year. The candy cane pieces melt perfectly to give these peppermint cut-out cookies a texture unlike any other.
Plus, the longer they sit, the better they taste, so you won't feel like you have to eat all of them ASAP in order for them to taste fresh.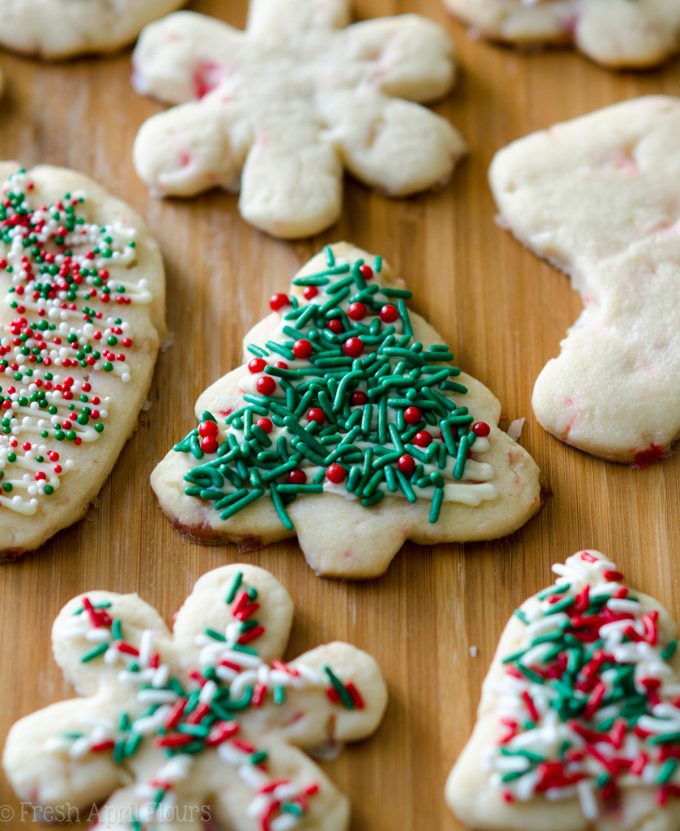 But if you did eat them all ASAP, I really wouldn't blame you one bit. Try to save at least a couple for Santa, though. I am sure that he will leave you extra great presents in exchange for extra great cookies!
Peppermint Cut-Out Sugar Cookies
No dough chilling necessary for these soft cut-out sugar cookies that are perfect for decorating with chocolate, icing, or sprinkles. Crisp edges, soft centers, and filled with bits of candy canes!
Servings:
2
dozen (2″) cookies
Ingredients
2 and 1/2 to 3

cups

all-purpose flour1 be sure to measure properly

2

teaspoons

baking powder

1

teaspoon

salt

1

cup

(2 sticks) unsalted butter

softened to room temperature

1 and 3/4

cup

powdered sugar

1

large egg

room temperature2

2

teaspoons

vanilla extract

1/2

teaspoon

peppermint extract

6-8

candy canes

crushed
Instructions
In a medium sized bowl, toss together 2 and ½ cups of flour, baking powder, and salt. Set aside.

In a large bowl with a hand mixer or the bowl of a stand mixer with the paddle attachment, cream together butter and powdered sugar until light and fluffy, about 3 minutes. In a measuring cup or small bowl with a spout, beat the egg and flavoring/extract of your choosing. Add egg mixture to creamed butter and sugar and beat on high until completely incorporated, scraping down sides as necessary.

With mixer on low, add flour mixture to wet ingredients little by little, allowing dough to come together after each addition. After you have added all 2 and ½ cups of flour (plus baking powder and salt) to the bowl, most of the dough should stick to your beaters or paddle. Add the crushed candy canes and mix again on low until evenly dispersed.

Test dough consistency by touching it with your fingers. It should be slightly tacky, but not sticky. It should remind you of Play-Doh. If it is too sticky, add ¼ cup of flour at a time until you reach 3 total cups of flour (two additions). Occasionally, I will need a tad more flour, but do not exceed 3 cups + 2 Tablespoons flour. Too much flour yields denser cookies, and we want these to stay soft. When your dough is the right consistency, gather it into a ball and allow it to rest for 15 minutes. While it is resting, preheat your oven to 400ºF. Line two large baking sheets with parchment paper or silicone baking mats. Set aside.

Prepare your rolling surface by dusting it lightly with powdered sugar. If you would like, use two wooden dowels, sized at ¼" thickness, on either side of your dough while rolling it out to keep cookies a uniform thickness.

When your dough is ready to roll, break off a workable size of dough. I usually break it into 4 pieces. Roll dough with a powdered sugared rolling pin and cut into desired shapes with cookie cutters. Because of the candy cane pieces, metal cutters to work much better than plastic. I like to dip my cookie cutter into powdered sugar every few cuts to keep my cookie edges clean. Transfer cut dough onto baking sheets. It is best to keep cookies that are the same size and shape together on baking sheets so as to uniformly bake all of your cookies. Re-roll and cut dough as needed until all of the dough is used up. At this point, you may decorate cut cookies with sprinkles or just leave them plain and decorate them with icing or chocolate later.

Bake cookies for 4-6 minutes. You will need to watch them carefully. Bake until cookies are slightly puffed and are no longer shiny. Edges may start to brown, and that's ok, just work quickly to remove them from the oven. I prefer to remove mine before they start to brown. Allow cookies to rest on baking sheet for 3 minutes before transferring to wire rack to cool completely. I prefer to decorate day-old cookies, as they are sturdier, but this is personal preference and only a suggestion. Decorate with white chocolate or this cookie icing, sprinkles, more crushed candy canes, or dip into melted chocolate. Undecorated cookies freeze extremely well (I actually like to eat them frozen!), up to 3 months. Do not freeze decorated cookies. Thaw overnight before decorating previously frozen cookies. Cookies will stay fresh in an airtight container at room temperature well over a week.
Notes
Start with 2 and ½ cups of flour and work your way up to 3 cups as needed. Do not exceed 3 cups + 2 Tablespoons.
Room temperature egg preferred. It is always a good idea to use a room temperature egg when using room temperature butter, which allows for better incorporation into dough.
Nutrition Disclosure
All nutritional values are approximate and provided to the reader as a courtesy. Changing ingredients and/or quantities will alter the estimated nutritional calculations.